Millions of people around the world use vaping as a source of alternative medicine since it helps in the treatment of various ailments. But if you are someone new to the world of vaping then it is very easy to get lost. You can start by using a vape pen starter kit to learn all the basics and then as you rope it in upgrade your choice.
What is a Vape Starter Kit?
A vape starter kit consists of a tank, mouthpiece, a coil, and a battery. You have to get your own bearings regarding the type of e-liquid flavors that you like. The best way to do it is to borrow a vape pen from your friend and try out the flavors. Remember one thing, vape pen e-liquids also come with added nicotine. The vape pen needs to be charged before use, and most of them use a 510 thread battery. These are some basic things about vape pen starter kits. If you need to learn how to use a vape pen then read here.
Now let us see some benefits of using them:
Combo:

Buying a vape starter kit will give you some additional savings which would not have been possible had you been purchasing those separately. A vape starter kit will contain a vape pen, an optional e-liquid, a tank, and a coil. You can swap all these out at any time, but if you are a newbie then do it after consulting with the shop owner or your seniors. All these accessories can be bought separately but at times it can become confusing for someone new to the world of vaping.

Cost:

Usually vape starter kits are sold at a discounted rate because manufacturers want to clear their stocks and introduce more people into the world of vaping. You as a consumer should take advantage of this and buy a vape starter kit so that your input costs can be lower. You can, of course, buy an expensive vape pen but then later if you can't find any use for that pen it will lie idle in a corner of your home and you will then regret this decision. This is why you must research before you commit to buying any vape pen or starter kit. If you check the prices on any price comparison website then you will find that most of them are reasonable enough and provide you with a good experience if used correctly.

Use Correctly:

A lot of users buy the incorrect vape pen and then later regret the purchase. You should always do solid research and then purchase the correct vape pen so that it fulfills your needs. Some people have problems ingesting nicotine in their blood while some people find nicotine to be satisfying. This is why there are two types of vape e-liquids, one with nicotine salts and another without one. If you know about your nicotine suitability then buy accordingly, otherwise, remember nicotine is the same substance that is found in tobacco. If all these sounds overwhelming then buy a vape starter kit and experiment and find your favorite choice.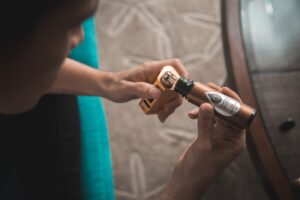 Photo by VapeClubMY on Unsplash
Types:

There are a lot of types of vape pens and pods. So which one suits your taste and preferences you would never know unless you tried most of them. A vape pen starter kit can help you in this regard since they are relatively inexpensive when compared to vape pens so you can try as many as you want until you find your favorite one. One of the most noteworthy features of a refillable pod vape is that they offer better quality taste than pre-filled vape pods. A normal pre-filled pod system has an extremely small atomizer coil that produces tiny vapor aromas which you can inhale.

Lasts Longer:

While some vape pens are built to last and have a longer battery life too but vape pods especially have lower battery life. So when you are buying a vape pen starter kit you will get a product that will last longer and also have the added advantage of small size. A vape pen is slimmer like an extended pen and so it can easily be carried around too. Depending upon your usage, you can carry it around and use it for the entire day too. 
Conclusion
A good vape pen starter kit can be helpful for you to learn and try out vaping before you decide to upgrade your choices. If you are a newbie then do not buy an expensive vaping kit, instead, start out with a reasonably priced kit and then try to learn from it as much as possible.