Horticulture is increasing in popularity, as it allows one to have complete control of the environment in which the plants grow. However, you need the right equipment for hydroponic agriculture, among the most important is a grow tent. A grow tent allows you to control the growing conditions for the plants. A 3×3 grow tent tent is convenient and affordable.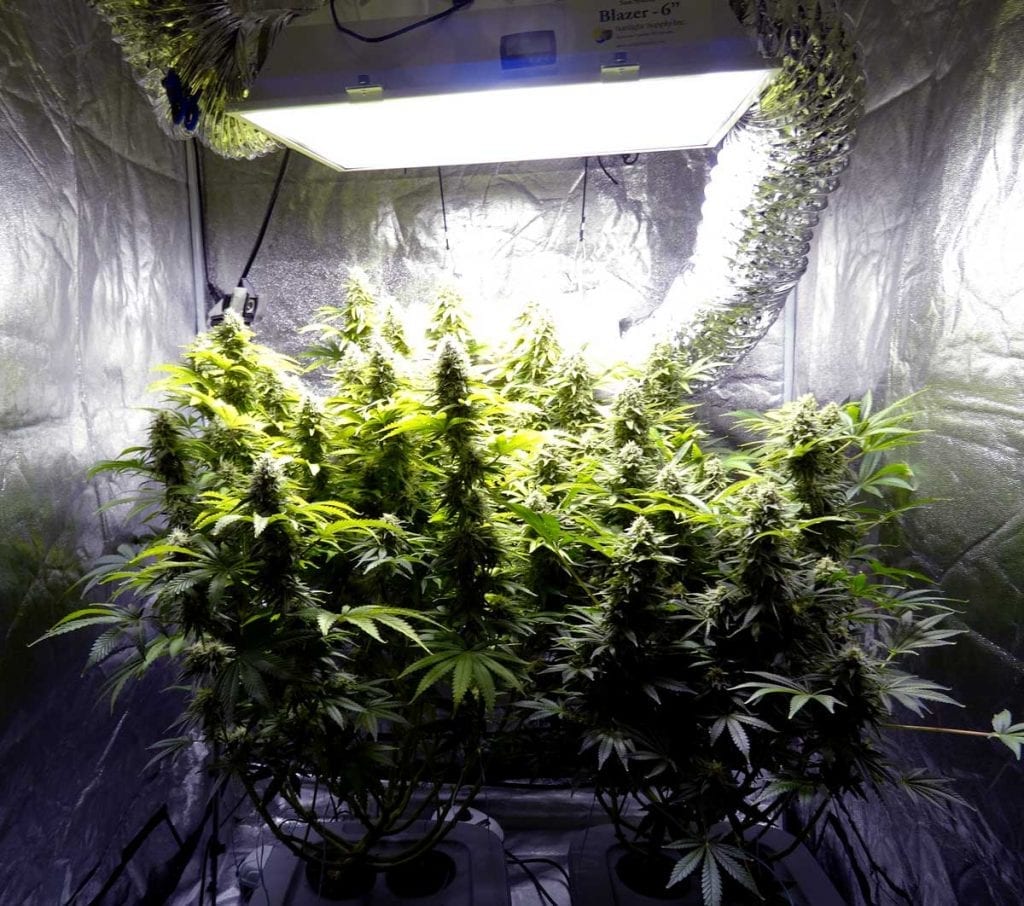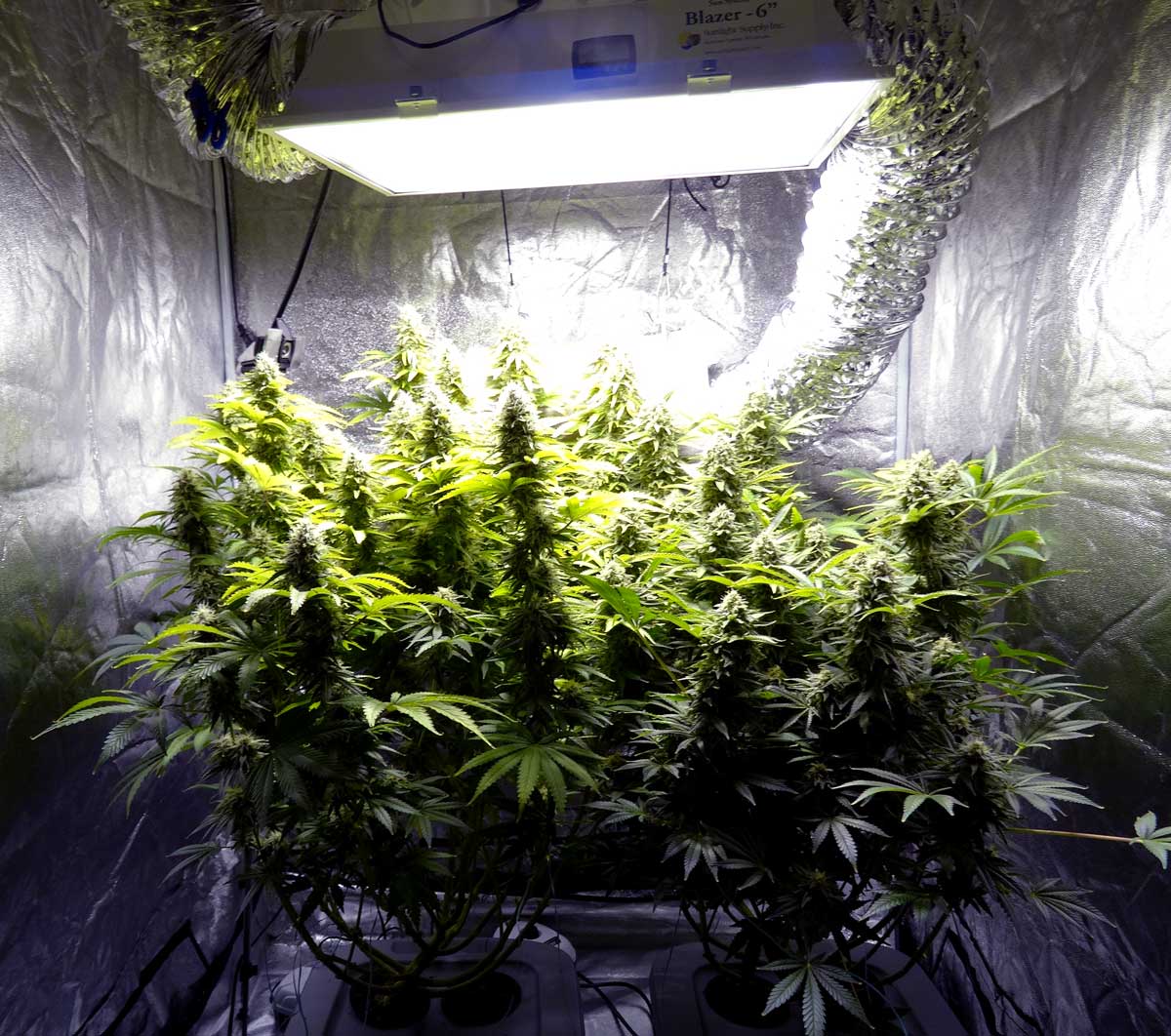 Who is a 3×3 grow tent for?
A good 3×3 grow tent with the help of LED lights you can grow up to 50 plants using the sea of green method. 50 plants are perfect for a beginner. They are ideal for growing medical marijuana, plants and vegetables at home. They allow you to monitor temperature, a flow of air, humidity level, and environmental factors. 3×3 grow tents:
Let you keep control of the environment 
Give you a good yield.
Are good for beginners
The following 3×3 grow tent reviews will provide you with information so you can pick the best indoor grow tent for your needs. We would also talk about 3×3 grow tent setup. The tents listed below are easy-to-use, long-lasting and worth the price. 
What to look for in a grow tent?
Although the sizes of the grow tents may vary, they have similar basic features. Some of the integral ones are: 
Fabric Strength & Density
The durability of a grow tent is obviously very important, it has to be resistant to tears which are dependent on the fabric's density. The common density of tents is 120-600D, although the greater the better. However, buying the strongest fabric tent is recommended as it keeps odors, noise inside while keeping diseases & spores out. A thick tent also keeps light from leaking in. It should be strong enough to endure stringent weather and spacious to store tools for gardening. 
Quality of the Reflective Material
Different companies tend to offer varying patterns in the reflective materials, however, the best reflective properties are considered to be provided by the diamond-shaped Mylar. If the quality is not given due care and attention, the whole structure can come collapsing down regardless of how well you set up your grow tent.
Darkness
Effective use of the grow lights is among the key reasons for using a grow tent. The more effectively a tent can keep external light out and grow light in the better. Ideally, there should be complete darkness in the tent without grow lights.
Frame and Pole Strength
Grow tents are constructed out of interlocking poles, some can be adjusted for height. If your plants grow vertically then it is perfect for you. Steel poles are the best bet, as well as ones that can be snapped locked in place.
Interested in larger grow tents? Check out our 4×4 grow tent reviews or our 4×8 grow tent reviews.
The Best 3×3 Grow Tent Reviews of 2020
| Product | Image | |
| --- | --- | --- |
| Vivosun Mylar Hydroponic | | |
| Finnhomy Grow Tent | | |
| TopoLite 3x3 grow tent | | |
| HydroPlanet Mylar Hydroponic EXTRA-THICk Canvas | | |
| Zazzy 3x3 grow tent | | |
| iPower 3x3 Hydroponic Mylar Grow Tent | | |
| Plant House Indoor 3x3 Grow Tent | | |
| Gorilla 3x3 Grow Tent | | |
| Mammoth Tent - Pro 90 | | |
| Secret Jardin Dark Street v4.0 | | |
Vivosun Mylar Hydroponic 36"x36"x72"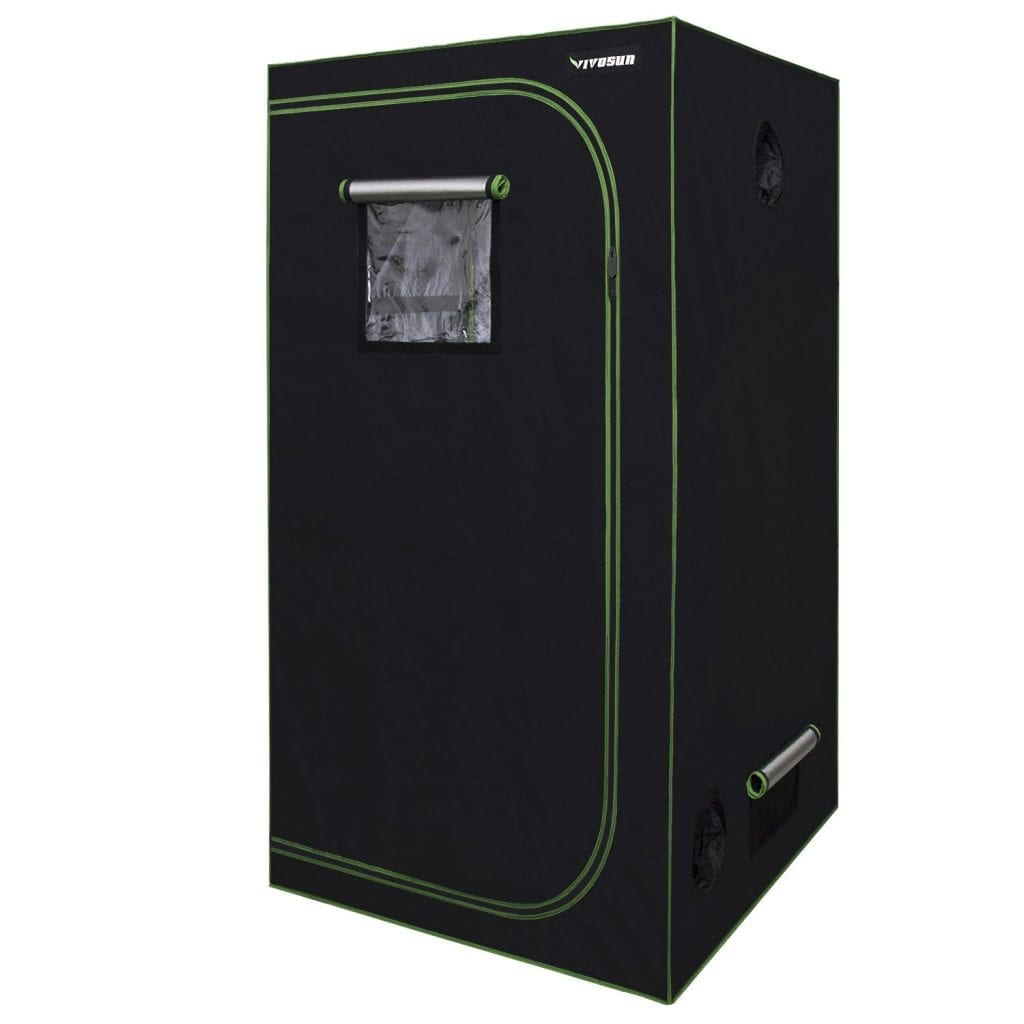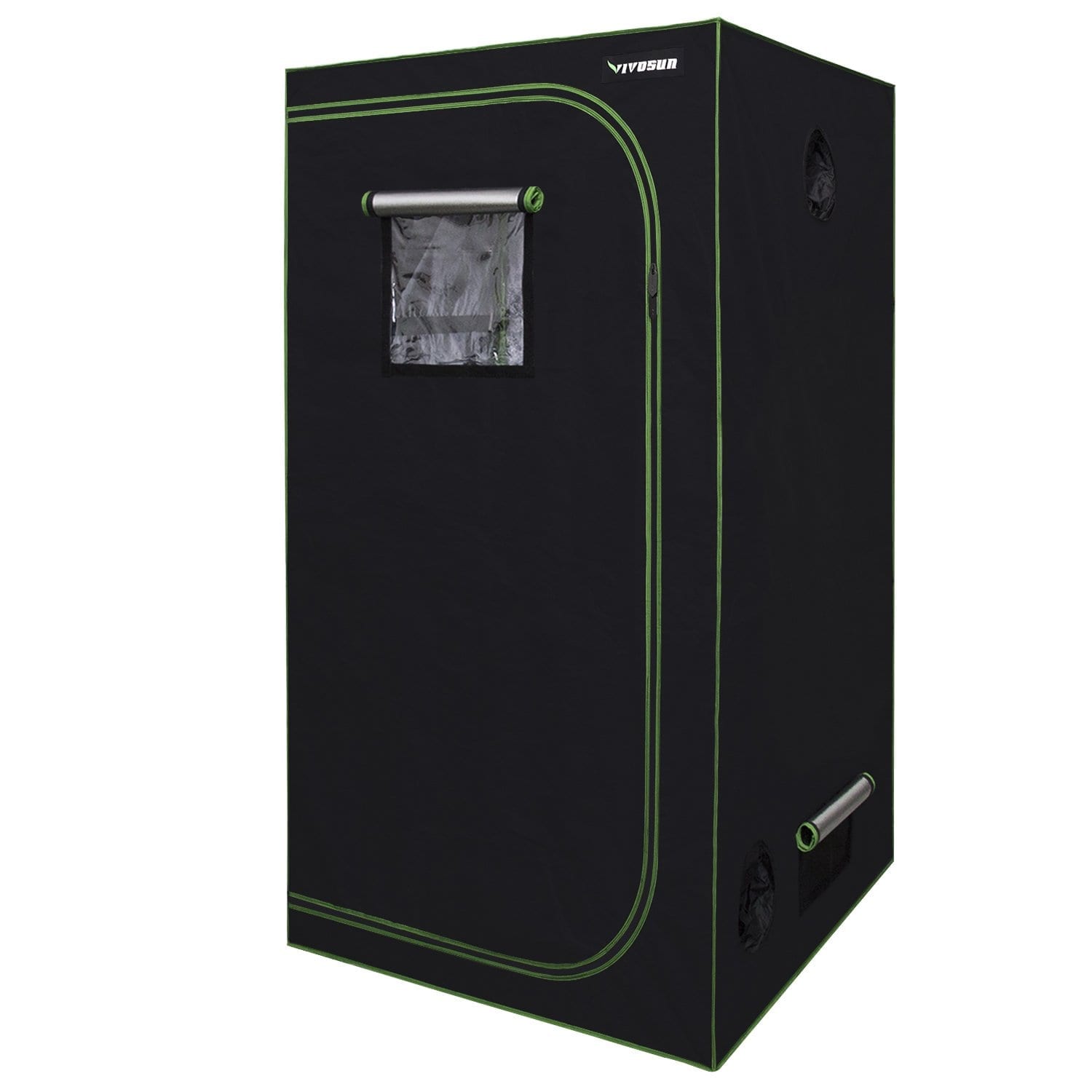 Vivosun is a well-reputed company in the market, and as such the 3×3 grow tent has spectacular quality. The fabric density is 600D thus entirely light and waterproof.
95 % of the interior is constructed out of reflective material, thus it reflects about all light within the grow-tent thus improving the effectiveness of your grow lights. The tents are long-lasting due to frame that has metal poles and connectors.
The door of the tent has a smooth zipper, it has windows that let you observe the plants without moving the environment. No tools are needed to assemble the tent. It also comes with a 2-year warranty and weighs 22lbs.
Pros
The floor trays can be removed.
High-quality, dense and thick 600D fabric.
2-year warranty on the 3×3 grow tent.
Inside is coated with mylar
Cons
A bit costly for those on a budget
Finnhomy Grow Tent 36"x36"x72" 600 Mylar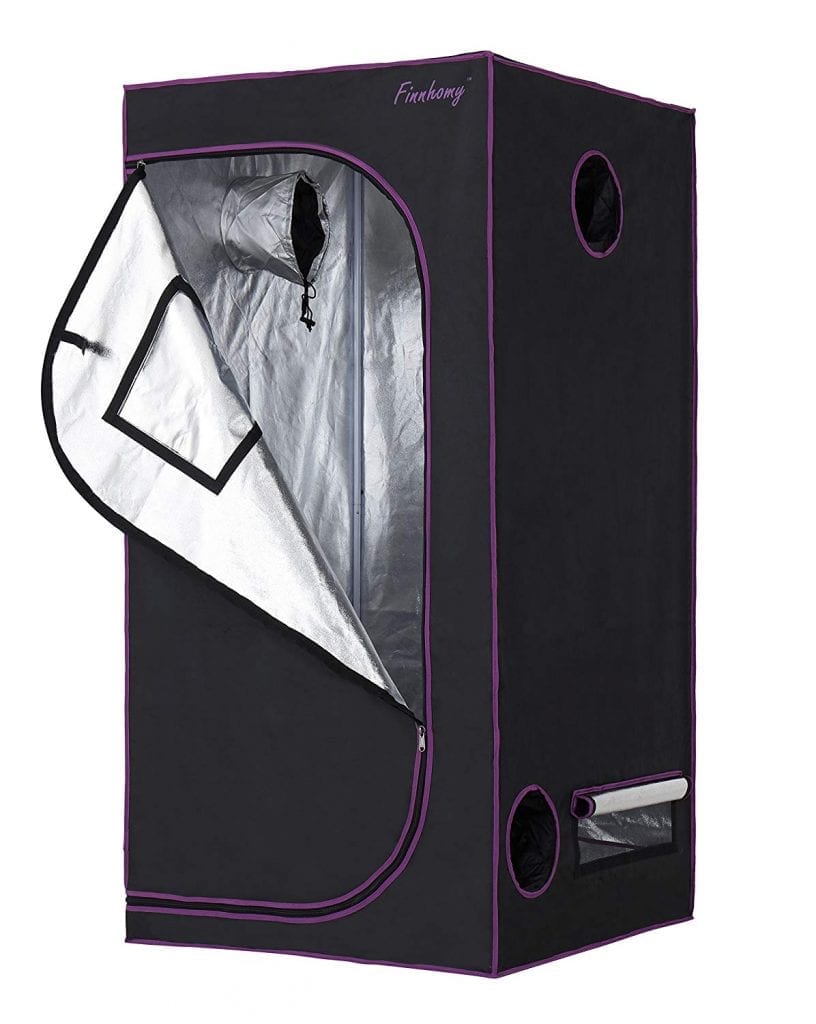 The Finnhomy grow tent comes with a 3×3 grow tent, a floor tray made of mylar that can be removed, 2 filtering straps and a manual for the user to be able to set up the tent easily and quickly without the need of any tools.
The tent's canvas is constructed of a high-quality nylon oxford fabric with a density of 600D, and the interior is completely coated with a mylar material that is very reflective.
The durable frame is sturdy and long-lasting, this is because the bars and poles are made of metals that can withstand a weight of roughly about a 100lbs.
A floor tray that has a lip which is five inches tall lip and removable. The SBS zipper on the tent is heavy duty hence provides an extra layer of protection for the grow tent.
The 3×3 grow tent also has various avenues for ventilation and ports that have mesh strings for easy attachments of filters and fans. The tent has extra flaps that are necessary to control how much of the light escapes out or comes in. The 3×3 grow tent weighs 23.9lbs.
Pros
A floor tray can be removed.
High-quality, dense 600D fabric.
Heavy duty SBS zippers
Cons
TopoLite 36″x36″x72″ Grow Tents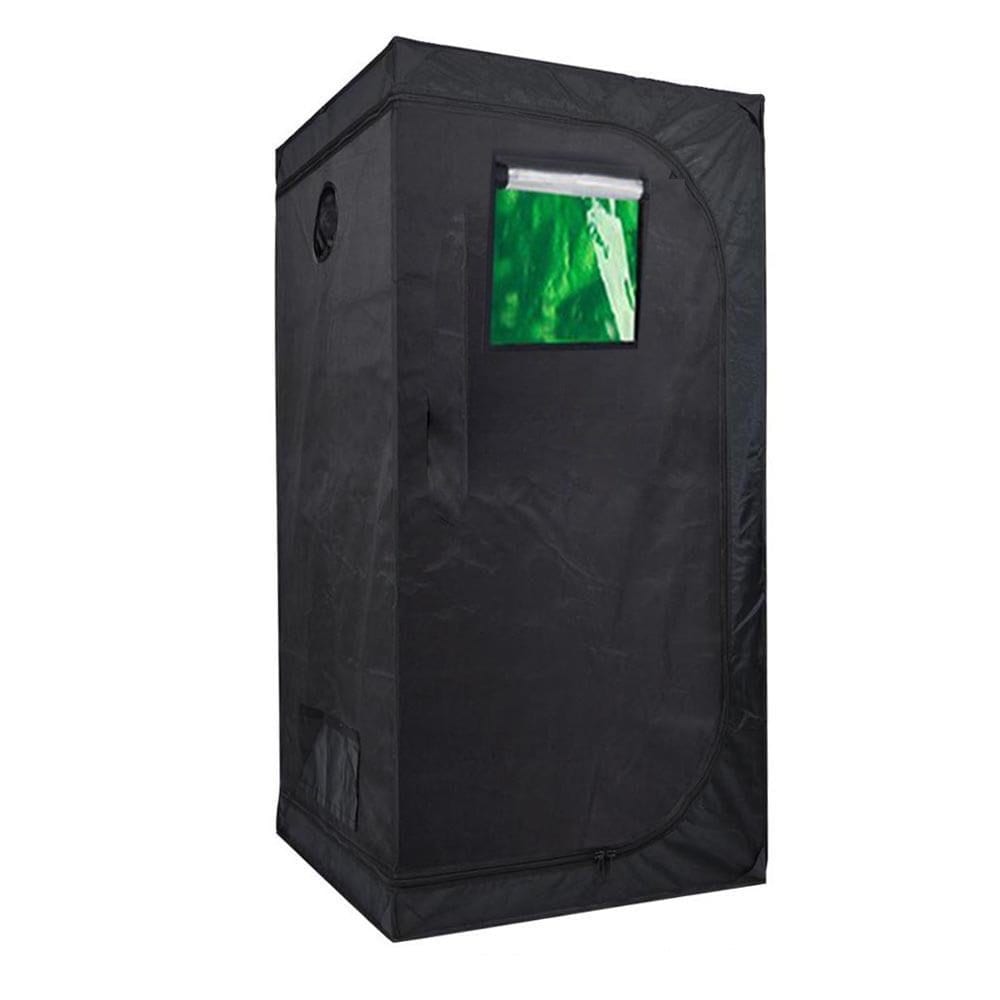 TopoLite is produced by a company that has a lot of experience with horticulture industry. They make most all accessories required for hydroponics.
Thus they have a very good understanding of how all the equipment needs work in unison to achieve a high yield and the optimal results. Their depth of understanding is reflected in the design of the 3×3 grow tent, as it is very convenient and easy to set up and grow plants from beginning to end.
The material used for tents is a high density, durable canvas of 600D thickness. The interior has a highly reflective diamond shaped mylar.
Your plants are protected from any external light leaking in as the nylon fabric has a double long-lasting stitching around the hem of the tent. The frames are very durable and hence easily able to support any ventilation or fans.
The tent has a green window which filters white light out thus maintaining a continuous condition conducive for growing plants even as you check up on your plants. It has 7 size variants thus changing the scale of your project easy.
Pros
The green window for easy check
Highly reflective diamond shaped mylar interior
Double stitching 
Cons
Reviews claim material is flimsy.
Not very durable
HydroPlanet 36"x36"x72" Mylar Hydroponic EXTRA-THICk Canvas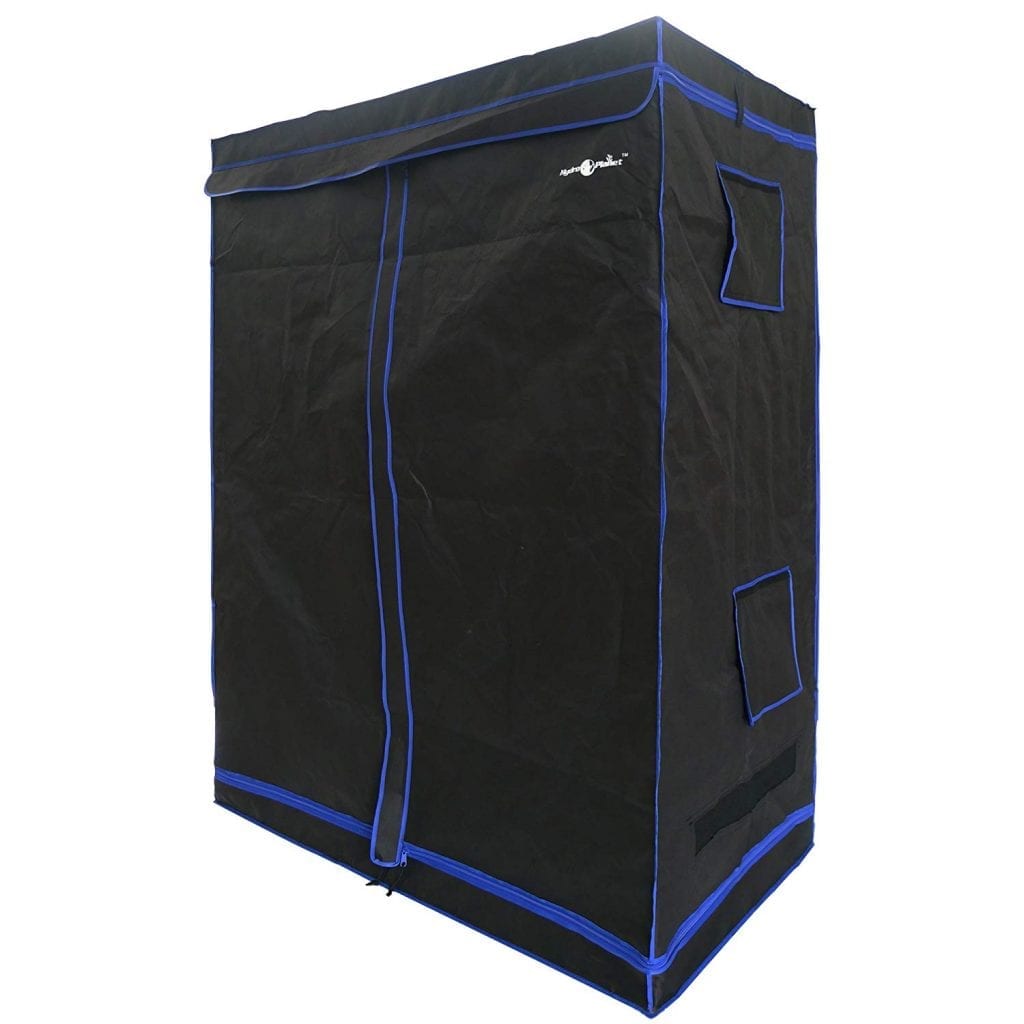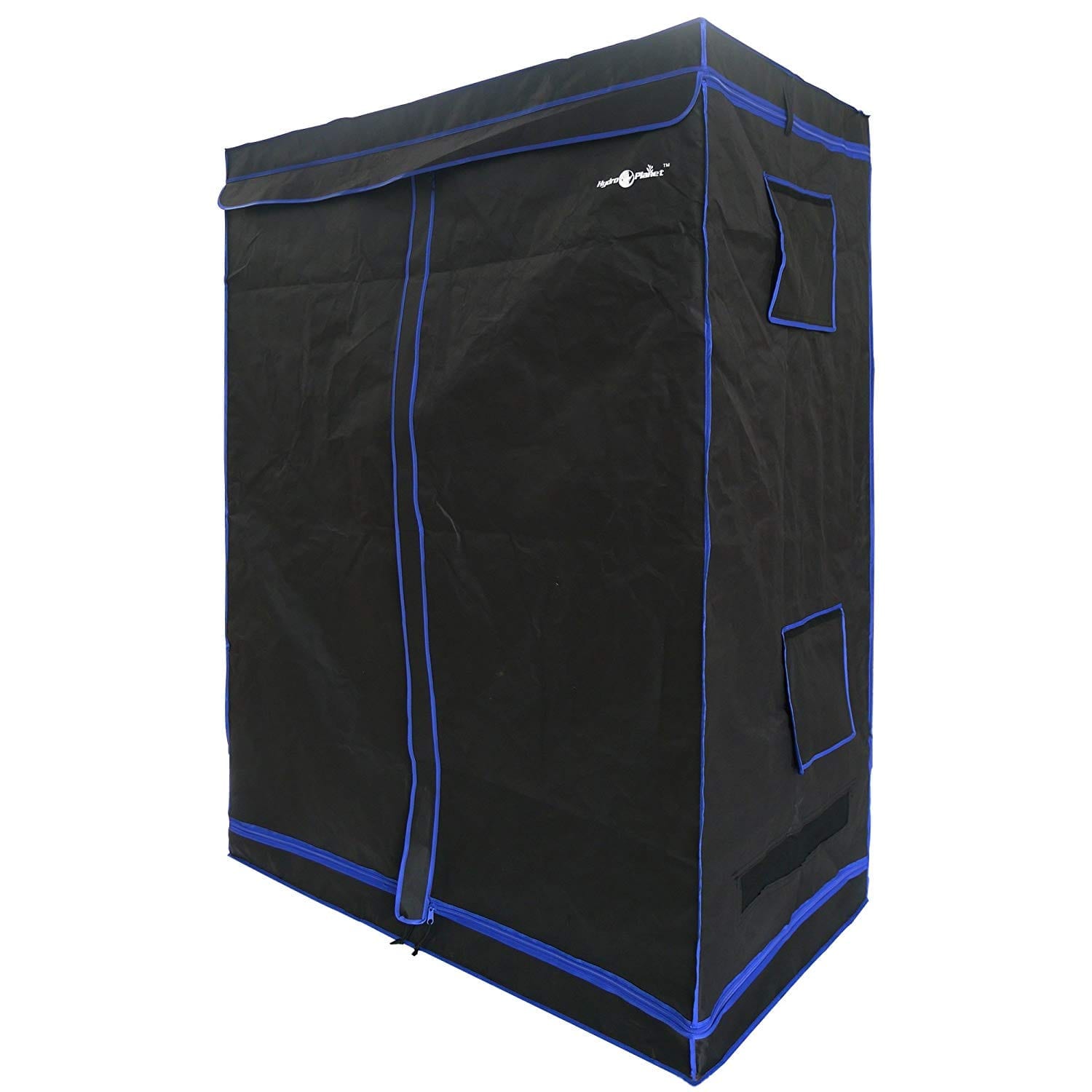 The HydroPlanet grow tent is one of the best 3×3 grow tents available on the market. It has no PVC in its structure thus making it eco-friendly and a great option for plants grown via hydroponics.
The inside of the tent is a 100% highly reflective mylar material thus conserving energy.
The grow tent is rust resistant as the frame is made of stainless steel. This makes the tent durable and long-lasting. 
The door of the tent has a zipper in place which makes it easy-to-use and installs. It is the ideal 3×3 grow tent for anyone looking for a durable grow tent on a budget.
Pros
Durable tent and poles
100% reflective mylar interior
Affordable
Cons
Zazzy 48"x32"x60" Plant Growing Tents 600D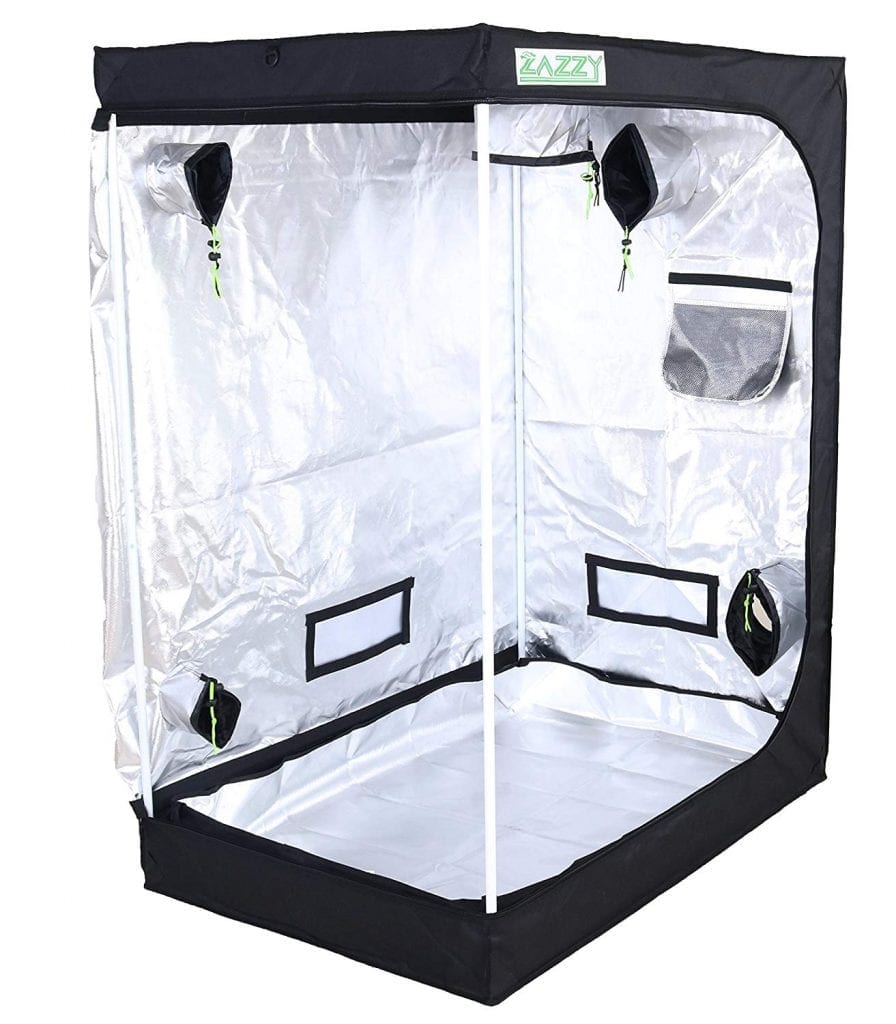 The Zazzy grow tent comes with a manual which makes it's setting up very easy. The tent has sturdy steel poles that can support weights up to 110 pounds. Hence, you can hang whichever ventilation or fan systems you want from them.
The heavy-duty zipper has ribbon that is 1.5 inches wide that prevents any light from leaking out of the grow tent, thus giving you entire control over the environment. The canvas used for the construction is a high-quality, high-density 600D nylon oxford fabric. It is tear and light proof.
The interior of the tent is entirely made up of 100% highly reflective mylar, thus ensuring that energy is conserved. It also has a Mylar tray for the floor which is removable to clean easily if there are any spills. There are 2 straps for filtering that come with the tent. The grow tent has a 1-year warranty and weighs 18.05 pounds.
Pros
Durable steel rods that can support weight up to 110 pounds
100% Mylar reflective interior
Light-weight
Cons
Height cannot be adjusted
iPower 32"x32"x63" Hydroponic Mylar Grow Tent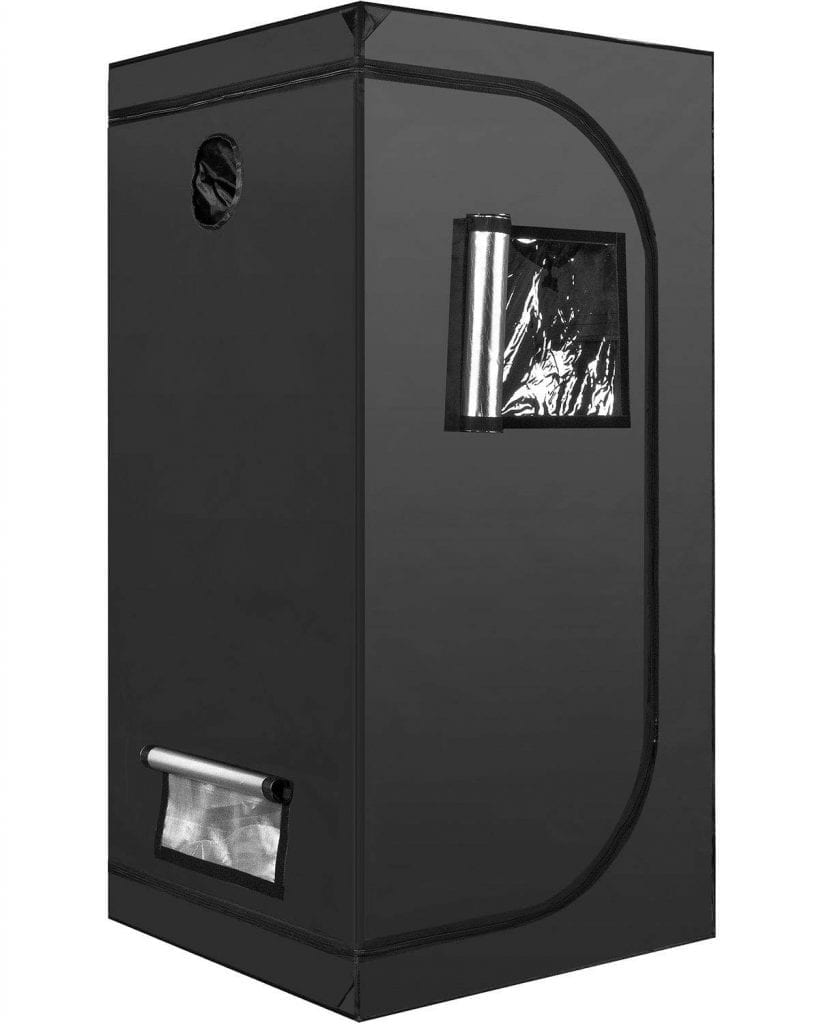 The iPower grow tent has a metallic frame making it durable and stable. It is made up of diamond-shaped Mylar which is up to 97% reflective, thus conserving energy, east management of internal climate, temperature and making your entire system power efficiency. 
The tent is entirely light proof and waterproof tent. It comes with a manual that makes the already easy installation even easier. The grow tent comes with a separate Mylar floor tray which can be removed hence easy to clean, two straps for filtering.
It is long-lasting and tears proof tent comes with heavy-duty zippers and strong seams. The zippers are twice stitched so little light leaks out. The grow-tent has various for the ventilation of air, electric cables, filters, and other equipment. It has double openings thus making it easy for you to reach your plants.
The grow tent can contain any odors produced and also allows for their management by devices like charcoal-filters and fans. It's sturdy thus being able to support quite a few pieces of equipment.
Pros
Diamond Reflective Mylar
Removable Floor Tray 
Strong Metal Poles
Support 110 pounds
Cons
No warranty 
The density of canvas is not stated
Plant House Indoor 3×3 Grow Tent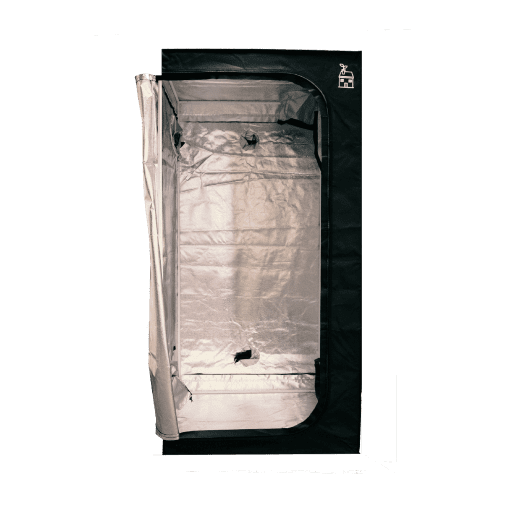 Affordable yet feature-packed, the Plant House 3 x 3 grow tent has a lot to offer. It has a 98% reflective mylar interior with a pebbled design for even distribution of light. Moreover, the material is 600D, which provides a balance between being lightweight yet very durable.
These tents also have a number of vents that you can cinch from both inside and outside, so there aren't any light leaks. This also keeps the stinking odor within the grow tent only. The tent's zippers have a double layer of fabric to seal everything tightly. 
As far as the structure is concerned, it's made up of metal poles and corners that make the tent stable and strong. You can hang a good 110 lbs on its hangers without any issues. Lastly, you also get a removable water tray to manage spills.
Pros
98% reflective pebble design mylar interior  
Double cinch vents for light-proofing
Metal corners for sturdiness 
Removable water tray
Affordable
Cons
Only one-sided view available
Gorilla 3×3 Grow Tent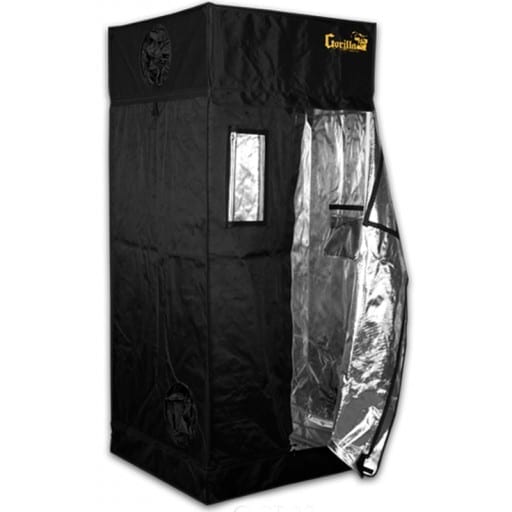 One of the most heavy-duty and sturdy grow tents on this list is the Gorilla 3 x 3. It can handle a lot of weight on its heavy metal frame, so hanging up extra lights and stuff won't be a problem with this tent. 
The company claims that these tents are 3-9 times more durable than its competitors, and rightfully so. Its fabric is made up of 100% reflective, thick 1680D material, which means there is barely any light that can pass through from it. Moreover, a thick fabric like this also reduces noise pollution to quite an extent and is very durable. 
Furthermore, this tent has a solid and robust metal frame; even the corners are made up of metallic interlocking joints. There's also a flood pool that ensures easy cleaning of any spills. 
Gorilla tents also feature pre-filters and double-line ducting, which prevent any bugs and pests from invading your tent. Last but not least, you get height extension kits with these tents, which can add a foot and even more. This will give your plants more room to grow and also help in lowering the temperature. 
Pros
Heavy-duty frame 
Very thick fabric 
Comes with a flood pool
Extendable height
Reflective diamond design interior for maximum reflection
Cons
Mammoth Tent – Pro 90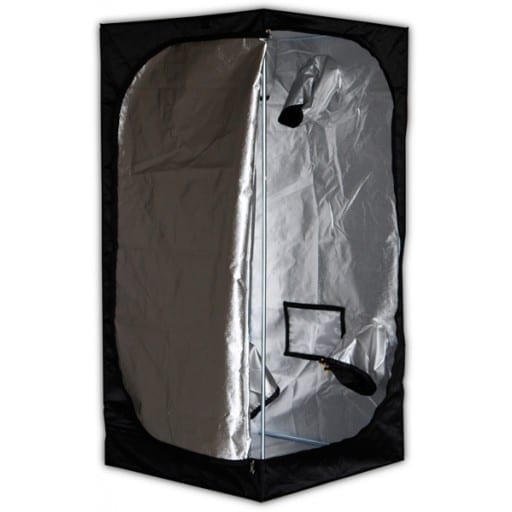 The Pro series by Mammoth Tent gives you many features for a reasonable price. It comes with 19 mm steel poles that put up a sturdy frame, which can withstand weights up to 130 lbs. All of this is pretty easy to set up as well, which is another plus point. 
The corners or joints of this tent consist of PP copolymer, which is pretty durable plastic. Metal would have been better, but plastic has its benefits, like being prone to rust. 
As far as the interior is concerned, Mammoth Tent Pro 90 has a 95% reflective mylar interior. Plus, the whole thing tightens up nicely, so there's no light leaks and good enough reflectivity for your plants. 
It also has three hangers, multiple inlet and outlets, and large doors that offer ease of use. Moreover, you get a removable water tray with it as well, making it even easier to use. 
Pros
Steel poles for a sturdier frame 
Can withstand 130 lbs of weight 
95% reflective mylar interior 
Removable water tray
Cons
Secret Jardin Dark Street v4.0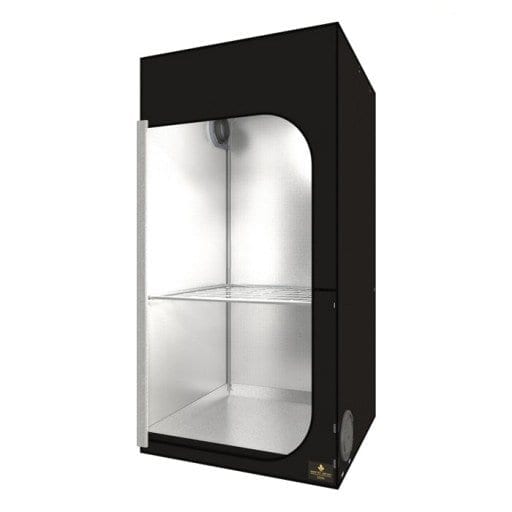 This particular tent is the model DS90 from Secret Jardin, which has a bunch of innovative features making it entirely worth the price.
First off, this tent is lightweight, as it's made up of 210D nylon. However, like most tents, this one won't get sucked inwards and reduce the room size due to its unique space booster design. It remains sturdy and upright, which is great. 
Secondly, this grow tent also features adjustable ducting ports, so you can add them wherever you want. Just use the kit provided by fitting the bracket inside, poking holes for the ring on the outside using the template, and screwing in the ring. Next, cut the hole in one go using the innovative cutting tool, and that's it. 
Along with all of this, you get a handful of accessories to keep things organized. The web that comes with it helps you train your plants, and the web clips also double as a cable manager to prevent them from tangling up. 
You even get a bag to keep all your tools in it. Last but not least, you will get a removable water tray with this model, which you can wash along with the whole tent. 
Pros
Lightweight but sturdy with space booster design
95% reflective mylar interior
Customizable ducting port 
Removable water tray
Comes with many handy accessories 
Cons
May not carry heavyweights
Only one side view
Do you want to knowhow to setup a grow tent?We have a video below that shows the whole process. It's not hard!
Conclusion on the Best 3×3 Grow Tent Review
3'×3' grow tents do not occupy a lot of space but the yield is decent, thus you can enjoy a good yield on a small piece of land while saving up on water and power consumption.
After having reviewed the best indoor grow tents we have concluded that our top choice is Vivosun Mylar Hydroponic 36″x36″x72″.
The brand is a leader in the market and for good reason as all of their products are made using high-quality materials.
The grow tent comes with a 2-year warranty, which is far longer than what other companies offer.
Also, other reviewers have rated it very highly, it has a total of 4.1 stars out of 5 on Amazon. The 3×3 grow tent is a true investment that you'll be highly satisfied with as it takes good care of your plants so they can grow beautifully.