Are you just starting out with cultivating your own marijuana? If yes, then the G8LED 450 Grow Light is the ideal product for you. This G8-450 is popular with cannabis growers due to its special features coupled with a scanty electrical consumption.
All the while, this G8LED G8-450 scoring high with fat buds and decent sized flowers. This G8LED 450 review will highlight the astounding features that G8LED has come up with in this awesome grow light.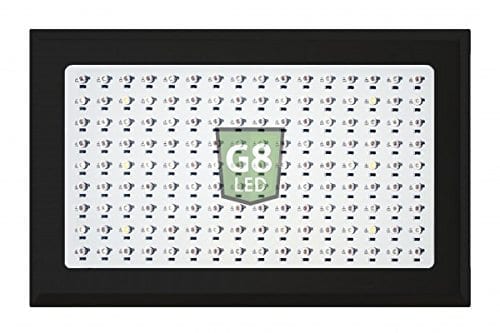 Are you looking for a LED grow light of G8LED with more power? Check out our reviews of the G8LED G8-600 and G8LED G8-900. 
The simplicity of the G8LED 450
This LED grow light is straightforward and uncomplicated in design. Its aim is to give the right amount of light while consuming a fraction of the power other fancier grow lights devour.
Equivalent to a 600W HID, the G8 grow light has a wide scope that covers for the seedling and vegetative phase all the way to the flowering of your plant.
The 8-band recipe of light, which the G8LED 450 has, incorporates the entire photosynthetically active range. This includes UV and IR radiation as well.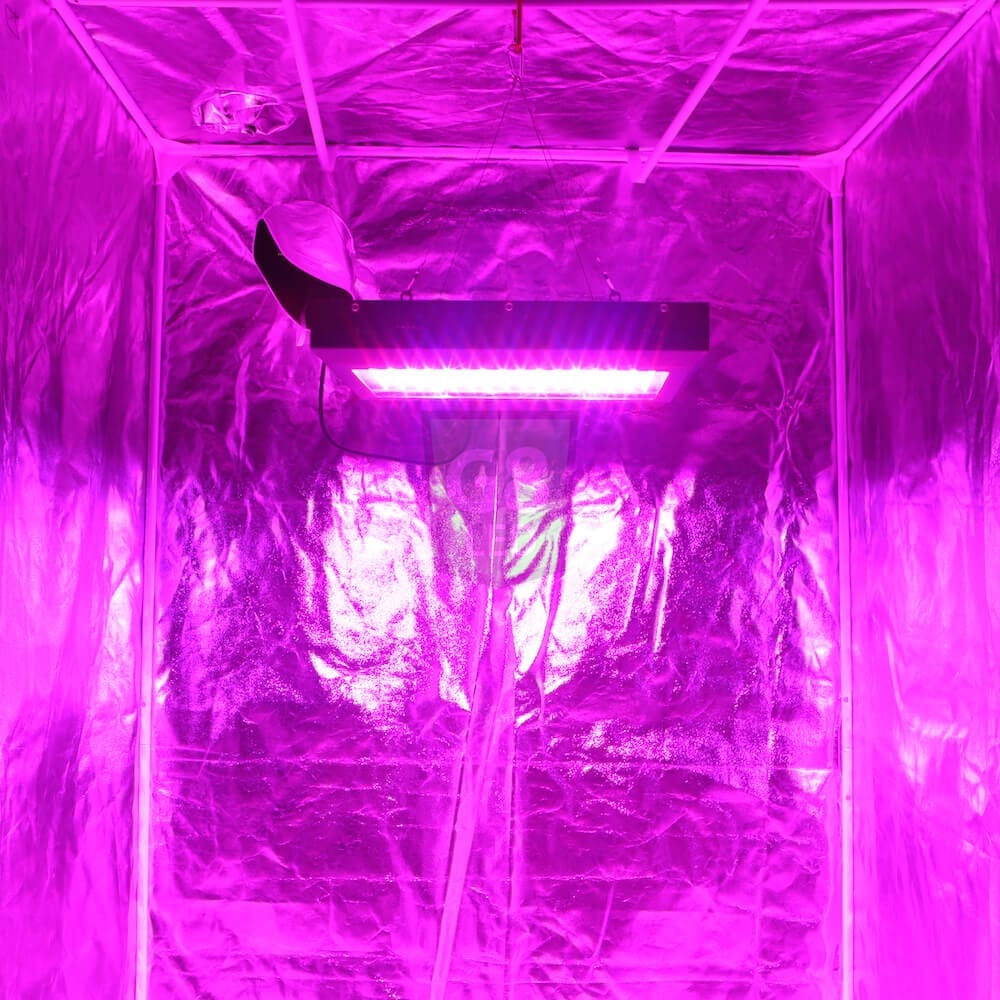 Thereby, the G8LED G8-450 promotes plentiful trichrome production in your plants. Great yields are guaranteed with this grow light!
Savings of the G8LED G8-450
G8LED has spent years of development and this resulted in this amazing LED grow light. The heat dissipation system, with its multiple but silent fans, leads to barely any heating up of the unit. Even when operated non-stop, this light stays cool without taking a toll on your electricity bill.
It churns out 600-800 watts of growing power, when compared to HPS/MH lighting. This while feeding on a 270W diet!
Economically, it's doing so well that the savings from your electricity bill will pay for the light within the first year! That seems like a perfect reason to replace your old HPS light with a brand new LED grow light, don't you agree?
Ease of operation
The G8LED G8-450 is a complete hassle-free device. You don't need a lot of technical know-how to install the light. Moreover, its ergonomic design makes things so much easier.
The built-in VEG/FLOWER light spectrum makes sure that an ample amount of light hits the photosynthesizing cells, ascertaining flawless growth of your plant.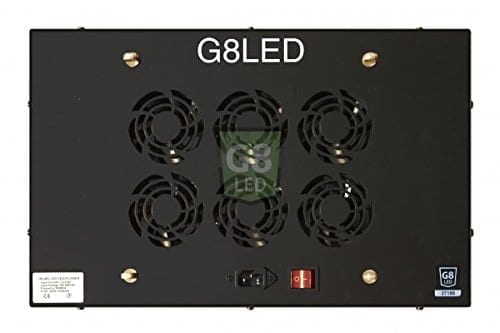 Furthermore, the G8LED 450 LED grow light comes with power cords and hanging wires, which are easy to install. So, all you need is a conveniently placed socket and space to hang it in.
With its coverage area of 3×4 feet, this is a perfect light for a 4×4 grow tent. Are you looking for one? Then you should check out our articles on grow tents. We reviewed the best to make it easy for you.
Most important features
Best full spectrum you can wish for;
Long life LEDs;
Super cool even during a continuous run;
No more burnt leaves;
Ergonomic design;
Minimize energy costs and maximize power output;
VEG/FLOWER design ensures the LEDs are used to their max capacity;
Deep penetration of light; can reach 60 cm below even in the bushiest of plants;
The customer support is great.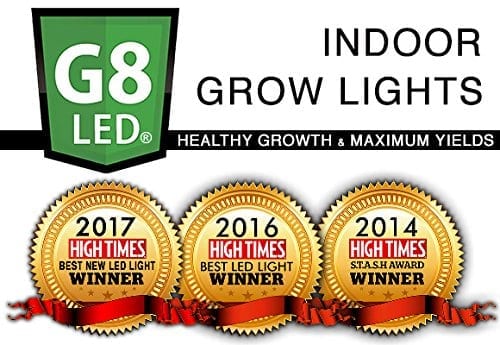 Pros
Durable and powerful LED light
Very efficient in power usage
Sturdy design
Long life-span of 50,000 hours
Suitable for plants other than cannabis
Won numerous prizes (High Times Awards – Best LED Light, among others)
Cons
Coverage only 12 square feet, which is small in comparison to other grow lights in this price range.
Supplemental light
In order to increase your yields, it is advisable to install the G8LED 90W red UFO Flower Booster for aiding the main grow light. The flowering stage requires an abundance of red light.
The G8LED 450 LED grow light is mainly used for the vegetative and flower. This light supplement is perfect to go with the G8 450W. It gives the red light spectrum an extra boost during the flowering stage. This will hugely benefit your yields by increasing flower size and density!
Do you want to know what this light produces in terms of yields? Watch the video above to find out!
Conclusion on the G8LED 450
After taking into consideration the unique energy efficient features, perfect full spectrum and the sturdy design of this grow light. We have, thus, concluded that the G8 LED 450W is the perfect grow light.
The awards this light has won are not by surprise. This light is perfect for amateurs as well as for advanced cultivators. You will definitely love this product cause it will give you great yields and amazing results.
Check the G8LED G8-450 LED Grow Light on Amazon
Interested in more LED grow light reviews? Read more here!