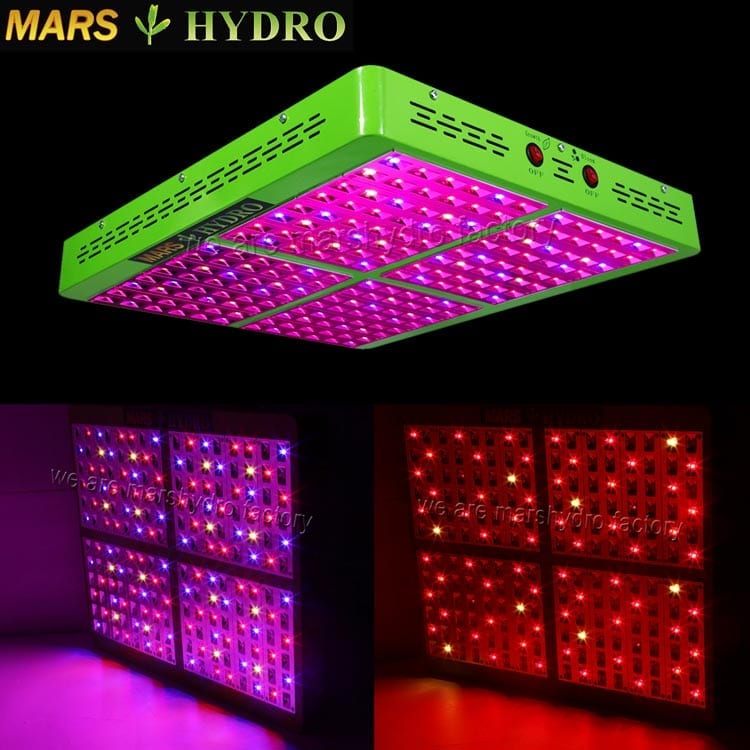 The Mars Hydro Reflector 192 is the best LED Grow Light for someone who's on a tight budget and is trying to save money while growing their indoor garden. It has an upgraded panel that features 5-Watt EpiStar LED chips to give a full spectrum of light so that you get the best quality and growth for your indoor garden. Let's look at the other features and specifications in more details:
Light Spectrum of the Mars Hydro Reflector 192
The Mars Hydro Reflector 192 is a full-spectrum LED Grow Light with 12 bands that incorporates 192 5-Watt Epistar LED chips in its model. These chips emit white light, which is a deviation from most other LED grow lights. Four of these are infrared LED chips. The grow light's panel offers two switch modes, Veg and Bloom, which allow users to control the color output of the panel. The panel's power output ranges between 2700 and 3200 Kelvin.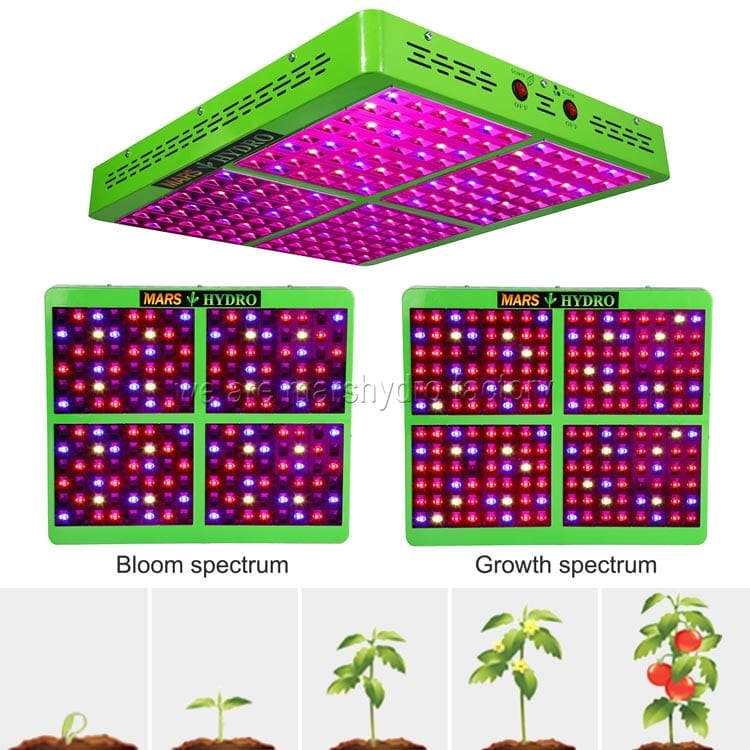 Energy Efficiency
It's a great choice if you're going for an energy-efficient grow light. The grow light is comparable to a 450 HPS, MH or HID bulb. During the vegetative phase, the panel works on about 250 watts. In the flowering phase, users are recommended to keep both switch modes on to get a total power usage of around 390 Watts.
Hanging Distance
The grow light's panel is very bright and has to be kept at a distance of about 12 inches from any indoor plants. It also comes with heavy-duty hangers to balance out the grow light's 17 pounds of weight.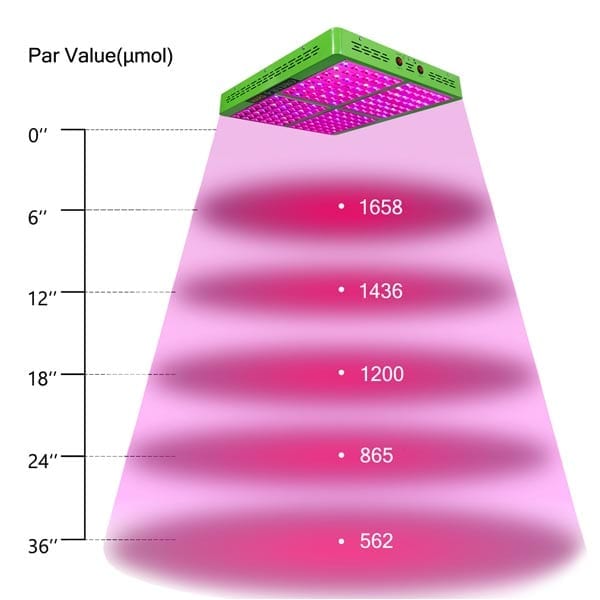 Cooling
The Mars Hydro Reflector Series does an amazing job of staying cool even after 18 hours of usage. With a nonstop 7-day usage, you can be sure that the 192-model will face no problems of overheating or malfunctioning whatsoever. The grow light comes with a proper cooling system so that the panel can withstand power output over long periods of time with its effectiveness and efficiency remaining constant throughout.
The grow light comes with extremely large internal aluminum heatsinks that work simultaneously with the cooling fans, which will spin for as long as the light is in use. This consistent airflow provides effective heat loss even in grow rooms that remain at high temperatures of 80 degrees. Also, the fans are silent, which makes the grow light a great choice for people who prefer a quieter growing environment.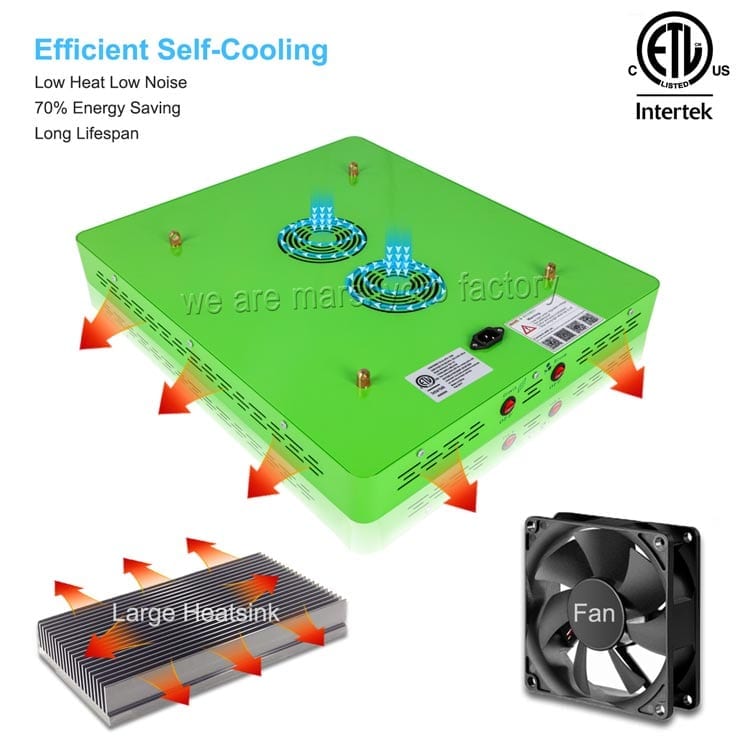 Warranty Information
The Mars LED grow light comes with a 3-year warranty like all the other grow lights in the Mars Hydro Reflector series. You can also receive repair parts within the second year to perform reparations yourself or have them done by capable servicing shops.
Pros
A full spectrum of light
4 infrared chips
High quality
IR 730nm great for flower stage
Comes with EpiStar 5-watt LED chips
Separate switches for Veg and Bloom
Affordable
Cons
Specifications of the Mars Hydro Reflector 192
Leds View Angle: 90°/120°Mixed
Input Voltage: 85V-265V(AC)
Frequency Range: 56~60Hz
Life Rating: 50000-100000 hours
Certifications: ETL/CE/RoHS
Warranty: 2-year manufacturer warranty
Cord Length: 6ft
Number of leds: 192pcs
LED Type: High intensity 5W Epistar
Spectrum: 430-440nm, 450-475nm, 620-630nm, 650-670nm, 730nm,2700K,3500K
Actual Wattage(±5%): 388W/110v, 374W/220v
Veg/Flower Power: Veg power 253W, Flower power 129W
Amp Draw: 3.53A/110v, 1.79A/220v
Footprint Flower: Up to 4ft x 4ft
Footprint Veg: Up to 4.5ft x 4.5ft
Core PAR Value: 1200 umols
Lumen Output : 21981 lumen
Replaces HPS/MH: 450 watt
Product Size: 22 x 19 x 3 inches
Net Weight: 17 lbs / 8 KG
Heat Output: 1398 BTU
Noise Level: 57DB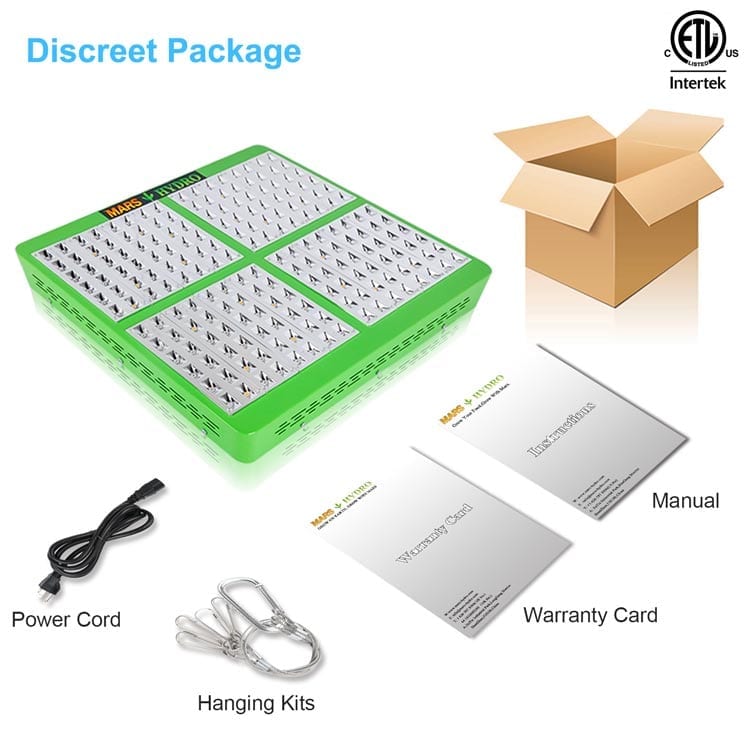 Summary
In our Mars Hydro Reflector 192 review, we found that the product seems to be the best LED grow light in terms of it being energy-efficient and budget-friendly. Mars Hydro just recently extended their warranty program to three years. Thanks to this program, Mars Hydro became a lot more reliable and comparable to other brands in the same price range.
Some LED panels can come with a full 3-year warranty and additional features within the same price range as the Mars LED grow light hydro reflector 192. That said, for the indoor gardener that wants the best grow light in a limited budget, this is the best choice. This light definitely has great bulbs and great customer service in North America.
Still want to know more about this light? Check out this youtube video for an extensive review on the Mars Hydro Reflector 192: