Let's face it, we all know that most cheap products are a bust. However, the Roleadro GalaxyHydro 2000W grows light is sure to change your mind about that.
In this GalaxyHydro 2000W review, we have highlighted all of its feature and list down its pros and cons. You'll be glad to know that the pros outweigh the cons.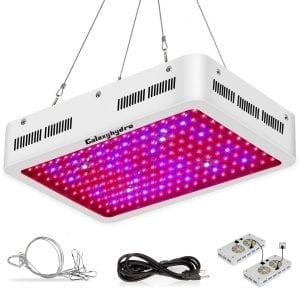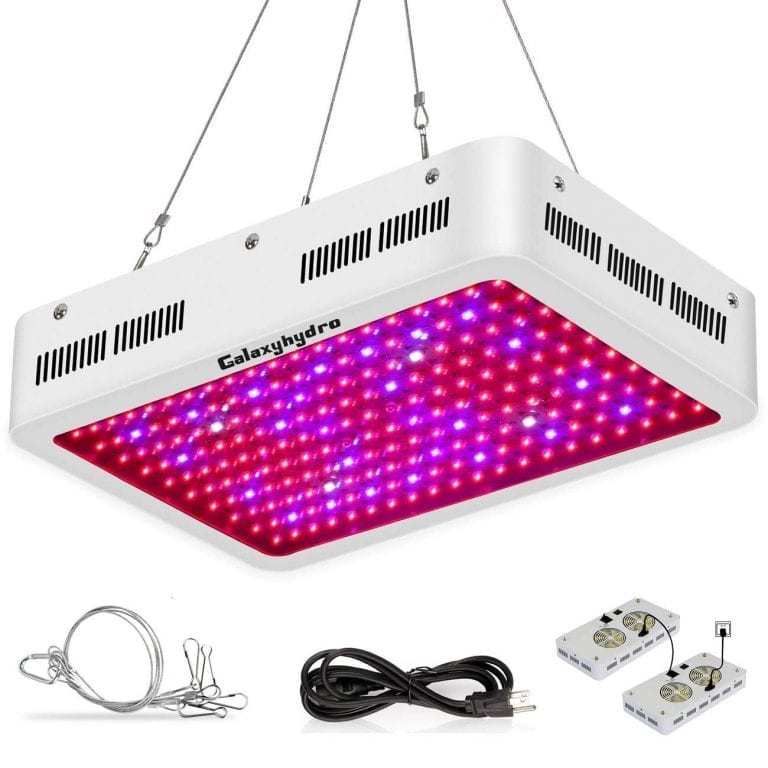 Great Light Spectrum
The light provides a large array of the light spectrum of both UV and IR. This is optimal for the promotion of healthy growth, development of nice buds and resistance to diseases.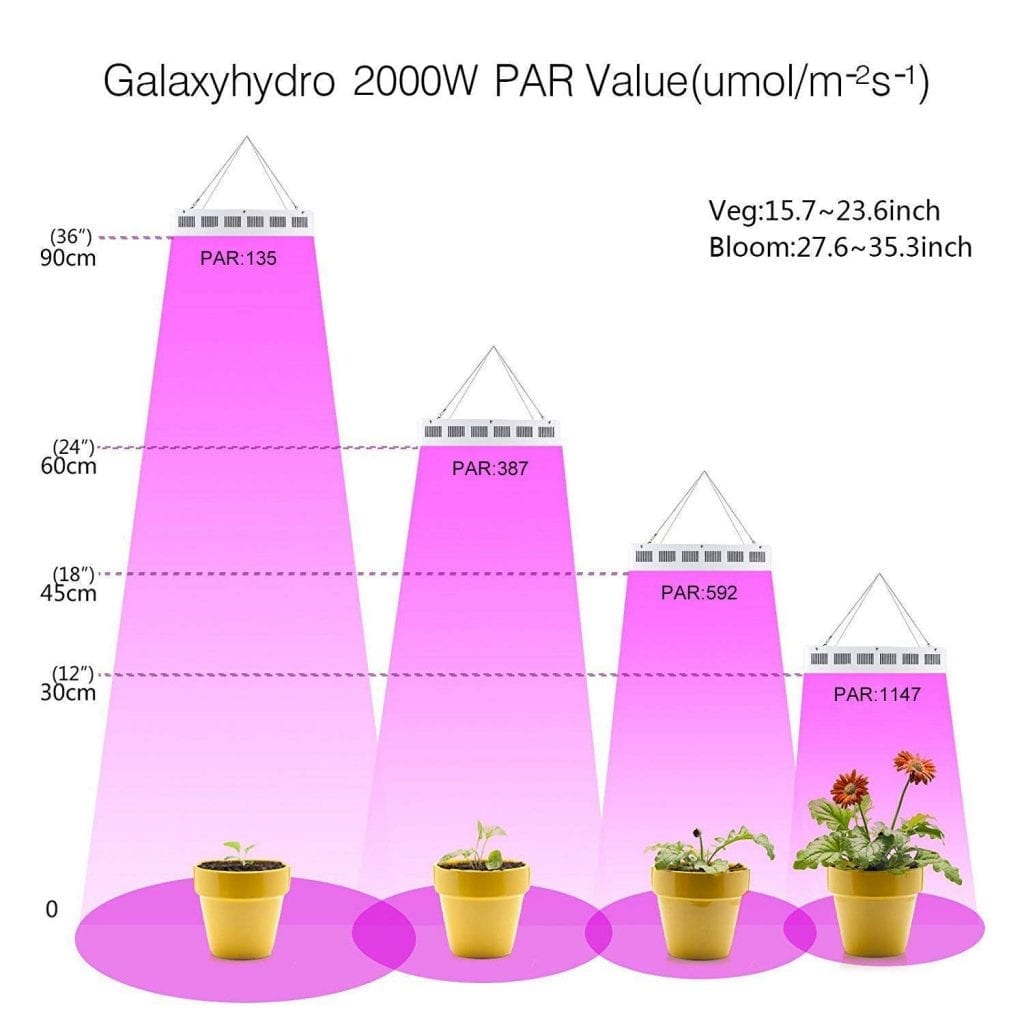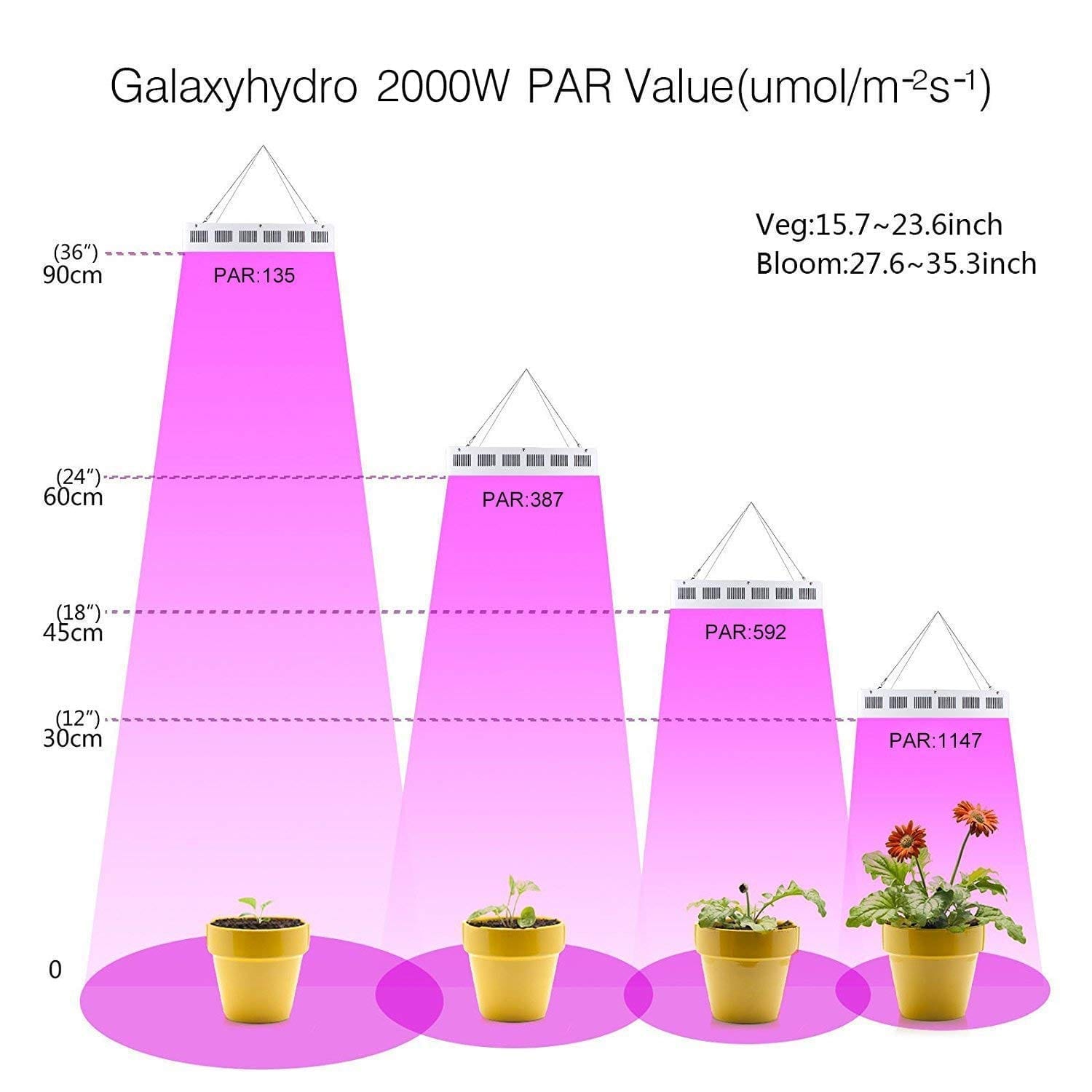 The light is quite bright as compared to others in its price range. The GalaxyHydro 2000W its ratio between red and blue is 9:1. This is an ideal rate for the photosynthesis process.
Suitable For Vegetation & Blooming
The blue, UV and red light deliver the energy required for vegetation. IR gives the energy for blooming and producing buds that are huge and filled with resin. The light spectrum provided by the GalaxyHydro 2000W is conducive for the healthy growth of a large number of vegetables and flowers. A lot of cannabis growers use the GalaxyHydro 2000W or its smaller sister; the Roleadro GalaxyHydro 1000W.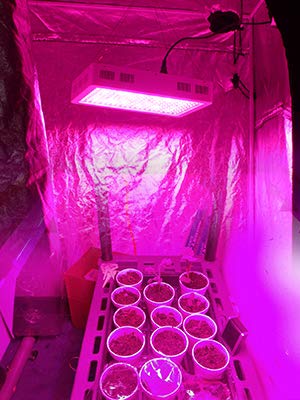 Technology Benefits of the Roleadro GalaxyHydro 2000W
The light has 200 3-watt durable and tested Epi-LED chips, which although aren't the latest in technology but these are better as compared to LEDs used in other LED grow lights. The grow light has every wavelength that a plant requires for the photosynthesis process during its growing stages. The light has an excellent ratio of PAR/watt. Other manufacturers use lumens to measure the intensity of the light which is not as effective, PAR/watt ratio measures the amount of light the plants get and their reaction. The GalaxyHydro 2000w LED grow light is a viable substitute for an HPS lighting system of 550w.
The ideal height to hang the light for the germination process is 48 to 56″, for vegetative 40 to 48″ and flowering 32 to 40″. These settings are highly recommended for first-time users, you are also advised to monitor the results and adjust the light accordingly.
Eco-friendly
Moreover, the LED grow light is said to be power efficient as it consumes only 300 watts on average. It uses almost 50% less electricity than regular grow lights, all the while giving high functioning results. The Roleadro GalaxyHydro 2000W has a coverage of 4' x 4', hence could be used for complementary grow tents.
GalaxyHydro LED comes equipped with 2 large fans and aluminum skins that dissipate heat. They prevent overheating of the plants inside the grow tents. The fact that a daisy chain can be created out of them makes it easy to use.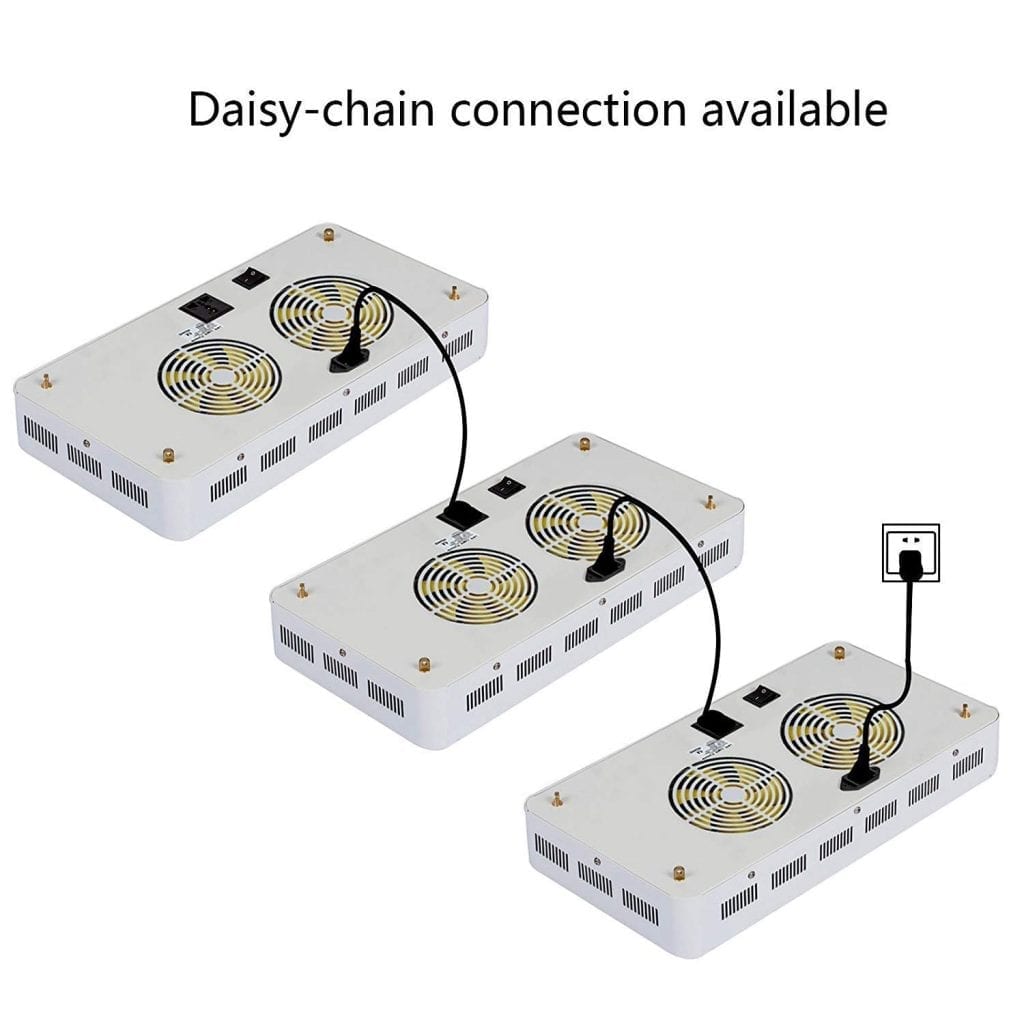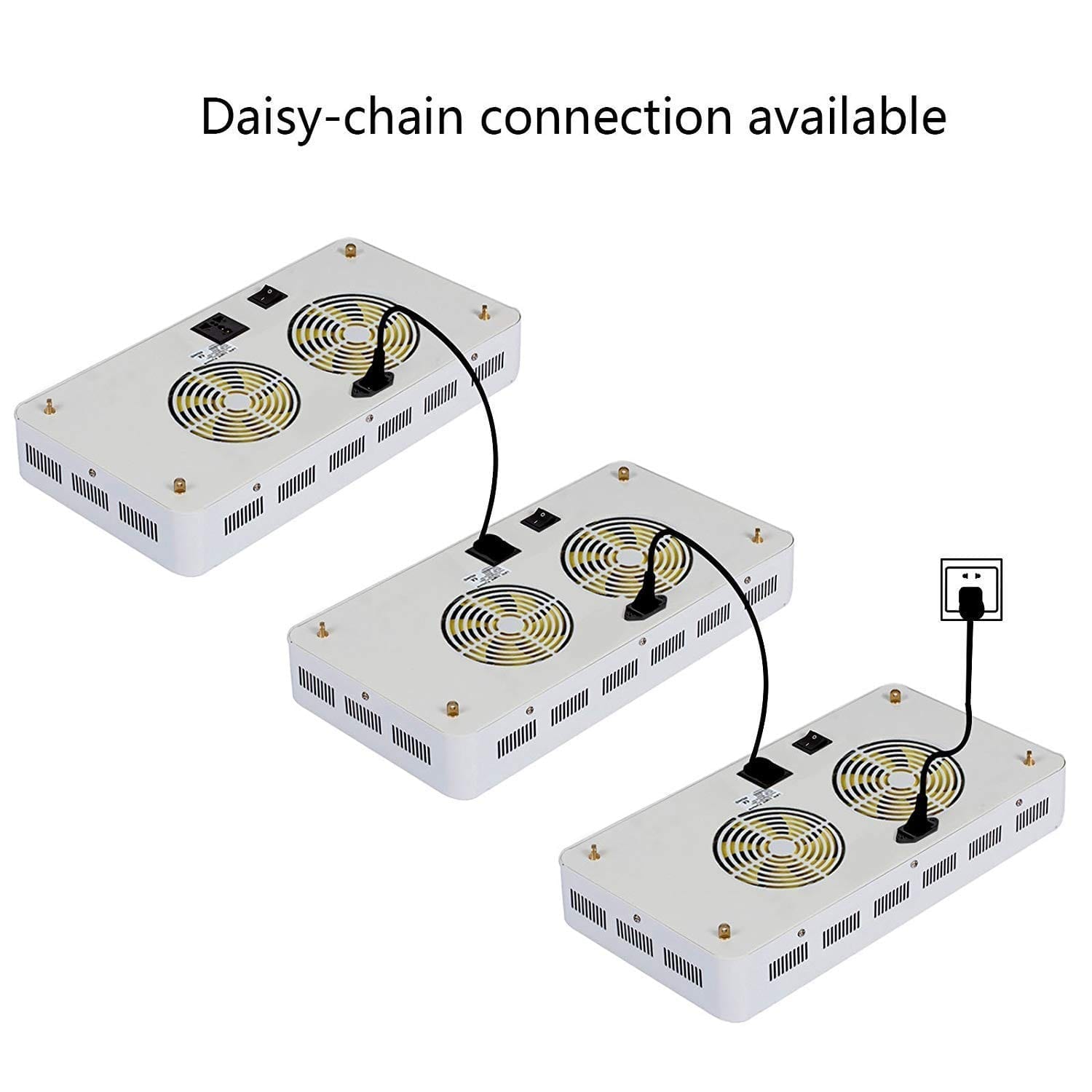 The daisy chain function makes sure you can easily scale up your operations with this light.
The Roleadro LED has an acrylic panel to protect it against dust, rust, and micro-particles. It also has Zener protectors, which in the case of a technical malfunction use Zener diode to run LEDs. This makes the GalaxyHydro LED grow light long-lasting. The lifespan of the GalaxyHydro LED grow light is 50,000 hours.
Warranty and Dimensions
The product comes with a 2-year warranty and a 30-day money back policy in case you are not happy with the results. Hence you do not have to worry about your investment. We know a first time customer is very skeptical about which product to buy.
The dimensions of the light are 17.3" x 11" x 3.11" inches and it weighs 5.2 kilos. The GalaxyHydro 2000W is very cost effective for all the features it provides.
Specifications
Leds: 200pcs*10w Epileds chips
Dimensions: 19.7 x 14.2 x 5.5 inches
Certification: CE, FCC, and ROHS
Lifespan: 50000 hours
Voltage: AC85 – 265v
Power Draw: 300W, energy saving
Current: 630ma
Working temperature: -4 – 104 ℉
Working Frequency: 50 ~ 60Hz
Recommended Height: 11.8"- 78.7"
Pros
9:1 ratio of red and blue light
UV and IR
2 fans and aluminum skin for cooling
4×4 Coverage Area
Full light spectrum for efficient PAR/Watt rate
Affordable
Long lasting and durable
Can be Daisy Chained
2 Year Warranty with 30-day money back guarantee
Cons
Cannot be dimmed
Doesn't have an automated timer
Spectrum cannot be customized.
Conclusion
This GalaxyHydro 2000W review provides users with a concise and apt review of the light. Hence we would suggest that if you are just starting out with horticulture then GalaxyHydro 2000W is the LED grow light for you. It is an affordable, user-friendly and super high-intensity light.
Also important: Roleadro is a famous and well-rated brand on Amazon and various other resellers. Their customer service is decent and their warranty is also decent with 2 years.