The purest, safest and the most effective way to smoke weed is the use of a portable vaporizer, and it has immense advantages, both medicinally and recreationally. With the innovation of the various portable vaporizers and vape pens, vaporizers for weed are the most convenient way to enjoy smoking weed.
A cool fact about these dry herb vaporizers is that you can easily slip them into your pocket, unlike the bulky tabletop marijuana vaporizer or hookah. You get to carry them anywhere and wherever you wish to.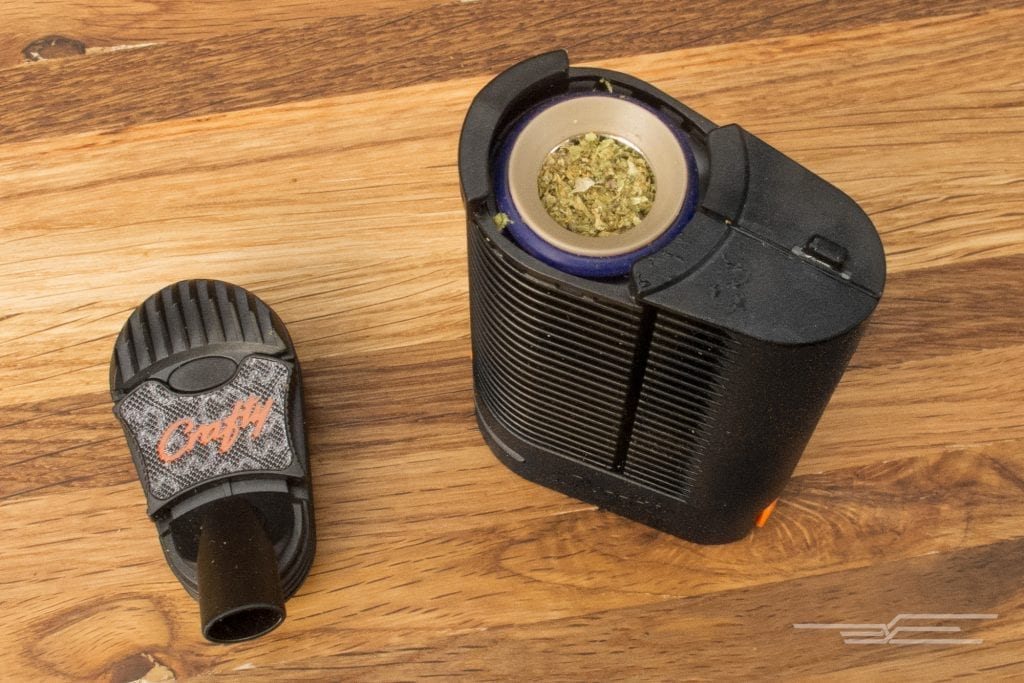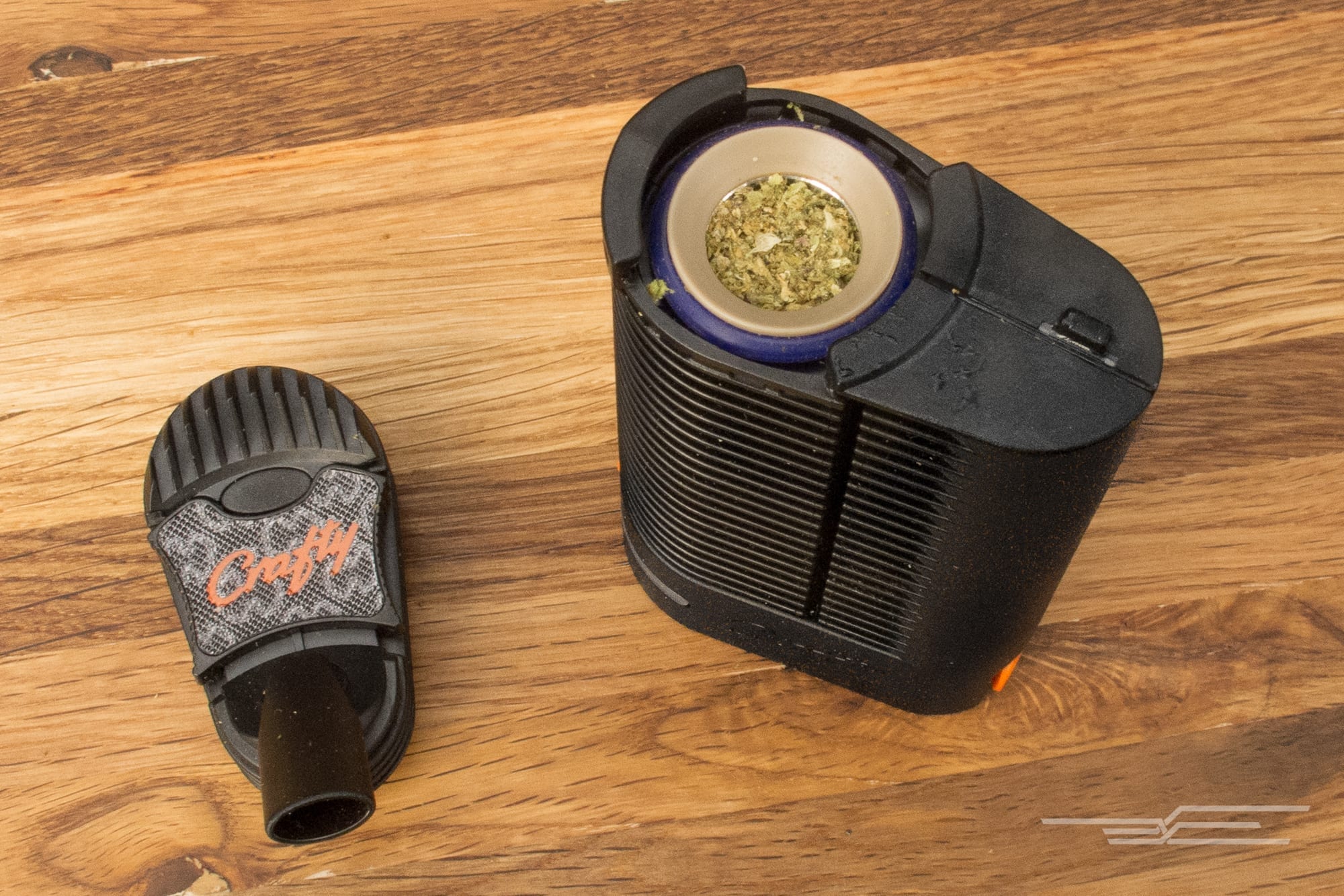 There are so many types of vape pens, and to make your search for the perfect vaporizer easy, we have selected a total of the 6 best portable vaporizers for weed. You can look for these pot vaporizers on Amazon and you will find the product to buy or get more information.
But before we go on to our list, we would know more about vaporizers, and these are sure to justify our pick. An example of on of our picks is the Mighty Vaporizer by Storz & Bickel.
| Product | Image | |
| --- | --- | --- |
| Davinci IQ Portable Vaporizer | | |
| Storz and Bickel Crafty vaporizer | | |
| Boundless CFX vaporizer | | |
| PAX 3 portable vaporizer | | |
| Grasshopper Titanium portable vaporizer | | |
| K-Vape model 2.0 vaporizer | | |
| Storz & Bickel Mighty | | |
| HoneyStick Bee Keeper | | |
| Arizer Solo Vaporizer | | |
| Davinci MIQRO Vaporizer | | |
| AirVape X | | |
| HoneyStick MiniMax PRO | | |
| GHOST MV1 | | |
What is a portable vaporizer for weed?
What you need to know on a portable vaporizer for weed is the fact that it offers you all the benefits of smoking weed, while minimizing the downsides.
Portable pot vaporizers are designed in a way that allows users to inhale weed / cannabis, rather than smoking. This is achieved by heating the dry herbs at temperature lower than an open flame.
Medically, vaporizers can also allow for medicinal cannabinoids, contained within a plant, to enter into the bloodstream quickly. Thereby, it will quickly reach the brain and provides fast-acting relief of unpleasant symptoms of diseases.
Employing this process also avoids combustion of the weed. It also disallows the advent of harmful irritants in the atmosphere, as the cannabis smoke contains such components.
How to use a vaporizer?
Weed or cannabis is used extensively in vaporizers, and there is a simple technique to its working. We will cover this technique here.
But, before we proceed, we would like to let you know that it is pertinent to carefully read the instructions on every product before using it. This is because the technical functionality of various products might differ. Irrespective, there are basic parts that are common to all of the best portable vaporizers for weed.
Heating chamber:
This section is sometimes referred to as the oven, and it is where the weed is inserted and heated. This produces the vape for inhalation. From one unit to the other, the size, shape and location would differ. If the vaporizer is designed to standard, the weed is heated from multiple sides, and maximizes the convection or airflow through the material.
Power supply:
Rechargeable batteries power most vaporizers, but other vaporizers need an external charger, which is often included.
Mouthpiece:
This part of the portable vaporizer is one through which the vapor is inhaled. There are different designs, but the common ones have small rubbers or glass pathways. There are also mouthpieces made of hose style sections, while others are of inflatable bags that are filled with vapors, giving room multiple inhalations.
Temperature control:
There are a variety of vape pens, and there are some that have temperature adjustment control. This control can come in two forms; dial or button control.
Cleaning supplies:
Taking care of the portable vaporizer is pertinent to its functionality over a long period of time. This is why some dry herb vaporizers come with small brushes, swabs, or spare parts.
Take this into consideration when using a portable dry herb vaporizer
Getting the dry herb vaporizer warmed up
When warming up the portable vaporizer, it needs about one or two minutes. This starts when the pot vaporizer is turned on. For some products, there is an indicator that tells you when the desired temperature is reached.
How to load the chamber
Before you put your various weeds into the vaporizer, you must ensure that they are properly ground. This is required so that the heat can effectively permeate the weed, and this would help activate the cannabinoids. It is not impossible that your device did not come with a grinder, in this case, you can always purchase a grinder for this purpose at a dispensary. It is not advisable that you ground your weed with your hands, as the cannabinoid rich content can stick to your hands, and this would lower the potency of the weed. Make sure that the vape pen is properly closed when you are done introducing the substance.
Adjusting temperature
You can adjust the temperature of almost all best portable vaporizers for weed, however, some are set to a fixed temperature. On some portable vaporizers, there is the possibility of setting the temperature to low, medium and high.
With the best portable vaporizers, you can adjust your vaporizer to a specific temperature, that can range from 360 – 380°F.
If the temperature is below 350°F, the portable vaporizer produces a mild and vivid effect that is the best for first time users. However, if the temperature is above 400°F, it results in a more concentrated effect that is meant for regular users.
Inhalation
On activating and warming up the device, you can quickly inhale via the mouthpiece. When you want to exhale, the vapor should be visible and tasteful. This this shows that the dry herb vaporizer is working perfectly.
Completion
As you continue to inhale from the pot vaporizer, the cannabinoids level decreases. This is because the vaporizer liberates essential oils from the flower.
As this process continues, the color of the flowers changes from green to brown, but you should note that the substance will not be burnt or turn to ash.
When the vapor from the vape pen thins out, and loses its flavor, it's an indicator that the flower has released most of its cannabinoid content. Fresh weed has to be inserted into the portable vaporizer. Left overs from each vaporizing process can be discarded, but can be used for other purposes as well.
Types of portable weed vaporizers
Clearomizers or cartomizers?You don't need to be confused when seeing these terms, they are simply the types of vape pen tanks that are out there. They are basically the parts that split the vape pens into categories or types.
These types of vape pen tanks are mostly confused, with one another, and this is justifiable. They have so many similarities, but there are also many differences. What are the differences in the types of portable vaporizers?
The use of either of the two is based on the user's preference, but clearomizers are the most popular type of vape pens. They are used frequently in the various best portable vaporizers for weed.
These two tanks are made of two parts, there is a tank portion to hold the juice, and there is also the atomizer that holds the juice in the tank. These two tank types have the atomizer built into them, and are connected to a battery that connects with the tank. This battery initiates the vaporization process.
Clearomizers and cartomizers explained
Clearomizers
This vape pen tank type is one with the tank and atomizer made into one piece. This tank type derives its name ''clearomizer'' in that it is a clear or opaque tank.
The sole purpose of the tank is to hold the juice, while the atomizer functions to vaporize the juice by heating it.
The mouthpiece that is connected to the tank is called the drip tip, and it is the valve through which you puff the vape pen.
Cartomizer
The ego vape pen is a brand of vape pen that uses a cartomizer. Although, clearomizers more popular among portable vaporizer users. The cartomizer's body frame is metallic, against the clear tank of clearomizers. The cartomizer can serve as both the cartridge and the atomizer at the same time.
The difference between the two types is the fact that in a cartomizer, when the atomizer is broken, the whole tank has to be replaced, unlike the atomizers in clearomizers.
In simpler terms, when the atomizer of a clearomizer tank goes bad, you can simply unscrew it, and have it replaced. In the cartomizer, you need to get a total replacement, and this would come at an extra cost.
Also, on the cartomizer, different materials are used to make the various wicks it has. By heating the coil, the polyfill material in the tanks serve the purpose of soaking the juice. This is much spongier than the wick on the clearomizer.
Several designs and innovations have gone into making and optimizing the use of vaporizers an enjoyable and efficient one, and as such many types of vaporizer products, simply called vape pens, have evolved.
Top #5 Best Portable Vaporizer for Weed Reviews
There are numerous Amazon portable vaporizer products out there, and coming up with this list is nothing short of an uphill task. Many of these products have great features and functionalities that put them in their own class.
We have tried our best to present the most complete list of the best portable vaporizers for weed. These dry herb vaporizers are probably the best you can find on Amazon.
Davinci IQ Vaporizer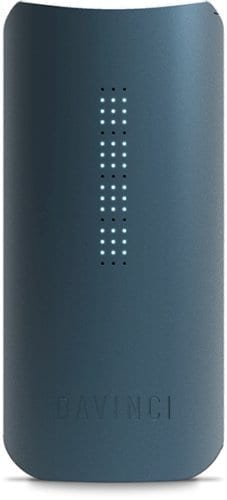 We doubt if there is ever going to be a more intelligent vaporizer out there. The mouthpiece of this vaporizer is made of high quality material, and a 100% zirconia air path.
This allows the user to inhale just the best form of flavor, a taste of difference from the other vape pens. The use of this quality material and sleek design has elevated the purity levels for flavors.
Featuring on the IQ vaporizer is a smart path technology that gives users the ease of selecting between 4 temperature settings. These settings allow the device to automatically pick the optimum temperature for your vaporizer experience.
The Davinci IQ portable vaporizer for weed is simple and smart; a great user experience. Its technology combines three functionalities, which include; smart path mode, precision mode and boost mode. This augmentation gives a great custom user experience.
This portable vaporizer also includes a Bluetooth app integration, which gives complete control of the vape pen to users. You can track smart path usage and other important information about the device.
With this app, the portable vaporizer can be optimally used to its full potential in a powerful and smarter way. If you ever want a vape pen that you can control by just the tapping of your screen, the Davinci IQ is the way to go.
Storz and Bickel Crafty vaporizer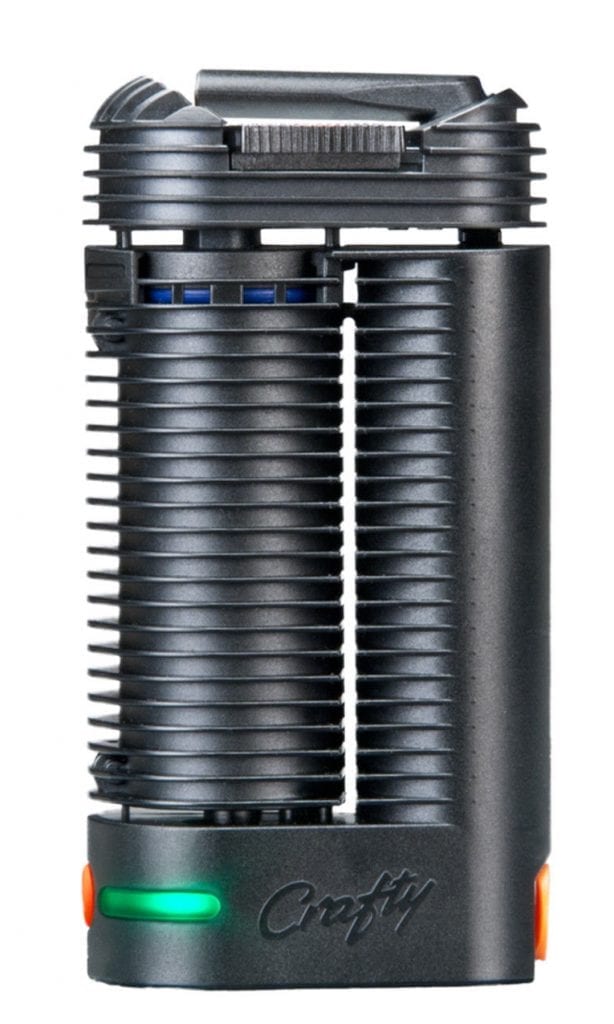 The crafty portable vaporizer by Storz and Bickel is one of the best portable vaporizers for weed that fits into your pocket. This portable vaporizer is designed for thick clouds and pure flavor, a result of its diffused convection heat jets.
This device features 8 diffused air jets permeate material that is flushed with convective heat. This is while conductive heat passes through the walls of the stainless steel loading chamber.
If you are in search of a vape that offers the least restrictions, the crafty is the go-to-vape. This portable vaporizer for weed allows for a nearly open airflow with loosely packed materials.
Also, this device features a powerful and accurate heater. When switched on, it takes just about 90 seconds to reach the optimum vaping temperature.
When you need to charge the pen, it takes about 30 minutes to completely charge.
There is also the cooling unit. It works through an elongated path that can drastically reduce the temperature of the pen, before you place the mouthpiece in your mouth.
In addition to this great heating and cooling system, the users are also offered flexibility of use, as there are two temperature settings included. It can be adjusted between 104 – 410°F, using the Bluetooth app.
The Bluetooth app also serves as the control for the sleep timer, vibration notifications, and LED brightness.
This portable vaporizer charges quickly, as the pack is equipped with a micro-USB. The portable size of the vape affords users the ease of moving it around and using it anywhere, anytime.
Boundless CFX vaporizer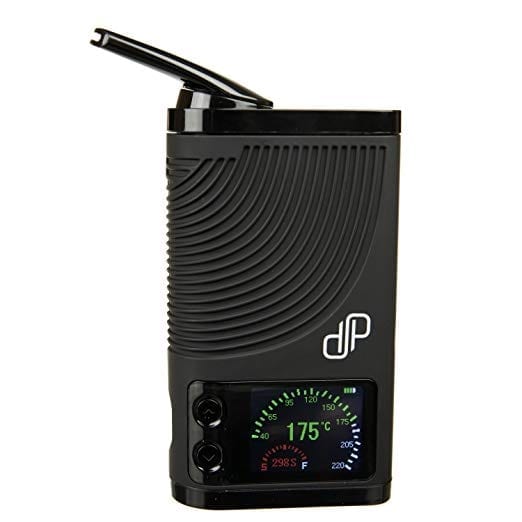 If you are looking for a portable vaporizer that has all core features from top brands, but is cheaper, then the Boundless CFX vaporizer is for you.
The extraction level of this vaporizer is of top-tier. It also maintains a great battery life by effectively combining its conductional and convectional heating processes.
The device is equipped with two batteries, that can go about 10-15 cycles when fully charged. The vape pen produces about 7.4v after its supersonic heating process that takes about 25 seconds.
There is a full temperature range is on this portable vaporizer, ranging from 100°F – 430°F, and the large digital display of the device offer easy access to this temperature range. Once a selected temperature is reached, the device vibrates to notify the user it is ready for use.
The heating chamber can accommodate both large and small loads of dry materials, and in it, there is cotton present, which is needed for oil use.
You can charge the CFX super fast, and it is as easy as it can get.
PAX 3 portable vaporizer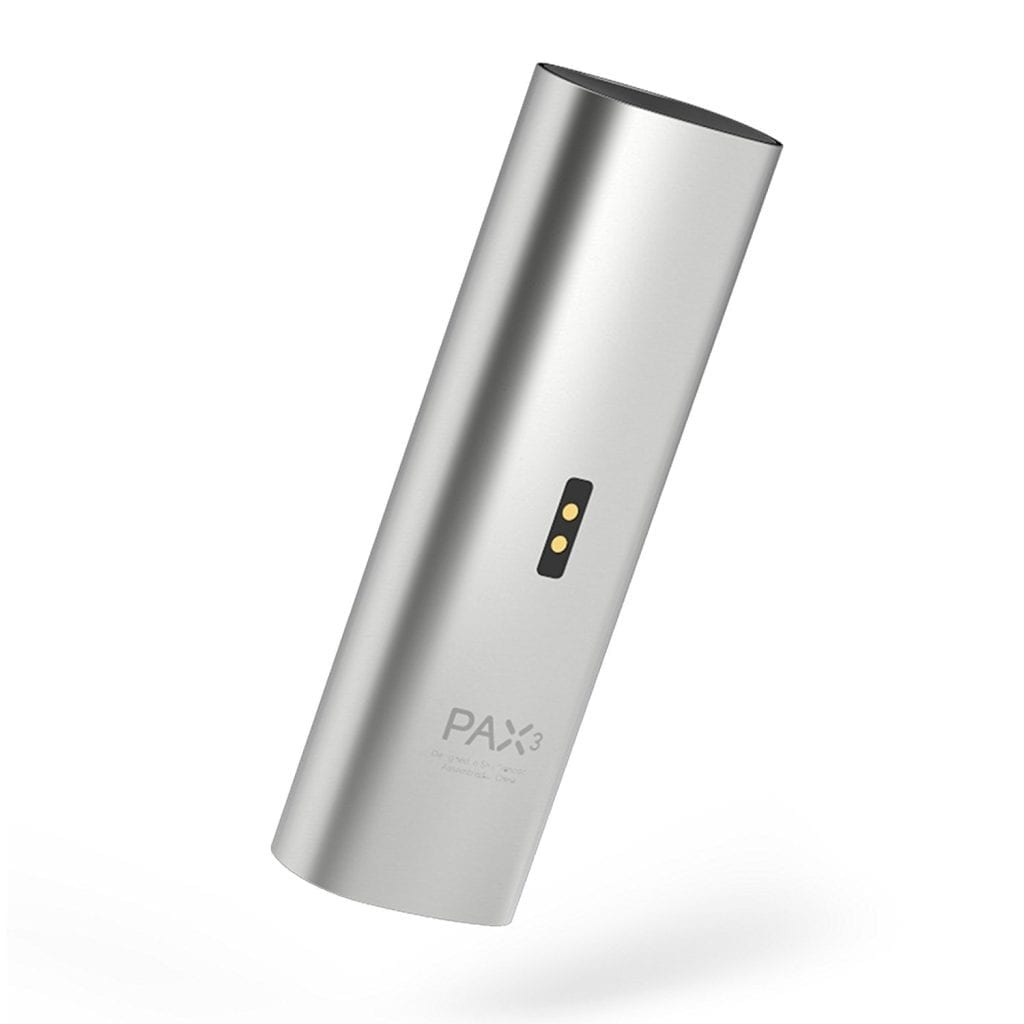 Loaded with great features, the Pax 3 is ultra-compact and a stem of the tradition of quality and performance of the Pax brand. It is very tiny with its ergonomic design, and made with materials suitable for the medical grade.
This portable vaporizer is made of high-quality materials. It consists of high-polished aluminum for the body, stainless steel for the air path, and a mouthpiece made of silicone. When it comes to form and function, no portable vaporizer beats the class of Pax 3.
The battery can last for about 90 mins of continuous use, and the 3500mAh battery gives it a heating time of about 25 seconds.
This device can also be controlled via a Bluetooth powered mobile app. Functions like vibration, lights and temperature can be controlled with the mobile app.
For temperature, there are 4 adjustable settings. When a set temperature is reached, the device vibrates to notify you it is ready to use.
In functionality, this vape pen is advanced as it features a lip/motion sensitive heater, which increases the temperature when needed, and when in use, it cools it.
Grasshopper Titanium portable vaporizer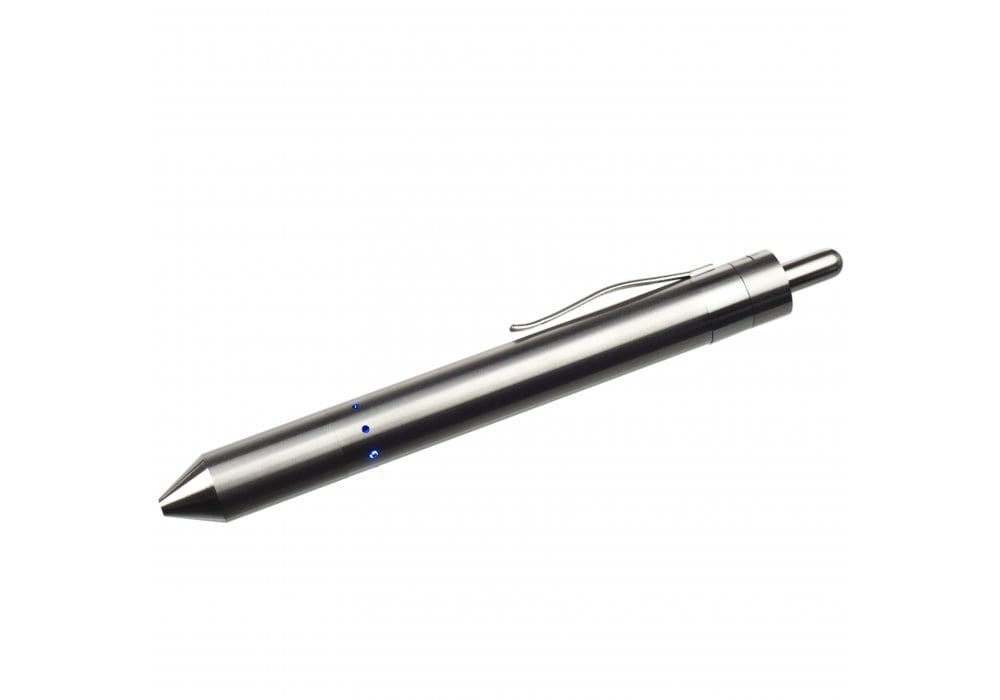 Designed by hopper labs, the grasshopper portable vaporizer is the first vaporizer to be built as a result of crowdfunding.
The rate at which the device heats up is impressive. It takes just a few seconds after the button is clicked. This device also has a spinning dial at the back, with which the temperature can be controlled seamlessly. The temperature can range from 260°F to 410°F.
The portable vaporizer has a sleek ergonomic design, and it is one of the lightest portable vaporizers available.
Also, it is one of the least smelly vapes. The best thing about this vape pen is that it's actually the most close to an actual pen of all the portable vaporizers. Most people won't notice the difference and you can use this vaporizer in stealth.
K-Vape model 2.0 vaporizer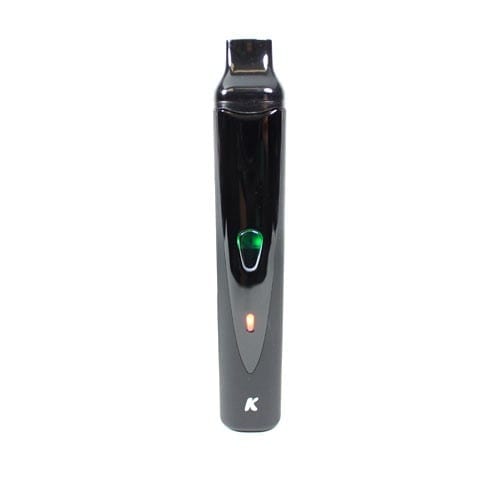 The K-Vape model 2.0 features an ergonomic design, functioning on an unadulterated convection warming, capped by the lack of ignition vaporization.
It is super compact, and moderate in its body size. Either if you are a beginner or a veteran, this is a great pick for you. This vaporizer has a great feel and build to it. Also, although this pen only has a 0.6 tank capacity, it is super efficient.
This portable vaporizer has a stainless steel chamber, which is great for heating your weed. It doesn't miss a spot because it heats everything up very effectively.
The K-Vape model 2.0 includes various programmed temperature settings, with a smooth styling. If you don't want to spend a lot of cash on getting something of high quality, this portable vaporizer is perfect for you.
The K-Vape is made of premium quality materials, but comes at an affordable price.
There are three distinct settings for the temperature aligned with respective colors; 320°F (Red), 380°F (green), 420°F (blue). These ensure that the herbs are warmed to the ideal level without combustion.
Storz & Bickel Mighty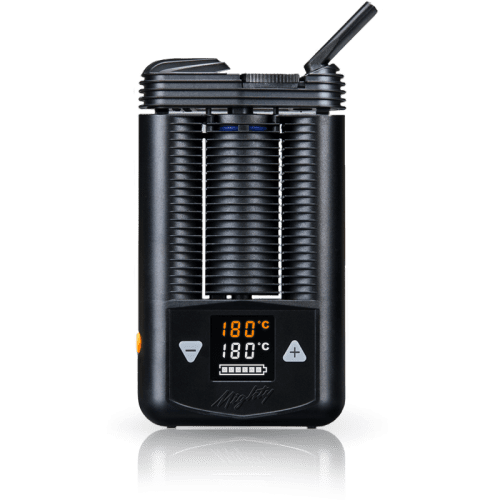 The Storz & Bickel Mighty is a more powerful version of the Crafty vaporizer. Compared to others, it's bigger with more accurate temperature control. With the adjustable keys, large LED-display, and easy-to-use grinder, the Storz & Bickel Mighty is incredibly user-friendly.
Therefore, don't worry if you're not experienced with using vaporizers. All you have to do is set the temperature and wait for the vaporizer to vibrate. The brief double-vibrations denote when the vaporizer has reached the set temperature.
However, what makes the Storz & Bickel Mighty stand out?
It's the high-performance dual-core lithium battery. This battery can last around eight hours of continuous use. Consequently, you can use the Mighty vaporizer for several sessions without having to recharge it.
When you have to recharge the vape, you can do so easily with a power adapter.
Overall, the Mighty is an excellent herb vaporizer with great vapor quality. Thanks to the temperature control and in-built dual heating system, the Mighty heats up herbs quite efficiently.
Also, it maintains a steady burn while you smoke. So, there's no need to worry about burning the herbs.
Important features
Ideal for both aromatic solids and liquids
Convection and conduction heating system
Vibrating alarm
Bluetooth App available to customize functions
Easy cleaning of the filling chamber with the filling aid
Pros
Big but still easy to carry around
Includes vaporizer accessories, like the filling aid
Friendly and helpful customer service
Superior vaping performance
Two-year warranty
Cons
No indicator to tell when the vaporizer is empty
Vertically unstable
HoneyStick Bee Keeper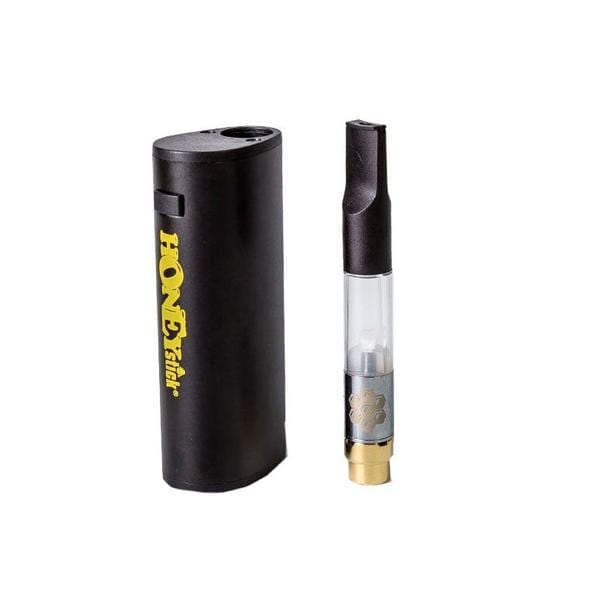 The HoneyStick Bee Keeper gives you the superior vape quality, just like expensive vaporizers, at a budget-friendly price. It's a pocket-sized vaporizer, particularly for liquid concentrates. Due to its ultra-compact design, this vaporizer is both lightweight and stealthy.
Moreover, besides being your silent partner on the move, the Bee Keeper vaporizer has an easy operation. It comes pre-adjusted, so all you have to do is attach the cartridge and turn it on.
Also, because of its prominent red and blue light indicators, you always know which mode the vaporizer is on. For instance, the red mode indicates the vaporizer is charging while the blue mode shows the vaporizer is turned on.
The HoneyStick Bee Keeper has magnetic attachment, meaning the cartridge will swiftly snap-on upon contact. Similarly, the charging port is also magnetic. It features a micro-USB port on the left side.
As for its heat controls, the Bee Keeper has simple plus/minus temperature control buttons. The heating system isn't as advanced as other vapes. However, this vaporizer still gives you rapid heating capabilities. In this way, the wait-times between smokes aren't too long.
Overall, the HoneyStick Bee Keeper is a unique pen-shaped vape that offers high-quality vapor production. It's an excellent vape for those on a tight budget.
Important features
Lightweight aluminum frame
12mm-wide bore opening
Compatibility with 510-threaded cartridges
Convenient magnetic attachment
Five-click locking system
Pros
Maintains a decent charge
Small, discrete design
Relatively affordable
Ideal for pre-filled cartridges
Easy-to-use with magnetic adapter
Cons
Incompatible with regular-sized cartridges
Short battery life
Arizer Solo Vaporizer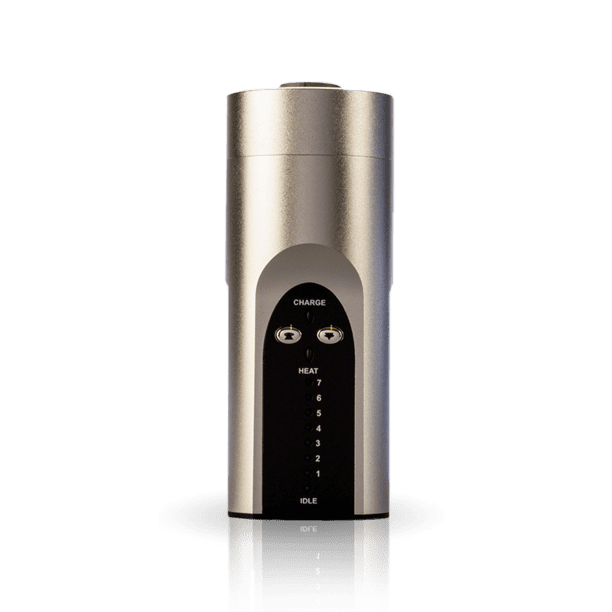 The Arizer Solo is a highly efficient on-the-go vaporizer. This potent vaporizer provides you with superb vaporization, particularly for aromatic blends. The good thing is, the vapor quality remains clean and smooth even through continuous use.
How exactly?
Well, thanks to the ceramic heating element and glass mouthpiece, they prevent inefficient heating. The ceramic heating plate simultaneously builds heat and prevents heat loss. To couple that, the glass mouthpiece cleans vapors by creating a cooling effect.
Therefore, the set temperature remains consistent.
The Arizer Solo has around seven preset temperatures. It takes 15 seconds for the temperature to increase to 50°C. Therefore, to increase the temperature up to 195°C, you must wait around one minute and thirty seconds.
The maximum temperature is optimized at 210°C/410°F. Since the wait time is specified next to each set temperature, you always know how long to wait. Simply consult the handbook (included in the package).
Also, if you're worried about the effects of continuous usage, don't be. The Arizer Solo has automatic power-off capabilities. It'll turn off at 15-minute intervals to prevent overuse.
Moreover, the vaporizer has an easy-to-clean design. In this way, you can fill out the cartridges with ease, maintaining device efficiency.
Important features
Ceramic heat plate for quick heating
Complete glass mouthpiece for cleaning vapors
Easy rechargeable Lithium battery
Up to seven preset temperature ranges
Pros
Limited two-year warranty
Delivers pleasant flavors and aromas
Exceptional draw
Quick battery recharge
Easy to maintain
Cons
Requires frequent charging
Relatively bulky and conspicuous
Davinci MIQRO Vaporizer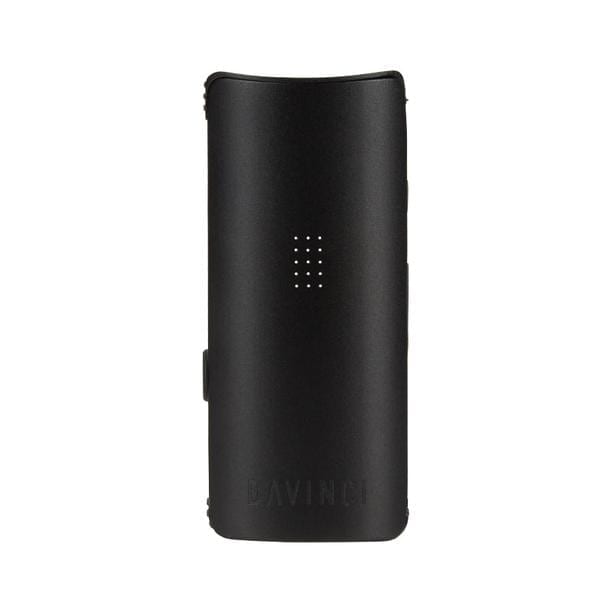 The Davinci MIQRO is a highly potent portable vaporizer. It's 31% smaller than the Davinci IQ vaporizer, making it one of the most compact and stealthy vaporizers out there.
While the MIQRO doesn't offer adjustable temperature, it has a highly efficient smart four-path temperature system. Path-1 begins by heating up to 350°F, ramping up to 370°F in seconds.
Why is this a 'smart' temperature control system?
Well, the MIQRO automatically detects the type of herb placed in its ceramic oven. Accordingly, it adjusts the temperature path. For instance, Path-2 heats herbs around 370°F-390°F.
If the herbs require higher temperatures, MIQRO will shift to Path-3 (390°F-410°F) or Path-4 (410°F-430°F). This feature drastically improves the flavor and efficacy of your herb.
However, don't worry about the vape burning or charring the herb. With its ceramic airpath and adjustable tamper, the MIQRO ensures that the herb bakes evenly.
If you're interested in experimenting, the Davinci MIQRO vaporizer is an ideal choice. While the ceramic airpath ensures a cooling effect, it also extracts optimal flavor. It prevents the heat from combusting the intensity of the flavor.
Also, for extremely potent vapors and flavoring, you can use the 'Boost' mode. However, to use this mode, make sure that the herbs are finely ground, or else, it won't work.
Important features
'Smart' path heating function
Customizable bowl size
Rapid boost mode for more potent vapors
Zirconium and ceramic vapor path
Aluminum casing
Pros
Comes in five different colors
Long five-year warranty
Removable battery 
No metal or chemical taste
Excellent for micro-dosing
Cons
Slow draw
Doesn't hold a charge for long
AirVape X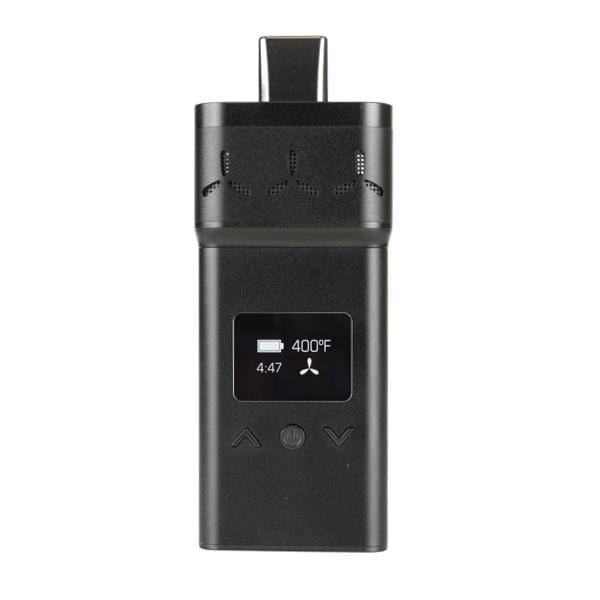 An upgraded version of the AirVape XS, the AirVape X is designed for optimal versatility. Although it's a bit bigger than most portable vaporizers, the AirVape X is as convenient as pocket-friendly devices and ensures powerful vapors.
How so?
The AirVape X has an expanded ceramic chamber, which ensures streamlined heating and cooling. You can use whatever herbs and concentrates you want, though dry herbs burn more efficiently. In fact, the AirVape X holds 25% more dry herbs than the XS.
Also, the ceramic chamber allows you to transition between herbs and concentrates more smoothly. The chamber has a robust heat convection and conduction system, which thoroughly vaporizes the material.
Consequently, to change the herb or remove the old one, simply increase the temperature, and it'll vanish.
Like other vaporizers on this list, the AirVape X has precise temperature controls. You can adjust the temperature settings with the up and down arrow buttons. However, the ultra-short wait times set this vaporizer apart.
With this vaporizer, you can go from 0°F to 200°F in just 20 seconds. The haptic vibrating alarm buzzes upon reaching the set temperature.
Important features
Heat-resistant ceramic chamber
Automatic sleep option to prevent overuse
Magnetic lid for easier cleaning
Offers a simple snap-in concentrate insert
Haptic vibrating alarm
Pros
Ideal for dry herbs
Large-sized chamber
Limited wait-time
User-friendly operation
Well-constructed and durable
Cons
Cleaning and maintenance can be challenging
The rubber fixture on the mouthpiece tears easily
HoneyStick MiniMax Pro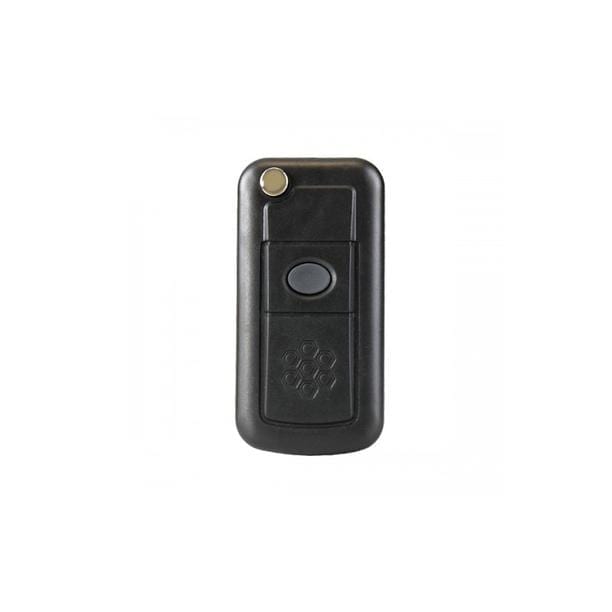 Another HoneyStick product, the MiniMax Pro is both a vaporizer and a keychain. It can easily fit into your pocket, as it measures about three inches in length, two inches in width, and one inch in height. Since the design mimics a car key fob, you can use the MiniMax Pro more discreetly.
Who is it for?
It's an exceptional vaporizer for those who prefer oil tanks to dry herbs or concentrates. While the MiniMax Pro burns everything as long as the cartridge is compatible, it's better for oils like CBD and THC.
To insert the oil tank, you have to press the silver button, which opens the cartridge port. Mind you; the MiniMax Pro is only compatible with 510 cartridges due to its small size.
However, regardless of its small size, the MiniMax gives you smooth, even hits. This is because of its voltage control and preheating function.
In sum, there are three voltage settings, each indicated by a specific color LED light. The blue light represents the lowest setting of 3.6V, while the medium (3.8V) and high (4.0V) settings are indicated by amber and red, respectively.
These voltage settings help you adjust the temperature while the preheating functions ensure steady oil burning. Both these things give you robust vapor clouds.
Also, you can alter the settings using the silver button. This adds to the stealthiness of the design as you don't have to fiddle openly with the vaporizer. It's a simple one-button controlling system.
Important features
Compatible with oil tanks and concentrates
Doubles as a keychain
Dual preheat functions
Three voltage settings
650mAh Battery
Short-circuiting protection
Pros
Super-long battery life
Simple one-button control
Incredibly lightweight
Discreet oil vape
Satisfying and flavorful hits
Cons
Difficult to set up
The cartridges finish pretty quickly
GHOST MV1
Ghost MV1 is an ergonomic portable vaporizer, constructed with lightweight alloy and aluminum. It comes with a Ghost Bluetooth app, which is compatible with all Android devices.
The app allows you to control the vape from your phone, making the operation both convenient and stealthy. With the Ghost app, you can instantly adjust temperatures, check battery levels, and look at the heat output.
However, what makes the Ghost app superior to similar apps is the security function. The app allows you to place a 'Lock My Vape' feature onto your Ghost MV1. If you ever lose your vape, you can find it using this function.
Moreover, Ghost MV1 delivers remarkable convection heating with its enhanced heat sink. As the herb or concentrate burns, the heat sink cools down the vapors before they reach the mouthpiece. Through this, you neither burn your mouth nor lose out on flavor.
In terms of size, the Ghost MV1 isn't discreet. However, it has a sleek, minimalist look, which makes it easier to disguise.
Overall, the Ghost MV1 has high-quality engineering. The silicon chamber tends to get hot after a lot of use, but it retains its flavorful and aromatic vapor production for years.
Important features
Glass stem heat sink
Retractable mouthpiece
GHOST app compatibility
One-touch activation
Haptic vibration
2600mAh battery
Pros
Simple cleanup process
Compatible with different strains and brands
Slow-burning process
Easy-to-dial in temperature
Effortless draws and vapor clouds
Cons
Burns a bit inconsistently
Some quality control issues
Still not sure which vaporizer to choose? Check out this video for an extensive review on various portable vaporizers for weed.
Conclusion on the best portable vaporizer for weed
If you are ever going to enjoy smoking your weed, the use of vaporizers cannot be underestimated. But, getting the right vape pen can be tricky. The above details are what you should note and compare.
Use all the facts to compare it to your preferences, before you go get your vaporizer. This way, you can get the best portable vaporizer for weed available. Make sure to check out Amazon for all the best offers on vape pens.