If your grow room is not that big and you are on a low budget then you should definitely consider the King Plus 600w LED grow light. Also, if you are interested in growing high-quality marijuana then this LED grow light is apt for it.
Compared to traditional grow lights this LED light is brighter and more efficient. Moreover, the light has a lifespan of 50,000 hours, which is decent for a LED grow light.
KingLED is famous for manufacturing amazing LED grow lights and the King Plus 600w is one of its examples. This King Plus 600 watts review will shed some light on some excellent features and factors of this grow light.
This light is included in our list the best 600w LED grow lights. Check the article for all the other best 600 watt LED grow lights.
Are you interested in a different size of this light? We also reviewed the King Plus 1000w and the King Plus 1200w.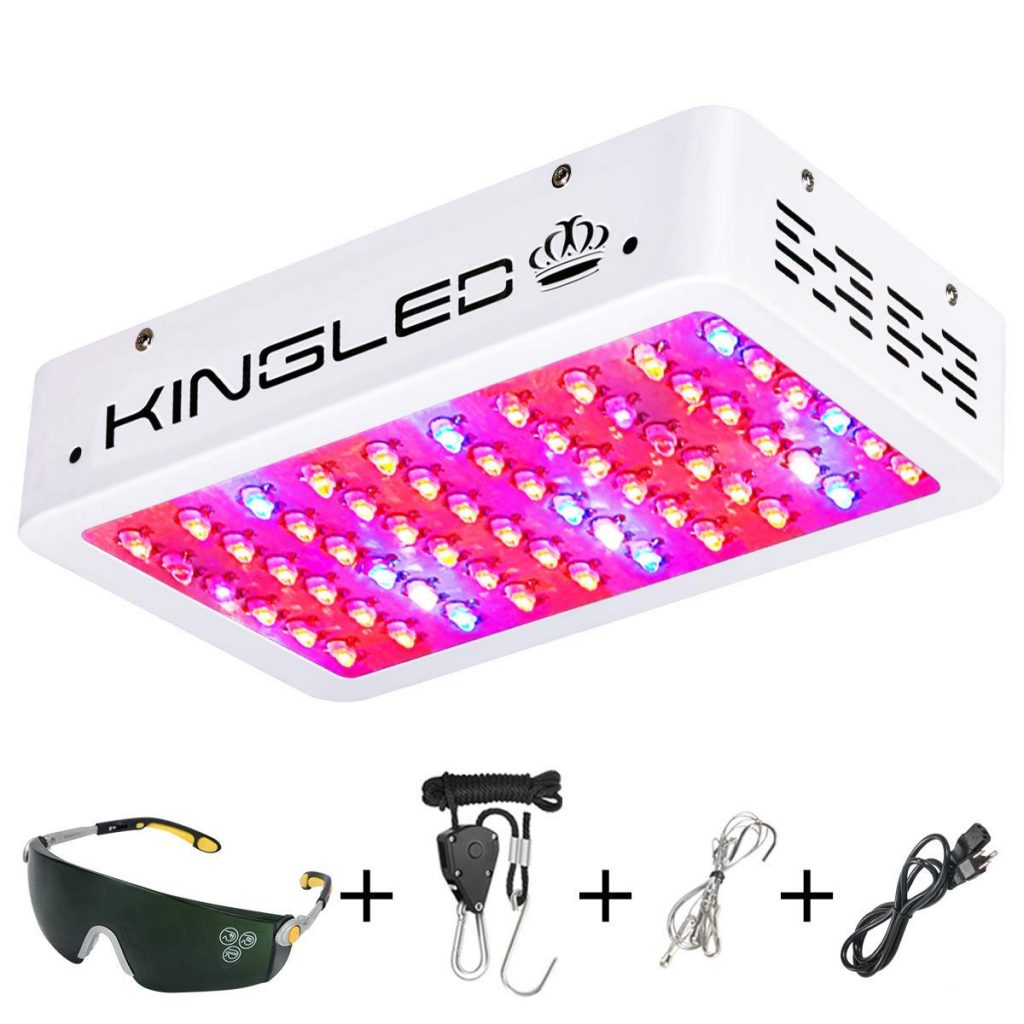 Key Features of the King Plus 600w
Cooling system
The cooling system of King Plus 600w LED grow light is phenomenal; it works efficiently by drawing the heat away. Other than that the fans are pretty powerful and work by moving the air over the heat sinks.
Before constructing the cooling system of this great LED grow light, the manufacturers performed numerous experiments to ensure perfection.
PAR value of the King Plus 600w
The PAR value provided by King Plus is not perfect, but the notable thing is the outcome. Thusfar the King Plus 600w has provided great results.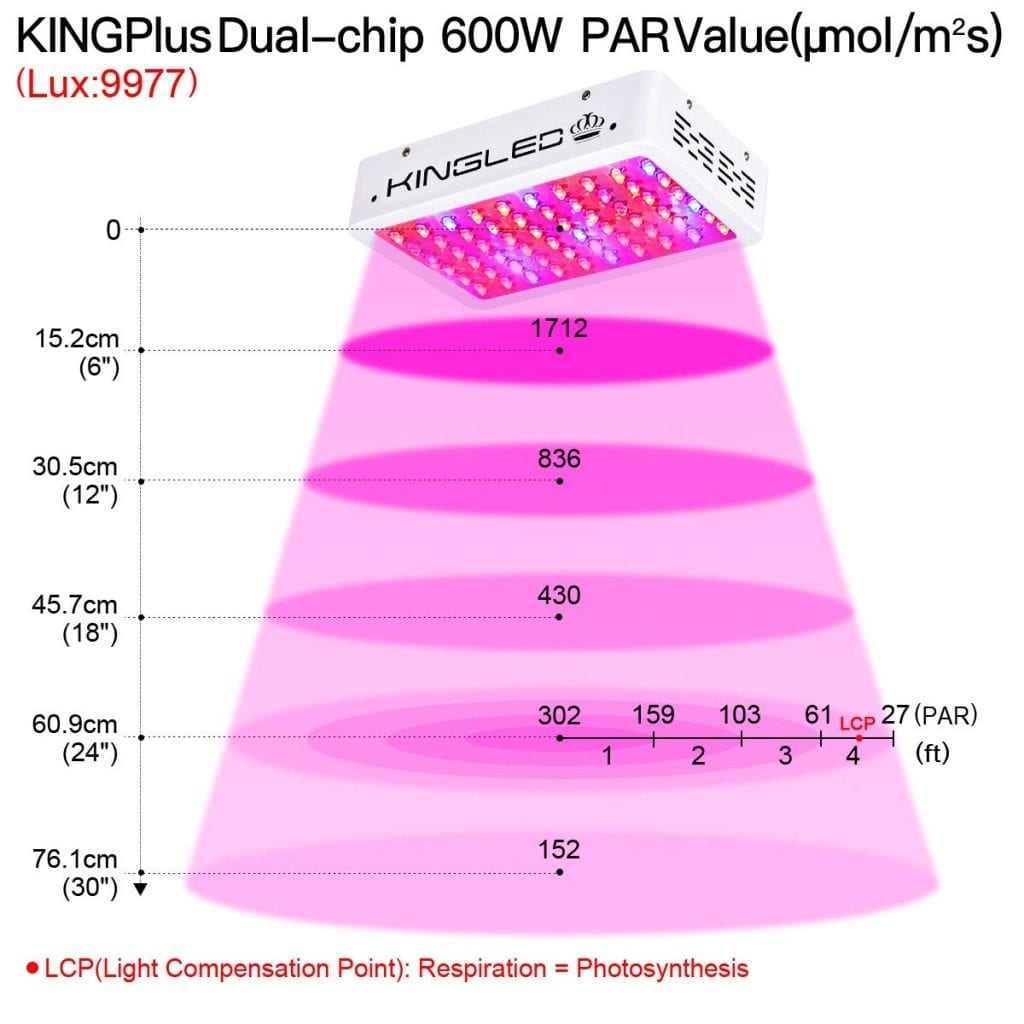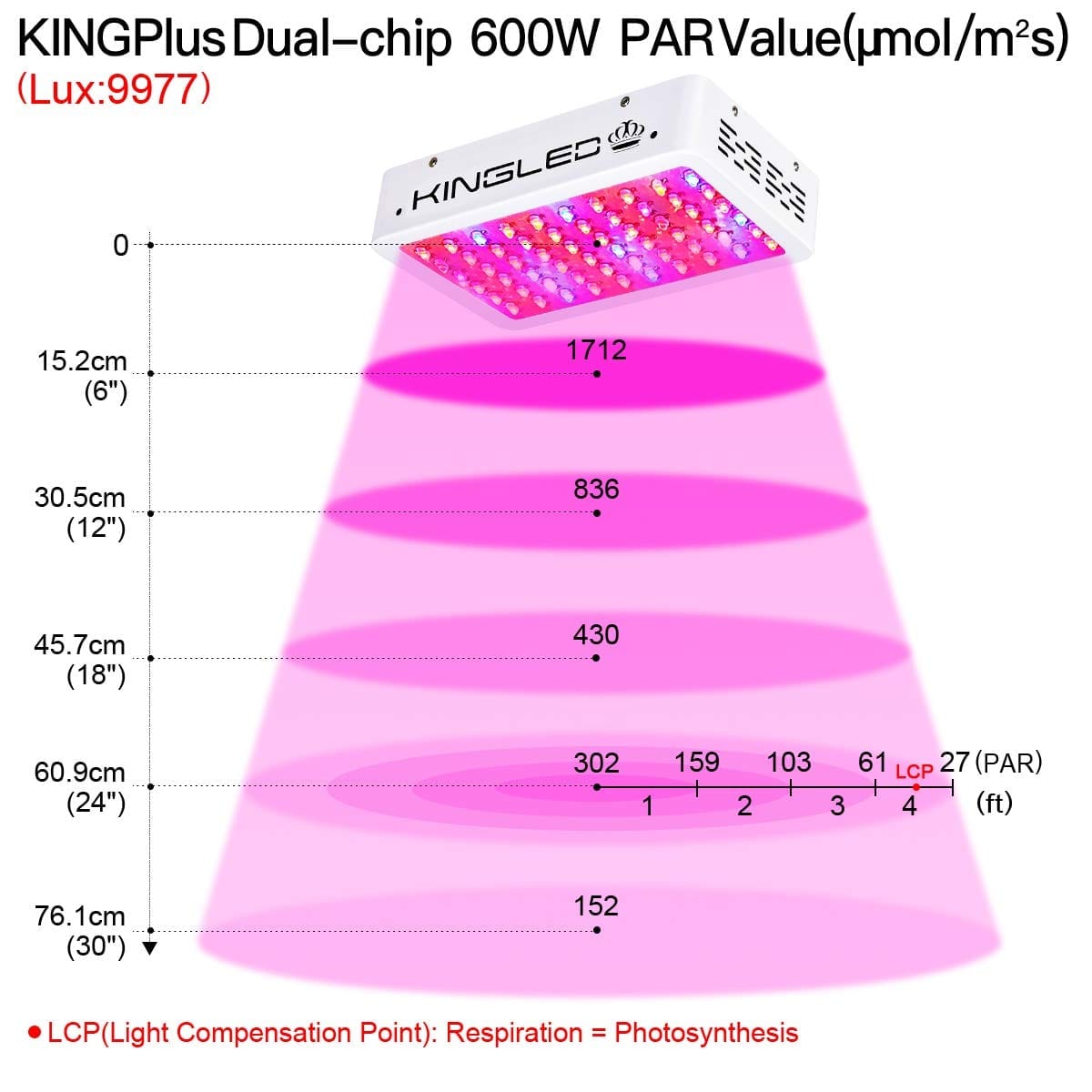 According to various King Plus 600 Watts reviews, the light can be known for its excellent yields. The PAR value you get at 24 inches is 302 µmol, whereas from 18 inches you get 430 µmol.
High-quality LED chips
A total of 60 LED chips have been used in this model. Each chip is 10 Watts and gives a total output of 600 watt.
The best part is that these chips are Zener protected, this means if one chip gets damaged or stops working, it won't have any effect on the rest of the chips.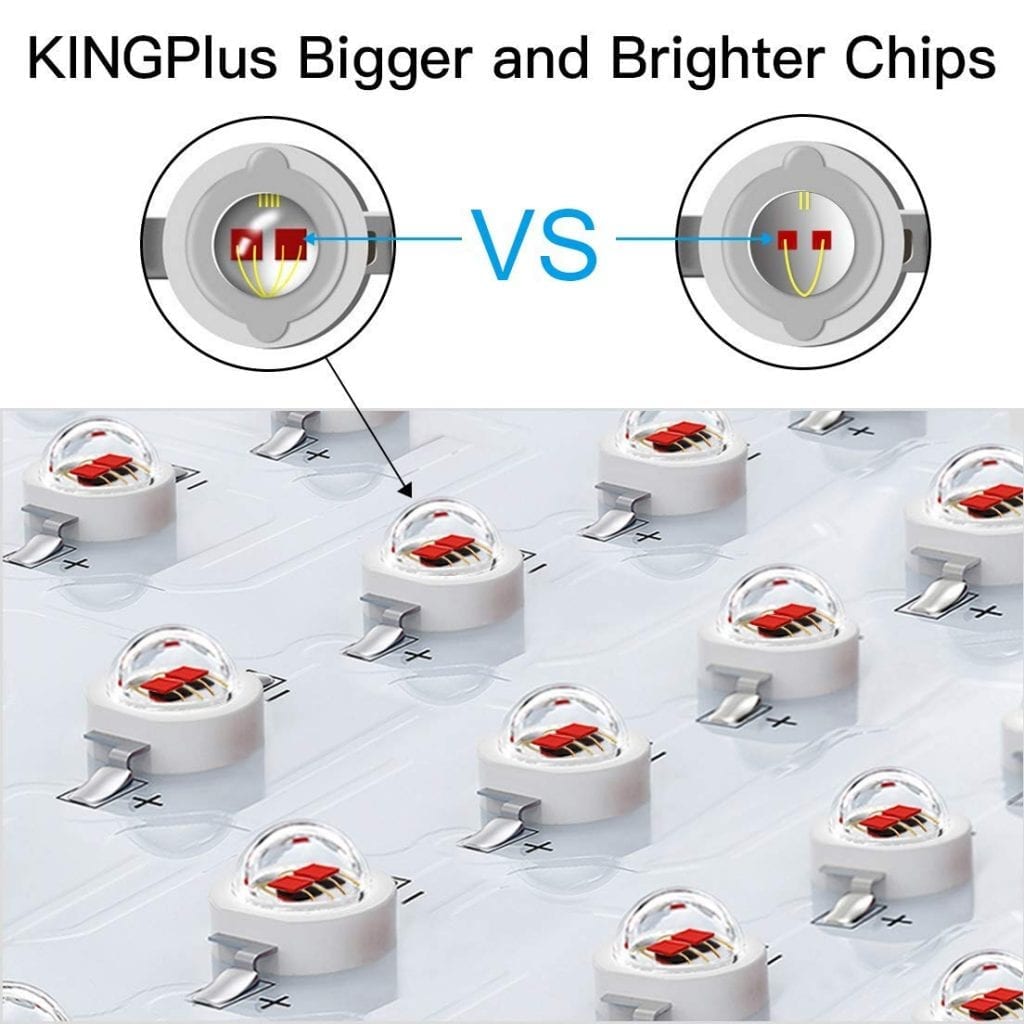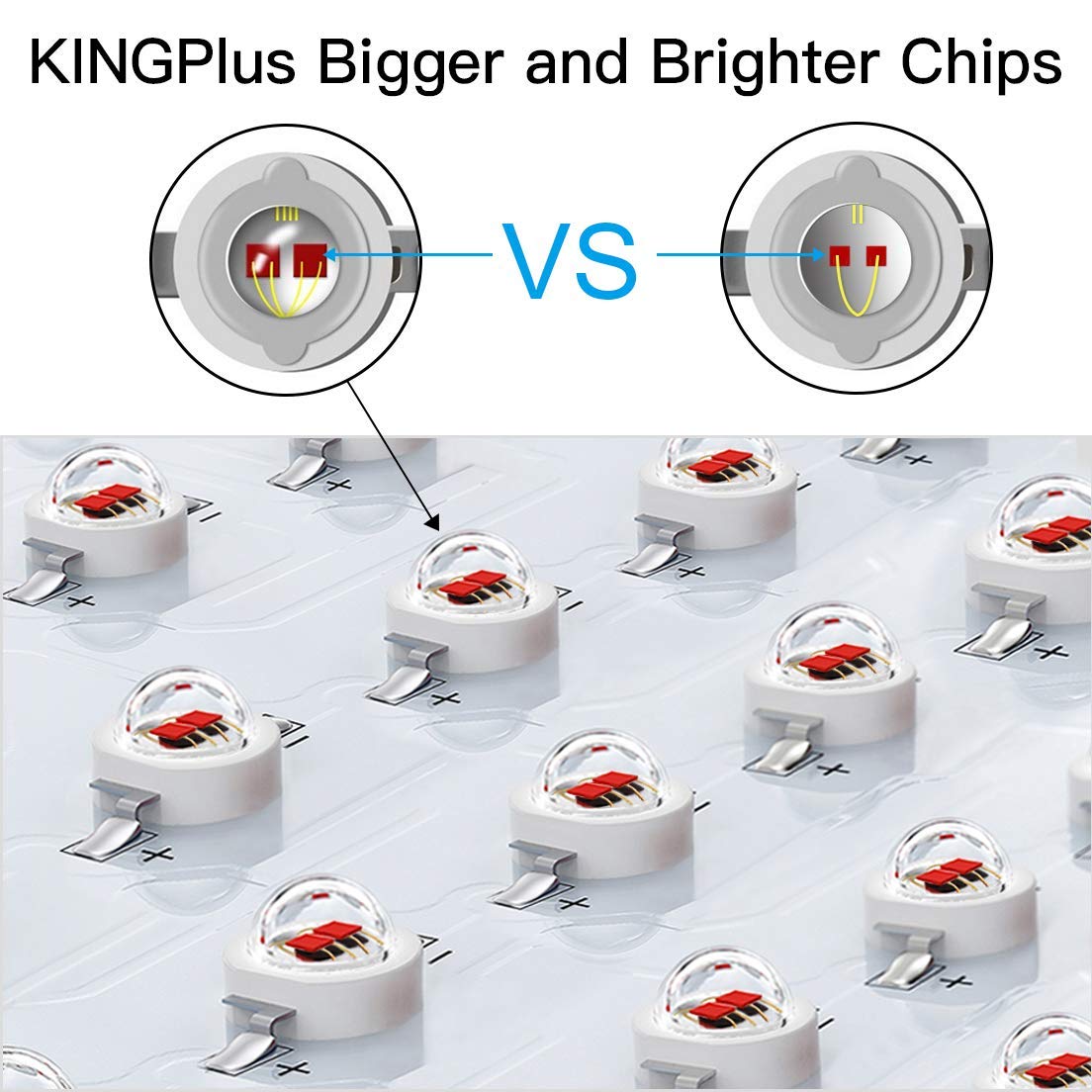 Specifications
The dimensions are 12.2 x 8.26 x 2.36 inches
Epistar LEDs are used
Uses 600 watts power
Full spectrum for both vegetation and flowering stages
Lifespan is more than 50, 000 hours
Working frequency is 50 to 60 Hz
Comes with modular power cord
Pros
Highly durable
Inexpensive
3 years warranty
No overheating problem
Highly powerful
Very bright
Best full spectrum
Efficient cooling
Sturdy
High-quality performance
Cons
Not waterproof
Bloom/Veg switches are missing
No timer
Want to see a video of this light? There is not a lot of video content available on the specific 600w version, but this video below on the King Plus 800w is pretty much the same. Check it out if you're interested in seeing this light in action.
Our verdict
The King Plus 600w LED grow light is great because of its affordability and high performance. There are hardly any negative points about this amazing grow light.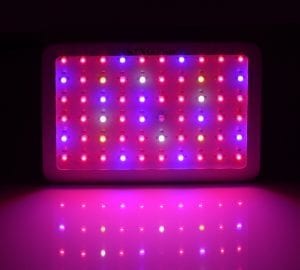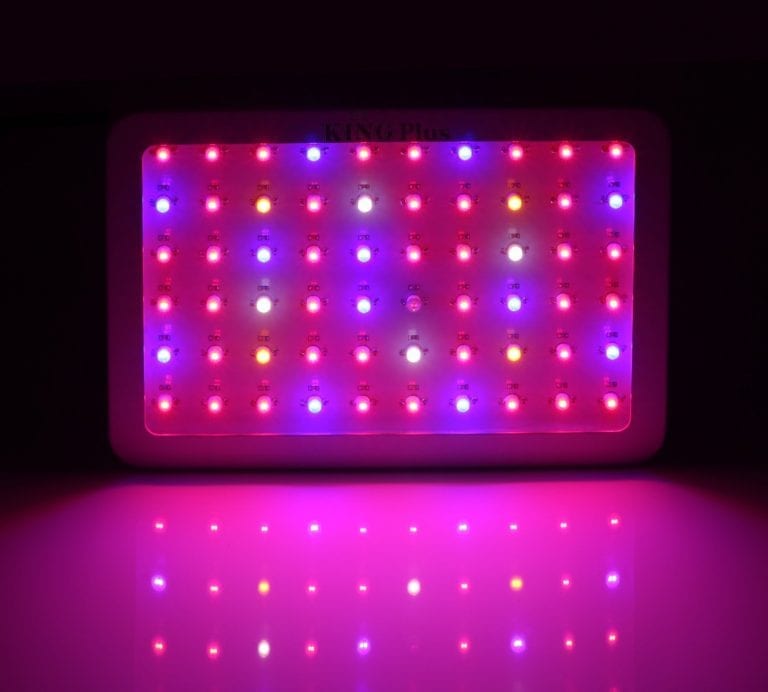 No, it's not a high-end light. But for this price it does exactly what you expect it to do.
It is fully functional, inexpensive and highly durable and it comes with a well-equipped system. If you want to get great growing results as beginner, this light is worth considering. The thing that makes King Plus great is that it delivers a full spectrum light with IR at an affordable price.
Check the price of the King Plus 600w on Amazon