Finding the best 600 watt LED grow light is one of the most important and difficult things for our grow room. A major issue arises when you are not fully aware of which type of light to install. Also, it's important to know what maximum amount of heat is acceptable to grow your plants. You can harm your plant or its taste if you don't know what you're doing.
These factors are important as they are vital for the growth of your cannabis. You will find some 600W LED grow lights online being compared with HID or HPS lights. But, the most important thing is how budget friendly these lights are when compared to others of the same wattage.
In the long-run, smart people always go for LEDs as they consume less power and give the desired results. Usually, these 600 watt LED grow lights are perfect for an area equal to a 4×4 grow tent. If you're using two of these lights, an area of a 4×8 grow tent is perfect.
In this article we will cover the best 600W LED grow light reviews. We go over all features of the most popular ones in various price ranges. You will read about all that we think you should know about.
Things to Consider When Buying a 600w LED Light
Simply using window lighting isn't enough for your seeds to take root and grow healthily. If you're gardening in a relatively large indoor space, you need to look for 600W LED grow lights, which will have the proper wavelength for your plants. 600W LED grow lights are horticultural and provide full-spectrum lighting for your plants.
You should always use grow lights for indoor plants because they allow you to maintain the optimum growth temperature inside your grow tent all year round. This is why choosing the right type of LED grow light is essential because getting it wrong could mean ruining your plants.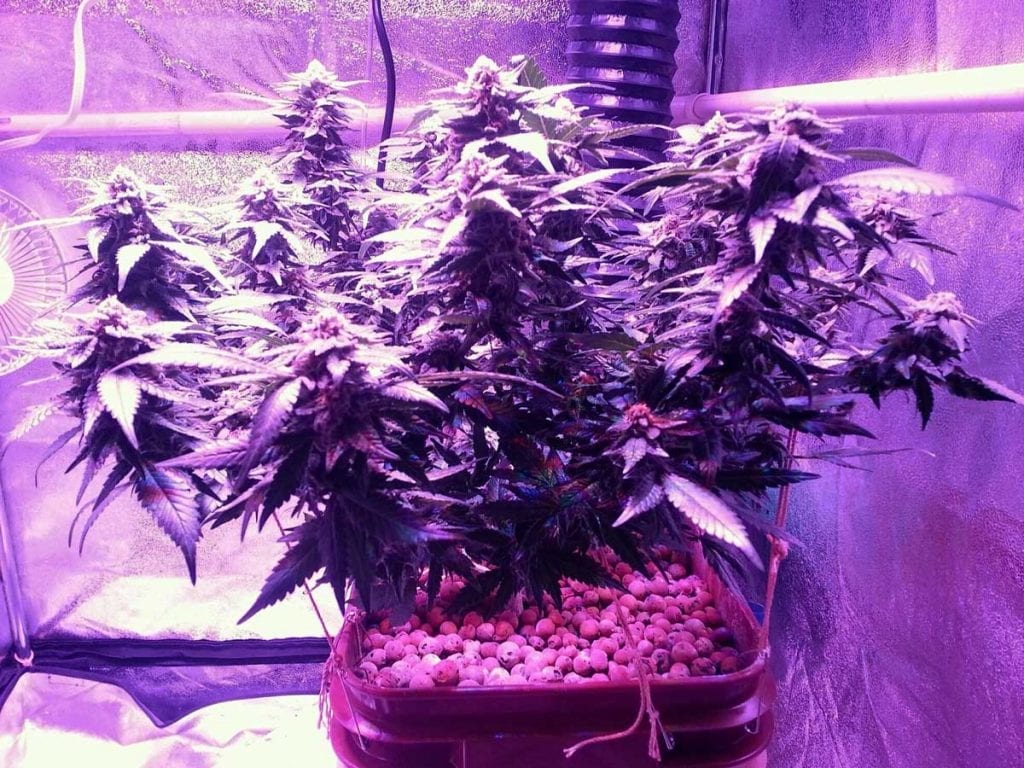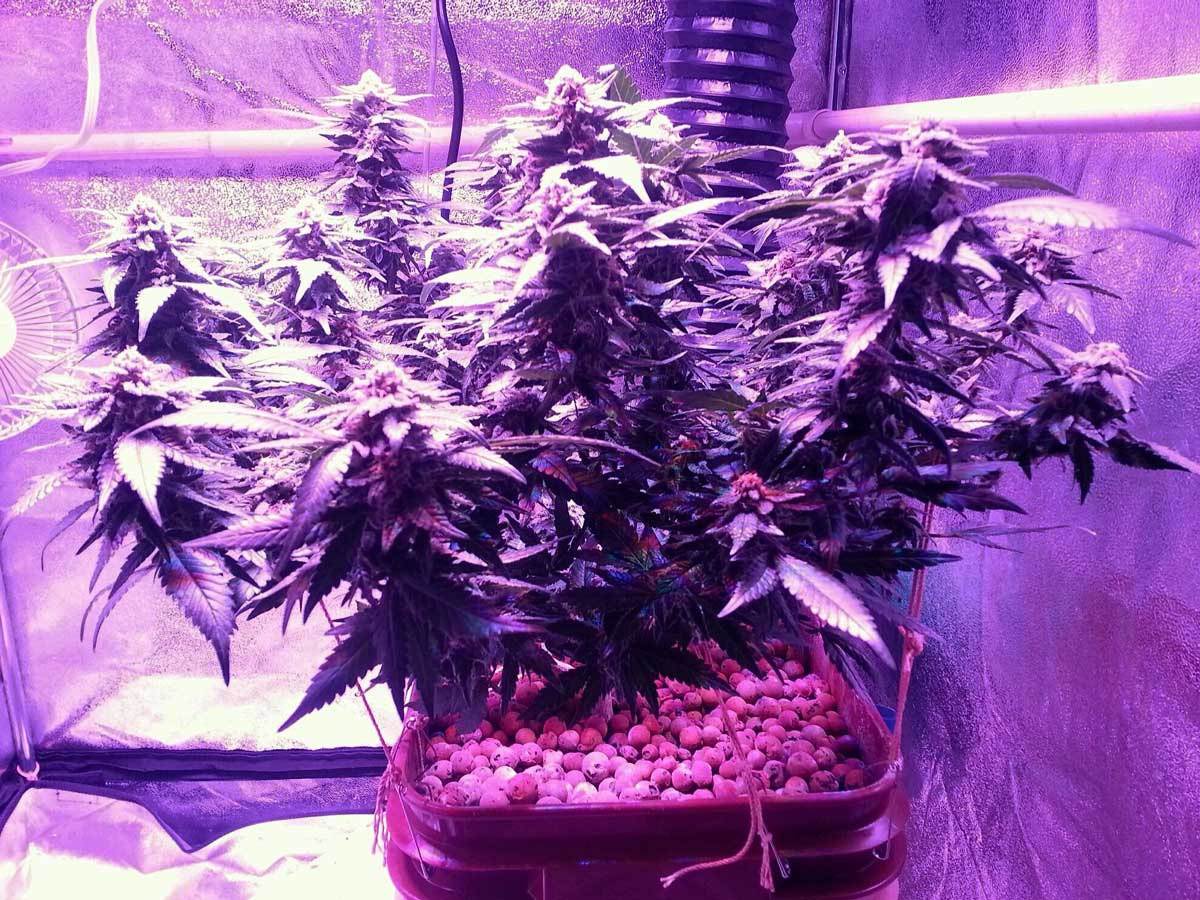 Consequently, there are a few things you should consider while buying a 600W LED grow light.
Four Key Things to Know About LED Grow Lights
First, it's much easier to understand what you're looking for if you have some knowledge about LED grow lights. For example, the following features can help you choose the best LED light for your specific needs.
Type of LED Grow Light
There are three common types of LED grow lights available in the market:
Spread Style
Traditional Panel
Chip-On-Board
The Spread Style has two subtypes: Quantum Board and Spider LED. The shape of Spread Style LED grow lights involves multiple small LEDs spread out over a large metal surface or panels. As the LEDs are smaller, they have a lower wattage diode.
Traditional Panels have medium wattage diodes and are more compact than Spread Style LEDs. Chip-On-Boards (COBs), on the other hand, have higher wattage diodes and give off more intense light and deeper penetration into the plants' covering.
Simply put, when buying, you need to keep in mind the intensity of the light as well as the energy bill.
Heat Output
In regards to heat output, the lower it is, the better the results. If the lights give off less heat, the grow space doesn't risk becoming too hot. LEDs with higher heat outputs are low in quality as they wear off quickly and increase your maintenance costs.
However, ensure that the heat output is not too low and matches the growing needs of the plants. Light intensity tends to drop the further the plant is from the light source. You don't need to buy a higher wattage to counter a low heat output.
Simply position the plant properly so that you don't lose heat energy into the surrounding environment.
Quality of LED Chip
Although they're expensive, good quality chips are specifically designed to encourage healthy plant growth by releasing precise wavelengths. In essence, LEDs are semiconductors with different ratios for different wavelength emissions.
Therefore, whether the diode is low, medium, or high matters a lot because this determines the specifications of the wavelength. For cannabis, the best quality LED chips are those with low to medium diodes.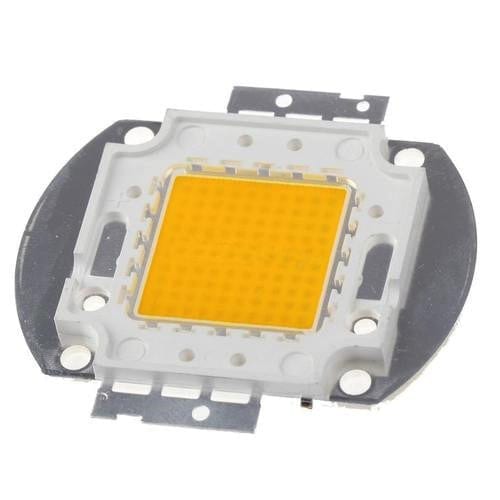 Growing Cycle
Are you using your grow space for all the gardening stages or specific ones such as the flowering stage? This makes a difference because the plant requires different amounts of heat energy in different gardening cycles, i.e., from seeding to harvesting.
Some 600W LED lights come with veg and bloom switches, which makes things easier for you. However, if yours doesn't, you have to keep an eye on the power consumption of grow light for the growing cycle.
When to Use a 600 Watt Grow Light?
Before buying a 600W LED light, make sure that you need one. It could be that you need a LED light with a higher or lower wattage. Usually, indoor gardeners tend to use 32 Watts LED lights, which have an output of 120-300 lumens. However, this wattage matches the needs of only smaller 1×1 grow tents.
Therefore, the wattage of light you need depends on two things, including:
The Size of Your Grow Space
Measuring the size of your grow space is very important to determine what kind of equipment you need. The higher the wattage of your LED grow light, the more area it will cover. This strongly depends on the brand and type of LED grow light, as the number of lumens outputted by different wattages differs from manufacturer to manufacturer.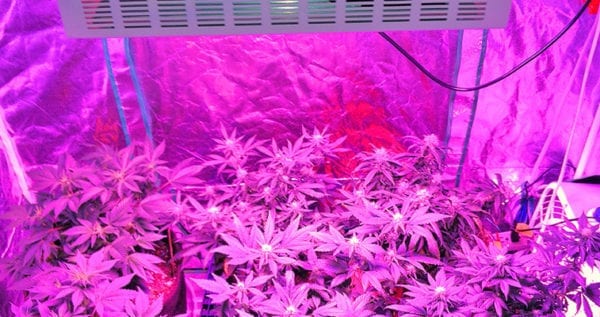 However, you can find a rough estimation as follows:
2×1 grow tent (1-2 plants): 100 Watts
2×2 grow tent (1-3 plants): 200 Watts
2×3 grow tent (1-6 plants): 300 Watts
3×3 grow tent (1-9 plants): 450 Watts
3×4 grow tent (1-12 plants): 600 Watts
4×4 grow tent (1-16 plants): 800 Watts
4×5 grow tent (1-20 plants): 1000 Watts
Keep in mind that for larger grow spaces with plants over 10, you'll need to get multiple LED lights.
The Type of Plants
Secondly, the type of plants you're growing determine the intensity of light you need. Different plants require different levels of heat, which is why the light and temperature you maintain in the grow tent is very important.
For example, marijuana plants require about 200 Watts per 100 grams or 3.5 ounces. With one 600W LED, you can generally grow up to four marijuana plants (depending on your plant training method and the species of marijuana.)
7+ Best 600 watt LED Grow Light Reviews
Title
King Plus 600 watt LED Grow Light Review
Photo
Photo
Title
King Plus 600 watt LED Grow Light Review
Photo
Photo
Photo
Title
Advanced Platinum LED P600 600 watt LED Grow Light
Photo
Title
Advanced Platinum LED P600 600 watt LED Grow Light
Photo
Photo
Photo
Photo
TItle
WILLS Newest Reflector 600 watt LED
YGROW 600 Watt Grow Light
BESTVA Reflector Series 600w LED
Photo
TItle
WILLS Newest Reflector 600 watt LED
Photo
Photo
TItle
YGROW 600 Watt Grow Light
Photo
TItle
BESTVA Reflector Series 600w LED
Photo
G8LED G8-600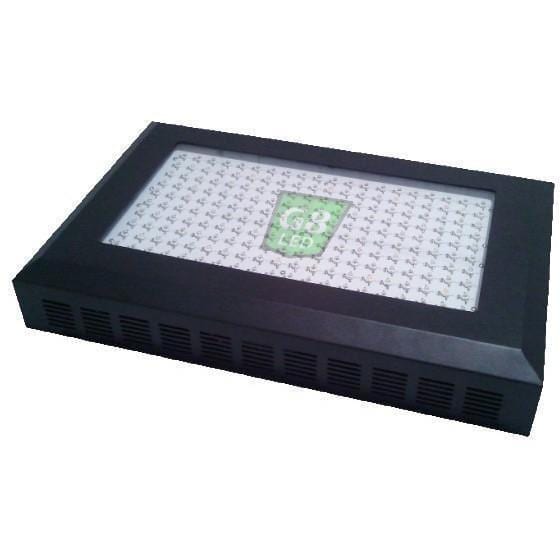 Are looking for the best 600w LED grow light? Then you are in the right place. G8LED G8-600 is the most trusted 600 watt LED grow light when it comes to perfection and healthy growth of cannabis. It consists of all the features which your vegetation requires, thus giving a great result within a short space of time.
With all the features you can wish for in a light, this 600w LED grow light helps in growing great cannabis. The G8LED G8-600 uses an eight band full spectrum light to penetrate your plant. This is a perfect amount for plants.
No color spectrum is wasted, so the energy of the light is used at its full potential. Also, all the wavelengths that are needed to grow cannabis are present.
This light is perfect to grow plants in an area of 4×5 feet. Especially the center of the area receives all the light needed to let the plant grow. Make sure this light is at aking the light to travel at every point where the light is needed to stimulate the growth of the plant.
The other important factor which is mainly looked-after while growing up the plant is temperature. A high temperature harms your plants and gives a bad taste, making it unsuitable for further use.
The temperature control of this G8LED G8-600 is great and one of the reasons it has won numerous prizes for many years. It was #1 in the 2018 Wiki Top Ten LED Grow Light and won the award for Best LED Grow Light by High Times Magazine two times in a row in 2017 & 2016.
Pros:
Long lifespan
High grow power
Low heat output
Excellent light source
Easy setup
Cons:
Expensive
The warranty isn't that good
King Plus 600 watt LED Grow Light Review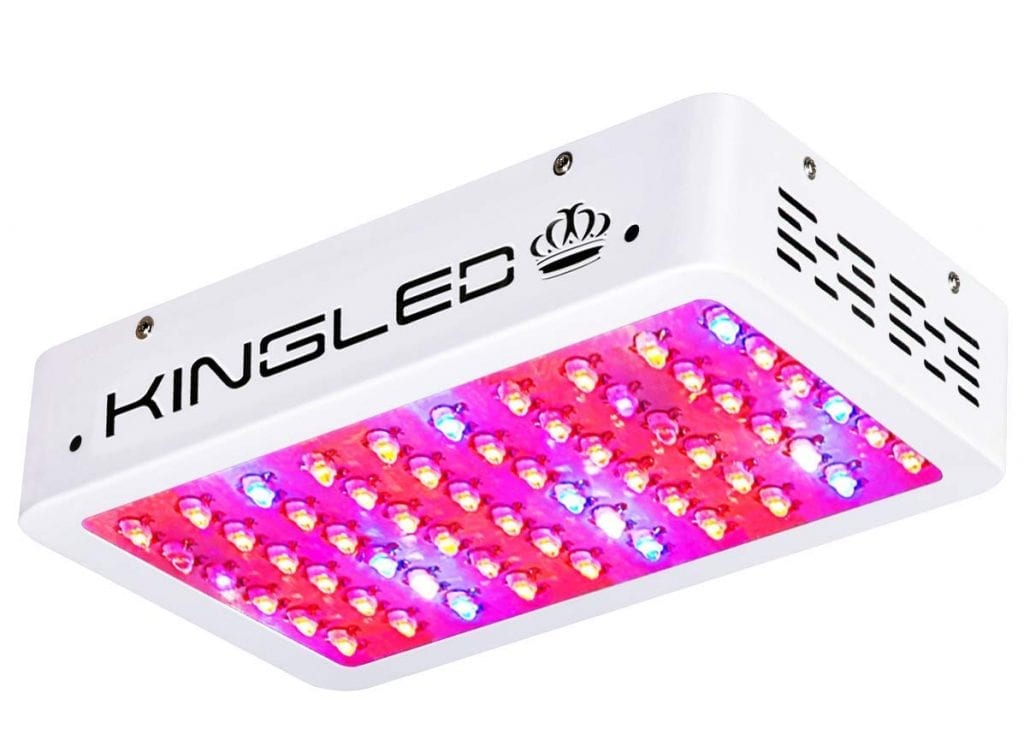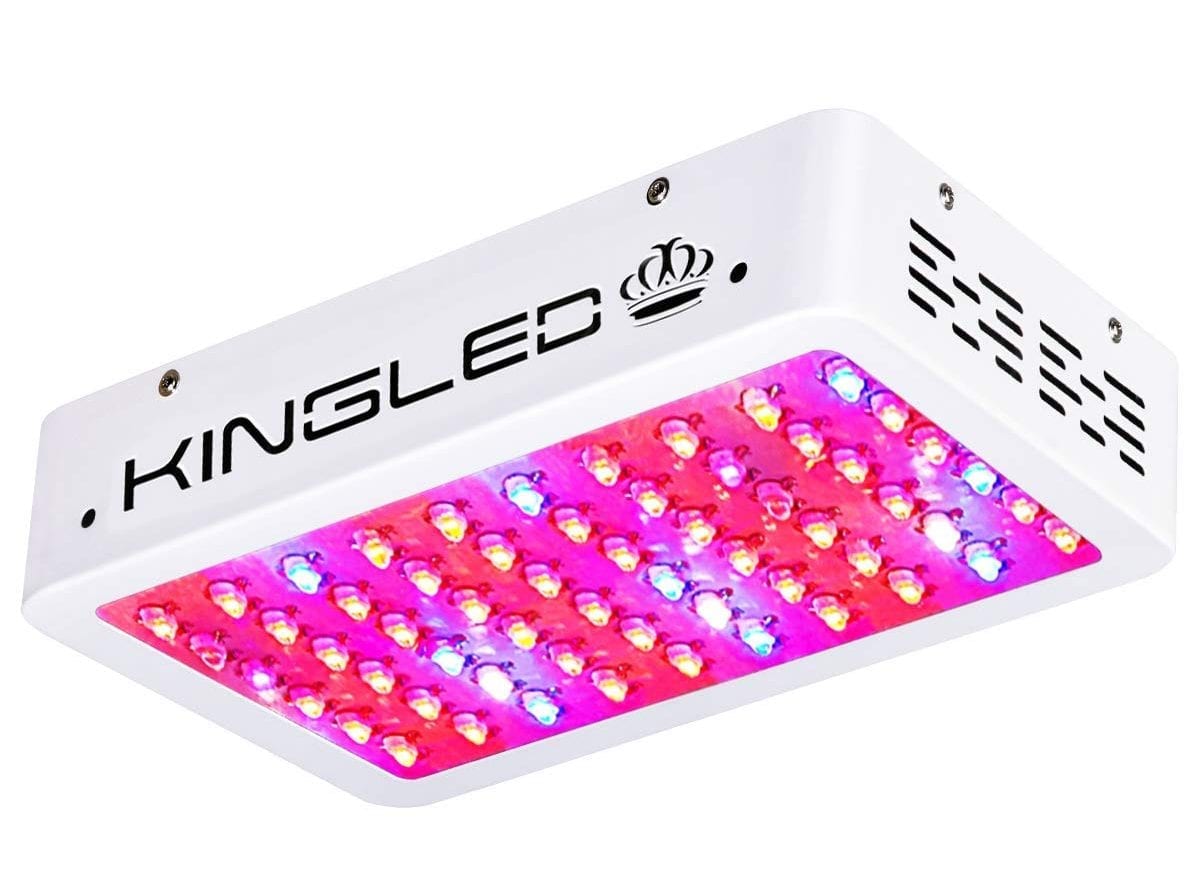 Double chips diode, 5000 hours of lifespan, and high standards determine the quality of lights that KingLED offers.
With excellent performance and a great full IR spectrum, growing your vegetation was never as easy as it is with the King Plus. Due to its price/quality ratio, this 600 watt LED grow light can't be missed in this list.
The King Plus 600w LED grow light amazes with its great features that you don't find in any HID/HPS light. These HPS bulbs have a limited life and are fragile compared to LEDs.
We mention this light in this list because it is a very popular 600 watt LED grow light. Many beginning growers choose King Plus because it is reliable and has a great price/quality ratio. This light has all the features you need as beginner indoor grower.
Your plants will get full coverage of full spectrum light as this grow light covers an area of 3×3.4 feet. It helps the vegetation to take place quickly and at a fast rate, by not allowing the heat to disrupt the process.
When it comes to comparing King Plus 600W LED grow light with the High-Intensity Discharge (HID) bulbs or lamps, the HID bulbs consume 600W power, while the same result you can achieve by consuming a much lower potential of 120W.
Return Policy – Easy return policy of 30 days and a warranty of 3 years makes this a fantastic product. The quality of this 600w LED grow light is thereby guaranteed. With all the essential functionalities, this is a great beginner LED grow light of 600 watt.
Pros:
Three-year warranty
Great price
Using tips for beginners
Perfect size for 3×3 tents
Bright light
Cons:
Plant footprint is poor
Needs supplemental lighting
Viparspectra 600w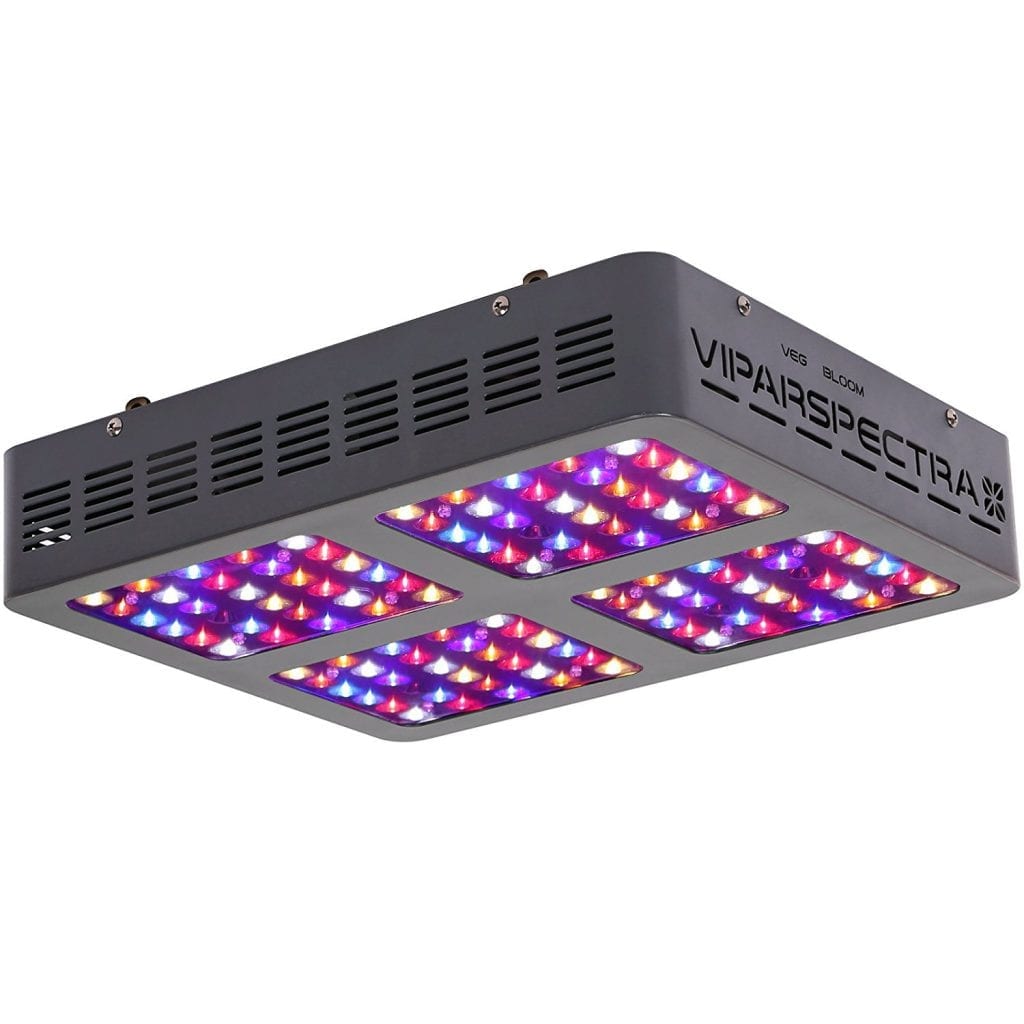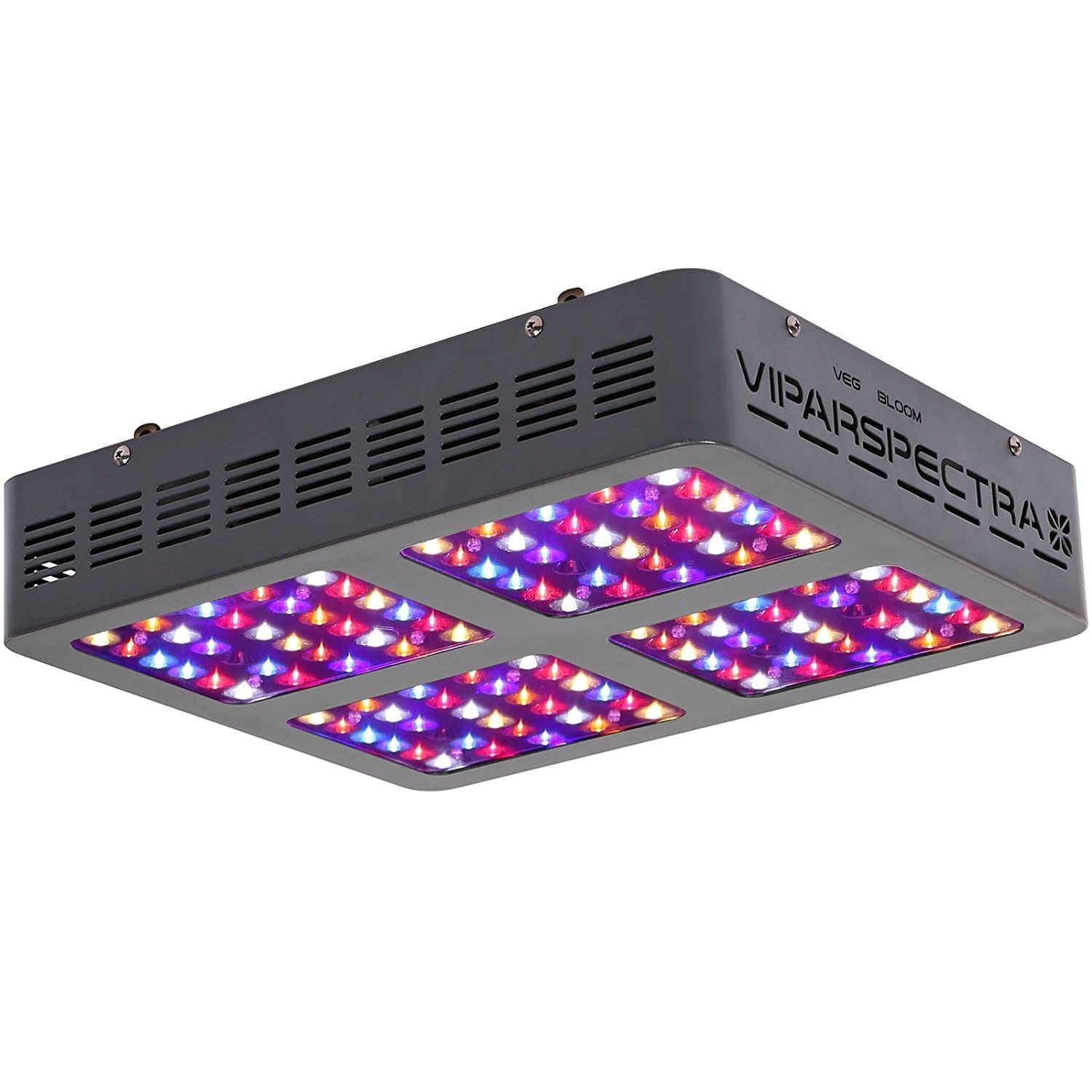 Viparspectra is another fantastic product in the range of 600 watt LED grow lights. Again, this light uses low power with a full IR spectrum. The Viparspectra 600w is designed while keeping the actual requirements of the plant and grower in mind.
The flowers and plants need proper care and attention during the growth process. From seeding to the intermediate phase when the plants are taking its actual shape.
Viparspectra 600w LED grow light is useful at this stage as it covers a large area. It will reach the light at every possible region of your plant to get the desired result.
With advanced aluminium heat sink and front-facing cooling fans, 13.7 lbs weight and three years of warranty, this is a great 600 watt LED grow light.
Its maximum coverage is 3X3 feet (perfect for a 3×3 grow tent) and gives superb results. Compared with 600W HPS light it saves a lot of energy and money. It also gives better yields than any HPS light in this range.
It also has three modes for different growth phases and a front facing cooling fan to regulate and maintain the temperature. This helps in stimulating the growth and maintaining the taste of the plant.
This Viparspectra 600w has an additional feature with its low power draw. On the contrary you won't find a daisy chain option which is the only con.
This is a perfect light just above the cheap options that are available. It is not as perfect but cheaper as the G8LED G8-600, and of higher quality than the King Plus 600w.
Pros:
UL certified
Safe to use
High efficiency
Sturdy design
Three years US warranty
Cons:
A bit noisy
Specs are a bit off
Phlizon Newest 600 watt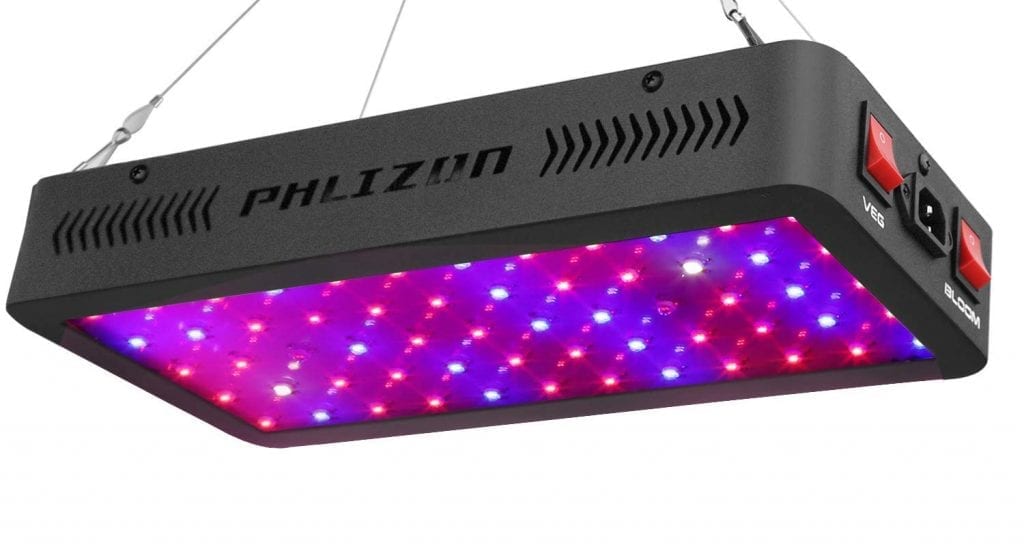 Having 60 dual chips LED grow light makes sense for any customer when he's looking for cost-effective, highly durable and low-power consumption lights. Especially when it is to grow cannabis indoor.
The Phlizon Newest 600w comes with a thermometer to get the current temperature, humidity, and air pressure. This makes it easy for you to notice any changes in the environment of your grow room.
One cannot quickly turn their eyes with the Phlizon Newest 600w LED grow light. It is one of the best 600W LED grow lights in the budget-friendly range. This light not only saves you money in the long run, but also saves enough power and gives control of the environment with the included thermometer.
Recommendation: I would suggest purchasing this 600 watt LED grow light when you need a light for a 2×2 feet area. This is the coverage area when you install it at a height of 22". It is the most budget friendly and complete 600 watt LED grow light in its price range. It is easy to expand you operations with multiple lights because of the daisy-chain feature.
The product receives great ratings on Amazon and the amount of reviews shows it popularity. The 600w LED grow light comes with a 2-year warranty.
When looking for a budget option this light is the right choice to get your cannabis to grow fast with great taste.
Pros:
Dual switch
Great customer service
PPFD spectrum specified
Low temperature
Power saver
Cons:
Too bright sometimes
There's no heat sink
Advanced Platinum LED P600 600 watt LED Grow Light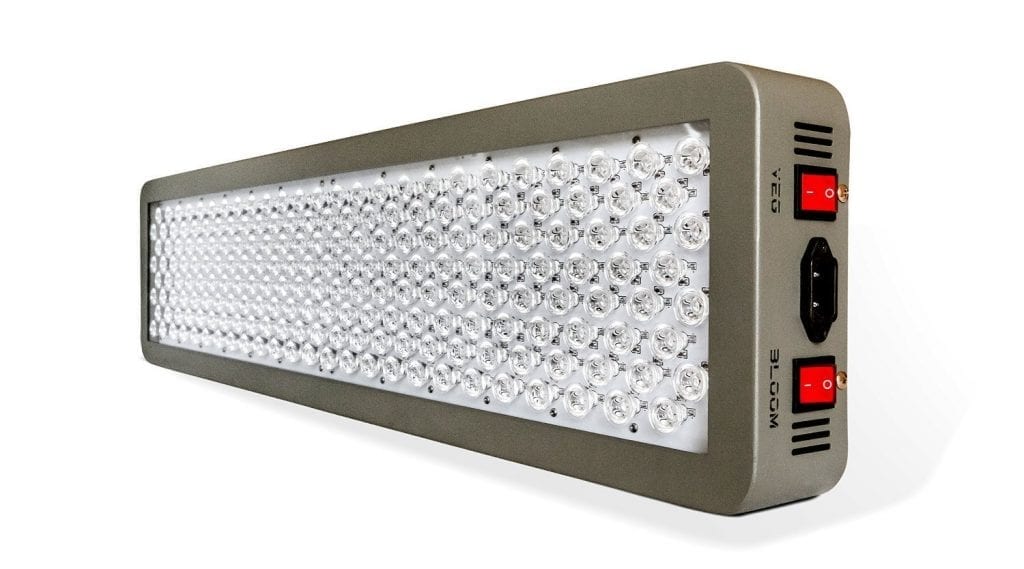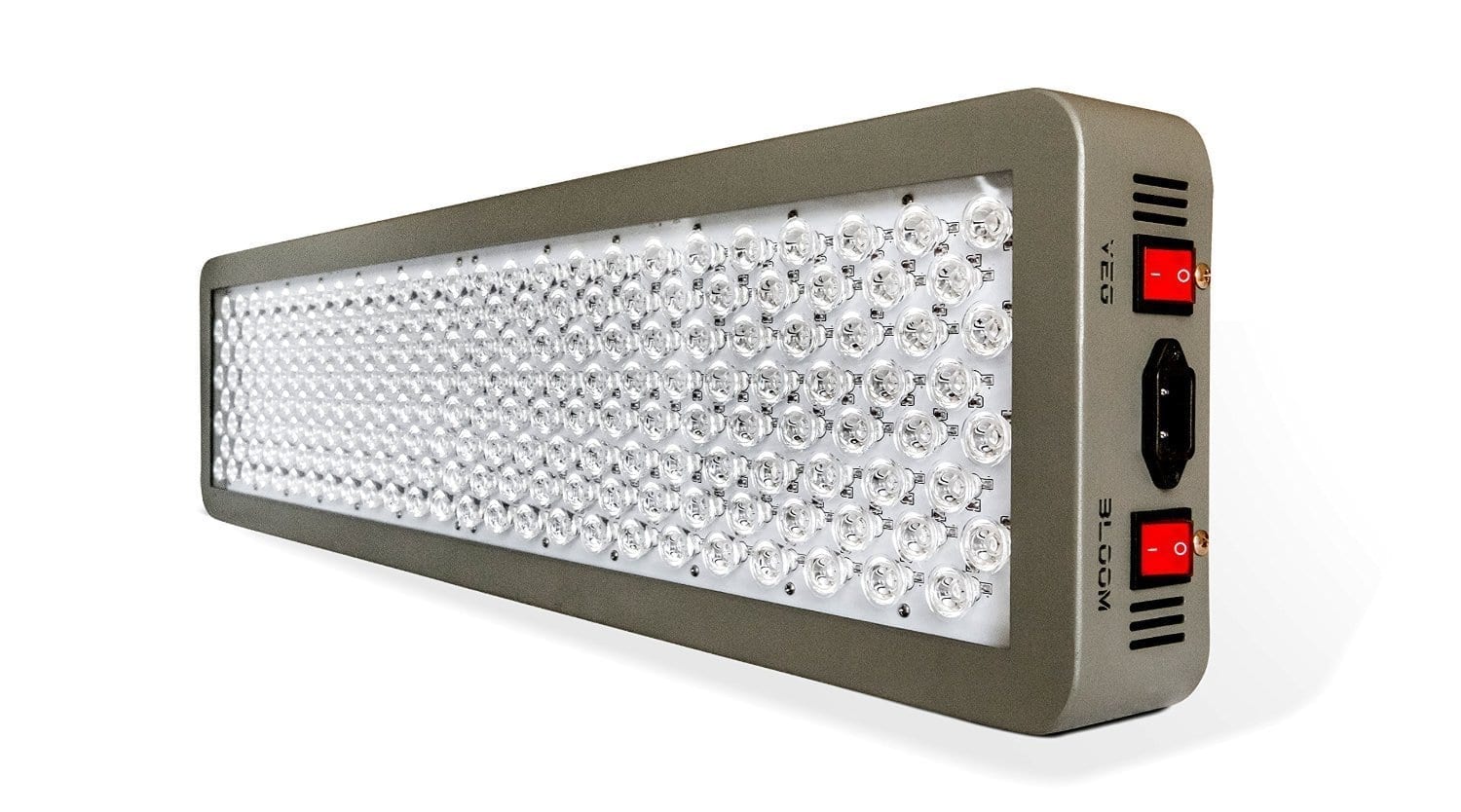 What more do you need when your LED grow lights come with an advanced technology that automates your built-in fans? The PlatinumLED 600 watt LED grow light has a great 12 band spectrum and is great at keeping the temperature low.
The Advanced Platinum LED P600 is one of the best lights when you want to spend some extra money. Cost and quality are the two main factors that define this lED.
This light is ideal for growing in all stages. Growing the plants at all the stages, such as vegetation and blooming is very comfortable as you can customise the light spectrum by using its growth phase switches.
This PlatinumLED P600 is made in the USA to protect the quality of the light. The housing and the LEDs are noticably of greater quality than its China-made equivalents.
I would not hesitate to give this product 5-star rating. Many other growers give the 600 watt LED grow light a great rating as well, as it is one of the most reviewed grow lights online.
The Advanced Platinum LED P600 comes with a 5-year warranty and a 90-day replacement guarantee. This guarantees its quality. Also, this fabulous product is comprised of 200 pieces of 3-watt LEDs, allowing a lifespan of at least 100,000 hours.
I would really recommend this light to every grower looking for a super reliable and high-quality light. The Advanced Platinum LED P600 is a bit more expensive than most lights, but the quality is much higher. Also, the full light spectrum is 12 bands, which is better than any other 600 watt LED grow light. This one guarantees great yields for many years.
Pros:
Covers 6×4 ft
Lightweight
High core coverage
The lifespan is greater than 50,000 hours
Fireproof
Cons:
Thermometer only displays bottom numbers
Light filters aren't very effective
MarsHydro MARS600
MarsHydro MARS 600W LED grow lights comes with a dimension of 18'' X 11'' X 3''and covers about 2.5' X 2' at 20" during the veg phase. In the bloom phase it covers 2′ X 1.5′ at 18". This makes it a popular 600 watt LED grow light among growers. MarsHydro is very popular and this is one of it's most famous lights.
This light comes with a full light spectrum range. It is an often purchased product on Amazon in the budget-friendly 600 watt range.
It covers a decent area and imparts brightness to every part of the plant. The light can adapt to different growth phases. This is important for the plant to grow and attain good taste at the same time.
It has the high intensity and draws an average power of 132 watt, thus saving lots of energy compared to a HPS/HID grow light. This MarsHydro MARS 600w comes at a decent price that is a bit higher than most of its competitors.
This is justified by the higher quality that this 600w LED grow light delivers. MarsHydro is known for its high quality lights and isn't a cheap build light. It however, does not possess very noteworthy features. It just gets the job done with a well-built and safe light.
When it comes to comparing with other high-intensity discharge bulbs, you will find this light more compatible with your surroundings. It consumes less energy and outputs less heat than any HID/HPS.
Pros:
ETL certified
New SMD technology
Good quality cooling
Uniform light absorption
Adapter included
Cons:
Not waterproof
Can't work without stable voltage
Viparspectra PAR600
This 600 watt LED grow light is one of the most remarkable models when you look for easy, fast, and effective growth. The Viparspectra PAR600 is the best 600w LED grow light in its price range. Every person who loves growing cannabis, loves this light.
With a dimension of 14.1'' X 11.8'' X 3.5'' and a weight of 13.7 lbs, this product amazes with its coverage area and function by efficiently handling all the environmental conditions. The Viparspectra PAR600 always provides a good result.
This light is specifically designed for people who want a high quality 600 watt LED grow light. Next to that, it is not a light with an absurd price tag.
The PAR600 is built perfectly, has lots of great features and is not overpriced. It has everything you need as someone who has a professional indoor garden.
The light has full spectrum, a three power option, great cooling fans and is built very well. If you're into spending time with your indoor garden, this is a light for you. It is not as advanced as the G8LED G8-600, but it is a good competitor in a lower price range.
You can find everything which you need in a single grow light, such as quality, a beautifully designed product, front-facing cooling fans, three mode switches, a good coverage area and lots more.
Pros:
Wide vegetative coverage
Return guarantee
Consistent plant growth
Adaptable light intensity
Solid construction
Cons:
Better used as a supplemental light
Poor customer support
Vivosun 600w Grow Light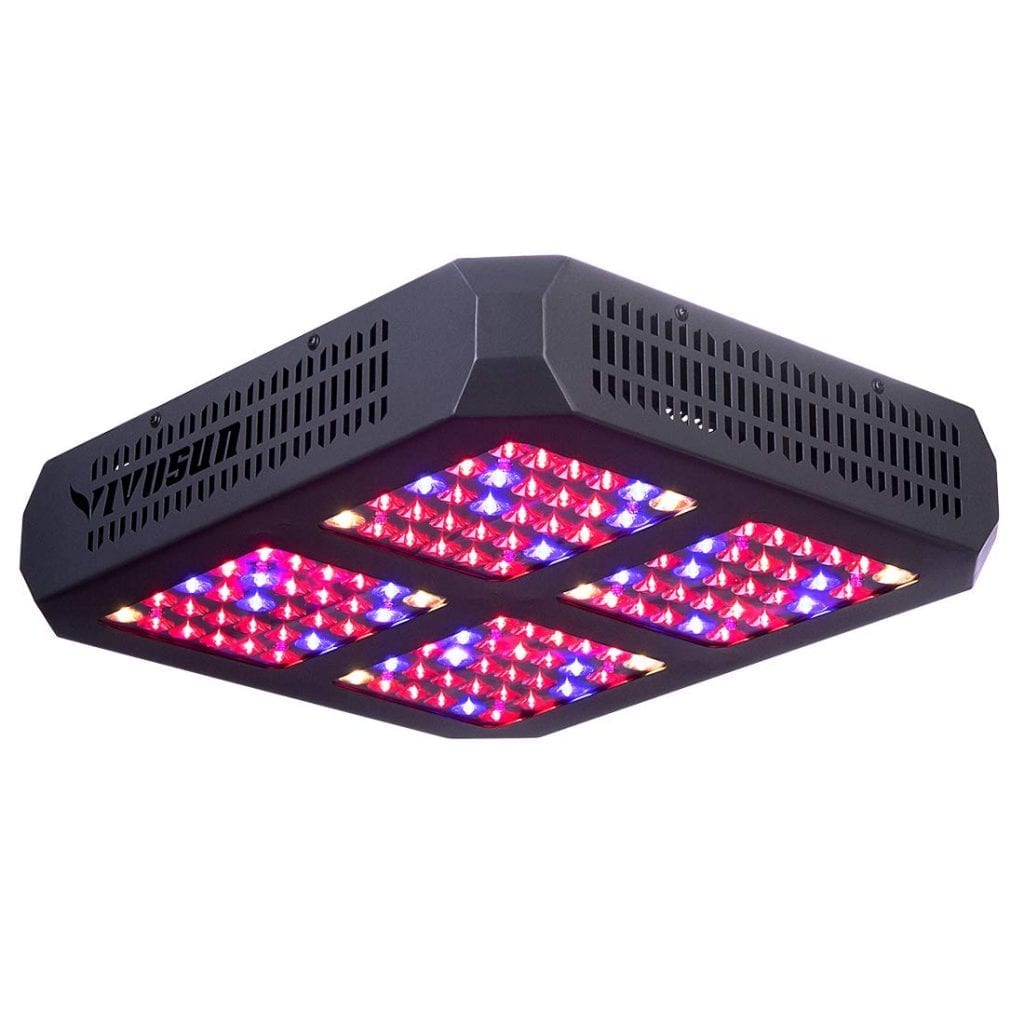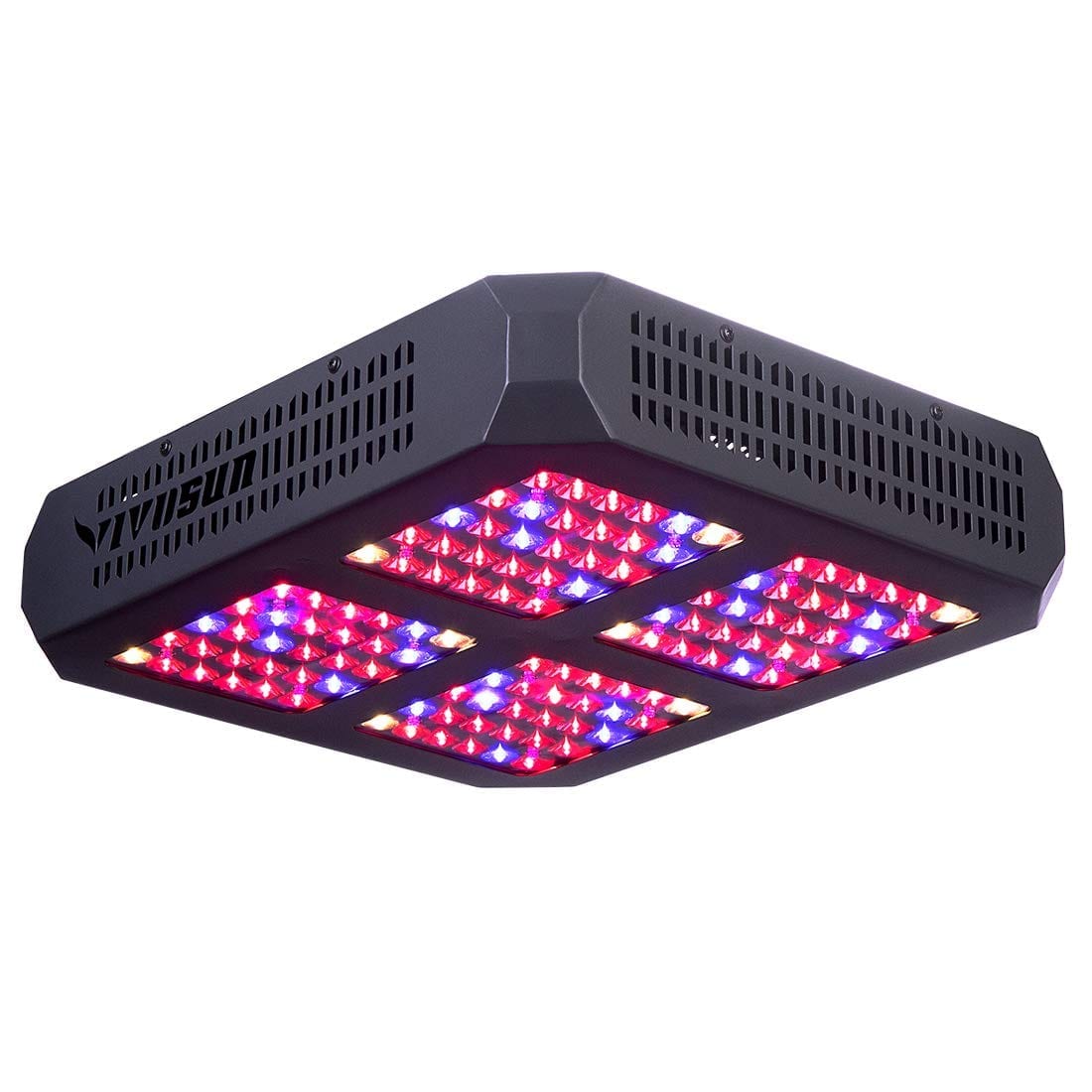 Vivosun is one of the most prominent companies in the US that sell indoor gardening and hydroponics equipment. Their range of products includes over 2000 grow tents, tarps, lights, accessories, mats, and thermostats. With a three-year warranty, the Vivosun 600w grow light is one of their most best-selling items.
Features:
The Vivosun full spectrum LED grow light can be used to grow all types of plants ranging from fruits, vegetables, flowers, and cannabis. It has two built-in cooling fans and composite metals to maintain the temperature you need.
The light needs to be elevated at the height of 24 inches over your plants for the best effect. You can easily install it using the adjustable zip ties, the length of which you can increase and decrease without friction.
The heat dissipation system works well for all growing stages, including a lower setting for the flowering stage. The Vivosun 600W LED light has about 16 white diodes and 4 infrared diodes to provide more precise wavelengths and heat energy to your flowers.
Moreover, the IR bulbs are designed to look dim to make it easier on your eyes. However, don't worry. Just because it looks dim doesn't mean it's not doing its job.
Pros:
Affordable
Quiet
Lightweight
Long-term warranty
Large coverage area
Cons:
Not durable
Not waterproof
WILLS Newest Reflector 600 watt LED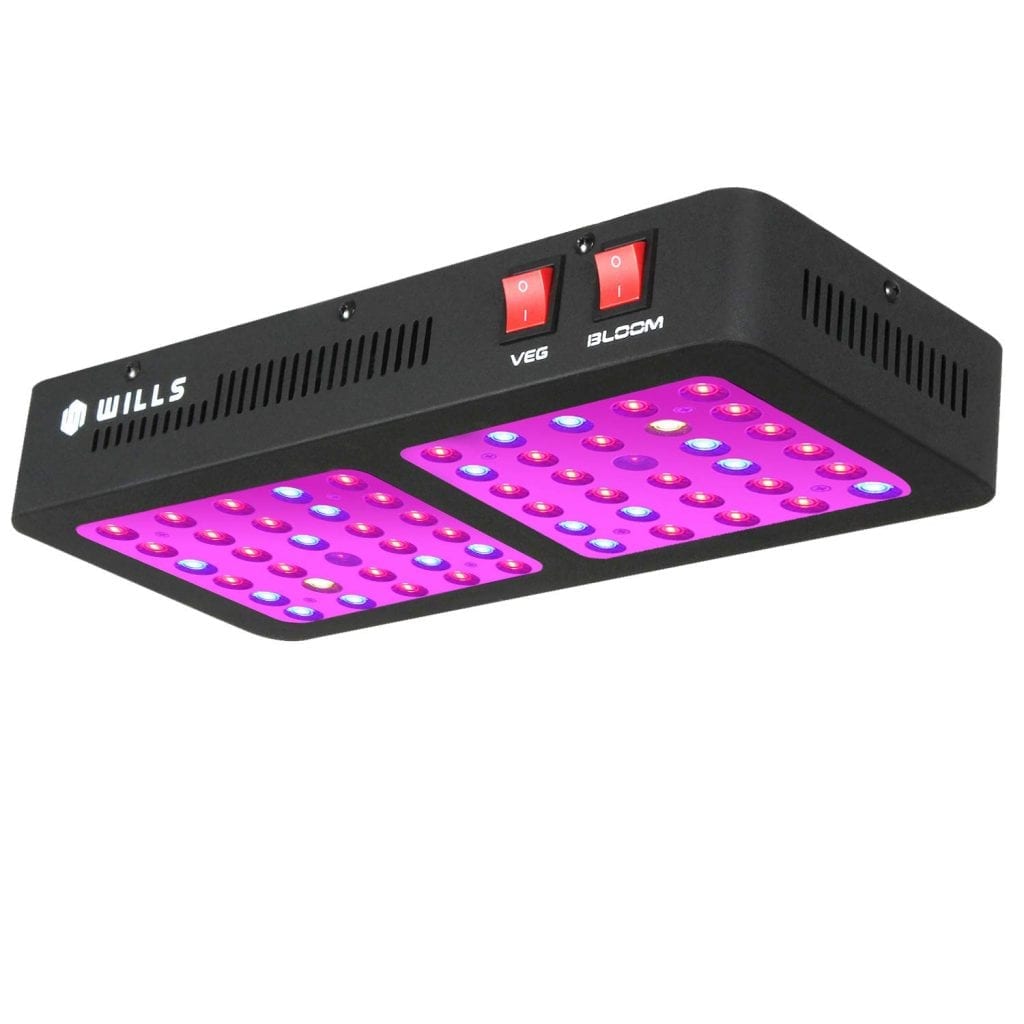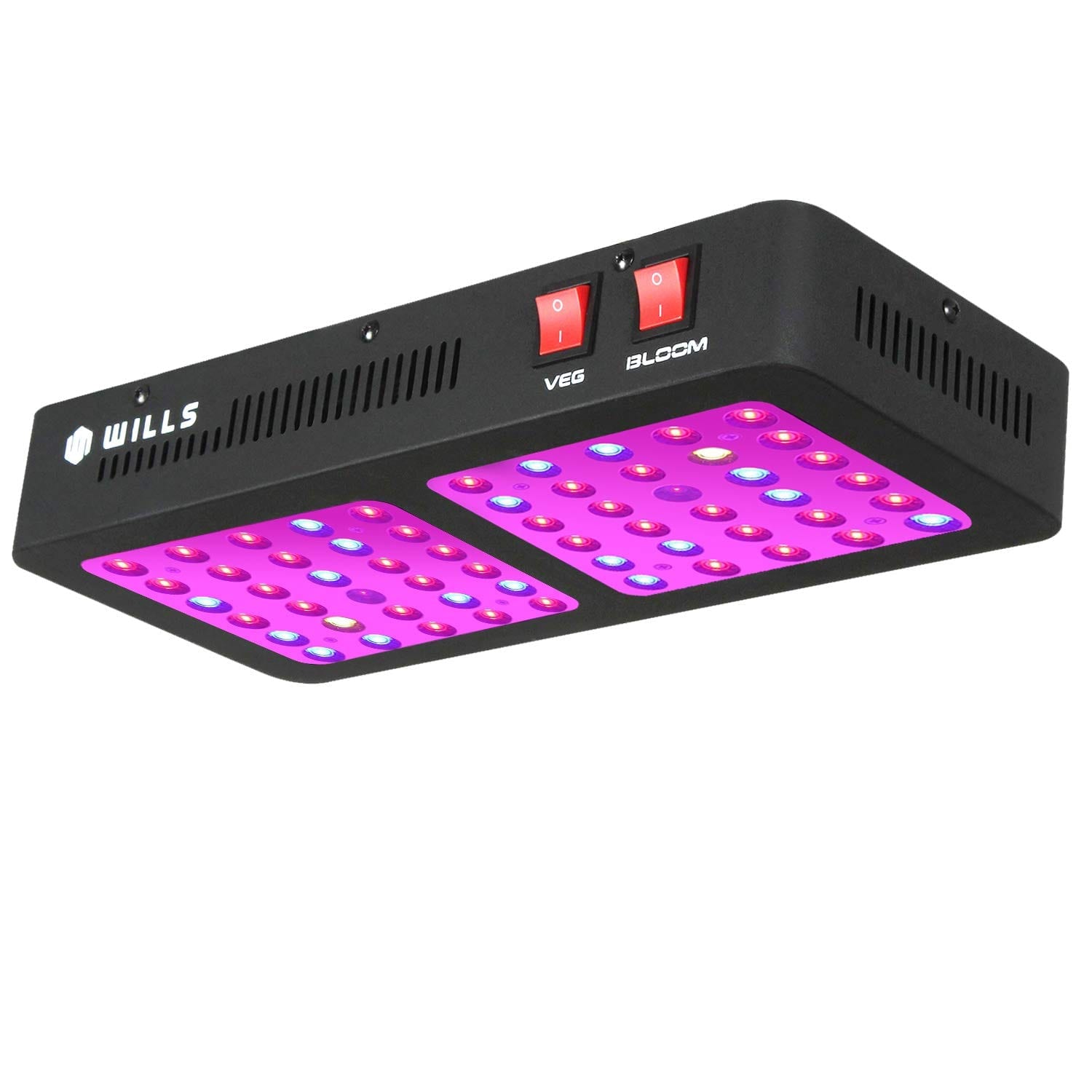 WILLS is another US-based company that specializes in gardening equipment and services. They provide many useful products, including lights, tents, and gardening accessories. Their products are particularly geared towards beginners as they have an ergonomic design yet they're also high in quality. The WILLS 600 watt LED is from their reflector series.
Features:
The main feature offered by the WILLS Newest Reflector 600 watt LED is its expert-certified reflector design. The design increases light intensity by 30% and utilizes 100% of power input, which means that no energy goes to waste. Overall, the light only consumes 102Ws, which is much less than HPS and MH lamps.
The light is guaranteed to be full-spectrum, including red, blue, white, UV, and IR LEDs to promote a balanced Lumens output and consequently, increase plant growth.
Moreover, the light has dual chips settings for flowering, vegetative, and seedling stages. These chips take about 10W per 60 pieces and hang at an angle of 90 degrees, ensuring maximum penetration. The working voltage for the chips ranges between 85 to 265V, making it a perfect match for 2×2 or 3×3 grow tents.
Pros:
Great customer service
Two-year warranty
Advanced reflector technology
Can even cover 3.48 ft. x 2.73 ft. growing area
Shortens the period of growth
Cons:
Poor quality control
Daisy-chaining outlet not available
Maxsisun 600w LED light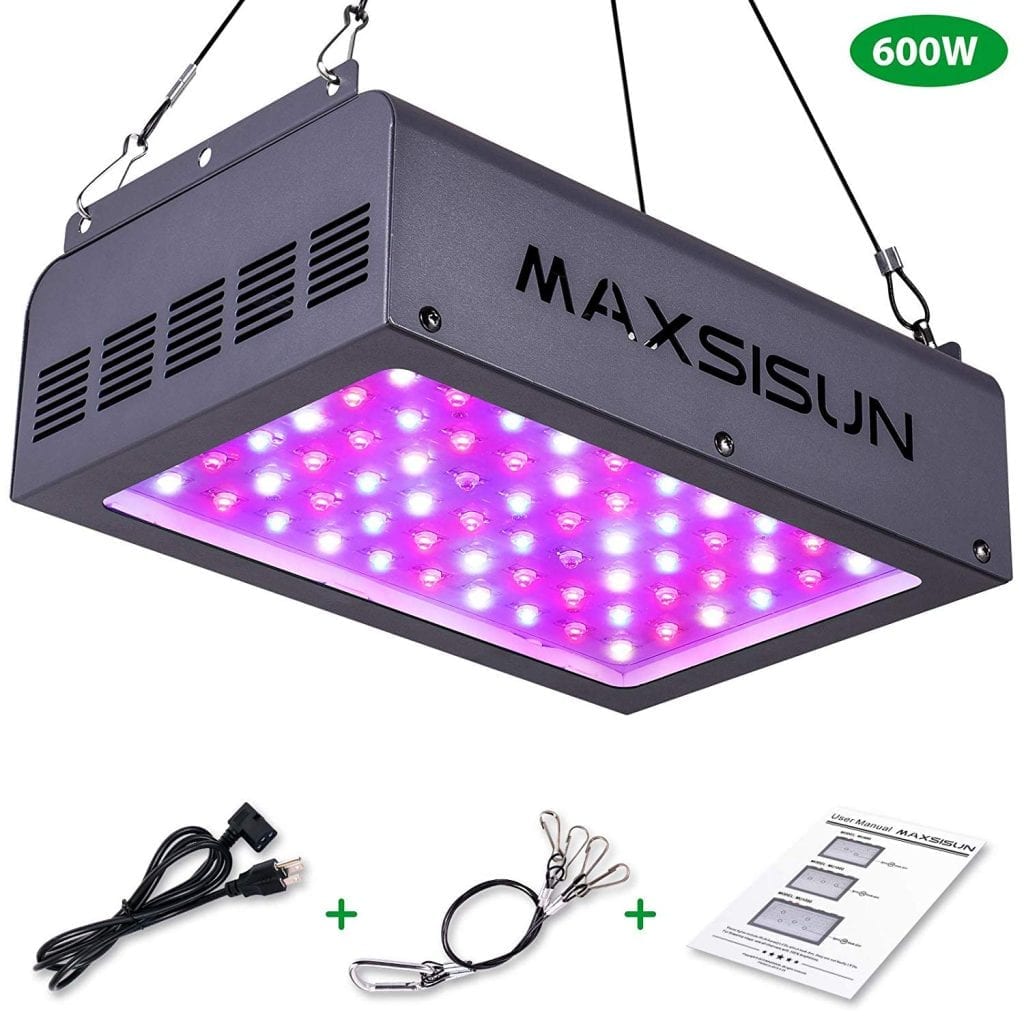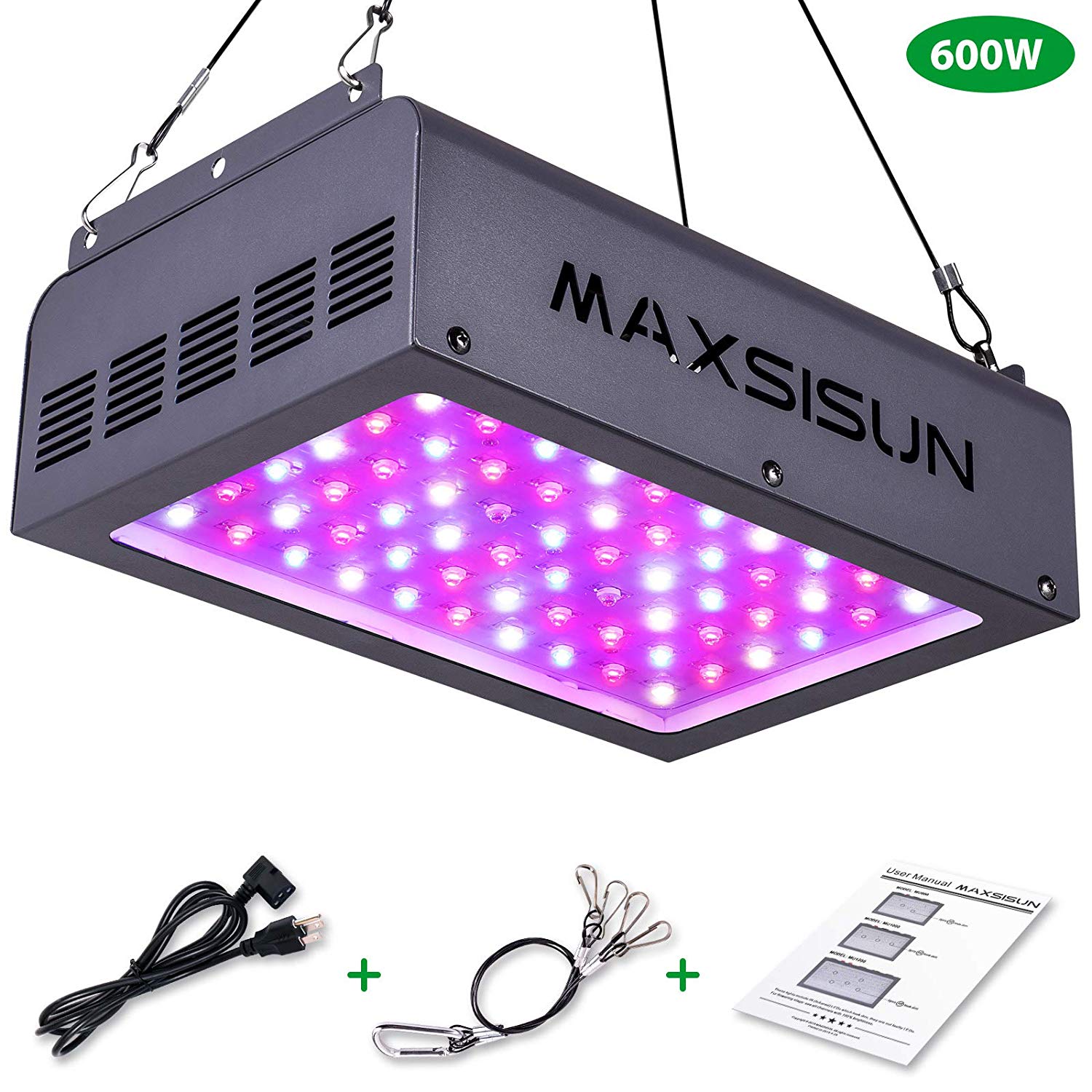 Maxsisun LED Grow Light is an online brand that distributes its products worldwide, including the US. They've been developing their products for years using rigorous research and expert opinions. The company is very centered towards customer satisfaction and quality assurance, which comes through in all its products, the Maxsisun 600w LED light include.
Features:
Ideal for 2×2 flowering areas or 2.5×2.5 veg areas, the Maxsisun 600w LED light gives an output of approximately 300 watts. There are two different knobs you can use to control the light intensity, including blue light, red light, white light, and IR.
However, the best part is undoubtedly the highly efficient heating and cooling system. The Maxsisun LED light comes with an aluminum heat sink and a high-speed cooling fan for maximum heat dissipation. In this way, you can easily maintain a healthy growing environment for your plants.
To maximize efficiency, the manufacturers encourage using the light as follows:
Set-up days: 10 hours on and 14 hours off
Seedling days: 12 hours on and 12 hours off
Vegetative days: 18 hours on and 6 hours off
Flowering days: 12 hours on and 12 hours off
The maximum veg height is 20 inches, and the maximum bloom height is 16 inches. Although this number can increase or decrease by two inches, depending on the type of plant.
Pros:
Dimmable
Two-year warranty (in the US)
Very affordable
Comes with hanging kit
Sturdy design
Cons:
The instruction manual is hard to read
Gets very hot
YGROW 600 Watt Grow Light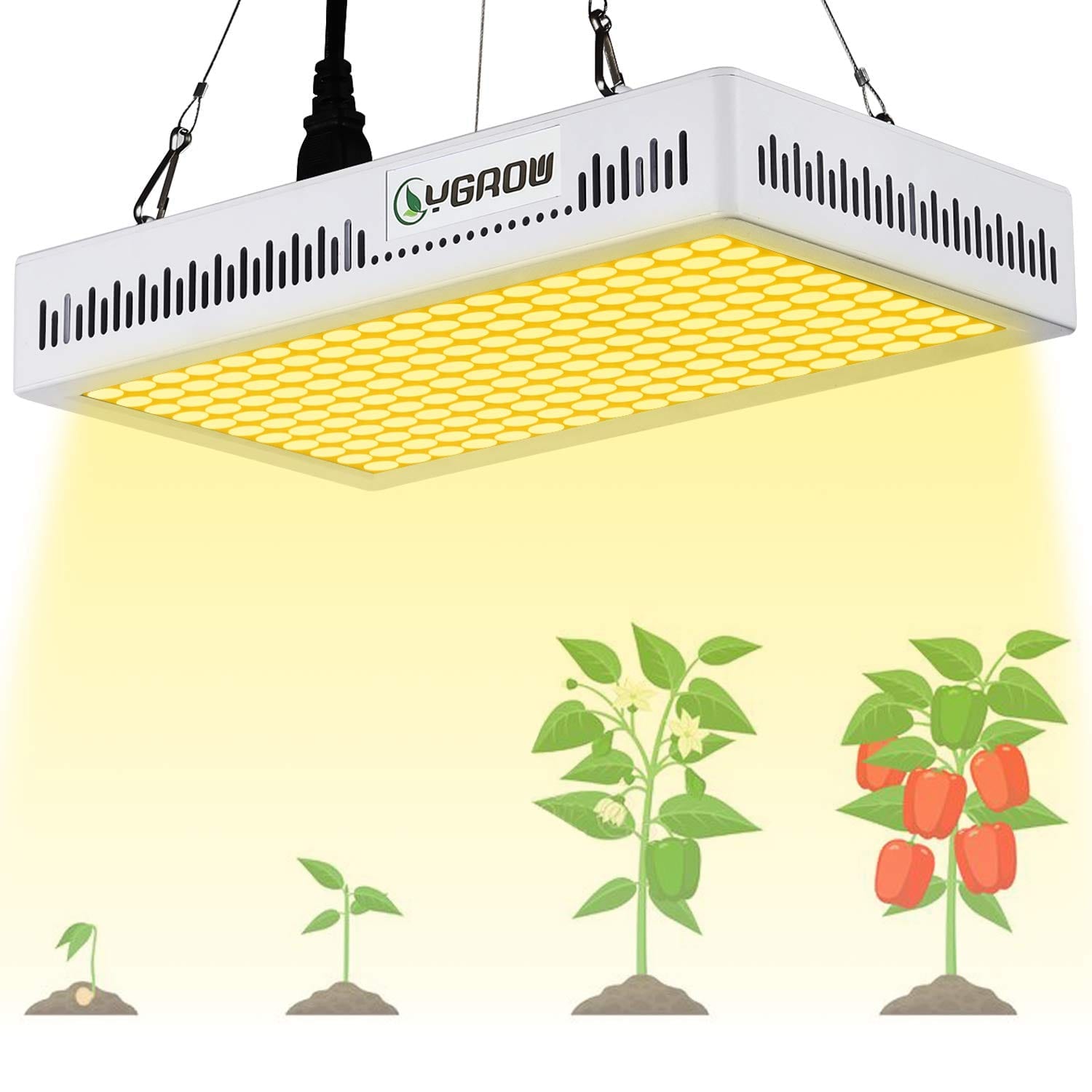 Based in Sri Lanka, YGROW is a relatively new company, having been founded in 2014. However, since then they've grown into one of the best providers of indoor growing products with their use of innovative technology and support from the Sri Lankan Academy of Agricultural Sciences. The YGROW 600 watt grow light is one of their most reliable and versatile products.
Features:
The YGROW LED light has a high-quality reflector cup that minimizes light loss and maximizes light absorption by 98%. The cup can be installed at up to 60 degrees and helps you lower the light intensity by controlling the direction of the light.
The LED bulbs only consume about 150w of power, limiting energy wastage. The bulbs have optimal full spectrum features ranging between 380nm and 740nm, including the UV and IR spectrums.
Additionally, the built-in temperature controller gives you better heat dissipation and helps prevent heat damage to the lamp when the fan isn't working. This not only makes the lamp safer to use but it also gives the LED lights a longer lifespan. According to the manufacturer, the lifespan of this 600w LED grow light is 100,000 hours.
Pros:
High PAR value
Useful tips in the instruction manual
Lightweight
Easy-to-install
Low heat
Cons:
The Light spectrum is a bit off
Strange burning odor on first use
BESTVA Reflector Series 600w LED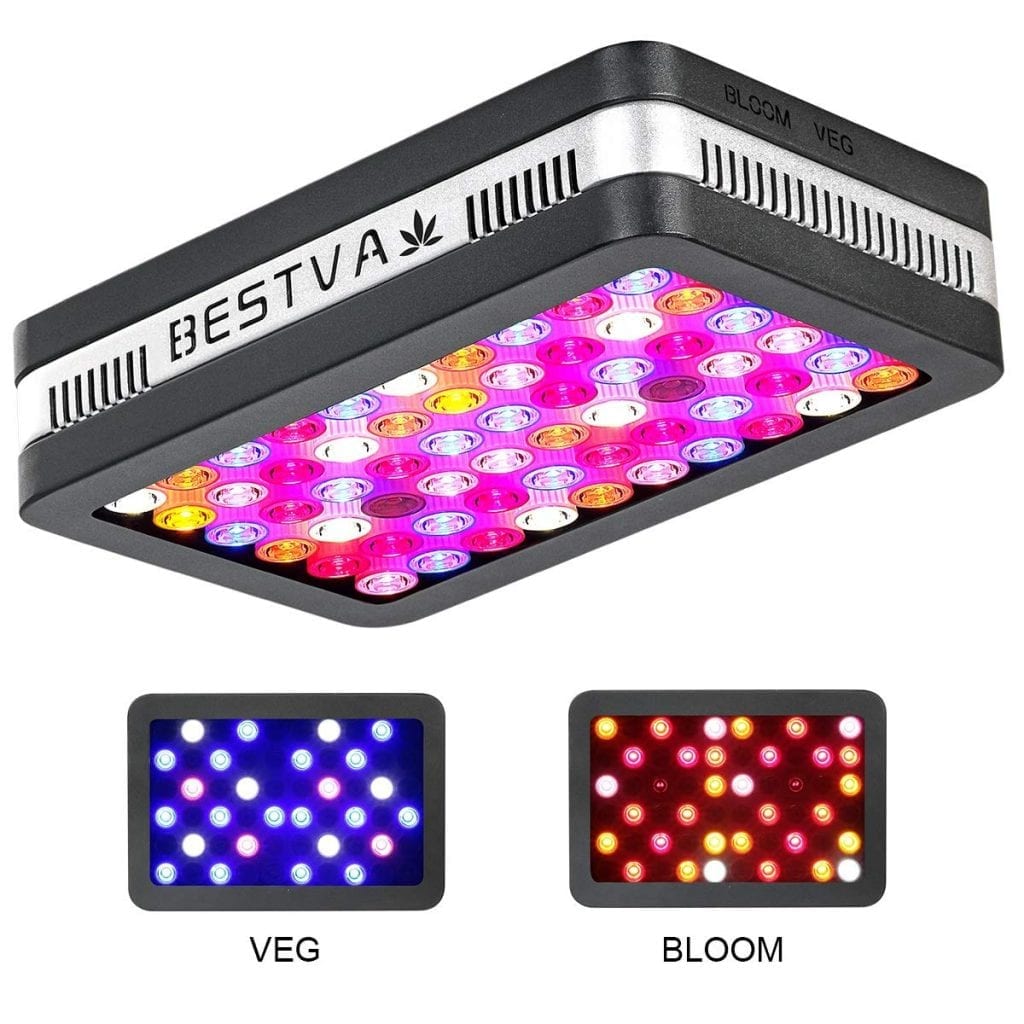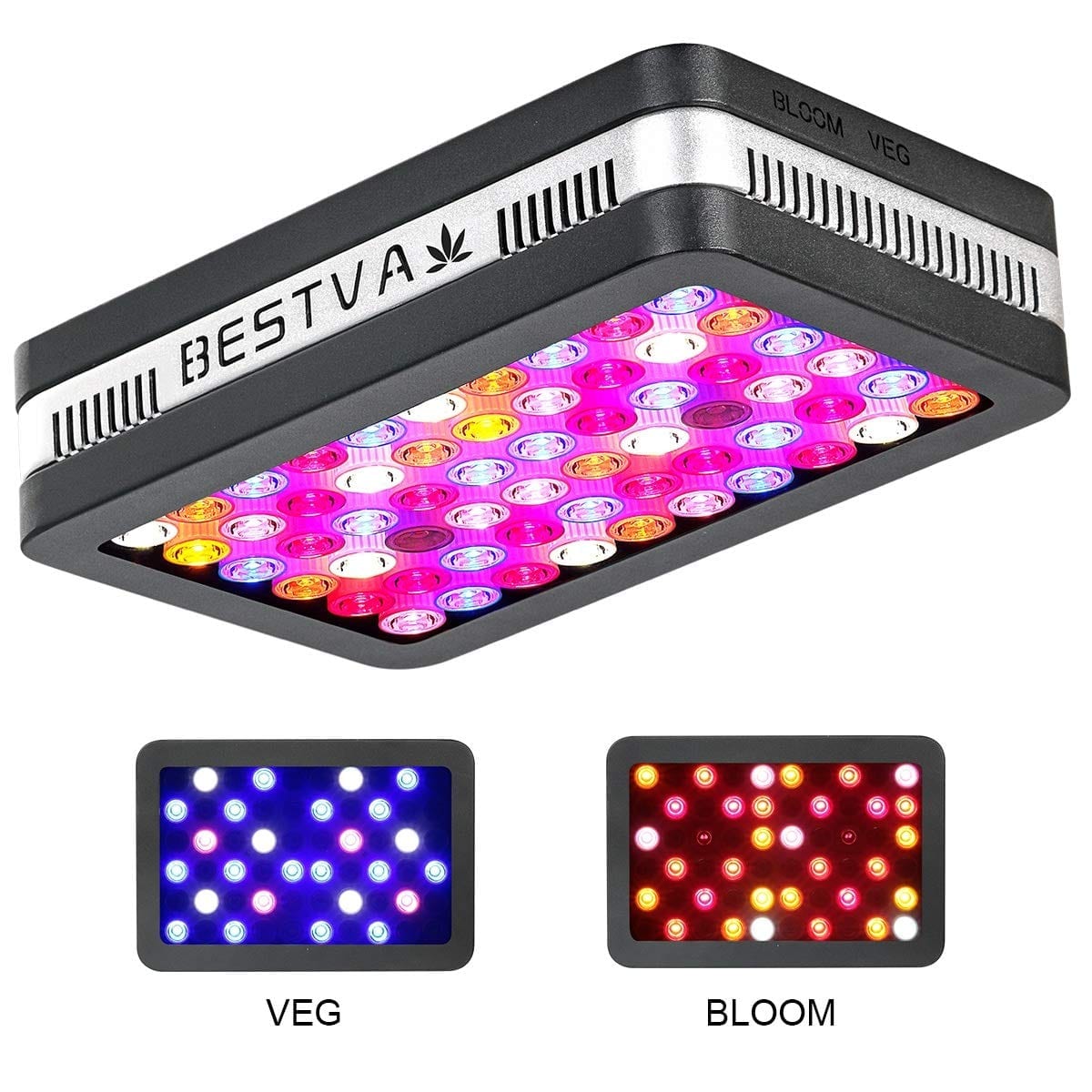 A Chinese brand, BESTVA sells innovative grow lights all around the world, including in the US, Europe, and Africa. Their grow lights are innovative because not only do they do the job, but they also look unique. The BESTVA Reflector Series 600w LED light comes with unicorn lighting, making it look very funky and unique.
Features:
As mentioned, the Unicorn LEDs give a very unique and distinctive look. The lighting gives a great first impression and, coming in blue and red spectrums for veg and flowering respectively, allows you to switch between the two modes very easily.
Further, the LED light has a strong 5mm aluminum radiator that works as a quick heat dissipation system. Unlike 2 mm thick radiators, the BESTVA 600w LED allows a higher current flow, brighter light, and a larger PAR value.
However, the light is still very safe to use. The materials used in the light are resistant to high temperatures and require an isolated power supply, which limits the risk of short-circuiting and injury.
The BESTVA Reflector Series 600w LED has a wavelength range of 380 to 740 nm. The PAR value is high as well as consistent, providing higher wavelengths with smaller power consumption.
Pros:
Brighter lights
Power saver
Great coverage area
Safe to use
24-hour customer service
Cons:
Relatively expensive
Emits some light even when the power is off
Still not sure which 600 watt LED grow light to choose? Check out this video review with all kinds of LED grow lights.
Recommendations on Buying The Best 600 watt LED Grow Light
Last but not least, before going to purchase your 600 watt LED grow light, know your budget and understand your needs. Also, it is essential that each product is designed with a specific purpose, with different coverage areas.
So, your final decision depends on your how much space you have to cover and much money you are ready to spend on a single product.
Different people have different taste and preferences. If we have to give you some advice, go and check the Viparspectra LED grow lights. It is a budget friendly and well-known brand. Viparspectra does the job at an acceptable price and gives you a great price/quality ratio.