A great LED grow light for indoor and outdoor veggie, cannabis and plant growth. The Ledgle LED grow light 300 watt gives a bright and efficient light.
This is a 300 watt LED grow light that is engineered to give light for the separate vegetative and bloom phases.
The adjustable socket, 3 switches for distinguishability, full spectrum and other features make this Ledgle LED Grow Light 300w a perfect choice for growers and planters.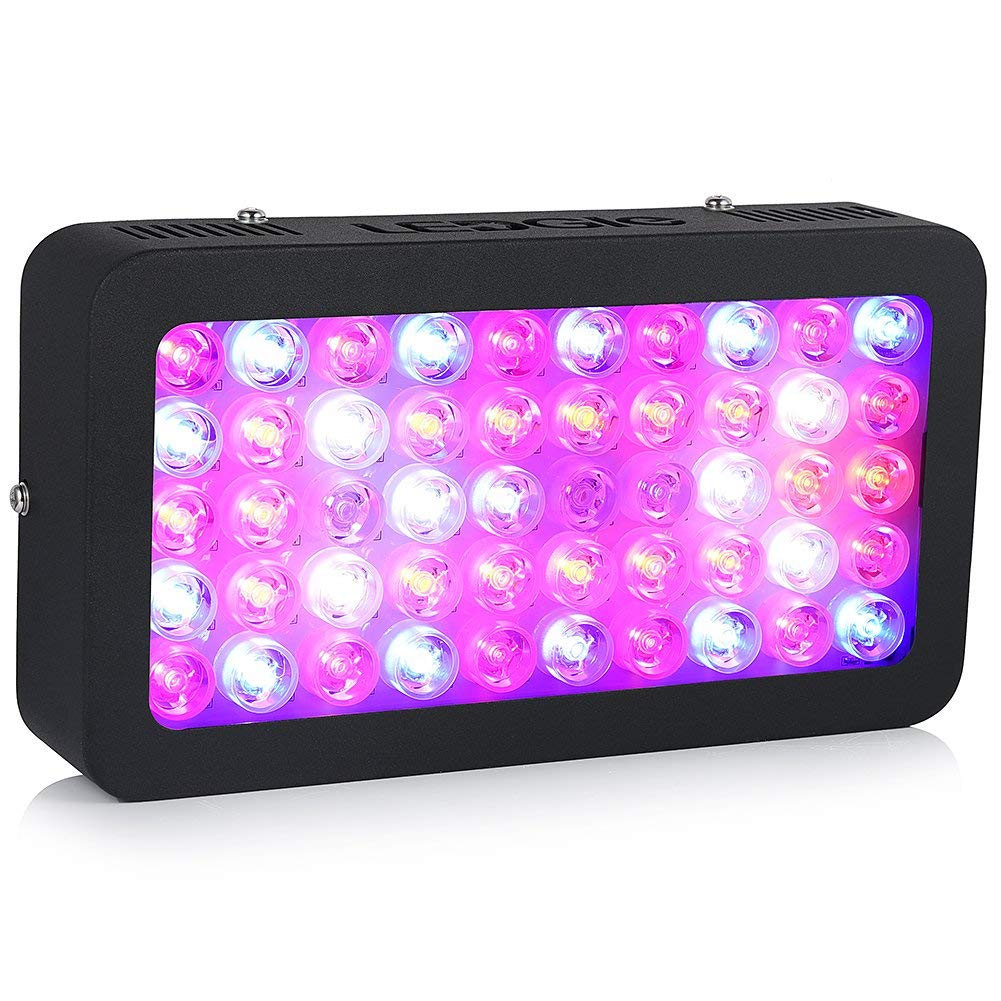 This Ledgle LED grow light review will make you aware of the great features of this LED grow light. The decent quality coupled with efficiency and a low price makes it a popular light in the market.
Are you looking for a more powerful light? Check out the Viparspectra 900w for example, or browse through all our reviews in the menu.
Key features of the Ledgle LED grow light 300w
The Ledgle grow light 300w has great coverage for both the vegetative and flowering/bloom stage. The heat output is negligible and the full spectrum range gives a good light for healthy growth.
Design
The Ledgle LED grow light 300 watt has 50 LEDs. These 50 LEDs are of 6 watts each, making it a total of 300 watts. The energy of these LEDs is designed in a way that balances the PAR/Lumen output.
Full spectrum
This LED grows light has a full range of spectrum which includes the red, yellow, blue, white, infrared and ultraviolet range. As a result, this makes its light similar to sunshine so your plants enjoy mimicked sunshine. Overall, your plants love the light of this Ledgle LED grow light 300w.
Coverage of the Ledgle LED grow light
The coverage of this Ledgle grow light 300w is awesome as well.
Firstly, it has a range of 6-10 square feet for veg and almost 4-6 square feet for flowering. As a result, this makes this led grow light an ideal choice for vegetable and flowering stages. Also, the angle of the crystal lens is 120 degrees for better coverage.
Although being a small and compact light, this Ledgle LED grow light has a decent coverage.
Growing switches
There are three different switches available on the Ledgle grow light. These three modes turn on or off the LED lights in a particular veg or flowering mode.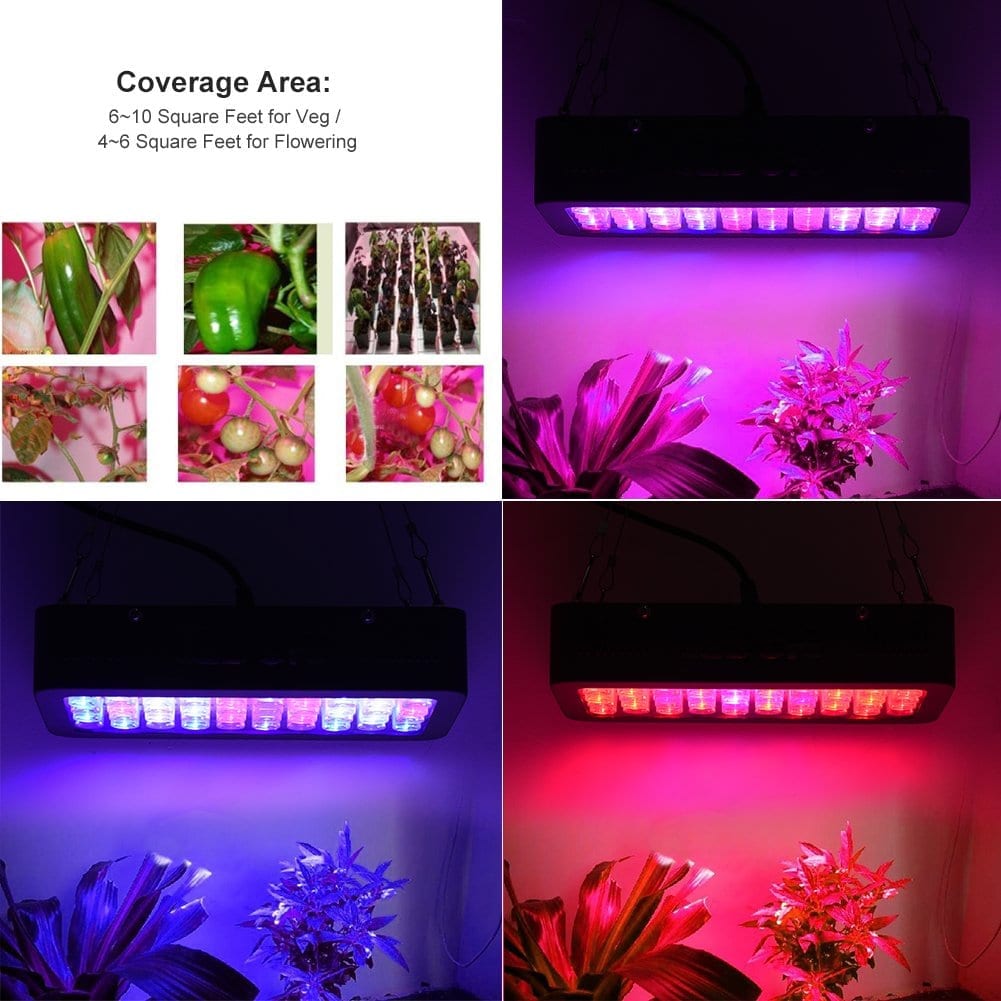 It's a great function that every grower can use. Different growing stages require different light spectrums to optimize the growing in that stage.
Cooling system
For better heat dissipation, this ledgle LED grow light 300w comes with two internal cooling fans. Furthermore, these fans are noiseless and make the LEDs work for hours without heating up.
Moreover, this LED grow light has holes on the aluminum panel. This also helps in heat convection.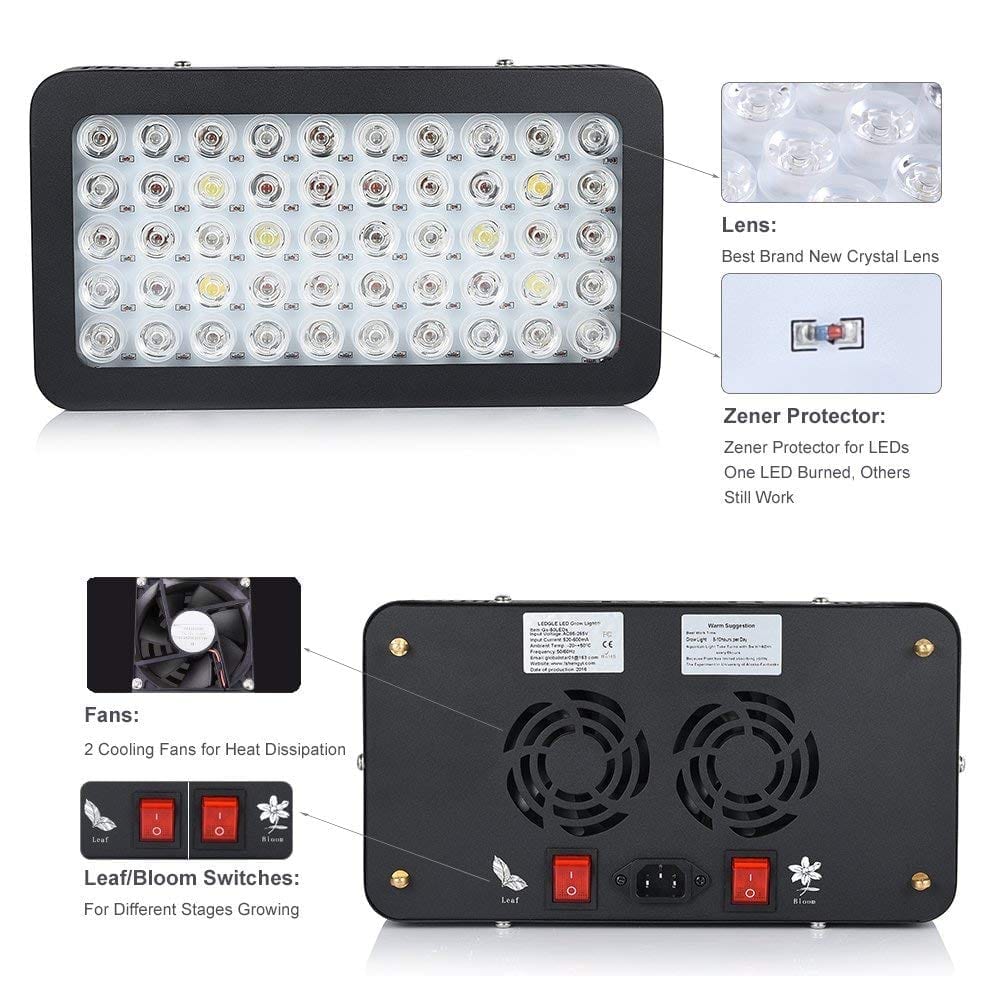 Another amazing quality given by the company is its extra temperature safety. Generally, this means when the temperature goes higher, the electric current will be lowered. 
Specifications
This ledgle grows light 300w has an adjustable socket
The dimension is 11.8×6.3×2.4 inches
It weighs 6 pounds
Power is 300 watts
120-degree angle
What's in the package?
1 power cord
Ledgle LED grow light 300 w
1 hanging kit of stainless steel
How does it perform?
All in all, the performance of this LED grows light is good. Generally, it has a long life span while providing enough bright light. With the adjustable socket as well as a good angle, this gives light at just the right height.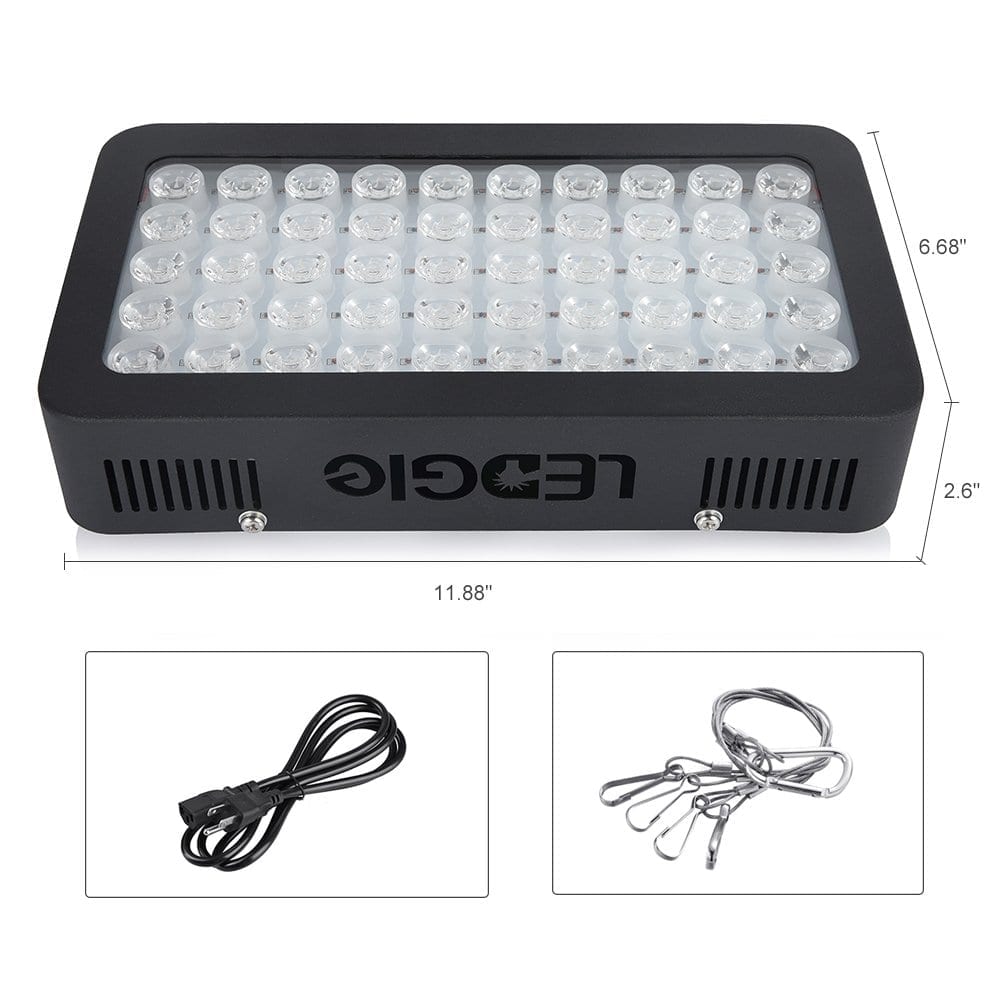 Pros
Affordable
Good lifespan
Better power consumption
Well-built
Great light
Full spectrum
Cons
Not waterproof
No daisy chaining
Still not convinced about the fact that this is the right LED grow light for you? Check out the video below to get even more info on this Ledgle 300w.
Bottom line
Overall, this ledgle LED grow light 300 watt is another good choice to have for your indoor or outdoor plants. Providing great light on full spectrum, this one is a decent LED grow light to have while ensuring efficient operation.
Its price/quality ratio is excellent and this small light is ideal for every small indoor grower. Especially if you're just starting out, this light will meet all your wishes.
Check the price of the Ledgle LED grow light 300w on Amazon