Marijuana operations may seem like an overwhelming undertaking for most horticulturists. The goal for all growers is to maximize their yield while infusing high-quality standards within their crop. But often budget is something important as well. Investing in your indoor garden is often expensive. That is why you often aim to get the best cheap LED grow lights available. This way, you cut down on costs without comprising on the value of your yields.
You must take certain factors into consideration before making your final purchase. These factors include power output vs input, energy efficiency, durability, adjustable wavelength, price, compactness, low heat output, coverage, ease of use, warranty, spectrum and light control as the baseline of your decision.
Amidst an infinite number of choices available today, we took the time to test out and review countless products. In doing so, we've managed to compile a list of the best cheap LED grow lights that work.
#7 Best Cheap LED Grow Lights
Product
Roleadro GalaxyHydro 1000w
BESTVA Reflector Series 600w
Product
Roleadro GalaxyHydro 1000w
Product
BESTVA Reflector Series 600w
Meizhi 300W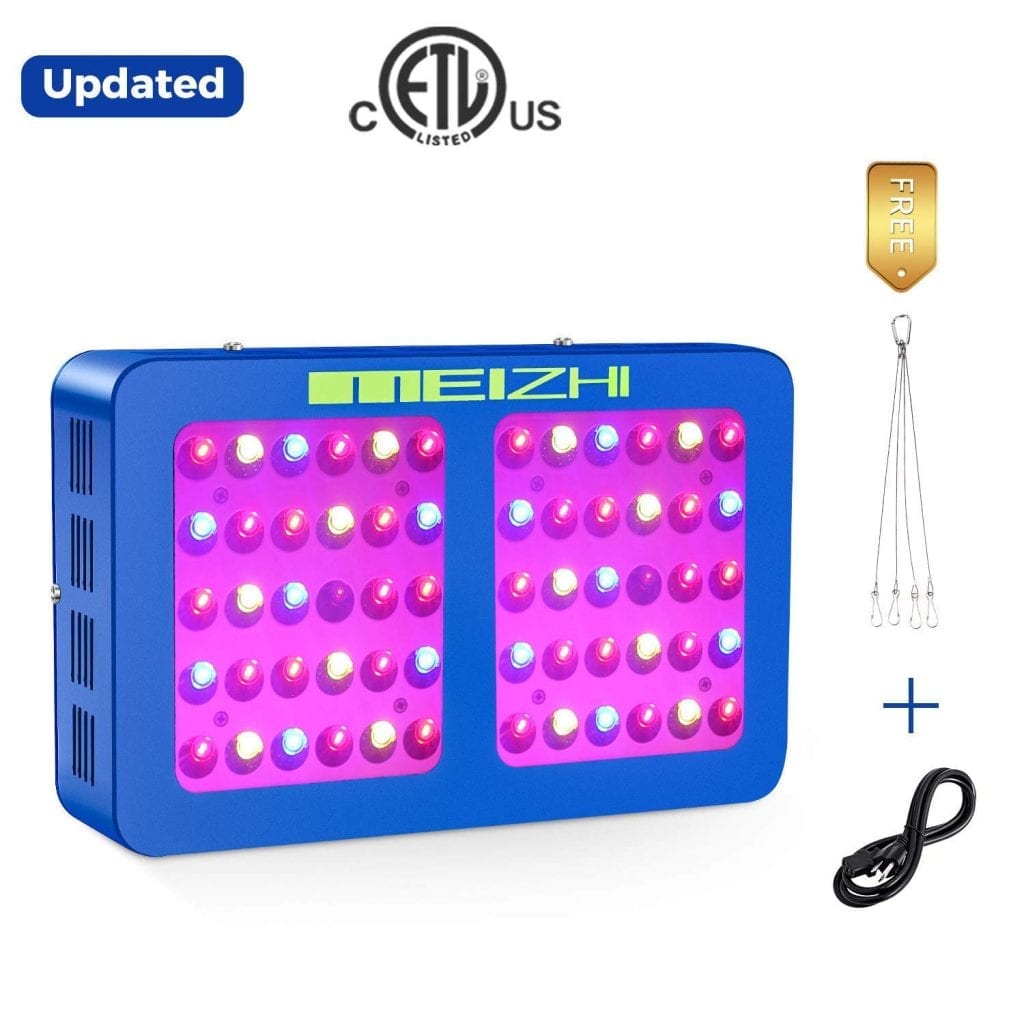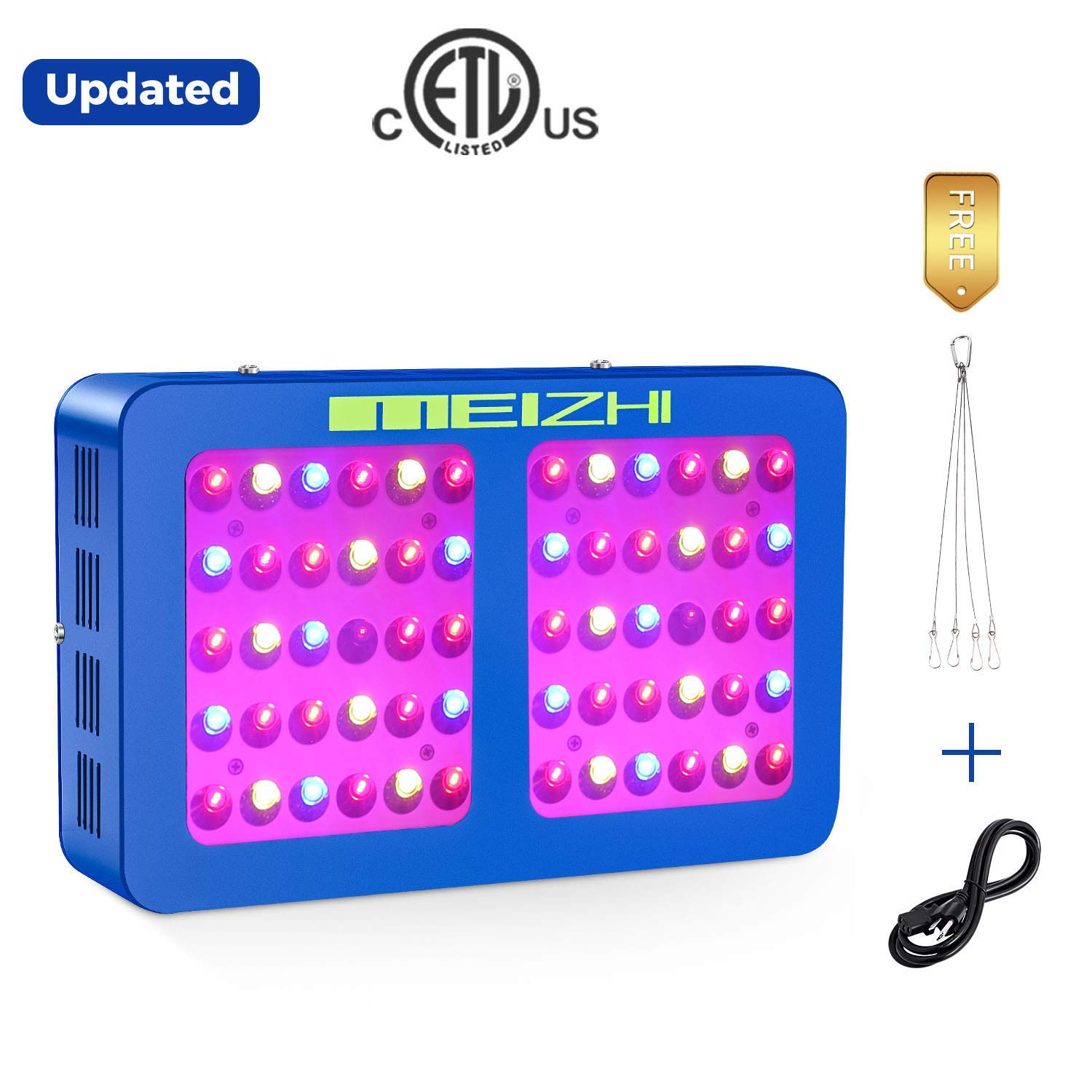 Go for Meizhi if you are looking for a reputable brand that has consistently presented high quality and durable products. The Meizhi 300w is one of the LED grow lights with the cheapest price. This company is known for its affordable LED grow lights that work.
This certified LED provides a good coverage area of 3×2 ft. at a height of 18". This compact item falls in at a 7.2lbs, 12.6" x7.87" x2.76" frame.
You may feel that the coverage area isn't perceivably very large, but this is one of the factors that bring down the overall cost and makes it the economical choice we are aiming for. Also, the light is only equivalent to a 300w HPS. Thus, this is a rather small and cheap LED grow light.
This wide panel LED offers built-in reflectors to provide the utmost light dispersion on your plants.
The construction is extremely reliable seeing as it is composed of an Epoxy Molding Compound that prevents loss of light intensity, increases penetration and encourages plant growth.
When it comes to technical specifications it doesn't disappoint. It functions at a PAR Value of 970umol at 12" with a frequency of 50-60HZ input.
It has an impressive lumen value of 11595Lm at 110V and 11632Lm at 220V. Despite the low pricing, it still offers a full light spectrum of 450-475nm, 620-630nm, 650-660nm and white and 2 PCs of LED with IR ability. In total, it has 60 LEDs of 2W each.
Read the full review of the Meizhi 600w here…
Pros:
ETL Certification;
50,000 – 100,000 working hours;
3 years warranty;
Dense vents dissipate heat well with single cooling fan and aluminum heat sink;
High energy-efficiency: actual power draw of 140W with 70% energy saving;
Eco-friendly;
Long lifespan;
Reflector design;
High lumen output, strong light penetration and low energy consumption;
Separate dual mode switches;
Daisy chain functioning.
Cons:
Not waterproof;
One fan works per grow mode;
Extensive fan use generates noise;
Complicated process to figure out fan modes regarding plant phase and mode.
Phlizon Newest 600W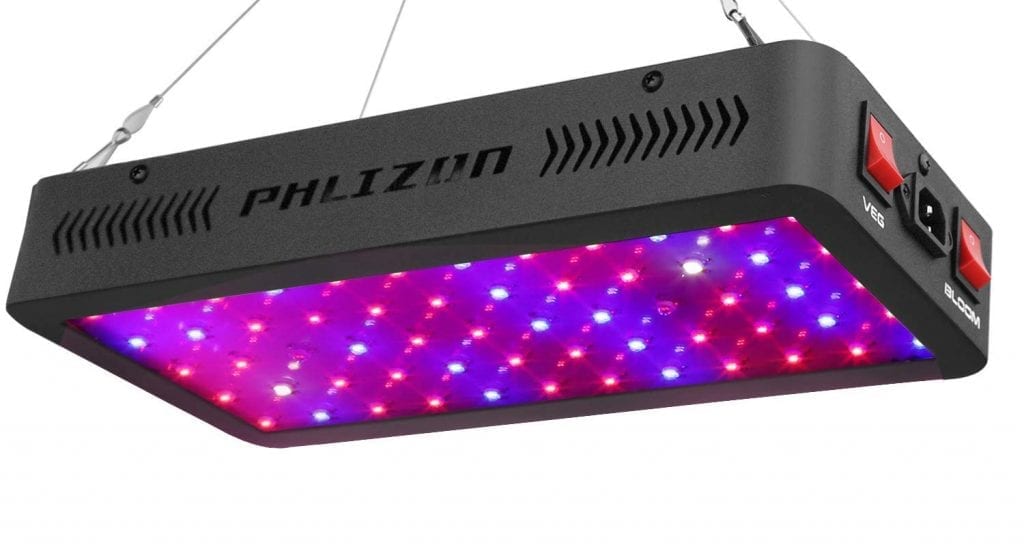 This is one of the innovative cheap led grow lights that boasts of many features that are ideal for indoor growing. The full spectrum light is designed with an appealing and sleek casket and has stacked up a remarkable appraisal in the market.
Phlizon Newest is a cheap LED grow light that is incredibly popular nowadays.
Included in its ingenious blueprint is the decision to remove reflectors to diffuse any heat build-up risks. The switches used are UL Certified and have a high fire rating, which, in case of emergency, do not produce flames but melt instead.
Adopting the isolated power supply they conform to CE and Rohs Certification. The Veg and Bloom switches host blue and white, and red and white LEDs respectively at 90 and 120-degree angles. It has a decent coverage footprint ideal for 2×2 grow areas from a height of 18".
When it comes to spectral abilities, Phlizon provides a full spectrum grow light including the universal Blue, Red, IR, UV, and white. IR and UV assist in immunity boosting, red boosts flowering and blue motivates plant growth. If the goal is to create heavy buds then red is ideal for resin production. If you want to know more about growing heavy buds, read this article on how to grow heavy buds.
At a height of 18," you get a PAR Value of 350uMol. At a consumption rate of a mere 108W, this lamp can still replace a traditional 400W HPS/MH.
The Phlizon Newest 600w is one of the best cheap LED grow lights in the market.
Read the full review of the Phlizon Newest 600w here…
Pros:
Striking spectral capability;
Lightweight at 4.3lbs;
High PPFD value of 255.7umol/m2;
Detailed usage guideline;
Top-notch Epistar/Bridgelux LED chips;
A beast in durability;
Double cooling fans and aluminum heat sinks;
Reliable driver and Zener diode;
Light is daisy-chainable allowing multiple port connections;
Full light spectrum offered including IR and UV Light;
Helpful customer service;
Dual-switches supports independent grow cycles;
Balanced blue and red lights support vegetative and flowering cycles;
Equipped with thermometer and humidity meter;
UV-Protection, fire-proof PC- cover and resilient metal frame build;
Energy-friendly with low power draw;
Dense, tight and great cannabis yields as reported by customers;
Decreased light wastage and increased light penetration without reflector.
Cons:
Low PAR compared to competitors;
2- year warranty;
Not suitable for larger grow operations or professional cultivators;
Not waterproof;
Noisy cooling fan reports;
This Model reportedly flickers;
Pricier as compared to others on this list;
Lower lifespan than competing brands.
Shengsite 50W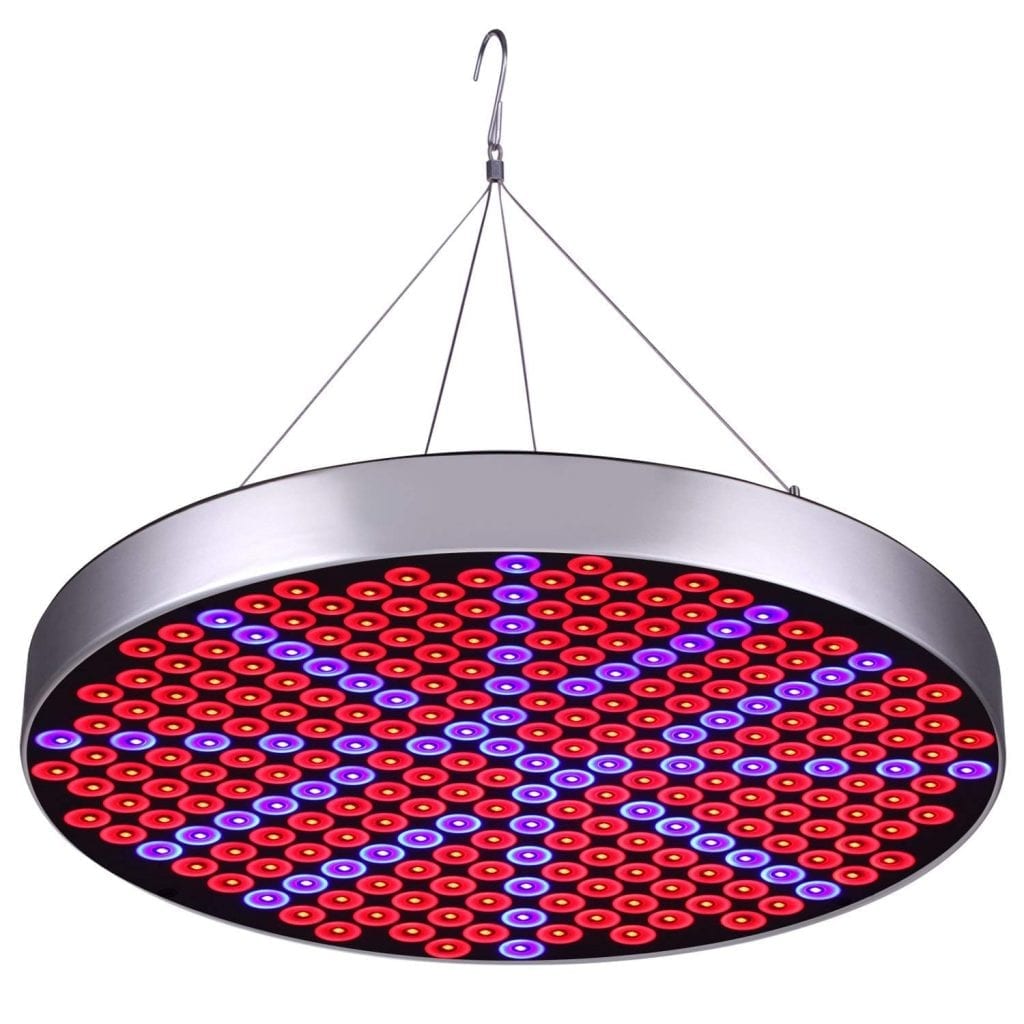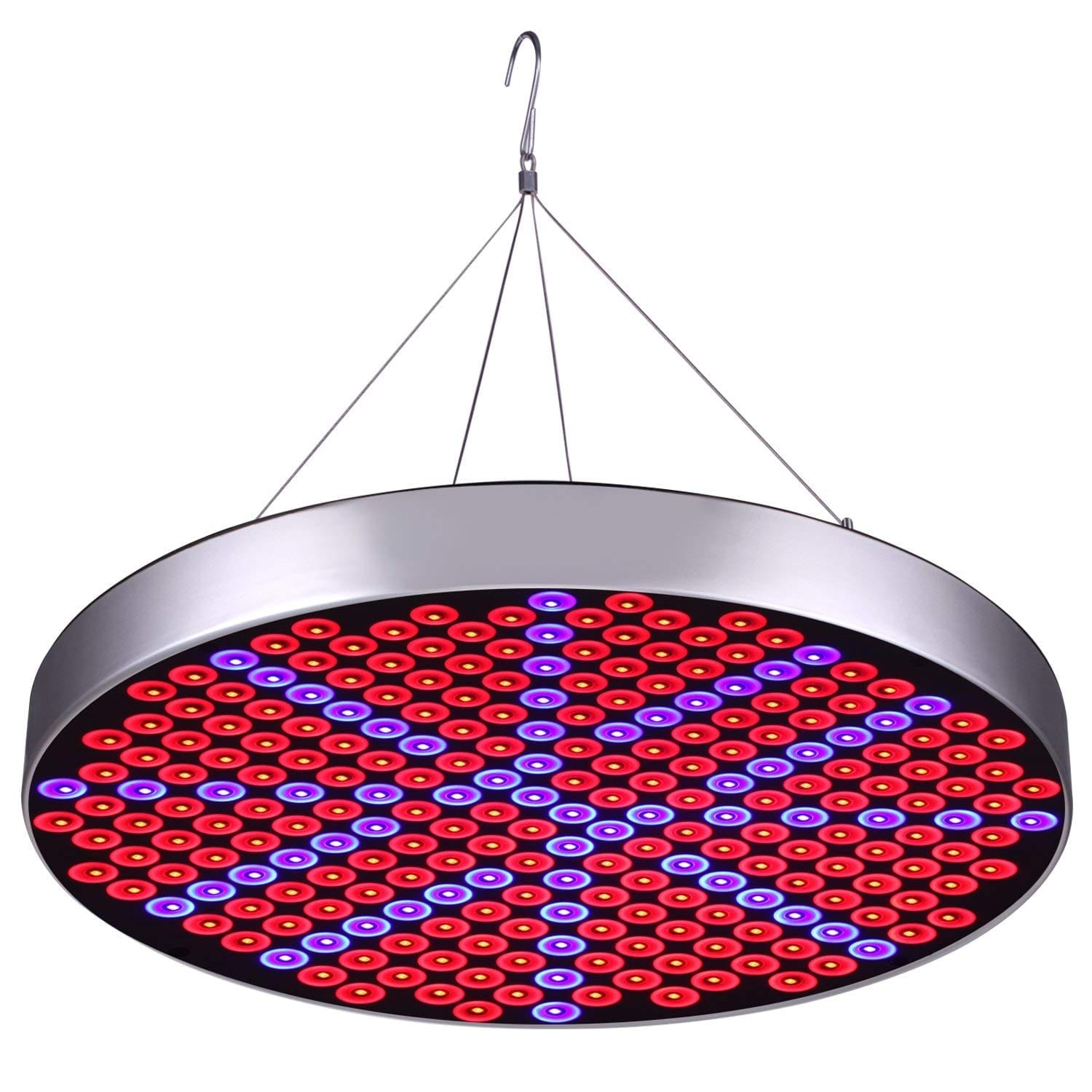 Acting as the leader in competitive pricing, Shengsite 50W offers a bargain deal for its users. Unlike many other LED Lights, they've opted for a rare circular design that claims to distribute light more effectively than others.
Due to its illuminated traits, it is an ideal addition for an indoor growth operation ranging from the greenhouse, grow tents, hydroponic grow rooms and even factory setups.
This rounded lamp comprises of 250 LEDs that are subdivided into 186 red, 56 blue, 4 UV and 4 IR. It applies the theory of a professional spectrum ratio of red:blue; 3:1 perfect for the seedling and vegetative stages.
The double drive power is supplied within an ABS cover and plastic plate that ensures hardiness.
This 50W LED light has a 60-degree LED reflector in its 13.1"x13.1"x1.2", 2.1lbs frame. The recommended coverage area is approximately 6-18 square ft. at a height of 8-58".
It requires a power supply of AC85-264V with a 300mA current and frequency range of 50-60Hz.
We recommend the Shengsite in the category 'LED grow lights cheapest price'. There is no LED better for indoor growing at such a low price. However, it is a low power grow light with a small coverage. Only use this light if you have a small indoor garden and do not grow professionally.
Pros:
Extremely budget-friendly yet value providing;
Detailed user guideline provided;
Doesn't strain the electricity bill;
Lightweight and ergonomic design;
Red light works well for plant budding stage (660-670nm), flowering, fruiting and improving the overall harvest;
Blue Light at 460-470nm regulates plant weight by improving regulation f proteins and non-carbohydrates;
Upgraded cooling heating sinks;
Customers reported the brightness to be unexpectedly dazzling;
High luminous efficiency at a low power consumption.
Cons:
Power draw falls short of that which is advertised;
12-Month Warranty;
50,000-hour lifespan relatively low but good for this price;
Bloom Cycle reportedly lacking;
Not recommended for plants past the seedling stage.
King Plus 600W – Editor's Choice [Cheap LED grow lights]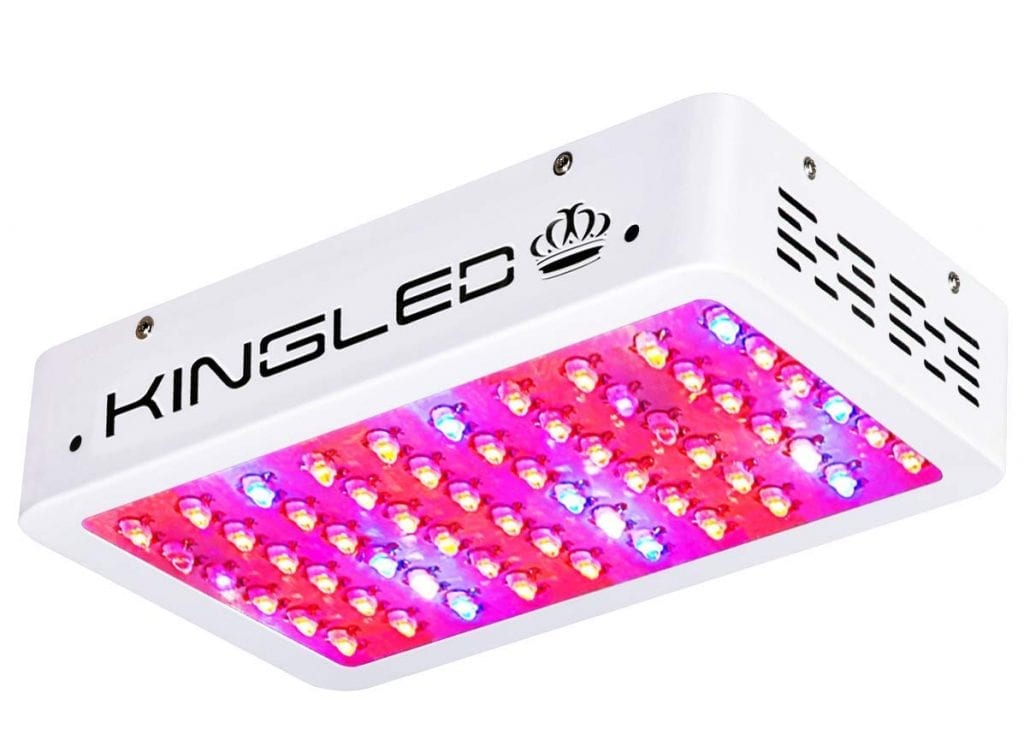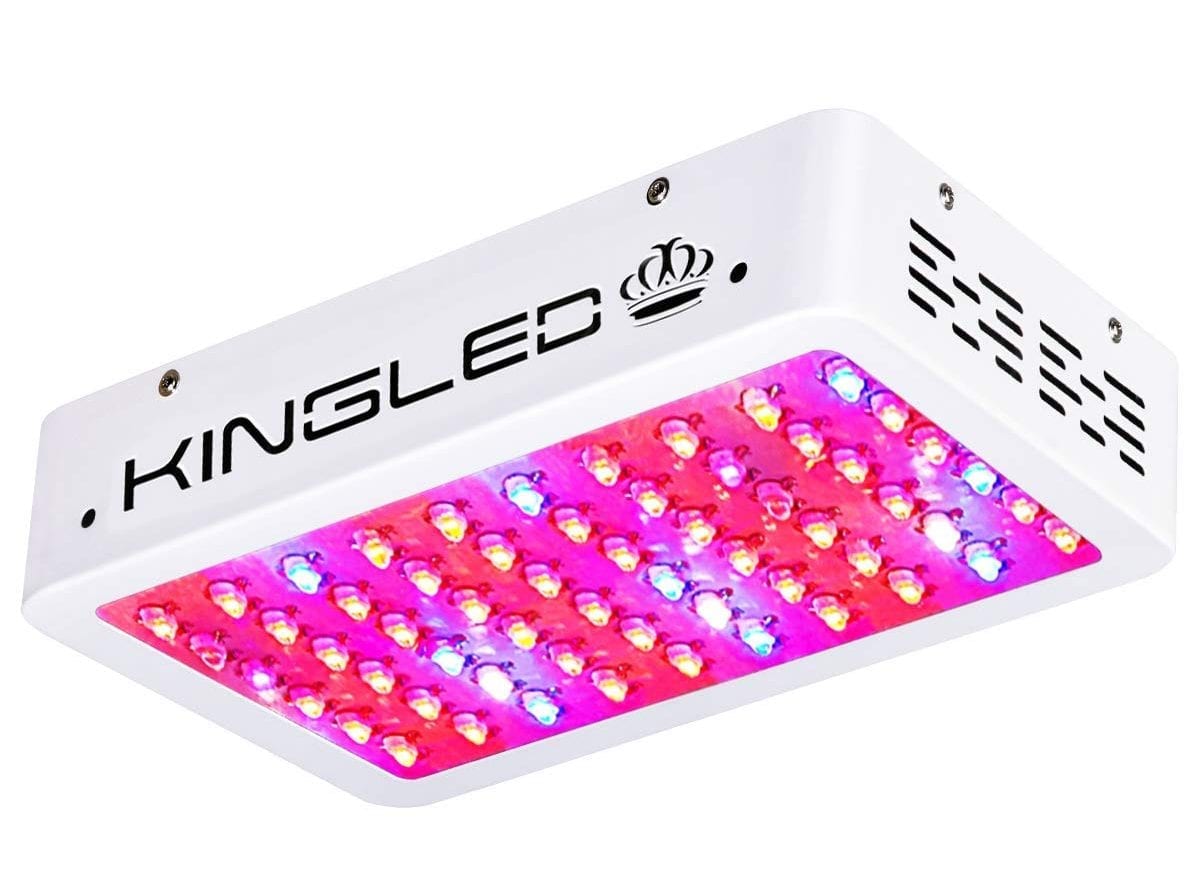 For all the growers who are on a tight budget, King Plus 600W has earned the title of one of the best, most efficient and cheapest LED Grow Lights in the marijuana growing field.
In comparison to traditional LEDs and similar products, this light features higher radiance and operational capabilities.
This well-trusted and credible brand brings forth a 600W model that'll accommodate your weed setup exceptionally well. It definitely competes with the Phlizon Newest and is also a popular option among growers.
King Plus took into account every possible design element that will deliver optimum working for cheap LED grow lights. As a result, they used 60 LED Chips each of which functions at 10W to produce a resultant output of 600W.
Your plants are privy to a full spectrum provision with all the necessary lights being delivered in adequate proportions. Therefore, the wavelengths available are 410nm, 430-440nm, 450-475nm, 620-630nm, 650-670nm, white and IR 730nm.
For marijuana caretakers, it is imperative to have such a versatile array of spectrums at your disposal, as this particular species requires it.
Preventing incrementing electricity bills, the maximum power draw of 120V replaces a 600HPS/MH lamp. Still, it maintains a coverage area of 3×3.4ft for veg and 2.4×2.7ft for bloom.
Despite the company claiming a mere 18 hours of working time, user review has proven that working time exceeds 20 hours even. We experienced this as well.
It supplies a PAR value of 302umols at 24" and 430umols at 18" with a working frequency of 50-60Hz. It has been fashioned to work in a worldwide voltage of AC 85V-265V with a free power cord and free hanging hook.
Compared to the Phlizon Newest 600w, we think this cheap LED grow light even outperforms its competitor. With longer continuous working time and a good coverage area, this light is one of the best cheap LED grow lights in the 600w range. It does however lack a veg and bloom phase switch, which is a serious shortcoming of this light.
Read the full review of the King Plus 600w here…
Pros:
3-year warranty;
Full Spectrum Output;
Two high speed, noiseless fans, and aluminum heat sinks for competent heat dissipation;
Highest coverage area in the list;
Epistar high-grade LEDs;
Lone, uninterrupted run-time;
Energy saving product with only 120W consumption makes this a long-term investment;
High-quality performance and durability results;
Immensely powerful and deep canopy penetration;
Daisy-chaining feature permits flexible expansion of the growing area;
Coverage area to price ratio is commendable;
Zener protected chips prevent a domino effect in case of damage;
Cons:
Relatively heavy at 6.61lbs;
Slightly more expensive than others;
Not waterproof;
No timer;
Bloom and Veg switch not present.
Roleadro Galaxyhydro 1000W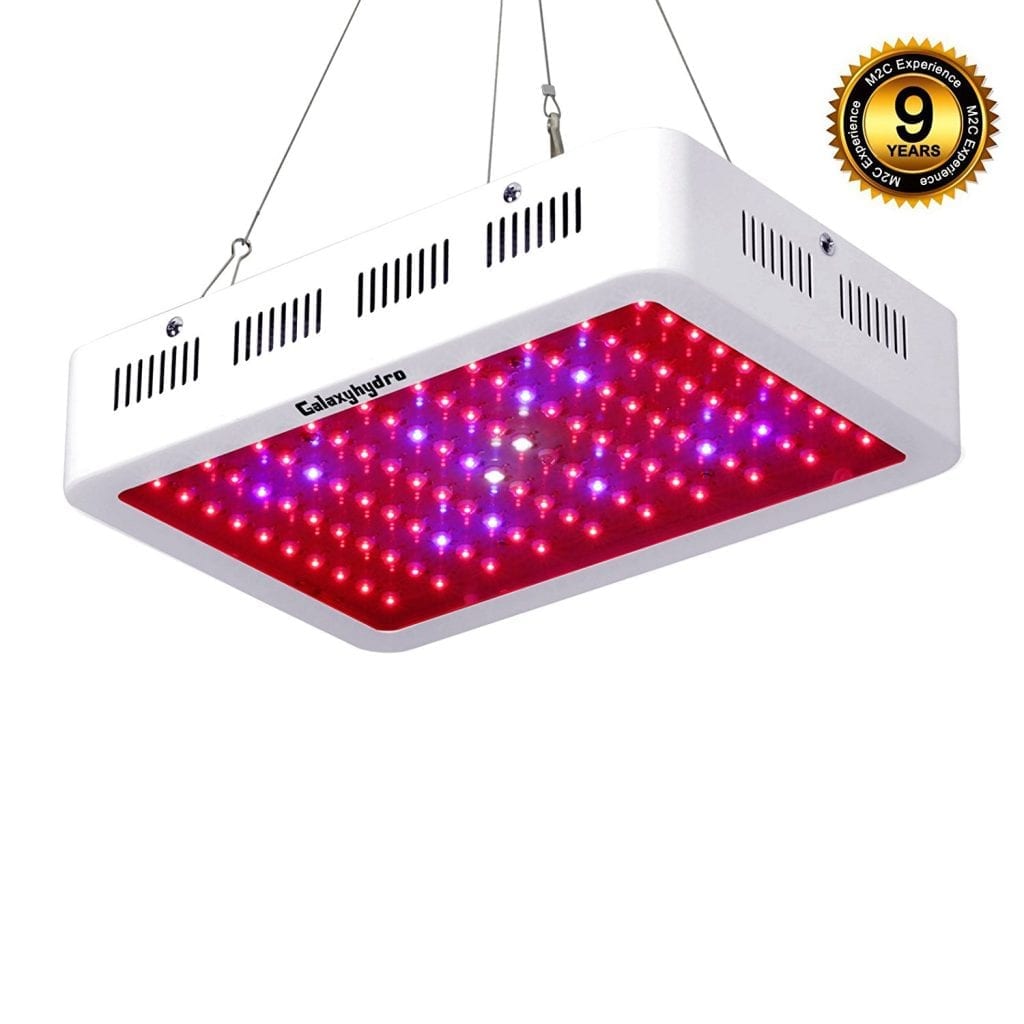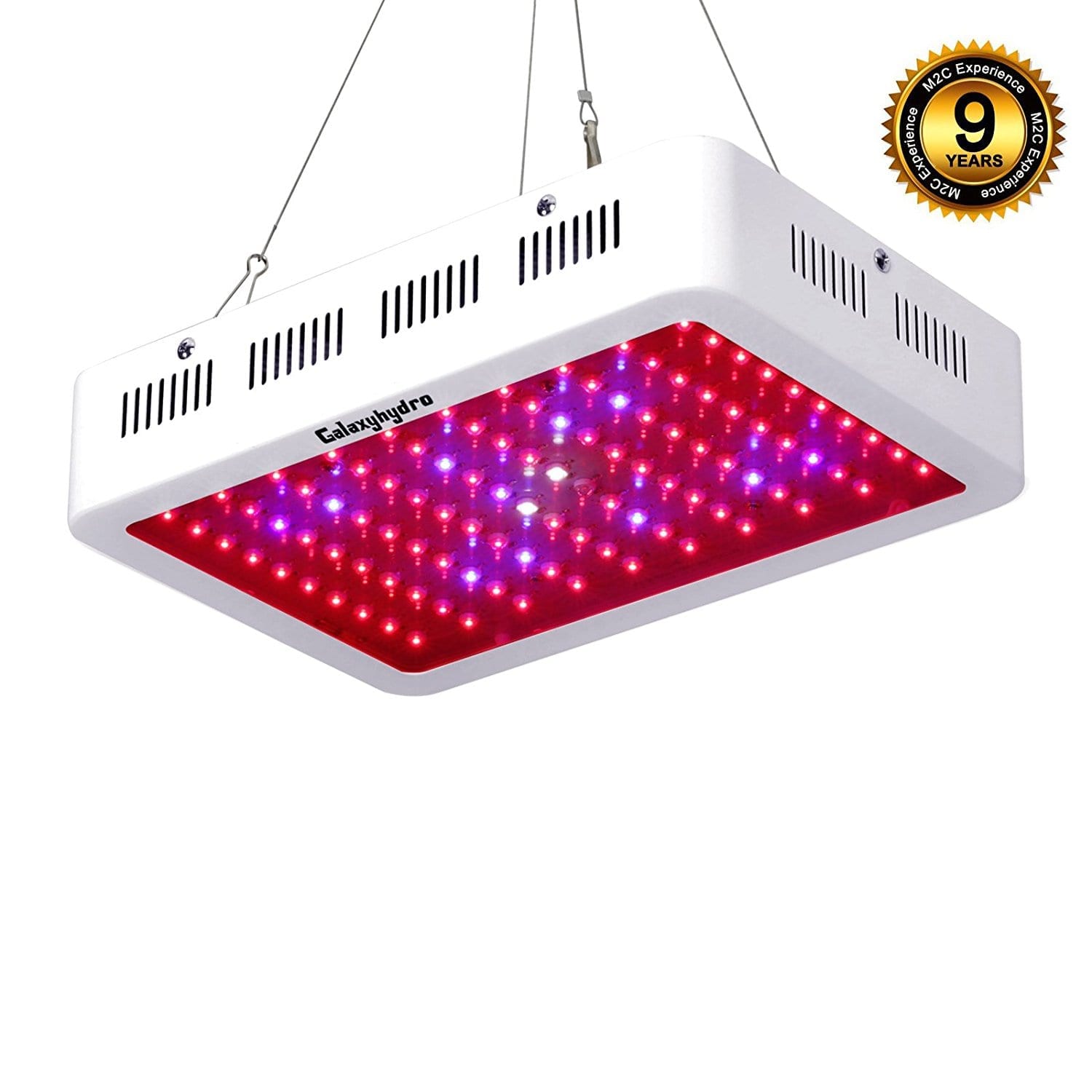 The Galaxyhyrdo 1000w LED Grow Light is a somewhat more powerful option in this list of the best cheap LED grow lights.
High up in the demand category, this light source provides a horde of benefits compared to others. These include power efficiency, heat dissipation, and adequate coverage. GalaxyHydro managed to accomplish this low-cost feat due to 10 years of experience in this department.
Creating an optimal spectrum is easy with its hundred 10w LED chips. With a lifespan of 50,000 hours, you're signing up for a working voltage of AC100-240V and a frequency delivery of 50-60Hz.
It delivers a satisfying core coverage area of 2x2ft at 24" and a max coverage area of 3x3ft at 24" height. This seems small, but pay attention to the height from where we base this coverage on. A lot of lights base this coverage on a height of 18".
The aforementioned optimal spectrum comes with universal blue, red, IR, UV and warm white light. This warm light produces 10000K, guaranteed to warm up any room.
The holistic bundle also features higher PAR values of 453 at 18" which is the highest to date and a 90-degree optical lens.
Read the full review of the GalaxyHydro 1000w here…
Pros:
Non-hazardous, high-end material and parts;
Competitive pricing;
Negligible loss of light;
Additional red lighting increases yields by 30%-50%;
Two upgrades ETL certified cooling fans and aluminum sinks increase heat dissipation speed by 20%-30%;
Built-in temperature control system;
Suitable coverage for a beginner caretaker;
Remarkably less power consumption than most 1000W LED lights;
EpiLeds LED Chips and Zene Design;
Actual power draw only 135W;
30-months warranty;
Compact and lightweight at 4.7lbs.
Cons:
No dual-switches included;
No daisy-chain functionality included;
Non-waterproof design.
MarsHydro 300W – Reader's Choice [Cheap LED grow lights]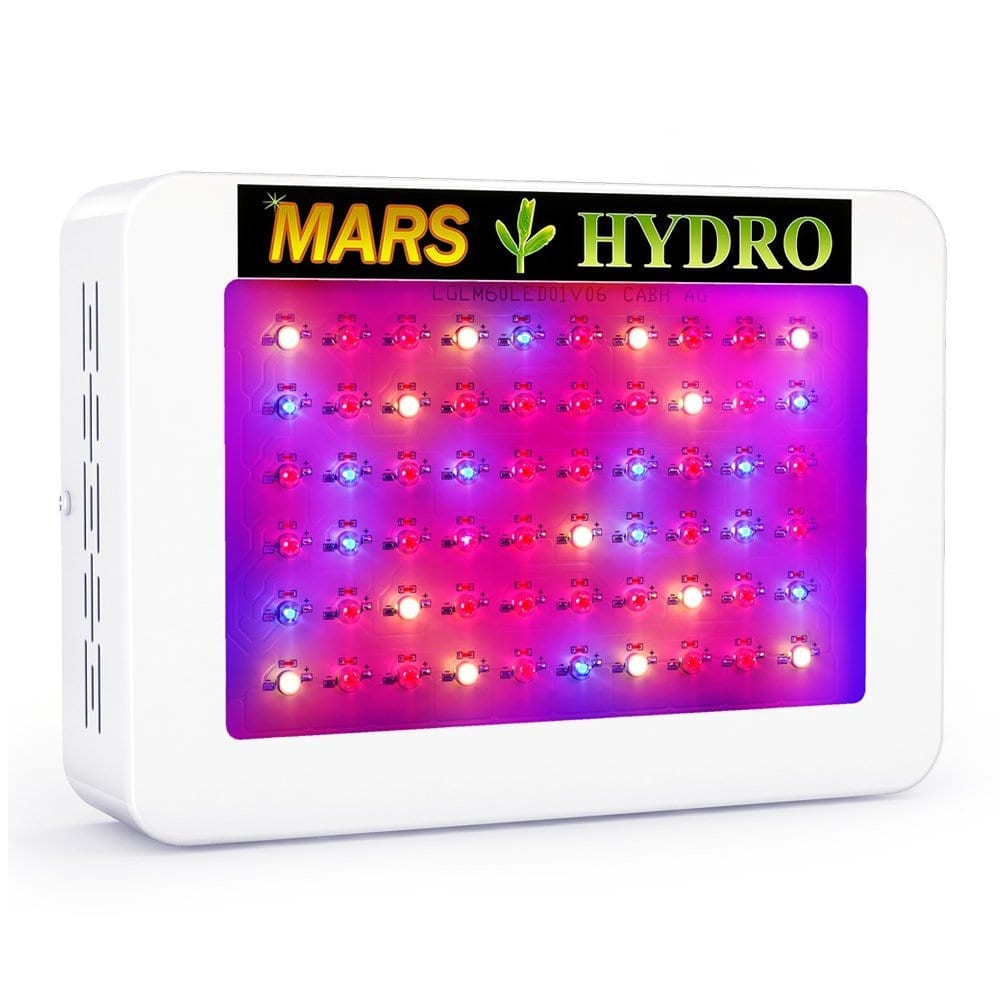 With their central factory located in China, MarsHydro has come to be a highly dependable and widely recommended LED provider. With warehouses distributed worldwide in the USA, Germany, UK, Russia and other countries they've accumulated an amazing customer base. Their product responses are widely positive.
The MarsHydro 300w is the most popular LED grow light on our website. Many people read the full review of this light, which you can read here.
This multinational gardening organization has been around the block for over 9 years, thereby gaining valuable experience in their product structure.
They've managed to, within a rigid budget, produce an efficient and intense full spectrum provision LED Light. This quintessential band of spectrum light ranges from 430-440nm, 450-475nm, 620-630nm, 650-670nm to white light. The balance of red and blue and following pinkish hue allows for peak plant health and photosynthetic processes.
When it comes to performing well, this minuscule lamp will provide 445umol of light from a height of 18". On the whole, it has adequate coverage of 24"x24" with its 60 LED chips and with 5W of power in each.
The penetration rate is also augmented with the 90 and 120degree lens. It operates at a voltage of 85C-265V with a frequency of 50-60Hz.
MarsHydro 300w is one of the most popular cheap LED grow lights in the market. Therefore, this light could not be left out from this list.
Pros:
Separate circuit boards and heat sinks;
Only draws 135W;
Only 56Db noise level with soundless cooling fans;
Massive, pin-cushion aluminum heat sinks to prevent overheating;
UL and ETL certified;
Rust-proof with Copper metal buckle;
Fall-proof;
3 year warranty and 30-day money back guarantee;
50,000-hour lifespan;
Full spectrum availability for both novice and advanced growers;
User-friendly installation and low maintenance;
Friendly and responsive customer service also available online;
Minimum fire risk with a heatproof tube;
Worldwide operating competency;
Auto-timer included;
No chemical or electrical odor emissions.
Cons:
Grow areas larger than 5 square ft not suitable;
5.58lbs is slightly heavy;
Not waterproof;
No, on/off switch included;
Preferably for beginners, not professionals;
No dimmer included;
No grow switch included;
Reports that long term fan use increases noise levels.
BESTVA Reflector Series 600w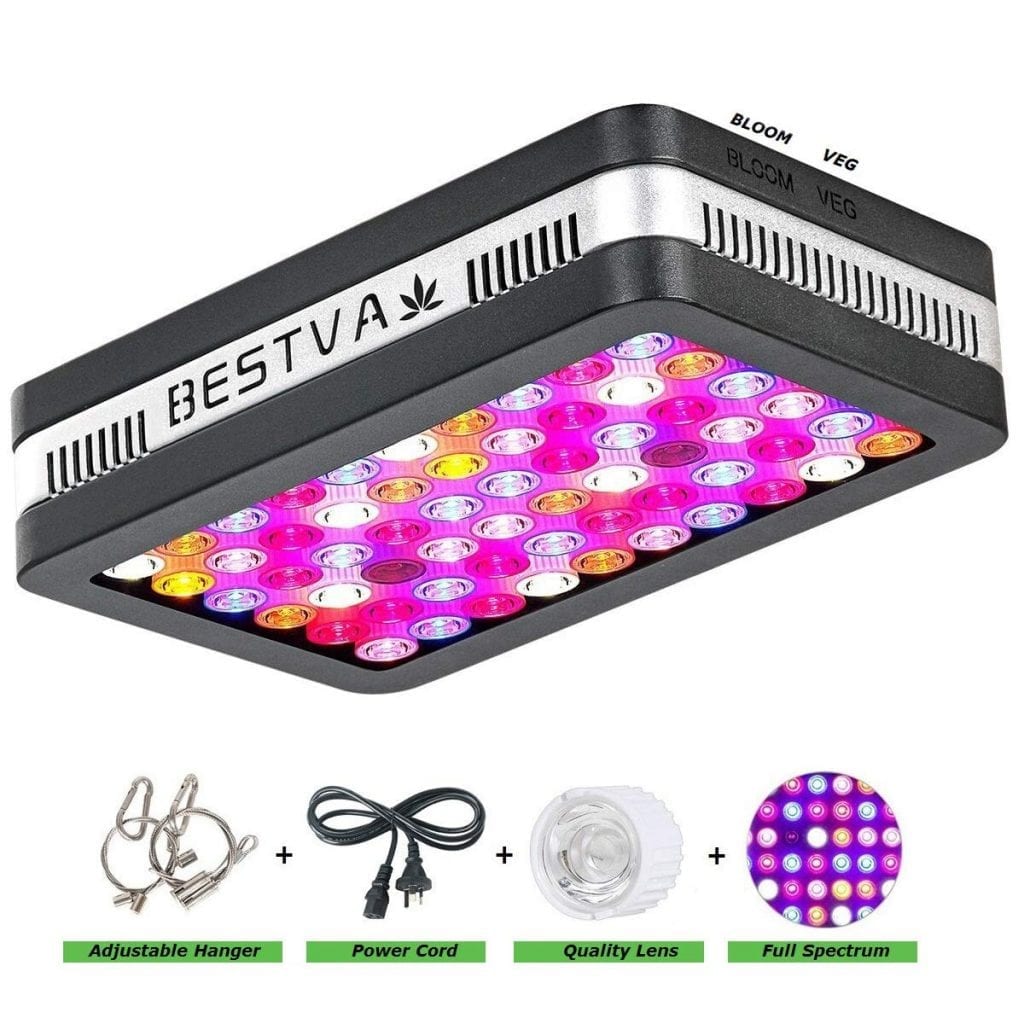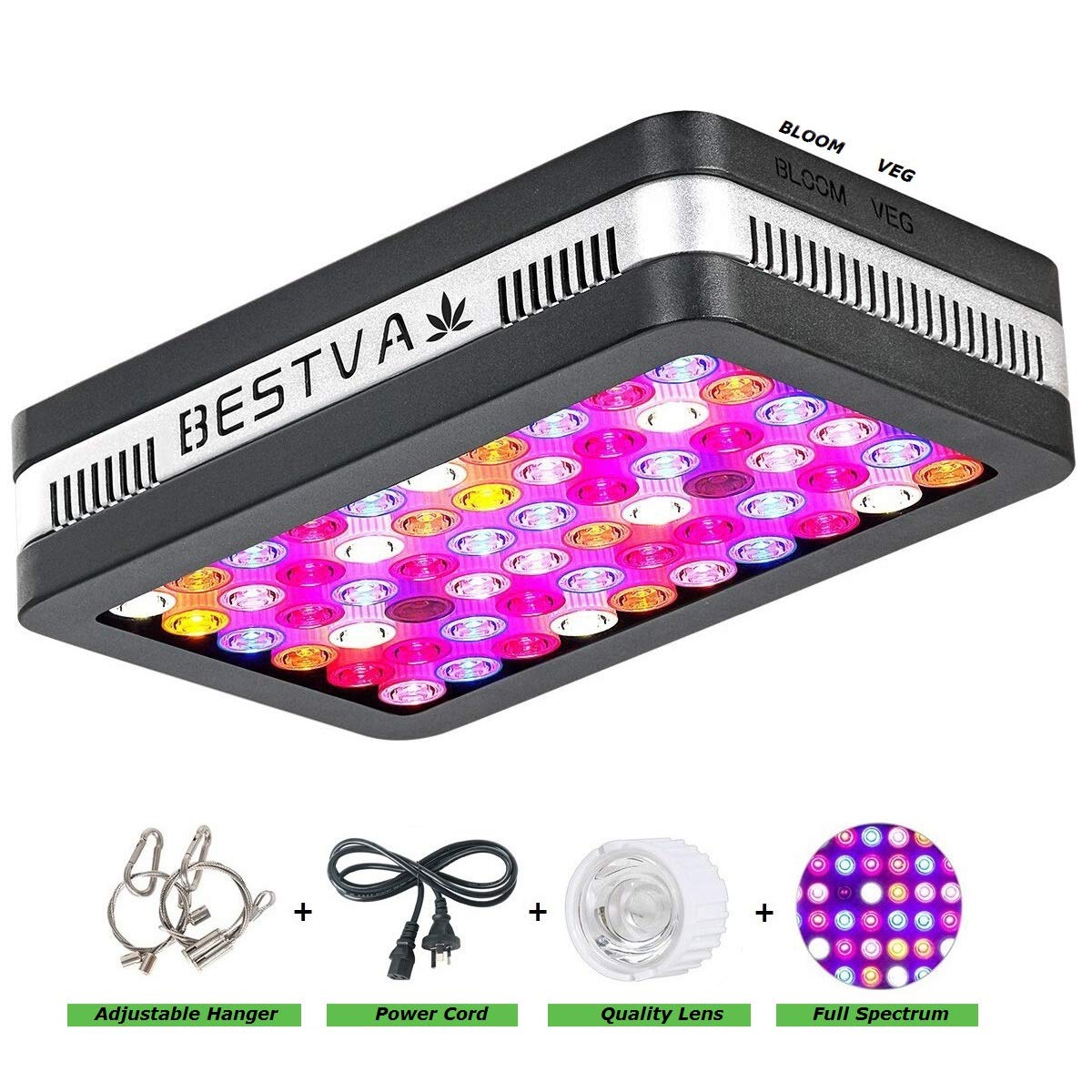 To wrap it up we've chosen a trustworthy brand: BESTVA. The reflector series 600W conforms to our requirements of productive functioning and affordable pricing. This illuminate is great for small and mid-sized growth operations.
You'd think at this price they'd have cut out some elements, but you'd be wrong as this is brimming with cannabis growth promoting the technology.
BESTVA has managed to install an upgraded spectrum with 1:1 Blue:Red ratios for uniform light distribution. The light can be adjusted between two modes of Veg and Bloom in accordance to plant growth phase.
Unlike the competition, which uses multiple dispersed fans, BESTVA decided to install 5mm thick aluminum structure radiators with Unicorn LEDs.
Your 2×2.2 grow area at 24" will be assisted by effective beams that can replace a 400W HPS. The 10 LED bulbs are consuming only 132W of actual power. With an input voltage of 85AC-265V and a PAR value of 929umol at 24," you are guaranteed satisfying results.
Read the full review of the BESTVA 1200w Reflector Series…
Pros:
3-year warranty, 30-day money back guarantee, and 24hour customer service;
Isolated power supplies and temperature protection measures categories this as a very safe device;
Valuable, budget-friendly and long-lasting;
Increased penetration via reflector design;
Easy to switch between modes;
Blue:Red ratio 1:1 highly advantageous;
Full spectrum at your disposal;
Dual- switch included;
Daisy-chain functionality available;
Only 132w average power draw.
Cons:
Dimmer not included;
Not waterproof;
No timer;
Not suitable for large growing operations.
Check out the video below to see that multiple of our selection of cheap led grow lights get recommended by others as well.
Conclusion on the best cheap LED grow lights
We did an extensive investigation of LED life expectancy, quality of internal chips and semiconductor material and other features. Eventually, we've constructed an informative article for you.
All the lights listed above are suitable contenders to incorporate into your grow rooms, tents, and hydroponic operations.
Despite their reasonable price tags, they deliver on quality and effectiveness to boost your weed growing aspirations. If you are in search of products that promote healthy, vigorous and robust plant caretaking elements then these should do just the job.
The cheap led grow lights noted above rank well amidst customers, growers, and experts in the cannabis growing industry.