Indoor gardening takes a lot of time, effort and money. The cost of equipment, especially for artificial lighting need lots of investigation. There are different LED light manufacturers around, and so having the relevant information at your fingertips will help in your decision making. Because the Mars Hydro Reflector 96 Led grow light is considered to be the one of the best LED Grow lights on the market, it is important to know why most consumers rate it with 4.5 – 5 Stars.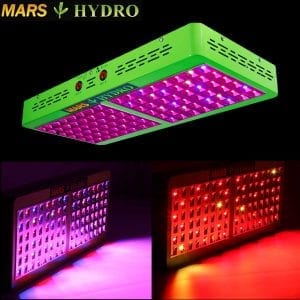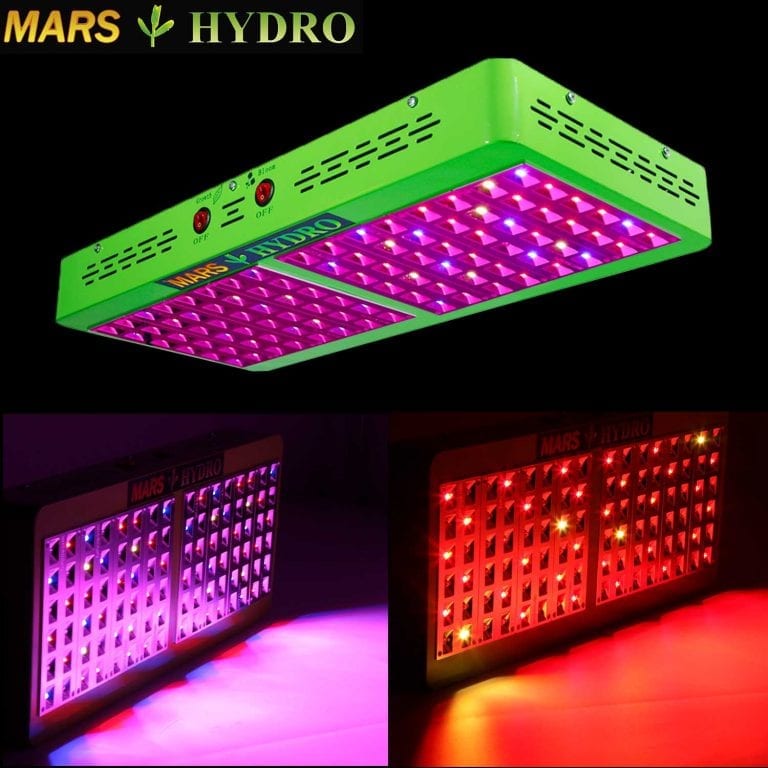 Cost of the Mars Hydro Reflector 96
With the Mars Hydro Reflector 96, and what you intend to accomplish, there is no other to consider. This LED grows light is a money saver over-time, even though it may be pricey at first, it is also the best light for indoor growing. This is because it has a wider capacity spectrum which determines the range of coverage your plants will have. It is built with 10 bands of light within the series of 430-440nm, 450-475nm, 620-630nm, 650-660nm, with an infrared spectrum in NM of 730. With this kind of range, you will be able to determine how many you need based on the size of your garden.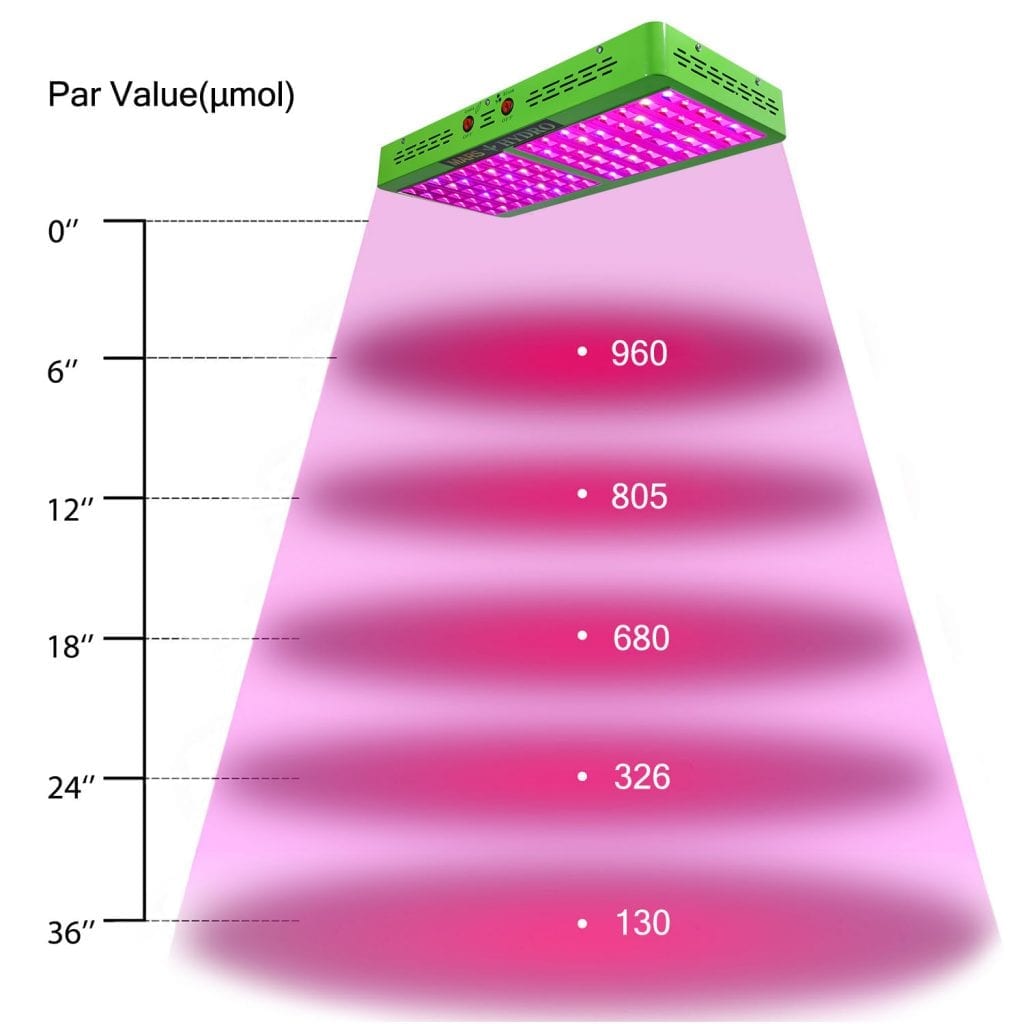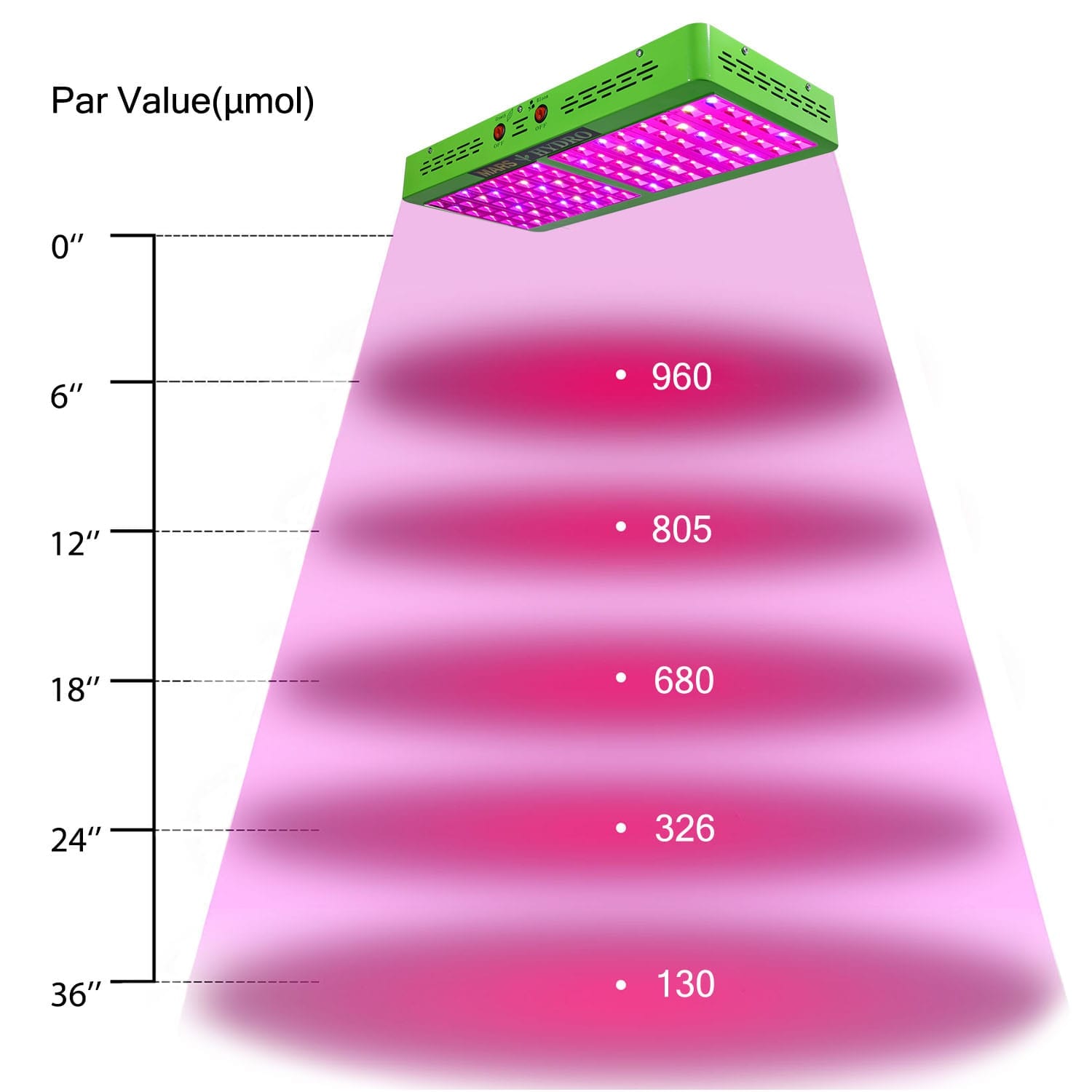 The coverage based on the LED grow light to buy is where your cost-effectiveness will be. There is no need to install different lights for the many stages of plant growth, as the mars hydro reflector 96 does it all. It imitates the different phases of nature perfectly in regards to the sun's rays. Thus the plant gets the needed nutrients; for example, the red range gives the blooms the right amount and spread of light coverage of every stage of growth.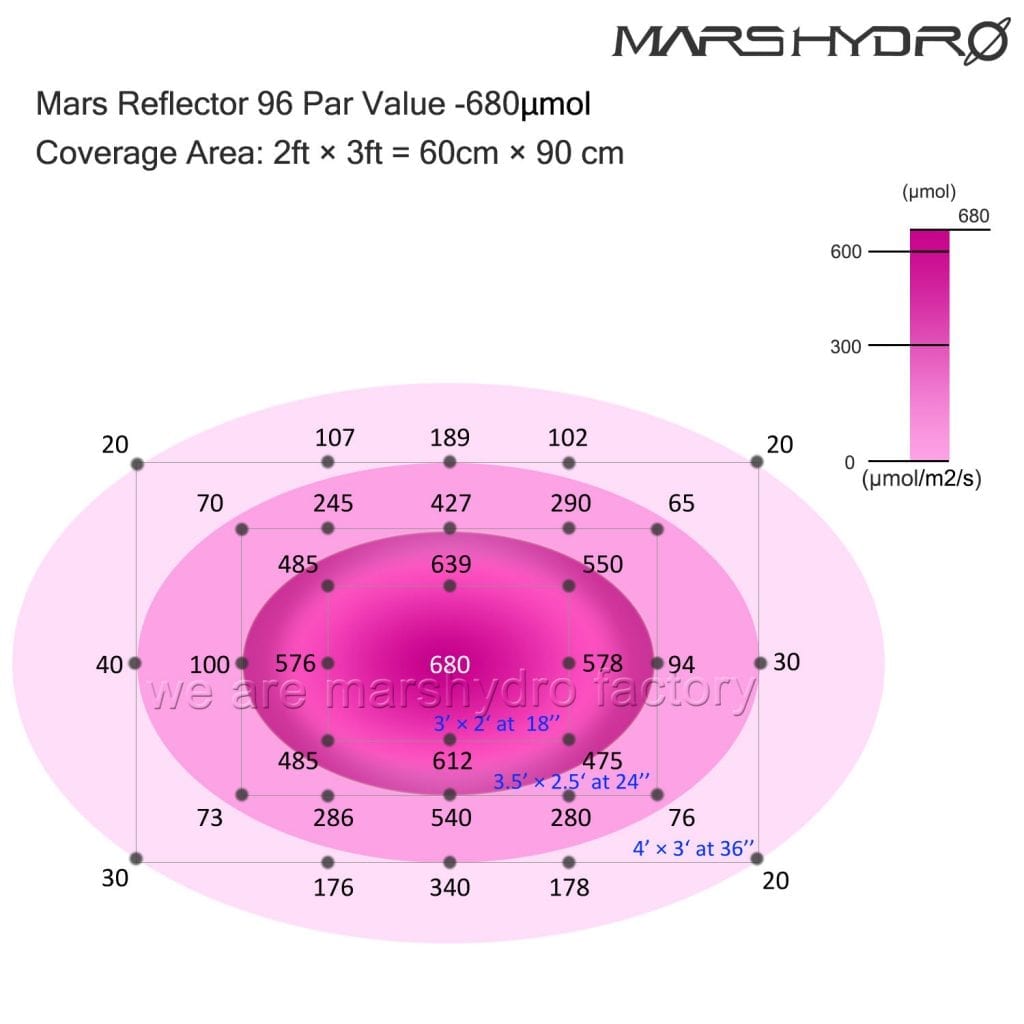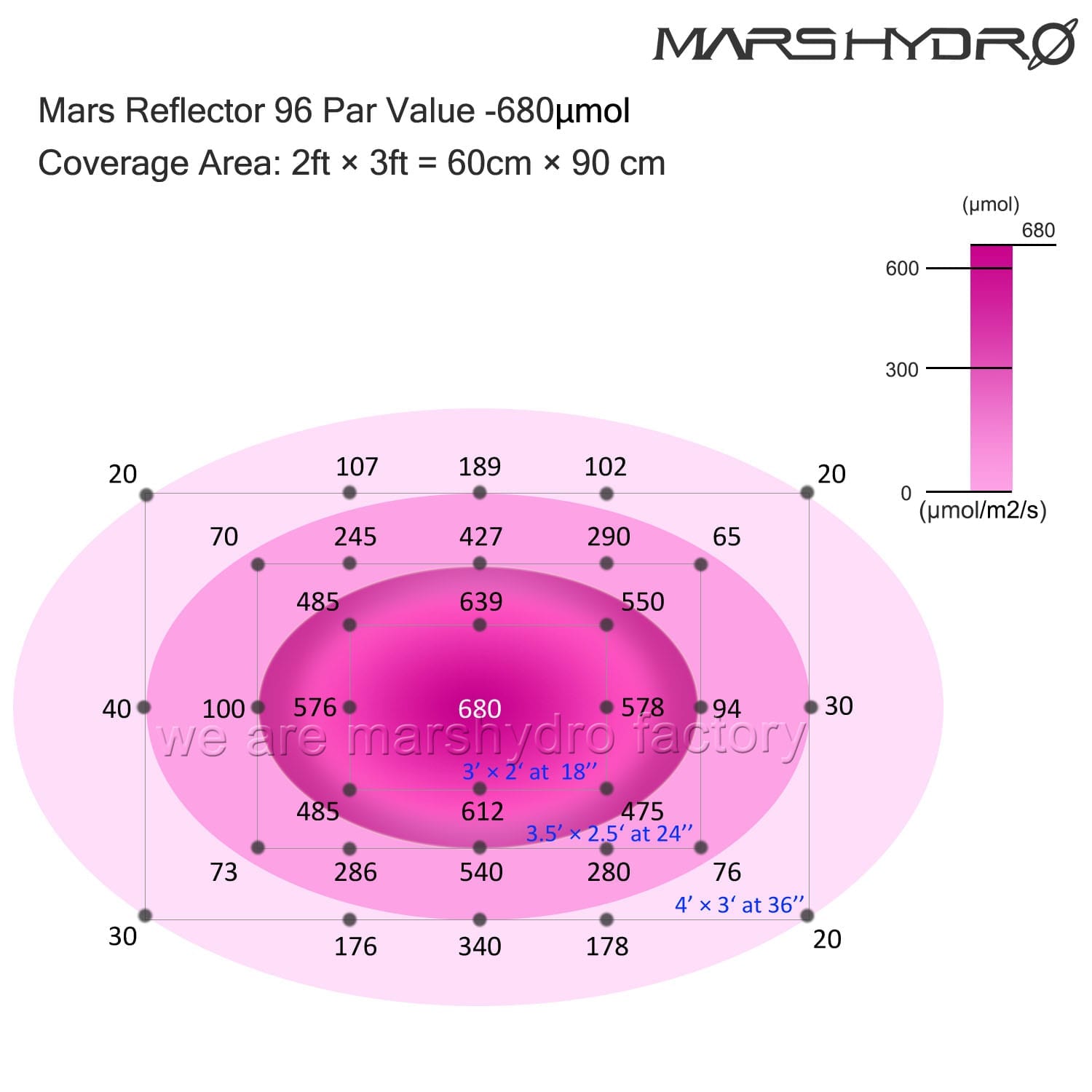 Mars Hydro Reflector Energy Saving properties
For continuous usage, growers have concerns about the amount of electricity needed throughout the growth process. LED grow lights have a distinctly higher uniqueness based on it manufactured components in this regard. They are built with more diodes within each panel and these diodes have a capacity of 5 watts in comparison to the 3 watts it used to generate. This gives a brighter lighting capacity, which helps in plant growth, and they are also energy efficient even with this capability. The light will also produce a bit more heat. This will make it more difficult to control your grow room temperature. Plant growers have reported higher and better yields using this light, which makes them one of the best lights for indoor growing.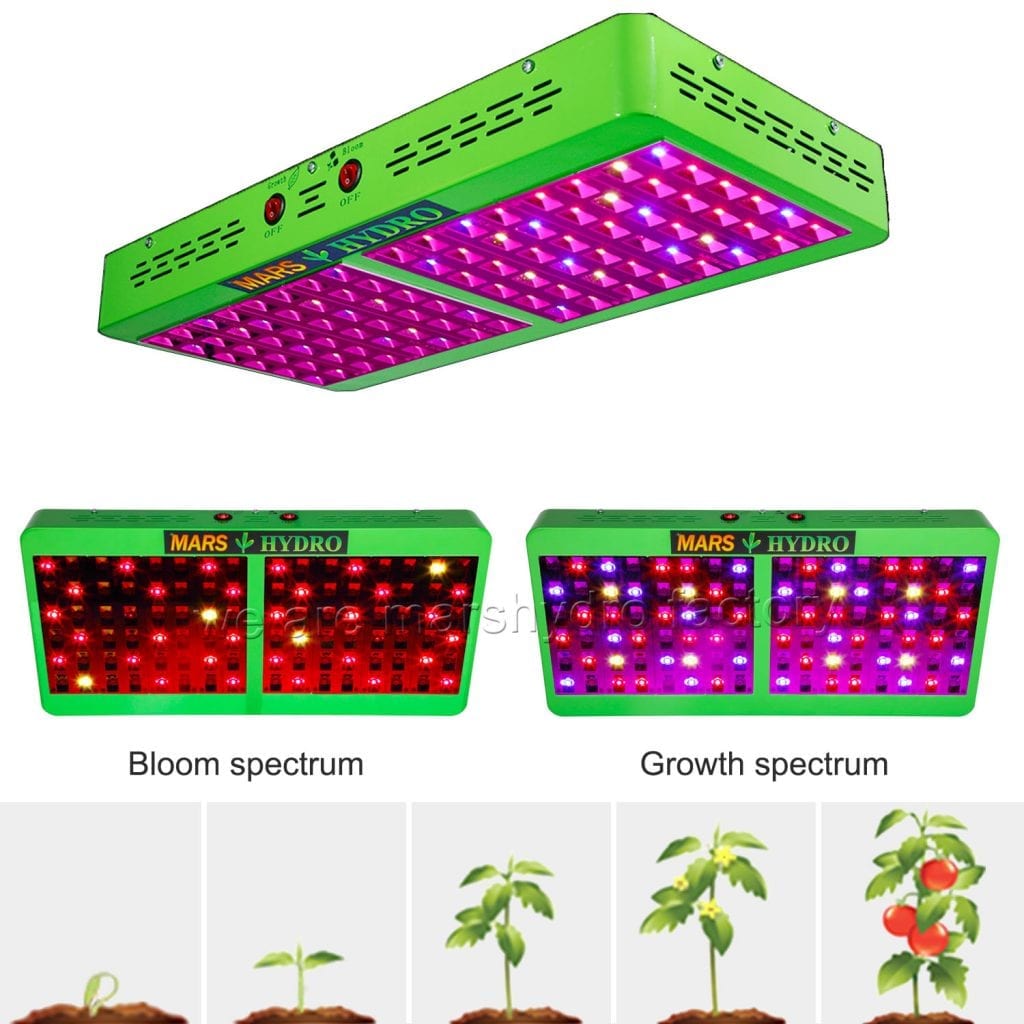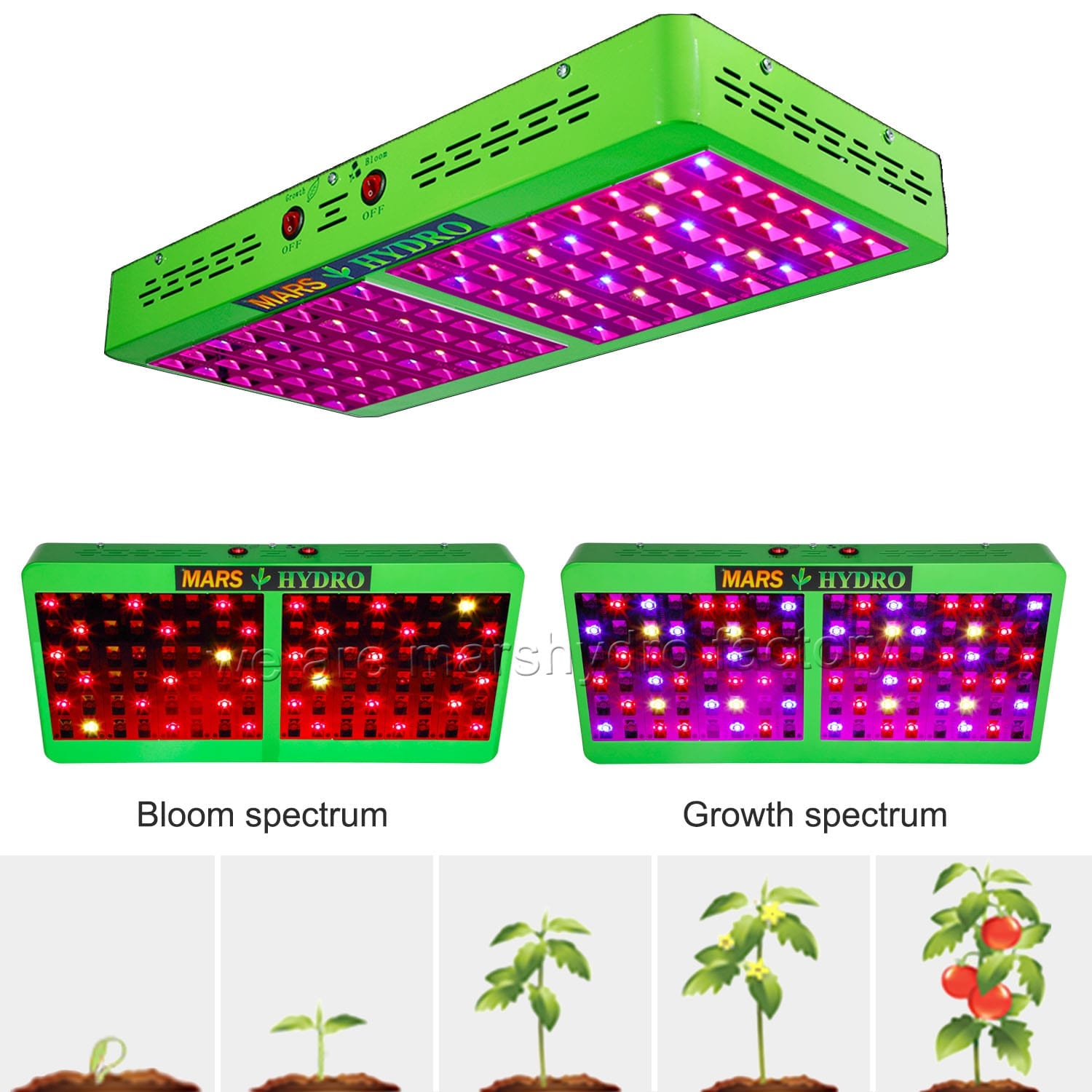 The diodes are also built with reflectors that surround them. Each of these reflectors collects as much as 99% of the light which is mixed and dispersed based on the plant's needs. There is also a cooling fan that cools the diodes and protects them from burning out or shutting down. This fan is located in the LED main panel.
The life expectancy of a Mars energy efficient grow light is 50,000 hours; however, because the diodes do not utilize full-measure of their capabilities, it is safe to say, they definitely last longer. Below is a table of the range of the Mars Hydro Reflector series, including the Reflector 96.
Table Range
Reflector 48: 120V: 102W=5%, 240V: 100.6W=5%
Reflector 96: 120V: 207W=5%, 240V: 203W=5%
Reflector 144: 120V: 317W=5%, 240V: 311W=5%
Reflector 192: 120V: 410W=5%, 240V: 397W=5%
Another feature of the Mars Hydro Reflector 96 grow light is the capability to switch between 50% power and 100% power. The toggle switch is made with the power needs so you can determine which is workable, so you can power up or down the diodes accordingly. The power usage does not generate any noise, which is great.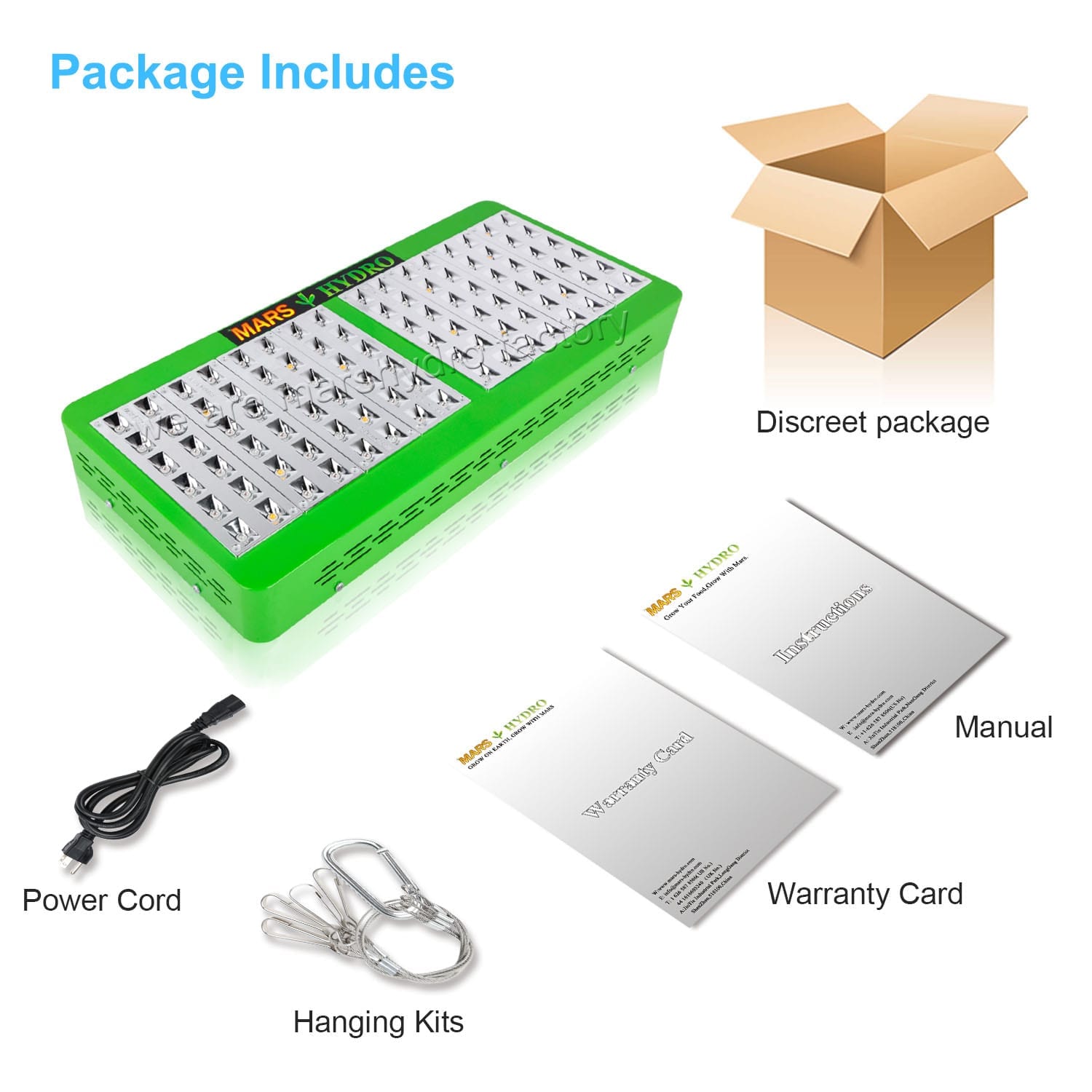 Pros and Cons
Reviews done on this LED light has ensured consumers value for money. Here are the Pros of the Mars reflector 96:
Pros
Value for money
Unique reflector panel design to focus more light for higher par value. No light loss.
Energy efficient
Growth/bloom switches
Longer lasting over-time
Produces good yield/ crop
Workable size range based on garden
Quiet while working
Reflector storage capacity 99%
IR 730nm great for flower stage
ETL/CE/RoHS certified. Parts inside are fire-proof, wires inside the panel are UL certified. We guarantee user safety when people use mars lights.
High intensity Epistar 5W led chip
3-year manufacturer warranty
Cons
Hanging clips could be wider
Specifications of the Mars Hydro Reflector 96
Leds View Angle: 90°/120°Mixed
Input Voltage: 85V-265V(AC)
Frequency Range: 56~60Hz
Life Rating: 50000-100000 hours
Certifications: ETL/CE/RoHS
Warranty: 3-year manufacturer warranty
Cord Length: 6ft
Number of leds: 96pcs
LED Type: High intensity 5W Epistar
Spectrum : 430-440nm, 450-475nm, 620-630nm, 650-670nm, 730nm,2700K,3500K
Actual Wattage(±5%): 210W/110v, 207W/220v
Veg/Flower Power: Veg power 127W, Flower power 63W
Amp Draw: 1.93A/110v, 0.94A/220v
Footprint Flower: Up to 2′ x 3′
Footprint Veg: Up to 2.5′ x 3.5′
Core PAR Value: 680 umols
Lumen Output : 9040 lumen
Replaces HPS/MH: 250 watt
Product Size: 22 x 10 x 3 inches
Net Weight: 10 lbs / 4.5 KG
Heat Output: 467 BTU
Noise Level: 58DB
Check out a testing video of the Mars Hydro Reflector 96 below:
Conclusion
The Mars Hydro Reflector 96 LED grow light is one of the best grow lights on the market in its price category. It has surpassed grow lights of the past, as it is an energy efficient, money saver unit. Its 5-watt diodes, with its spectrum capacity, as well as the efficiency during plant growth, not to mention the growing yield makes it a good investment. Another mention which should be a selling point is the 3-year warranty. Which in my opinion is irrelevant, as the capacity for usage is 50,000 hours, and this makes it a steal! The Mars Hydro Reflector 96 gets you great value for money!