If you are planning to start growing then you will have to buy a decent LED grow light that can make tasks easier for you. This MarsHydro ECO 600w review will give you its benefits and when this LED grow light is a perfect match for you.
The MarsHydro ECO 600w is considered one of the best LED grow lights for both beginning and advanced growers. Apart from that, it is affordable and the best part is that MarsHydro ECO 600w is designed very intelligently, thus giving the maximum results.
Unlike other LED grow lights, MarsHydro ECO 600w is not that fancy and expensive. It however comes with high-quality performance and is capable of enlightening your grow space with enough light.
Following is a detailed MarsHydro ECO 600w review; it will help you make a wise decision.
Do you like MarsHydro? We reviewed a bunch of other LED grow lights from this excellent brand. Go check out the MarsHydro 300w or the MarsHydro Reflector Series on our website.
This light is included in our list the best 600w LED grow lights. Check the article for all the other best 600 watt LED grow lights.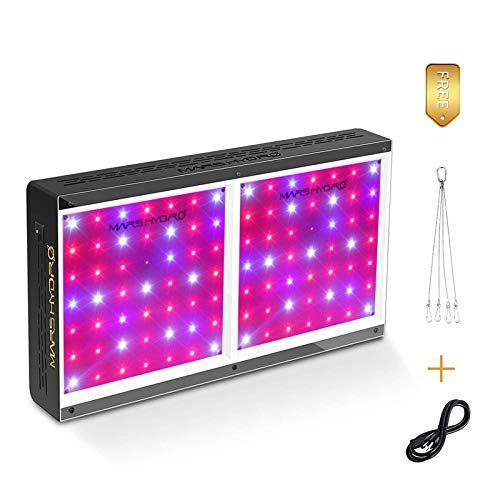 Key Features of the Mars Hydro ECO 300w
Great PAR value
MarsHydro ECO 600w has an excellent light thus resulting in great PAR value. From 18'' away the lamp gives a PAR value of 660 µmol and from 12'' away the PAR value is 989 µmol. You should also know that more the PAR value is the more the yield will be. This LED grow light makes your plants greener and healthier as it comes with an outstanding PAR yield.
Cooling
There are multiple cooling fans present in MarsHydro ECO 600w LED grow light; few of the fans take the air in while others are the exhausting purpose. As compared to other LED grow light, the ECO 600w has a quieter cooling system, and the total noise produced by it is just 51 Db.
Besides that, it is equipped with a high-quality heat sink. Unlike other grow lights the heat sink of this one helps in keeping the growing tent cooler from inside.
Affordable
This can be the first reason for you to opt for MarsHydro ECO 600w LED grow light. It can be considered as one of the most affordable LED grow lights available on the market. For less than $170 you'll get this amazing product for your grow room.
It is not only inexpensive but also has numerous useful functions. After going through other MarsHydro ECO 600w reviews we got to know that customers consider it a product that has the best value for money.
So, if you are on a budget but don't want to compromise on the quality, then you should definitely consider the MarsHydro ECO 600w LED grow light.
Full Spectrum Grow Light
Another plus of the MarsHydro ECO 600w is that it comes with full spectrum light. Its spectrum ability is what makes it even more desirable among growers.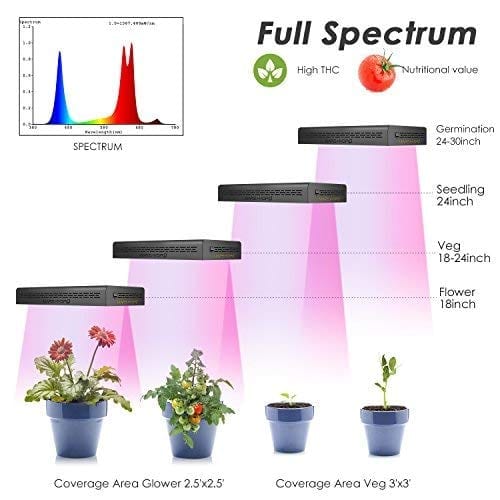 Design
The design of this LED grow light is quite scientific; according to the manufacturers they have spent almost 8 years on just experimenting and researching this product.
Specifications
DB: 51dB
Par Value: 660umol
Frequency: 50-60HZ
Core Coverage: 2.5ft*3.5ft
Max Coverage: 3.5ft*5.5ft
Input Voltage: AC100-240V
Ampere: 1.601A/120V 0.8442A/240V
Lumen: 7827 Lm±5%@AC120V 7749 Lm±5%@AC240V
Power draw: 192W±5%@AC120V 191W±5%@AC240V
What comes in the package of the MarsHydro ECO 600w?
ECO 600w LED grow light
Power Cord (6.68 ft / 200 cm)
anging kit
Instruction manual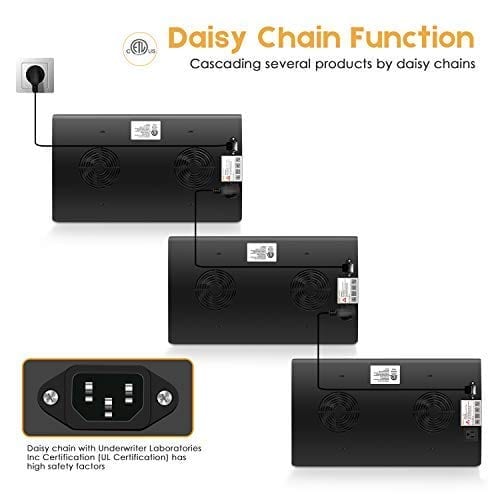 Pros
Affordable
Superb coverage area
Durable design
Reliable LEDs
Excellent cooling system
Compact
Cons
This grow light doesn't have UV or IR lights
No timer
It's not waterproof
Do you want to see this LED grow light out of the box? Do you want to see a test? Check out the video below!
Our verdict on the MarsHydro ECO 600w
If you are a beginner grower then buying this LED grow light will be something to consider. However, if you are a professional then you should look further. This light has everything a starting grower needs for a decent price.
Most of the brands just make claims that their products are the best but that's actually not true. However, MarsHydro is popular for producing reliable products and this model of LED grow light is one of their best selling products.
Check the price of the MarsHydro ECO 600w on Amazon