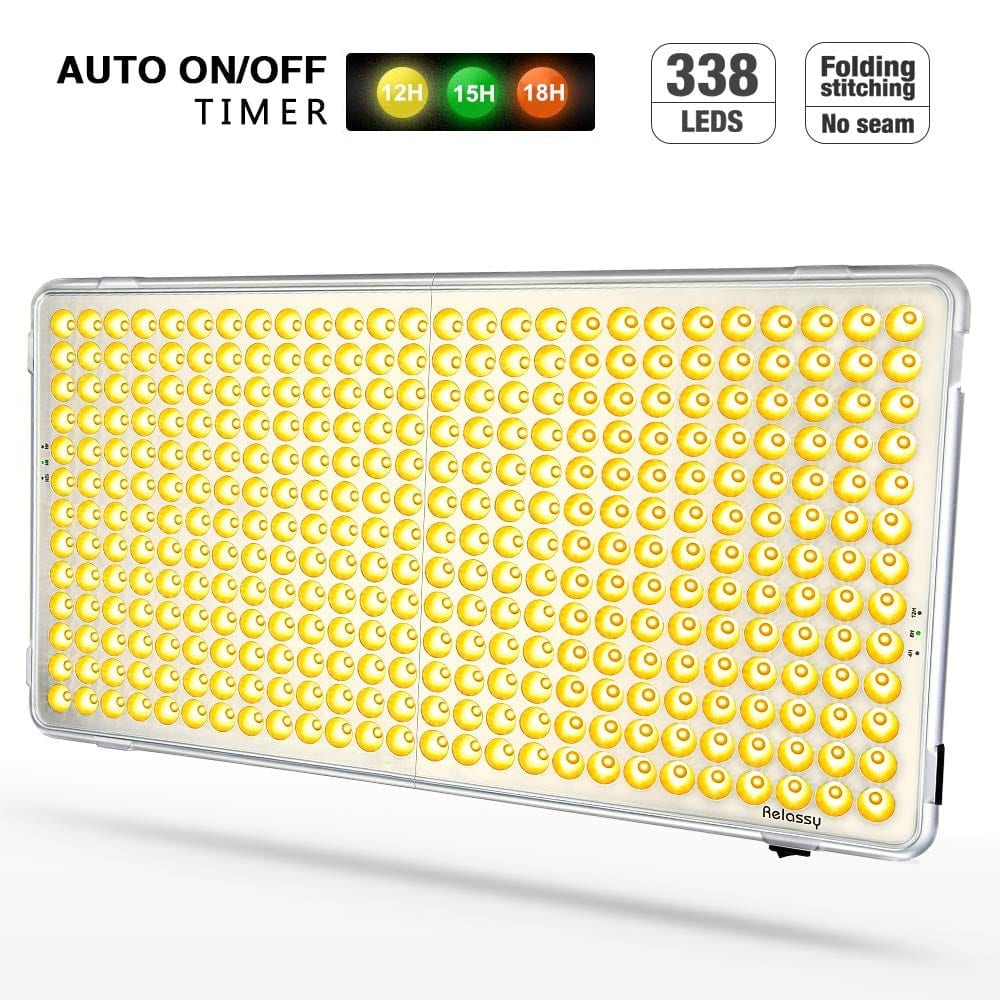 Founded in 2017, this up and coming high-tech company, boasts a reputable smart home and LED lighting product name in the plant growing industry. They've aimed to create a family micro-agricultural ecosystem committed to efficient, safe and innovative farming mechanisms. Their LED light is the Relassy 300w.
Cannabis cultivators will appreciate Relassy's 300W LED Grow Light as it features unique characteristics. Actually, very few LED producers in the market offer these features, granting them a distinct competitive advantage.
Their replication of sun-like attributes is what sets them apart from the competition. Additionally, they've stamped on the motto of reliability, professionalism, transparency and value-added customer service as their ultimate pursuit of satisfaction.
Self-reliant indoor gardening is a challenging undertaking, but hemp horticulturists can, with this quality LED grow lamp, produce impressive outcomes. It ticks all the right boxes when it comes to functionality, performance and accommodation of grow rooms.
Growers will definitely appreciate the feature-filled elements packed into its compact frame of 22.1" X11.8" X7.1" of merely 3.3lbs.
Your full spectrum foldable le LED grow light package comes along with a stainless steel hanger, 5ft Power Cord and detailed instruction manual.
Relassy Grow Light for Indoor Plants, LED Grow Lights for Seed Starting, 338 LEDs, 22" Large Grow Panel Light, Full Spectrum Indoor Plants Grow Light for Veg and Flower Greenhouse Hydroponic
►WHY CHOOSE US but not other red and blue spectrum pink light? - Because we truly offer a sunlike full spectrum contains all wavelengths of light from 380nm to 800nm, delivers more highly-uniform light needed by plants than those single red and blue spectrum led grow light on the market, the most top lighting solution for commercial growers and home hobbyists. 90°reflector cup LED with high par value: 565 μmol/m2·s at 12in. Help plants grow healthier and more vigorous with abundant.
►CUSTOMIZE GROW LIGHTING TIME - This sunlike full spectrum led grow light is 24-hour always on mode. It can support outer timer for most indoor plants' different growing period needs. We suggest to set the lighting time of 18 hours for germination, 12-15 hours for flowering & fruiting, 8-12 hours for seedlings.
►BIGGER is BETTER - Equipped with 338LEDs, replaced traditional 300W HPS/MH while consuming only 110±5%W, 89% energy saving. Doubled area of illumination than other 300W plant lamps, great for 3' X 3' growing area at 18 inches height.
►NO FAN & NO NOISE - Compared with other 300W indoor plant grow light with noisy fan, we adopt aluminum heat back panel, plus a small heatsink for each chip to achieve excellent heat dissipation. You can even hear the sound of flies flying and you can't hear any noise while it is working.
►BEST QUALITY & SERVICE - Our grow lights adopt the technology of overcurrent, overheating, overvoltage protection, also have been certified by FCC, CE, ROHS, and PSE. What's more, it comes with 2 years authentic warranty & 30 days money back without reason if the light had any problem. Try it free 🙂
Relassy 300w LED Features and Specs
LED Light and Power
This LED light is equipped with 338 LEDz that will effectively replace traditional 300W HPS/MH. Impressively it only consumes 110+/-5%W resulting in 89% energy saving.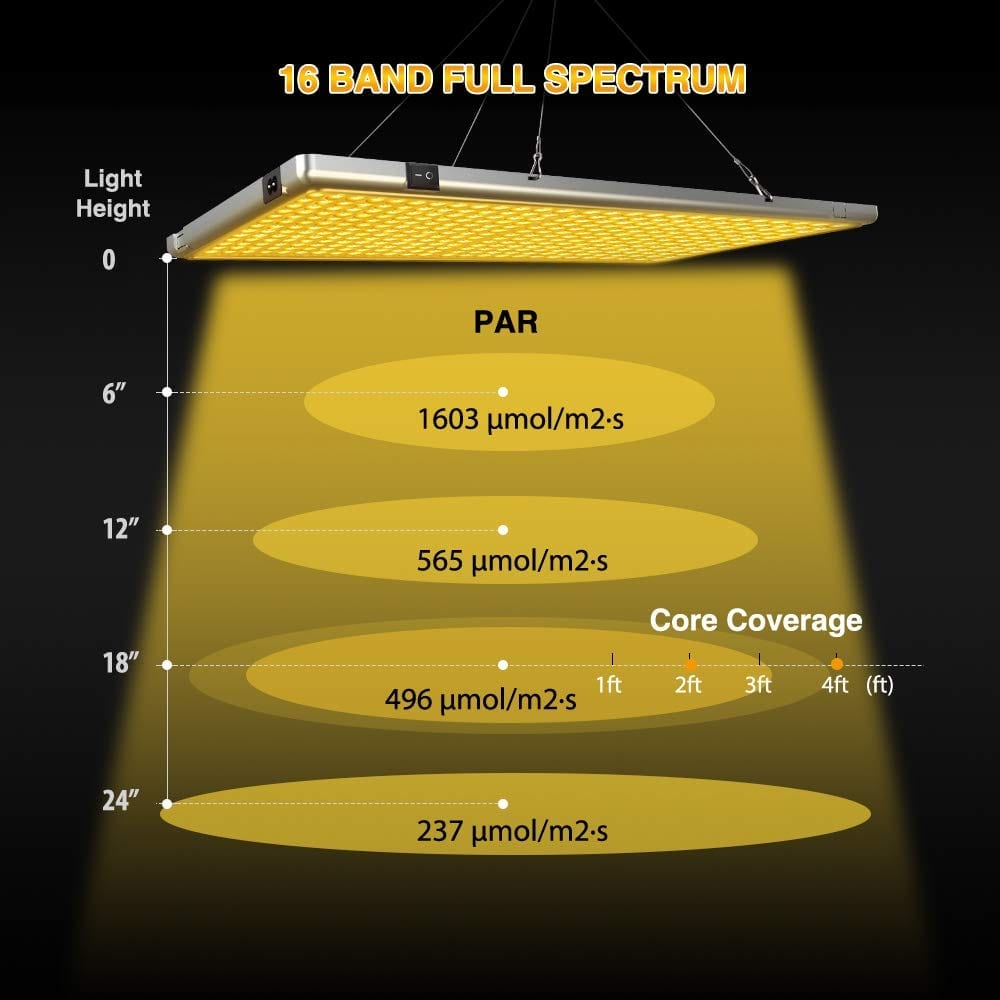 They managed to provide a twofold area of illumination for 3×3 ft coverage areas at 18" and a 90-degree reflector cup LED.
It has an input voltage of around AC 110V- 240 and 300w lighting power capabilities.
PAR Value and Performance
Unlike mainstream red and blue spectrum lights being sold, Relassy offers a true imitation of natural sunlight. It broadcasts an impressive wavelength coverage ranging from 380nm to 800nm to optimize plant growth.
With 8 years of experience under their belt, they've mastered the delivery of highly-uniform light with a high PAR value of 565umol/m2 at 12". It increases PAR Output by 50% via scientific engineering.
Additional Features of the Relassy 300w
To further appease their customers they've incorporated a built-in timer to set the lighting time for 4, 8 and 12-hour schedules.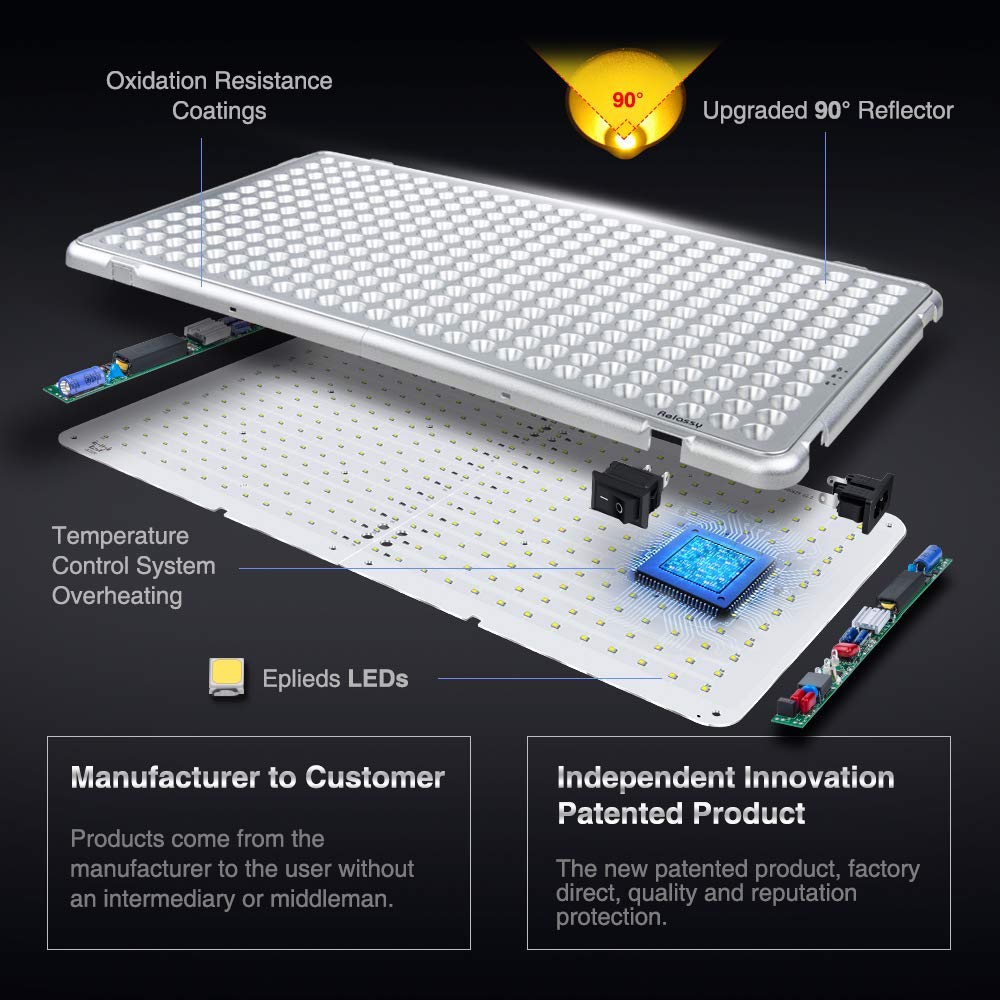 Aluminum heat back panels and heat sinks control the entire operation. This results in effective heat dissipation and noise cancellation.
For those who aren't satisfied, Relassy is very accommodating with their 3-year warranty and 30-day money back guarantee.
Pros:
Wide mouth clip allows for a firm and tight grip
Resilient supporting arms do not droop under any circumstances
Adjustable arms
Installation and setup are hassle-free
Practical light at a budget-friendly price
Replaceable bulbs
Convenient double-switch grants the ability to separately manipulate on/off operations of each light
High-quality, highly durable and reports of lengthy product life-cycle
Spectrum and overall PAR per Watt for the coverage is exceptionally good
Fast and friendly customer service
Super bright LEDs in full spectrum
It doesn't require additional cooling fans
Zero noise emissions
Auto on/off and built-in timer
Secure product with technology that prevents overcurrent, overheating and overvoltage
Fire-resistant
Certified by FCC, ROHS, CE, and PSE
3-year warranty and 30-day money back guarantee
Eco-friendly and long term cost-saving item
Cons:
5ft cable reportedly inadequate
Replacement bulbs are pricey
Bulb quality has room for improvement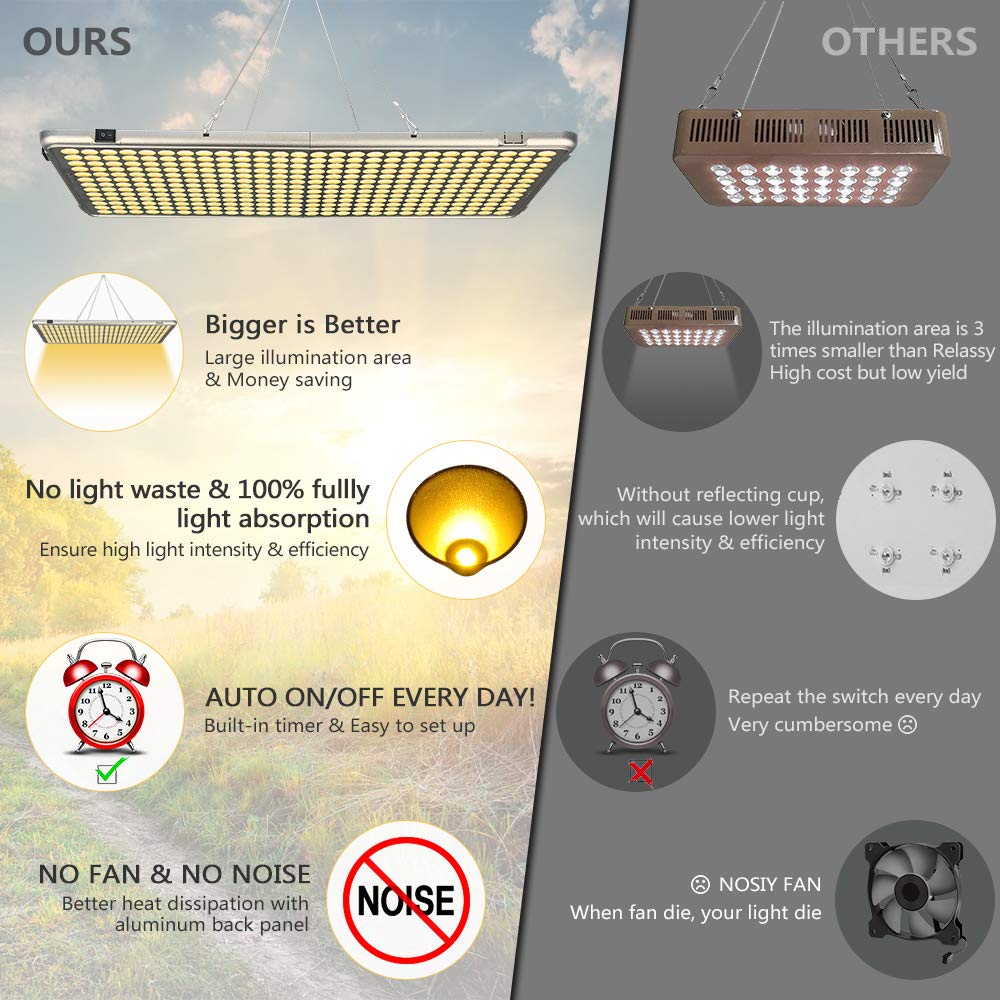 Conclusion on the Relassy 300w
The Relassy 300W Led Grow Light is definitely one of the more viable options in the market. With its affordable pricing and feature-filled attributes, it promises to optimize yield quantity and quality.
The patent protected technology with auto-timers is perfect for indoor growth operations as it encourages photosynthesis, compact growth and full canopy penetration. Also sterilization and disinfection, cell growth and healthy plant-life are promoted with this technology.
The Relassy 300w LED will not disappoint any grower looking for an affordable LED grow light.
Check the price of the Relassy 300w LED grow light on Amazon