Sunraise is a well-known brand that is working under Sunwell Groups of the company. It is a reputed company manufacturing LED lights since 2005. With 13 years of experience in the industry, the brand offers a wide range of LED lights to choose from, including the Sunraise 1000w LED Light, one of their most popular product.
Sunraise 1000w LED Light is one of their most innovative products designed to help your plants grow in a healthier environment. The product contains some winning attributes that make it a better option than many other competing products.
To learn more, keep reading as we have covered the product in detail here in this in-depth Sunraise 1000w review.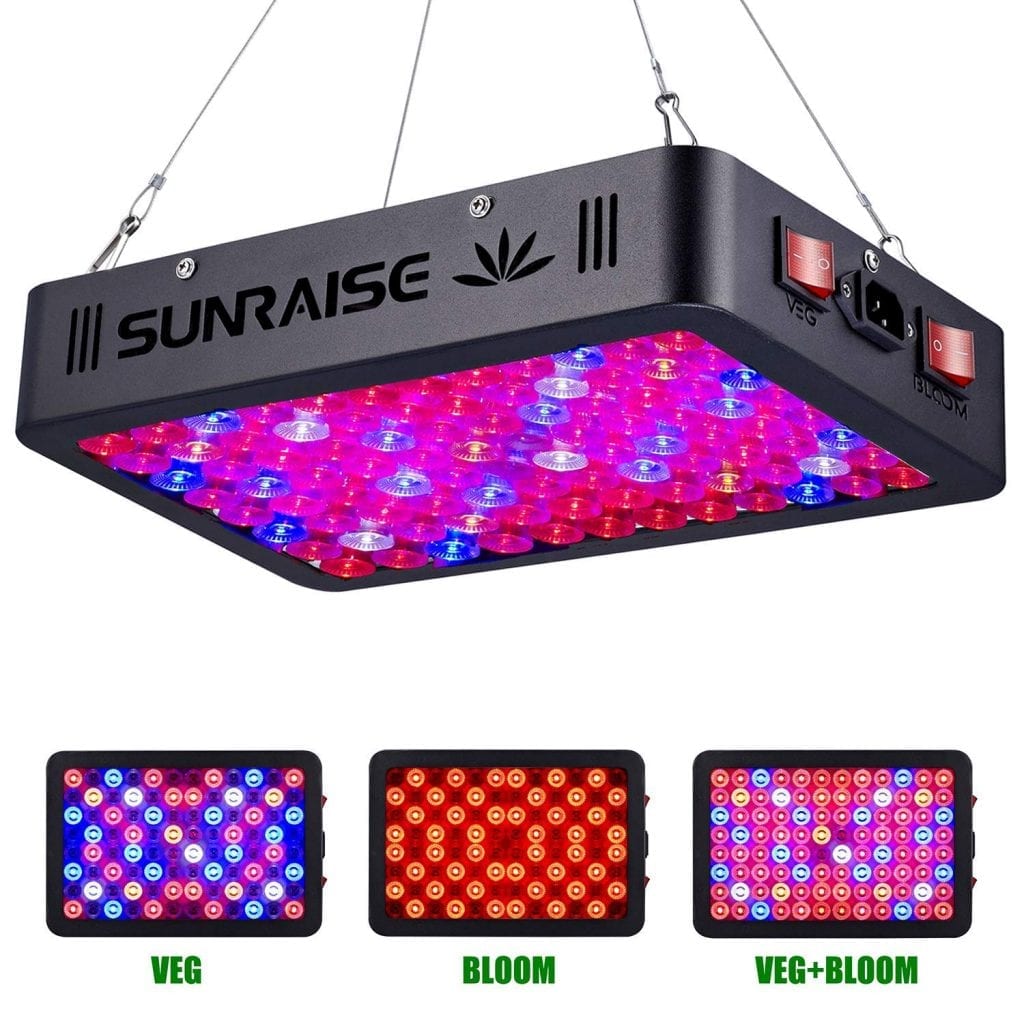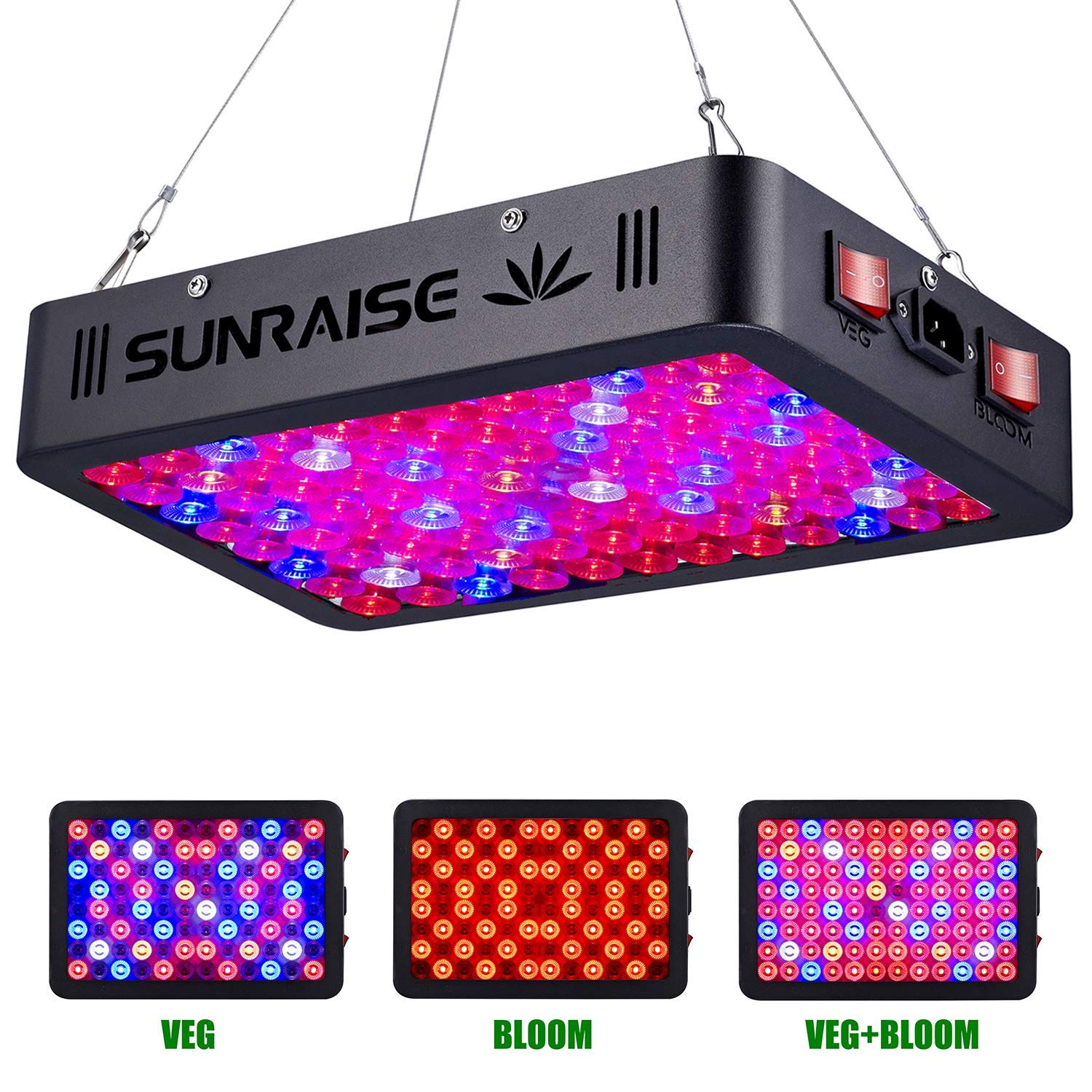 Features and Specifications of the Sunraise 1000w
The light features high quality LED lights that can provide full spectrum to your plants for indoor growth. It is also very easy to use and install over your planting area.
Daisy Chain
Daisy chain is one of the most basic functions that are used in LED grow lights today. It means that you can connect several LED light with each other while using only one wall outlet.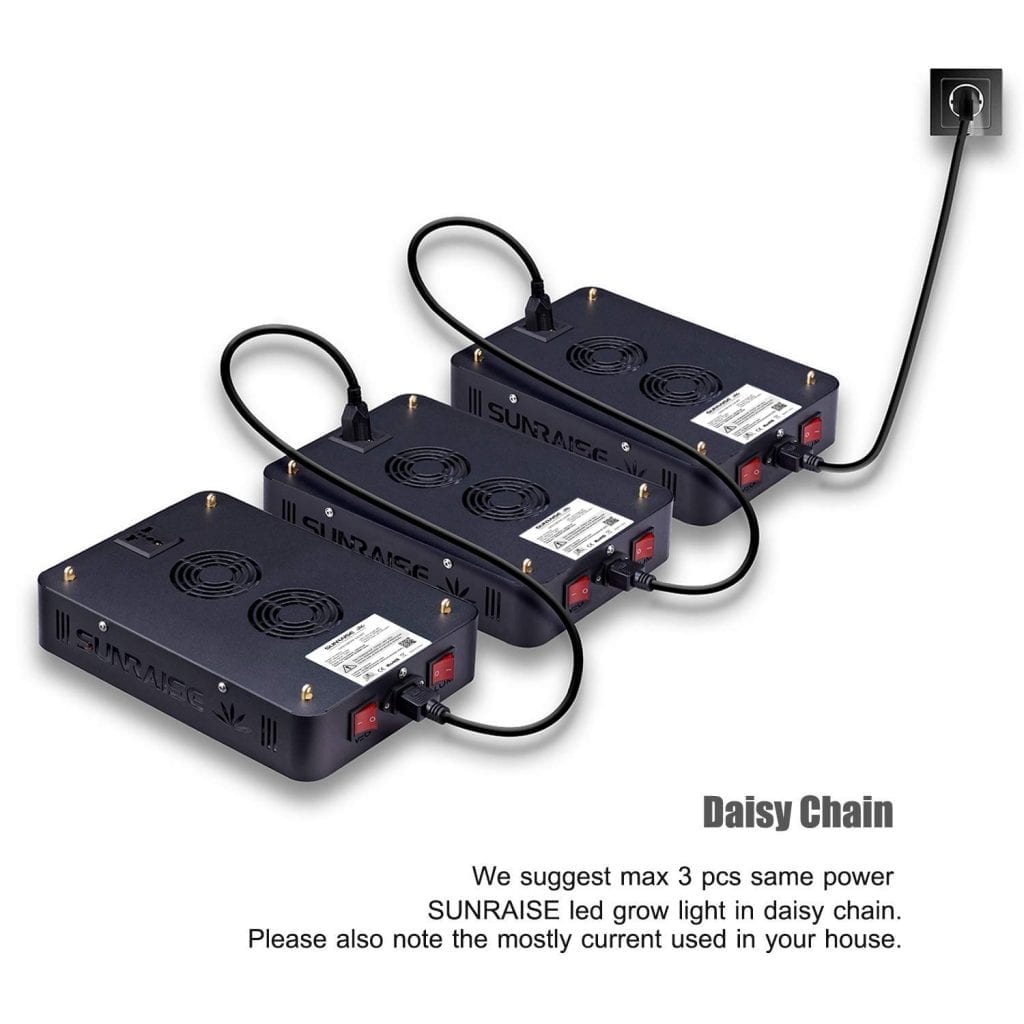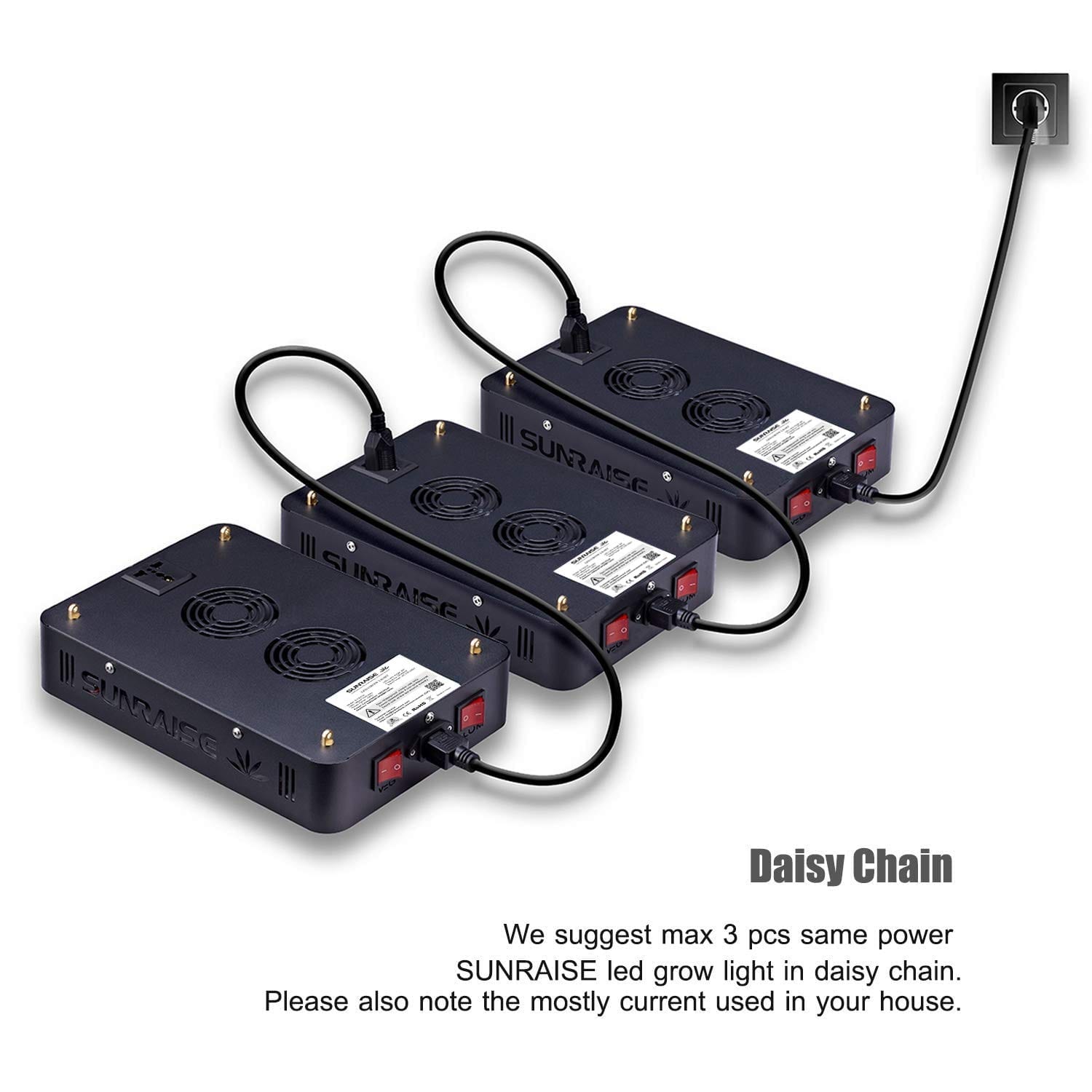 The feature allows you to cover a greater plant area, making it a great option for grow tents or other bigger grow areas. You can use the power cord of this LED light for both the daisy chain and power.
Veg and Bloom Switches of Sunraise 1000w
Having veg and bloom switches is a great option in LED lights, especially for the advanced level growers. These switches allow you to install a specific light that the plants need according to their growth stage or cycle.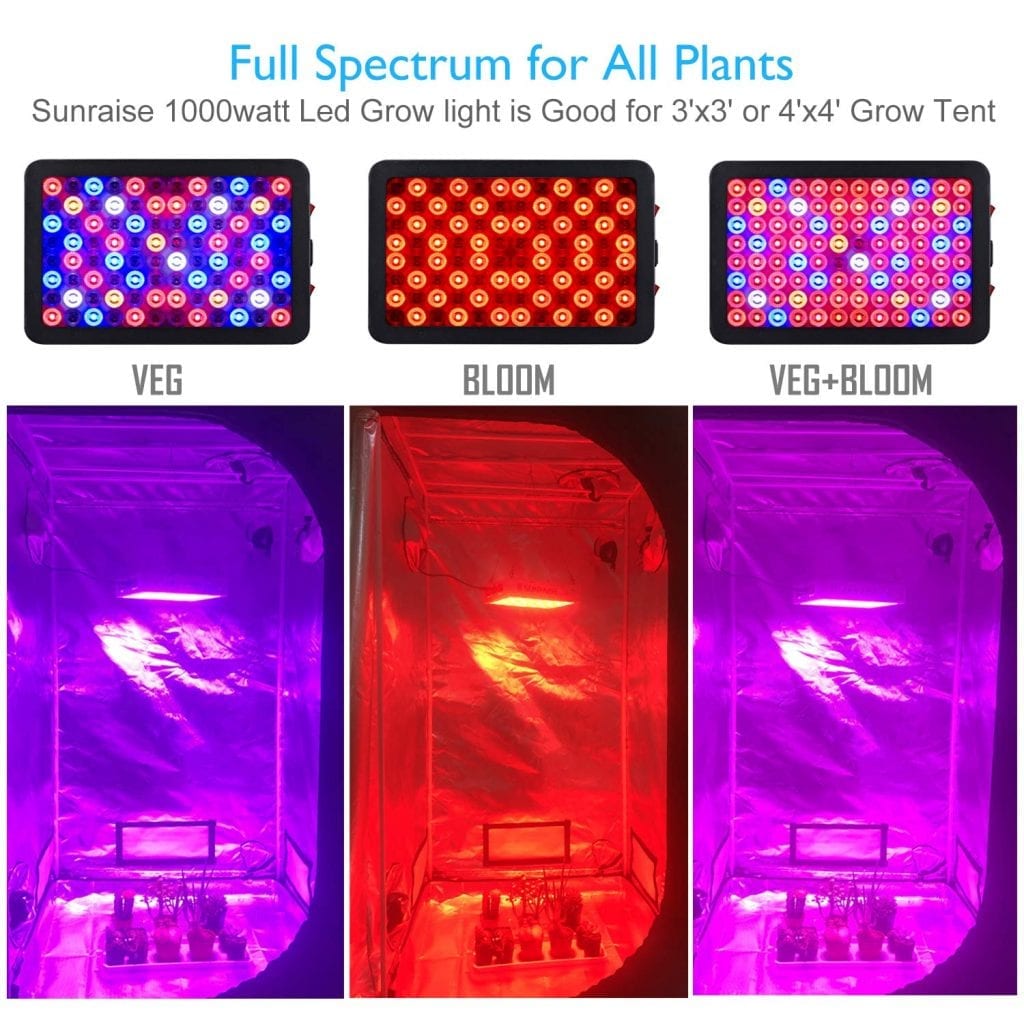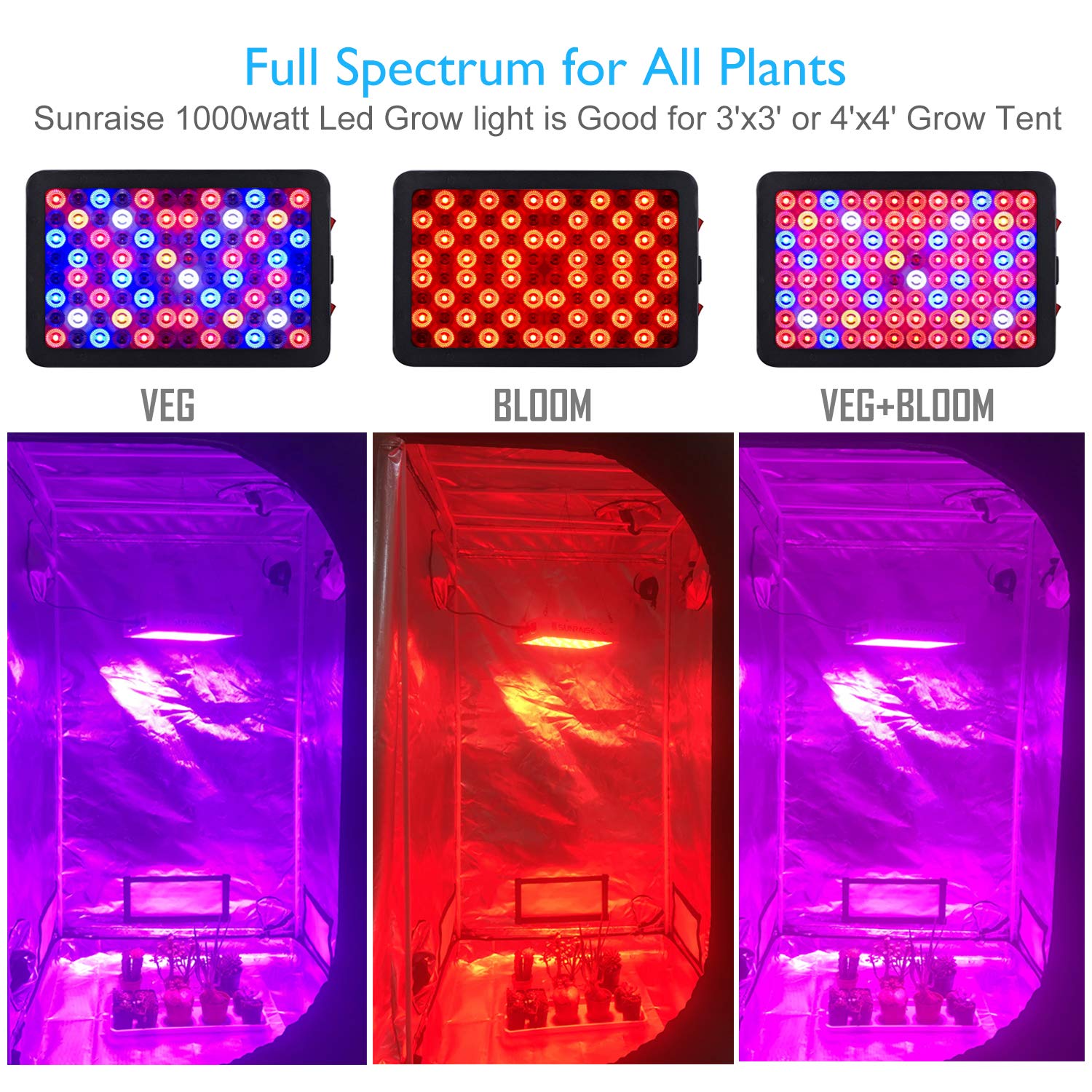 You can use the veg switch for the growth of seeds, while the bloom switch for growth of plants and flowers. This feature produces red and blue light that can help in all stages from seed to the final flower.
Optical Lens Technology
Sunraise 1000w uses the optical lens technology that increases its light by 30% with a great value of PAR. The optical lens technology serves to concentrate the light and reduce its loss while the device is on.
Due to this feature, Sunraise 1000w LED Grow Light makes a better option compared to other LED grow light in the market within the same price bracket.
Triple Chip Technology
The triple chip technology is more efficient as compared to a single chip or dual chip. The LED Light uses 15w triple chip LED lights with improved PAR value. It can help your seeds, and flowers get brighter light they need to grow. These lights contain 96 Zener Diodes.
Reliable Design
The Sunraise 1000w LED plant light comes with a durable design such as adjustable hangers for rope, hanger hooks made from stainless steel and strong power cord as well. All these features make this product even more reliable to use.
Pros and cons of the Sunraise 1000w
Pros
Friendly customer services
Proper guide to use the product
Contain on Veg and Bloom switches
Save the consumption of electricity by consuming only 165 W for the max yield
Comes with the warranty of 3 years
Don't need any extra ballast
Cons
Only good for indoor use
Not waterproof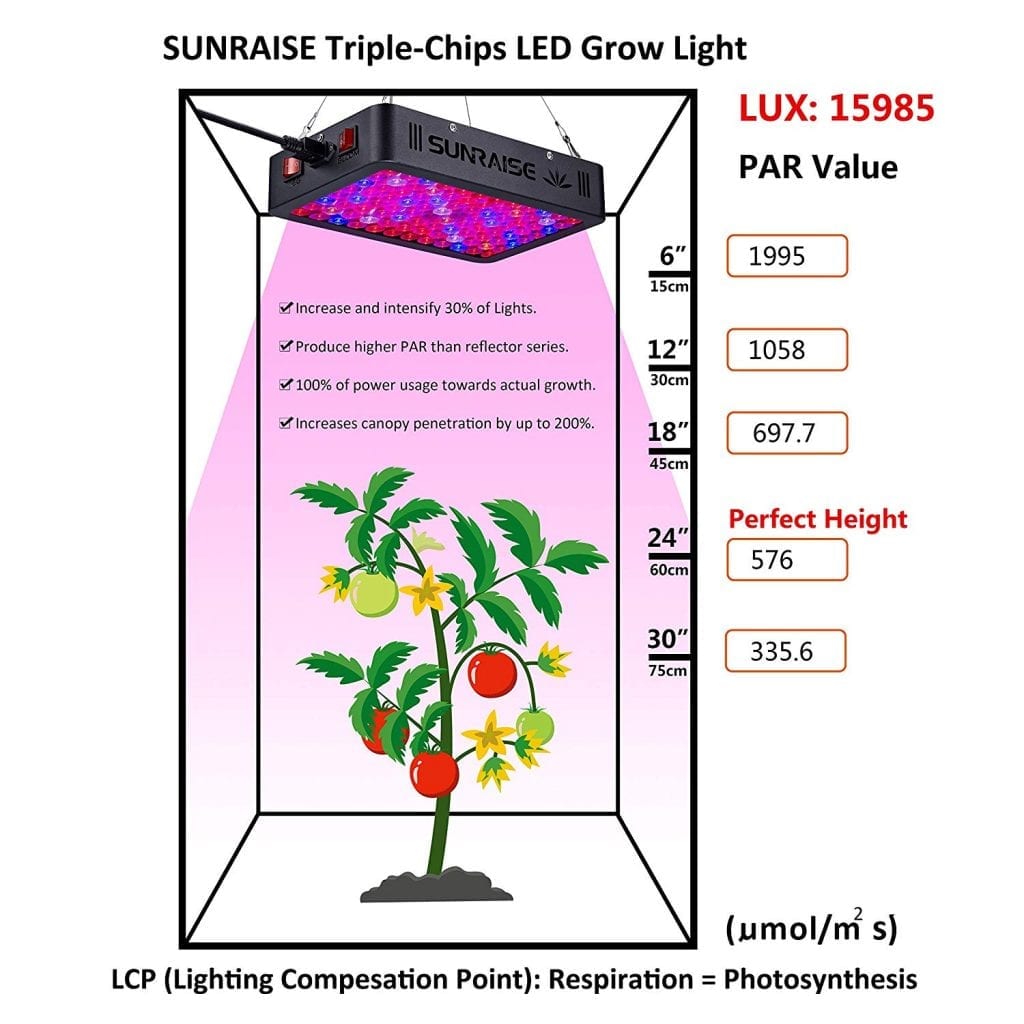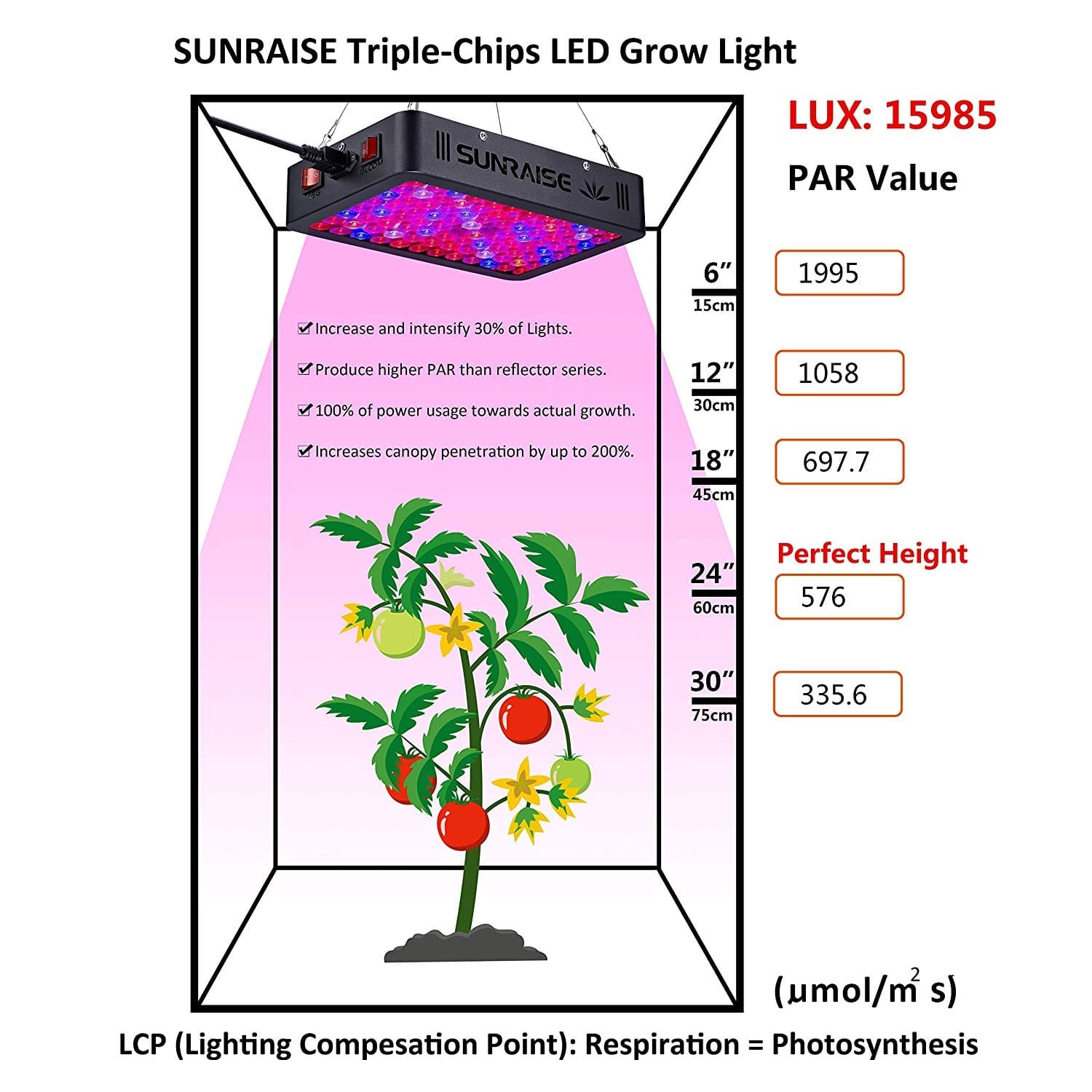 Conclusion on the Sunraise 1000w
The Sunraise 1000w LED grow light is a great light if you're looking for a decent light in your indoor 4×4 grow tent. It's not waterproof, but if you use it right this is not necessary.
The light is low on energy consumption and very affordable. It's not as powerful and efficient as high-end lights, but in the budget segment this is a viable option.
The veg and bloom switches make it a good light for every ambitious grower. Together with the three years warranty and good customer service, this light is a winner in its segment.
Make sure to keep this light in mind if you're looking for one in this power and price range.
Check the price of the Sunraise 1000w on Amazon