Worried about hiked up electricity bills? Want a more affordable solution? The Viparspectra PAR600 600W LED grow light is the perfect solution for your indoor cannabis garden. 
The Viparspectra PAR600 will shower your crops with the full 12-band spectrum to enable healthy growth. 
Unlike HID lights that require a lot of ventilation to allow for the heat, these LED lights neither need a Ballast nor ventilation. 
To learn about the full features and benefits, read ahead for our Viparspectra PAR600 review!
This light is included in our list of the best 600w LED grow lights.
Key Features of the Viparspectra PAR600
The Viparspectra PAR600 LED Grow light stands out from others due to the following features:
3-Power Option
The LED Grow Light comes with 3 switches that allow you to provide optimum light to your weed plants. 
Let's face it; your plant needs a different amount of light in all stages of life. If a sprout is bombarded with too much light, chances are it will get damaged. 
So, this option allows you to adjust the light level according to the life stage of the plant. You can use the white light or the blue light for the sprouting periods and then switch to red when the vegetation stage starts. 
We believe this feature puts it right there in competition with other dimmable LED grow lights. 
Efficient Power
Although the output the Viparspectra PAR600 provides is 600W, it only takes 285W as input, even at the full power. 
Apart from that, the fans, as well as the aluminum cooling sink, ensures that the temperature does not rise.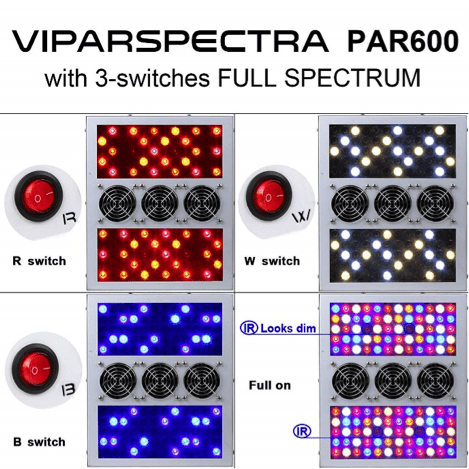 Moreover, you needn't worry about noisy fans. These operate silently and still manage to produce 70% cooler temperatures than HID grow lights. 
Also, the input voltage can be easily converted from 110 V to 230V. 
Suitable Coverage and Magnification
The Viparspectra comes with high-quality optical lenses to ensure better magnification. This allows the light to penetrate the canopy 200% more and reach every single bit of the plant. 
Moreover, the 3×3 coverage area is perfect for small weed gardens.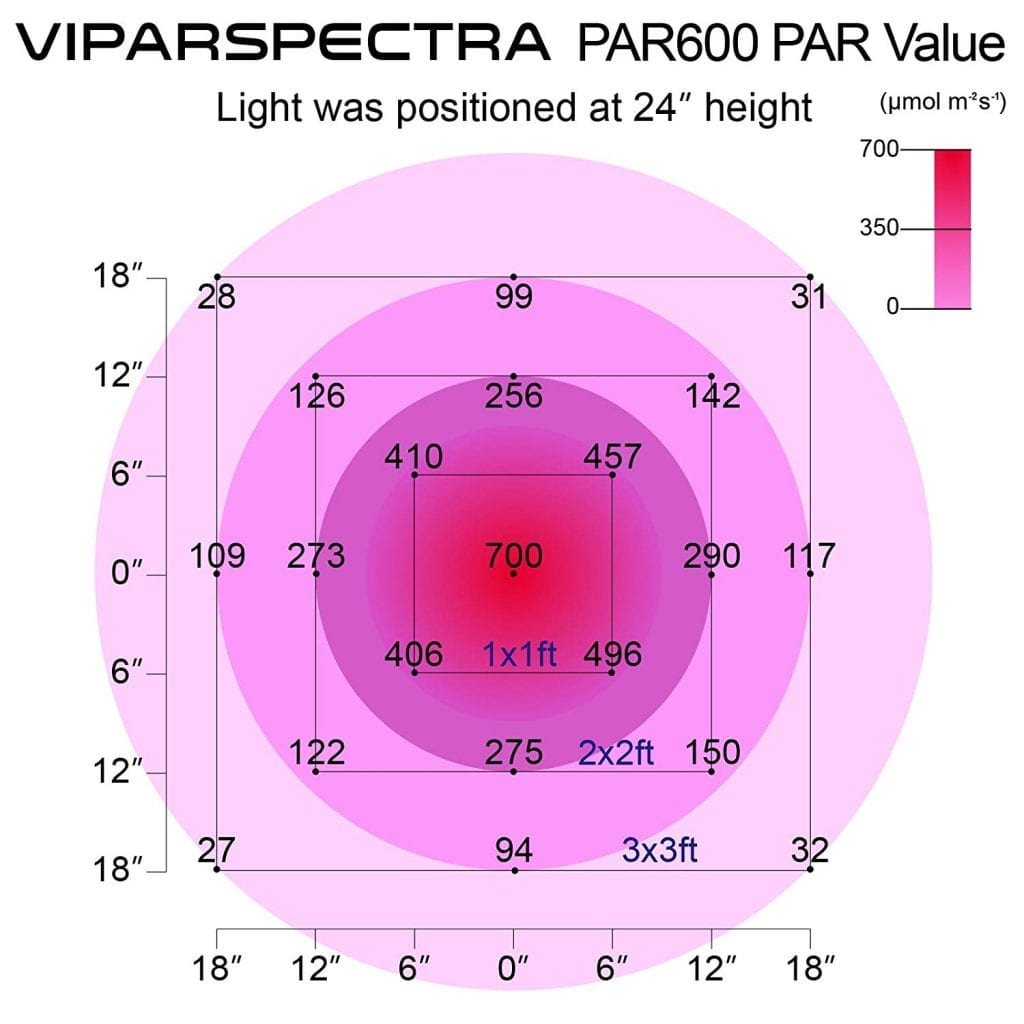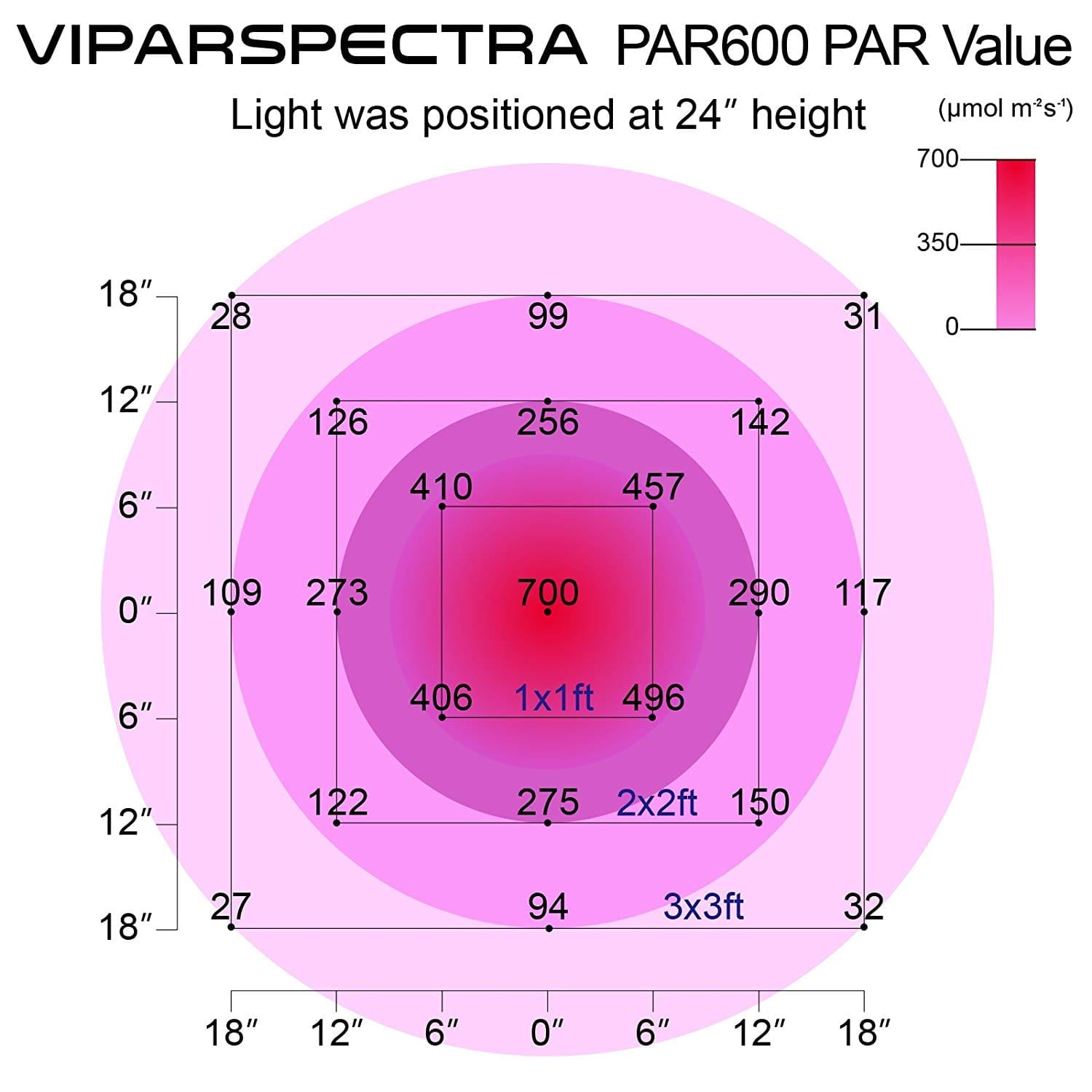 Longer Lifespan of the Viparspectra PAR600
When you are shelling out the big bucks, you need to ensure that the product will last long. 
The Viparspectra PAR600 lasts for about 100,000 hours. In addition to this, it requires no maintenance. Just make sure you keep it clean from dust.
Should You Buy It?
We definitely recommend it as it is affordable and lasts for a long time. Moreover, it is perfect for indoor gardening and breeding. 
So, if you're looking for a single light for your indoor garden, you can never go wrong with the Viparspectra PAR600! 
Read ahead to the pros and cons section and weigh them against your interests yourself! In short, we definitely recommend it as it ticks all the boxes in our personal list! 
How Does It Perform?
You can watch the following video to find out the real-life performance of the Viparspectra PAR600 and see if it's something you would like:  
Pros and cons of the Viparspectra PAR600
Pros:
Easy to install as well as use. 
Can be used for all stages of life. 
Results on 70% cooler temperatures. 
Lasts a long time. 
Does not need ventilation or ballast. 
Saves energy. 
Can be used with all outlets. 
Cons:
The lights can hurt your eyes, so buy protective glasses!
Not waterproof. 
Technical Specifications of the Viparspectra PAR600 
Coverage of about 3×3 or 4×4 area. 
Output: 600W
Input Power: 285W
Lifespan: 100,000 hours. 
Lens Angle: 90 degrees. 
Frequency: 50-60 Hz.
Input Voltage: 100-240 V. 
Weight: 13.7 lbs
Dimensions: 14.1" x 11.8" x 3.5"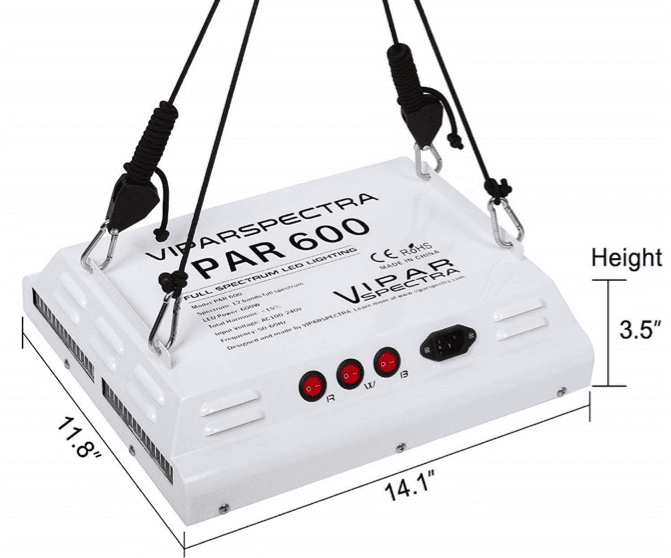 What's in the Box? 
The Viparspectra Dimmable Series comes with the following items:
The PAR 600 glow light. 
Hanging Kits. 
6-foot long cord. 
Adjustable Rope Hanger
For unboxing, watch the following video: 
Our verdict
All in all, the Viparspectra PAR600 LED Grow Light is the perfect option for those looking for a well-performing affordable LED grow light. This light still ensures healthy growth of your indoor garden and has great options. 
We love that the large coverage area that allows to grow 9 plants at the same time. And if that wasn't enough, the 30 days money back guarantee as well as 3 years of warranty makes sure you receive a high-quality light.
We hope our Viparspectra PAR600 review helped shed some light on the performance of these LED grow lights!