Weed buds grow excessively over time. This becomes a problem for many of the home growers. As a result, you should prefer trimming the buds from time to time to prevent the overgrowth. Therefore, home growers should have access to a bud trimmer machine for convenience.
Why should you trim the buds?
Trimming the weed buds can serve a lot of purposes. Many people from the cannabis community would often recommend trimming. Irrespective of the method you follow, trimming the buds is necessary. As a result, you should make sure to choose the best bud trimmer.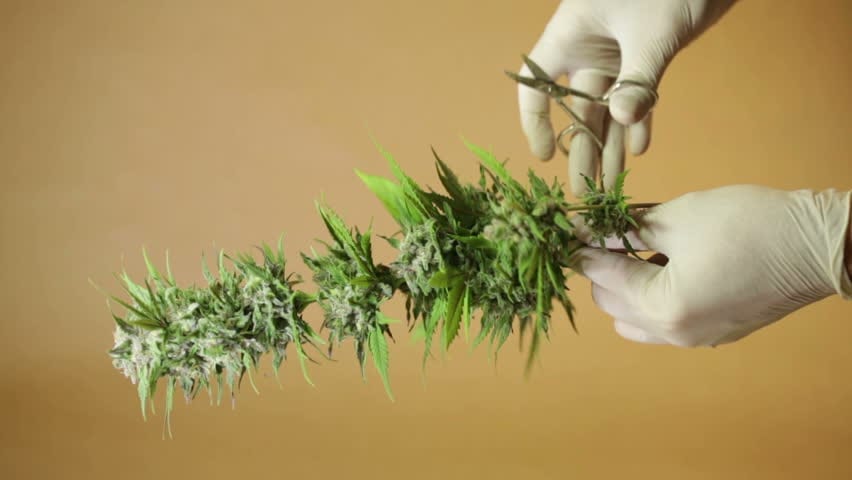 The buds are trimmed to make them look good. The trimmed buds appear to be tight, and uniform in their appearance. Overgrowth may be problematic. Thus, trimming from time to time can help to increase the visual presence. You may be able to achieve the growth of weed like those in pictures you find online.
Apart from that, it also helps to raise the THC level. The sugar leaves contain less THC which has a negative impact on weed quality. Trimming the sugar buds will help you achieve better quality weeds.
Also, it is comfortable and convenient to smoke the trimmed weed. The leaves are rich in chlorophyll which makes the smoking experience harsh. The trimmed weed leaves will help to achieve a smooth flow when you smoke it.
Best trimming method
Whenever you are considering cannabis leaf trimmer, you should be aware of the two modes of trimming: wet and dry. When you are trimming the weed, you will need to be a little considerate for better results.
Wet Trimming
Since it is a straightforward procedure, it is one of the most acknowledged trimming methods. When cannabis is trimmed in damp condition, it makes them visually appealing. This, will further draw the attention of the people.
Dry Trimming
In this case, you will have to allow the cannabis to dry off and then remove the larger leaves. It is not only time consuming but costs a lot of effort too.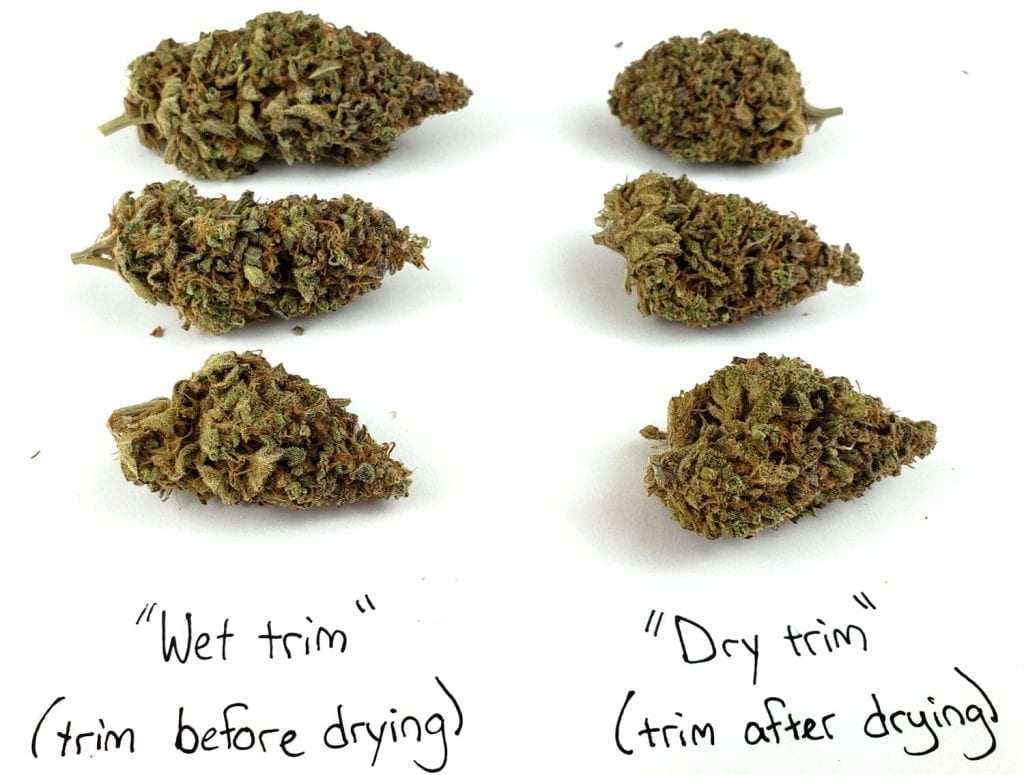 Types of Bud Trimmer Machines
Usually, there are two types of trimming machines.
Manual Trimmers
You will need to operate it by hand. Thus, you will need to put in a lot of effort. Nonetheless, they are pretty inexpensive. Most of the cannabis leaf trimmers are a manual trimmer.
Automatic Trimmer
These are the electronic marijuana trimmer machine. They function using electric motors. In this case, you will need to spend less time for trimming the buds. Moreover, they are easy to use as well. The most significant benefit is within a short span, you will be able to trim large bundles of weed.
How to trim the Marijuana with the Bud Trimmer Machine?
Even if you have the right marijuana trimmer machine, you may have a tough time with trimming the buds. Therefore, it is advised to be a little careful with the procedure.
When you are trimming, remove the parts that aren't covered by trichomes, such as foliage and red pistils. These parts usually do not affect the weed quality due to the lack of the main components in them.
Once you have trimmed the weed buds, make sure to store them in an airtight container. Ensure that you save the container in a cold and dry place away from the influence of heat and moist.
After using the cannabis leaf trimmer, make sure to clean it. This will help them last long so you will be able to use the trimming machine for a long time.
Before trimming the buds, make sure to wear gloves. You may have a hard time removing the resin found in marijuana barehanded. But, if you wear gloves you will be able to do it conveniently.
Top 7 Best Bud Trimmer Machines Reviews of 2020
Table could not be displayed.
Title
CO-Z Professional Automatic Bud Trimmer 3 Speed
Melon Farm 16-inch Automatic Bud Trimmer 3 Speed
Giantex 18" Stainless Hydroponic Leaf Bud Trimmer
Photo
Title
CO-Z Professional Automatic Bud Trimmer 3 Speed
Photo
Title
Melon Farm 16-inch Automatic Bud Trimmer 3 Speed
Photo
Photo
Title
Giantex 18" Stainless Hydroponic Leaf Bud Trimmer
Photo
Table could not be displayed.
When you are looking out for a spin bowl leaf trimmer or cannabis leaf trimmer, it is better to make a decision for one of the two. We will help you in making the decision a bud trimmer review. Some of the best bud trimming machines are included below.
iPower 19-inch Leaf Bowl Trimmer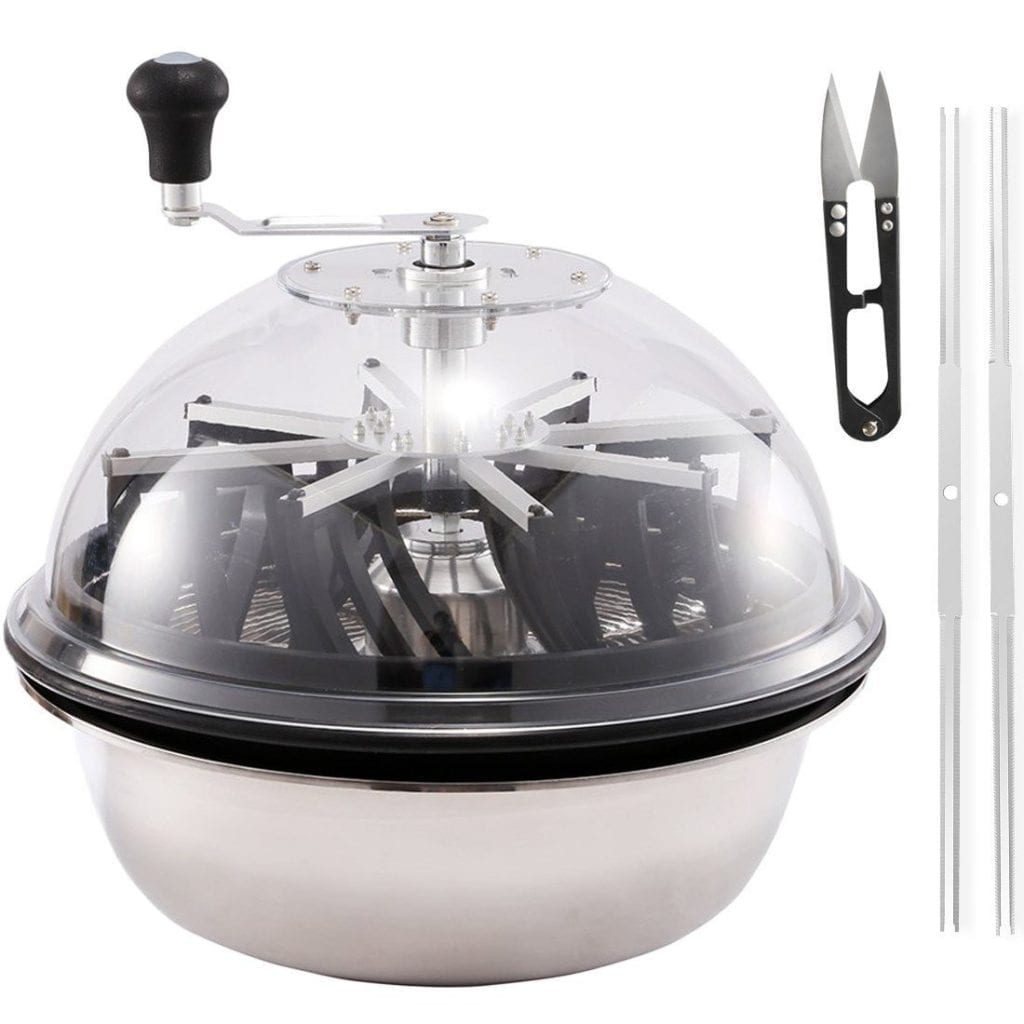 This leaf trimmer can function similar to working with 30 scissors. This spin bowl leaf trimmer can help you get rid of the twigs and leaves separately. Thus, you will be ready to use them for the cannabis oil too.
The iPower 19-inch leaf bowl trimmer ensures smooth and clean cutting. Therefore, you can be relieved that your plant won't be harmed. It also causes less mess, which ensures easy cleanup.
This trimmer is very convenient and is lightweight. It has a subtle dimension and can be easily stored. The iPower 19-inch comes with a removable handle which is why you can store it in small places.
This bud trimmer allows easy cleanup trim in dry conditions too. Nonetheless, you should be careful of the quantity and how fast you spin it off. Do not spin it too fast as it can result in damage to your buds. Although it may seem to be a little expensive, it is entirely worth the price you will be paying for.
Risentek Bud Leaf Trimmer Machine 16-inch – Model X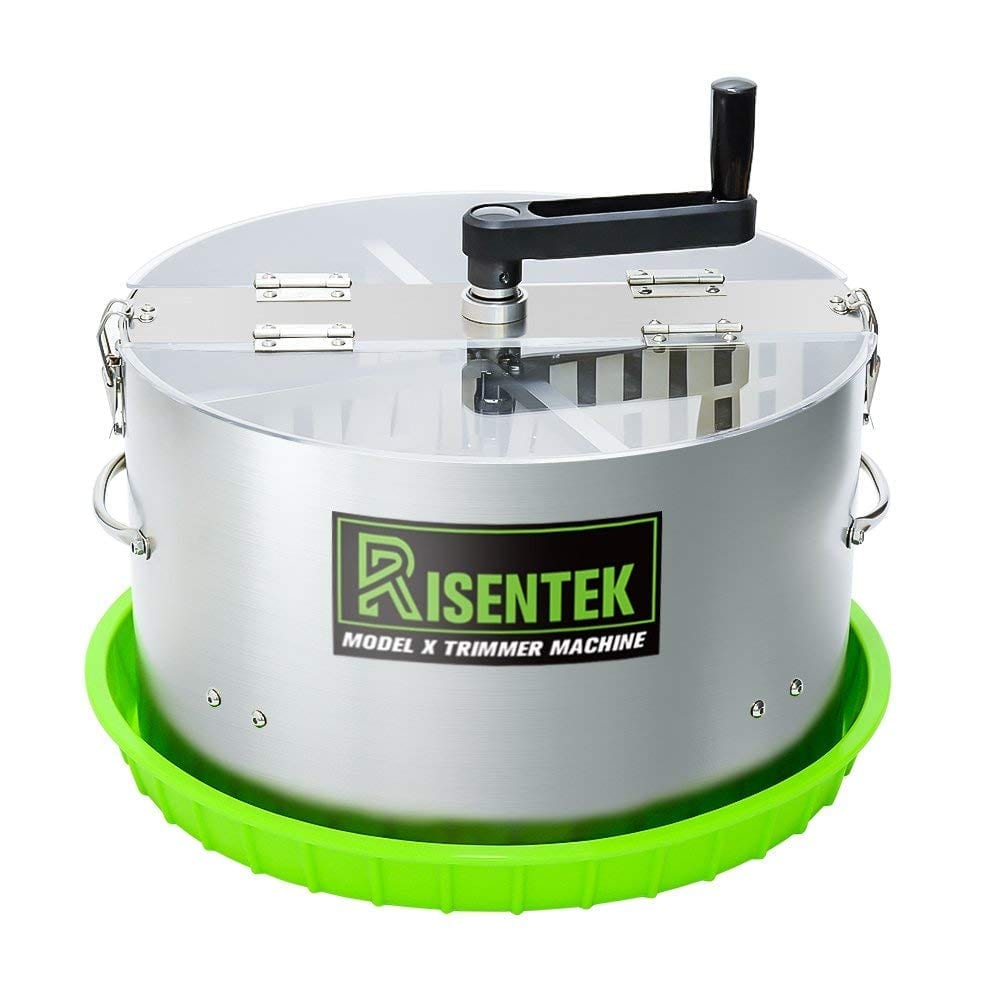 This is yet another excellent bud trimmer. The cylinder body is made of stainless steel which has a center slate of 5/16 inch. The gearbox is entirely made of steel.
One of the significant facts about the bud trimmer is that the blades can be easily adjusted and have silicone catch plot. The handles are foldable and removable. This makes it convenient and simple to store.
It is a useful tool for cutting and separating the twigs and leaves. The tool can help you get rid of wet as well as dry trim. This large unit can help you isolate and cut very precisely.
iPower 16-inch Leaf Bowl Trimmer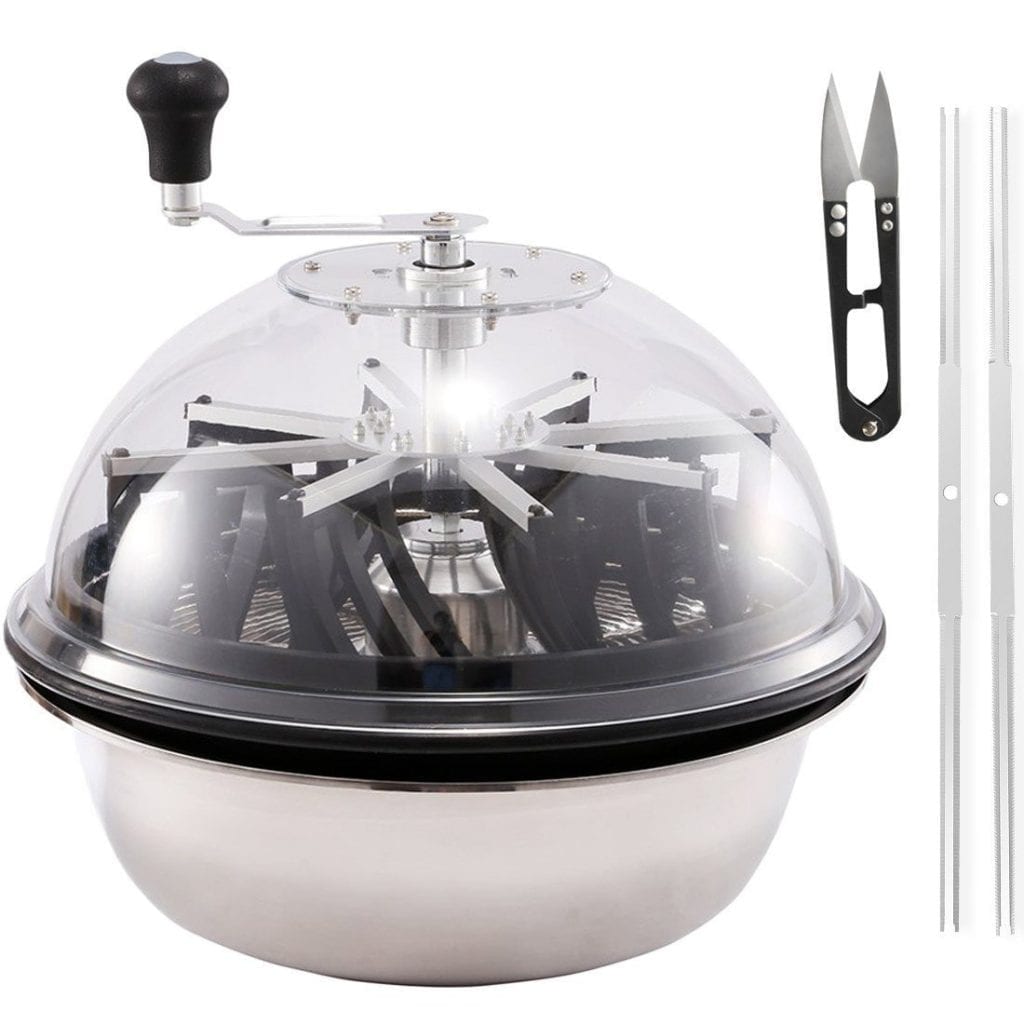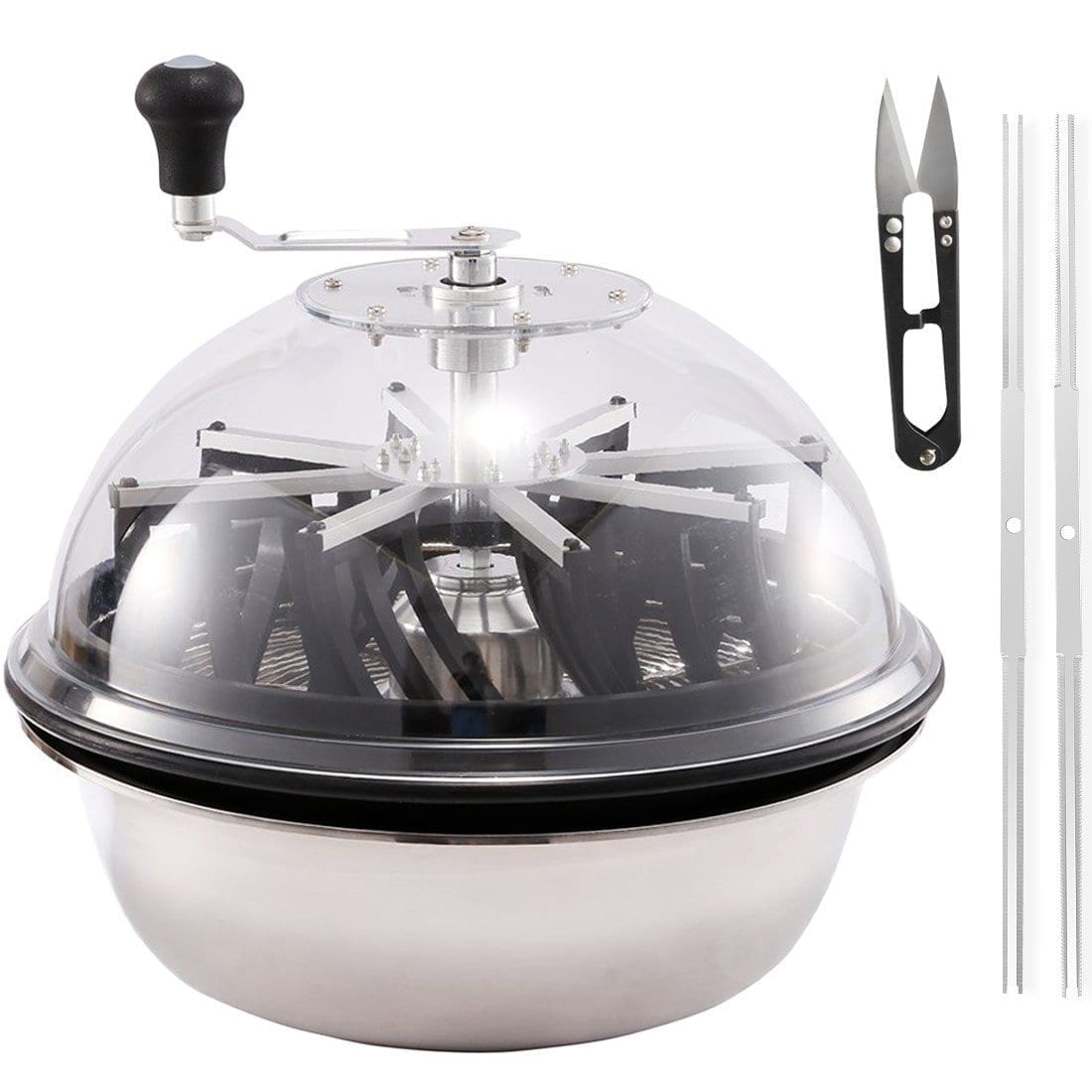 This is one of the most appreciated leaf trimmers. On Amazon, it has received over 4 stars from many customers and it comes with a transparent plastic top. This enables you to keep a check on how it is working.
Moreover, the removable handle allows easy storage, and the grille can ensure easy cleaning. It is one of the best bud trimmers designed to trim the buds.
Moreover, the iPower 16-inch leaf bowl trimmer too works similar to 30 scissors, just like the larger 19-inch version. The bud trimmer is exceptionally lightweight. You may even get the free straight blade and full blade on your purchase from Amazon.
It helps to get rid of twigs and leaves. The blades are super sharp, which ensures easy cutting. Moreover, it creates less mess and damages the plant less. It allows you to maintain the harvest. It assists you to save a lot of time.
Trimpro Unplugged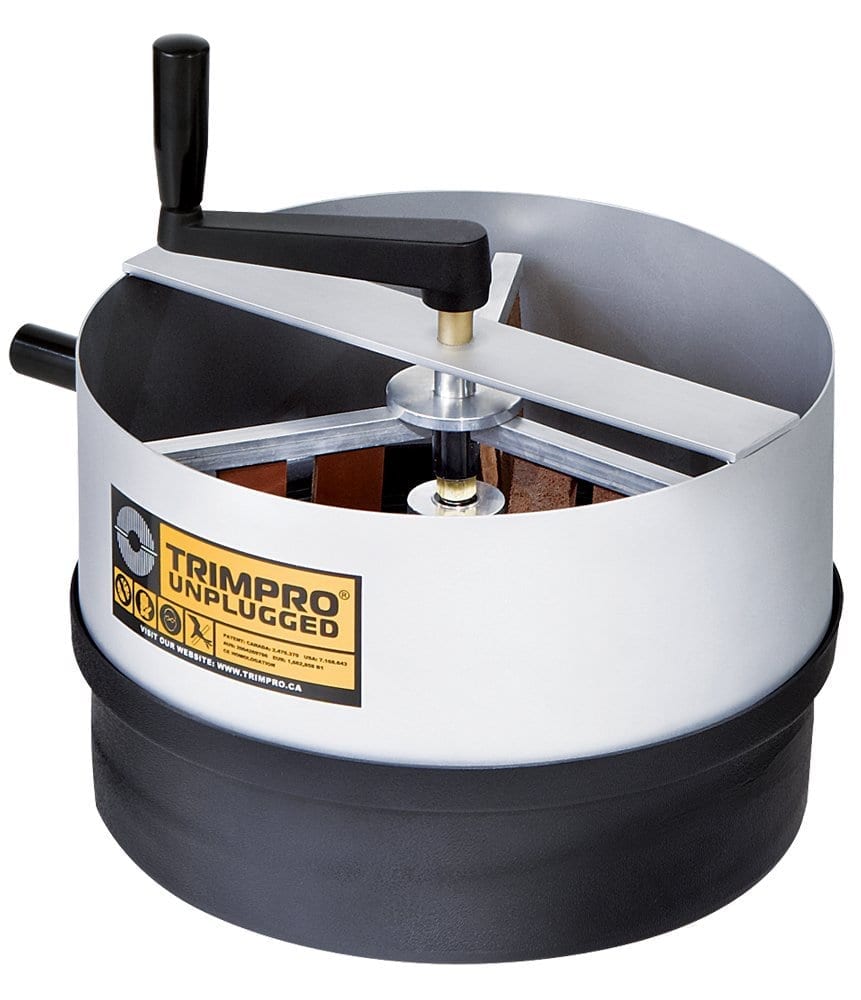 This one has garnered a lot of praise and better bud trimmer reviews on Amazon than competitors. It is not only efficient but helps you to get rid of the buds easily. Moreover, you won't be required to put in all of your efforts so you won't get tired quickly.
The Trimpro Unplugged is lightweight and very quiet while trimming. Therefore, it allows you to trim the buds wherever you want such as a house, greenhouse or elsewhere.
The bud trimmer machine is made of high quality materials. It also has the hand-controlled speed feature and adjustable blades. This ensures that you get the most elegant results.
Trimpro Unplugged is one of the most efficient wet bud trimmers. You may consider it to be expensive, but it is worth the money. This bud trimmer further assures powder-free trimming, which is one of the most advanced features. The blades are made of stainless steel.
CO-Z Professional Automatic Bud Trimmer 3 Speed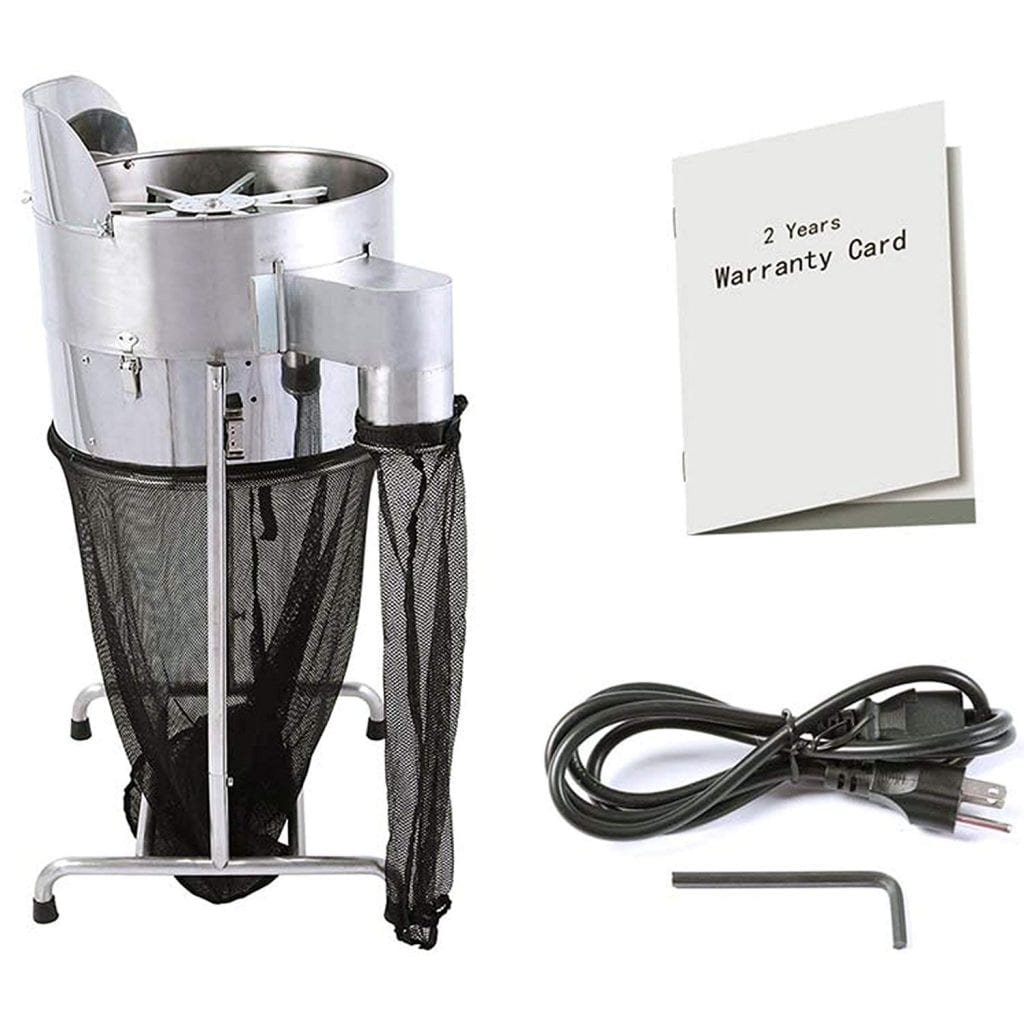 This marijuana trimmer machine is a complete combination of high quality and precision. It is made of steel blades that provide leveled cutting. This further helps you achieve an advanced loom.
The CO-Z Professional Automatic Bud Trimmer has multiple speed settings. Moreover, it comes with a maintenance-free motor. This definitely is a huge benefit. It will help you to trim the buds effectively.
Contrary to other bud trimmers, it functions with the help of an electric motor which ensures clean and fast trimming.
Melon Farm 16-inch Automatic Bud Trimmer 3 Speed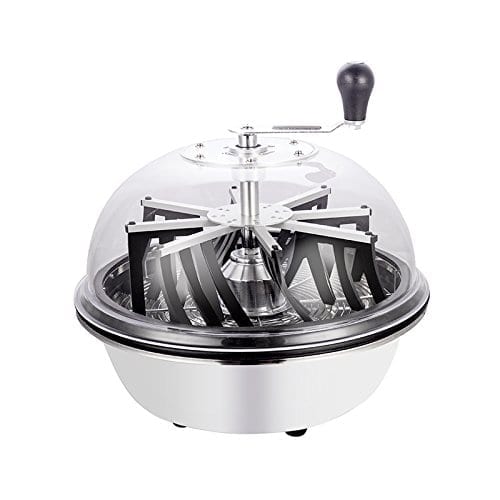 This trimmer functions pretty much same to working with 30 scissors and is extremely precise. It helps you to cut the twigs and leaves very cleanly without affecting the quality of the buds.
Moreover, it has performance that ensures easy cutting. Since this cannabis leaf trimmer has stainless steel blades, it tends to last for a long time.
The only drawback is that the Melon Farm 16-inch is a manual trimmer. This will require you to put in a lot of effort. However, the handles can be easily held and pretty comfortable to use. You can also choose to remove it which will ensure better storage. It has the anti-slip mat at the bottom which provides stability irrespective of the intensity in which you spin it.
EZ TRIM Wander Trimmer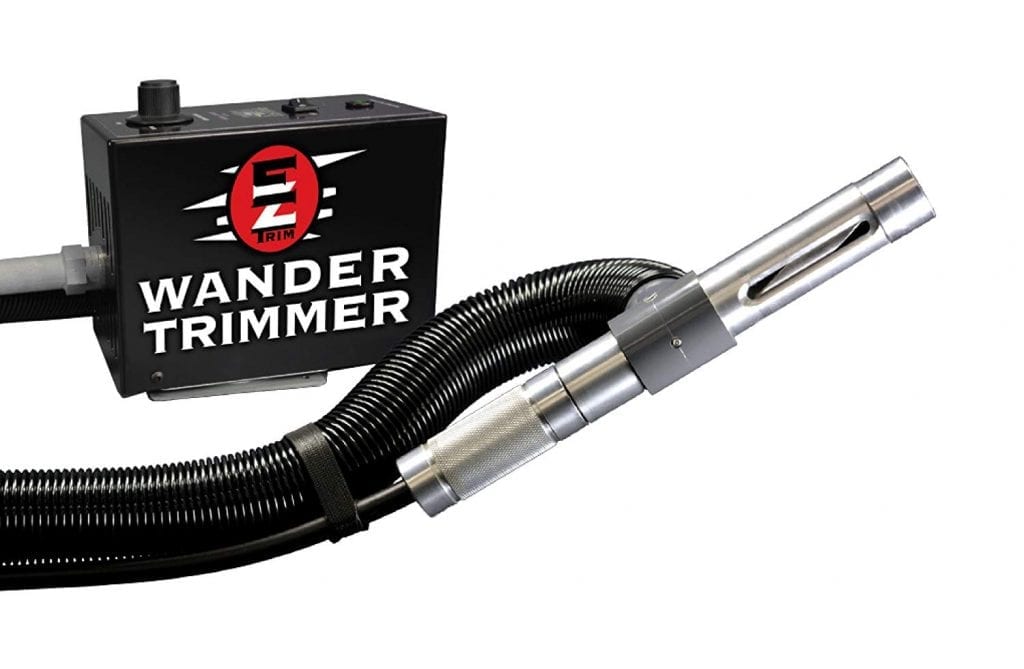 The EZ TRIM Wander Trimmer is one of the best bud trimmers. It works by sucking the leaf from the bud. This assures no damage is done to the flower, therefore, allowing less mess and easy clean-up.
It can be as both a wet and dry trimmer. However, if the buds are too dry, the bud trimmer may have a problem during suction. In that case, it may pull out the trichomes also. You will need to have control over the vacuum and speed of blade so that you can adjust the size of the bud. The blades are made of stainless steel are easily replaceable.
EZ TRIM Wander Trimmer is expensive, but definitely the best option out there. If you are looking for a professional bud trimmer machine, you have to consider this trimmer!
Always wanted to see a bud trimmer machine do its job? Check the video below to see how it works.
Giantex 18" Stainless Hydroponic Leaf Bud Trimmer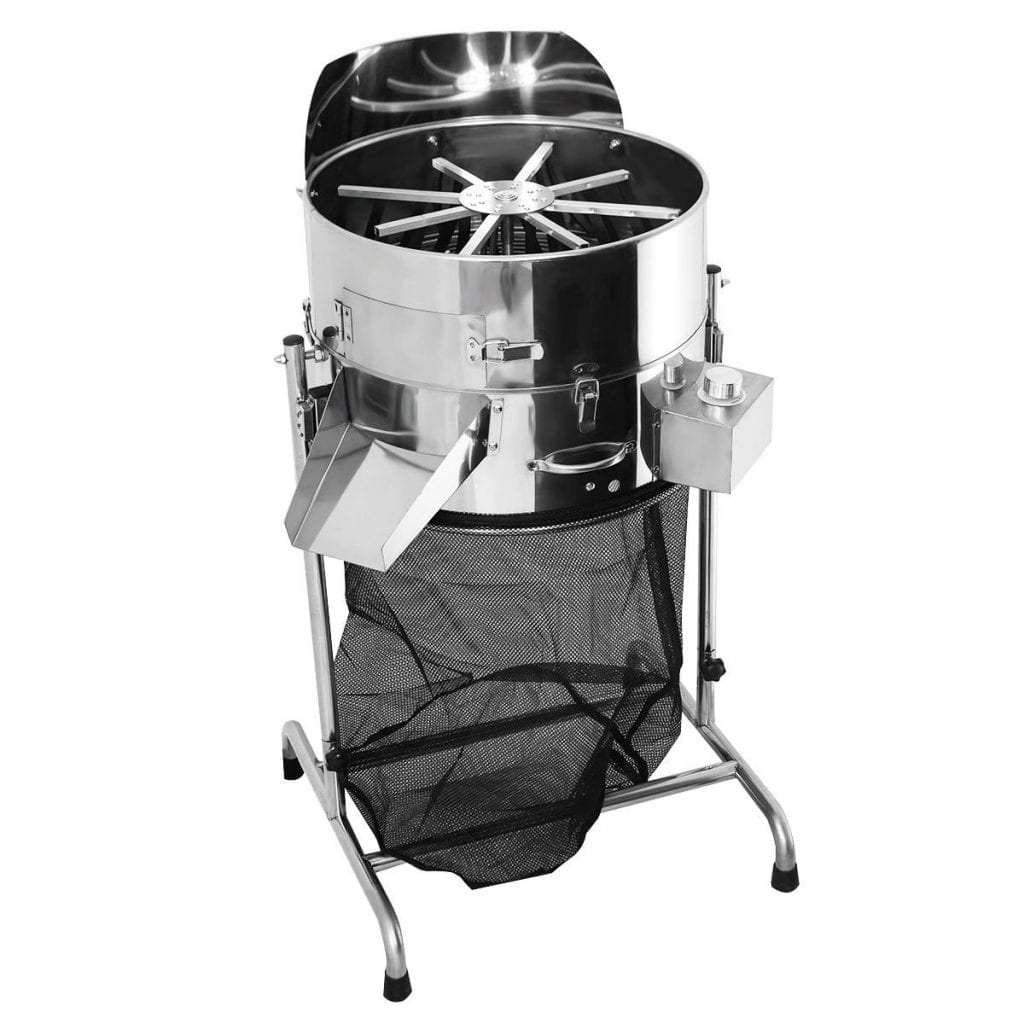 Giantex Leaf Bud Trimmer is made from high-quality stainless steel to give the machine durability. Its strong body can handle large-scale trimming efficiently and will last you a long time. Since it is compact, with dimensions of 32.6"x18"x18", you can store it anywhere in your home. Apart from this, it has a wide base with rubber feet to keep the whole trimmer stable during operation.
With a powerful 110V 40W motor, this machine has a maximum speed of 1200 rpm, which saves time by operating at a very fast speed. Besides this, it utilizes three stainless steel blades to give you the most precise and sharp cuts. The machine even includes a fan. This combination of sharp blades and a high-speed fan help to trim your buds, fluff them up by rotating, and finally, eject them out.
Since the emptying hatch of the trimmer can be opened during operation, this machine can be used continuously to prevent any delay in your production. This unique feature further saves time when you are working on a large project. Moreover, you will find non-stick built-in silicone fingers in the trimmer that are operated at the top with a small additional motor.
TrimPro Original Bud Trimmer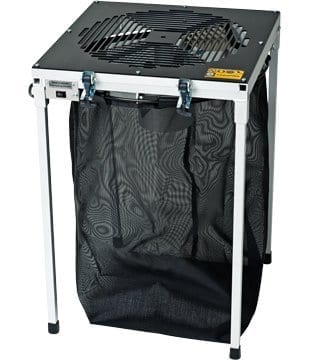 This bud trimmer is quite effective in separating twigs and leaves from all sorts of plants and flower. Such that, its unique construction is suitable for oregano, basil, rosemary, lavender, parsley, coriander and many more. Apart from this, it can be used to prepare potpourri by extracting mixed flower clippings and essential oils from different plants.
TrimPro bud trimmer uses a 110 volts motor and performs powerfully through its distinctive leaf recovery system. It functions by vacuuming all the twigs and leaves into the separate cutting system. While the machine itself is precise and fast, the tempered steel blades installed in it makes clean cuts.
To trim, you simply have to move the plant over the grate with your hand in a back-and-forth movement, making sure to rotate simultaneously as well. However, make sure not to touch any part of the grate or the blade itself and take all necessary precautions before trimming.
This machine has a very durable and strong construction too. The frame and grate are made from Aluminum which ensures that your machine works for a long time. Furthermore, the machine makes very less noise during operation. This feature is quite important for those people who have to trim a large number of plants and thus, get frustrated with continuous background noise.
Along with this, it is quite compact and portable. With dimensions of 18.2"x18.2"x27.2" and a weight of 35 pounds, you can store it easily without taking up much space. In addition to this, it can even be disassembled for ease in transportation, further making it one of the most portable option in the market.
The Magic Trimmer
This product is much more convenient than most of the leaf trimmers in the market. Not only is it easy to use, but its multiple features trim the plants quite effectively. Being a hand-held machine, the Magic Trimmer provides optimum precision while trimming your buds. The smartly designed trimmer allows you to maneuver it easily, giving you the best cuts in the market.
Along with this, it is quite compact and lightweight as well. It weighs only 2.5 pounds and has the dimensions 2.1"x11.5"x2.8", making it extremely portable and easy to use. These features make sure that you can use the hand-held machine for a long time without fatiguing your wrists. Also, you can store it easily and take it with you wherever you want.
Besides this, Magic Trimmer does its job efficiently, safely, and fast. It uses a strong motor using 115 W power, 50/60 Hz, and 110 V of electricity. These specifications ensure that it can rotate with a very high speed of 33000 rpm to provide quick trims for all sorts of flowers and plants. However, the Magic Trimmer, being hand-held, is recommended for smaller projects only compared to larger ones.
This trimmer comes with three replacement blades which are durable as well as very sharp. Thus, they last a long time and give precise cuts without damaging your plant.
The Centurion Pro Mini Leaf Trimmer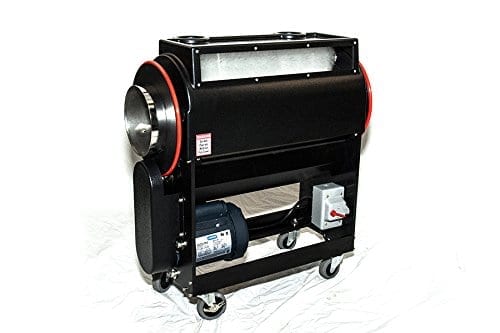 The Centurion is one of the best large-scale bud trimmer available in the market. Its easy-to-use features make it unique as well as efficient. To start with, it is a tumble style trimmer that replaces about 15 hand trimming staff, saving you a huge amount of money.
The machine has integrated suction power that separate leaves and twigs effectively and fast. Thus, you get the tightest trim possible owing to its elite cutting capability. Unlike other trimmers, it contains 11 sharp blades to give you precise cuts in less space every time. Apart from this, it has a strong motor that processes almost 6-8 pounds of dry weight or 30-40 pounds of wet weight per hour.
The Centurion is washable at even full pressures, making it extremely easy to clean-up. Moreover, it has a small footprint of 25"x10"x35" and is quite simple to disassemble. This compact design makes it quite portable and allows you to store it anywhere.
Besides all this, the whole package comes with a 1.5hp leaf collecting system, giving you efficient trims all the time. It also includes a 25-micron bag outside and 200-micron non-stick bag inside. These are used for collecting trichomes which can be utilized as quite valuable concentrates and extracts. The Centurion bud trimmer has a durable, sturdy frame constructed from the highest quality material in North America. Therefore, this machine will last you a long time, saving time as well as money. Additionally, it even comes with a three-year warranty. Overall, this commercial bud trimmer, with its powerful motor, has the best features to give you the tightest trims.
Conclusion on the best bud trimmer machines
If you harvest the weed buds at your home, you are sure to require a bud trimmer. Thus, make sure you check a bud trimmer review before actually purchasing it. We covered the handiest and useful bud trimmers of all time. All of them have different qualities, so you may choose any one that perfectly suits your needs. We hope that these bud trimmer reviews help you in choosing the right bud trimmer.
A standard bud trimmer like the ipower or melon farm (which are almost identical) is a wholesale model. These trimmers are very basic and enough when you are a hobbyist. Are you serious about bud trimming? Then go for a professional model like the Centurion Pro Mini Leaf Trimmer. This trimmer is highly recommended and comes in various editions and sizes.
FAQ
Here are some of the most commonly asked questions about bud trimmers.
What is Important When Buying a Bud Trimmer?
Since trimmers are quite expensive, you should be quite careful before investing your money in one. We have listed a few factors that need to be considered before you make your choice.
Harvest Size
Trimmers come in varying sizes, from very small to some large enough to be used commercially. Before settling on one, you must be well aware of your needs. If you are harvesting only a few plants, like 5-6, it is better to opt for trimming scissors instead of a bud trimmer. There is no point in spending a huge amount of money for a job that can be done by a much cheaper tool.
However, if you are growing plants commercially, it is advisable to switch to a high-quality bud trimmer. Again, you need to figure your harvest size before settling on either electric or a manual trimmer. For large-scale operations, automatic bud trimmers will save you a lot of time.
Budget
Similar to sizes, bud trimmers also vary in their prices. Such that, some will even cost you as much thousands of dollars. Before choosing a trimmer for your needs, you must first figure out your budget as well as your harvest size. If money is not the issue, you can directly move on to purchase the best trimmer available in the market.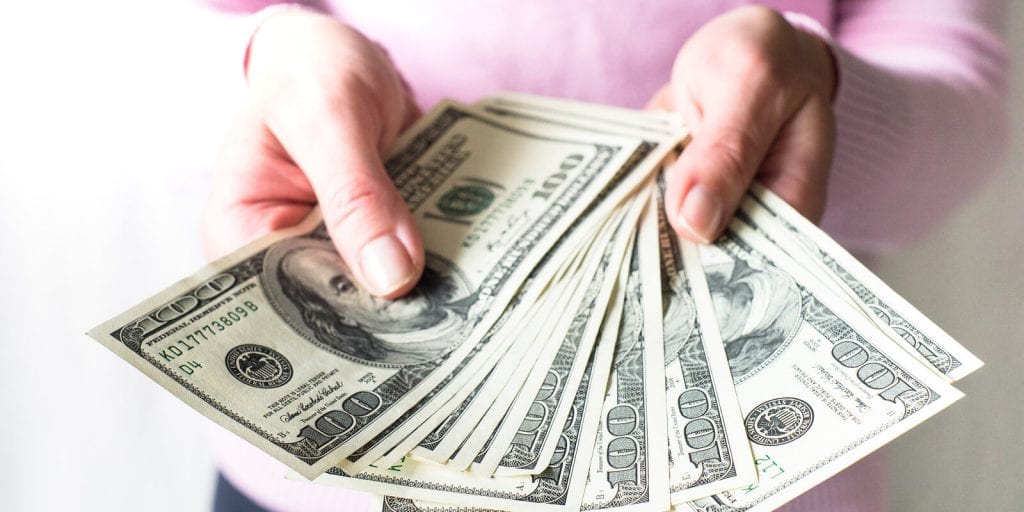 However, in most cases, you need to select the best one out of your budget range. Such that, you must carefully select the one that offers the most value for its money. Refer to our bud trimmer reviews to choose the one that meets your needs.
It must be noted that automatic bud trimmers minimize the need for trimming staff, thereby cutting down the overall cost of the operation. On the other hand, cheaper manual trimmers require staff to handle the trimming process, increasing the budget. For larger operations, a one-time investment on expensive trimmers will generate more money than its cost in the long-run.
Space
For this important factor, again, you need to figure out the number of buds you will be harvesting and the size of your operation. Along with this, you need to ensure that you have space to fit the machine at your trimming location.
For smaller operations or smaller space, it is advisable to opt for manual trimmers. If you want to buy a larger electric trimmer, you must check the specifications of the machine and compare it with your available space. You will only waste money if you purchase a trimmer without having adequate space to operate it efficiently.
What is the Best Bud Trimmer?
The best bud trimmer for you might not be the best one for the next person. It all depends on your need, your harvest size, and your budget. If you are harvesting only a small number of plants, both the Magic Trimmer and the iPower 19-inch trimmer will be suitable for you. While the former is a hand-held machine, the latter is a manual one, each having unique features.
However, if you are operating a large-scale business on a commercial basis, we will advise you to opt for the Centurion Pro Mini Leaf Bud Trimmer. Although it is much more expensive, it is will generate a large profit in the long-run.
What is the Best Trimming Method?
With the invention of modern trimmers, traditional trimming by hand has become obsolete. Such that, people opt to either wet trim or dry trim. We have discussed both in the following section of this article.
Wet Trimming
Not only is this the most common and preferred method, but it is also comparatively easier. In this method, you have to trim the buds right after harvesting your plants while the leaves are still living. Even though it can be quite messy, wet buds give better and more pleasant results. Such that, the buds will end up looking prettier, attracting people towards it.
For this method, you can even use a trimmer that is suitable for wet buds.
Dry Trimming
This method is preferable for regions with low humidity. Here, you need to wait for the buds to lose their moisture and completely dry before trimming them. This occurs by leaving the buds in a controlled environment for a specific period which will allow them to lose their moisture slowly. It is better to test a few batches of your harvest to find the best method for yourself.