Whether you are a novice or expert cannabis enthusiast, you cannot overlook the importance of a grow room humidifier. This means controlling every variable within the growing space. The goal is to create an ambiance for optimal growth.
Humidity levels are one factor that contributes to either plant vitality or fatality. A humidifier helps to obtain the best humidity levels. Especially with marijuana plants, using the best one out there is important.
A Grow Room Humidifier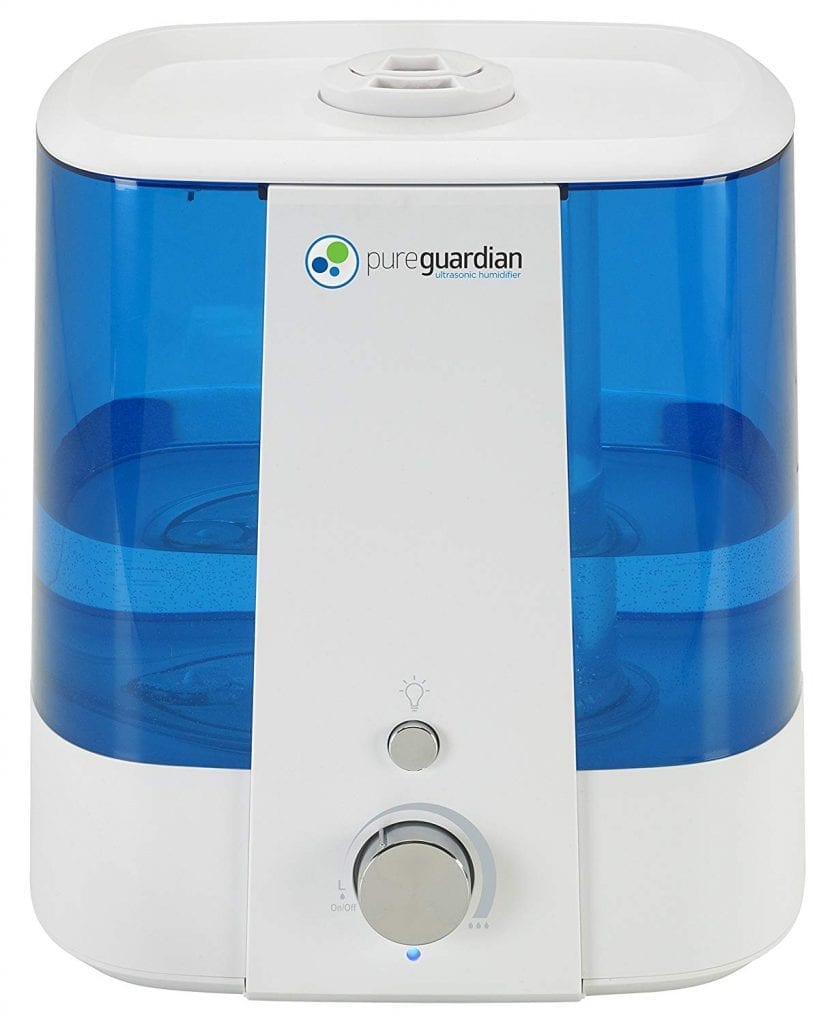 Moisture is important for growth, however, indoor gardens normally have a lot of dry air. This is where an electronic device needs to be used. So, this helps to raise the amount of moist in the air.
A humidifier will add moisture to the air when it drops to dry levels (i.e. below 35% humidity). They will force invisible mist into the indoor air.
A diy grow room humidifier is often not able to automatically adjust to changing humidity levels. Although, it is a good option if you have no budget to buy a humidifier. You also need to know how to raise humidity in your garden without an electronic device.
Different types of humidifiers function in different ways. E.g. an evaporative humidifier will make use of an internal fan to suck air into the unit. After, the air passes through a water-saturated wick filter and then absorb moisture after which it propels and circulates continuously. Whereas, a dehumidifier will extract moisture from the surrounding air space amidst high humidity levels i.e. above 50% humidity.
There are a few types of humidifiers to take into consideration:
1. Ultrasonic humidifiers:
At ultrasonic frequency, they emit a high-quality warm or cool mist. Using distilled water it produces low noise, is easy to maintain and is a popular choice.
2. Cool Mist Humidifier:
Minerals and impurities trapped by the filter are released as cool mist. Low electricity usage and efficient in warm large locations. However, it is noisy and high maintenance.
3. Warm mist humidifier:
Steam emissions boost humidity. Even though it uses up more electricity, it is an inexpensive option with much less noise production.
4. Evaporative humidifiers:
Mist/Vapor generation via airflow at an affordable price.
Why use a humidifier?
Humidity percentages are inadvertently connected with other elements including temperature, air balance, and others. For starters, owning a humidifier grants you complete control over manipulating your humidity.
A smart humidifier reduces the level of strain on your part. It does so by creating a balanced air to moisture ratio within the desired region.
Secondly, seeing as temperature and humidity are interconnected, plummeting or sky-rocketing temperature levels will inevitably destroy your crop. Hence maintaining humidity alongside temperature is a necessity for healthy plant growth.
Humidity is a supplementary water source for photosynthesis, in its absence, plant stomata close, photosynthetic processing slows down and growth stops.
Low humidity results in wilting, stunted growth, plant shrinkage, drying out and browning, leaf curling and pest infestation risk increases.
Excessive humidity results in root diseases, grey mold visibility, and nutrient deficiencies.
Within the first 4 weeks, premature plants require 65-70% humidity, owing to their under-developed root systems. Therefore, transpiration i.e. absorption and dispersion of moisture through leaves is the only open system they can rely on.
Absence of appropriate humidity quantity will result in stunted growth. At the flowering stage, requirements shift to a constantly stable 45% supply need. A humidifier for grow tent is essential.
Things to consider when buying a humidifier:
Room size
When picking a humidifier you have to keep in mind the room size. The best humidifier for grow room is one of the right size. Consider the following approximations:
300 sq/ft grow rooms – smaller sized units
350-500 sq/ft grow rooms – medium-sized units
550-1000 sq/ft grow rooms – large sized units
Type of humidifier
Although universally, ultrasonic humidifiers are a good choice, ultimately the surrounding climate and temperature of your growth operation determine the type to get.
The warm mist humidifier is best for cooler weather, whereas the cold mist humidifier is better suited for warmer regions.
The type of plant matters as well, and also look at running time. This varies from 12, 24 and even 70-hour capacities. This influences your refilling times. A grow room humidifier needs a long running time if you don't want to refill it all the time.
Humidistat
Humidistat is what separates the professional humidifiers from the usual ones. This function automatically switches the machine off, when the desired humidity levels are reached. This prevents over-humidification.
Control Timer
This is a precautionary safeguard tool that will eliminate over humidification risks. With the timer, you get more control over your humidifier.
Maintenance and ease-of-use
Aim for a humidifier that won't baffle you and is DYI. It should be easy to assemble, clean, move and operate. A LED screen should display humidity levels alongside fan speeds.
Price
Take a holistic approach and consider the operation, maintenance, and long-term costs. Eventually, you have devices in every price range. You just have to decide if you want the best humidifier, or that lower range devices will do the job as well.
Automated vs Manual
Air washer and ultra-sonic humidifiers are common automated options that'll take the burden off of you. For those opting for manual systems, look at the evaporative, cool mist and warm mist humidifiers.
Mineral Dust
Regular humidifiers aren't going to be as good at filtrations of dust and microorganisms as an evaporation humidifier.
Noise level
All humidifiers emit some noise, but ultrasonic and evaporative prove to be the most silent.
The Best Grow Room Humidifier – 2020 Reviews
Table could not be displayed.
Aircare Digital Pedestal-Style Humidifier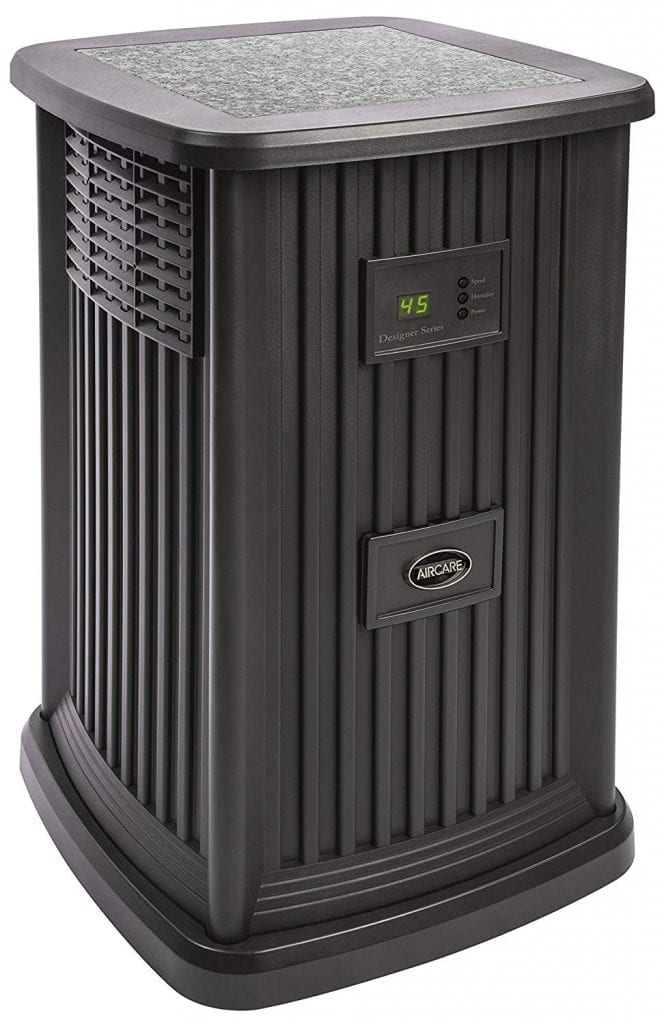 Another greenhouse humidifier worth mentioning is the AIRCARE Digital Whole-House Pedestal style Evaporative Humidifier.
Available in espresso and nutmeg, this large-scale instrument has been designed to cater to larger operations of about 2,400 sq/ft.
This tower humidifier maintains humidity levels between 30-50% and even has a digital humidistat that automatically maintains the desired humidity levels.
You can easily monitor the digital readout display for fan speed, actual humidity level, and desired humidity level. It possesses a 3.5-gallon tank with a 60-hour run-time.
Pros
Automatic shut-off when appropriate humidity level reached or tank empty. Prevents over humidification;
9 Fan speeds;
Utilitarian and aesthetic functioning;
Indicators for a refill;
Optional remote control;
Adjustable humidistat;
Low maintenance and easy to clean;
Durable castors.
Cons
Heavyweight 27lbs;
Comparatively expensive;
Reportedly noisy;
Inaccurate humidistat;
2-year warranty.
PureGuardian H940 Ultrasonic Cool Mist Humidifier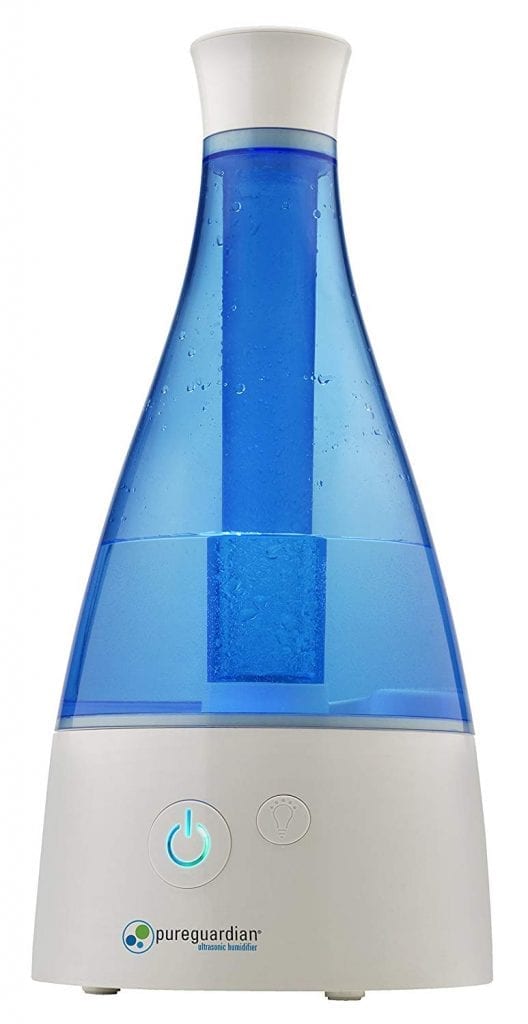 If you are in search of a compact gadget that gets the job done, the Pure Guardian Ultrasonic Cool Mist Humidifier is an option to check out. It is the best humidifier for grow tent in the mid-range budget.
This humidifier has been structurally designed to accommodate smaller sized rooms. Therefore, it features a 0.5-gallon tank that delivers 6L of moisture output per day of Ultrasonic Technology generated cool mist.
It comes equipped with a directional mist nozzle and 3-speed settings Also, it has an optional night light and a refill indicator light alongside automatic shutdown when empty.
Pros
Budget-friendly;
Functional space-saving design;
Lightweight and portable at 2lbs and 7.3"x7.3x"x15.4";
Effortless installation, usage, and maintenance;
Silver Clean protection prevents mold and mildew accumulation;
Whisper quiet;
Low water indicator;
Adjustable mist volume.
Cons
Short 1-year warranty;
Comparatively small coverage of 210sq/ft;
Releases white dust;
30 hour run time relatively lower than others on this list;
Reports of low durability due to cracking.
Honeywell HCM350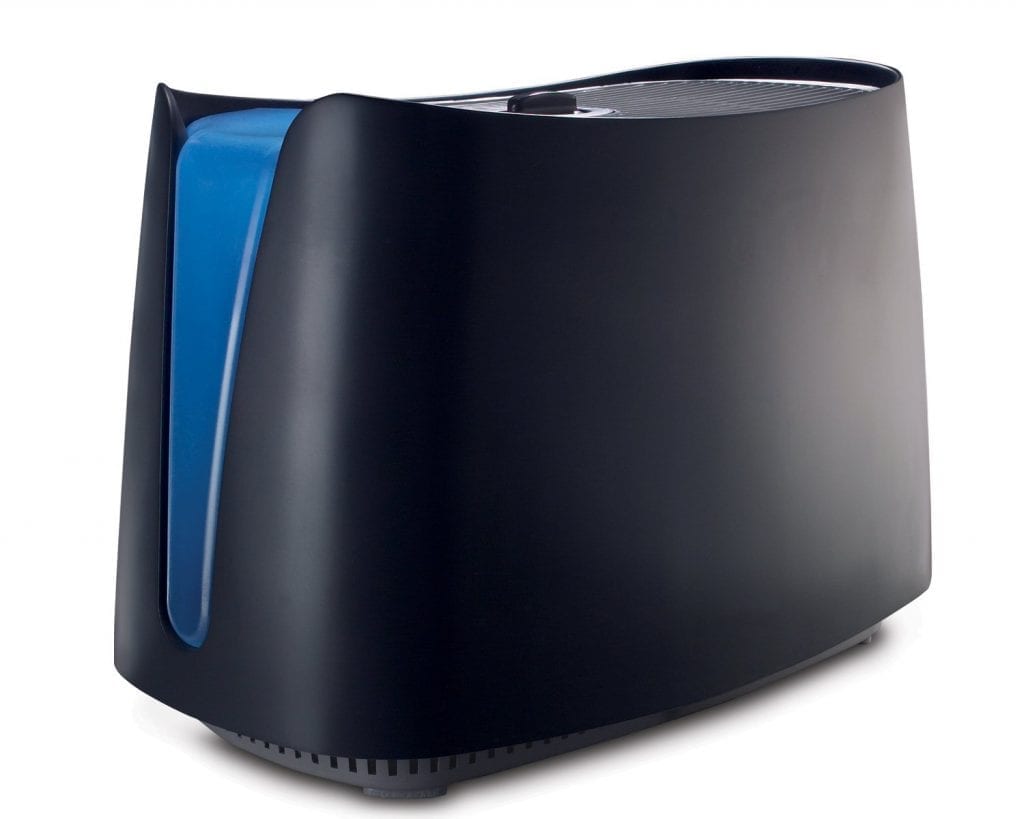 If you're looking for a state of the art and highly reliable evaporative humidifier, Honeywell HCM350'S Germ-Free Cool Mist Humidifier is a smart purchase.
It is available in black and white colors for rooms up to 500sq/ft. with a 1 gallon/day water usage. The Honeywell features germ-combating capabilities with ultraviolet light to attack threatening particles and antimicrobial processing.
It is the best humidifier for grow rooms in the low-range that is available at the moment.
Pros
Lightweight 9lbs;
Portable with a recessed tank handle;
Hassle-free maintenance with a wide opening;
Low maintenance;
Highly durable;
Shatterproof plastic body;
Dishwasher safe;
3-year warranty.
Cons
No automatic shutoff control;
Reports of difficulty in cleaning the tank lid;
Fan blades difficult to clean;
Reports of a musty odor.
AIRCARE MAO800 Humidifier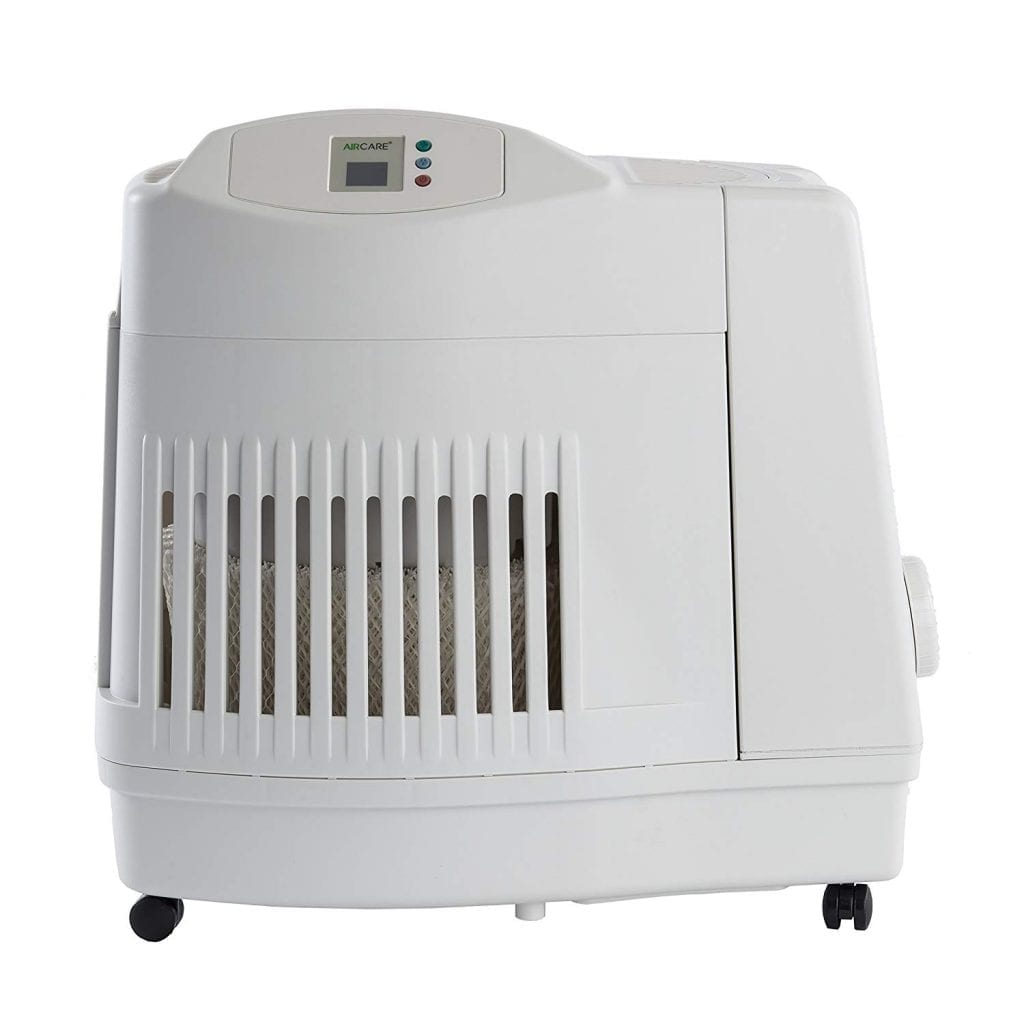 Covering all their bases adequately, AIRCARE MAO800 is a single bottle design, home-console evaporative humidifier.
It features Lightweight; 14lbs.a 3.6gallon capacity with a 36 hour run time that covers around 3600 sq/ft.
Furthermore, the 4 fan speed setting comes with an auto mode. There are customizable humidity settings and these are complemented by automatic shut-off mode. This is a great option if you're looking for one at an affordable price that does the job.
Pros
Dual easy fill water bottles;
Adjustable humidistat included;
Automatic adjustment;
Effective humidity dispersion;
Indicators for a refill;
Reliable Casters.
Cons
Expensive;
Loud noise production at higher speeds;
High filter replacement rate.
Best Grow Room Dehumidifiers – Reviews 2020
Frigidaire 50-Pint Dehumidifier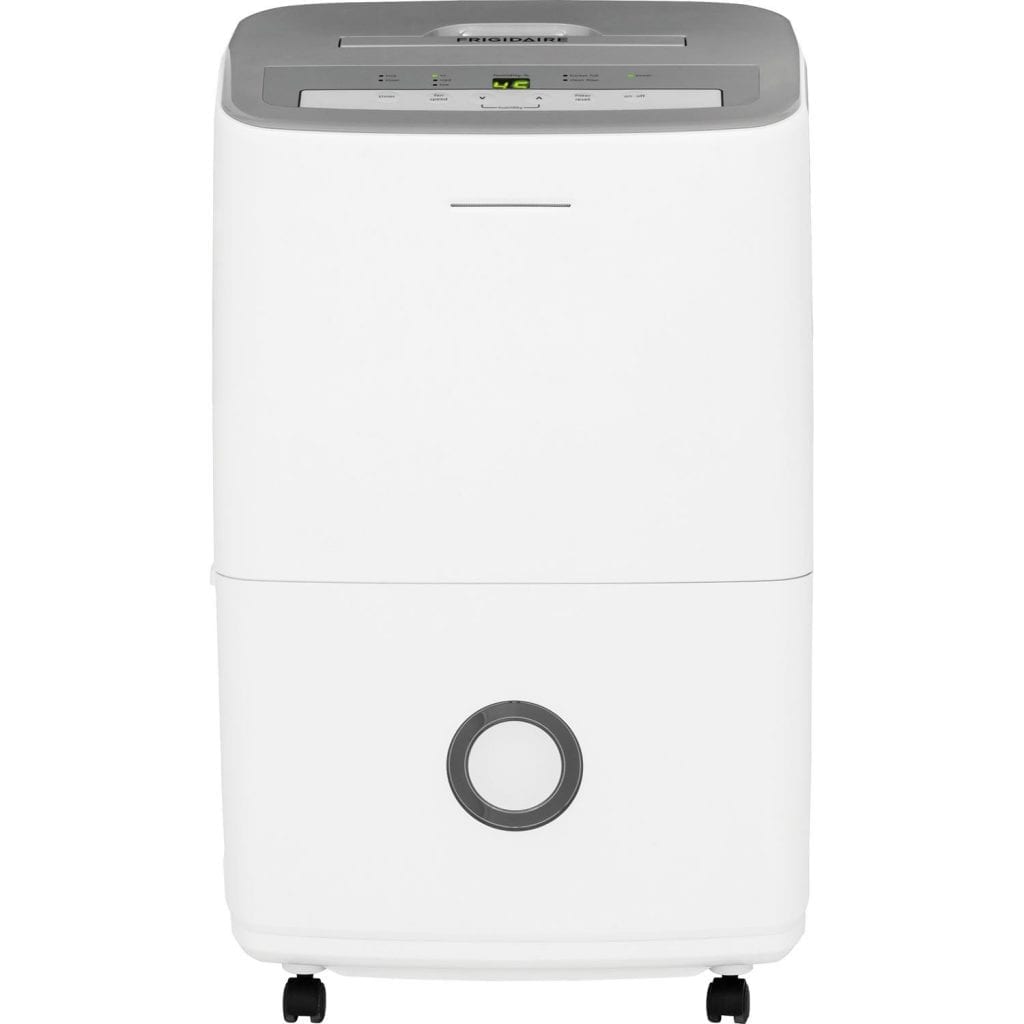 A smart choice for any weed growing operation would be Frigidaire's 50-pint dehumidifier. It is also available in 30 and 70-pint options.
It works at 115V electrical output and produces 51dB of noise. The grow room dehumidifier comes with Ready-Set electronic controls and a digital humidity readout display. The Relative Humidity range includes 35%-85% with 1.85 EEV.
Pros
493Watt draw at 50% relative humidity is the highest draw compared to other 50-pint models;
Long-term economic savings with energy star approval;
Low-temperature capability 41F;
Hassle-free installation, usage, and maintenance;
Removable, washable filters;
Adjustable humidity levels;
Automatic shutoff when tank full;
Full Tank Alert System;
Non-stop drainage system;
Water bucket with carrying handle and splash guard available;
Portable with caster wheels and top/side handles.
Cons
1-year warranty;
Expensive;
The sensor design reportedly faulty;
Low durability reports;
Leakages reported;
Extremely heavy at 46lbs.
hOme Labs Portable Small Dehumidifier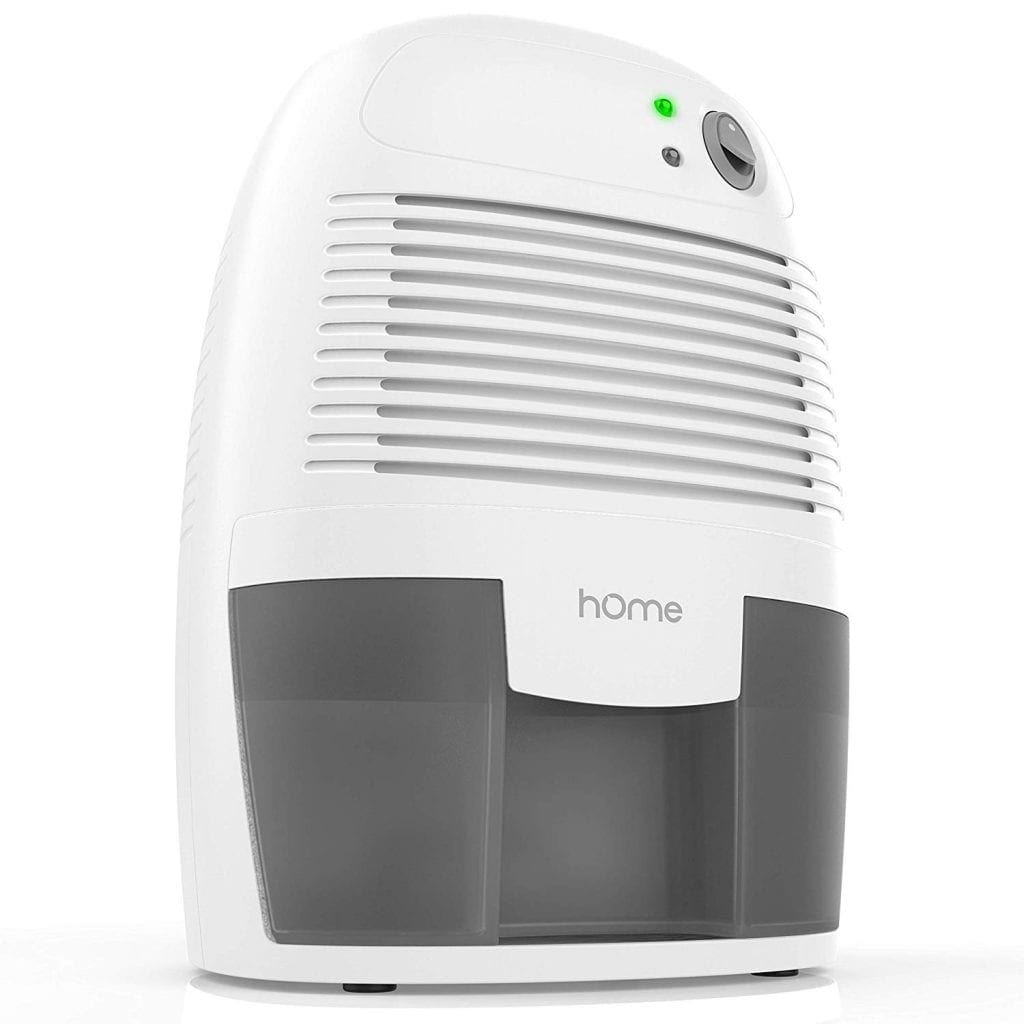 Combining efficiency, intuition, and portability, hOme Labs made a portable dehumidifier. It's manufactured as easily transportable dehumidifier that serves spaces of up to 140sq/ft.
The compact design withholds a 16oz/500ml storage capacity tank, whilst extracting an average of 9oz/250ml. It operates at 110v Power supply with 2 flat pin plugs (9V/ 2.5A)
Pros
Extremely affordable;
No batteries required;
Easy to insert tank;
Guidelines provided with the product;
Lightweight and Portable 2.6lbs;
Low noise thermoelectric Peltier module;
Electrically sustainable;
25W ETL certified adapter prevents overheating;
Auto-shut off mode;
LED Indicator light to signal full tank;
Ultra-quiet.
Cons
Limited 2-year manufacturer warranty;
Slow moisture removal.
Ivation 30 Pint Energy Star Grow Room Dehumidifier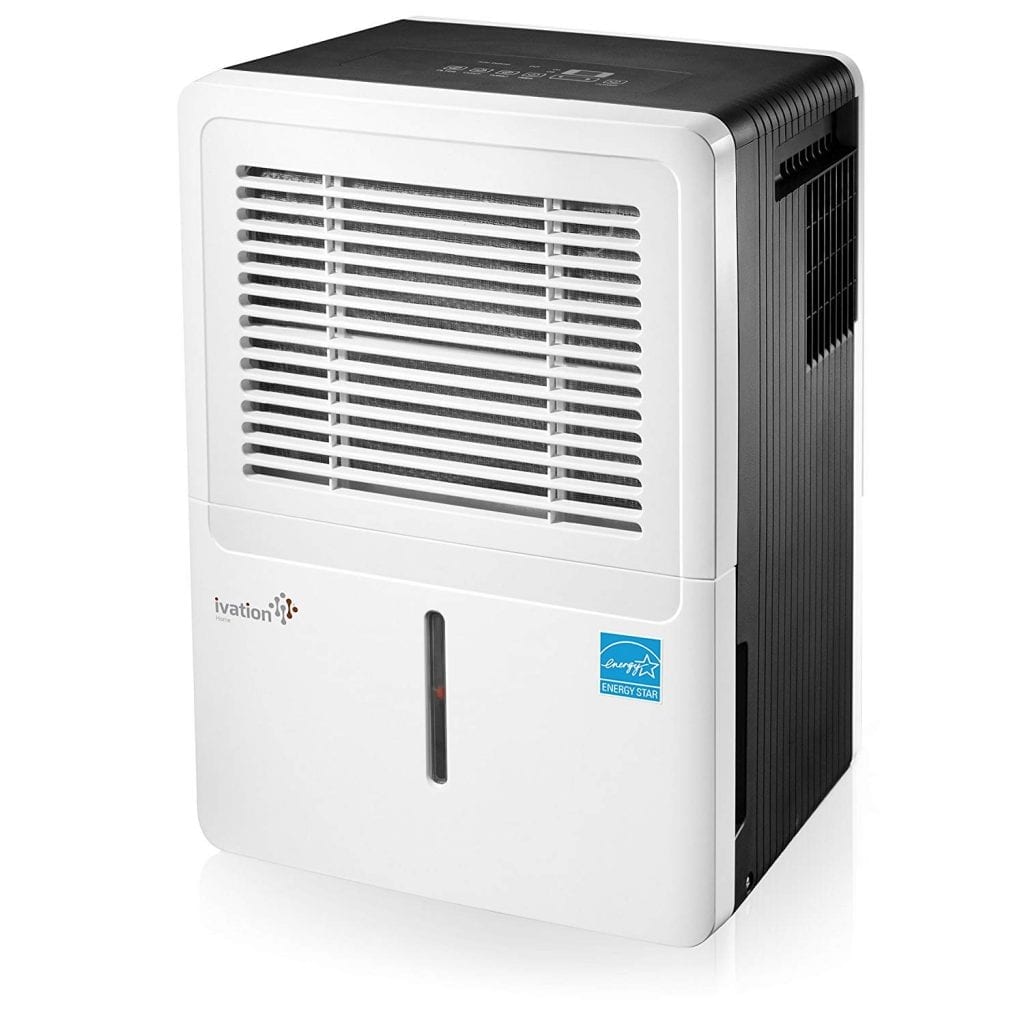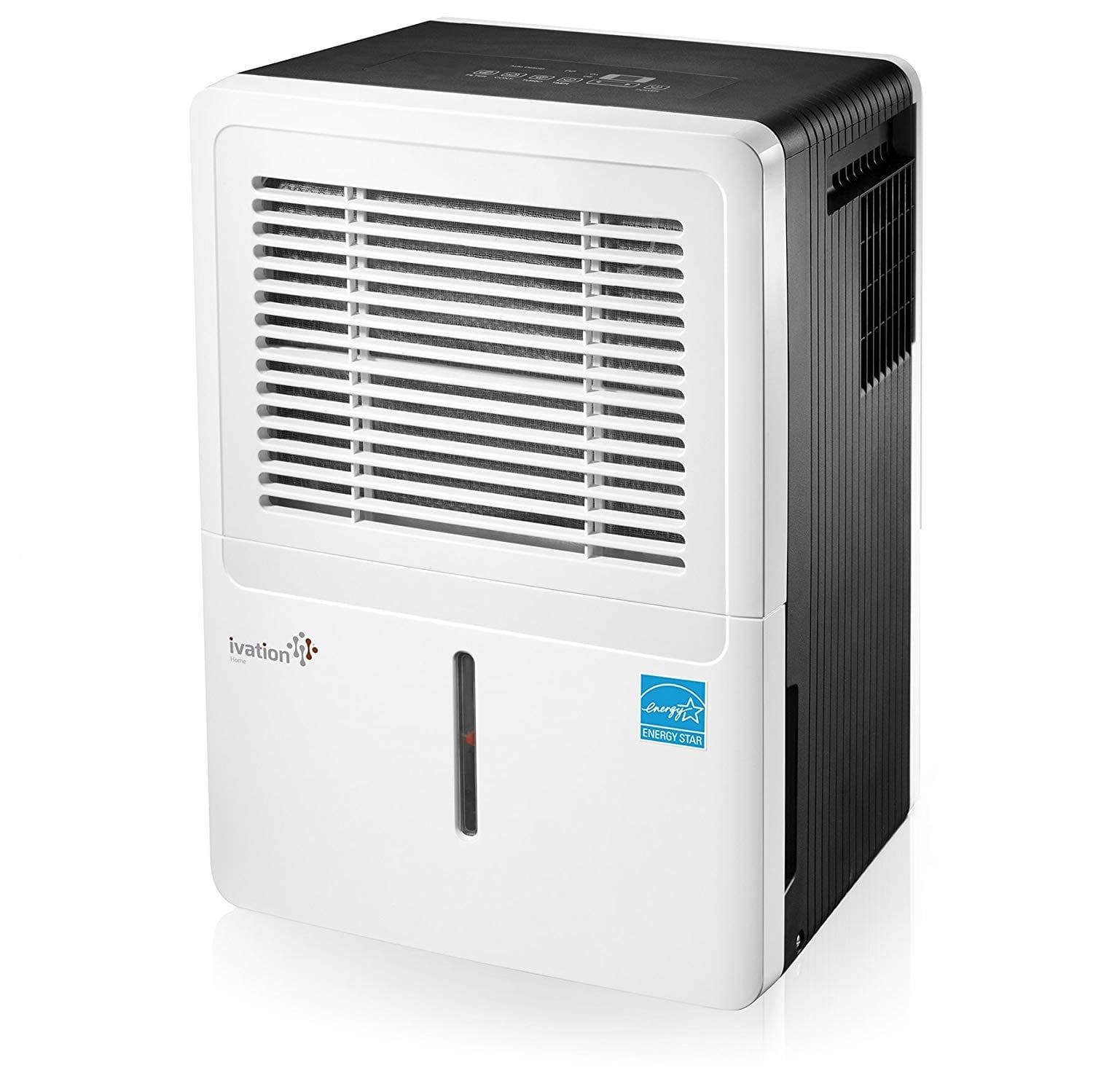 Next, Ivation has brought forth a product that ticks all the right boxes. Especially when it comes to functionality and innovation. This is the best dehumidifier in a higher budget range.
They've loaded up on features that efficiently remove 30 pints of moisture daily in areas up to 2000sq/ft. It does so via the inbuilt filtration and evaporation system.
The dehumidifier comes with 4 caster wheels, a 6ft 3 pronged power cord and Basic On/Off switches. Also, it houses a regular and turbo fan speed ability. Furthermore, it comes with automatic moisture control. At last, the humidifier has a programmable 24hr timer, 0.8-gallon capacity and an optional hose hookup for continuous working.
Pros
Resilient and smooth operating caster-wheels enhance portability;
Customizable dual air setting option;
Eradicates structural crack, mold and mildew growth threats;
Long flexible power cord;
User-friendly LCD interface displays alerts;
Built-in relative humidity meter;
Easy-empty reservoir with transparent level indicator and ergonomic handles;
Automatic safety shut-off upon the full tank;
Automatic restart;
Reusable and washable air filters cut down maintenance and operating costs;
Environmentally friendly;
Low noise emissions.
Cons
Expensive Unit;
May vent out hot air;
Timer instructions are difficult to follow;
Heavier than others on the list 31 lbs;
Leakage if bucket emptied before its full;
Bucket awkward to carry and reset;
Without hose fills up too fast;
Noisy when the containment unit fills up.
Pro Breeze Electric Mini Dehumidifier
Despite its compact size, the Pro Breeze Electric Mini Dehumidifier is an innovative piece of technology.
It has a 52oz water capacity and extracts 18oz of water/day within 220sq/ft rooms.
The unit has been manufactured with thermos-electric cooling technology. It doesn't use a compressor and thereby reduces noise levels. Dampness, moisture, and mold are easily removed in temperatures above 59F with this device.
Pros
Large water tank capacity;
Stress-free installation, usage, and maintenance;
Low power consumption;
Eco-friendly;
Quiet Peltier technology;
Automatic switch off the sensor;
Lightweight at 5lbs and portable;
The hard plastic material is very durable;
LED Light indicator for a refill.
Cons
Expensive compared to other models of the same size;
1-year warranty;
The handling zone falls short of advertised coverage.
Conclusion on the best grow room humidifiers & dehumidifiers
A good humidifier is something you cannot overlook. It is a basic element of a good grow room. All you need to do is choose the one that is right for you and maintain it properly.
Also, you carefully have to think through your choice. Take into account various factors. Among others; the size of the operation, the type needed, the level of ease of use, the level of maintenance required, and the automation level.
Eventually, it will help to control humidity, maintain temperatures, control air balance and remove unwanted air particles. It improves your yields substantially, if used the right way.