Investing in automated machines, such as a cannabis cultivator, is the key to increasing the medicinal properties and harvesting yields. We must consider the fact that as humans we survive by breathing in oxygen. Similarly, plants live off Carbon Dioxide (CO2). Despite the symbiotic relationship of humans and plants exchanging O2 and CO2, your crop will require an optimal CO2 level. The best CO2 regulator will take care of optimizing the CO2 level in your grow room.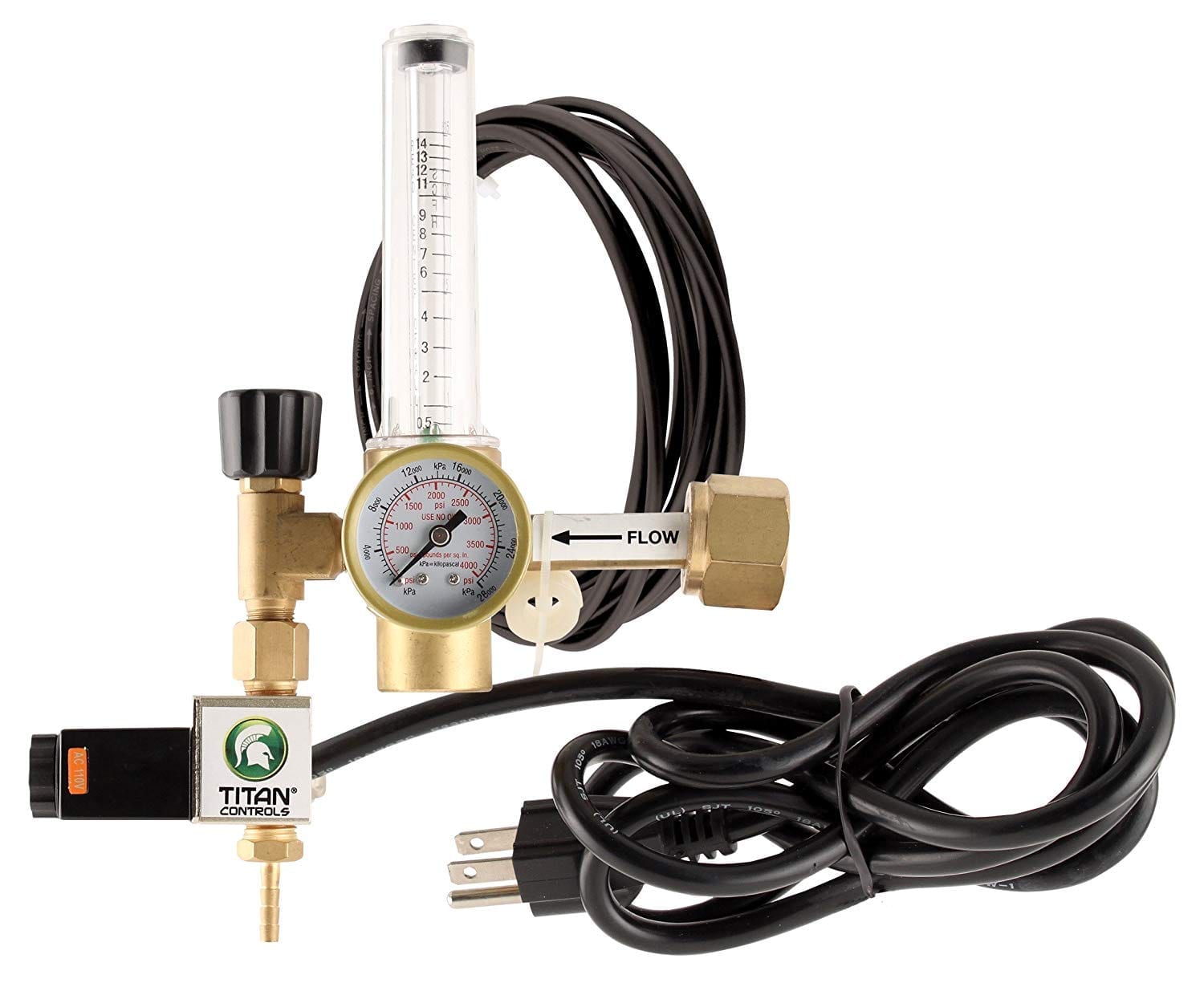 Why is having a CO2 regulator in my grow room important?
Currently, the earth's atmosphere is composed of 400 parts per million (PPM) of CO2 despite global warming. However, cannabis plants have the capacity of utilizing up to 1500PPM of CO2 that used to exist naturally before. So the more CO2 they are supplied with, the larger they grow in size.
Thus, this is where C02 regulators play an essential part in your home garden. These regulators are particularly constructed to release highly controlled amounts of carbon dioxide gas. They do this by releasing CO2 from the tank of the generator into a grow room to be taken up by plants.
This instrument is normally used for large-sized growth operations or when the need for professional quality cannabis arises. A CO2 regulator is not for beginners!
What are the options in CO2 regulators?
These regulators are available either in an all-in-one package along with a controller and a tank or they may be acquired independently. They function by burning butane or propane to produce CO2 in both, the vegetative and the flowering stages.
Mushroom boxes, dry ice, and fermentation are often not enough. So, CO2 regulators fill in as substitutes to assist the photosynthetic process.
What is the effect of a CO2 regulator?
For a flourishing crop, there needs to be a steady CO2 supply in the greenhouse. This supply will, on average, increase the yield of bud production from the same crop by 30%.
If CO2 levels are low (200PPM and below), for instance when there is a lack of proper ventilation, the plants will burn through all the available CO2 in the room in a matter of hours.
Inadvertently, this leads to suffocation, stunted growth and eventually death of the plants. On the other hand, if the supply is concentrated above 1500PPM, the toxicity levels will kill your plants. CO2 levels above 5000PPM are even proved to be harmful to humans.
The appropriate levels of CO2 also increases the moisture level in your grow room. This improves plant suppleness, reduces the drying-out effect, and eliminates pests and diseases by removing creatures like whiteflies and spider mites.
What is important for a CO2 regulator for your grow room?
Firstly, the CO2 level in the grow room needs to be measured using a CO2 meter. You can buy a separate CO2 meter or buy a regulator that has CO2 a meter built-in. I recommend the latter.
After that, the measurement must be multiplied to obtain the cubic volume of the grow space. You need to calculate how much cubic volume you there could be present in the grow room.
The resultant figure then should be multiplied by either 0.0013 or 0.0015, depending on how safe you want to be, and this will tell how much CO2 is needed. The ideal amounts are usually between 1000-1500PPM. This depends on your plants! Experiment to find the perfect CO2 level.
The regulator will need to be set to the correct flow rates, PSI amounts and setting-up of the CO2 release timer to release more gas during daytimes. Keep in mind that plants need oxygen in nighttime for the respiration processes.
Many CO2 regulators come with a chart that gives you estimates about the settings for your CO2 regulator.
Watch this video if you're not sure whether to buy a CO2 regulator or not. After watching this you'll know if it is a beneficial device for your grow tent or room.
7+ Best Carbon Dioxide CO2 Regulators for your grow room – 2020 Reviews
Titan Controls Carbon Dioxide CO2 Regulator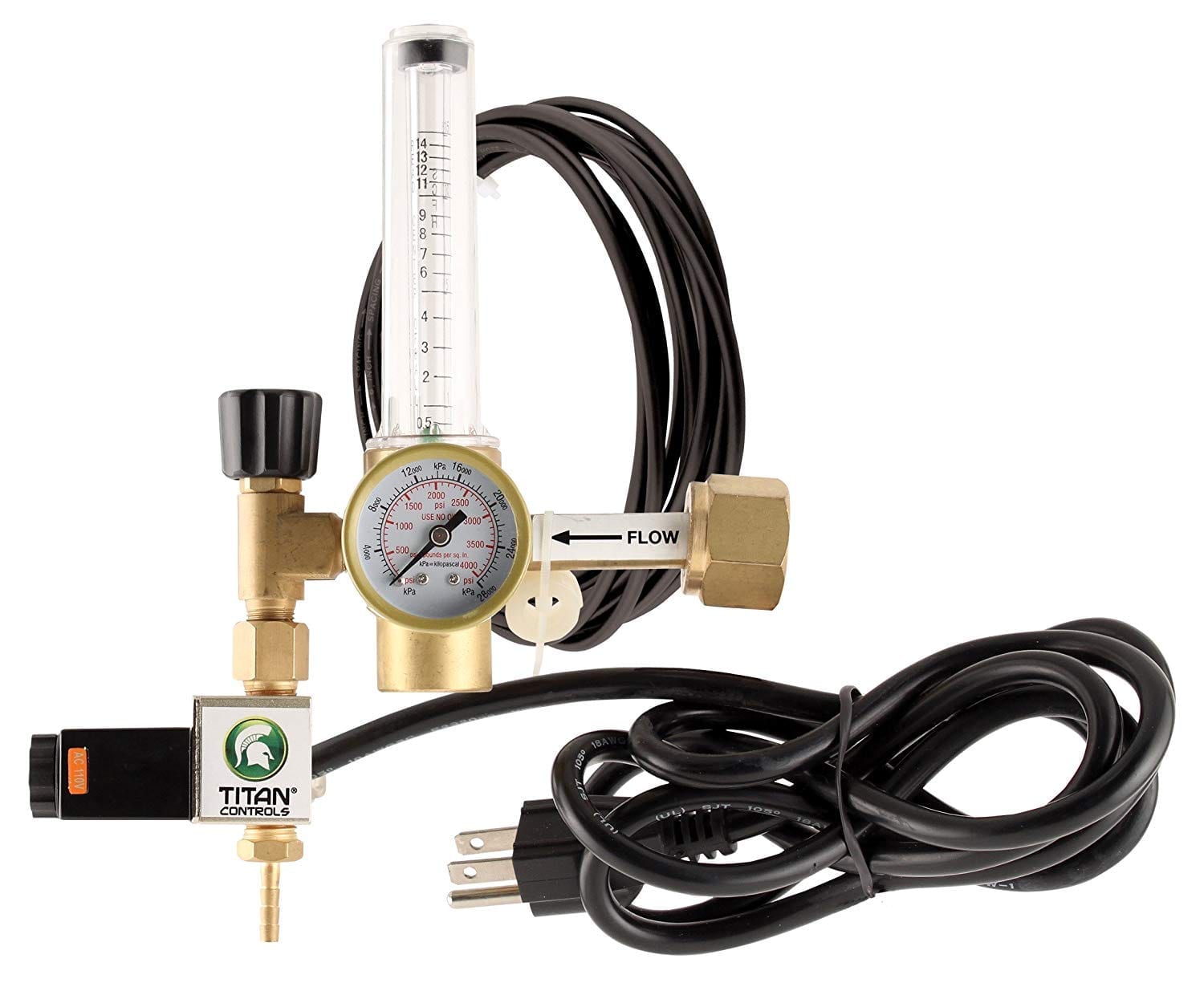 The company Titan Controls specializes primarily in manufacturing state-of-the-art CO2 supplement kits that work synergistically with all their products.
The specs of the indoor garden regulator include a body made of high-quality rugged brass. It's powered by a 6-inch chord with a 1 amp 120Volt/ 60Hz grounded power cord.
The CO2 regulator comes with a precision accuracy flow valve that registers 0.5 to 15 Standard cubic feet (SCF) / hour, a heavy-duty solenoid valve, two plastic tank washers, an oil-less pressure gauge and 12ft of a CO2 dispensing line.
For optimum performance, match this regulator up with the CO2 Rain System. It is also compatible with Apollo 12 Short Cycle Timer, Titan Control Atlas 1 CO2 Monitor/Controller, other 120Volt CO2 Controllers or timers and Atlas 2 CO2 Monitor/ Controller.
This CO2 regulator is a beginner model for everyone looking for a simple CO2 regulator. No fancy add-ons, just a simple CO2 regulator that does the job. You have to set everything manual and can combine it with cycle timers and controllers to optimize your control.
Pros
Grow room dosing chart included
Brass construction is sturdy and highly durable
High compatibility offers high flexibility
Long lifespan due to dual CO2 Tank connections
Built-in self-calibration feature
3-year warranty
Efficient built-in photocell; CO2 provided only during the day
Accessories offer value for money
Long dispensing wire (12ft)
Easy to install, adjust flow rate and use
Doesn't overheat
Free shipping
Cons
20lb bottle reads as empty
Problems with gauge fluctuations with temperature
Electrical connection for the power cord to the solenoid is fragile
Vivosun Hydroponics CO2 Regulator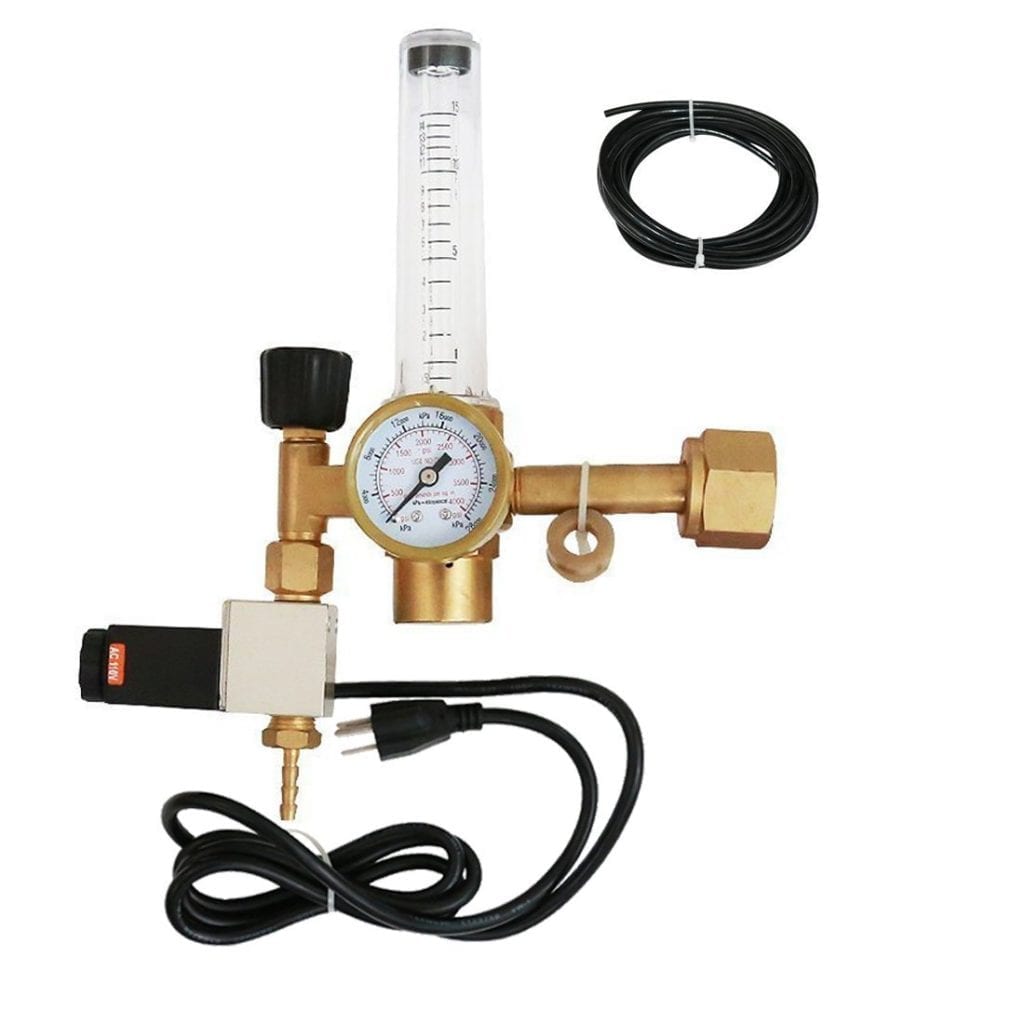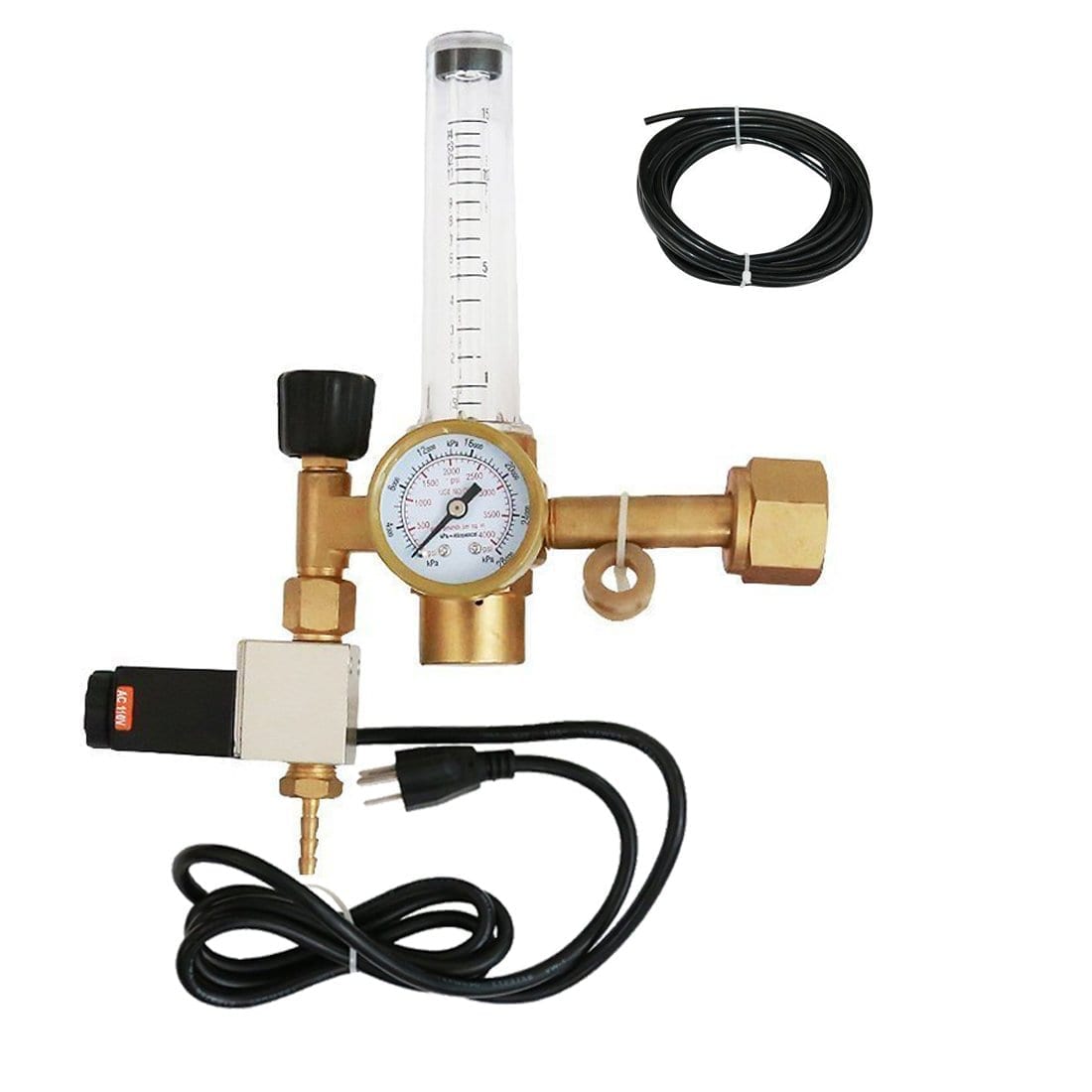 Popular for their hydroponic machinery, Vivosun offers one of the cheapest CO2 Regulators for marijuana that is brass-made.
Being cost-effective, they do not skimp on quality and offer great features that deliver on their promises. Their regulator is suitable enough for greenhouses, grow tents and indoor grow rooms and promises to accelerate physiological development. Simultaneously, it yields production increases by 30% as well.
It is also primarily built with brass, has an industrial solenoid valve, a 10' plastic air hose, a USA standard power cord 3 prong plug, 110 Voltage flow, precision regulator, a flow meter ranging from 0.5-15 CFH, and an inlet connection of cga-320, a 1.58" high pressure flow gauge that works at 0-4000PSI. The regulators need to be used with a CO2 controller for optimal control.
Pros
4-year warranty
High precision
Fits all standard CO2 tank
Can work with any sized grow tent
Pocket-friendly
Cons
Reports of leakages
Needs Teflon tape
Tricky to dial in the adjustment knob
The hose doesn't come with a clamp
Day Night CO2 Monitor and Controller for greenhouses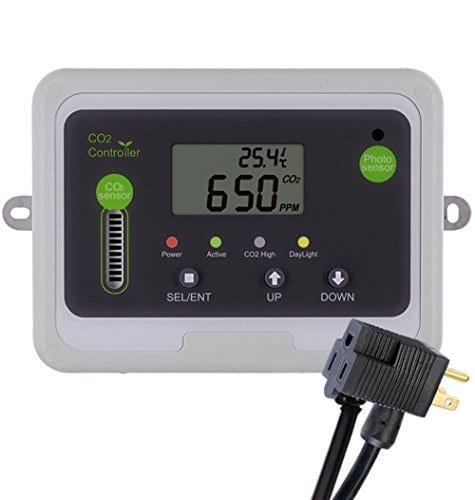 Whether it's a grow room, greenhouse, hydroponic room, every place requires a concentrated dosage of CO2. For such purpose, the Day/Night CO2 Monitor and Controller is an invaluable asset.
In situations where the CO2 levels dip, power is supplied to a CO2 generator or regulator by means of the built-in 100-240 (USA plug only) VAC 5A piggyback power chord.
It comes with a CO2 generator control that lets you establish the high and low target CO2 levels, Non-UV Emitting LEDs, IP54 Enclosure and a photosensor that turns off CO2 at night.
It also comes with a NDIR CO2 Sensing technology and a big LCD digital display that indicates the temperature and CO2 readings.
You can set all functions with 3 push buttons. This makes it an ideal CO2 monitor and controller. It's easy to use, high quality and perfect for your day to day use.
It has power, upper limit, lower limit and photosensor verification LEDs. The low set point is 800PPM and the high set point is 1500PPM with an overall measurement range of 0-10,000. Thus, all you need to do is mount it inside your cannabis setup, hook it up to an electrical socket and connect it to your regulator. It'll function at operating temperatures of 32-122 degrees Fahrenheit, a sensor response time of fewer than two seconds, an accuracy of +/- 70PPM or +/-5% CO2.
Pros
Automatically shuts down flow in darkness when desired PPM levels are reached and because of light sensors (advanced hysteresis logic)
Flexible options to choose desire PPM Levels in increments of 50 from 100 to 9950
Easy to install and use
Long term money saving on electrical bills and CO2 tank refills with automated shutoff
Zero interference with grow-cycle because of Non-UV emitting LED
Sensor life expectancy is up to 15-years
Higher measurement range than others
Quick response sensor
Covers up to 1500 square feet
Highly accurate
Cons
The 1-year warranty is lower compared to others
Time needed to acclimatize the sensor
Limits to calibration
24/7 LED lights too bright might cause issues with medical marijuana growth
Titan Control Day/Night CO2 Monitor and Controller – Atlas 3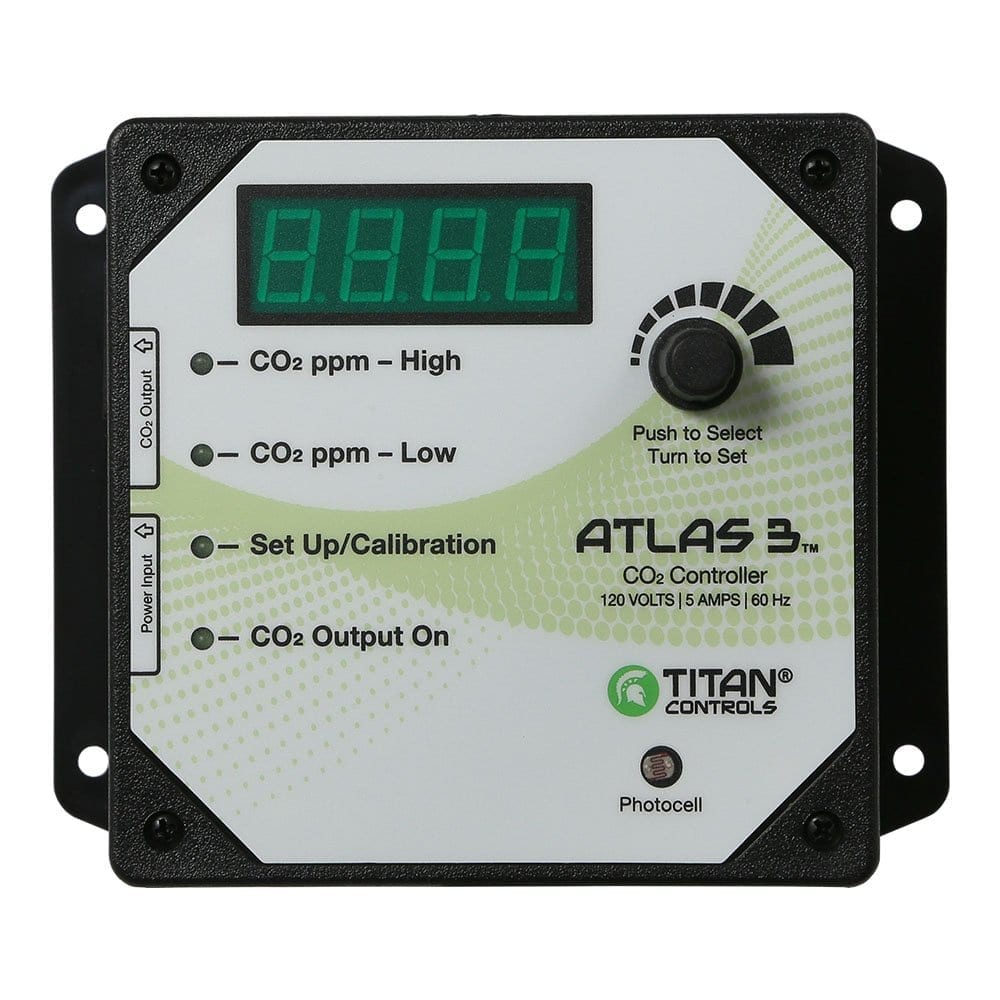 If you are looking for a hassle-free CO2 regulator, then look no further. We have the Titan Control Day/Night CO2 Monitor and Controller for you.
This regulator has racked up a particularly good reputation for being the most straightforward CO2 controller available in the industry. Buying this product is a no-brainer because of its highly simplistic functioning capabilities.
It has everything you need in the simplest device available. This grow room CO2 regulator only needs one setting: the desired CO2 level and does the rest for u. It even comes with a photocell to register whether it's day or night. To maintain perfect CO2 levels at the right time.
The CO2 regulator has 1500PPM of CO2 Control and works at 15 Amps/ 120Volts/ 60Hz with settings ranging from 1000 to 2500PPM. It is ETL listed for commercial use and is factory calibrated as well.
Hence, it's a good pick for grow operations ranging in any size and effortlessly works with other Titan Control Products. This is the easiest to use CO2 regulator.
Pros
3-year warranty
Built-in self-calibration feature
Easy to use by simply plugging in with generator and regulator and turning on
Built-in photocell disperses CO2 during daytime only
Hardy components making it extremely strong
Free Shipping
Reported to be highly precise
50% reduction in CO2 use, reduces your overall costs.
Issues a warning if CO2 is raised too high e.g. if too many people are in the room
The 1250PPM option works great for cannabis plants
Highly active sensors
Cons
Autopilot with Remote Master Greenhouse Controller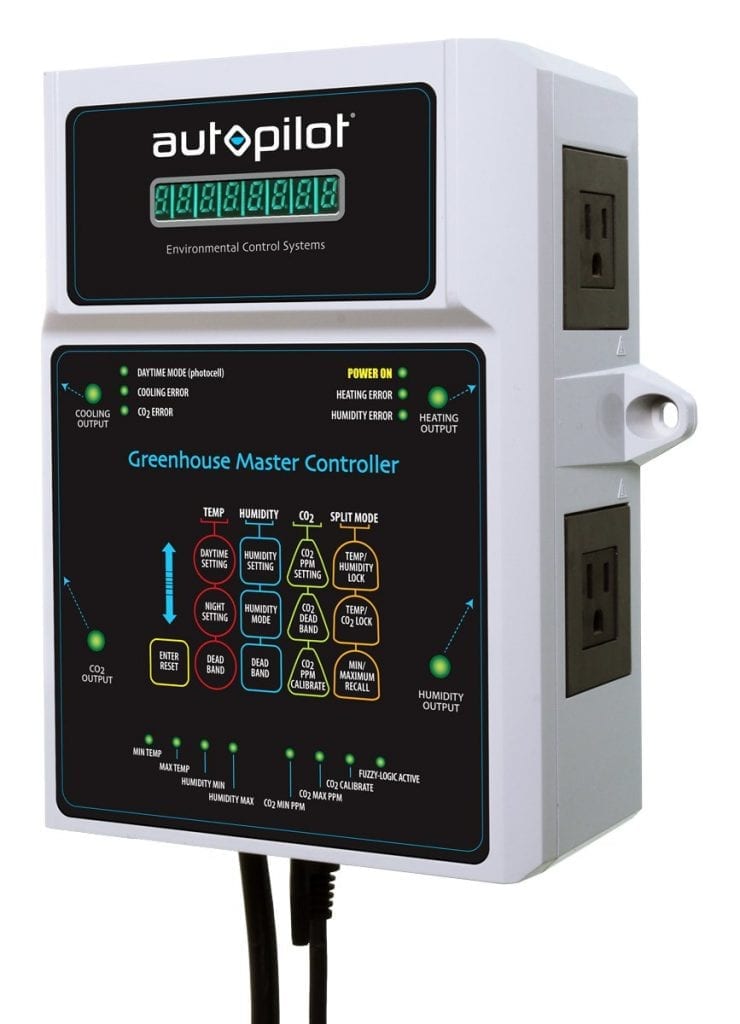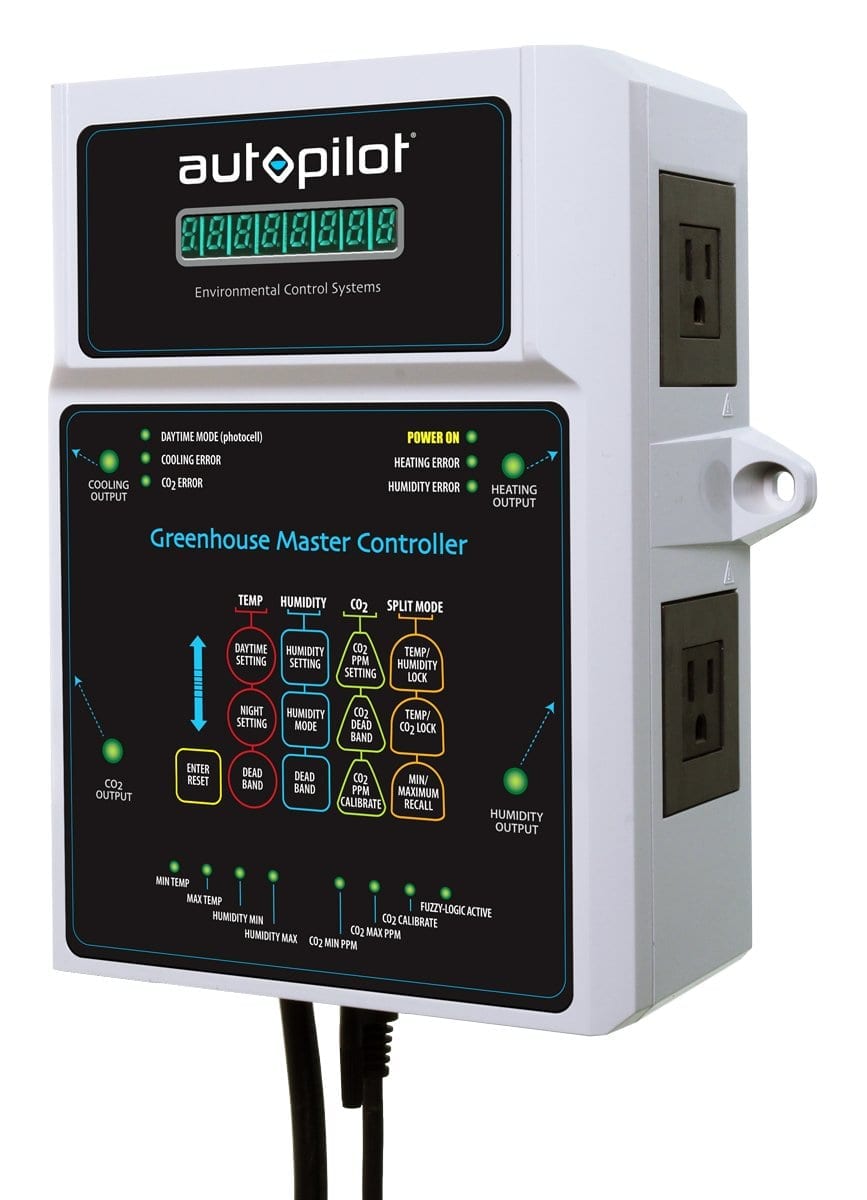 To begin with, the Autopilot with Remote Master Greenhouse Controller serves multipurpose control of CO2, humidity, and temperatures in greenhouses, green rooms, and other plant growing operations.
If you're growing big and professional, this is your dream controller!
The product specs cover a wide span of features. In brief, it consists of preprogrammed factory settings, four separate power outlets that can be used to connect to numerous external devices like CO2 injectors, dehumidifiers, fans, air conditioners etc.
Also, there is a remote combination probe that dispenses dual beam CO2 sensors. Moreover, you can place the remote sensor at up to 15-feet of distance away from the controller.
There is a separate day, as well as night temperature set point and LED error indicators.
Furthermore, it even boasts of a unique adjustable fuzzy logic mode for regulators and CO2 tank control or standard mode for CO2 generator control.
The product also has 14.5 maximum operating amperages at 120V and is ETL listed. The temperature, CO2, and the humidity interlock and split. Moreover, the dead band has adjustable temperatures and humidity option.
All in all, this controller is everything you need to control a grow area.
Pros
Fast plug and play operation
External devices connect without problems to units.
User-friendly
Very accurate sensors monitor and control CO2 levels
EMI/EFI-proof from electronic ballasts
Detailed grow room instruction manual provided
Controls up to four devices
Built-in data logger records and charts all low and high readings for humidity, CO2 and temperature
Features remote monitoring software facility that controls connected PC by another tablet, PC or phone
Internal battery keeps settings during unexpected power failures
Notification system for environmental condition errors
3-year warranty
It possesses plant-friendly green LED function lights as well
Cons
Extremely expensive
Not compatible with smartphones and MAC Systems
It cannot power multiple high amp equipment simultaneously
No instruction guideline provided
Titan Controls Spartan Series Complete Digital Environmental Controller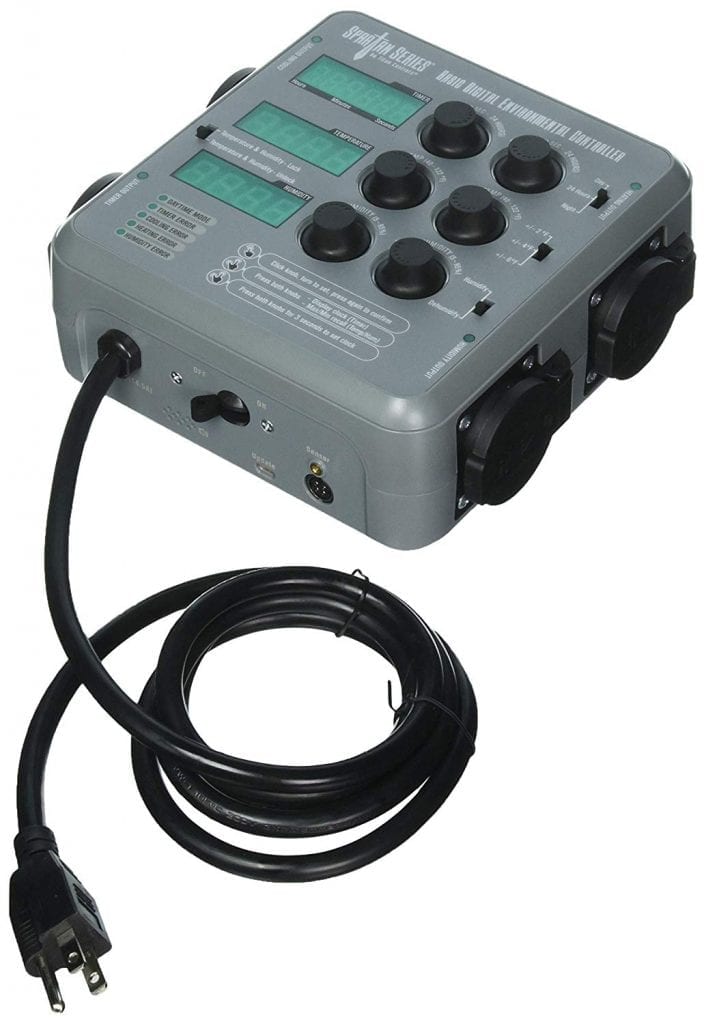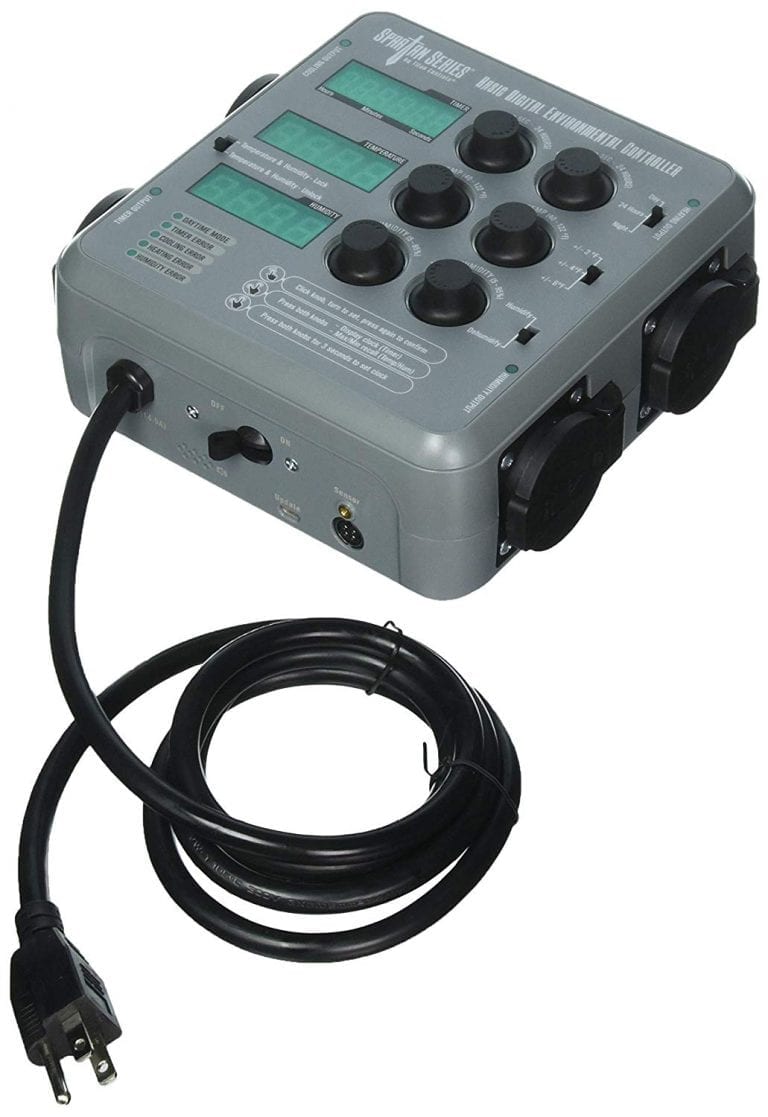 For users interested in a device that incorporates versatile functions, the Titan Controls Spartan Series Complete Digital Environmental Controller is particularly a must-have. The controllers available can fit any budget out there and still accommodate grow rooms/ operations of all dimensions.
The Saturn series is a digitally based environmental controller system that can manipulate and regulate CO2 and humidity levels in sync within a grow tent to provide optimal conditions for weed to grow swiftly and turn out more units.
It also comes with a short cycle timer and works at 15Amps/120Volts/60Hz.
Additionally, it brings to the table minimum and maximum data logging and archiving utility for temperature and humidity.
There is also a 15ft remote sensor that controls CO2, temperature and humidity systems along with nighttime gear.
Pros
Budget-friendly
Separate day and night control at your disposal via a photocell
Color-coded push buttons easy to program on an LCD display
3-year warranty
Extended service life due to plastic enclosure
Moisture-proof, rust-proof and dust-proof
Adjustable deadband
Cons
No calibration for the temperature sensor
No CO2PPM Meter
Only cooling control present, no heating control
ProCO2 XL Bucket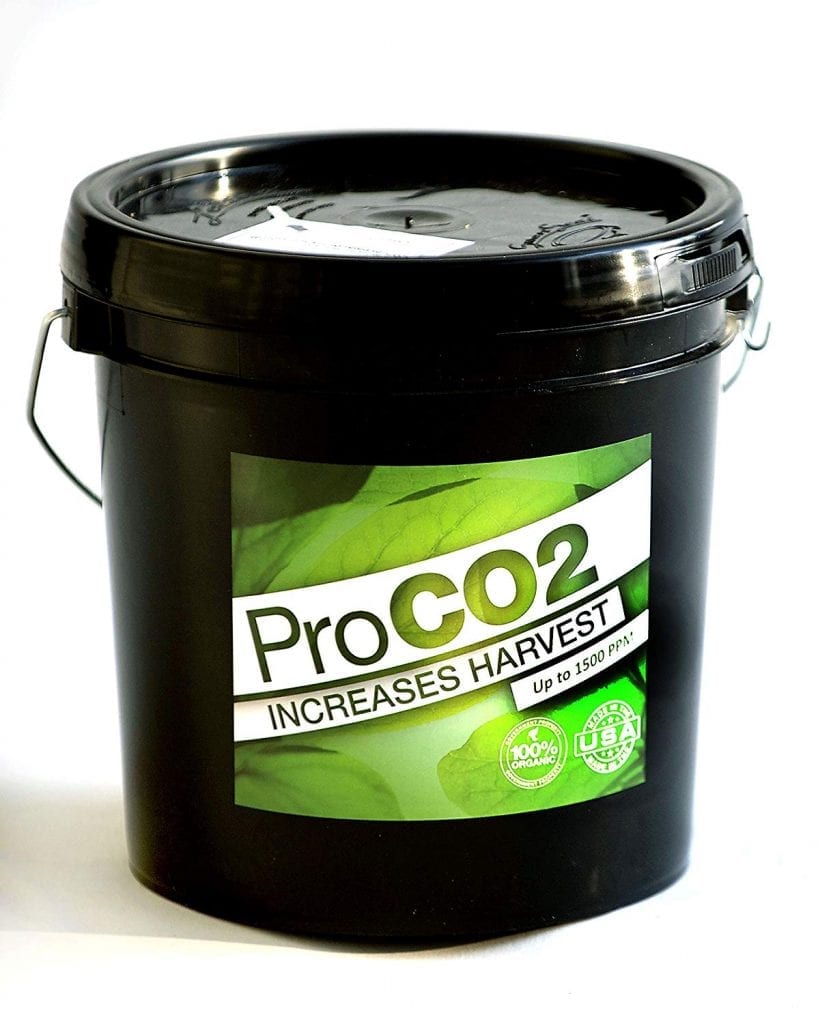 Many cannabis enthusiasts do not want to spend exorbitant amounts of money on expensive CO2 equipment.
The ProCO2 XL Bucket presents itself as a promising product especially for novice gardeners. If you know that youre CO2 levels are always too low, this is a simple solution.
It generally releases a 24-hour a day steady stream of CO2 within the grow room you place it in.
Furthermore, over a period of 5-7 months, if partnered with the appropriate ventilation it noticeably boosts CO2 levels covering an area of 5X5 feet.
Moreover, upon removal of the sealant sticker from the bucket, you can discharge higher CO2 levels. It weighs only 4.5-5lb.
Pros
Only one of its kind to come with a built-in handle and s-hooks.
Extremely budget-friendly
Does not require refills or maintenance upkeep
Lightweight, space saving and efficient at yield increasing
Natural, easy to use and no electricity required
Cons
Bucket gives off a strong unpleasant smell
May increase humidity
Reports of relatively low CO2 output
Doesn't adjust automatically
Doesn't measure anything
Conclusion on the Best CO2 Regulators for your grow room
Growing weed usually means considering all environmental factors including lighting, temperature, humidity, CO2 etc. So, as an indoor grower stabilizing the conditions via regulators, generators, monitors, controllers, and buckets will pave the path to successful quality crop from which you can reap infinite benefits.
A CO2 Generator setup is a foundation for a cannabis cultivator. Therefore, when making a purchase make sure that the products have a long warranty against defects. This way, you have a safety blanket to fall back on.
What we find most important are an easily readable display, a user-friendly design, and a durable product. It depends on your budget how far you want to go with automation and functionalities.
If you grow big and professional, don't save on your CO2 regulator. If you're a beginner, start with a bucket and find out what's the next step for you.
The artificially induced and supplied CO2 will lead to greater cannabis harvests. Thereby, the fruits of your labor will not go to waste if you supplement your efforts with the gadgets mentioned above.