An air pump can determine how successful your hydroponic gardening will be. Your nutrient reservoir should have an avid supply of dissolved oxygen for healthier plant growth, which is air pump is necessary.
You can provide air to your growing setup through a hydroponic air pump, such as the Hydrofarm Active Aqua Air Pump. However, it can be pretty confusing to choose between the different power wattages and rates.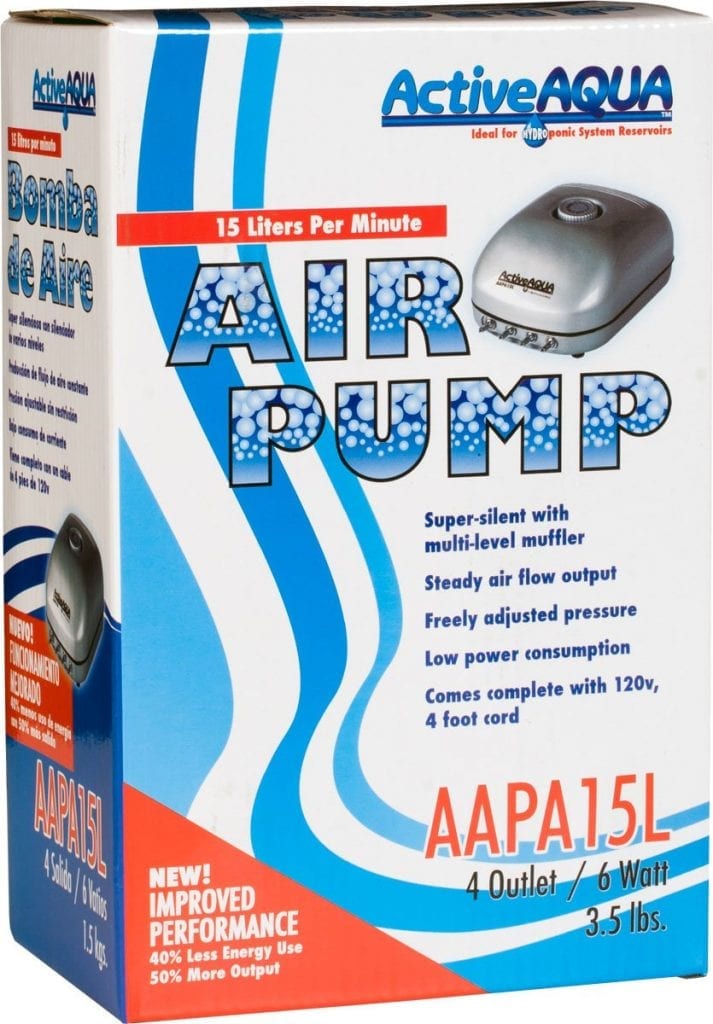 If you want to know why oxygen is necessary for your plants and which air pump offers a full package of features that fulfills your needs, read on.
What is an Air Pump for Hydroponics?
Hydroponics is a method of growing your plants without soil. Surprisingly, you can grow plants without any soil at all, if you can provide them with water, light, air, and nutrients. Instead of soil, plants consume the necessary nutrients from a nutrient reservoir.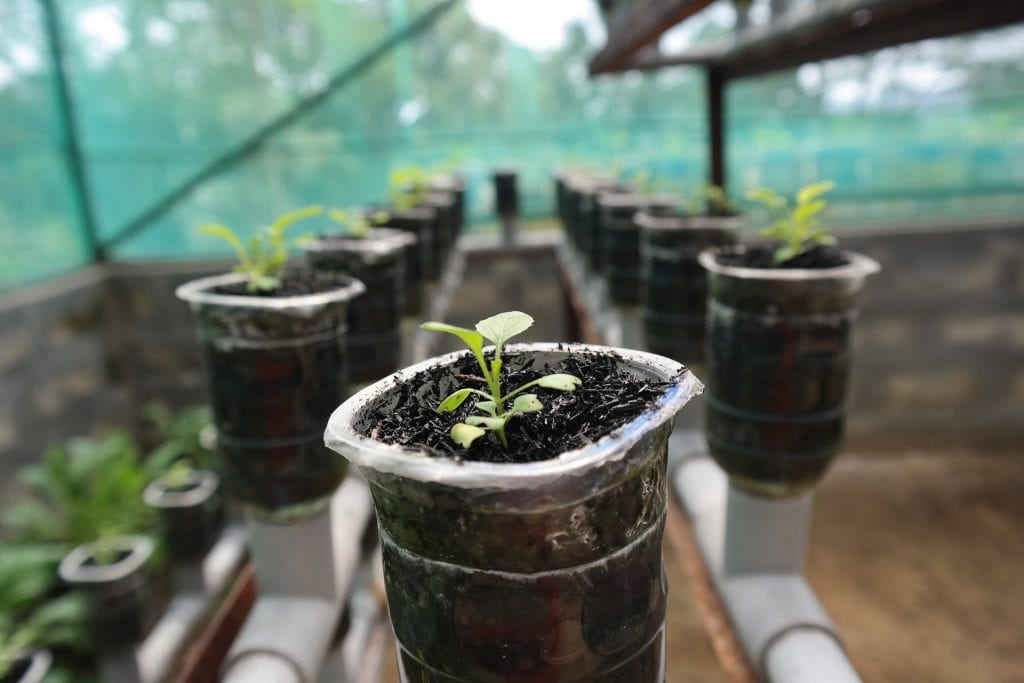 However, plants also need oxygen to survive. Unlike soil, water doesn't have air pockets, and the oxygen in stagnant water is quickly used up. So, you will need constant air supply to make a hydroponics system work. For that, you will need an air pump.
What does an air pump do? It forms bubbles in the nutrient solution. The bubbles cause a disturbance in the water, resulting in an increased surface area. An increased surface area allows more oxygen to dissolve from the air into the water.
The dissolved oxygen prevents the plant roots from drowning in the nutrient reservoir and suffocating due to a lack of oxygen (more on that later in the article).
The bubbles rising to the surface also create a constant movement in the water, which is essential for the beneficial bacteria to grow. Additionally, if the water is stagnant, suspended bacteria in the water column or any unwanted substance will make a layer on the water surface, preventing oxygen penetration.
Why Would I Need an Air Pump?
An air pump not only provides the plant roots with oxygen, but it also supports the aerobic bacteria which grow inside the water column. This bacteria eliminates the chances of nitrates and ammonia spike, as these chemicals promote algae growth. The algae use up the oxygen and nutrients in the nutrient reservoir.
An air pump will provide air to your nutrient solution. The air passing through the air stones will create micro air bubbles in the reservoir. These bubbles will rise to the surface of the water and burst. It will causes agitation in the water, increasing the surface area of the water for oxygen to dissolve.
You may ask, doesn't water already contain oxygen? The oxygen atom in H2O is bonded with the hydrogen atoms, making it unavailable for the plant. Hence, you need to provide extra oxygen through the air pump, as water can retain oxygen gas (O2) or dissolved oxygen needed for respiration.
You will need an airstone to ensure steady airflow into the water column, which will provide a steady flow of water. It also causes an even distribution of the bubbles throughout the water surface since they are small in size. That means, even water movement on the surface.
The steady water flow across the water columns prevents the formation of anaerobic gas pockets and uneven dilution of nutrients.
Why Do Plants Need Oxygen?
It's a known fact that plants use up carbon dioxide from the air and release oxygen in the daytime. But, plants also need to take in oxygen for several chemical processes to take place when there's no light.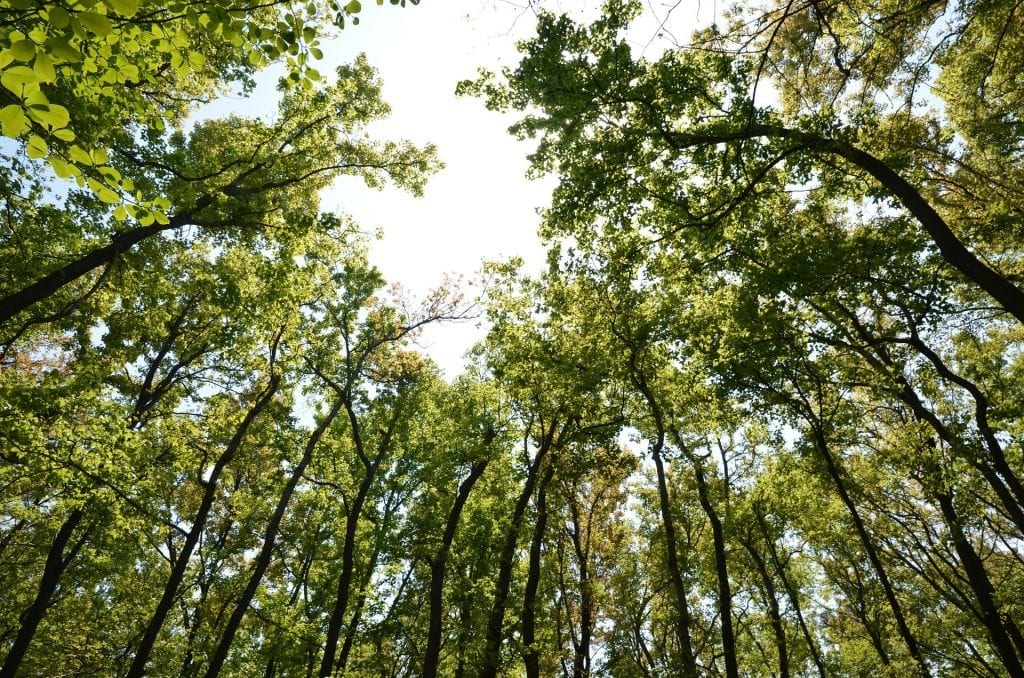 You need to understand that plants carry out two main processes: photosynthesis and respiration. These processes are the opposite of each other.
In photosynthesis, plants take up carbon dioxide and energy to manufacture glucose, while releasing oxygen as a by-product. Alternatively, in respiration, plants take up oxygen to produce energy for plant growth. They release water and carbon dioxide as by-products.
Plants get energy from various sources to make their food. They use light energy from a light source to convert carbon dioxide from the air and water from roots into chemical energy.
Plants use this energy for respiration. But, respiration only takes place in the parts that contain chlorophyll and have access to light. The parts that don't carry out chemical processes use the stored energy of the plant.
The plant roots need this energy to find and transport water and nutrients across the plant body. The plants growing in the soil get this energy from oxygen pockets in the ground. However, an excess of water in the oxygen pockets will drown the plant roots, depriving them of oxygen.
Why is Dissolved Oxygen so Important for Plants?
Similarly, in hydroponics, if the nutrient solution lacks an adequate amount of dissolved oxygen, the plant roots will drown. That is because the roots are immersed directly in the solution. Hence, in hydroponic gardening, a constant supply of oxygen to the water is essential.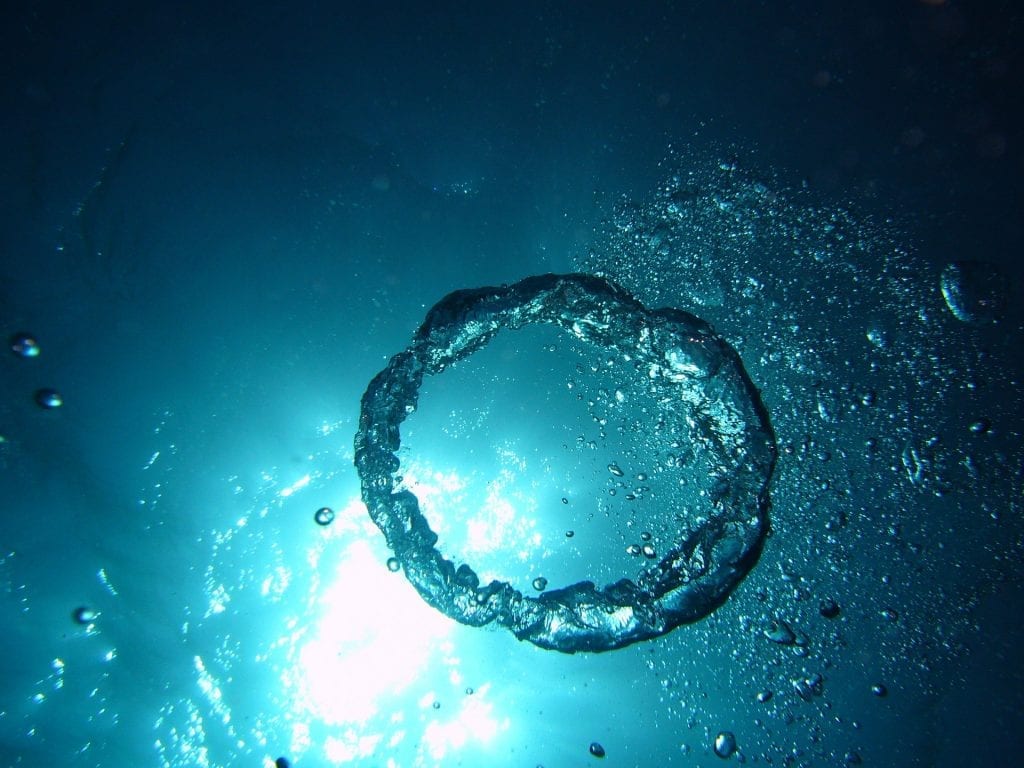 Apart from that, there are various other advantages of dissolved oxygen in hydroponics. If you expose the roots to a decent amount of oxygen, they will improve their ability to absorb nutrients, which will result in faster and healthier growth.
The dissolved oxygen also stimulates the growth of beneficial aerobic organisms. The aerobic bacteria can breakdown certain chemicals into a form that can be consumed by the plants so that these chemicals don't pollute the water.
If the water columns lack dissolved oxygen, the beneficial bacteria will slowly die off. The water will then become an ideal breeding environment for anaerobic pathogenic organisms that will destroy your plants.
What to Consider When Buying the Best Hydroponic Air Pump?
Are you growing for small-scale or commercial use? Before choosing an air pump, think of your purpose for hydroponic growing.
There are several features that you want in your air pump. They can include:
Pressure
You need a powerful and even pressure of air to ensure that all the ports get adequate airflow. The air pump should also be able to maintain the air pressure, even if you add more ports.
The quality of the air tubing also affects the pressure of your air pump. A high-quality airline tubing should be able to resist the pressure of air, along with any bends or knots without leaking.
Included Air Tubing
The size of the airline tubing, from your air pump to your water reservoir, will depend on the growing setup. If you are growing in a grow tent, you will need an airline tubing which is long enough to reach your water reservoir. An even longer airline tubing is required if you're growing in a grow room.
Both of these setups have high humidity inside them, which can affect your air pump. So, place the air pump outside your growing space.
Economic
Buying an air pump for every individual water body can be costly. So, a powerful air pump with multiple ports would be more economical, as it can provide enough air for all your plants.
Not every expensive air pump is of good quality. Look for a package that has all the necessary accessories to fulfill your particular needs.
Noise
Some hydroponic air pumps can be very noisy. If your growing setup is indoors, a loud noise could be very distracting. You should check the decibel level of the air pump before buying it.
Vibration
A continuous vibration means a constant buzz in your ears. It can also move your air pump from its original place. The rubber underneath the pump also wears out due to the movement.
An ideal air pump will have minimum vibration and almost no sound when heard from a distance.
How to Calculate Which Size Air Pump you Need?
The size of your air pump will depend on the volume of your nutrient reservoir. Ideally, you will need one watt of power per one gallon of the nutrient solution.
On a safer side, buy an air pump which is recommended for a higher volume of water than your nutrient reservoir. It would also be better in case you plan to expand your growing scale.
#9 Best Hydroponic Air Pump Reviews
Here is a quick list of some of the best hydroponic air pumps out there.
Title
General Hydroponics GH2716 Pump
Hydrofarm Active Aqua Air Pump
Hydrofarm Active Aqua Commercial Air Pump
Photo
Title
General Hydroponics GH2716 Pump
Photo
Title
Hydrofarm Active Aqua Air Pump
Photo
Photo
Title
Hydrofarm Active Aqua Commercial Air Pump
Photo
Table could not be displayed.
Title
Hydrofarm Active Aqua AS4RD Round Air Stone
Photo
Title
Hydrofarm Active Aqua AS4RD Round Air Stone
Photo
General Hydroponics GH2716 Pump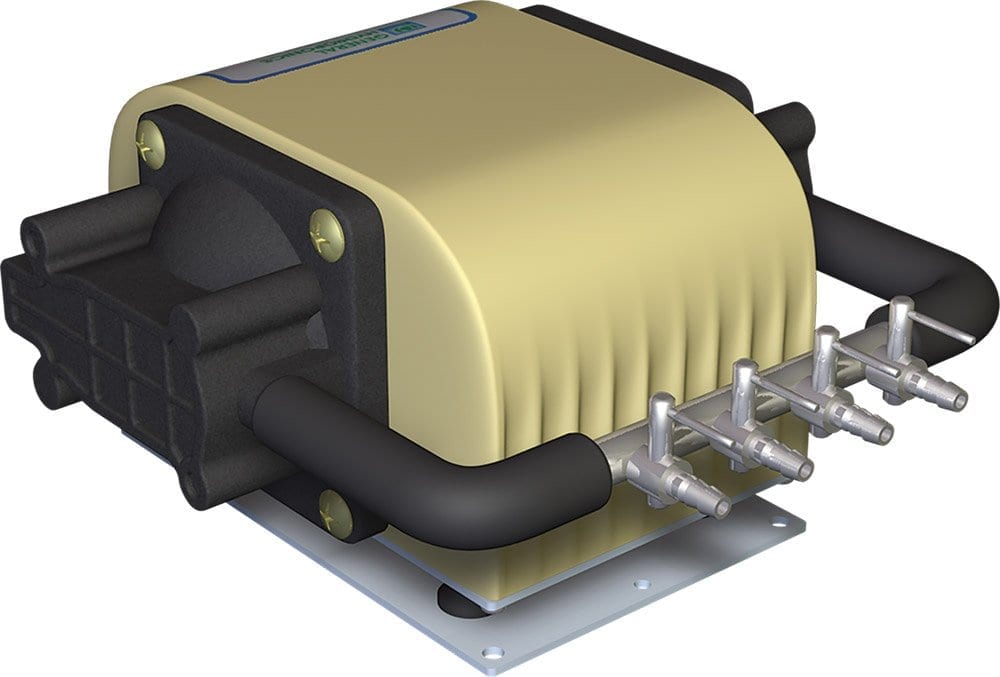 General Hydroponics Dual Diaphragm air pump is built exclusively for hydroponic systems. A dual-diaphragm means two single vibrating diagrams parallel to each other.
The air pump has four inbuilt adjustable outputs. You can split them into two, for eight available ports. For the power it produces, the air pump is comparatively lightweight.
Pros
Dual diaphragm ensures continuous airflow, even if one diaphragm fails.
Built-in pressure adjusters.
lightweight and portable
Cons
Visually unappealing
Not water-resistant
No safety precaution for the back siphon
Hydrofarm Active Aqua Air Pump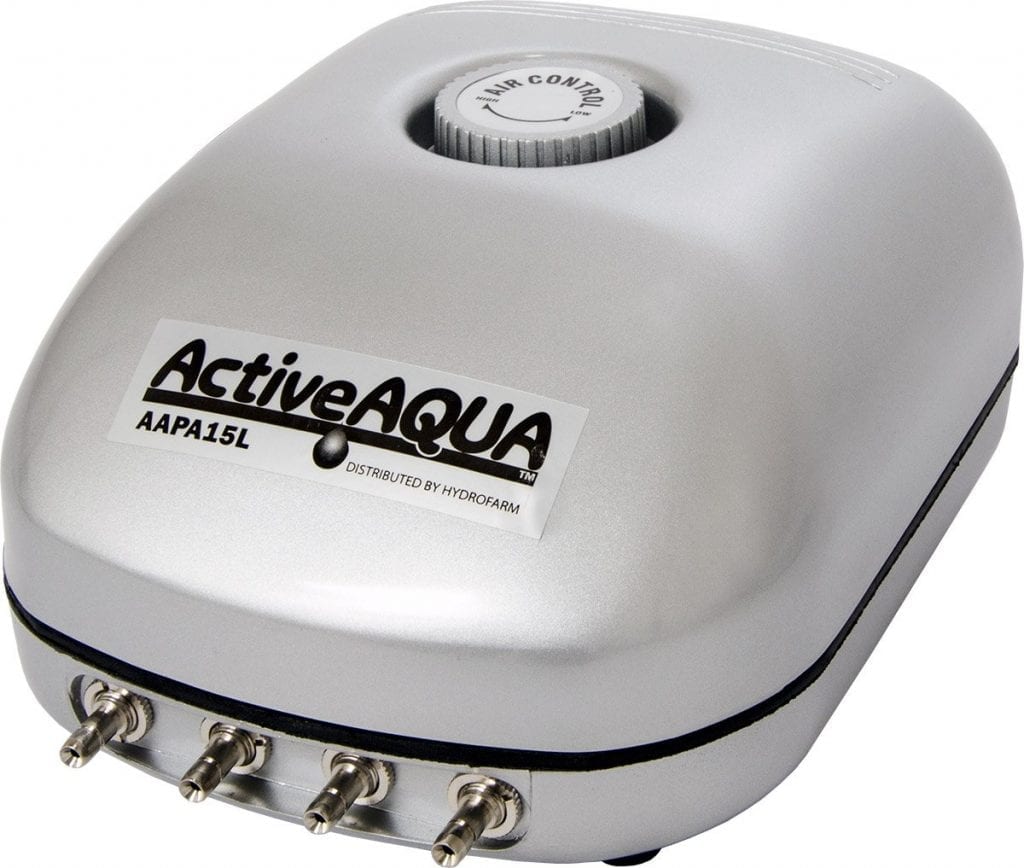 The Hydrofarm Active Aqua Air Pump claims to oxygenate nutrient reservoirs of all sizes. The pump has four outputs, making it useful for different setups.
Its artificial rubber diaphragm ensures even airflow output, which can be adjusted by the pressure dial. The Active Aqua air pump can oxygenate 15 liters of nutrient solution per minute.
Pros
The airflow output of the pump can be adjusted
Consumes less power for the amount of aeration it offers
Doesn't produce much noise due to the internal-muffler
Available in four different sizes
Comes with a one year warranty
Cons
The air pump doesn't have individual adjusters, limiting the user to one pressure for all outputs at a time.
Doesn't come with airline tubing
The pump has no check valves to prevent back siphon.
Not water-resistant, making it unusable in humid environments.
EcoPlus 793 GPH 728450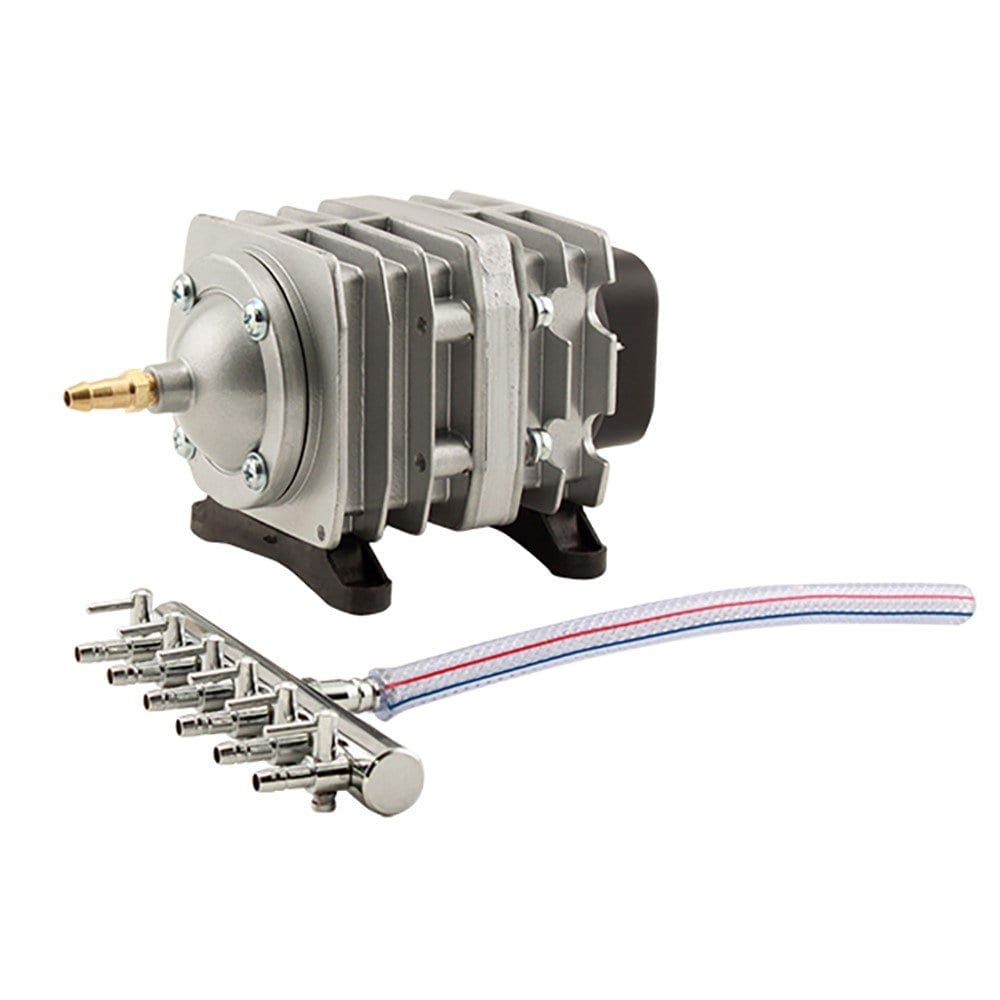 This EcoPlus Commercial air pump is for fish farms and hydroponic systems. It includes a chrome air manifold that has six to twelve outlets. The cylinders and pistons are made of durable material, so the pump is operable without oil.
Pros
The pump has six to twelve outlets.
Comes with external pressure adjusters.
Uses mechanical parts instead of rubber to produce air, which makes it long-lasting.
Cons
Not visually appealing.
Not practical for small-scale growing as it needs high power to run.
Hydrofarm Active Aqua Commercial Air Pump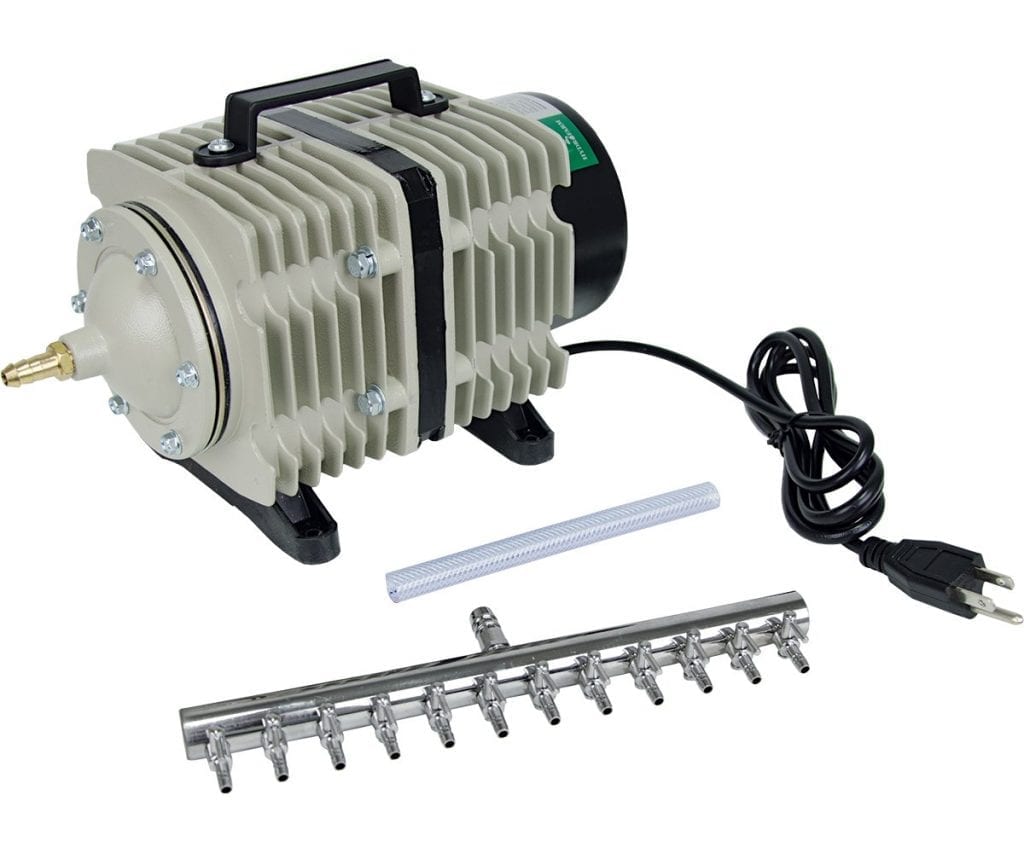 The Hydrofarm Active Aqua Commercial Air Pump is a high power and high output air pump. Due to its high air pressure, it is ideal for running multiple water columns at a time. The pump also uses less power to work.
The air pump comes with multiple external pressure adjusters. The artificial rubber ensures even airflow. It also has a multi-level muffler, which makes it almost soundless. The body and mechanics of the pump are also suitable for various environments.
Pros
Provides high-pressure airflow to a large number of water bodies.
Uses less energy, which makes it ideal for commercial use.
The multi-level muffler ensures better sound-proofing.
Can resist harsh environments while ensuring even airflow.
Comes with a one year warranty.
Cons
The pump is visually unappealing.
No safety valves are included to prevent back siphon.
The air pump is not practical for small-scale setups.
Danner Manufacturing Low Volume Air Pumps 3W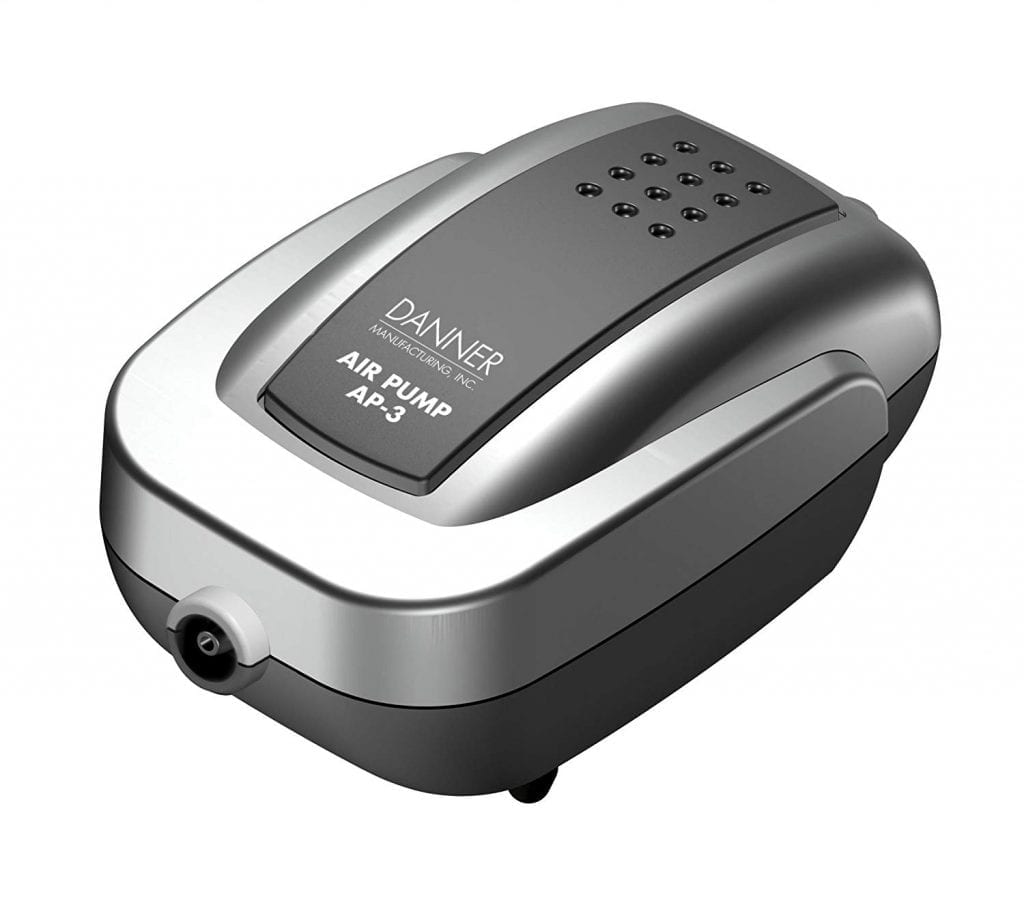 The Danner Manufacturing Low Volume Air Pump has an energy-efficient motor. It is available in various power ranges, making it useful for different scale setups.
The air pump has a pressure adjuster for even airflow through all the outlets. It is also weather-proof, and the plastic body prevents rusting.
Pros
The plastic body prevents the pump from rust.
Can be set on one pressure for all the outlets.
A wide range of powers makes it useful for different setups.
Comes with a one year warranty.
Cons
The outlets are not independently adjustable, and no external adjusters are included with the air pump.
The use of a plastic body makes the pump easy to break.
Hygger Quiet High Output 10W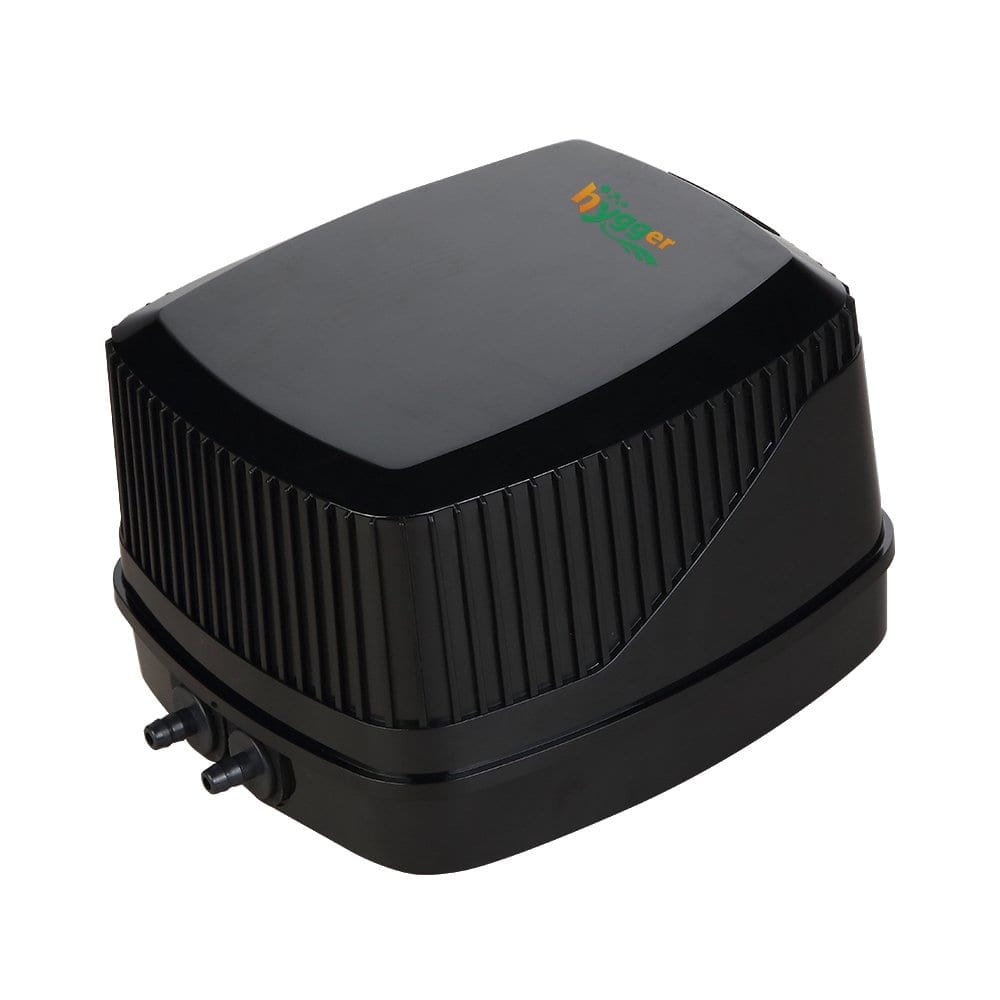 The Hygger Quient High Output air pump is designed for multiple water bodies. It has a magnetic bearing system that makes it powerful, durable, and silent.
The air pump has a stainless steel inner body with rubber paddings underneath, making the pump quieter. It can oxygenate multiple water bodies at a rate of 16 liters per minute.
Pros
Visually appealing, and therefore, suitable for show setups.
Available in different colors.
The magnetic bearings and special rubber pads make the pump soundless.
Comes with a one year warranty.
Cons
Not water-resistant.
Doesn't have any inbuilt or external pressure adjusters.
Its small size makes it suitable for small setups only.
Uniclife 4 Watt 4-LPM 2 Outlets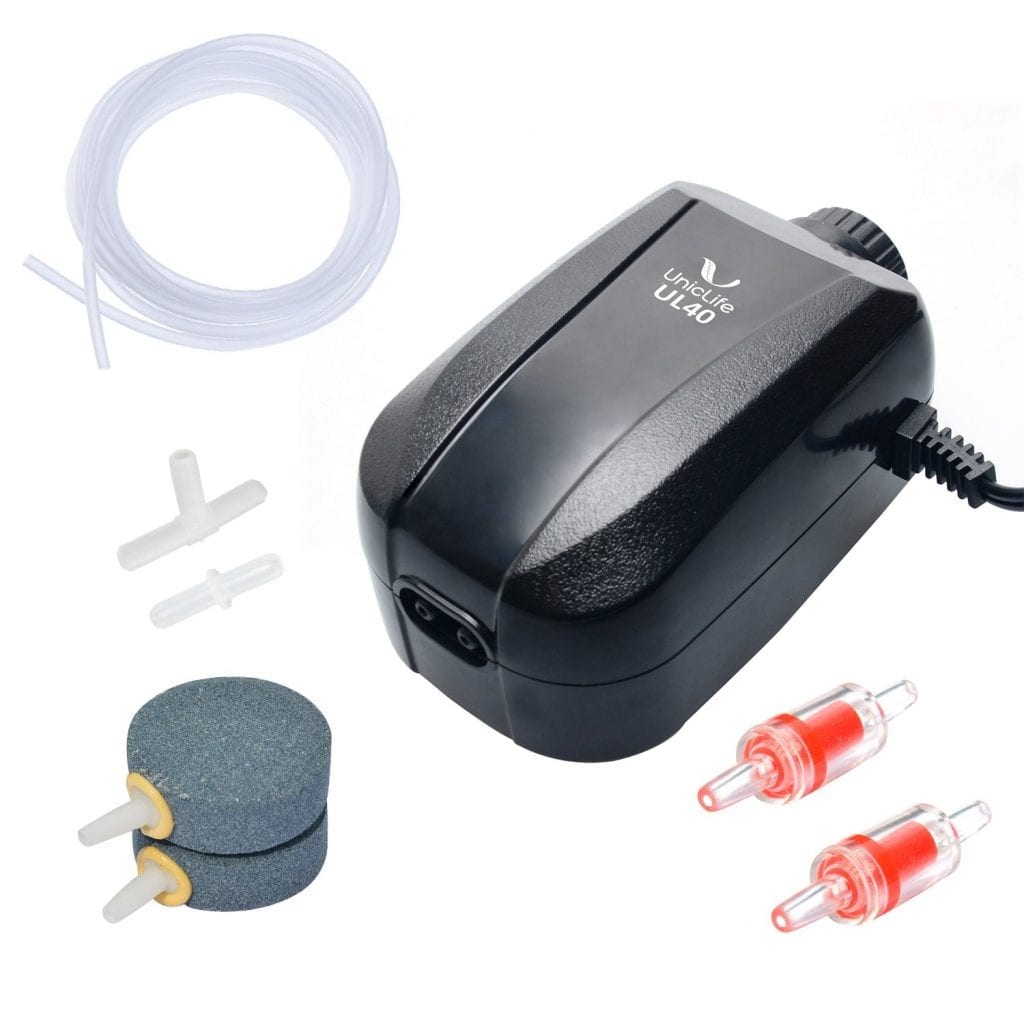 The Uniclife air pump has two built-in adjustable outlets that can be controlled by a rotating dial. The included T-connector can be used to combine both the outlets into a single, powerful outlet.
The air pump comes with two of each of these accessories: check valves, air stones, connectors. It also includes a standard airline tubing. The air pump is ideal for small-scale use due to its compact design and low power consumption.
Pros
Comes with all the necessary accessories.
Super quiet even on the highest power, which makes it suitable for indoor use.
Comes with a one year warranty.
Cons
Not suitable for large-scale commercial use.
Its plastic body is prone to breaking.
SUN YT-304 18 LPM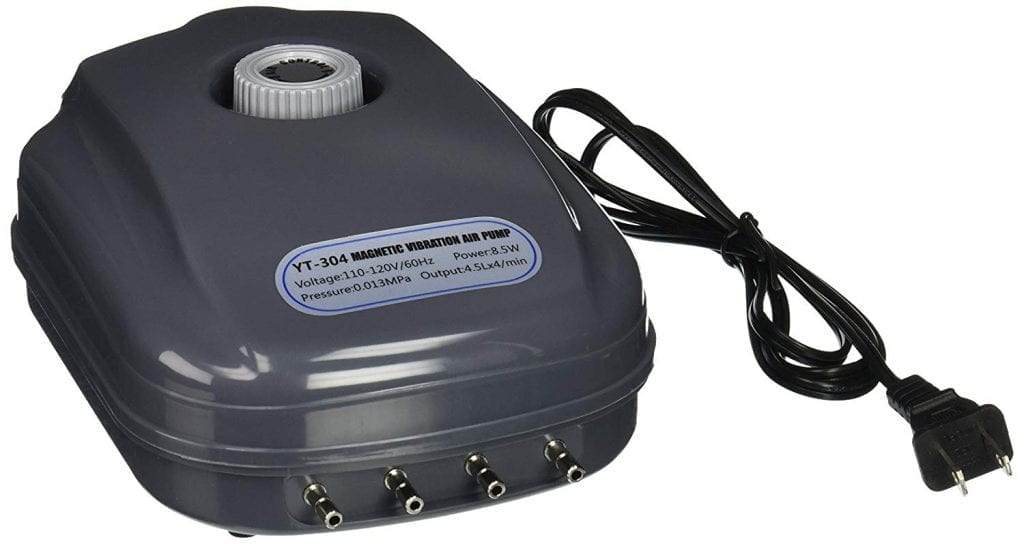 The SUN YT-304 air pump features a special artificial rubber to keep a steady airflow in all four outlets. The airflow can also be adjusted. The pump has a low power consumption, making it quiet, along with less vibration.
Pros
The low power consumption of the pump makes it ideal for small-scale use.
The four output units make the pump usable for systems that require low-pressure airflow.
Quiet due to low power intake, which makes it favorable for indoor use.
Cons
Doesn't have individual pressure adjusters.
Plastic body makes it breakable.
Not suitable for systems that require a high-pressure airflow.
BUDGET SOLUTION: Hydrofarm Active Aqua AS4RD Round Air Stone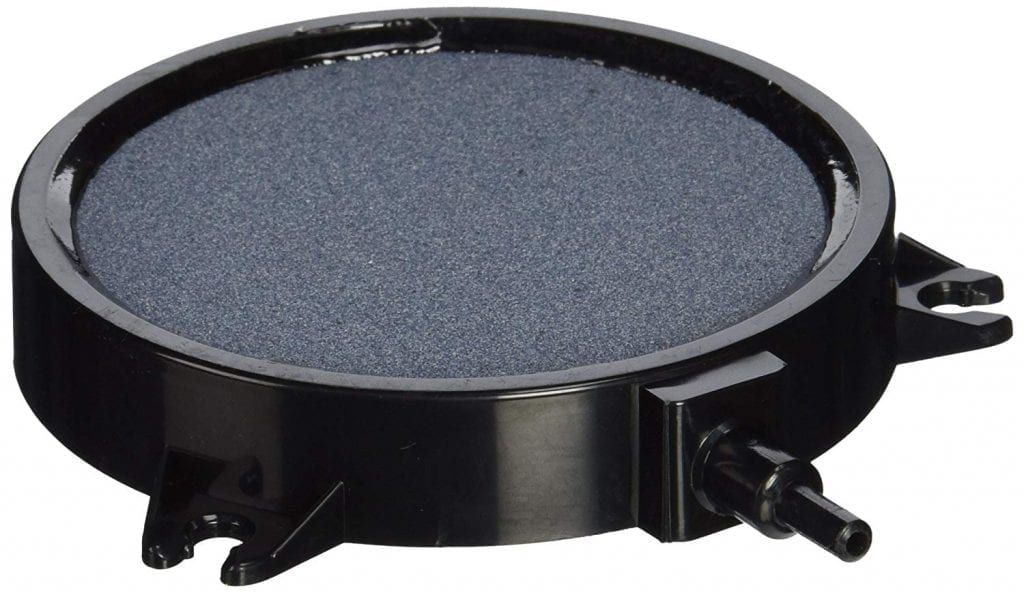 The Hydrofarm Active Aqua Air Stone adds oxygen to your hydroponic system. This round air stone comes in two sizes of four and eight inches.
The micro-pore design of the airstone aerates and circulates the nutrients throughout the nutrient reservoir. The airstone can be mounted at a surface with the provided suction cups.
Pros
The black color eliminates the chances of algae growth on the airstone surface.
The micro-pore design makes the bubbles tiny enough to circulate easily throughout the nutrient reservoir.
Con
The airstone only has one air intake port, which will make it unfunctional with low power air pumps.
Conclusion on the Best Hydroponic Air Pump
The ideal hydroponic air pump will be able to provide an adequate amount of dissolved oxygen to your growing system. The size and type of the air pump will solely depend on the size of your hydroponic setup.
If you want an air pump for commercial use, the Hydrofarm Active Aqua Commercial Air Pump can be the best choice for you. The reason being, it has multiple outputs with high air pressure, due to its high power intake. If you pair this air pump with Hydrofarm Active Aqua Air Stone, the airstone will work at its full potential.

However, for small-scale use, an air pump such as Hydrofarm Active Aqua Air Pump will be your best option. The air pumps with low power consumption are quieter. Hence, they are ideal for keeping in enclosed spaces.