Hydroponic Tower Gardening is one of the most efficient ways of gardening. The concept isn't as new as it might look. In the past few years, we have witnessed a rapid growth in popularity of hydroponic vertical gardens.
Do you know that the history of vertical gardening goes back to the Babylon times? Shocking, right? Well, it all started when farmers tried to figure out ways to grow more plants in less space. This led to the discovery of vertical gardening. They also wanted to get rid of soil dependence.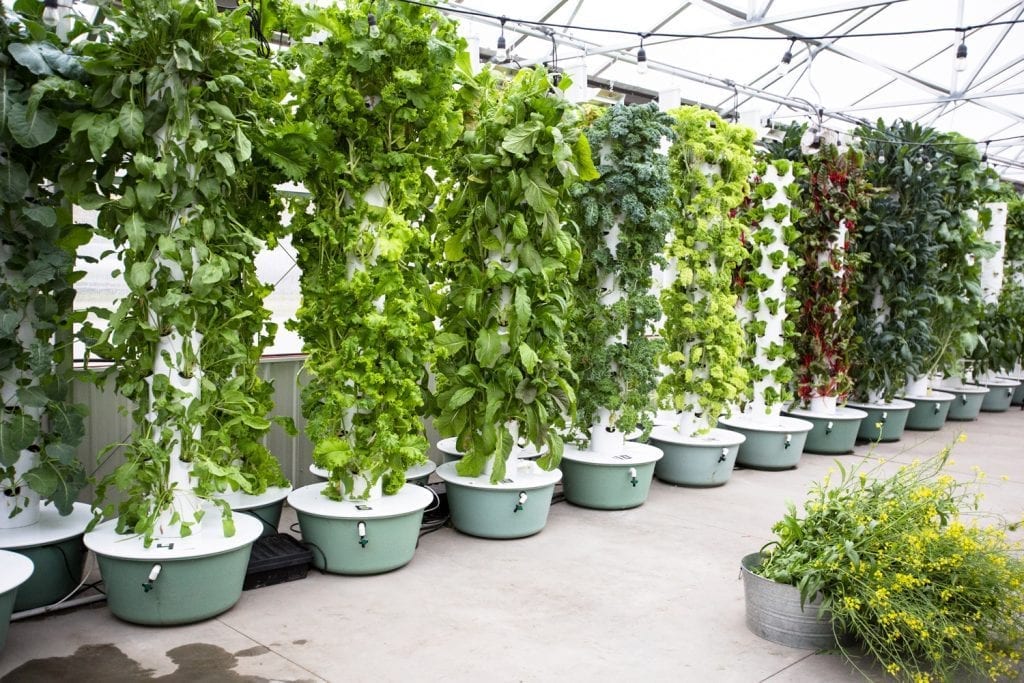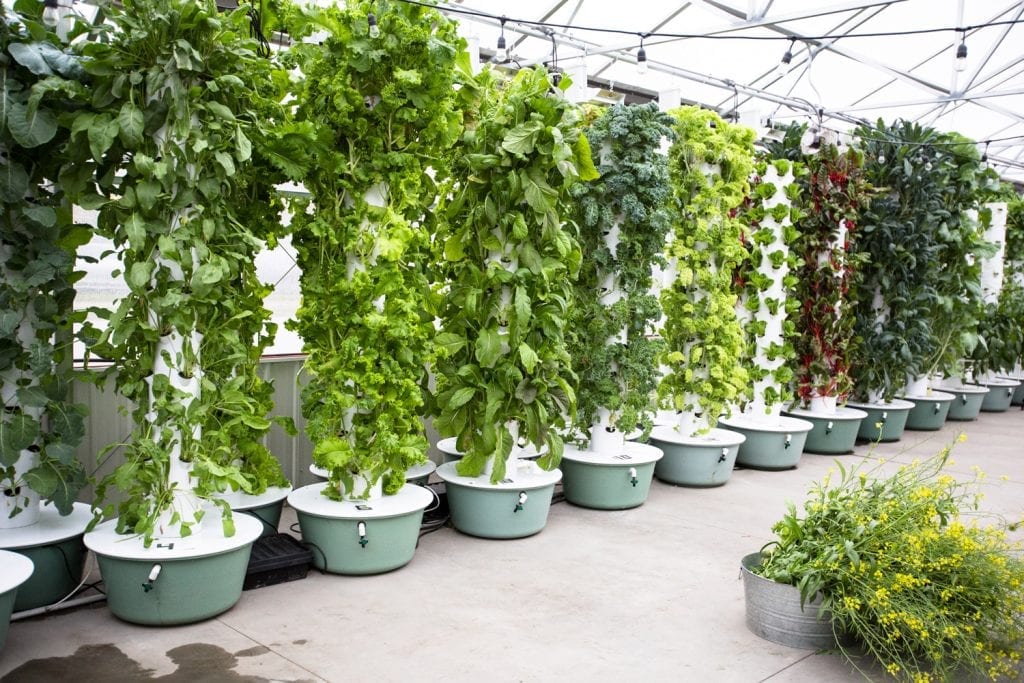 After a series of experiments, all their efforts resulted in the invention of Hydroponic Tower Garden. Sometimes they are also referred to as Hydroponic Vertical Gardens, Vertical Hydroponic Gardens, Vertical Grow Towers, Grow Towers, Vertical Grow Systems, etc.
Hydroponic Tower Garden will take your gardening experience through the roof but before we give you the best hydroponic towers of 2020, let's talk about the concept first.
What is a Hydroponic Tower?
A hydroponic tower uses two basic concepts to work; vertical gardening and hydroponics. Vertical farming uses vertically stacked layers to grow plants to save space and ensure faster growth. Hydroponics, on the other hand, is growing plants using water.
These two methods are highly compatible since using soil as a growing medium in vertical gardens brings a separate array of challenges. However, using water saved this growing system from all soil-related problems and also reduced the weight of layers, allowing more layers.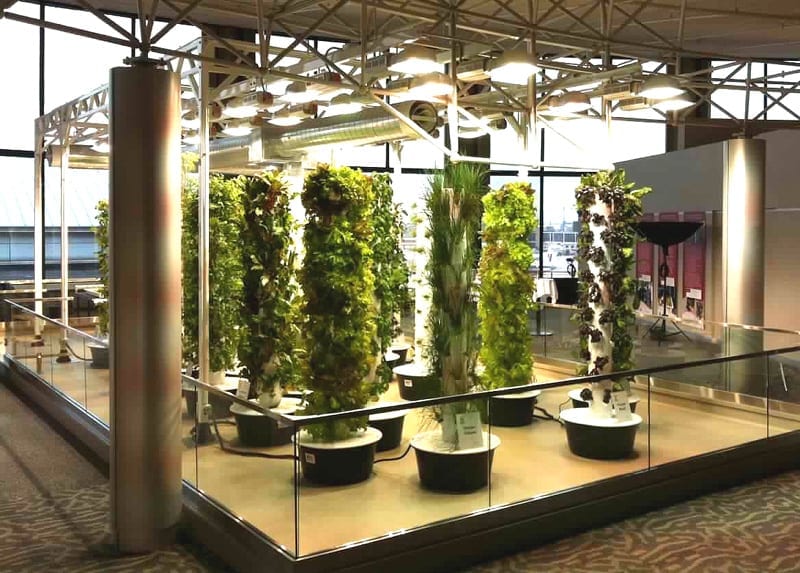 The only challenge left was bringing the water and other nutrients to the upper layers. To address this issue, a motorized pump is used to bring water and nutrients to the plants' residential units.
The Benefits of Vertical Hydroponic Growing
The Hydroponics Vertical Garden technology has taken the farming industry by storm with its undeniable and exponential benefits.
Efficiency: This is the most apparent benefit of using a Hydroponic Vertical Garden. With this product, you are all set to save space with an ability to grow up to a dozen plants per square foot. It gives you the freedom to grow in small and compact indoor grow spaces, making urban farming easier than ever.
Easy-maintenance: The stacked layers of these towers are easy to clean and maintain as stacked pots are removable. You can simply displace them to manage and maintain.
Soil-less: One of the clear benefits of using a grow tower is not using any soil. This means that you do not have to worry about any soil-borne plant disease. To put it in simple words, soil attracts pests. Hence, no soil equals no pests. This leads to fewer pest concerns and lesser use of insecticides.
Source Conservation: Many such towers use motorized pumps that recirculate the water and nutrient solution to feed the housed plants. This helps in the conservation of natural sources. Also, you do not have to monitor the plants.
Things to Consider When Buying a Hydroponic Vertical Garden
As the technology flourished, we saw many hydroponic companies introducing their Hydroponic Vertical Towers. However, although we liked having options, not all products stood up to their claims. We will our give you our list of the top Hydroponic Tower Gardens shortly but before that, let's talk about the general criteria for buying the best hydroponic tower.
Material
This is the first and foremost thing you need to consider while buying a vertical hydroponic garden. The ideal tower should be made of UV-stabilized and BPA-free material. It should be top-quality, food-safe plastic. Make sure that it is compliant with the FDA guidelines.
Another most important point is to check if the plastic of the pots is opaque. It should not allow any light to penetrate the roots as this can lead to severe plant damage. It also keeps the algae from entering the planters.
A good hydroponic tower garden makes sure that your plants are healthier, happier, clean and fresh during their growing period. It also guarantees longer-living plants with better yields.
Size and Dimensions
The size and dimensions are highly correlated to the number of plants you want to grow. It also depends on the space available. Note that most of the towers take up to a space of six square feet. The height can range anywhere from 20 to 80 inches (including extension kit). With each tier, the number of plants you can house increases.
Another important thing is to look for the number of pockets the tower is offering. Generally, they come with 29 pockets. Sometimes, the number can go up to anywhere between 30 and 80, if you buy a large one or use an extension with your tower planter.
Easy to Use and Set-up
Hydroponic Vertical Gardens are supposed to bring ease in your life. Make sure that the tower you buy has simple and easy-to-understand steps to set-up the gardening system. Check that the hydration system works perfectly as it is the most important part of a grow tower.
If you are planning on using grow lights, make sure that the tower you buy comes with a timer. It should also be cost-effective and energy-efficient. Using hydroponic systems shouldn't drown you in the pile of electricity bills.
Other things you might want to check include number of pockets, water reservoirs, automatic water level sensors, number of stackers and bottom drip trays. All these add-ons should make the tower user-friendly and less complicated. 
Design
Although many growers might think that the design of the grow tower does not matter if it works perfectly. However, in our opinion, if you are going to use your tower indoors, it is advisable to pick an attractive design that compliments your home decor and furnishings. An elegant grow tower has an ability to transform a place completely once the crop's foliage starts blooming.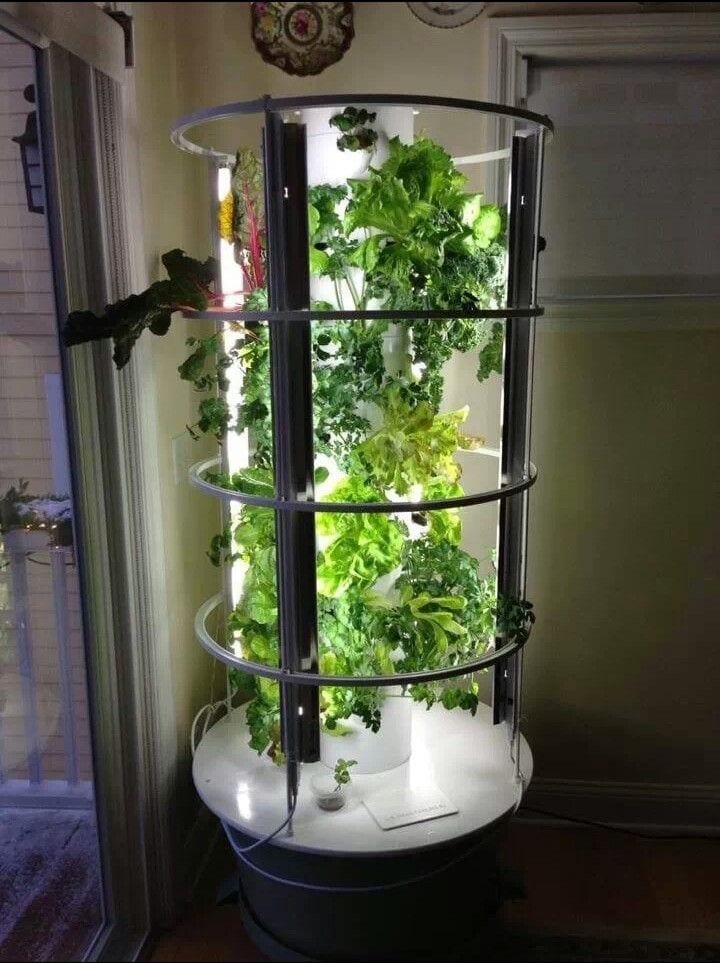 Best Hydroponic Tower Garden Reviews
Now you know what to look for, let us help you compare the best options listed below.
Table could not be displayed.
Title
Foody Tower – Stacking Vertical Garden
Photo
Title
Foody Tower – Stacking Vertical Garden
Photo
Photo
Are alright with a tower garden outside of Amazon? Then we highly recommend the Garden Tower 2 by Garden Tower Project.
Large 5 Tier Vertical Garden Tower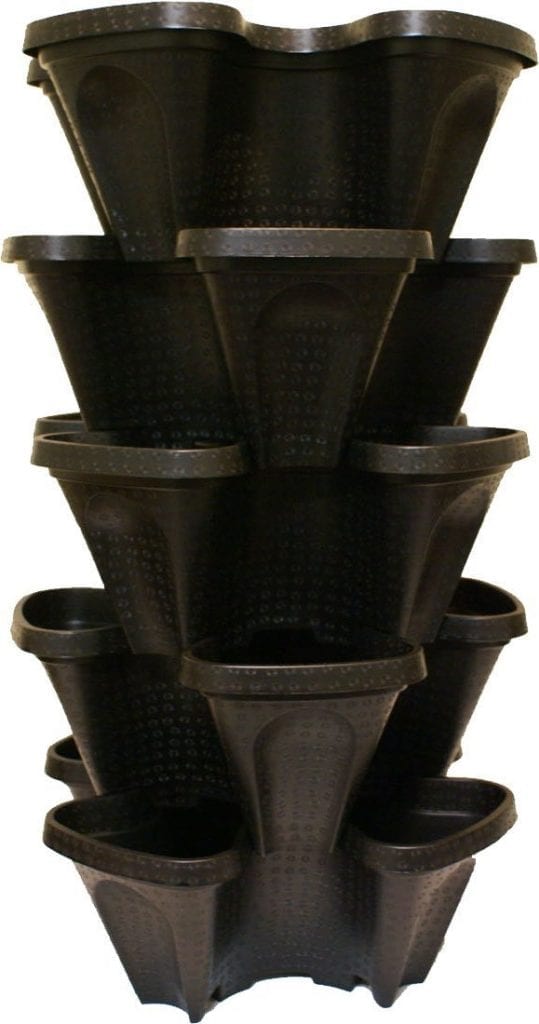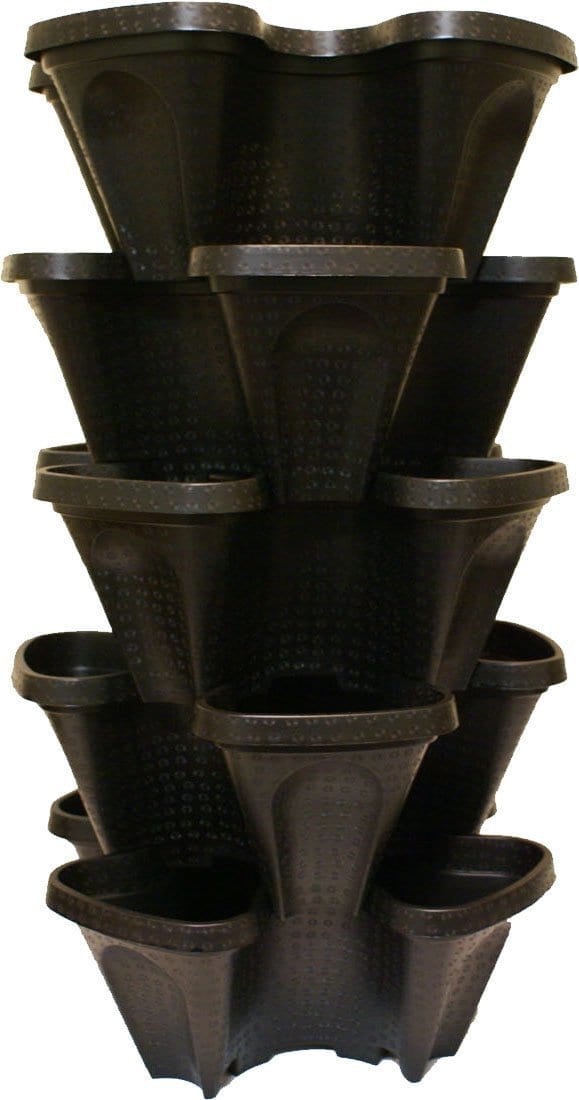 The Large five-tier hydroponic vertical garden is the proud production of Mr Stacky, one of the leading manufacturers of hydroponic tower gardens. It consists of five stackable hydroponic planters, made of food-safe, durable polypropylene material. The dimensions of the 24-Quart tower can vary between 12 x 12 x 25 and 13 x 13 x 26.
The dense black color makes the planters opaque, keeping the roots safe from algae and light. Also, the flow-through design of Mr Stacky's 5-tier garden protects the plants from root rot and over-watering.
Features
The features of Mr Stacky's Large 5-tier Vertical Garden Tower will make your gardening experience better than ever.
Material: The Mr Stacky's 5-tier Vertical tower is made up of FDA approved, food-safe and long-lasting polypropylene. Its black color saves the plants roots from light penetration and algae formation.
Design: The flow-through design of this vertical tower helps in protecting the plants from root rot, diseases and over-watering. It has a nearly one-inch hole in the middle for the water pipe to go through the tower. The best choice is using a ¾" PVC pipe for this purpose.
Number of Plants: You can grow up to 20 plants in this vertical tower.
Pros
Compact
Dense color
Durable
Carries up to 20 plants
Cons
Doesn't have a wheelbase
No drip tray included
Doesn't feature a timer or pump
No user manual
Mr Stacky Smart Farm – Automatic Self Watering Garden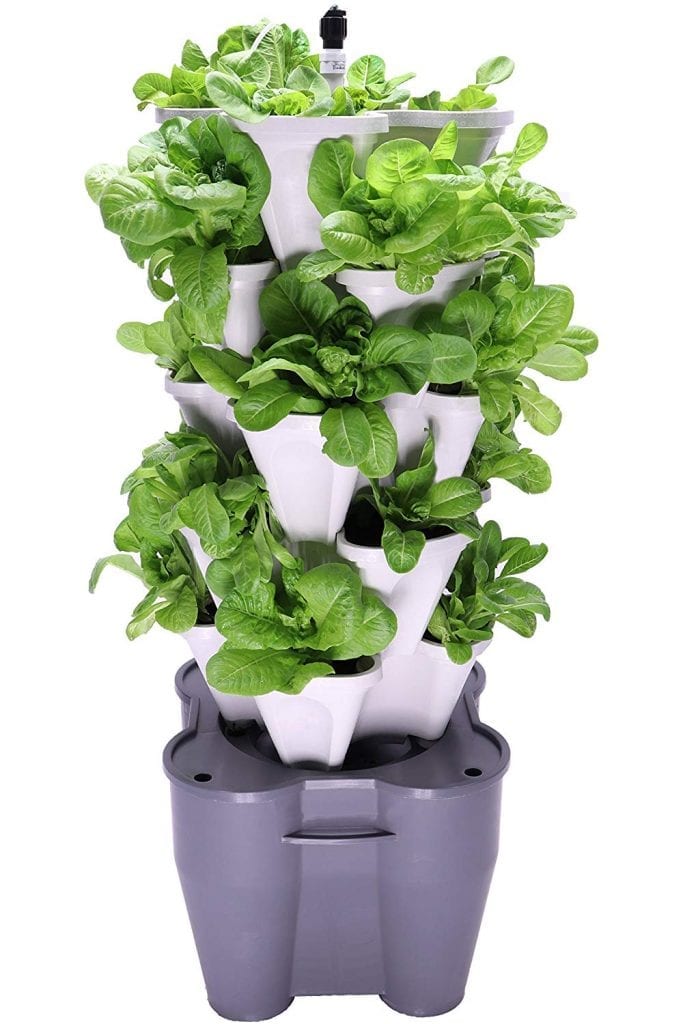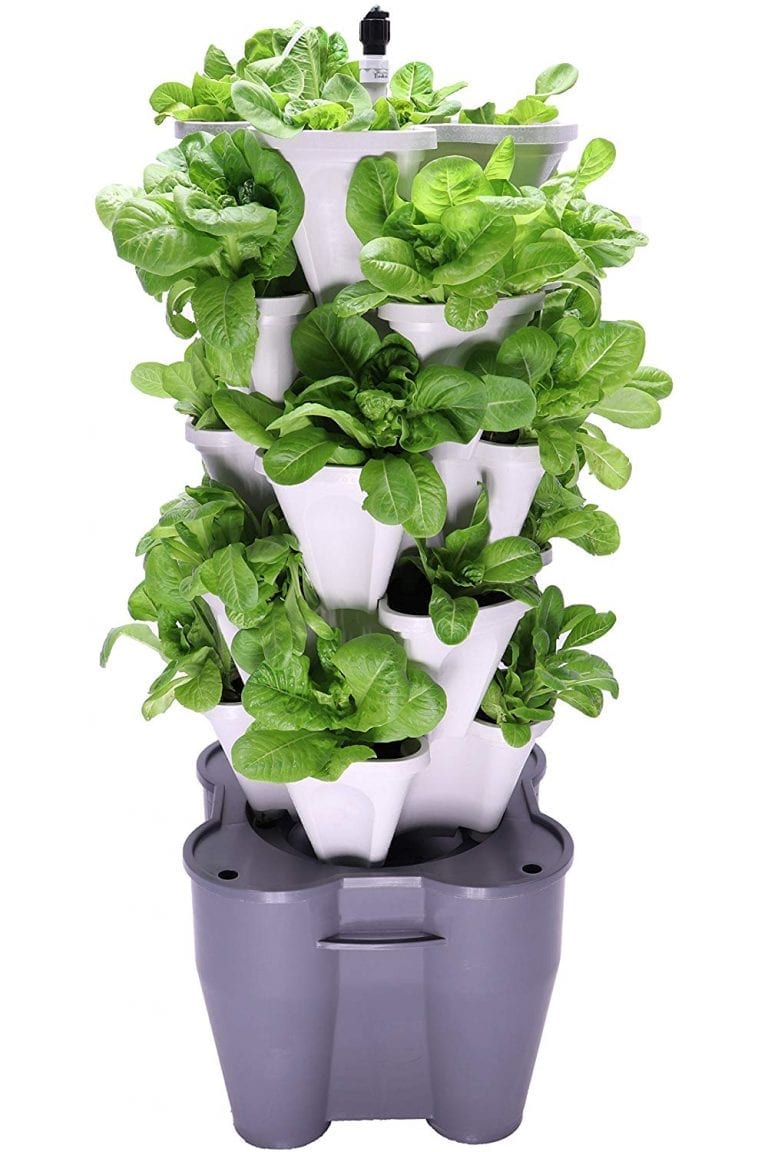 Another impressive product from Mr Stackyy is the 5-tier Smart Farm which uses automatic watering tower system to make vertical hydroponics easier than ever. While occupying less than two square feet space, the Smart Farm is efficient, compact, easy to assemble and manage. The 49" tall grow system consists of 20 planters, allowing high yields. It is highly effective in both indoors and outdoors facility.
Included in this kit are the 5 large stacking planters, 16 Gallon Water Reservoir, 250 GPH Submersible Water Pump, 7 Day Digital Timer, water distribution head, starter plant food, and all the pipes, tubes, adapters, and instructions to get you started. For soil or hydroponics applications.
Features
Mr Stacky's Smart Farm has changed the face of vertical farming with its crucial features.
Self-watering: The feature which makes the Smart Farm truly smart is automatic-watering. This means that you can go to a two to three weeks vacation without worrying about your plants. The 16-gallon water tank makes sure that you come back to a blooming garden.
Easy-to-assemble: The Smart Farm is highly user-friendly. It comes with a user instructions manual, so you do not have to worry about searching for every step on the internet. Simply fill up the base, plant, set the timer, plug-in the tower, and you are ready to go.
Dimensions: The dimensions of Smart Farm are 18.5 x 18.5 x 49 inches. It takes up less than two square feet of the floor, hence, you can efficiently use space. However, the highest number of plants you can grow in this tower is 20.
Accessories: The Smart Farm kit includes five large stacking planters, 250 GPH submersible water pump, 16-gallon water reservoir, 7-day digital timer,starter plant food (nutrient solution), pipes, adapters, tubes and instructions manual.
Pros
Self-watering
Accessories included (water pump, timer, pipes, etc.)
Durable
Grows up to 20 plants
Easy-to-assemble
Cons
Doesn't include wheelbase for increased portability
Foody 12 – Vertical Hydroponic Garden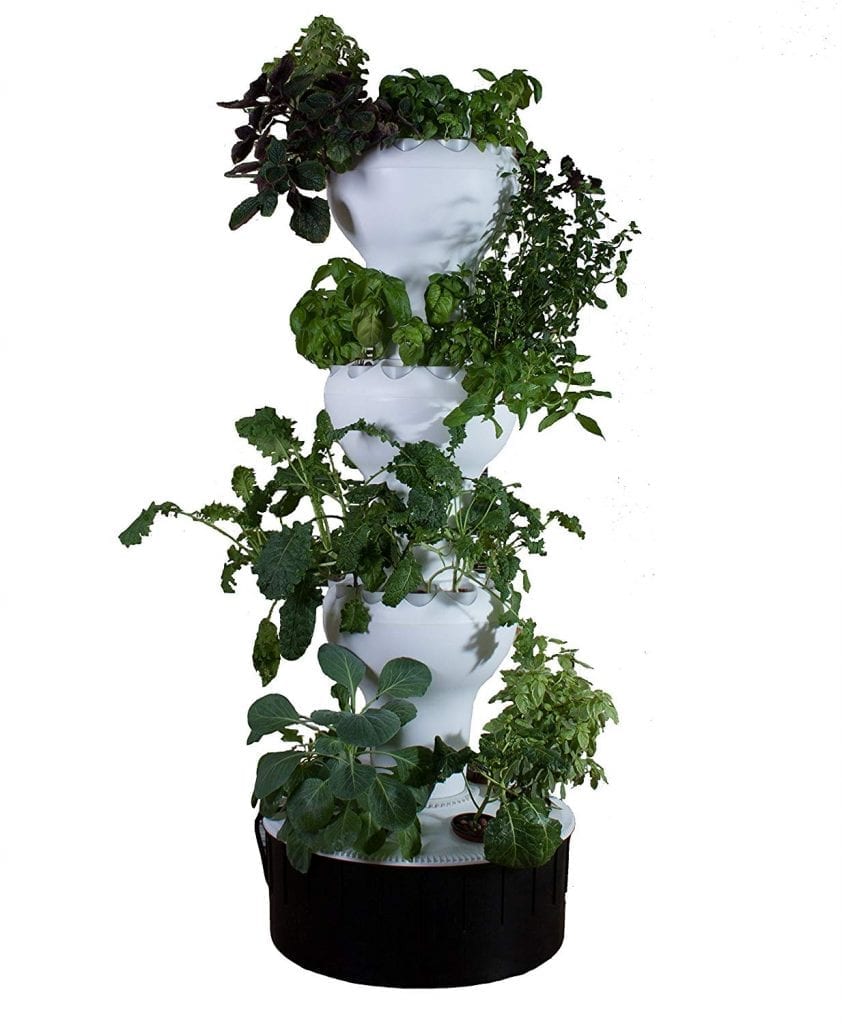 Based in Wisconsin, Foody Vertical Towers is slowly making progress in the hydroponics industry. While it has introduced quite a few models of hydroponic grow towers, Foody 12 is one of the most famous ones. It is highly recommended for indoor use. The company claims that the innovative and unique deepwater technology makes this tower the most productive vertical hydroponics tower on the market.
Features
Let's have a look at Foody 12 features to see if they stand up to the company's claims.
Assembly: Foody 12 consists of a rotating motor and removable net pots to ensure ease of use. It owns 12 residential units that can house up to 44 plants while taking up less than two square feet.
Self-watering: Foody 12 uses a unique and innovative deepwater grow system which helps in automatic circulation of nutrients and water in all growing pots.
Design: Foody 12 has an attractive and elegant design since it is modeled for indoor use. It will add beauty to your house. Do not worry about the tower making any mess since it uses hydroponics technology.
Easy to Manage: This vertical tower is highly manageable with its removable net pots. You can simply displace a pot to clean it and take a closer look at the plant growth.
Pros
Elegant design
Compact
Grows up to 44 plants
Durable
Easily to manage
Accessories included ( nutrients, pH control kit, rooting plugs, dissolvable salts meter)
Rotates automatically for maximum light exposure
Best for indoor plants
Cons
Plants are very close to each other, blocking light for smaller plants
Does not come with a wheelbase
Not suitable for outdoor use
Huge Greenstalk 5 Tier Vertical Garden Planter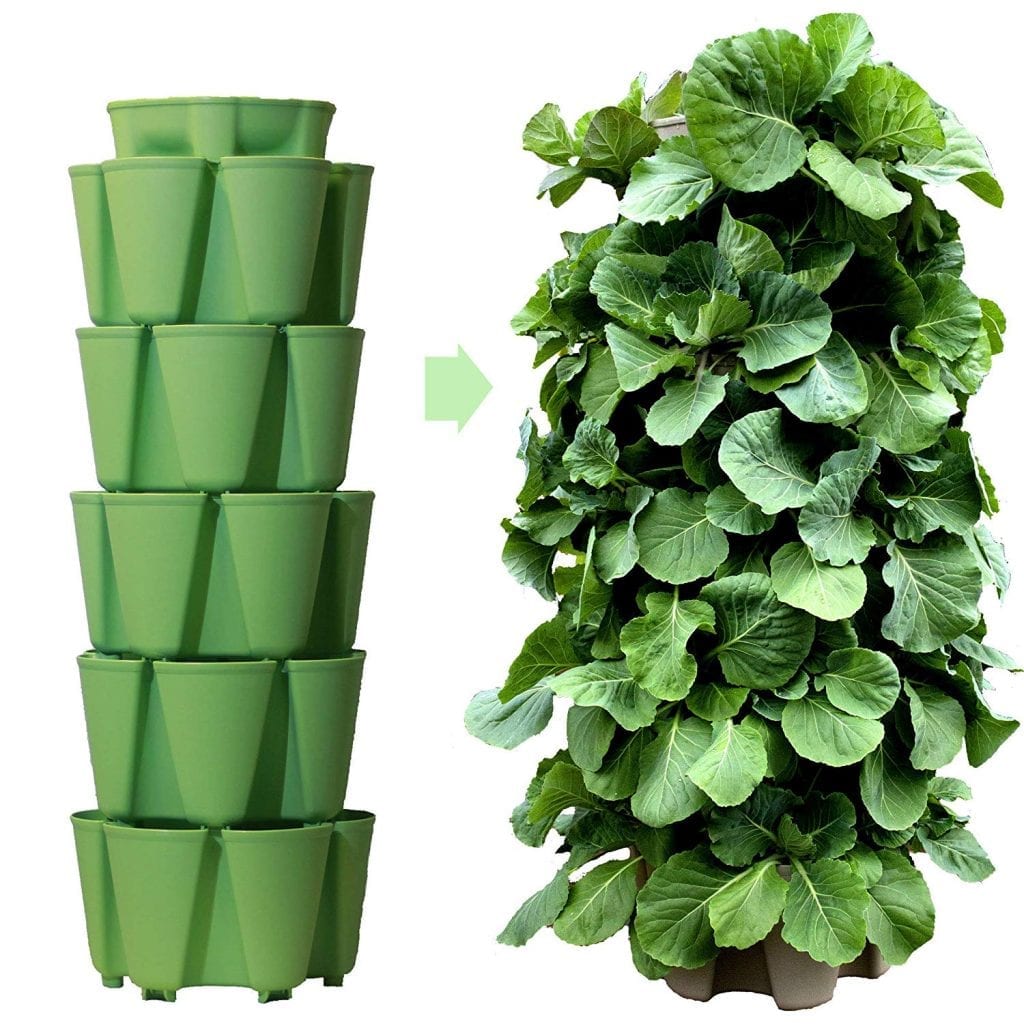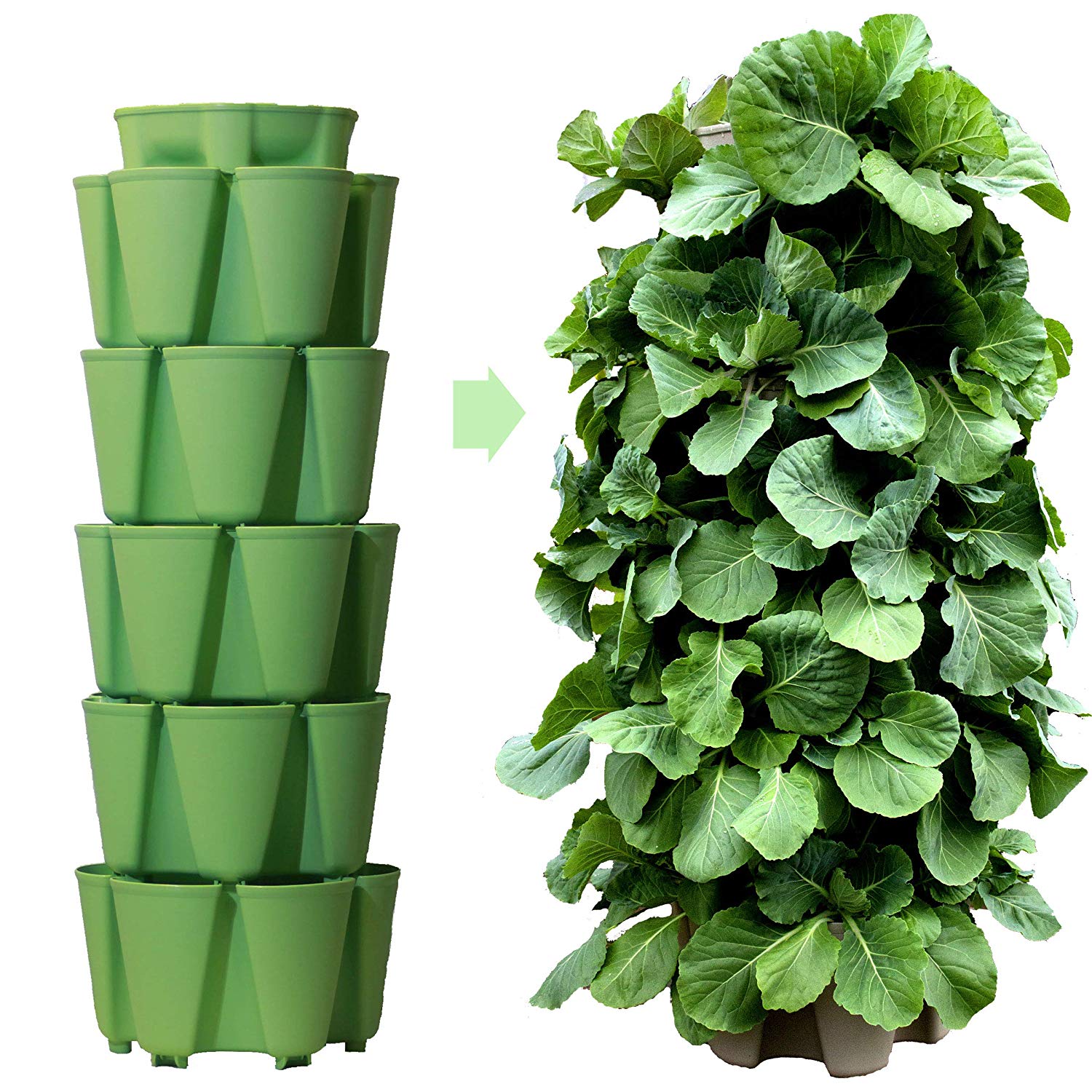 Manufactured and assembled in East Tennessee, Green Stalk is a patented, soil-based 5-tier vertical tower. It can carry up to 30 plants; five planters with six planting pockets each. Green Stalk Vertical Garden can take your gardening to the next level with its efficient design and unique watering system.
You can use this portable and elegant tower to increase the beauty of your house. The green planters can be used separately or stacked to be used as a tower.
Features
Green Stalk Vertical Garden has all the necessary features you would like in a vertical grow tower.
Material: This vertical garden is made up of high-quality, BPA-free, food-safe and UV-resistant plastic which has a warranty of five years.
Innovative Technology: Green Stalk Vertical Tower uses soil-based technology; hence, no special nutrients solution or electricity is required. Simply fill the five cubic feet of each pot with your favorite potting mix.
Easy to Water: The best thing about the Green Stalk Vertical Tower is that you can water all tiers at the same time using its patented water system. Simply fill water up to the 5-tier mark on the top water reservoir. It will start watering all the planters below. Green Stalk claims that it is the only tower that waters all the tiers consecutively.
Pros
Waters all the tiers together
High-quality material
Durable
Grows up to 30 plants
Easy to assemble
Cons
Does not include a wheelbase
Foody Tower – Stacking Vertical Garden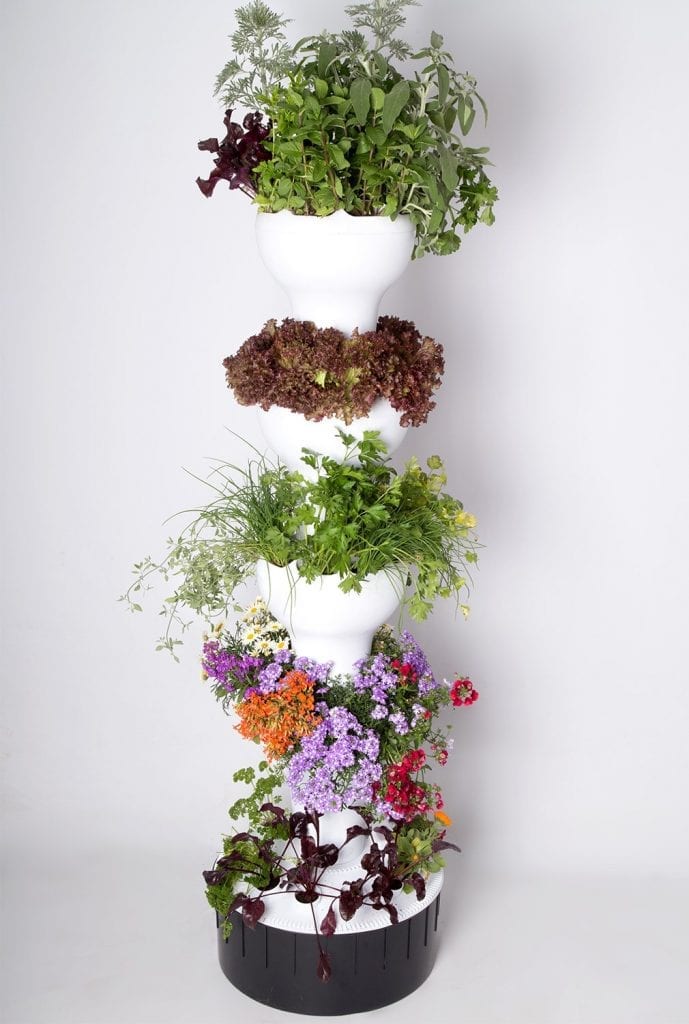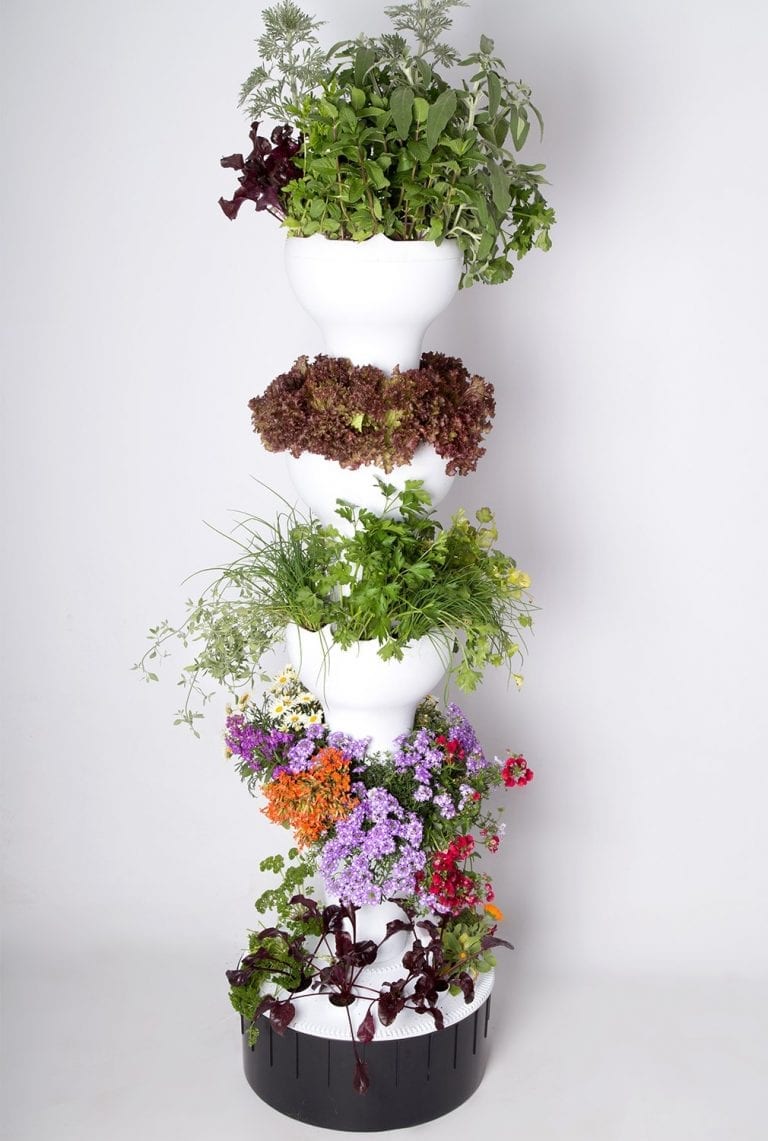 Foody Vertical Gardens has designed Foody 8 for the amateur gardeners. With an extremely easy to set up assembly and highly efficient design, Foody 8 is ideal for growing in limited spaces. It uses soil in the rowing pots while the plants in the base reservoir are grown hydroponically.
Features
Foody 8 incorporates all the right features for a novice vertical gardener.
Easy-to-use: Foody 8 is extremely easy to assemble and use. There are no complicated steps. Start by putting seeds into the soil in the upper layers and the net pots in the base reservoir. Then simple hand-water the plants and regularly rotate the tower for light absorption.
Number of Plants: The five feet Foody 8 allows growers to grow up to 40 plants altogether. Also, the net pots are removable making gardening a breeze.
Pros
Easy to use
Easy to assemble
Durable
Grows up to 40 plants
Cons
Does not include a wheelbase
Hydrofarm GCTB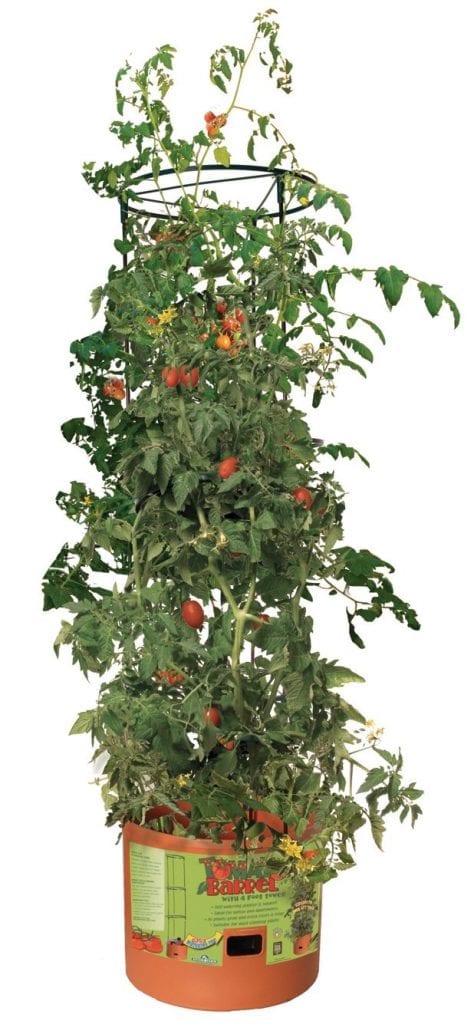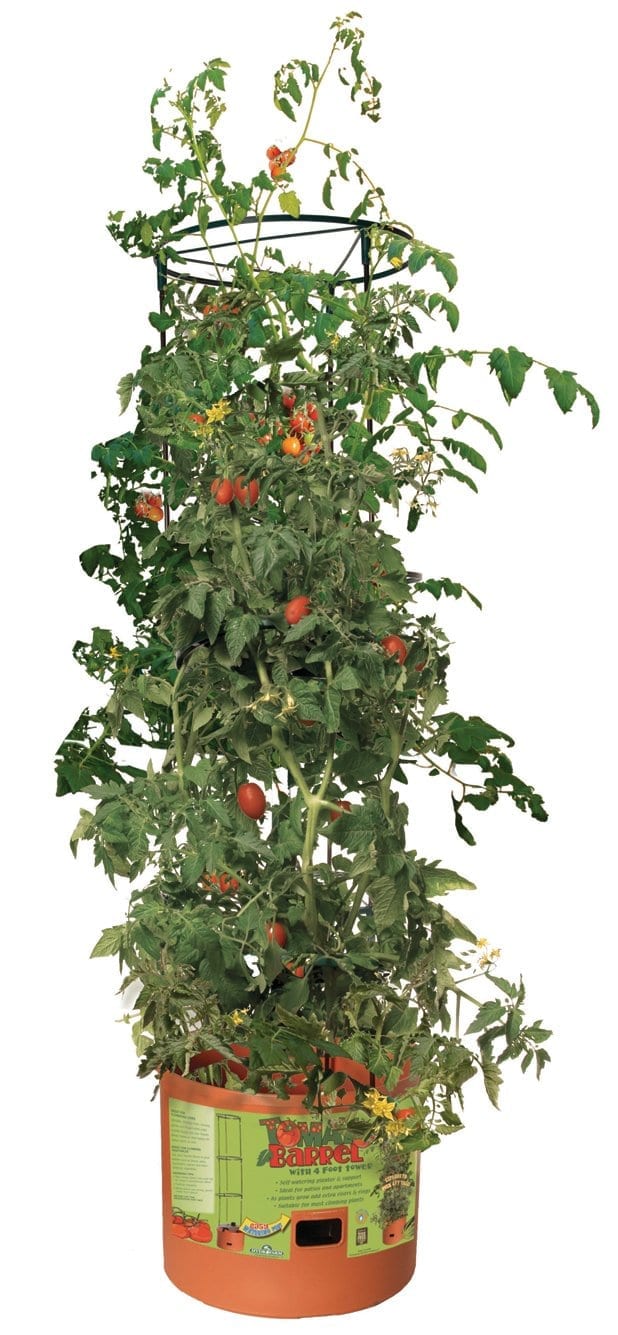 Hydrofarm takes pride in being one of the oldest and most trusted manufacturers of grow equipment. While their products include many premium quality products, one of the professional-grade instruments include GCTM vertical tower.
Features
Hydrofarm GCTB has a wide range of exclusive features to ensure healthy and faster growth of your plants.
Self-watering: Hydrofarm GCTB consists of an easy-to-fill reservoir from where water flows to the plants. It makes sure to save the plants from over or under-watering.
Extra-height: You can easily add extra rings and risers to increase the height of the 4-ft Hydrofarm GCTB.
Support: Hydrofarm GCTB provides lightweight but strong support to the climbing plants, helping them to devote maximum energy to developing fruit and keeping the fruit from falling off unripe.
Pros
Self-watering
Extendible height
Durable
Best for climbing plants
Cons
Does not include a wheelbase
Watch this video if you're interested in building your own vertical tower garden.
Conclusion
Choosing a hydroponic tower garden isn't that hard if you know what you are looking for. The secret lies in finding your own needs. If you are a beginner and have recently discovered vertical gardening, the Foody 8 might be the best pick for you. It will make farming less mess and more fun for you. It includes both methods (soil and water for plant growth), hence, it might bring you a lot of exposure to vertical gardening.
If you want to look further than the Tower Gardens of Amazon. Look at the Garden Tower 2 by Garden Tower Project. We really like this Tower Garden, which looks great and is incredibly large.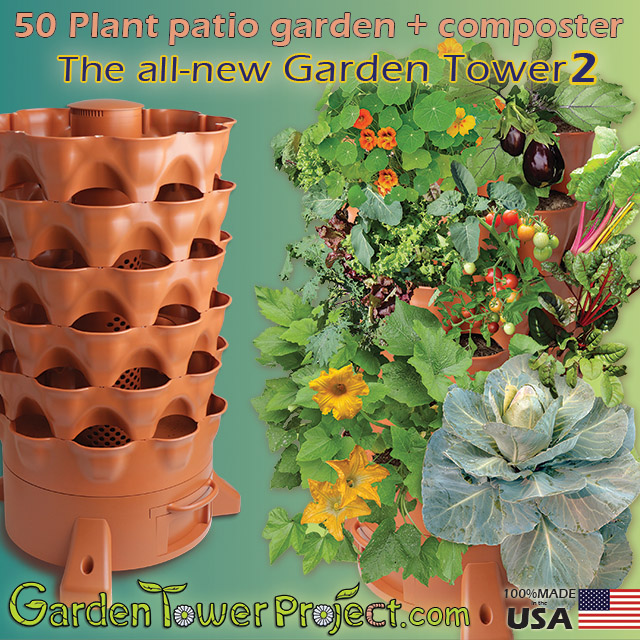 However, if you are a pro and looking forward to growing up to 40 plants or more, Mr Stacky's Smart Farm is the one for you. With its extraordinary features and premium quality accessories, you can do wonders in the field of hydroponic vertical farming.