Imagine being able to grow your favorite plants together with your fish. It is not impossible if you could mimic a natural underwater ecosystem. After all, that's what happens all across the world's seas and oceans.
As we all know, plants need nutrient-rich soil to grow. But if your fish can provide a natural fertilizer for your hydroponic plants, why use soil at all?
So what are we talking about? Indoor Aquaponics creates an ecosystem for your fish and cannabis to grow together. In an indoor aquaponics system, your fish do all the work for you. Don't worry. It's not hard work.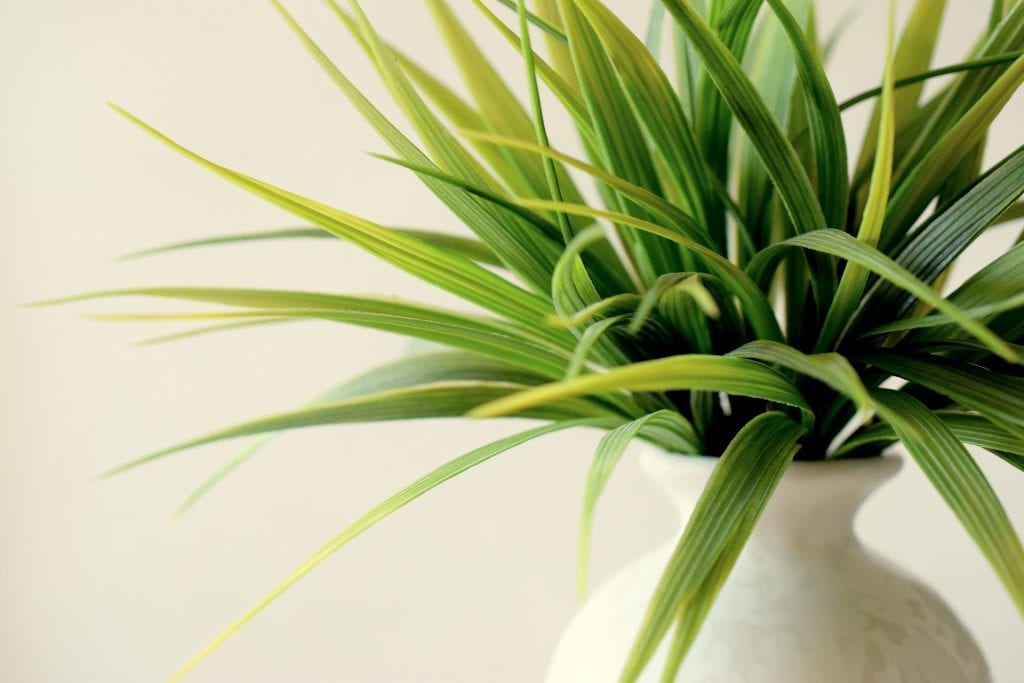 Aquaponics DIY indoor is a brilliant way to make use of a natural cycle to build your own little symbiotic system. Want to know how it works? Keep reading.
What is Indoor Aquaponics?
Before we get to the mechanics of the system, let's go through some aquaponics basics. If you are new to indoor aquaponics, you'll be amused.
In aquaponics, 'aqua' stands for aquaculture, which means raising fish in a controlled aquatic environment that mimics their natural habitats like oceans, lakes, and ponds. The 'ponics' refer to the hydroponics systems that means growing plants in water.
So, aquaponics works through a symbiotic relationship between microorganisms, plants, and fish. Another way to think about the system is as an aquaponic garden that grows both fish and plants.
Indoor aquaponics simply means to create an aquaponics system indoors to grow a garden along with your fish tank. But how does it all go down? Keep reading to find out how a fish tank can work as a system for plant growth.
How Does Aquaponics Work?
In aquaponics, aquaculture and hydroponics join forces to mimic a natural ecosystem. By combining the two methods, you take advantage of all the benefits from them while wiping out the drawbacks of each.
What makes this system symbiotic is the fact that the three organisms coexist in a connected setting while benefiting from one another.
Here's a simple breakdown of the nitrogen cycle in an aquaponics system:
Fish waste contains ammonia, which is food for the microorganisms living in the grow bed. An excess of ammonia in the water can be harmful to the fish.
The microorganisms consume the ammonia and convert it into nitrates, an ideal fertilizer for plants.
Now that the ammonia is reduced from the water, it is well-aerated and safe for the fish to live in, and the plants can grow healthy with the natural fertilizer.
Aquaponics systems are very similar to hydroponic systems, the only difference being the source of nutrient-solution for the plants. The fish waste mixes with the water in the fish tank, and a pump supplies it to the plant roots.
The grow bed cultures bacteria that convert the ammonia in the water into nitrites and then nitrates. The roots consume the nutrients from the water, and aerated water is returned to the fish tank.
In aquaponics systems, the horticulturalists have their gardening works massively cut down so that they only have to feed the fish and reap the produce of the grow bed.
You can scale aquaponics systems according to your budget and needs, ranging from small-scale basement systems to a large garden in your backyard.
How to Make Your Plants Thrive in Aquaponics?
It is essential to pick the right system for your cannabis plants. In aquaponics systems, the primary nutrient produced from fish waste is nitrogen with some other trace minerals. Nitrogen is very beneficial for the healthy growth of your plants.
You can also provide additional minerals to your plants, without polluting the water. The Double-root zone is a technique to divide your plant roots into two sections, separating the top part of the roots from the bottom. You can add the additional fertilizers to the top root zone, without contaminating the water of the fish tank.
Another way to make your plants thrive in an indoor aquaponics system is to match your plant needs with the fish needs. A matching temperature and oxygen requirement can make it easier for you to handle the system.
You should also consider other factors, such as sunlight and pH levels, for the growth of healthy plants and fish. Since you are gardening indoors, go for fish that require less sunlight or thrive in artificial light just as well.
Moreover, the type of grow bed you use for your cannabis plants will also have a significant effect on their growth. Whether you go for straight Media Filled beds, NFT, or DWC, make sure your system is secure and durable.
In any type of aquaponics system, if you keep low water levels in the fish tank, it might not reach the plant roots in appropriate amounts resulting in stunted growth. But again, another reason for stunted cannabis growth is the wrong choice of fish, and the lack of nutrients in the grow bed.
How to Make an Indoor Aquaponics System?
If you are passionate about aquaponics, aquaponics DIY indoor will be easier than you think. You can make an indoor aquaponics system without a hitch.
You can either go for an Ebb and Flow or a Continuous Flow aquaponics system. We will be going for a Continuous Flow system in which your cannabis will have enough supply of oxygen at all times.
So, without further ado, here's all you have to do to make your very own aquaponics system.
What Do You Need?
Here's everything you need to build your indoor aquaponics system.
Fish Tank
The fish tank is where your fish will live. Before picking a fish tank, think about the size and type of fish, you will grow in it.
If you want to grow fish only for fun, you can get a tank as small as 10 gallons. However, if you're going to raise edible fish that aren't small, you will need a container with a minimum capacity of 150 gallons.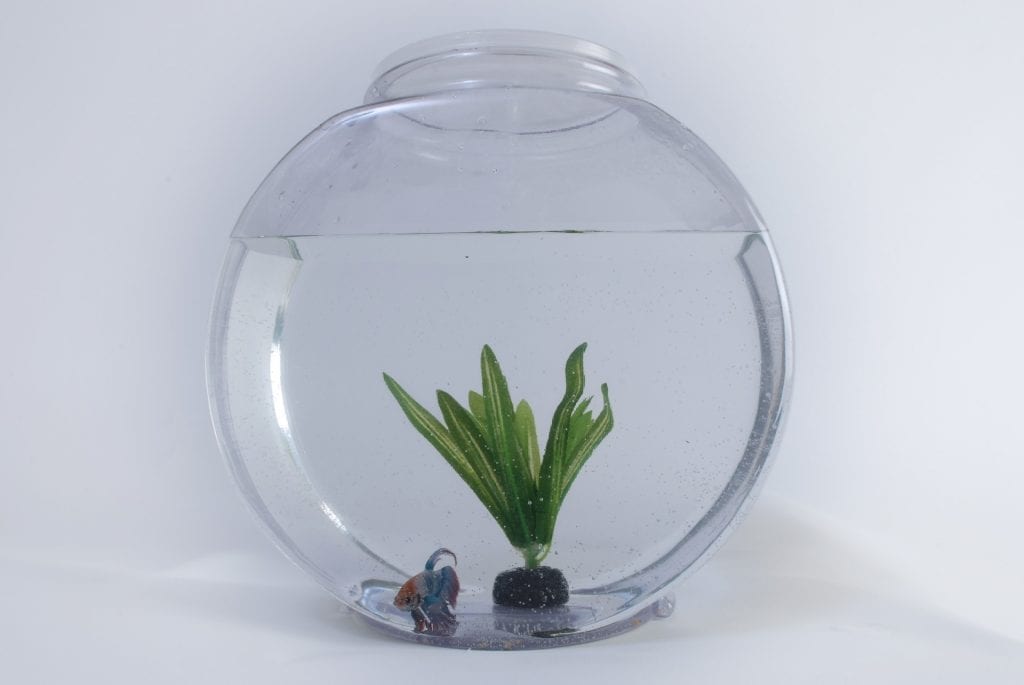 Whichever size you choose, your fish tank needs to be made of sturdy, non-toxic material to withstand the water pressure and assure a safe environment for your fish.
Grow Bed
The grow bed accommodates your plants. Hence, it has to be strong enough to hold the growing media. You would also want to choose a non-toxic material that is safe for your plants, fish, and any other useful organisms.
The depth of the grow bed plays an essential part in determining the efficiency of your system. You can go for a standard-sized grow bed, which is usually deep enough to support healthy plant growth.
Bell Siphon
Since we are going for an Ebb and Flow system, a bell siphon will regulate the flow of the water. It will drain the plant bed for you after the water reaches a certain level.
The whole mechanism of the bell siphon maintains the water levels inside the grow bed by draining out the excess.
Water Pump
Since water is the primary medium that supplies the fish and plants with nutrients, water pumps are an integral part of the aquaponics systems.
It ensures a perfect water circulation throughout the system so that your fish, plants, and beneficial microorganisms get adequate amounts of nutrients for quick and healthy growth.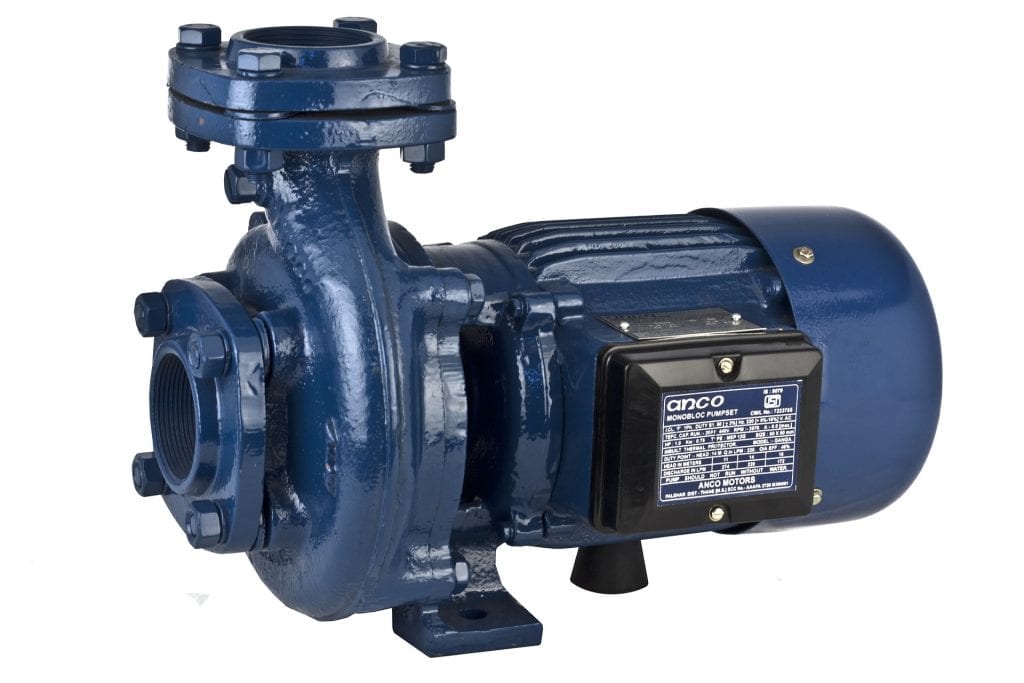 An inadequate or excessive supply of water to the plants can prove to be fatal for them, and thus for the fish. When getting a water pump, consider it's type, electricity consumption, flow rate, and size.
Flooding Pipe
The flooding pipe connects your water pump to the grow bed. You can get a PVC pipe for flooding your grow bed.
Grow Bed Medium
A growing medium acts as a nutrient carrier in your aquaponics systems. It retains the water flowing through your system and makes them available for the plant roots. It also supports them to keep them in place.
You can choose from a variety of different growing media, including perlite, clay pebbles, and coconut coir. Before selecting a grow medium, consider its surface area, water retention, weight, and maintenance cost.
Grow Lights
As your aquaponics system will be indoors, you will need special lights to replace the sunlight for your plants to grow healthy. You can set the timer on your grow lights to mimic sunlight patterns.
Test Kit
A cannabis crop needs significant amounts of nutrients during the flowering stage. However, adding more nutrients might be harmful to the fish if the plant doesn't use up most of them.
A water test kit can help you track the pH levels, ammonia, and nitrate levels of the water. You can also get a thermometer to record the water temperatures for a healthy environment for the fish and plants.
Plants
Choosing the right kinds of plants for your indoor aquaponics system and providing them with sufficient nutrients is very important. Cannabis plants need more nutrients than other plants, especially in the flowering stage.
When cannabis plants are producing new buds, they need all the nutrients you can give them. Hence, pairing plants with high nutrient needs can lead to a successful crop.
Some other plants with high nutrient needs include:
Vegetables — peppers, tomatoes, cucumbers
Fruits — strawberries, small citrus fruits, pineapples
Fish
Fish will be the source of fertilizer for your plants. A healthy bunch of fishes means good fertilizer for your plants, and perhaps a healthy meal if you are planning to harvest them.
When choosing fish for your system, consider their size, oxygen needs, diet needs, and pH tolerance. The kind of fish you choose will depend on whether you want to keep them for fun or consume them.
Building the System
Here's a step by step guide on how to make your indoor aquaponics system.
Step 1: Set up the Fish Tank
Before filling up the fish tank, decide the area where you will be placing your system. Also, think about its weight and any potential damage in case of a leakage.
Then, fill up the fish tank to its maximum water capacity.
Step 2: Place the Grow Bed
You can either construct your own grow bed or get one ready-made. Place the grow bed at your preferred height and level it out.
Step 3: Bell Siphon
Place the uniseal on the top, and bottom hole of the grow bed and tighten it together. Next, pass the standpipe through the uniseal and adjust its height depending on the height of the bell cap.
Then, connect a 90° elbow to the bottom end of the standpipe below the grow bed. Lastly, cover the standpipe with the gravel guard and weigh it down using a weighty material such as a rock.
Step 4: Grow Media
Now, fill the grow bed with the growing medium. You can flood your grow bed before adding the grow media to ensure that it is at the top of the standpipe. Any puddles in the grow media means low spots.
If you flood the grow bed, make sure your fish tank has some space left to hold that water.
Step 5: Finalize the System
Place the water pump inside the fish tank, and position the standpipe on top of the fish tank. Then, turn on the siphon and the water pump to ensure functionality.
Here comes the best part. It's time to add your fish to the fish tank and plant your crop in the grow bed.
The Best Indoor Aquaponic Kits on Amazon
Title
Ecolife ECO-Cycle Aquaponics
WAWLIVING Betta Fish Tank
Kingro 5 in 1 Indoor Gardening Ecosystem
Photo
Material
multiple plastics as PP/PC/ABS
Size (gallon)
No information. Size is: 4" *4" *6"
Photo
Title
Ecolife ECO-Cycle Aquaponics
Photo
Title
WAWLIVING Betta Fish Tank
Photo
Material
multiple plastics as PP/PC/ABS
Size (gallon)
No information. Size is: 4" *4" *6"
Title
Kingro 5 in 1 Indoor Gardening Ecosystem
Photo
Title
Joyfay Aquaponic Fish Tank
Photo
Title
Joyfay Aquaponic Fish Tank
Photo
Photo
If you want your own indoor aquaponics system, but haven't got the time or patience to start building one from the top, get an indoor aquaponics kit.
You can get a fully functional and reliable design without going through all the testing and trying. You just have to assemble the system, and you're all set.
Here are the best aquaponics kits available on Amazon.
AquaSprouts Garden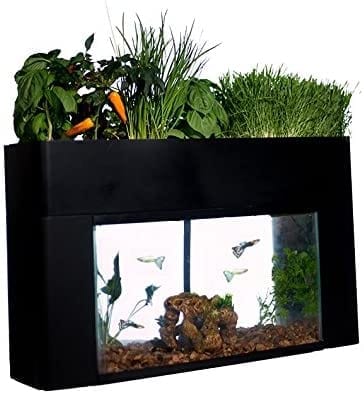 Aquasprouts aims to make aquaponics accessible to everyone by creating easy-to-maintain and straightforward designs to fit every setting.
The AquaSprouts Garden can turn a standard 10-gallon aquarium into an aquaponics system. The simple design with a matte finish effortlessly fits any setting.
The system includes a removable light bar that you can connect to any grow light. You also get a submersible 9.5 Watts water pump and a 24-hour timer for trouble-free management of the system.
The kit includes clay grow media to support your plants. You can assemble the system quickly by following the detailed guide to set up and maintain the Garden.
On the downside, the kit is made for rectangle aquariums that can be hard to maintain. You will also have to invest further to make the system functional.
Ecolife ECO-Cycle Aquaponics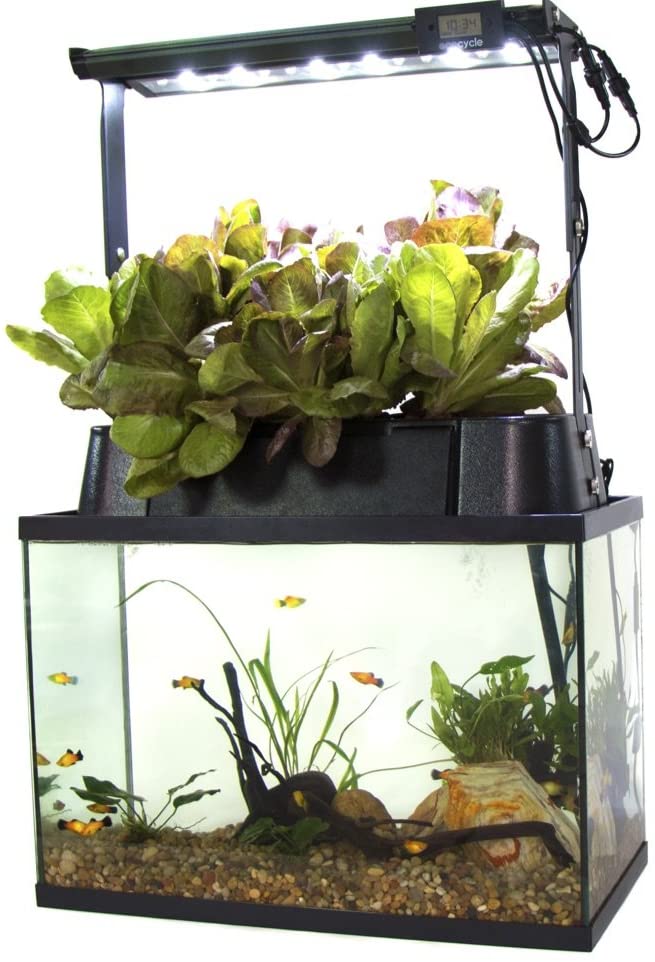 EcoLife Conservation aims to protect humans and natural resources by providing simple solutions for agriculture.
The EcoLife ECO-Cycle Aquaponics Kit is for larger fish tanks. It lets you turn your 20-gallon fish tank into an aquaponics system. The system includes programmable and energy-efficient LED lights that help your plants grow faster.
The four grow settings, remote control, and the timer makes the system easy to handle. You simply have to follow the instruction manual to get started.
But there's a rub. The LED lighting in the system can be a bit too bright for some settings. They might irritate your eyes if they are at an odd angle.
Kingro 5 in 1 Indoor Gardening Ecosystem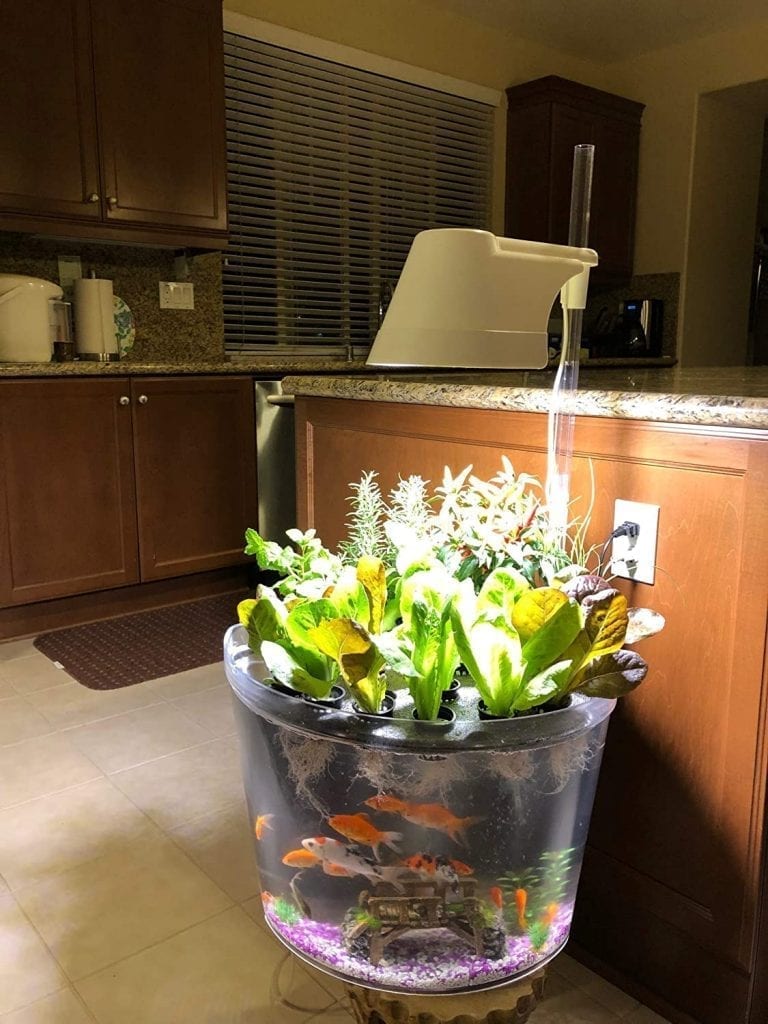 Kingro Inc. celebrates the joy of growing plants by creating convenient, multi-functional systems or growing healthy vegs, flowers, and fish.
The Kingro 5 in 1 Indoor Gardening System has a 20 inches diameter to grow fish and plants by hydroponics and soil methods. The subsystem container allows soil gardening for herbs, flowers, and other plants.
A microfiber strip holds 120cc of water every day to provide moisture to the soil subsystem. The system contains a 20 Watt LED grow light with a timer for a controlled environment. It also has a built-in water filter pump for even nutrient distribution throughout the system.
Simply add soil, water, and electricity to get started. On the downside, the fish tank might be small for some users.
WAWLIVING Betta Fish Tank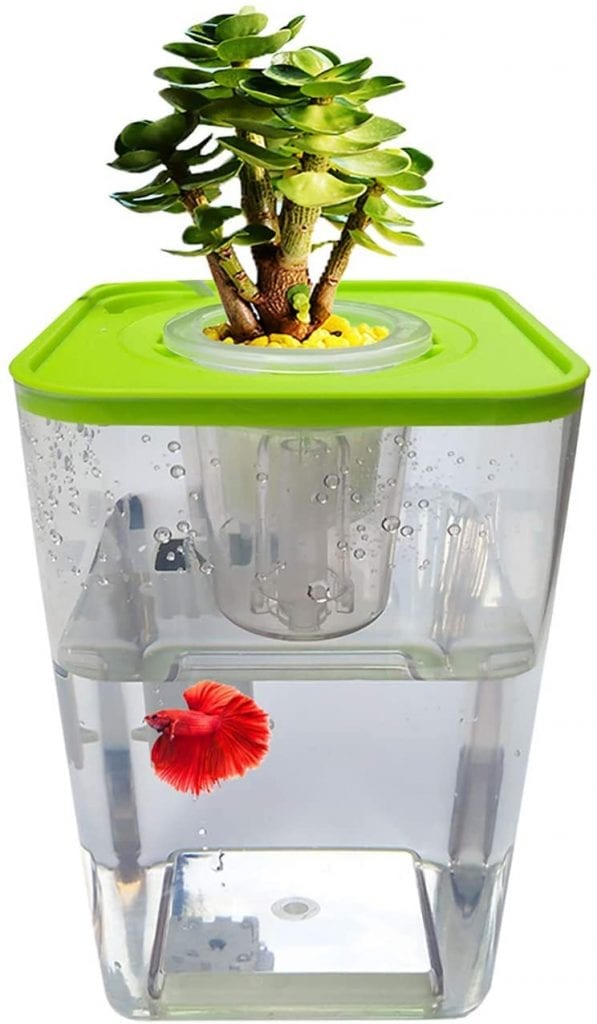 WAWLING offers a variety of items, from pet supplies to plant support, fish aquariums, and more.
The WAWLING Betta Fish Tank is a mini aquaponics system with a simple design. It is super easy to set up in your school or place it on a tabletop at your home.
The system makes use of an automatic siphon to maintain the water levels. It ensures that the plant roots get enough oxygen and nutrients without watering or fertilizing.
The package contains a plastic fish tank, a planting cup, and a water pump. You also get a sponge as a growing medium in the planting cup.
The mini system is ideal for small fish or snails and doesn't require frequent maintenance. However, the fact that it is made of plastic might bug you.
Joyfay Aquaponic Fish Tank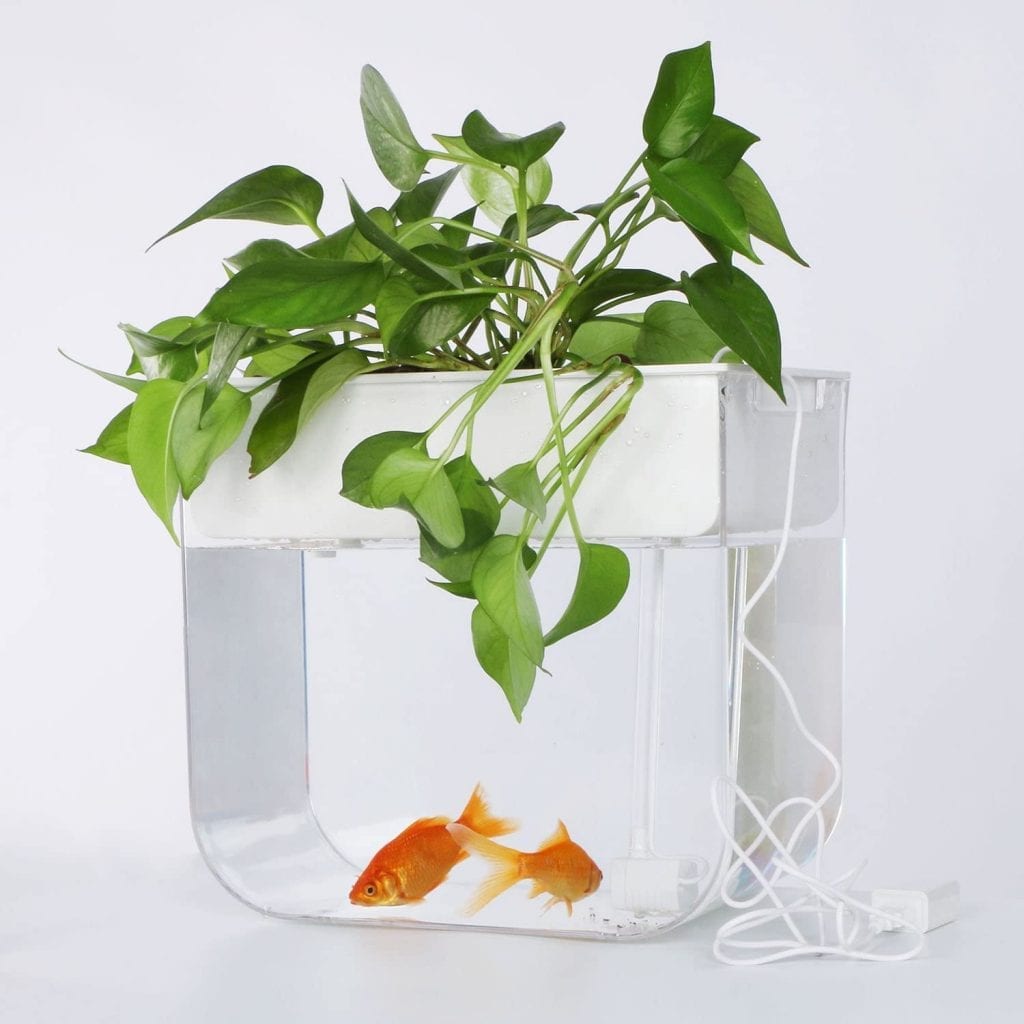 JoyFay produces a range of different products, from baby supplies and stuffed toys to electronics and computer supplies. The brand delivers each order with ultimate care and safety.
The JoyFay Aquaponic Fish Tank has a stylish design and requires minimum effort to maintain. The self-cleaning fish tank has slightly rounded ends, which make it easier to clean.
The tank has a water capacity of 12 liters so you can grow a variety of plants and fish. The package contains a fish tank, lid, water pump, and growing rocks.
Despite the easy-to-use system, some users might not find the instruction manual detailed enough, making it a bit difficult to set up the system.
Penn Plax Aquaponic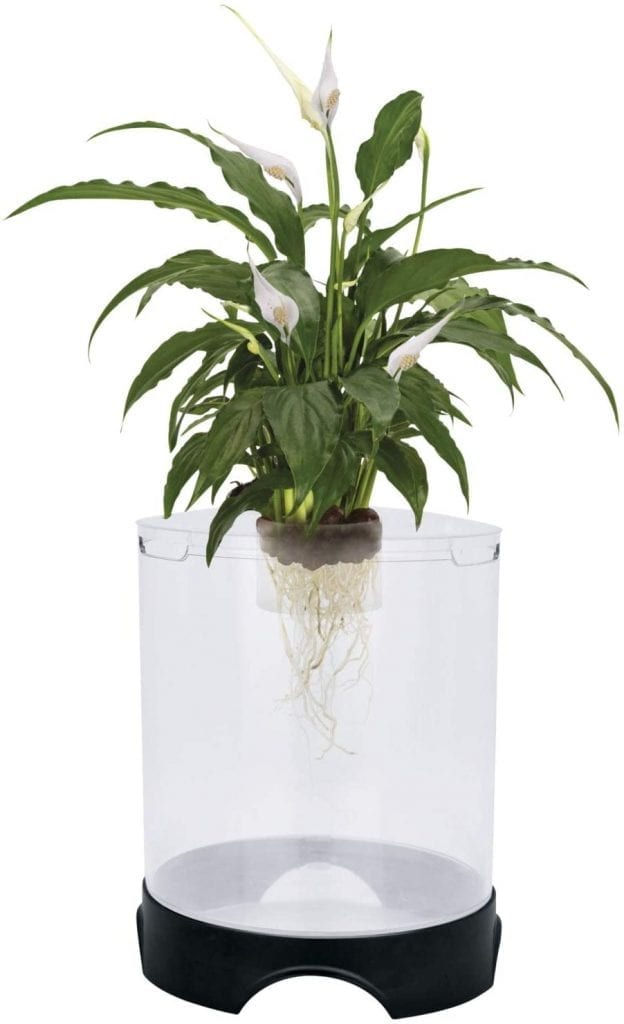 Penn-Plax is all about pets. The family-owned business has produced a range of different products for the care and wellness of pets worldwide.
The Penn-Plax Aquaponic Betta Fish Tank is a simple and manageable system with a 1.4-gallon fish tank capacity. It is made of high-quality plastic and comes with a ceramic substrate planting medium. You can keep betta or goldfish in the tank along with small house plants and herbs in the planter.
The package includes a plastic fish tank with a planting lid and a growing medium. Although the system has a rating of 4.4 out of 5 on Amazon, some users found it a bit small to grow betta fish.
Summary and Recommendations
To sum up, indoor aquaponics systems are easy and fun to make. They allow you to grow your fish and plants in a single system without extra maintenance or effort.
If you want a small-scale aquaponics system, you can go for a beautiful and fun aquaponics tank, such as Penn Plax. If you already have a fish tank, you can consider getting a kit, such as the EcoLife ECO-Cycle Aquaponics System.
However, if you are going large, you can construct your own aquaponics system by following our step-by-step guide.
So what are you waiting for? Start building your indoor aquaponics system now.