We've all wanted to grow plants at some point, and we've all watched them die for some reason. It could be because of a lack of space, attention, or even a proper environment for the plant to grow in. Nevertheless, we don't need to give up on our gardening dreams just yet. With a 2×4 grow tent, you can grow all your favorite plants without any trouble.
A 2×4 grow tent offers an ideal and compact growing space where you have complete control over the environment.
Are you looking for other grow tents? We reviewed a lot of different sizes and types on our website. Check out the various types here:
– 3×3 Grow Tent
– 4×4 GT
– 4×8 GT
– 10×10 GT
– Stealth Grow Boxes
How Many Plants Can You Grow in a 2×4 Grow Tent?
The 2×4 grow tent is a pretty common size. It is slim enough to fit into any closed space, such as your closets comfortably. Furthermore, it is big enough for planting more than one plant as well. While selecting a tent, you also need to consider its height as there has to be ample space for other tools such as lights, fans, filters, etc.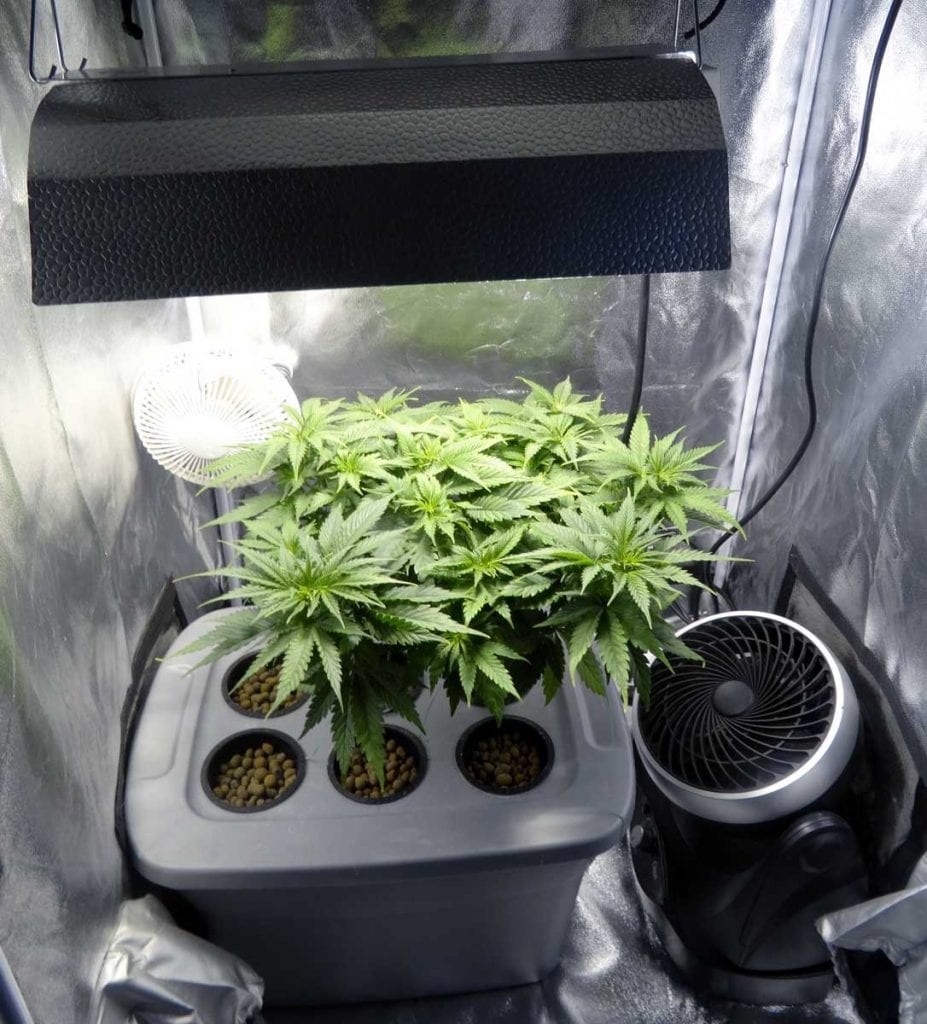 Once you've decided on a tent, your next question would be how many plants you can grow in it. Well, that depends on various factors. For instance, how you plan to train them, how long you veg them, how much yield are you aiming for, and other questions like these. Generally, you can fit in either two big plants or 6-8 smaller ones.
2×4 Grow Tent Reviews
Table could not be displayed. Table could not be displayed.
Now that you know a bit about these grow tents, it's time to go and buy one. We've rounded up eight of our favorite 2×4 grow tents that will be the perfect companion in your gardening journey.
Vivosun 48x24x60 Grow Tent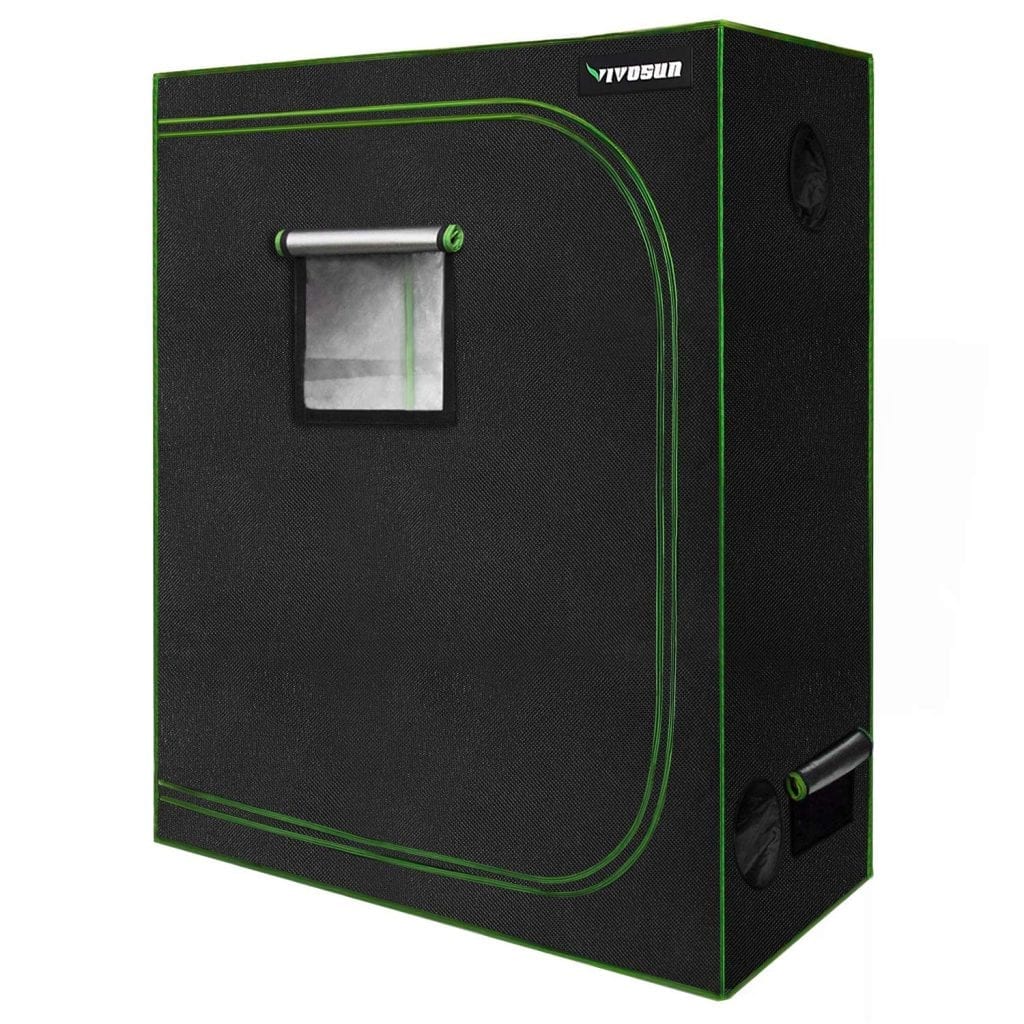 The Vivosun 48 x 24 x 60 Grow Tent, with its professional features and equipment, is ideal for experts and beginners alike. It has a simple assembly that will allow you to set up the tent quickly easily. The tent itself has a high-quality cover. The cover is a 0.8mm, extra thick, 600D canvas. It's durable, lightproof, waterproof, and tear-proof, which provides the highest level of protection to your plants.
The thick canvas, along with the double stitching and high-quality zipper with black lining, ensures that there is minimum light leakage. Moreover, the interior is lined with 98% reflective Mylar that enhances your grow light output to further aid plant growth. The tent structure includes sturdy metal poles and connectors which are strong enough to support the thick canvas cover.
Additionally, the Vivosun Grow Tent has various other features that make it incredibly convenient to use. It has a waterproof and easily removable floor tray that makes cleaning, changing, or inspecting a hassle-free task. The zippered door functions smoothly so you can easily access your plants and also seal it back quickly. Moreover, there's a clear observation window to observe from outside without disturbing your plants.
It has tightly sealed ventilation openings to control the environment further. You can easily hang your fans and other tools inside as well. Vivosun also offers a two-year warranty on this excellent 2×4 grow tent in case of any problems.
Features
Dimensions: 2 x 4 x 5 feet
Extra thick, 600D canvas
Reflective Mylar interior
Sturdy metal frame
Zippered door and window
Removable floor tray
Pros
Tear-proof and long-lasting cover
Maximum light retention
Secure and stable structure handles the extra weight
Plants easily accessible
Easy maintenance
Two-year warranty
Con
Not all vent holes close completely
Hydroplanet 48x24x60 Mylar Hydroponic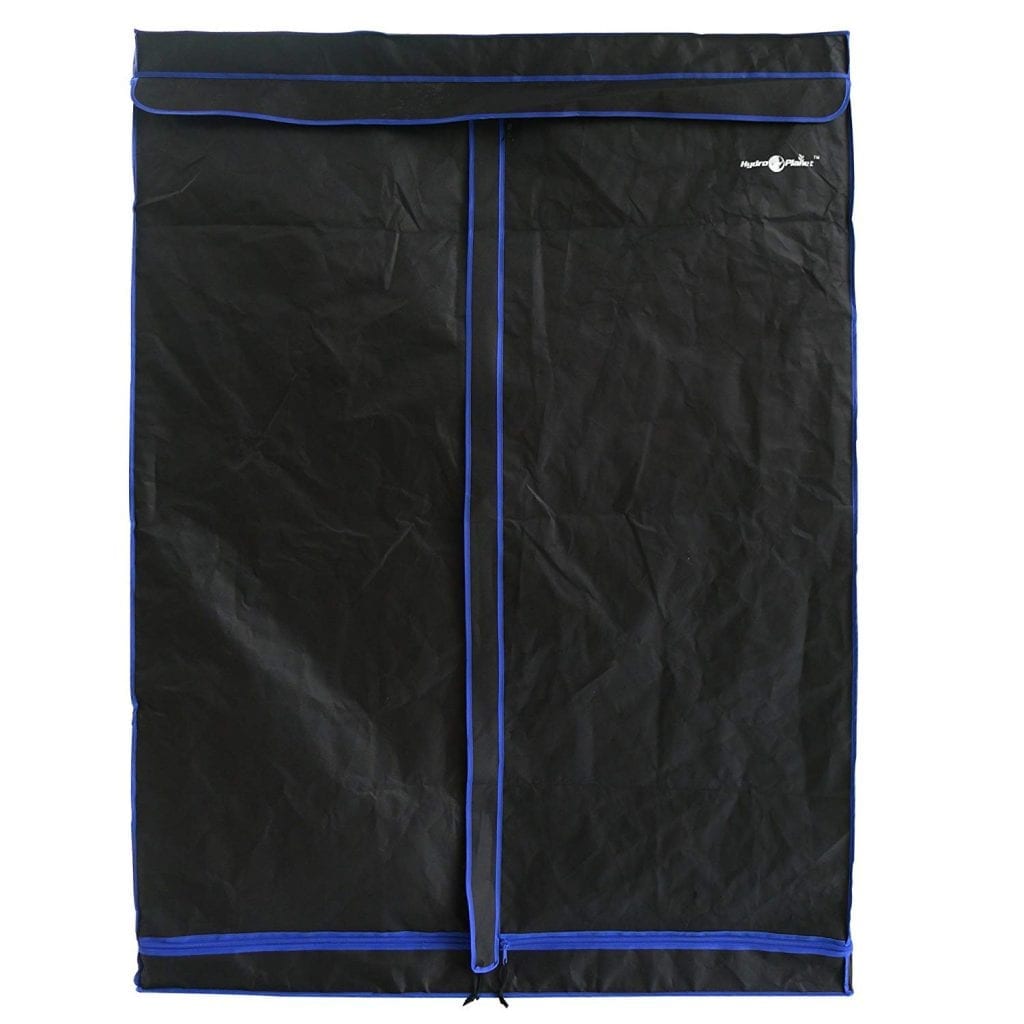 Another brilliant grow tent, the Hydroplanet tent is loaded with excellent features that will help you grow the best plants indoor. This 2×4 grow tent has an extra-thick, hydroponic 600D canvas cover. This ensures that there is no light leaking from anywhere to make the tent lightproof and help plants grow faster. Moreover, the zip line has an additional cover over it to further prevent light from spilling out.
The tent has top quality steel poles and brackets which are designed to not only handle the weight of the thick canvas but also bear any additional tools. Inside the tent, you will find a 100% reflective Mylar surface to increase your light efficiency and make your plants grow stronger. This surface is tear proof as well for a long life grow tent.
There are plenty of holes and openings too in the tent for when you want to install filters, fans, or a ventilation system. Moreover, if you're not using these holes, you can quickly seal them using the drawstring. The tent is incredibly simple and straightforward to assemble. You don't need much hardware, and the whole process does not take more than an hour at maximum.
Additionally, the tent canvas is washable so you can clean it between growing sessions without any trouble. The Hydroplanet 2×4 Grow Tent also comes with a two-year warranty if you ever run into any issues.
Features
Dimensions: 4 x 2 x 5 feet
Extra thick, 600D cover
Reflective Mylar interior
Sturdy metal frame
Zippered door and window
Pros
Blocks light from leaking out
Ensures a controlled environment
Multiple vent holes
Easy assembly and clean up
Two-year warranty
Con
Gorilla Grow GGTSH24 2×4 Grow Tent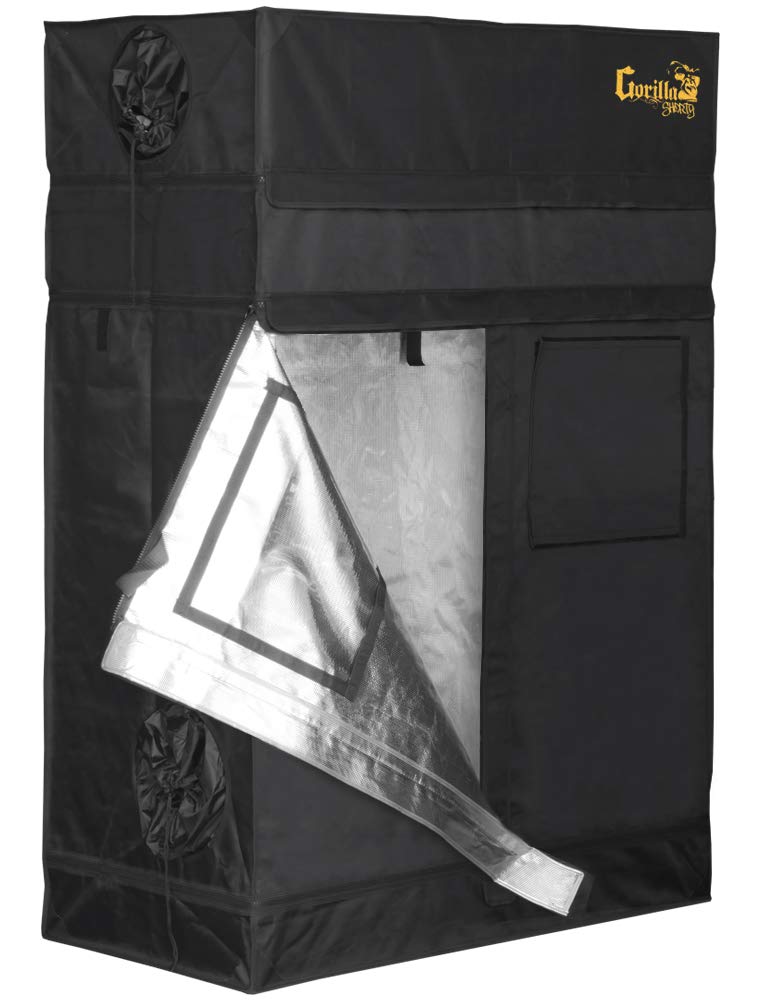 Gorilla is no stranger when it comes to grow tents, and their 2×4 grow tent is nothing short of brilliant. It has one of the thickest and strongest grow tents out there which can serve all kinds of plant growers. The Gorilla Grow Tent Shorty stands at 4 feet, 11 inches, therefore, you can comfortably set it up in your basements or attics.
However, if you're not a fan of the short height, you can easily set it anywhere else after using the extension kits that add a whole nine inches. The tent poles, along with being adjustable are also part of a solid and stable tent structure that can support up to 300 pounds worth of equipment.
The tent cover is made using 1680D fabric, which provides maximum protection to your plants while preventing light from seeping out. Moreover, using the adjustable micro mesh pre-filters, you can protect your plants from bugs too. On the inside, there's a unique diamond reflective surface which boosts your light output. Additionally, the grow tent is designed to have an infrared blocking roof as well for further safety.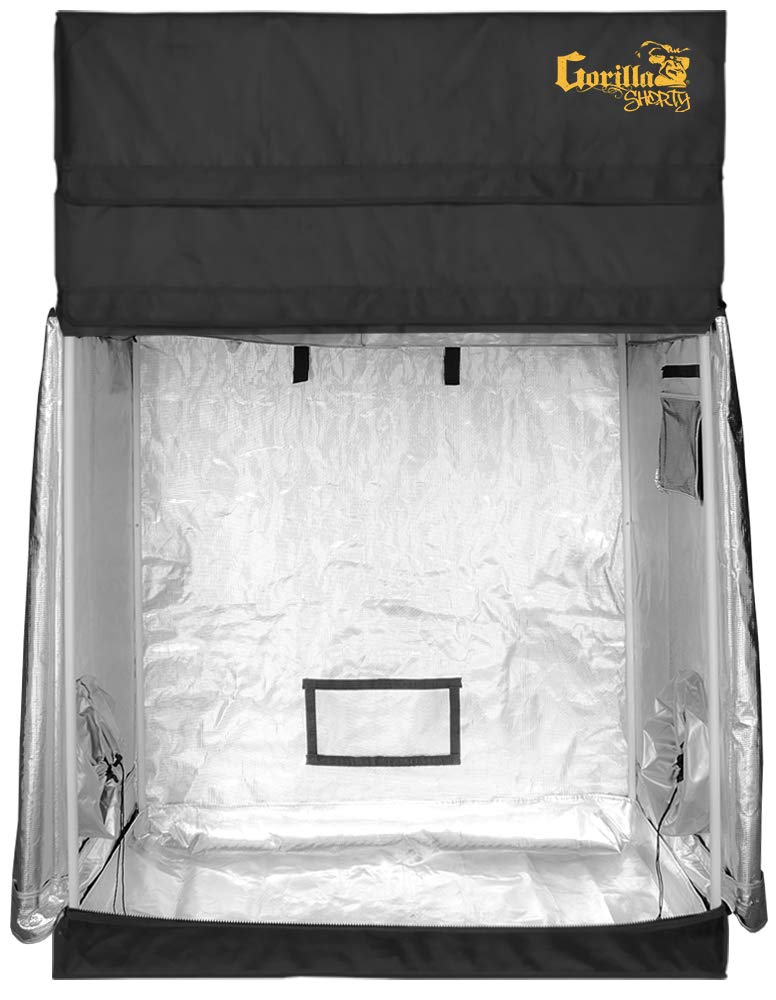 The Gorilla Grow Tent also has various features that make it very easy to use. There is a zippered door for easy access and smooth operation due to the industrial quality zips. There are windows too for undisturbed viewing. Under the tent, there is a sturdy spill tray that makes clean up a breeze.
Considering how vital ventilation is, Gorilla has included numerous duct ports and vents, all placed strategically for the best yield.
Features
Dimensions: 2 x 4 x 4.9/5.7 feet
Incredibly thick, 1680D cover
Micromesh pre-filters
Reflective surface inside
Infrared blocking roof
Zippered door and window
Numerous vent holes
Pros
Minimum light leakage
Maximum protection
Quick clean up and assembly
Plants easily accessible and monitored
Sturdy frame
Con
Can't be placed outside as no weather protection
CoolGrows 2×4 Grow Tent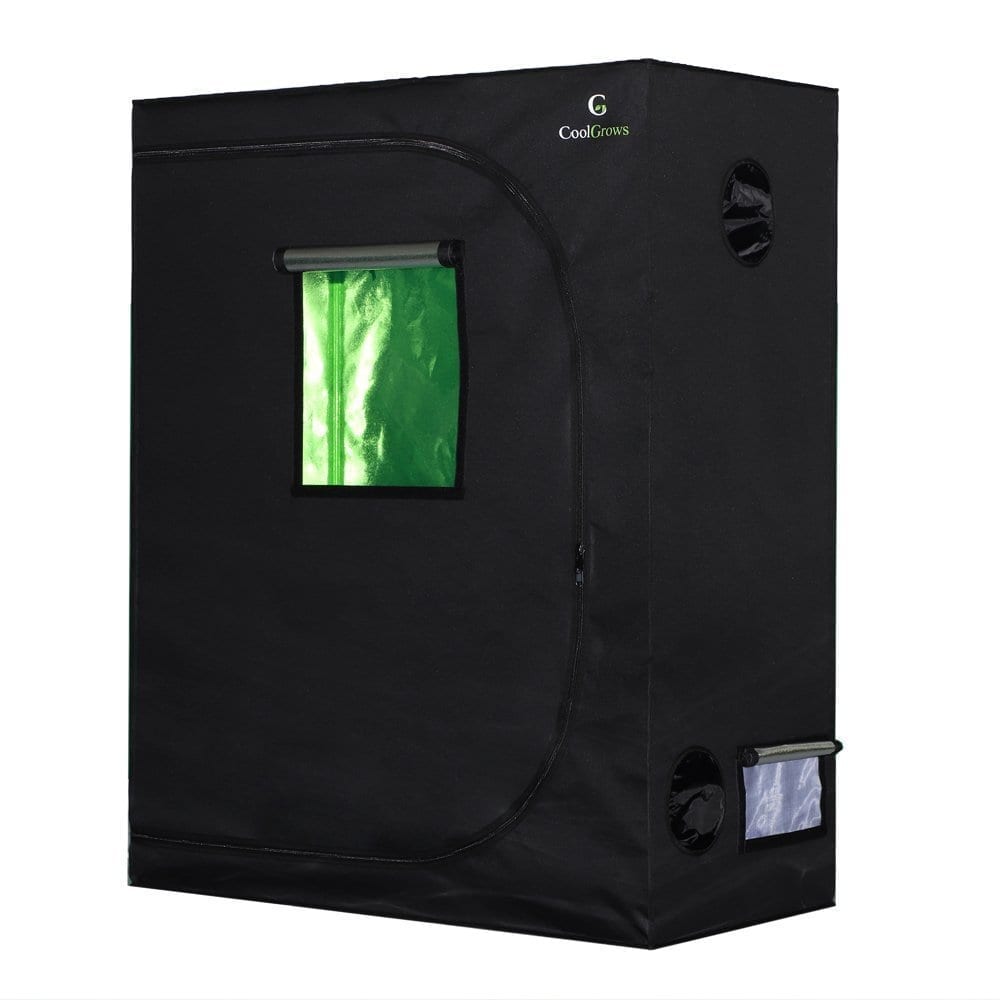 This 2×4 grow tent from CoolGrows has tons of amazing features, which is why we had to include it in our list today. The tent has sturdy and durable construction with strong metal bars and metal connectors too. Furthermore, setting the tent up is easy too, with minimum tools and effort required. Along with the strong structure, there is an equally strong and thick cover.
The tent's cover is made of extra-thick, 600D fabric, which is designed to block all light and be tear-proof for added durability. Once the whole unit is sealed, it is 99% lightproof. Moreover, while preventing light from escaping out, it also increases the light output inside with the 99% reflective Mylar lining. It boosts light efficiency regardless of which type of light you use.
Additionally, the 2×4 grow tent features a window so you can quickly check up on your plants. However, what's important to note is that the window is also designed to store light inside by filtering out white light. Therefore, you can look at your plants for as long as you want without any worries. For more access, you have a zippered door which uses good quality and durable zips.
The zips also have an additional layer over them to prevent light from leaking out. Besides that, the CoolGrows 2×4 Grow Tent is quite easy to clean and maintain as well. It features a removable and waterproof Mylar spill tray. While the tent does not come with a warranty as such, CoolGrows does have a fantastic customer support team that is always happy to help.
Features
Dimensions: 4 x2 x 5 feet
Extra thick, 600D cover
99% Reflective Mylar lining
Strong metal frame
Zippered door and window
Removable spill tray
Pros
99% lightproof
Simple set up and maintenance
Maximum light and heat retention
Durable design
Enhances light output
Cons
No warranty
Zipper gets stuck sometimes
Quictent SGS Approved Eco-Friendly 48x24x72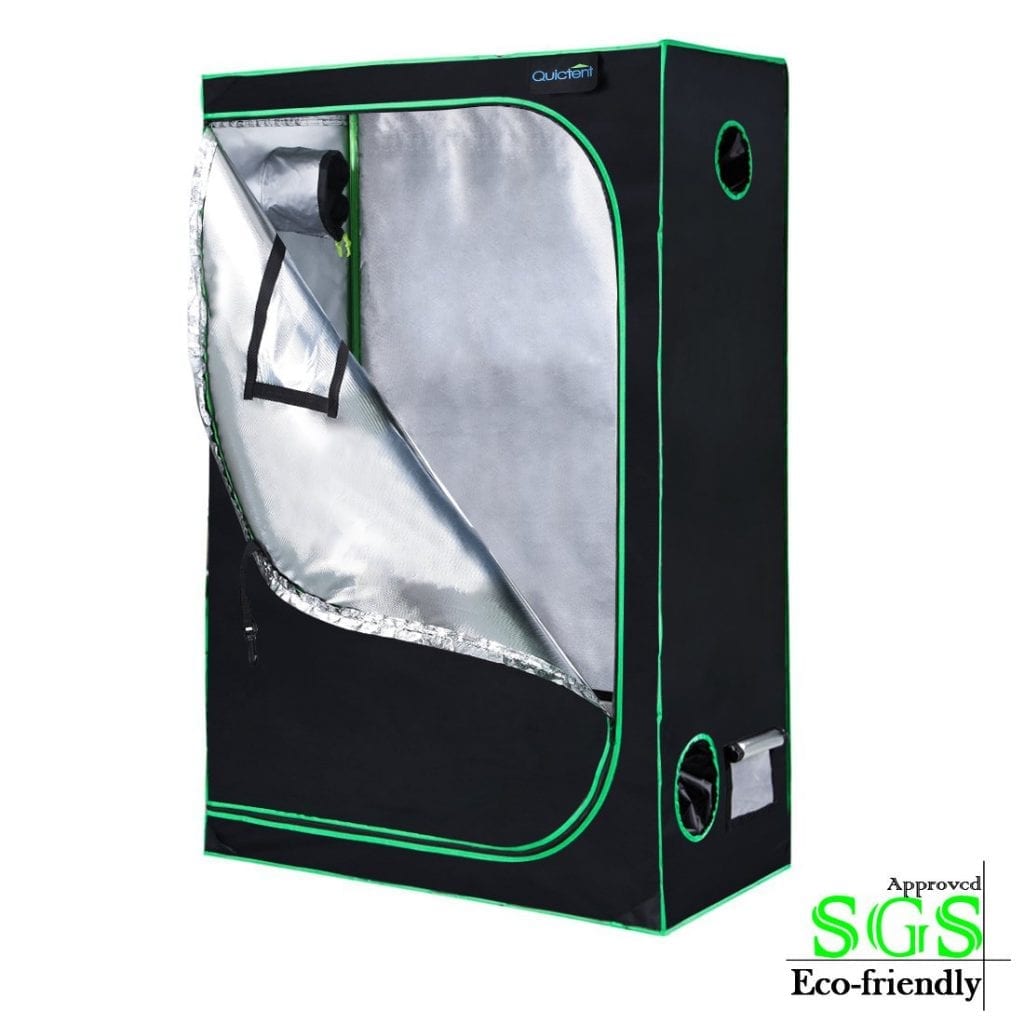 Quictent is one of the best brands out there for gardening equipment. Their product range includes party tents, greenhouses, grow tents, and much more. Accordingly, this 2×4 grow tent from Quictent won't disappoint you either. The tent's cover has an exterior surface made of thick, 600D oxford cloth. The fabric is tear-proof for durability and features double stitching to block any excess light from leaking out.
The interior has 100% light reflective, silver PET Mylar lining, which will boost your light output and create an ideal thermal environment for growing stronger plants. Furthermore, the tent uses much thicker and rust-resistant metal poles, which provide more stability and durability to the entire structure. There are three hanging bars for attaching other grow tent equipment, and the overall weight capacity is 120 pounds.
Inside the tent, there is also a pocket where you can store your tools. There is a clear window for checking on your plants. The door to the canvas is zippered using high-quality, waterproof, and long-lasting metal zips. The floor tray is removable and waterproof as well, which makes cleaning quite quick and convenient. Setting up the grow tent is simple, with an instruction manual to help you out.
This 2×4 grow tent from Quictent is SGS approved, which ensures it's a safe and reliable product. Moreover, Quictent also provides a two-year warranty with the tent. The tent is delivered in a safe manner with proper packaging. Additionally, it is done discreetly in a regular factory box.
Features
Dimensions: 4 x 2 x 6 inches
Extra thick, 600D cover
100% Reflective silver Mylar lining
Strong metal frame
Zippered door and window
Waterproof spill tray
Pros
Thick cover for extra protection
Waterproof and durable zips
Extra thick metal frame can bear extra equipment weight
SGS approved ensures high-quality
Two-year warranty
Con
Assembly a little hard with one person
TopoLite Full Range Multiple Sized 48x24x72 Grow Tent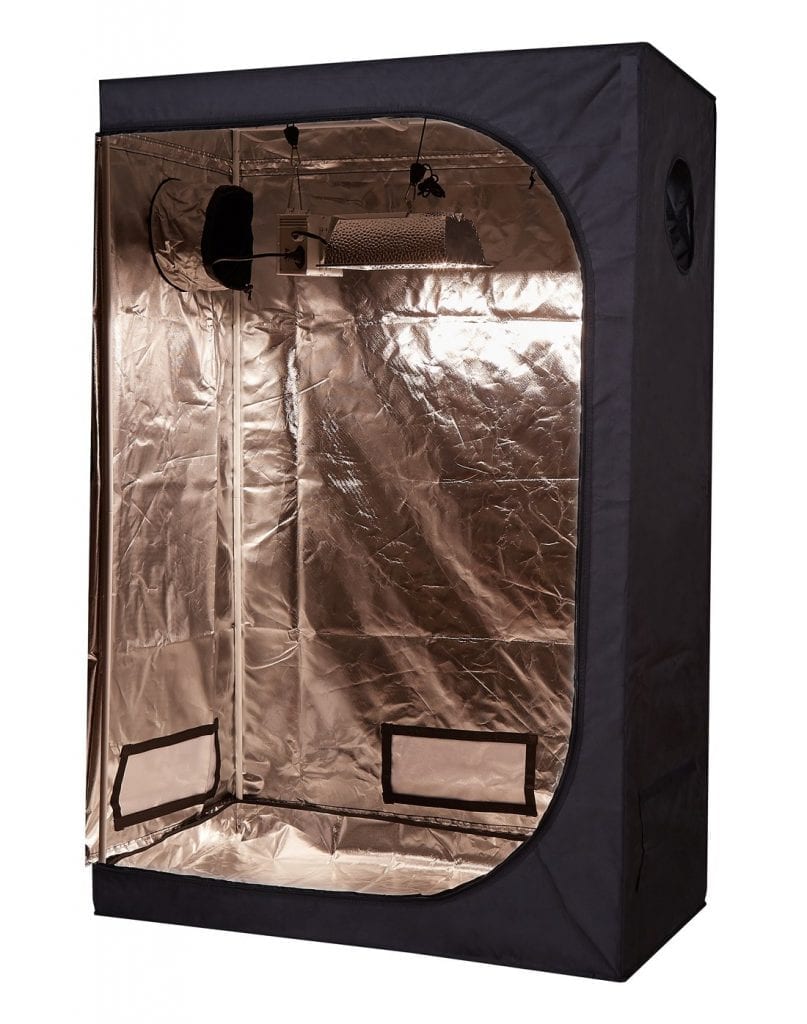 The TopoLite Grow Tent comes in various sizes for you to choose from for youreslf. The 2×4 grow tent is the perfect size for starting or using in combination with other tents. TopoLite's 2×4 grow tent has a thick, 600D fabric covering which does not let any light permeate through.
On the other hand, it shields the plants from external forces too, thereby maintaining a consistent environment inside. Moreover, the interior of the tent features a 96% highly reflective diamond Mylar, which enhances the grow light output and provides ample exposure to the plants. The tent has a sturdy and easy to set up frame as well.
It includes 16mm metal rods and plastic connectors. The whole assembly is quite straightforward, with no tools required. However, one metal rod can bear only 22 pounds so any equipment you hang, needs to be placed accordingly. The design features plenty of vent holes for installing a ventilation system or other material such as filters and fans. You can close these vent holes using the drawstring when they're not needed.
There is also a zippered door in the tent for quick access to your plants. However, there are no windows which can be a little inconvenient at times. The floor trays are removable so you can take them out for cleaning or any other purpose without any hassle.
Features
Dimensions: 4 x 2 x 6 feet
Extra thick, 600D cover
96% Highly reflective Mylar surface
Numerous vent holes
Zippered door
Pros
Does not let light leak out
Plenty of vent holes which can be sealed closed when not in use
Removable trays for a quick clean up
Easy assembly
Cons
No window
Metal frame not very sturdy so can't place too much weight
GA 48 x 24 x 60 Reflective Mylar Hydroponic Grow Tent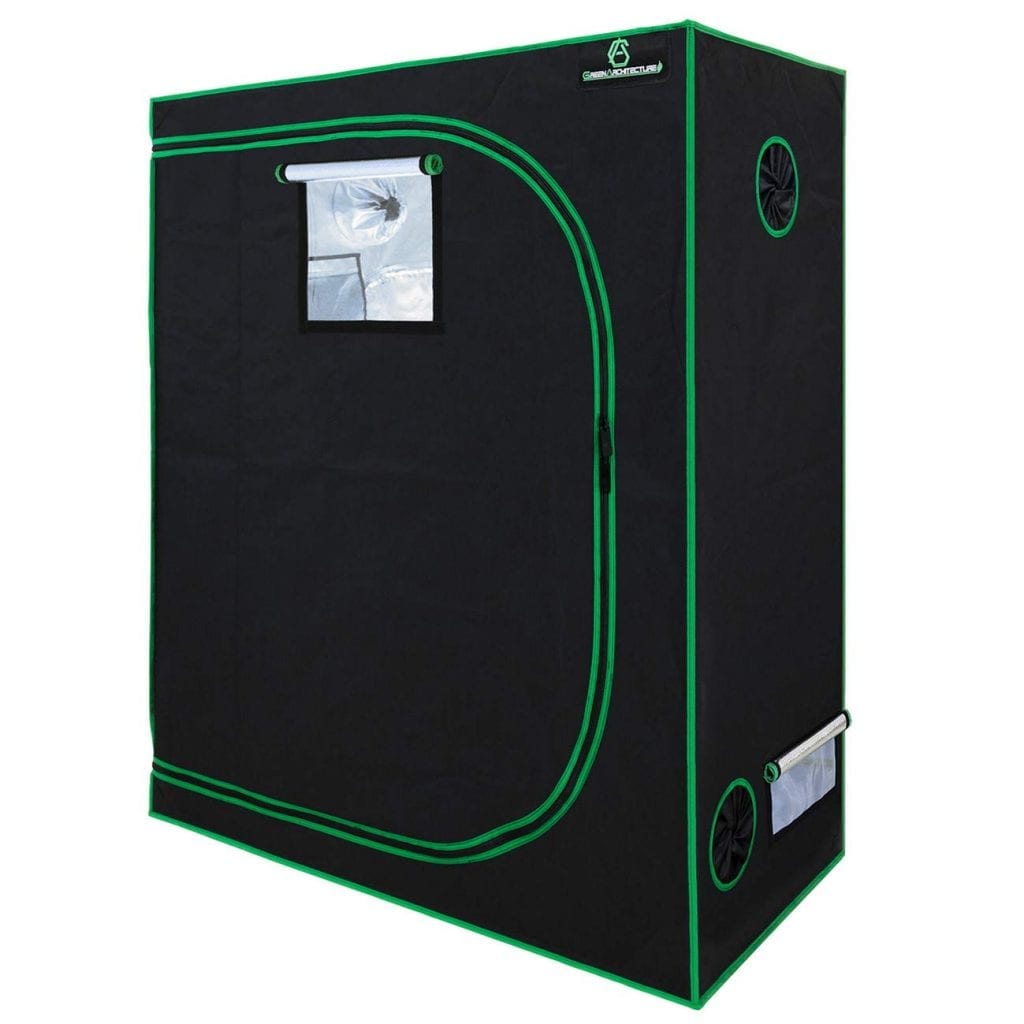 The right grow tent will not only provide you with a growing space but also aid you in growing healthier and better-yielding plants. This 2×4 grow tent from GreenArchitecture will do precisely that and more for you. It features a premium canvas cover that's tear-proof and wear-resistant which gives it a long and durable life. Moreover, the cover is made of thick, 600D oxford cloth with double stitching.
On the other side of the cover, there is a 98% reflective Mylar surface which reflects your LED light or any other grow light all around the tent. This reflective surface, paired with the thick outer canvas ensures that maximum light and heat stays inside the tent for better plant growth. Moreover, the zippered door, while providing access to plants, also uses superior quality zips.
These zips have an extra cover over them for a properly sealed and controlled environment. Additionally, there's a transparent window to check on your plants without disrupting the internal environment easily. The grow tent rests on a durable frame made of metal rods, which are quite easy to install as well. You can comfortably hang your other grow tent equipment too.
The floor tray is waterproof for easy cleaning and maintenance. There are several vent holes as well, so you can install a proper ventilation system for your plants. GreenArchitecture offers a two-year warranty on this 2×4 grow tent, or you can also contact them any time in case of any problems.
Features
Dimensions: 4 x 2 x 5 feet
Extra thick, 600D Oxford cloth cover
98% Reflective Mylar interior
Durable metal frame
Zippered door and window
Pros
Reflective surface boosts light efficiency
Window allows you to monitor plants easily
Minimum light seepage
Heat retention
Vent holes for installing other equipment
Con
OPULENT SYSTEMS 48x24x60 Grow Tent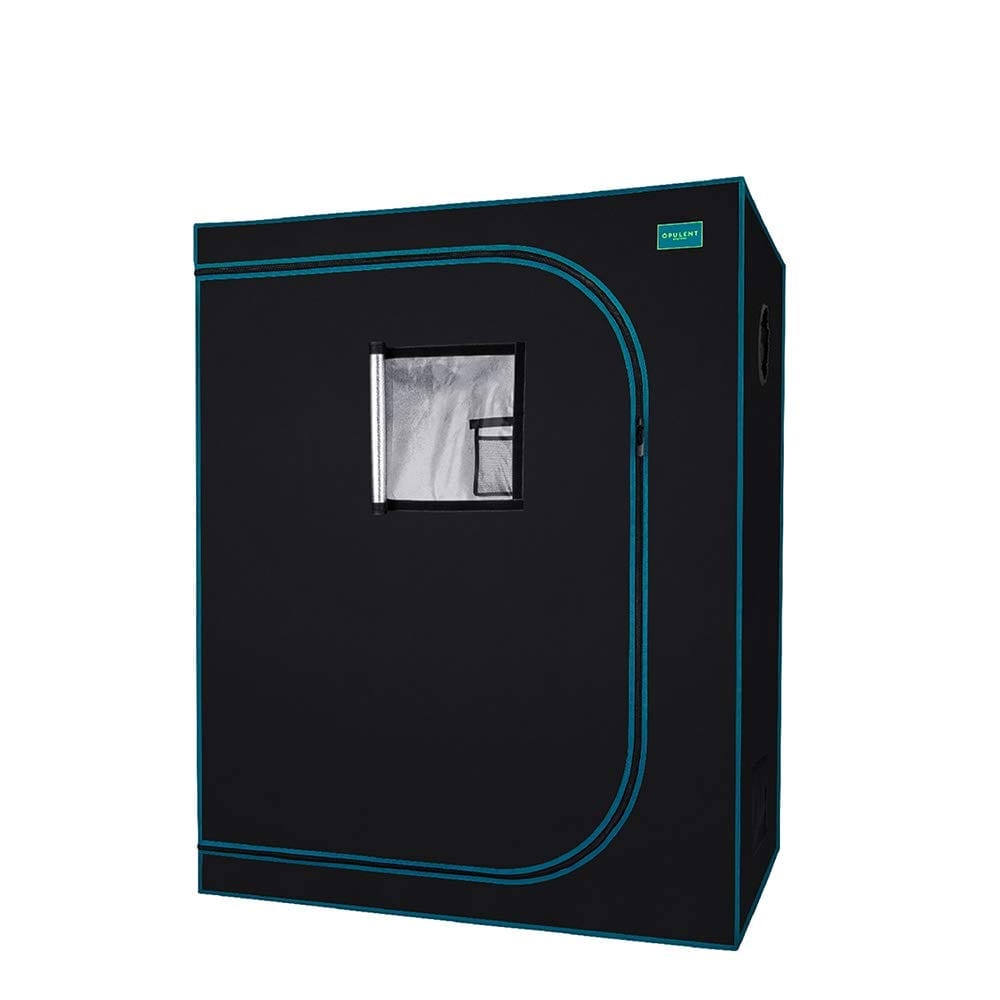 While some people are skeptical towards tent growing plants, what they don't know is that plants grown in such hydroponic systems can grow much better and healthier than soil-grown plants. Therefore, if you are one of those people, all you need is to try this 2×4 grow tent from Opulent Systems to dispel you of any doubts.
The exterior of the tent is made of high-quality and thick, 600D fabric with double stitching to ensure maximum light retention. The interior features 98% highly reflective and waterproof Mylar surface, which enhances your grow lights efficiency and boosts plant growth. The tent also features heavy duty SBS zippers with black lining which allow no light to pass through once they're sealed.
The zippered door also provides easy access to your plants without having to take apart the whole thing. Moreover, the tent has a simple and straightforward assembly which requires minimum tools and time. Besides that, this 2×4 grow tent from Opulent Systems has numerous features that make it quite user-friendly. It has a clear window through which you can peek and monitor your plants.
There is a convenient storage pocket inside to keep your tools organized. The tent frame is quite sturdy and along with the durable canvas, makes the whole tent a long-lasting grow room. However, if you do face any problem, the tent comes with an 18-month warranty and a highly-responsive customer support team.
Features
Dimensions: 4 x 2 x 5 feet
Extra thick, 600D exterior
98% Reflective and waterproof Mylar interior
Sturdy metal frame
Storage pocket
Zippered door and window
Pros
Retains light and heat
Simple assembly
Long-lasting tent frame
Plants easy to access and monitor
18-month warranty
Con
Conclusion on the Best 2×4 Grow Tent
Whether you're a fan of the deep water culture or you prefer the nutrient film technique, grow tents lie at the heart of all these growing methods used in an indoor garden. Therefore, if you invest even a little time in searching and choosing the best grow tent, you can see some good returns in your yields.
Even though we've reviewed eight fantastic 2×4 grow tents, our favorite is the Gorilla Grow GGTSH24 2×4 Grow Tent. Its high-quality parts system guarantees a long-lasting and effective grow tent. Moreover, it offers the most protected and controlled environment to produce high yields. Lastly, it has loads of convenient features which make indoor gardening hassle-free and enjoyable.