A stealth grow box allows a grower to grow marijuana in private. If you are looking to grow weed indoors and don't want others to know about it, stealth grow boxes are ideal.
If you are looking to enhance the space so that you will be able to produce more, then you have to limit all signs of activity. The main benefit of choosing stealth grow cabinet is its visibility.
For instance, if you are not having enough space and don't want to house large tents, then choosing such box is the best alternative.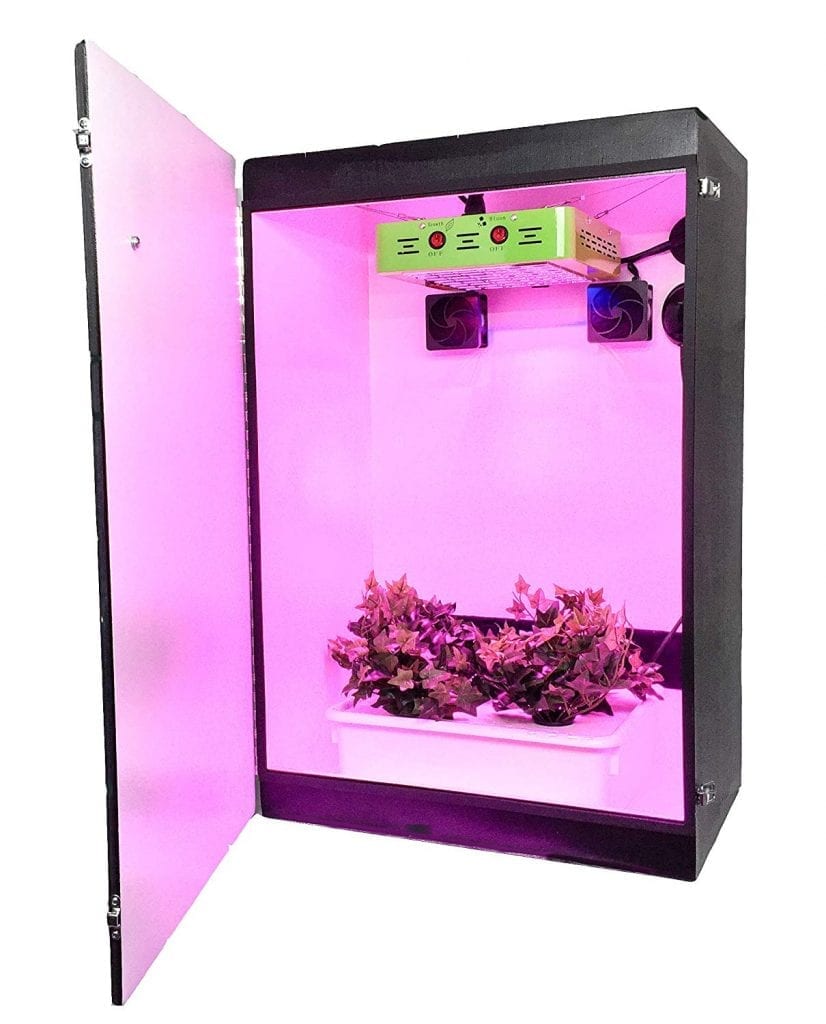 Along with such, the grow light generates heat. You use LED and CFL that can run much cooler as compared to another lighting system. Furthermore, this will result in a cooler stealth grow box.
This article will highlight the best grow boxes and cabinets required for growing weed anonymous indoors. First, let's learn something about boxes and cabinets.
Why should you use a stealth grow box?
The main reason to choose the best stealth grow box is that it allows you to set up a discrete indoor garden. Consequently, this will eliminate drawing attention with your indoor garden.
It could be either in your kitchen or bedroom; with such box you can easily automate the indoor gardening. Eventually, this results in a favorable outcome every time all throughout the year.
Besides, if someone is looking to grow the plants without using soil, then it is termed as a hydroponic grower.
A hydroponic grower is bound to face challenges. So, a stealth hydroponic grow box is available with different automating functions. It has a structure like a cabinet or a fridge that blends naturally with your interior.
What Is stealth growing?
Stealth growing is defined as the process of growing silent and inconspicuous. So, you do this is if you want no one to find out about your indoor growing operation.
This is not about hiding; it is about keeping everything under the radar. It involves making the optimum utilization of space and getting as much as yield possible from the room.
To carry out the process effectively planning and adequate knowledge are required. However, if you are looking to minimize the giveaway sign, you have to gather the appropriate equipment. Some of the potential giveaway signals are being discussed in the section below.
What to look for in stealth grow cabinet?
Here are some of the features that you have to acknowledge before purchasing the grow boxes or cabinets. These are the main signals of an indoor cannabis garden. Essentially, you have minimize these signs with a complete stealth grow box.
Visibility
The major giveaway seems to be visibility. It can be understood that if you have got limited space available to grow indoors, then an ugly grow tent is not an option. No one needs to glimpse into your tent to see what you're doing.
Along with such, you need to make sure that super bright LED grow light is not going to give something away. Its emitted light can be the thing that shows what you're doing inside that grow tent.
Odor
You know that flowering cannabis possibly will be pretty pungent. Consequently, this doesn't seem to be a natural smell to disguise without the use of filters and fans.
This could lead to the next potential problem while you are looking to grow weeds indoor. With a stealth grow cabinet, you can often set up a system to get rid of these odors quietly.
Noise
Filters and fans usually produce noise. Especially cheap and simple ones produce a lot of noise. If you want to grow silent, you have to buy more expensive equipment.
In addition to it, the grow light will possibly have its own internal cooling fans. Nevertheless, these fans produce noise as well and arouse suspicion.
This appears to be quite irritating, and therefore preventive measures need to be taken as soon as possible. A stealth grow box can help you because of its soundproof housing.
Getting the best stealth grow cabinet available is therefore important, because not all of them are soundproof enough.
Heat
Another giveaway is related to heat that your indoor garden can generate.
For instance, if you have an extractor fan running, it will pump out the hot air from your cabinet. However, with a stealth grow box, you can set up a system to get rid of this excessive heat without raising alarms.
Safety
Safety hazards include improper setup of equipment, overloaded circuits, and switches along with spilled water in the wrong places.
Malfunctioning can lead to electric fire, thus stealth grow cabinets are designed in such a manner that it will keep this risk to a minimum.
10 Best Stealth Grow Box / Cabinet / Closet Reviews
Table could not be displayed. Table could not be displayed.
GrowYour420 presents a list of the 10 best stealth grow boxes / cabinets available for the grower. Furthermore, the list comes along with the description that helps them to take the appropriate decisions, while the best box or cabinet for growing cannabis. These cabinets are almost always a better option than making your own DIY stealth grow box.
All you have to do is to read this article clearly to make the appropriate decision while purchasing.
Supercloset Superbox Fully Automated Turnkey Grow Box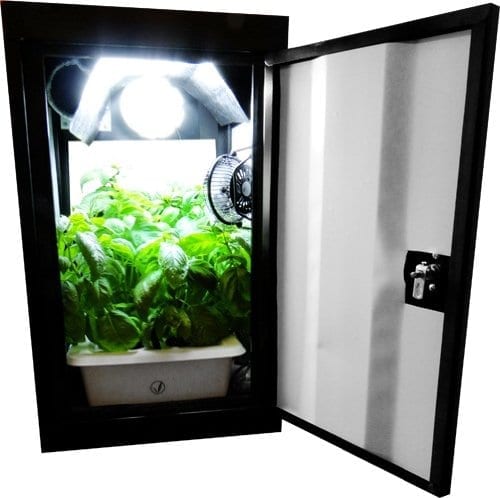 This stealth grow box has 30″x18″x24″ dimensions with a 200W fully automated system included. The Supercloset Superbox has 16-Gauge steel, is safe and fireproof and fully automated.
The sleek profile of the box seems to be identical to a fridge or cabinet and can grow about 10 plants under the 200w red spectrum CFL light.
When you purchase this grow box, he will receive a TDS meter, Rockwool cubes, fans and a filter along with Hydroton rocks. It also features the carbon filtration system to mask the marijuana before releasing air into the growing area.
This box truly encapsulated the guesswork out of growing. It will assist in creating the ideal indoor gardening environment. Everything seems to be incorporated into a professional design.
The Super Box is tiny, however it offers a high performance grow closet. Also, it seems to be a compelling introduction to hydroponics along with the indoor growing.
It also makes use of locking doors and carbon filtration. That means that growth will be safe through prying eyes and pesky aromas.
Supercloset is offering a 3-year warranty on the product along with fully automated features that seems to fit perfectly in your home interior.
Pros
Automatic grow control located on the backside of the cabinet;
Stealth Industrial Steel Cabinet;
Discreet shipping available;
Doesn't require massive amount of electricity;
Reflects light and heat;
No corner plants left alone;
Lots of free accessories;
Affordable and cheap;
200W Full Spectrum LED lighting system included.
Cons
Hellogrower 30" Stealth Grow Box
The Hellogrower refers to a small cabinet that is designed for 2 or 3 plants. It is available with a 125 watt full spectrum LED grow light. This means it will run cool and there is no need to have a considerable amount of electricity to operate.
Along with such, it has a powerful fan that is used to offer ventilation, however, at times seems to be noisy as well.
The interior part of the cabinet is wholly lined with Mylar, which seems to act both as gas and odor barrier. In addition, it also reflects light and heat. The door appears to be lockable for enhanced privacy and/or security.
There is a system to keep the light directly over the plant and offer the stems that are shorter more branching. The cabinet can hold 6 plants at most and provides nutrient over the air stones.
You can benefit of a timer that comes along with the box, as it will automatically manage the lighting system. Along comes a carbon filtration system to mask the marijuana odor before releasing air into the growing area.
You will surely love the timer, which is included with the stealth grow box. It also offers the nutrient-rich water directly to the plant roots, which makes them stronger and healthier and will make them grow at a fast rate.
Pros
Lockable Doors
DWC system
Discreet shipping available
Doesn't require a massive amount of electricity
Reflects light and heat
Lots of free accessories
Affordable
Carbon filtration eliminated marijuana odor
Cons
At times, fan sound can be a little noisy.
No warranty
No weight is defined
Grobo Premium Automated Grow Box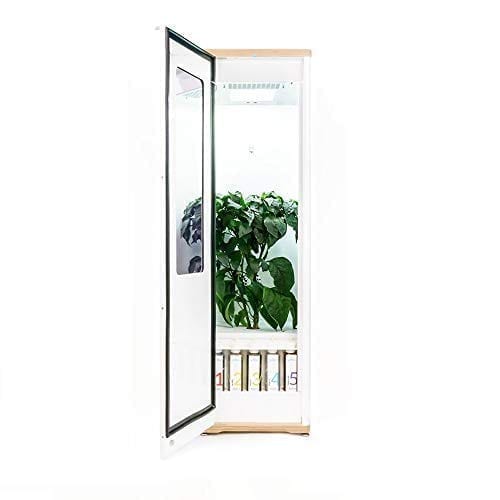 This grow box is equipped with a steel security lock along with an odor-reducing carbon filter. It results in a grow box by Grobo One that lets you grow discreetly.
This useful grow box has been designed and made in North America. Consequently, it seems to be an ideal box for your living space. The Grobo One is incredibly smart.
The cabinet contains customized growing time. It does so by letting you optimize the setting of light and EC or pH levels.
The cabinet is available at a reasonable price, and this is an affordable box. Also, it comes with a lifetime warranty.
Everything is included in the cabinet, except the seeds that make it ideal for the beginners. However, if we compared it to Hello-grower 30" Stealth Grow Box, it is a better option. You do have to take into account that this light costs some more electricity to run.
Pros
Effective design;
Smart grow box;
Smart growing technology;
Grows discreetly.
Cons
Little bit more power consuming than others.
Yield Machine Max – 4 Foot LED Hydroponic Stealth Grow Cabinet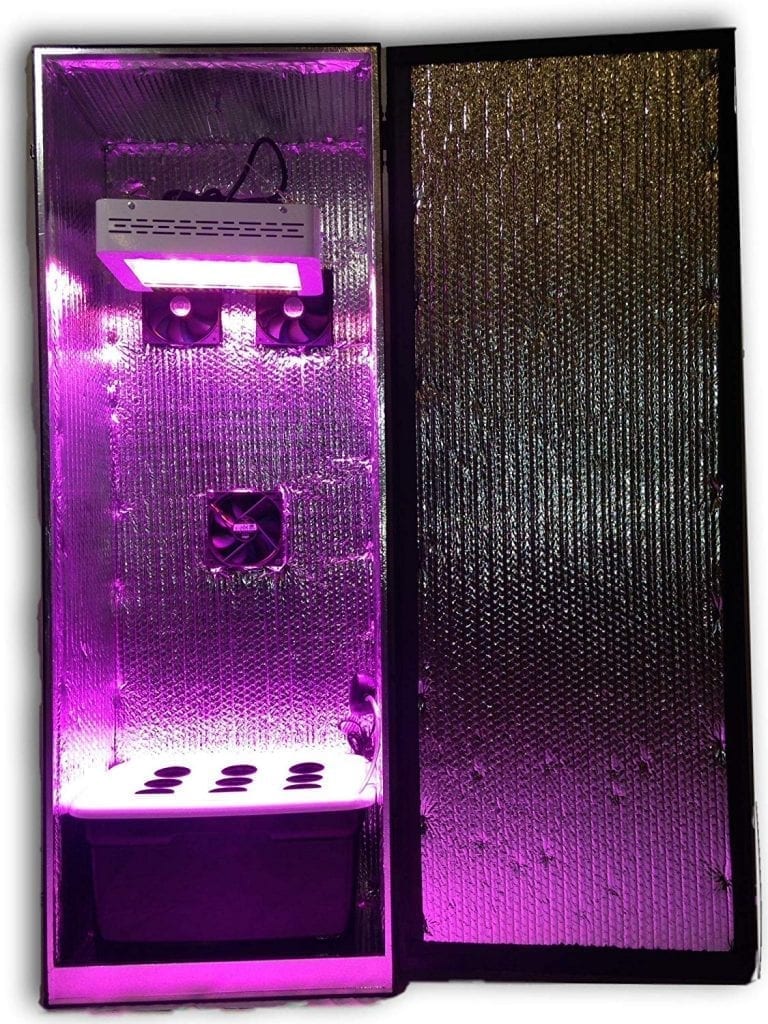 The Yield Machine Max measures about four feet in height trough 17.5 inches (width) by 13.5 inches (depth). Secondly, the stealth grow cabinet can grow 6 plants and comes with a lot of equipment. Respectively, an adjustable 150W LED grow light, 4.7- inch fan, hydroponic grow system and a carbon filter.
It's known that this type of box has everything that you might require to grow weed discretely. There is also an automated control function available on the back of the cabinet. Therefore, you're able to grow cannabis indoors anonymously.
This is definitely a better option than making a DIY stealth grow box.
Also, the box closes very tight, and the exterior stays at room temperature. It won't heat up, not arousing suspicion. The box has built-in fans that hold up fine if someone is looking to grow a few plants.
Pros
Carbon filters included;
Available with 150W LED Grow Light;
Hydroponic system;
4.75" fans.
Cons
Weight of the product is unknown;
The light inside the box is only for the blooming phase.
Secret Jardin DARKROOM 3.0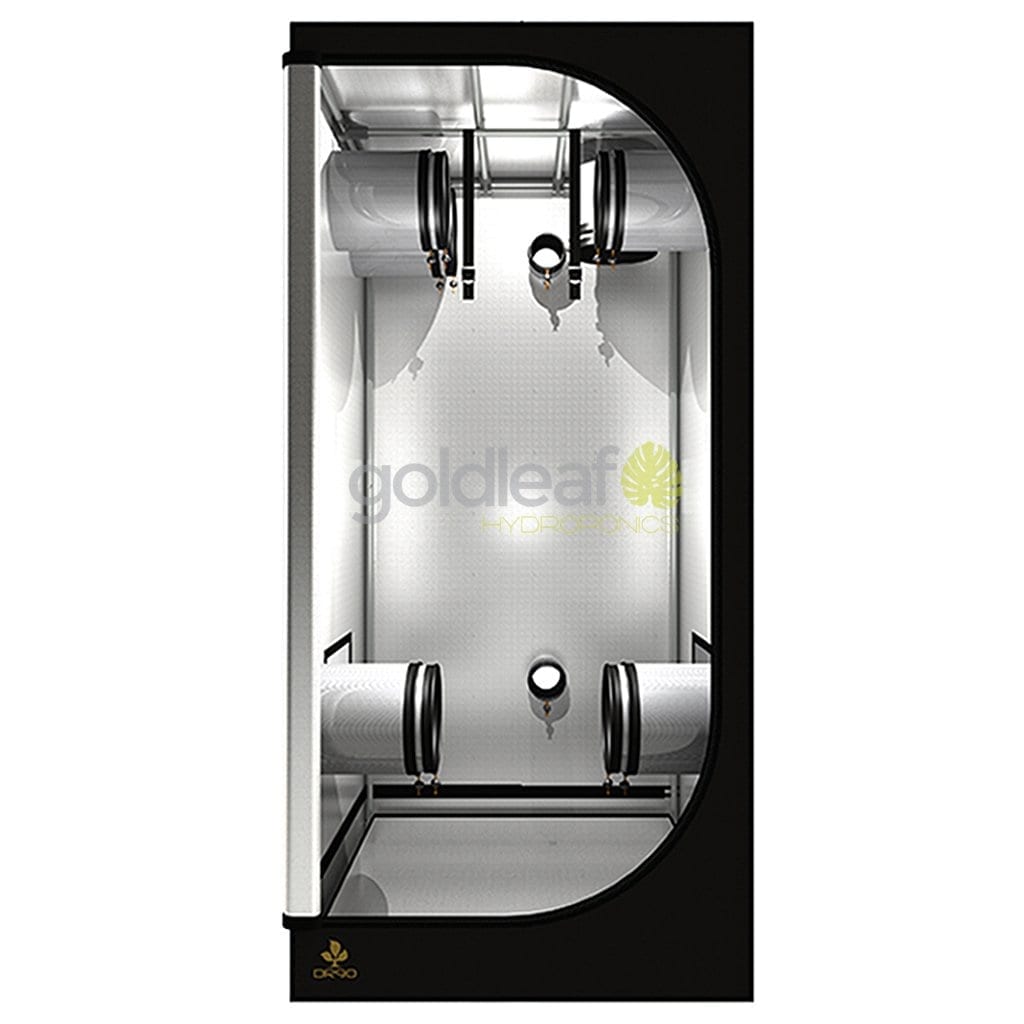 The Secret Jardin Darkroom 3.0 is a professional grow tent that was made from the best reflective Mylar, which has tear proof 210D canvas. It is a grow tent and therefore a bit less stealth than most grow cabinets.
The box contains different windows and socks for different configurations. Also, the box has a robust Ø19 mm structure and is available with an extensive set of accessories.
The plastic corner of the box is 5mm thick and is PP transparent. At last, the weight of the box is about 10 kg.
Pros
Doesn't require a tremendous amount of electricity;
Reflects light and heat;
Lock and Key;
It is available at an affordable price;
Extensive accessories are included with the box;
3x Lightning holders and filter included supporting up to 15 kg each.
Cons
Simple grow box;
No automation included;
Not super stealth as it looks like a tent.
Supercloset Deluxe 3.0 LED Soil Grow Cabinet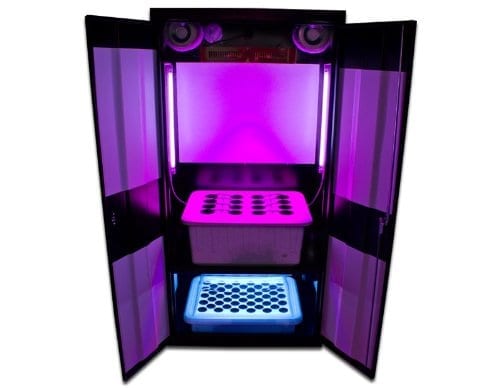 This stealth grow cabinet seems to be the perfect option for many growers. The reason is that it has everything that you need for producing cannabis.
The Supercloset Deluxe 3.0 includes air filters, a growing medium, and nutrients along with timers. The box has a length of 66' and a width of 15'. It takes the shape of gym lockers and therefore is not very attention drawing.
On the cabinet back, you find an automation control to set the automatic growing functionality. Therefore, nobody will suspect your growing anything in this box.
You can grow 6 plants at the same time in it, which is a fair amount for a grow cabinet. Many growers claim that with the use of Super Closet Deluxe, they got higher yield. This is great for every grower who is looking for a good stealth solution to grow cannabis indoors.
Pros
The box can grow 6 plants at the same time;
It has a dual chamber system. One chamber is to grow plants and other for plant vegetative state;
Automated control available on the back of the cabinet.
Cons
Relatively expensive;
Exact weight of the cabinet is unknown.
Cabinet Garden LED Hydroponic/Dirt Grow Box – Medium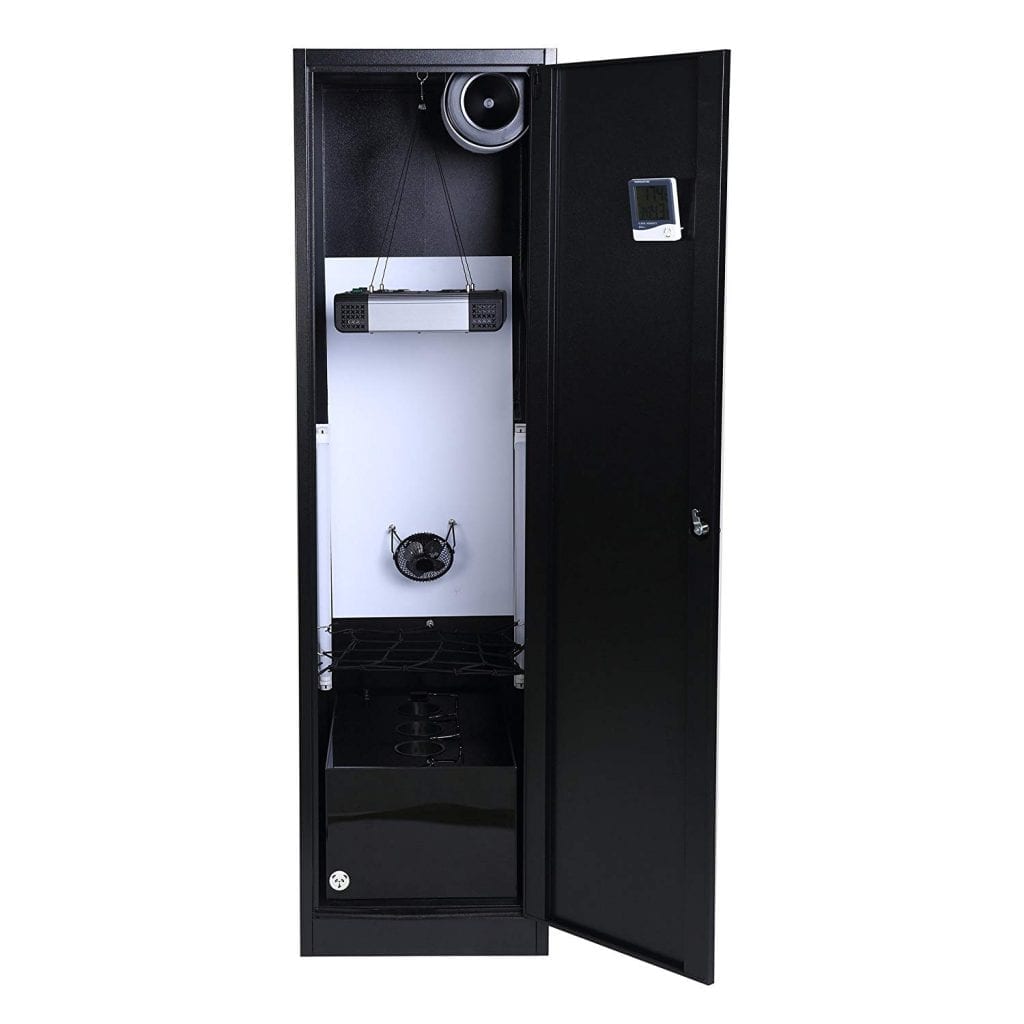 This box is 71 inches (height) by 25 inches (width) by 20 inches deep. It's been made from industrial steel and comes with a 200W full spectrum LED light.
A 200w LED grow lights runs cool and doesn't need an enormous amount of electricity. It contains new side LED lamps and is lockable.
Also, the rear side includes a control panel to control the automated growing function. Another upside is that this comes in handy by keeping your box private.
Therefore, if someone wants to purchase a cheaper and less durable cabinet, then this is one of the best options available. Check out all the pros and cons below.
Pros
Automatic grow control located on the backside of the cabinet;
Stealth Industrial Steel Cabinet;
The box has 200W Full Spectrum LED lighting system;
Free Accessories;
Affordable.
Cons
Produces a lot of noise compared to others;
Less durable than others.
Cash Crop 4.0 Hydroponics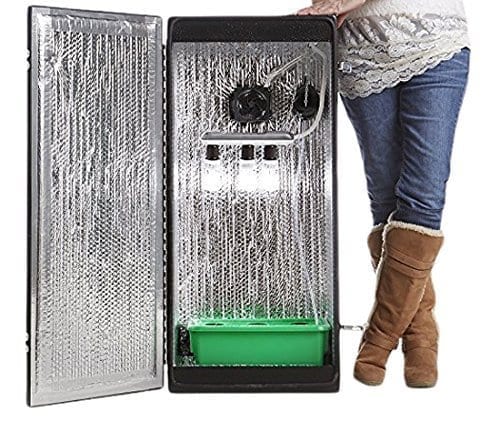 The Cash Crop 5.0 is considered as being a comparatively short grow cabinet. It is three feet tall and thus is ideal for individuals that are growing 1-2 plants at the same time.
The box is available with six posts, a LED grow light and a hydroponic growing system. The stealth grow cabinet also comes at reasonable price and is affordable. At last, it comes with a lifetime warranty.
Everything is included with the cabinet, except the seeds. As a result, this is an ideal stealth grow box for beginners. They can purchase it with a minimal investment.
The box is a small hydroponic system for growers that are looking to grow a few plants for personal use/hobby. Therefore, the included LED lamp and hydroponic system give a grower the opportunity to grow plants easily.
Pros
Comes with a lock;
Affordable price;
Lifetime warranty;
6 net pots.
Cons
Supercloset Trinity Triple Chamber Grow Box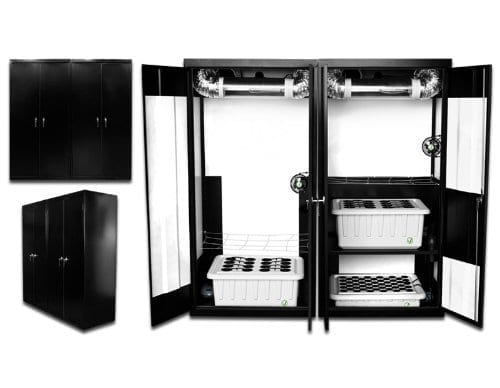 The Supercloset Trinity Triple is an award-winning cabinet that comprises of three chambers. Also, it has a dual system that makes if perfect for the perpetual cycle of expansion.
The first chamber is for germinating and cloning seedlings, the second is for vegetation, and the last is for flowering. Consequently, this three-chamber system of the box makes it stand out from other stealth grow boxes.
The size of this cabinet is 78"x92"x24" and it can hold up 12 plants at a time. Also, the cabinet is available with 3W K3-L600 to grow lamps and is fully automated.
Because it can hold 12 plants at a time, it is considered as the top stealth grow box in the market. It is relatively lightweight, fully automated and safe to use. 
Therefore, with the use of Super Closet; you will be able to grow a lot of buds without concerning about the prying eyes.
Pros
Ready to grow 12 plants at the same time;
Comes with free nutrients;
Strong steel structure;
Durable lockable door;
Free accessories included;
Fire and airproof.
Cons
Expensive compared to others;
Light that comes with the box is only for blooming.
Grandma's Secret Garden 5.0-4 Grow Box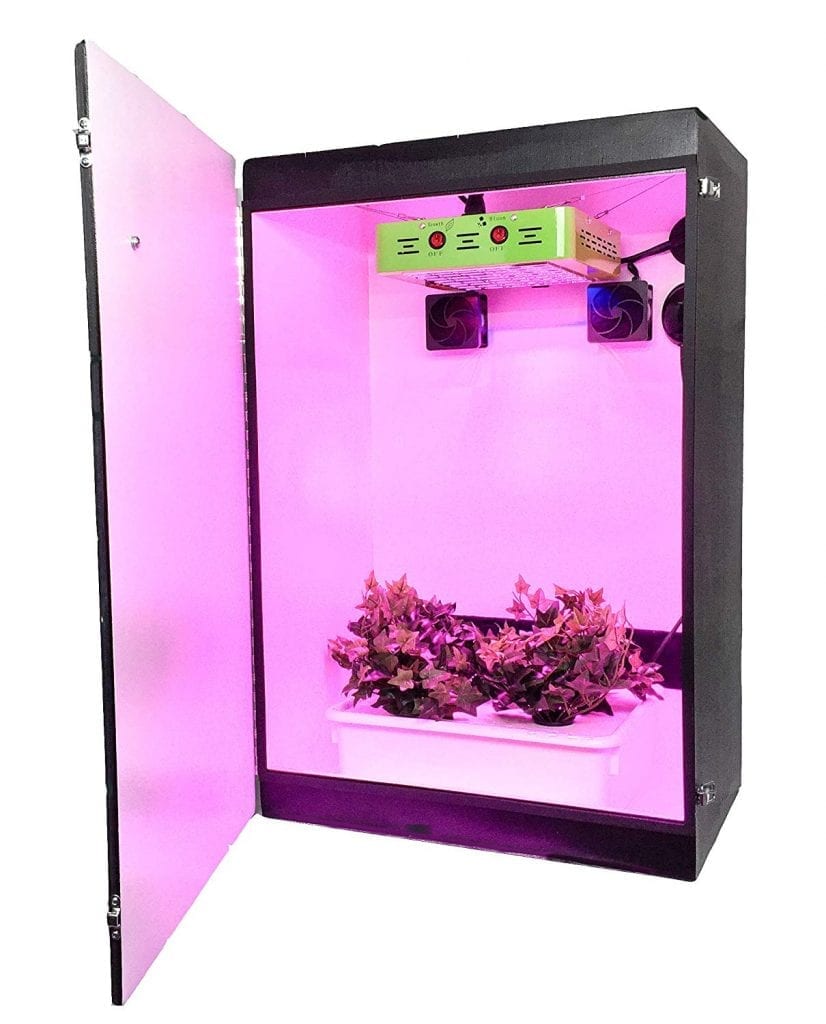 Grandma's Secret Garden 5.0-4 is a small stealth hydroponic grow box with measurements of about 36 by 20 by 15.6 inches. This grow box is a cheaper option in this list; however, it can house up to 9 small plants at a time.
It has a hydroponic raise system, carbon filter and a full spectrum LED grow light. This box seems to be ideal for the beginner, because of its size and affordability.
The main reason for choosing the box is its price and the option to grow 9 plants at the same time. No soil is used, as it is a hydroponic indoor garden and thus could be a good option for many growers.
Grandma's Secret Garden offers a lifetime warranty. The manufacturer of the box has included an inbuilt air pump that continuously provides oxygen to the roots of a plant. Eventually, this enhances the yield of your growing operation by a considerable amount. We love this stealth grow closet.
Pros
Timer provided;
Mars Hydro lighting system included;
DWC hydroponic system;
Can grow up to 9 plants simultaneously;
Free ozium scent equalizer;
Free nutrients pack;
Lifetime warranty.
Cons
Conclusion and recommendations
These are some of the best options available when you're looking to purchase a stealth grow cabinet / box / closet for growing weed inside.
You need to check the features of each box to understand which box satisfies your needs. Because of this article, you now also know why this device might be useful for you as indoor grower.
If you have a low budget and the best value for money grow box, then Grandma's Secret Garden 5.0-4 Grow Box is probably your best option.
However, if you can afford to spend more money, then Super closet Trinity Triple Chamber Grow Box seems the best for you. However, if you have some specific requirements or needs, you can choose any one of the following boxes discussed in the article.
Just consider what you really want and need before you make your decision. Read more on the best grow box for beginners here.
We have tried to include the best-selling and trending grow boxes and cabinets in the article. However, if you feel we have missed out something do let us know by shooting us an email.