If you are looking to grow your own buds, you should invest in a grow tent. A grow tent can be very resourceful as you can customize it with grow lights, especially for hydroponic plants. These come in various sizes, but here we will focus on five feet by ten feet size. A 5×10 grow tent is big and can house a decent amount of plants.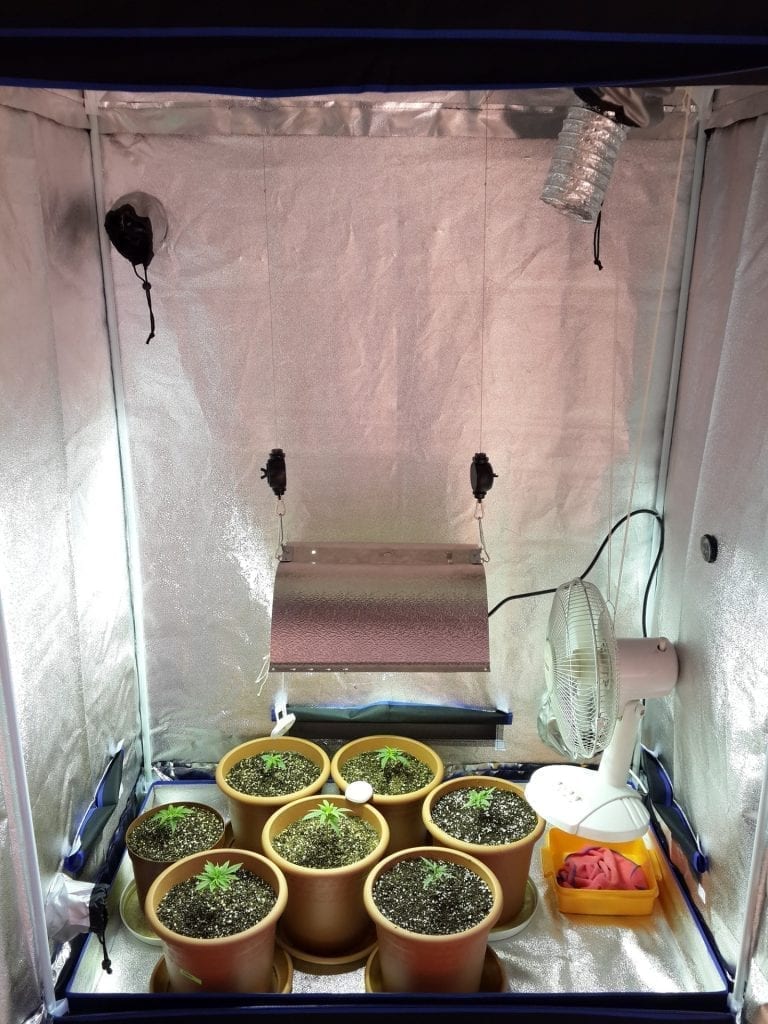 Almost all grow tents have a reflective surface that does not absorb light. That means all the light inside the tent would go to your plants. As a result, they grow up fast and have better production.
We have various articles on the best grow tents. If you're interested, read about the best 2×4, 3×3, 4×4, 4×8, 5×5, 8×8, 10×10 grow tents.
Why Do You Need a 5×10 Grow Tent?
There are many reasons why you could need a 5×10 grow tent. First of all, this size is a big size tent. However, you could still easily place it in a small room or basement. It is not difficult to set up. In addition, it is also not too heavy to move around should you need to.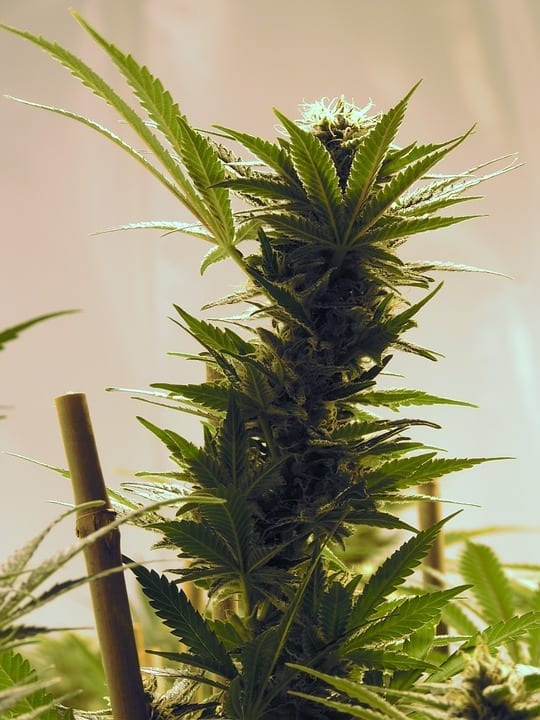 Having a grow tent gives a lot of control over the conditions the plants grow in. With grow lights, fans, and humidity controllers, you can speed up growth. For growing marijuana, these tents are the best. You can be completely discreet and not have to worry about any smell going off around the house or out of it, for that matter.
It is a good long-term investment as the most quality tents last long. Think of how much you would save by growing your own weed. Not just weed, you can grow your own vegetables too. Urban farming is all the rage these days with the produce being sold at markets being so altered with preservatives and chemicals.
Things to Consider When Buying a 5×10 Grow Tent
Here is what you should consider when buying a 5×10 grow tent:
Light Reflection
The materials used should be at least 90% reflective. Besides the material, the openings of the tent should be properly sealed as well. Even though some light leakage is common in grow tents, but too much of it would just render it useless. You need to make sure all the light goes to the plants growing inside the tent.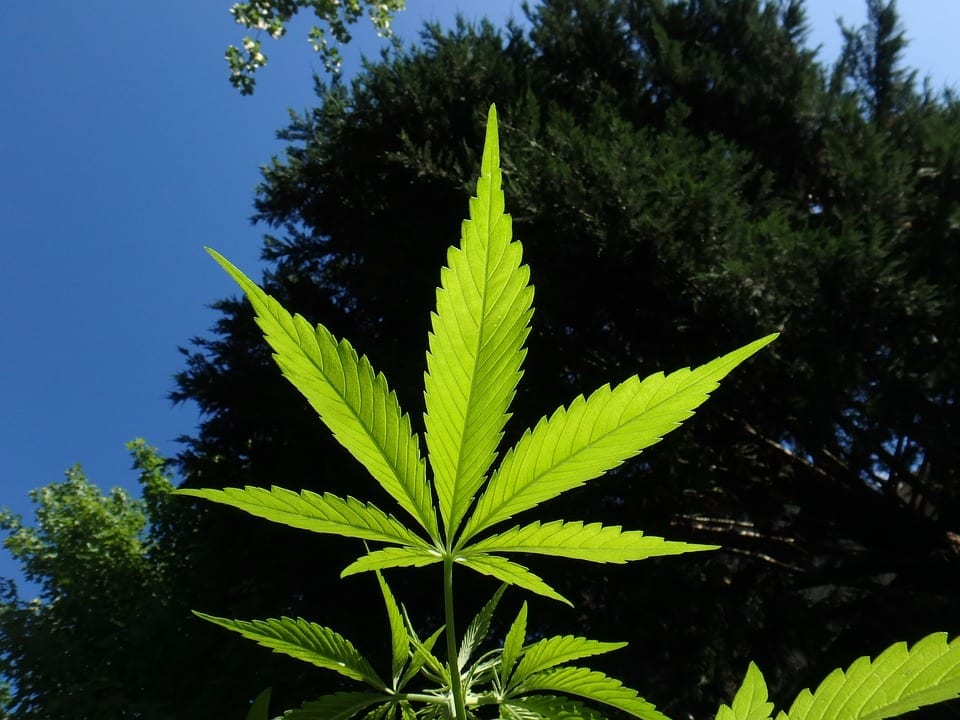 Ventilation
This aspect sometimes gets overlooked but should not. Maintaining ventilation inside the tent can significantly improve the quality of plants. With proper ventilation channels, you might not even have to invest extra money in fans to do the job for you.
Stability
The tent has to be stable and sturdy. This goes for both the frame and the tent cloth. In most cases, good quality materials would have a higher weight capacity. You should be able to hang the lights you want to inside the tent. The frame should be metal and have a protective coating to prevent rusting from moisture.
Is it Difficult to Assemble a Grow Tent?
Assembling and installing a grow tent is not a difficult task given that you have all the instructions at hand. Most grow tents come with a manual for that, often with pictures that make it a breeze. You do not need to hire an expert for this job, at least in most cases.
You just have to join the rods to construct the frame. Then install the tent cloth over it as outlined in the instructions. In most cases, you will not even need a tool. Since the sizes differ, for a big grow tent, you may need someone's help. 
Best 5×10 Grow Tents of 2020
Here is a quick list of some of the best 5×10 grow tents out there with all the reasons why they made to our top product list.
Table could not be displayed. Table could not be displayed.
TopoGrow D-Door 120 x 60 x 80 inches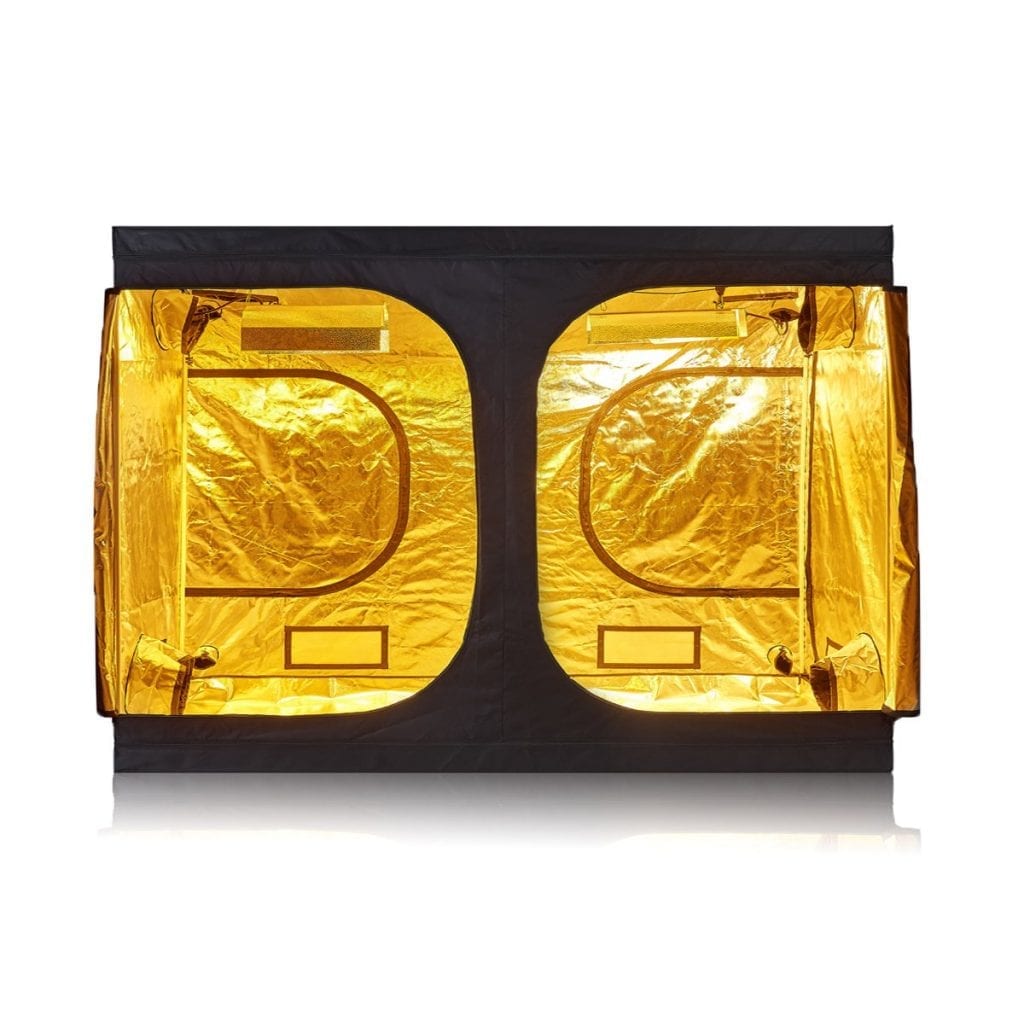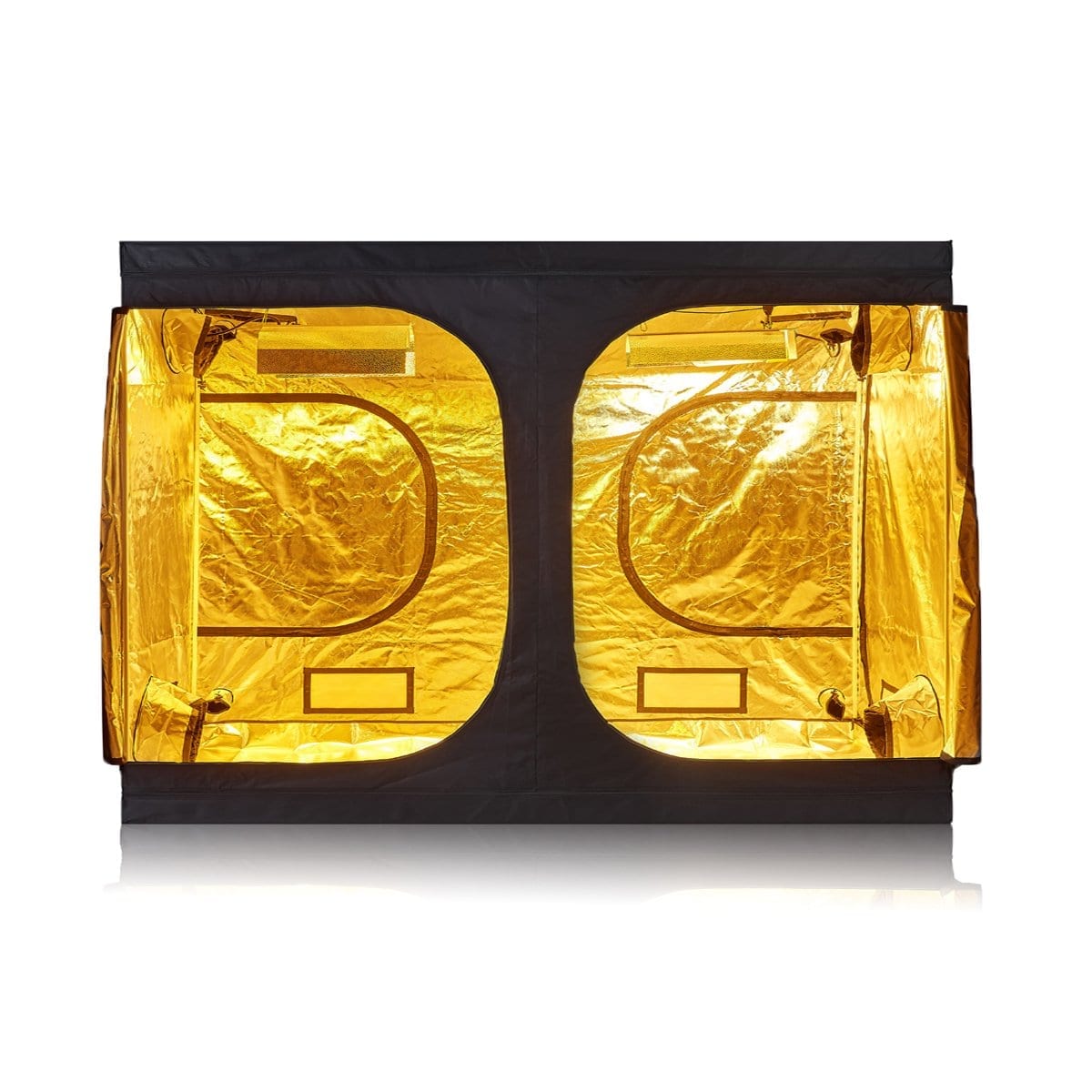 The TopoGrow D-Door folds up on the frame seamlessly. The opening of the tent creates a D-shape door, hence the name. The inside of the tent is a 96% reflective Diamon Mylar, which will ensure maximum exposure to light for your plants.
The tent comes with heavy-duty zippers and double stitching on all the edges. No light would escape this grow tent to prevent light loss. The round mesh tents provide consistent ventilation throughout the tent. These vents have double layers to improve sealing. They can easily be adjusted or closed with hangers.
The 5×10 grow tent has ample capacity to house 12 to 15 three gallon pots. The two hanging bars on top have a weight capacity of 20 pounds each. The tent comes with detailed assembly instructions that would have you set up the tent in no time. A 600 Watt LED grow light would be best with this grow tent.
Features
Heavy-duty 600D lightproof oxford fabric
Round vents
White paint coated frame
19 mm diameter poles with a 110-pound weight capacity
Removable waterproof floor tray
Pros
Easy to set up
Great value for money
Sturdy cloth and poles
Con
The corners/connectors for the frame are plastic
iPower GLTENTXL3 Grow Tent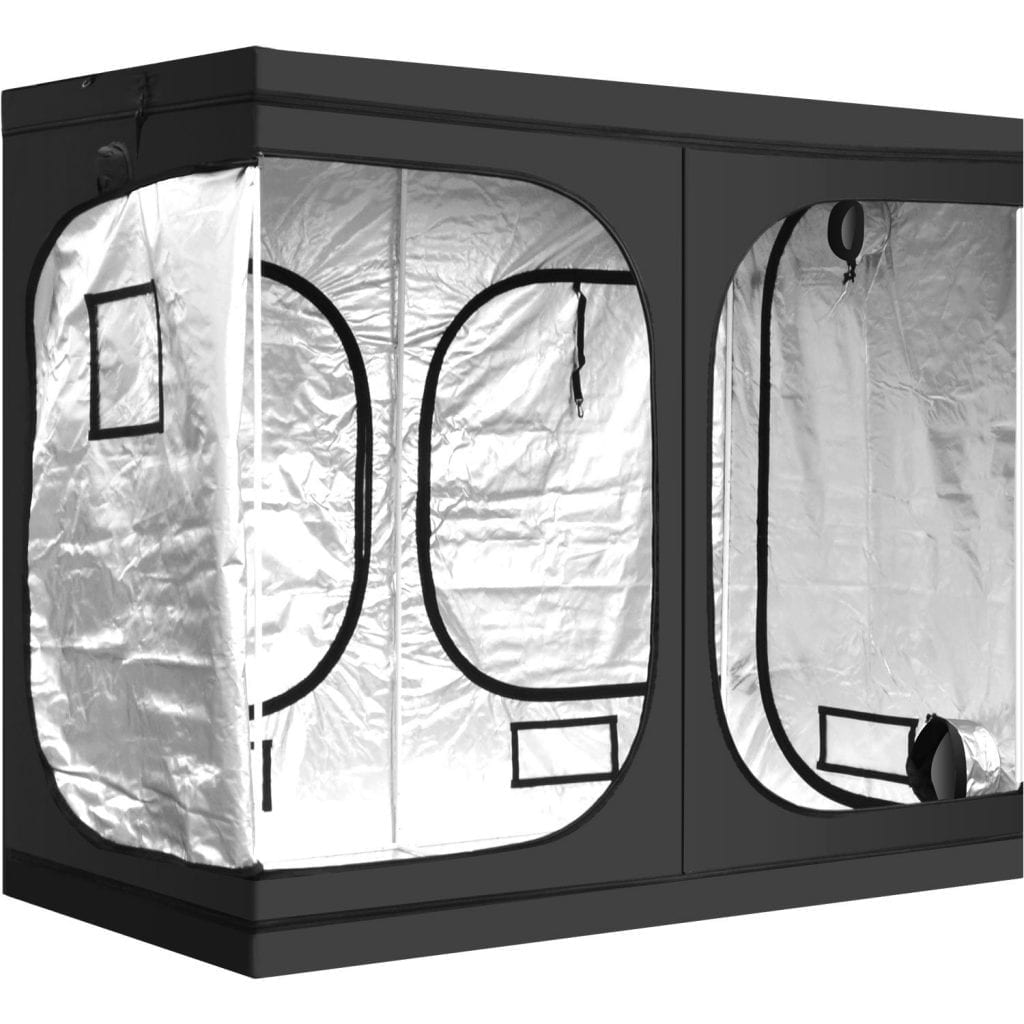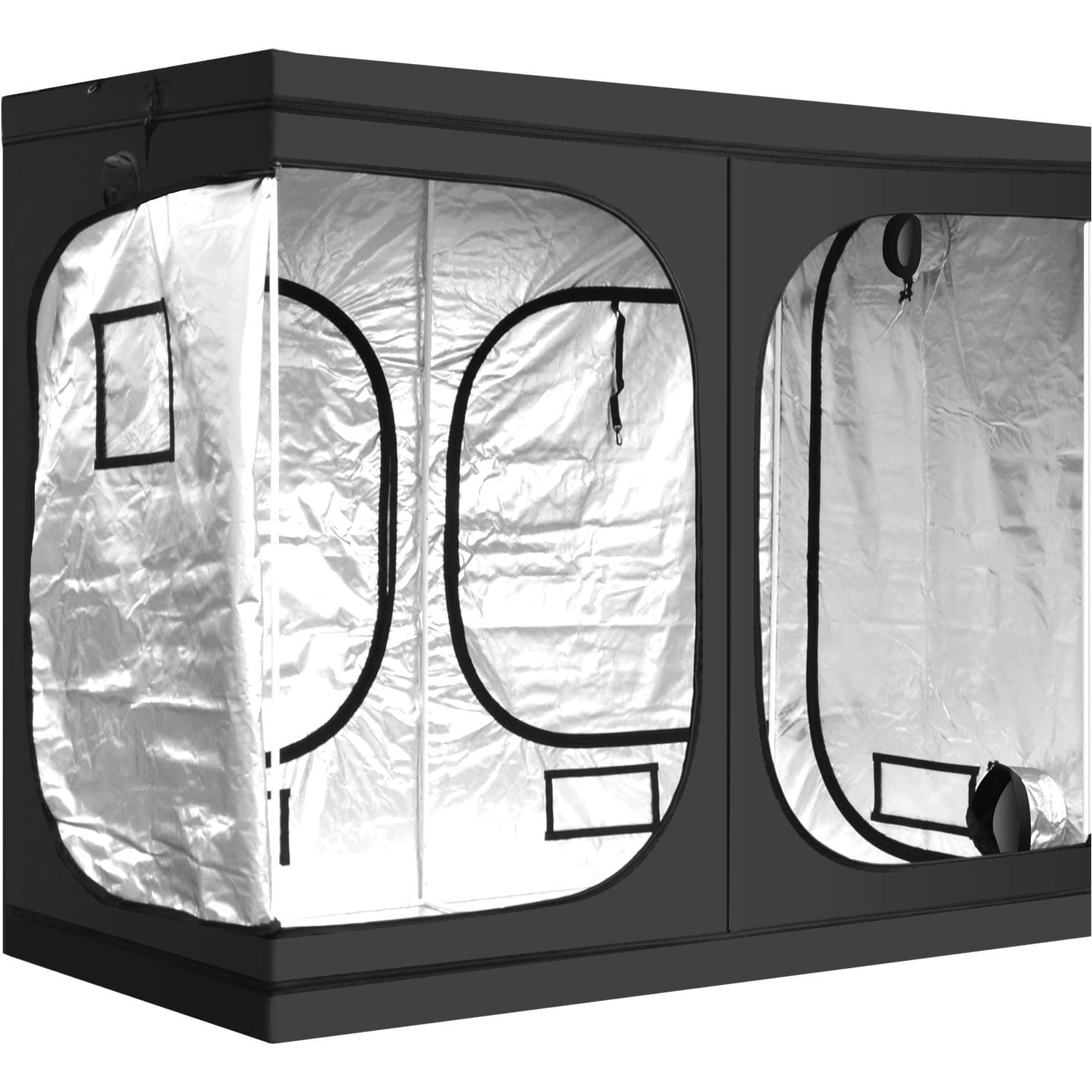 iPower is a name that needs no introduction when it comes to urban gardening. Their GLTENTXL3 grow tent is made of 95% reflective material. The heavy double-stitch sealing ensures 99% light retention.
There is a transparent, removable window on the tent. You can view the plants without needing to open or getting inside the tent. There is also a small pouch for storing your tools.
The double-layer ducting holes provide proper ventilation. Then you have ventilation windows at the bottom with removable covers. This gives more control over ventilation inside the tent. In total, there is one on the top of the tent, two on the back, and two on the sides.
The frame is made from sturdy and good quality material. The assembly of this tent is tool-free and, therefore, very easy and quick. The reinforced zippers ensure no heat or light escapes the tent.
Features
Heavy-duty metal poles with 110 pounds capacity
Water-resistant mylar floor tray
Intake and exhaust ports
Easy tool storage bag
Pros
Sturdy tear-proof construction
Climate control
Easy installation
One-year warranty
Con
A bit of a struggle to put the tent on the poles
Oppolite 120 x 60 x 80 inches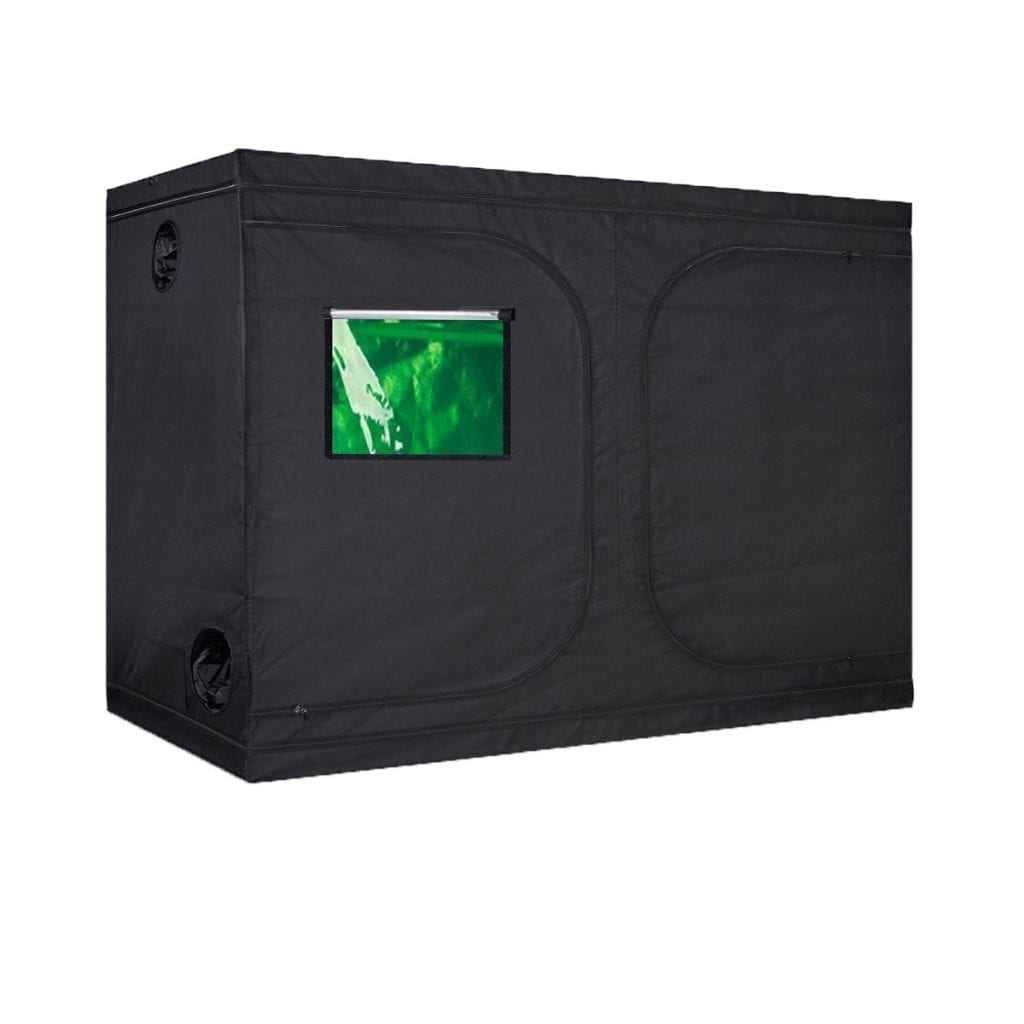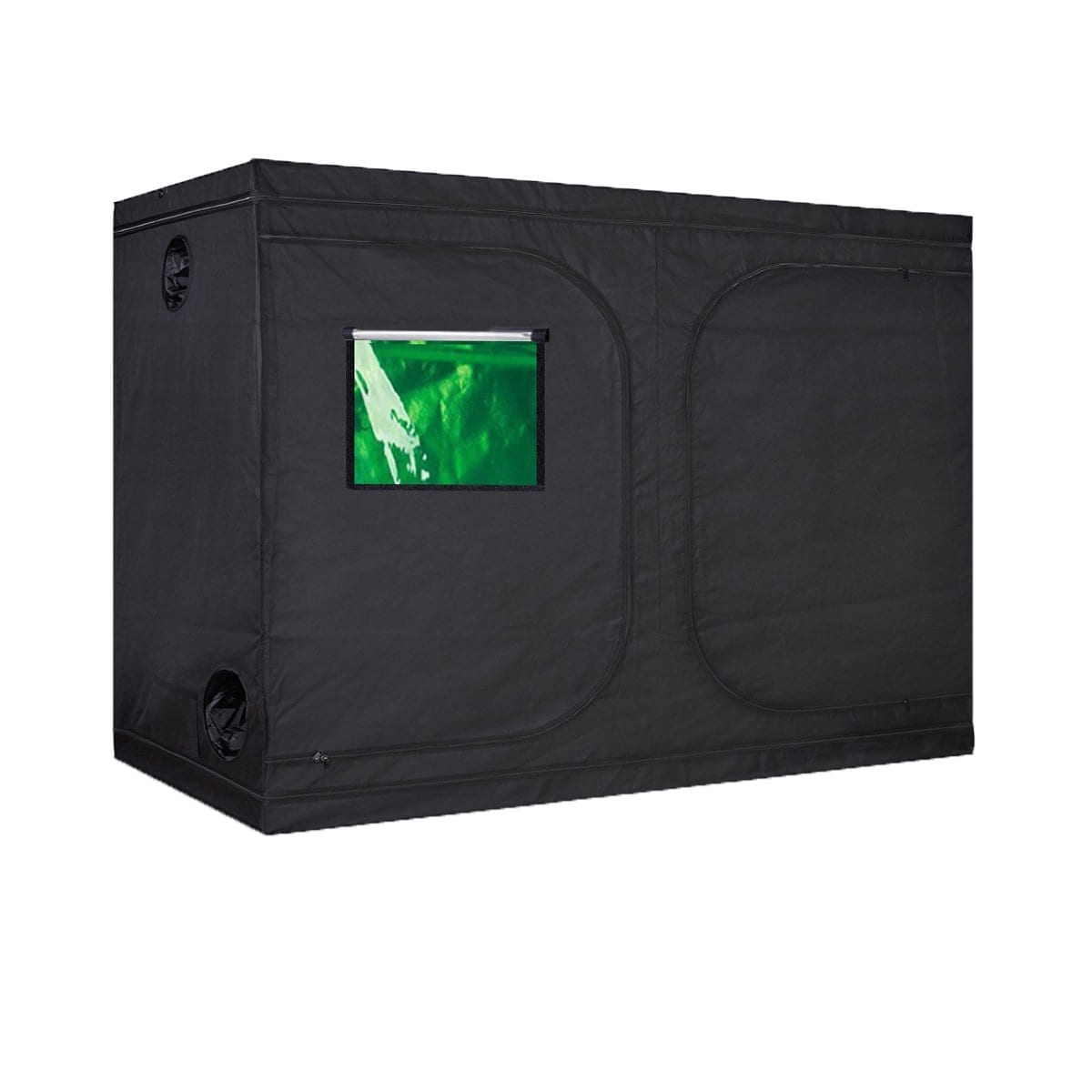 This rectangular tent is made of 600D lightproof oxford cloth. The poles of the frame are made of metal. With zippers and double-stitching, the light leakage is from minimal to none. The rods are 22mm diameter, coated with white paint to provide durability. Even the push-lock corners are metallic.
It features rectangular vents with mesh to provide appropriate ventilation. In addition, you can find multiple vents for filter and fan outputs. The nylon straps supplied with the tent can be used for the filter straps.
There is a green transparent window to monitor the plants without disturbing their sleep or wake cycle. The material is a specially formulated tint that keeps the white light from the surroundings at bay. This just adds to the overall light retention rate for this tent, which is 96%.
Features
Removable waterproof floor tray
The frame is all metal
Nylon belts
Leak-proof observation window
105 pounds weight capacity
Pros
Value for money
Easy and quick installation without needing any tools
Great customer service from the manufacturer
Con
When assembled, there may be a one-inch size difference
TopoLite 120 x 60 x 80 inches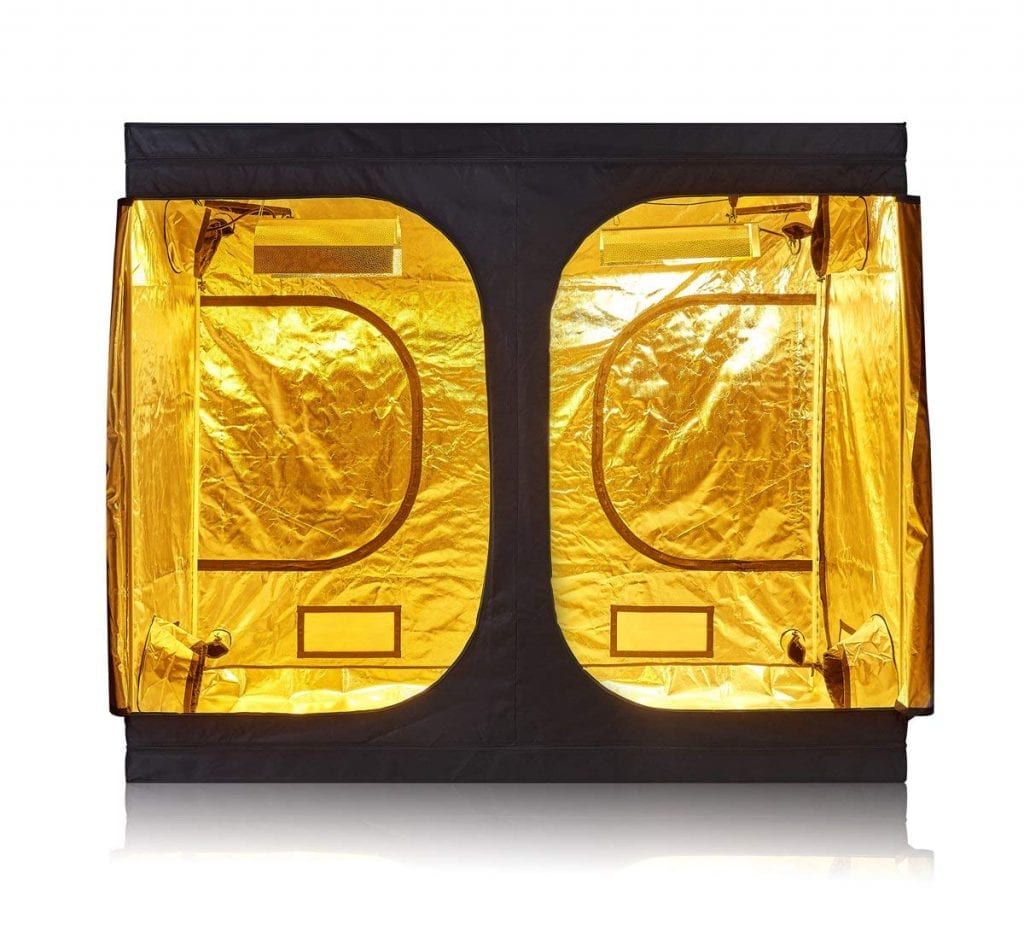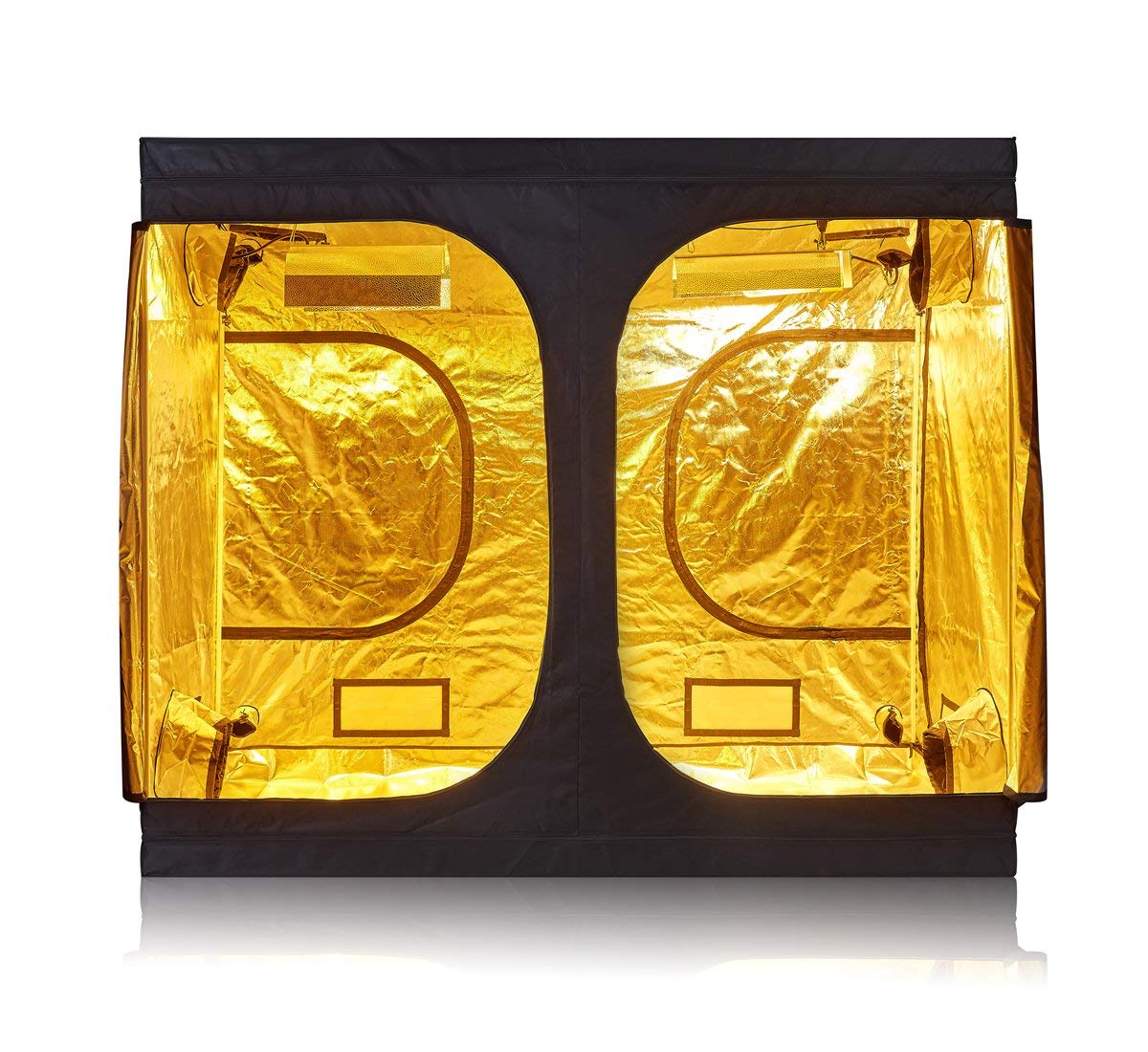 This tent from TopoLite is very similar to the TopoGrow D-Door tent. It is made of highly-reflective material that keeps the maximum amount of light inside the grow room. The zippers are high-quality, so the light does not leak through the teeth (a common problem with low-quality tents).
You can find multiple rectangle mesh ventilation windows throughout the tent. In addition, there are vents for fans and filters as well. The four nylon belts supplied can be used with filter straps.
The tubes used are quite sturdy, so you can hang the heaviest of the lights without any worry. Of course, those have to be appropriate for the number of plants you have. It also features a fully reflective bottom tray.
The corners of the frame of this tent are plastic. However, the same manufacturer also makes metal corners as well. Those can bring up the price quite a lot. So if you want to save money, the plastic is a better option. The tent is the same no matter which frame corners you choose.
Features
600D lightproof tent fabric
Round vents
paint coated frame
16 mm diameter poles
Heavy-duty hanging tubes
Heavy-duty zippers
Pros
Quick installation
Sturdy frame and tent cloth
Proper ventilation channels
Good value for money
Con
Assembly information is limited
Virtual Sun Reflective Mylar Hydroponic 5×10 Grow Tent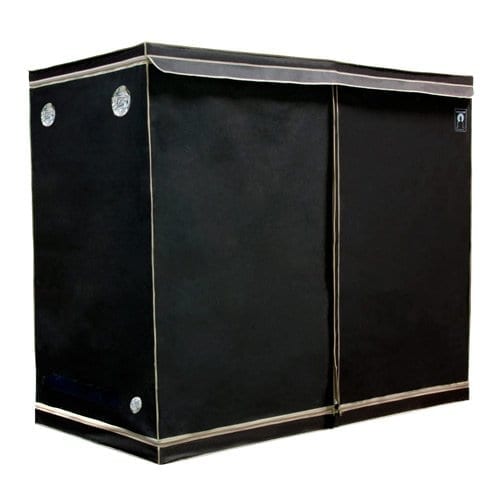 This is a good quality grow tent from Virtual Sun that has enough room vertically as well as horizontally to house all your plants, multiple lights, filters, and inline fans. Made from 600D oxford fabric, it reflects almost all of the light back onto the plants.
The integrated doors open in the front and back that makes it easy to transport plants in and out of the tent. The zippers are high-quality and leak-proof. As for the metal frame, it is coated with a powder that prevents any damage from humidity inside the tent.
The weight when completely assembled is 65.8, which is not too heavier than your average 5×10 grow tent. The bottom pan that comes with this product holds a lot of water. However, you could get a better one separately.
You can easily house 14-15 gallon plants in this grow tent. The ventilation on its own is adequate, but you can always improve it.
Features
Full metal frame
100% reflective inner lining
600D oxford cloth
Integrated zippers
Pros
Sleek-looking
Easy to move
Tall ceiling
Durable overall construction
Cons
Ducting holes are a single layer
The tent does not have ease in relation with frame size
Conclusion & Recommendations
The size of the tent is the most basic criteria. Since you want to go for a 5×10 grow tent, you pretty much have to take into consideration a few things. The cost of grow tents varies by manufacturers.
Usually, the difference is due to the quality of the materials. For instance, a grow tent with a frame that is part metal and part plastic would be cheaper than the one that is entirely made of metal.
When buying a 5×10 grow tent, ensure that you have ample space as well as the right placement available. Wherever you plan on installing it, there should be water and electricity access. Also, it should be away from the reach of kids or pets.