If you are looking for a large grow tent, the 8×8 grow tent is the one to get. It is the biggest grow tent available in the market. However, if you want to go even bigger, you can install a grow room. The 8×8 grow tents are professionally designed for people who would like to grow a lot of big indoor plants. Modern 8×8 grow tents are designed to fit many plants and are quite spacious.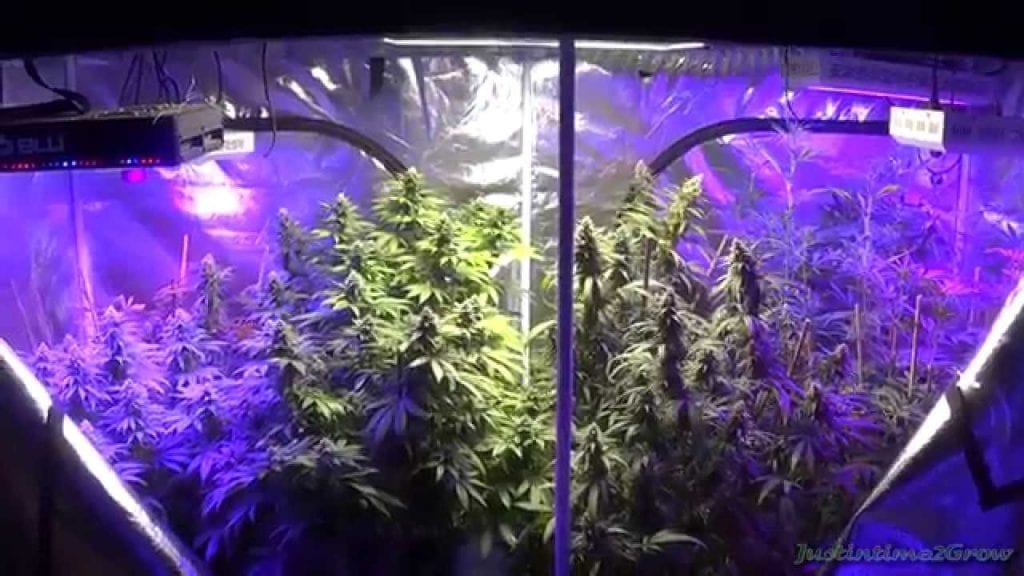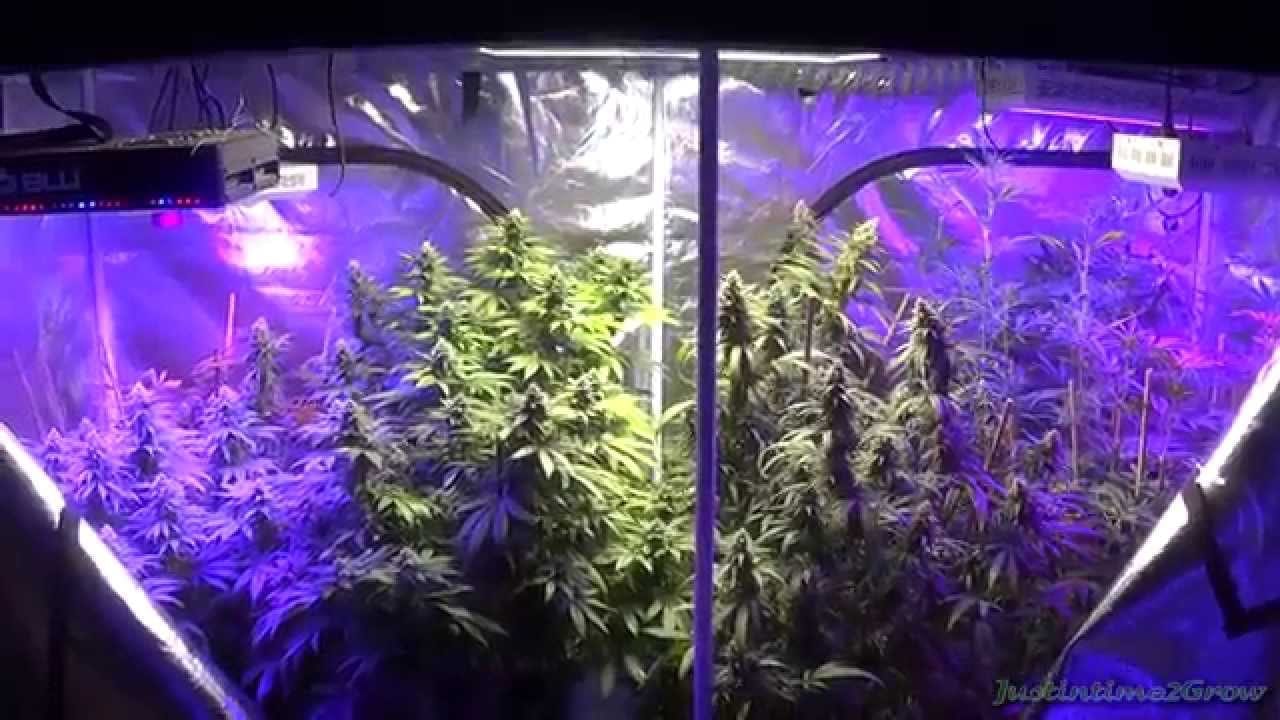 However, if you plan to install an 8×8 grow tent, you need to make sure that you have enough growing space available for the installation. As these tents are high in demand, several types of 8×8 grow tents with different features are available in the market. To put it in simple words, buying the right grow tent can be tricky if you don't know what to look for.
To make sure that you buy the best product, we took our time to review and compare the best 8×8 grow tents available in the market. However, let's start with a quick guide about these tents first!
Interested in other grow tents? Look at our other reviews of various sizes. We reviewed 2×4, 3×3, 4×4, 5×5, 4×8 and 10×10 grow tents.
How big is an 8×8 Grow Tent?
An 8×8 grow tent has an equal length and width of eight feet. This is ample space for growing a large number of plants. The height of a grow tent varies from product to product. It can be somewhere between six to eight feet. However, you can also extend the height based on your requirements.
Similarly, if you want to calculate the size of an 8×8 grow tent in centimeters and inches, it is 244 x 244 and 96 x 96 respectively. Whereas, in meters, it is 2.4384 x 2.4384. It is good to know about the dimensions of the grow tent in different scales as the accessories are mostly in smaller scales. Now, you can easily pick the attachments in the right size for your grow tent.
How many plants can I grow in an 8×8 grow tent?
The answer to this question depends on many different factors. However, the most important variable in this equation is based on how you plan to train your plants. It might look odd, but it is true. There are several different training techniques available.
Every technique affects your final yield per plant in a certain manner. Not only this, but it can also determine the space each plant will need to flourish.
Low-Stress Training
First of all, we will talk about the most common training technique known as 'low-stress training'. This method does not harm the plants during the training procedure. Rather they manipulate the growing patterns in such a way that optimizes the output.
So, if you plan to use this technique in your grow tent, you can grow about four plants on average per square meter.
Pruning
The second techniques involve damaging the plant during the process. It has many different names such as topping, pruning or pinching. In this method, plants are trimmed or pruned in such a way that growing pattern completely alters.
The new pattern creates better yields, which in turn require more space. Therefore, if you plan on using this technique, you should try to grow 1-2 plants per square meter.
Screen of Green
Another famous technique is known as 'screen of green'. This process is a modification of the low-stress training method. In this technique, framed fence or trellis netting is used as a guiding tool to modify plants growing pattern. Hence, if you plan to use this technique, expect to grow one to two plants per square meter.
Sea of Green
The last technique works in a very interesting manner. This process affects the plant growth pattern using plant stage timelines and light cycles. Hence, it does not involve physical manipulation. Probably the reason why it is called 'sea of green'.
The process tricks the plants into assuming that the weather has changed. This manipulates the light cycles to a position, 18-6 cycle early in plant growth. Ultimately, all these steps result in an early bloom of the plants.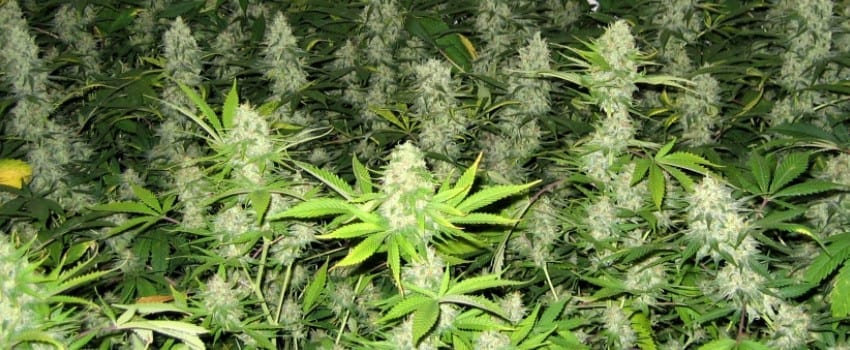 Since the plants do not get enough time to grow, they require less space than usual. Therefore, if you are planning to use this technique, expect to grow 8 to 16 plants per square meter. This completely depends on how much time you plan to give your plants to grow before switching them over for an early bloom.
What is important when buying a large grow tent?
It is always important to consider a few important features before buying a technical product. Especially if the tool is as sensitive as a grow tent. To make things easier for you, we have laid down some of the most important features you should keep an eye on while buying a large grow tent.
Price
All in all, there are many great indoor grow tents available at affordable prices. Hence it should not cost you an arm and a leg in any case. The products we have reviewed below have different price ranges, you can pick whatever suits you the best.
Ventilation
This is a very important feature. Although the plants grow in a controlled environment, they still need fresh air. Hence the proper ventilation of the grow tent is mandatory. It will help in the healthy growth of plants while keeping the air fresh and the temperature cool.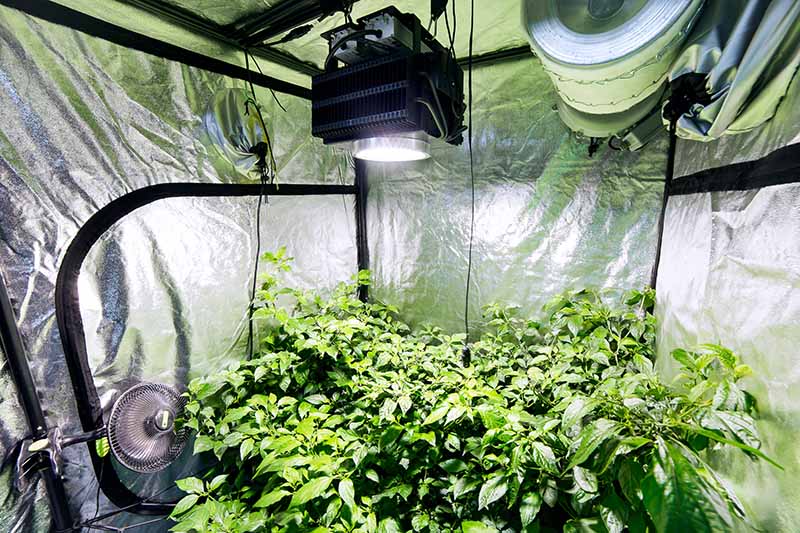 Design
While keeping it simple and not too fancy, the grow tent should be able to support entry doors, adequate spaces and ventilation ducts. Make the environment ideal for you plants' healthy growth.
Material Reflectivity
One of the most critical aspects of a grow tent is 'lighting'. Make sure that the inside walls of the grow tents are highly reflective. This is crucial for your plants better growth as enhanced lighting directly affect the plants. Therefore, do not forget to get a grow tent with a thick canvas. The reflectivity of the grow tents varies with brands.
Cord Ports
Not all equipment in your grow tent will run on batteries. Hence, it is mandatory to look for the number of cord ports in a grow tent. So, make sure there are plenty as you will need a lot of them.
Durable
If you plan to use your grow tent for a long time, make sure its fabric/material is durable. As you do not want it to get damaged anytime soon. Nevertheless, try to find a grow tent whose brand offers at least one year warranty.
Frame Strength
In a grow tent, the base and body are made using poles and a frame. The weight withstands on this structure. Hence this internal structure should be made of strong materials to hold the overall assembly. Also, always prefer steel over metal and metal over plastic.
Strong Zippers
Always make sure to get a grow tent with a heavy-duty zipper. It should not allow any light to leak out of the system. Look out for the ones that can pass the test of time and will not wear out in a short time as you will use the zipper daily. With growing plants in a controlled environment, a worn-out zipper is a huge disaster.
Adjustable Height
It is better to get a grow tent which offers an adjustable height feature. As this can give you an extra height of one to two feet using the height extension feature.
Best 8×8 Grow Tents – Reviews
Here is the list of some of the best 8×8 grow tents currently available in the market.
| Product | Image | Dimensions | |
| --- | --- | --- | --- |
| TopoLite 96"x96"x80" | | 96 x96 x80 inches | |
| MarsHydro 8'x8'x7' | | 96 x96 x78 inches | |
| Gorilla 8x8 | | 96 x96 x83 inches | |
| Hydro Crunch Mylar Hydroponic | | 96 x96 x80 inches | |
TopoLite 96"x96"x80" Grow Room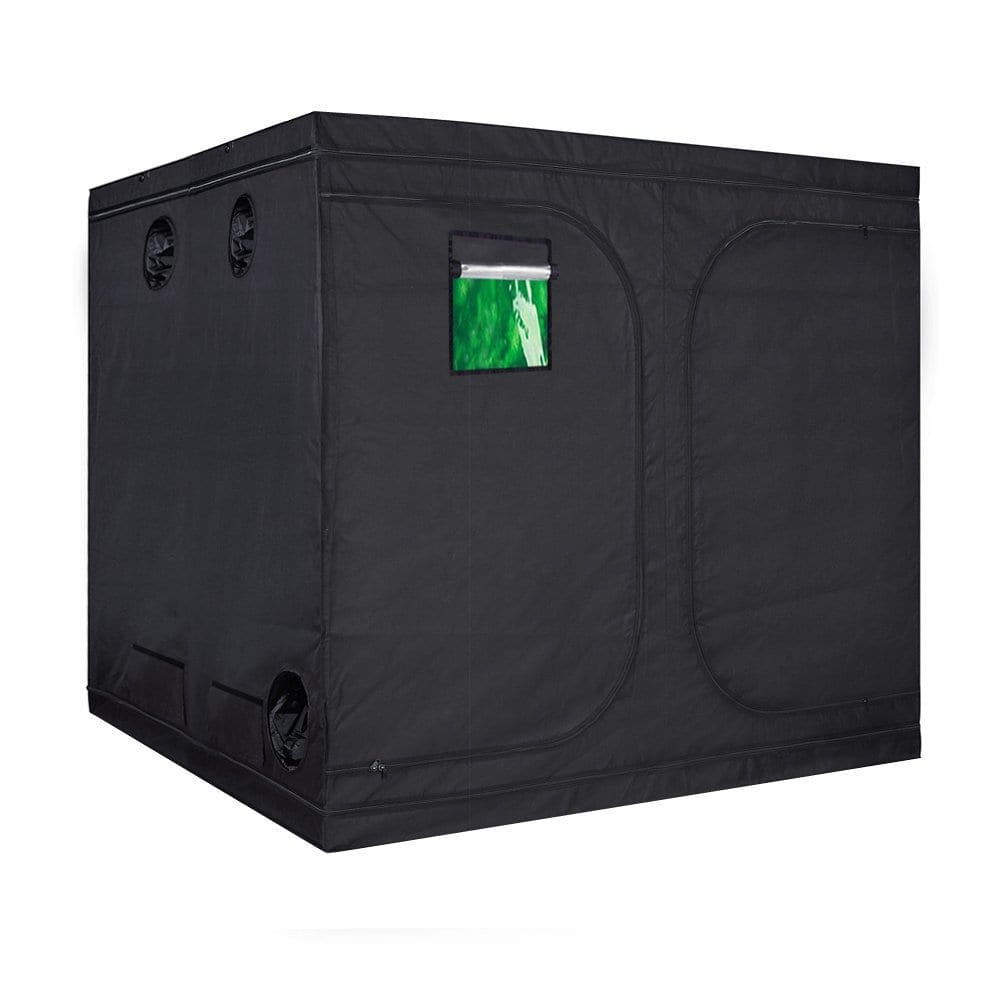 Topolite has made its mark in the hydroponic industry because of the quality and range the brand offers. Its Indoor Grow tent is one of the best grow tents available in the market. The Topolite grow room uses a formulated green tint to filter out white light.
This helps plants in continuing their growth pattern without interruption when you examine your plants. It also amplifies the plants' energy bar and limits the effects of the external environment.
Features
This grow tent has some of the greatest features you can find in a grow tent.
The size of the grow tent is 96 x96 x80 inches.
It is made of a highly durable material.
On the inside, it has a highly reflective, waterproof diamond mylar.
On the outside, it has a high-quality, 600D Oxford cloth.
The frame is made of white-painted metal rods.
The frame connects through robust metal or plastic connectors.
It has rectangular weaved vents for continuous ventilation.
Moreover, it has multiple ducts for filter output and fans.
You can install it quickly without tools.
A strong, heavy-duty zipper with double stitching is fitted to prevent light escape.
Pros
Sturdy and long-lasting construction
The internal walls are highly reflective, keeping all the light in
The material is tearproof
Made of eco-friendly materials
Cons
As it does not require any tools, setting it up might end up as a challenge for some people.
Also, there are small chances of light leaks from zipper stitching.
MarsHydro 8'x8'x7' Grow Tent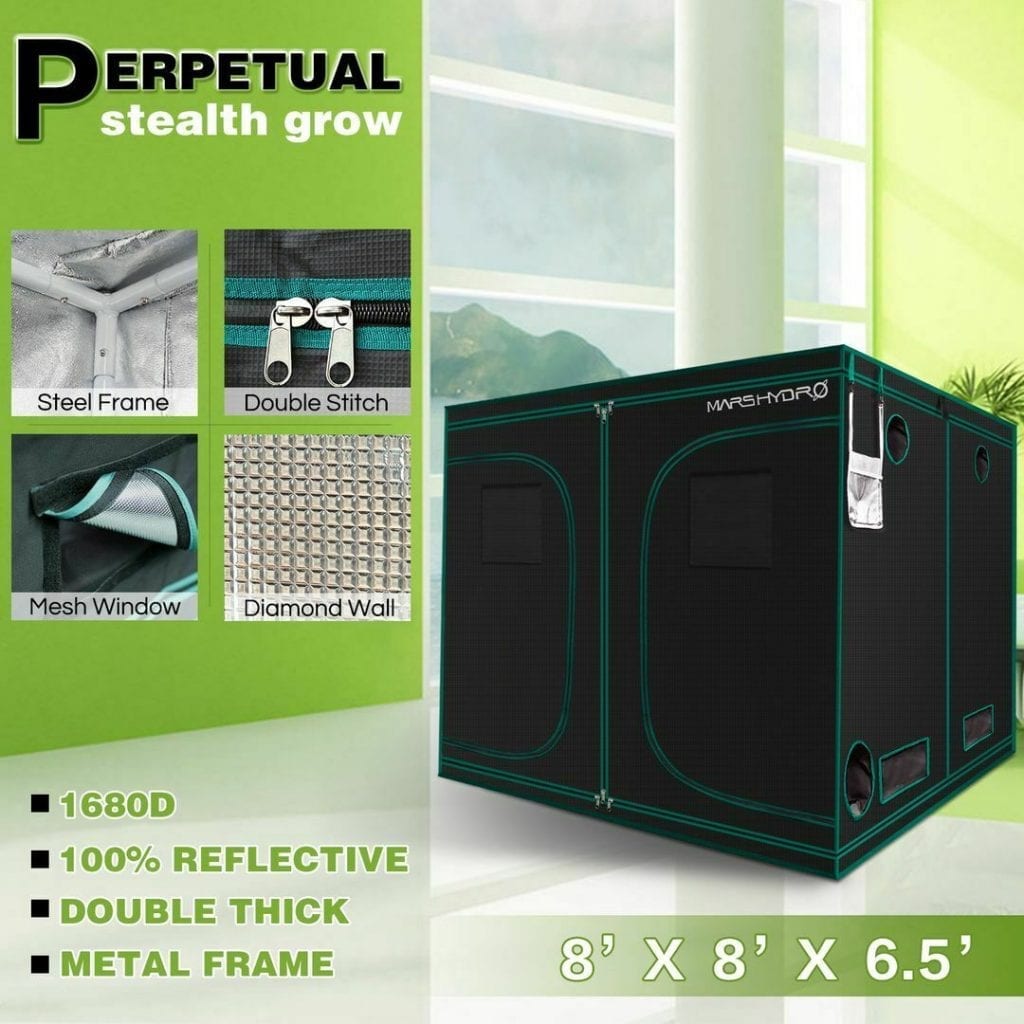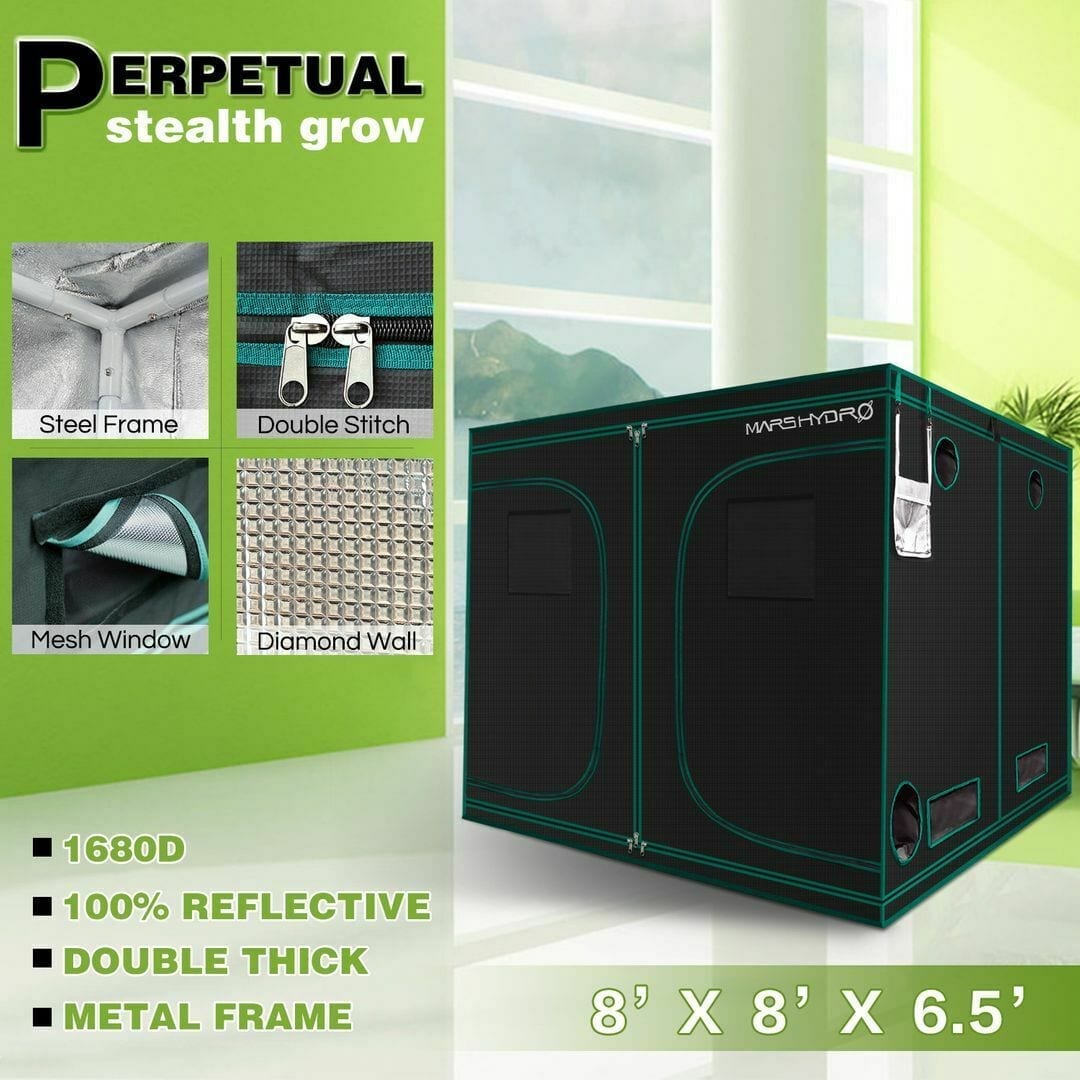 The MarsHydro grow tent helps indoor gardeners by providing high protection to special plants. It makes sure that the plants get a perfectly closed and controlled environment for optimal growth. By using 1680D highly reflective fabric, metallic poles and sealed joints, the expert gardeners at MarsHydro have introduced a classic grow tent that is built to last.
Features
The MarsHydro grow tent brings you all the essential features and attributes of an effective and durable grow tent.
It is made up of high-quality material. On the inside, it used the upgraded diamond mylar. While on the outside, it is covered with 1680D oxford fabric.
Using a door strap, it keeps the door open and out of the way for easy access and exit.
With the help of rectangular mesh windows, it makes sure to provide the plants with better ventilation while ensuring that no bugs enter the vicinity.
The zipper is attached using double stitching to make sure no light leaks. They are also backed with lightproof backing.
Unlike common grow tents, the MarsHydro comes with a grid made from three metal hanging bars. This ensures safe hanging.
All the structure is made of metal. No plastic is used.
To cater to any accidental spillage, it uses a floor tray as a second layer of protection
Furthermore, It has multiple vents to keep light, heat and odor from escaping. These vents are adjustable, using nylon straps.
Pros
Multiple ducts with adjustable pattern
Zippers have lightproof backing
Eight hanging bars to ensure safe hanging
Construction is strong and durable
Comes with a floor tray for extra protection against accidental spillage
Con
Slightly heavier due to complete metallic structure
Gorilla 8×8 Large Grow Tent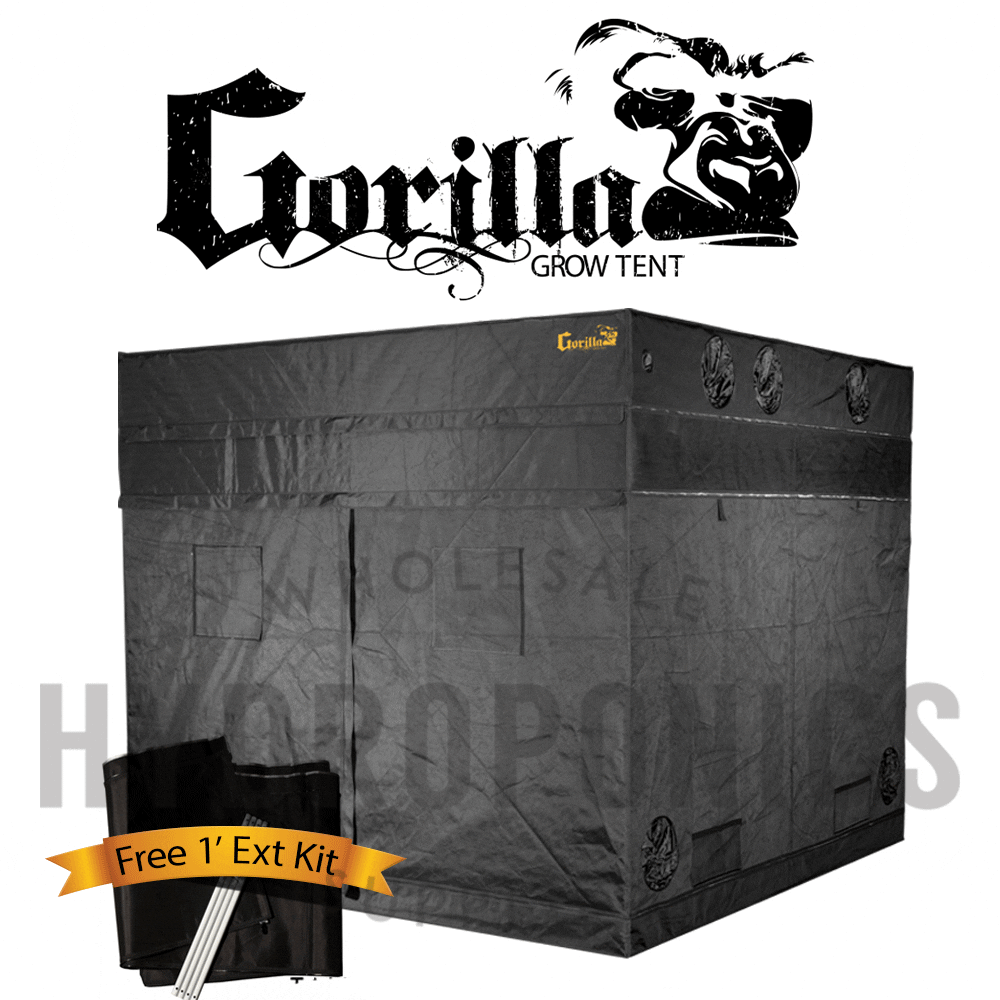 Gorilla is a known name in the hydroponics and indoor gardening industry. They manufacture grow tents that are ideal and highly sought-after due to their exclusive features and excellent quality. Gorilla's lite line 8x8x6'7 grow tent is one of its kind. With thick 1680D fabric, this tent is made tearproof and lightproof. It is one of the most dependable and durable grow tents available in the market.
Features
The Gorilla 8×8 grow tent comes with all the necessary features you would like in a grow tent.
The adjustable extension poles allow you to raise the ceiling of your grow tent from seven to ten feet.
The canvas is made up of high-density 1680D material. This ensures no light leakage. The Gorilla tents are almost three to nine times denser than other grow tents
The tent has a solid metal infrastructure. This strength allows them to carry up to 300 pounds of weight.
The infrared-blocking roof keeps the surface temperature of the tent down.
The thick canvas keeps the noise and odor from entering inside.
It uses a heavy-duty zipper to ensure no light goes out.
A tool pouch comes with the grow tent
It also has several duct ports to ensure ventilation
The Gorilla grow tent comes with thick observation windows and tightly reinforced seams to ensure unparalleled security and endurance.
Pros
Highly reflective interior to ensure perfect lighting
Comes with thick viewing windows to keep light from escaping
A handy tool pouch hanging comes with the grow tent
The structure is highly durable and unparalleled
Cons
The Gorilla grow tent is highly expensive
Quite bulky and heavy in comparison with other grow tents
Hydro Crunch Mylar Hydroponic 8×8 Grow Tent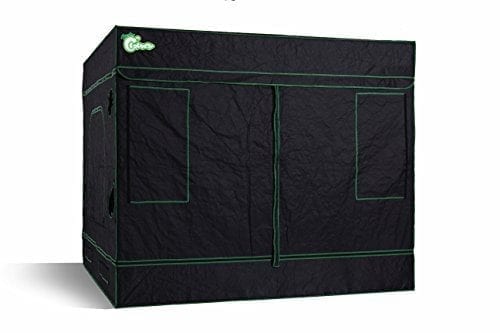 Hydro Crunch Mylar Hydroponic grow tents are professionally designed for indoor gardening. Along with all metallic structure, the Hydro crunch grow tents use the 300D Oxford fabric embedded with 100% reflective mylar. It has strategically placed multiple vents to give ample access to filters and fans.
Features
The Hydro Crunch Mylar grow tent flaunts some great, competitive features.
This grow tent consists of strong and durable materials.
You can easily and easily assemble it without any hustle.
It comes with heavy-duty polypropylene or metallic corners.
It has a full washable interior and exterior.
The poles are strong enough to support heavy-duty hangings such as grow lights, etc.
It has two viewing windows on the main door. You can peak through them while sitting on the chair.
This grow tent has rectangular vents with high-density window screens to keep the bugs outside the system.
It comes with a water-resistant floor tray.
Pros
100% reflective mylar lining
Low-height viewing windows
Construction is durable and strong
Floor is water-resistant
You can easily wash it from inside and outside
Windows installed on all the sides provide 360 degree convenient access
Con
This grow tent is slightly heavier due to the metallic structure
Conclusion & Recommendations
All the above-mentioned important features and reviews should help you in narrowing down your favorite 8×8 grow tent. We hope that buying a grow tent is not a daunting task for you anymore. However, if you are still unable to decide, we can help you one again by putting it all in a nutshell.
Topolite grow tent is the buyer's choice. Professional growers highly recommend this product, probably the reason why it is on the top of our list. It will keep your plants well and alive. Hence, you can expect better and healthier yields.
However, if you want to go fancier and money is no issue, you can get the Gorilla grow tent. It is one of the most sought-after tents in the market but loses points for being a little too expensive.