This model falls into the category of the high quality LED grow light. It provides effective photosynthetically active radiation (PAR) at a fair price. PAR is the level of light intensity and color emissions that will help your crops flourish tremendously. We tested the Advanced Platinum LED P1200 extensively and tell you everything you need to know in this review.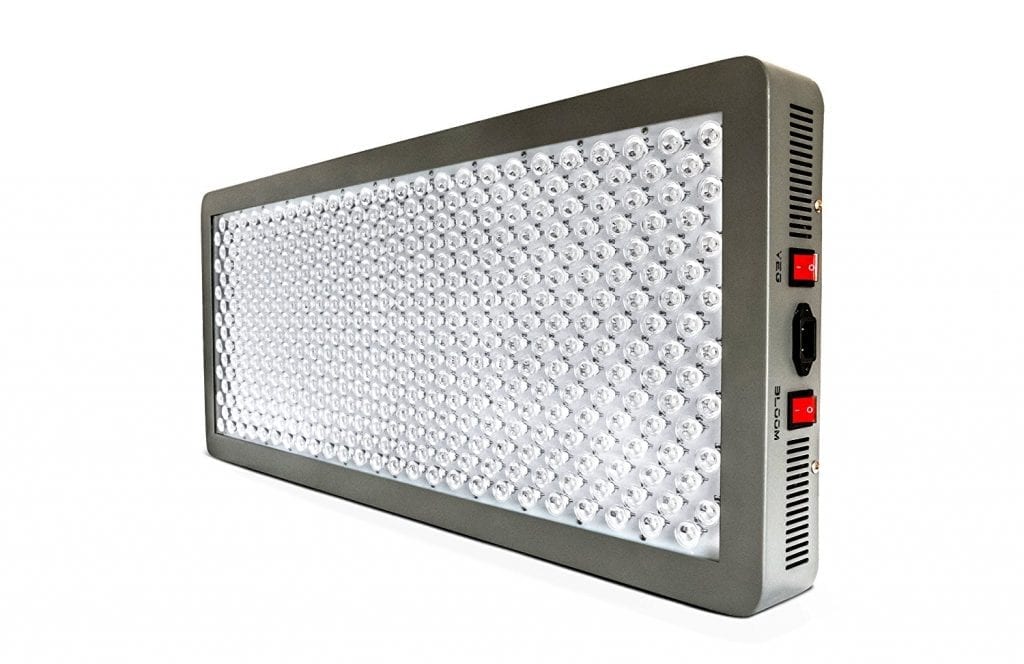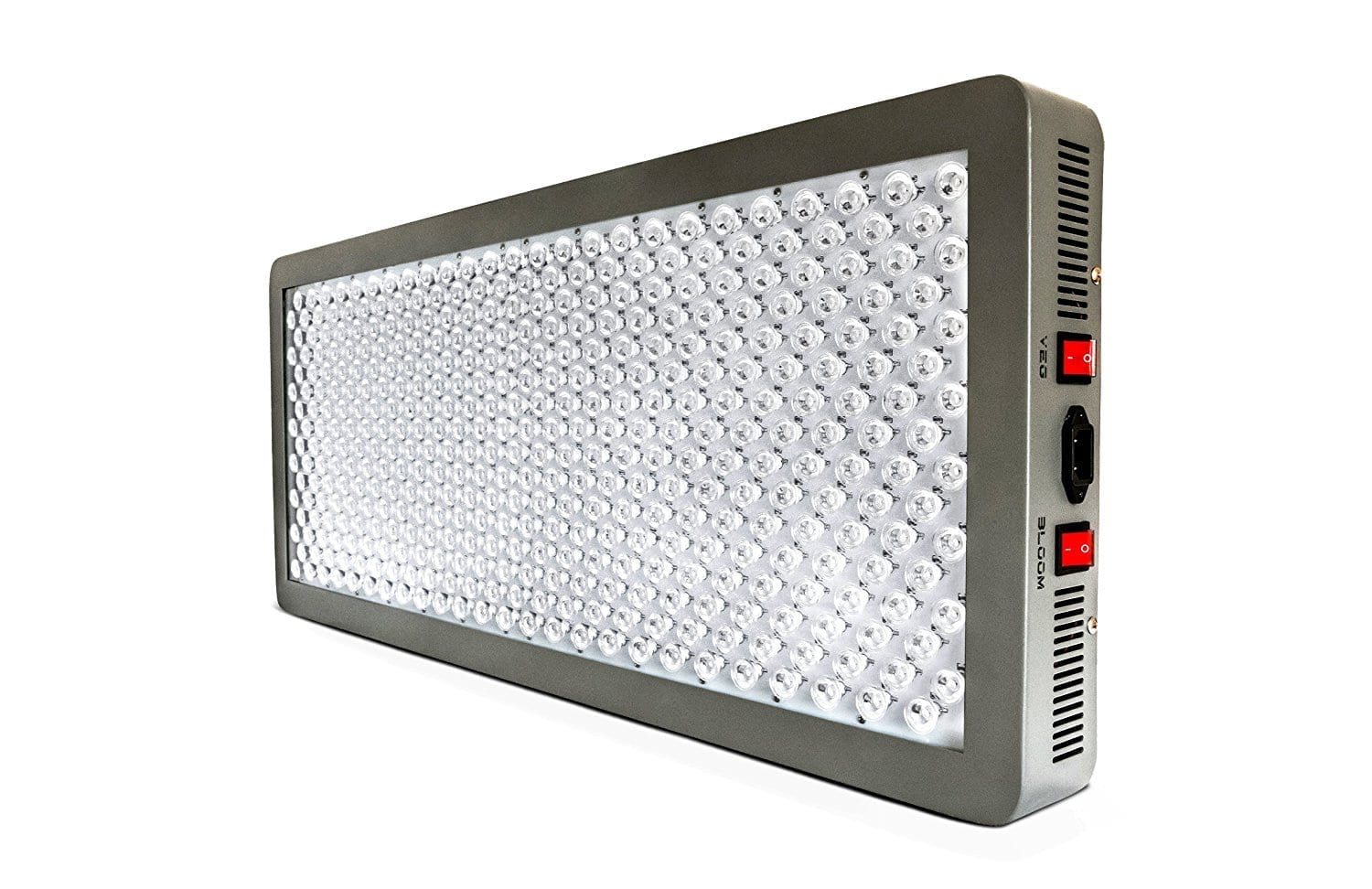 Functions of the Advanced Platinum LED P1200
The Advanced Platinum LED P1200 itself comes armed with accommodating features that cater to a wide range of gardening requirements. It also functions at a voltage between AC85-265W and replaces a 1400w HPS.
The light spectrum is perfect for the veg and bloom phase. Its max coverage area is ideal for an area as large as 6 x 5,5 feet. A 4×8 grow tent can accommodate this light perfectly. We can talk more about these features in the following paragraphs.
LEDs & lifecycle of the Platinum LED P1200
Comprised within its 36"X19" X3" body and 46lb anatomy, are 400pcs of 3W American based LEDs that'll operate up to 100,000 hours. This translates into a good 8-10 years of the higher yield product lifecycle.
Average Power Draw
Unlike mainstream grow lights, this Platinum LED P1200 fine-tuned product has an average power draw of only 379W in the veg mode and 758W in the bloom mode. This tells us that the Advanced Platinum P1200 has two grow modes for the ideal light in different grow phases.
The Platinum LED 1200w LED grow light covers a 12 band full wide-spectrum of colors. This is complemented by a 90-degree secondary focusing lens and a 60-degree primary focusing lens. It is delivering 1827 lumens from 18 inches and 1440 lumens from 24 inches.
Grow Switches of the Advanced Platinum LED P1200

As mentioned earlier, it comes equipped with two spectrum-handling options: veg and bloom. Each of them respectively assists optimal plant growth at each phase of development. The veg switch particularly highlights purple/blue heavy output that appeals to leaf development and saplings.
Moreover, Bloom and Veg simultaneously work together to deliver 100% panel power for mature plants (pink/red heavy output). Also, the max veg coverage is 6×5.5 ft at 18". The Bloom coverage is 5×4 ft at 18".
High Quality
The Advanced Platinum Series is a high-quality series of LED lights in different sizes. We also reviewed the other lights of this series and must say that, although it is an expensive light, this one is worth your money.
If you're interested in this light, but you're not sure which size to buy. Check out the different reviews of the Advanced Platinum Series on our website. For instance, look at the P600 review.
Other 1200w LED grow lights
If you are interested in a 1200 watt LED grow light, but you're not sure which one. Don't worry. We've got a list of all the best 1200w LED grow light options available in every price range. Check out the complete list right here.
What's in the package?
You will be provided with a hanging kit to assist in light adjustments and a power cord. This all comes with the LED grow light, so you don't have to worry about setting up your light.
We love these videos by PlatinumLED, where they give you a quick glance at all the features of a LED grow light. Here is the one that they made about the P1200. Check it out for a quick summary on the PlatinumLED P1200.
Specifications:
Dimensions – 36″x19″x3″
Weight – 46 lbs
LED Quantity – 400x3w US made LEDs
Lifespan – 100,000 Hours/8-10 years
Avg. Power Draw – 379w Veg / 758w Bloom
90 Degree Secondary Focusing Lenses
Voltage – AC85v-260v – All International Cords Available
Auto-Voltage Sensing and Adjusting Power Drivers
Pros and cons of the Advanced Platinum LED P1200
Pros
Operating and handling require minimal effort and prior experiential level
Exclusive US-based premium build product manufacturing by Bridgelux and CREE
Top-bin diodes approved i.e. color, flux, and voltage synergy passes all benchmark standards
Highest PAR per Watt in the industry
Highly sustainable and long term energy saving product
Compatible coverage with medium, large and full-scale commercial operations
Entirely Zenner protection safeguards from hazardous line surges and short-circuiting
Adaptable to all global voltage inputs (110V or 220V/ 85-260V)
5-year US-based Warranty and 90-day money back guarantee
Backed up with 8X high-speed quiet fans
Upgraded, Aluminum cooling heat sinks eradicate overheating as well as heat footprints
High-Pressure Sodium Vapor replacing the system
Dual Veg and Bloom mode encourage prosperous harvest; offering customizing options for vegetation and flowering stages
Twelve color range begins from Ultraviolet to Infra-Red, maximizing photosynthetic responses
Daisy Chain available
High focus and precisely targeted spectral options at your fingertips
Priced below competing brands
No ballasts, easy to manage, clean, maintain and relatively compact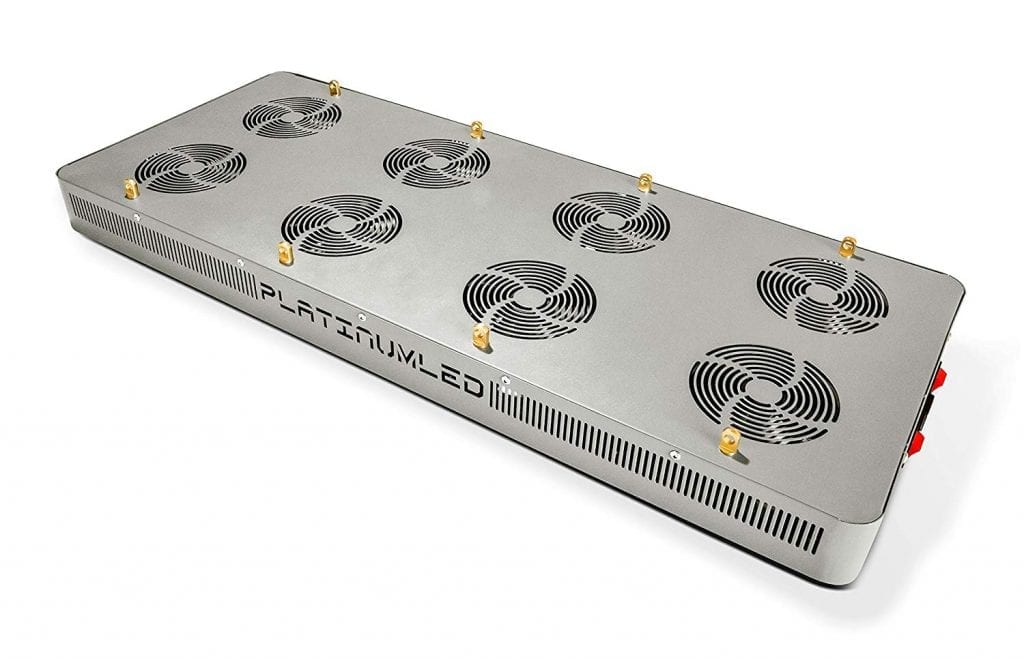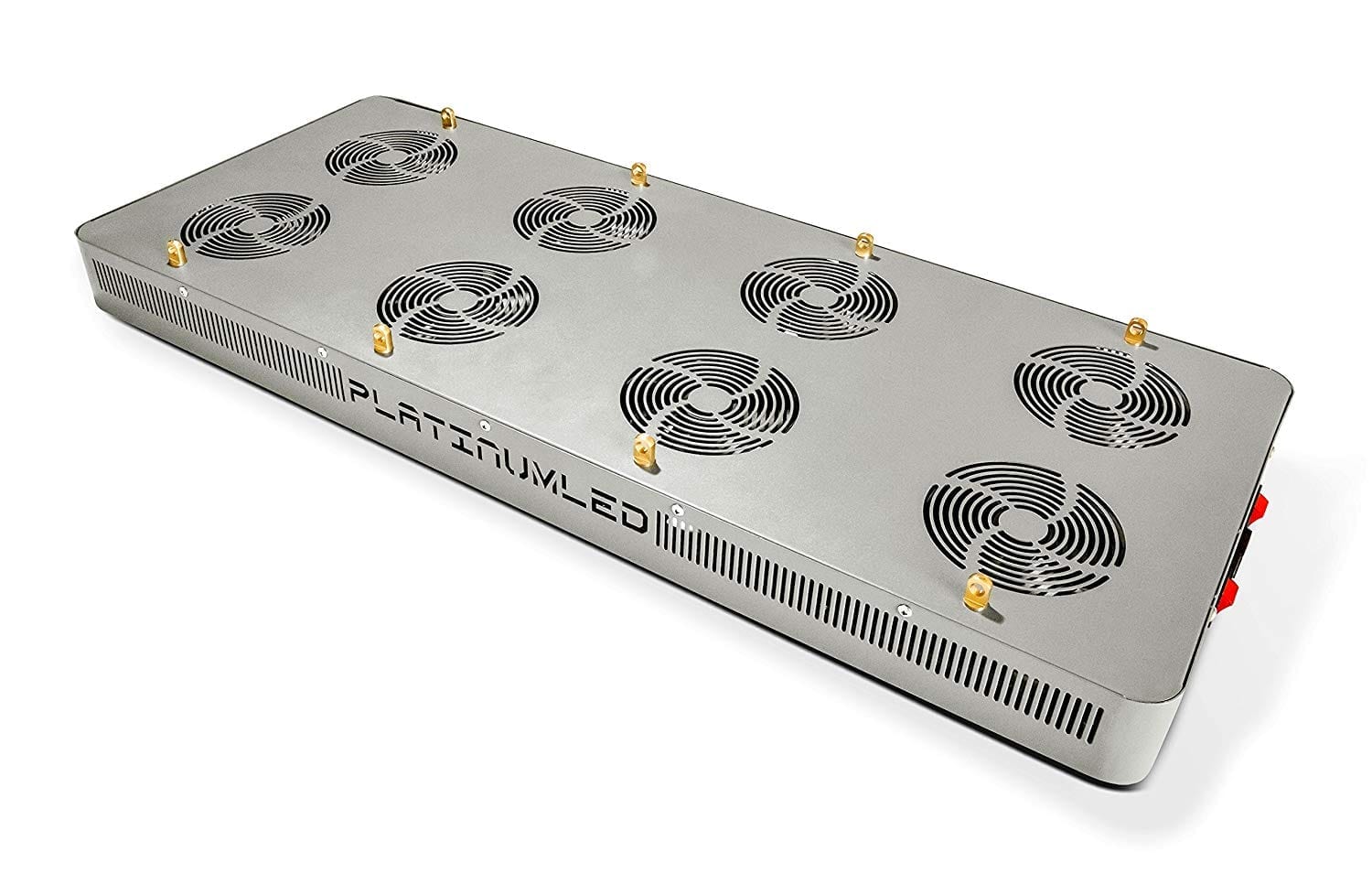 Cons
Very heavy product
Lack of manual and guidelines leading to high ambiguity
3-Watt diodes are not super powerful
Coverage area is relatively smaller than other high-end competitors
The PAR measurements have only been taken from the dead center; no values for the outside of the coverage area are provided or tested for
Customers report low product durability with a high percentage of burnt out LED bulbs and poor customer service assistance
Conclusion on the Advanced Platinum LED P1200
This is a good light if you're looking for something high-end. However, it does has its drawbacks and, of course, people are not 100% satisfied after buying this product. On the one hand this has to do with the price, that leaves people with high expectations, but also with the fierce competition.
However, we think that this light has a superb light spectrum that makes your plants happy. The results we got from this light were awesome and that's what it's all about.
Taking everything into account, including various customer complaints, this light may be expensive for you. But, luckily its smaller siblings are also available. This makes it easier to make use of this high-quality LED grow light at a lower price.
Check the price of the Advanced Platinum LED P1200 on Amazon