The cutting edge technology incorporated into the Advanced Platinum LED P900 Grow light is top of the line in the market. This brand is considered a market leader in indoor garden lighting. Therefore, it is an idyllic machine to have in your grow room.
Advanced Platinum combines a synergistic flow of high power with efficiency and low heat production. Your crop will be well taken care of from the moment of plantation till the moment you harvest them.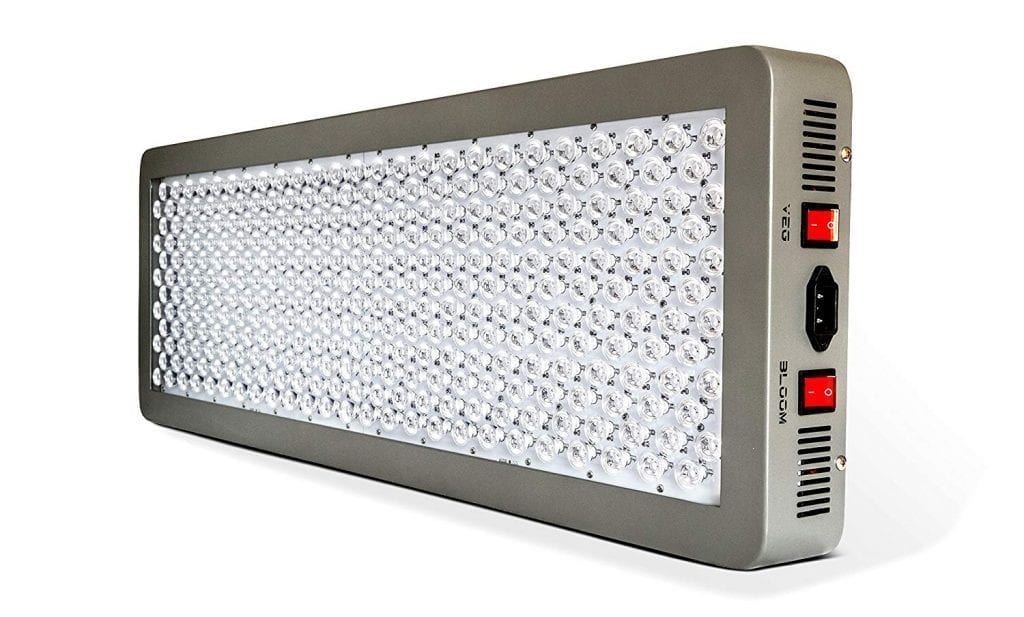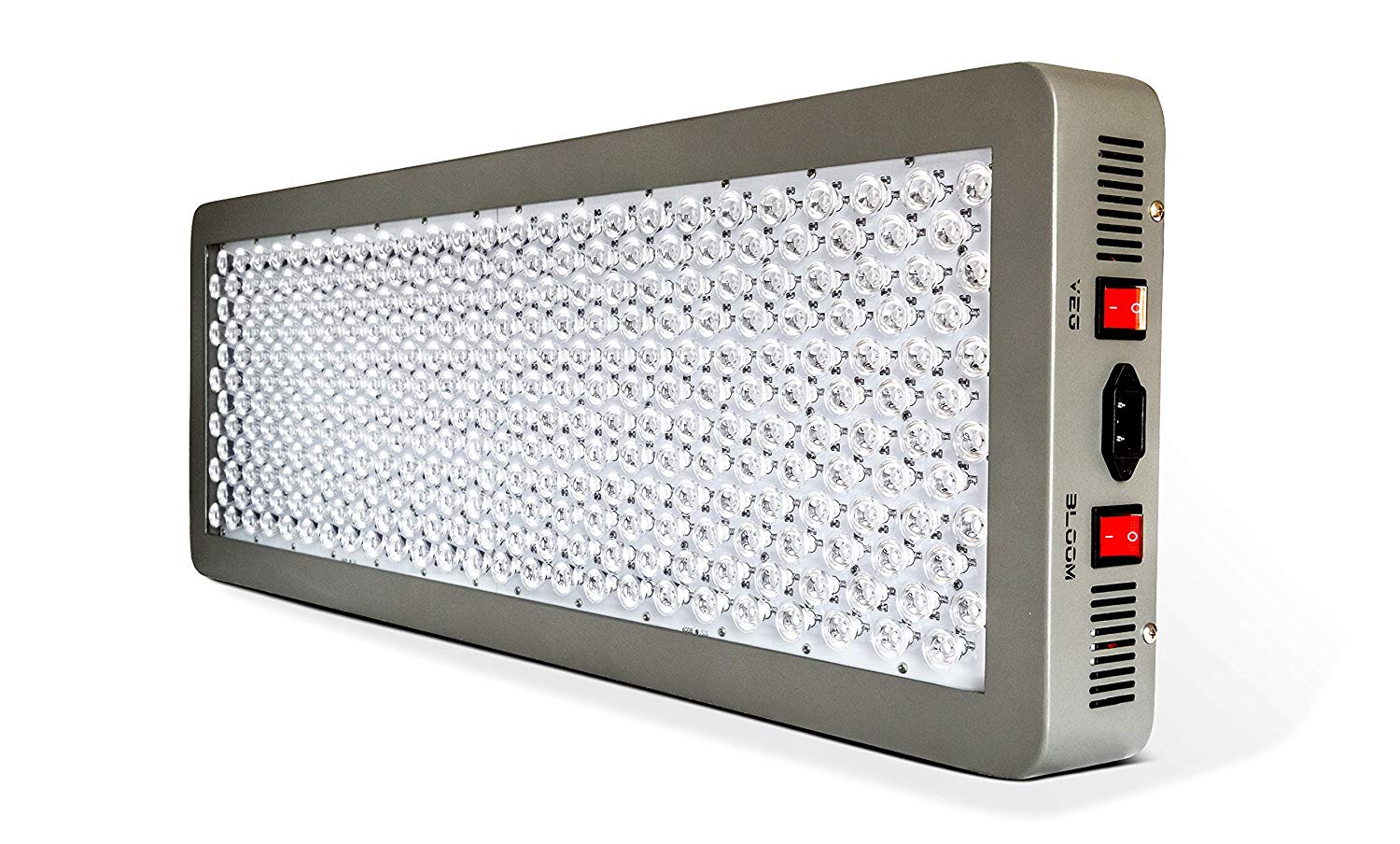 Featured articles:
Advanced Platinum Series P900 900w 12-band LED Grow Light - DUAL VEG/FLOWER FULL SPECTRUM
Technical features of the Advanced Platinum LED P900
The Platinum LED P900 has dimensions of 36" x 12" x 3" and is equiped with 300 x 3W LED bulbs. These are exclusively US Manufactured LED bulbs, that replace a normal 1000W HPS grow light.
Power output
Nevertheless, it consumes only 557W of actual power itself. The 100% usable light is concentrated to promote peak photosynthetic processing that'll increase the quantity and quality of your plants.
So, whilst the initial investment may seem overwhelming, these lights eventually pay for themselves. This is due to low electricity bills, low breakdown rates, and high power delivery.
Light spectrum
Ranging from UV to the Upper IR, these lights offer the full 12-band spectrum provide supremely well-tuned rays. Furthermore, it offers optional vegetative and bloom options that correspond with the growth phases of your plant.
We are amazed by the light spectrum that Advanced Platinum delivers. We must say that they deliver the perfect light spectrum for indoor cultivation of marijuana.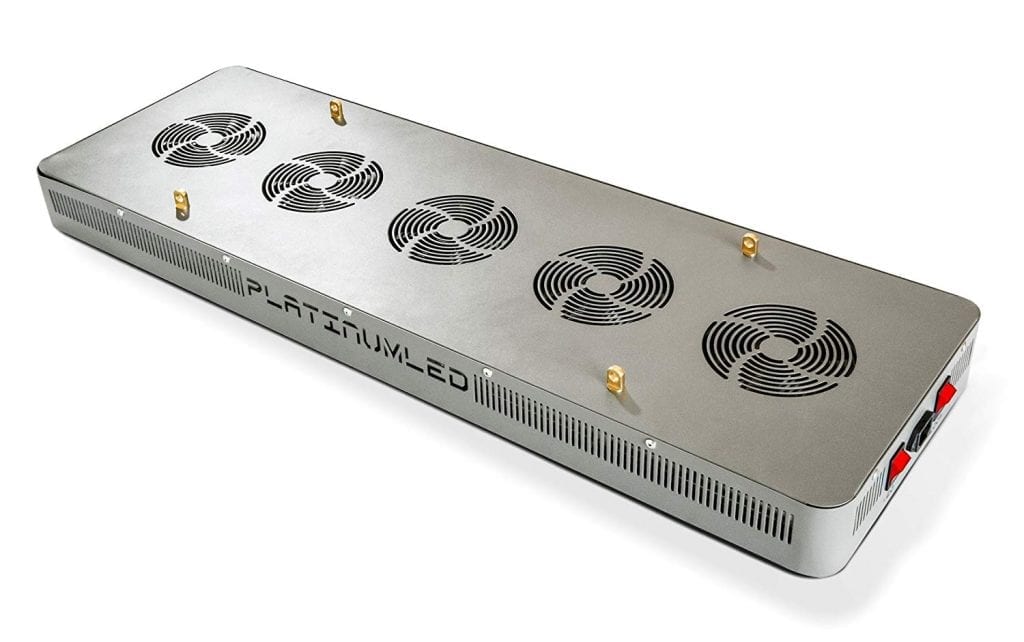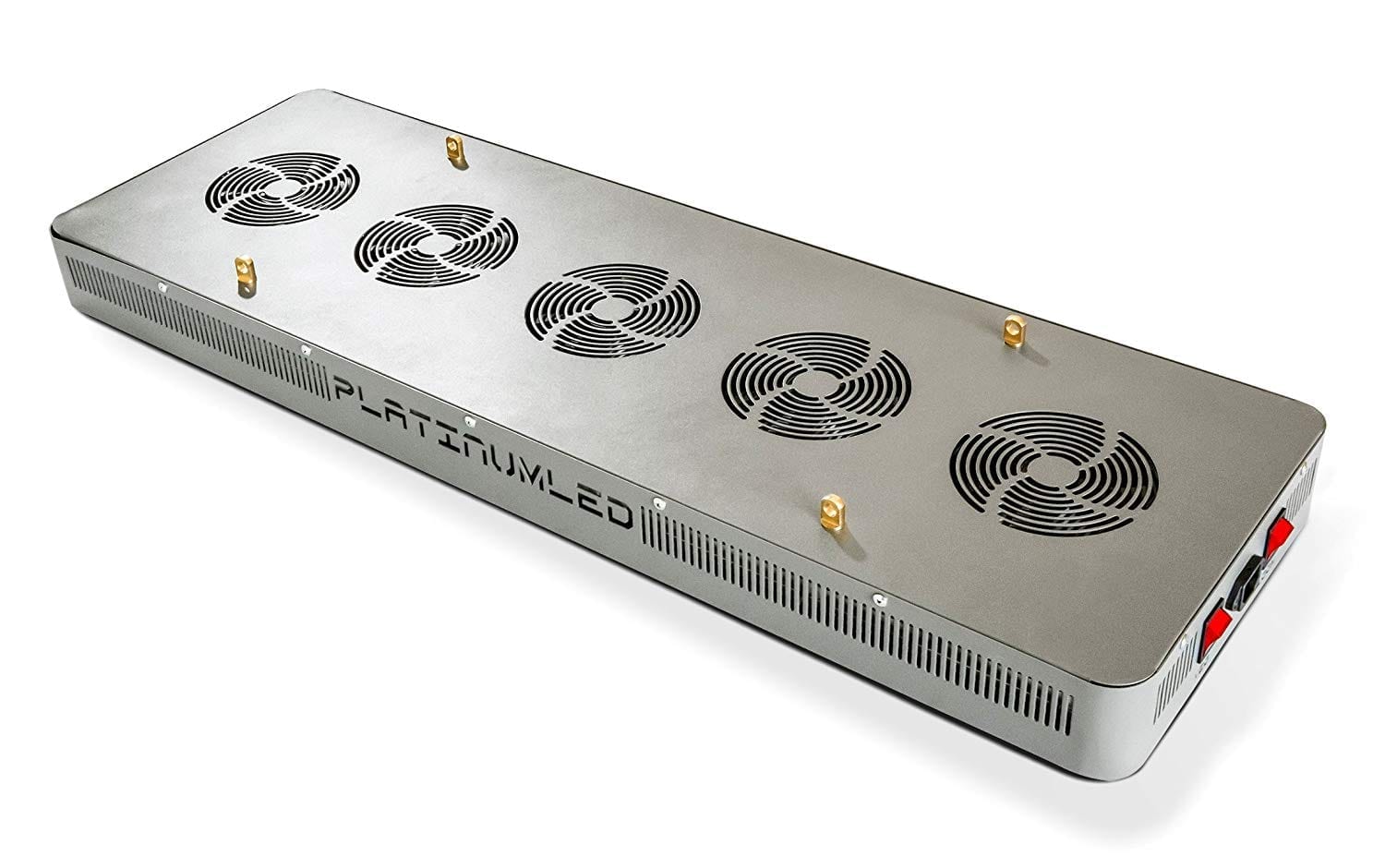 The auto-switching 110V/220V delivers premium levels of output without drawing much power. The Platinum LED P900 has an auto-voltage sensing and adjusting system. It has an average power draw of 279W veg and 557w bloom at AC85V-260V. All the international cords are available.
Maximum coverage in veg at 18" height is 6'x4' whereas with bloom it is 5'x3.5'.
Pros:
Exceptionally high PAR Value compared to competitor brands;
Luminous efficacy appropriate for photosynthesis and photomorphogenesis;
US manufacturers, Bridgelux and CREE;
Diodes fully Zenner coated preventing risky surges;
Light-switch for growth phases;
Lifespan of 50,000-100,000 hours;
Relatively low power consumption;
5-year warranty and 90-day money back guarantee;
High-grade aluminum heat sinks and 4 ventilation fans prevent overheating;
Full focusing 90° lens;
100% usable lights across 12 bands;
Dual focused lens;
Wide coverage;
Low heat dissipation levels;
Heavy duty and highly durable;
High yield per watt;
Full spectrum light.
Cons:
Limited to being fitted only to powerful beams and roofs;
May trigger leaf burn if placed less than 12" from the plant;
Expensive;
No daisy chain hence harder to expand operations;
Complicated installation;
Heavy equipment 35lbs;
Reports of fan noise.
Conclusion on the PlatinumLED P900
The Advanced Platinum LED P900 is for cannabis growing enthusiasts in search for an extremely powerful, yield maximizing and non-straining device.
The benefits are countless because this LED grow light not only guarantees damage-resistance and high yields, it ensures satisfaction. It is a good indoor light for any grow room operation due to its highly flexible features and innovative offerings.
Few caveats however are the lack of a dual-chaining functionality to enlarge your operation easily. Also, the light is priced somewhat higher than its competitors. Therefore, this light is not for everyone. If you're on a tight budget, this is not your logical choice.
Check the price of the Advanced Platinum LED P900 on Amazon