LED grow lights are important for the healthy growth of your plants. Especially when they are for indoor growing. Depending on the spectrum, coverage area, power, and other features, a number of LED grow lights are there in the market. This article will focus on the best 1200 watt LED grow light reviews. 
If you have the money, buying a powerful LED grow light will definitely be a smart investment. Although, nowadays a powerful grow light doesn't have to be that expensive anymore. Therefore, we have gathered a list of some of the best 1200 watt LED grow light. 
We will cover all the best options within every segment of the 1200 watt LED grow light market. Let's get it on with the reviews of these top-notch lights that are usually perfect for a 4×8 grow tent.
Top 7+ Best 1200 watt LED Grow Light Reviews
King Plus 1200 watt LED grow light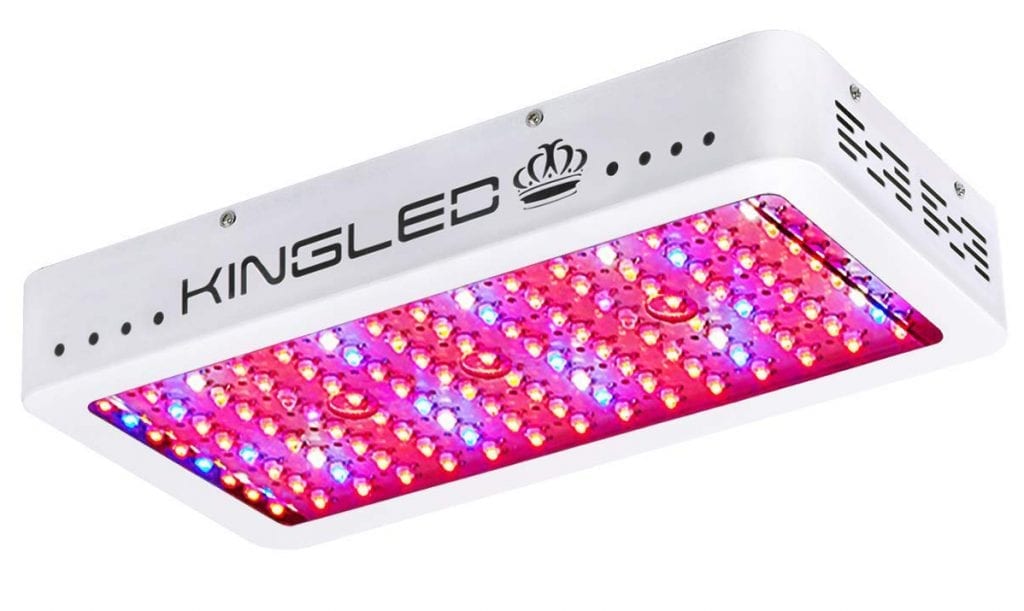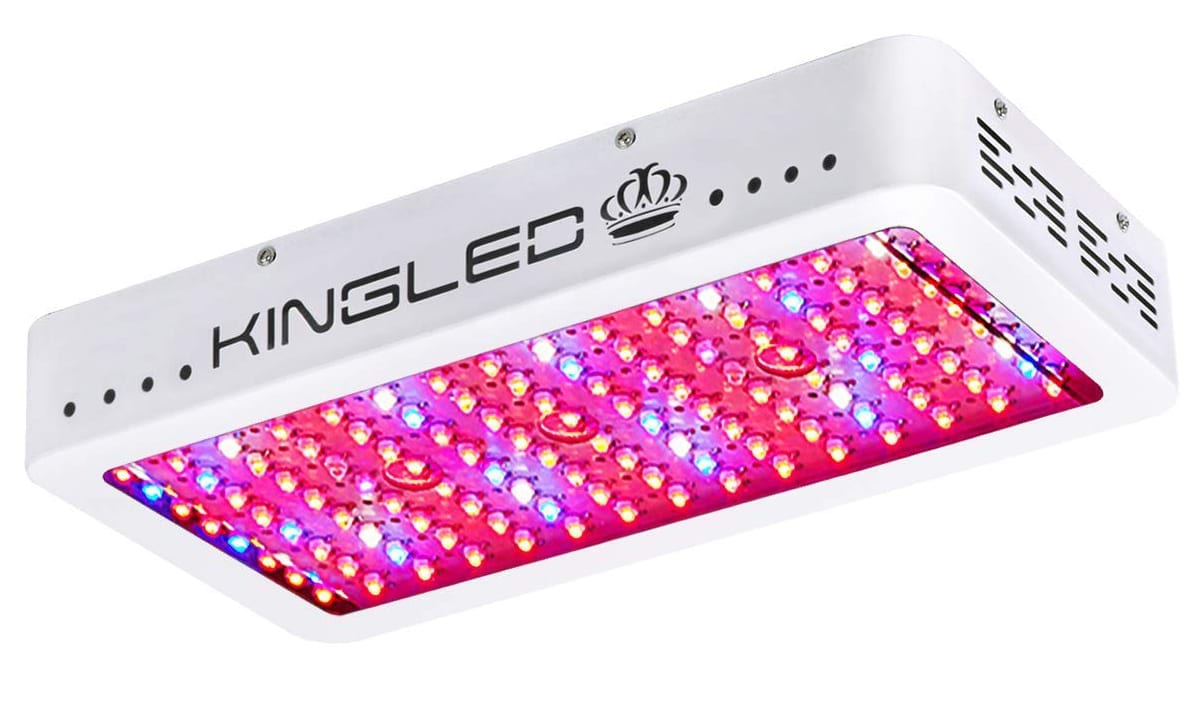 This King Plus 1200w LED grow light has a 10w double chips system. With a balanced PAR/Lumen output, this LED light is energy efficient while consuming only 235 watts of power. 
The full spectrum of red, blue, yellow, white, IR and UV makes it suitable for all plant's stages of growth. 
Furthermore, the King Plus 1200 watt LED light comes with an efficient cooling system, consisting of holes and fans for effective heat dissipation. 
Every LED comes with resistance to help them work separately. When looking at the coverage area, this LED is covers 3.5×5.2 feet and provides good penetration. Lastly, its working hours are up to 14 continuous hours, which makes it a great light. 
PROS:
Works quietly
Durable and sturdy built light
3 years warranty
Long lifespan
CONS:
Not waterproof
No daisy chain functionality
No veg/bloom switch
Actual wattage is only 800w
Read the full review of the King Plus 1200w LED Grow Light here…
Phlizon Newest 1200 watt LED grow light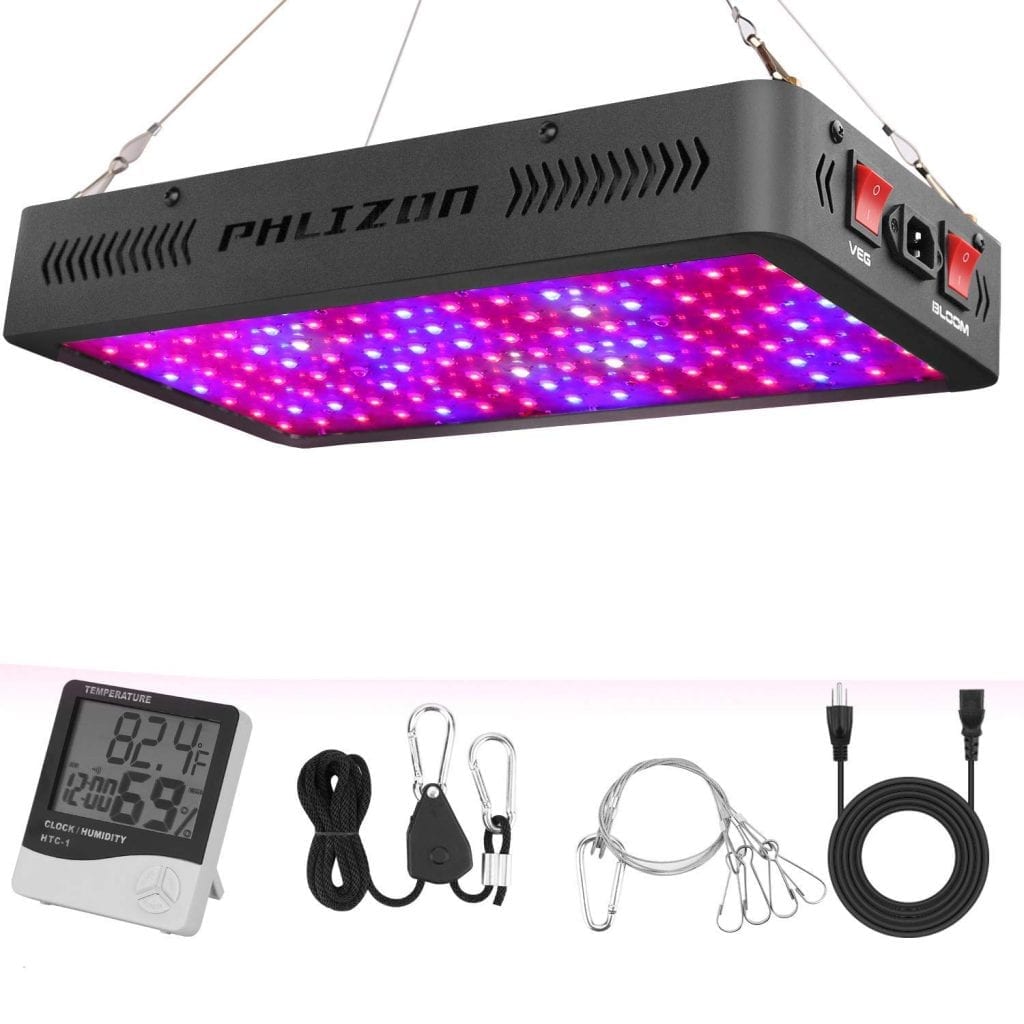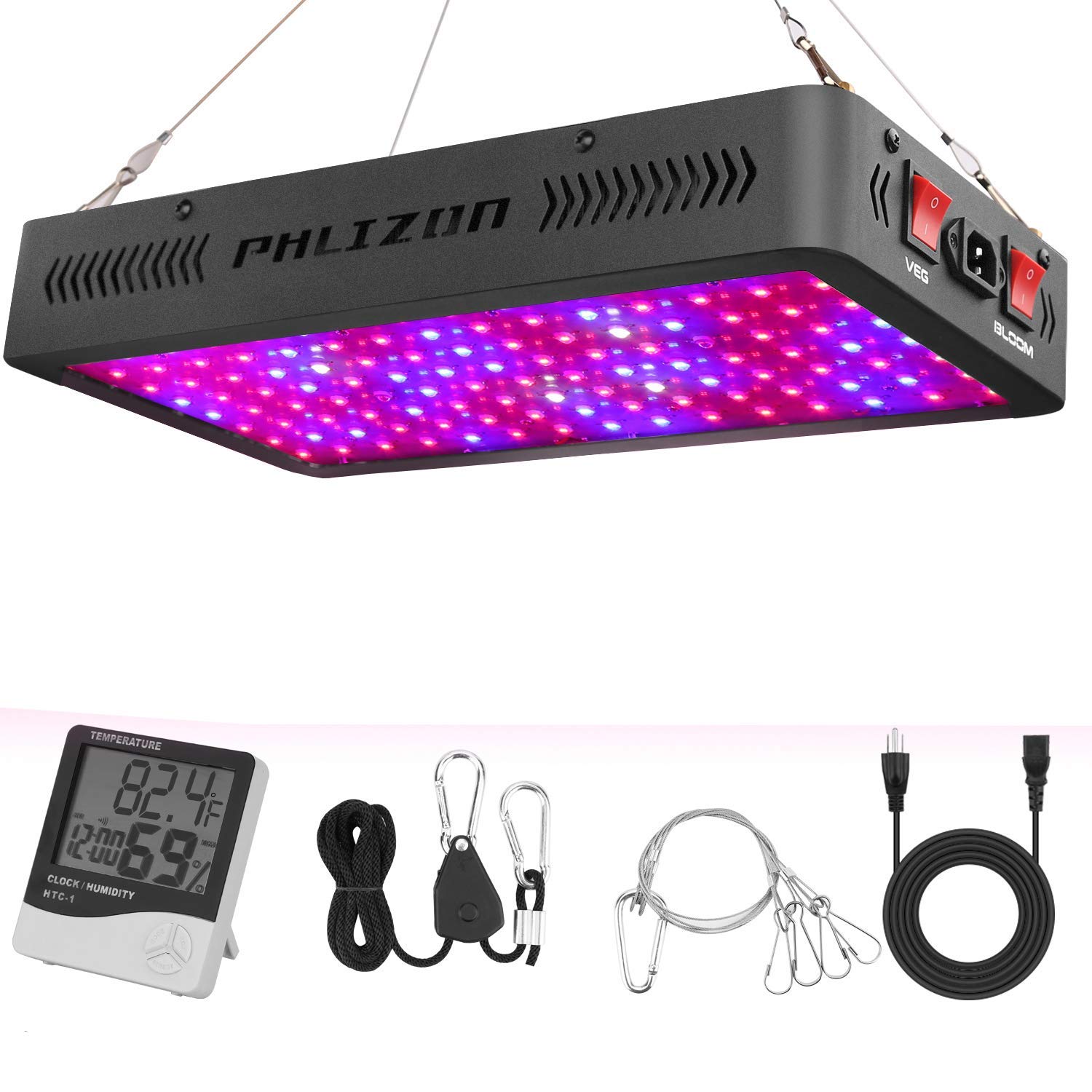 The Phlizon Newest 1200w LED grow light is a popular choice for many indoor growing enthusiasts. The coverage of the LED light makes this LED grow light a perfect choice for everyone. 
Moreover, the full spectrum of this LED light of UV and IR leads to the rapid growth of your cannabis. For an affordable light, this spectrum is very good. 
Also, Phlizon is a popular and respected LED grow light brand. They make reliable lights that are available on Amazon, among others.
With better coverage, this Phlizon Newest 1200 watt LED grow light replaces a traditional 800 watt HPS/MH light. This 1200w LED grow light consumes only 305 watt. 
In addition, the coverage of this LED grows light is 3×3 feet at 24'' of height. 
The Phlizon Newest has no reflectors, which make it one of the safest 1200 watt LED grow lights. It gives you a bit less coverage then lights with reflectors, but better and safer light in the end. 
Reflectors are often present in cheaper lights. They are notorious for causing burns and safety hazards; this light does not have that feature, while staying affordable.
The option of the veg switch and bloom button has a spectral range from 430-660 nm and 430-740 nm respectively. This is great for germination, flowering as well as the vegetative stage.
PROS:
2 years warranty
FCC certified
Runs cool
Daisy-chain functionality
Lightweight
Respected and reputable brand
Veg/bloom switch available
CONS:
Read the full review of the Phlizon Newest 1200 watt LED Grow light here…
Advanced Platinum P1200 1200w LED grow light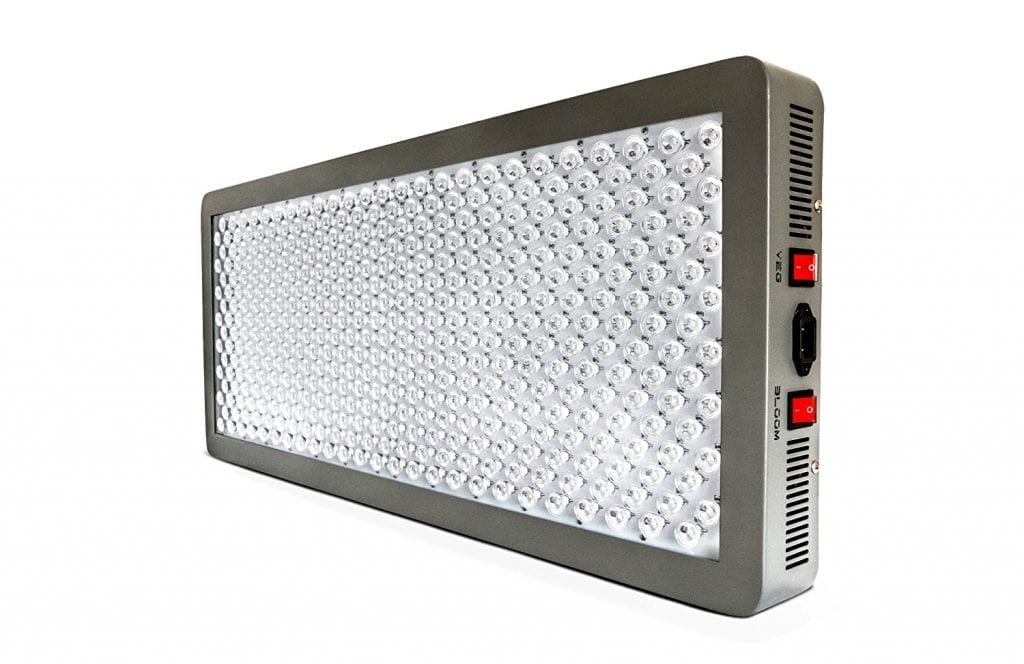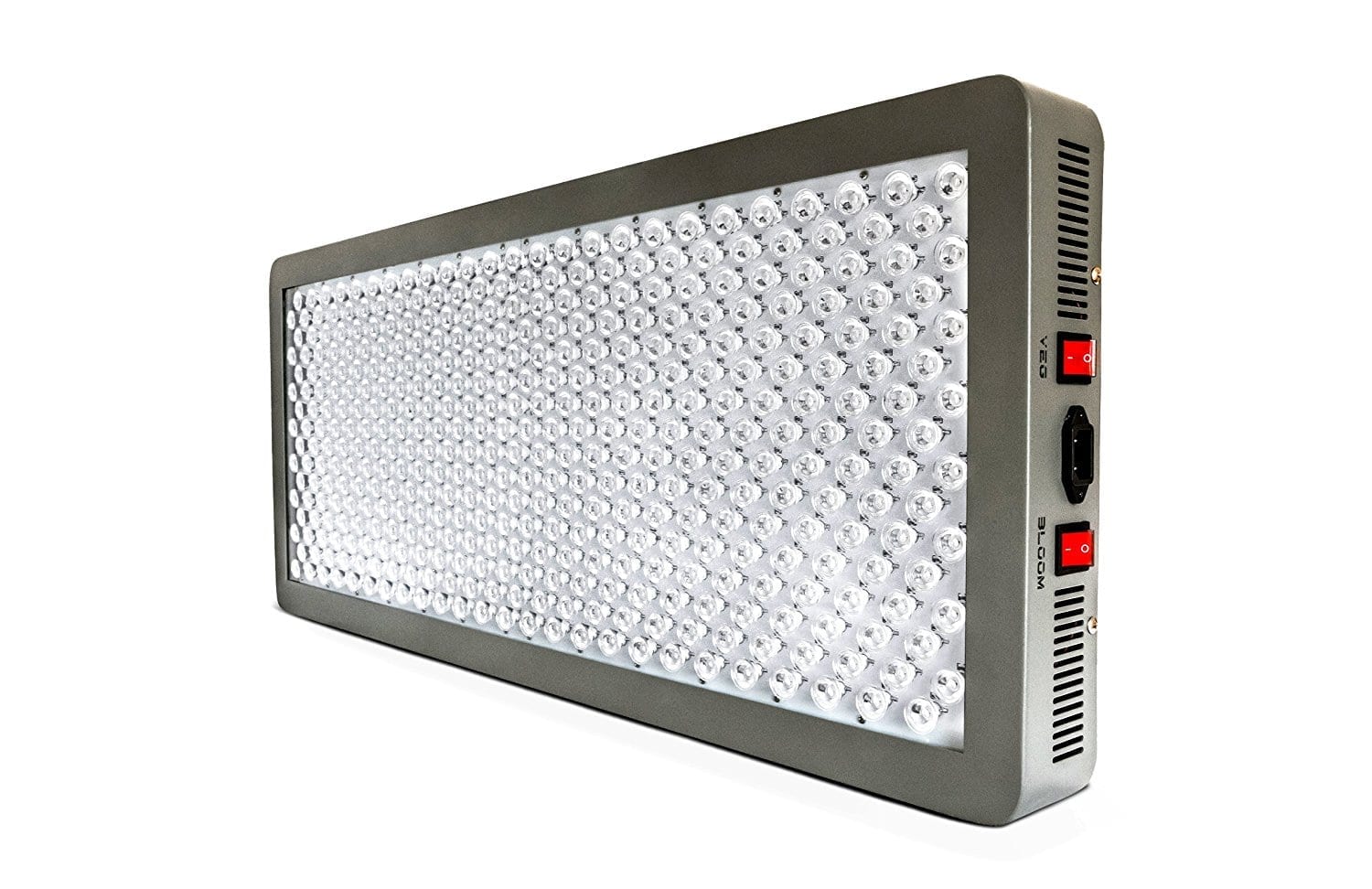 This is a superior LED grow light with a full-color spectrum ideal for indoor plants growth. It has great coverage and efficiency, which replaces a 1400-watt HPS. 
Because of this efficiency alone, it is definitely one of the winners in this best 1200 watt LED grow light list.
Not only that, but it also has the highest PA/LUMEN output and greatest efficiency. A superior spectrum of 12 bands gives a great light for rapid growth. 
This light gives so much light; my cannabis plants absolutely love it. Its intensity is proven to be 2-3 times the intensity of other regular LED grow lights. 
The upgraded heat sinks maintain the cool operation of the LED light. As a result, this enhances its performance and overall lifetime. 
Moreover, it has a maximum coverage of 6×5.5 feet at 18''. All in all, covering everything from seeding to harvest, this LED grow light is one of the best 1200 watt LED grow lights available on the market. 
PROS:
Good lifespan
Perfect full spectrum light
Durable light
Respected brand
Veg/bloom switches
Runs cool
CONS:
Not waterproof
Fans start to make noise after a while. Keep them clean!
Casket could be more high-end
Read the full review of its little brother, the P600, here…
Viparspectra V1200 LED grow light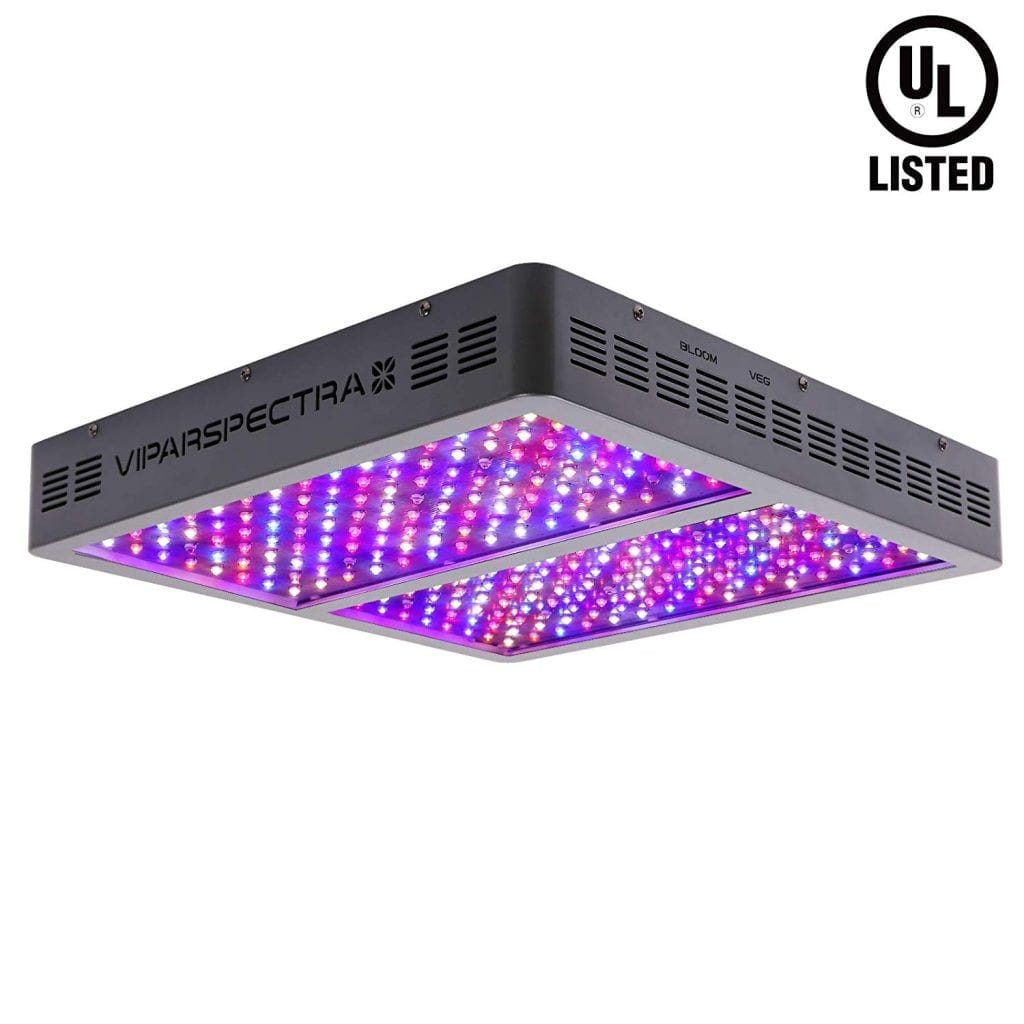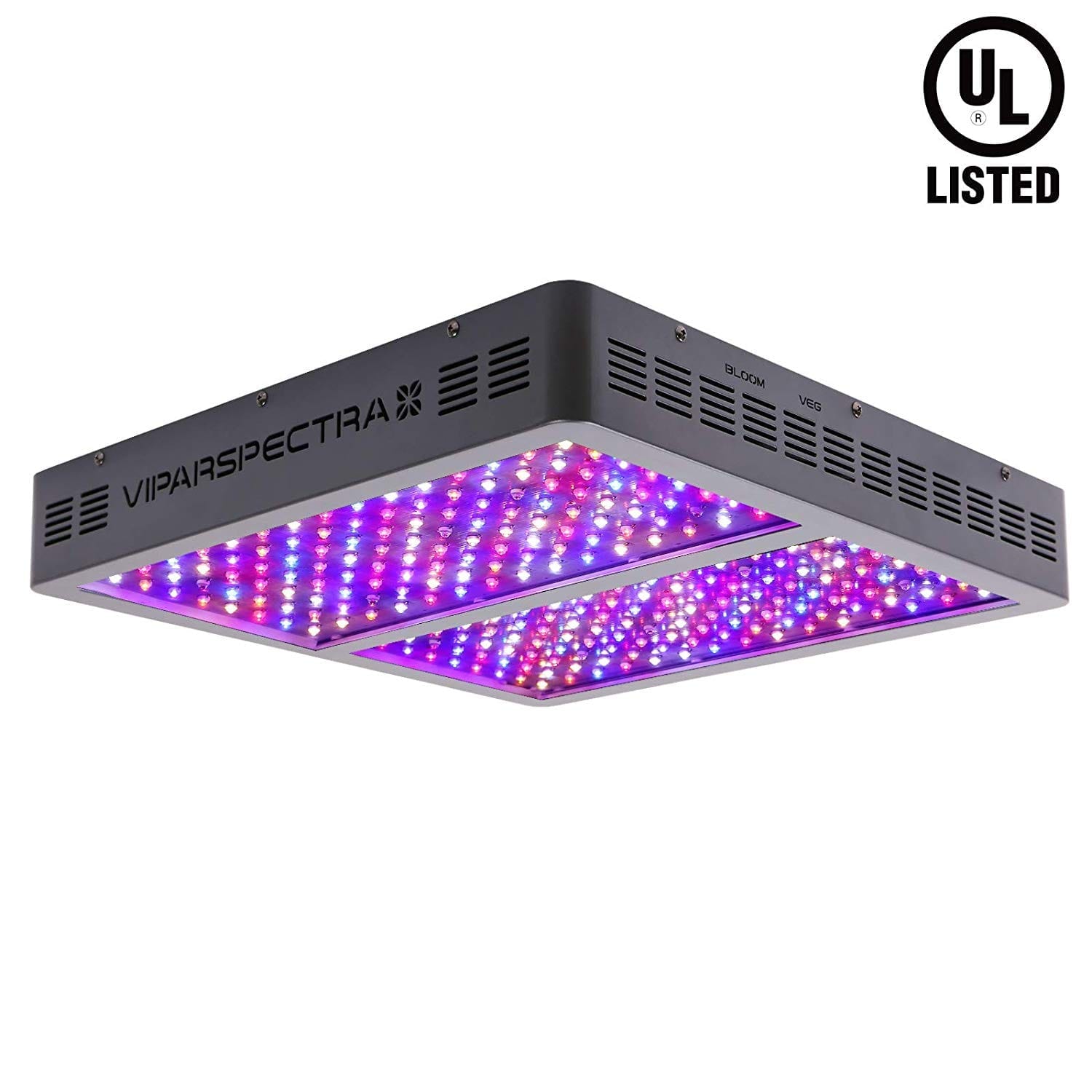 This is another amazing product in the list of our best 1200 watt LED grow light reviews; the Viparspectra V1200. 
Viparspectra keeps an ideal balance of PAR/Lumen output. Its excellent coverage at different heights makes it a popular choice among indoor plant growers. 
The coverage is 4.5'x4.5'at 32'' while 3.5'x3.5' at 24'' for vegetative as well as flowering purposes. 
For indoor horticulture, the optimal spectrum gives higher consistency as well as better intensity. There are aluminum sinks for efficient cooling and heat dissipation. Consequently, this helps in a longer lifespan of the grow light. 
With a 3 years warranty and 30 days money back satisfaction, the Viparspectra V1200 is a great 1200 watt LED grow light. 
PROS:
UL listed for its safety
Unrivalled performance due to its 240 LEDs. 
Very bright light
Runs cool and quiet
Popular among indoor growers
CONS:
Lacks some effectiveness in flowering stage
Read the full review on the 900w version here…
BESTVA Reflector series 1200w LED grow light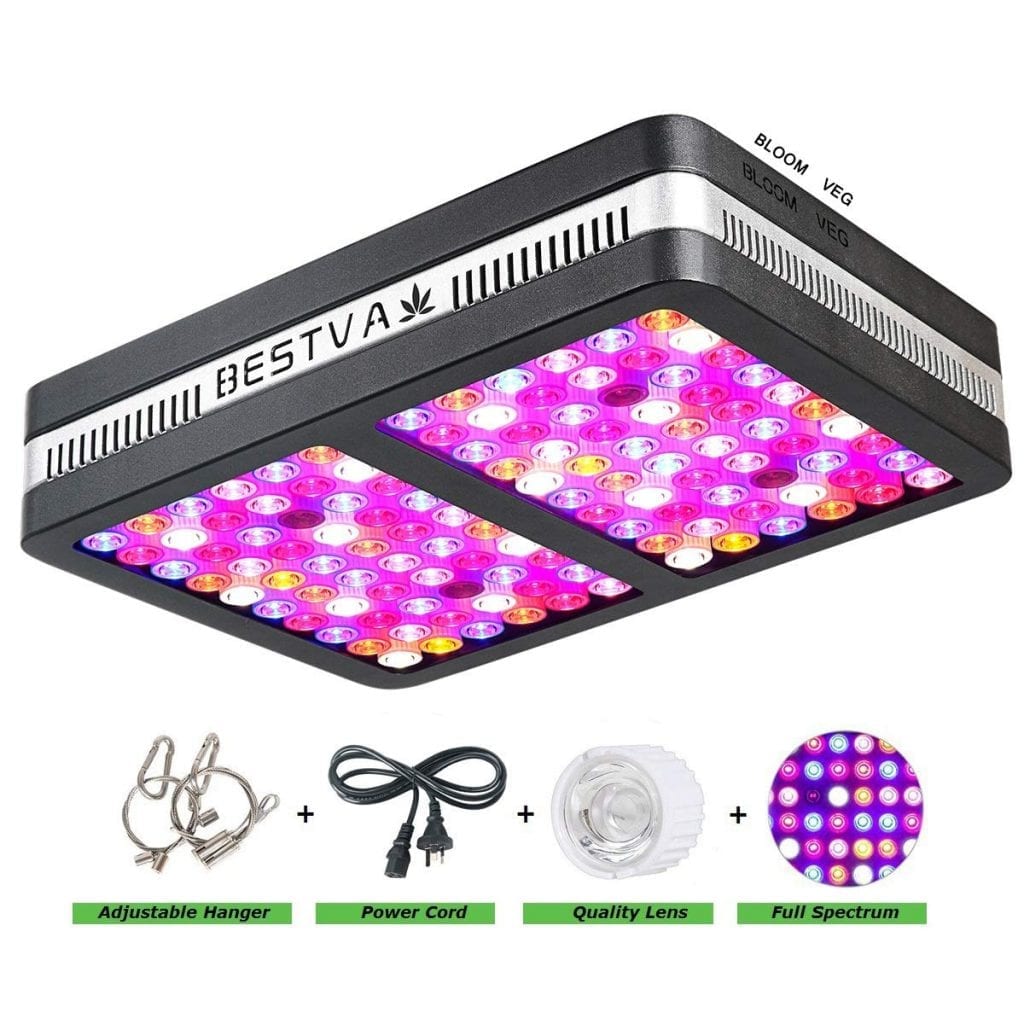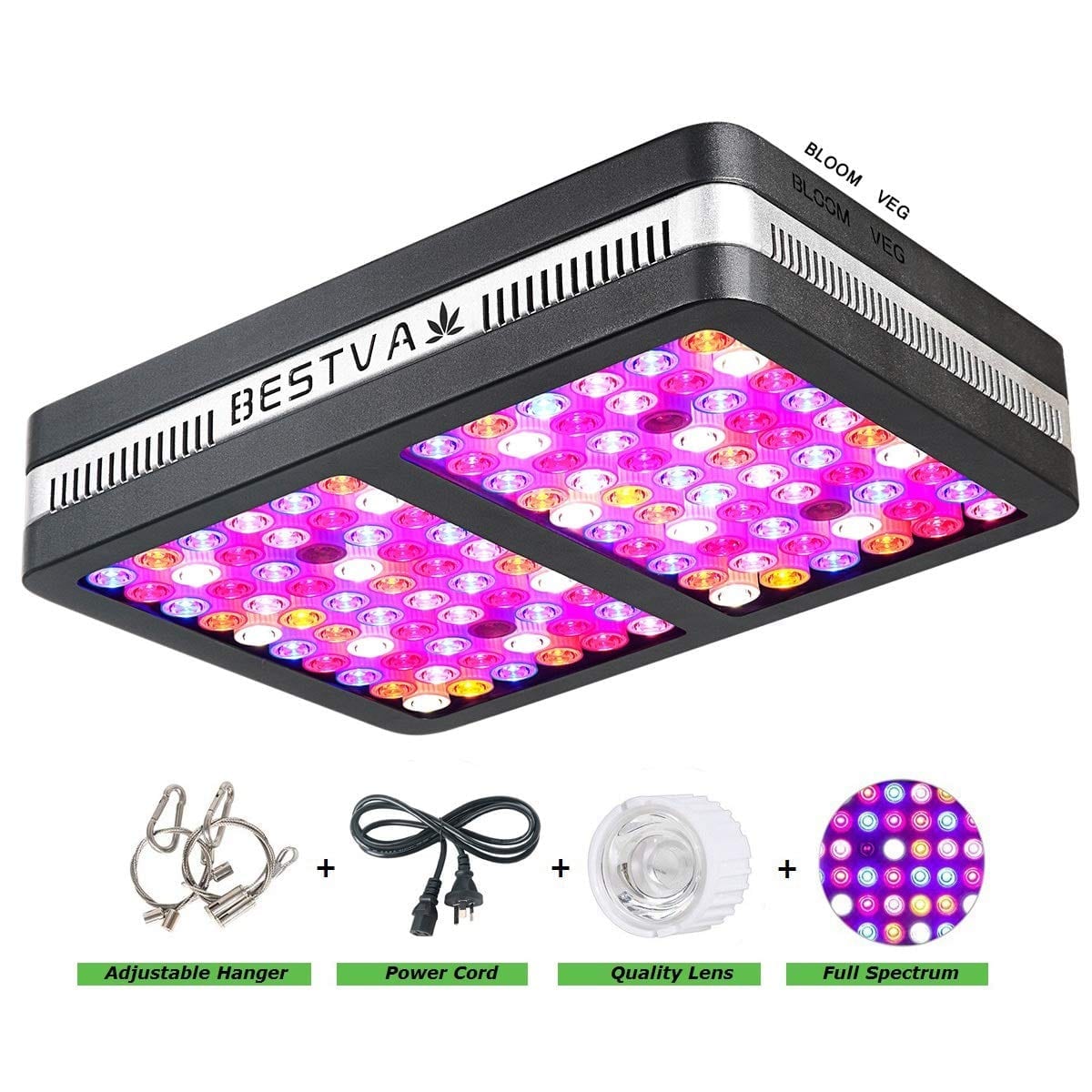 Bestva is a reliable choice when it comes to buying indoor led grow lights. This is an affordable light that comes with great features for the money.
The upgraded full spectrum of LED grow lights is specifically designed for cannabis plants. This includes a good ratio of red and blue light. 
A unique thing about this light is its two modes. One serves the veg phase and the other one the bloom phase. 
All in all, this 1200 watt led grow light is great for growing, seeding and flowering. 
It has a 5 mm thick aluminum structure radiator instead of fans. This is an updated cooling system, which helps in producing more energy and light at a lower temperature. 
Furthermore, it has a coverage area of 3.8×4.3 feet at a height of 40''. An efficient choice for you, it consumes only 257.6 watts while replacing a 1000-watt HPS.
PROS:
Good light spectrum
Heat resistant
Growth phase switches
Works up to 18 hours
Extremely lightweight
3 years warranty
CONS:
Less bright than other lights in this list
Replaces only a 1000 watt HPS
Read the full review of the BESTVA 1200w LED grow light here…
Meizhi 1200 watt LED grow light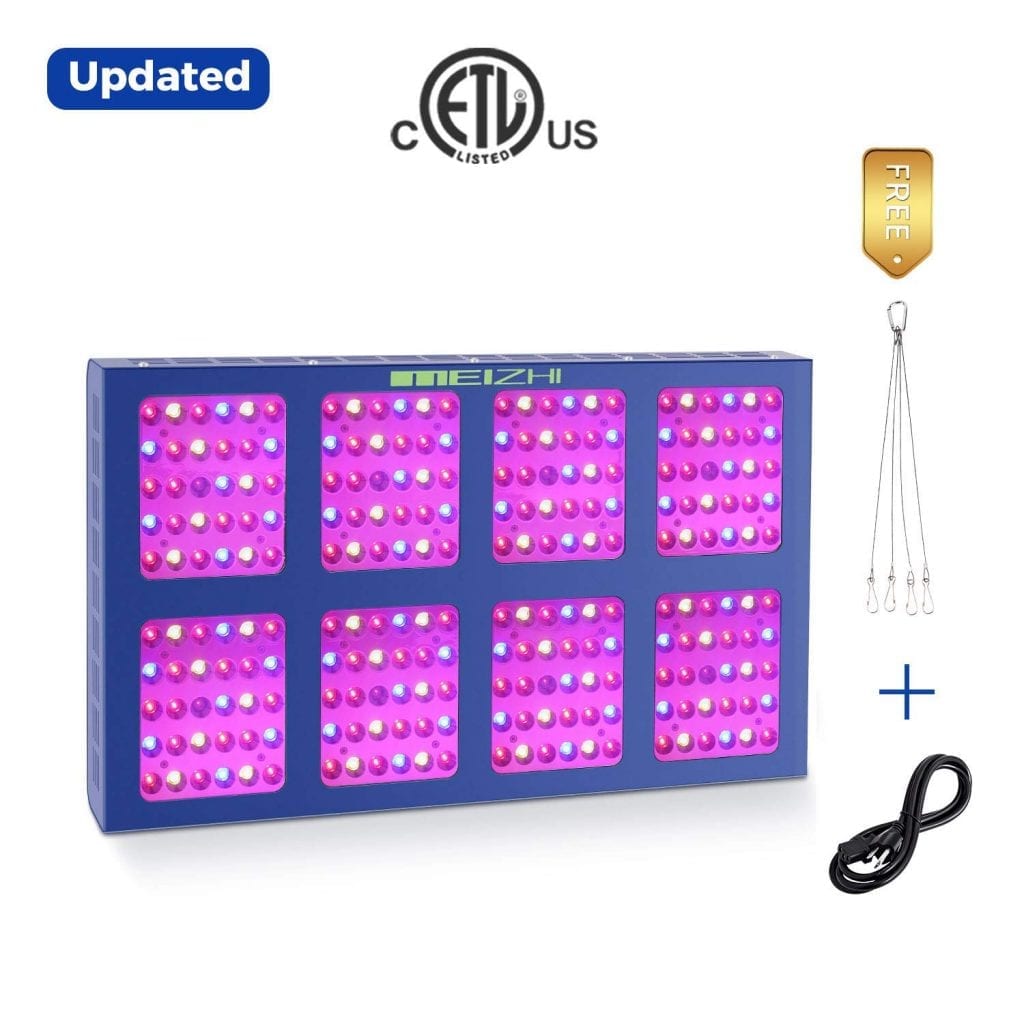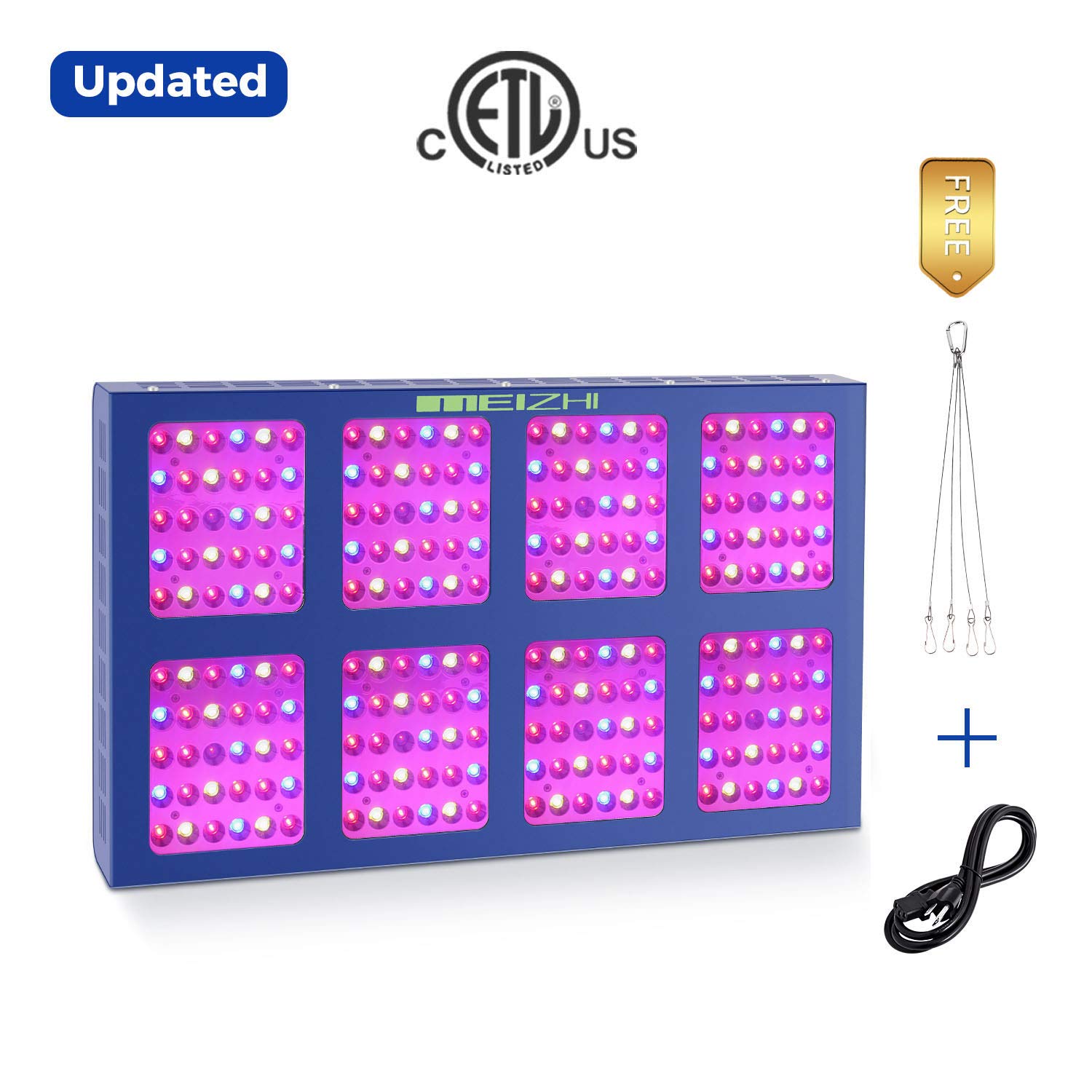 An ETL certified and eco-friendly grow light, the Mezihi 1200 watt LED grow light is packed with amazing features too. 
Firstly, it has reflector design for an added efficiency and energy. Giving 100% usable light which gives complete photosynthesis effect. In addition, it has a coverage area of 4'x5' at a height of 18''. 
However, that's not all. The availability of dual switches lets you choose the right mode for vegetable and flower phase. 
Saving 30% of energy compared to a HPS/MH and releasing 80% of the light to plants, its reflector design is great for maximum efficiency. Its 120-degree reflector panel concentrates all light on the plants.
With a warranty of 3 years, this is one of the best 1200 watt LED grow lights. This is a very affordable light that gives you everything you need as a beginner. 
Are you looking for a more advanced light? Then brands like Advanced Platinum, Viparspectra, Kind LED, California Lightworks or G8LED are better for you.
PROS:
Safe to use
Great light diffusion
Very durable
Very powerful
Excellent for flowering stage
CONS:
Not waterproof
Reflectors can bring risks
Read the full review of its little brother, the Meihzi 600w…
MarsHydro Mars Pro ll 1200 watt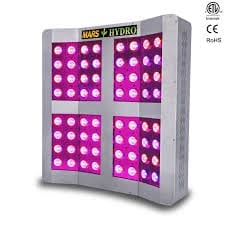 Another one in our list of the best 1200 watt LED grow light. This pro II series of LED grow light is an amazing choice for all indoor growers. 
This popular brand gives more energy per watt with the full spectrum of 256 pieces CREE LED chips. This is great for the vegetable and blooming stage. 
Did you know that the Mars Hydro 300w is one of the most popular lights on our website? This light is its upgraded bigger brother.
The energy saving qualities of this LED grow light make you replace a 1200w HPS/MH, while consuming only 679 watts. 
The core coverage of this 1200 watt LED grow light is 4.5'x4.5' and the maximum coverage is 6.5'x6.5'. This gives a good amount of range for the ultimate growth.
The quiet working fans of this LED grow light coupled with the aluminum radiator provide the cooling you need in your grow room.
PROS:
Intense lighting
3 years warranty
Good cooling
Durable
Nice design
CONS:
Not waterproof
No daisy-chain functionality
Conclusion on the best 1200 watt LED grow light
All in all, growing cannabis indoor needs a special kind of indoor LED lights. If you are planning to grow any such sort of indoor plants, it is necessary to read thoroughly about different kinds of LED grow lights. They come with different spectrums, quality, coverage areas, as well as cooling systems. 
The lumens and power of these 1200 watt LED grow lights give varying intensity and energy efficiency. They come with warranty, so you can get them checked if any problem arises. 
We mentioned some of the best 1200w LED grow lights in the market. So, if you've read this article, I'm sure one of them can be your choice.