Light is one of the most essential tools when it comes to growing plants indoors. A LED Grow light is a complicated topic with growers having to find artificial light as good as sun light. Grow lights come in many types and sizes with their unique pros and cons. Today we're taking a look at Bestva DC LED Series 1000W grow light. Nowadays a popular choice among growers.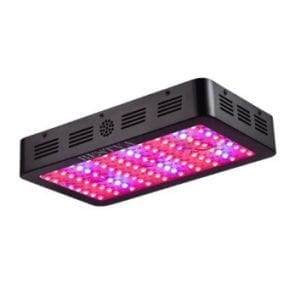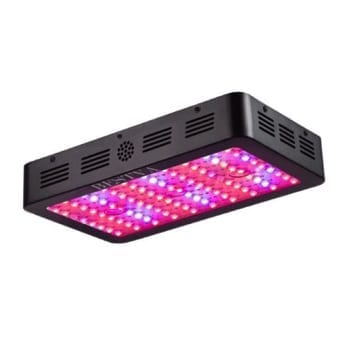 Why it's a good idea to go for LED grow lights
LED grow lights consume less electricity over other types of indoor lighting. Bigger the electricity bill, harder it is on your pocket.
LEDs emit less heat. This means there will be no need to spend your time, energy and money on cooling mechanisms.
They have a good lifespan compared to other lighting options such as HID lights and lamps. LEDs require less maintenance and replacing.
Now that we have highlighted the advantages of going for LED grow lights. Let's move on to the LED grow light that's being reviewed: Bestva DC LED Series 1000W light!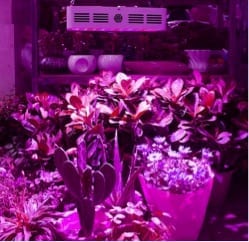 Brightness & Power of the Bestva DC LED Series 1000W
Bestva DC LED Series 1000 watt light comprises of 10W chips. Most other LED lights in the market are collections of 3W or 5W light segments. These innovative 10W double chips produce brighter and more efficient light by emitting a very high PAR/LUMEN output per LED.
This 1000w LED grow light is very good at emulating natural sun light, which is important when it comes to growing cannabis plants indoors. The full spectrum light that it emits is suitable for plants in various stages of their growth cycles.
The powerful full spectrum light that this LED produces will make sure that your plants are healthy and deliver high yields.
Heat & Cooling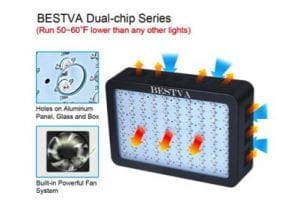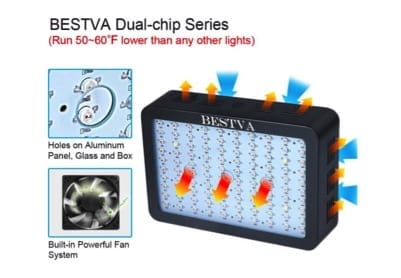 The risk of a powerful grow light is that your plants might get burned while you're growing them. This is because of the extra heat and the high light intensity that the grow light produces.
The Bestva DC LED Series 1000W grow light has a powerful system of cooling fans. The system stops the LED light from heating up and makes climate control easier. The Aluminum panel and the glass come with a lot of holes. This ensures that the light cools off further through better heat convection.
Thanks to these cooling mechanisms, the Bestva DC 1000W LED grow light operates at around 50-60 Fahrenheit. Cooler than other lights in the same price range.
Coverage
Two feet above the canopy of your plants, the Bestva 1000W Double Chips LED comfortably covers an area of 5.1 feet by 4.7 feet.
Check out a video review of the Bestva DC LED Series 1000W Grow Light below:
Pros & Cons of the Bestva DC LED Series 1000W LED Grow Light
Let's break everything down to the pros and cons. This way it's easier for you to determine whether the Bestva DC LED Series 1000W is the solution for your indoor growing.
Pros
Consumes less energy, which means you're saving money in the long run;
This grow light consumes only 185w while gives out light equivalent to a 600w HPS;
Powerful, full spectrum light thanks to the 10W double chips used in this grow light;
Highest PAR/Lumen output per LED, compared to other grow lights in its price range;
Full spectrum light doesn't require you to change the lighting system according to the growth stages of your plants;
Operates at approximately 50-60 Fahrenheit less than conventional lamps. No extraballast is needed;
No disturbing noise;
Timer on the grow light to plan your growth cycles;
Durable, no replacement needed in the near future;
High price/quality ratio;
Bestva is a reputable company;
30-day satisfaction guarantee, gives you the opportunity to see how your plants react to this LED grow light;
3 year warranty, shows how confident Bestva is about the quality and durability of the product.
Cons
No on/off switch on the Bestva DC LED Series 1000w. You can of course unplug it to turn it off or use the built-in timer;
The full spectrum light is not waterproof, so you have to be careful not to get it wet;
Extremely bright, so it's a good idea to wear protective glasses and avoid looking into it directly;
The light states 1000w but it is equivalent to a 600w grow light.

Our verdict on the Bestva DC LED Series 1000w LED Grow Light
So far, my experience with the light has been very positive. I would recommend this light to people looking for a powerful but affordable full spectrum LED grow light. Bestva Double Chip 1000W LED is a great option in terms of high-intensity full spectrum light at an affordable price. It's already a popular choice among growers and it is a great light due to its price/quality ratio.
Specs Bestva DC LED Series 1000W LED Grow Light
– Dimensions: 12.2×8.26×2.36 inches
– Replaces a 600 watt HPS/MH
– Item Weight: 7.0 pounds
– Full spectrum for all stages of plant growth
– Core Coverage Area: 5.1ft x 4.7ft at 24″ Height
– LEDs Angle: 120°
– 100pcs Dual-Chip 10W Bridgelux/Epileds LEDs
– Avg. Power Draw: 185W
– Input Voltage: AC85-265V
– Working Temp: -68~104℉
– Frequency: 50-60Hz
– Lifespan: 100,000 hours
Package Includes:
– 1x BESTVA 1000W LED grow light
– 1x 6ft Power Cord
– Hanging Kits