BESTVA is the ultimate affordable LED grow light for high-quality weed. It particularly focuses on the science of plant growth and delivers quality products. The Bestva Reflector Series 1200w is yet another product that will transform how you grow your marijuana at home.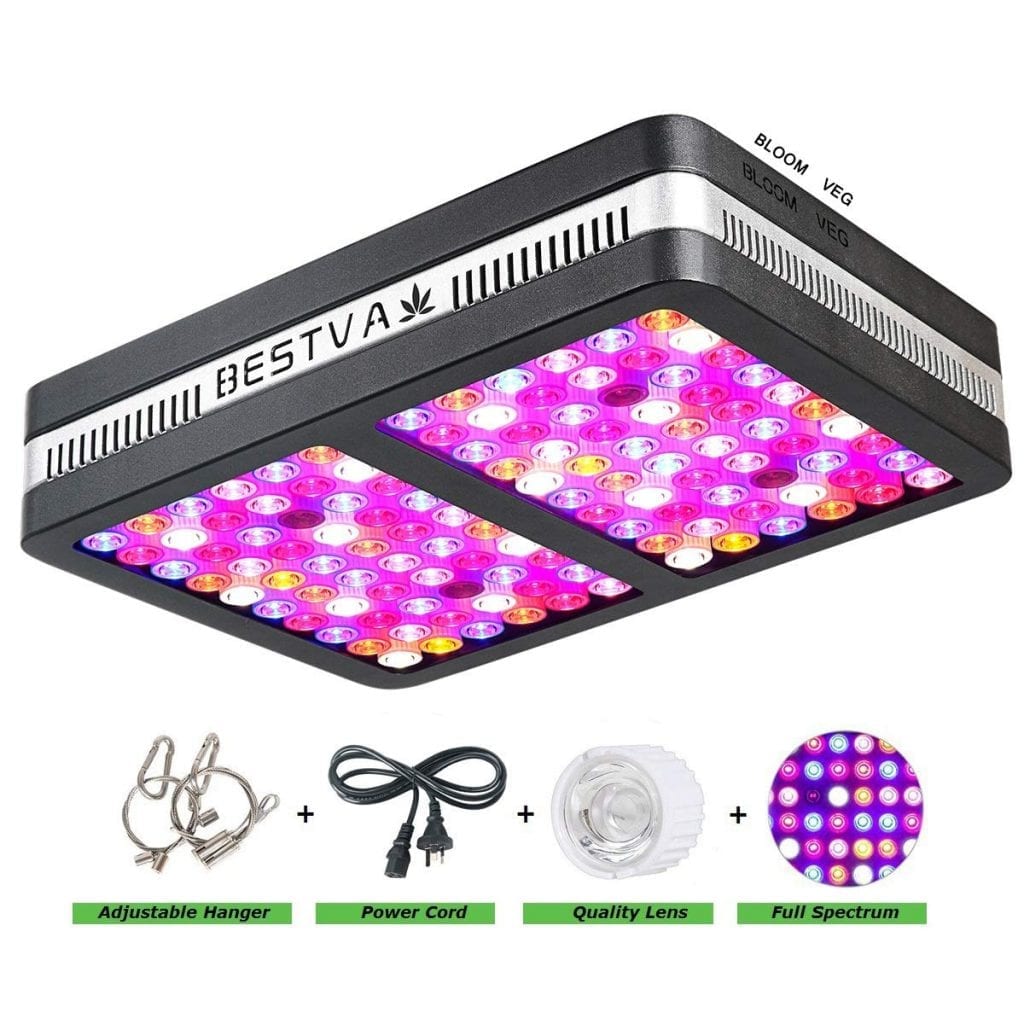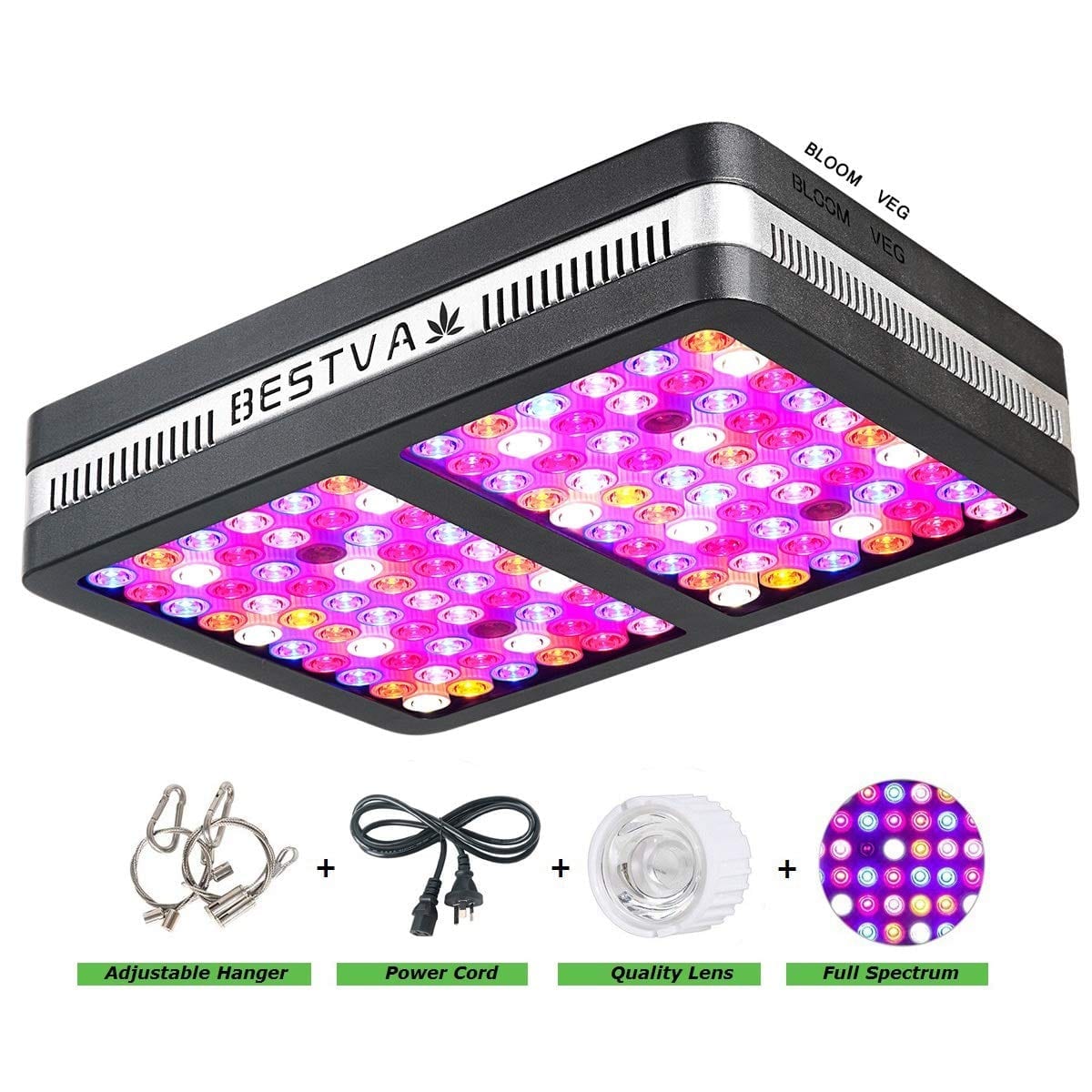 Here is a BESTVA Reflector Series 1200w review that will tell you about why this is an awesome 1200 watt LED grow light! We also reviewed the BESTVA DC Series 1000w and the BESTVA DC Series 2000w.
The BESTVA 1200 watt LED Grow Light Review
The science
Plants contain a myriad of cells that need different proportions of nutrients and, also different ratios of light at different parts of their cycle for optimal growth. So, when a cannabis plant is in germination and seedling phase, it requires a light that skews towards the blue end of the spectrum.
The vegetative part is where your plant will grow to a substantial size and will transition to pre-flowering and flowering stages.
At this point, the cannabis plant needs blue light to limit stretching, as well as a lot of red light to facilitate bud growth. The BESTVA 1200w LED grow light takes all this science into account and provides the perfect light for these phases.
Unbeatable features of the BESTVA Reflector Series 1200w
The VEG/BLOOM switch of the BESTVA 1200w caters to the fluctuating requirements of the plant. This grow light can also emit UV and IR light, which improves the quality of the buds, as well as the overall growth. Something other LED grow lights lack.
In striving to follow the most up-to-date science there is on plant growth, BESTVA is also at the forefront of power efficiency and durability.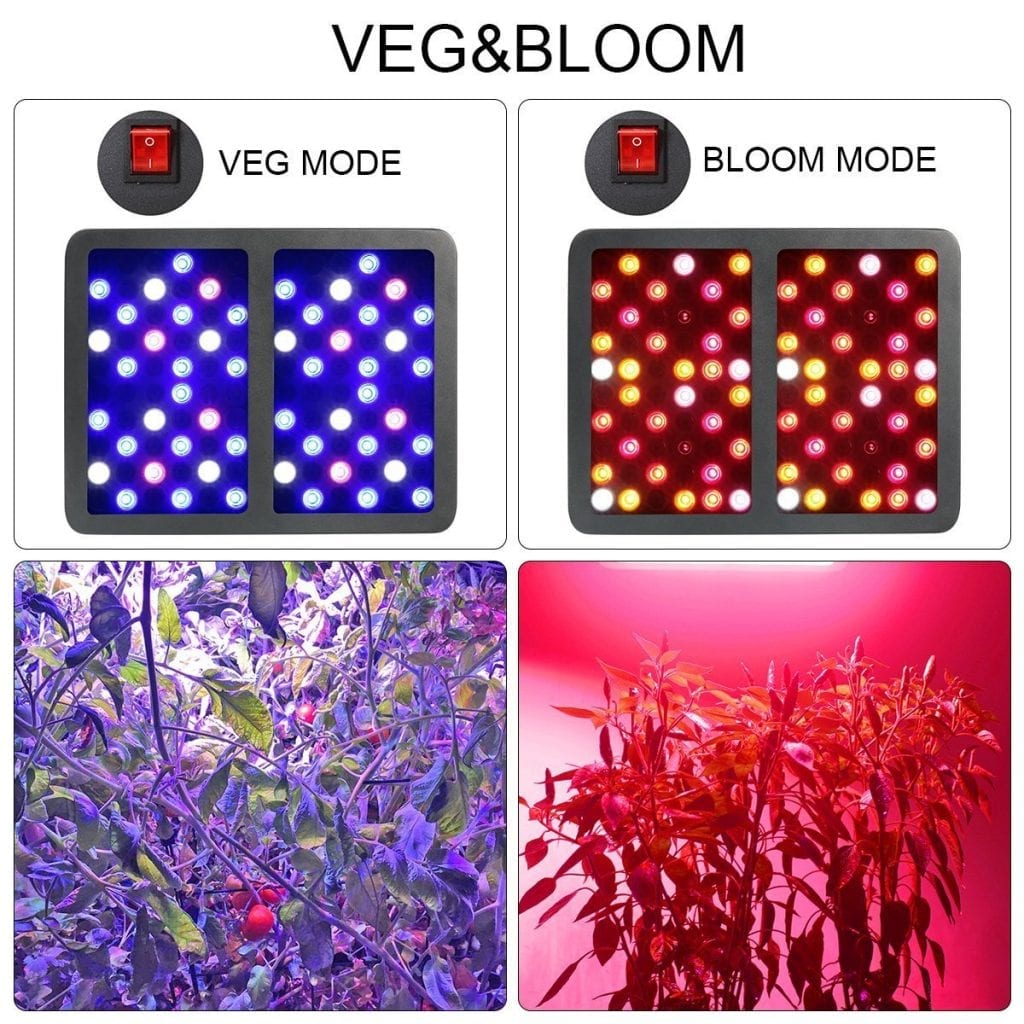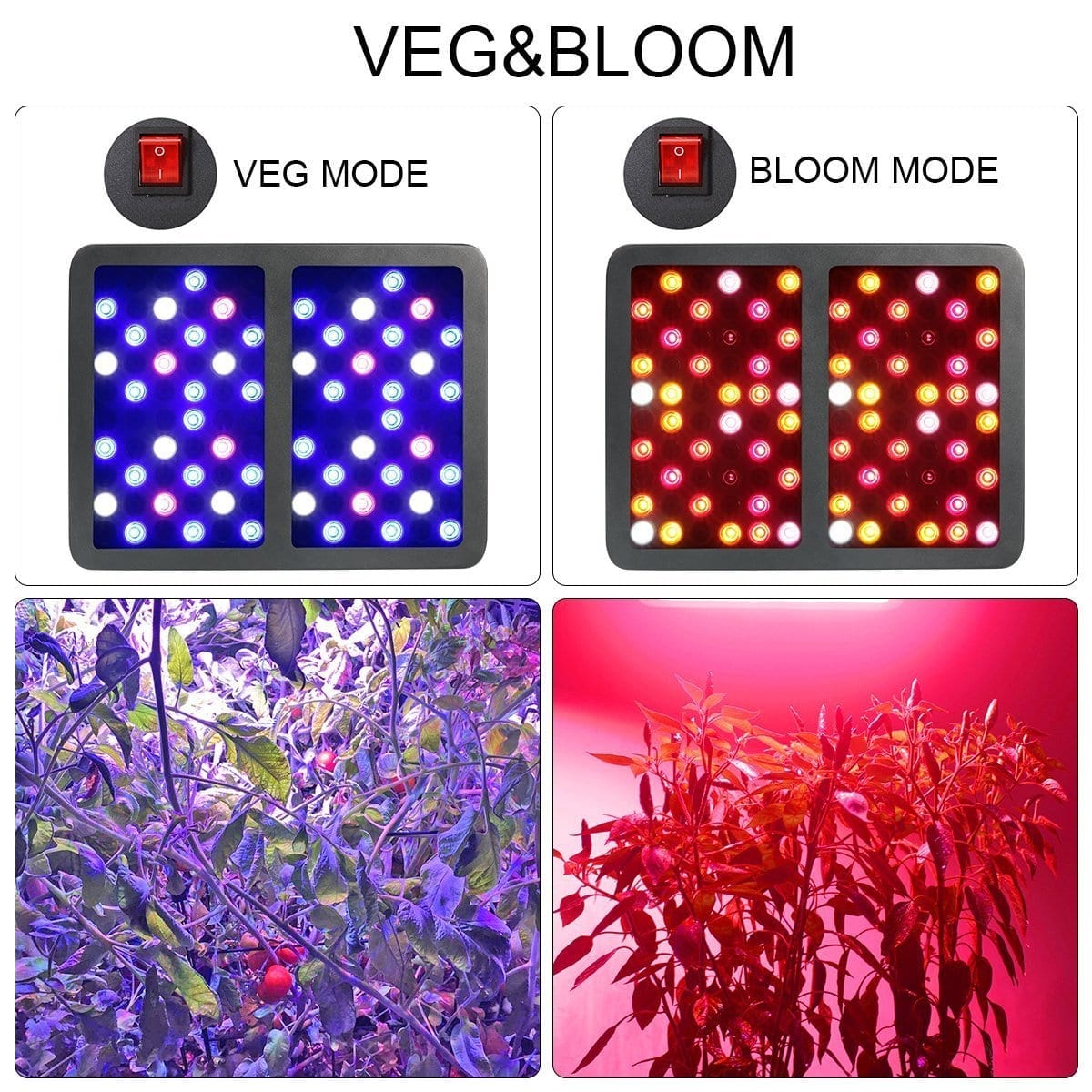 Moreover, the LEDs used by BESTVA are not only energy efficient, but they can also last a long time: 100,000 hours! Moreover, the BESTVA Reflector 1200W series also has an aluminum radiator that guarantees a continuous run without it getting too hot.
BESTVA 1200w LED grow light spectrum
The BESTVA Reflector 1200W outputs a light spectrum of 380 to 780 nm. Thereby, covering the photosynthetically active radiation (or PAR) range, that is required for photosynthesis.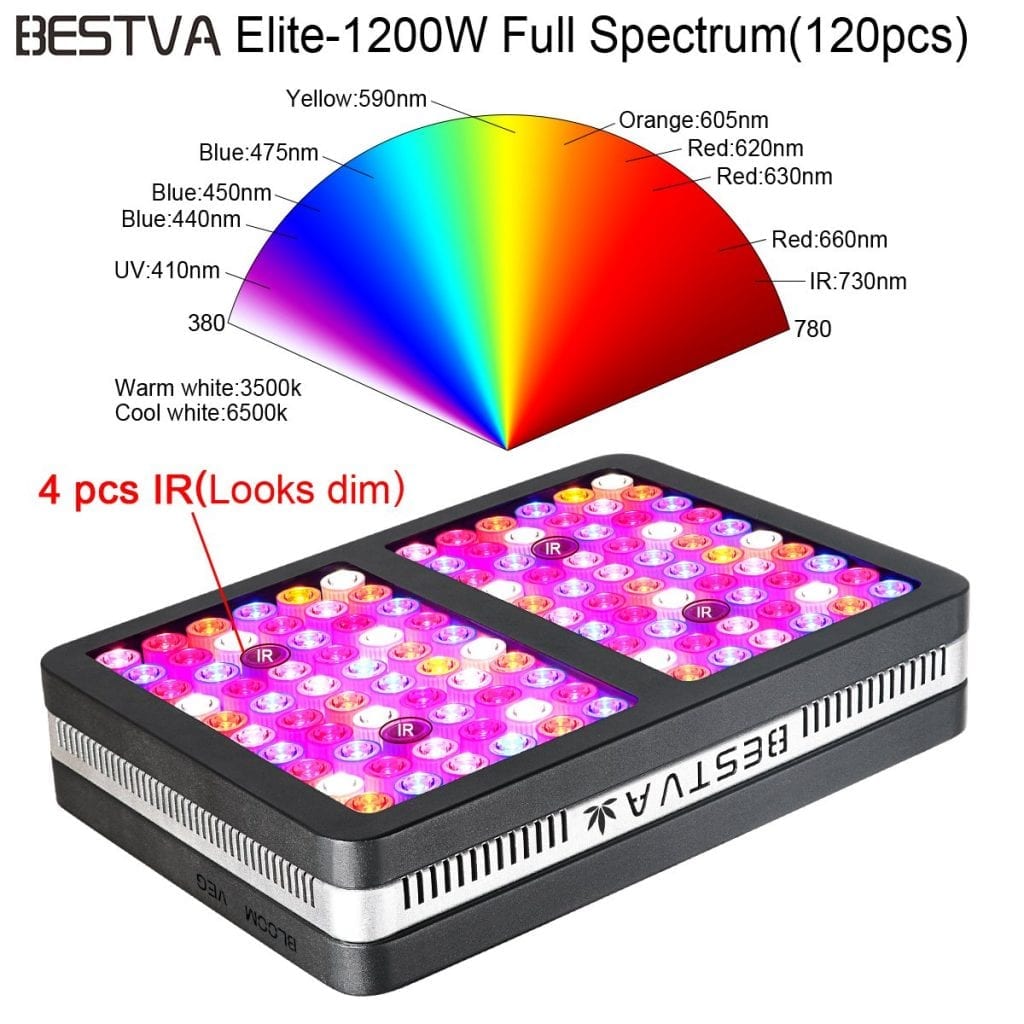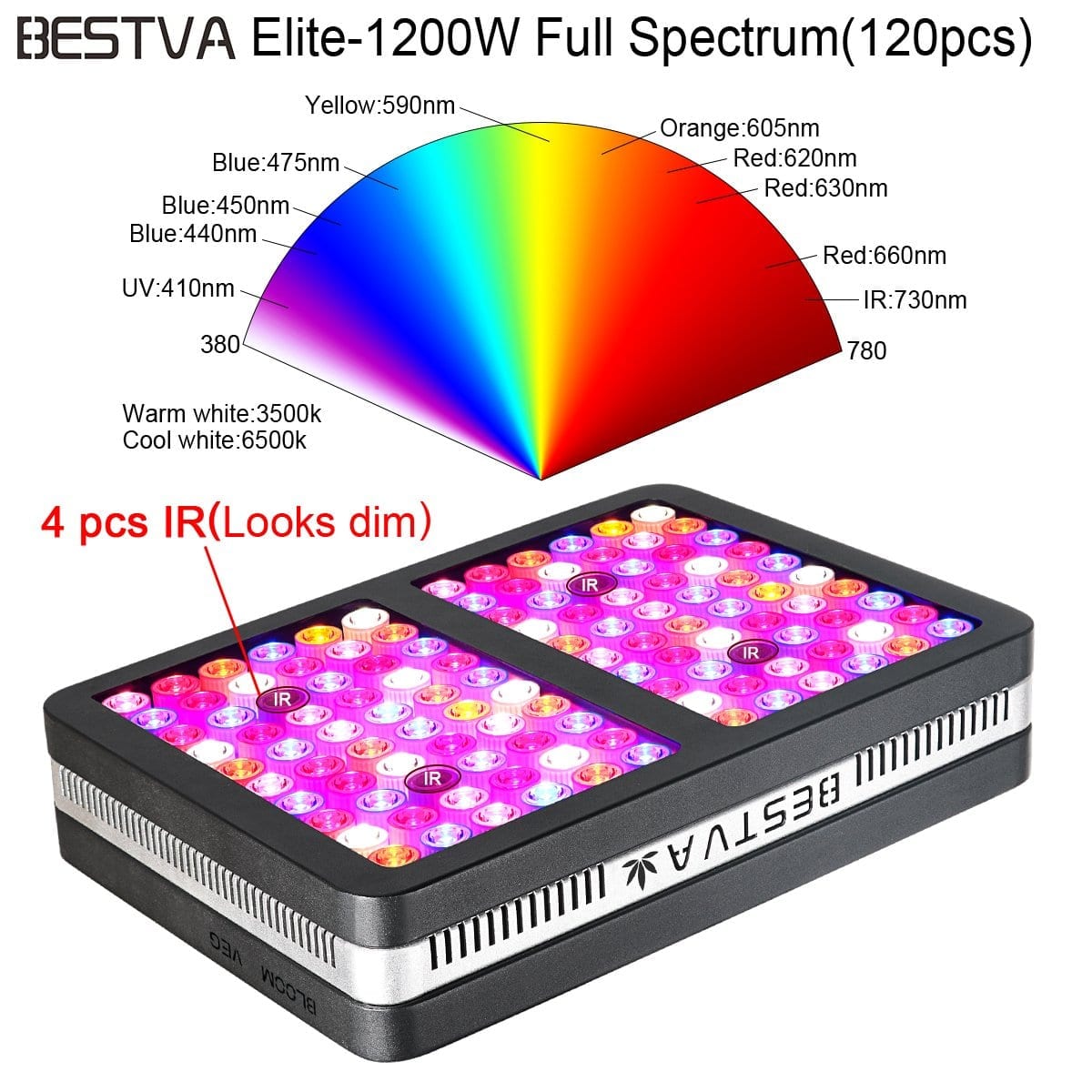 Additionally, the light can be fine-tuned according to the growth phase of your cannabis plant. The blue-to-red light ratio is adjusted to ensure that the plant receives the kind of light it needs for a great yield.
The VEG mood shifts the light towards blue light that is excellent for the vegetative phase. Meanwhile, the BLOOM settings favor more of the red light that promotes flowering and bud growth. 
Unmatchable efficiency
LEDs are designed to be more energy efficient than halide or fluorescent lamps. The BESTVA 1200W consumes a mere 280W while covering an area of 4.0ft x 5.2ft and lasting 100,000 hours! The efficiency is strong with this one!
This 1200 watt LED grow light is perfect for a 4×4 grow tent. You can also buy two of these and use them in a 4×8 grow tent.
Durability
BESTVA uses heavy-duty, battle-tested material for the building of this LED grow light. This light can last a long, long time without compromising on its functionality.
The cherries on the cake
Dual light mode: VEG and BLOOM
Bright photosynthetically active light with a lens for a focused beam
Low power consumption
3-years warranty
Advanced cooling system
Lightweight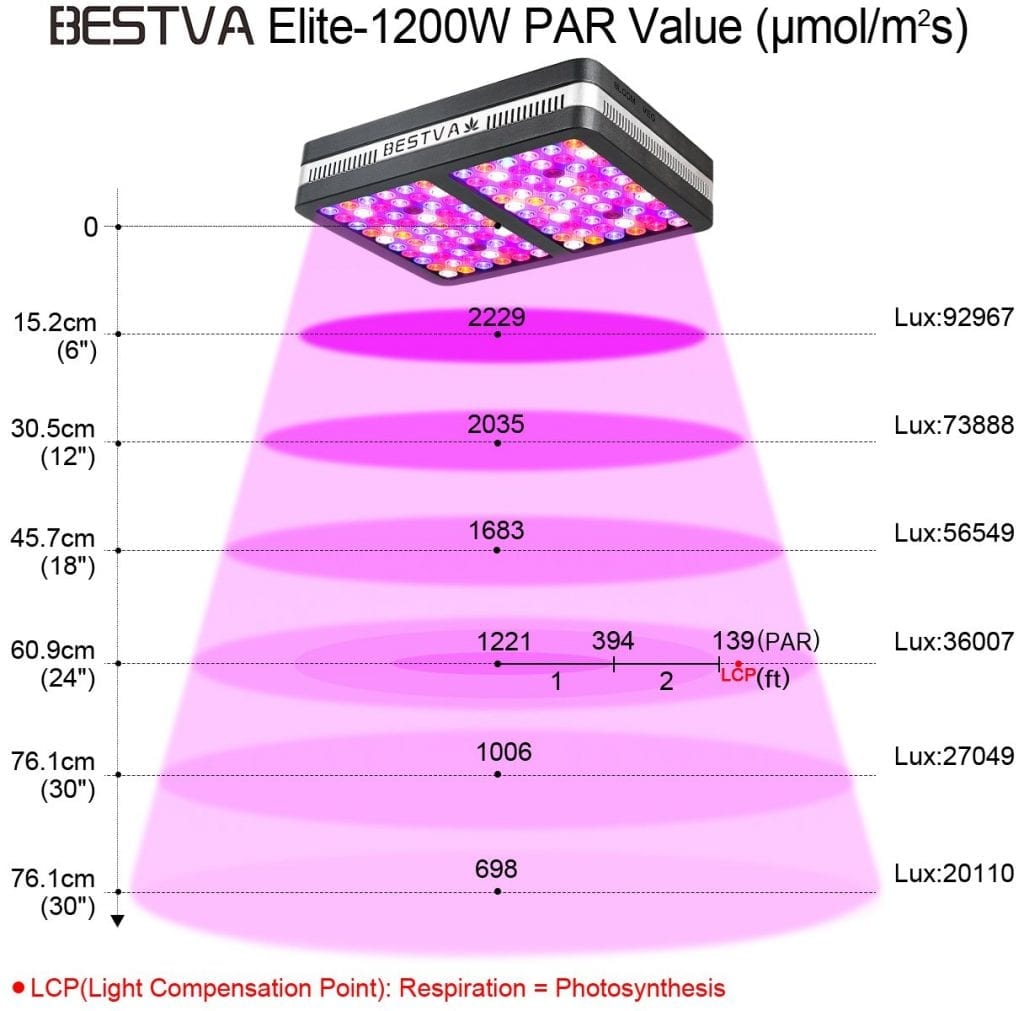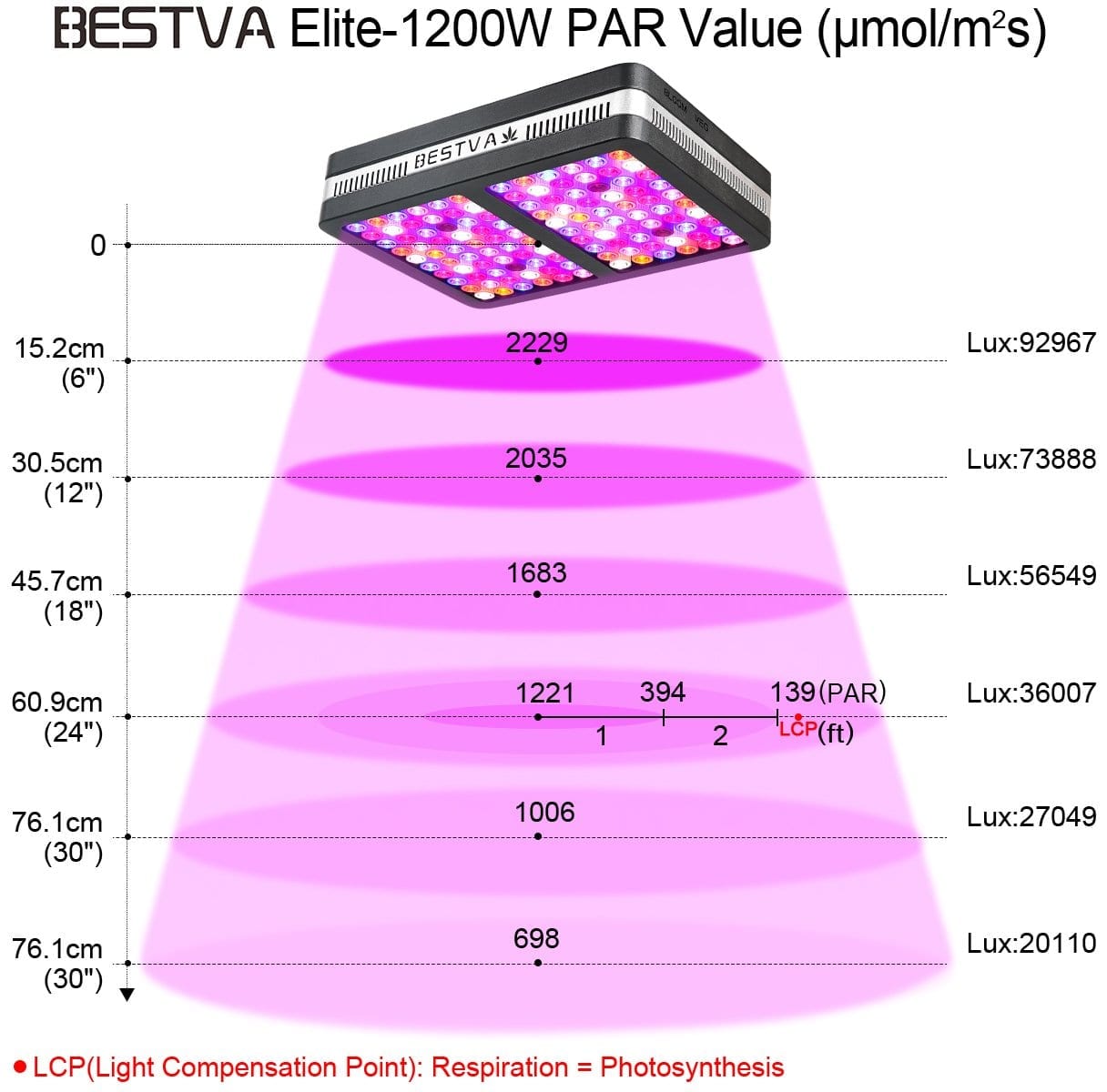 | | |
| --- | --- |
| Pros | Cons |
| You can't break it | Not waterproof |
| No maintenance | No daisy-chain functionality |
| Works continuously for a long time | |
| Elegant design | |
| Easy to install | |
More people are a fan of this light. Check out the video to see that it's featured in many top LED grow light lists.
Conclusion on the BESTVA Reflector Series 1200w
You can't go wrong with the BESTVA Reflector 1200 watt LED grow light. With its great features, durability, lifespan, and efficiency, this grows light is a must-have for all home-based marijuana growers! If you're looking for an affordable 1200 watt LED grow light, this one's for you.
Check the price of the BESTVA Reflector Series 1200w on Amazon