Save 20% on select product(s) with promo code 20DGEO1X on Amazon.com
Looking for a cool and energy efficient solution to your entire indoor weed growing needs? Well, a relatively new technology called the COB LED grow light might interest you. The cool and efficient operation, as well as the mostly full spectrum light, ensures proper growth and metabolism of your plant. For the perfect COB LED light for your cannabis plants, check out our COB LED grow lights reviews below. But first…
What are COB LED grow lights?
The term 'COB' stands for Chip On Board. In this type of light, a large number of LED chips are mounted together on a single board to create one long series of LED lights.
This reduces the number of components and allows all the LED to light up together as a single source.
For more information, watch the following video:
Why use COB LED grow lights and not another grow light?
COB LED grow lights allow for more LED chips to be installed on the same substrate. They also tend to be cheaper than others and more long-lasting.
In addition to this, they allow for a higher intensity as well as more uniform lighting. They don't heat up like the HIDs or the SMDs. Their efficient heat sink technology ensures noiseless cooling.
Lastly, they mostly generate white light so your tent won't look eerily red or purple.
The difference between COB LED and traditional SMD LEDs:
Surface Mounted Device or SMD LEDs are quite popular in the market. However, COB LEDs seem to be slowly taking over. Here are some major differences between the two:
COB LEDs appear more often on the light panel due to the reduced number of components while in SMD; there are lesser LED lights on the same size panel.
COB lights have a higher intensity and tend to be more uniform in lighting. 
The light produced in COB is much denser and stronger. 
The COBs are not as bulky as SMDs even with the same lumen density. 
COBs produce less heat than SMDs as they have fewer components and the heat dissipation system is more effective. 
SMDs allow you to change the color of the light while COB only produces a single color light (white). 
Better light distribution and coverage by SMDs.
SMDs penetrate better than the COB LED light.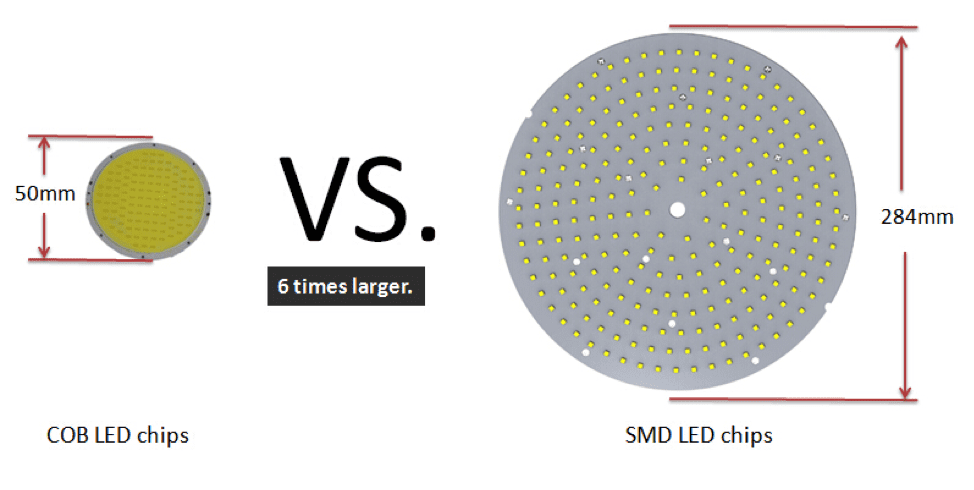 Apart from that, they are quite similar in the fact that they offer lights of a wide light spectrum range. They both tend to last a long time and they both ensure an energy efficient operation. However, you can clearly see why a COB LED light can beat an SMD LED any day in terms of efficieny!
To learn more, watch this video:
Top 7 COB LED grow lights reviews:
Below are our 7 best COB LED grow light reviews:
[table "cob" not found /]
CF Grow 200W Waterproof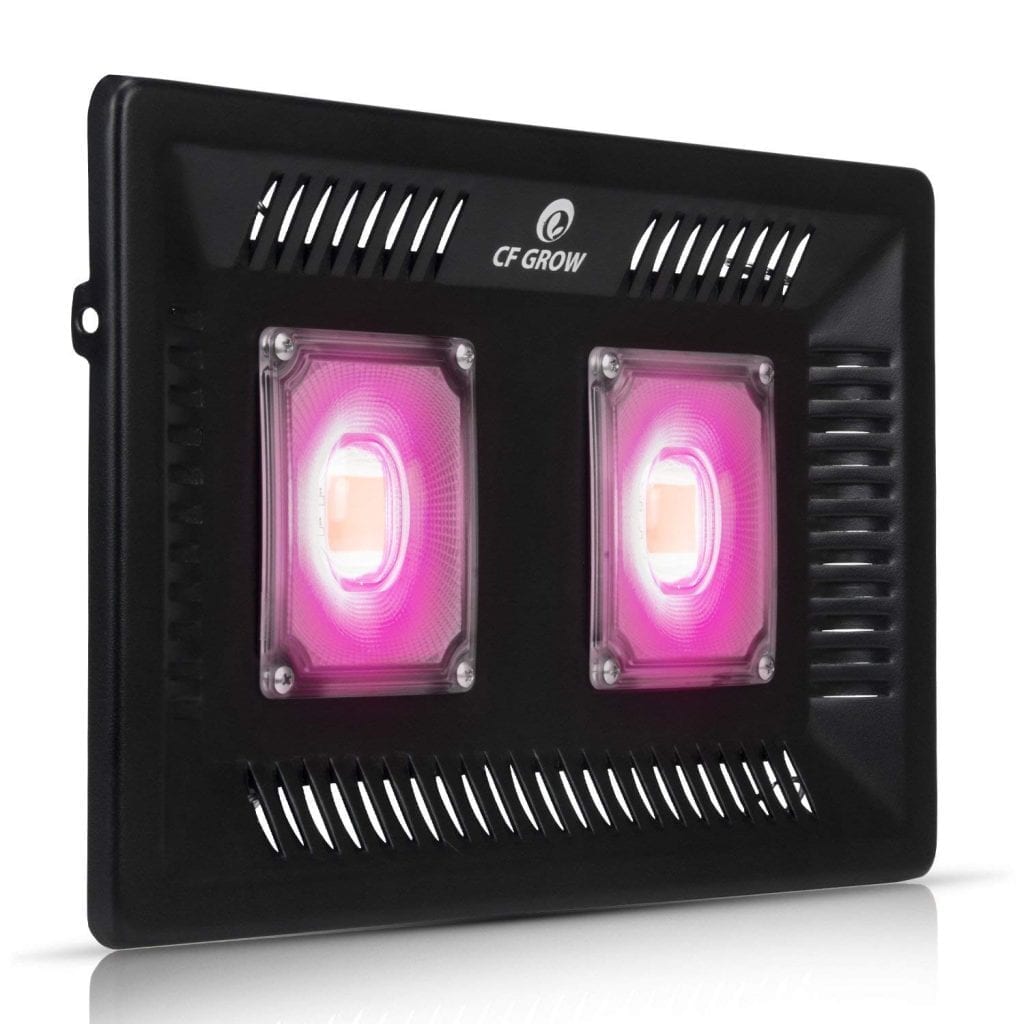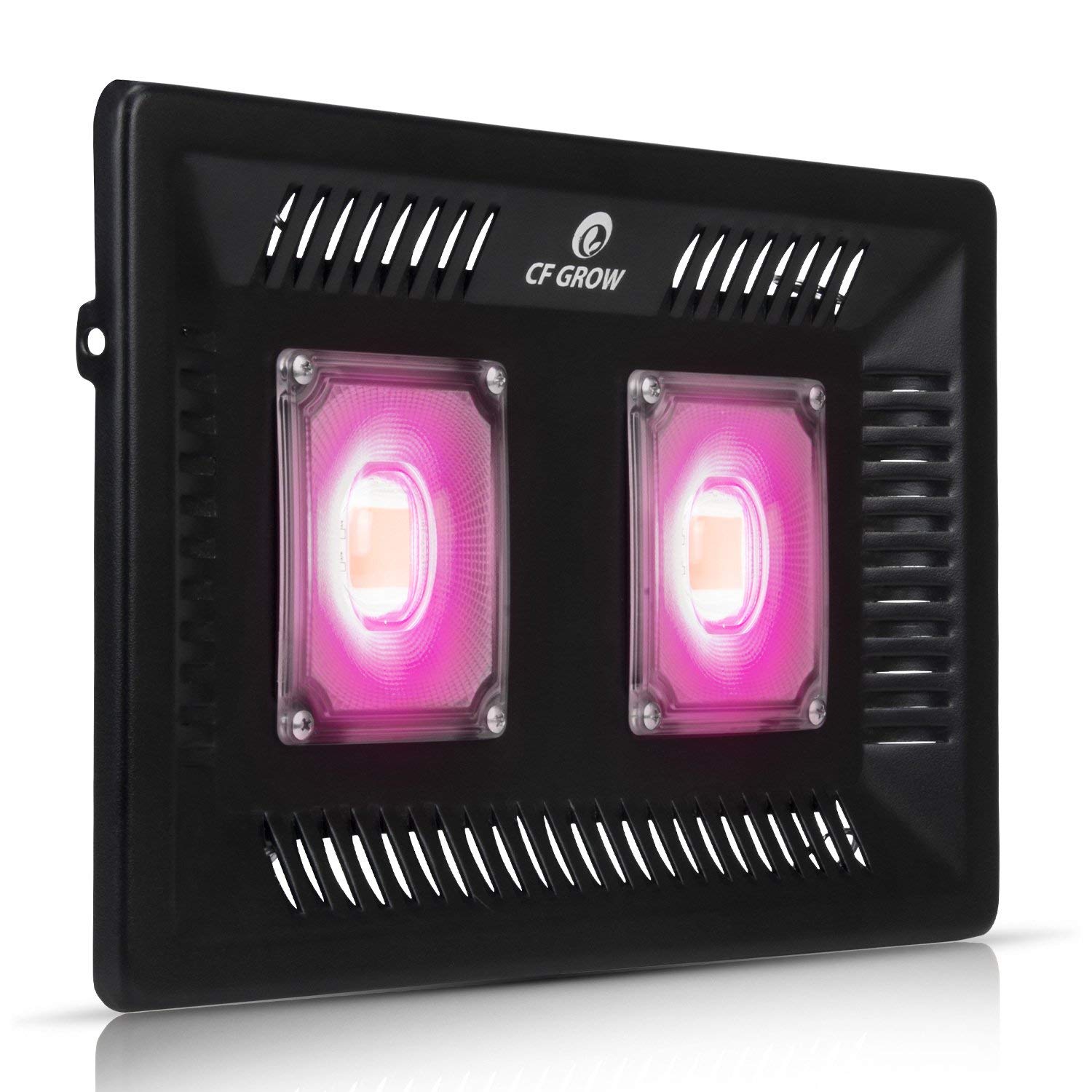 The CF Grow Light is a strongly built LED grow light that includes a spectrum of 380 – 780 nm. It comes with a dimmable control so you can control the intensity from 10 – 200 W. Also included is a silent cooling fan that will keep the heat in control. Further, the light comes with a long lifespan of 50,000 hours. This grow light is lightweight so you won't have trouble in maneuvering it.
Pros:
Long lifespan;
Full spectrum;
Easy to maneuver;
Can be controlled easily.
Cons:
A little expensive;
Includes no warranty or guarantee.
Roleadro 800W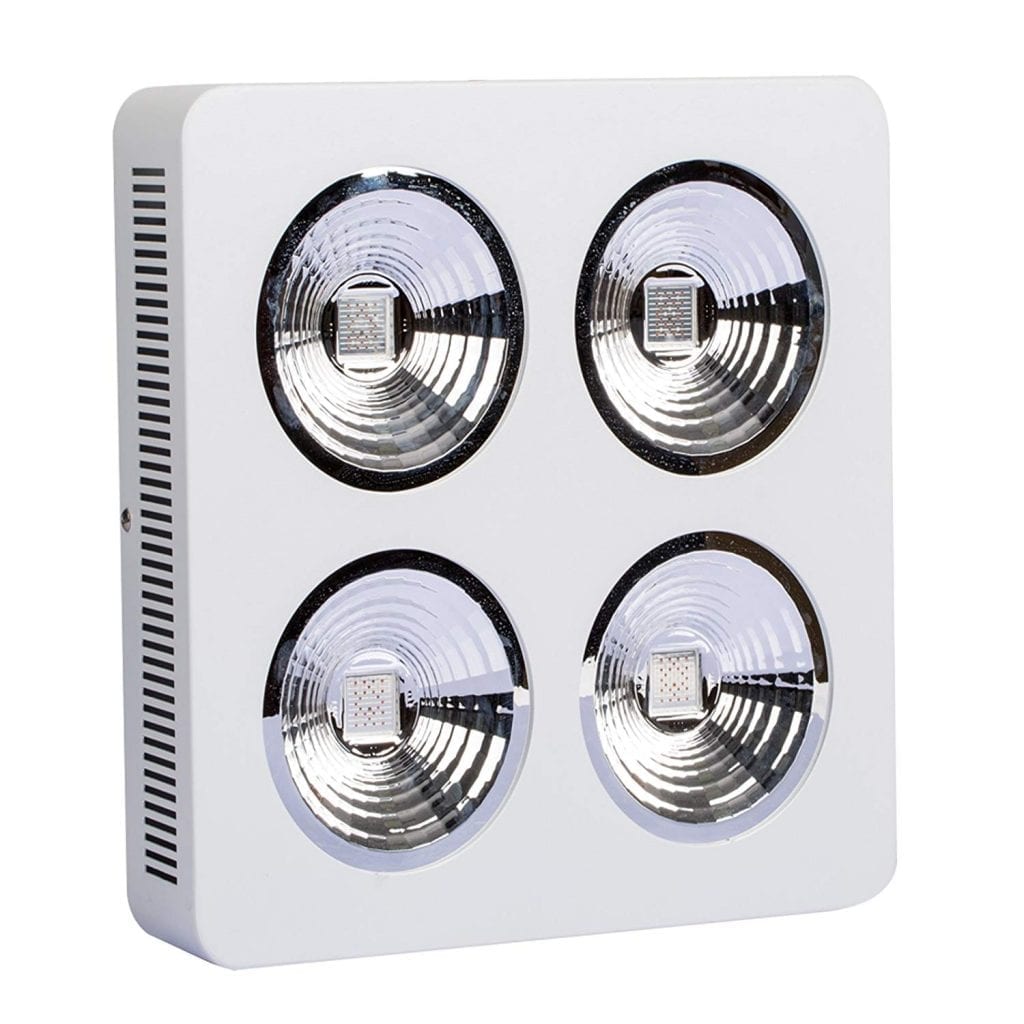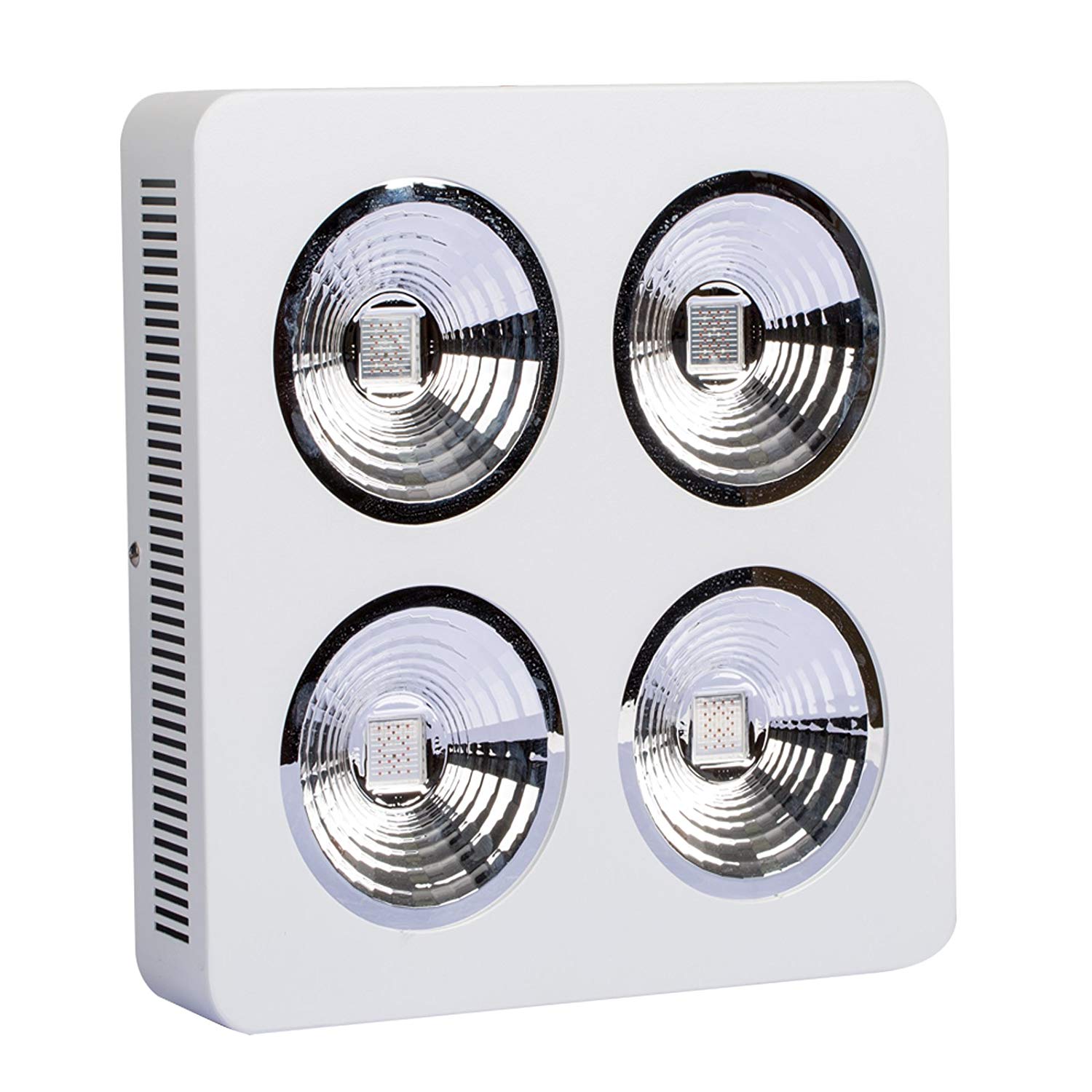 The Roleadro 800 COB LED grow light is the perfect light for the flowering and fruiting stages. The lights include a daisy chain connection so you can use more lights in a series. Moreover, it has full spectrum, which is perfect for all kinds of plants. In addition, each COB LED light is supported by a separate source. Also included is a sunflower heat dissipation system, which ensures the temperature never rises above 115 degrees Fahrenheit.
Pros:
Includes heat dissipation system;
Full spectrum;
Each light is controlled separately;
Long lifespan of 50,000 hours.
Cons:
The wavelengths of the spectrum are not mentioned;
No control over the spectrum or intensity.
KingLED X6 COB LED grow light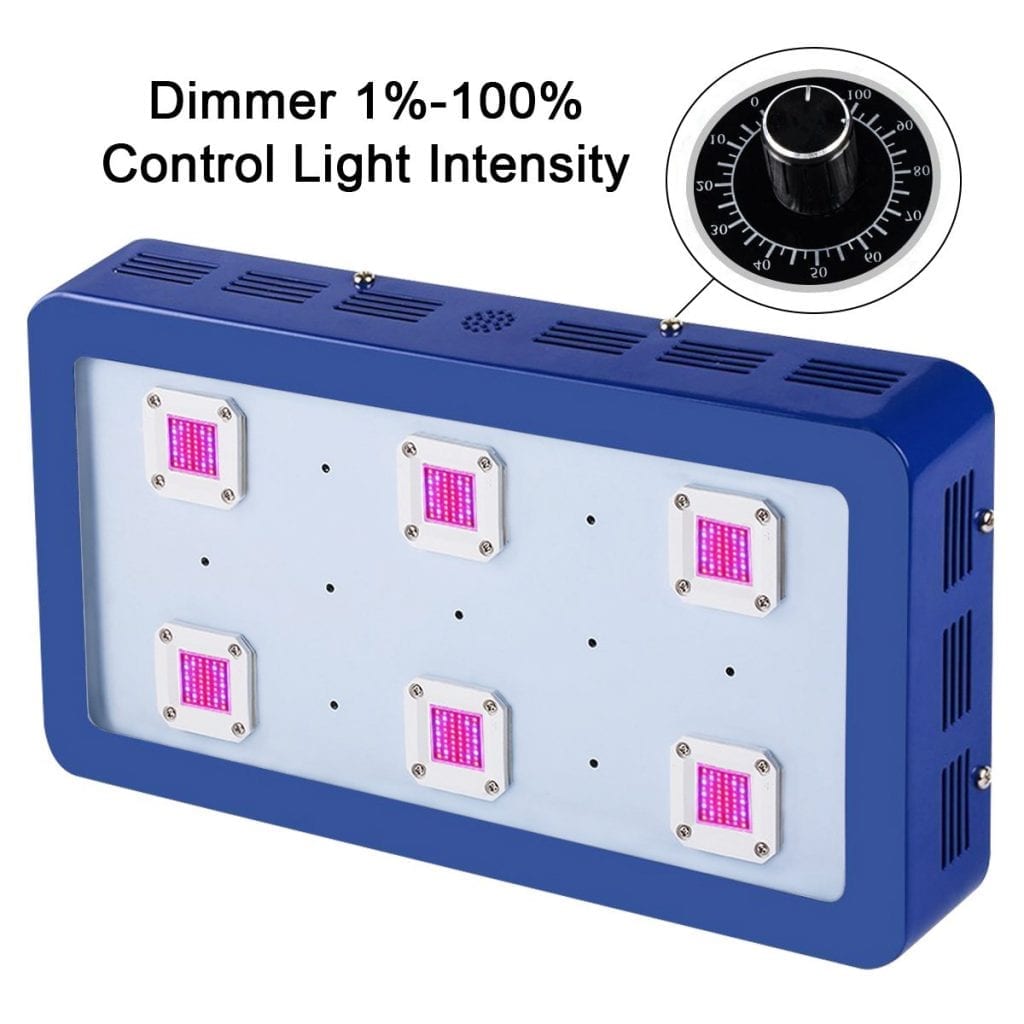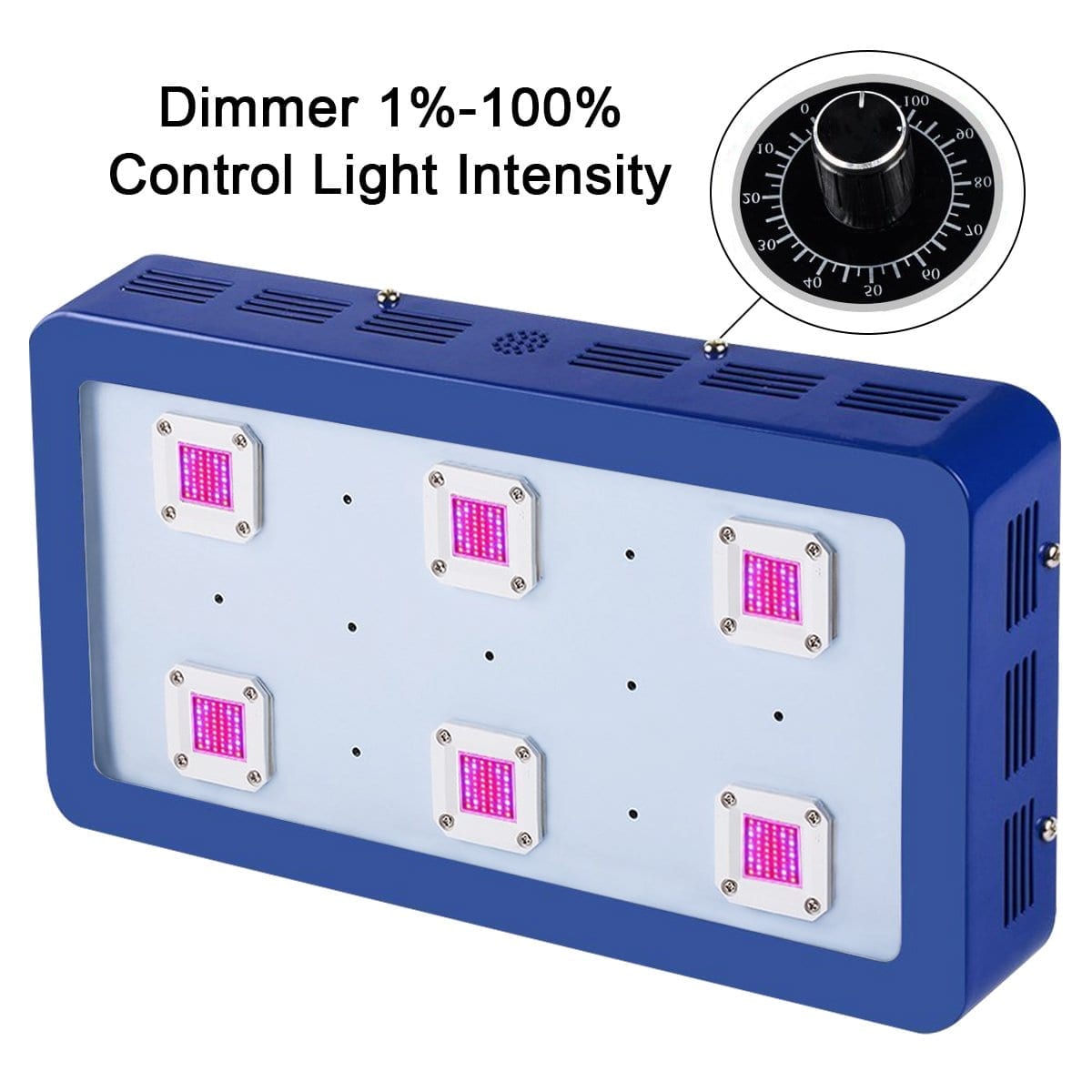 One of the best COBs, the KingLED X6 is perfectly shatterproof and durable. Firstly, the KingLED offers a full spectrum from 410 to 730 nm, which makes it ideal for growing cannabis. Secondly, it helps save a lot of power as it consumes about 325 W. The included fans ensure that the temperature never rises too high! Lastly, it comes with a 3-year warranty to secure your investment.
Pros:
Offers full spectrum;
Consumes only 325 watt;
3-year warranty;
Durable & shatterproof;
Good heat dissipation system.
Cons:
Expensive.
Newest 600W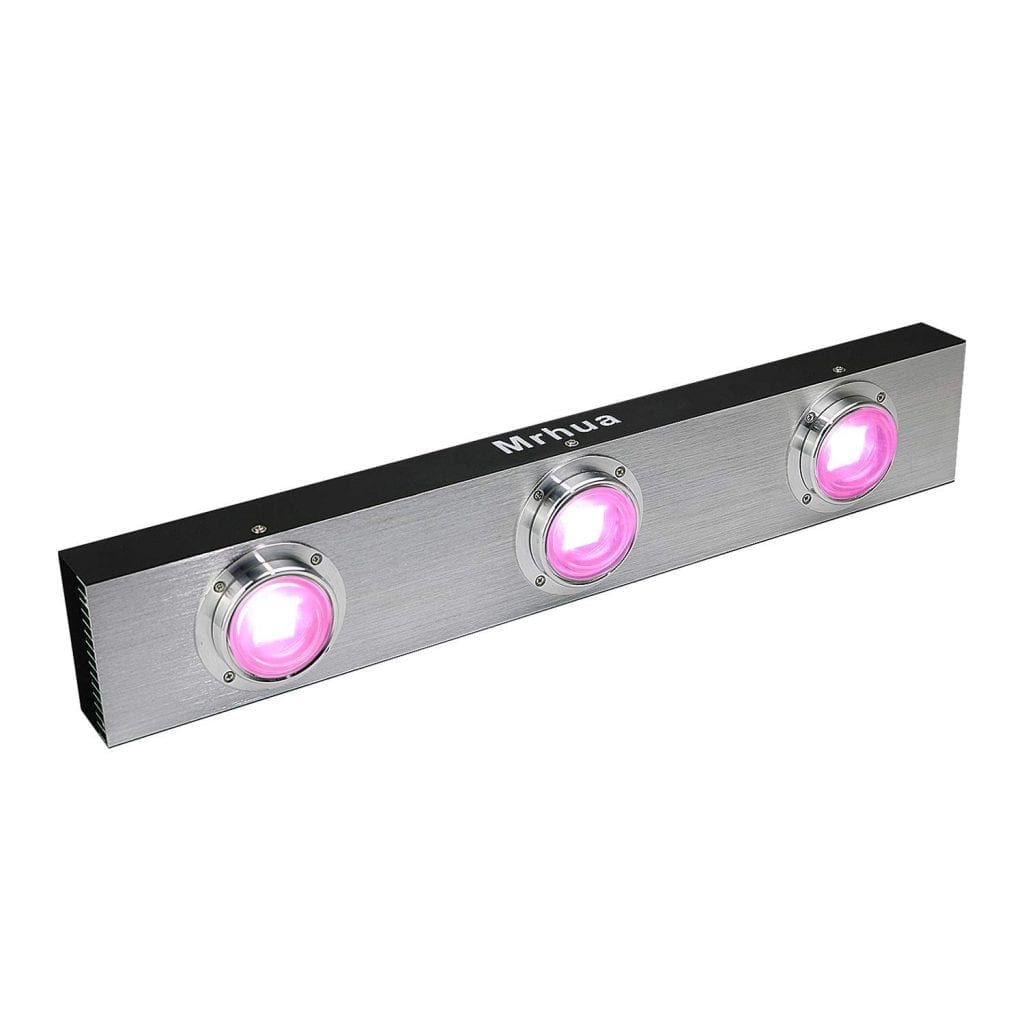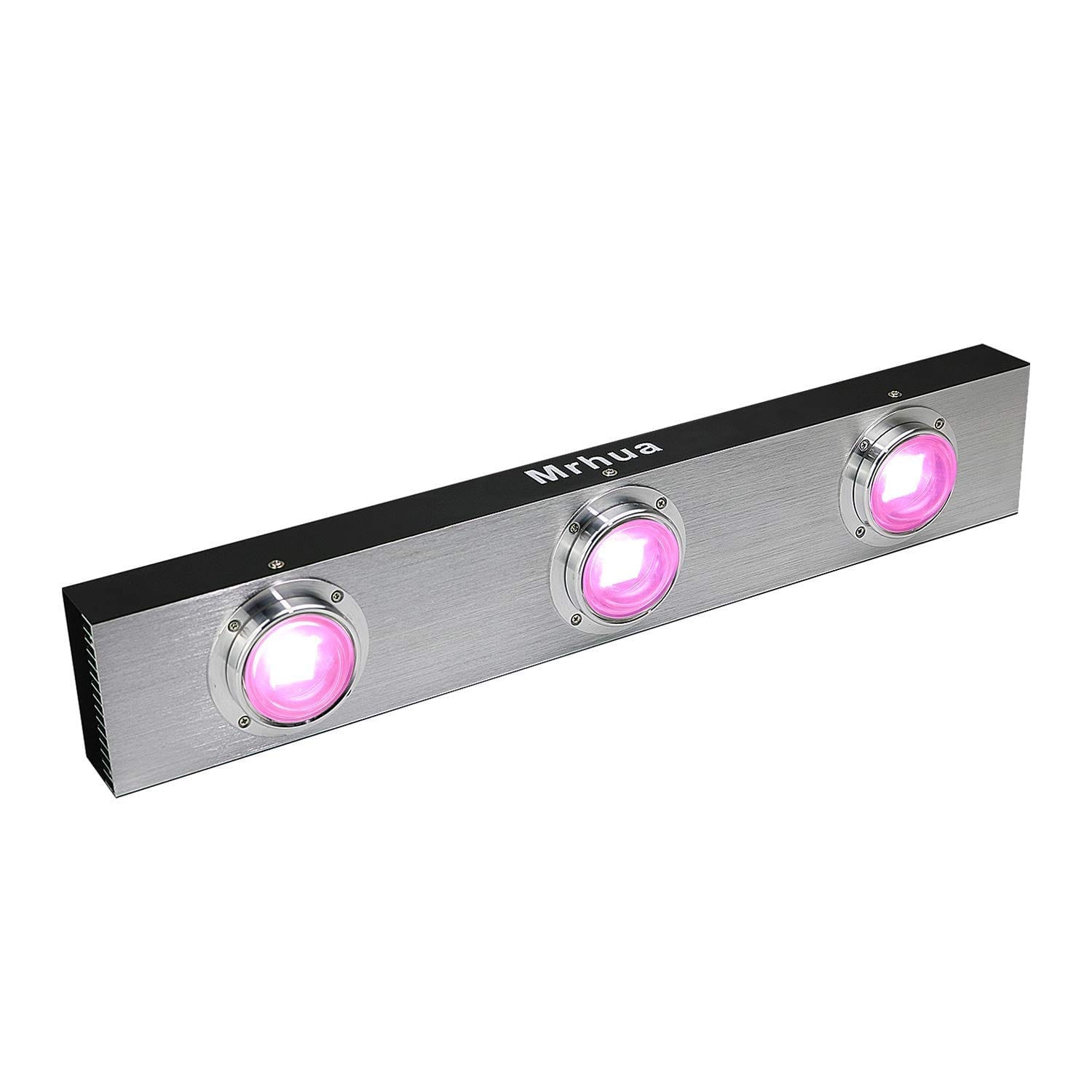 The Newest 600W COB led grow light is yet another full spectrum light that is perfect for indoor gardening. The lights last for a long time as it has a lifespan of about 50,000 hours. Furthermore, it does not heat up, maintaining an ambient temperature between 20 to 40 deg C. To seal the deal, it comes with a 3-year warranty!
Pros:
Long lifespan;
Stays cool;
Three years of warranty;
Suitable for all stages of growing.
Cons:
Doesn't specify the actual spectrum;
No control over intensity or light spectrum.
Niello 600W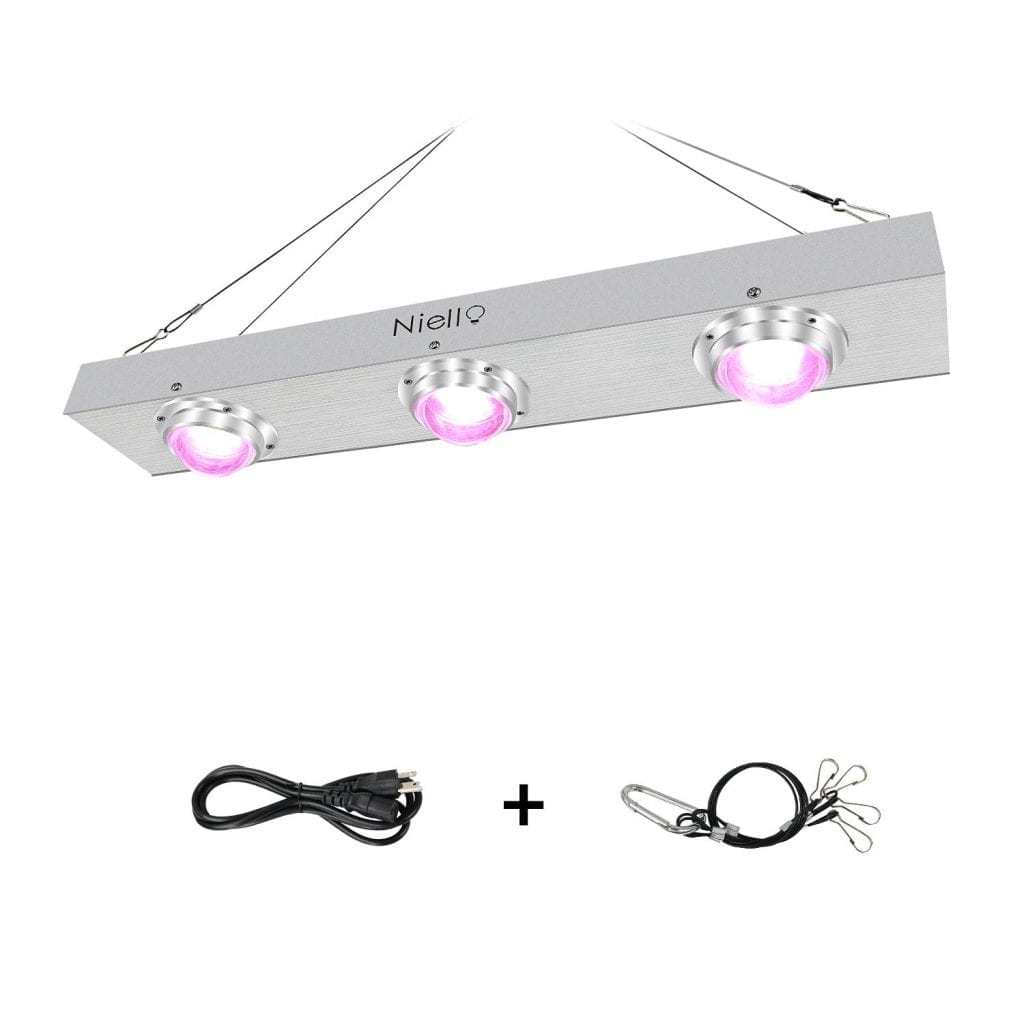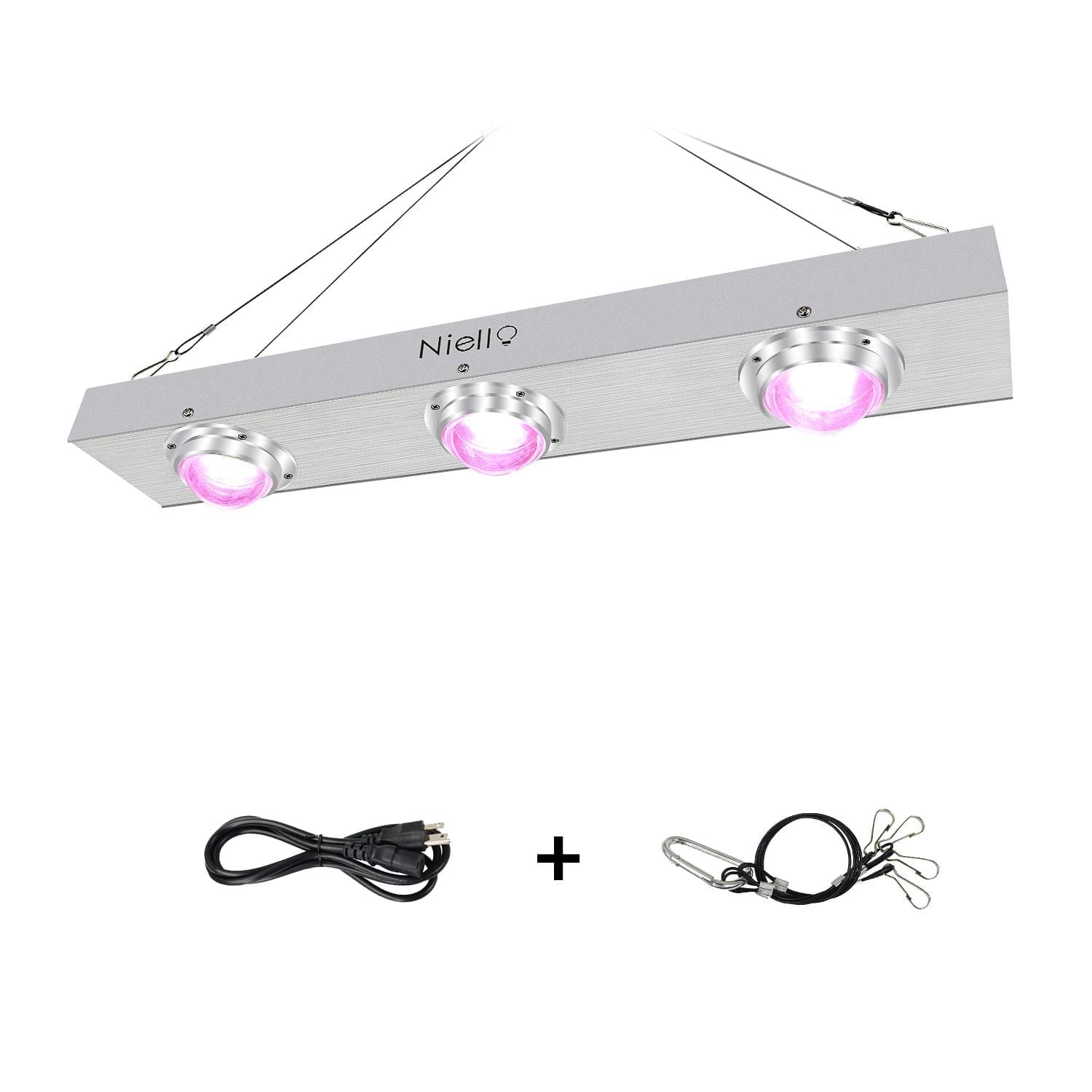 Next in our list of the best COB Grow lights is the full spectrum Niello 600W COB LED grow light. The spectrum range is about 380-780 mm. This, along with the cleverly angled lenses ensures a high PAR value and allows better growth of your plants. The COB technology used ensures you to save 30% of the energy costs and allows for a dustproof operation. In addition, the light uses 3 silent fans to keep it cool so the grow tent doesn't heat up too much.
Pros:
The wide range of the light spectrum;
Dustproof;
High PAR value.
Cons:
Not waterproof.
Yueme 1500W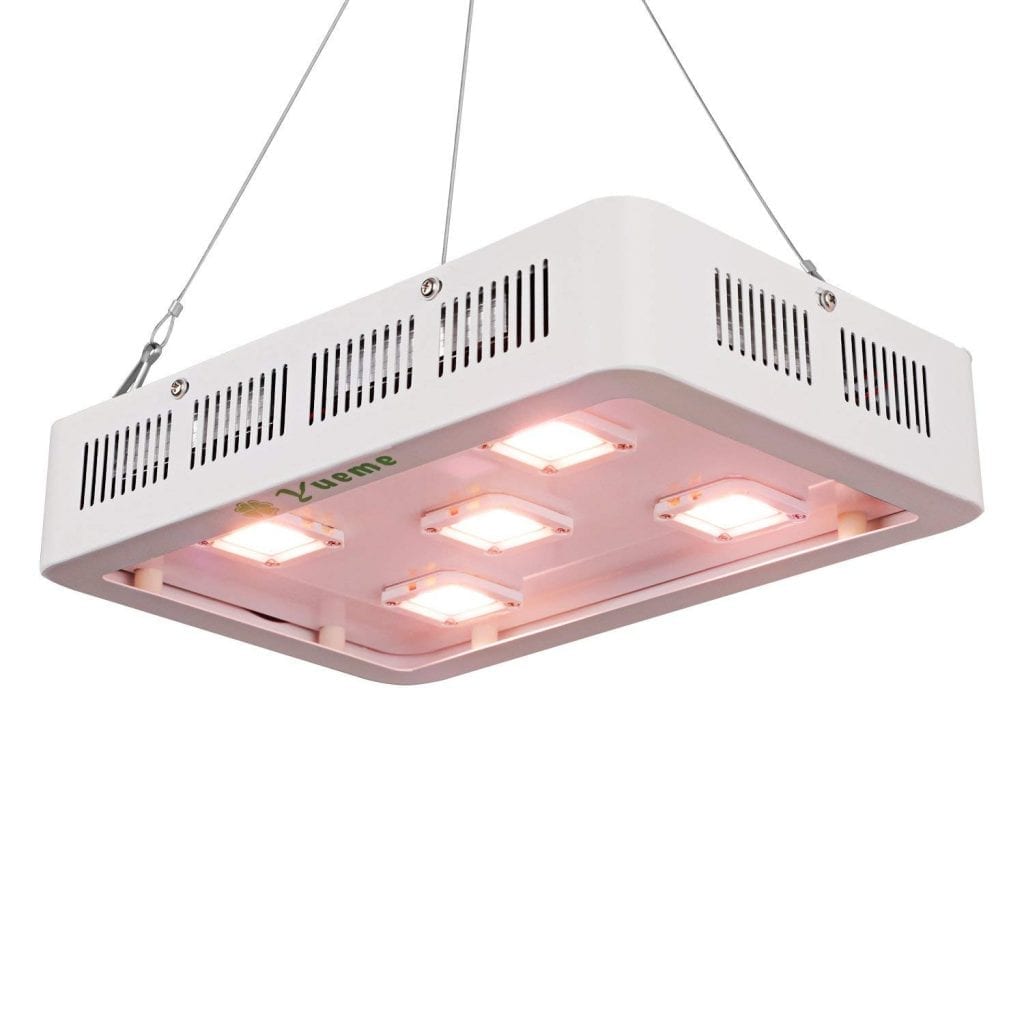 The Yueme 1500W Grow Light is perfect for all phases of growth of your cannabis plant. It can help you achieve the high end of the spectrum, as the range is about 380-800 nm. The 1500-watt output only requires 300W of input. The two fans, as well as few hole vents, allow perfect ventilation for cooler temperatures. In addition, the unit ensures a large lighting surface as well as a long lifespan.
Pros:
Caters to the high end of the spectrum;
Good ventilation;
Large lighting area;
Extremely energy efficient.
Cons:
Not recommended for weaker plants;
Not waterproof.
Mars hydro ECO 300W COB LED grow light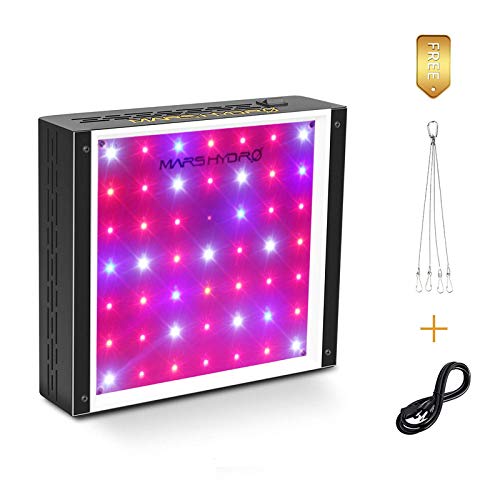 The Mars Hydro Eco is a 300W Cob led light that offers about 3.5 x 3.5 ft area of coverage. The light runs on merely 116W of input, which makes it extremely energy efficient. Moreover, the Mars Hydro supports a wavelength of about 400-740 nm. Also, it can be used in all areas of the world as it supports a working voltage of 100-240 V. It has a lifespan of about 50,000 hours as well as a view angle of 100 degrees. So, all this, combined with the low noise level of 49 DB, makes it on of the best COB Grow light.
Pros:
Big area of coverage;
Low noise level;
Very energy efficient as it takes only 116 W input;
Easy to install.
Cons:
Not waterproof;
Too strong to directly look at (Buy growing glasses)
Conclusion
All in all, a COB light will help you grow plants in all stages of life due to their wide range of the spectrum. We recommend you to weigh the pros and cons yourself and choose the best COB LED grow lights yourself.
However, if you ask us, The CF Grow Light and the Roleadro 800W have to be our top favorites! So, what are you waiting for? Get the best for your plants and buy one of these LED lights, so your plants can grow at the best rates!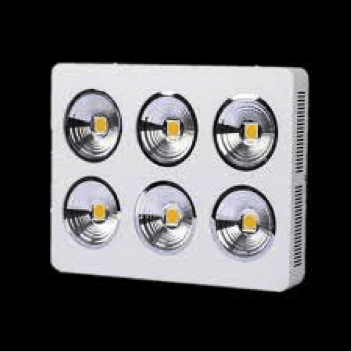 Further Reading
Do you want to start growing hydroponically indoor? We help you getting started in our complete guide. Read it here

Looking for general SMD LED grow lights? We reviewed a lot of them! Read here

Interested in some tools for your grow room? Read about grow tents, par light meters, nutrients & fertilizers or hydroponic systems.
Summary
Article Name
Best COB LED Grow Lights Reviews of 2019
Description
COB LED grow lights are fairly new and rising in popularity for indoor growers. We tell you what they are and review some of the best ones out there.
Author
Publisher Name
Publisher Logo