Greengo, a Turkish Trademark of Global GBA Ltd., is a well-known global brand with an experience of 15 years in the industry. In addition to its sister companies, Greengo sells its products to 33 countries across three continents. As a global brand, they are mostly known for their high-quality products, and Greengo 1200W LED Grow Light is no different. It is also evident from the highly positive feedback from the customers.
The main element that distinguishes Greengro from competitors is its competitive and affordable prices, and the value they bring to the table. To make it an informed decision for our readers, we've thoroughly reviewed and presented all the winning features in the guide below.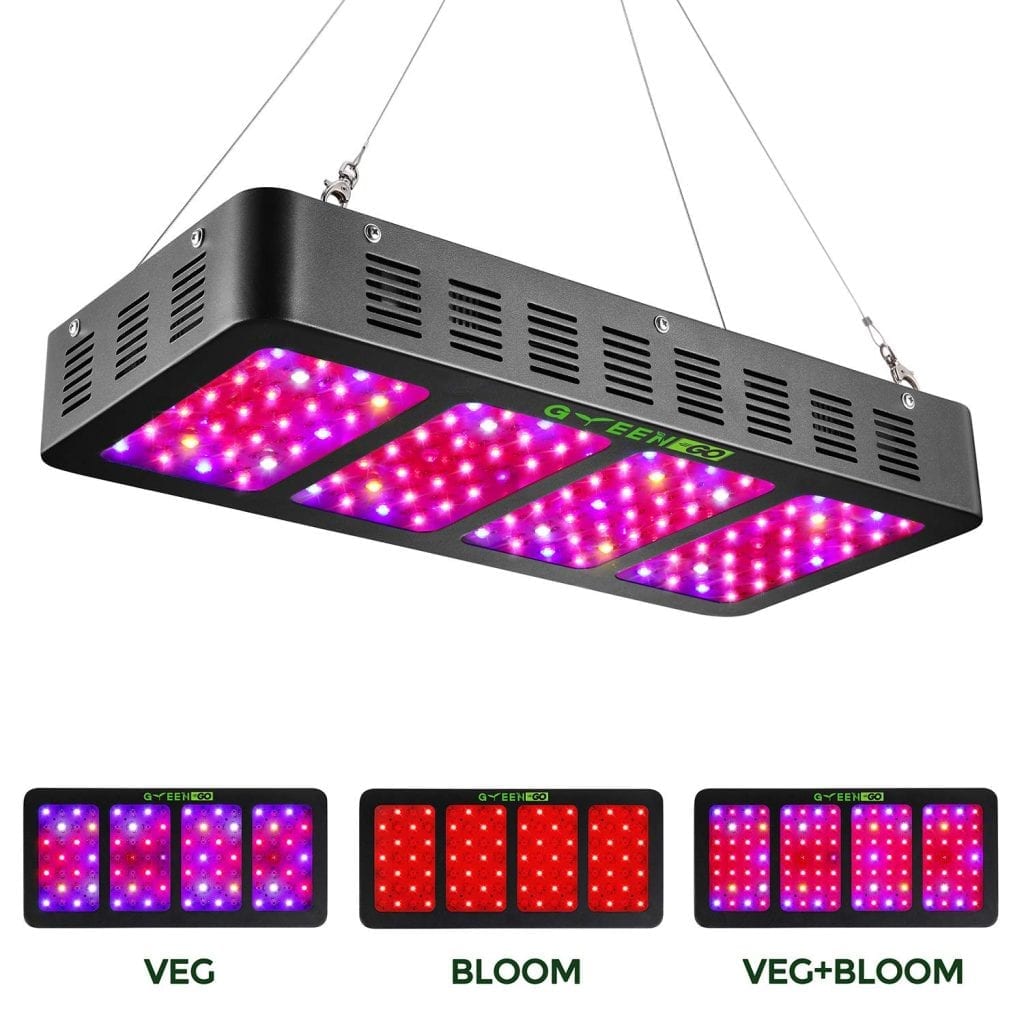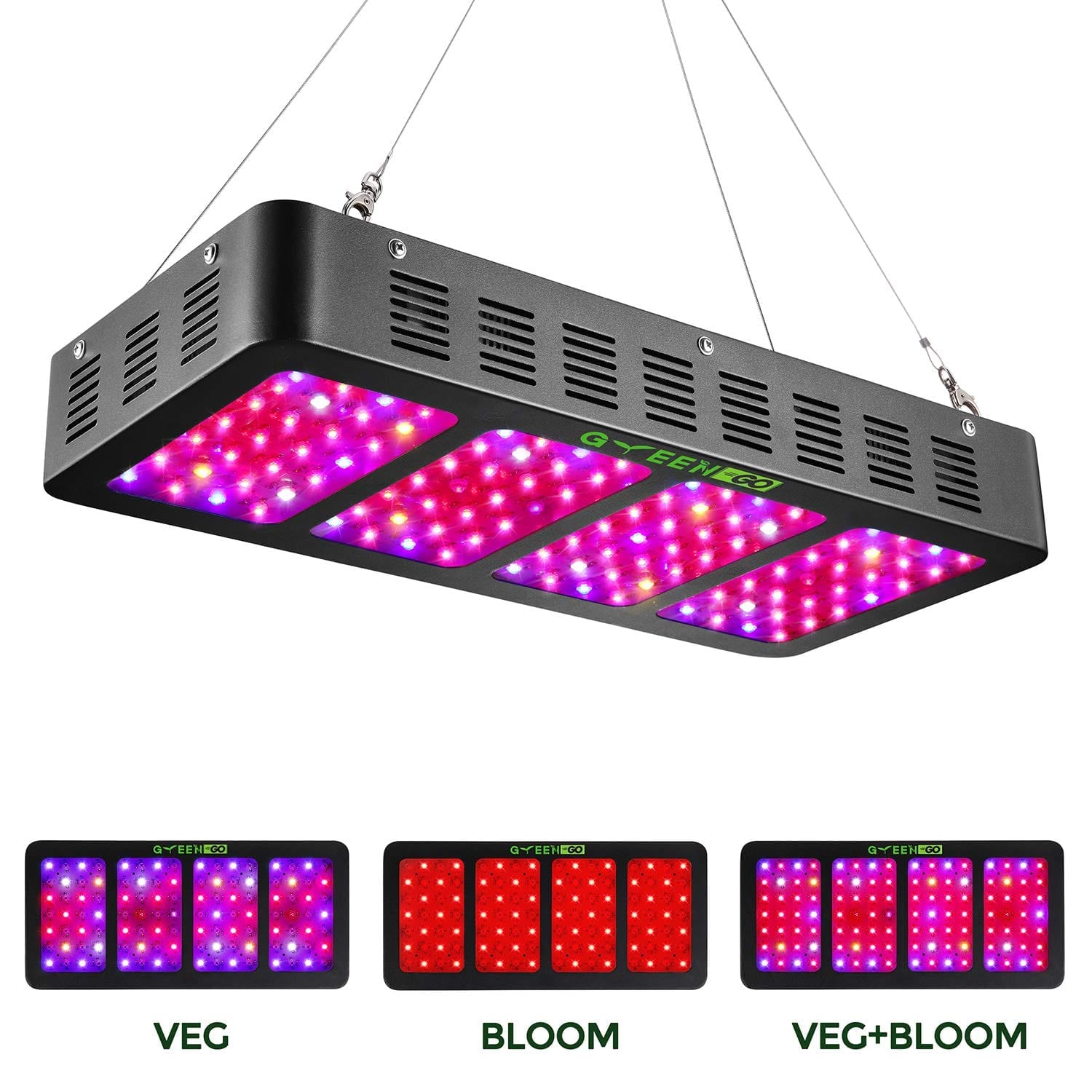 Technical features of the GREENGO 1200W
The versatile Greengo's 1200W LED light can be used with any type of indoor cannabis grow tents/rooms. Additionally, it acts as a reliable facilitating product at all growth stages.
Output and Coverage
Functioning at a working voltage from 85V to 265V/ 50-60Hz, it provides a respectable nominal power of 248W. This highly usable light covers around 3.5 x 3.5 feet with maximum coverage of 5.5 x 5.5 feet.
The light features high-tech industry-leading Triple Chip LEDs for best results. The product comes in 112 pieces of red, blue, white, warm white, UV, and IR LEDs.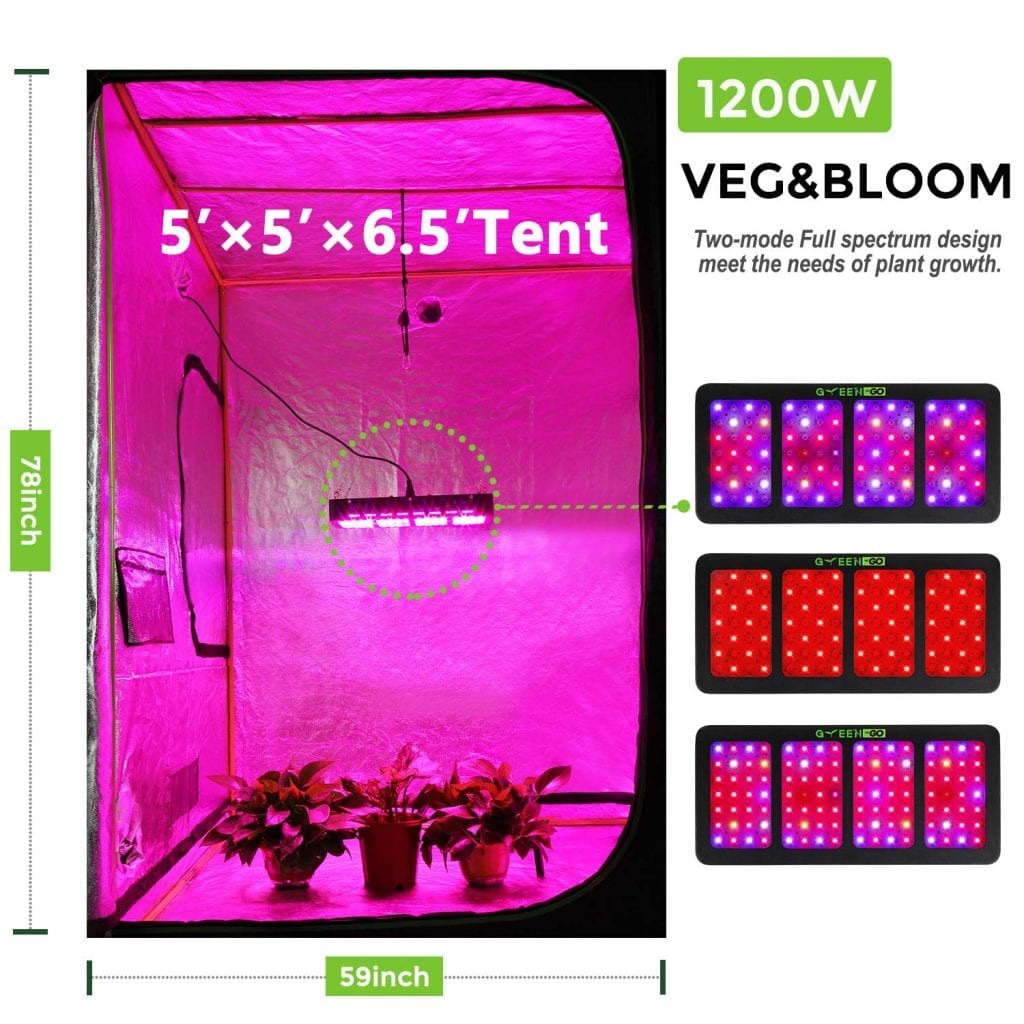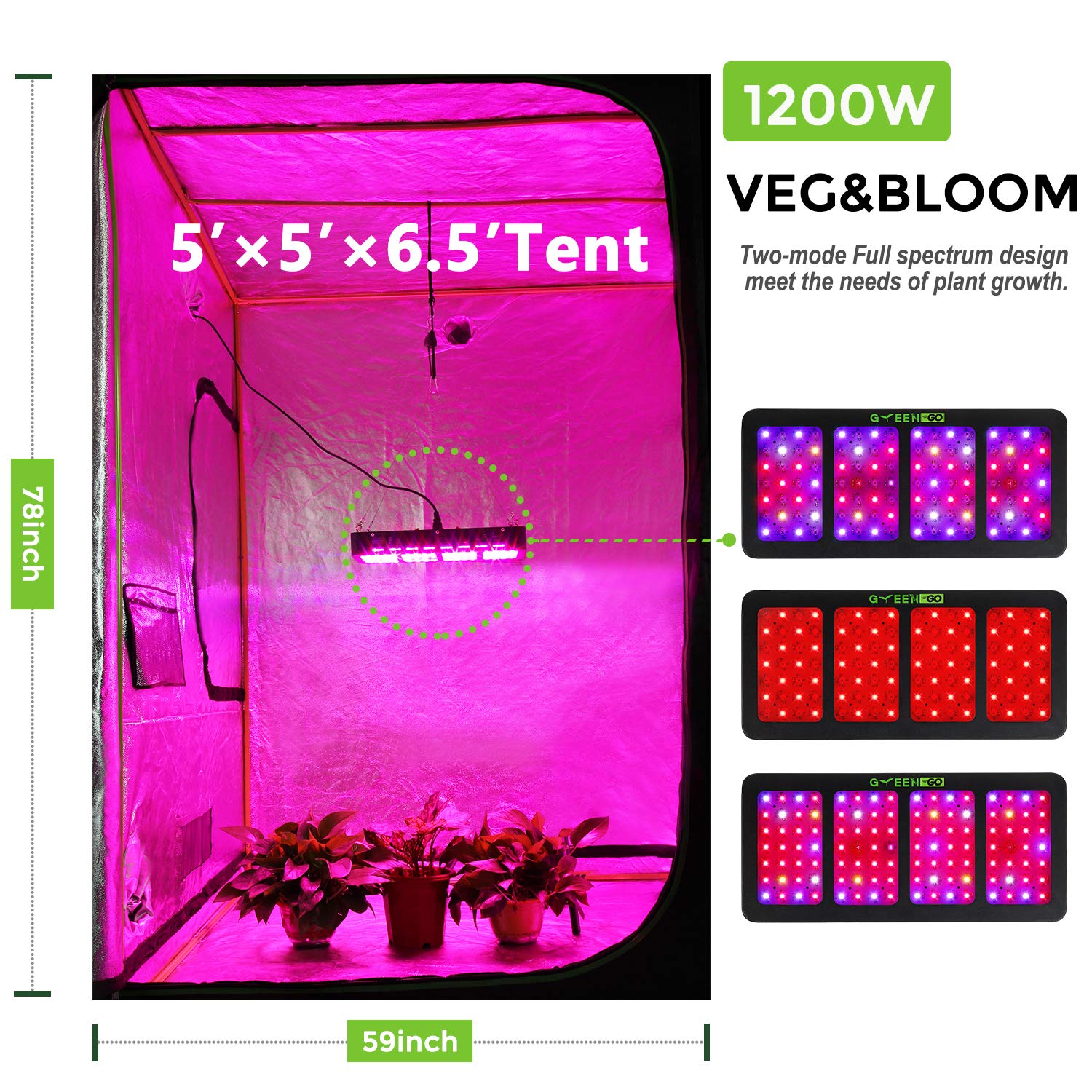 These are scientifically devised to establish an appropriate balance of PAR Output/Lumen that your plants need for healthy growth. The variety of LEDs are a much better alternative to traditional HPS/MH lighting systems.
Daisy-Chain Function of the GREENGO 1200 watt
One of the most useful functions you may ask for is the Daisy-Chain feature. The feature makes the Greengo LED Light more compatible due to fewer cords. You can connect and extend your entire growth performance with each operating at a working current of 1.5A. This is definitely a smart way to save up on time, energy, and money.
Cooling System
Another key feature is the inclusion of three high-speed cooling fans. The fans come with a built-in aluminum heat sink that works together efficiently, resulting in an unbeatable powerful cooling mechanism. This ensures appropriate heat-dissipating and sound control that won't burn your plants at all.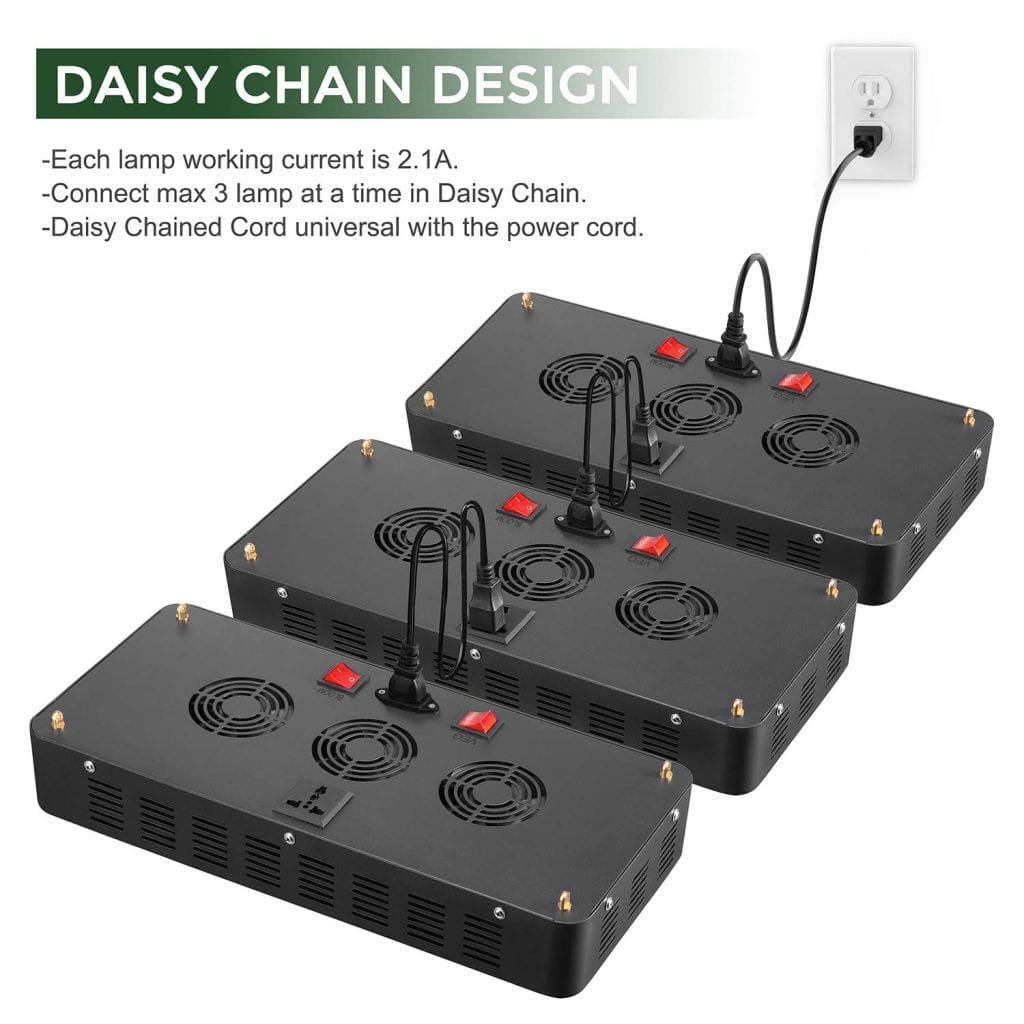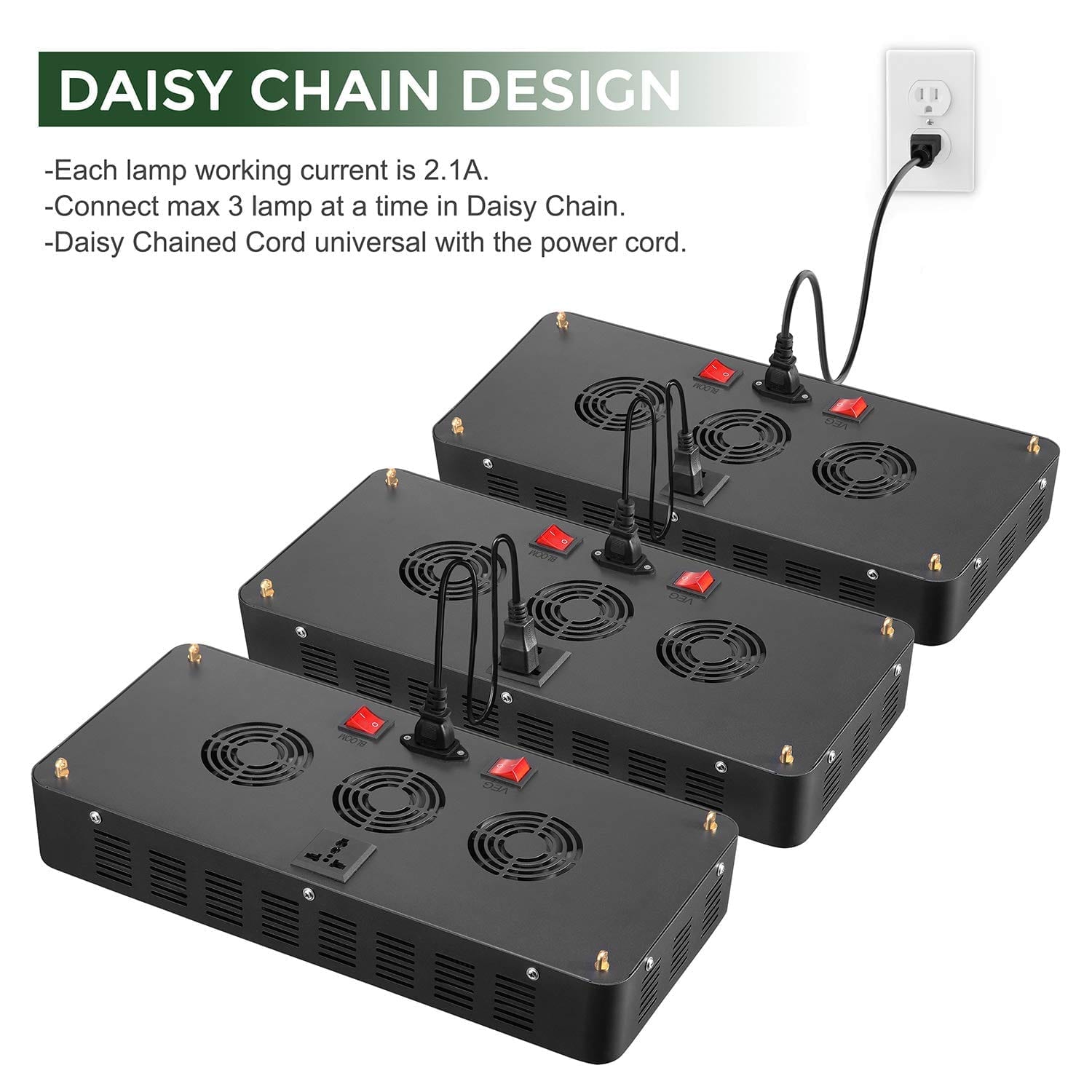 VEG/BLOOM Switches of the GREENGO 1200w
The two most useful and functional VEG and BLOOM switches can help you customize light output at each stage of the plant's growth. The Veg switch emits blue and white LED at 430-660nm, making it suitable for seedling or young vegetative plants. On the other hand, the Blue mode works with red and white LEDs at 430-740nm, which is good for the flowering and blooming stage.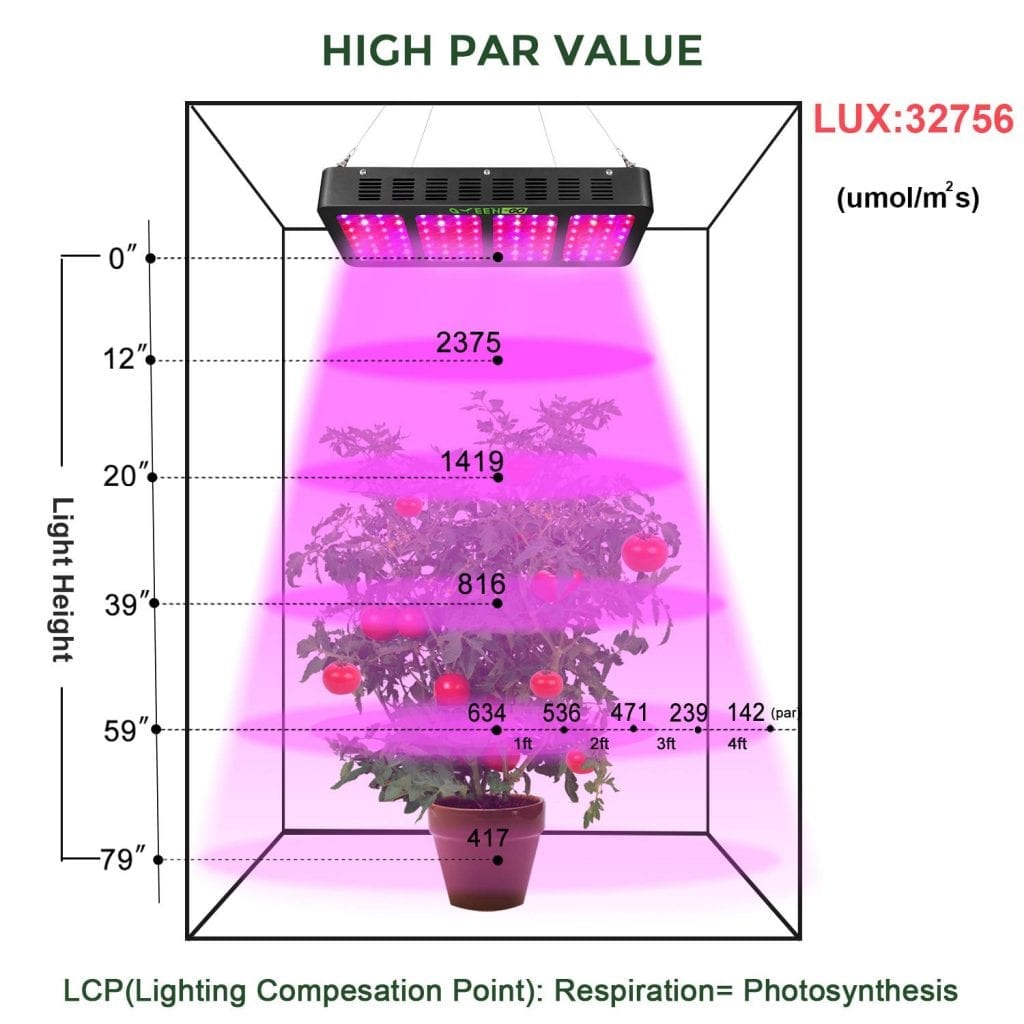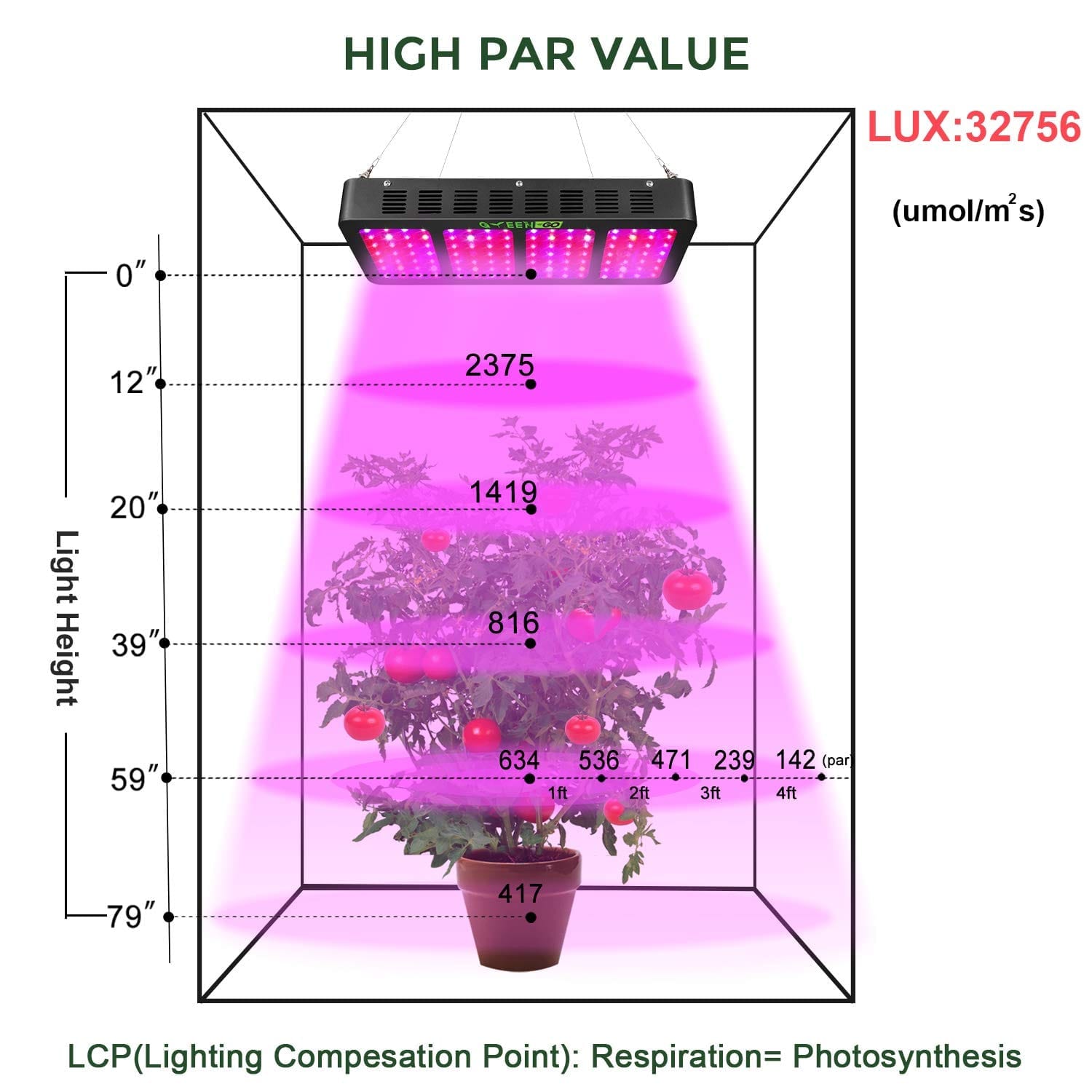 Pros
High level of control;
3-way lighting option;
Triple Chip Design technology included;
Efficient and silent fan operation;
Sturdy hanger and adjustable extension included;
It offers full-spectrum coverage;
Effortless installation use and maintenance;
Affordable pricing;
Daisy-chain feature allows for the expansion of the production unit and an increase in overall yields;
Reliable and efficient cooling system;
90-day refund and 36-month quality guarantee;
Lightweight as it weighs only six lbs;
Dual switches included.
Cons
The cord length looks short;
Not waterproof;
Max 3 LED lights can be chained with the daisy-chain.
Conclusion GREENGO 1200w
The LED grow light industry is expanding fast due to the benefits these lights offer. Among the growing competition, Greengo is a name to recognize with products like Greengo 1200W LED. It is an energy-saving, affordable, durable, and high output 1200W grow like that can contribute to optimizing harvest.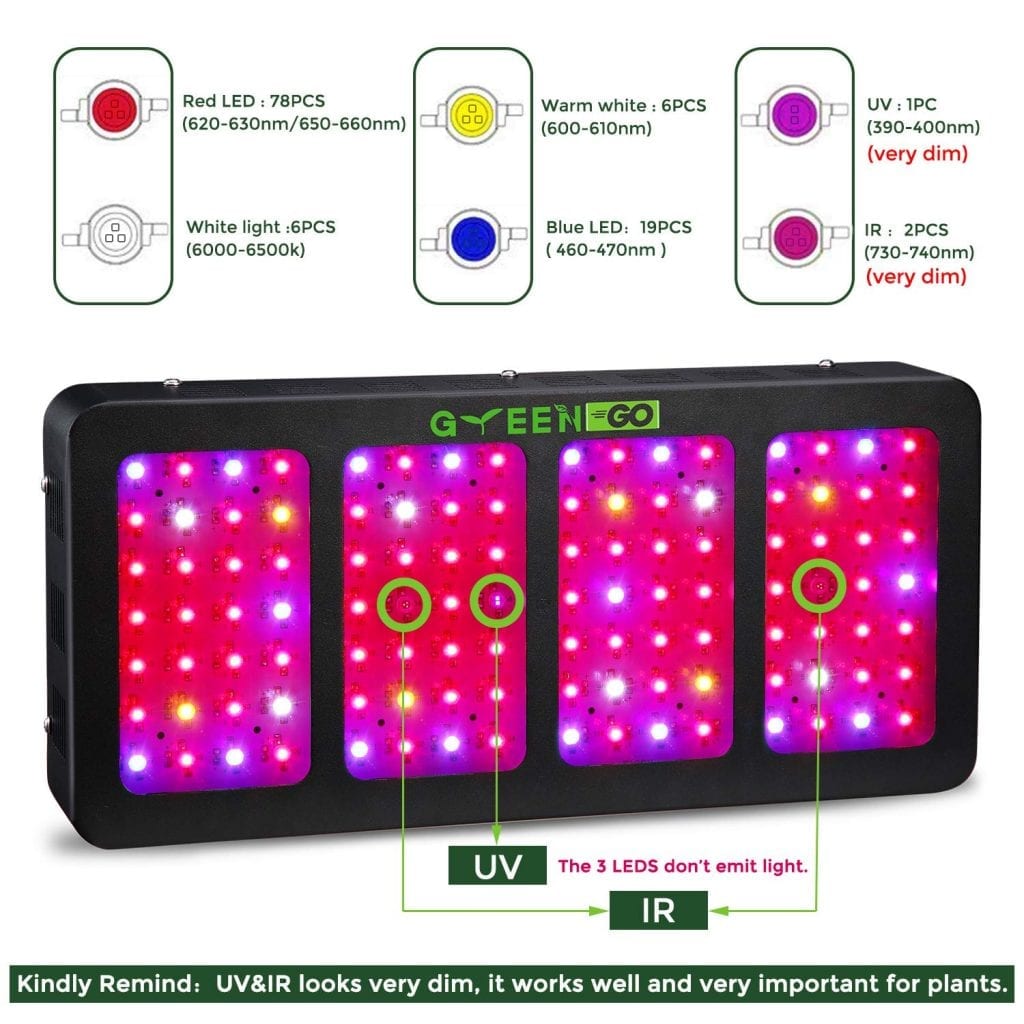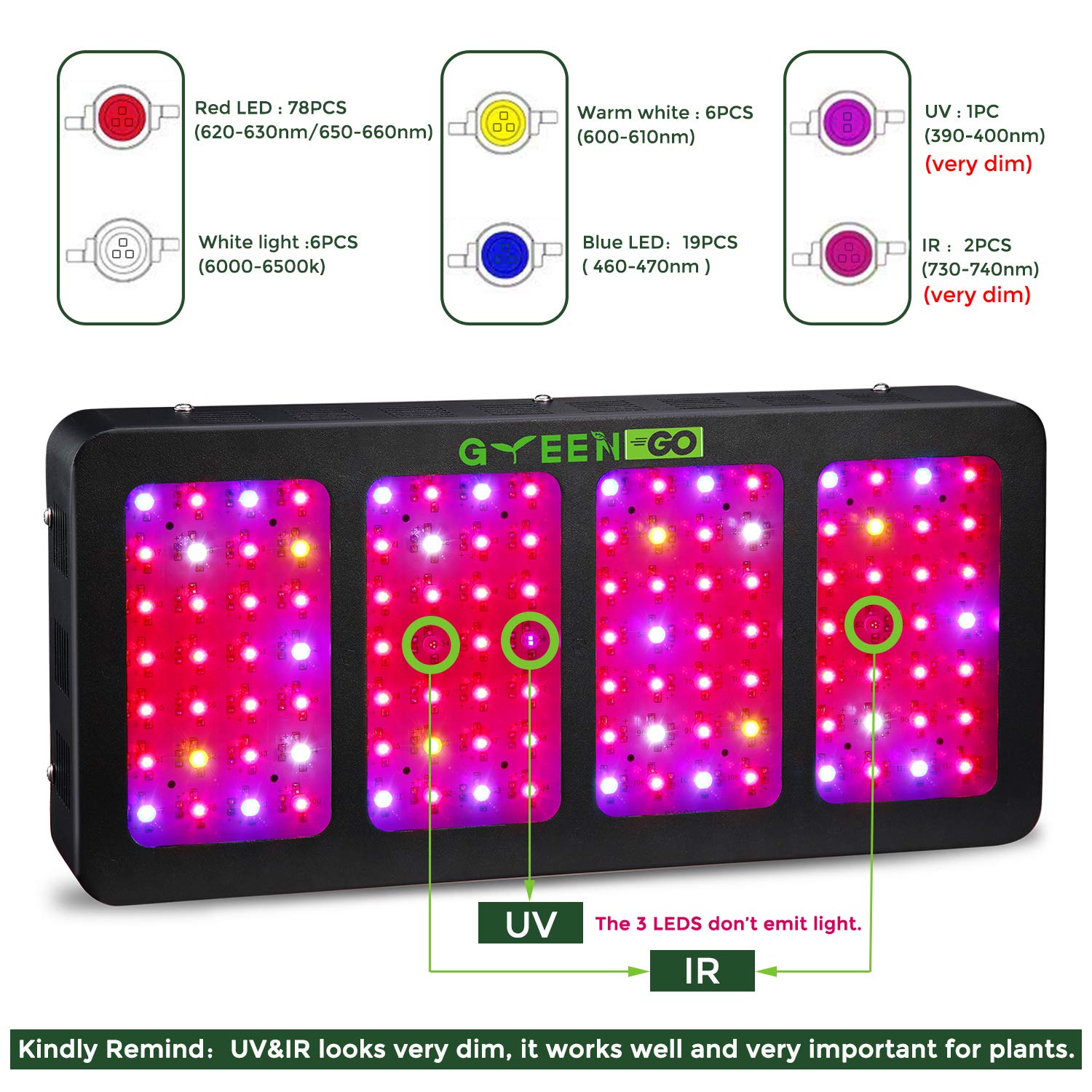 Check the price of the GREENGO 1200w on Amazon