A Complete Guide On Choosing The Best LED Grow Lights
How to choose the best LED grow light?
When choosing the best LED grow lights you will need to consider various factors. You need to know what area you need to cover. This can depend on multiple factors, such as the fact if you're growing everything to maturity in one place or not.
What is also important is the type of light you are looking for. Some lights cover all purposes but other lights are only suitable for the vegetative and flowering stage for example.
LED has multiple advantages, which we will discuss extensively later in this article. For instance, power costs are lower and you will never have to replace a bulb. Also, the heat doesn't run that high as with HPS lights. Due to the lower temperature you don't need extra vents and your plants will grow faster.
We are going to help you choose the best LED grow lights for your grow space. We made a list of the best LED grow lights of 2020 on the market right now. Check the links to see an up-to-date price of the light on Amazon. Check out all the detailed reviews on this website.
TOP 12 BEST LED GROW LIGHTS 2020
Things to consider when choosing the best LED grow light
These are some of the most important factors to keep in mind when you are choosing a LED grow light:
Area you need to cover: the total area you need to cover is the first thing you have to think about. Every light has a different coverage field. If you look at the specifics of a LED light, you will see that every light has a different area of coverage. Do you know what area you need to cover? Then you can now decide how many and what type of LED light you will need. Whenever you need to cover more space, you can place multiple lights adjacent to each other.
Plant growth phases: cannabis plants grow in different cycles. You can choose lights that provide lighting for specific stages, or you can choose a full-spectrum LED grow light that will work for all phases of growing. Many lights also have dimmers and/or switches that will the light work for each grow stage. See below what average times are for lighting your plants when growing cannabis plants:
Seedling: 16 hours light, 8 hours darkness
Vegetative: 18 hours light, 6 hours darkness
Flowering: 12 hours light, 12 hours darkness
It is VERY important that you use different light cycles in different phases. This can really impact the growth of the plants.
PPF, PPFD, PAR and DLI measurements: These measurements are very important for you plants. You have to be familiar with these terms if you want to choose a LED grow light. These measures tell you how much impact a light has on your plant. You can find out what these terms mean in our FAQ section at the end of this page. Watts are irrelevant as measurement for LED grow lights because this doesn't tell you how bright a light is and how it affects your cannabis plant.
LED Lens Angle: the angle of dispersion within you LED bulbs are very important. A greater angle means more coverage. So the higher this number is, the more coverage, while a lower number means more direct light to the plant.
Quality of the materials: LED lights can be quite expensive and the quality of the light will affect the yield. Buying cheap Chinese LED lights may seem interesting, but I highly advise against doing this. These lights are not durable and the LEDs used will not improve your growing. Look for a well-respected manufacturer that gives you a long warranty period (at least 2 years). This way you know that you bought a high quality LED growing light.
Budget: consider how much money you are willing to spend on a LED growing light. LED can be expensive at first, but it can save you a lot of money in the long run. Make sure that your light has the specifics that you are looking for and pick a light that fits in your budget. Small grow lights are cheaper, but if you want to grow a lot of plants you will need either a lot of small grow lights or a few big, more expensive grow lights.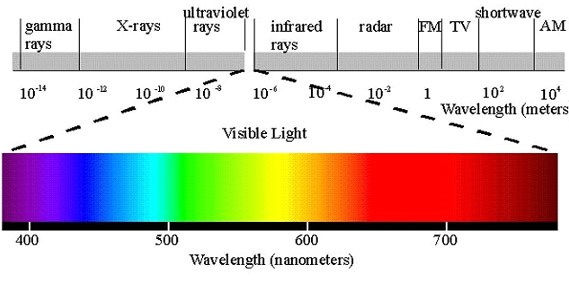 Color spectrum
There is a lot to say about color spectrum but I'll try to keep it short. The color spectrum of light is measured in wavelength and plants react different to different wavelengths. A different color of light will grow your plant in a different way, so it is important to use different colors in different growth stages. It is important that you simulate the sun as indoor grower. This way you can tell your plants what to do. In short:
Blue light: LED grow lights that produce more blue light are used in the vegetative phase. Blue light makes the cannabis plants grow squat and short. The leaves will grow big and healthy this way.
Yellow/Red light: LED grow lights with more red light are mostly used in the flowering stage. Plants will stretch and grow tall. This will help promote budding. Also, you can help your plant go to the flowering stage faster if you give it more red light.
Why choose full-spectrum LED grow lights
The best way to increase yields is to give you plant more light in total.
Adding specific parts of the spectrum can improve you plant on some parts, but overall it will be better to add more light all together. Your plant will grow better even if you're adding light in the "wrong" spectrum. If you are using a grow light, it will do the job!
Full-spectrum LED grow lights are the best lights on the market right now to grow your cannabis plants with. A lot of people still think that HPS, fluorescent lamps, T5 lights or T8 lights or Metal Halide lamps are the best grow lights. But with these new full-spectrum light systems, all the other options are outdated.
The advantages of full-spectrum LED grow lights:
Simulate real sunlight;
Provide high yields;
Cost less to run;
Increase flavor and potency;
Don't flicker;
Run cool;
Last for 50,000 hours or more;
Safer and friendly for the environment.
LED grow lights vs HPS
Due to recent technological advances, LED grow lights have become affordable for cannabis growers. In the past, growers were using HPS grow lights (High Pressure Sodium) to grow their plants. These lights used massive amounts of electricity and also generated a lot of heat. This heat caused the grower to place a lot of fans and venting, what also increased the electricity usage and area needed to grow. HPS lights were only interesting if you were able to afford it and if you had enough space.
Benefits of LED Grow Lights
Low operating temperatures. 73°F for LED vs 96°F for HPS;
Plants grow faster due to optimal environmental temperature (around 70°F – 75°F);
Better tasting results of the plant due to low heat;
Saving time and money due to less water needed;
Higher yield per watt and lower power costs;
Compact and easy to install;
No need to set up extra ventilation;
Possibility to install multiple lights adjacent to each other;
Control wavelengths and modes for specific phases.
No need to replace bulbs;
Extended lifespan;
Much more stealth than HID HPS;
Useful items for your grow room kit
This is an essential piece of equipment you will need! The energy that these LED lights produce is so high that it can damage your eyes. You will need very good UV protection and therefore you need to wear special grow room sunglasses. Protect your eyes and make sure that you get yourself a pair of indoor growing room sunglasses.
Nutrients are also a necessity when growing cannabis plants. In order to reach high THC concentrations you will need nutrients in all phases of growth. Different stages will require different nutrients. You can get an all in one package from Dutchpro for instance. It has everything you need for rooting, green plant growth and most importantly the blooming stage. If you do this right, you will get bigger, stronger and better tasting buds.
Using a grow tent is highly recommendable, even if you are growing in a closet or small room. With the help of a grown tent you can fully control the conditions in your grow room. You can prevent light from leaking out of the room, and above all prevent light from coming in when darkness is required. You can prevent bugs with a grow tent and control humidity much easier. It keeps the smell in as well and often comes with assorted openings which fit around air ducts and plugs.
With a light meter you can determine whether you have enough light in your room and if the intensity of the light is right. With a light meter you can make sure that your plants don't burn or underperform. A light meter brings your growing skills to the next level. Are you looking for more info on par light meters? Check out our guide on buying the best one for your indoor grow space! Read it here.
If you are trying to keep your plants in the best condition, these tools are essential. It is critical for the health of a plant to thrive under the right conditions. You can even avoid common pests and prevent mold and mildew if you're growing under the right conditions. Too much moist can cause mold to grow and if they do it is very hard to get this under control. Humidity between 40 and 60 percent is usually what you want. During flowering you want the humidity to be between 40 and 50% percent. Temperatures should be between 72°F and 82.5°F (22°C and 28°C).
Charcoal filters & Exhaust System
This is also a vital part in controlling your plant's health as well as indoor odor control. The air in your grow room should be refreshed at least once per minute. A charcoal filter will make sure that 99% of the smell that your plants produce will be removed. Try to vent outside if that is possible. Also small fansmust be used in your grow room to prevent burning. Your grow lights can cause heat focused on certain points of your plant. Airflow will prevent this and increase the strength of your plant. Your plants will grow thicker stems and leaves. This will also increase the flower size.
Checking PH balance of your water and nutrient mix is very important for your plants. Your plants need to be in soil or water with a pH value of 5.5 tot 6.5 to ensure that they have a normal uptake of nutrients from the soil.
LED Grow Light Reviews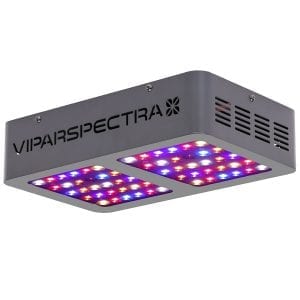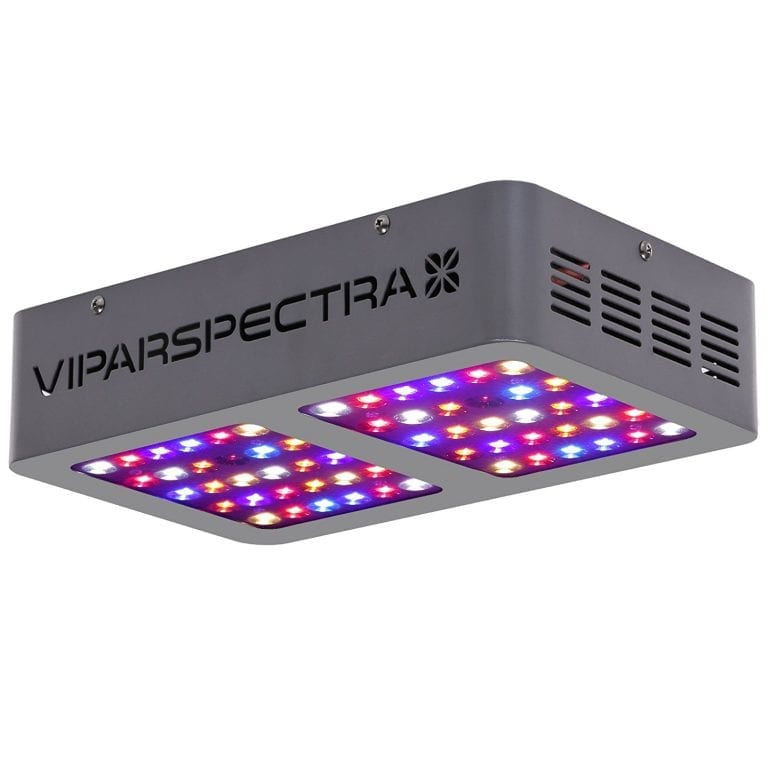 Summary
Viparspectra has been a well known name in the grow light scene for a while now. Their lights are always one of the best selling on Amazon. After testing this light we understand why.
The Viparspectra V300 is a great light for the price. An affordable light that can serve both beginning and a bit more advanced growers. One light covers 2 to 4 plants and you can place multiple lights in daisy chain to cover a greater area with multiple lights. The full spectrum light makes sure you can use this light in all phases of growing. The results on the plants have been above expectation in all phases. Read the full review for an in-depth description of our findings on this light.
Pros and cons of the Viparspectra V300
| Pros | Cons |
| --- | --- |
| Affordable | Not for large scale |
| Low energy consumption | |
| High-quality LEDs | |
| Hanging kit in the box | |
| Durable light | |
| Possibility to daisy-chain multiple lights | |
Read the full review of the Viparspectra Reflector Series 300W here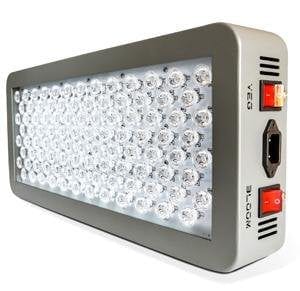 Summary
We have been testing the Advanced Platinum Series P300 extensively. The only thing we need to say is that this is a great grow light.
Advanced Platinum Series is known for their high-quality grow lights. The P300 shows that this reputation is not because no reason. The grow light is high quality, energy efficient and the yields have been amazing. The price seems a bit high compared to other lights, but we think the price is fair for this quality. Advanced Platinum has bigger models of this series. These are great for growers looking for producing on larger scale. If you are producing on a small scale or just starting out, the P300 grow light is ideal. You get a high quality grow light that really improves your yields. This light is good for both beginners and professionals looking for a good grow light. The full spectrum light covers both the veg and bloom phase. You can even choose for the right setting per phase using the switches on the side.
Pros and cons of the Advanced Platinum Series P300
| Pros | Cons |
| --- | --- |
| High PAR | Noisy |
| Reliable company | |
| Full Spectrum | |
| Equal to 400W HPS | |
| High Quality LEDs | |
| Zener Protection | |
Read the full review of the Advanced Platinum Series 300W here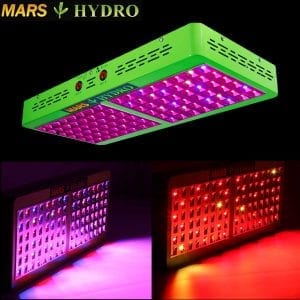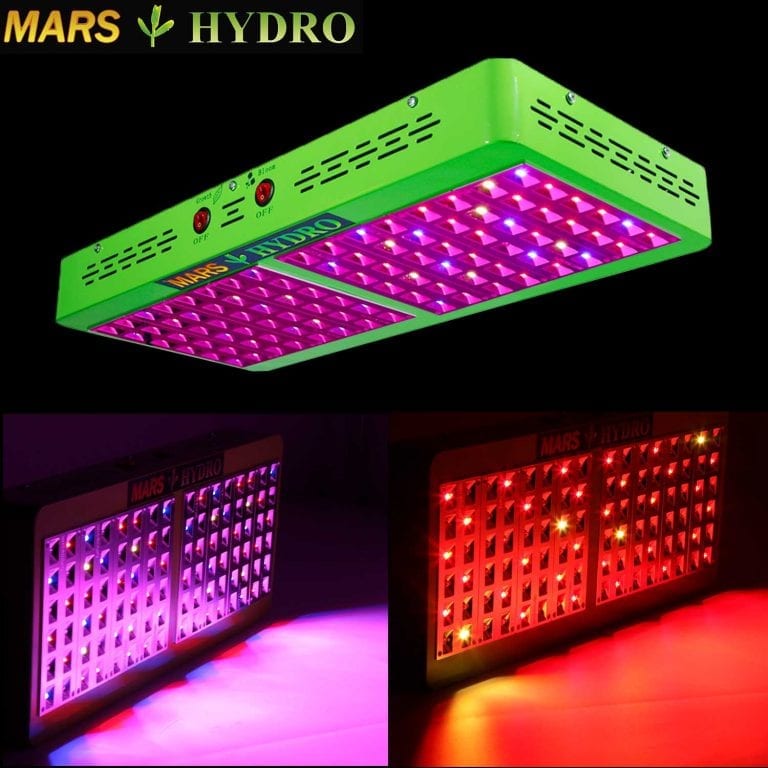 Summary
The Mars Hydro Reflector 96 is a light that gets you great value for money. It is an energy efficient, money saver unit. It has 5-watt diodes that produces great yields and crops. Of course, it is not the best light out there but I guarantee that it is one of the best lights in its price category. With the 3-year warranty from Mars Hydro you are guaranteed to get a high-quality product. With its expected life span of at least 50,000 hours you shouldn't even be needing this warranty. But it is always nice to know you have this warranty. Check out all the pros and cons in table below and in the full review.
Pros and cons of the Mars Hydro Reflector 96
| Pros | Cons |
| --- | --- |
| Great value for money | Hanging clips could be wider |
| Unique reflector panel design to focus more light for higher par value | |
| Growth/bloom switches | |
| Long lasting LEDs | |
| IR 730nm great for flower stage | |
Read the full review of the Mars Hydro Reflector 96 here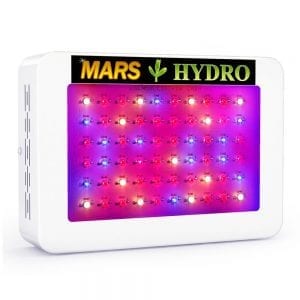 Summary
If you are a beginning cannabis grower, this LED grow light is worth looking at. It is a good light for growing and does a decent job in flowering.
We recommend a maximum growing area of 18 x 18 inch, which is decent for lights of this size. Also, the light is easy to setup and therefore great for beginner growers. We do not recommend this light when you are a professional grower looking for a new grow light. The price/quality ratio makes this light a highly recommendable option for the grower who doesn't want to spend too much.
Pros and cons of the Mars Hydro 300W
| Pros | Cons |
| --- | --- |
| Energy efficient | Not for professionals |
| Affordable | Not suitable for large scale |
| Ideal for beginners | Only one-year warranty |
| Heat proof tube | No dimmer included |
| Easy maintenance | Not ideal for flowering stage |
| Easy to setup | Noisey |
| Low heat | |
| Auto-timer included | |
| Two service centers located in the US | |
Read the full review of the Mars Hydro 300W here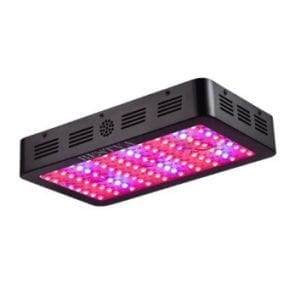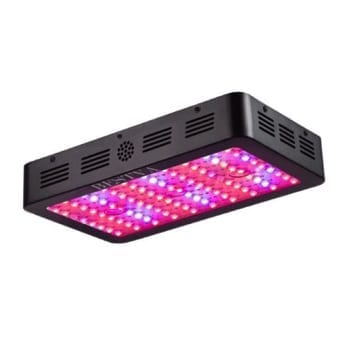 Summary
So far, my experience with the light has been very positive. I would recommend this light to people looking for a powerful but affordable full spectrum LED grow light. Bestva Double Chip 1000W LED is a great option in terms of high-intensity full spectrum light at an affordable price. It's already a popular choice among growers and it is a great light due to its price/quality ratio. Keep in mind that this light is equivalent to a 600W HPS HID and not a 1000W as the name suggests.
Pros and cons of the Bestva DC LED Series 1000W
| Pros | Cons |
| --- | --- |
| Consumes little energy | No on/off switch |
| Full spectrum | Not waterproof |
| High PAR/Lumen output per LED | Only equivalent to a 600w HID grow light |
| Quiet | |
| Timer on board | |
| Durable | |
| Good price/quality ratio | |
| Reputable company | |
| 3 year warranty | |
Read the full review of the Bestva DC LED Series 1000W here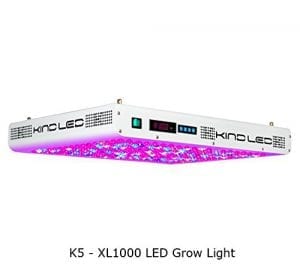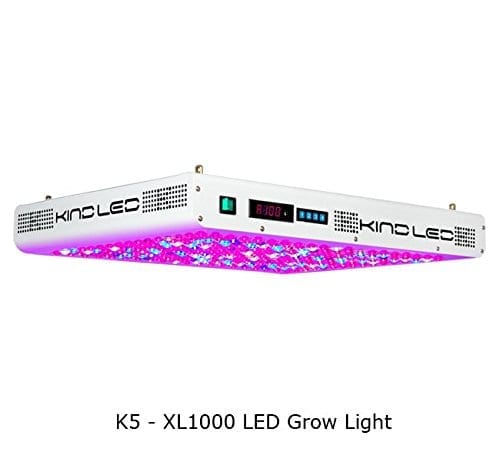 Summary
This is one of the best led grow lights, but it is quite expensive. The Kind LED K5 XL1000 has won multiple awards. Among others "Most Innovative Light 2017" by High Times Magazine. We completely understand why this light has been awarded so many times. But, you really have to consider if this light is what you want. If you're looking for a professional light with a lot of customization options, then this is the one to go with! If not, you will be better of with a cheaper light. The results will be not as high with a cheaper light. But, you will get an affordable light that does a decent job.
Pros and cons of the Kind LED K5 XL1000 Grow Light
ProsConsReplaces a 750w HPSCosts more than HPSMother earth function emulates real sunlightShort power cordCovers 4×4 ftKind's claim of 5×5 ft coverage is incorrectRemote control included Works on any voltage Lightweight armature PWM dimming technology saves extra energy costs
Read the full review of the Kind LED K5 XL1000 here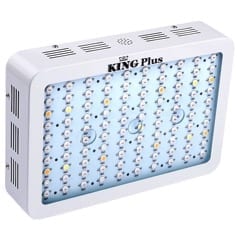 Summary
The King Plus 1000W is a great option for beginning growers, also the light is good option if you're looking for extending your operation. We advise you to have a backup option for this light. What you see is what you get and the quality of this light is equal to its price. It may fail anytime and having a backup is important if that happens. It nevertheless is a great light just as the price-quality ratio. The light has an output equal to a 400W HID grow light.
Pros and cons of the King Plus 1000W LED grow light
| Pros | Cons |
| --- | --- |
| Good price-quality ratio | Misleading name; equivalent to only 400w HID |
| Super bright LED diodes | Not super long-lasting |
| Effective cooling system | Not suitable for large scale operations |
| Deeper canopy penetration than 3w or 5w diodes | |
| Only consumes 180 watts | |
| 3 year warranty | |
Read the full review of the King Plus 1000W here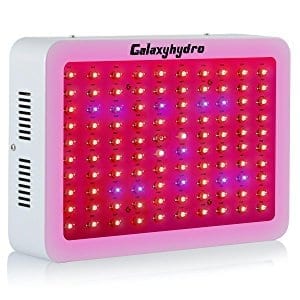 Summary
This light is definitely one of the best starter lights out there. The Roleadro GalaxyHydro 1000W has plenty of options and capabilities for a nice price. You get a light that has an output of 300W and only uses 138W. With a expected lifespan of 50,000 hours, this light also has long lasting LED bulbs. Since this light is definitely for starters, it doesn't have fancy options like spectrum control. It does however, have a good heat dissipation system and Roleadro offers a 2 years warranty. A good value for money option for beginning indoor growers!
Pros and cons of the Roleadro GalaxyHydro 1000W LED grow light
| Pros | Cons |
| --- | --- |
| Full spectrum | Small coverage |
| Powerful heat dissipation system | No manual spectrum control |
| Zener design | Only for beginners or small growers |
| Good value for money | |
| 2 years warranty | |
Read the full review of the Roleadro GalaxyHydro 1000w here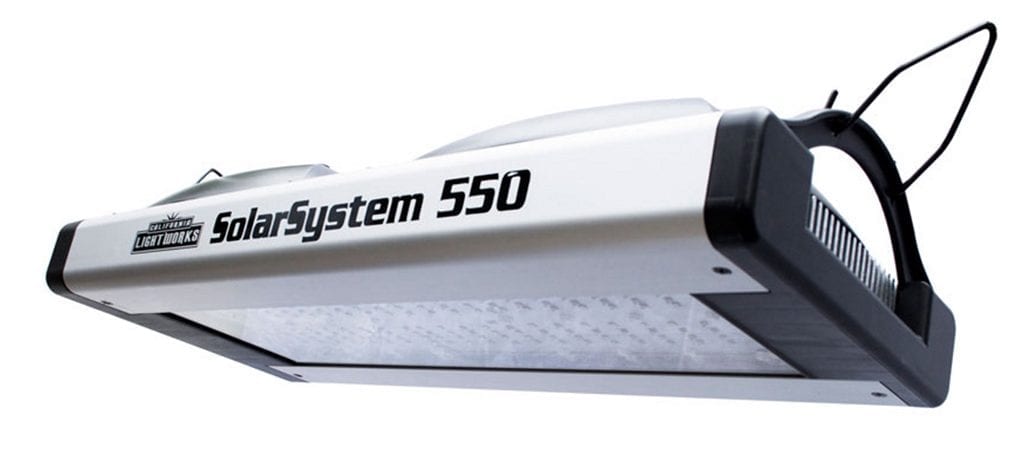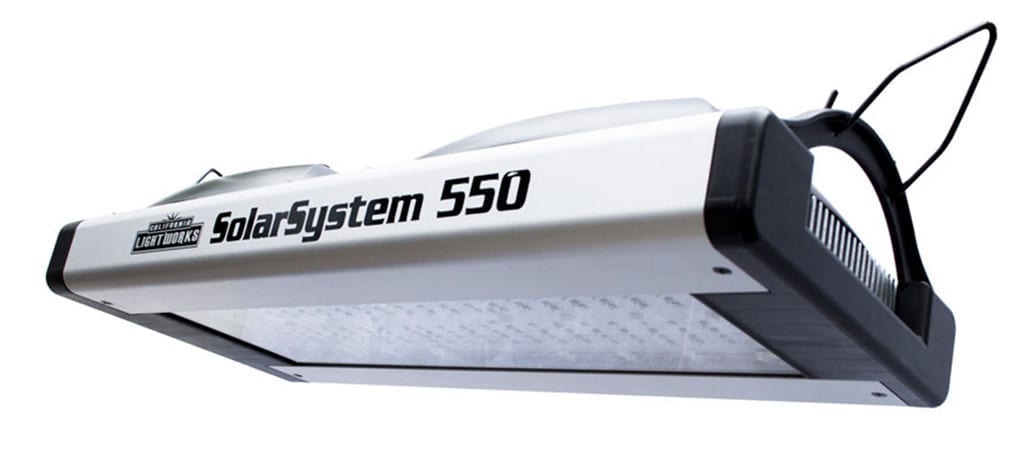 Summary
This California Lightworks SolarSystem 550 is the cheapest premium-quality LED grow lights out there. It is super extensive and provides all the options you want, especially with the additional controller. If this one is in your price range, I would definitely recommend it! The intuitive controls and many options combined with the relatively low price and high quality makes it a light worth considering for every professional grower.
Pros and cons of the California Lightworks SolarSystem 550
| Pros | Cons |
| --- | --- |
| Lowest priced premium-quality LED grow light | Controller needed for maximum control |
| Super safe | Not low-budget |
| Includes programmable spectrum control option | |
| Low heat output | |
| Mimics sunset & sunrise | |
| 5 years warranty | |
Read the full review of the California Lightworks SolarSystem 550
Led Grow Lights FAQ
These are some common questions we get about LED Grow Lights. Find your answer about LED Grow Lights here.
What is a LED Grow Light?
LED: stands for "light emitting diode";
Grow Light: a light source that helps cannabis plants to grow when the plants are planted indoors. The light will simulate how the sun itself would have impacted the plants if the were grown outdoors.
Can I compare LED with HID lighting? For every 2 watts of HID you usually have around 1 watt of LED.
Wavelength: the color spectrum that the LED produces.
How long does a LED grow light last? When used normally, a LED grow light will last at least 50,000 hours. This can last up to 100,000 hours depending on the intensity of usage and quality of the lights.
How far does my light need to be from my plants? Depends on the stage of your plant and intensity of the light. There is no clear answer for this.
How many Watts do I need for growing?
Growing plants is not really about wattage.
Wattage is a measure of how much power is being used by the light. It is not a measure of intensity or brightness, because there are multiple factors that play a part in this. Of course, if you compare two of the same bulbs with different wattages, the one with the highest wattage will be the brightest.
However, LED is definitely the most efficient growing light right now. So if you compare LED to HID or HPS, LED will be the brightest light source at the same wattage.
It gets even more complicated, because there is not only one LED technology. There are various competing LED techniques and the possibility to enhance the brightness with secondary optics.
There are, however, a few rules of thumb to determine how many watts you need per type of lighting.
HID lamps (High Intensity Discharge) – 50-80 watt per square feet needed;
LED light (Light-emitting Diode) – 50-80 watt per square feet needed (actual watts! Not LED watts!);
CFL bulbs (Compact Fluorescent) – 80-100 watt per square feet;
T5 fluorescent lighting – 80-100 watt per square feet needed;
Do not use lights that are not listed here.
How do I know my plants get enough light?
At first, this depends on the strain you are growing. So, first choose the strain that you want to grow and after that, look at grow lights. The strains will respond different on light and you have to choose LED lights that match with your strain.
Do you know how much light your strain needs? Great, you can now compare that with the PAR and coverage chart that comes with the specifics of the grow lights. A good manufacturer gives you enough information about what heights are good, what area their lights cover and they also provide PAR values across the whole footprint.
Make sure you get a light that supplies at least as much PAR that your strain needs. Preferably, choose one with higher PAR so you can get maximum yields. The more PAR the better because the more light your plants receives, the better they grow.
How do I know my light is at the right distance from my plants?
Place your lights as close as you can. A test to see if they are too close is to place your hand at the top of your plant and hold it there for thirty seconds. If your hand burns, your plants will also burn. If your hand doesn't burn after 30 seconds, the plant doesn't burn either.
What is PAR?
PAR stands for Photo-synthetically Active Radiation. These are the wavelengths of light that your plants can use to photosynthesize. You probably know what photosynthesize is. If not, Google it!
Best for your cannabis plant is to get as much wavelengths as possible.
What are PPF and PPFD?
PPF (Photosynthetic Photon Flux) and PPFD (Photosynthetic Photon Flux Density) are two ways to measure PAR.
PPF defines the amount of PAR that is created by a lighting system each second. Photosynthetic Photon Flux is described in micromoles per second (μmol/s).
PPFD does the same but it also defines how much light actually reaches your cannabis plants. This is defined as micromoles per square meter per second (μmol/m²/s).
What is DLI or Daily Light Integral?
DLI or Daily Light Integral stands for the amount of light delivered to a plant each day. LED grow lights that have a higher DLI give your plant a higher dose of light per day. This means that your plant will grow better by extending the light exposure.
Make sure that you always check the diagrams of PAR values that show you the whole footprint of a light. Also check it at different heights. Some manufacturers will be selective in what they are showing you regarding PAR values, so sometimes values can be highly inflated. By checking the diagrams you can make sure that you checked all the info available about the PAR values.