Clocking in at just above $300, the Meizhi 1200w LED Grow Light is relatively new. It is powerful, bright, runs low on power and has just been updated since its last release.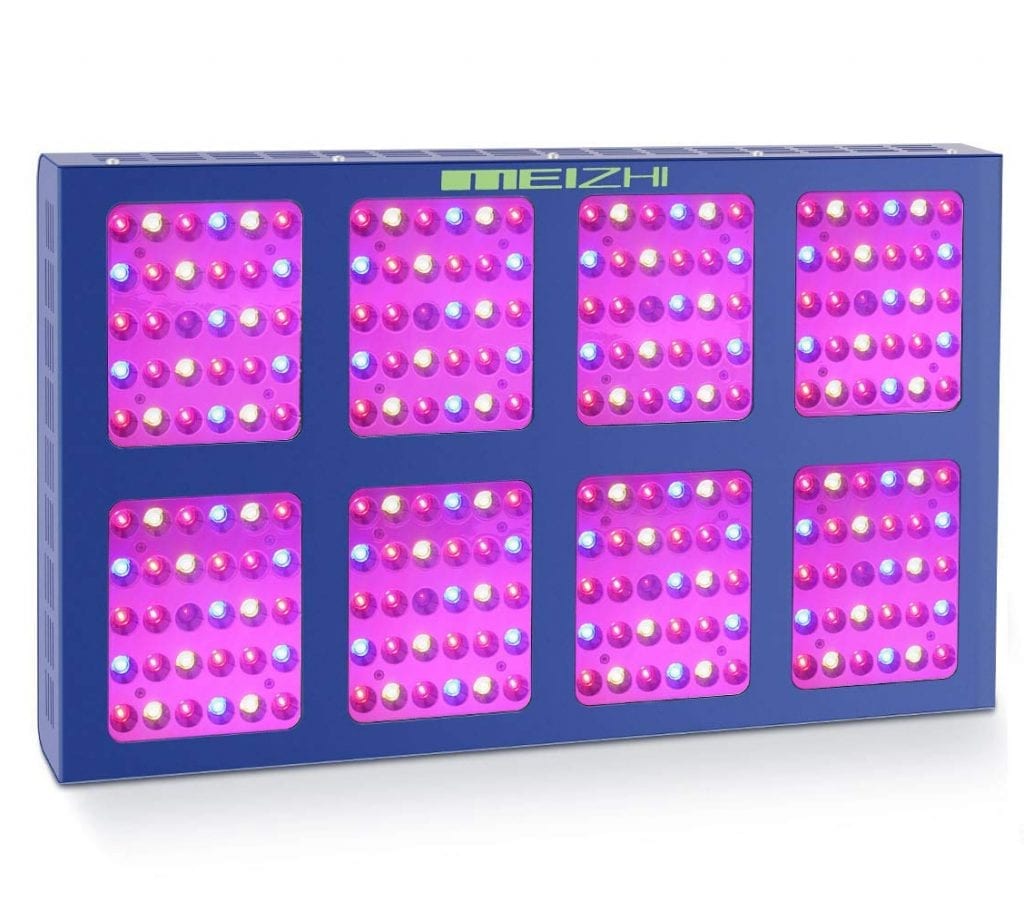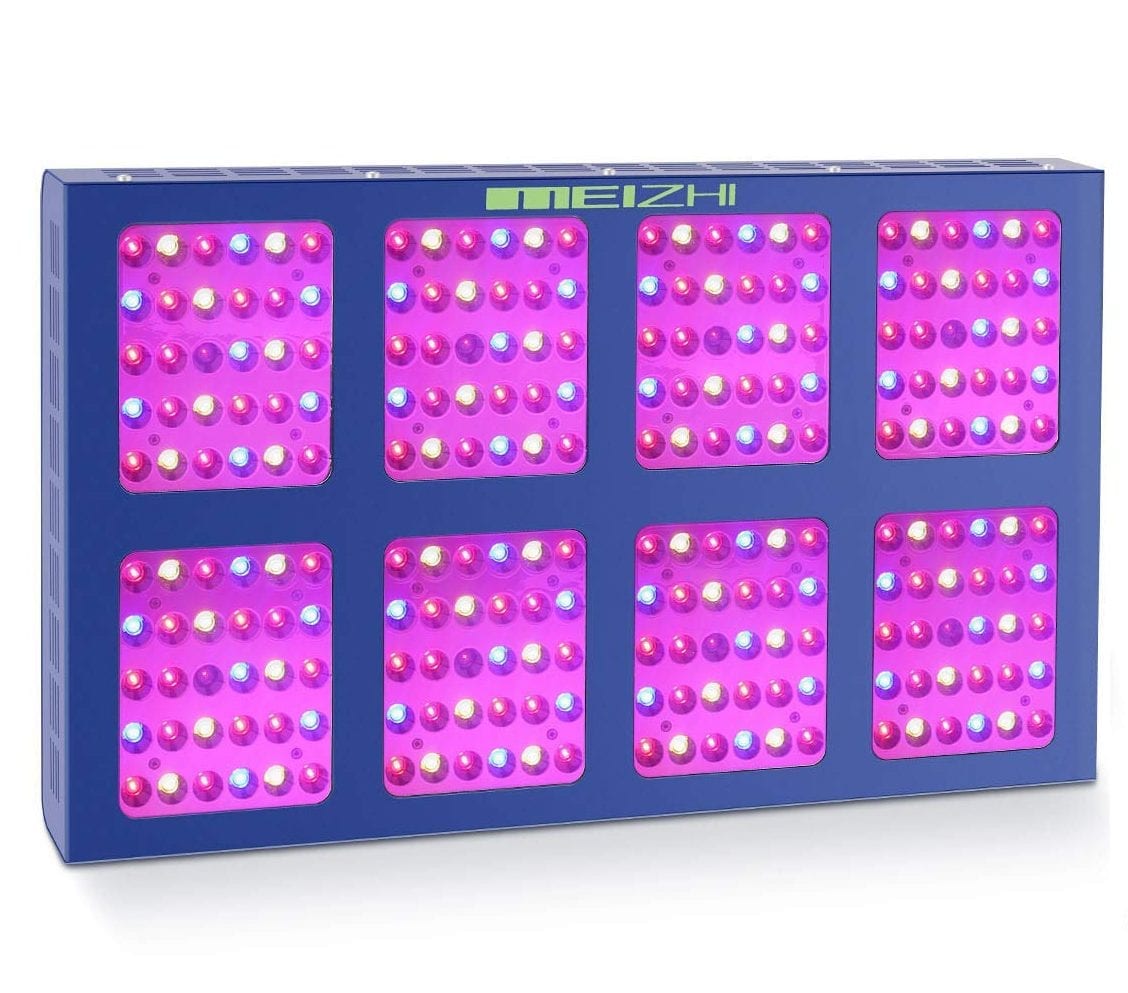 Innovative LED
To begin with, it's an innovative product that won't break your bank. This Meizhi 1200w light checks all the right cannabis promoting feature boxes.
Also, the design effortlessly caters to the necessities that pertain to every plant's developmental stage.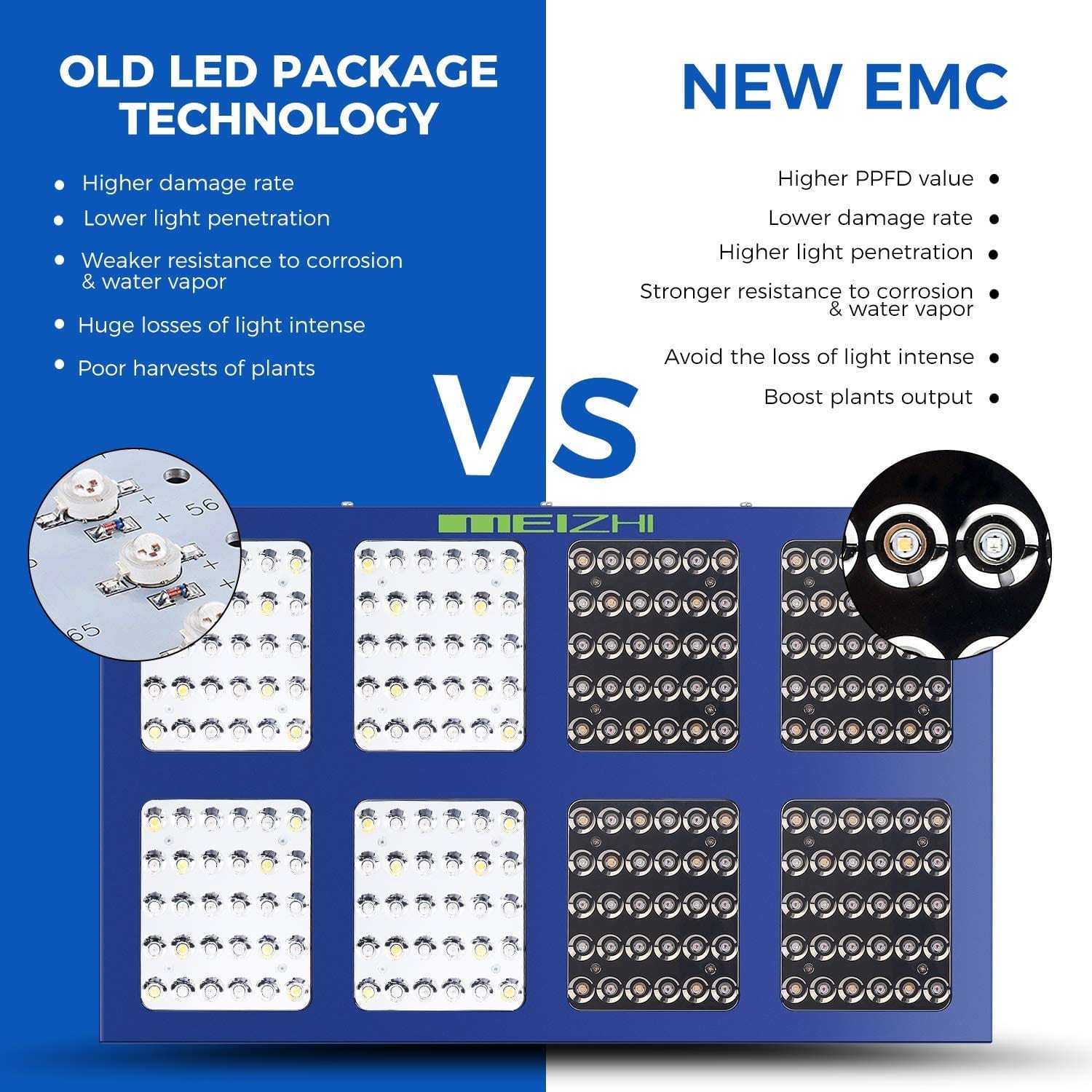 Hence, it is a good wide paneled addition in 4×5 ft. growing areas at the height of 18 inches/ 1.5ft. Thus, perfect for your 4×4 grow tent.
Power consumption of the Meizhi 1200w
Furthermore, this full spectrum grow light power logs up to 50,000-100,000 hours of Epistar branded LED Lighting with a power of 55dB (optical loss), a PAR Value of 1564umol, input voltage operation of AC 85- 265V at a frequency of 50-60Hz.
Moreover, the natural light mimicry undergoes stimulation via the 12-band full spectrums. The spectrum of the Meizhi 1200w includes blue 450~475nm for more strong leaves, green 620~630nm, red 650-660nm for blooming and fruiting and white for accelerated photosynthesis.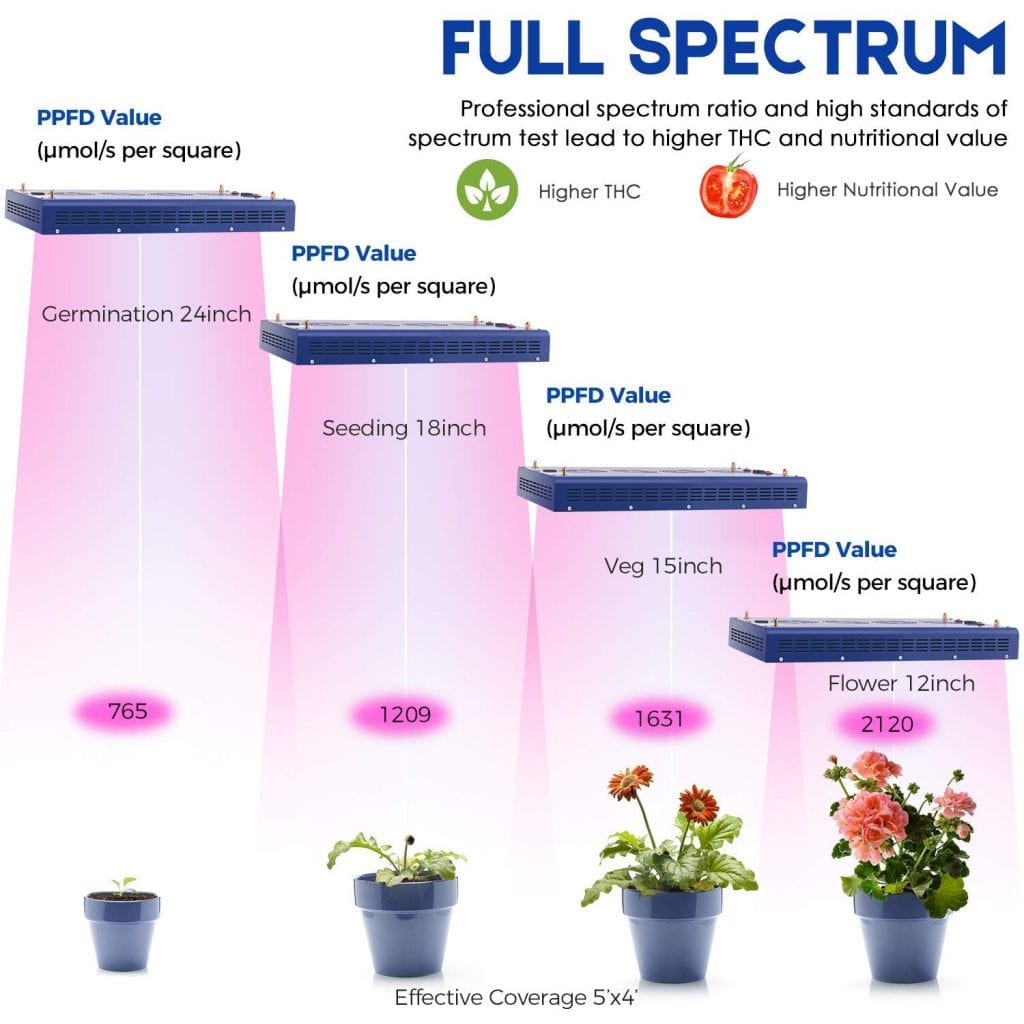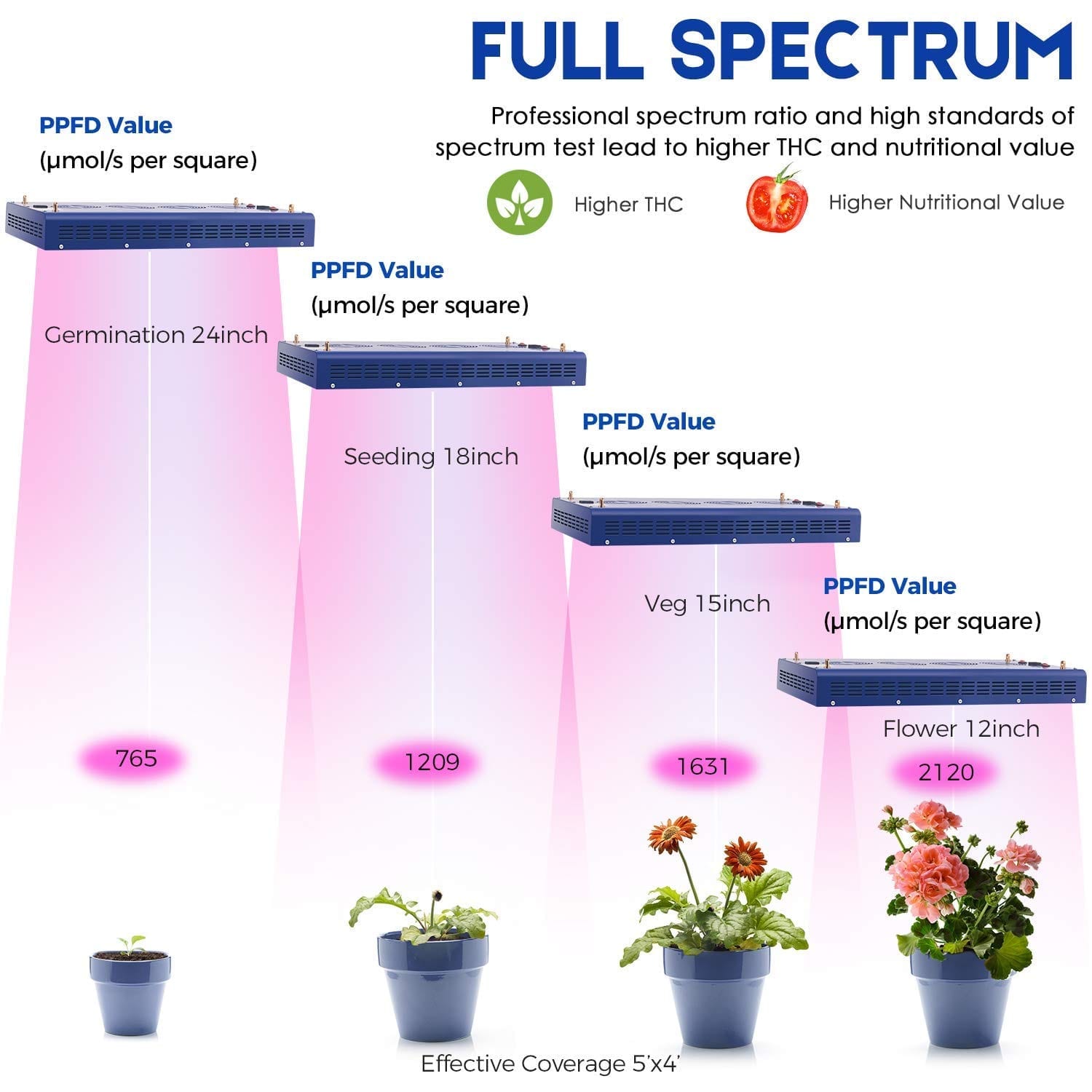 Thereby, ensuring dual growth in plants that are lit up with concentrated light beams that provide a one of a kind, 120-degree reflector panel.
Meizhi 1200w grow switches & cool features
Where you get the most with this light is the availability of bloom switches and optimized heat dissipation system.
You can manually adjust the dual switches between veg and flower modes. This supplements the processes of seedling, veg, blooming and harvesting of plants in indoor and greenhouse hydroponic setups.
Additionally, the installation of three-speed cooling fans, high-end aluminum heat sinks, and dense vents all safeguard against heat buildup.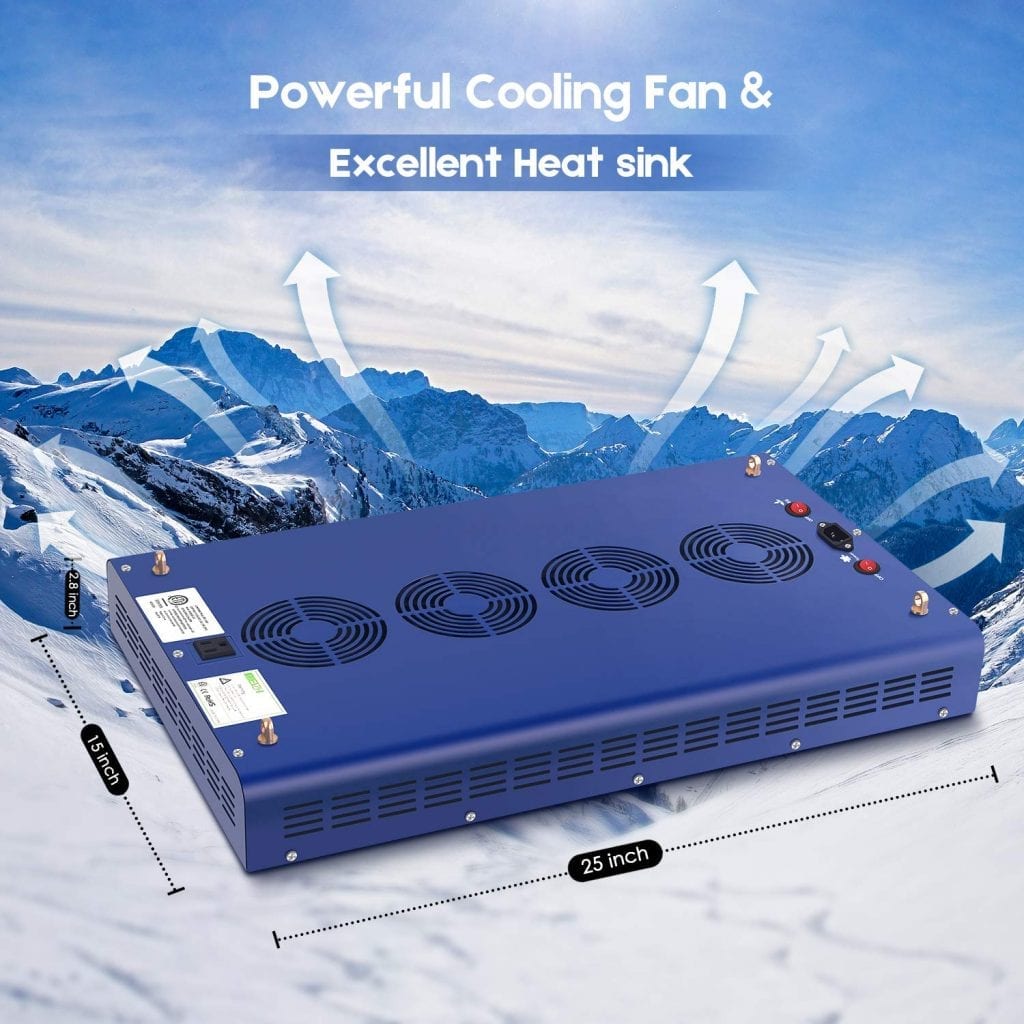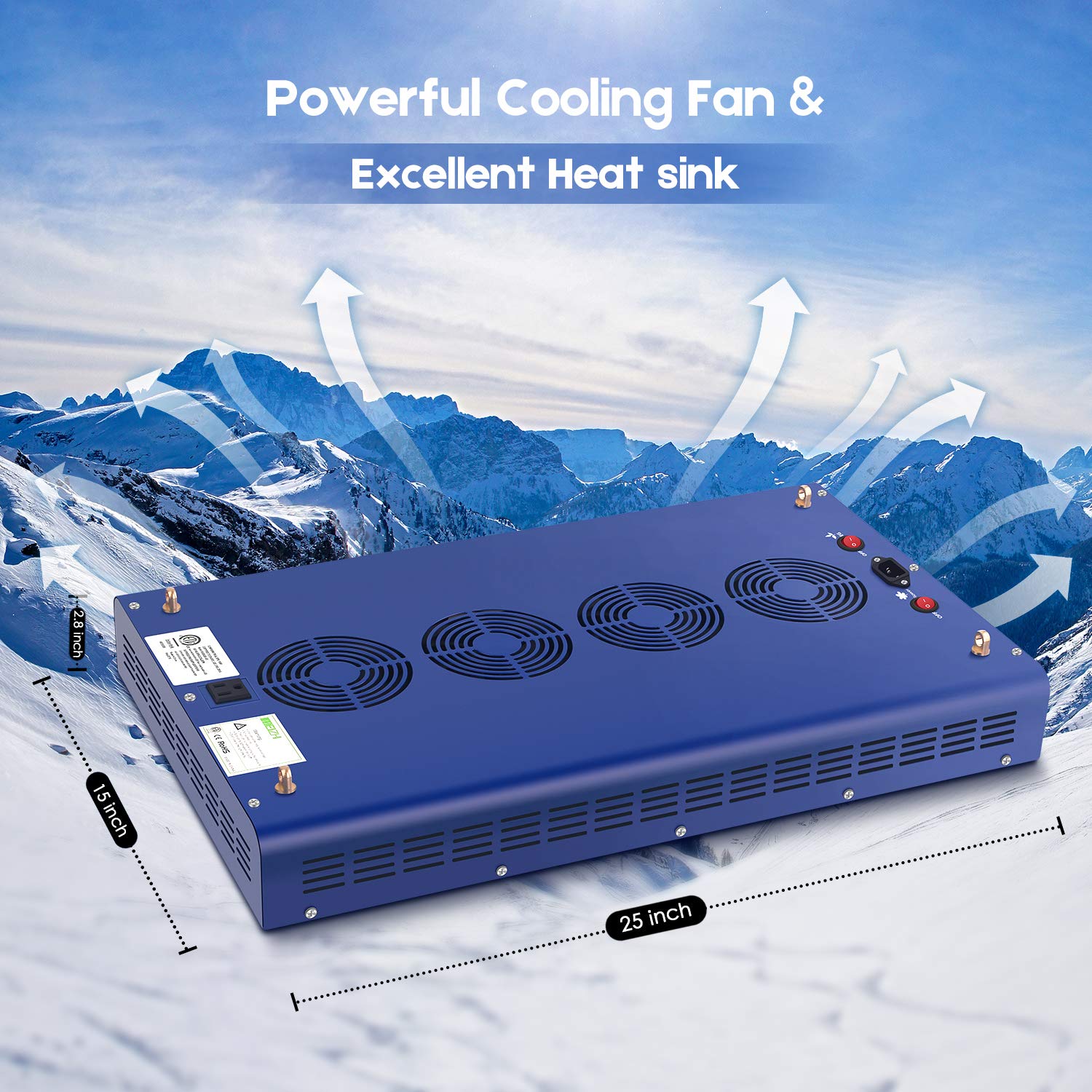 Enclosed within the 25.03X15.05X2.8 sized and 21.3lb navy blue package you will find your 1200W LED Grow Light accompanied by a power cord, and a hanging kit all supported by a 3-year local warranty.
It also includes a 30-day unconditional return, free shipping, and part replacement after 365 days.
Specifications
DB: 53
Led Brand: Epistar
Power Draw: 458W±5%@AC110V 454W±5%@AC220V
Photosynthetic Photon Flux: 2120 umol/s at 12"
AMP: 3.82A@AC110V 2.06A@AC220V
Lifespan: 50,000-100,000 hours
Coverage: 5ft x 4ft
Dimension: 627x380x70mm
Package includes
1x Meizhi Reflector 1200w LED Grow Light
1x Hanging kits
1x Power cord
1x User manual
Pros and cons of the Meizhi 1200w
Pros
ETL (Edison Testing Laboratory) Certification and Eco-Friendly
Budget-friendly
High bulb performance, with high brightness emitted at lower power
Precise intensity and light wavelength
120-degrees reflector panel compared to usual 90-degrees
Timer control possible
Compact, lightweight and easy-to-install
Solid and hardy anatomical construction
Grow switches included
Only 568W avg. power draw
Noise-canceling double cooling fans
Lights do not require ballasts or reflector hoods
Runs cooler than HID
Extremely user-friendly
Daisy-chain functionality included
Cons
Consumer more power than similar LED grow lights
The brand offers a non-competitive warranty and customer service options. 1-2 years after purchase customers are responsible for paying shipping charges and 2-3 years later responsible for both shipping and handling charges.
Complaints online about light being dimmer than competitors
Reports of a short lifespan
Lots of red light
Heat emissions can get detrimental
Conclusion on the Meizhi Reflector 1200w LED grow light
If you're looking for an affordable LED grow light that has some power, this could be your light. Pay attention if you are looking for something of high quality. This will probably not be your light of choice.
There are various reports online of the Meizhi running excessively hot and failing after a short time. Customer support is not optimal and this does not seem to be a reliable and durable light. Nevertheless, the price is low and it may be what you can expect for this price.
If you are looking for a different 1200 watt LED grow light, I recommend you to read our full list of the best 1200w LED grow lights.