We recently tested the Meizhi LED grow light 600w. This light helps you growing cannabis indoor. For a sufficient amount of light, this Meizhi LED grow light is a budget-friendly choice for you. Moreover, it has a full spectrum with an excellent and quite impressive coverage area.
Furthermore, maximizing the PAR value, this LED grow light helps in boosting the plant cells generation and life. In addition, the reflector design and energy saving features make it a must-have for beginning or more advanced growers.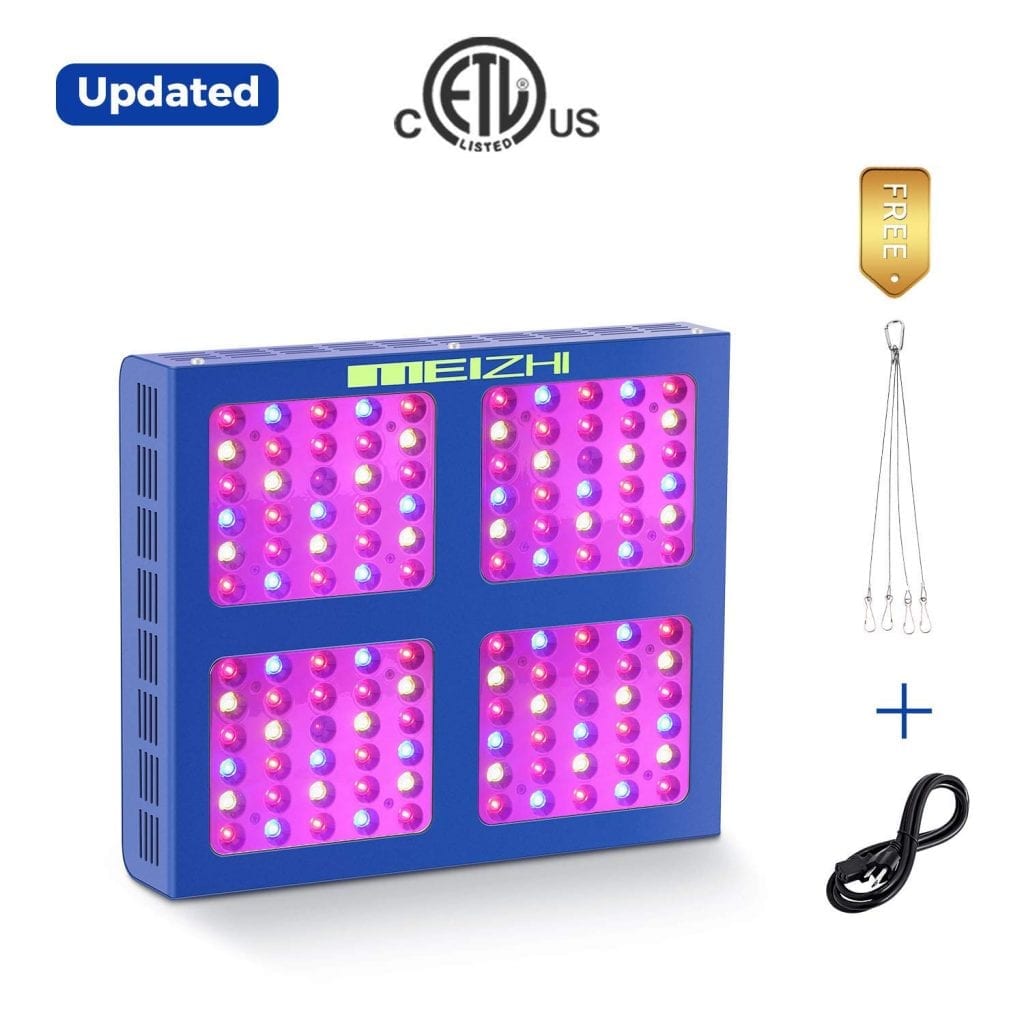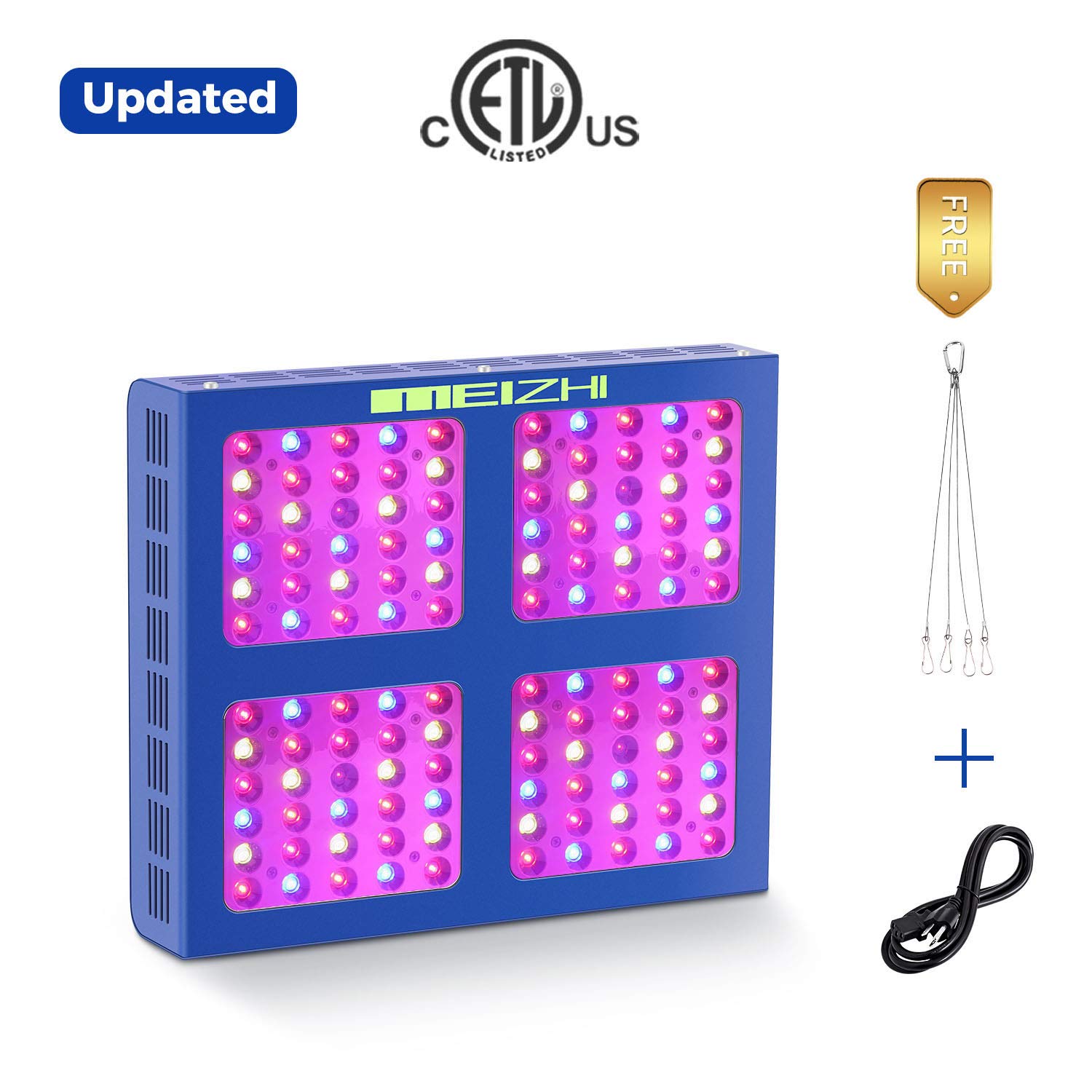 The Meizhi LED 600w has dual switches and possesses other amazing functionalities. Saving energy compared to traditional T5 lights, Meizhi LED light is one of the efficient choices you can have.
Interested in the best 600w LED grow lights? Check our extensive article with all the best options.
Key features of the Meizhi 600w
You definitely need a LED grow light when you are growing cannabis indoor. So, the Meizhi LED grow light 600w is here with nice features as a budget friendly solution.
Full spectrum
The full spectrum feature of Meizhi 600w LED grow light is something you can rely on. Firstly, the blend of red, blue and white light gives a full-color spectrum and natural light to your plants.
In addition, being responsible for cell proliferation and division, this LED grow light makes your growing much more efficient.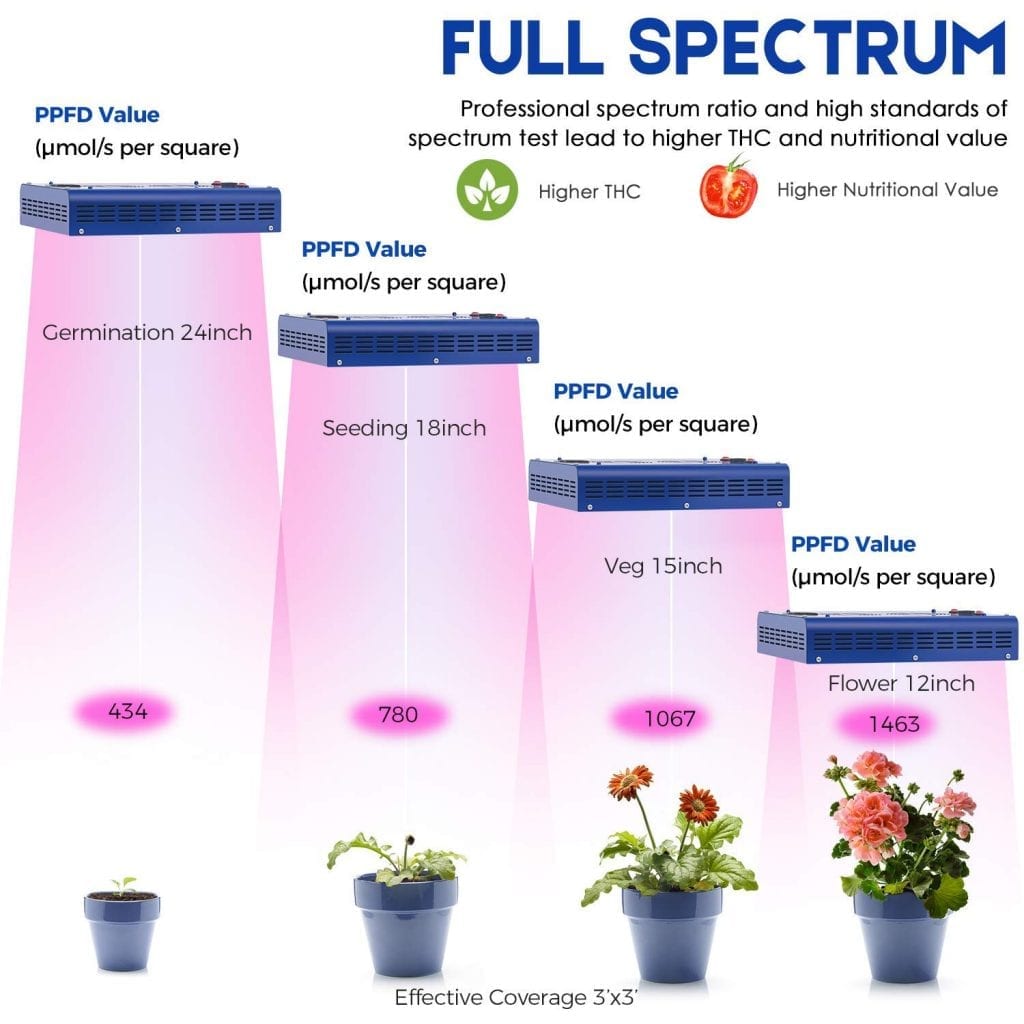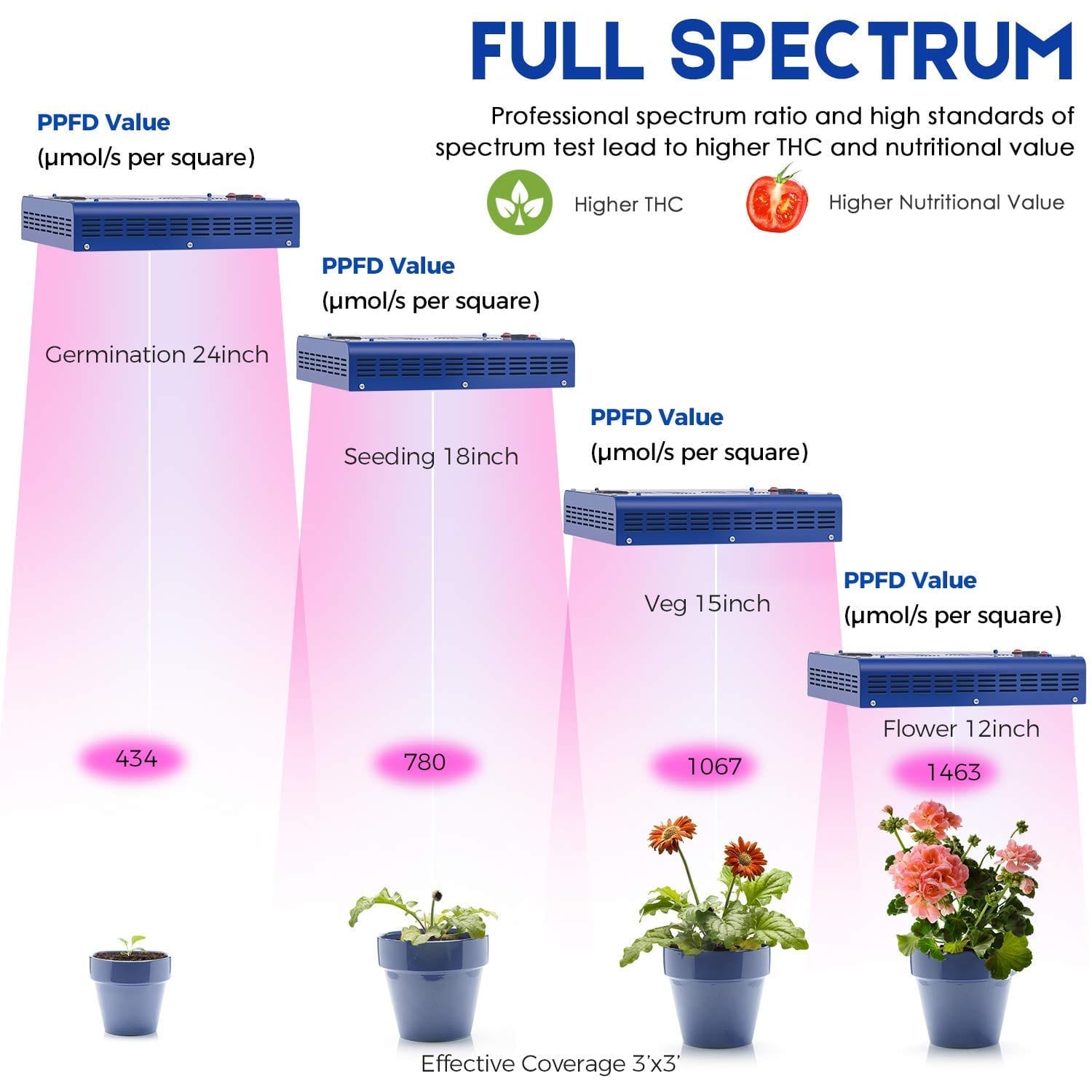 Also, the spectrum for blue and red is 440-470nm and 640-660nm respectively. Generally, these ranges are great for photosynthesis.
But beware; all plants behave differently under certain circumstances. You might want to test out different light spectrums and find out which one fits best for your type of plant.
Better coverage
Furthermore, the Meihzi LED grow light 600w is good in terms of coverage too. It is a 600-watt LED grow light that covers an area of 3×3 feet.
All in all, you get the optimal light and coverage at a height of around 18''. This pretty much covers the growing of 2-3 plants at this height.
Energy efficient
The reflector light along with the 600 watts power makes this Meizhi LED grow light to be energy efficient.
Generally, it consumes only 277 w (± 10%) at a voltage of 110 AC. This not only enhances the performance but also makes it pocket-friendly for you.
Moreover, the reflector design of the light concentrates the entire beam on the target plants. As a result, this thing replaces the traditional hps lights and provides better light and energy efficiency. 
Daisy-chain function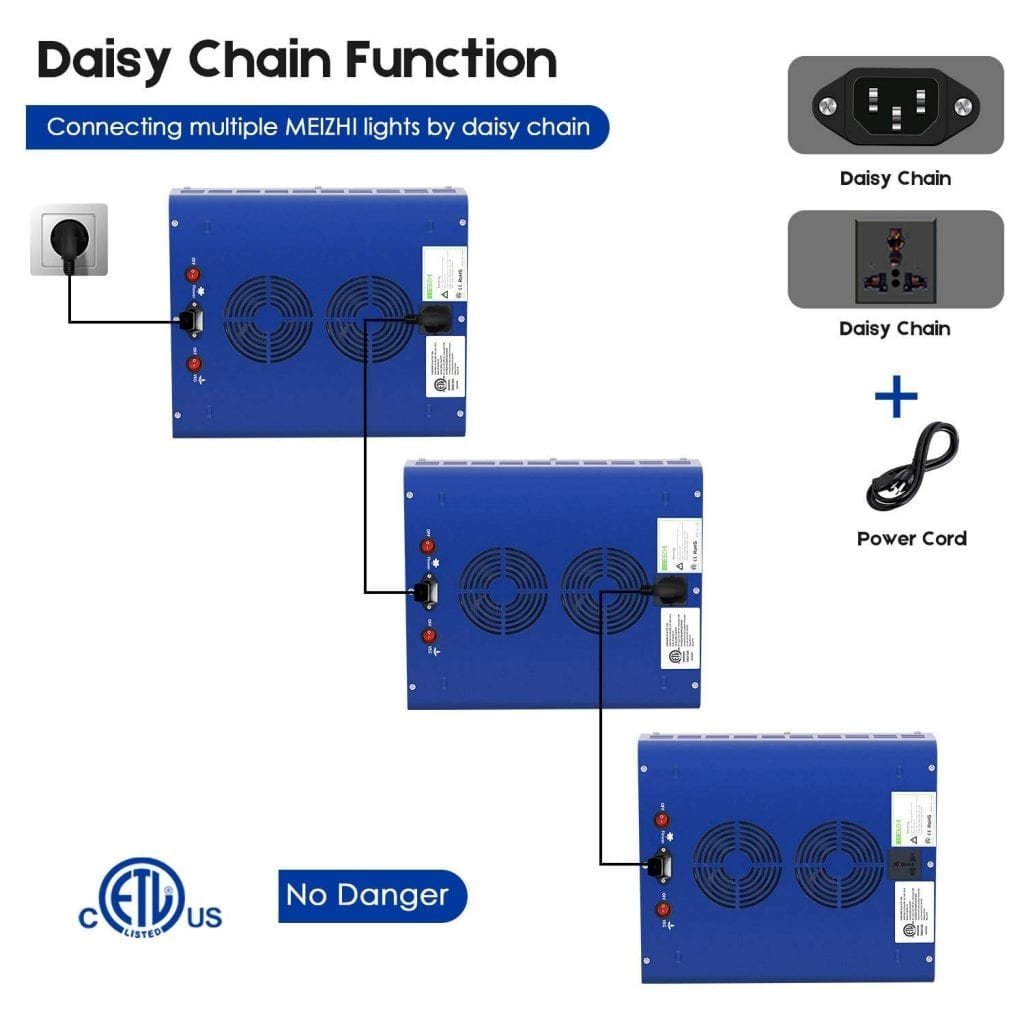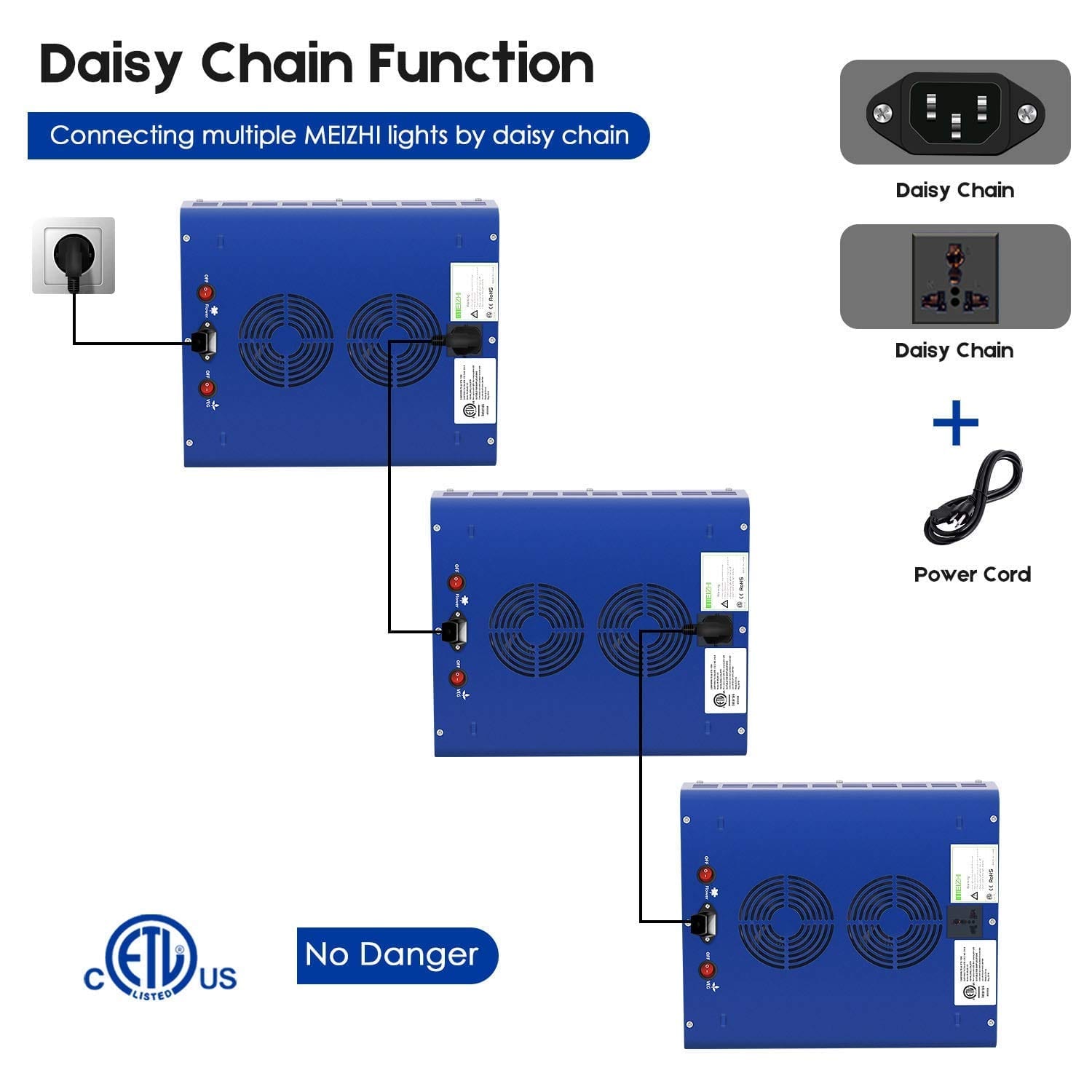 The daisy-chain function that is included on the Meizhi LED is great. It enables you to link multiple lights in a chain so that you can easily setup your power system.
Just link all the cables in the LED grow lights and you're done. No need for extra power sockets for extra electricity or difficulties with your power supply.
Switches duality of the Meizhi LED
You can also adjust your Meizhi 600w to the growing stage your plant is in. Meizhi has dual switches option designed for seeding, blooming as well as harvesting stages.
The flower and veg switch allows the user to choose accordingly thus, saving extra power usage and providing better yields.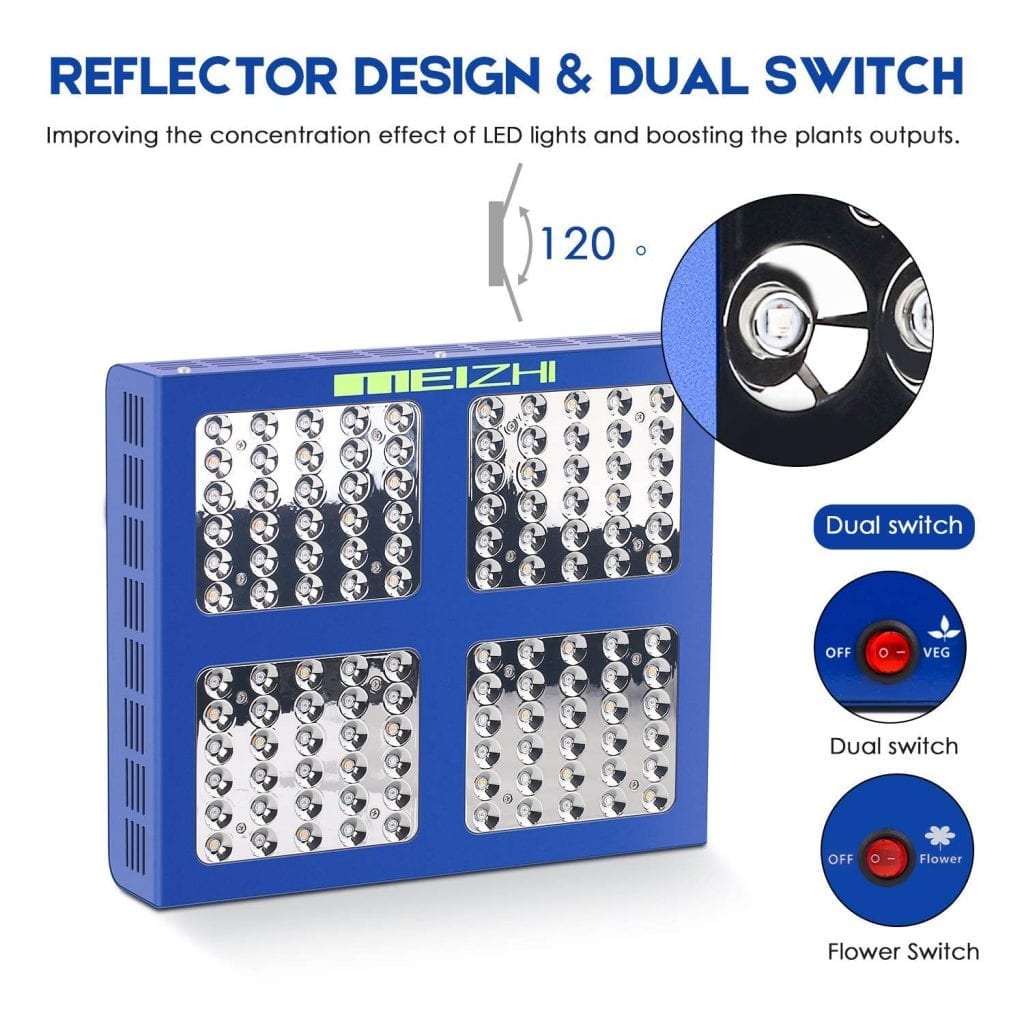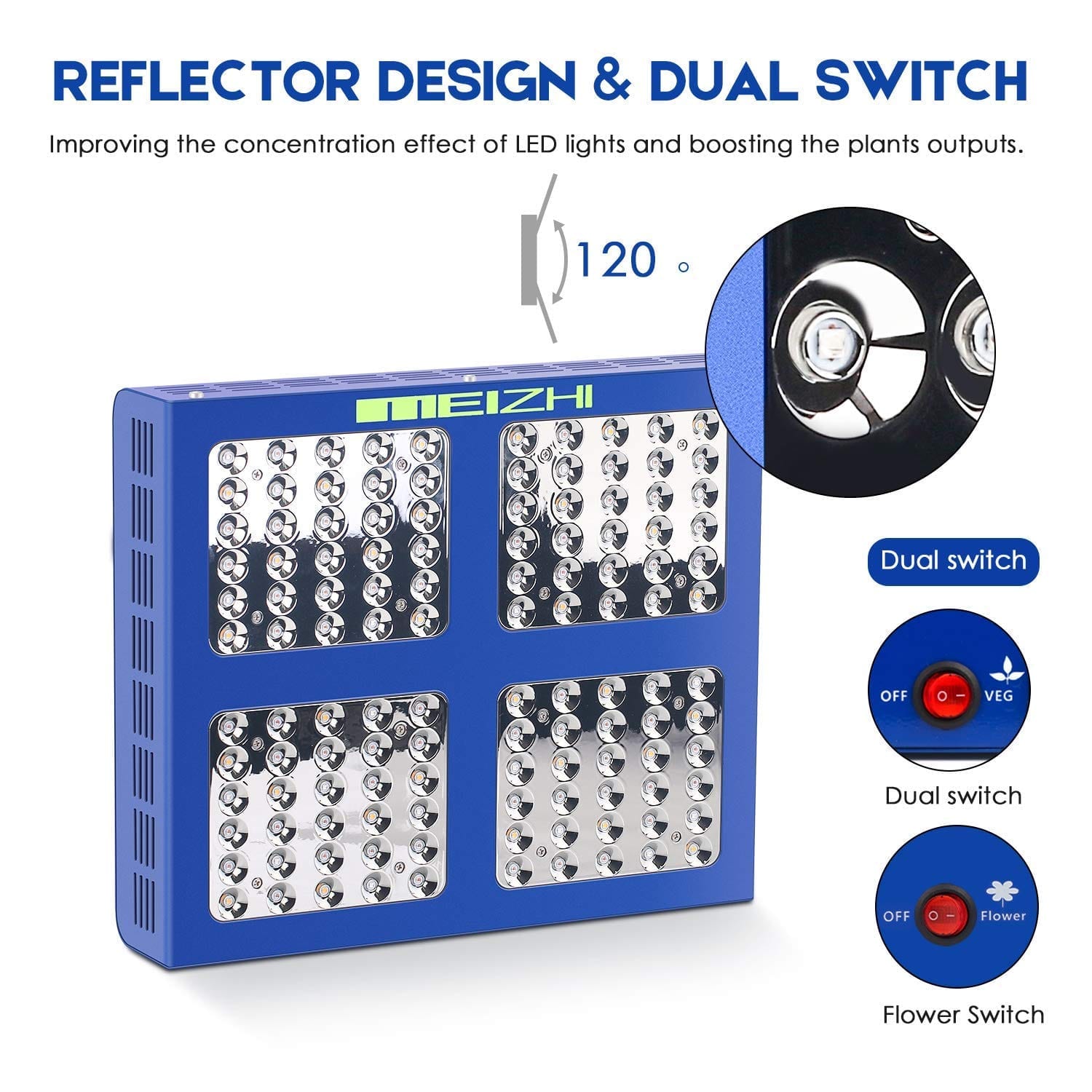 Safety assured with the Meizhi LED grow light 600w
Meizhi makes sure that its products are safe for its customers with extensive testing and safety certifications. The Meizhi 600w LED grow light is ETL certified. This certification ensures the safety of its electrical components.
Warranty
Meizhi gives a 30 days money back guarantee. Also, they are giving 1 year of complete warranty. However, if you have any issue with the product, you can always return it with free shipping.
Cooling system
It is needless to say that it would require any cooler environment for functioning. Meizhi is equipped with the ventilating fans to keep them functioning at a good pace.
Specifications of the Meizhi LED grow light 600w
Adopts 120° reflector panels
Dimensions: 15×12.6×2.8 inches
Weight: 9.26 pounds
Frequency: 50-60 Hz
Dual switches
Input voltage: AC85-265V
Includes a white spectrum
Colour device: navy blue
How does the Meizhi 600w perform?
The Meizhi LED grow light 600w performs well with an efficient cooling system and spectrum range. It has an incredibly powerful series of LED lights to save energy. The dual switches option lets you pick the mode you want.
Overall, we produced a good harvest with this light. The Meizhi 600w gives great yields for the money. However, it is hard to tell how durable this light is. We think this light will last a long time with these LEDs, but time will tell if this is true.
Pros
Good PAR results
Nice coverage
Great cooling system
Full spectrum
Energy efficient
Reflector design
Excellent for all kinds of plants
Cons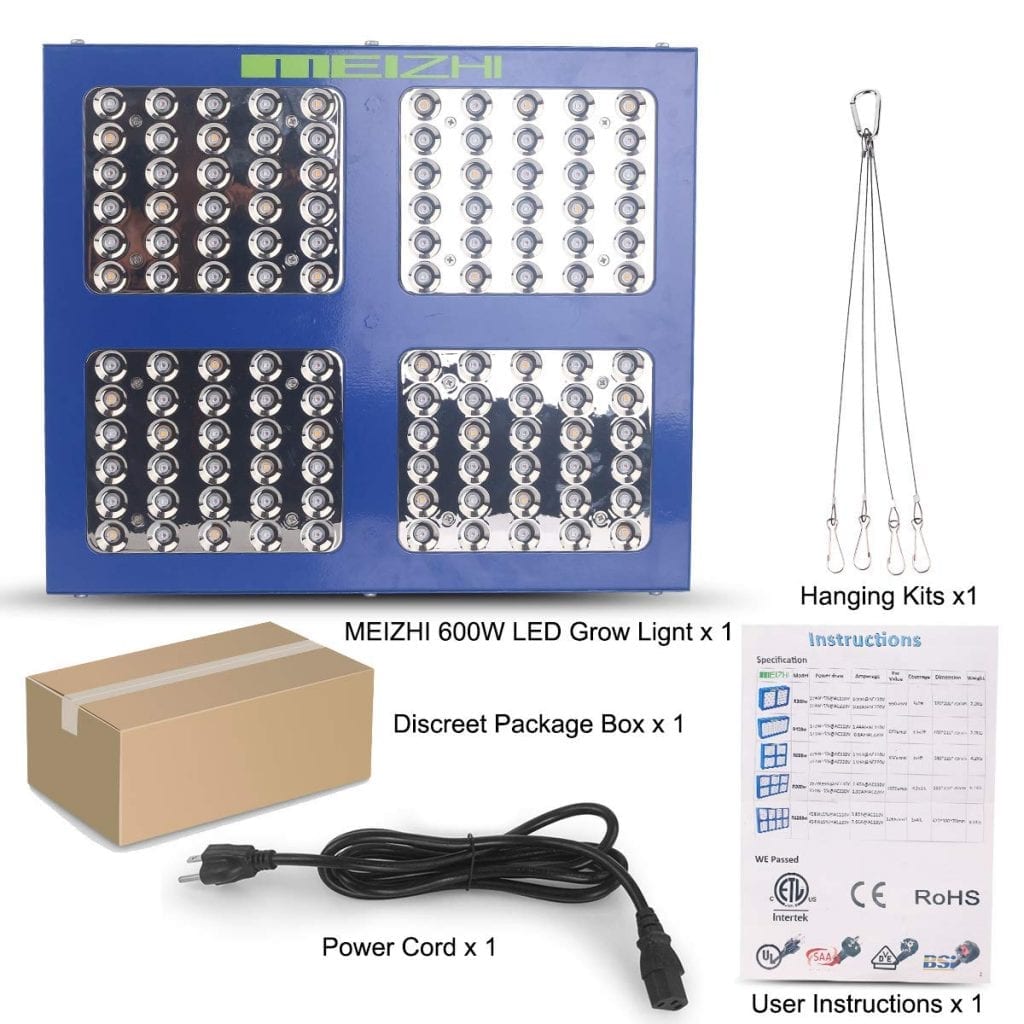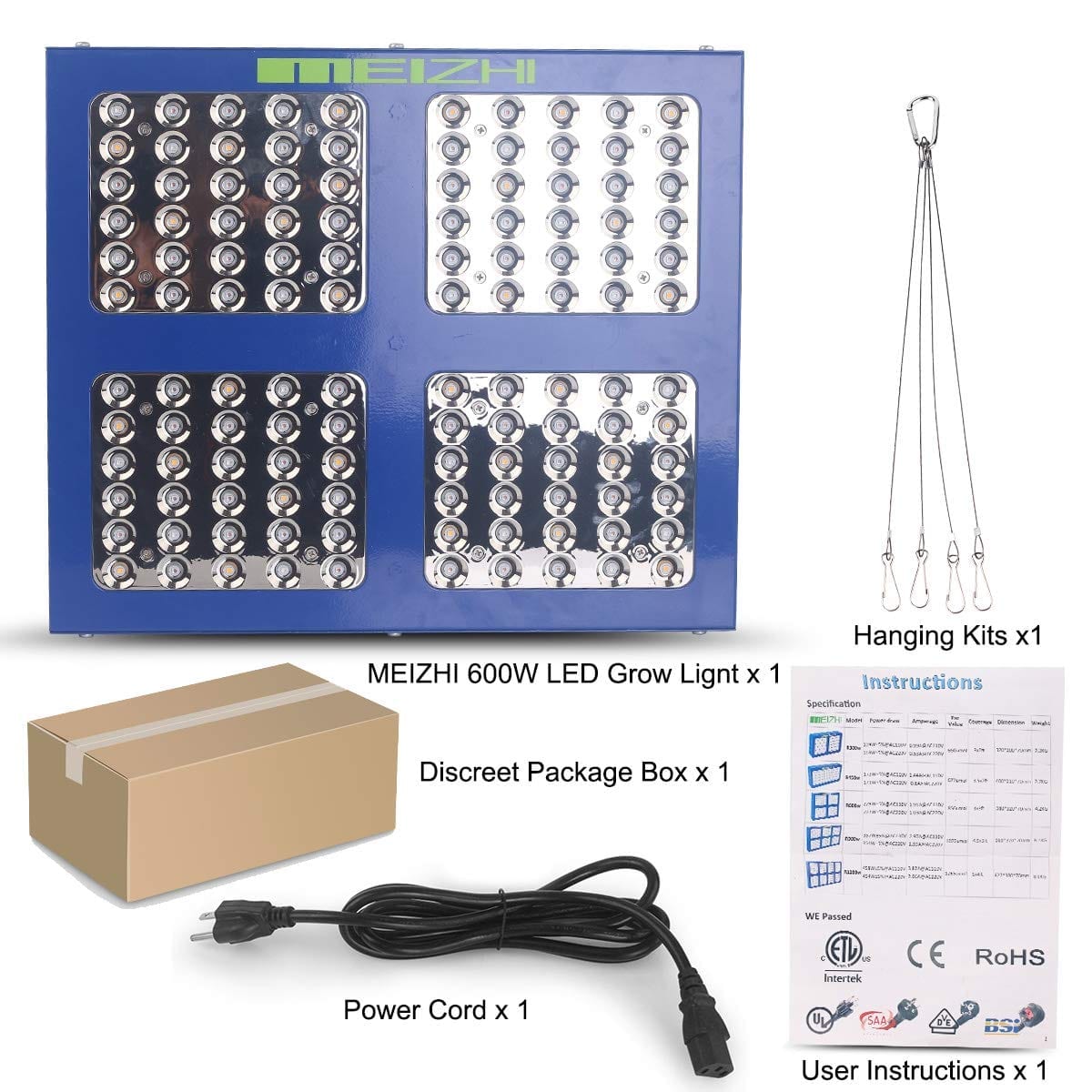 Looking for more of a comparison between other popular LED grow lights? The video below compares the Meizhi 600w with the Viparspectra 600w.
Bottom-line of the Meizhi LED grow light 600w Review
Overall, Meizhi 600w review is great value for money. If you're just starting out or trying to replace some old HID light, this is a light worth considering. The Meizhi is popular on Amazon among many growers and a steal.
The Meizhi LED grow light is safe, cheap and produces good results. I recommend looking into this light and would love to hear what your experiences are after trying it. We definitely think this is one of the best 600w LED grow lights out there, price/quality ratio wise.
Check out the price of the Meizhi LED 600w on Amazon