The Phlizon Newest 2000w LED grow light is an extremely powerful light with intense brightness. It has a full spectrum as well as low power consumption. Being an affordable choice, this 2000w LED grow light is popular among many growers.
Generally, LED grow lights are an awesome choice for growing cannabis indoor. Meeting the demands of each growing stage, they are safe and energy efficient.
Furthermore, they are an affordable replacement for an old fashioned HPS system. Phlizon has been manufacturing top rated LED grow lights. This brand has gained popularity lately and lots of growers are investing in Phlizon Newest LED grow lights.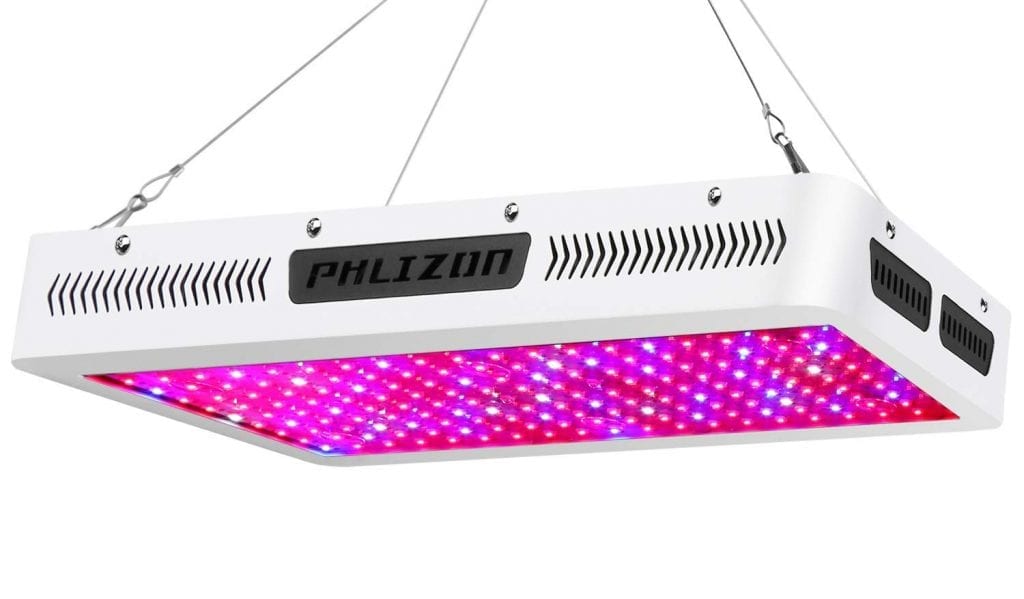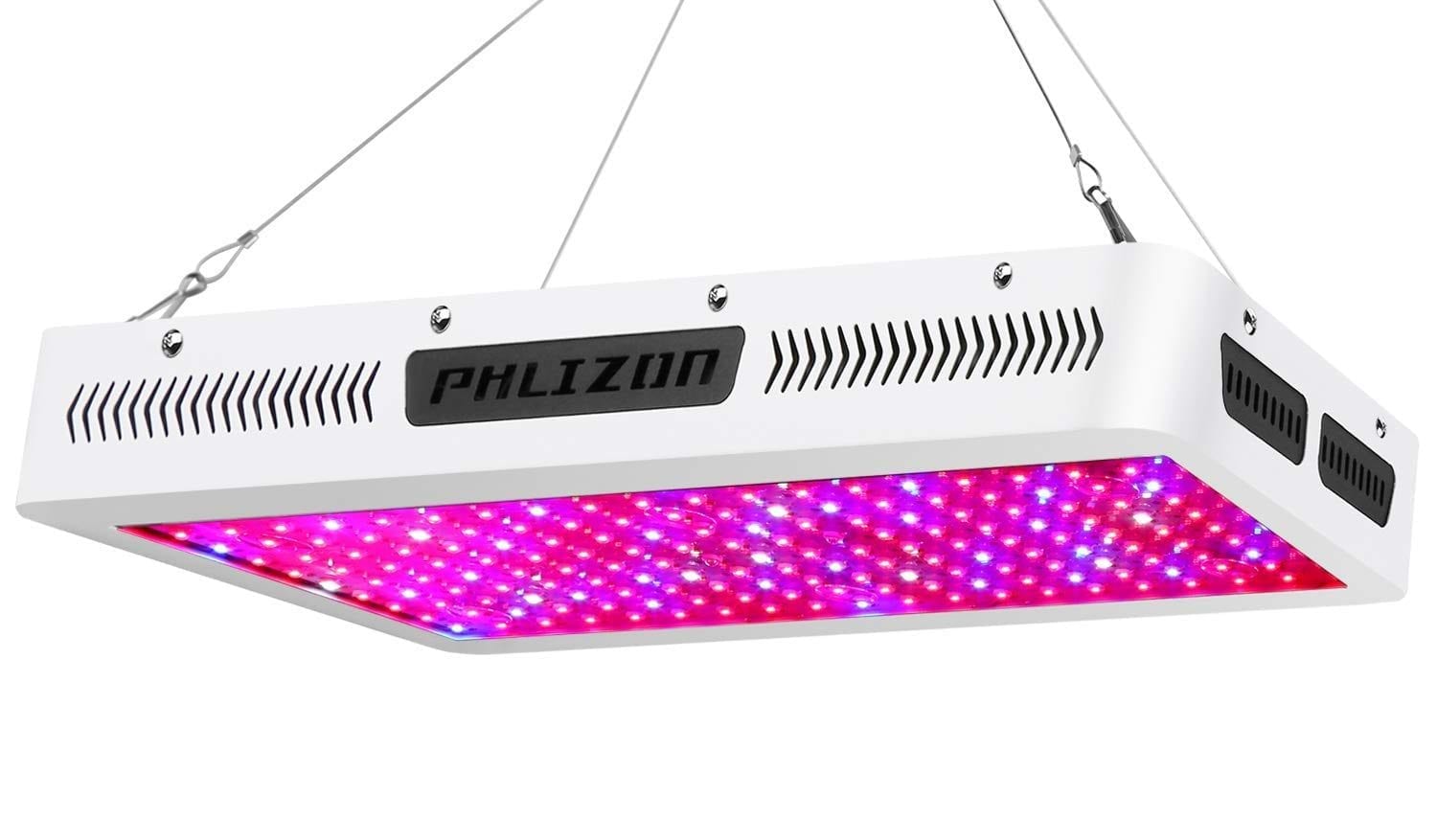 We also reviewed the Phlizon Newest 600w, Phlizon Newest 900w and Phlizon Newest 1200w.
This brand is among the top-rated LED grow lights on Amazon. The features this product holds are as follows:
Features of the Phlizon Newest 2000w at a glance
One of the safest LED grow lights
FCC certified
Full spectrum
Energy efficient
Great coverage
Warranty of 2 years
Replaces a 1600w HPS/MH
No reflectors (very safe)
Dual chip technology
Features in detail
Phlizon 2000 w LED light series brings brightness and efficiency. The double chips provide a full spectrum, which is ideal for the growth of cannabis. Also, its coverage area, lumen, and energy saving capacity are notable features. We'll get into more detail in the rest of the review.
Spectrum of the Phlizon Newest 2000w
Full spectrum is incorporated in this 2000 watt LED grow light. Phlizon tested this light extensively before putting it on the market. You can expect a comparable light spectrum from the whole newest series but in different intensities and fixture sizes.
The Phlizon 2000w LED grow light has blue, red, IR, UV, as well as white light. As a result, it makes photosynthesis possible and it optimizes this process.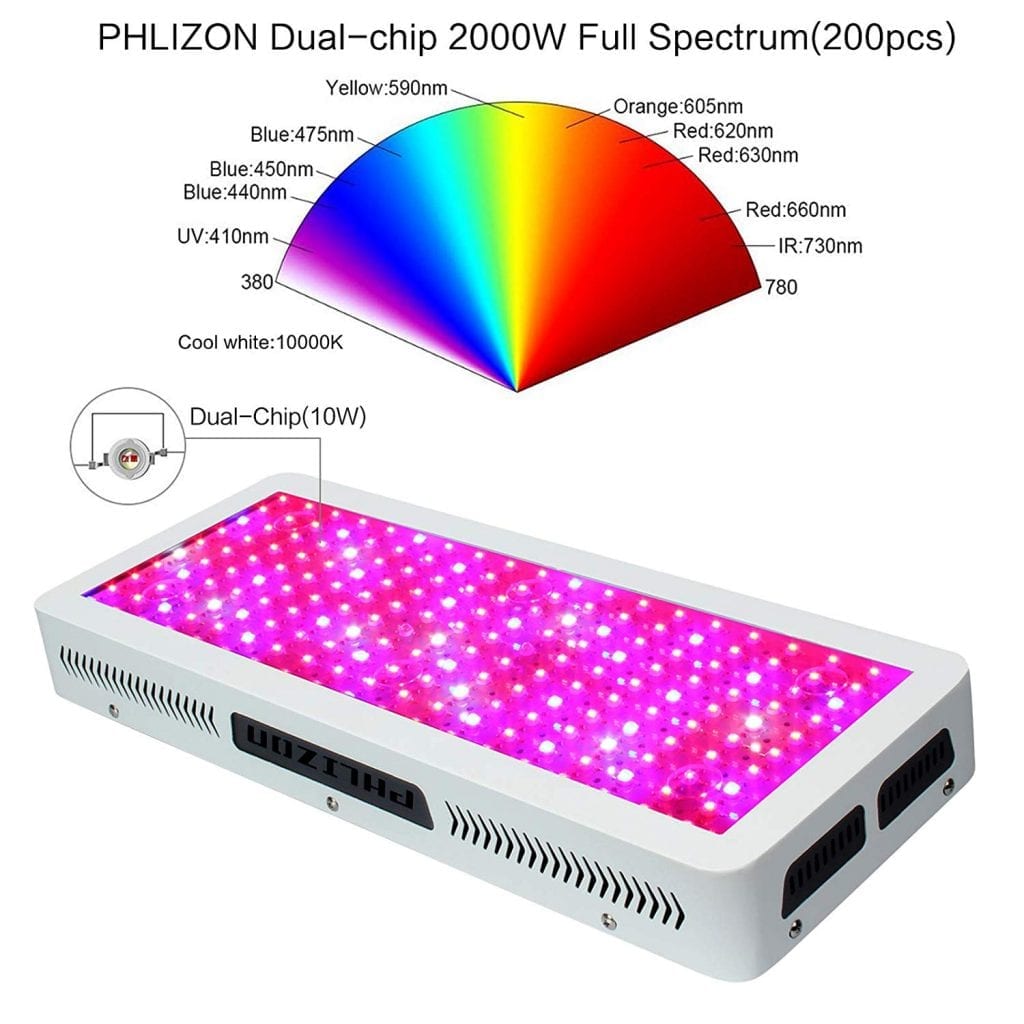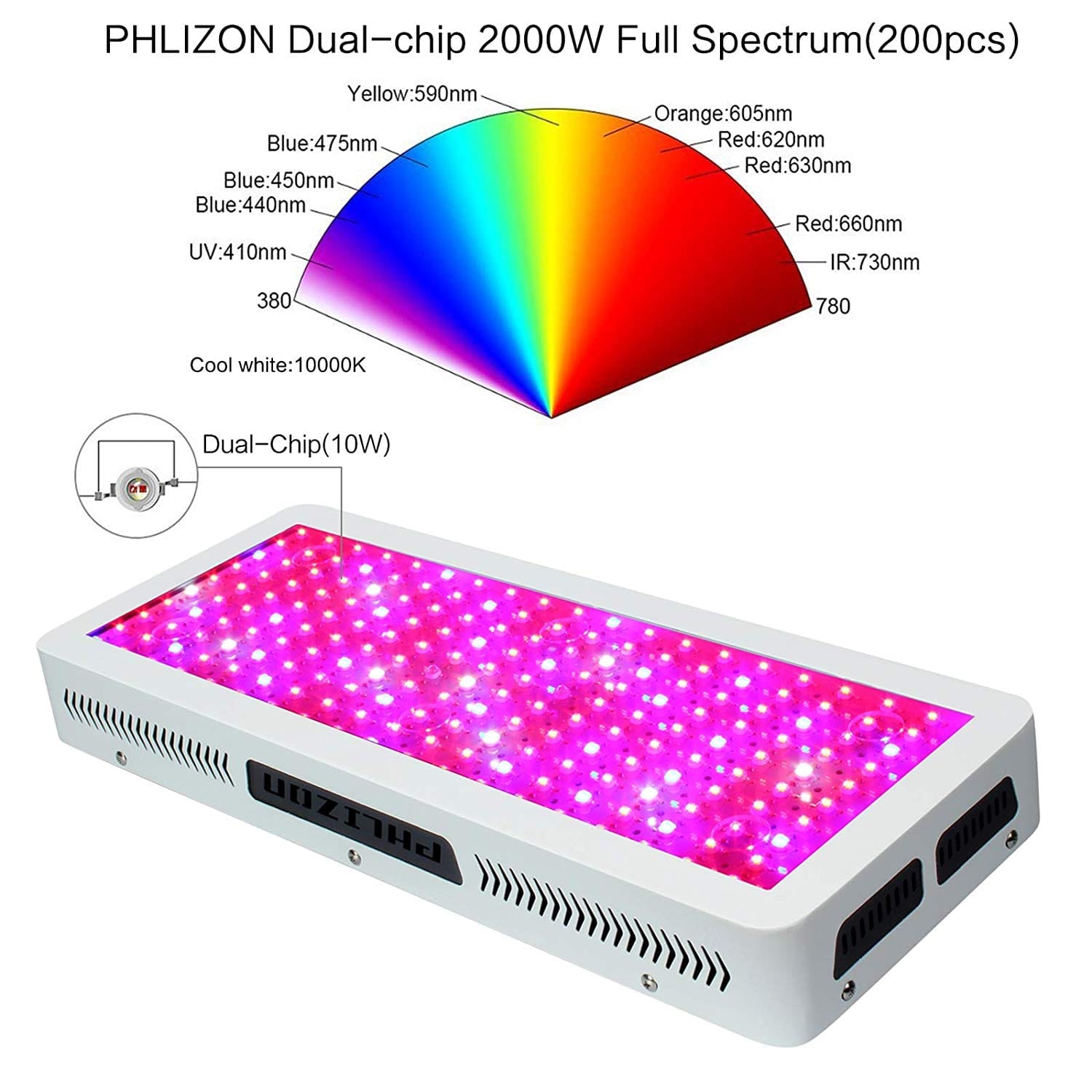 This light mimics all the important wavelengths of natural light. It does so by eliminating all the redundant wavelengths in the spectrum, to save energy.
In addition, this 2000 watt LED grow light enhances the process of germination and flowering which enhances yields.
Safety matters for Phlizon
The Phlizon Newest 2000w has no reflectors, unlike other LED grow lights. Consequently, this makes the fixture completely heat resistant.
Also, the FCC certification ensures the standardized production of this LED. Moreover, the UL certification of the switch controls for fire danger.
Coverage area
The coverage area of this light is 7.2×7.2 feet at a height of 24''. Maximum coverage of the light is 7.8×7.8 feet, which is good for a 2000w LED grow light.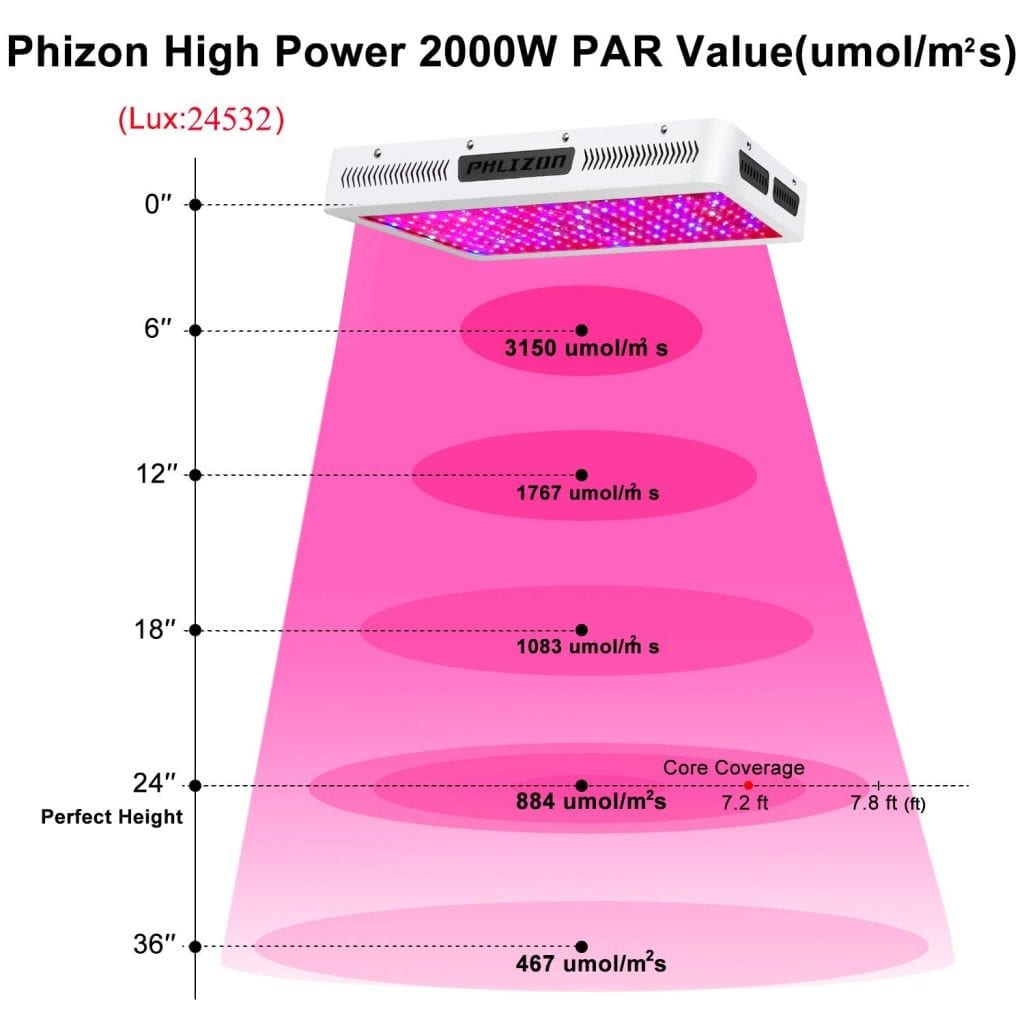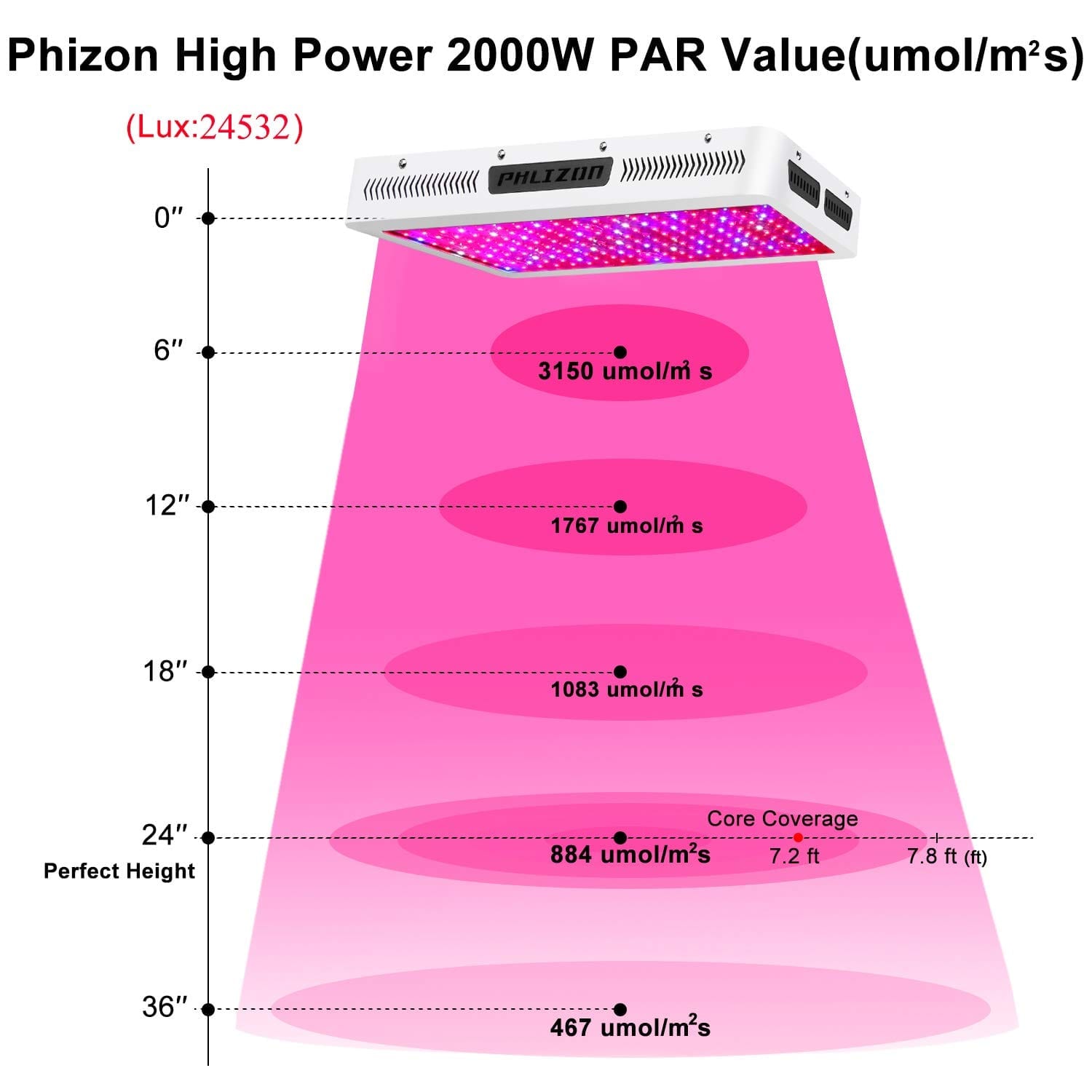 Coverage area is one of the essential factors of any LED grow light. Essentially, it tells you how many plants you can grow with one light. You only need to know how many square feet one plant covers.
High power of the Phlizon Newest 2000w
The dual chip technology gives a great PAR/LUMEN value. It replaces 3w or 5w LEDs that you usually find in LED grow lights in this price range.
As a result, this Phlizon Newest 2000w can replace a 1600 w HPS/MH while consuming only 308 watts per hour. The light provides a large amount of energy with high intensity.
Other technical specs of the Phlizon Newest 2000w
| | |
| --- | --- |
| Rated Power | 2000 watt |
| Avg. power draw | 308 watt |
| PPFD | 880.9 umol/m²s |
| Dimension | 8.3×2.4×21.3 inches |
| Weight | 13.23 pounds |
| Warranty | 2 years |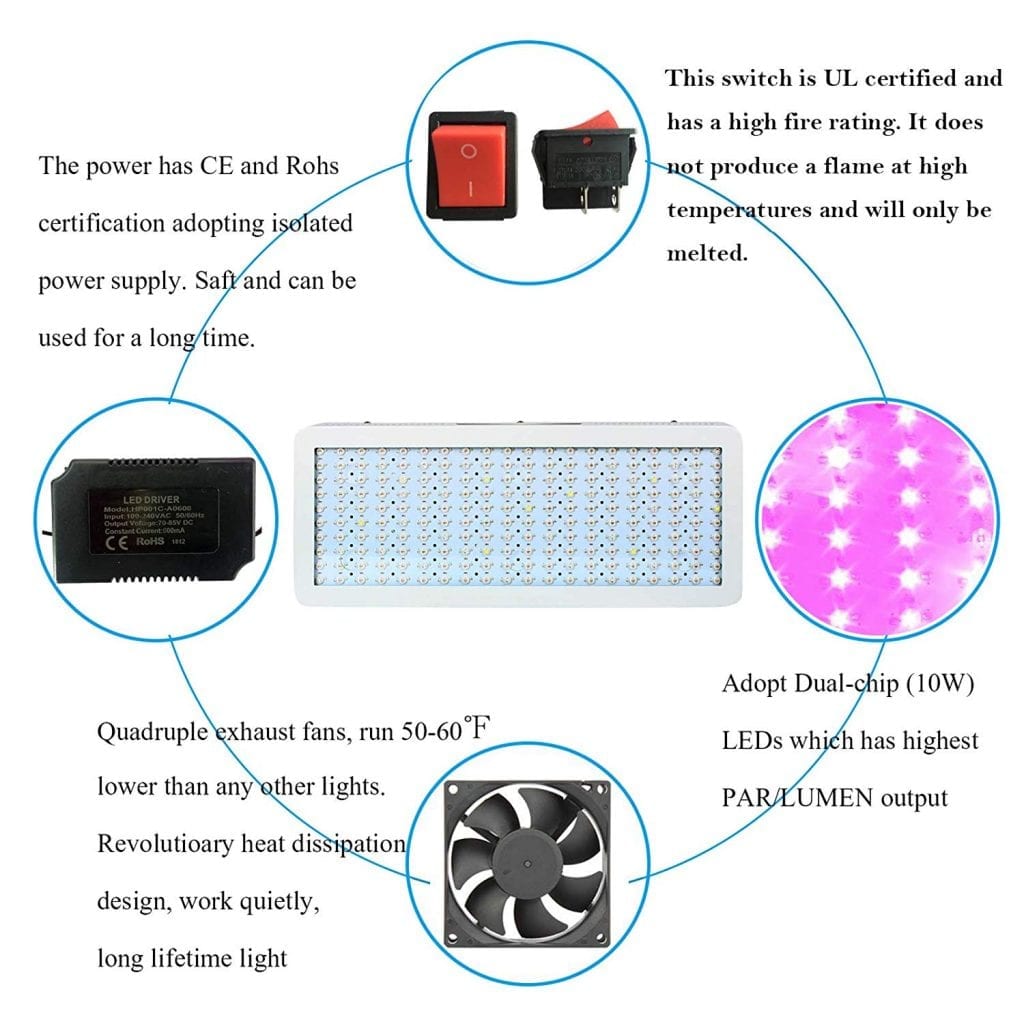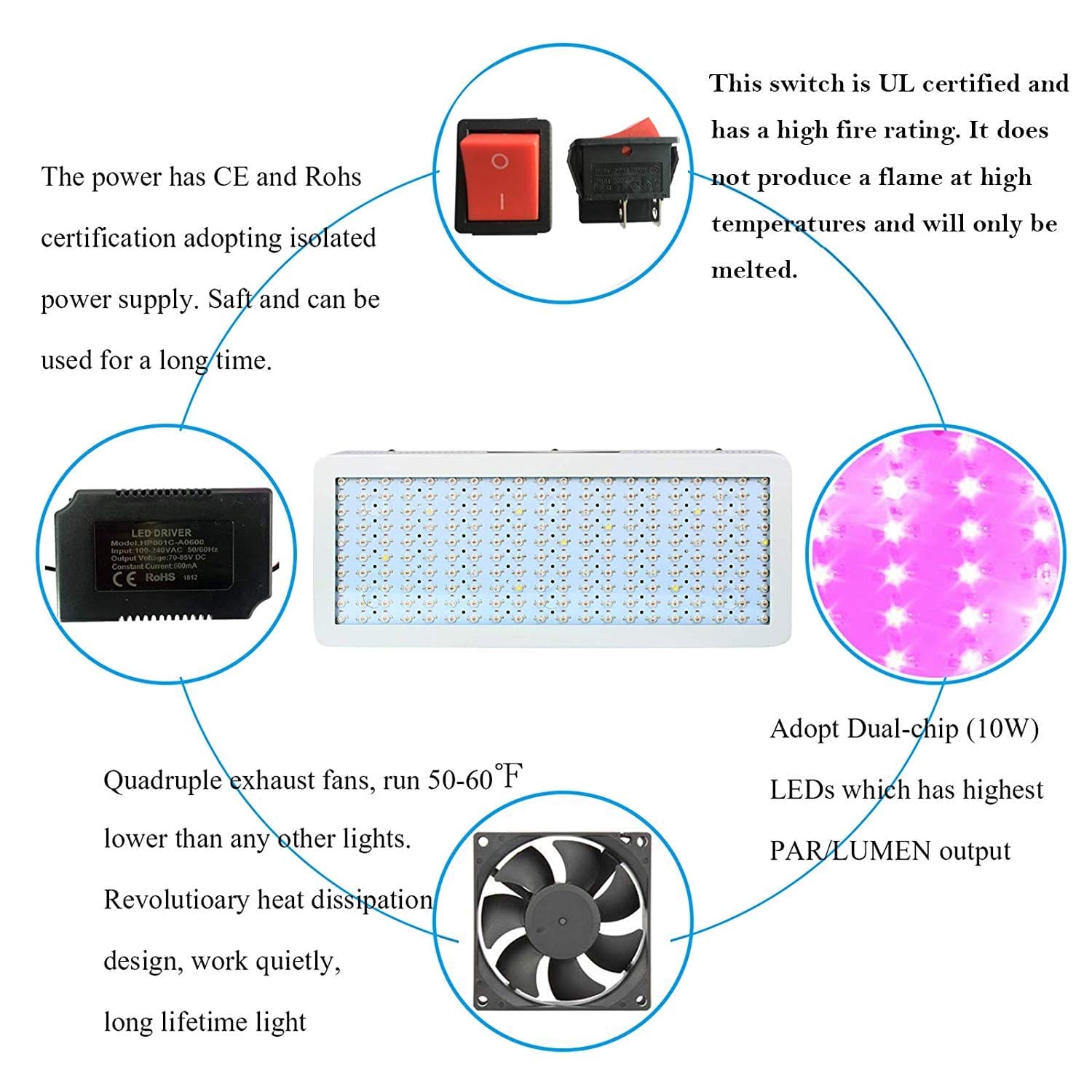 What is in the package?
The package includes:
Phlizon Newest 2000w LED grow light
Hanging kit
Power cord
Pros
Cons
• Super bright light
• Cooling fans
• Robust light
• Easy to use and set up
• Temperature & humidity controller included
• Very affordable
• Complaints online about short lifespan
• Not waterproof
There are not a lot of good videos out there who show you the Phlizon Newest 2000w. We think the 1200w comes pretty close to the 2000w, so you can watch a video review of the Phlizon Newest 1200w to get an idea of the 2000w version in real life.
Bottom line
All in all, this is a great 2000 watt LED grow light. It comes with safety certifications and it is ideal for all stages of plant growth. This Phlizon Newest 2000w is definitely worth looking at if you're looking for an affordable, high power LED grow light.
We did however read that this light sometimes fails early on growers. Luckily, there is a two-year warranty included with your purchase. If it does fail early, you can always claim your warranty.
We are definitely a fan of the Phlizon Newest series. Hopefully, you liked our Phlizon Newest 2000w review. Make sure to check out the rest of our website as well for reviews on the best growing tools and LED grow lights!
Check the price of the Phlizon Newest 2000w on Amazon