The surprising thing is that despite being such a remarkable LED grow light. The Phlizon Newest 600w did not yet receive the attention it deserves.
The reason it deserves appreciation is that none of its consumers have given negative reviews about it. The manufacturer has designed it in such a remarkable way that it meets all requirements of a decent LED grow light.
Apart from lighting up your garden, this LED grow light will give your plants full spectrum light that is beneficial for their growth.
Unlike regular LED grow lights, the Phlizon Newest 600w has the ability to provide the plants with intense light. The reason is that it is equipped with a total of sixty dual chip LEDs of 10w each.
Other than this, it comes with mode switches and has two viewing angles, 90 and 120 degrees. We hope this Phlizon Newest 600w review will help you to get a clear picture on this product.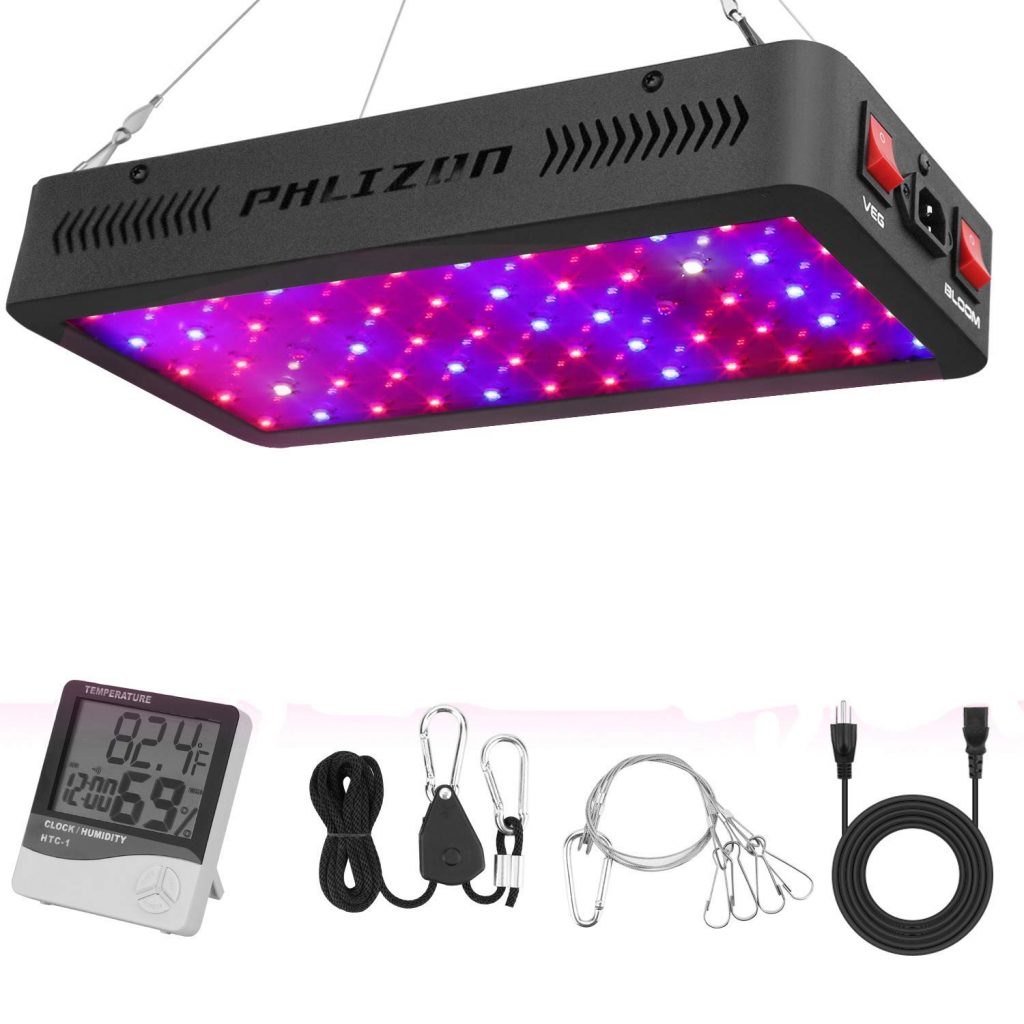 This light is included in our list the best 600w LED grow lights. Check the article for all the other best 600 watt LED grow lights.
Key Features of the Phlizon Newest 600w
Spectrum
There is no doubt in it that the spectrum of Phlizon Newest 600w is one of its best features. Different lights are used for various cycles. For example, the vegging cycle utilizes blue lights whereas the flowering cycle uses red lights.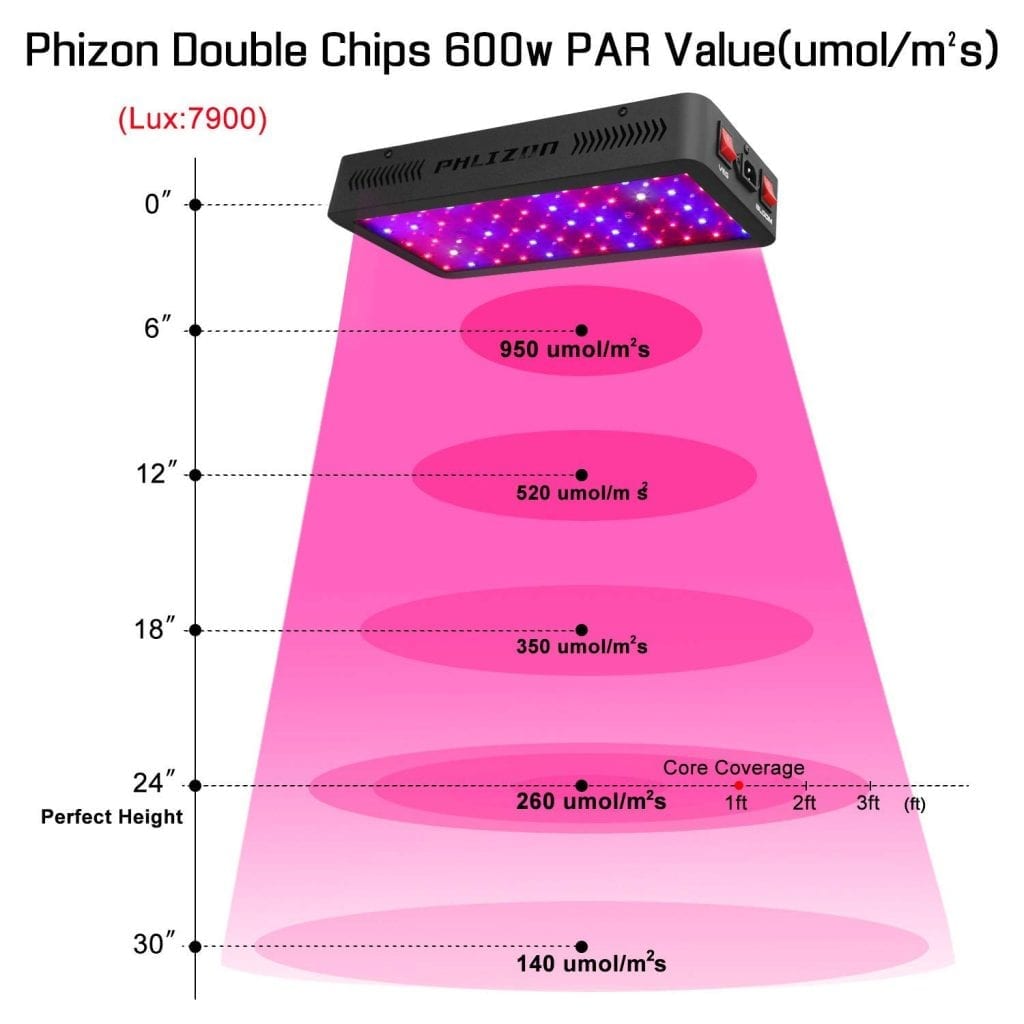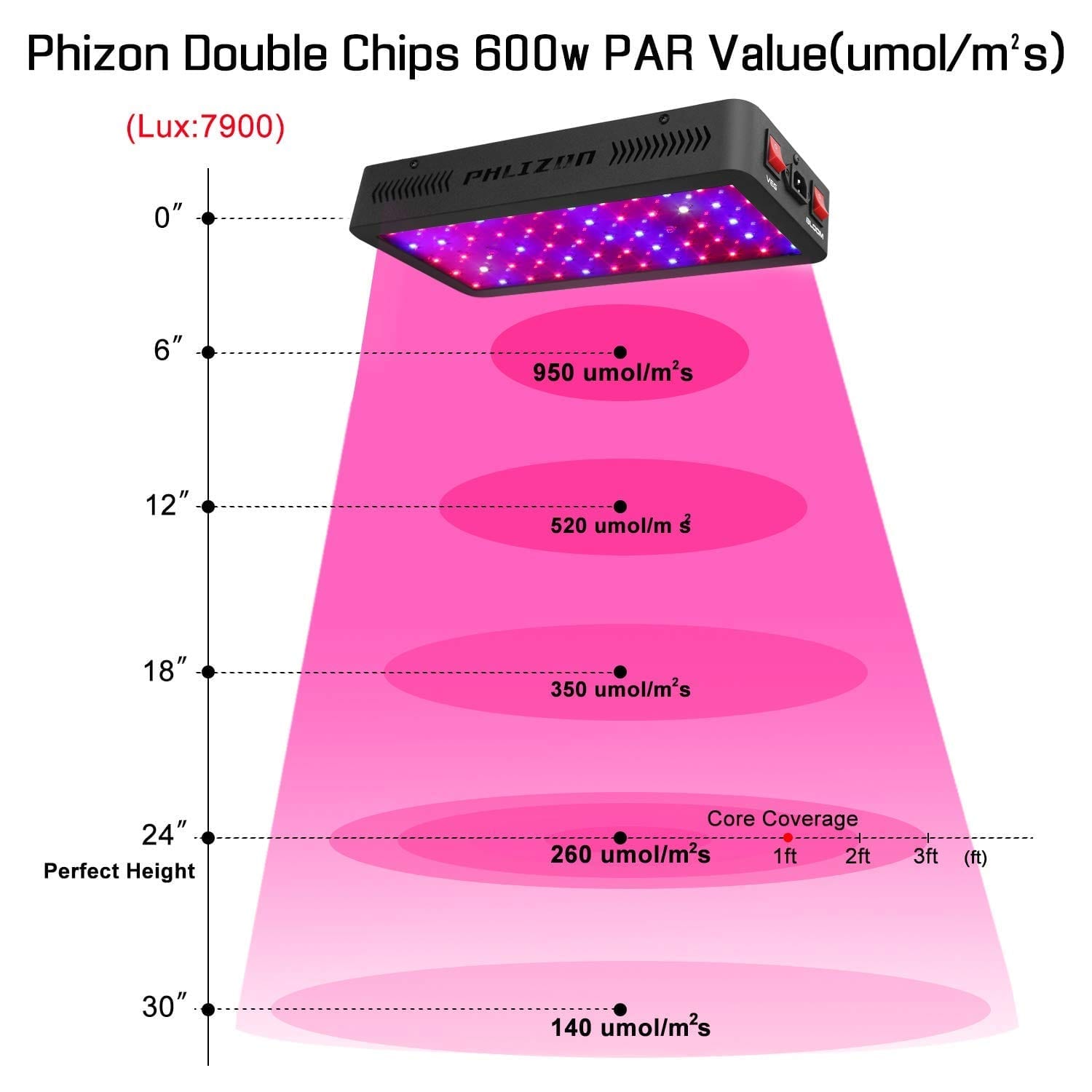 Another plus point about this Phlizon Newest 600w is that it has both IR and UV wavelengths. There are a lot of benefits to UV wavelengths.
One of the benefits is that it makes your plant go in defense mode, which results in higher production of THC. This makes the plant more potent.
Additionally, IR wavelengths are also very useful; it penetrates to the plants and results in bigger buds and larger leaves.
Unique design
The Phlizon Newest 600w LED grow light comes with double cooling fans and vents. It is really important for a good grow light to have a reliable cooling system, and this one is equipped with a high-quality system.
The heat dissipation is simply amazing and the bit of noise it produces won't disturb you.
Service and warranty
Phlizon's customer service is excellent and a team of professional manufacturers makes the products.
Furthermore, the Phlizon Newest 600w comes with a two years warranty and there is a 30-day money back guarantee as well.
Functionality
As far as the functionality is concerned, the Phlizon Newest 600w is outstanding there as well.
It doesn't require multiple power sockets but has the capability to daisy chain a number of lights together. This is a great feature if you want to have a LED grow light without the messy and space-occupying cables.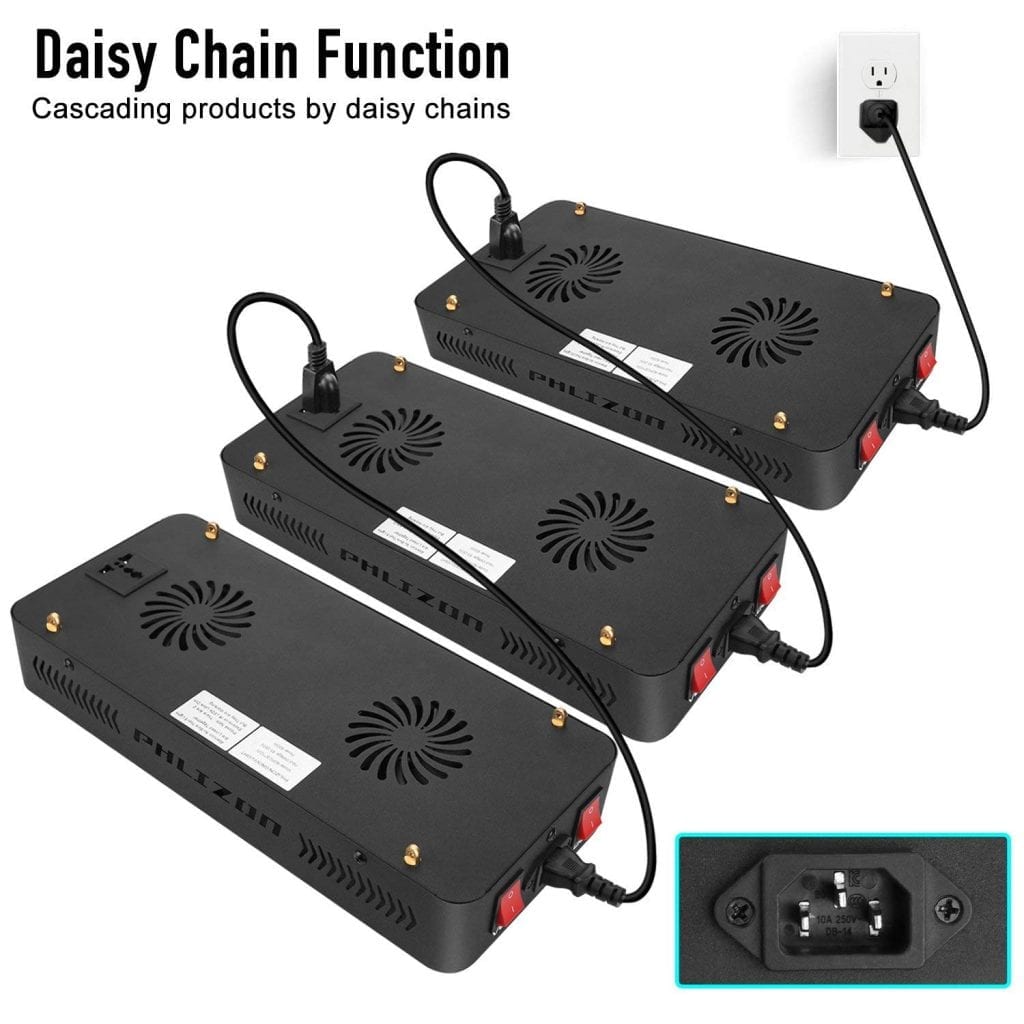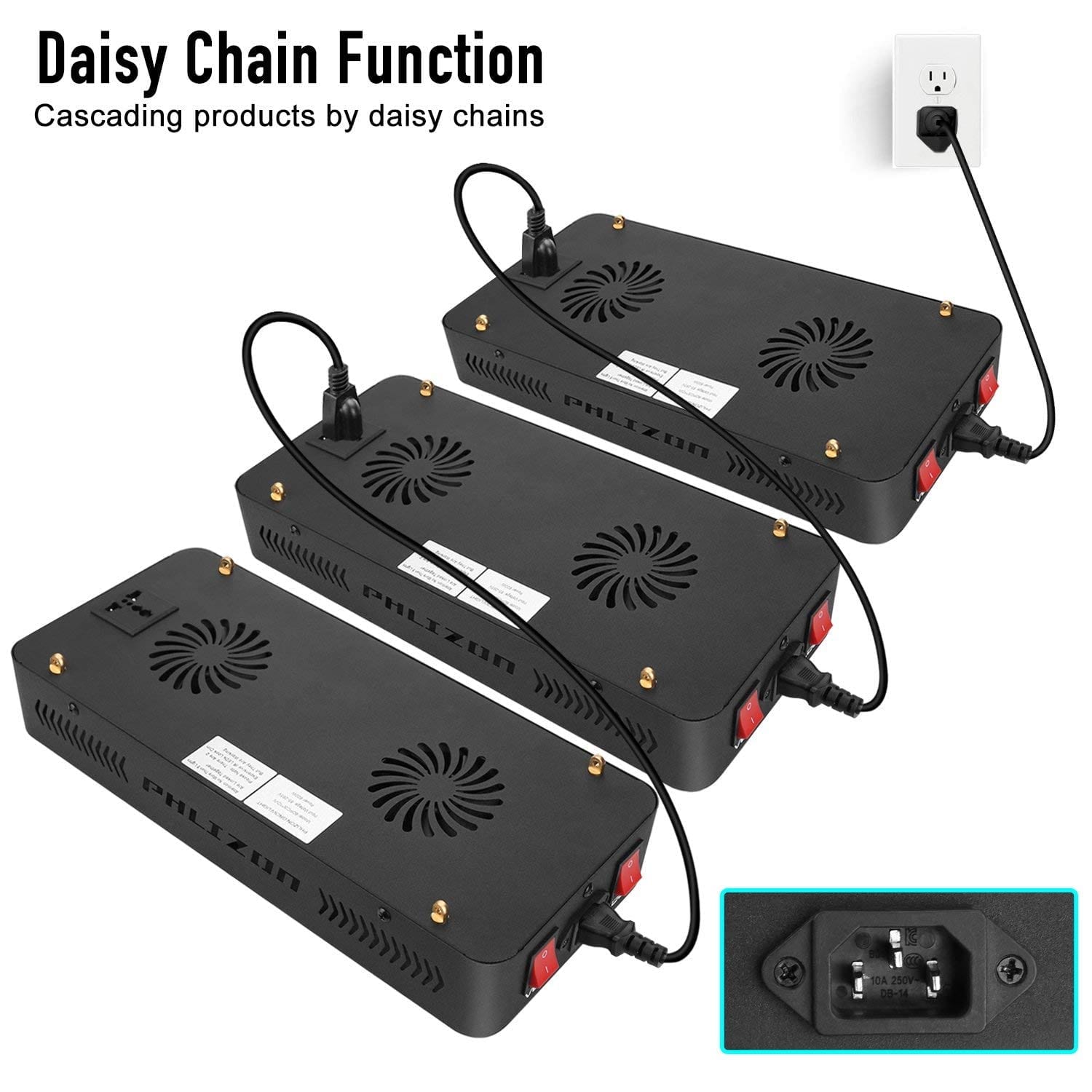 To increase the intensity of the lights there are two switches present. These come in handy for the various growth stages of the plants.
In addition to this all, it comes with a humidity monitor and a thermometer. Great tools for your grow room.
Power of the Phlizon Newest 600w
One thing you should keep in mind before purchasing this product is that its original output power is 400w. We think the 600w label is just a marketing stunt.
However, in terms of consuming power, Phlizon Newest 600w is highly efficient as it only consumes 108w of power. 
Specifications
Ideal coverage height: 24''
Frequency: 50/60 Hz
Total weight: 4.86 lbs
View angle of LEDs: 90 and 120 degrees
Certificates: ROHS, CE, FCC
Double Chip LEDs
What's in the package?
A power cord
Thermo- & humidity meter
Phlizon 600w LED grow light
Hanging kit
How is it different from other LED grow lights?
Unlike other LED grow lights, the Phlizon Newest 600w has excellent heat dissipation; atop it comes with great cooling fans and vents.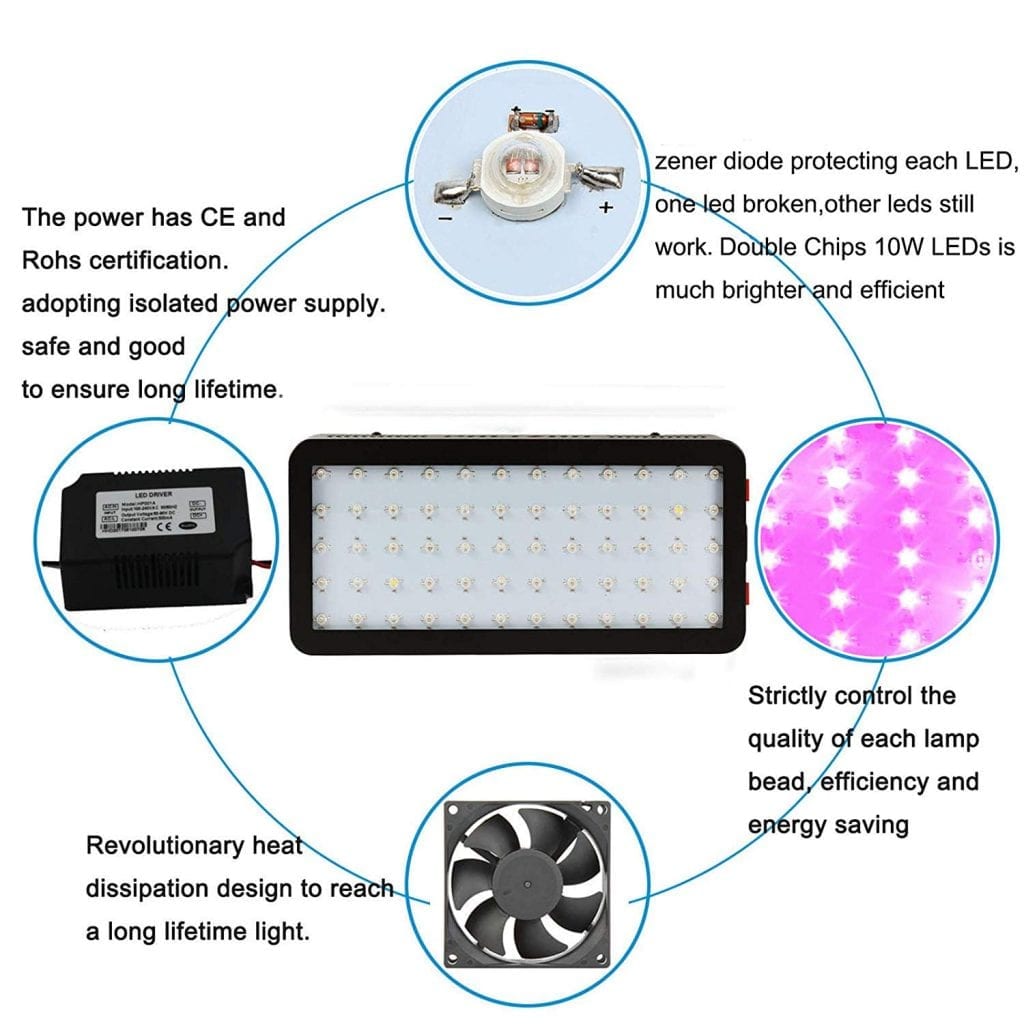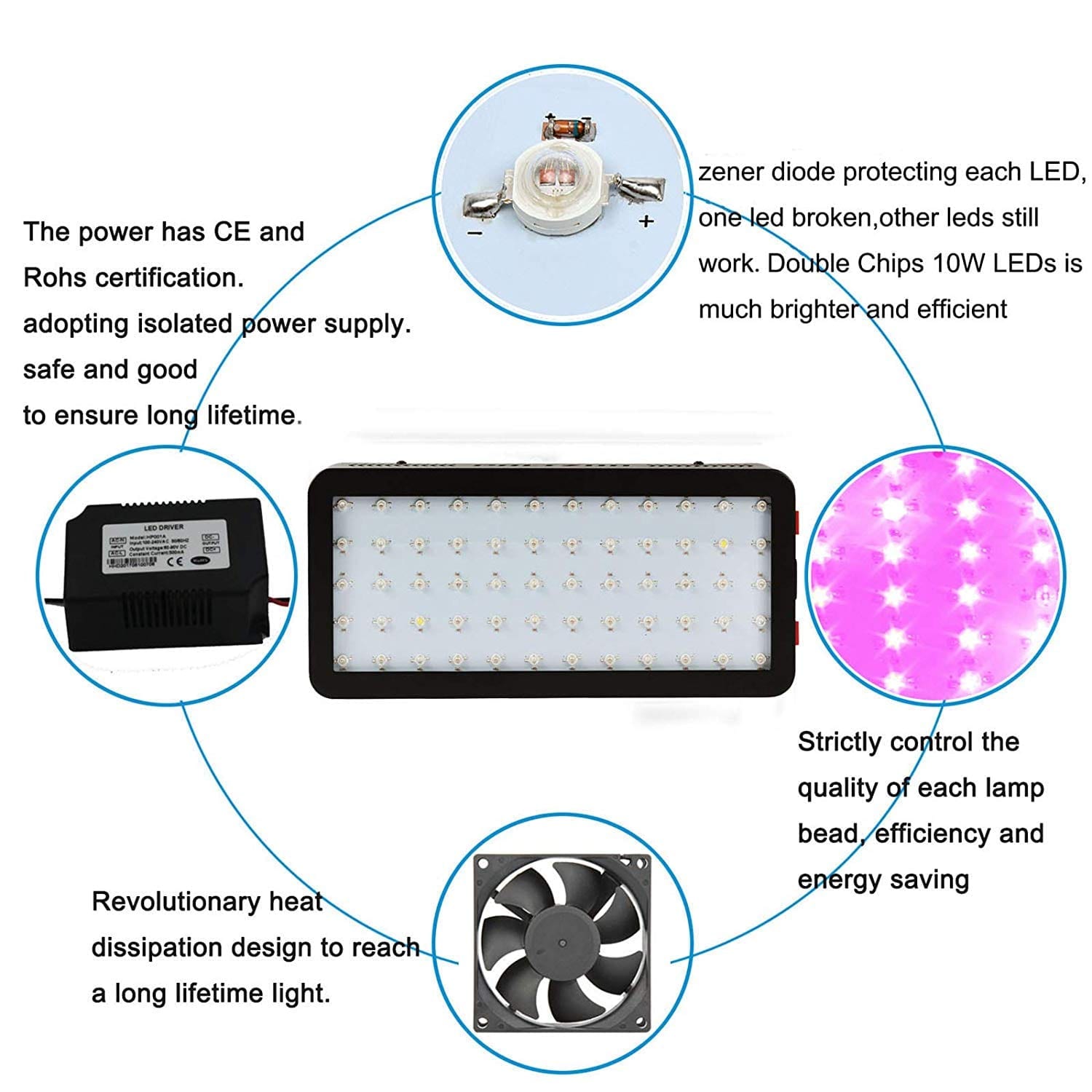 A must in an ideal grow light is a decent radiator system as it prevents damage to the plants. This LED grow light comes with one of the best heat management systems, which makes it stand out.
Pros
Comes with a unique design
Great heat management
Dual chip LEDs
Equipped with a thermometer and a clock
Draws less power
Cons
Not waterproof
Warranty period is small
Are you looking for more info on this light or do you want to see it live in action? Check out the video below:
Our verdict on the Phlizon Newest 600w
All in all, it's a remarkable LED grow light. But if somehow, you are not satisfied with the product. You can return it within first thirty days and then claim a refund.
However, it's guaranteed you won't have to. The Phlizon Newest 600w gives excellent performance. You and your plant will be satisfied with this light.
Give it a try if you are a grower looking for an affordable LED grow light and you will never think about using any other affordable option.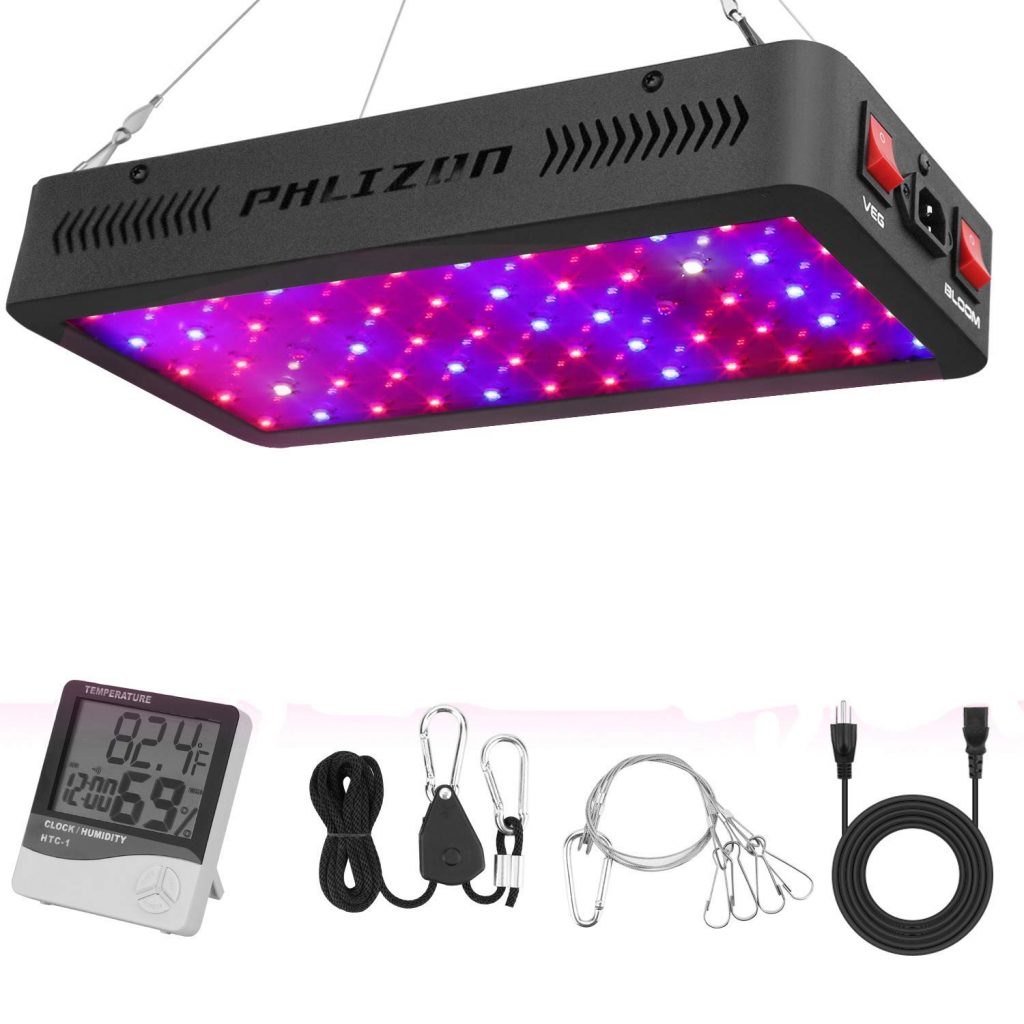 Check the price of the Phlizon Newest 600w on Amazon