Established in 2012, Phlizon Lighting has been providing high-quality and highly sought after lighting products at extremely competitive prices. Enjoying a credible reputation across Europe and North America, they've made it the company mission statement to pursue a revolutionary approach to technology development and designing.
Catering to both beginner and expert marijuana growers, the brand has a huge R&D team backing them up. This is the reason they offer a holistic lighting package for all types of indoor growing hobbyists. Furthermore, they've also tested and brushed up their lights with real-life, highly experienced growers and users.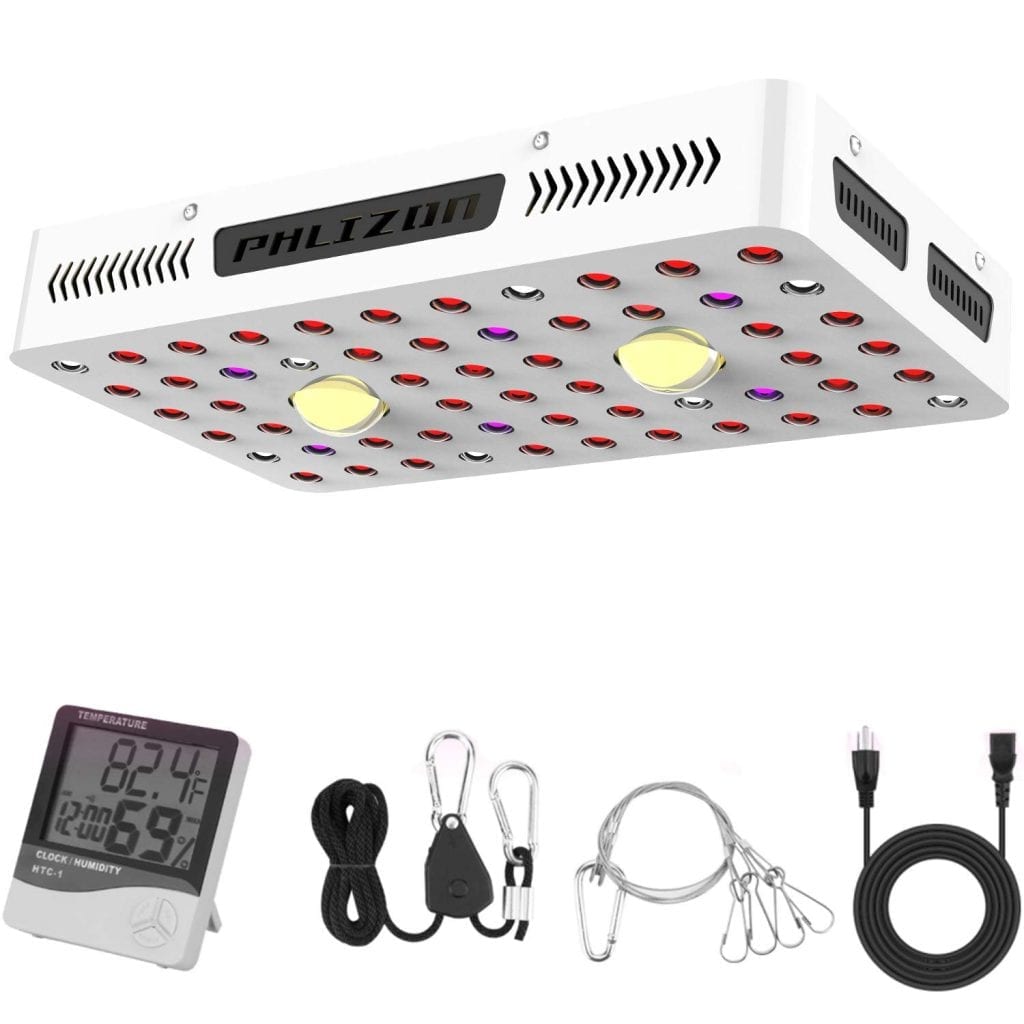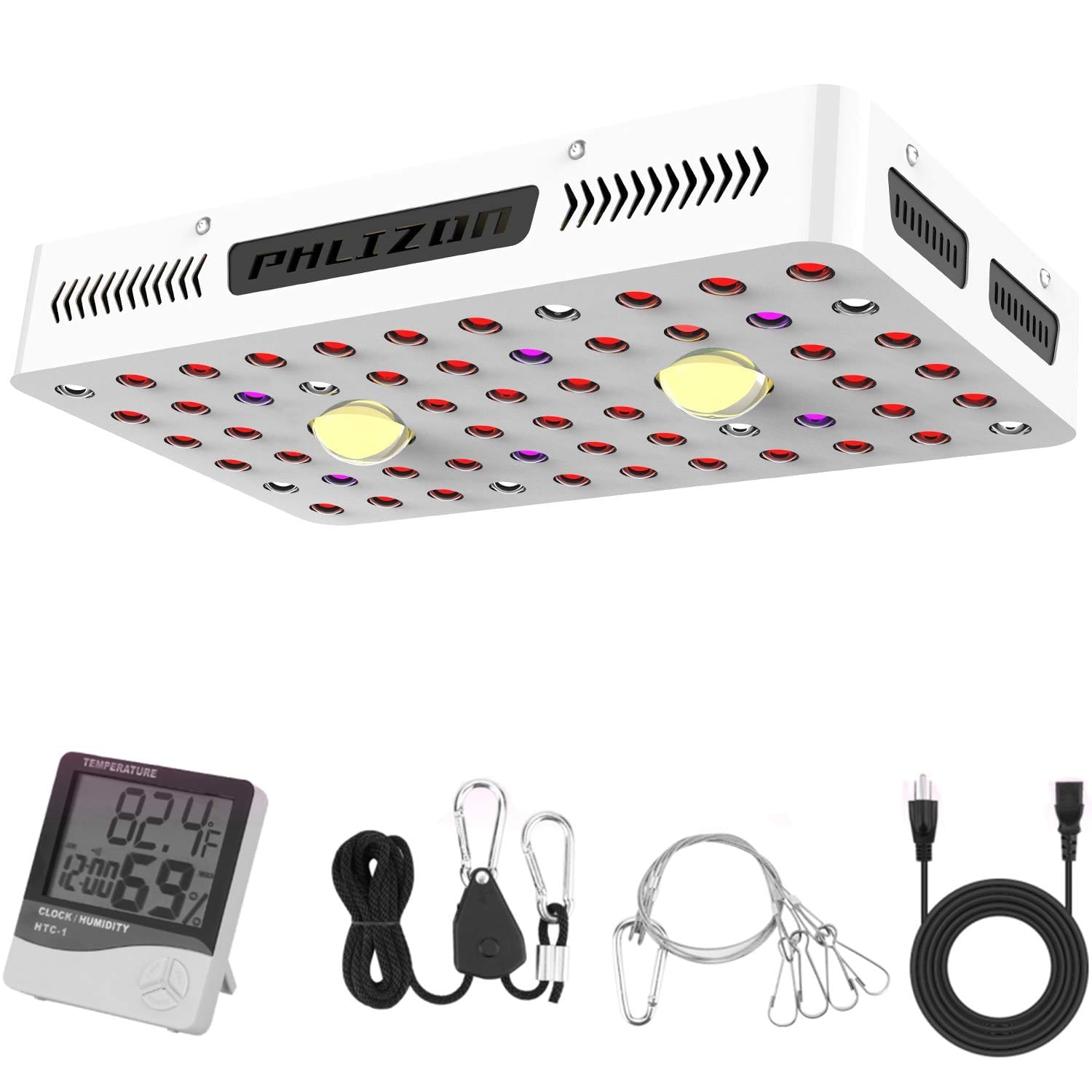 The Phlizon CREE COB 1000w
Out of an amazing range, you will find Phlizon CREE COB 1000W LED grow light as one of the best available on the market. The Grow Light outperforms several other LED counterparts of similar wattages and same price bracket. This light boasts a number of useful features that make growing cannabis easier.
For example, the LED light uses COB (Chips on Board) technology that allows more LEDs onto a single chip, resulting in higher intensity outcomes with lower power consumption. With this technology, Phlizon uses multiple chips onto a single substrate surface, which leads to more intense light output.
With this particular product, you get a comparatively better light spectrum, with less heat generation and numerous other benefits. They've gained quite a lot of attention and rave reviews owing to their spectacular performance, making them an ideal purchase.
Technical Specifications and Features of the Phlizon CREE COB 1000w
As a professional LED Light manufacturer, you can see their expertise reflected in the innovative build of their CREE COB Series. Within its 16.5 x 9.4 x 3.1 inches dimensions, you'll find an array of useful components:
Lifespan: Up to 50,000hrs;
Material: UV-protected, fire-proof PC Cover with a metal frame;
Actual Power: 245W +/-3%;
Input: AC100-240V, 50-60HZ;
Core Coverage 3 x 3 ft – 3.5 x 3.5 ft.
Advantages:
The LED Light offers a high level of reliability as the product has CE and RoHS certification, while all the wires are UL listed. With an isolated power supply system, it is a long-lasting product. The professional COB Series is versatile as they are designed to cater to any growing stage of the plant.
Output and Coverage:
The Phlizon's CREE COB Series 1000W is oriented towards maximum energy saving as the actual power draw is only 245W. It is evidently more scientifically energy efficient than HPS, HID, and MH.
It comes with a core coverage capacity of 3 x 3 feet – 3.5 – 3.5 feet / 40 x 40 inches- 42 x 42 inches, making it an ideal indoor installation for small-medium scale grow rooms or tents. For the germination stage, you can hang it at 30-40 inches above, 30-40 inches for the seedling stage, 24-30 inches for the veg stage and 42-30 inches for the blooming stage.
Spectrum and PPFD:
As a better option than a majority of products in the LED grow light industry, the CREE COB Series 1000W LED presents a strikingly high Photosynthetic Photon Flux Density to promote faster and better plant growth. Valued at 941.4umol/m2s at 18-inches, it is guaranteed to optimize cannabis wellbeing.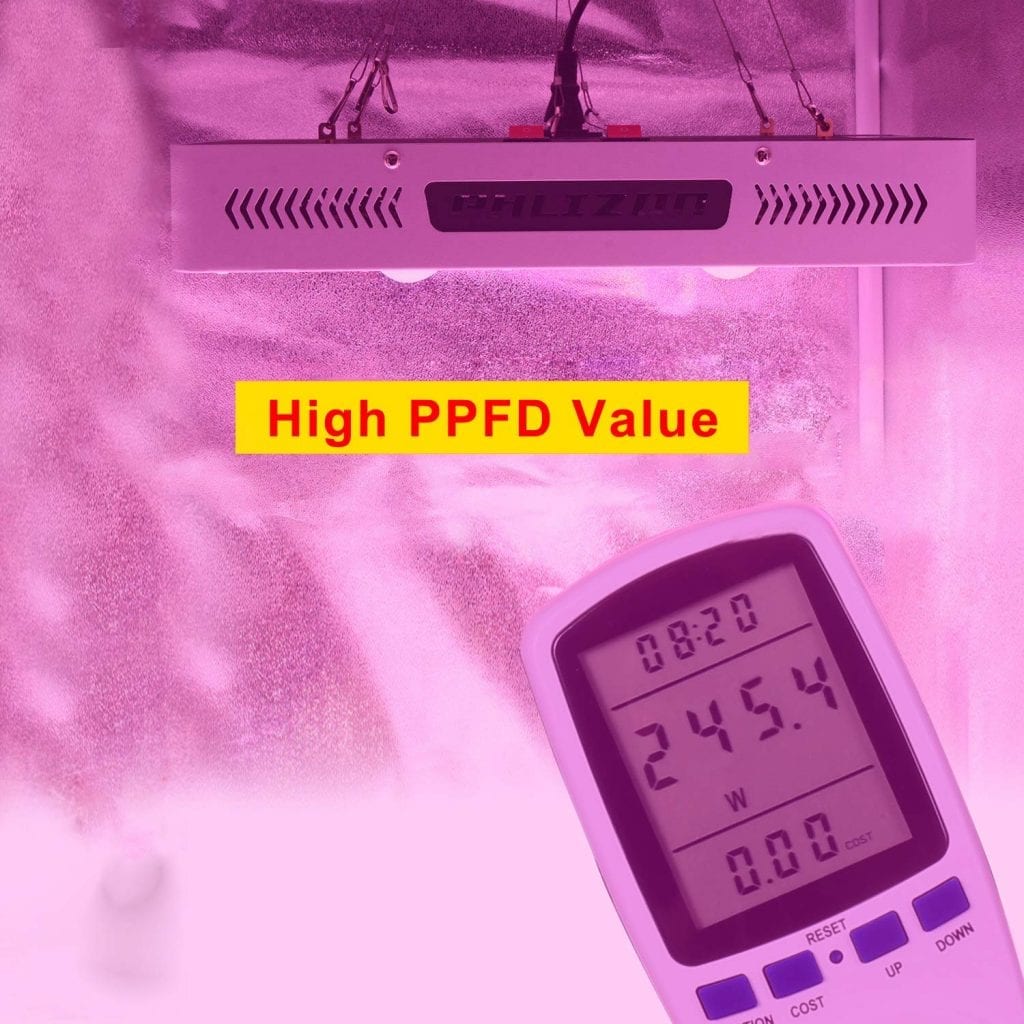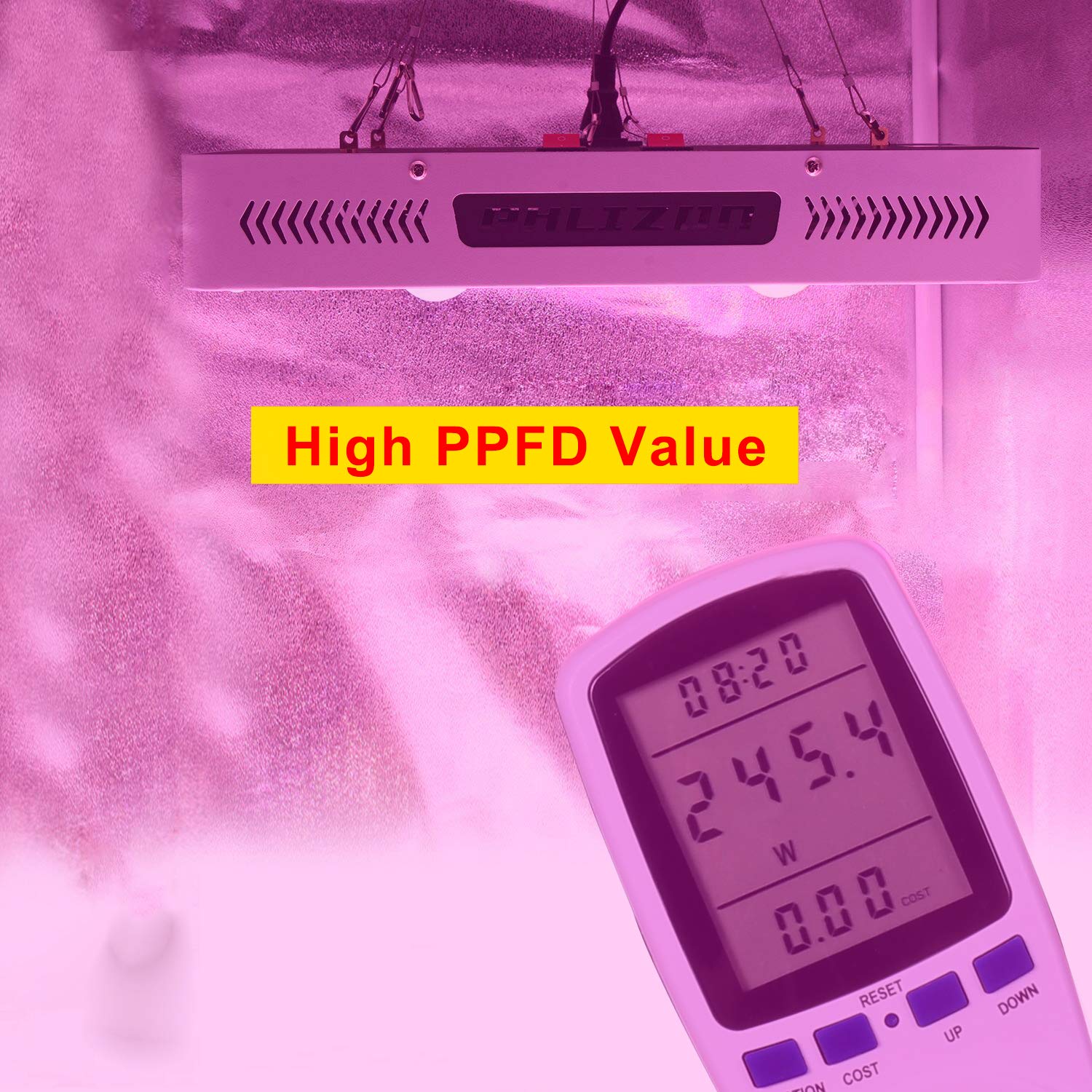 The COB LED provides a full spectrum lamp integrated design bead, containing two pieces COB and 40 pieces 630-660nm, six pieces 470nm, five pieces 6500k, three pieces 3000k, two pieces UV and two pieces IR. Perfectly replicating natural sunlight, it satisfies every need of both Veg and Flower plant stages.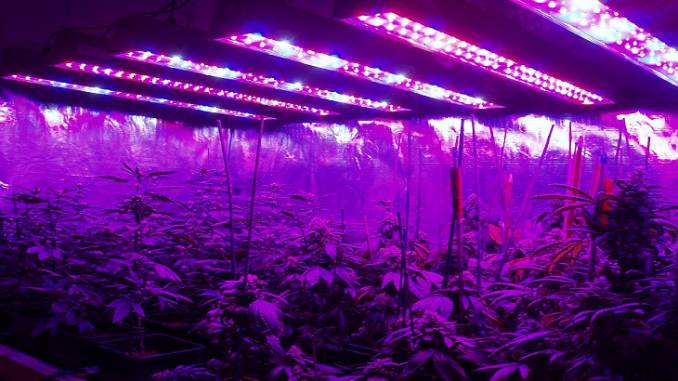 Pros of Phlizon CREE COB 1000w:
High value for money;
Lightweight as weighs only 8.3 lbs;
No 3rd party distributors;
Strict product quality controls;
Fire-resistant material;
Well Certified with CE, ETL, FCC, RoHS, ISO9001 and ISO 14001;
Detailed Instruction manual provided;
Daisy Chain and discreet package;
Full-Spectrum PPFD Values at different wavelengths promote efficient plant growth;
2 years warranty and 30-day money-back guarantee;
Efficient heat dissipation;
High PPFD Rating.
Cons of Phlizon CREE COB 1000w :
Cooling fans aren't up to par;
Slightly expensive.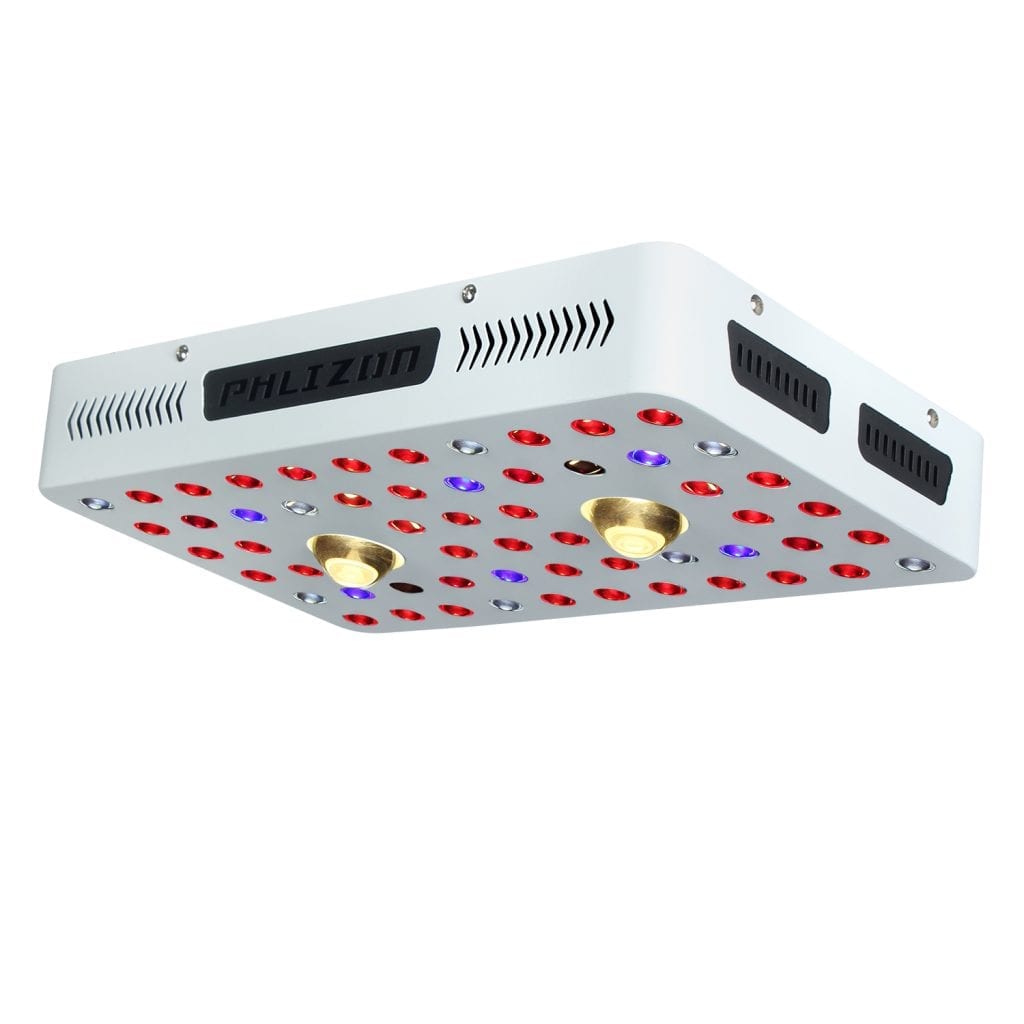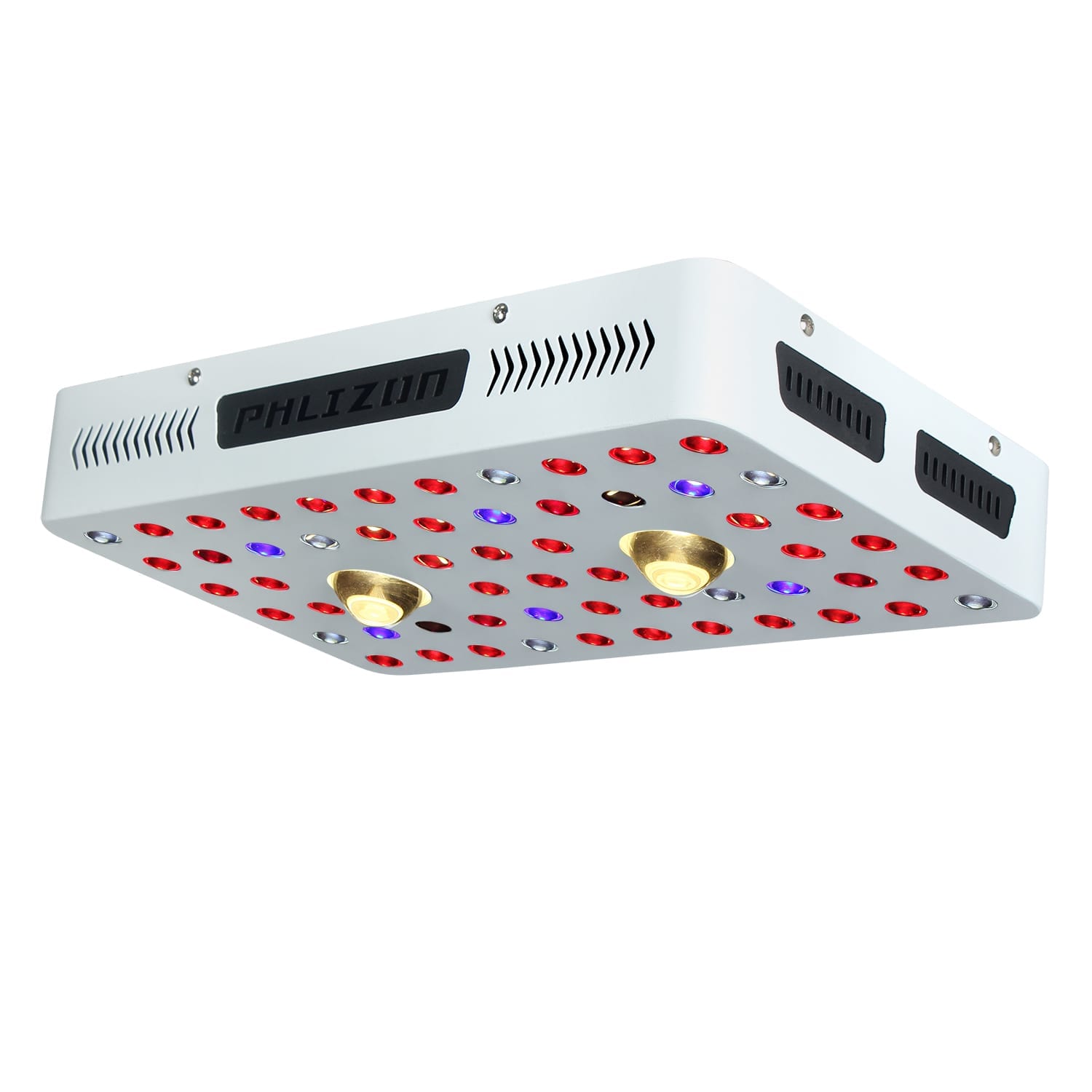 The Final Verdict on the Phlizon CREE COB 1000w
The Phlizon CREE COB 1000W LED grow light delivers high power and stability in a not so expensive package. Moreover, it ticks all the right boxes when it comes to appearance, design, simulation analysis, optical lens design, electronic structure, heat dissipation ability, and light control system. Overall it can provide much denser and more intense light compared to other products in the market.