Looking for an awesome option of indoor LED grow light? Well, the Vivosun 600w is a great choice if you want a high-quality, yet affordable, LED grow light for indoor plants.
Providing enough light, it features amazing specifications as well as premium craftsmanship. The Vivosun 600w LED grow light is quiet, durable and has an optimal spectrum as well.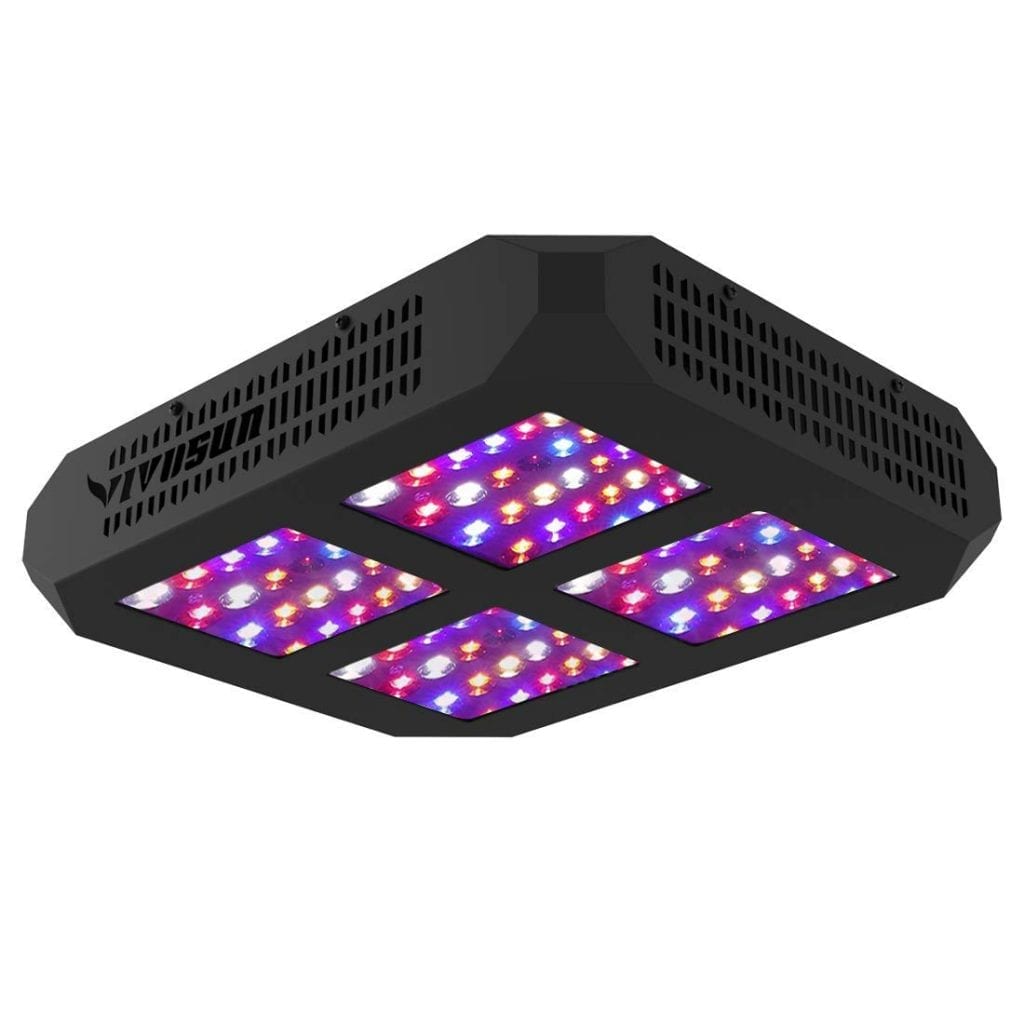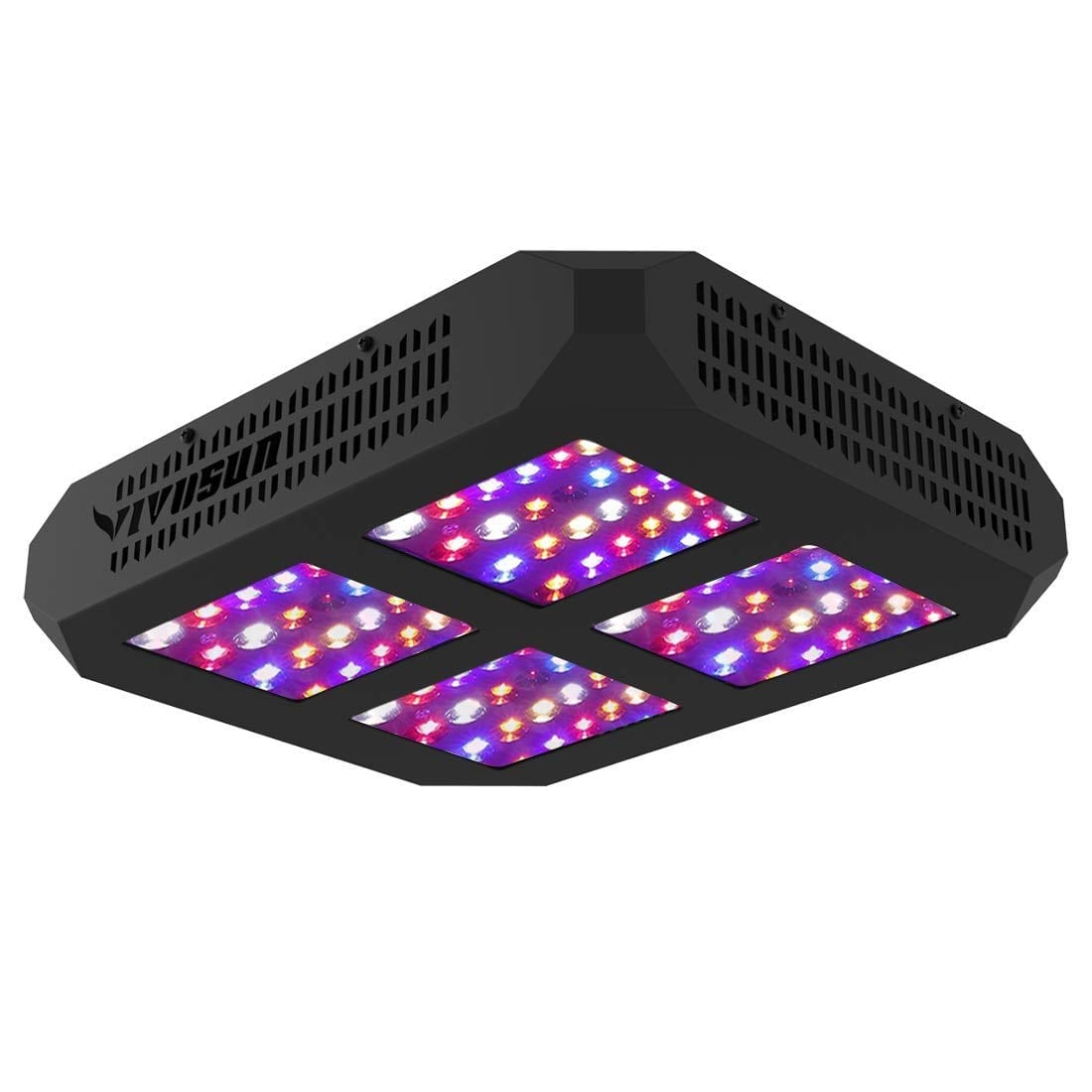 In fact, Vivosun is the first one of its kind to give you the best of indoor lights. The brand is very popular on Amazon as well. As a result, this makes it definitely an option to consider. So, let's review the Vivosun 600 watt LED grow light:
Vivosun 600w – Most important features
Durable
Full spectrum light
Consumes 135 watts
Light works quietly
Great coverage area
4 infrared radiation LED
Usable in every grow stage
Excellent PAR values
Lightweight
In-depth look into the features
The Vivosun 600w its features speak for themselves. We will elaborate on these functions in the next paragraphs. This is light you can expect to use for a long time. The amazing features, that make this LED grow light a good option to consider, are;
Full spectrum light of Vivosun 600w
Vivosun is coming with a full spectrum light, which is perfect for all stages of plant growth. Consequently, the light boosts the growth of vegetables, fruits and cannabis.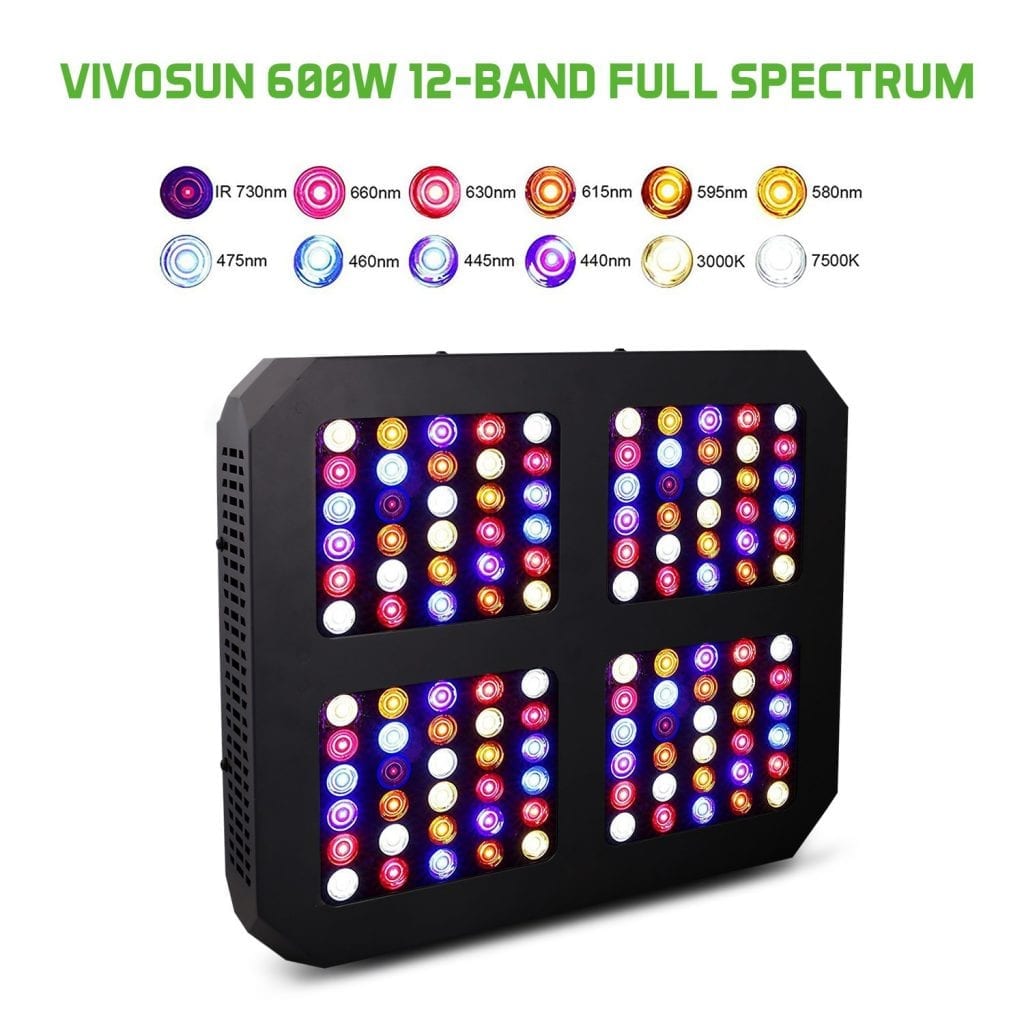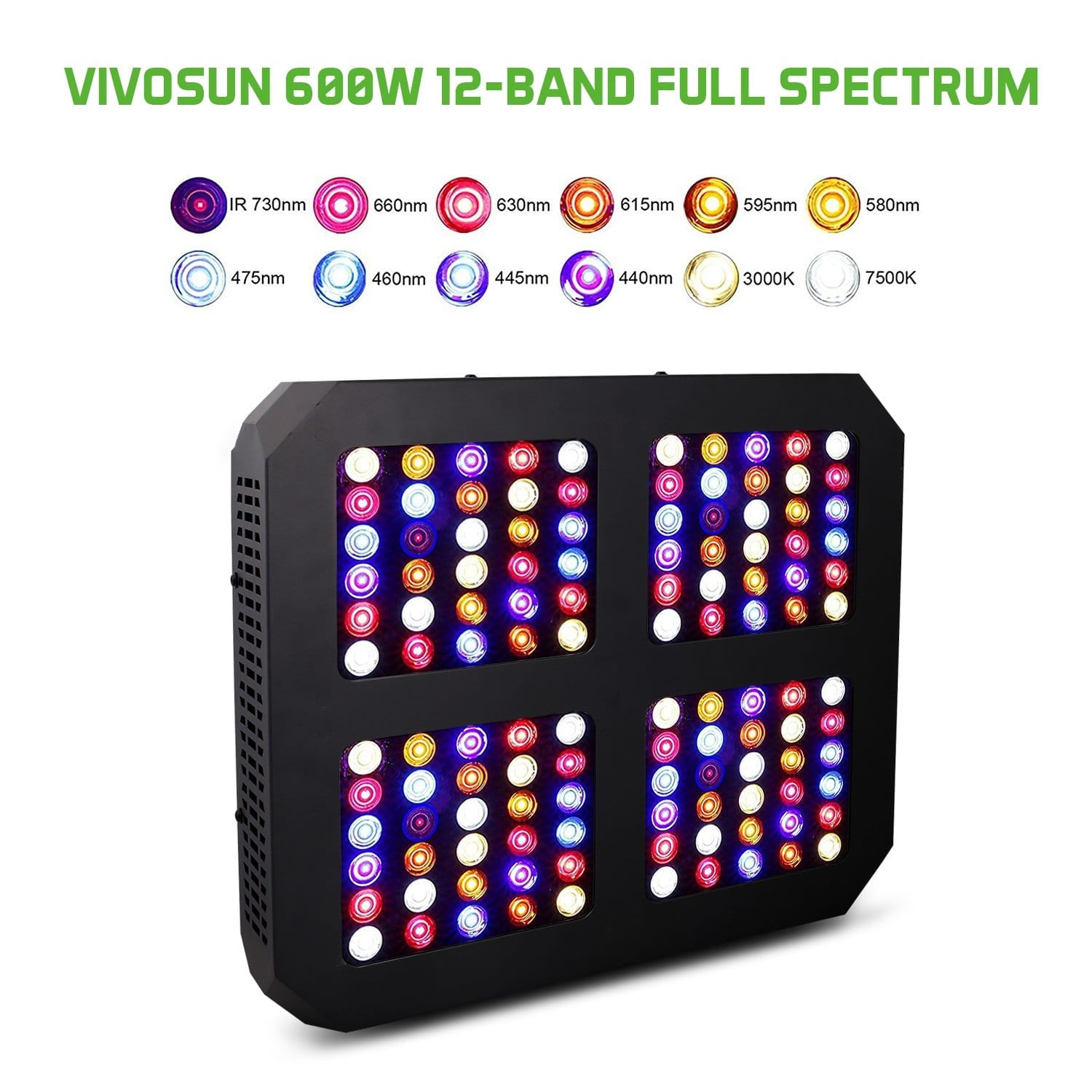 The 16 white LED diodes give the focused light intensity on the plants. Moreover, the 4 infrared LED diodes are present to deliver good light for the flowering stage.
The combination of the LEDs gives a well-balanced full spectrum that is comparable to other LED grow lights.
Efficiency of the Vivosun 600w
Vivosun 600w LED is efficient in terms of power as well as energy. This 600w LED grow light consumes only 135 watts. This makes it a great substitute for HPS/MH lighting. The reflector design also enhances light output.
Awesome cooling
In addition, the Vivosun gives awesome ventilation for cool and quiet functioning. Its unique construction incorporates 2 built-in fans. These are two 5'' fans responsible for maintaining the proper temperature of the LED grow light.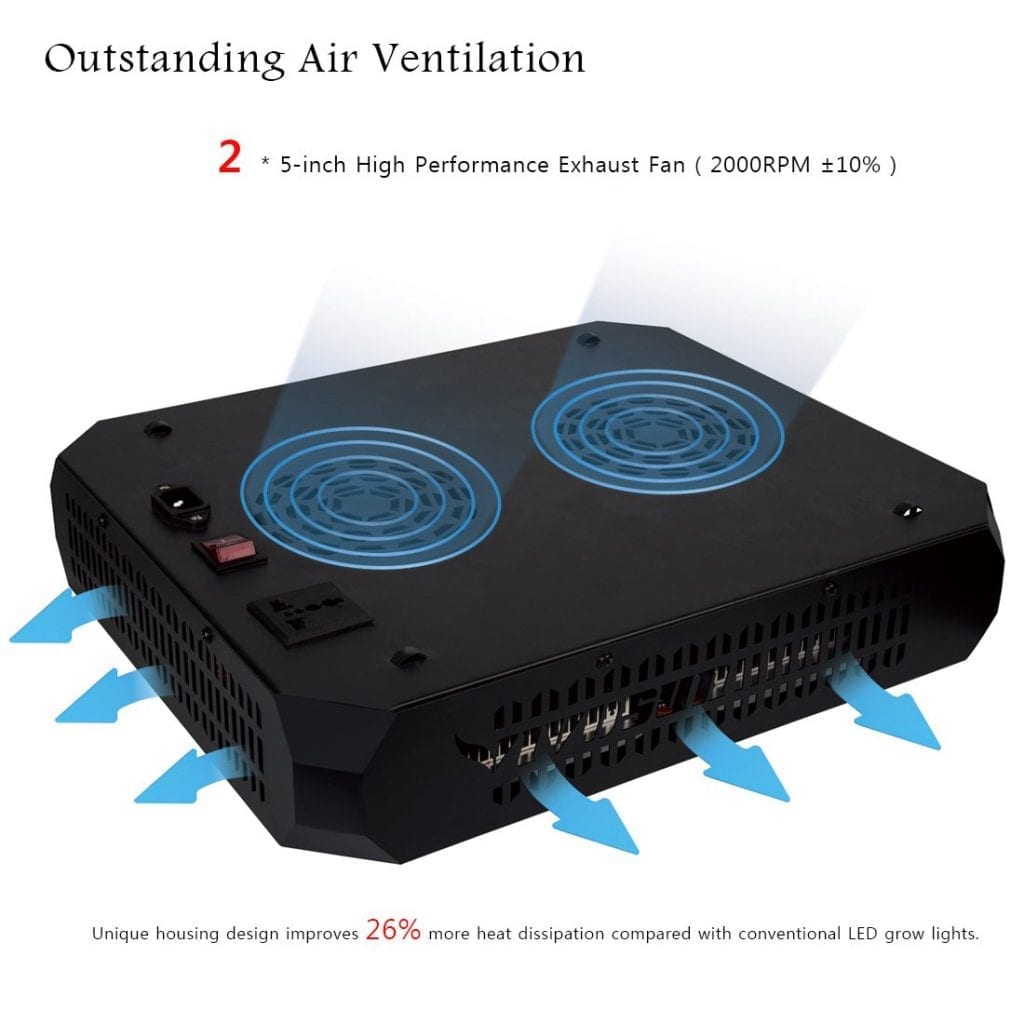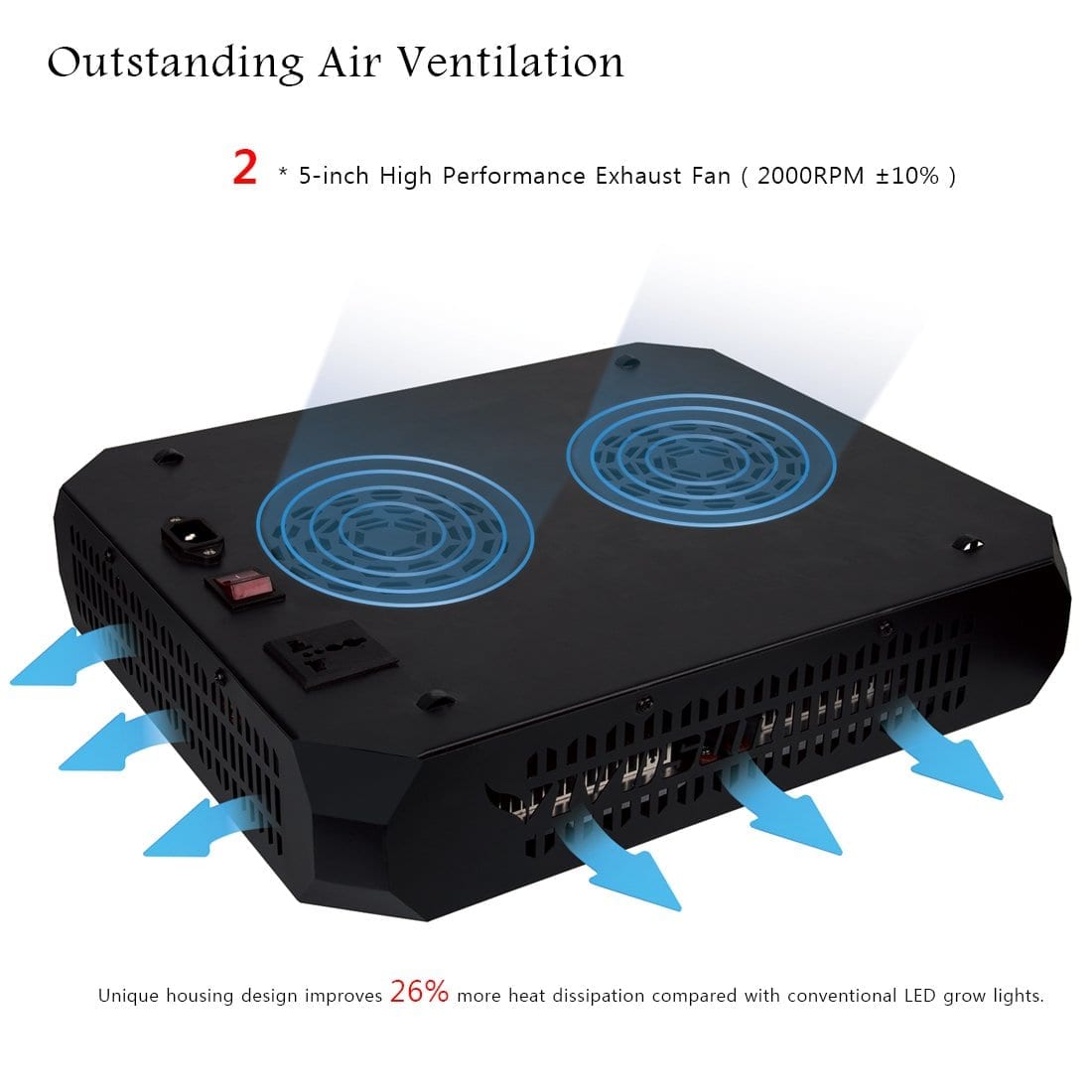 Greater penetration and coverage
This LED grows light gives an excellent penetration for great growth. Moreover, the flooding light with an area of 3'x3' at a height of 32'' and 2.5'x2.5' at a height of 24''.
Because this is quite high to hang your grow light, I would recommend getting this light for a 4×4 grow tent. You could also get two fixtures for a 4×8 grow tent.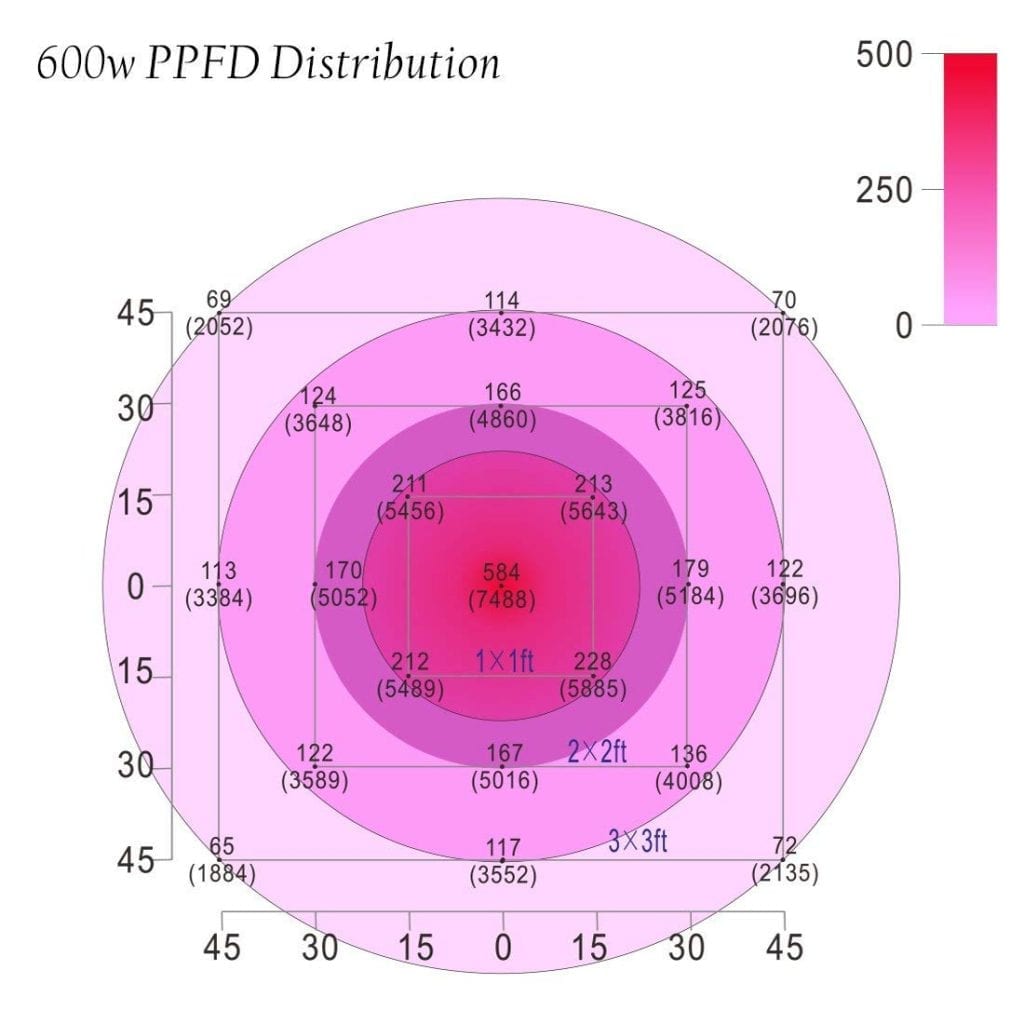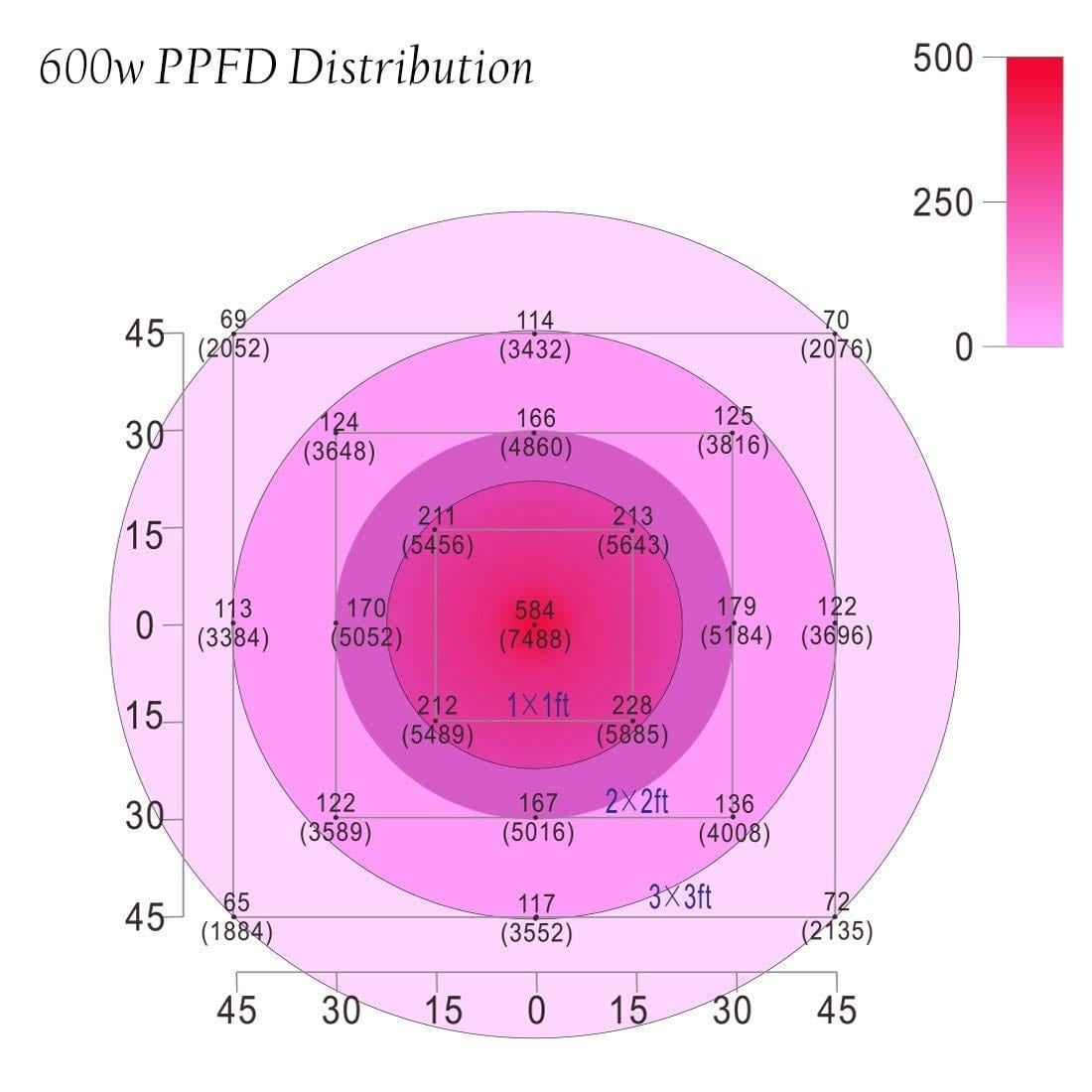 Giving incredible blooms, this LED grow light's coverage is very good for a 600 watt LED grow light.
Lifespan of the Vivosun 600 watt LED grow light
The Vivosun 600w comes with an exclusive Vivosun design. It has a metal-composite casing, which helps in heat dissipation.
Subsequently, this design extends the lifespan to up to 100,000 hours. This is great for a LED grow light, which always lasts longer than a HPS/MH grow light.
Are you interested in the best 600w LED grow lights? Check out our complete list and all reviews.
This light is great for whom?
The Vivosun 600w LED grow light is great for those who want all essentials in a LED grow light. This grow light is great for all growth stages of cannabis.
The daisy chaining function that comes with an affordable light is pretty unique as well. This enables you to easily expand your growing operations with multiple lights.
What is in the box?
Overall, the package contains:
Vivosun 600 watt LED grow light
Carabiner hanging kit
6 ft power cord
User manual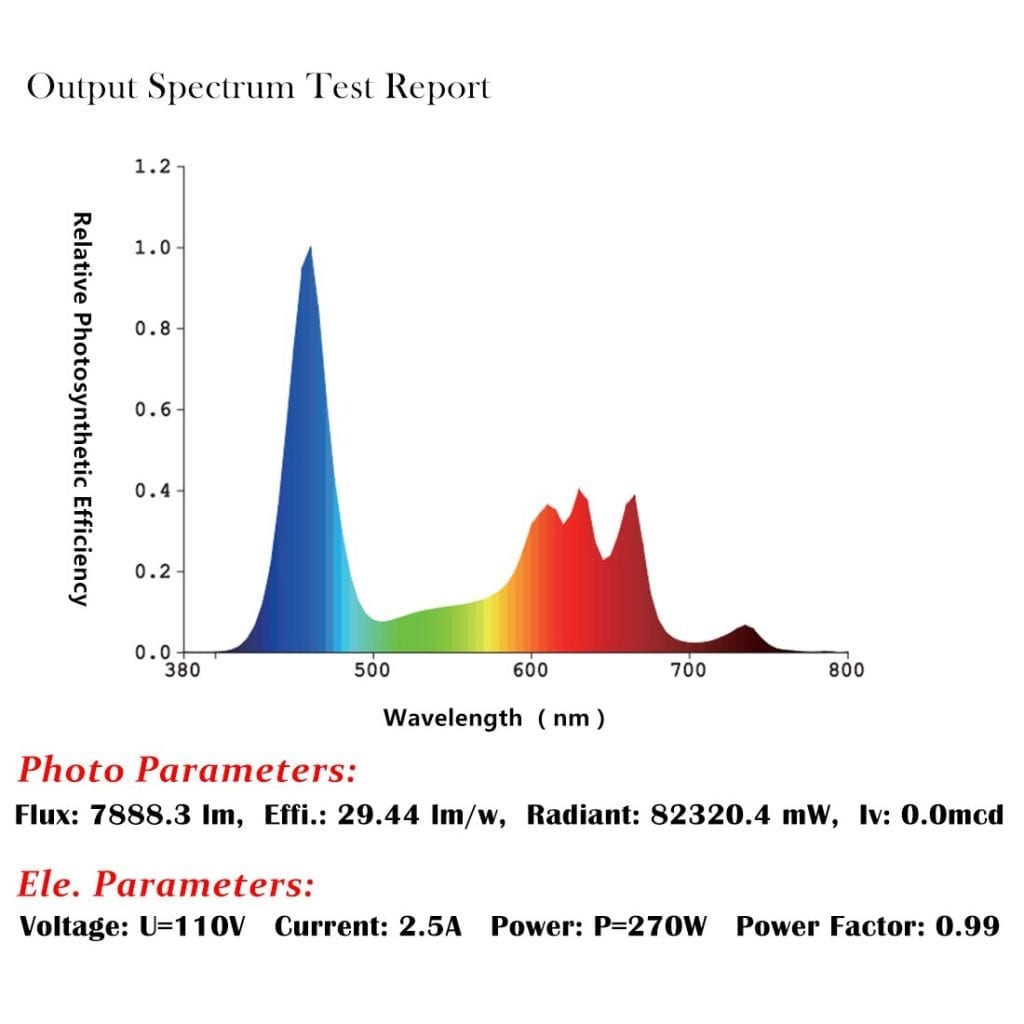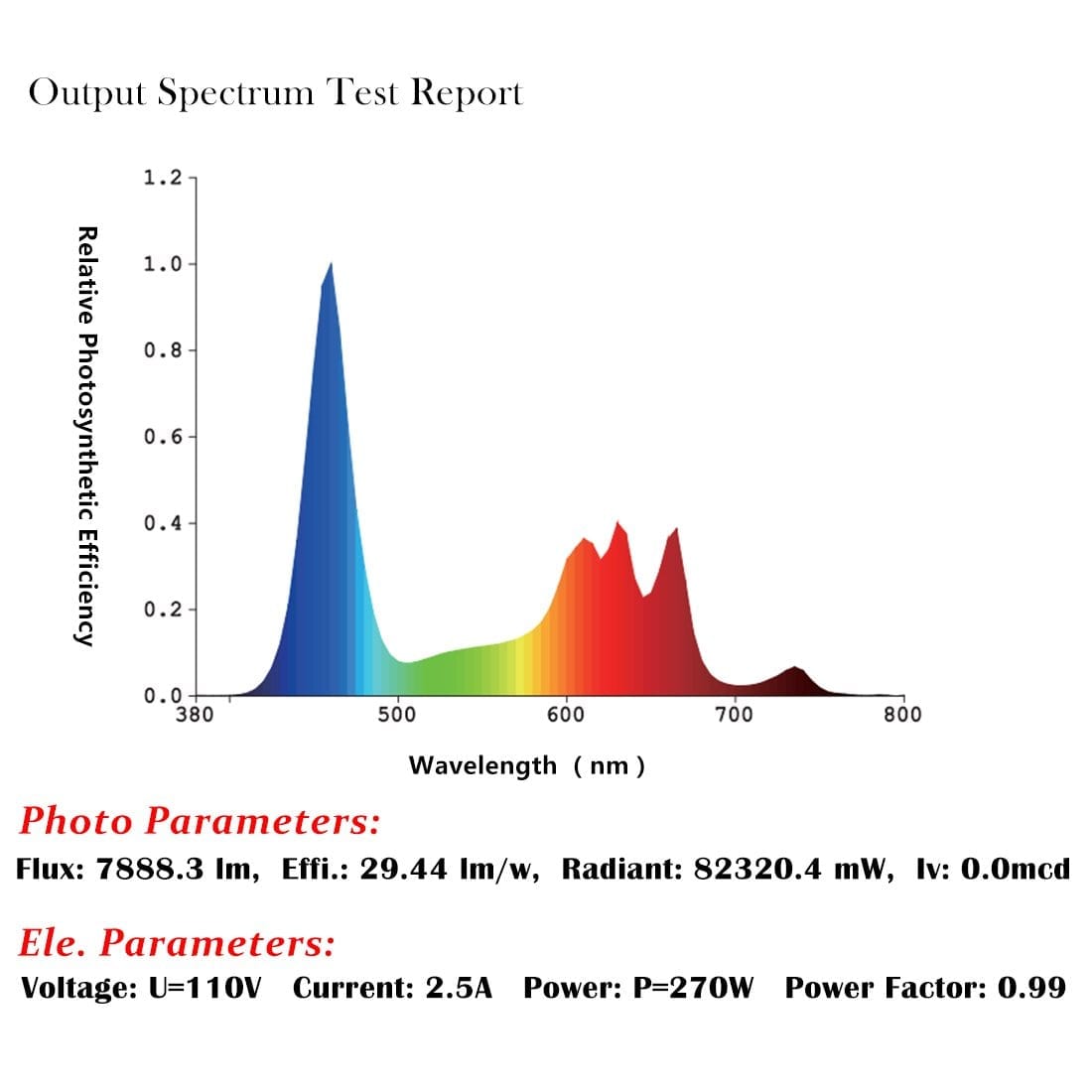 Other specifications
| | |
| --- | --- |
| Dimension | 16×13.7×3.1 inches |
| Weight | 11 lbs |
| Frequency | 50-60 Hz |
| Lifespan | 100,000 hours |
| LEDs | 120 pcs |
The pros and cons
Pros
Cons
• Long lifespan
• Nice, metal case design
• Works for 18 hours per day
• Decent full spectrum
• Daisy-chain functionality
• 3 years warranty & 30 days money back guarantee
• Not waterproof
• No separate switches for growth phases
Do you want to see this Vivosun 600w in real life? Check the unboxing video below!
Our final verdict on the Vivosun 600w review
Based on the Vivosun 600w review, this is a great light for you if you are looking for all essentials in a grow light. This durable and effective LED grow light is perfect for anyone who is starting or wants to expand its growing operations.
The Vivosun 600w is an affordable LED grow light with daisy-chain functionality, full spectrum and a long lifespan. This is perfect for anyone who wants to grow cannabis indoors. Combined with a 4×4 grow tent, this light is perfect.
Check the price of the Vivosun 600w LED on Amazon