Yehsence has earned the reputation of a high-performing company, which always delivers high-standard goods. Multiple growers have already employed the this relatively new and upcoming brand. They did this to take their horticulture production to the next level. If you're looking for an affordable and well performing LED Grow Light, then the Yehsence 1500W is one to consider.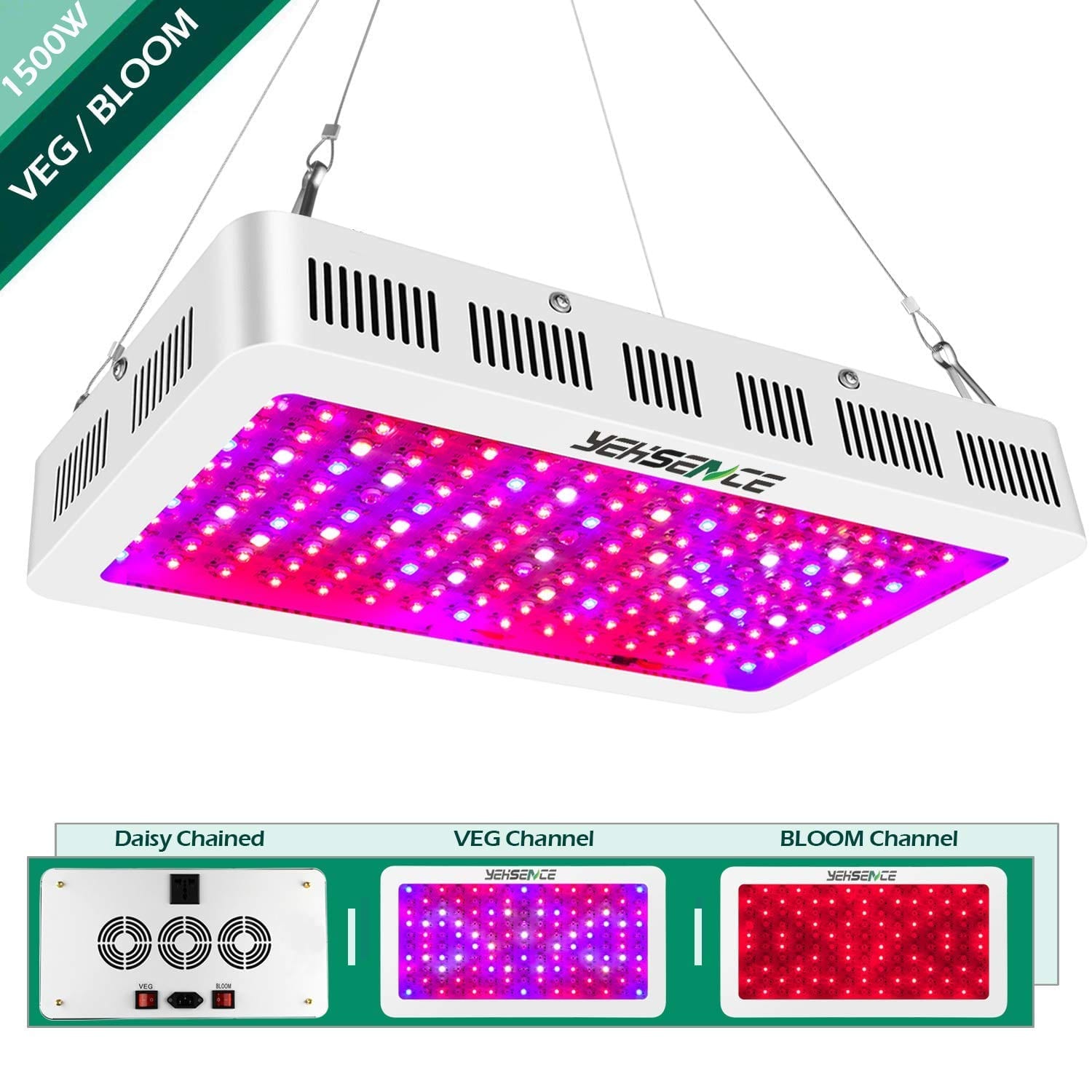 They've marketed this particular product as a professional and powerful grow light unit. According to the manufacturer's claims, it efficiently produces light for both the veg and bloom stages of your crop.
This grow light fixture comes with the usual items. It includes a US Plug cord, an adjustable hanger, a hanging kit, and an instruction manual.
Technical specifications and features of the Yehsence 1500w
Yehsence 1500W LED Grow Light with Bloom and Veg Switch, Triple-Chips (15W LED) LED Plant Growing Lamp Full Spectrum with Daisy Chained Design for Professional Greenhouse Hydroponic Indoor Plants
👍【VEG / BLOOM Switches】VEG and BLOOM are both functional switches, that can be set accordingly to the plant in different stages, VEG switch should be used when the plants are in the germination stage or beginning of the leaf stage (430-660nm),The BOOM switch is for the plant in the flowering and fruiting stages (430-740nm),We recommend that both switches be turned on in flowering and fruiting stage for the best results.
👍【Daisy chain design】The 1500w LED grow light with daisy chain design allows multiple lights to connect in parallel at the same time. One 1500 watt LED working current 2.30 Ampere, Please note in order to ensure safety, we suggest connecting not more than 3pcs to each other. The daisy chained cord is universal and is the same as the US power cord which in included with your purchase.
👍【Triple-Chip LED】15 Watt LEDs (3pcs 5 watt chips in every led) ,This provides more useable light for plants and are much brighter and efficient than double and single chip LEDs. Let your plants enjoy the closet possible option to natural sunshine. paired with our two cooling fans and heat sink in every led grow light fixture to ensure that the air circulation will keep the lights cool and quiet.
👍【Energy savings uses 80% less electricity than HPS/MH】The 1500w LED grow light input voltage AC85-265V, The LED grow light can replace traditional 1500 watt HPS/MH while consuming only 265 total watts! The best hanging height at 24"-48", The core coverage area is 64"*64"(5.4*5.4ft). Maximum coverage area at 78"*78"(6.5*6.5ft). It is more scientifically designed to be more energy-efficient than HPS HID and MH.
👍【Professional Customer Support】Our 36 Month warranty and friendly customer service are great reasons to buy this light, we also offer a 90 days money back guarantee, each of our led grow lights have passed strict inspection by our quality support team before they leave our factory. If there is any problem with your order or if you are not 100% satisfied, please feel free to contact as soon as possible. Please enjoy this absolutely RISK FREE purchase by clicking the yellow Add to Cart button.
The Yehsence 1500W LED grow light is what most would describe as a smart long-term investment. It not only meets all expectations, it has received overwhelmingly positive customer responses. This is because of all the great features it has to offer.
Triple Chip LEDs of Yehsence
Besides the price, its triple chips LED feature is one of the most appealing factors of this light. The result of this innovative technology is a super high PAR Value/Lumen output.
It consists of 100, 15W LEDs (3 pieces, 5 chips in every LED). This is definitely better in terms of brightness and efficiency when compared to double and single chips.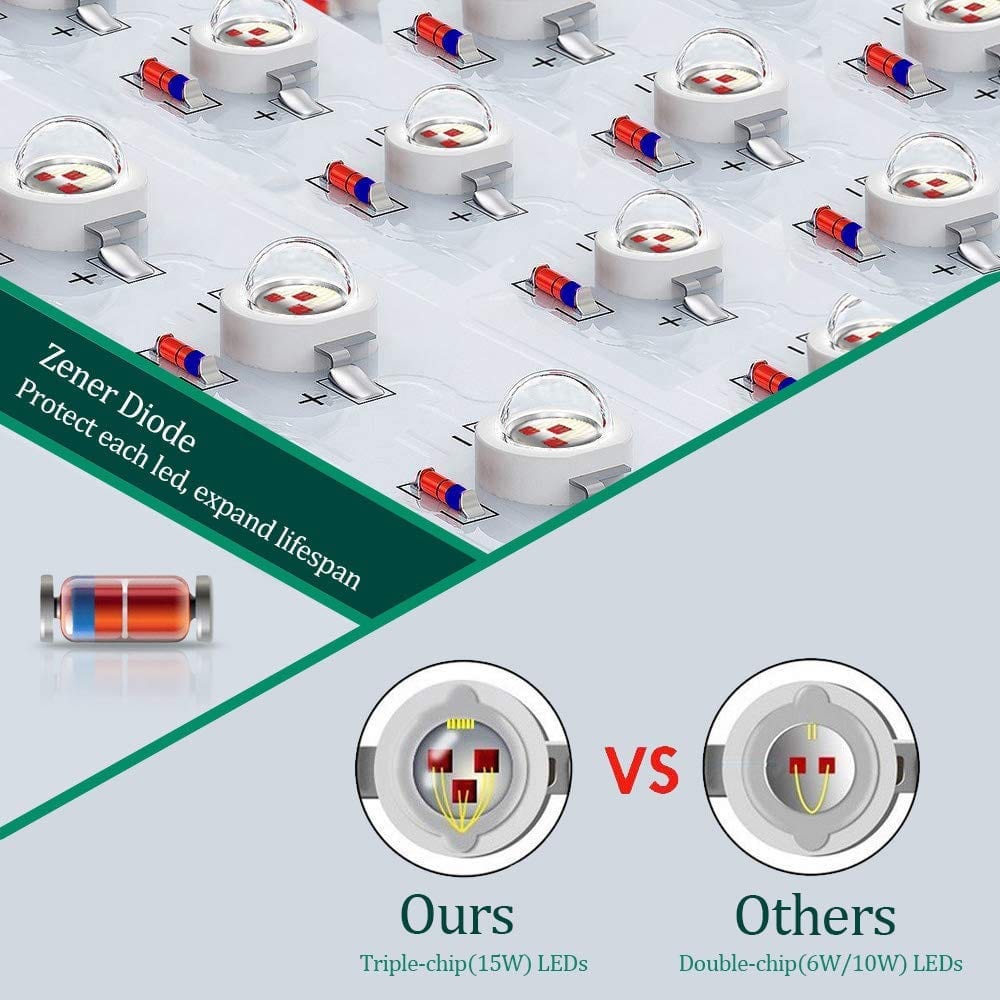 Yehsence put considerable thought and effort into its design. They've successfully engineered the light to maintain a balanced PAR/ Lumen output. The light adequately mimics natural sunlight.
Output and Coverage
Yehsence did a great job in providing an energy saving light. It uses 80% less electricity than HPS/MH.
This Yehsence 1500W LED grow light has an input voltage of AC85-265V. It replaces a traditional 1500W HPS/MH. All the while, it's only taking in 265 actual watts. It uses a standard DTOL power cord.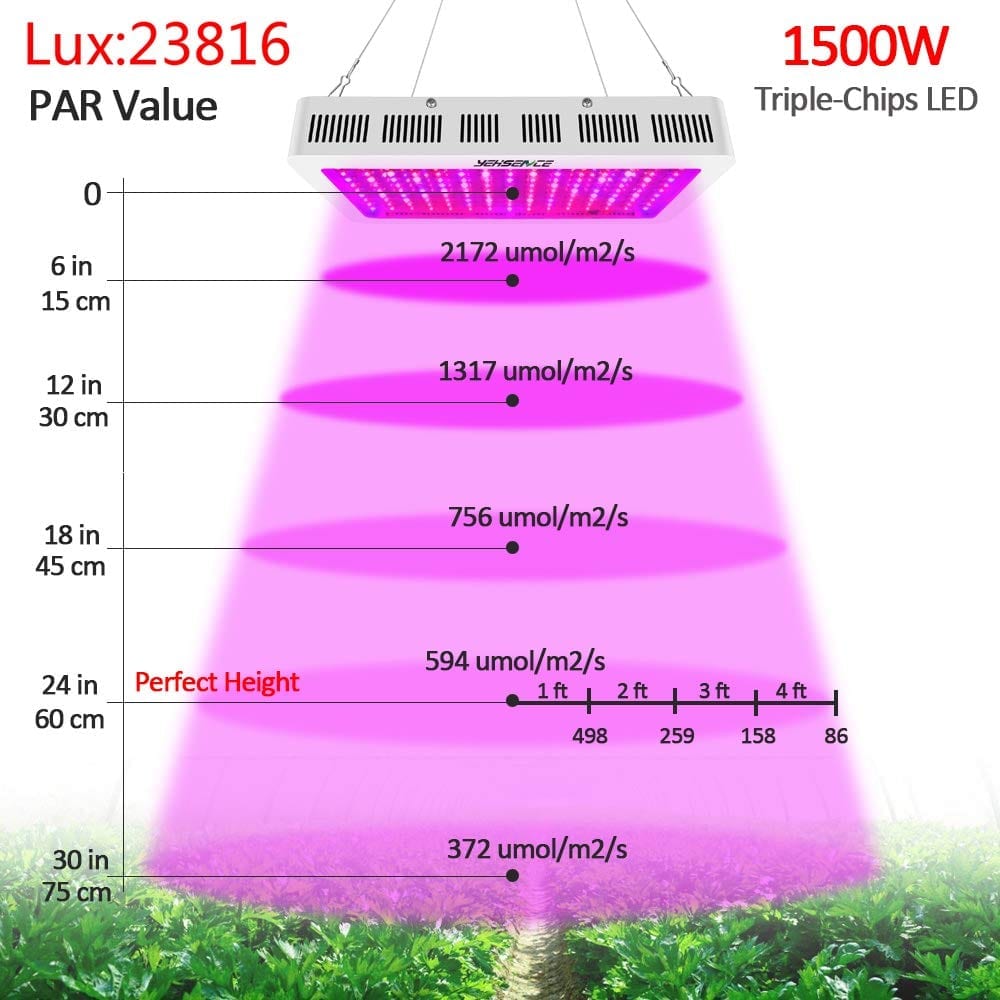 The manufacturer recommends the best hanging height to be between 24"-48". The core coverage area provided is a good 64"x64" (approx. 5.4ftx5.4ft), whilst the maximum coverage area is 78"x78" (approx. 6.5ftx6.5ft). At a height of 18" you get a decent 756uMol PAR value.
Effective Cooling System
The most common complaint of indoor growers is a light with high heat emission. With the Yehsence 1500w, you won't feel notice big temperature differences.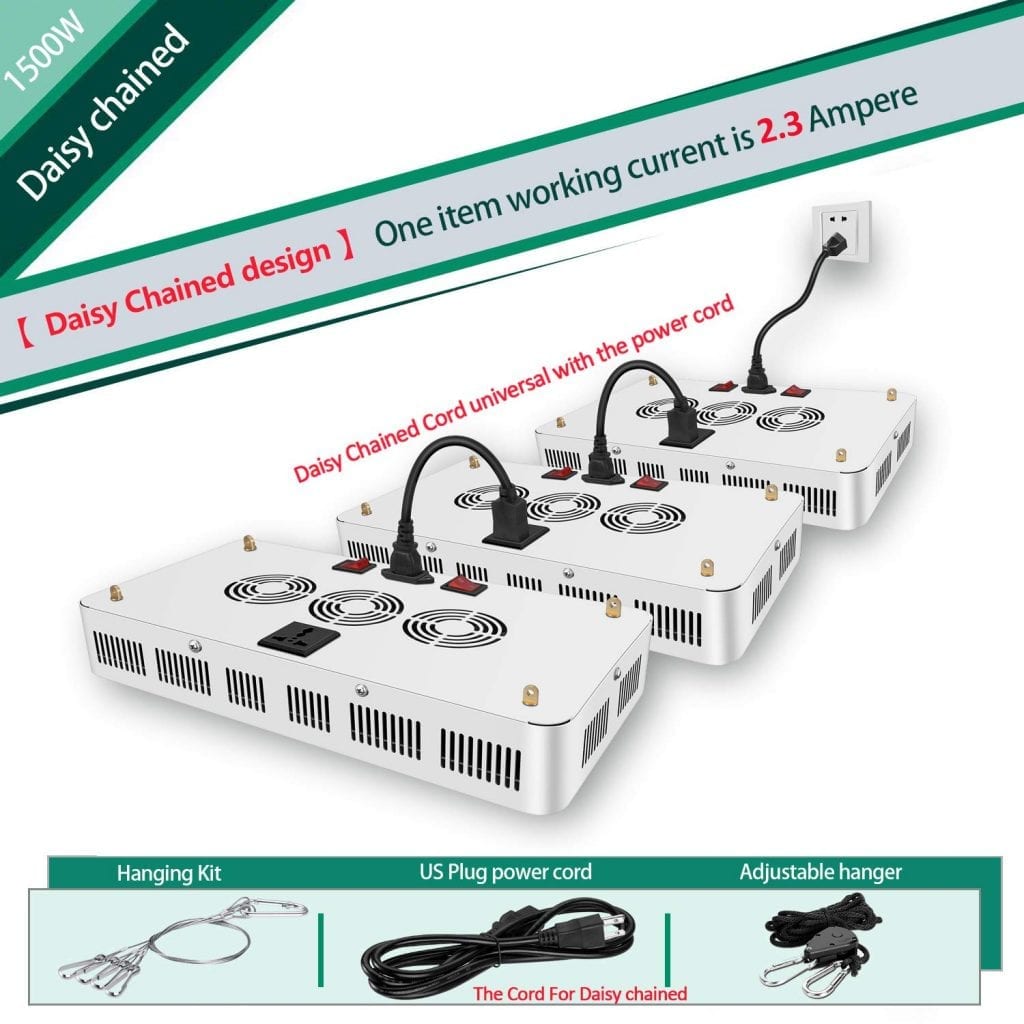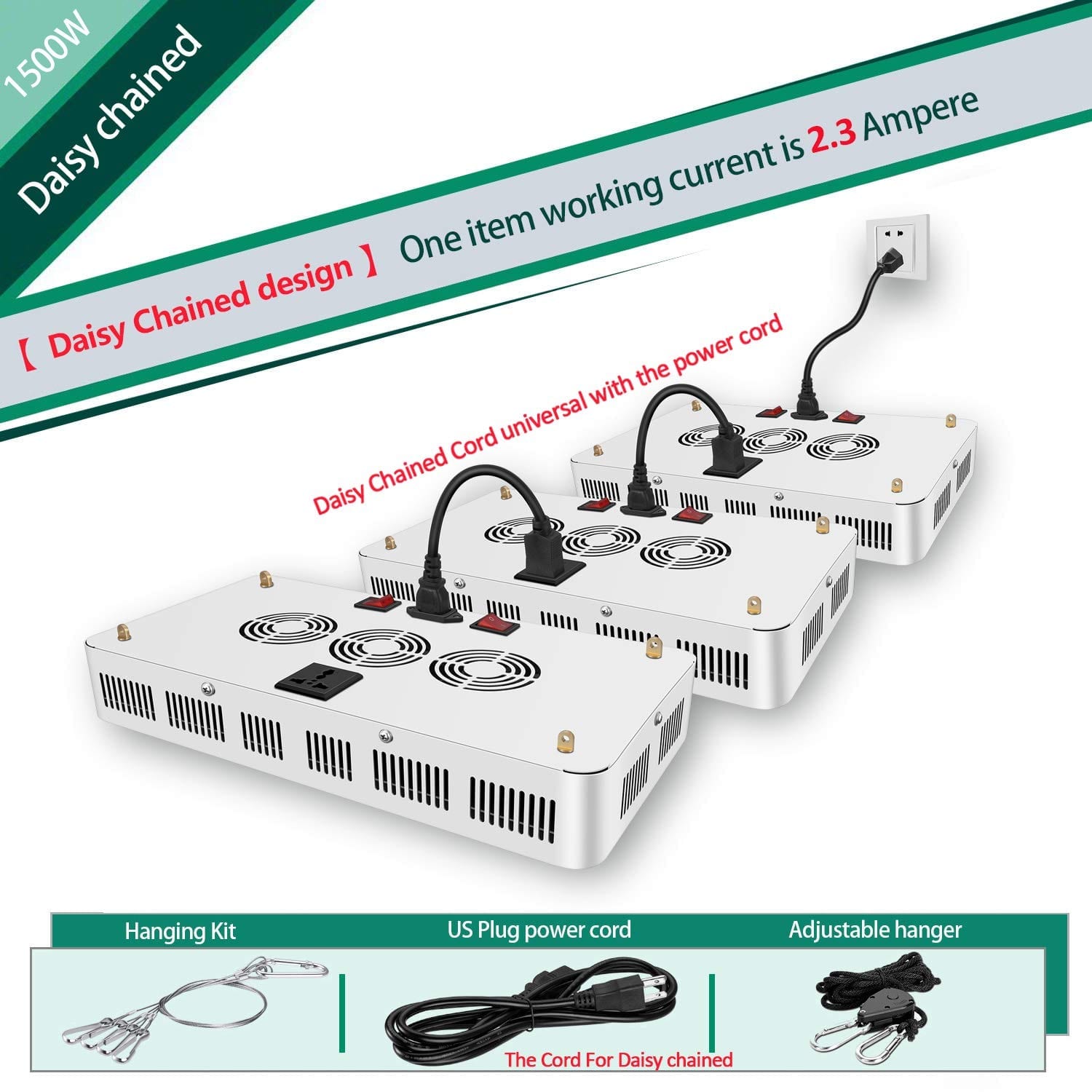 The 3 PCS cooling fan and aluminum LED mounting board heat sink, alongside the thermal silicone coated LED sources work hard to maintain efficient heat dissipation.
They've drilled in 2mm holes within the aluminum panel to assist the heat convection process. Your entire operation will be very quiet and cool.
Daisy Chain Design on the Yehsence 1500w
Yehsence included a daisy chain functionality to easily scale up your garden. This enables you to connect multiple lights simultaneously. Therefore, you can place them parallel to each other, working at 2.3A each.
VEG/BLOOM Switches:
You can set and control the VEG and Bloom functional switches according to your preference. This will optimize the color spectrum of your light, according to the growing phase you're in.
Pros and Cons of the Yehsence 1500w
Pros
Daisy Chaining socket available;
Integrated growing phase switch included;
Suitable for small, medium and large grow operations;
Incorporates the use of triple chip LED;
Intense and centrally focused light output;
A higher percentage of usable light provided;
Full spectrum provision;
Balanced and appropriately blended blue-red ratio;
3-year warranty and 90-day money back guarantee;
3 Cooling fans for effective heat dissipation;
100,000-hour lifespan;
Highly durable and low breakdown rate;
Lightweight 6.5lbs;
Assists plant growth in every stage;
Satisfying PAR value;
Great coverage;
User-friendly;
High value returns.
Cons
Comparatively high power draw;
Efficiency could be improved if more concentrated blue light for veg mode and more red for bloom was available.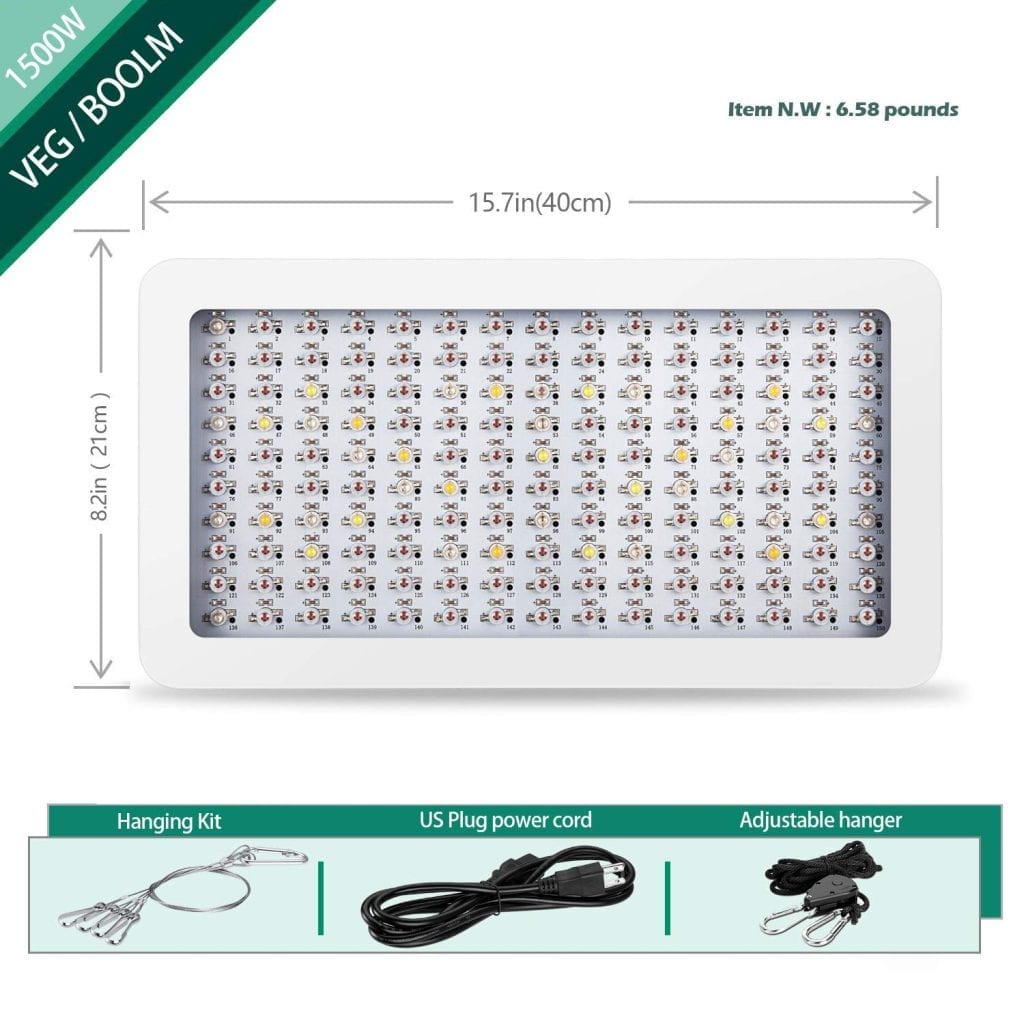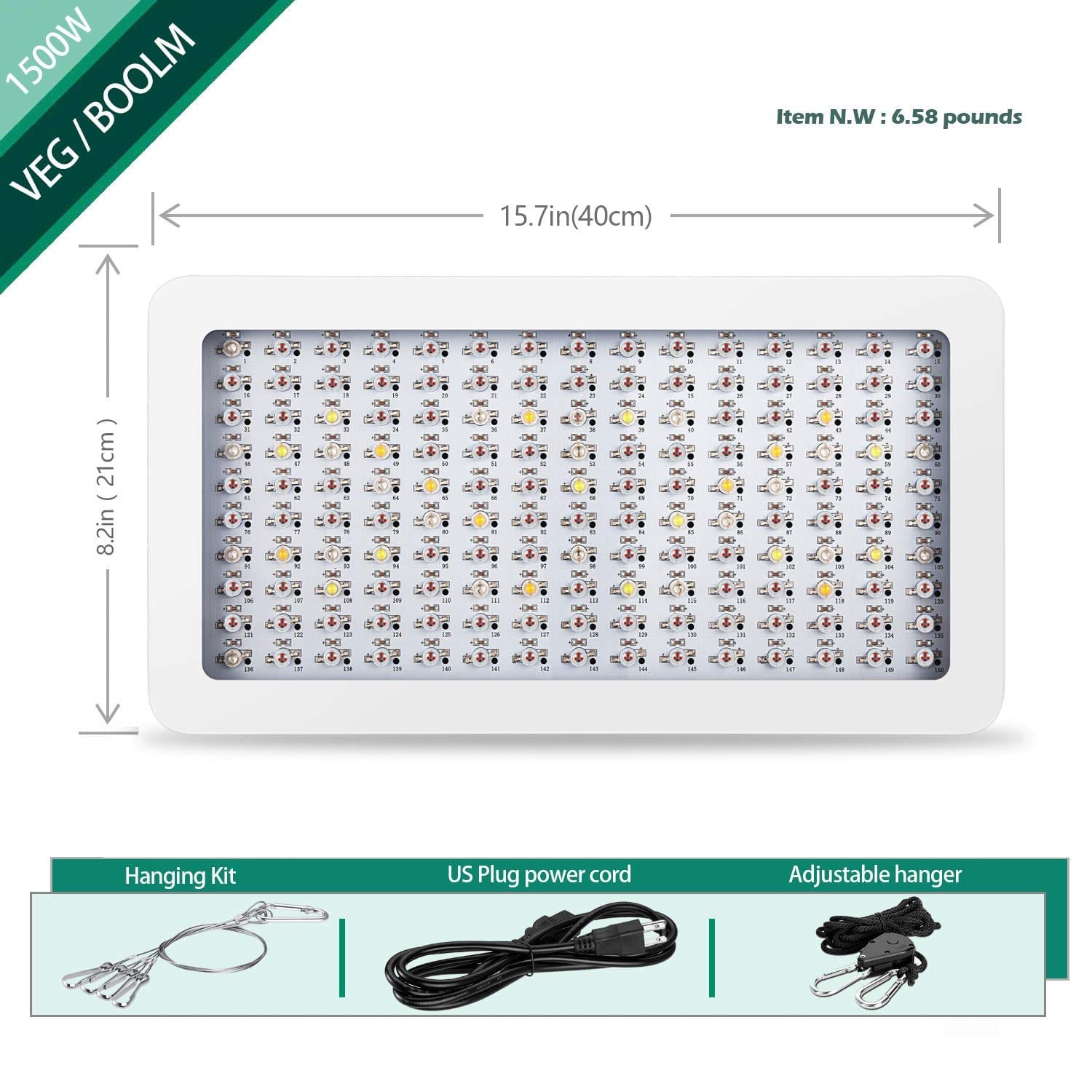 Conclusion on the Yehsence 1500w
The Yehsence 1500w LED Grow Light Module is a functional grow light fixture. The fact that this Yehsence 1500w is popular on Amazon is not surprising us.
The light draws low power, saves electricity and maintains a good temperature while emitting bright light.
If you can overlook your fear of trying out newer products, you will be the proud owner of a quality LED grow light. The Yehsence 1500w is definitely a light we would recommend.
Check the Yehsence 1500w on Amazon