A carbon filter is a tool that is used for the removal of impurities in the external environment. Its vital function is odor management.
The carbon filter tends to exist in many forms, for example, the carbon block water filter. Today, we will be dealing mostly with carbon air filters. The carbon air filters are used chiefly in the growth of indoor plants like the cannabis where some fertilizers, pesticides, and nutrients are used.
Investing in carbon filters for grow rooms might sound like the most absurd thing. But the foul smells that sometimes seep into the outside, make purchasing a carbon filter one of the best investments you can make.
Carbon filters for grow tents exist in two forms. The first of the filters is a carbon only filter while the second is more of a carbon filter fan combo. In this last case, it is both an inline and an exhaust fan. Talk about dual capabilities in one. The filter mostly takes a cylindrical form, and it makes use of deoxygenated carbon. It tends to use highly porous charcoal for air to pass through and the odor trapped.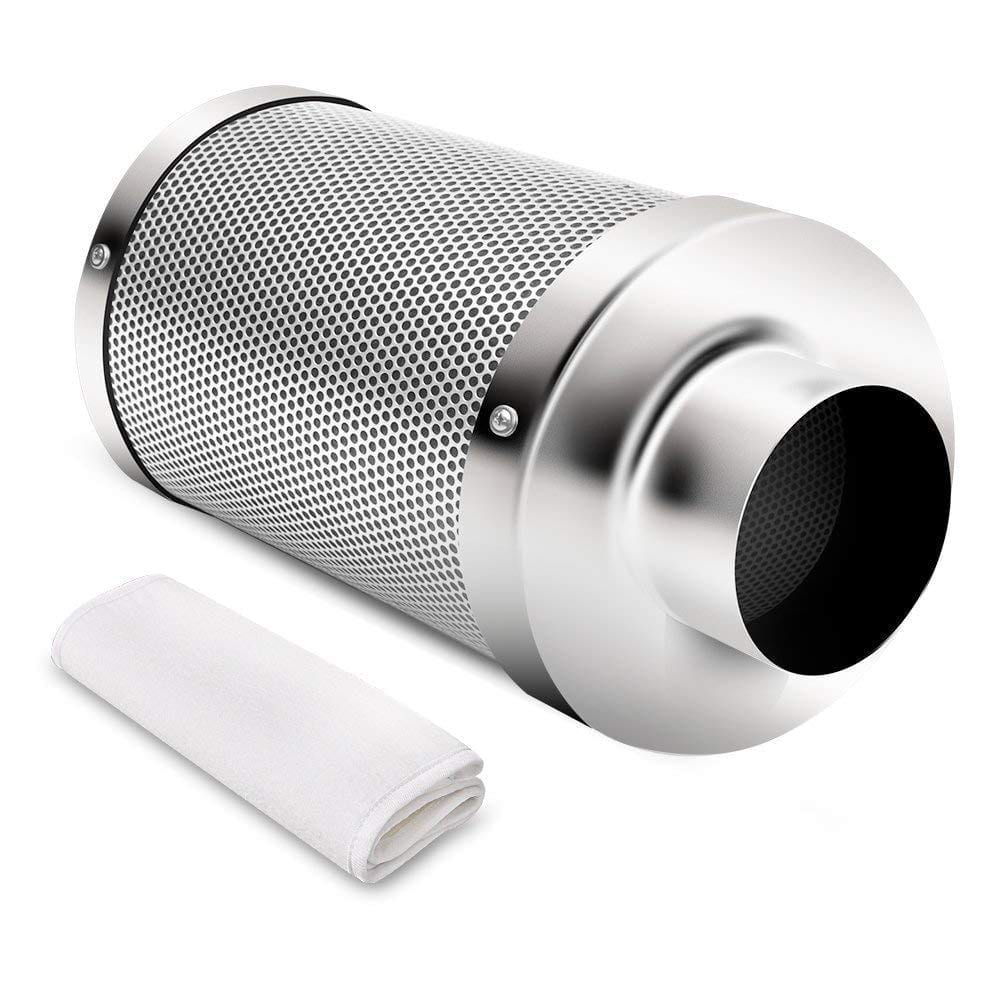 What to look for in a carbon filter
When selecting a carbon filter, you should consider various factors. We summed these factors up for you.
The number of carbon matters
Activated carbon adsorbs to its surface. Hence when fully adsorbed, the capability to be useful is depleted. Also, the amounts of pollutants being adsorbed, a small amount of carbon can be consumed within weeks making the filter useless. Therefore, the number of odor produced will influence the amount of carbon in the filter one can purchase.
The thickness of carbon matters
The more contact time carbon has with a pollutant, the better chances there are for the odor to be adsorbed. Also, the thicker the carbon filter the better the adsorption.
Thin carbon filters that are used in low-priced air filters are not the most effective in removing chemical fumes or odors.
Coconut shell activated carbon
This activated carbon's hardness makes the filters cleaner than other filters. This gives these filters a longer life expectancy. They are further divided into three groups depending on their general sizes, which include Micro-pores, Meso-pores, and Macro-pores.
Pre-filter
The pre-filter is used to reduce particles like dust from getting into the air filter. The pre-filter not only improves the lifespan of the filter but also helps in keeping the inline equipment or fan in check.
Portability
The portability of the filter refers to how quickly the filter can be moved. In the purchase of the carbon filters, filters that are compact tend to produce lesser noise and vibrations. They tend to be more efficient in their works as well.
Durability
This refers to the longevity of the filter. Most people would opt for the cheaper option without remembering the infamous saying that cheap is expensive.
In this case, going for a more expensive filter will be a better choice due to its (often) higher quality. The expensive filters tend to last longer and have low maintenance compared to their cheaper counterparts.
How to pick the right size? The video below describes it all for you.
The Best Carbon Filters of 2020 reviews for your Grow Room
We have reviewed six of the best carbon filters that are available. If you are looking for a good carbon filter to keep bad odor in control, you should check out these options.
| Product | Image | |
| --- | --- | --- |
| iPower 4-inch air | | |
| Amagabeli 6 inch carbon filter | | |
| Vivosun 6 inch air | | |
| Terrabloom 8 inch premium | | |
| Activated Charcoal 8-inch | | |
| iPower 12-inch air Carbon filter | | |
| Can-Lite Carbon Filters | | |
| Common Culture Carbon Filters | | |
| Can-Max Carbon Filters | | |
| Active Air Carbon Filters | | |
| Phresh Inline Carbon Filters | | |
| Can-Filters | | |
| Atmosphere Vortex-Pro Lite | | |
| Phat Filters | | |
iPower 4-inch air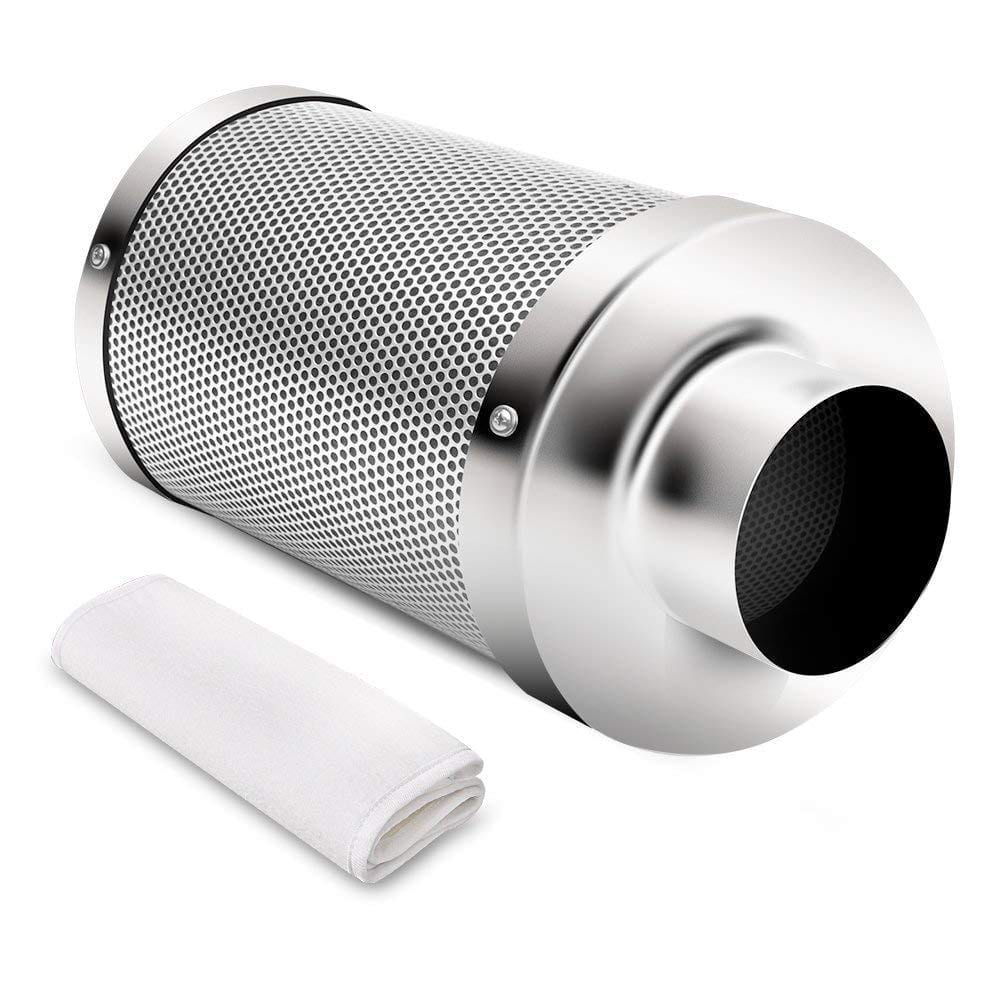 This model of the filter comes with a 4-inch flange ducting, which has a length of about 12 inches. The filter uses the Australian RC 412 that is activated by carbon to absorb pollutant molecules.
The airflow is 1200 CFM. Its superior performance is pinned to the 1050+ IAV charcoal which happens to be one of the best in the world. It has an open-air mesh that allows maximum airflow and cleaning capability. Its open area is 53% which maximizes the airflow making it the most effective filter for odor management. This, therefore, uses the iPower as an intake filter or as an exhaust filter.
Some of the positive assets of this product are that it is made of good quality aluminum for better longevity and also has a reversible base and a flange for a longer usable life. The negative aspect of the filter is that it is sometimes difficult to fit the carbon filter. We personally think that this is one of the best carbon filter in the market.
Amagabeli 6 inch carbon filter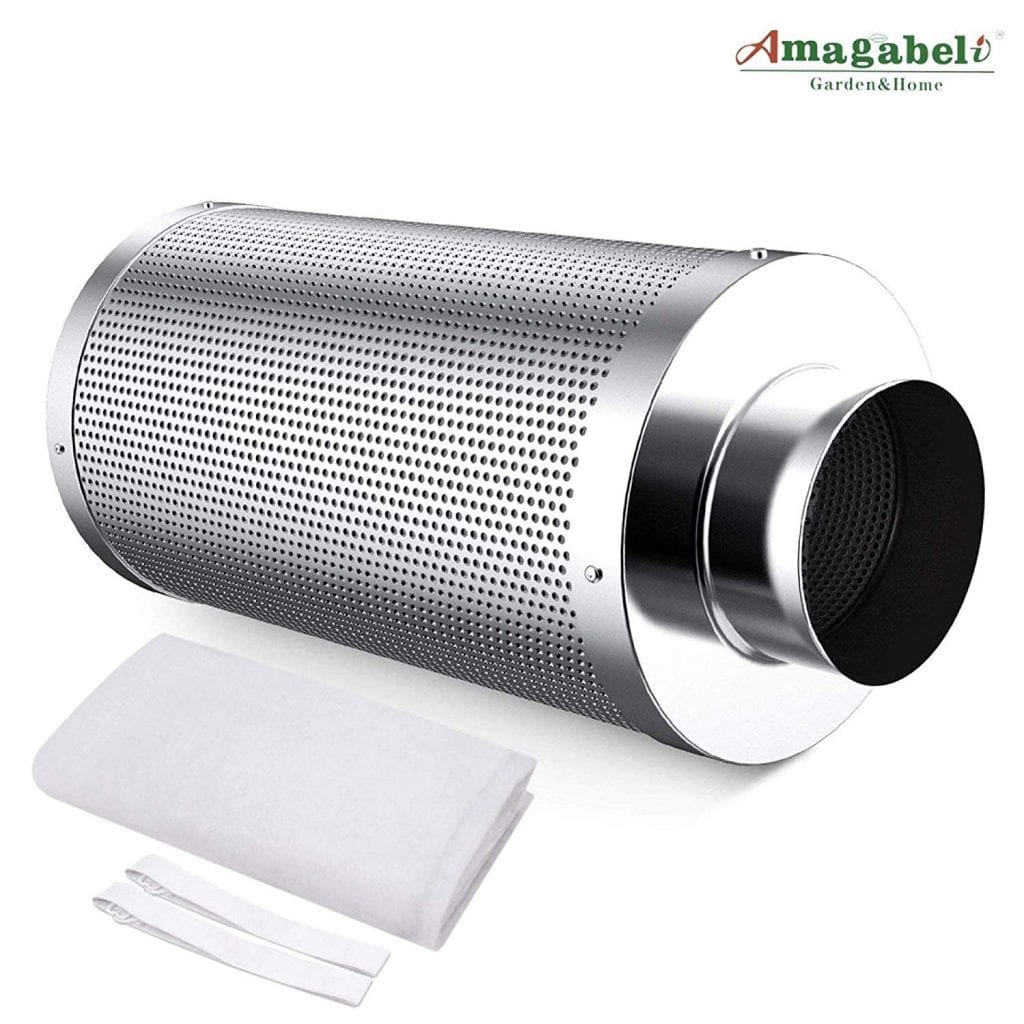 From the name itself, you must be wondering where it hails from and if it works good.
Well, as per market research, it is one of the highly rated carbon filters in the market. Not only will it clear the foul smell in the grow room; it destroys the foreign particles, dust, and other organic compounds. This is thanks to the machine it has been packed with; The Australian virgin charcoal.
This type of filter has washable pre-filters and elastic bands that can be easily mounted around the carbon filter. Its charcoal design ensures maximum absorption to improve the longevity of the filter. Their filters tend to last longer compared to other brands.
In the part of durability, the filter is heavy duty and compact in every possible way. As a result, most people will get the filter to be heavier than expected.
This filter is however not super expensive and can be used both as an intake or exhaust filter. The only con to this amazing filter is that it is quite heavy. We think this is a filter that you should definitely consider as an option.
Vivosun 6 inch air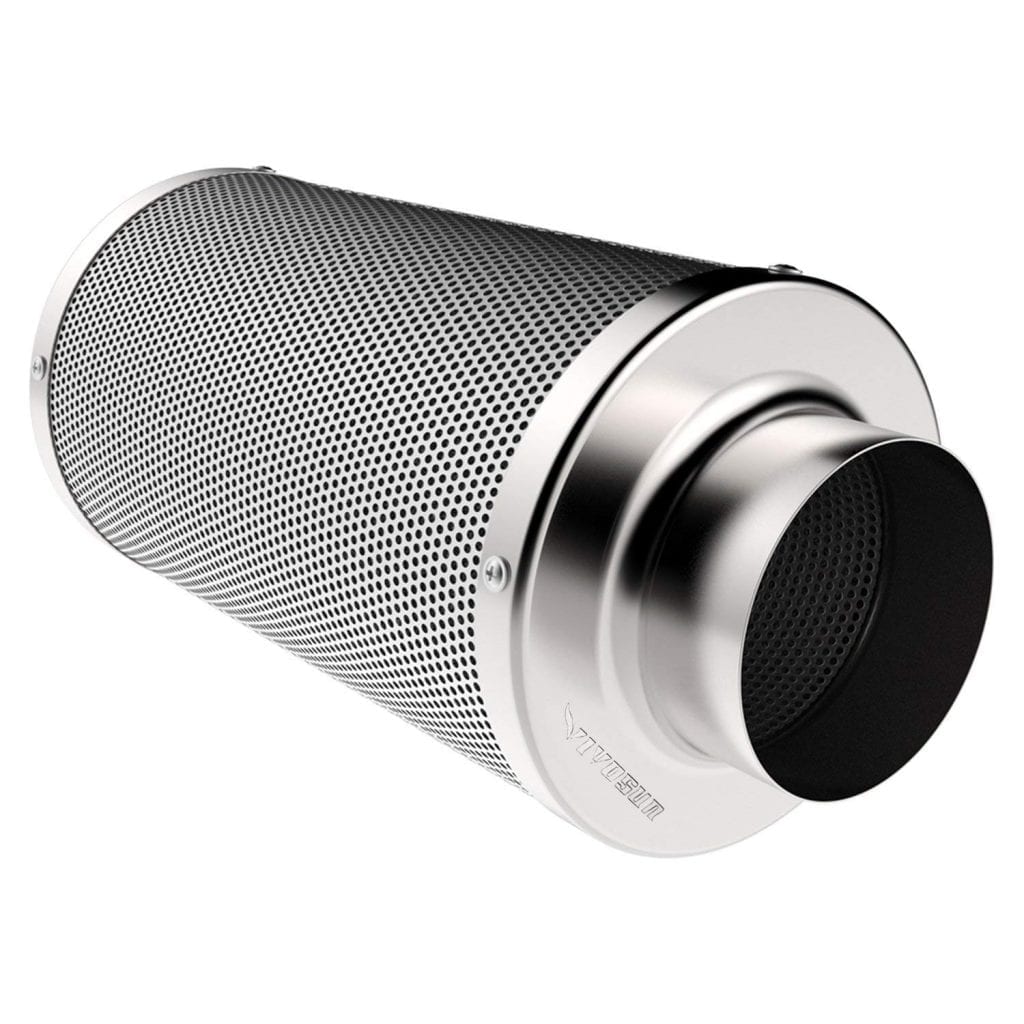 In most cases, the filter is always compared to the Phresh carbon filter. Both come with a pre-filter wrapped around the unit to ensure that the air passing through the unit is properly cleaned. This helps in prolonging the life usability of the charcoal inside the unit.
In comparison to the 4-inch version, the 6 inch is a larger size. The dimensions, however, are not much of a problem. You can go for a 4-inch, 6-inch or 8-inch version of this filter. The bigger your grow room, the bigger your air carbon filter needs to be.
Its body is made of galvanized steel and very high-quality charcoal so that it can either be used as an intake filter or exhaust carbon filter. The good thing about it is that it comes with guides on how to install the filters in different ways.
It is a somewhat affordable option among the carbon filters. However, its overall performance is solely based on its general reviews from the users and performance. The cons on this filter are a bit more to its functionality. For one, the filter is likely to fail too early, and it may not be completely suitable for inline fans.
Terrabloom 8 inch premium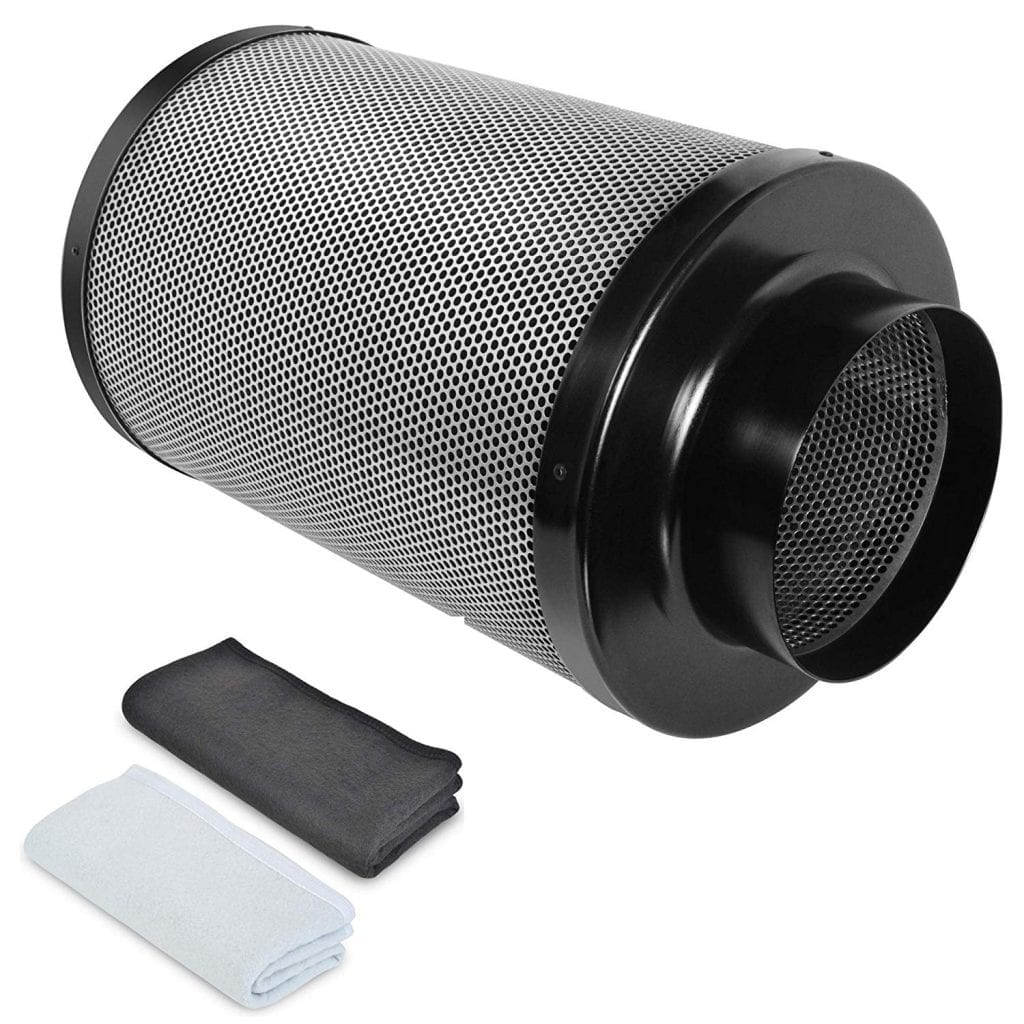 This type of carbon filter has a carbon bed that is approximately 46mm thick. The machine has small granules packed within it. This gives it 15% more carbon than what can be obtained with the 38mm carbon beds in other types of filters.
The tiny pellets also make the packing inside the filter to be tight hence minimizing movement in the filter. Having fewer pockets in between the granules, the filter tends to get improved performance in the filtration process.
The Terrabloom 8 inch premium carbon filter is made with the RC-48 Grad Australian Carbon. This is high quality compared to other filters that use larger carbon pellets. The carbon filter is used to filter out plant-based allergens and other disagreeable odors. It can last up to 24 months and is rated to have up to 200 CFM.
The filters main pro is that it has an effective filtration system and a longer lifespan than most carbon filters. Some of the drawbacks include not being as effective in clearing of the odors as other filters, and one might generally have to install a clamp to make it operate silently. True to form; however, the manufacturers offer a 90-day warranty against defects, which show how much they believe in their carbon filter's quality.
Activated Charcoal 8-inch – Carbon Filter for Grow Room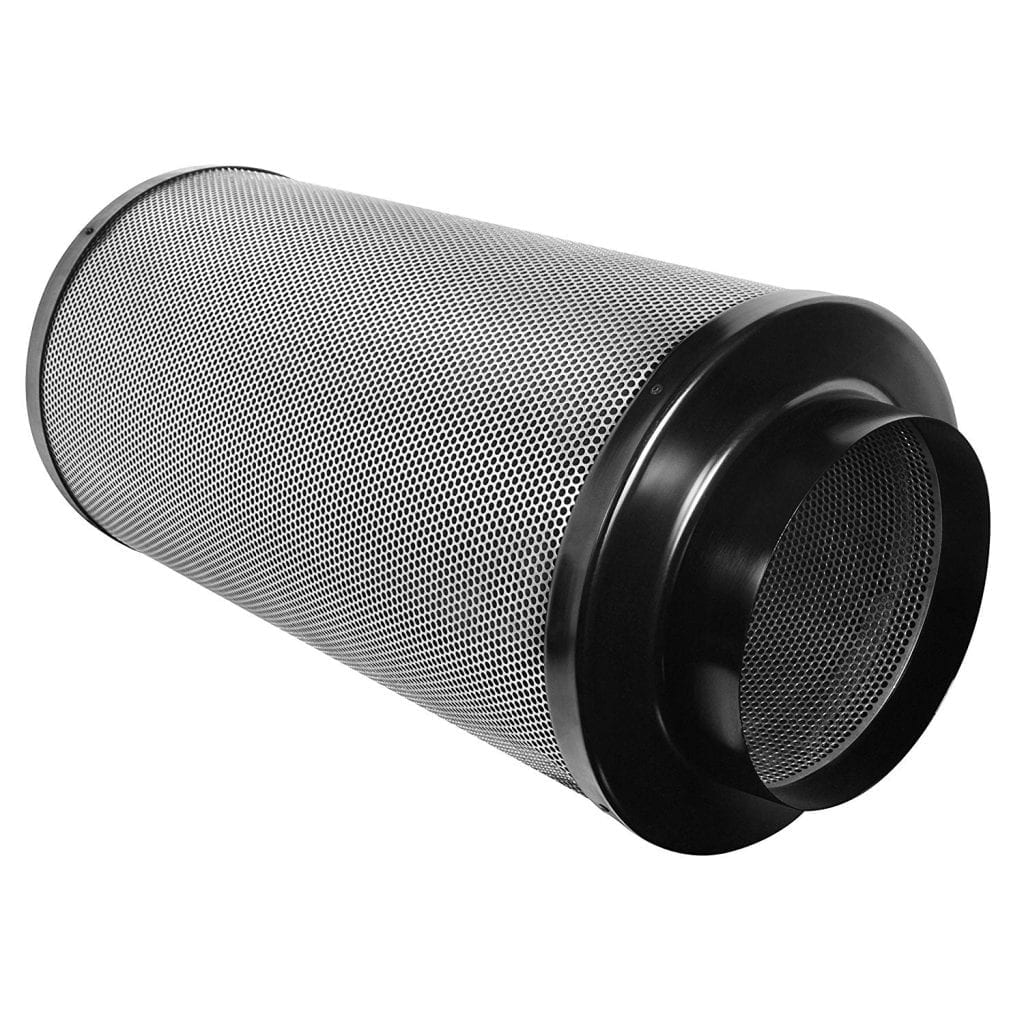 The activated charcoal carbon filter is a type of filter of which the charcoal has been treated with oxygen. This opens up a lot of tiny pores between the carbon atoms. This method is hence also referred to as carbon filtering. Each granule of carbon provides a large surface area allowing the pollutants particles to maximum exposure to the existing sites within the filter media. The activated charcoal is good at trapping other carbon-based impurities as well as things like chlorine.
iPower 12-inch air Carbon filter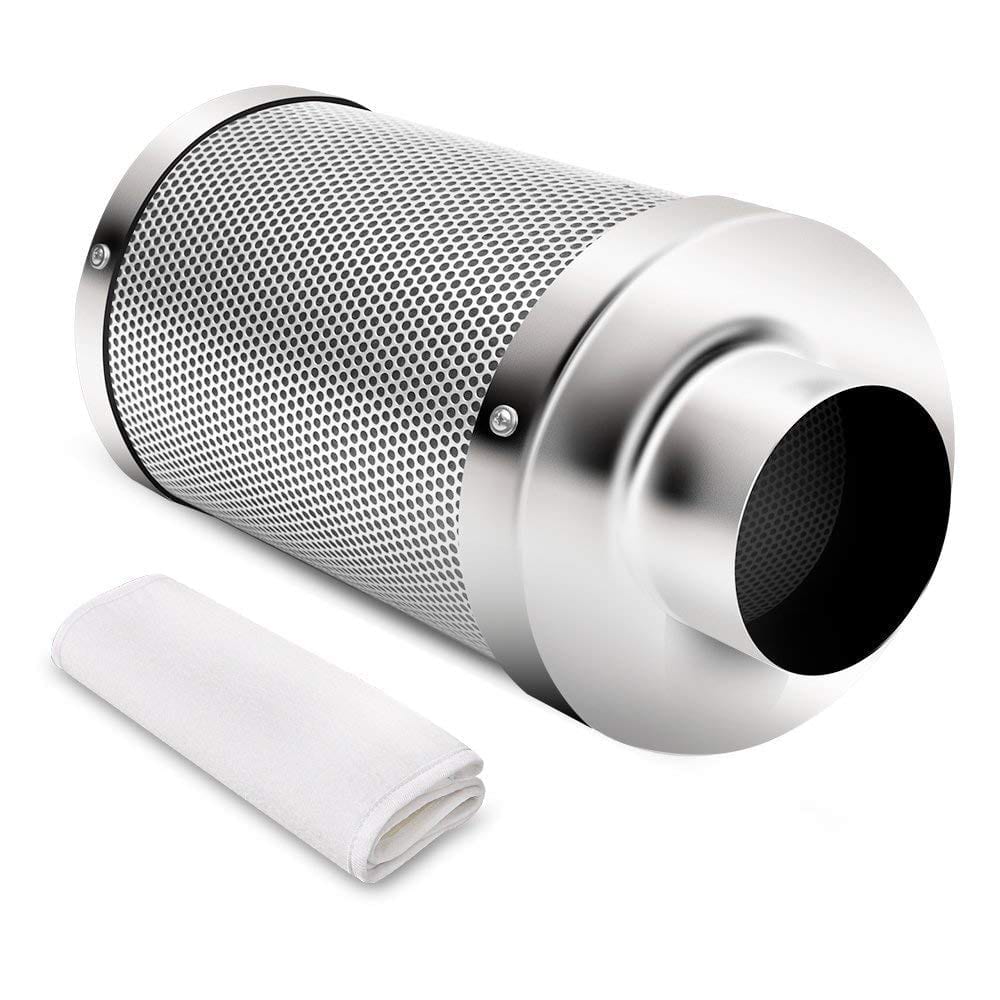 The filter has a life expectancy of 1.5 years and has a reversible flange and base intended for extended service. It is made up of the 1050+ IAV Australian Virgin Charcoal, which is one of the world's most absorbent charcoals.
Its pre-filter that is included is to be replaced every 6 months to protect the filter. It has a carbon layer that measures up to 50mm thickness hence absorbing and eliminating most of the undesirable odors and additional harmful chemicals.
This carbon filter is the same as its 4 inch version, but bigger and intended for use in larger grow rooms.
Can-Lite Carbon Filters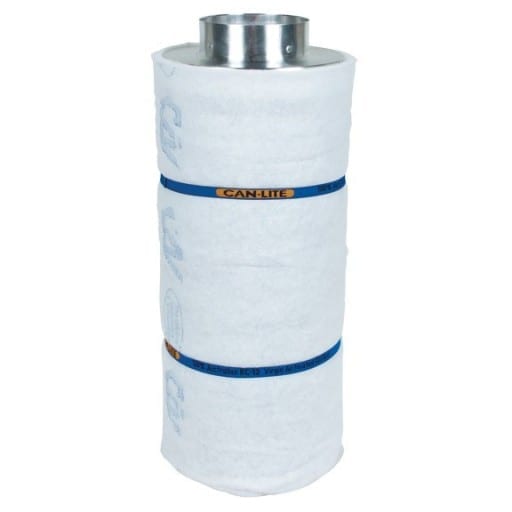 Can-Filters are manufactured in North America using 100% Australian granulated carbon, ensuring the efficiency of the carbon filter. Moreover, this carbon layer is two-inch thick to adsorb maximum odors and chemicals from the air, keeping your plants fresh.
The filter's micropore structure helps with this process as well, getting rid of the bad odor. More importantly, the Can-Lite series has a user-friendly interface, so if you want portable and lightweight filters, you'll love Can-Lite. These filters are pretty lightweight when you compare them to other brands of the same size.
Plus, the tops and the bottoms of the Can-Lite filters are made up of aluminum. This not only adds to the durability and longevity of the filters but also to its light body. However, they come with built-in flanges, which means you have to be extra careful.
They also come with a prefilter to extend the filter's life. Although the Can-Lite series filters can operate on a maximum of 80 degrees, it's better to keep the temperature low and the humidity below 70%. This way, these filters can last you longer than the guaranteed 12-18 months.
Pros
Lightweight 
Easy to install and use 
Thich carbon layer 
100% Australian carbon
Cons
Common Culture Carbon Filters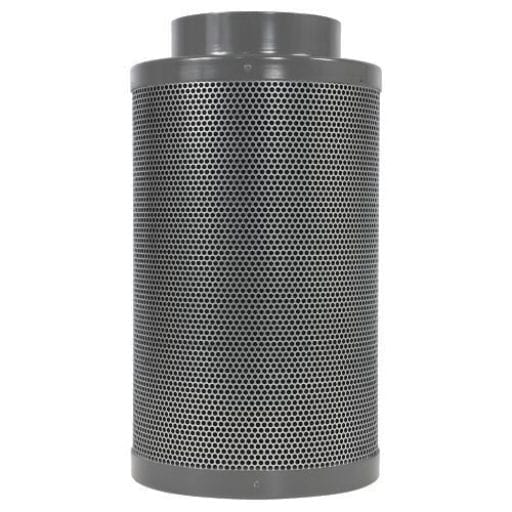 These carbon filters from Common Culture are another set of cost-effective filters. They have Australian RC-4/12 activated granular carbon in them, which is machine-packed and helps in effective adsorption of odors and other harmful gases from the air.
Moreover, Common Culture filters have an open mesh design that helps achieve optimum odor removal. But if you're worried about its weight, you can rest assured, because they are not bulky at all. They do come with built-in flanges, though, so keep that in mind when you're picking your filter.
Furthermore, these filters offer powder-coated aluminum tops and bottoms instead of regular paint. Aluminum adds to the durability of the filter, and the powder-coated surface further makes sure to keep it safe from humidity.
The first time you use this product, you won't have to buy a prefilter separately as the package includes it. However, you will have to invest in it later on. Available in many different sizes, Common Culture carbon filters are the right choice at affordable prices.
Pros
Australian granulated RC-4/12 carbon
Comparatively lightweight 
Powder-coated aluminum tops and bottoms
Comes with a prefilter
Cons
Can-Max Carbon Filters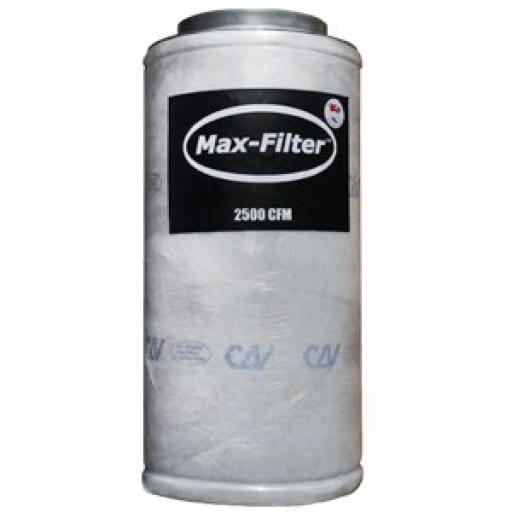 The Max series by Can-Filters includes only one jumbo-sized 2500 CFM carbon filter, so if you need a heavy-duty filter for a bigger space, this is the one to go with.
To begin with, Can-Max has a diameter of 20 inches, which means over 17 square feet of surface area. This vast area helps in absorbing more odor and particles from the air by providing adequate contact time for the carbon granules.
Ideally, carbon filters should have a thick layer of carbon, especially larger sized filters. This particular model has a carbon layer of 2.5 inches or 63.5 mm thick, which helps remove odors quickly and also increases its longevity.
Moreover, it's made up of lightweight aluminum that keeps it less heavy and more durable (the aluminum is 40% perforated.) The whole thing weighs around 103 lbs. It might seem a lot, but for a 2500 CFM filter, you can expect it to be a bit heavy.
Plus, it doesn't come with built-in flanges; rather, you get to choose your preferred size and install it yourself. And as with all Can-Filters, this one too comes with a prefilter that should be changed now and then.
Overall, the Max Filter is ideal for areas that need heavy-duty work with removing odors.
Pros
Large capacity 
Thick carbon layer 
Aluminum construction adds to the durability 
Different flange sizes available 
Cons
Active Air Carbon Filters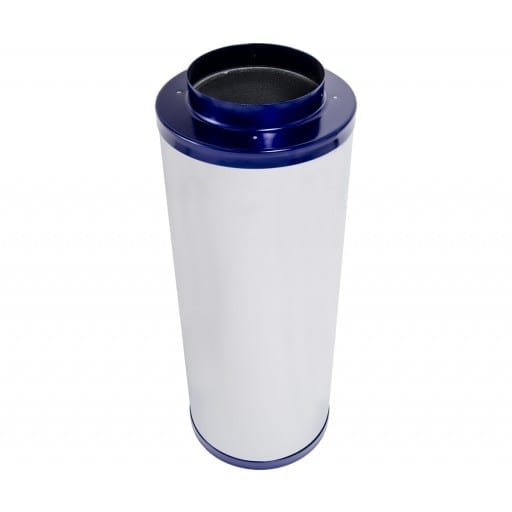 Setting up a grow tent can be difficult sometimes, and finding a suitable place for your carbon filter can add to that. But with Active Air carbon filters, you have the option to choose their inline filters that you can place almost anywhere, even outside the grow tent.
These inline filters have a dual filtration system, which means that air will enter through the top and exit at the bottom. This way, it will get filtered twice, so more adsorption will take place to remove odors effectively.
The 1.8-inch thick layer of carbon also helps with this, although a thicker layer would have been better. Nevertheless, you'll see it's pretty good at its job. Active Air filters also have powder-coated aluminum tops and bottoms, making it durable and resistant to heat and corrosion.
You can also get their regular carbon filters, which have almost the same features. All of the Active Air filters have Australian granulated carbon in them for removing odor and pollutants efficiently. Moreover, they're available in a variety of sizes to fit your needs best.
Pros
Inline filters offer portability 
Powder-coated aluminum tops and bottoms
Comes with pre filters 
Dual filtration improves efficiency 
Variety of sizes available 
Cost-effective
Cons
The carbon layer is not very thick 
Phresh Inline Carbon Filters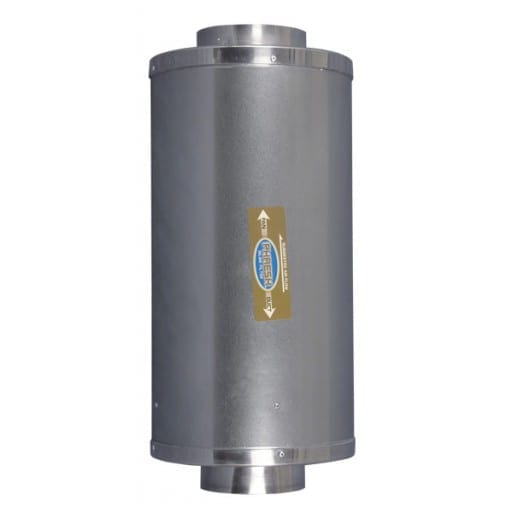 Another range of inline carbon filters in this list is from Phresh, known for providing its customers with effective filters. Pair them with an exhaust fan and you're all set for cleaning your air.
Phresh filters come with RC 4-8 triple activated virgin carbon from Australia. This carbon is heated at 1200 degrees so that small pores open on its surface, and more air can contact it. Moreover, it's machine-packed, so you know that it's nice and tight.
Its carbon layer thickness is 1.8 inches, which is about average when you compare it with other brands on our list. But what makes up for this is the low ash content in this carbon filter, keeping it dense and extra absorbent.
Phresh inline filters also have aluminum tops and bottoms that make them very lightweight and super easy to install. Moreover, it's open-air mesh has 51% perforation for more air to pass through.
Combining these features makes Phresh the right choice for almost any grow room, especially considering its vast range of sizes available.
Pros
RC 4-8 Australian Carbon 
Tightly packed in
long-lasting 
Aluminum tops and bottom make it lightweight 
Available in different sizes
Cons
Carbon layer lacks maximum thickness
Can-Filters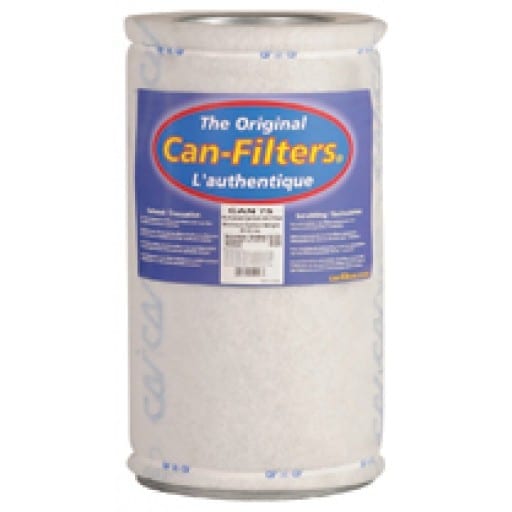 The original Can-Filters are a product of 30 years of experience by the Can-Filters company. They have almost all the features that make these filters reliable and trusted by customers.
These filters have by far the thickest layer of carbon – a good 2.5 inches. This high-density carbon will help remove even the most pungent odors from the air and also aid in the filter's longevity. They will last you around 12-18 months, or even more if you maintain the recommended temperature and humidity.
Moreover, the carbon is a specialized CKV-4 type, which is pelletized into even granules. After that, it is tightly packed for an even distribution of airflow throughout the filter. This decreases the amount of pressure on your fan.
The original Can-Filter is available in many different sizes and comes without a flange, so you can choose the flange size yourself to fit your needs best.
Pros
Custom CVK-4 carbon for efficiency 
Thick 2.5 inch carbon layer 
Long-lasting 
Works at high temperatures 
Interchangeable flanges
Cons
Atmosphere Vortex-Pro Lite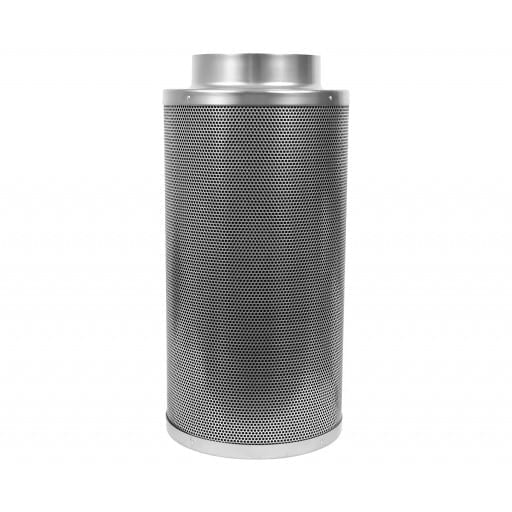 Another strong competitor is the Atmosphere Vortex-Pro Lite Carbon Filter. As the name suggests, filters from the Lite series are lightweight for ease of use.
More importantly, though, these filters have highly porous virgin Australian carbon in 4 mm granules for the effective removal of VOCs from the air. This carbon layer is 1.8 inches thick in the Lite series. The Reversible Vortex-Pro filters have a 2.6-inch layer, though, which tops the Can-Filters' carbon thickness.
Secondly, the prefilters in these carbon filters are superior due to their antibacterial properties, so that the air comes out odorless and germ-free. They're also 0.8 inches thick for efficiency.
Last but not the least, their frames consist of aluminum tops and bottoms, which makes the filters pretty lightweight and easy to install. Moreover, the mesh is 51% perforated to ensure better airflow. You can choose between 10 sizes to find the perfect pick for yourself.
Pros
Virgin Australian carbon 
Lightweight frame 
Lightweight carbon
Antibacterial prefilter 
Ten sizes available 
Cons
Carbon layer comparatively thin
Phat Filters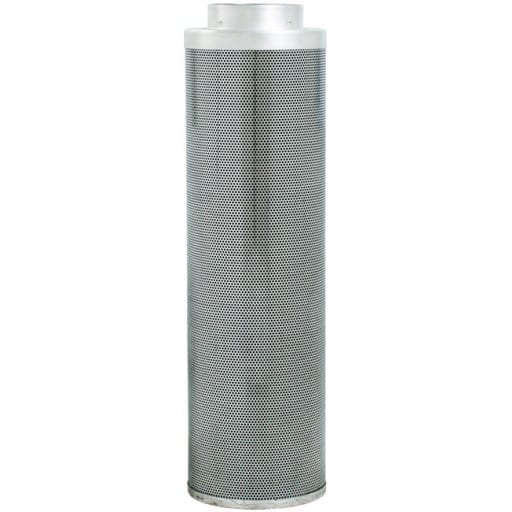 If you're looking for a cost-effective carbon filter, go for Phat Filters. These carbon filters are made from 100%, virgin Mongolian charcoal, another premium-grade form of carbon.
This carbon is tightly packed into a two-inch-thick layer, with a contact time of 0.05 seconds, which is less than other brands. A shorter contact time helps make a lighter carbon bed. Phat Filters also claims to pack in 20% more carbon by 'Vibra-packing' five times in a row.
As far as weight is concerned, Phat Filters are comparatively lightweight with their aluminum tops and flanges, making them easier to lift. Their bottoms are also made up of aluminum but shaped in a conical or vortex design to optimize airflow inside.
Phat Filters also boasts a 53% perforated metal mesh that maximizes airflow for superior performance. To further improve the efficiency, they have a non-air permeable membrane inside to make sure no air passes through unchecked from the sides.
Overall, it's a real bargain. You can get around two years of use from these filters, although the warranty only lasts one year.
Pros
Virgin Mongolian carbon 
Lightweight 
53% perforated metal mesh for increased airflow
Efficient anti-air bypass design 
Two-inch thick carbon layer
Cons
Short warranty 
Built-in flanges 
Conclusion and Recommendations on the Best Carbon Filter Reviews of 2020
Concerning the various carbon filters that exist in the market today, the mentioned filters are the best when it comes to a good carbon filter for grow tents. The filters are not as outstanding or remarkable as the new generation carbon filters. The main improvement is the use of carbon. This creates the best carbon filter for grow rooms that is available at the moment.
A primary weed breeder needs the filters for the plant allergens that pollute the place. Hence, a grower will need the best carbon filters there are in the market.
The iPower carbon filters take the lead in the best carbon filters for weed grow rooms. This is because of its outstanding properties in the working system of the filters. Also, you have a lot of options in size with the iPower.
The Amagabeli comes at a close second since its working mechanism is more like that of the iPowers with great filters implemented. The Australian charcoal used as the pollutant extract and the dual capability of the filters are great in this carbon filter. If you require the best, you have to spend money; but for the ultimate best the named filters will be our recommendation.
Don't forget that if you are looking for cheaper options, the other filters are great ones as well. Although, you have to keep in mind that you will be getting lower results in terms of odor control.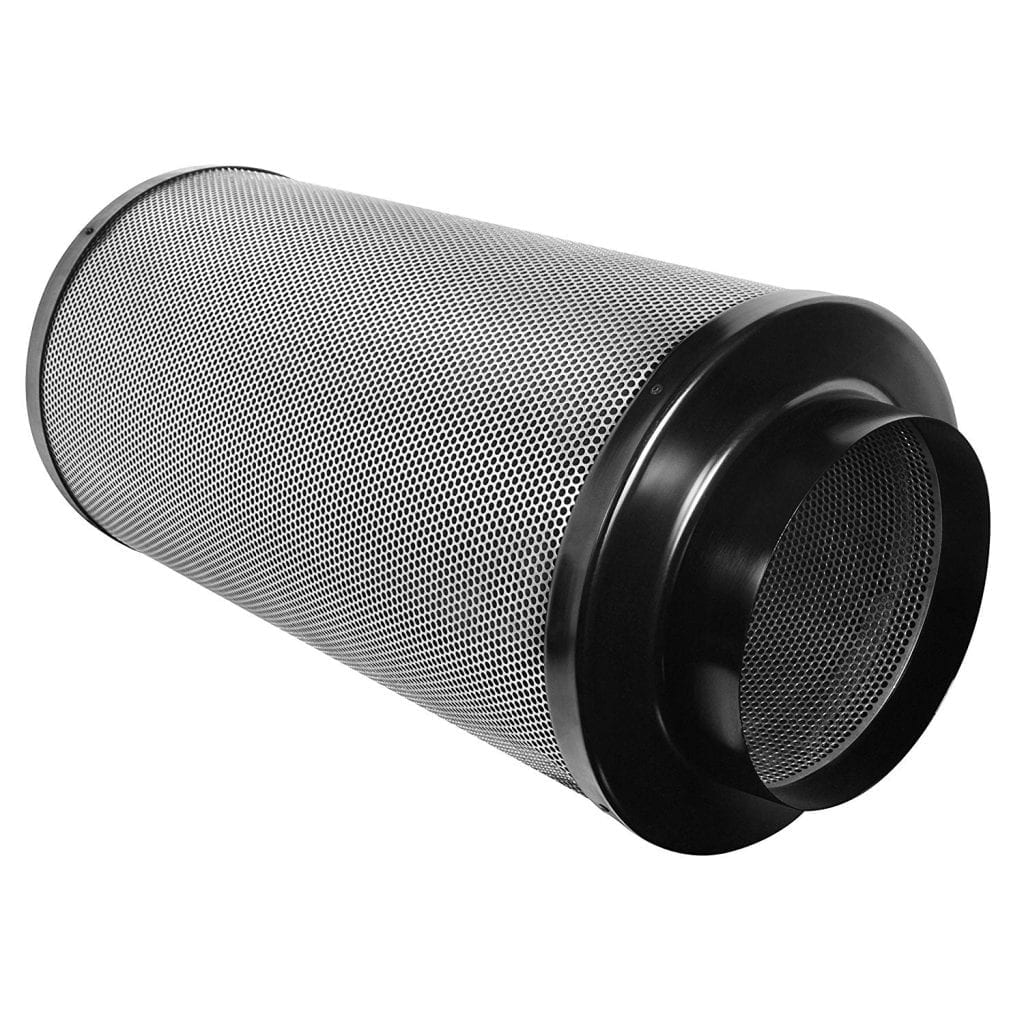 FAQ
What is a Carbon Filter?
A carbon filter is a device that cleans the environment. The vital function of a carbon filter for the grow room is odor management. You can find carbon filters as modern replacements of the traditional exhaust fans. However, they absorb odor rather than redirecting the airflow. They are also quieter and more efficient.

Carbon air filters use activated charcoal to remove the pungent smell from the environment. If you have indoor plants or have a grow room, a carbon filter is essential for you.
How Does Carbon Filter Work?
The outer mesh of carbon filters for grow rooms are full of pores. Inside the cylindrical tube lies activated carbon which attracts the organic particles that cause the smell. These particles pass through the pores of the carbon air filter and stick to the carbon, leaving the air clean.
Each carbon filter has 'binding sites' which trap the smelly organic particles. The odor capturing capacity of a carbon filter depends on the size of the filter, the mass of activated charcoal and the particle size of activated carbon.
How to Choose the Best Carbon Filter?
To choose the best carbon filter for a grow tent, you should consider the size, number, and type of plants so that the carbon filter for grow tent works efficiently. Larger grow tents require thicker carbon beds and an increased quantity of carbon as the odor increases as the plants grow.
Out of a list of offerings, Terrabloom carbon filters included almost all essential features of the best carbon filter. This filter uses the top-quality charcoal carbon, RC-48 Grad Australian Carbon. Another distinguishing feature of this model is its 46mm thick carbon bed which promises better odor absorption.
What is the Lifespan of a Carbon Filter?
It is important to note that the entire charcoal filter never goes out of function, only activated charcoal gets saturated. Whenever binding sites are not available anymore, a carbon filter needs new activated charcoal.
Broadly speaking, a carbon filter needs to be replaced every 18 to 24 months. This estimate is based on a regular 24/7 use of filters for grow rooms. However, it highly depends on the humidity, usage, quality of activated carbon and plant type. For instance, if your usage is moderate to low, the carbon filter for your grow room can last up to 4 years.
How to Know the Time to Change a Carbon Filter?
When the activated carbon inside the filter saturates, it stops absorbing odor. Hence, an indication of the time to change the carbon filter is that it stops trapping smell from the environment.
Your grow room will have the bad smell back when the carbon filter gets out of order. However, being in the same environment might make your nose receptors accustomed to the smell. It is always a good idea to make someone else smell the grow room.
You can also smell the carbon inside the filter and look for a strong carbon smell to see how alive the activated charcoal is. This can be done every 3 to 4 months to ensure proper functioning.
How to Make a Carbon Filter Last Longer?
Several precautions can make your carbon filter last longer. To start with, you can keep the humidity under control. The recommended threshold is 80%. You can easily control humidity through a dedicated dehumidifier in your grow room.
Second, you can use a pre-filter. Pre-filter traps larger dust particles out of the carbon filter and saves more binding sites for trapping odor.
Third, be keen on the material of the outer mesh and body. Although aluminum filters come cheaper, galvanized steel filters work better in the long run.
Lastly, you might want to install an ozone generator. It makes the smelly particles more 'absorbable' because now the carbon filter isn't the first component in your ventilation system. The air is being treated before entering the carbon filter, adding life to them.
Can You Wash Carbon Air Filters?
Yes, you can wash carbon air filters with ease. It helps increase the lifetime and performance of carbon filter for grow room.
How to Wash Carbon Air Filters?
You will need a deep pan or bucket and some dishwashing liquid. First, fill your bucket with hot water and add some dishwashing liquid to it then mix to make a solution. Soak your filters into the water for about 15 to 20 minutes.
You may shake the filter from back to front to loosen up any dirt particles inside. Now rinse the filter under hot water while constantly shaking it for proper cleaning. Lastly, place the filter in the sun or put it on a table indoors to dry.
Do Carbon Filters Remove the Odor?
Yes, carbon filters for grow rooms remover odor from the environment. The activated charcoal inside the filter attracts and traps organic particles that might cause bad smell in your grow room. Inline filters or reversible carbon air filters can absorb and exhaust odor.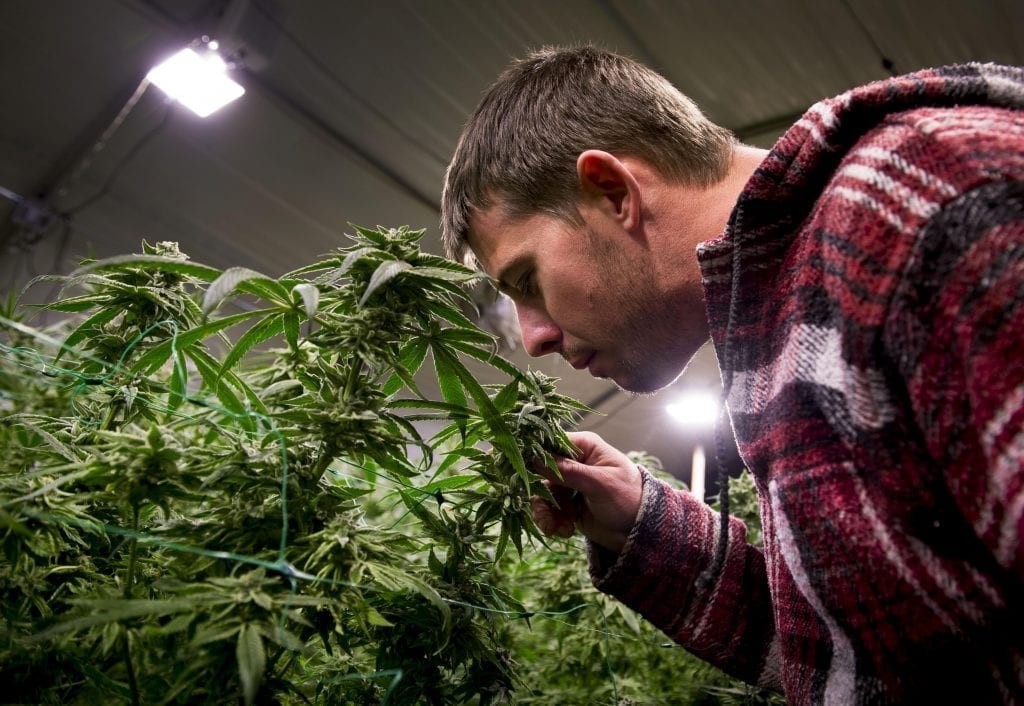 The odor absorption capability of a carbon air filter depends on many factors. The size and form of activated carbon affect odor management. If the activated carbon is in granular form rather than pelletized, then it has more surface area hence more absorption capacity.
Another factor is the density of carbon. Highly dense carbon has smaller pores as compared to lightly dense carbon, which has larger pores. Large pores enable organic particles to move freely and hence, get trapped easily.
Are Carbon Air Filters Safe?
Yes, carbon air filters are safe to use. They make the air around you cleaner and safer to breathe. Carbon air filters do not only remove toxic gases from the environment but also control bad odor from your home.
Carbon has a tendency to absorb unwanted Volatile Organic Compounds (VOCs) and odor, which makes the environment clean and safe. Whether it is the smell of cigarettes in the living room or that of plants in a grow tent, a carbon filter can keep the air odor-free and healthy.
Unlike exhaust filters, carbon filters do not release the contaminated air into the environment. They trap the VOCs to purify the air, making it a safe option for both your home and the environment.
Does a Carbon Filter Remove CO2?
No, a carbon filter does not remove carbon dioxide. Gases and fumes have larger molecules that can easily get trapped into the activated charcoal of the filter. However, carbon dioxide molecules are way smaller in size and hence pass through the pores of carbon without being trapped.
How Effective are Carbon Filters?
A carbon filter for grow rooms is incredibly effective. They are easy to install and replace. Unlike inline fans, carbon filters clean the air to manage odor. The contaminations are captured in the pores of the carbon bed, leaving the air clean.
However, there are some disadvantages to installing a carbon air filter. To start with, you may have to replace these filters frequently if not you're not taking due precautions. Secondly, carbon bed filters do not capture particulates very effectively. Hence some contaminants may still be there in the air after installing the filter.
However, keep in mind, the primary purpose of carbon filters for grow rooms is to remove odor.