Inline fans, also commonly referred to as duct fans or duct booster fans, are used to maintain ventilation stability standards within your indoor grow rooms, grow cabinets, and grow tents. It also serves a dual purpose, as you can use it as an exhaust system that will help in removing stale, moisture-ridden air that collects in growing areas. In addition, the inline fans also act as a cooling system when used with air cool reflectors to optimize your crop.
How Does an Inline Fan Work?
Essentially, the air intake and exhaustion manage temperature, humidity, and other confounding variables as much as possible. Inline cooling fans are either built into or mounted onto ductworks that are connected to a grow tent. It establishes an air transference mechanism. It then moves air into whatever desired direction is required depending on what you need. For example, you can opt for chilling or air expulsion.
In the case of an exhaust system, it would control the amount of moisture in the air by extracting stale air out of the area. This way, the grow room fan prevents the possibility of mold and bacteria growth. The fan, therefore, needs to be positioned at either ground level or somewhere near the flow hole.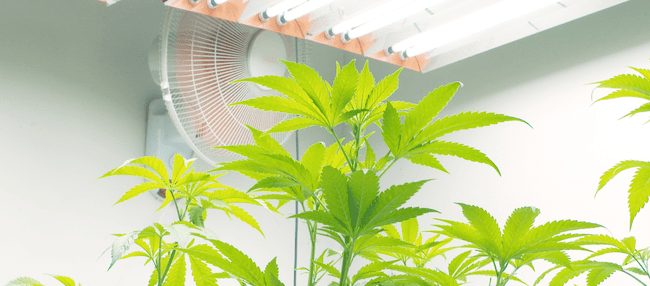 In a cooling system, the goal is to keep grow lights cool by lowering the amount of heat that is being generated inside an enclosed space. Some of them are even partnered with screens to keep out potential pathogens and filters to control and remove unpleasant odors.
Why should you use a grow tent fan?
Here are some basic reasons why a fan makes a perfect sense for you.
Prevent pest attacks;
Control humidity;
Remove excess heat;
C02 rich provision;
Plant health.
Prevent Pest Attacks
Firstly, buds can be vulnerable to pests and pathogens that increase their mortality rate. But, with a proper ventilation system, this risk can be significantly reduced. Fungus, gnats, mold, powdery mildew, and gnats thrive on the stagnant and humid air.
Control Humidity
Secondly, plants release water vapors all through the day. Thus they increase the levels of humidity within their confined region. If left unmonitored, it eventually results in poor growing conditions and the development of unwanted diseases and pests. Damp soil is also the perfect nest for pest eggs.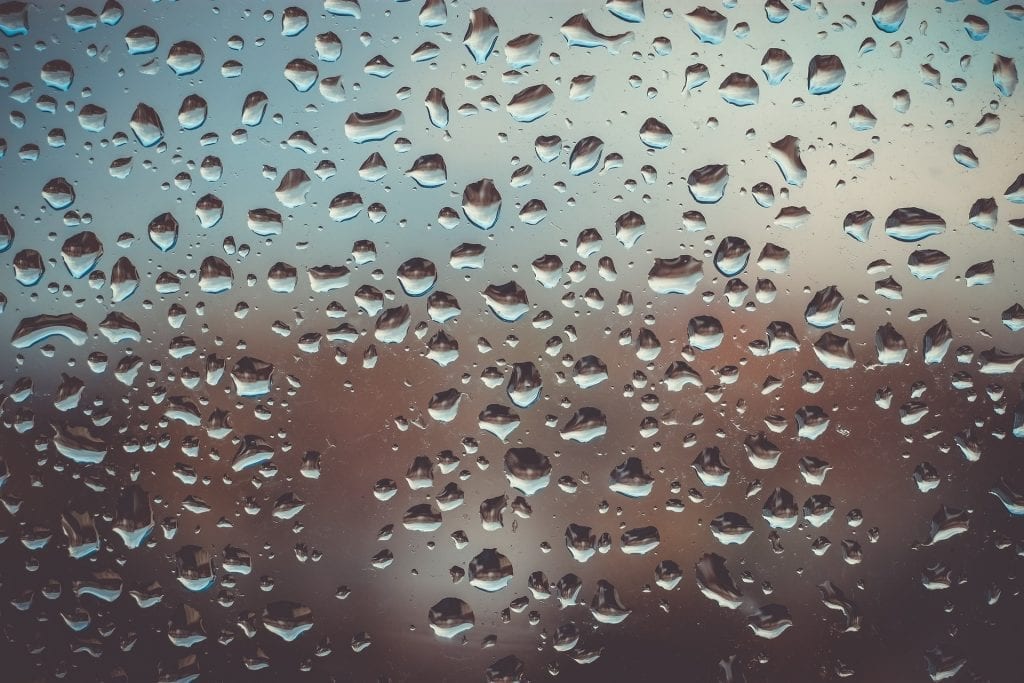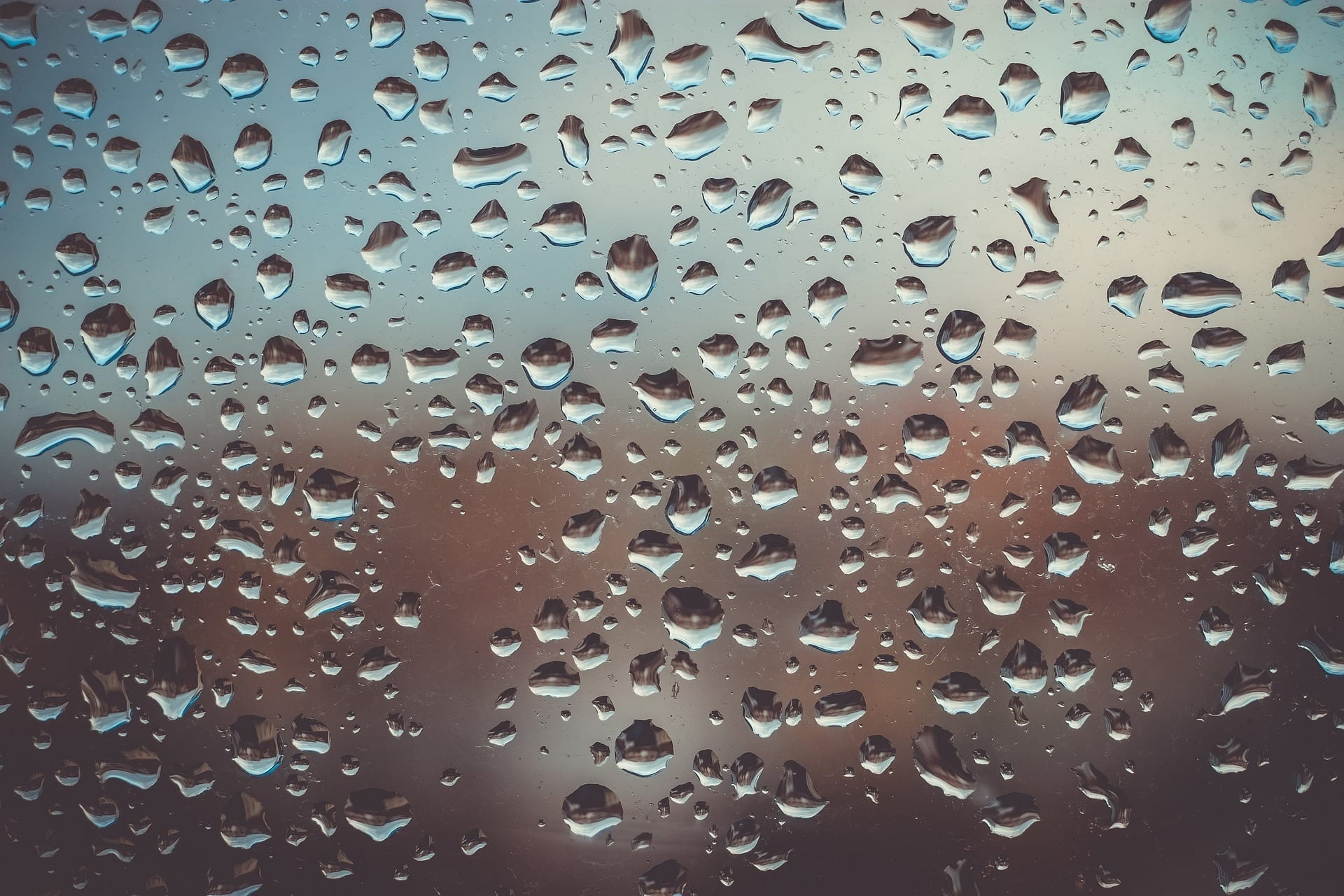 Remove Excess Heat
However, a fan keeping the soil dry will interrupt their reproduction cycle. A continuous breeze blowing also prevents them from establishing home bases.
The inline fan also helps plants with absorbing more aerial water molecules and increase nutrient uptake via root systems, all of which aid in boosting growth. Moreover, the fan also helps reduce the heat produced by grow lights.
CO2 rich provision & plant health
As part of their nutrient cycle, plants need CO2 that can only be made available through an unsealed room/tent that constantly receives refreshed air. Finally, the wind produced by the fan strengthens the plant stem, eventual fruit-bearing, and overall yield. To get the best results out of your indoor plants and to create an airflow that mimics natural outdoor settings, you need air ventilation every 2- 3 minutes at least.
What to look for when buying an inline fan?
Here are some of the key features to look for when buying a quality grow tent fan.
Diameter
Generally, 4-inch, 6-inch, and 8-inch setups are commonly available in the market. Basically, the diameter of the inline fan determines the size. When buying an inline home, you also need to keep the room size in mind.
Simply put, a larger room will require a larger fan as it will be more powerful and can cover more area. A 4-inch will suit a small room, but for bigger setups opt for a 10-inch. If you're unsure, 6-inch is a safe bet and can always be re-adjusted in the future. Using a 4-inch inline fan inside a 6-inch duct is also feasible, given that a converter is present.
Motor
Choose fans with motors that exhibit greater efficiency at lower energy consumptions and comes with speed control. It's also a good sign if permanently lubricated ball bearings, thermal overload protection, internal impellers, and maintenance freeness is included with the motor.
Significance of CFM
Air generation determines how powerful your blower, expressed in "Cubic Feet per Minute," or CFM. It is the ratio used for all sold fans and is an essential factor that influences plant growth. In simple words, the CFM represents the cubic feet of air it car replace in a minute.
To find the best possible match, begin by multiplying the grow room length and width with the height to determine the total cubic feet. Multiply your answer with 125% to understand exactly how much air the fan has to remove per minute and the CFM rating. However, ducting or carbon filters are variables that can offer resistance, hence the extra 25% margin of error in the calculation.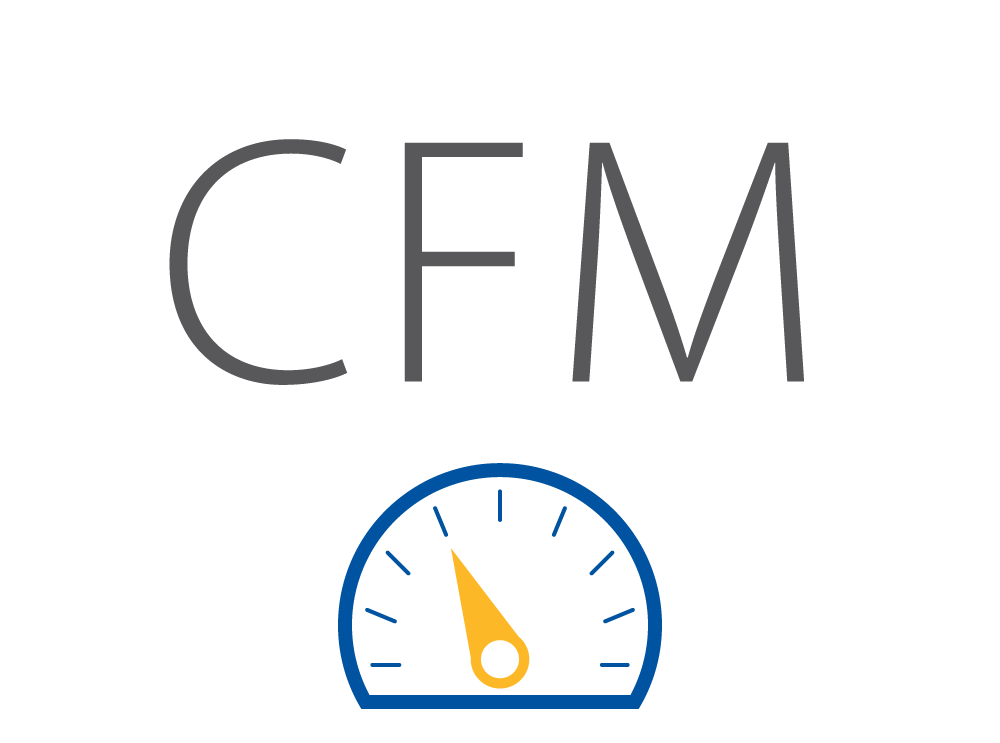 For the best results, you have to completely exhaust the air every minute. So, divide the total cubic feet by 3. Every 1000W of HID Lighting means an additional 10% to the CFM reading.
For air-cooled lights, add 5%. For non-air-cooled lights, add 10%-15%. In case of a carbon scrubber, add another 20%. Add 5% for rooms with CO2 enrichment. If you are using a duct tubing to connect scrubber to exhaust fan, add 1% for every foot.
For those located in colder regions, air exchange can be conducted less often than one minute. However, hotter climates require 25% additions and humid climates require 40% adjustments.
Material
The material of the inline fan determines quality and performance. The most common material is steel. In most cases, the steel is also powder-coated to increase the resistance against external damage. However, heavy-duty steel fans can also add more weight to your grow tent.
Fans being encased within high impact-resistant polycarbonate casing often indicate good quality. In addition, look for the fans with aerodynamically shapes, water-resistant, superior steel construction fan blades, and condensation reducing materials including lubricated bearings in the motor, gaskets, double insulated walls, and without seams.
Noise Reduction
You don't want your fans to create a lot of noise, do you? As indoor grow tents and rooms are often adjacent to your living areas, inline fans that generate a lot of noise can make your life very uncomfortable.
This is why you need to look for the fans that generate less noise.
Speed
Keeping your options open is always a good idea, so aim for a speed controller that will let you adjust the speed in according to your needs. You may also need to adjust fan speed based on the grow cycle of the plants.
Ease of installation
Growers really don't need additional professional installation assistance, as it adds to their total cost. To save on installation costs, target a product that comes with a detailed and user-friendly manual from the manufacturer to help you set-up with ease. Look for the inline fans that also include a mounting bracket.
Certification and Warranty
This is going to be a lifesaver when it comes to product repairs, malfunctions, and replacements. When buying, you should look for a minimum of a 1-year warranty. More is even better. Confirm that the company you buy from has a history longer than its warranty.
Price
An inline fan is a purchase where we recommend you don't skimp out and opts for cheap products. The more you pay, the higher the benefits you will reap.
Best Inline Fans of 2020 – Review
Here is the list we compiled for some of the best inline fans available in the market today.
Title
Infinity CLOUDLINE T-SERIES
AC Infinity CLOUDLINE S-Series
Photo
Title
Infinity CLOUDLINE T-SERIES
Photo
Photo
Photo
Title
AC Infinity CLOUDLINE S-Series
Photo
Photo
Available sizes
4", 6" 26w, 6" 67W and 8"
4", 4" Silent, 6", 6" Silent and 8"
Photo
Available sizes
4", 6" 26w, 6" 67W and 8"
Photo
Photo
Available sizes
4", 4" Silent, 6", 6" Silent and 8"
Photo
Photo
Photo
Photo
Infinity CLOUDLINE T-SERIES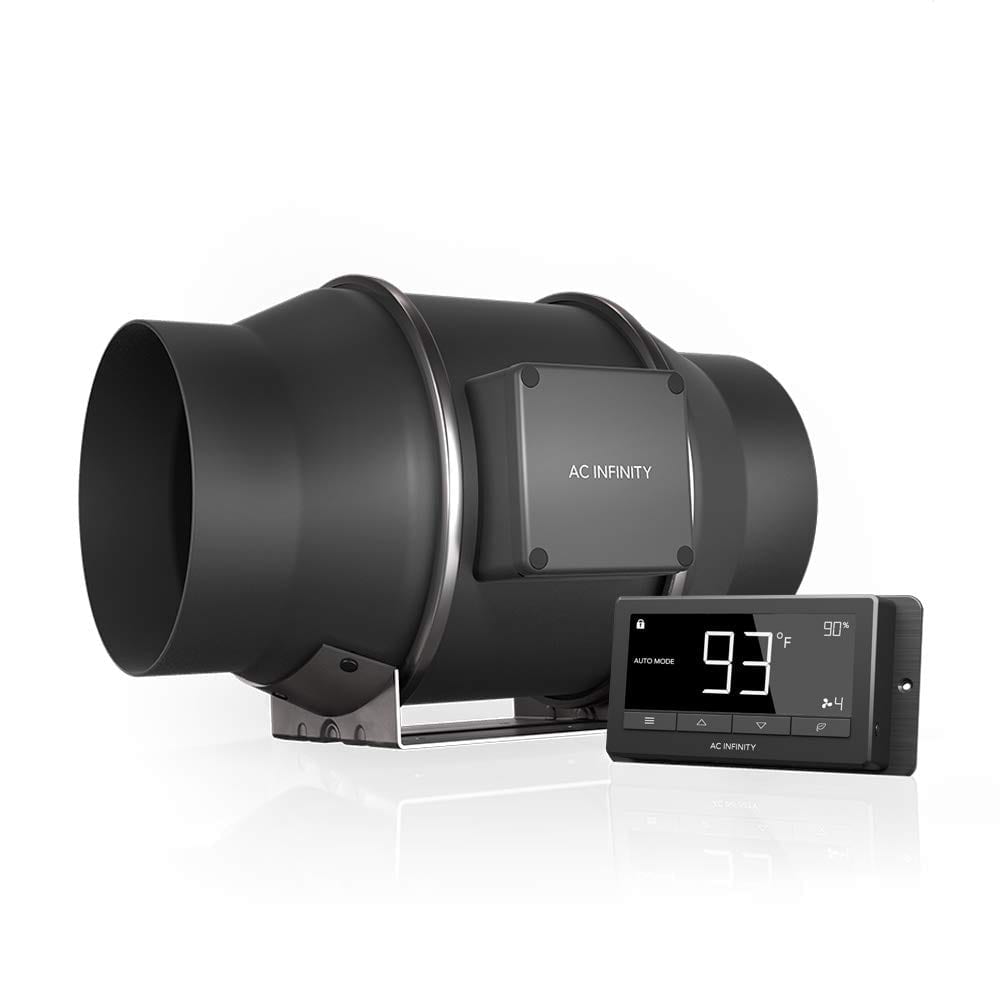 When it comes to an inline duct fan that does not compromise on air circulation, designed to provide noiseless air circulation, exhausts projects, injects heating/cooling into rooms and cools AV closes, CLOUDLINE T6 is a good candidate. The 351 CFM, Dual Ball Bearings airflow is suited for HVAC Projects, large grow tents. Hydroponic grow rooms and AV closet cooling.
The fan features an Electronically Commutated Motor using Pulse Width Modulation for enhanced noiselessness and heat production. In addition, it also comes with a smart programming controller with an LCD screen and humidity sensors on the 12 feet corded probe, mixed flow design for ducts via a stator blade and dual hydrodynamic wind circles.
Pros
High static pressure rating;
An intelligent controller provides an efficient fan, customizable speeds, and backup memory capability;
Pre-included accessories for installment; user manual, free AC power cable, mounting hardware, two duct clamps, etc;
Quiet 32dBA and energy-efficient;
Powerful fan regulates stable breeze;
The onboard temperature monitoring system automatically readjusts fan speed;
8 feet water-resistant thermal probe;
Eco-mode included;
Alarm system and Countdown timer included;
IP44 rated to be dust and liquid resistant;
Motor lifetime 67,000 hours;
40% cost saving;
Water-resistant probe;
6-speed modes;
Available sizes: 4", 6" and 8".
Cons
May not maintain a consistent speed;
Thermostat functions not very useable;
Manually adjusted speed;
Low-speed settings are ineffective;
2-year warranty comparatively less than competitors;
4'' lead caused complaints of being too short;
The controller only allows for automatic operation when the temperature goes above a set limit.
iPowerInline Duct Ventilation Fan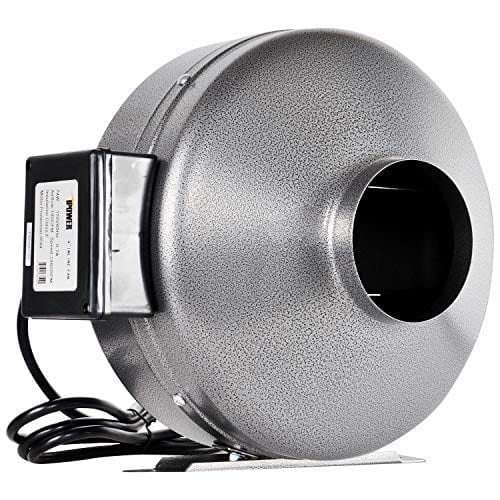 With components that support noise levels less than 50dB, a 110/120V standard household plug, composite fan blades, a central hub for noise and vibration reduction, iPower carbon filter and ducting, and fluted on both ends to receive ducting, iPower is highly reputable in the marijuana industry. The multi-purpose grow tent fan makes a perfect fit for you for smaller grow tents and indoor systems, as well as large scale horticulture or industrial applications.
Pros
High durability with ceramic coating.
High quality 1050+ IAV Australian carbon material; most absorbent charcoal worldwide.
Budget-friendly.
Diverse size range is available.
8ft aluminum ducting grants freedom of placement.
Arrive completely wired with a junction box, strain relief, and UL rated 5ft power cord.
Permanently lubricated bearings; low maintenance.
All-in-1 retail-friendly package for 4" and 6" and carbon charcoal air filter for 8" machines.
Available sizes: 4", 6" 8", 10 and 12".
Cons
12-month warranty, lower than others.
Does not eliminate marijuana odor.
Max temperature only 176F/ 80C degrees.
No variable speed controller.
Ceramic material chips.
No speed controller included.
Duct clamps hard to tighten down.
Larger than other models.
Loud fan when working at low speed.
Yield Lab Duct Inline Fan: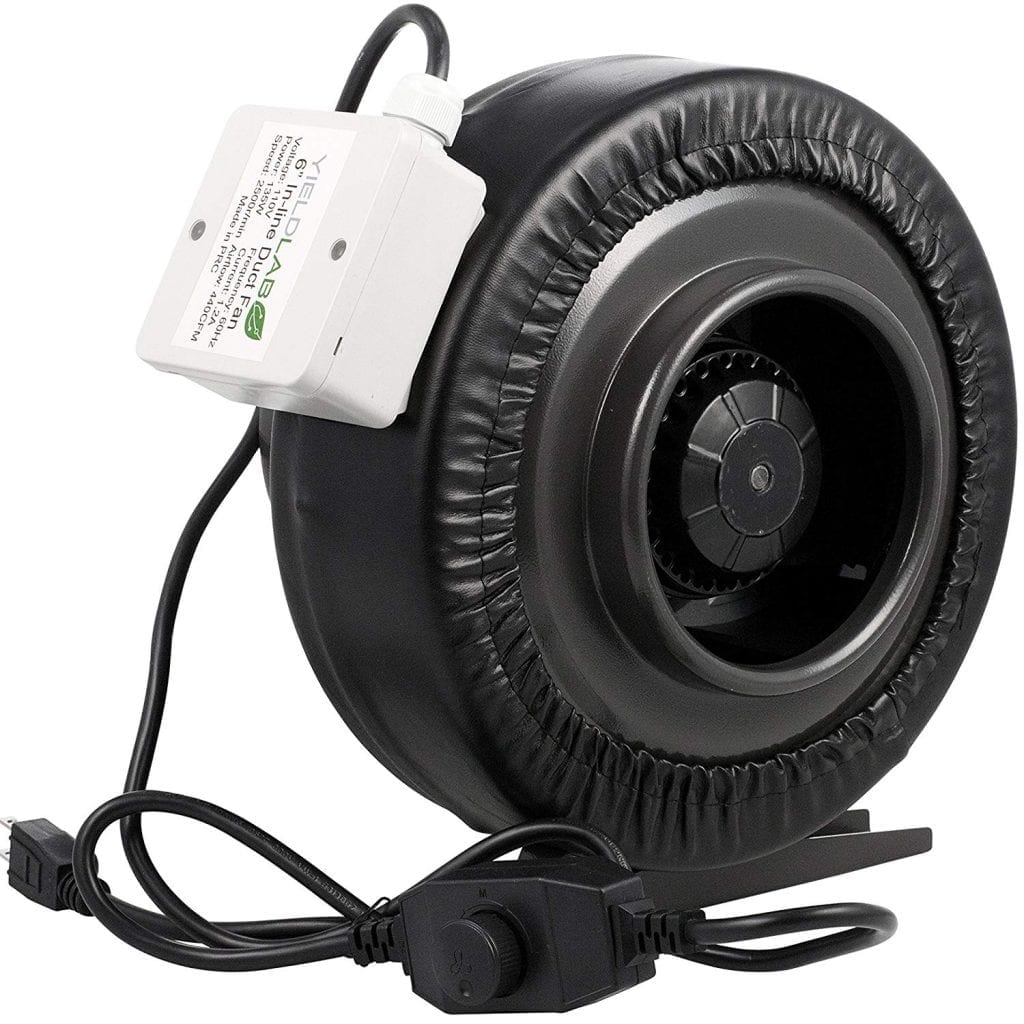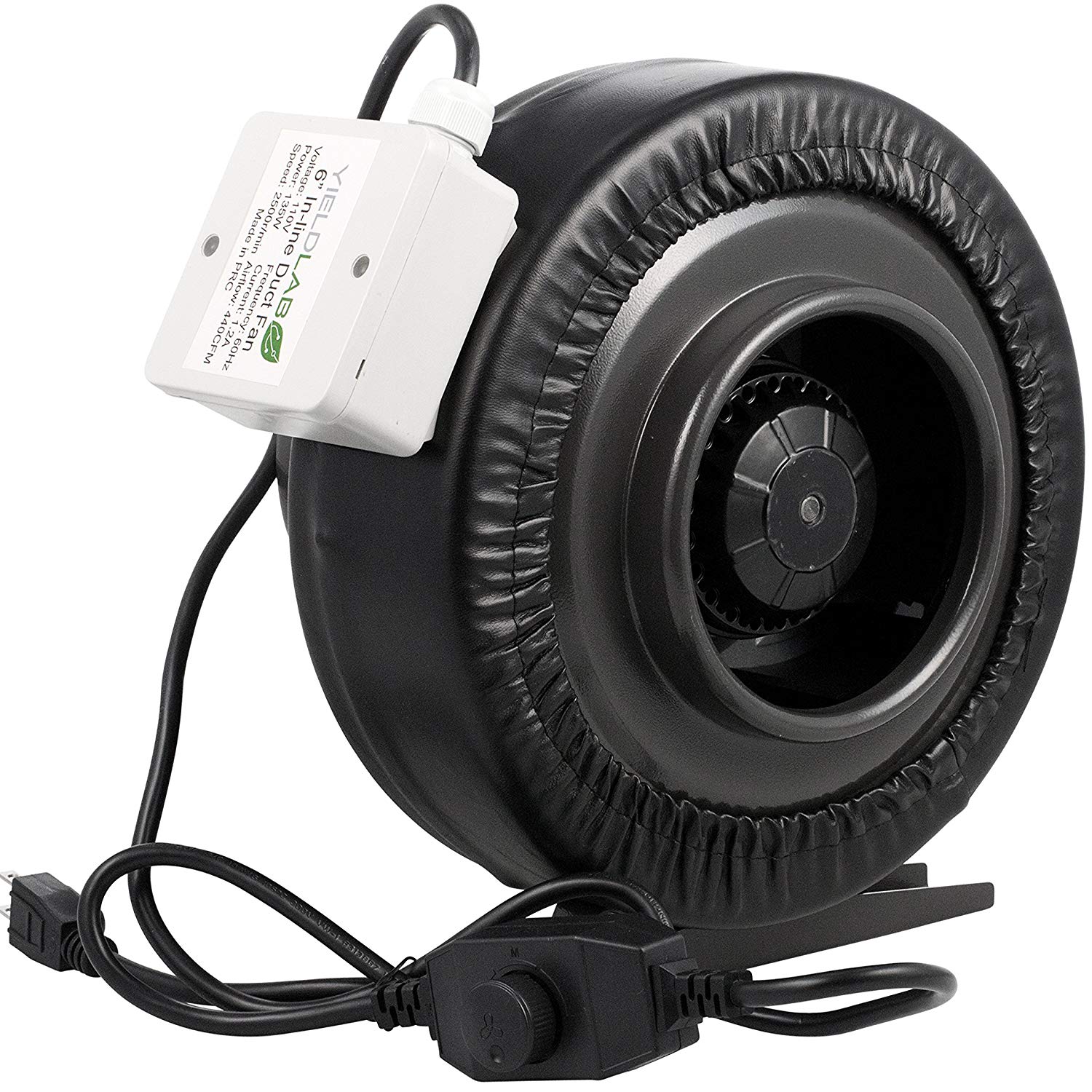 Whether it's an indoor or outdoor situation, this air circulation blower is useable for HVAC setups, greenhouses, grow rooms, and grow tents. With the armor of solid metal construction and powder house coating, it also comes with a balanced motor and lubricated ball bearings. These fans place themselves in the league of high performance because they operate at 440CFM and 2700 RPM, both of which promote healthy air circulation within any grow tent.
The extended collar and lip permit for easy duct hook-up, while the backward curved impeller minimizes sound production. To further enhance customer satisfaction, it features a built-in fan motor controller. This means you don't have to purchase a market controller to enjoy a holistic hydroponic experience.
Pros
Easy installment.
Variable speed controller included; customization option.
Suitable for domestic, commercial and industrial use.
CE Certified.
Moisture-resistant.
Affordable pricing.
Available sizes: 4" and 6".
Cons
No pressure sensor included.
AC Infinity CLOUDLINE S-Series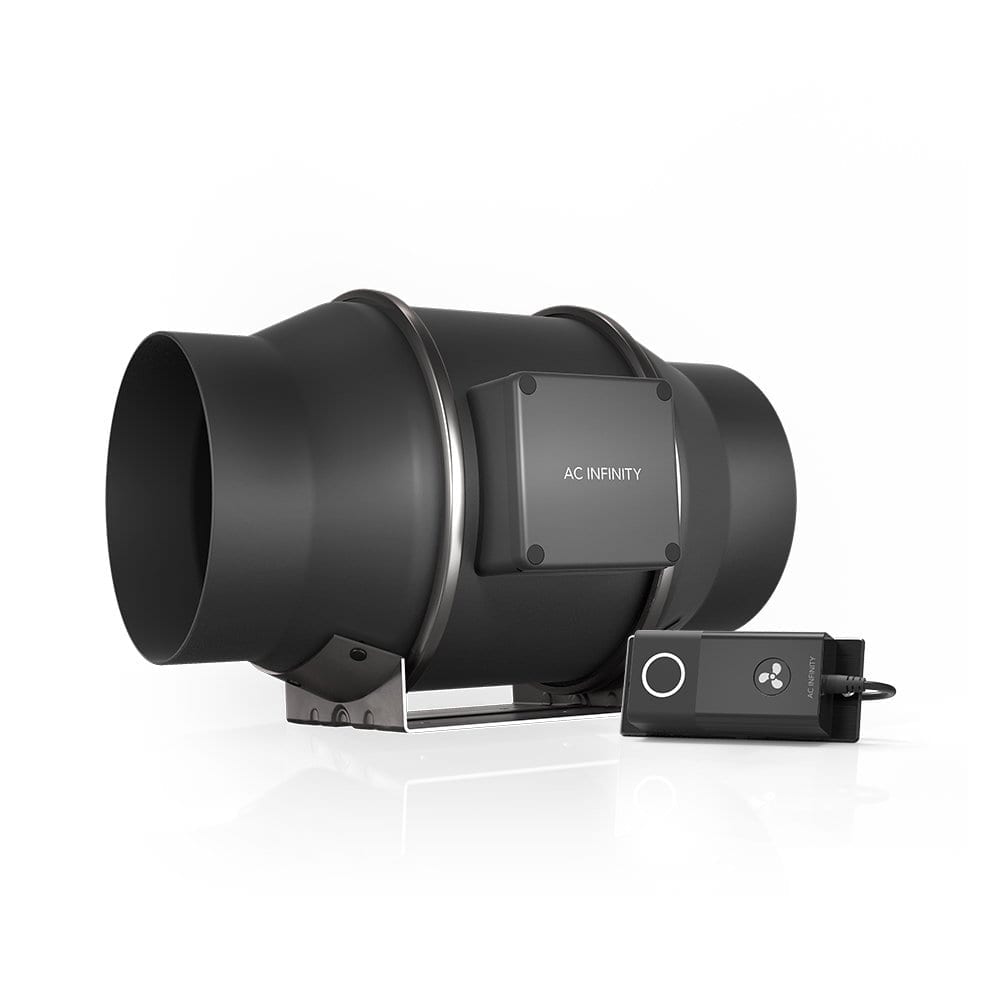 One of the leading brands in the industry, AC Infinity, offers one of the most advanced, black S-Series fans that offers premium features. Not only does it offer basic operations, including soundless ventilation in grow tents/rooms, it consistently cycles fresh air, extensively exhausts odors, and cools AV racks. The inline fan also goes above and beyond with its inline speed controller. It functions with dual ball bearing at 32dBA AND 351CFM.
Packaged along with two tube clamps, speed controller, wire ties, corded AC power adapter, an instruction guideline and required mounting hardware, it makes the whole process seem relatively effortless.
Pros
Mixed design and DC Powered motor.
Supreme levels of silence established.
Sustainable device due to energy-efficient nature.
Long-term investment reduces billing costs.
DIY hassle-free installment.
Extremely lightweight product.
8 fan speeds with the power switch (PWM control).
Backup Power cycle memory.
Available sizes: 4", 6" and 8".
Cons
Location of connectors makes installation challenging.
Tight fan blades.
Cannot set independent speed controls.
No humidity probe included.
TerraBloomSilent Inline Duct fan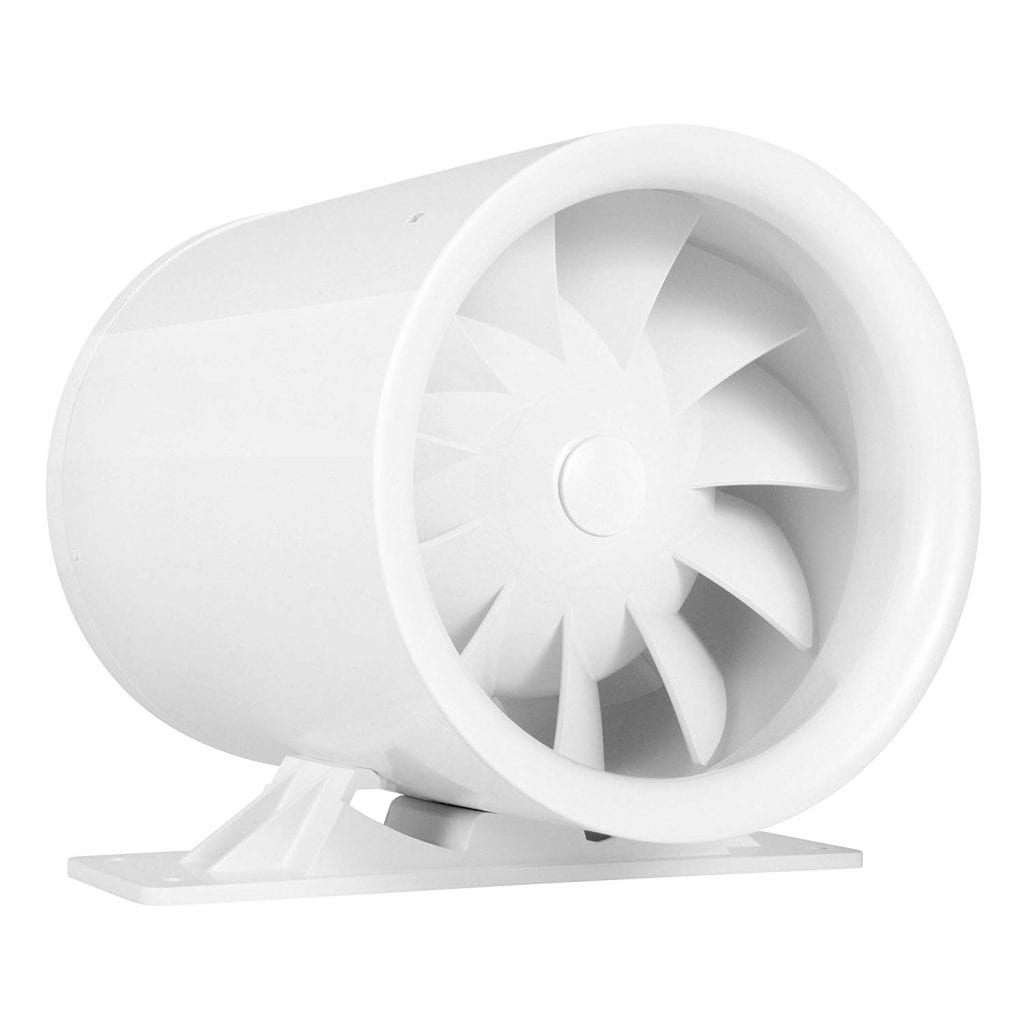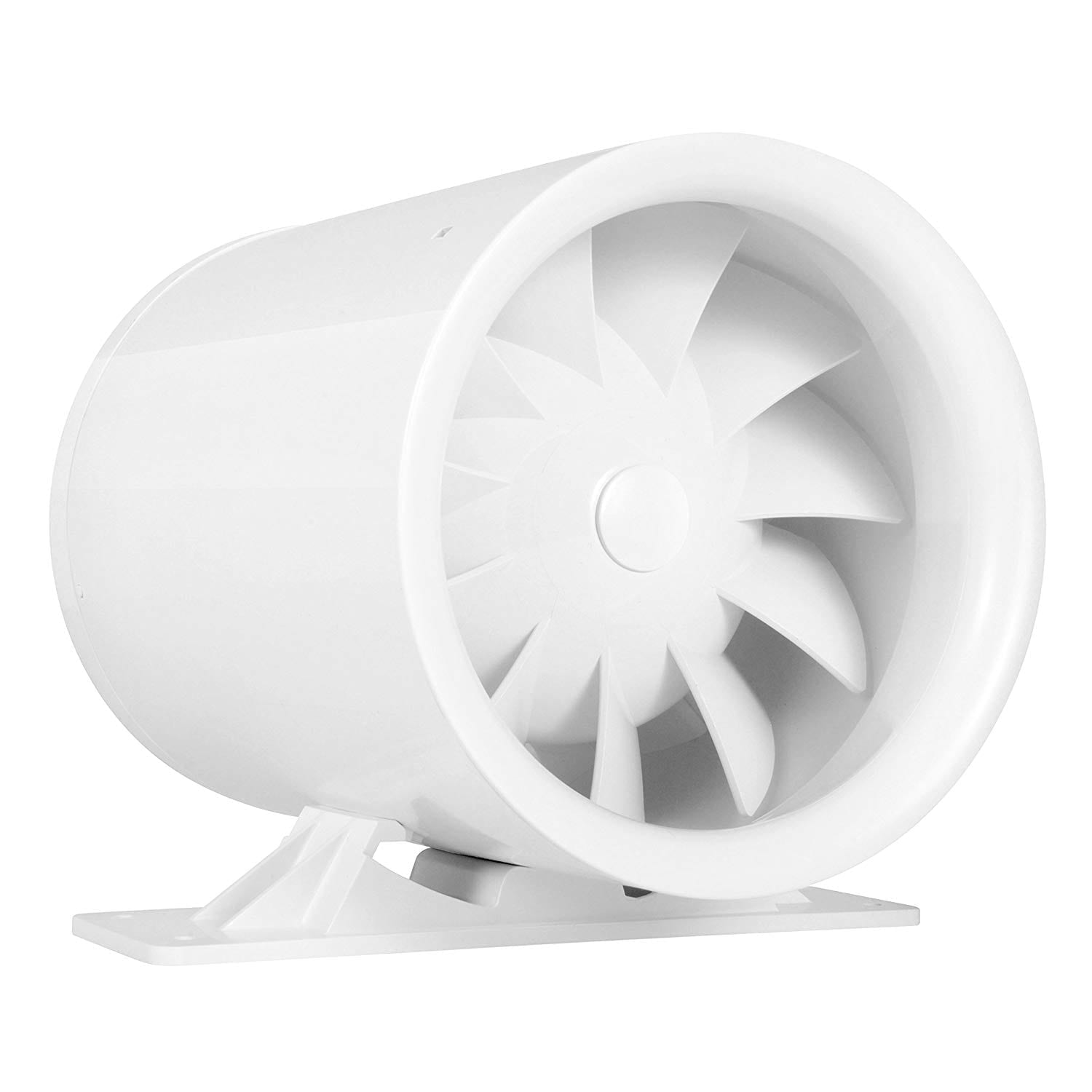 Excelling at German manufacturing, TerraBloom's Low Noise Series from this well-known European brand includes TerraBloomSilent Inline Duct fan with a sound pressure of only 39dBA even at full speed. Consuming only 26W of Power, it produces an output of 188CFM, which is a phenomenal ratio.
Brought to you with a detailed guide, mounting bracket and hardware, and 8 feet long grounded power cord, it caters to smaller grow area setups with LEDs or lights under 600W.
Pros
Highly aesthetically appealing.
Variable fan speed control mechanism.
High control of airflow, noise, and power consumption.
ETL listed.
High airflow.
Lightweight.
Works with any 6" duct fitting.
2-year warranty.
30% increase in cost savings.
Imported constituent parts.
Available sizes: 4" with 47CFM 9W, 6" with 188CFM 26w, 6" with 327CFM 67W and 8" with 473CFM 111W.
Cons
Additional carbon filter needed to remove the odor of weed.
Impeller gets damaged at temperatures above 140F.
Reports of a short lifespan.
Reports of electrical hum sound.
Indoor use only.
The fan is not waterproof.
No on/off switch.
Reports of air leakages.
A little noisy at lower speeds.
Does not work in very hot temperatures.
Vivosun Inline Duct Fan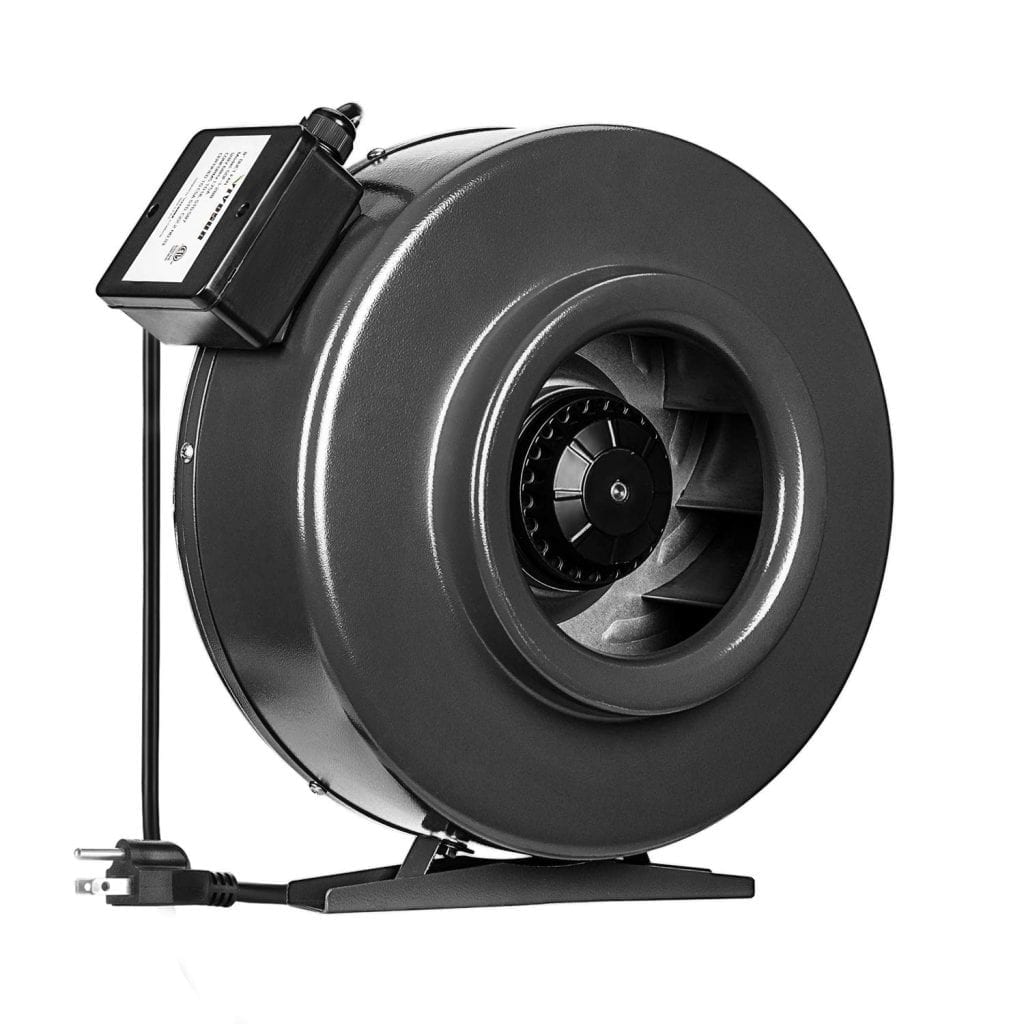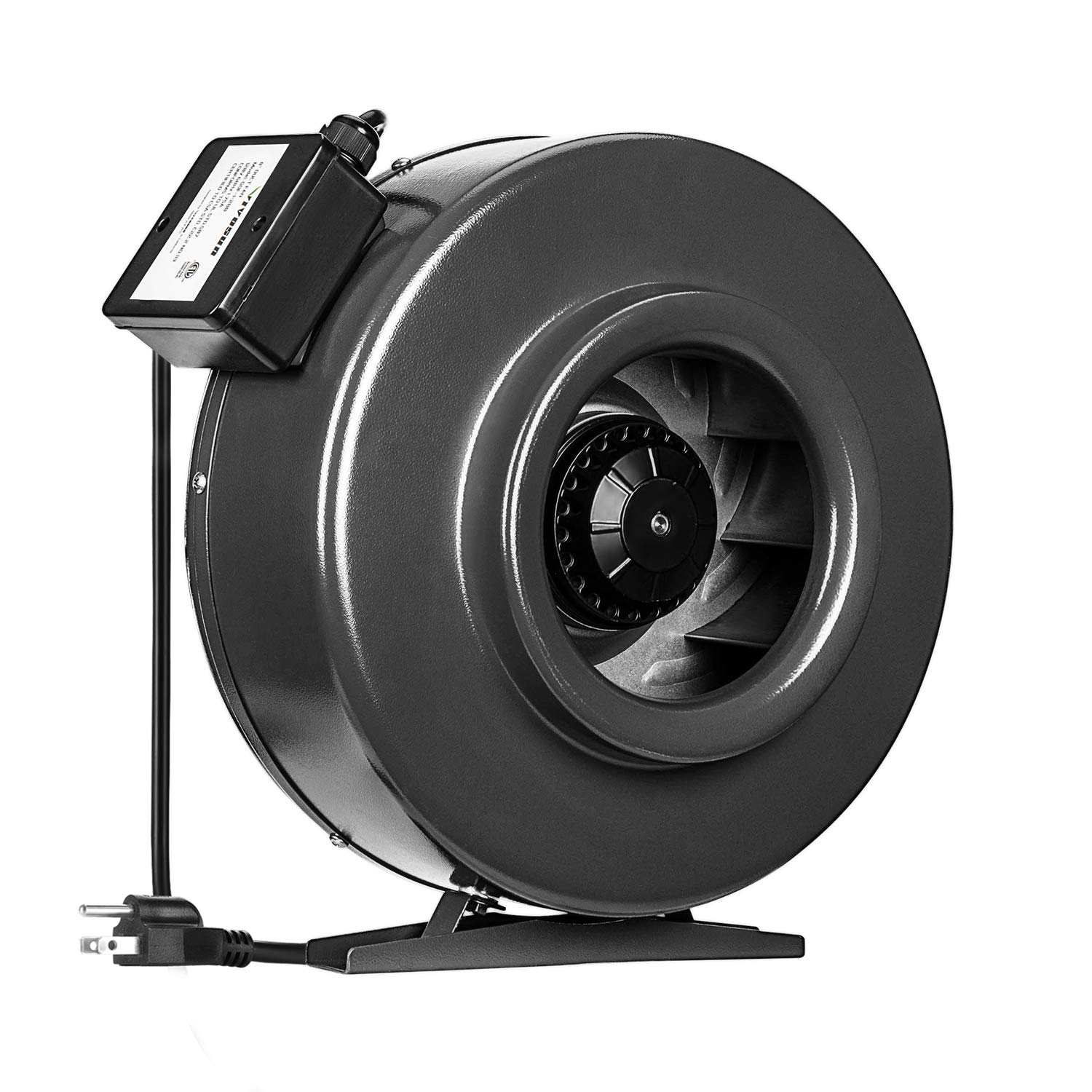 Innovation at your fingertips, Vivosuns 8" 740CFM Inline Duct Fan Aeriation instrument is a heavy-duty fan that provides excellent airflow of 740CFM 2450RPM at 53dB(A) noise levels. The product structure comprises of A-grade, galvanized steel, centrifugal impeller, a fixed port, and a heavy-hitting motor. In addition, its power input is only 205W at 120V/60Hz Volt/Frequency through a 5.4ft power cord.
Pros
High levels of energy preserving adeptness.
Hardy plastic fan holding sockets.
Variable speed controls.
Removable ducts means easier maintenance.
Aerodynamic centrifugal impeller delivers a vigorous stream of air.
Perfect for cooling lighting fixtures.
Successfully controls hot/humid conditions in growing set-ups.
ETL recognized components.
The mounting bracket can be affixed anywhere.
Available sizes: 4", 6" and 8".
Cons
Bulky product.
Louder than other fans.
GROWNEER Inline Duct Fan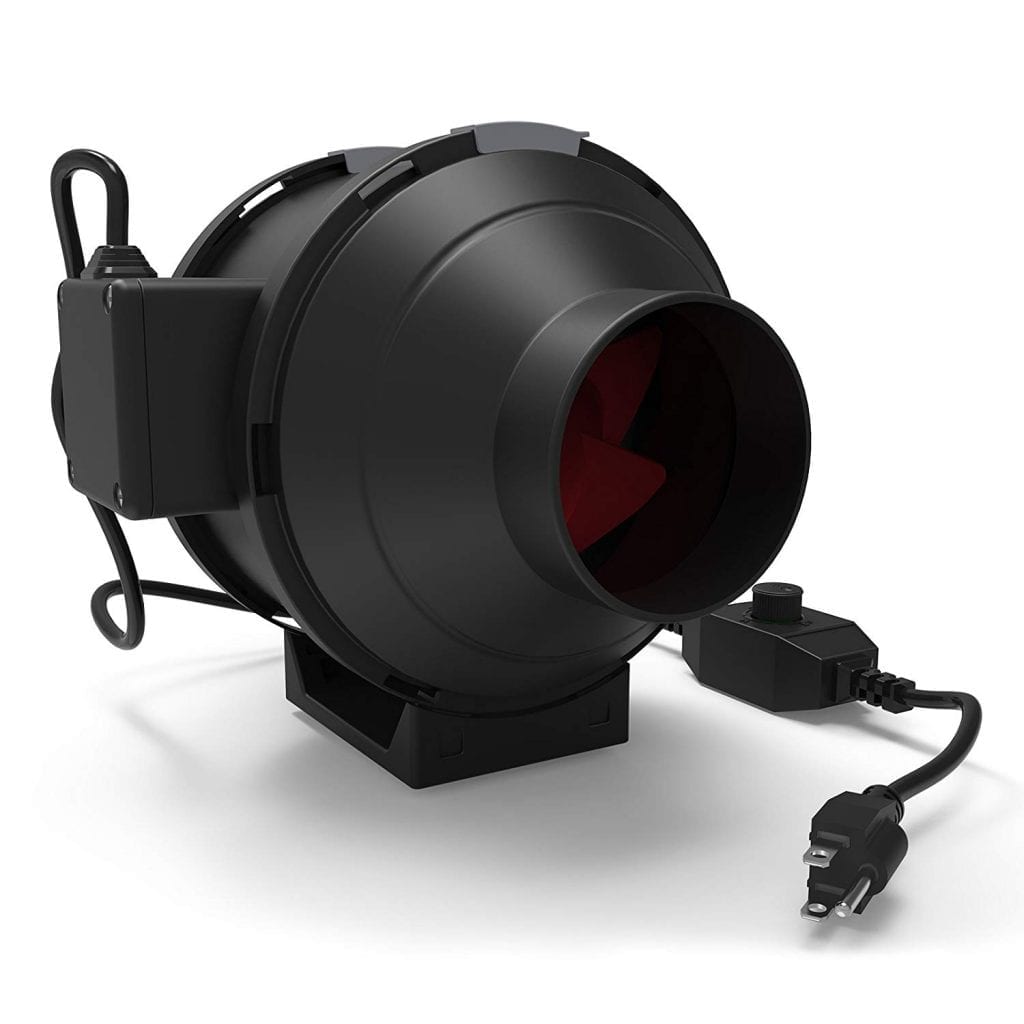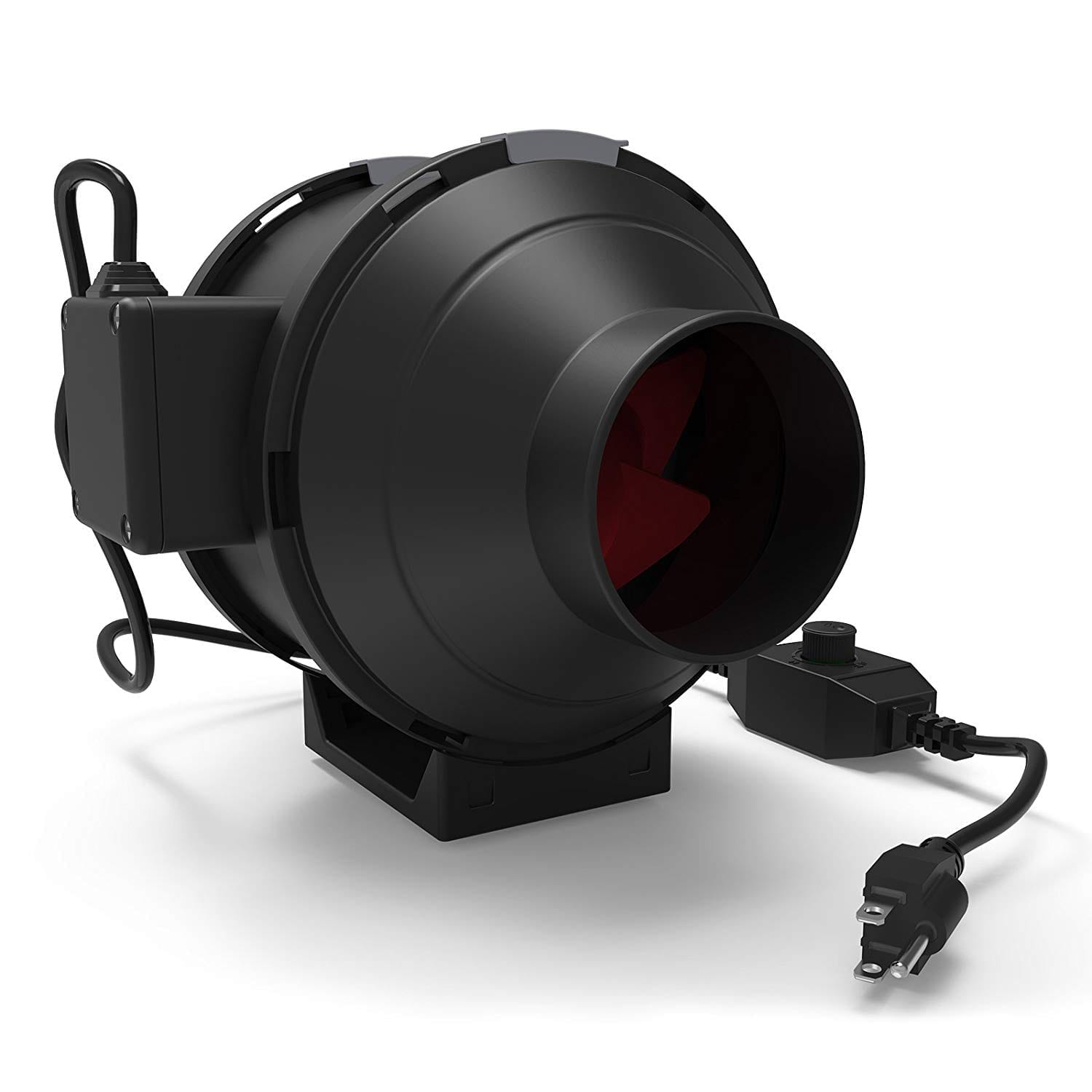 Fashioned to cater to a relatively larger room of mid to bigger sized growing arrangements, the GROWNEER Infinite Duct Fan comes with many advanced features you may miss in other products. It comes with an AC-motor that is supplemented by speed-control to improve hushed running. Generating 390CFM 2400RPM at an input voltage of 70W and 60Hz frequency, it is quite a workhorse.
Whatever installment you choose to put it in, it will readily relocate cooling/heating to desired locations, regulate garden-fresh air, clamp down on humidity, out of control temperatures and odors. It also promotes optimum environmental conditions to encourage healthy, abundant crop yields. With the fan, you get a speed controller, mounting bracket and a manual for installment guidelines.
Pros
Economic acquisition.
Variable speed controller for tailorable fan speed adjustment.
Painless upkeep with detachable fan impellers and blades.
The unit is IP44 Rated.
Weather-resistant.
Lightweight Plastic materials used.
Low electrical depletion.
Available sizes: 4" 4" Silent Series, 6", 6" Silent Series and 8".
Cons
Indoor use only.
Reports of low-quality screws.
Speed regulator works in a range too narrow for most users.
Minimum velocity considered too high.
Lowering speed increases volume.
Power cord shorter than others on this list, which makes it a little inconvenient.
Hurricane Inline Fan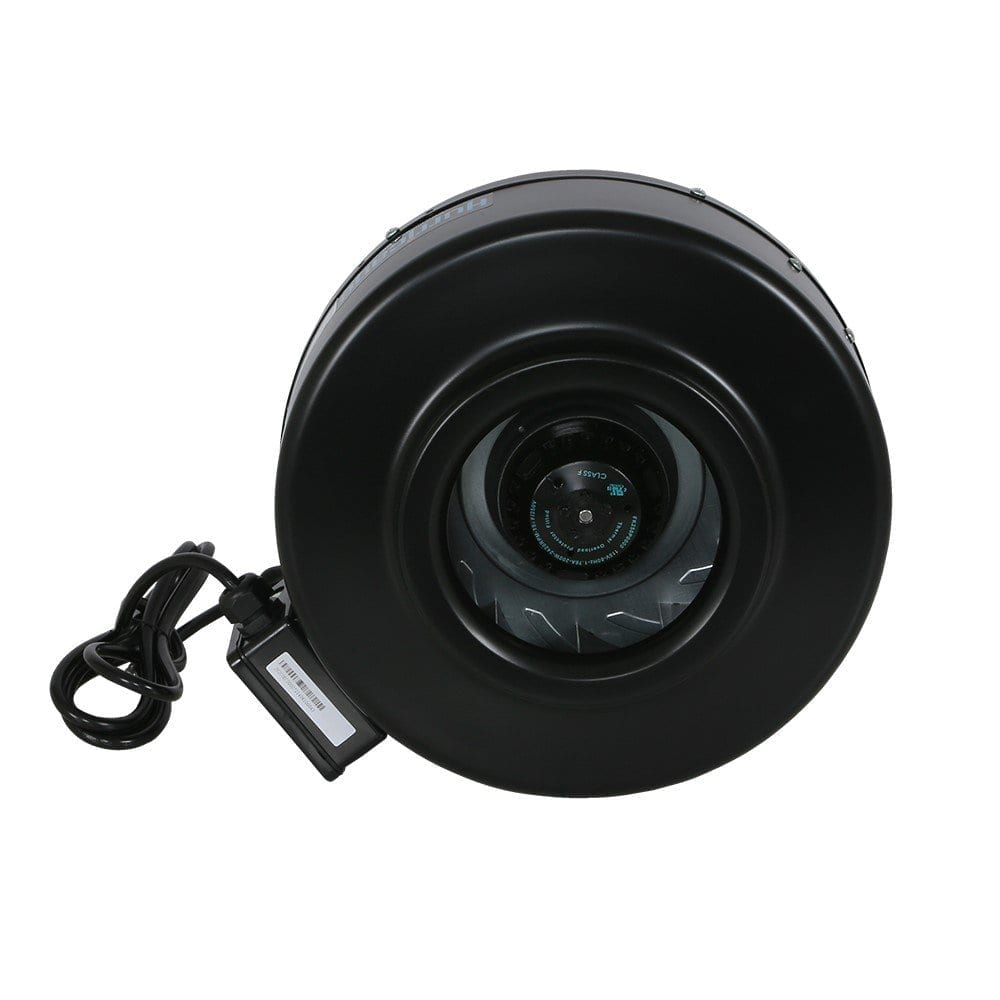 For those who are a step ahead of hobbyists and favor professional large-scale or commercial applications, this inline fan will be your cup of tea. This commercial-grade, high-performance product is manufactured with steel, and a matte black, powder coat finish to maximize resilience levels
Pros
Unprecedented durability reputation (powder-coated).
745CFM muscle-power.
Flexible 8ft power cord.
5-year warranty.
High powered options for grander scale systems.
Mounting accessories included.
Inlet side not flanged will require duct tape.
UL approved.
Rust-resistant.
Available sizes: 4", 6", 8" 10" and 12".
Cons
Highly unsustainable and expensive energy intake.
The heaviest fan on this list.
Can only withstand up to 104 degrees.
Ducting not included.
No speed controller included.
No charcoal filter included.
Vortex S-Line Fan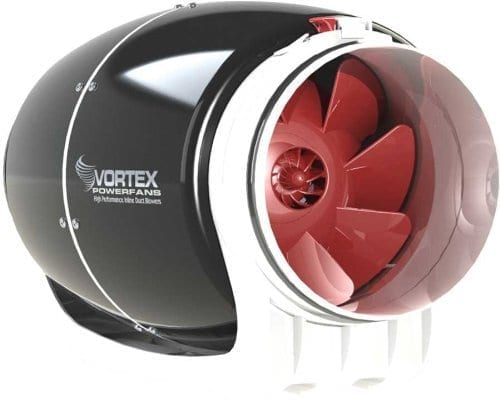 Distinctly earning the title of a groundbreaking Innovative gadget, Vortex's S-Line Fan boasts an AC brushless motor and mixed-flow dual impellers. Being the industry leader, the manufacturer has custom made this fan to serve light commercial and residential ventilation uses.
Pros
10-year warranty.
High impact resistant polycarbonate sheath.
Insulated walls.
Dual impellers.
Controller included.
Automatic thermal reset overload protection mode.
Permanently lubricated sealed bearings in fan and motor.
Long-lasting and rust-proof.
Integrated backdraft.
Condensation and commotion reduction via double walls.
Quick clip bracket speeds up installation time.
Can be mounted in any position.
ETL and AMCA listed.
Only consumed 72W with RPM 2720.
Available sizes: 6", 8" and 10".
Cons
No 4" size is available.
Report on turbines scrapping walls.
More expensive than others of the same size.
Only moves air at 347CFM.
Filter not included.
Tjernlund M-Series Inline Duct Booster Fan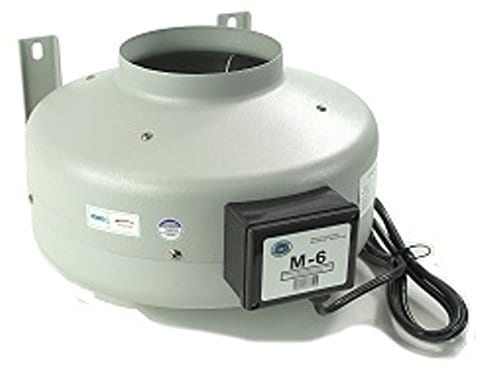 The brand, established in the 1930s, is primarily known as a manufacturer of high-quality booster fans. However, it now manufactures advanced equipment for grow tent and hydroponic plantations. The Inline Duct Booster Fan is known for its high-pressure handling performance, complemented by extremely hushed workings with low energy usage. It emits an airflow of 460CFM.
Pros
Minimal sound can be heard.
Electrical usage low.
Mounting brackets and hardware pre-included.
Ideal for exhausting high-moisture conditions.
More powerful than other 6" fans.
Well-established manufacturer.
Tough steel construction.
Available sizes: 4", 6" and 8".
Cons
Speed controller not included.
Relatively costly.
Power cord too short.
Charcoal filter and ducting not included.
Conclusion
Cannabis harvesters must understand the need for inline fans to promote the most favorable conditions within their grow room. Not only will they prove advantageous in regulating heat and humidity, but they also destroy any chances of pesky pests and parasites from attacking your precious crops. At the same time, these inline fans for grow rooms reinforce stem strength, plant health, C02 levels, air freshness, and create an overall ambiance that stimulates increased weed quantity outputs with the best quality.
Growing plantation, rooms, and tents are living, breathing systems that require an open setting for them to work out. This is where these high-quality inline fans come in.
When buying, compare manufacturers reputation, appropriate fan diameter, suitable price range, warranty being offered, official organization certification, fan speed, noise levels produced by the device, the CFM measurements, the materials making up the merchandise you buy, and the ease of installation.