The first natural goal of cannabis farmers is to maximize their crop quality. We all want to use the most efficient growing methods to optimize our overall yield quantity. However, to make the most out of efforts, you have to get full control over your indoor garden. This also includes temperature control, that you can keep at an optimum level with the best grow tent heaters.
Keep in mind – fluctuating temperatures can be dangerous for your crops when it comes to growing cannabis. When you can mimic the transitions between summer and winter for indoor gardens using tent heaters and temperature controls, keeping the temperature to the optimum level is a challenge.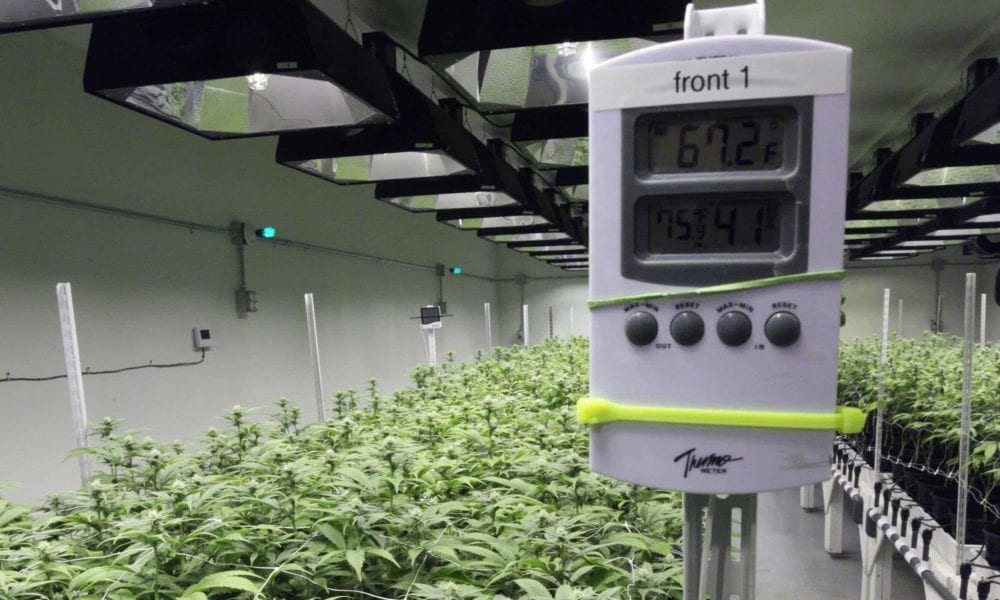 Therefore, a grow room heater is an important purchase for you. It is an affordable device to create optimal horticultural conditions for your grow room, so it can fit your budget easily.
What to do when your grow room is too cold? Read our blog post.
Benefits of an Indoor Heater
The ideal temperature range to optimize your plant growth is about 18C to 25C or 65F to 77F. During the vegetative phase, a warmer environment is better, which is around 20C to 30C or 70F to 85F. Nevertheless, during the flowering phase, 20C to 26C or 65F to 80F is appropriate.
In the absence of natural climates, extremely low temperatures may result in an unhealthy environment. This can hinder healthy plant growth, photosynthesis, flowers blooming and development, and seed germination.
On the other hand, marijuana plants also suffer in colder temperatures as they're highly susceptible to mold growth that'll affect the general harvest quality.
Here are some of the key benefits of the best indoor heaters.
Heaters help to achieve and stabilize optimal growth temperatures.
Grow tents or rooms with no heating source or limited heating capacity can use a heater to create a healthy growth environment.
With a standby heating system helps in overcoming the challenge of unpredictable temperature changes.
There will be times when grow lights don't emit enough heat to warm up the area. Simply put, a heater maintains a constant temperature, particularly when LEDs are involved.
If you are located in a cooler climate, a heater can be a lifesaver.
If the growing area is far from natural heat sources, it requires its own source of heating.
What Characteristics To Look Out for in a Grow Tent Heaters
It can become pretty overwhelming when shopping for a heater for your indoor garden. To buy the best product, you need to do prior research into types of heaters, brands, heating accessories, key features, and additional benefits. The following horticulture specific features will help you avoid substandard products and invest in a useful, explicitly for greenhouse use, heating tool:
Power Consumption
The rating of power is measured in Watts that directly affects your energy bills. The higher the watts it consumes, the higher the bill.
It is best to note that heaters can run up to, and even exceed 1500W. It is essential to buy an energy-efficient heater that generates just enough heat without contributing to abnormal power consumption bills.
Temperature Regulation
Precision is key when it comes to good cannabis growth. Investing in a grow room heater that is accompanied by a digital temperature calibration reader can be a useful aid. This digital-specific temperature control helps you to avoid detrimental and time-consuming trial and error rounds. Thermistors and thermal fuses prevent electrical surges.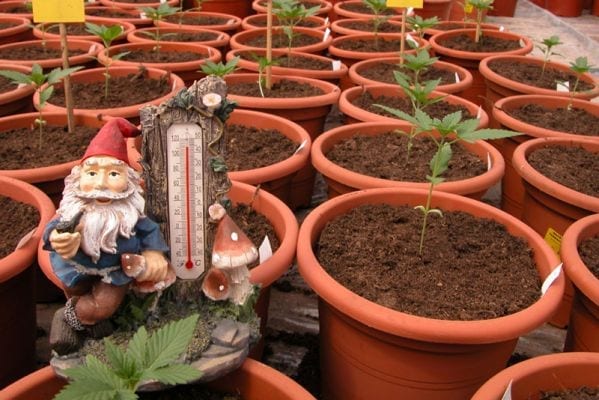 Size of Growth Operation
Heat distribution is interlinked with the approximate size of the room. Measure your room and calculate the heat distribution you require before making a purchase.
Heating Method
Consider whether you want a fan or stationary heater to dispense heat waves.
Automatic Turn-Off
Some heaters shut down on their own when they heat up. This may be a useful safety feature for some people.
Additional Safety Features
If you want a premium quality heater, make sure it comes alongside a user manual, inbuilt safety features, and auto-time settings that allow for specified time durations. In addition, low probabilities of tipping over with a low center of gravity and cool construction materials are also key features for a durable product.
Types of Indoor Grow Tent Heaters
Looking for practical solutions when it comes to choosing the most suitable heating option for your indoor gardening? If yes, the first thing you need is to learn about the different types of indoor grow tent heaters.
Here is a quick list.
Ceramic Heater
Ideally utilized in smaller rooms, ceramic heaters are available in two primary forms. These heaters use a ceramic heat stone instead of an exposed heating element and sometimes feature a fan.
Radiant Ceramic Heater: Convection heat to circulate throughout the area.
Connective Ceramic Heater: Direction-oriented heating.
Rapid heating is definitely an advantage offered by ceramic heaters. However, be aware of the quick cooling down after shut-down as well. These are inherently safe for indoor use because of non-heat absorbing plastic encasing, no hazardous emissions, etc. Waterproof versions are also are available.
However, if using one, we recommend you not to leave these heaters unattended overnight.
Oil-Filled Heater
Recommended for medium to large-sized rooms, these powerful heaters are slower to heat up but offers constant heat. Physically these resemble traditional radiator heater. Appropriate for 24/7 use, it features fins filled with oil that is heated to increase temperature levels.
Burns and replacements are non-existent along with zero production of combustion gases. They're low power consumers as they retain heat post shutting off due to the heat reservoir. As they do not reduce humidity or burn oxygen, they are also safe to use. Waterproof versions are also available. The only downside is the initial expensive price, but they last really long.
Propane Heater
Propane gas heaters are powerful machines that fit the needs of larger rooms. It is easy to install, lower relative cost, low maintenance, and quick to heat up.
However, in the absence of venting, emissions may harm plants. Be wary of the flammable fuel. It is safe to use overnight as most come with automatic shut-off features. Waterproof versions are available.
Tubular Heater
You can use Tubular Heaters both vertically or horizontally. The fluorescent light lookalike heaters work well in smaller tents.
Alternative Heating Methods
Here is a list of some other methods that you can use to heat your grow tent, but probably not as effectively as with heaters.
Electrical Grow Room Heaters.
Soil Mats: These are simple to use and highly useful when germinating seeds as the temperature is maintained between 75F-85F. The heat moves from the ground up, underneath pots and seedling trays.
Water Storage Technique: Eco-friendly option, absorbs natural heat energy during the daytime and emits to the grow tent at sundown.
Insulation Heating: Seals off the growing area to prevent external airflow from lowering temperatures.
Compost Heat: Compost acts as a heat sink, absorbing heat energy during the day for later use.
Heat Lamps: You can use heat-producing lamps to increase temperature. However, you must monitor soil moisture as the use of these increases the chance of foliage burn and drying out.
Review of Best Grow Tent Heaters 2020
Title
Lasko 754200 Ceramic Grow Tent Heater
Honeywell HCE200W Uber Heat Ceramic Heater
Lasko 6435 Designer Series Ceramic Oscillating Heater
Vornado MVH Whole Room Vortex Heater
Photo
Title
Lasko 754200 Ceramic Grow Tent Heater
Photo
Title
Honeywell HCE200W Uber Heat Ceramic Heater
Photo
Title
Lasko 6435 Designer Series Ceramic Oscillating Heater
Photo
Title
Vornado MVH Whole Room Vortex Heater
Photo
Title
DeLonghi EW7507EB Oil Filled Radiator Grow Tent Heater
Mr. Heater F274830 Big Buddy Grey Propane Heater
Bio Green PAL 2.0/ US Palma Electric Fan Heater for Greenhouses
Photo
Dimensions
18.7 x 17.9 x 11.6 inches
Title
DeLonghi EW7507EB Oil Filled Radiator Grow Tent Heater
Photo
Title
Mr. Heater F274830 Big Buddy Grey Propane Heater
Photo
Dimensions
18.7 x 17.9 x 11.6 inches
Title
Bio Green PAL 2.0/ US Palma Electric Fan Heater for Greenhouses
Photo
To make it easier for you to choose the best option out there, we have listed some of the top options below.
1. Lasko 754200 Ceramic Grow Tent Heater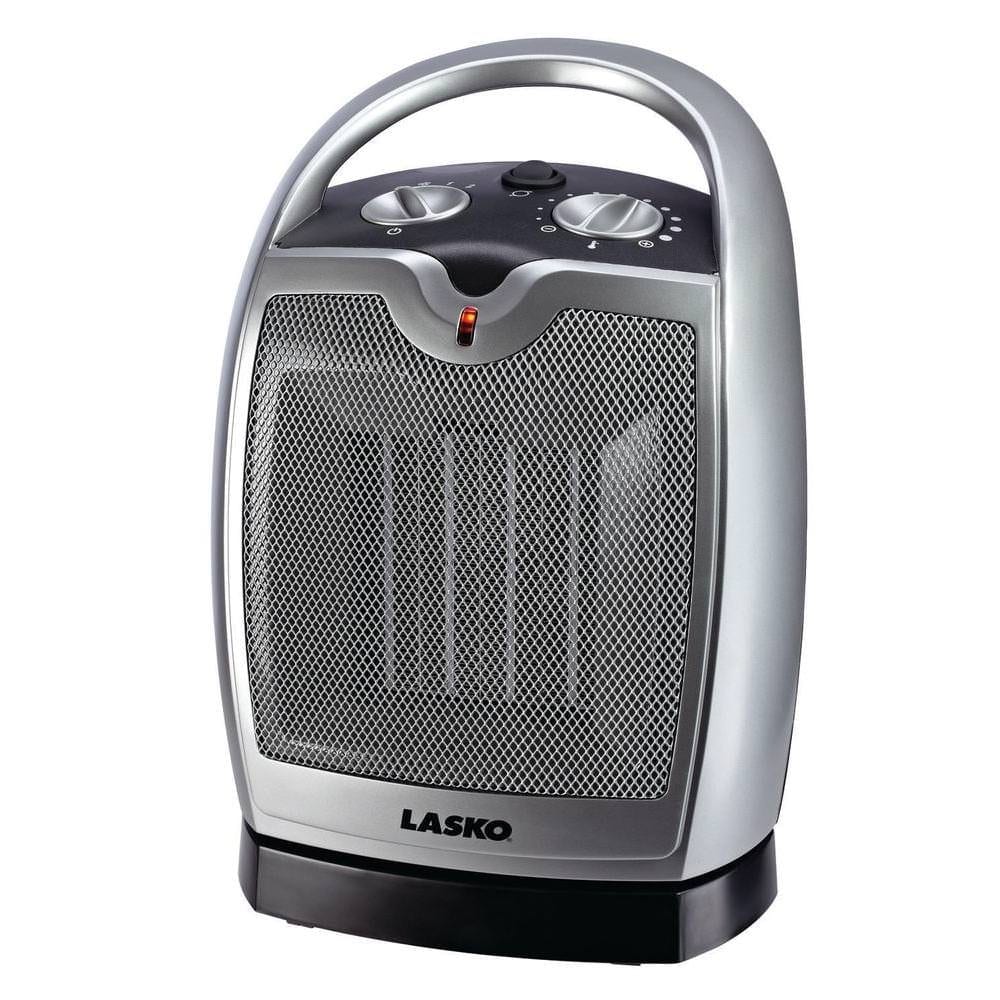 Available in Black and Silver, the Lasko 754200 Ceramic Grow Tent Heater is a wonderful indoor addition to your greenhouse. It features three quiet settings that include high heat, low heat, and fan modes. Powered at 1500W, you gain access to 11 temperature settings to heat a coverage area of 300sq/ft. The ceramic heater is delivered with fan-powered tools.
Pros
Adjustable thermostat.
Diverse temperature ranges easy to control with easy to use manual dials.
Convenient carry handle.
Budget-friendly economic pricing.
Lightweight 3.5 lbs, space-saving, and portable.
Overheat protection sensor.
Cool-touch exterior even when operating on high heat.
Pre-assembled with no installation required.
Cons
Reports of continued operation after tipping over that makes it a safety hazard without a tip-over switch.
Concerns with melting and exploding.
One-year warranty.
Noisy fan-driven heater.
Low durability.
Permanent red light.
2. Honeywell HCE200W Uber Heat Ceramic Heater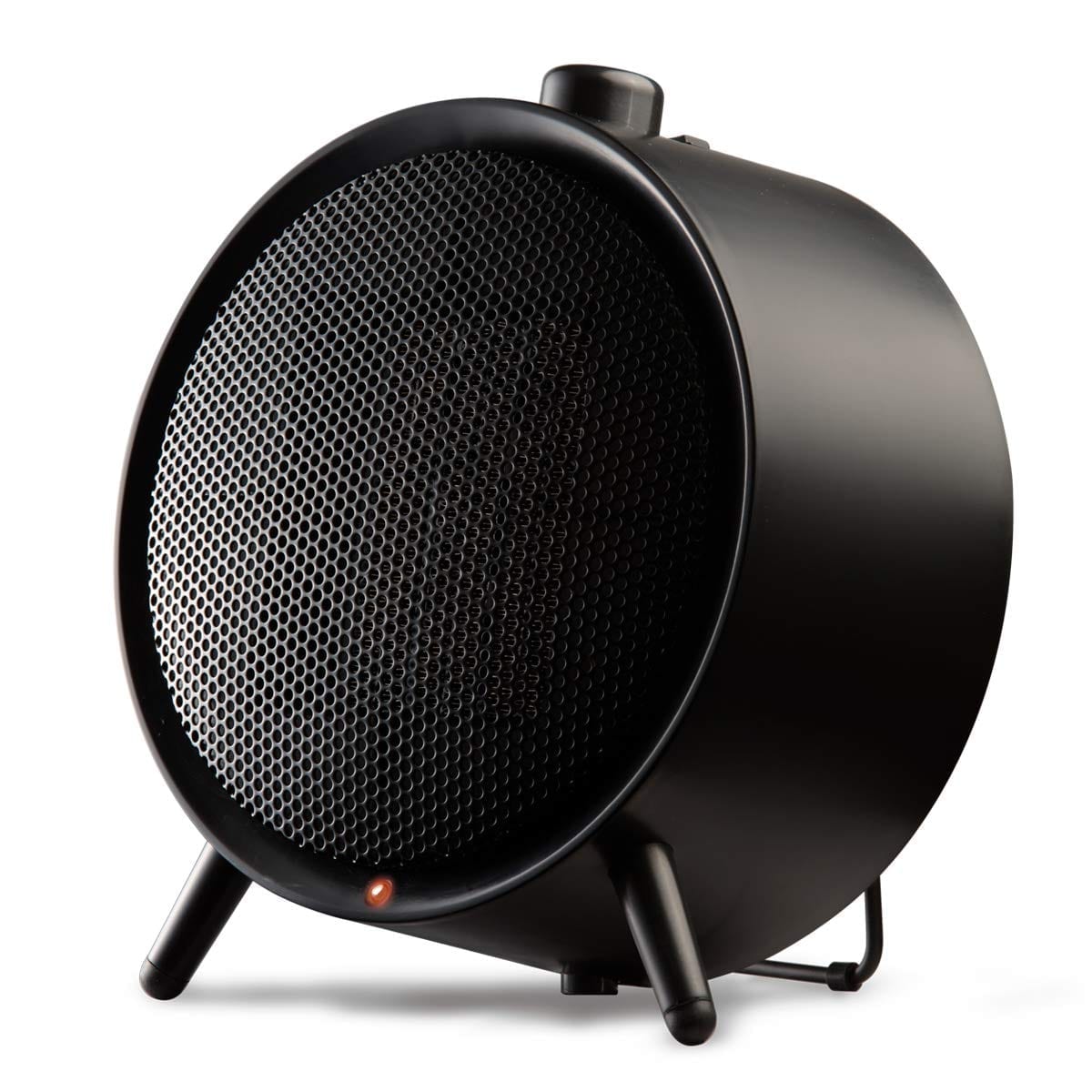 If you're looking for efficient, aesthetically pleasing yet high-powered grow room heating options, the Honeywell HCE200W Uber Heat Ceramic Heater is a good candidate. It brings to the table 1500W of heating all packed within its compact design for smaller sized rooms.

Whether you choose to place it on a floor placement or tabletop within an enclosed space, you can switch on the two heating modes to get things started. You can also choose between black or white color options.
Pros
Adjustable thermostat.
Switches and dials easy to understand.
Stylish yet functional.
Tip-over switch.
Cool to touch housing material.
Overheat protection.
Energy-saving low-setting.
Space-saving design.
3-year warranty.
Lightweight as it weighs only 3.8 lbs.
Long term financial savings.
Packs a punch with powerful heat provision.
Arrives pre-assembled.
Relatively faster heating compared to other small space heater products.
Cons
Expensive compared to competing brands.
Noisy.
Limited to two setting options.
Short run-time.
3. Lasko 6435 Designer Series Ceramic Oscillating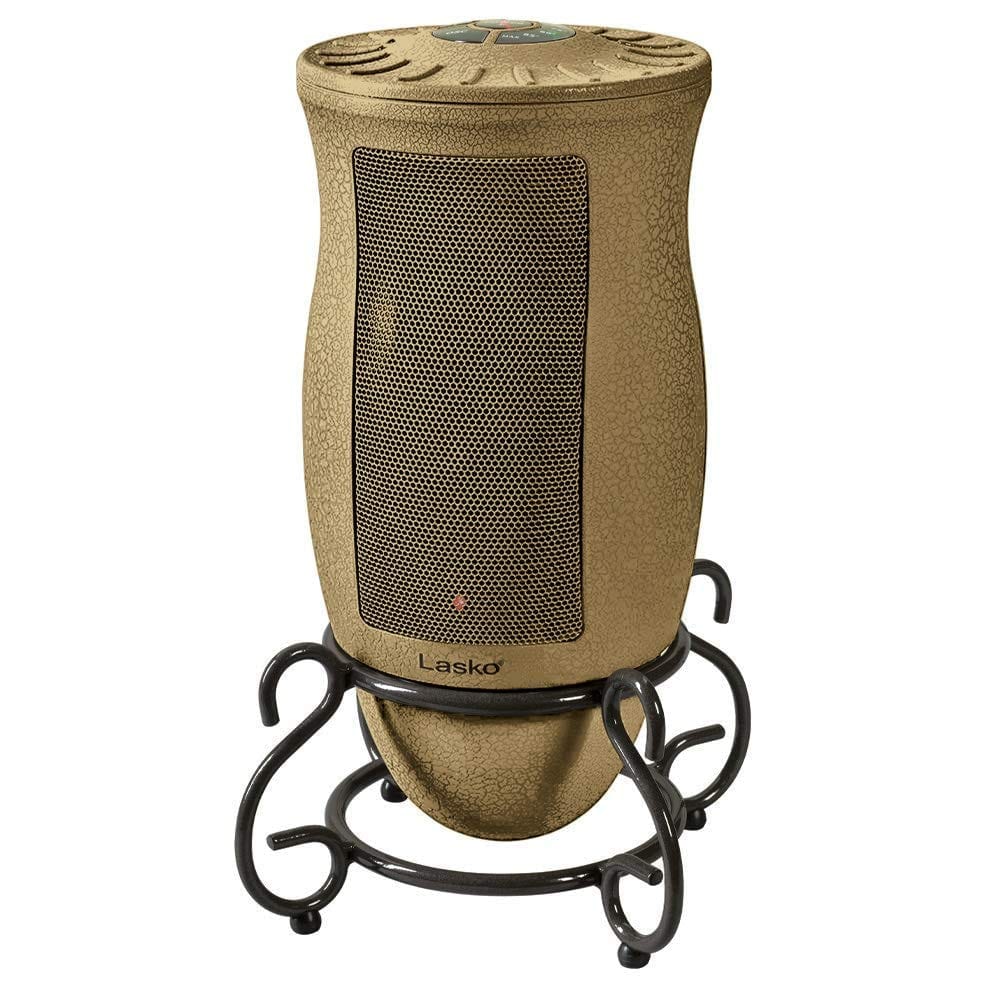 When it comes to oscillating ceramic heaters that provide necessary supplemental or additional heat, the Lasko 6435 Designer series is one to add to the list of best heaters. The heater is available in beige and gold-colored options.
The technical specs include a built-in timer with selections of 1, 2 or 4 hours, while provides a power output of 1500W. This wireless, remote-controlled gadget functions at two settings that include low or high.

Pros
3-year limited warranty.
LED Displays and control, easily readable due to the color-coded elements.
Adjustable thermostat.
Overheat protection.
Basic setup and operation.
Arrives pre-assembled.
Built-in 7 hour timer with auto-shutoff.
Aesthetically pleasing and decorative appearance.
Timer feature requires no user intervention.
Easy to manipulate operating temperatures.
Swift heating up.
Even heat dispersion via widespread oscillating feature.
High durability reports.
Cons
Comparatively heavier than others on the list 10 lbs.
Expensive.
Sub-par remote control.
Complaints of circuit tripping.
Cools down very quickly after shutoff.
4. Vornado MVH Whole Room Vortex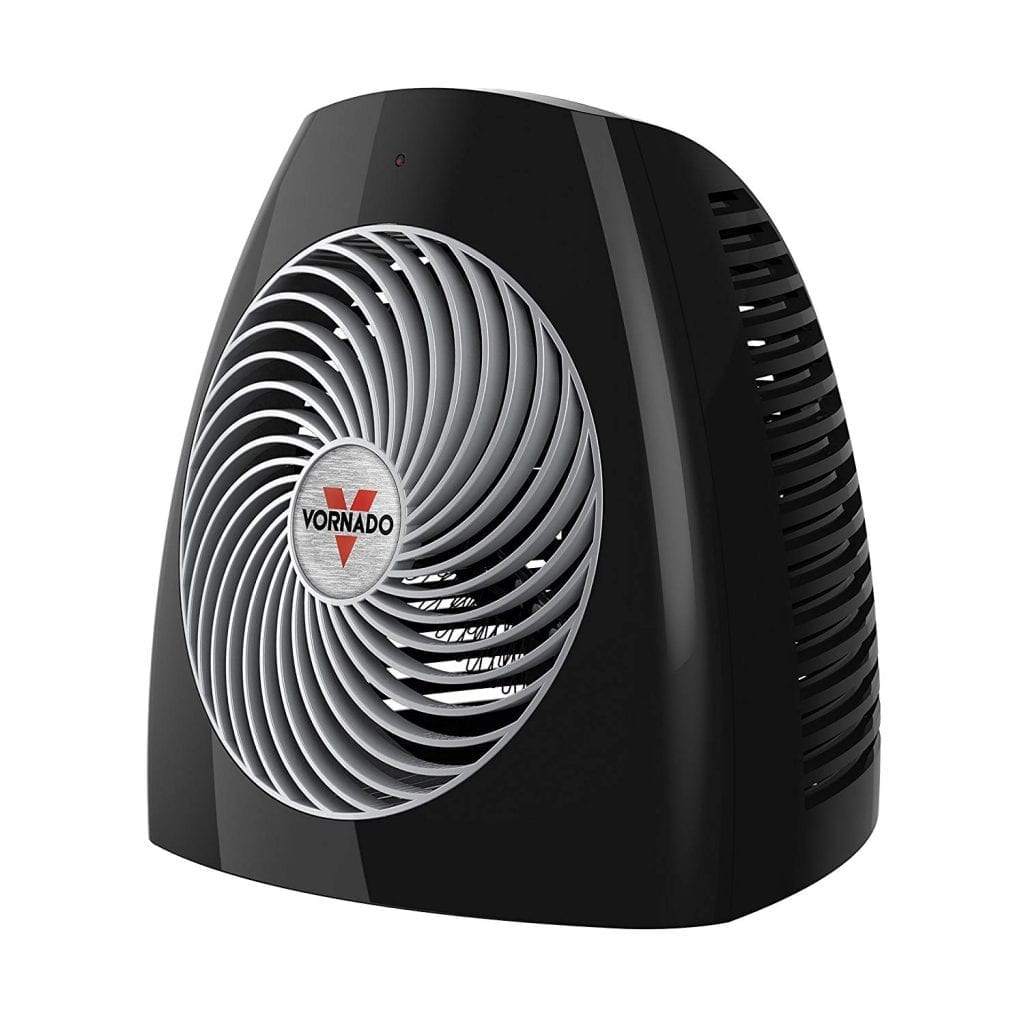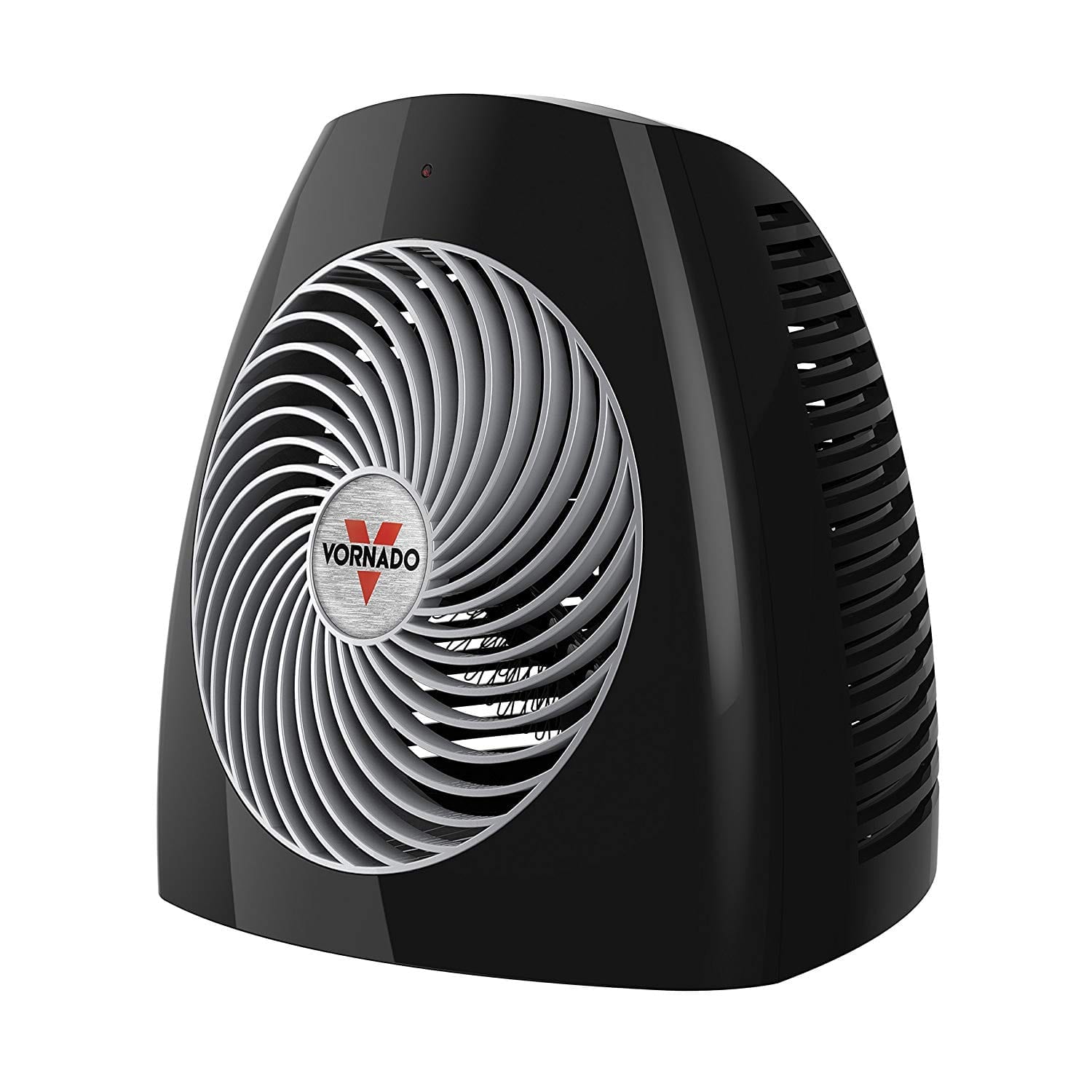 Falling on the pricier end of the heating spectrum, the Vornado MVH Whole Room Vortex Heater is obtainable in black. Owing to the high price, it comes armed with a bunch of features including Vortex Technology based thermostatic temperature control for dialing in desired heat settings.
The three settings are 750W, 1125W, and 1500W that provide customizable heat output with a maximum coverage area of 180 sq/ft.
Pros
5-year warranty.
Installation free and pre-assembled.
Tip-over protection.
Efficient and quiet working.
Whisper quiet.
Gradual but uniform heat distribution.
Compact dimensions, extremely lightweight 3.76 lbs and easily movable.
Low-cost sustainable electricity consumption.
Automatic shut-off feature.
Regulates Watt usage.
Cons
The manufacturer warranty limited to the United States of America.
No heat regulation systems.
Lack of proper insulation.
High-cost luxury item.
Complaints about foul-smelling emissions.
5. DeLonghi EW7507EB Oil Filled Radiator Grow Tent Heater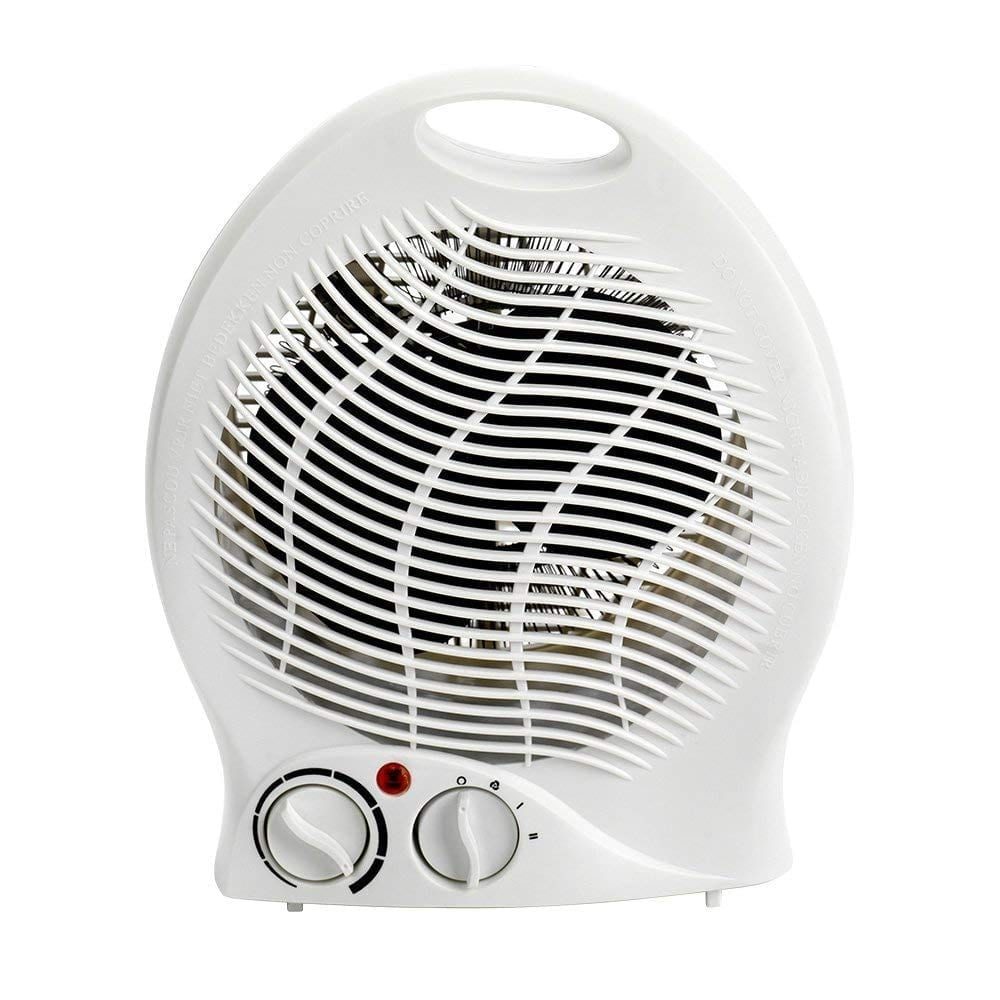 The DeLonghi EW7507EB oil filled radiator, in black, offers basic functionalities that any hydroponic location primarily requires. It allows you to create an energy-saving electronic climate as it has automatic temperature regulation.
The heater also involves a double function timer program with two separate startups and shutdown times. The heating elements are completely enclosed within its gently rounded casing.
Pros
Perfect for small-medium sized rooms.
Steel construction makes it rust-proof and durable.
A permanently sealed oil reservoir is leak-proof.
Patented vertical thermal chimneys.
Hassle-free remote control.
Digital display and thermostat.
Low and safe to touch platform temperatures.
Automatic thermal cutoff.
Patented smart-snap wheels increase portability levels.
8 hours long run-time in each mode.
Cons
Heavier than most other heaters on our list.
Difficult to see the writing on a black background.
6. Mr. Heater F274830 Big Buddy Grey Propane Heater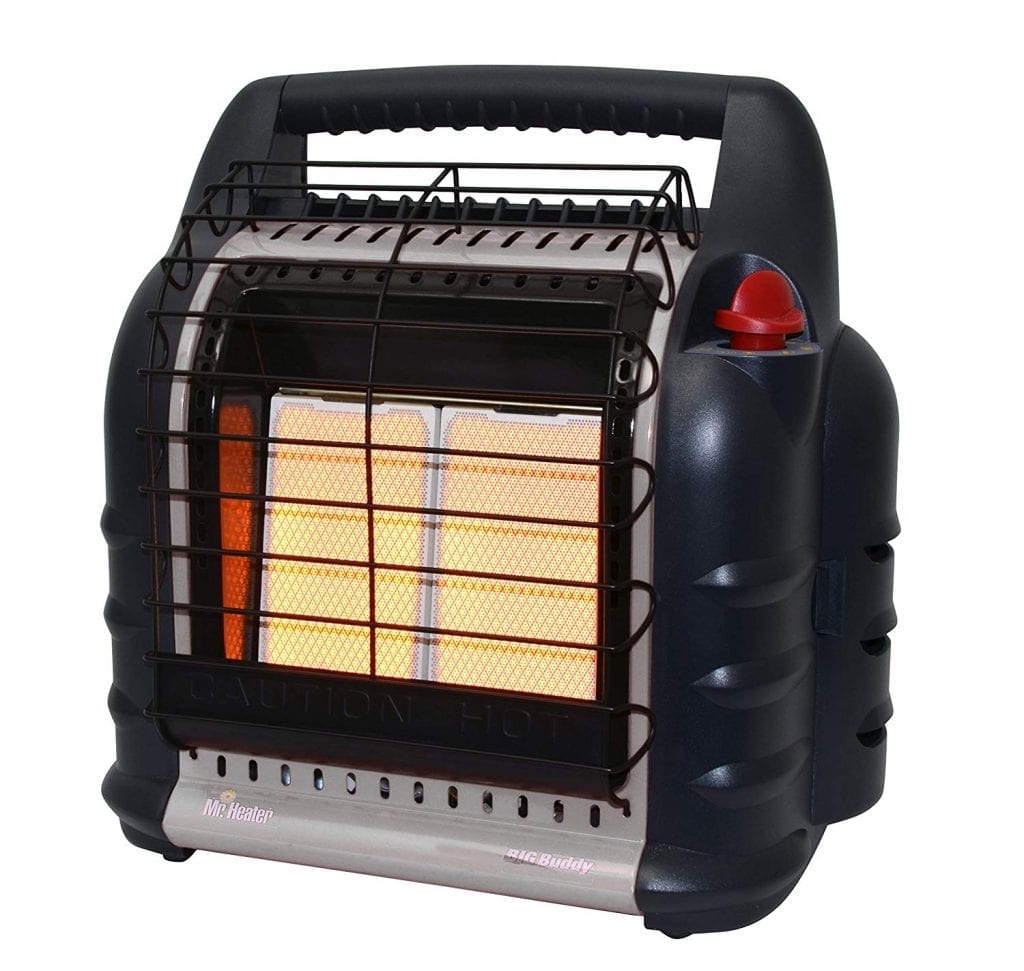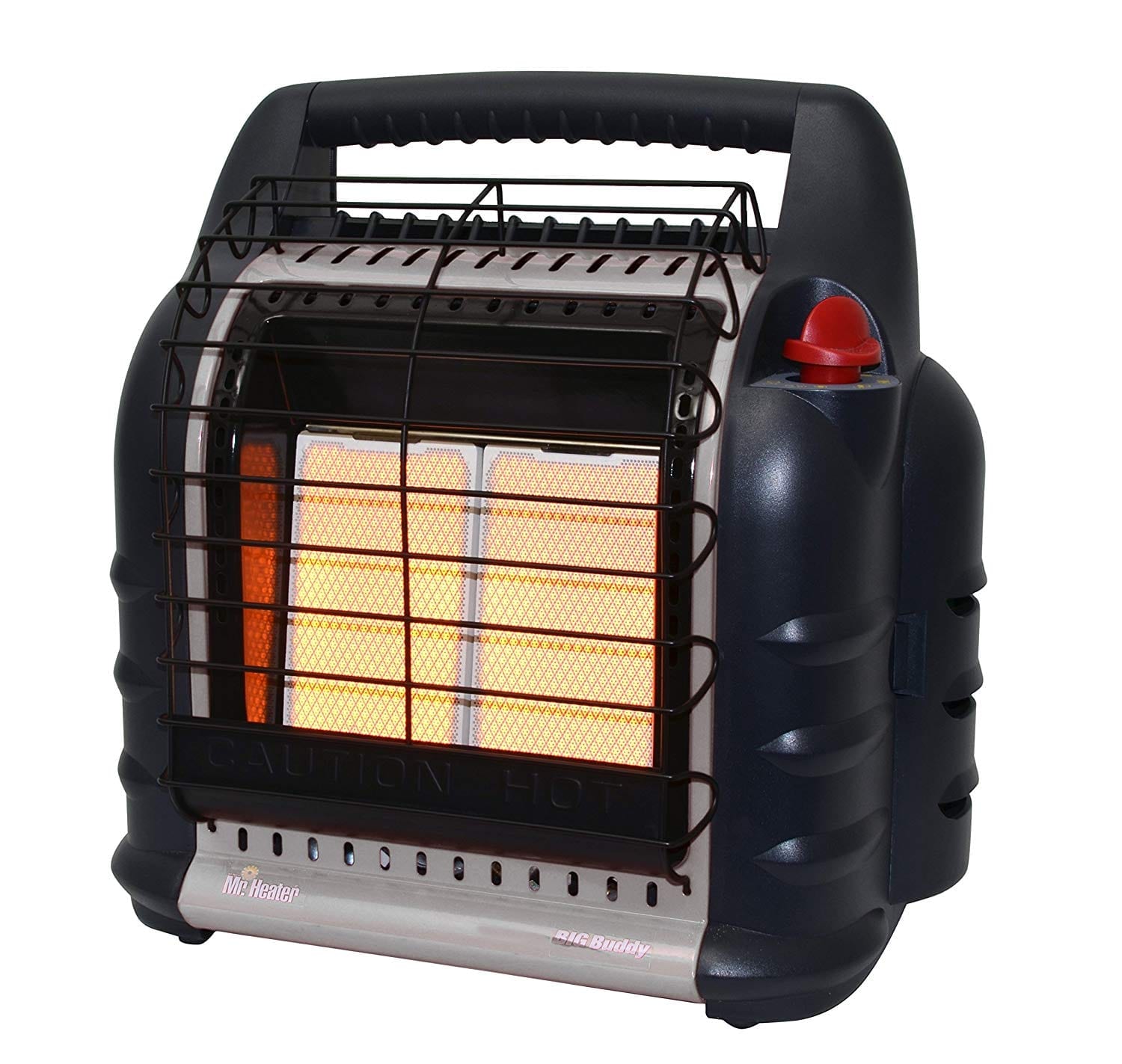 If you are looking for a useful propane heater, look no further than Mr. Heater F274830 Big Buddy. This high-end indoor gadget is available in red and grey colors. With a coverage area of 300 sq/ft and an output capacity of 4000W to 18000W, it is definitely a powerful heater.

The use is also very easy. For stable temperatures, you simply need to toggle the heat level control knobs that alternate between low, medium, and high modes. This liquid propane heating instrument is directly connected to two 1 lb cylinders and works well with enclosed areas.
Pros
An integrated fan increases heating capacity levels.
Swivel regulators.
Low-oxygen shut off system.
Anti-tip over switch.
Clean burning.
Multi-posting heat settings control desired comfort levels.
A useful substitute for electrical devices in power shortages.
Cons
Heavy as it weighs 16.93 lbs.
Complaints about pilot light.
Expensive.
It requires extremely careful handling and proper ventilation to avoid carbon monoxide poisoning.
7. Bio Green PAL 2.0/ US Palma Electric Fan Heater for Greenhouses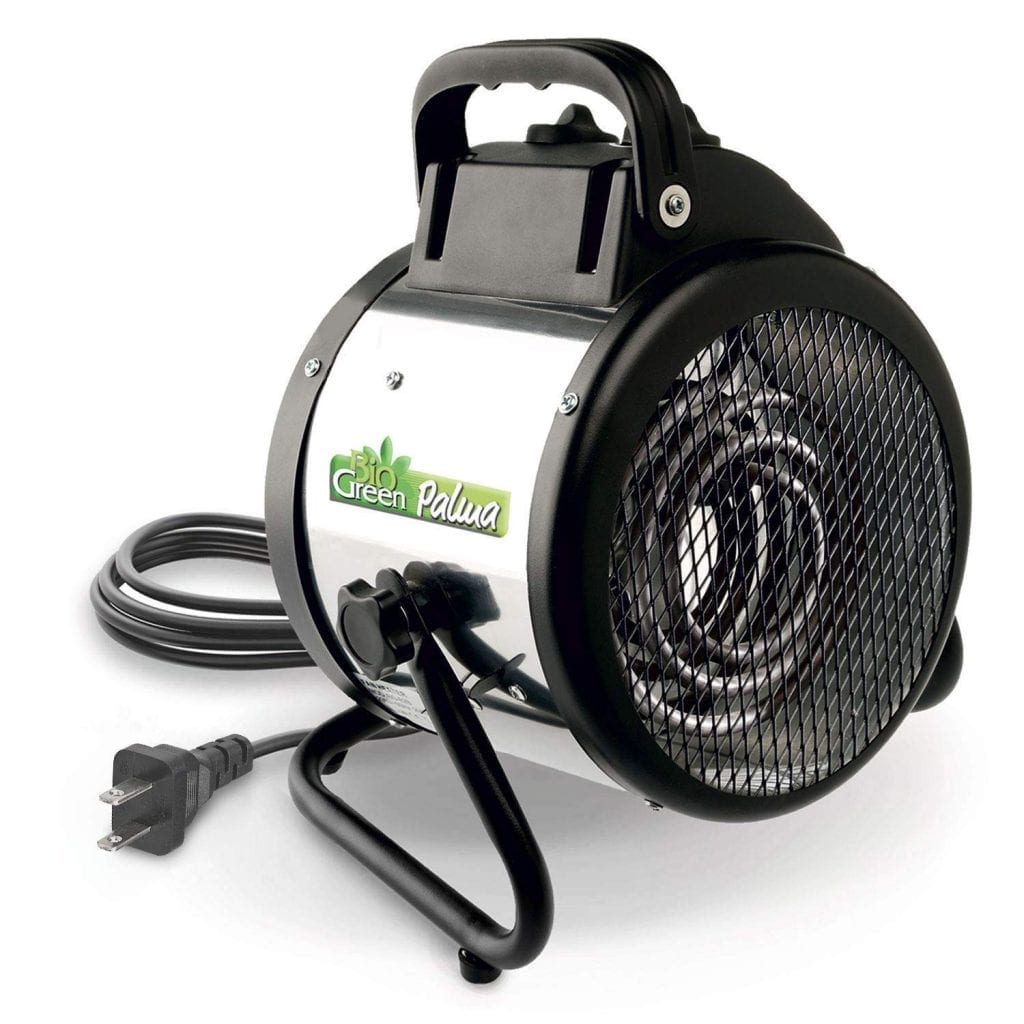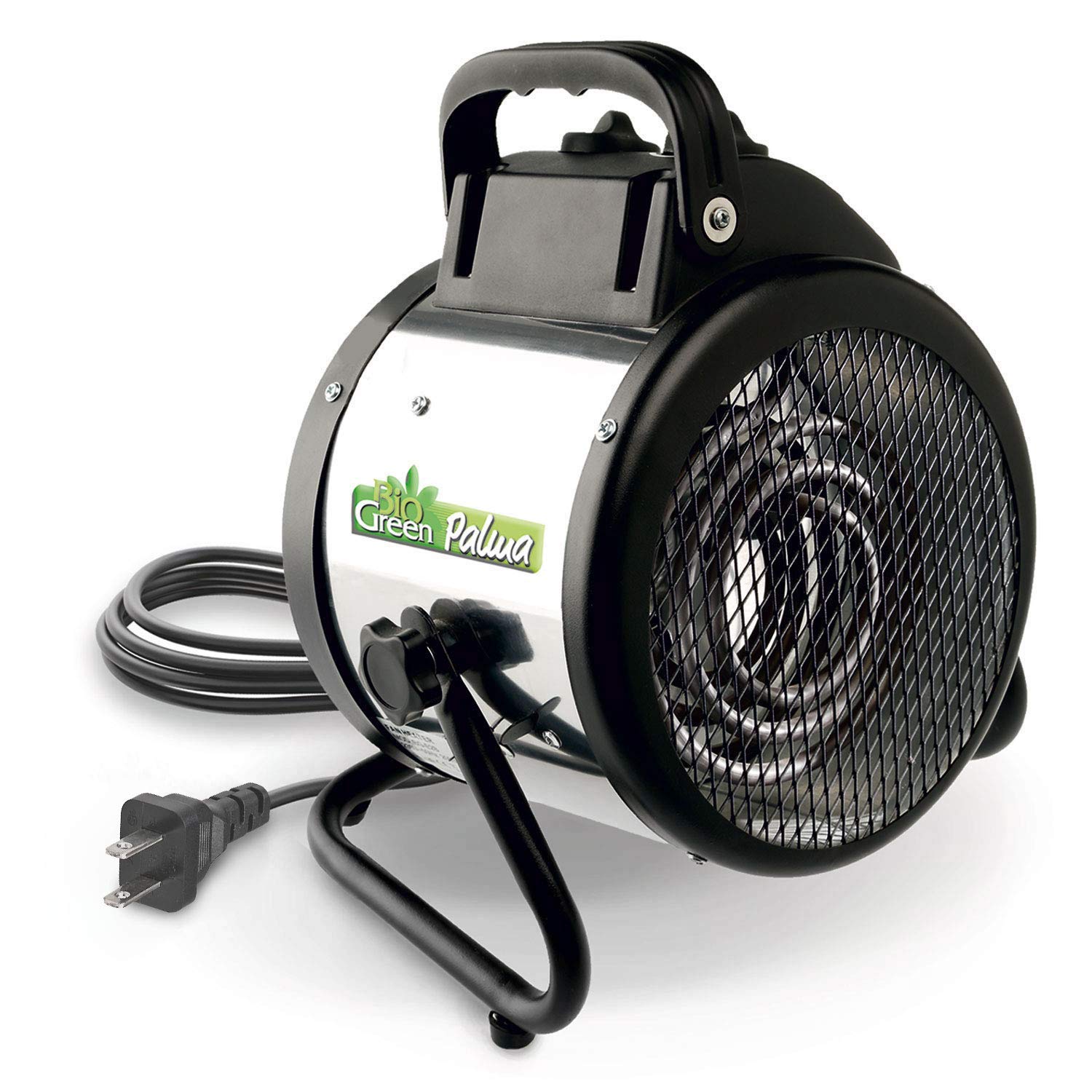 One of the most highly recommended Electric Fan heaters for your greenhouse is the Bio Green PAL 2.0/US Palma. The company has merged innovation with eco-friendliness to provide intense 1.5KW oh heating power that can circulate 163 cubic meters of air per hour.

Pros
Warms up 120 sq/ft greenhouses with ease.
High air circulation prevents mold formation.
Built-in capillary thermostat.
A slip-resistant rubber and practical carry handle makes it portable.
Compact design.
Low energy consumption.
Additional electronic digital remote thermostat included.
Stainless steel construction is highly resilient.
Splash-proof rated to IPX4.
Cons
2-year warranty.
Expensive.
It takes time to heat up.
Internal thermostat not calibrated and no temperature setting markings.
Conclusion on the best Grow Tent Heaters
Providing a perfectly maintained temperature to your grow room or tent during cold winter months can be a challenge for marijuana hobbyists. However, with grow tent heaters, you can keep perfect temperatures all year round with ease.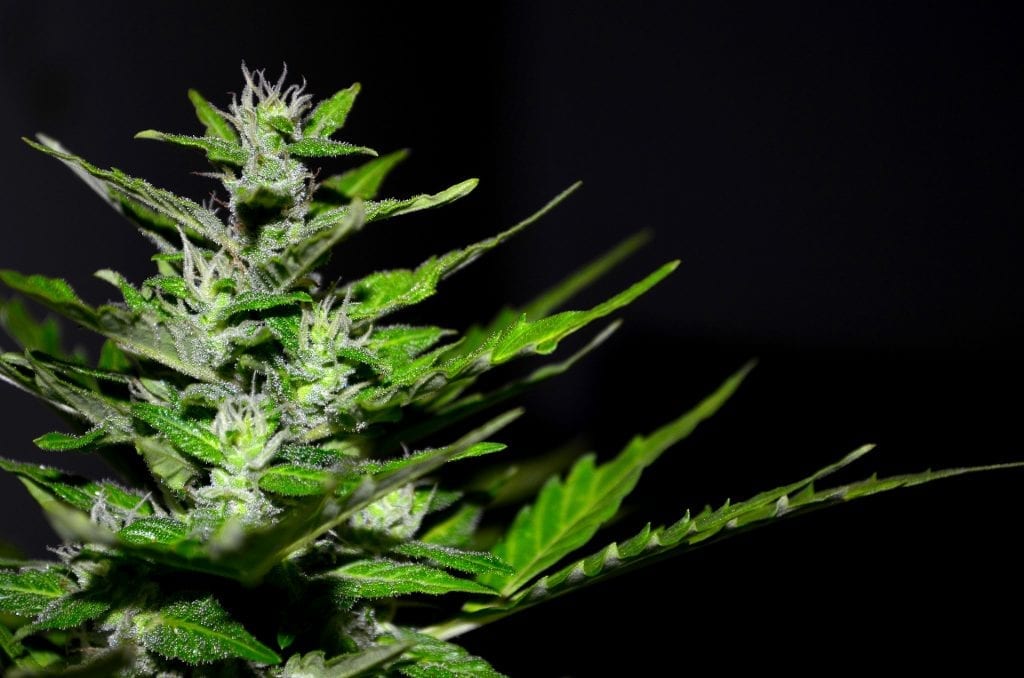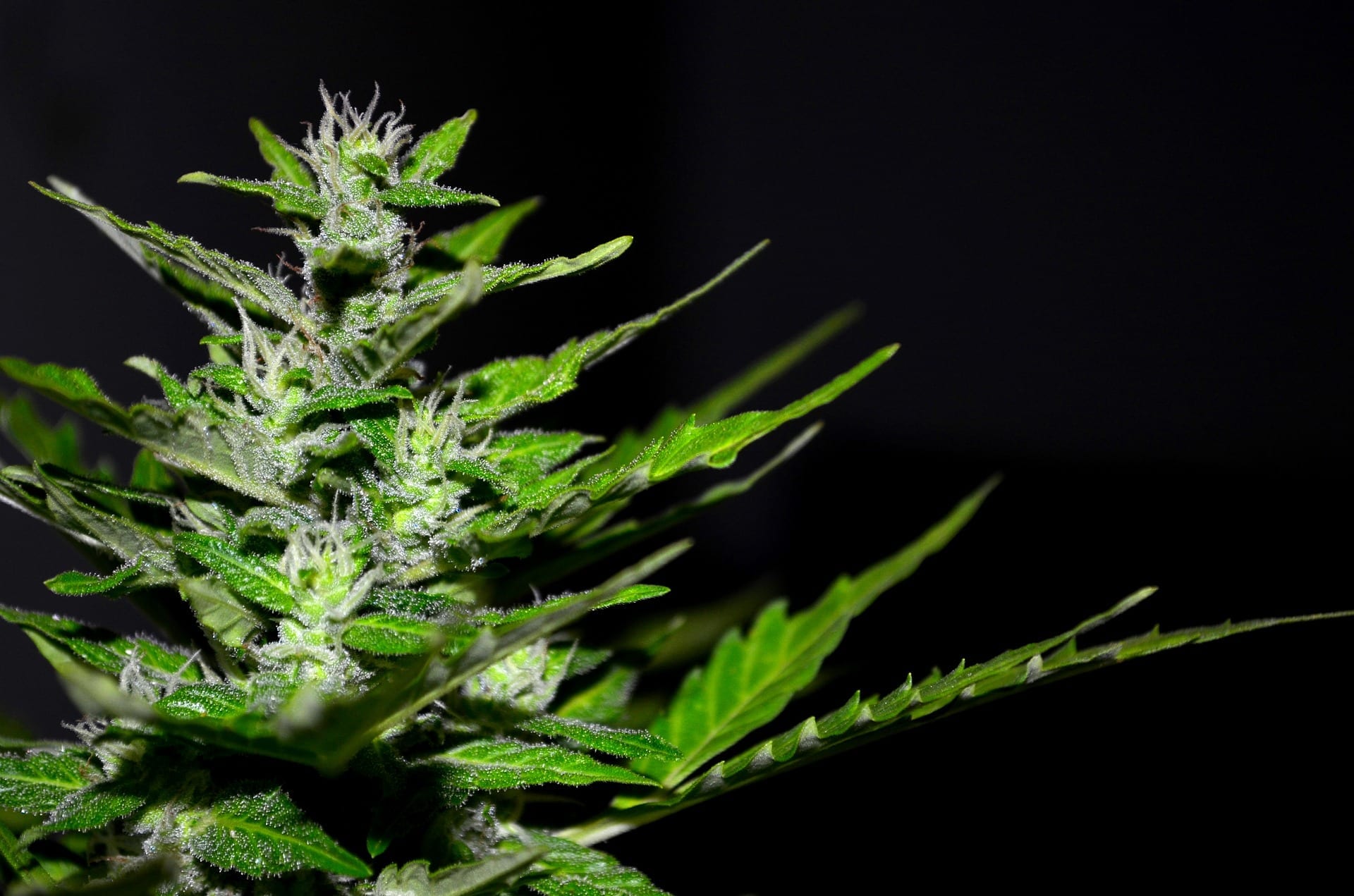 Simply put, your cultivation strategy must include a grow room heater, whether it is oil-filled, ceramic, tubular, or propane-based. Make sure to take into account the size of your grow room, the strength of heating required, safety add-ons, power usage, and temperature settings, before buying one.
We have listed some of the most popular options available in the market today, catering to different needs. We are sure you can find one that perfectly fits your requirements. Happy growing!