Do you know there are a variety of factors that affect a plant's growth, whether it's indoor or outdoor?
Humidity is one of the significant factors, among many others. If you want to grow a healthy yield, proper humidity control is one of the vital features.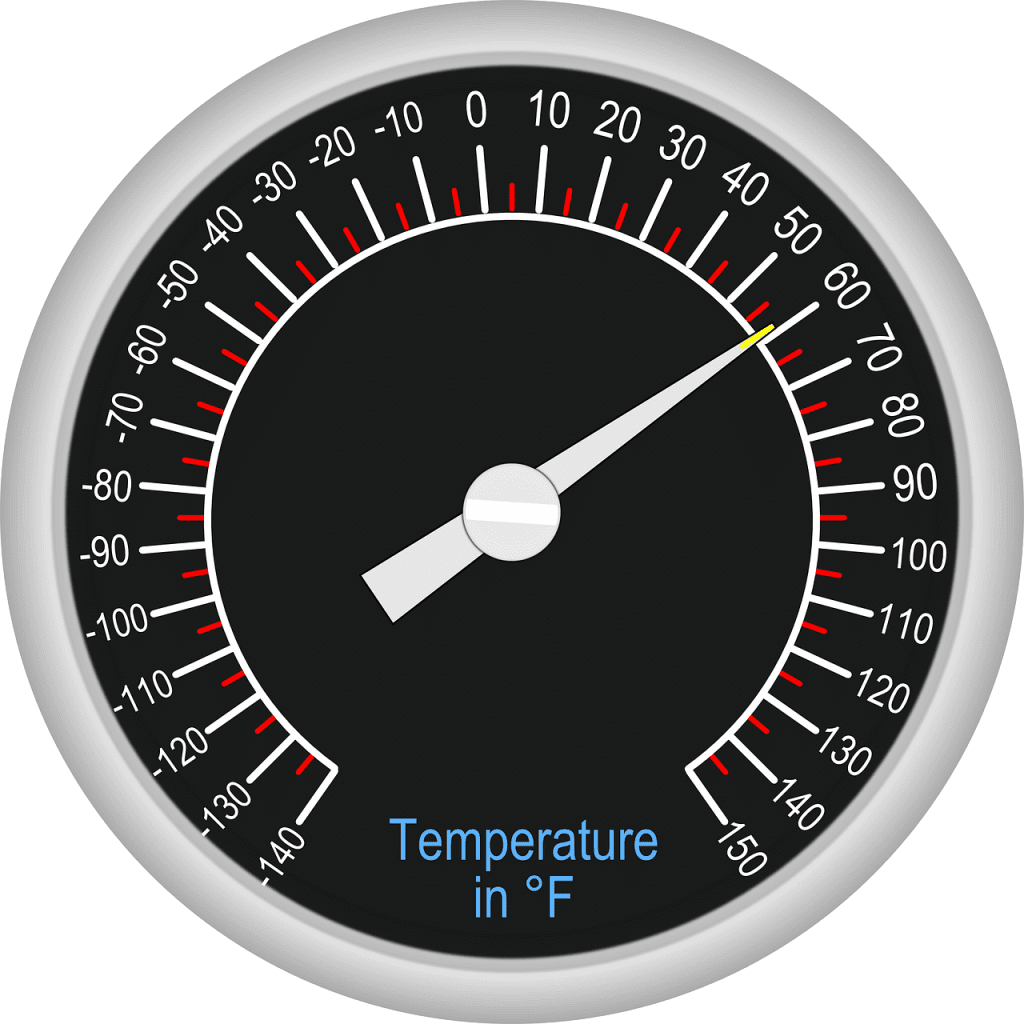 Humidity refers to the amount of water vapors in the air. It profoundly affects plant growth. That's why it is vital to monitor the humidity level while growing plants in a grow room.
When the humidity level is too high or low, the plants cease to grow to its full potential. Therefore to maintain a proper humidity level in the grow rooms, you need to invest in a good thermometer hygrometer.
What is a Thermometer Hygrometer?
The thermometer hygrometer is an instrument you need to measure the humidity level in the air. You can use the thermometer hygrometer to measure the moisture in the air in a confined environment, such as grow rooms.
As you know, plants absorb water from both roots and leaves, maintaining a balance between the two. Growers infuse water with essential nutrients to feed the plants through the roots.
When the humidity level is low, the evaporation level rises. It leaves the plant dry and in dire need of moisture, consequently, it takes more water from the roots to make up for the lost moisture. The stomata will close to protect the plant from dehydration. It prevents the plant from absorbing any supplements or minerals, ultimately leading to stagnation.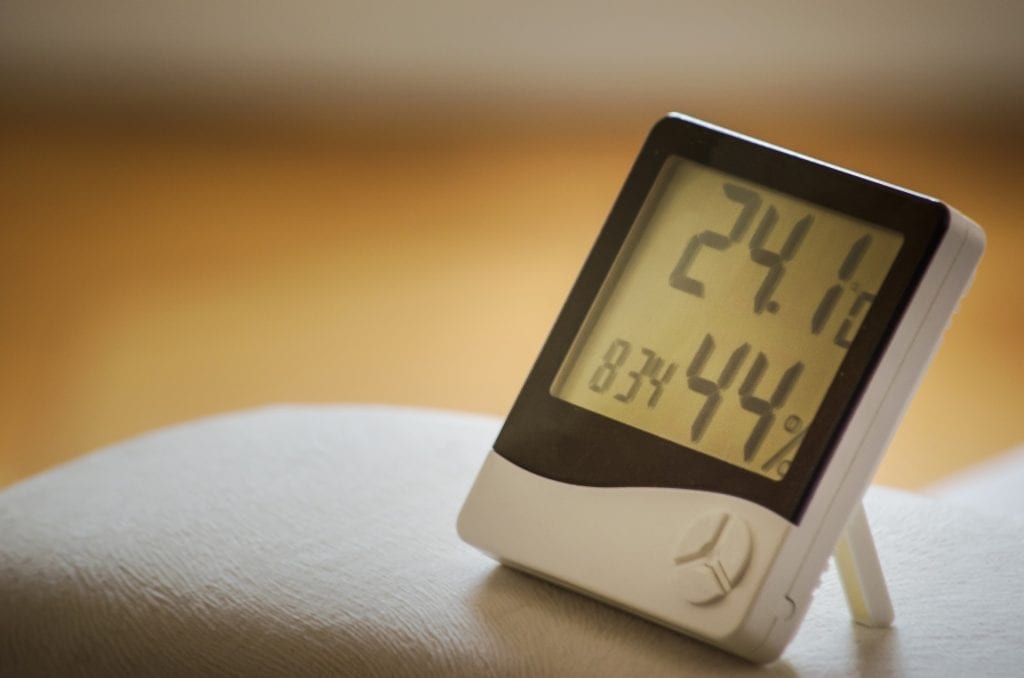 In case of higher humidity level, the plants tend to take more moisture from leaves, which results in either taking in less quantity or leaving the water full of nutrients in the roots. It disturbs the required balance a grower seeks for the perfect yield.
How Does a Thermometer Hygrometer Work?
There are two common types of hygrometers:
Wet and dry bulb hygrometer
Mechanical Hygrometer
Wet and Dry Bulb Hygrometer
The following model encompasses two basic mercury thermometers, one with a dry bulb and the other with a wet bulb. Due to evaporation, the temperature reading on the wet bulb drops. It causes a lower temperature reading as compared to the dry bulb.
The dry bulb shows the ambient temperature. You get the relative humidity with the help of a calculation table, which compares the difference between the ambient temperature and temperature variance between the two thermometers.
Mechanical Hygrometer
Horace Bénédict de Saussure designed one of the first hygrometers in 1783. Mechanical hygrometers work on similar principles by using an organic material i.e., human hair. It expands or contracts according to the surrounding humidity.
It works by holding the hair under slight tension with a spring, linking it to a needle gauge that shows the humidity level according to the movement of the organic material (in this case mostly a human hair).
The Best Thermometer Hygrometer Reviews Of 2020
Here are some of the best thermometer hygrometer reviews of 2020 for your assistance.
Title
Extech Digit Thermometer Hygrometer
AcuRite 00613 Digital Hygrometer & Indoor Thermometer
Zoo Med Economy Analog Dual Thermometer and Humidity Gauge
Avianweb AV-1951HT Thermometer Hygrometer
Photo
Title
Extech Digit Thermometer Hygrometer
Photo
Title
AcuRite 00613 Digital Hygrometer & Indoor Thermometer
Photo
Title
Zoo Med Economy Analog Dual Thermometer and Humidity Gauge
Photo
Title
Avianweb AV-1951HT Thermometer Hygrometer
Photo
Title
LINGSFIRE Digital LCD Indoor/Outdoor Thermometer Humidity Hygrometer
Photo
Title
LINGSFIRE Digital LCD Indoor/Outdoor Thermometer Humidity Hygrometer
Photo
Extech Digit Thermometer Hygrometer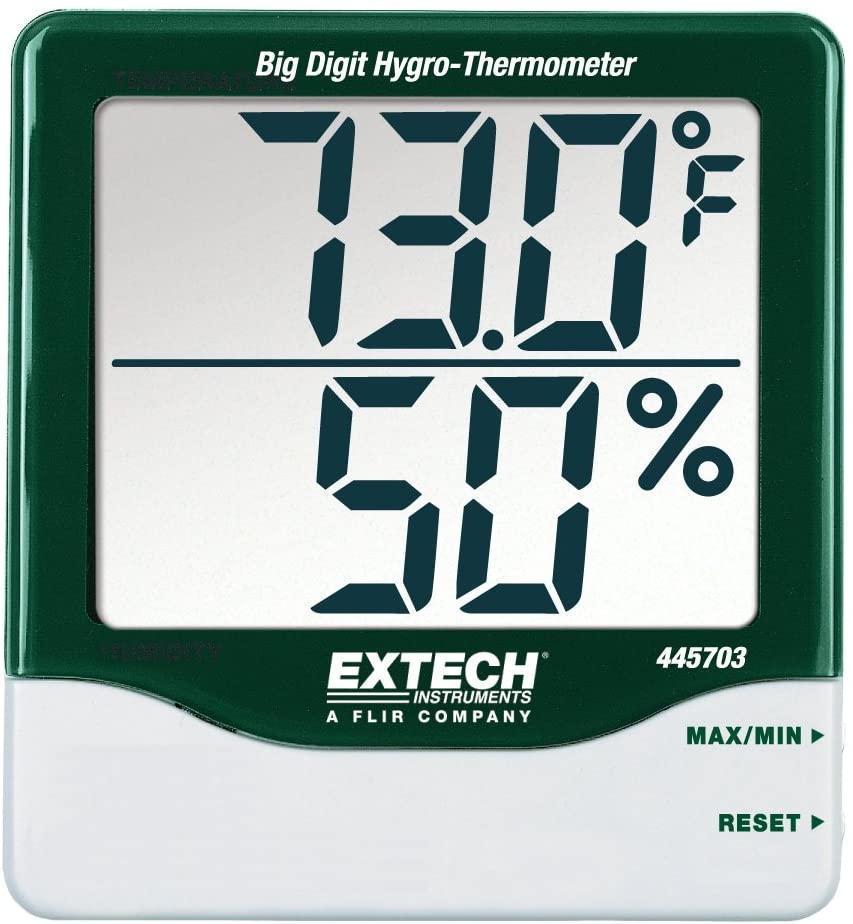 The Extech Big Digit Hygro-thermometer delivers precise and concurrent measurements for temperature and humidity. Numerous greenhouses, factories, offices, and other places with sensitive humidity and temperature environs use it due to its ±5% RH readings.
It comes with a memory reset function, and stores maximum and minimum measurements for the record as well. Moreover, you get a 1.5V AAA battery included in the offer. In addition to these, you can calibrate the unit with an additional kit.
In addition to these, you can mount the unit on the wall or place it on a flat surface using an in-built tilt stand.
Pros
Super large LCD screen with massive digits
Hassle-free switch between Celsius and Fahrenheit degrees
Minimum and maximum function with reset option available
A small and compact unit
Comes with 1.5 V AAA battery
One year warranty
Cons
Error in indoor and outdoor readings
Slight error with accuracy
AcuRite 00613 Digital Hygrometer & Indoor Thermometer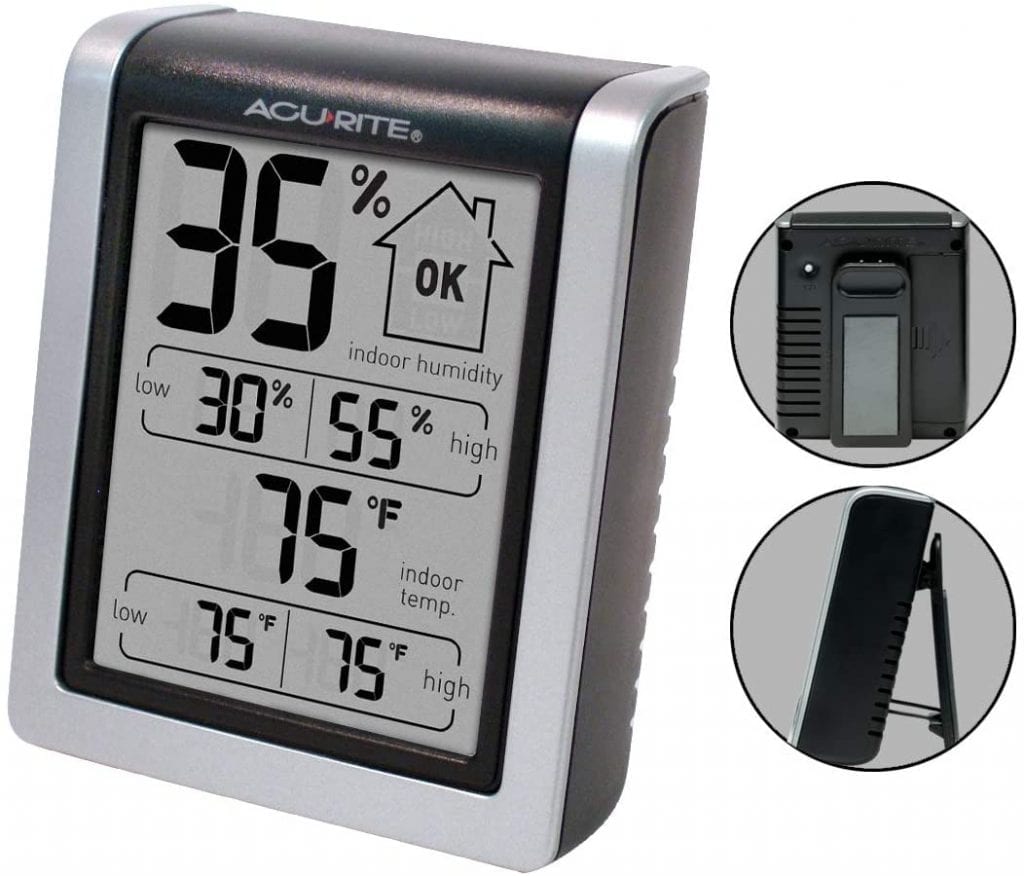 Made by American based company in Lake Geneva, USA, AcuRite brings a comprehensive all in one thermometer hygrometer. 00613 is an indoor device to measure the exact readings on temperature and humidity.
The device comes with a big LCD screen to make reading at a glance easier. Moreover, you get options to position your thermometer hygrometer as you can place it on a flat surface, mount on walls and even fridge with its flat stand, clip and magnet options)
Pros
Accurate readings
Multiple mounting and relocating options
Big LCD with massive digits
Small and compact
Batteries included
Less expensive
One year warranty
Cons
No ON/ OFF switch, you need to take out batteries to switch it off
Not completely impenetrable from humidity
Thermometer ideally works indoor only
Zoo Med Economy Analog Dual Thermometer and Humidity Gauge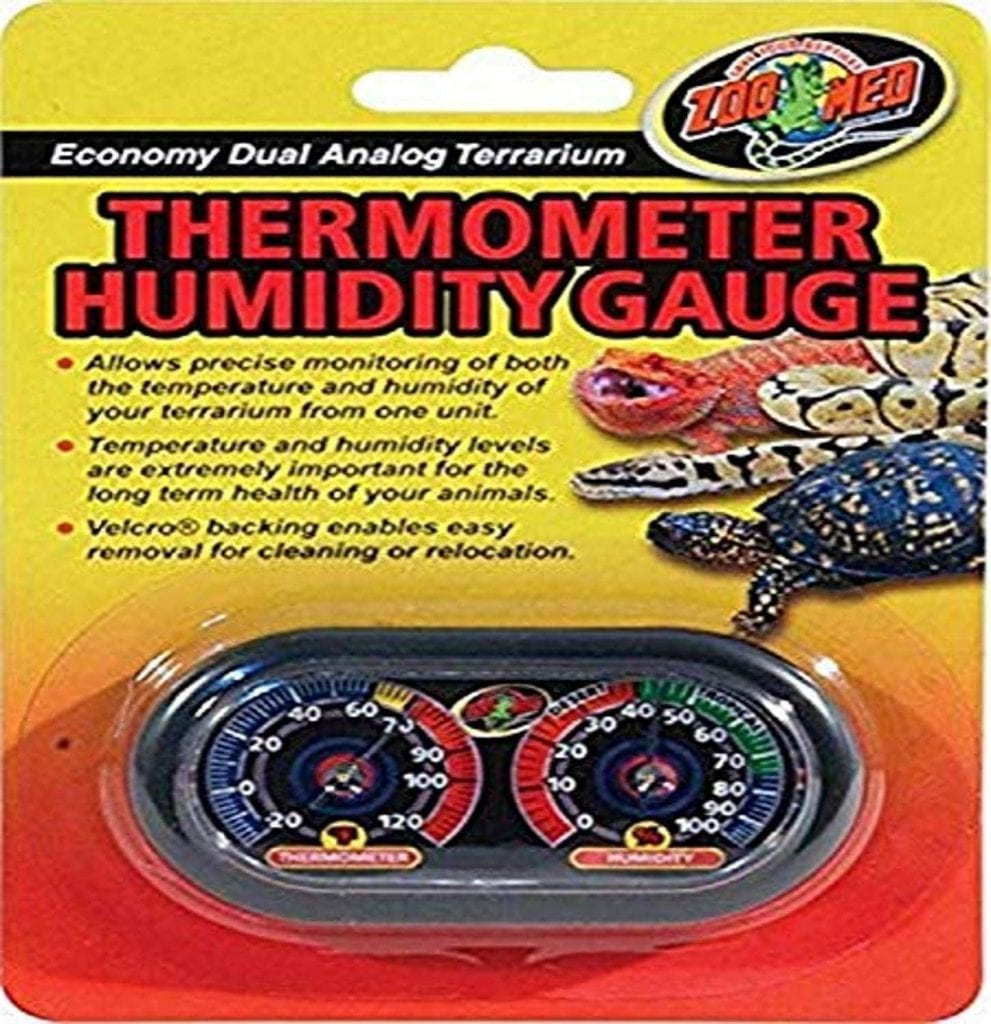 ZooMed brings a dual analog display for both temperature and humidity readings. The unit is very economical and provides accurate readings for indoor as well as outdoor environments.
You get a hook, loop, and Velcro back to help you mount it to a surface as well as relocate it without any hassle.
Pros
Very economical
Analog display
A small and compact unit
One year warranty
Cons
One of the analog displays may malfunction
Product quality is OK
Batteries not included
Avianweb AV-1951HT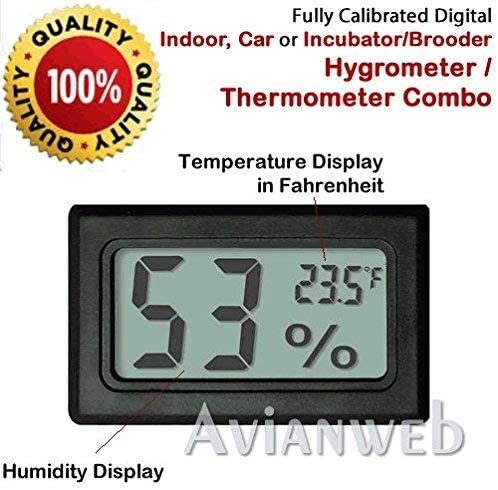 The AV-1951HT thermometer hygrometer is ideal for use in cars, brooders, grow rooms and incubators, and many others. It is in black.
The Avianweb thermometer hygrometer is of high-quality plastic. The unit is portable, and you need batteries to operate.
Pros
Portable unit
Small and compact design
LCD screen display
Batteries included
Cons
Readings only in Fahrenheit
Warranty options not explicit
Not very accurate
LINGSFIRE Digital LCD Indoor/Outdoor Thermometer Humidity Hygrometer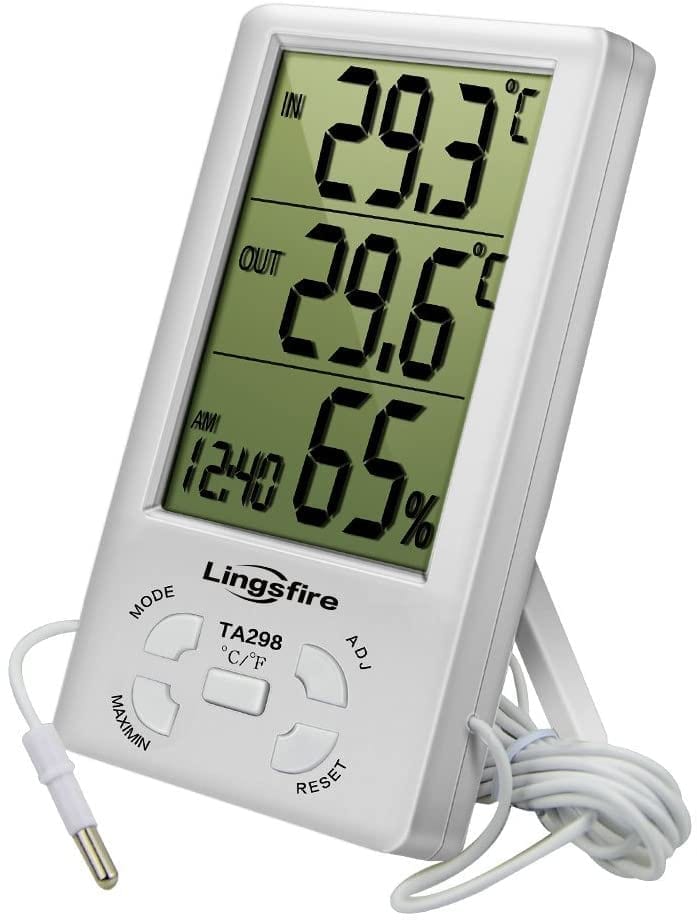 LINGSFIRE digital thermometer hygrometer is a high-quality product with a large LCD screen display. You get the readings on humidity and temperature with huge digits, which are easy to read at a glance.
The digital thermometer automatically saves the extreme measurements. You get the minimum and maximum readings on humidity and temperature. It comes with the reset function so that you can commence the default settings with few simple clicks.
LINGSFIRE thermometer hygrometer is ideal for use in wine cellars; grow rooms, greenhouse, bedrooms, living rooms, and much more.
You can place the unit on a flat surface such as a tabletop or mount it on the wall with its flexible design. It's portable with its small and compact design. You don't need a power back up to operate the thermometer hygrometer as it works with batteries.
Pros
Large LCD screen display
Huge digits for easy reading at a glance
Small compact design
Reset function
Memory storage for minimum and maximum readings
Battery operated
Cons
Warranty details not explicit
Batteries not included
Hygrometer effective only for indoor readings
Summary & Recommendations
You can't deny the importance of a hygrometer thermometer, especially in a grow room. The plants, such as marijuana, are susceptible to the slightest changes in the temperature, humidity, and numerous other surrounding factors.
Excessive humidity can result in mold, mildew, and many other diseases in plants, whereas lower moisture levels in the atmosphere can lead to dry, damaged, and malnourished plants.
If you want your plants to grow to full potential, investing in a good quality hygrometer thermometer is essential.
Recommendation
Based on reviews, we would recommend you to invest in LINGSFIRE digital LCD thermometer and humidity hygrometer. It's high quality and portability makes it an ideal device.
The accuracy in measurements, easy to read digit size and large LCD screen makes it the best choice. However, if you want to invest in a slightly less expensive thermometer hygrometer, we would recommend the AcuRite hygrometer and indoor thermometer
FAQ
Here are the answers to some very frequently asked questions.
What is the Difference Between Humidity and Relative Humidity?
Humidity refers to the amount of moisture in the air.
Relative humidity, on the other hand, is also the measure of water vapor; however, it is comparable to the temperature of the air. As it expresses the ratio of the amount of moisture present in the air to the maximum amount that the air can hold at a specific temperature
How Do I Adjust My Digital Hygrometer?
You can calibrate your digital hygrometer by the salt test method. Fill a plastic soda cap with table salt. Add adequate water to make the salt wet. Flatly place a zip lock on a flat surface. Put the lid with a hygrometer inside the bag. Seal it and wait for four hours.
Afterward, push and hold the reset button until it resets to 75. Remove the now calibrated hygrometer from the bag.
How Do You Know if a Hygrometer is Accurate?
You know your hygrometer is accurate if it shows a humidity of precisely 75 percent. If the hygrometer shows humidity readings lower or higher than 75 percent, you may need to calibrate it.
Moreover, we would recommend you to give your hygrometer at least two hours to stabilize before you take a reading, as changes in the relative humidity may take some time to register correctly on a hygrometer
Where Do You Put a Hygrometer?
You place the hygrometer where the humidity seems to be intense. In the case of a grow room, there are numerous factors (lights, ventilation, airflow, etc.) affecting the hygrometer readings. You can alternatively place it near the plant canopy.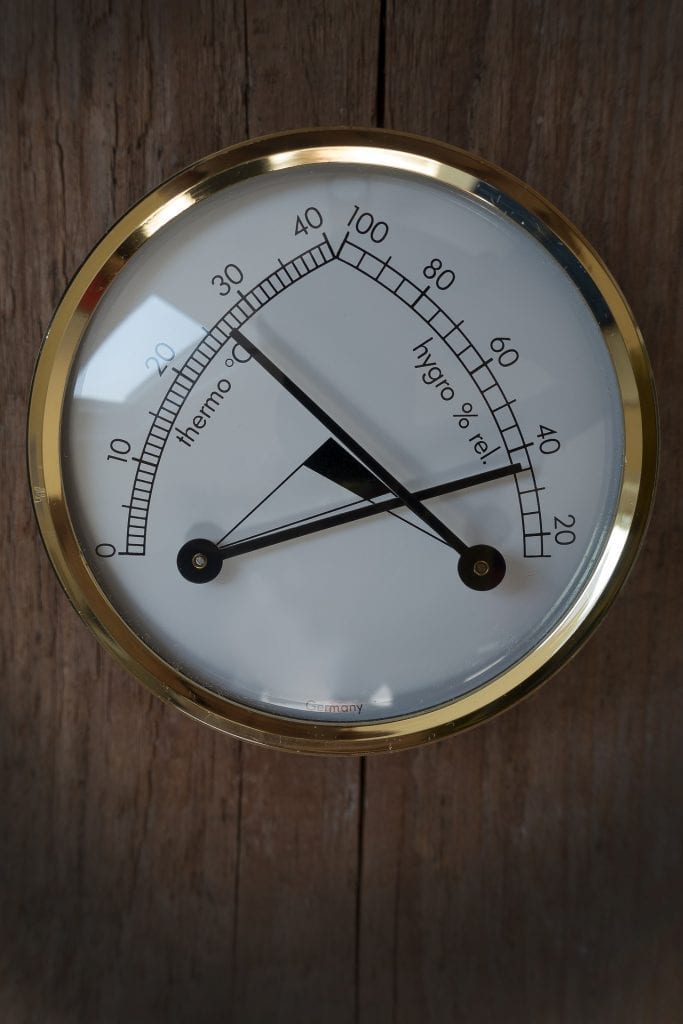 However, putting two to three hygrometers in height specific intervals is ideal for getting a clear picture.