Save 30% on select product(s) with promo code 30QKQDNT on Amazon.com
While you could probably eyeball measurements during your usual everyday tasks, when you're in the weed business, accuracy is everything. Whether you are growing it or processing it, weighing weed precisely is quite crucial because even a gram over or under can cost you a big fortune. Therefore, if you don't want yourself in that position, you need a weed weight scale.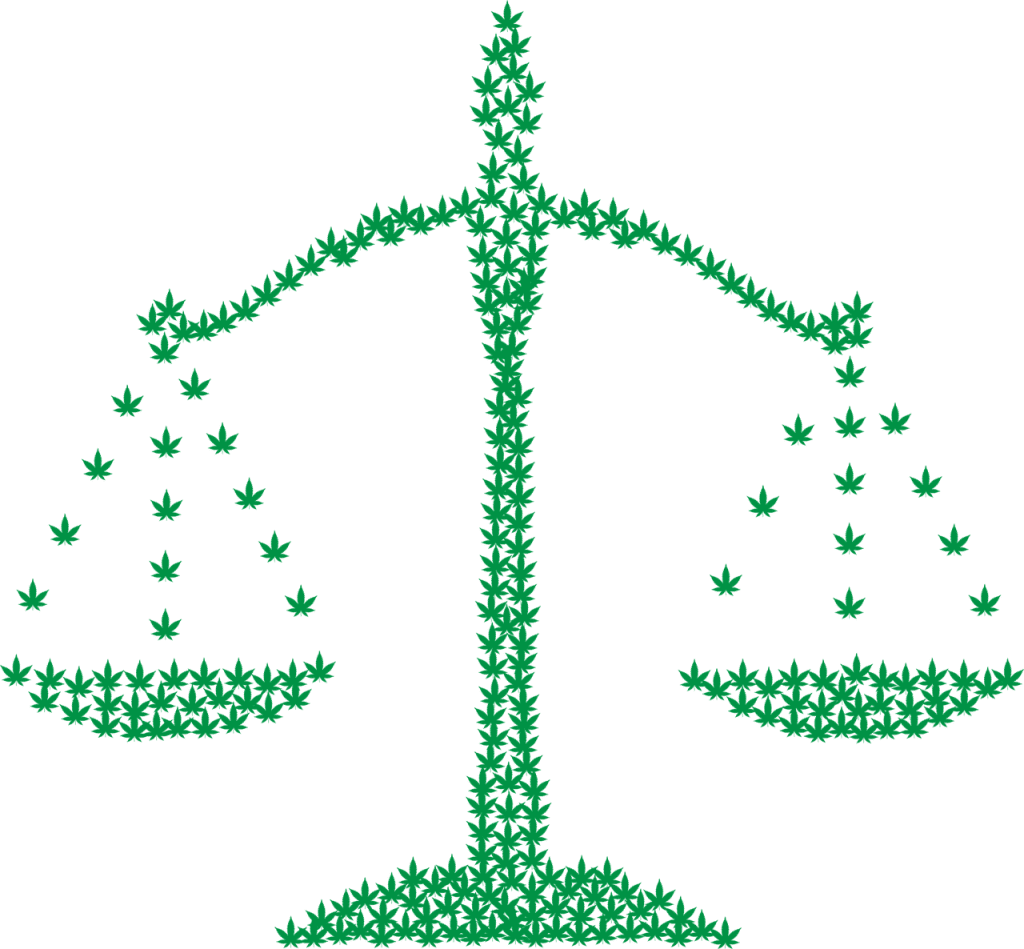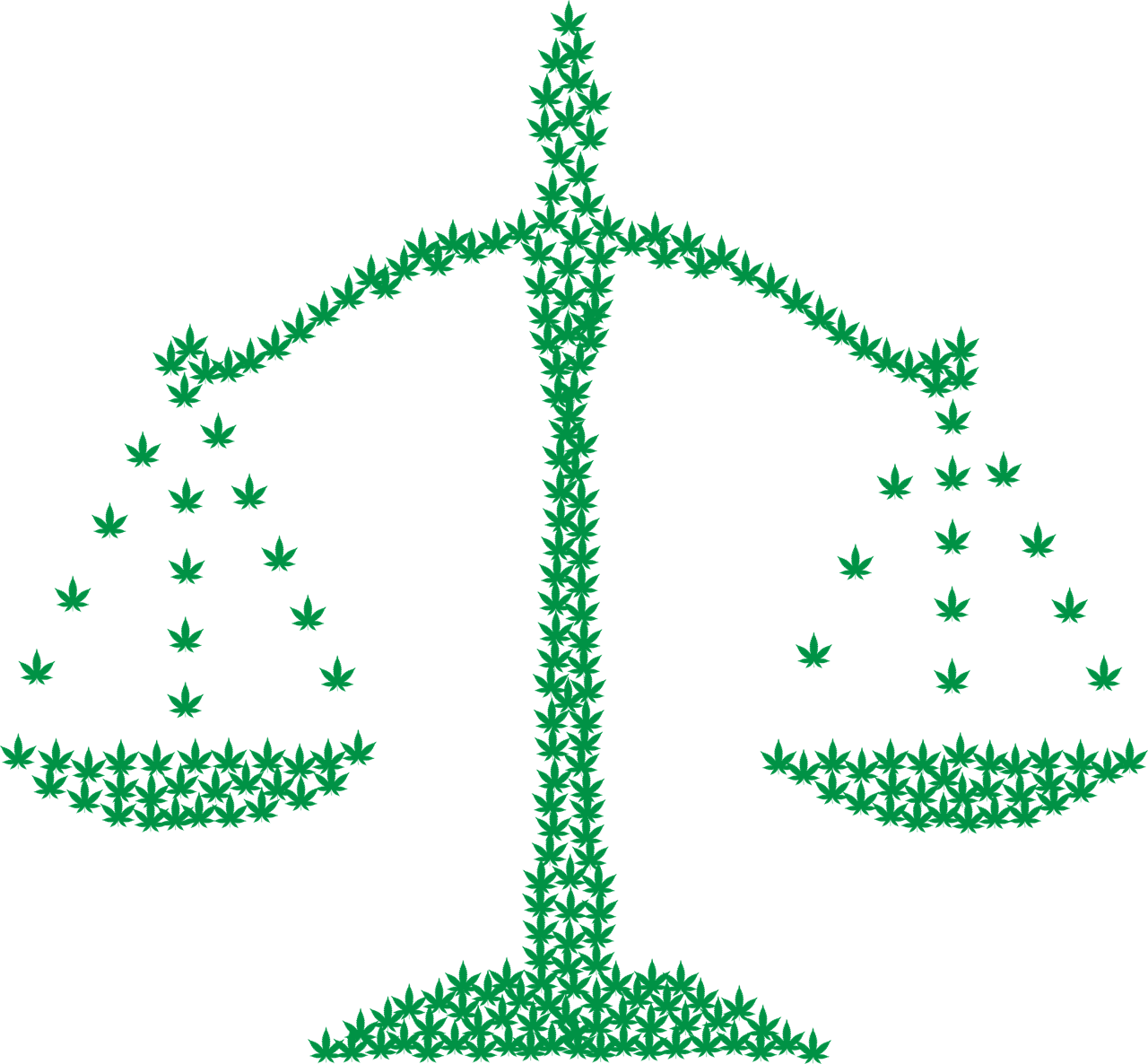 Using the best scale for weed, you can ensure precise amounts every time without any hassle. If you're wondering where this best weed scale will come from, that's where we come in. In this buying guide, we'll tell you everything you need to know about weed scales and the best digital scale for weed.
Why do You Need a Best Scale for Weed?
While you can weigh almost everything on a weed scale, you can't weigh weed on every scale. A weed weight scale, in particular, has certain special features that make it ideal for cannabis growers or users. When you're farming it, you need to weigh your yields. When you're processing it, you need to weigh the input accurately to get precise output.
Similarly, even when you're selling it, you need to have the exact amounts since even a gram of weed can be quite expensive. Therefore, you need a weed weight scale to help you along with all these steps and reduce the chances of errors.
What to Consider When Buying Best Scale for Weed?
If you think you can get any digital scale and make it work, we'd advise against it. The right weed scale might differ from person to person, but there are certain features that all weed scales must have.
Accuracy of Best Scale for Weed
As we've already mentioned so many times in such a short while, accuracy is vital. It would be necessary for any scale you go for but more so for weed scales because of the nature of the item. Therefore, look for digital scales that have high accuracy.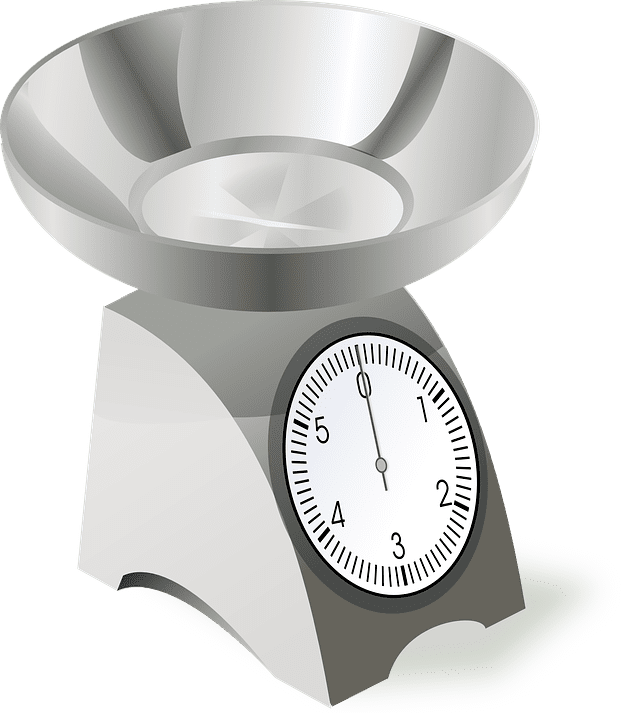 Usually, manufacturers mention themselves some range of error, for example, +/- 0.003 grams. If you get a chance to test a scale before buying it or even after you've bought it, check its accuracy first. You can do this by using calibration weights, which have very exact weights.
If you don't have those, you can even use everyday items like paper clips or a one-dollar bill, both of which weigh almost one gram. You can also use a nickel which is supposed to weigh exactly five grams.
Sensitivity
The sensitivity of the scale refers to how well it can register and show even the smallest changes in the weight. Typically, most scales are designed to weigh down to a gram, which is fine if you'll be handling large amounts usually. However, if you'll be measuring smaller amounts, you'll want something more sensitive. For example, if you're a dealer and need to weigh out half-eighth of an ounce.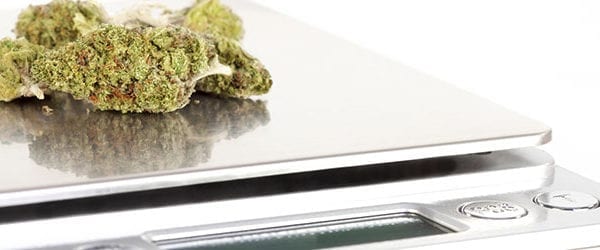 Ideally, you should look for a scale that can weigh down to 0.01 grams. However, you can even make do with one that measures to 0.1 gram only. At the end of the day, it depends on your use and preference.
Battery Life
This might not be very important, but it is still something to think about. If you will be using the scale quite often and for long periods, you would want a weed scale with a good battery life. It should last you several months at least without needing a battery change because that's just another hassle nobody wants.
Moreover, you'll also want to make sure the batteries are easily accessible and replaceable when the time comes.
Durability and Warranty
Digital scales are not necessarily known for their sturdiness. Even a simple fall or light hit can cause it to break or, worse, affect its accuracy. Therefore, if you don't want to buy a new scale every so often, look for a weed scale that is durable and can handle a little rough use.
Additionally, if you can get some warranty with it, that would be a big advantage.
Size and Portability
Depending on how much you weigh on average, you'll have to look for the appropriate size. For more massive amounts, you'll need a weed scale with a large platform that can accommodate more weed at a time. Similarly, if you'll only be weighing small amounts, even a tiny pocket scale would do.
Furthermore, if you're planning to carry the scale with you to other places, a large platform scale will be difficult. In that case, a decent medium-sized scale would be perfect.
Reviews of the Best Digital Scales for Weed
After reading all that, you probably have an idea of what kind of scale you're looking for and what will suit your needs best. So, let's look at some of the best digital scales for weed for 2019.
Fuzion Digital Pocket Scale
If you like to work on the go, this Fuzion Digital Pocket Scale will be your perfect companion. With high precision sensors, you can be sure to get accurate results every time you measure something. Despite the small size, whether it's 200 grams or 0.01 grams, this pocket scale will give you instant and precise readings.
Moreover, the scale comes with a 50 grams calibration weight, which you can easily use anytime to calibrate the scale. You have the option of weighing in six different units. It has many smart features too. There's a smart weigh auto-off design that switches the scale off automatically after three minutes of no activity. The bright backlit LCD display shows indications of low battery, overload, and instability.
The scale is small enough to fit in your pocket and take anywhere comfortably. With a stainless steel platform, it's easy to clean as well. What's more, with a high-quality ABS lid and slip-resistant design, it can handle any rough use. Best of all, you have the option of a 30-day money-back guarantee along with a two-year warranty. They even have an excellent customer service team.
Pros
Portable
Accurate
Comes with calibration weight
Durable design
Warranty and money-back guarantee
Auto-off feature
Cons
Can't handle large amounts
SALUBRE++ Digital Scale w/ Stainless Steel Weighing Platform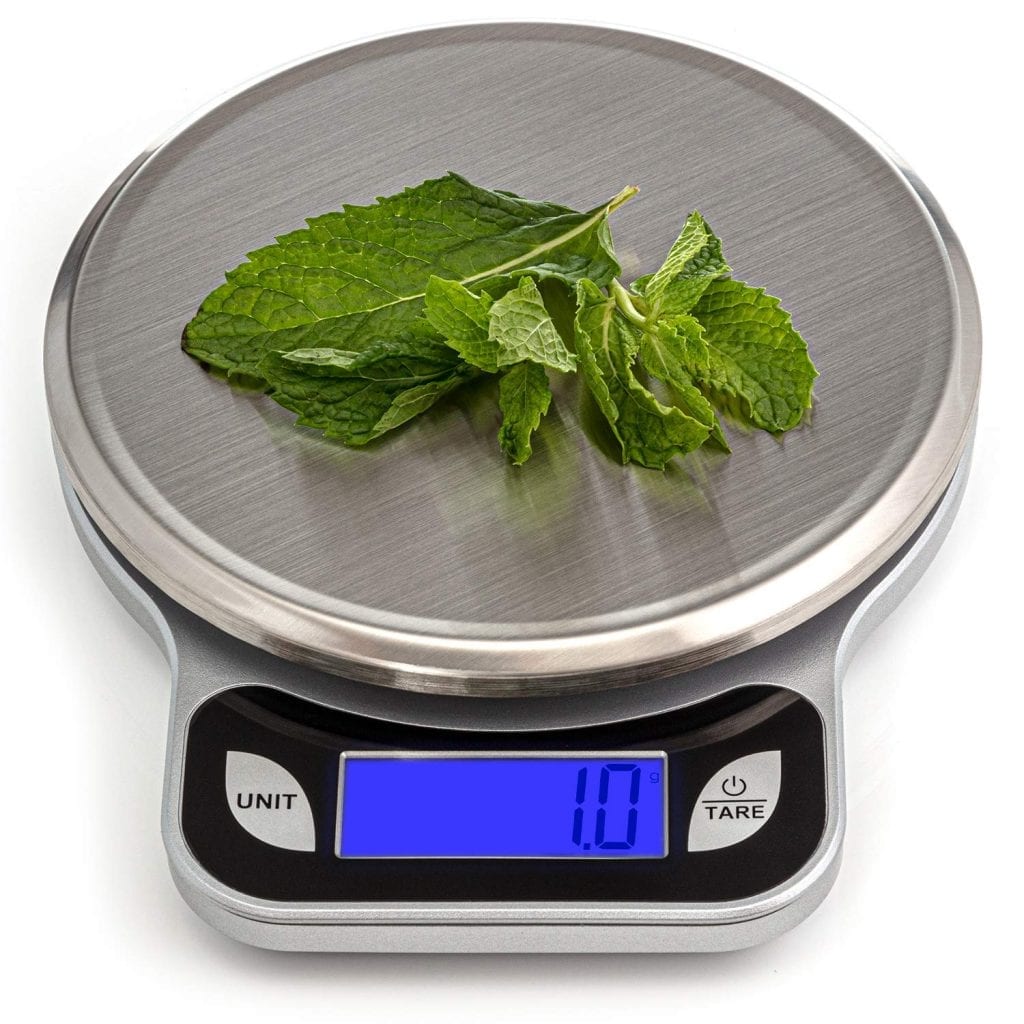 If you want something a little larger than a pocket scale and even something you could use around your kitchen, a SALUBRE++ Digital Scale is the one for you. The sleek digital scale will not only look great wherever you keep it but also make your life a whole lot easier. You can weigh any item precisely and in seconds from 0.5 grams and up to almost 6000 grams.
The package comes with three AAA batteries, so you can start using the scale as soon as you take it out of the box. You have the option of using five different measuring units with just one touch. The results are easy to read off a backlit LCD screen. Moreover, the scale is quite convenient to use as well.
The stainless steel platform is easy to clean, and if you don't want to clean it, you can use the included silicone trivet too. It has a memory function which resets your last chosen unit of measurement. The auto-off feature turns off the scale automatically after detecting no activity for two minutes. The light and compact scale is also quite easy to move around.
Pros
Can weigh up to 13 pounds
Comes with batteries
Five different measurement units
Easy to use
Easy to clean
Auto-off design
Cons
Can't detect small weight changes less than 0.5 grams
AMIR Digital Scale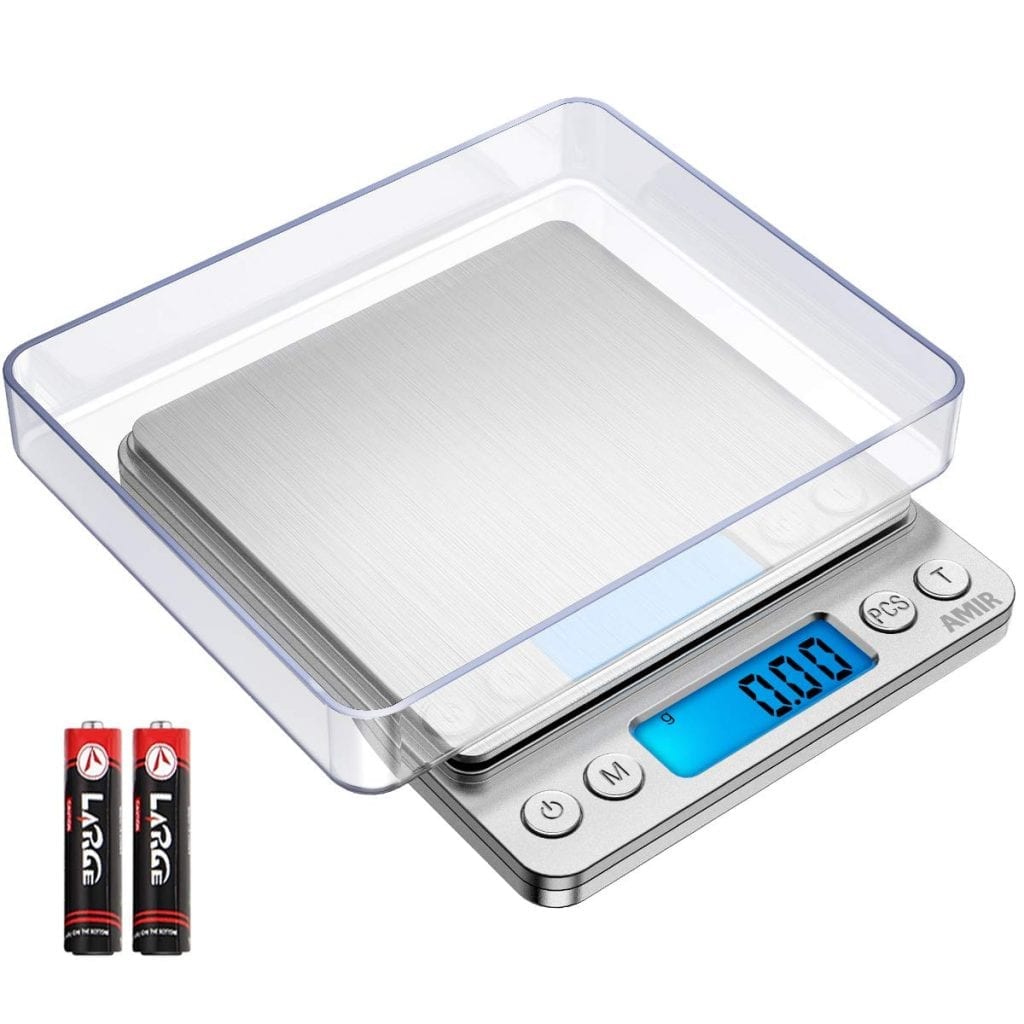 This digital pocket size scale from AMIR performs as well as it looks. It has high-precision sensors built into its system that gives you accurate results in a second. The scale can weigh up to 500 grams with a precision of 0.01 grams, which makes it ideal for a wide range of items. Moreover, it comes with two trays, which further aid in measuring and protecting the scale.
The scale also comes with batteries, so you don't have to waste time and money getting them separately. With the adjustable auto-off feature, you don't have to drain the battery life either. You can switch between six different units along with an option for pieces counting. The numbers are easy to read with a bright display, and the stainless steel body is easy to clean.
Moreover, the display indicates if there's low battery, too much weight or if there's uneven placement. The compact design makes it easy to carry in your pocket, or you can even use it as one of your kitchen scales. AMIR offers a one-year warranty on this durable scale along with lifetime customer support.
Pros
Compact design
Six different units
Auto-off feature
Versatile
Easy to use
Warranty
Cons
Results can be off by a little if not calibrated regularly
AccuWeight Mini Pocket Gram Scale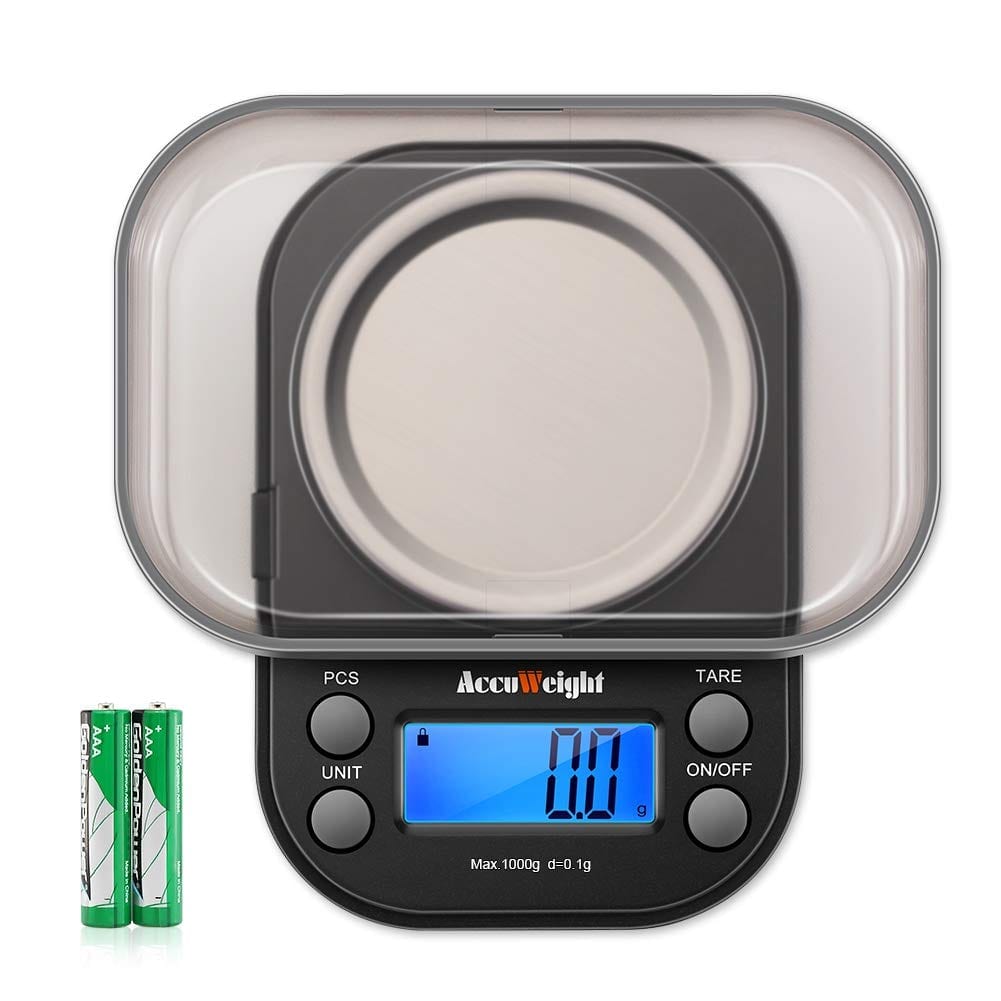 The AccuWeight Mini Pocket Gram Scale packs a lot of features in its tiny body. It can weigh the exact amount of anything up to 1000 grams with a precision of 0.1 grams. With that wide range, you can use it in the kitchen or your garden for many different items. The compact size and lightweight scale mean you can easily take it anywhere you like.
The package includes a scale, two AAA batteries, and a user manual to help you calibrate and set up the scale. Using this digital is quite easy with a bright display and buttons for power, tare, pieces counting, and changing unit of measurement. You have the option of choosing from six units. To save battery life, the scale turns off automatically after ninety seconds of no activity.
There's a cover on the scale to protect it as well as act as a weighing surface tray. Furthermore, AccuWeight offers a three-year warranty, along with a supportive customer service team.
Pros
Compact and portable
Accurate
Comes with batteries
Versatile
Bright display
Six units of measurement
Warranty
Cons
Not suitable for bigger items or larger amounts
BLAZE Digital Mini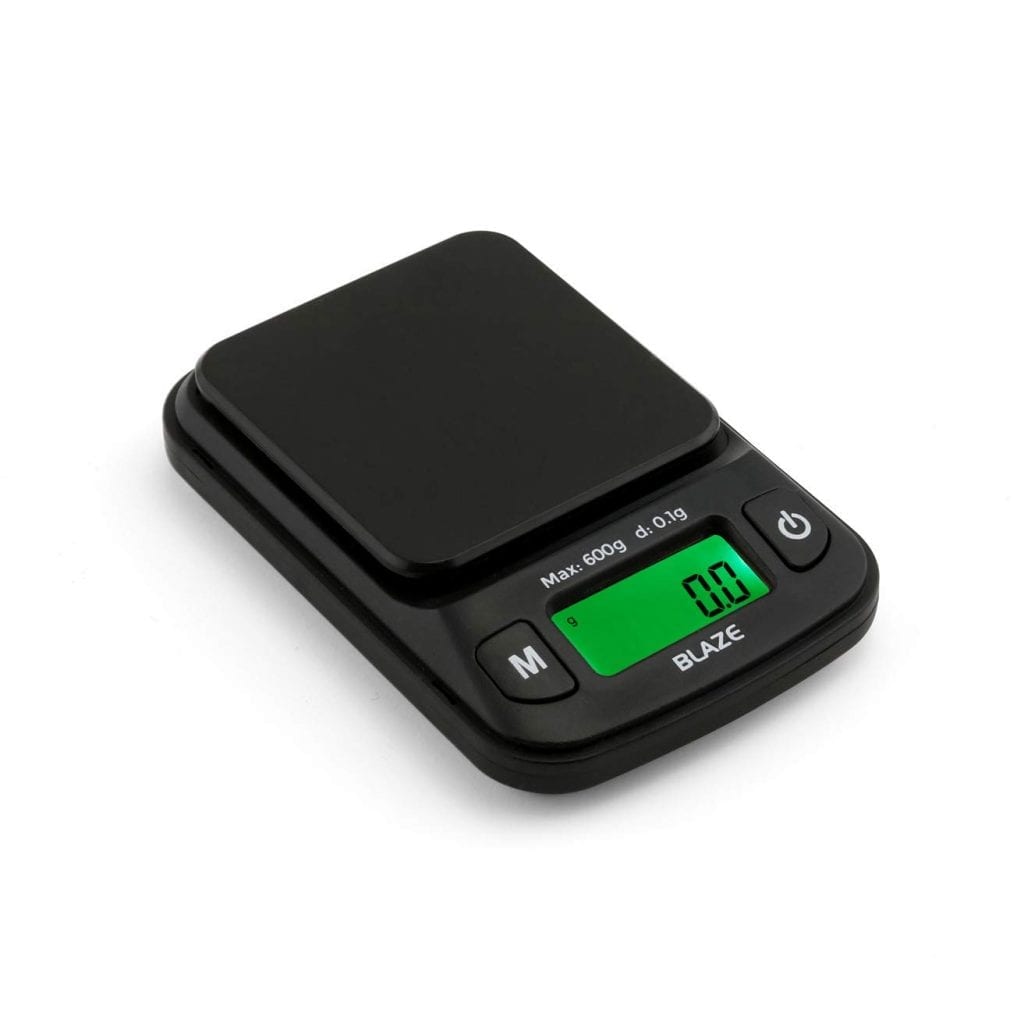 This digital scale from Truweigh might not have lots of fancy features, but it has impeccable performance and will last you a lifetime. With a maximum capacity of 600 grams, you can use it to weigh several things. Moreover, it can measure down to 0.1 grams so it'll detect the slightest changes in weight. The scale comes with batteries and a user manual to help you get started right away.
You have the option of switching between six different units with just one button. The scale is quite easy to use with a bright display and simple controls. To save battery life, the scale has an auto-off feature, which turns the scale off automatically after three minutes of no activity. The protective cover on the top can double as a measuring tray for ease of use.
Moreover, the compact size and sturdy construction allow you to take it anywhere without any worry. Not to forget, you also have a 10-year warranty with the scale.
Pros
Compact and portable
Simple design
Accurate results
Auto-off design
Six units of measurement
Warranty
Cons
Can't handle larger amounts
Weighmax Electronic Scale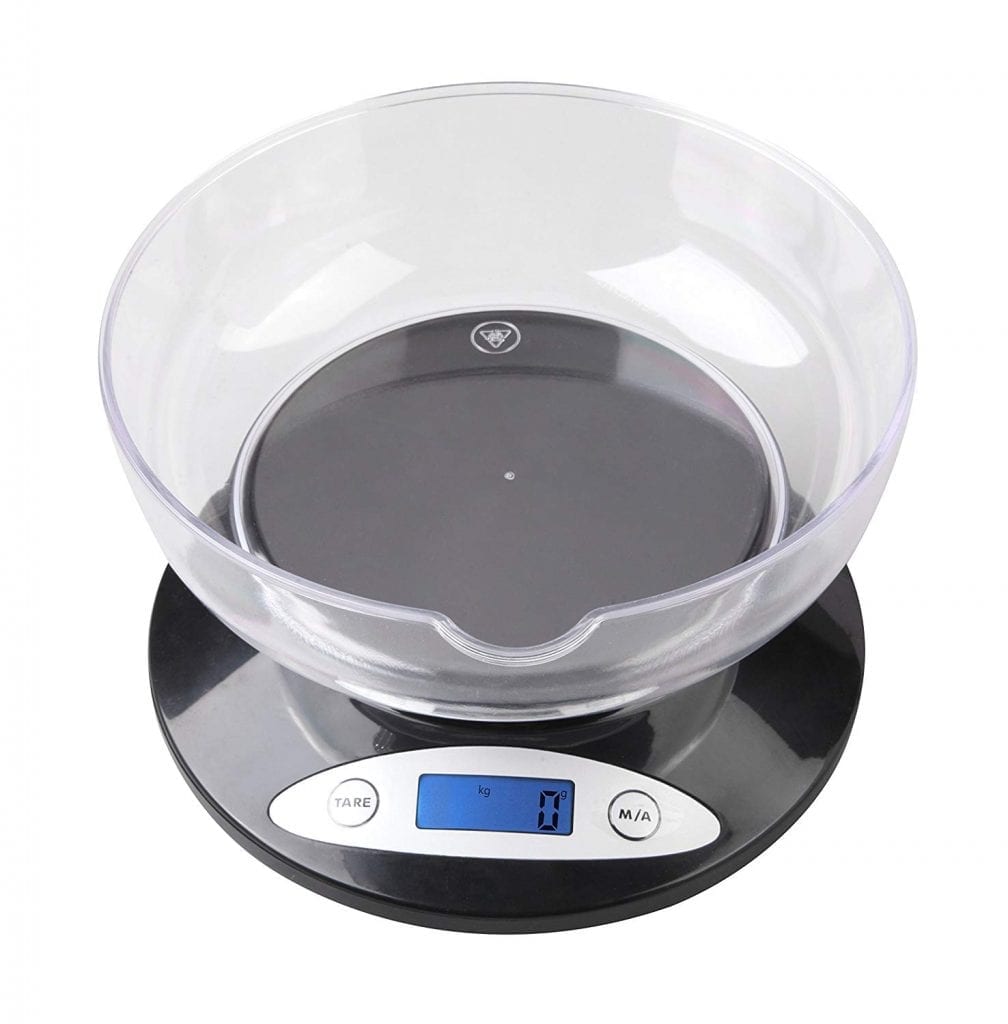 This Electronic Scale from Weighmax is another excellent scale that will be the perfect addition to your kitchen or workspace. It can weigh up to 2000 grams so you can comfortably weigh more massive amounts. Moreover, the scale has a sensitivity of 0.1 grams so it can register small changes in weight. This scale gives accurate and quick results to save you time and effort.
With a bright backlit display, you can easily read the results. There are three options for units of measurement: grams, ounces, and pounds. The plastic measuring bowl on top is removable so you can quickly clean it and even use it for storage. There are simple controls for powering the scale, changing the units, or for using the tare function.
The package includes a user manual for a quick setup and two AA batteries. It weighs quite light so you can comfortably move it around as well.
Pros
Good for larger amounts
Precise results
Easy to use
Easy to clean
Three units of measurement
Cons
AmazonBasics Stainless Steel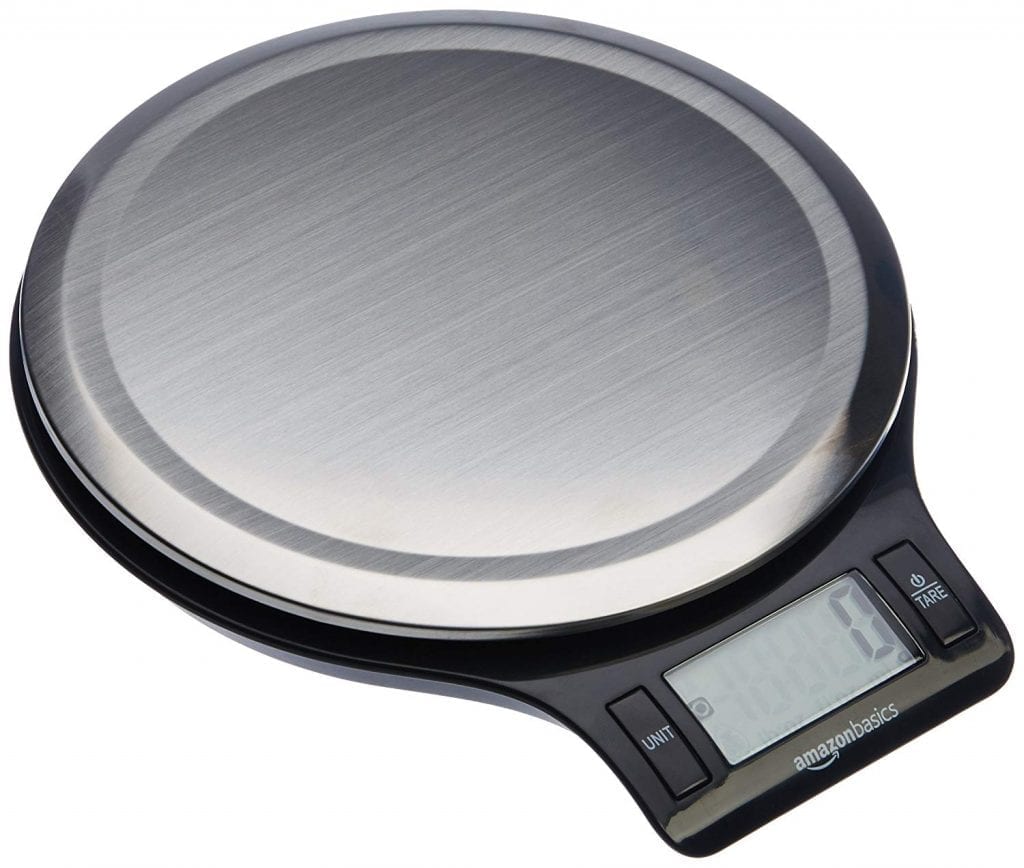 This AmazonBasics Stainless Steel Scale is perfect for when you've got small and big, bulky items to weigh. It has a wide weighing platform that has advanced sensor technology to give you accurate and quick results. You have the option of receiving these results in grams, ounces, or pounds. The maximum weighing capacity is around 5000 grams with a precision of one gram.
With a bright LCD and simple controls, the scale is easy to use. Moreover, it has a stainless steel body, which is not only durable but also makes cleanup a hassle-free job. The scale has a compact size, so it doesn't take up too much space on your work table. There are two batteries included so you can start using the scale right away.
With the auto-off feature, you can save the battery life too.
Pros
Large weighing capacity
Accurate and quick results
Three different units for measurement
Easy to use
Auto-off design
Wide weighing platform
Cons
Best Scale for Weed – Conclusion
In case you didn't realize, there are countless kinds of scales out there. Therefore, if you're not careful, you could end up buying something you'll regret. Luckily for you, we've compiled this handy buying guide so that you don't make that mistake and get the best digital scale for weed for yourself.
Even though we've mentioned seven of the best weed scales, our favorite has to be the SALUBRE++ Digital Scale. It has a wide weighing capacity and lots of other features that make it quite versatile and useful.
FAQ
Here we are going to answer some of your commonly asked questions.
Should I get a scale that weighs in grams or ounces?
Even though both work perfectly fine, we'd recommend going for a gram scale. As you must have noticed, even in this buying guide, we have focused mostly on grams when talking about weights. That's because even out there, you'll find that most people use grams whenever talking or dealing with weed.
Moreover, if you do go for ounces, you'll always be stuck converting it to grams and using a lot of numbers and decimals when measuring weed.
How much is a digital weed scale?
You can get a digital weed scale for less than ten dollars, and you can even find some that cost over fifty dollars. It all depends on the features you're looking for. For example, a scale that can only weigh till a gram will be cheaper than one that can measure till 0.001 gram.
How much is a weed scale on average?
On average, you can expect a good weed scale to cost you somewhere between $15 and $40.
Is it common to have a digital scale?
For people looking for easy and precise measurements, digital scales are quite common.
How to calibrate my scale?
Most scales are already calibrated when they come out of the box. However, if you want accurate results consistently, you'll need to calibrate it every few months. Moreover, it's a pretty simple process.
You have to turn on your scale and set it to calibration mode or the tare function. Then, put exactly defined weights on it according to the scale's preset calibration weight, and that's it. You're good to go.
Where to buy a digital weed scale?
You can find a good digital scale at your nearest hardware store. However, if there isn't one near you, you can always order it from Amazon and get your scale without leaving home.
Further Reading
Do you want more tools to optimize the way you produce, consume or process weed? Look at our reviews of the best pH soil meters, bud trimmer machines, cloning gels, grow room automation and much more…
Summary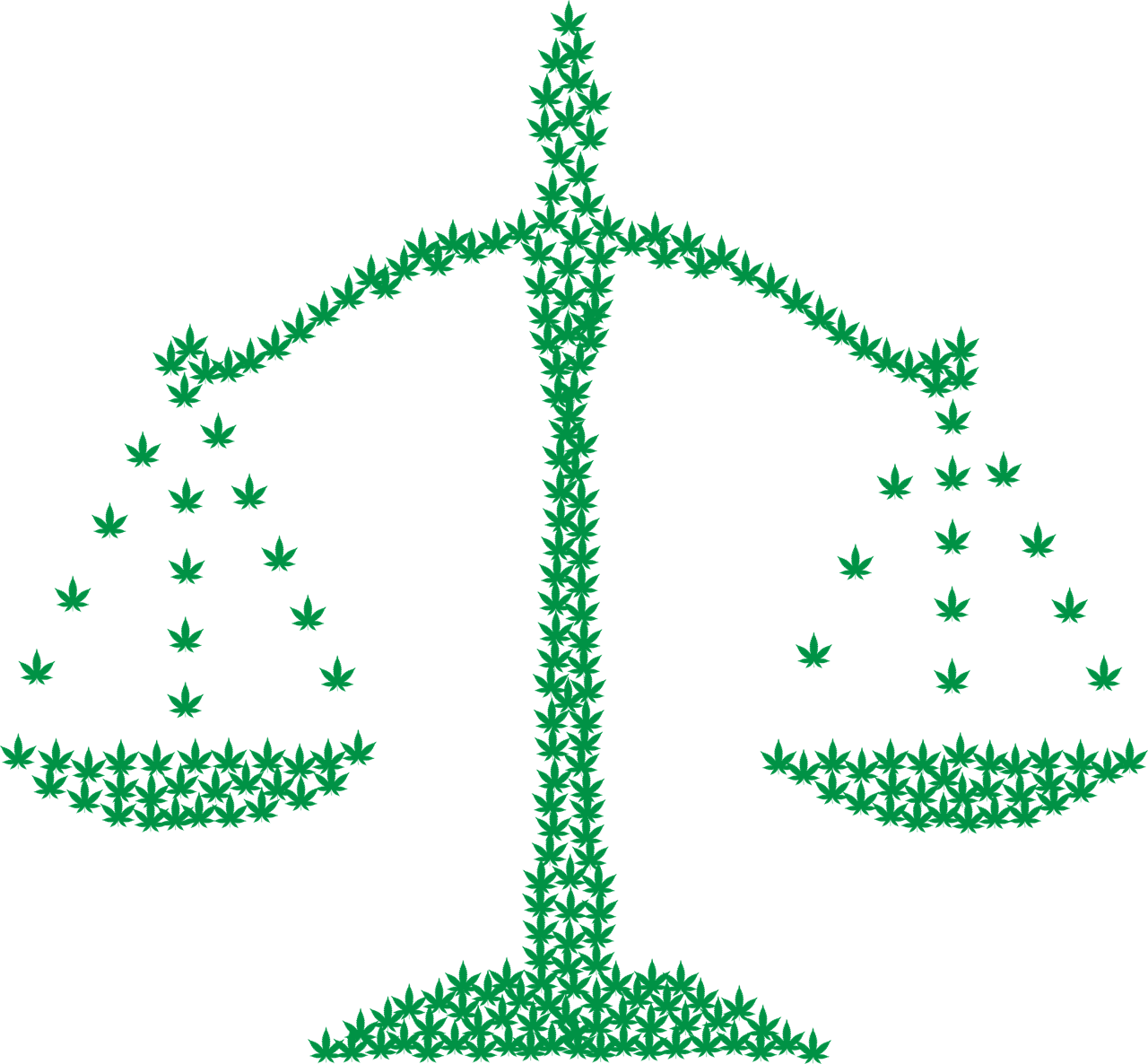 Article Name
Best Weed Scales of 2019 - Buyer's Guide
Description
Weighing weed precisely is quite crucial because even a gram over or under can cost you a big fortune. This is why you need a best scale for weed.
Author
Publisher Name
Publisher Logo