Do you also struggle with your hydroponic system? Well, it's okay as hydroponics can be tricky.
Luckily, we have it all sorted out for you. The road to a perfect hydroponic system is not a mystery anymore, as this ultimate guide will get you there in no time. The first thing you need is a perfect hydroponic reservoir that maintains the right environment for your plants.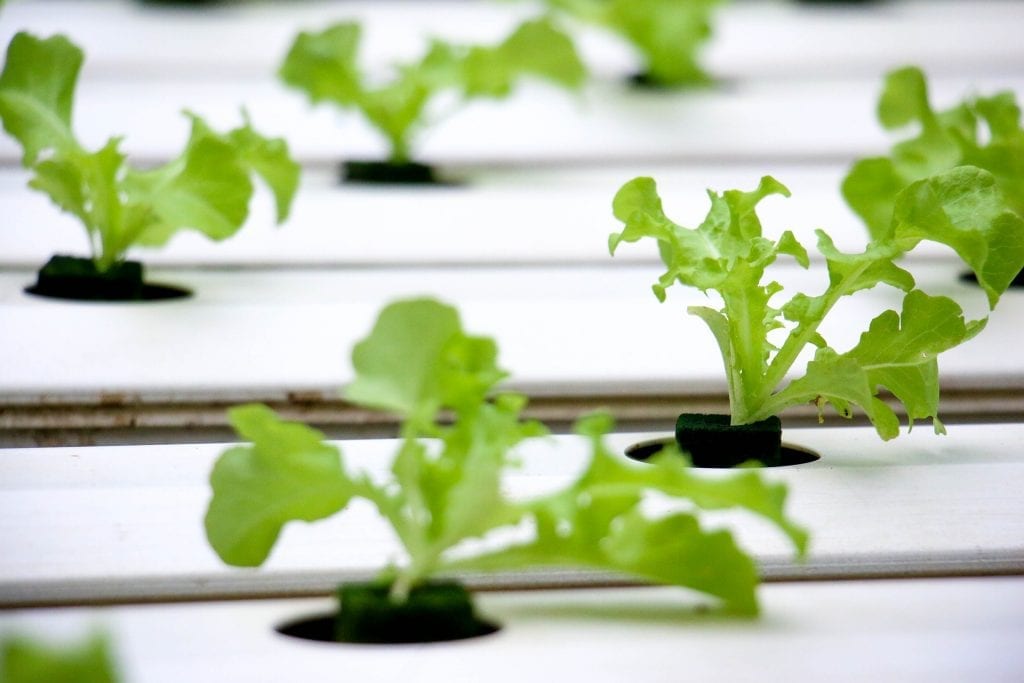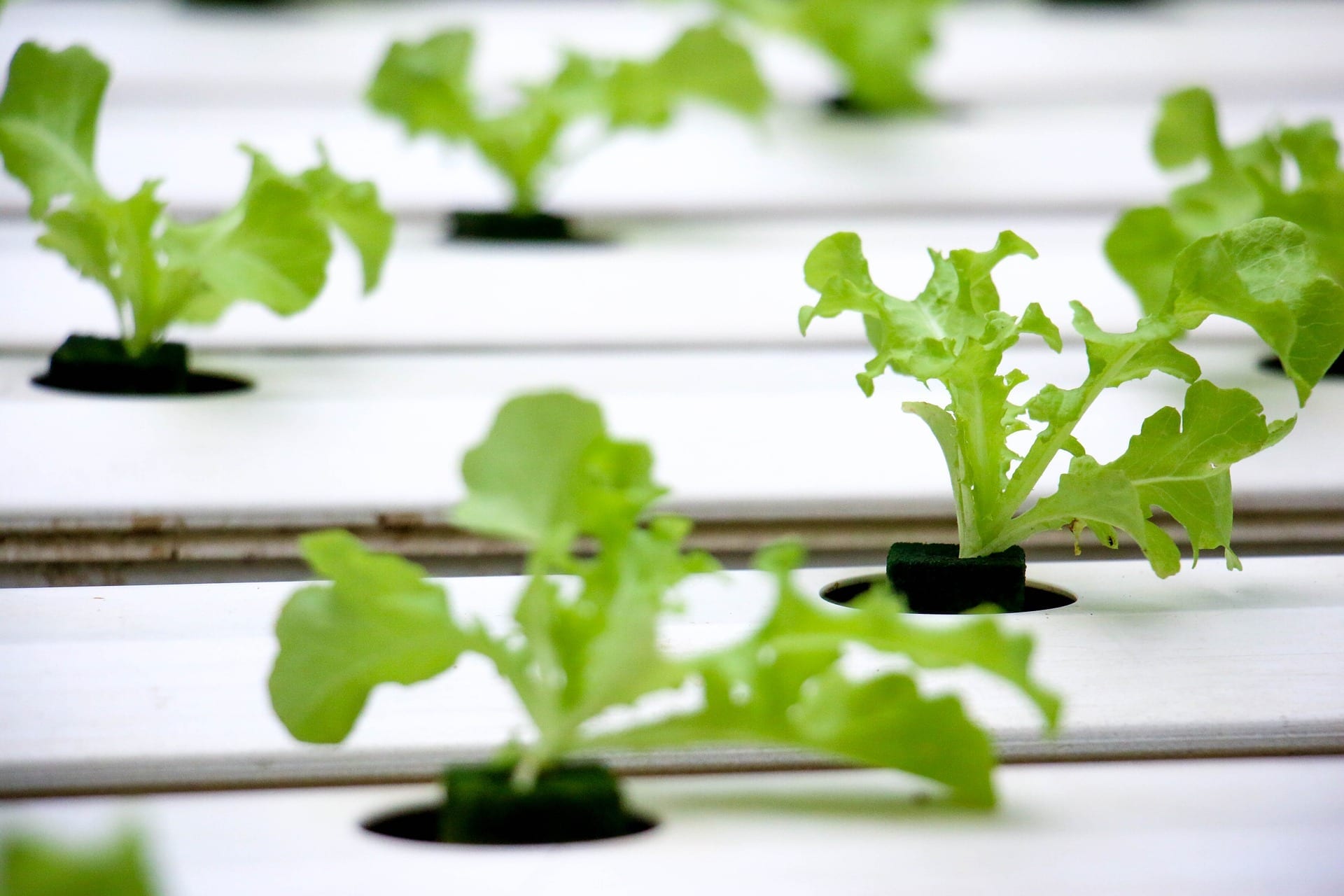 Your head must be racing with all sorts of questions, but not to worry, we have collected all the rights answers here for you.
For more hydroponic equipment, read about the best hydroponic systems, hydroponic air pumps and hydroponic tower gardens. Or dive into our complete guide to growing hydroponically!
What is a Hydroponic Reservoir?
Hydroponics is a method of gardening that grows plants by using water instead of soil. Hence, a hydroponic reservoir stores water, just like any other reservoir, for this purpose. It stores the nutrients that your plants will need. Furthermore, it provides a medium for the nutrient solution to actively get to your growing plant.
We know hydroponic gardening is tricky, as you have to maintain the right conditions that encourage growth. You have to control the temperature, oxygen and pH levels, and concentration of the nutrient's solution. In simple words, a reservoir helps you manage the variables better.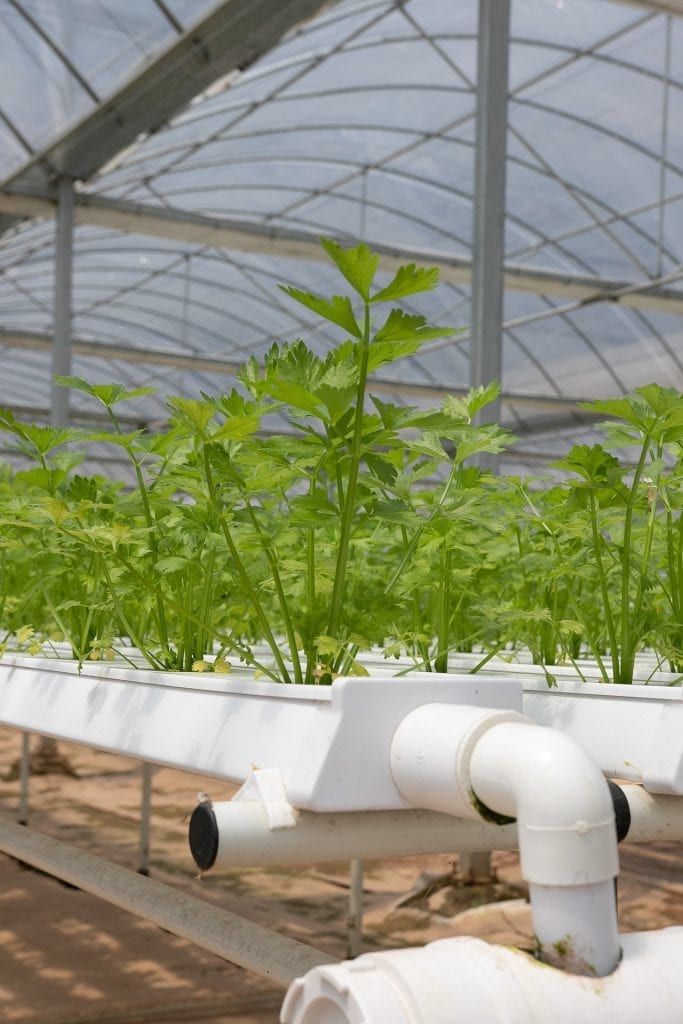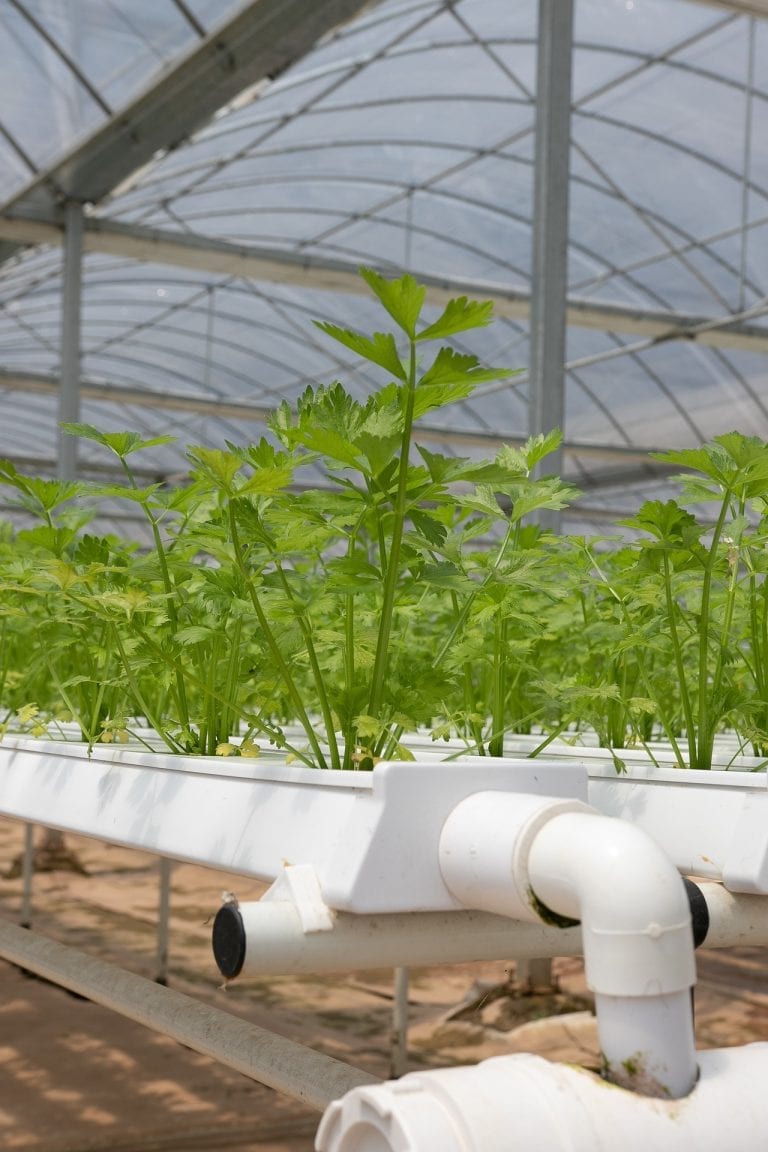 This is why choosing the right reservoir is very important for successful hydroponic system.
A Hydroponic reservoir come in different sizes, shapes, and material to cover all your functional and aesthetic needs. So, let's look at all the important things you need to know to make an informed decision.
Do You Need a Hydroponic Tank?
The water in a hydroponic tank acts as the blood in your body. The tank holds the necessary nutrient level that your plants need, while the water carried the nutrients to them. Therefore, maintaining the required water level is very important as it is the growing medium for your plants.
All working hydroponic systems have tanks. Even the hydroponic system kit available in the market always comes with a reservoir, which further reinforces its importance. So, why should your hydroponic system be without one?
The Perfect Size of Your Hydroponic Reservoir and Tub
We already established the importance of a hydroponic tub, but its size is as important. A smaller tub would mean each plant get fewer nutrients and water than required.
Hence, the size of the tub should be reflective of your plant's needs and growth pattern. So, you need to gather information about your plants to correctly calculate their minimum water requirements. After getting familiar with your plants, you can use the following rule:
One small plant requires 0.5 gallons
One medium plant requires 1 to 1.5 gallons
While one large plant requires 2 gallons
By simple arithmetic, you can calculate the water your system will require to choose a tub that best fits your needs.
Hydroponic Reservoir – Considerations
The hydroponic tank is the main organ of your system. It holds the life of your plants; hence, you need to manage it with care and caution. It can get complicated as there are several factors you need to keep in mind while handling your tank. No need to worry though we have you covered. Here are all the things that you need to know.
Use a Lid
It is always a good idea to use cover your tank. Firstly, it reduces the evaporation rate that maintains the water and pH levels. Secondly, the water is less likely to get dirty from debris, and lastly, it's great for temperature regulation.
Water Temperature
You should always monitor and regulate the temperature in your tank. Every plant has its ideal temperature, but most of them fall in the range of 63 to 72 degrees. The optimal temperature encourages faster growth of the plant, so you need to keep the temperature stable around this level.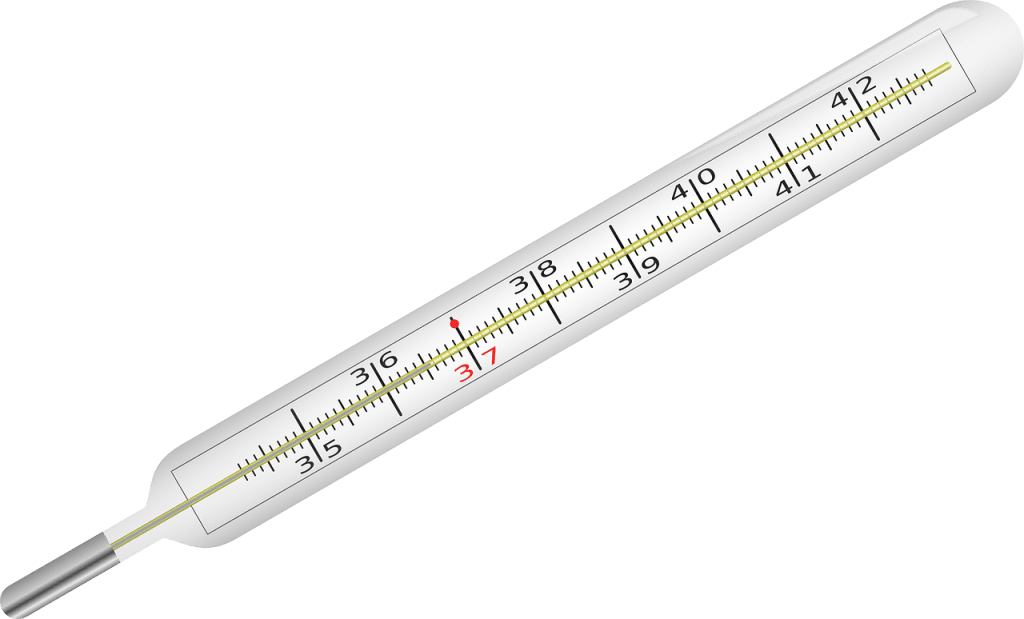 Size of Hydroponic Reservoir
The size of the tank determines the amount of water and hydroponic nutrient it can carry. It should be able to hold the required level of water, for equal distribution of nutrients among your plants.
Cleaning of Hydroponic Reservoir
Neglecting your tank can spoil all the effort you placed to set it up. You should take care of it, or else the water can become harmful to your plants. Cleaning keeps oxygen and pH level stable, as well as prevent toxins from building up.
Furthermore, proper maintaining becomes vital if fungus starts to accumulate, which can alter oxygen and pH levels of the solution.
Use a Filter
A small addition of filters can be a valuable investment for your hydroponic reservoir. It can prevent unwanted fragments from mixing with the solution while keeping pests at bay.
Different Hydroponic Systems and Reservoirs
Essentially all reservoirs function as a storage unit for your nutrient solution, but they can have different placements in a system.
Although there are a few standard types of hydroponic systems, you can alter them around to fit your personal needs. Hence, a hundred or so variations exist in them. To make things easier for you, we have described a few basic systems that you can choose from as per your needs.
Ebb and Flow
In it, the reservoir is placed under the tray holding the plant. The tray is called the grow bed, which gets flooded intermittently with nutrient solution. Furthermore, the excess nutrient solution gets drained back to the reservoir, which also gives it the name flood and drain system.
You need to flood the grow bed after equally timed intervals, which depending on the types of your plants. A timer is used together with a pump, in the reservoir, to timely flood nutrient solution into the grow bed. The timer starts and stops the flood, which controls the flooding and draining.
You can use this system for a greater variety of growing mediums and plants. Moreover, its more efficient to use as your solution is less likely to be wasted.
Drip
Just like ebb and flow, the placement of the reservoir is underneath the plants. However, the nutrients are pumped and dripped from above through drip pipes. Hence, it is sometimes also called the top feed system.
It is the most commonly used system, as its efficient and operation is simple. You will also need a timer with your pump so that the solution reaches the plant timely through the drip lines.
It's efficient in the sense that any excess solution finds its way back to the reservoir below it, and reuses the solution. Furthermore, the emitters used directly drip nutrients to the roots that further reduced the level of wastage.
Nutrient Film Technique (NFT)
Unlike the other systems, a small film of nutrients constantly gets pumped into the roots of the plants. Moreover, you won't need a timer or a growing medium to set it. The nutrients from the tubes flow over the roots of your plant, suspended in the air.
The constant need to pump the solution is the core of the system that also makes it vulnerable to a power outage. In the case of a power outage, the roots can become dry and brittle, so you need to maintain the constant flow of solution to the roots.
The system also reuses the solution, after it passes through the grow bed, it returns to the reservoir placed underneath it. Furthermore, it can be conveniently placed anywhere with a power supply for the pumps to function constantly.
Deep Water Culture (DWC)
You need to take care of three things while using a DWC system those are oxygen, water, and nutrients. As the name suggests, plants grow in a pool of water with their roots submerged in the nutrient solution.
You need to properly manage the water level and the oxygen level in your tank. Furthermore, the nutrient you are using should be rich in oxygen and pair well with the oxygen level. Lastly, you need to make sure the tank holds enough water for a more stable nutrient solution.
Unlike the other system, it doesn't expose your roots to air either drench them with a solution a few times daily. Hence, it is one of the easiest systems to manage, but it isn't the most efficient.
Wick System
It is the easiest and cheapest of all of them. However, the easy of not actively looking after it comes with a cost. It can't support large plants and is by far the least efficient system.
It makes use of wicks to deliver water to the plant's root from the reservoir through capillary action. Hence, it needs specific components like wicks and an aeration system to set up. Furthermore, it doesn't make use of a net pot to hold the growing medium. Instead, it fills up the tray completely. The seedlings are then planted on it.
Best Hydroponic Reservoirs of 2020 | Reviews
Table could not be displayed.
Title
SuperPonics-8 Hydroponic Reservoir System
General Hydroponics 706215 Controller
Botanicare 707135 Reservoir
Photo
Title
SuperPonics-8 Hydroponic Reservoir System
Photo
Title
General Hydroponics 706215 Controller
Photo
Title
Botanicare 707135 Reservoir
Photo
Active Aqua Reservoir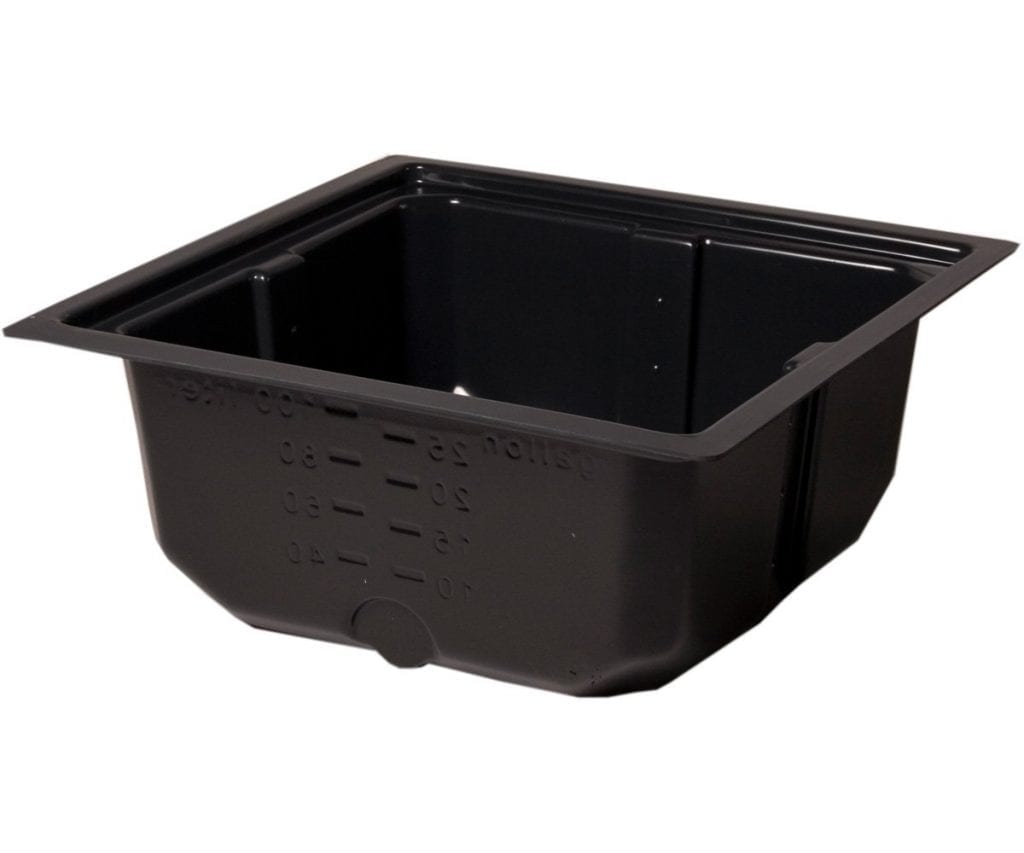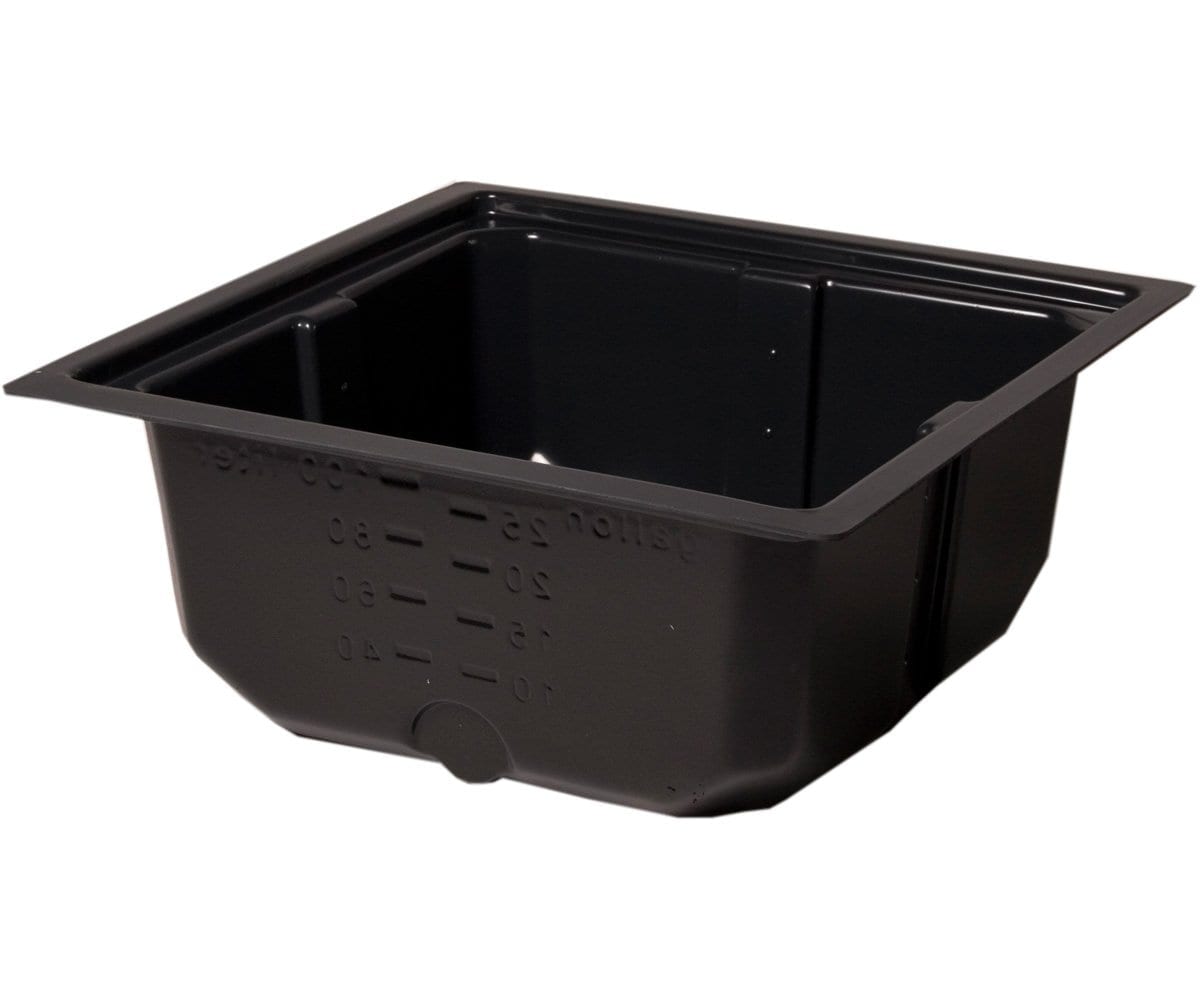 The Active Aqua Reservoir comes with a capacity of twenty-five gallons, great for any hydroponic system. They provide a higher storage capacity, which will make sure your plants get enough nutrients. Furthermore, made from ABS plastic that is not only UV resistant, but it also lasts long.
The ability to fit in the ground and under flood table makes it perfect for any system. Also, it offers a highly improved drainage and floats regulators through its multi level drill access points. Lastly, the reservoir is marked by gradation, which will help you measure the water level easily.
Pros
It gives you great value for your money, as it offers you all the great features but for a lesser price.
Its durability makes it a more economical investment for your system.
The design makes it easy to use and clean.
Cons
Comes with a single design and capacity.
Doesn't come with a cover that can leave your solution vulnerable to dirt and pests.
The cost that you save will be used up in getting a lid.
The competition's product comes in different designs and colors.
AutoPot AWFT0025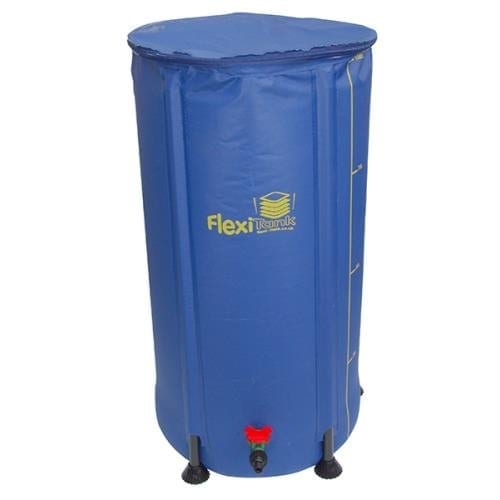 Are you also struggling to fit your reservoir in your home? Flexitank is the solution to your troubles. It comes in various sizes and has a greatly revolutionized storage system. Itis made up of heavy-duty and thick nylon, which gives it that great natural color. Hence, it is fit for all levels of uses, be it domestic or commercial.
Furthermore, you can use it anywhere easily as you can assemble it without using a single tool. As it is convenient to carry around, it reduced your shipping and storage costs. Lastly, the zip ties in the design work great for your fastening needs, and to hold your carbon filters.
Pros
The fully foldable feature makes it easy to store and ship.
You can choose from all the various sizes to best fit your needs.
Easiest tank to use and assemble.
Economical in the sense that it reduces costs related to storage and shipping.
Cons
Vulnerable to leaks as it made of nylon.
The weight can cause the material to stretch, which can also make it leak.
The travel friendliness is valid as long as it empty.
Rubbermaid Commercial Fg424288Bla Structural Foam Stock Tank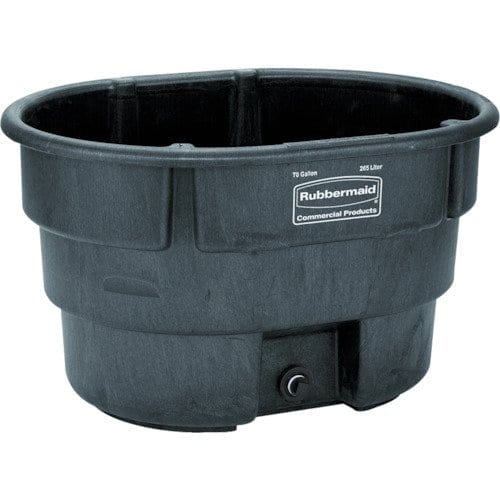 The seamlessly constructed Rubbermaid Commercial Stock Tank is made up of polyethylene that makes is super tough among its competitors. It is also the secret to its superior performance which makes it best for all season and last longer. Furthermore, the tank comes with a drain plug that makes darning and cleaning easier.
It comes in a smooth black color, which will add aesthetic to your hydroponic system. Also, a one hundred gallons capacity and stepping sidewalls make it even better for your use.
Pros
The product comes in different sizes, giving you more options to fit it for your current needs.
Perfect for outdoor hydroponic gardening as it resists cracking from weather change.
Cons
Not as easy to use as the other brands available.
Not easy to carry and store because of the rigid and heavy-duty design.
More expensive than other brands.
SuperPonics-8 Hydroponic Reservoir System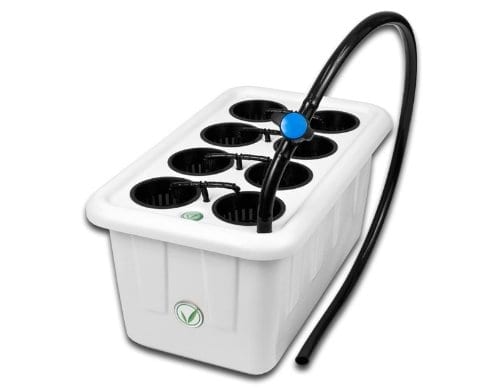 SuperPonics-8 is super great for growing small plants, especially if you want to propagate them. It combines two hydroponic systems of Drip and Deepwater culture, which let you can enjoy the benefits of both of them. Also, the Drip system is run on an extra-long drain tube to ease water changing capability. Additionally, it comes with an air pump and 2 air stones
Hence, it is great for beginners as it comes with all the components that you have to buy separately with another reservoir.
Pros
Easy to set up and operate.
As you don't need to buy each component separately, it saves time and shipping costs.
It encourages faster growth of plants that are not promised by other brands.
Cons
Falls on the expensive side of the list of options.
Only suited for a limited small number and size of plants.
Only hold up to 2 gallons of solution, which is very low.
General Hydroponics 706215 Controller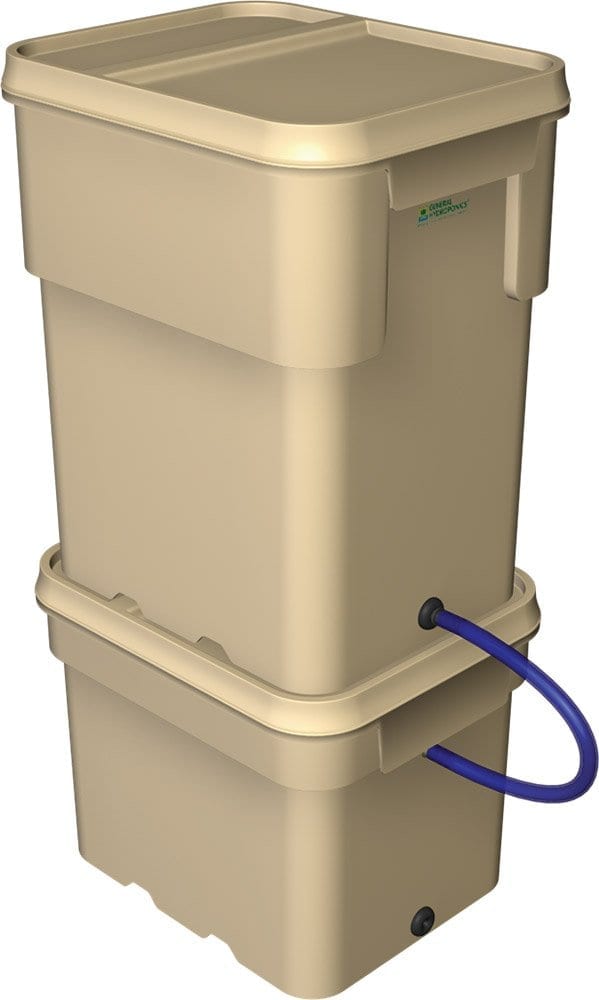 It is a simple container with a float valve, which further connects to a line of the growing modules. There is a master reservoir at the top of the Controller, which allows for a fresh solution to be drawn to individual reservoirs. The drop in the solution level triggers the process, which opens the float valve to let the nutrients flow.
Get a Controller means you won't have to worry about the ideal nutrient level in the system. As reliably and automatically maintains the water level or you. It keeps the plants properly nourished, and it is easy to operate.
Pros
Comes with a very effective control process for the better growth of plants.
Allows for some degree of customization while setting up your hydroponic system.
Cons
The total capacity is thirteen gallons, which are not enough for indoor growers.
The modules have to be separately purchased, which is an additional cost.
Botanicare 707135 Reservoir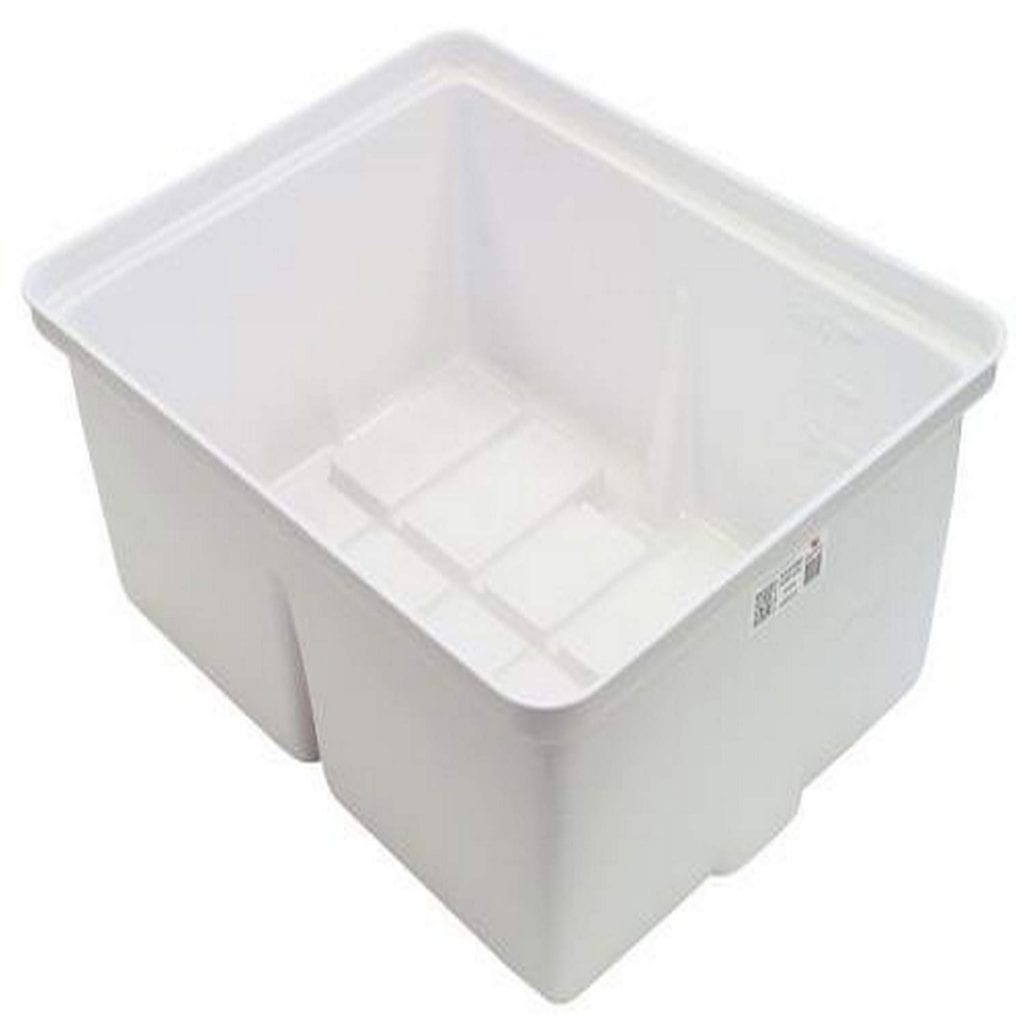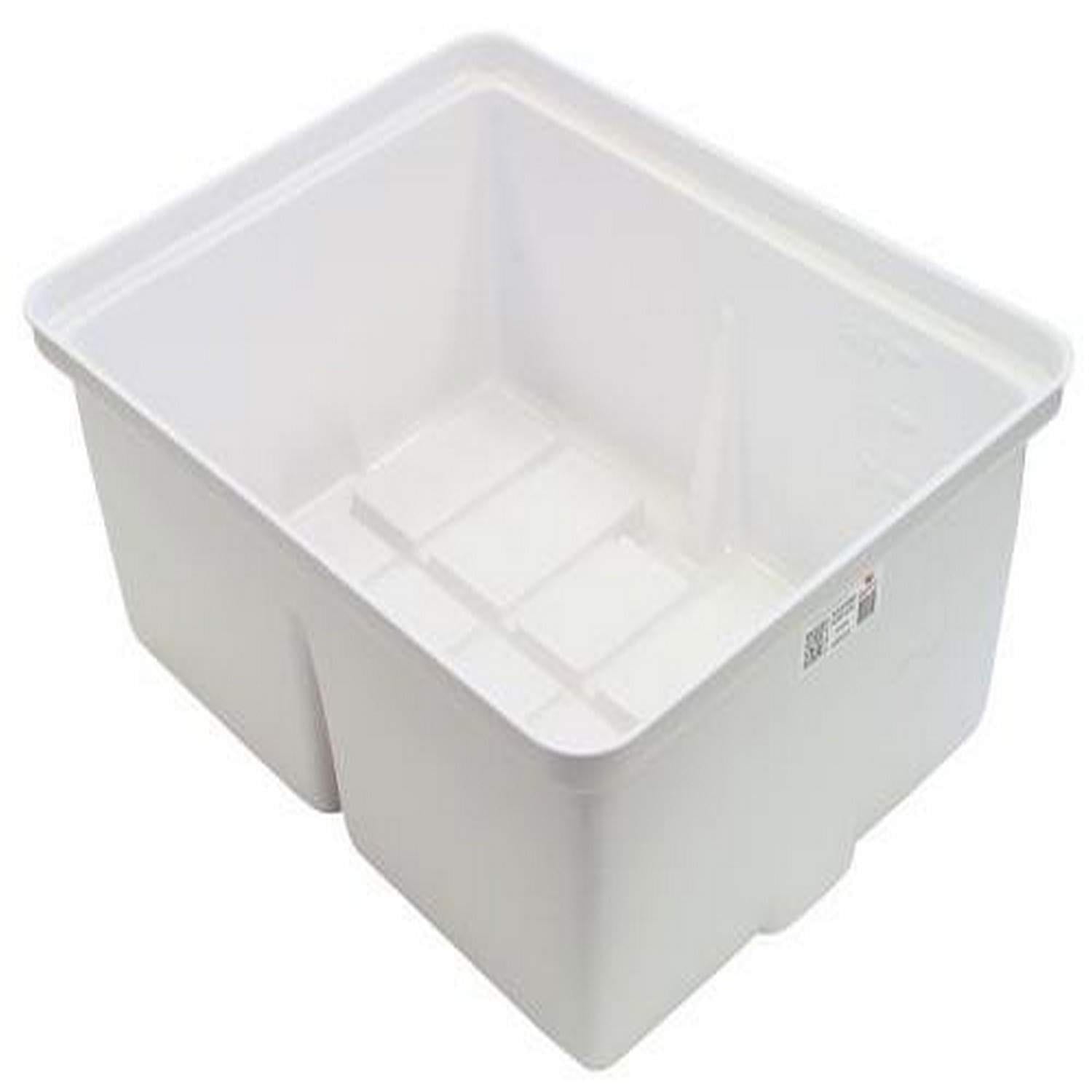 Botanicare cares about you and your environment. The company has used green materials and methods to make it. Recyclable materials that are free of BPA and solar energy were used to make this product.
Additionally, the designs help it deliver the best performance and make it durable. Furthermore, it is easy to drain and clean. It also includes the feature of the Bulkhead port to add an internal pump and multiple reservoirs to it.
Pros
Environmentally friendly product.
Easy to use and manage.
You can use it for multipurpose.
Cons
Comparatively, it is an expensive investment.
Does not come with a lid, which has to be separately purchased.
Best Hydroponic Reservoir – Conclusion & Recommendations
It was a long ride, but I bet it was worth it. Now you know all the things to consider while choosing a hydroponic reservoir that is best for you.
To sum it up, firstly decide on which plants you want to grow and their requirements for water and nutrients. Then, you need to decide which hydroponic system you want. Remember to see which system you can handle the best and is within your budget.
Lastly, you need to decide on which reservoir you want that best fulfills all your needs. We would suggest SuperPonics-8 if you are a beginner and if it isn't too much in your pocket. However, the best reservoir is the one that best fits your needs. A product can be best for you, but bad for someone else. So, it depends on your personal needs.
Whatever you end up deciding, remember the most important thing is to enjoy the experience. So, happy gardening.