When we talk about weed grinders, most novice growers think of it as a luxury item, not something they need. However, someone who has been in the industry for a long time knows that a weed grinder is a must-have item. It doesn't matter how you like your weed to be. The best weed grinder will transform your weed into the best possible form.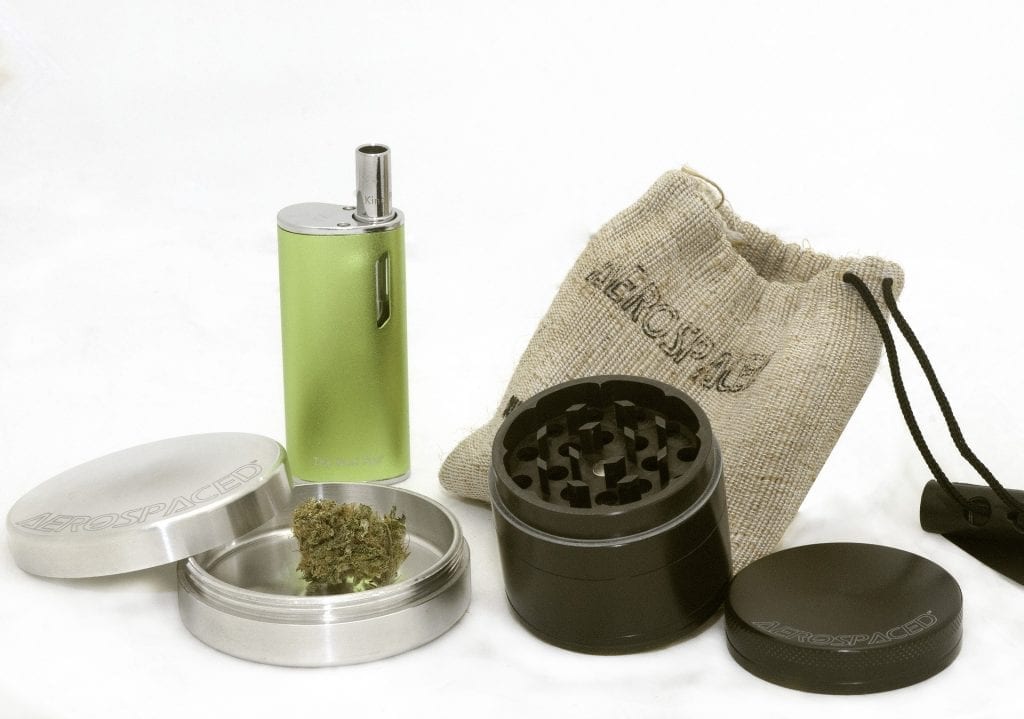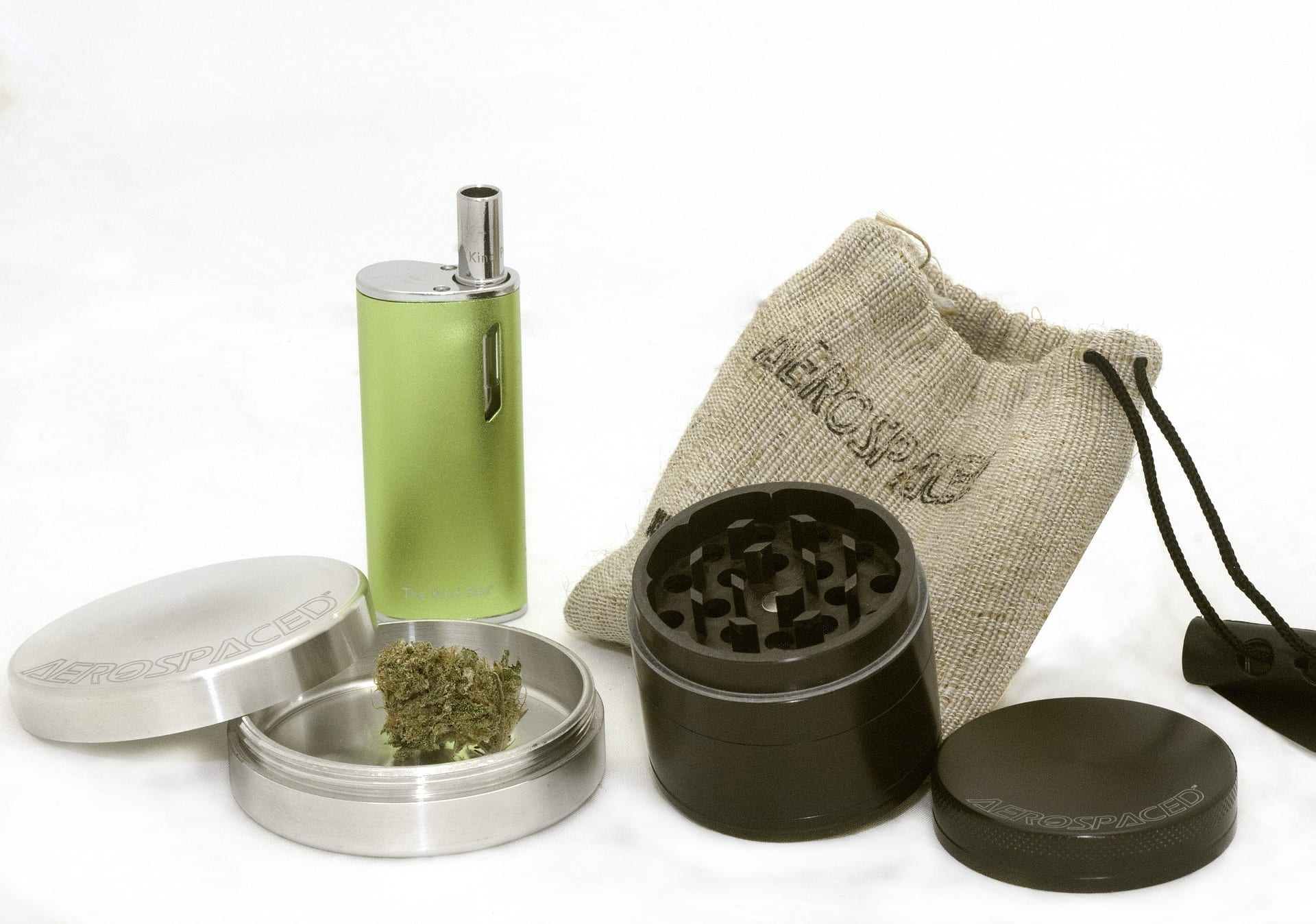 You will find hundreds of weed grinders available on the market. While all of them claim to be the best, it is probably a hard task to pick the best. Don't worry, we have done all the research for you. This article will help you in narrowing down the best weed grinders of 2020.
What is a Weed Grinder?
Before we talk about the best ones, let's formally introduce a weed grinder. A weed, bud, or marijuana grinder is used to grind the weed buds into small pieces. Ground marijuana is the best form of marijuana to be used in a rolling paper, a pipe, or a vaporizer.
If you are a regular weed user, you probably already know that grinding marijuana finely is only possible with a high-quality grinder. It is much better than using hands or a scissor.
Before using one, you might consider it as some kind of useless toy. However, we guarantee that your opinion will change drastically after the first use.
What are the Benefits of Herb Grinder?
Herb grinder is going to make your life easier as a weed grower. It brings you marijuana in the finest form. Here are some major benefits which can help you in understanding the importance of this machine.
Better Quality
Won't you like something that will greatly enhance the flavor and aroma of your weed? We bet you would. A weed grinder not only enhances the taste and whiff of the weed but also improves the overall quality. Use the best weed grinder to unlock those properties of marijuana your fingers can't unlock.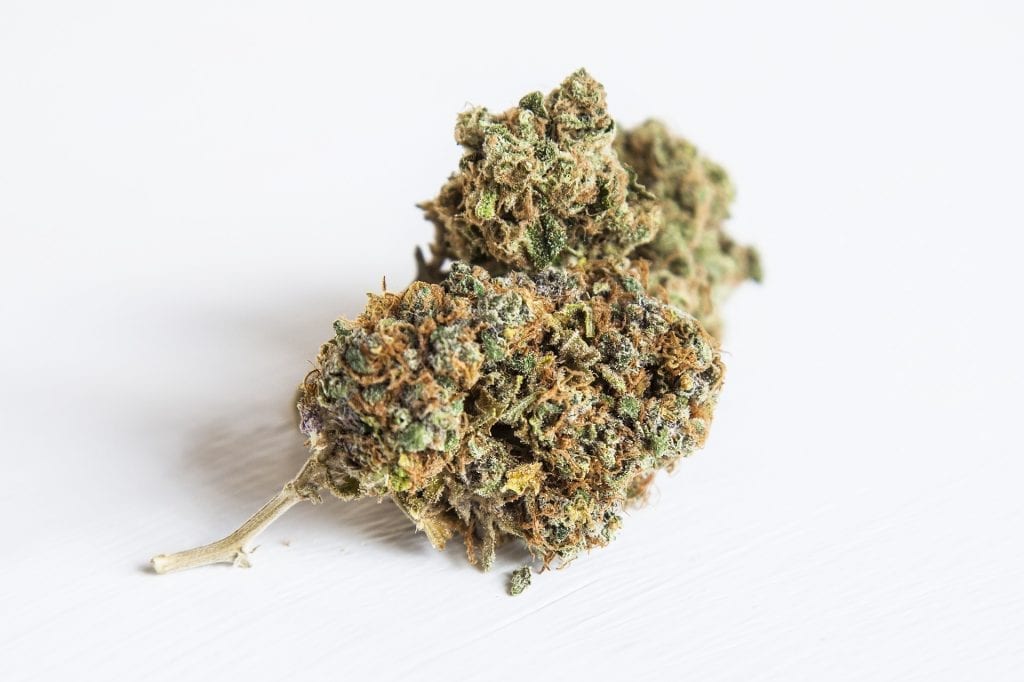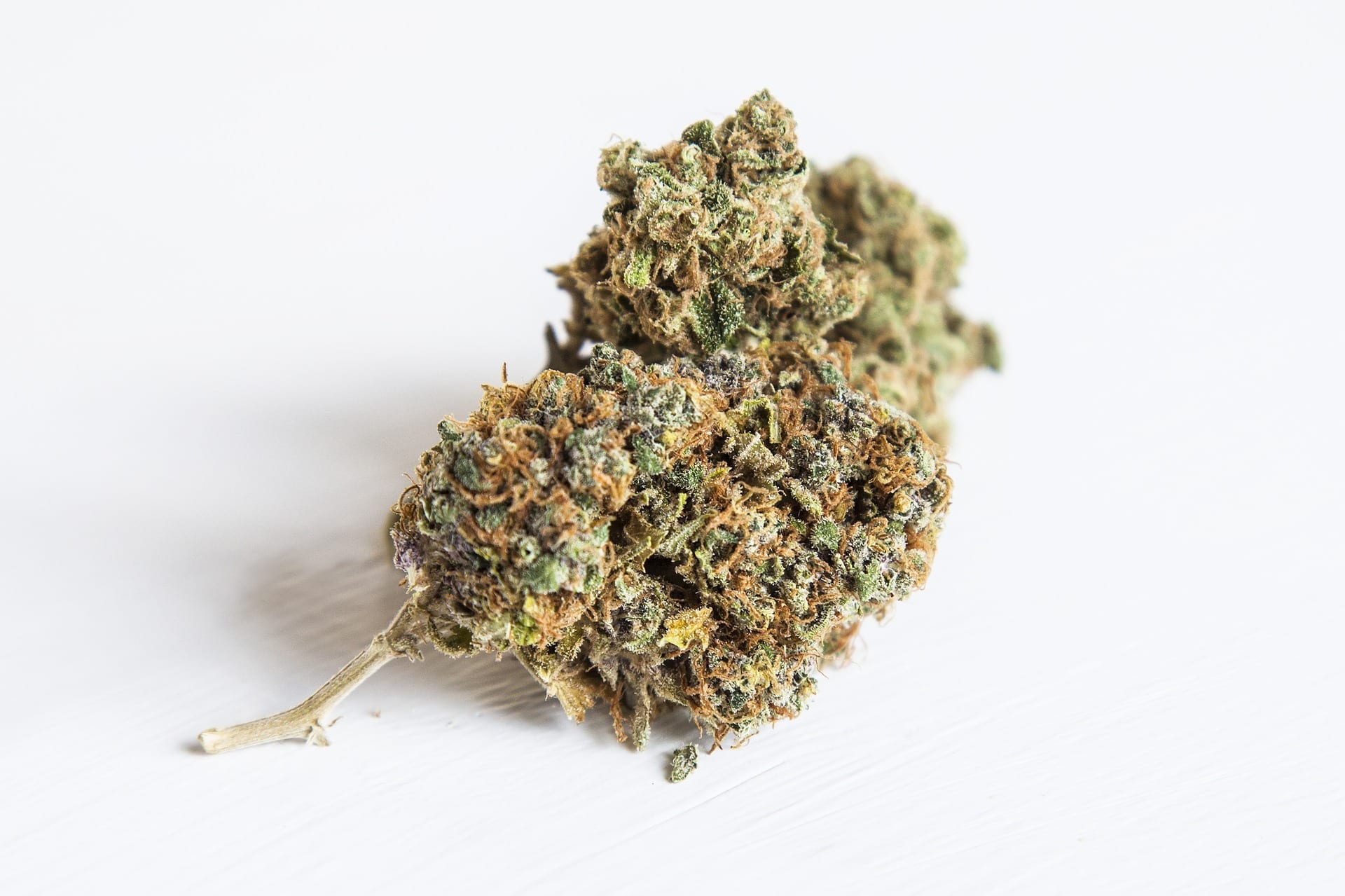 High Potency
If you want to increase the potency of your weed, use a weed grinder. That's right. It will help you in getting a better kick. No matter how you consume your weed, a finely crushed marijuana will have several times better effect.
Improved Versatility
One of the best things you can enjoy by grinding marijuana is its versatility. You can use it in many ways, depending on how innovative you can be.
Saves Time
Using a weed grinder will save you a lot of time. If you like to process your weed manually before using it, you will highly appreciate how quickly things happen with a weed grinder. You can cut the processing time by almost half in comparison to when you use the regular methods.
Why Are Teeth Important?
The teeth of a weed grinder are the most critical part of its system. It has a direct influence on the quality of the crushed weed. As the name implies, the teeth are the part that does all the grinding. Hence, the whole quality and performance of a weed grinder depend on its teeth.
The simplest rule with the weed grinder's teeth is "the more, the better". The number of teeth present in a grinder is directly proportional to its performance. With more teeth, it will be able to give a fine grind in less time. The general criteria say that a weed grinder with 2.5 inches diameter should have ideally 50 teeth.
Another factor that affects the performance of the teeth is their shape. The ideal shape to consider is diamond. Look for a grinder that has at least 50 diamond shape teeth strategically placed to have the finest weed in town. That's right. The placement is also important. Make sure that the teeth are placed consistently with even spaces.
What Is Important in the Best Cannabis Grinder?
While a cannabis grinder looks like a simple tool, there is a lot more to it than you think. The best weed grinders have few major characteristics. You must take these features into account before picking one.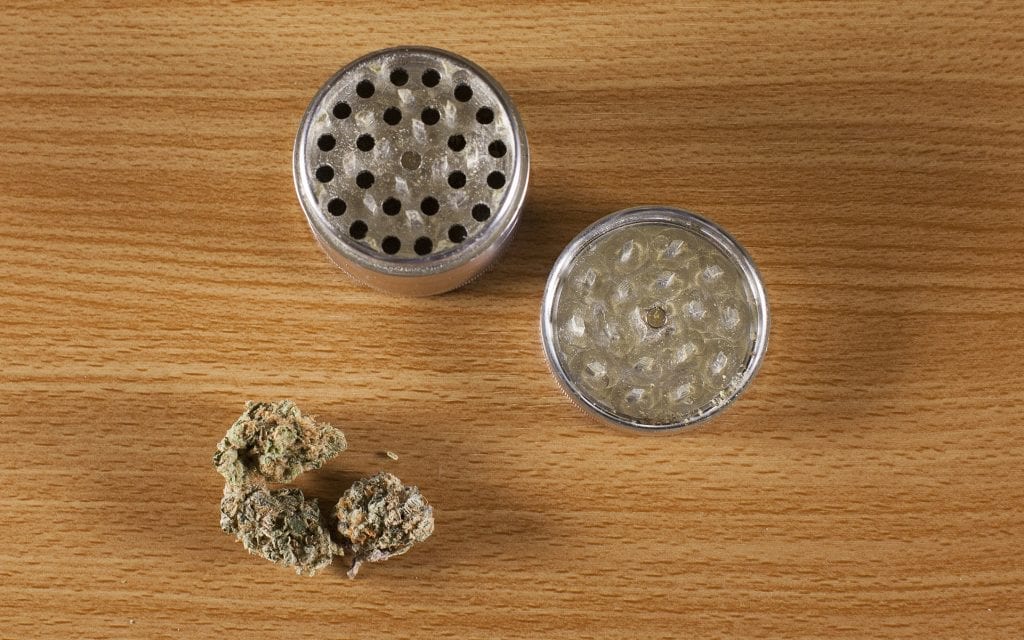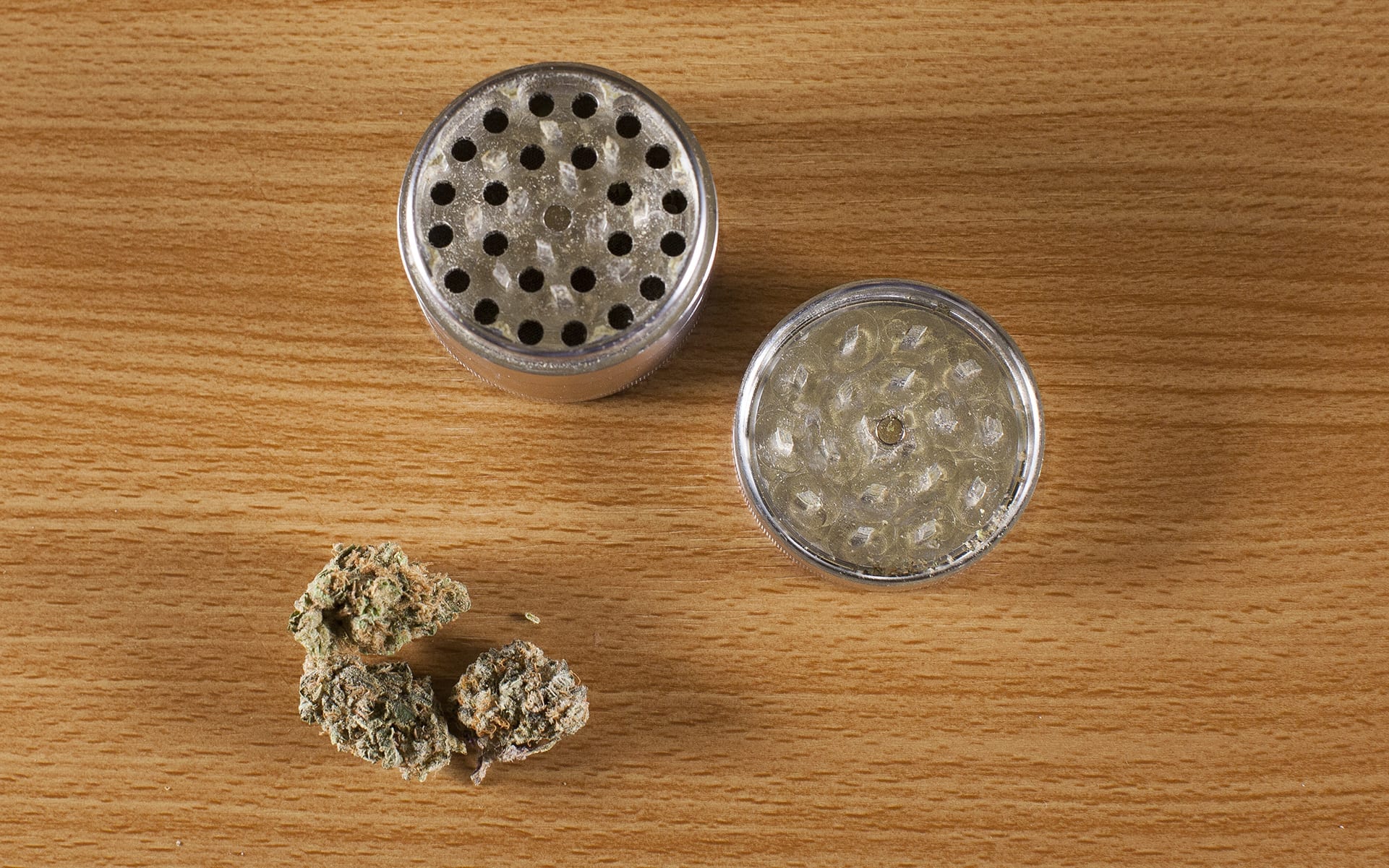 Model Type
While there are several ways to categorize the herb grinders available on the market, the most common way is based on the number of their pieces. You can have a two-piece, three-piece or four-piece grinder, based on your needs. Let's explain how the three types differ.
One Compartment Weed Grinder
One compartment or two-piece weed grinders is the simplest type. It has only one compartment. You will add the weed buds in this part, grind them and retrieve the crushed weed from the same part. While it is the simplest, it also has some drawbacks, such as inconsistent grinding and difficult retrieving.
Two Compartment Weed Grinder
This type has two compartments. It is also known as a three-piece weed grinder. One compartment on the top is reserved for grinding and the other at the bottom for retrieval. This system layout allows the separation of marijuana, based on its size. The ground part moves to the retrieval section while the other stays for more grinding.
Three Compartment Weed Grinder
This is the most advanced form of weed grinders. It has four pieces and three compartments. This weed grinder can collect pollen and kief too. Hence, this is the perfect choice for users who are very conscious about their weed. Common examples include Santa Cruz Shredder, Zip Grinder, Cali Crusher, and Chromium Crusher.
Mode of Operation
There are two basic modes of operation in a weed grinder: manual and electric. The electric grinder runs on electricity while the manual weed grinder is hand-operated. The professional weed growers prefer manual weed growers over the electric ones. There is no major difference in the results of these two except the price as electric ones are pricier.
Material
The material of which a weed grinder is made is also one of the crucial things. You will find several kinds of weed grinders made of different materials on the market. Let's talk about the available options one by one.
Metallic Weed Grinders
The most common type of weed grinders is metallic. The two most common materials include titanium and aluminum. You will mostly find aluminum weed grinders with titanium coating.
There are rumors which say aluminum grinders are unsafe. However, they are completely safe. If you are using an aluminum grinder or planning to buy one, do not worry at all.
Wooden Weed Grinders
A wooden grinder is not very commonly found. They mostly have a single compartment. Also, this type is handmade and is difficult to mass-produce. If you like organic materials, it can be a good choice for you.
Acrylic Weed Grinders
This is the most affordable type of weed grinders. However, it does not last as long as others do. Acrylic-based grinders can break off quicker than the other two types.
How to Use a Tobacco Grinder?
Even if you don't have the highest-quality tobacco grinder, just knowing how to use one properly will serve the purpose. With the simplest tobacco grinder, you can do wonders. Using a weed grinder right maximizes its benefits.
Here are the major steps you need to follow to get the best results.
Manually break the big buds before adding them into the grinder. Open the lid and distribute them evenly.
Place the lid back and make sure that it is locked.
Spin the lid gently and rotate the upper part for at least ten times.
Open the lid and check the weed particles' status. If ground, tap it and add more. Also, make sure there are no uneven particles left.
Take the ground weed out of the retrieval compartment and use as desired.
How to Clean a Weed Grinder?
Keep your weed grinder clean to ensure its long-lasting and high-quality performance. Take the following steps for proper care and maintenance.
Place the grinder in the freezer for about 15 minutes before cleaning. It helps in loosening the stuck weed particles.
Disassemble the grinder and clean the parts individually. Make sure all the kief on the grooves and corners is cleaned thoroughly. You can use a brush with soft bristles or a fine toothpick. Avoid using a metal scraper.
Once you are done removing the residual particles and kief, dip the grinder in Isopropyl Alcohol. It will breakdown all the plant material that is left in the grinder.
Now, rinse with warm water carefully and leave the parts to dry.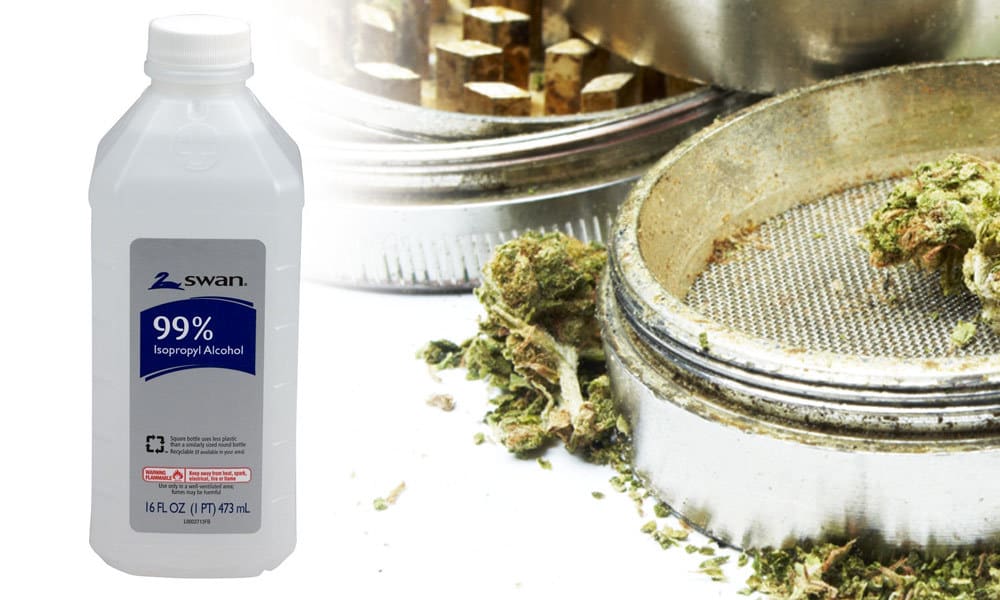 What is a Good Design for a Grinder for Weed?
Table could not be displayed. Table could not be displayed.
A better-designed weed grinder is the one that you can easily hold. Most weed grinders are circular and have little rivets to give you a better grip. Just make sure that the one you are buying has an ergonomic design so it can provide better placement for your fingers.
The Best Herb Grinder for Weed – 2020 Reviews
Golden Bell 4 Piece 2"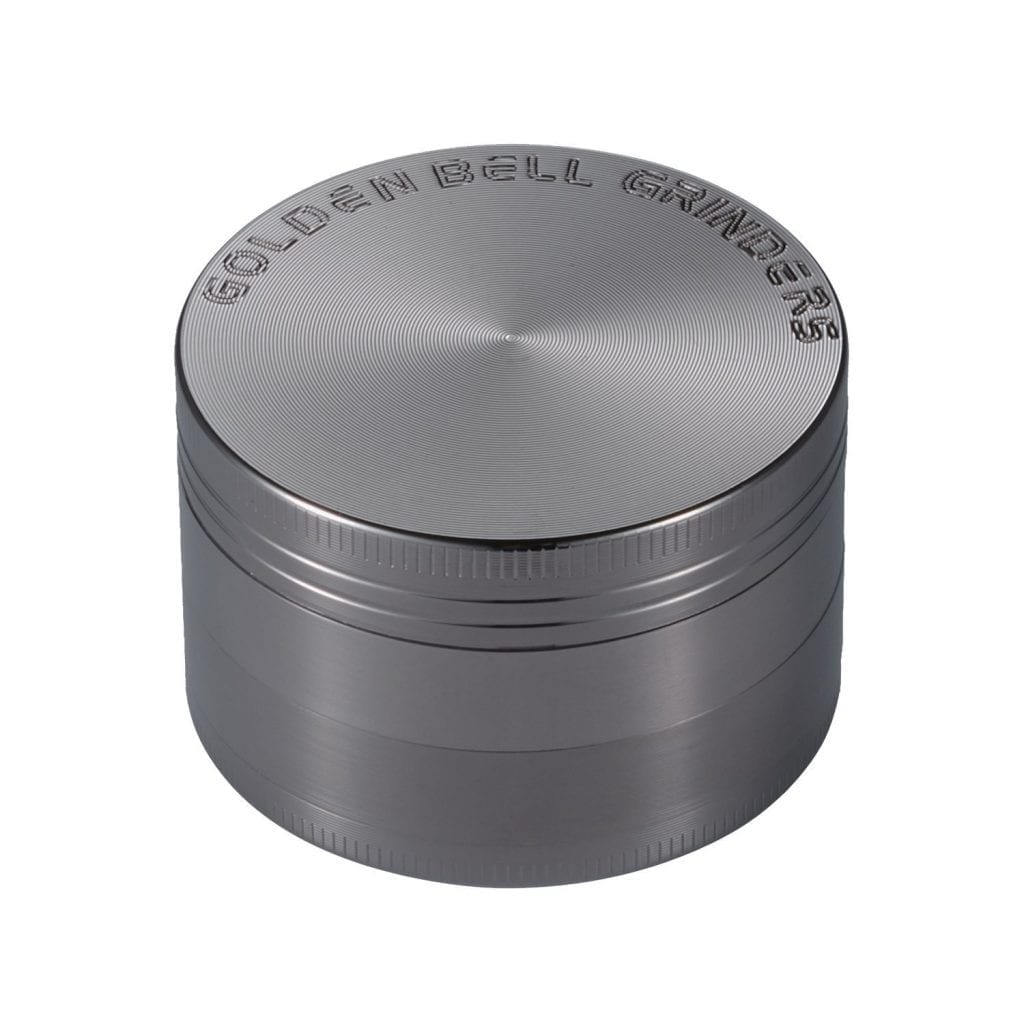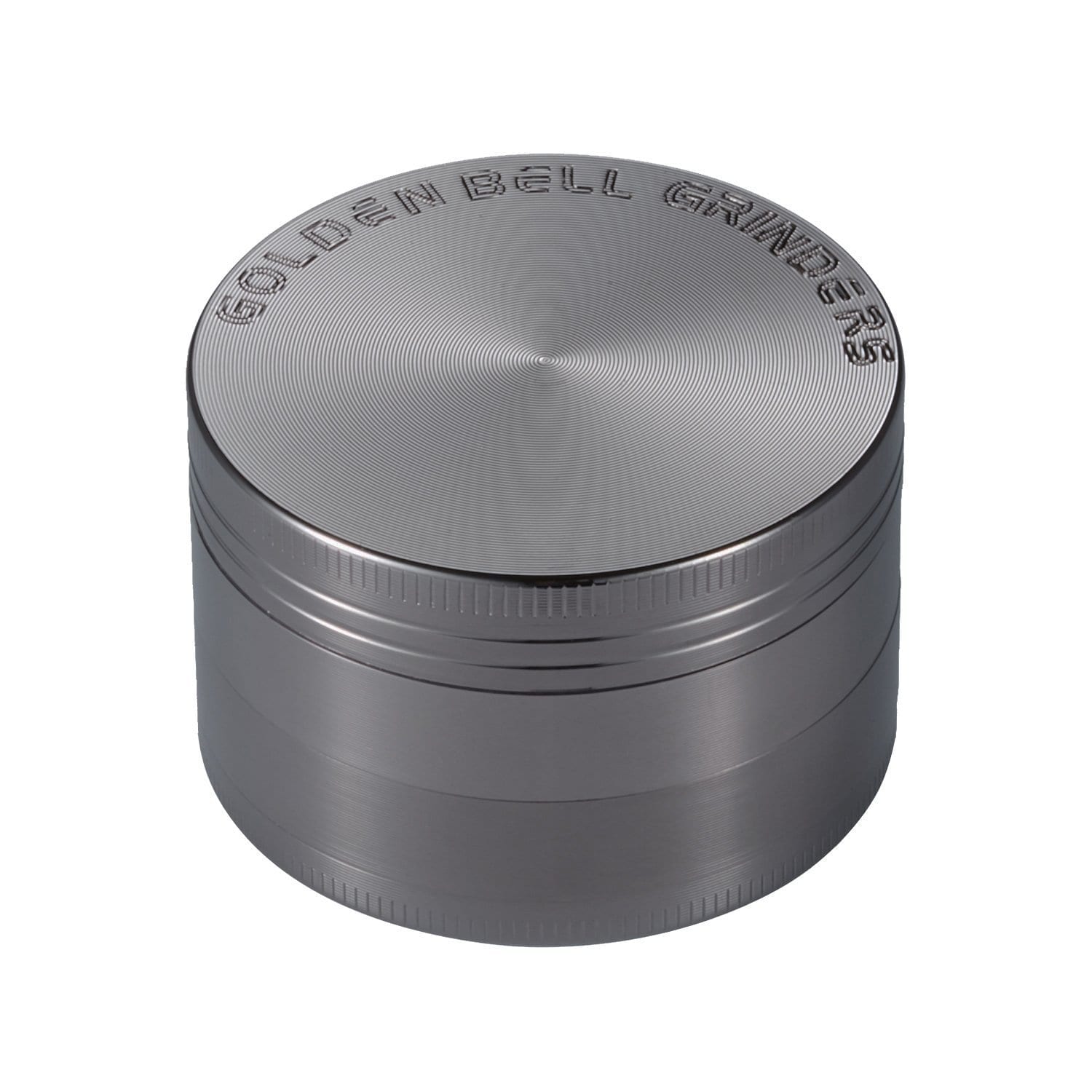 Golden Bell Grinders have a passion for weed grinders. They have designed a grinder which not only has powerful performance and durable construction but is also easy on your pocket.
Most Important Features
Several features have made this grinder the top choice for weed growers. It is made of premium quality zinc alloy and is precisely machined on computerized machines. The Golden Bell Grinder has three compartments with micron stainless steel mesh that filters out pollen.
This Golden Bell grinder is two inches in size and provides the finest herb in one go. It has super sharp, evenly placed, and well-designed teeth, ensuring better grind. This arrangement makes sure that the weed is not ripped or shredded.
Furthermore, the lid comes with a powerful neodymium magnet to keep it tightly closed when needed. The correct weight and balanced weight makes the grinder a perfect choice. The metallic built allows it to last long, providing smooth grind with lesser friction.
Pros
Compact
Durable
Consistent grind
Affordable
Lifetime warranty
Con
Hopttreely 4-in-1 2" Herb Spice Grinder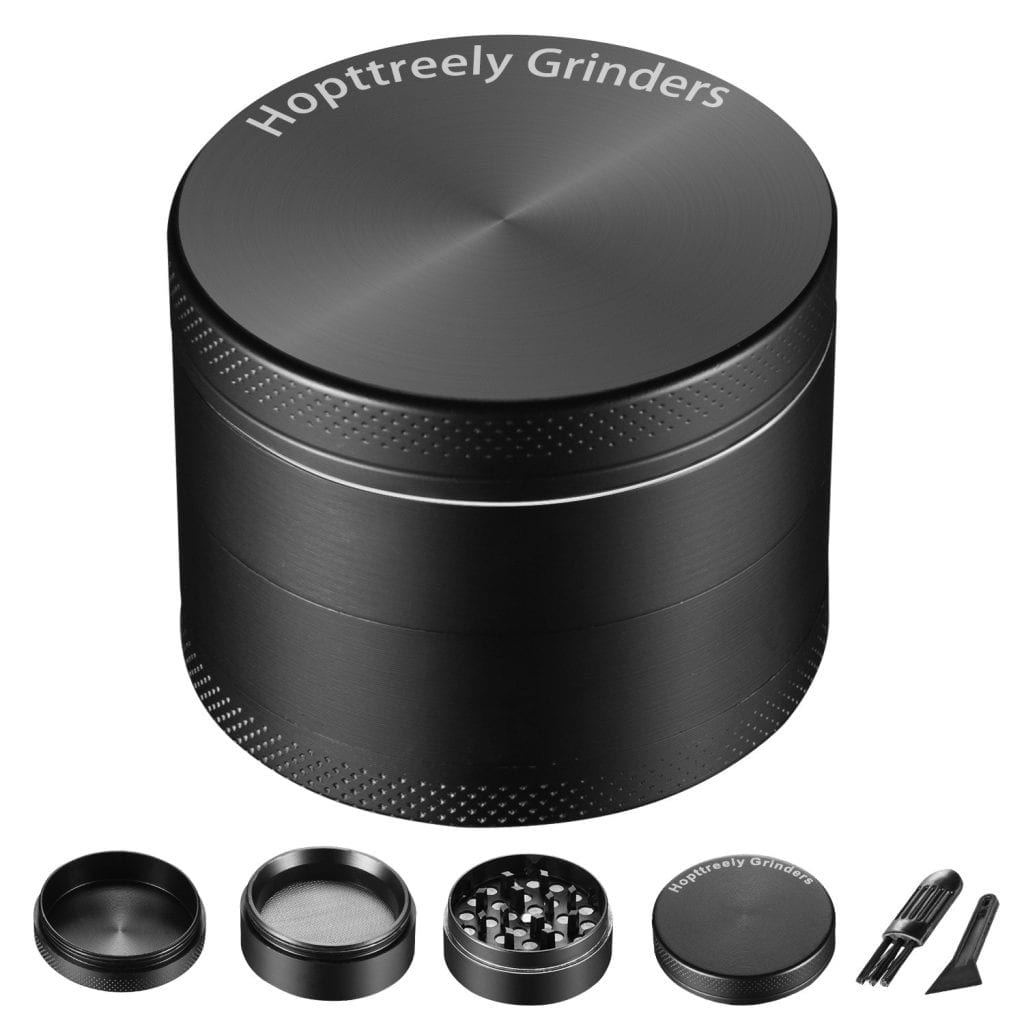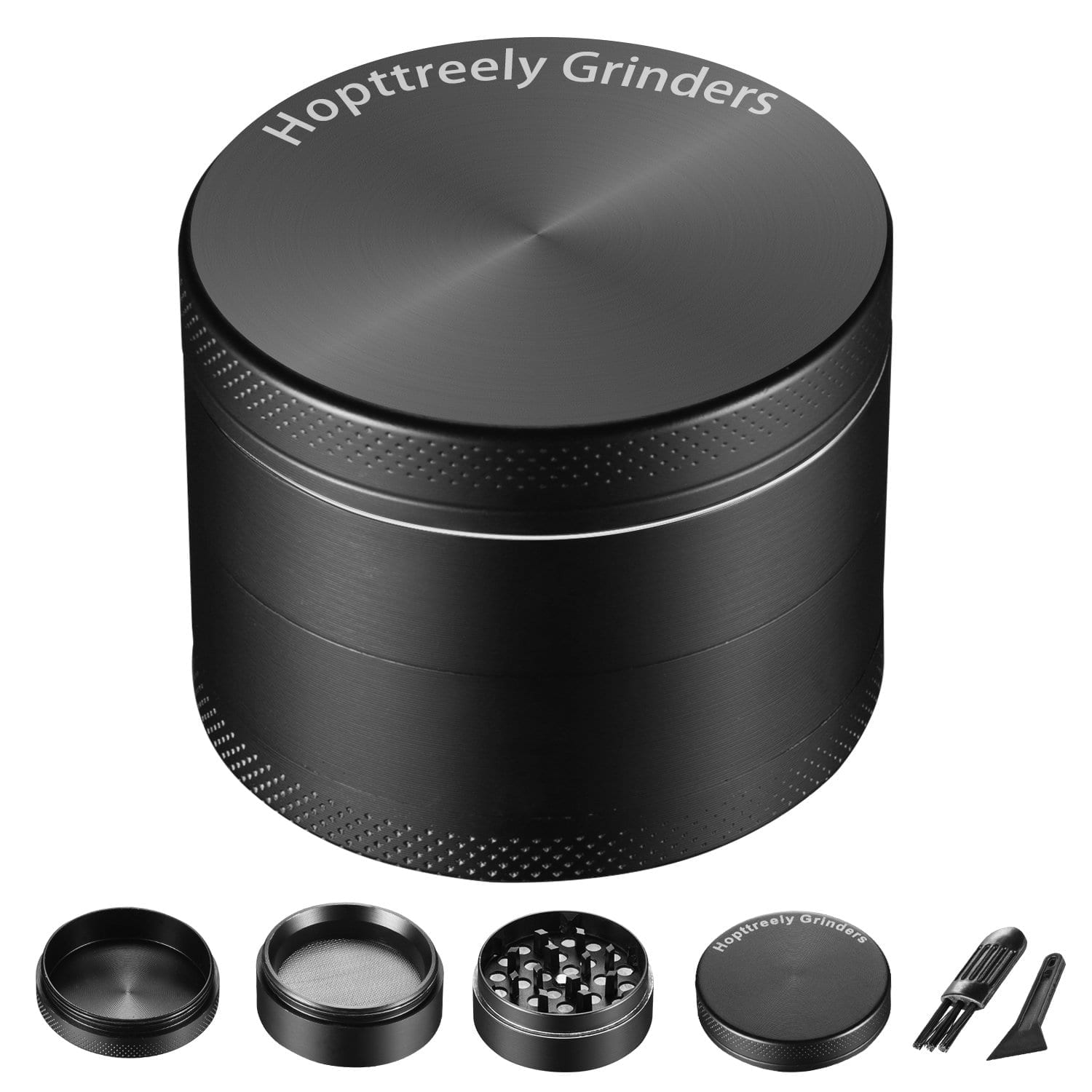 The Hopttreely 4-in-1 Herb Spice Grinder is another amazing choice. Hopttreely is a designer brand, protected by U.S trademark law. It is one of the leading manufacturers of weed grinders who have always put quality first.
Most important features
Hoptteely weed grinder consists of high-quality zinc alloy. Its unique design ensures optimal performance and high endurance. You do not have to worry about peeling off metal that can cause health hazards.
This grinder ensures efficient grinding with heavy-duty diamond-shaped, sharp teeth. No chunks are left behind when this grinder comes into action. Furthermore, it comes with a specially designed scraper and a brush to ensure better cleaning.
Pros
Durable
Compact
Consistent grind
Affordable
Lifetime warranty
Con
OMorc Spice Herb Grinder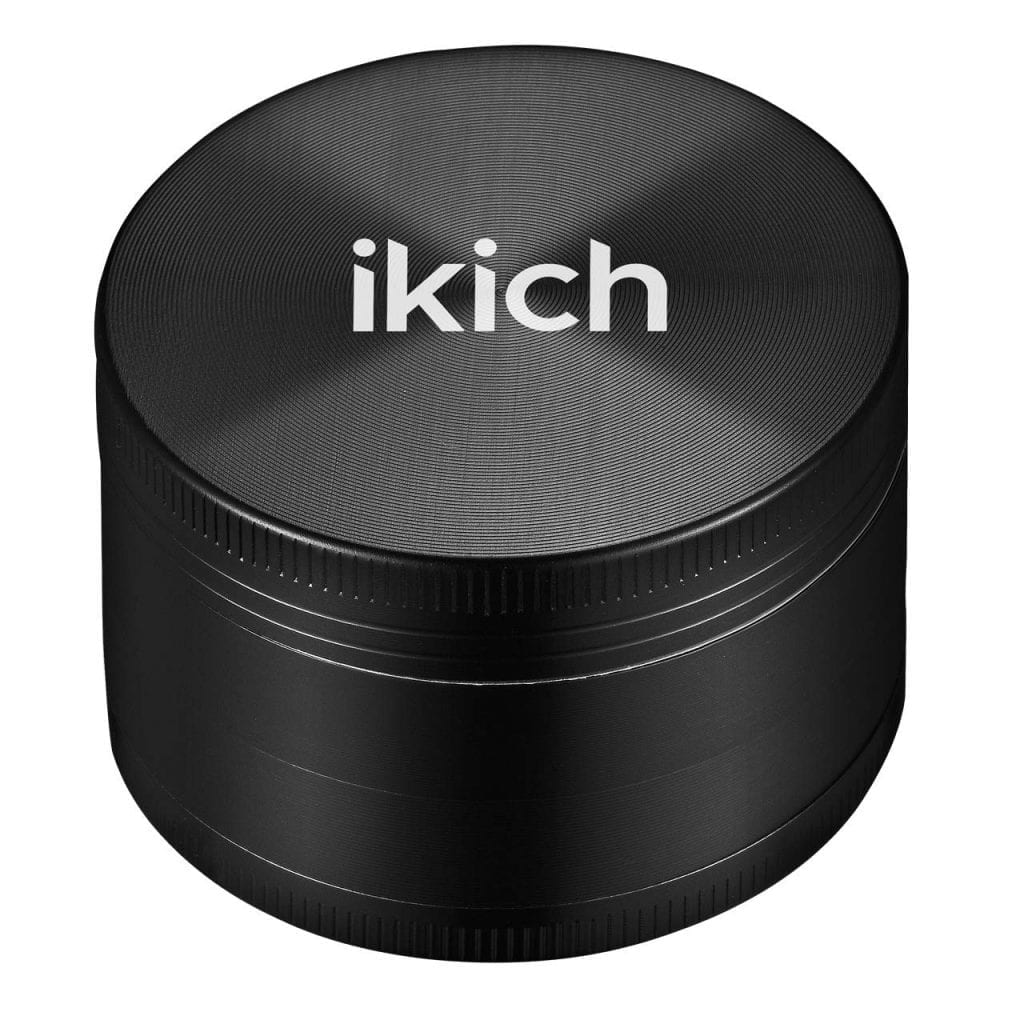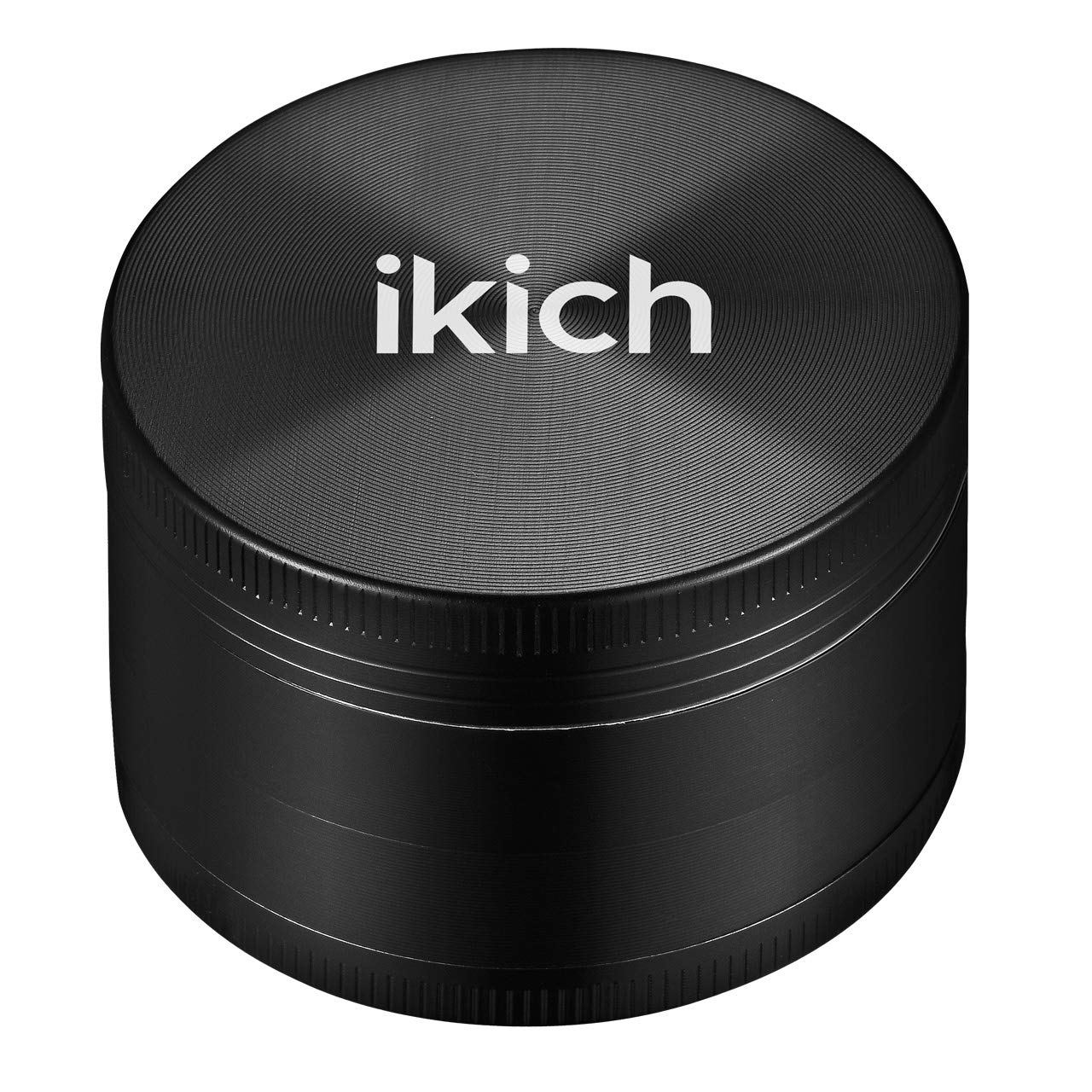 OMorc brings a powerful weed grinder with simple operation and durable construction. The built is stylish yet efficient to provide you with the finest herbs efficiently.
Most Important Features
While there are many important features, the best one is the presence of a strong magnetic lid. It ensures the incredible closure, keeping the evenly crushed herbs safe and odor-free. OMorc herb grinder has up to 30 sharp teeth on the top layer and 24 of these on the lower layer. This arrangement efficiently grinds your herbs into small pieces with increased flavor.
Furthermore, it has a metal mesh filter between the grinding and retrieval chambers. Hence the crushed weed shifts to the retrieval chamber quite easily. It is high in quality and will not catch rust. The pollen catcher of this grinder allows you to keep your grind clean of any undesired particles. With the provided scraper, you can easily gather and clean the extracted pollen out of the grinder.
Pros
Durable
Compact
Consistent grind
Affordable
Con
Herbs only, not fit for spices
Kozo Best Herb Grinder 2.5"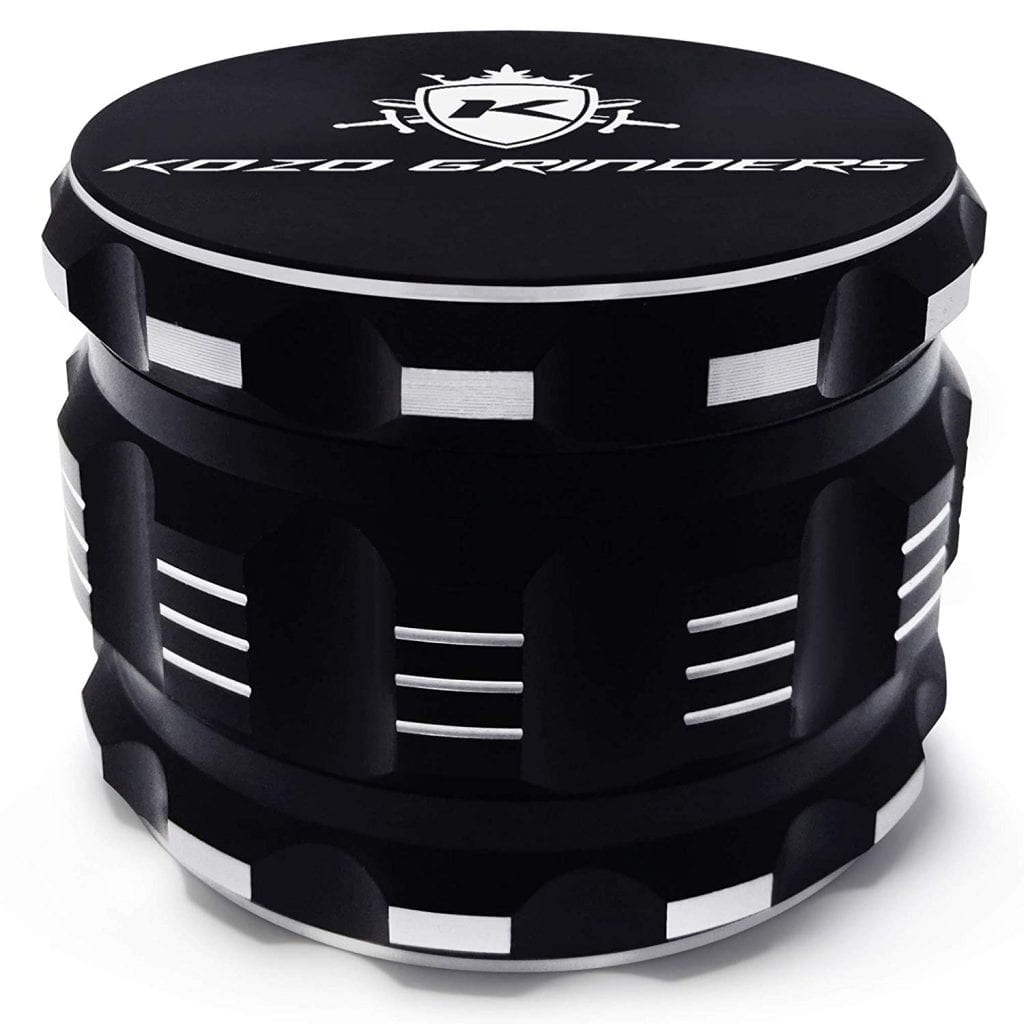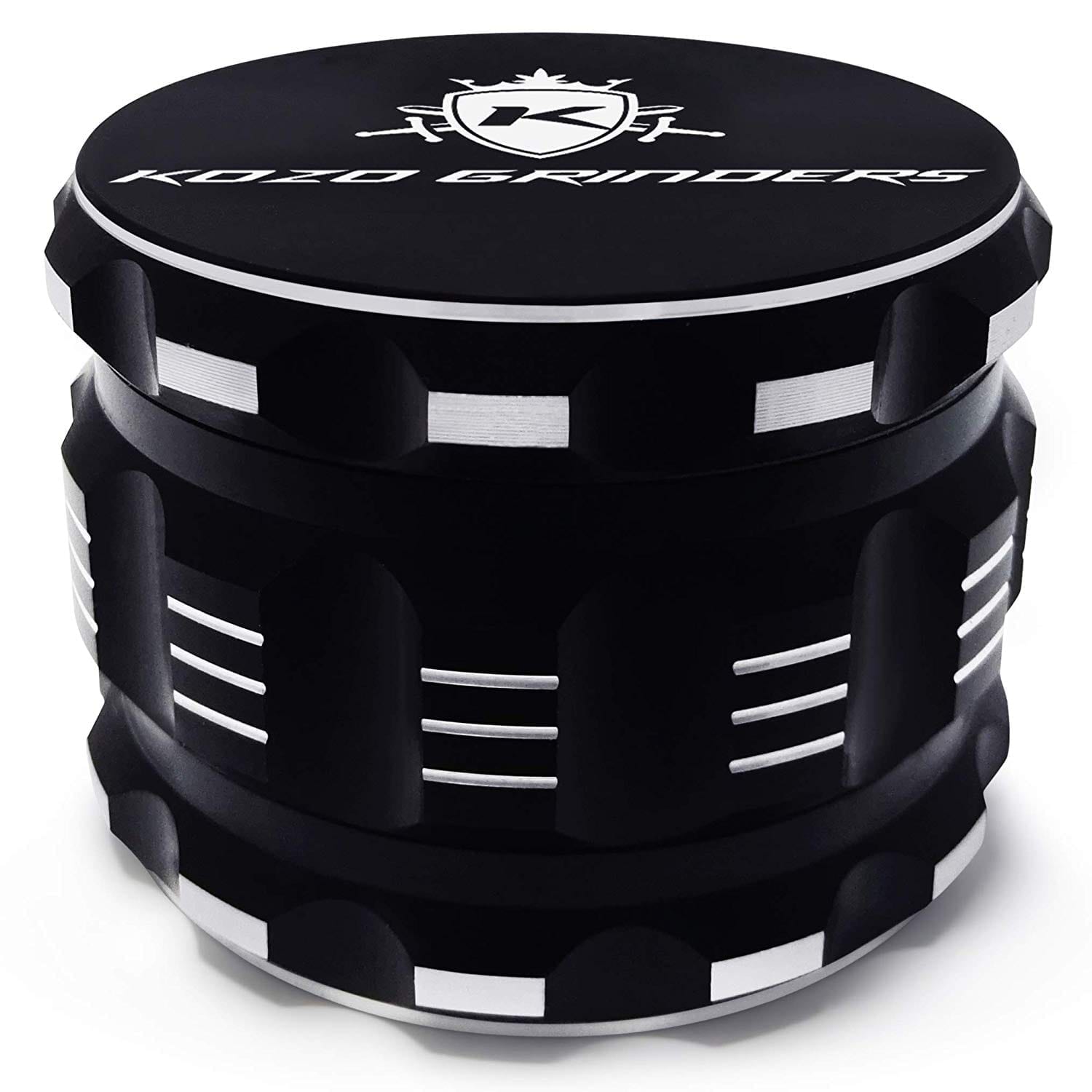 Kozo brings an improved herb designer with a removable mesh screen. It is not only deeper but can also easily fit perfectly into the lower section. This design helps in holding more crushed material and is more stable.
Most Important Features
With an elegant but smart design, Kozo herb grinder lets you grind your weed in one go and keeps it from spilling when you open the lid. It also guarantees a super easy grind with even and fluffy consistency. The teeth are sharp and placed efficiently. You can grind from the densest to the lightest herb easily with Kozo's herb grinder.
Moreover, this grinder comes with an ergonomic design, ensuring a perfect grip. It is made of high-quality aluminum alloy to provide maximum endurance. This metallic grinder is easy to open and clean. Even if there is an issue, with a 100% money-back guarantee, you can fully relax.
Pros
Durable
Compact
Consistent grind
Lifetime warranty
Removable mesh filter
Con
NON-STICK 2.5" 4-Piece Best Herb Grinder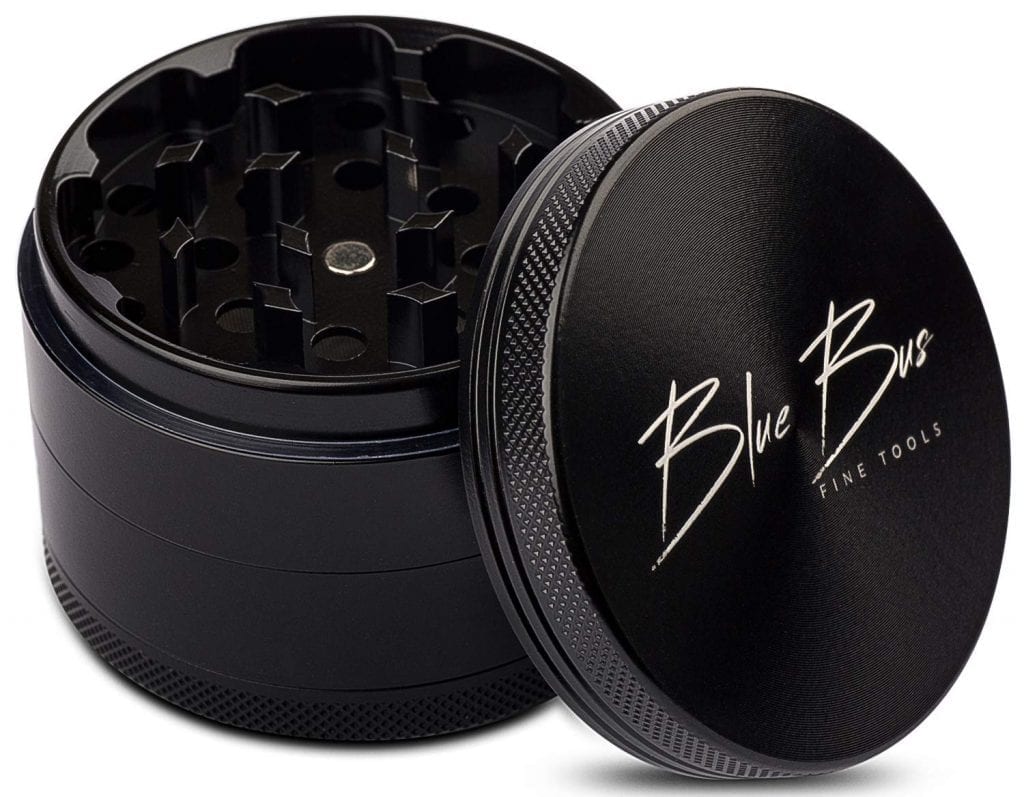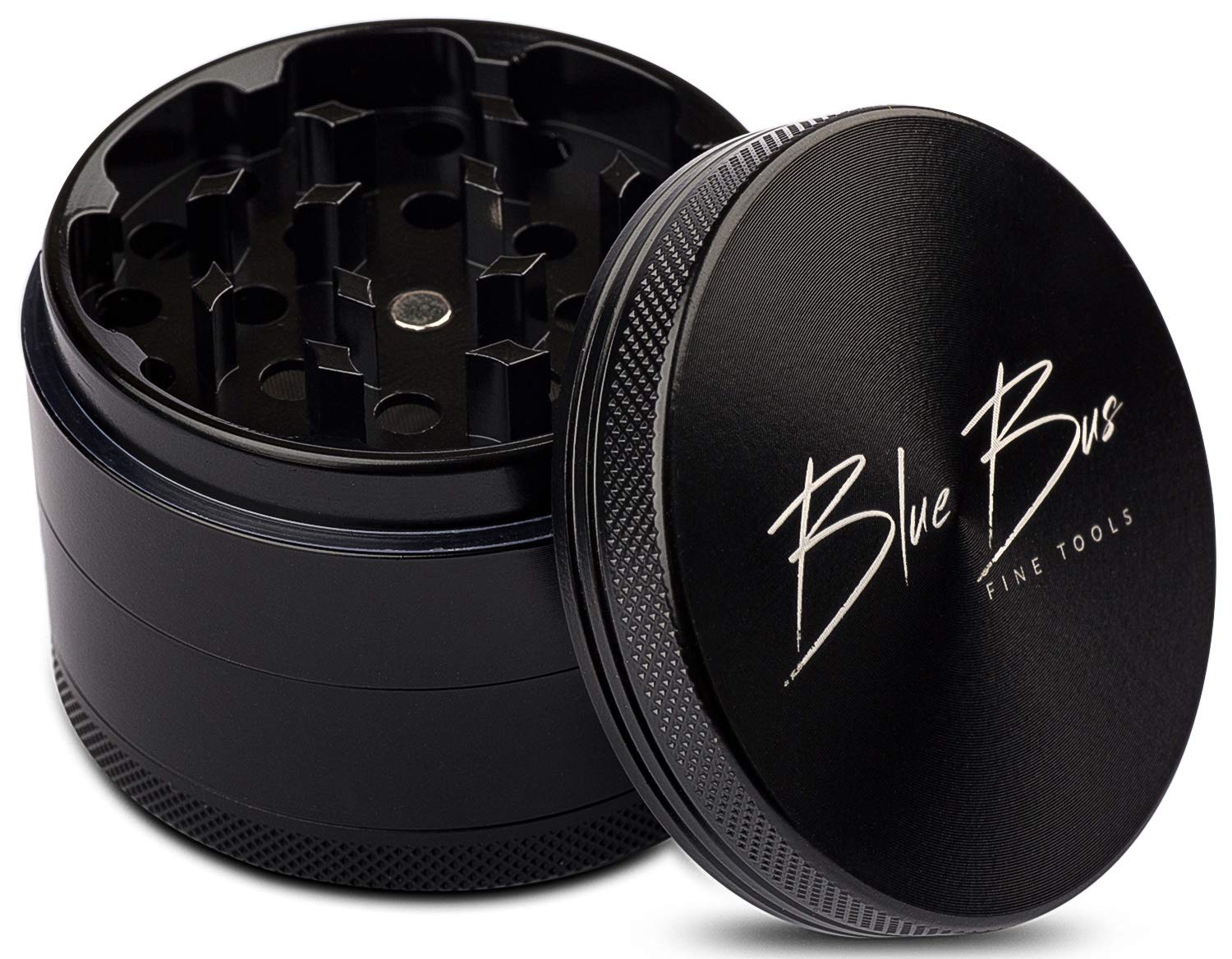 Blue Bus brings you a nonstick ceramic coated high-quality herb grinder. It provides you with all the benefits of a metallic grinder in a grinder made of FDA approved material. Blue Bus herb grinder operates smoothly and gives out the best possible results.
Most Important Features
The Blue Bus grinder is layered with sharp teeth to ensure better grinding and mass production. The unique arrangement allows the teeth to evenly grind the herbs without shredding them. Moreover, it is elegantly designed and has premium quality. The cherry on top is its lifetime warranty. You can also return the product if you are not fully satisfied.
Pros
Compact
Elegant
Consistent grind
Lifetime warranty
Con
Blue Mandala 4 Piece Zinc Titanium Metal Herb Grinder 2.5″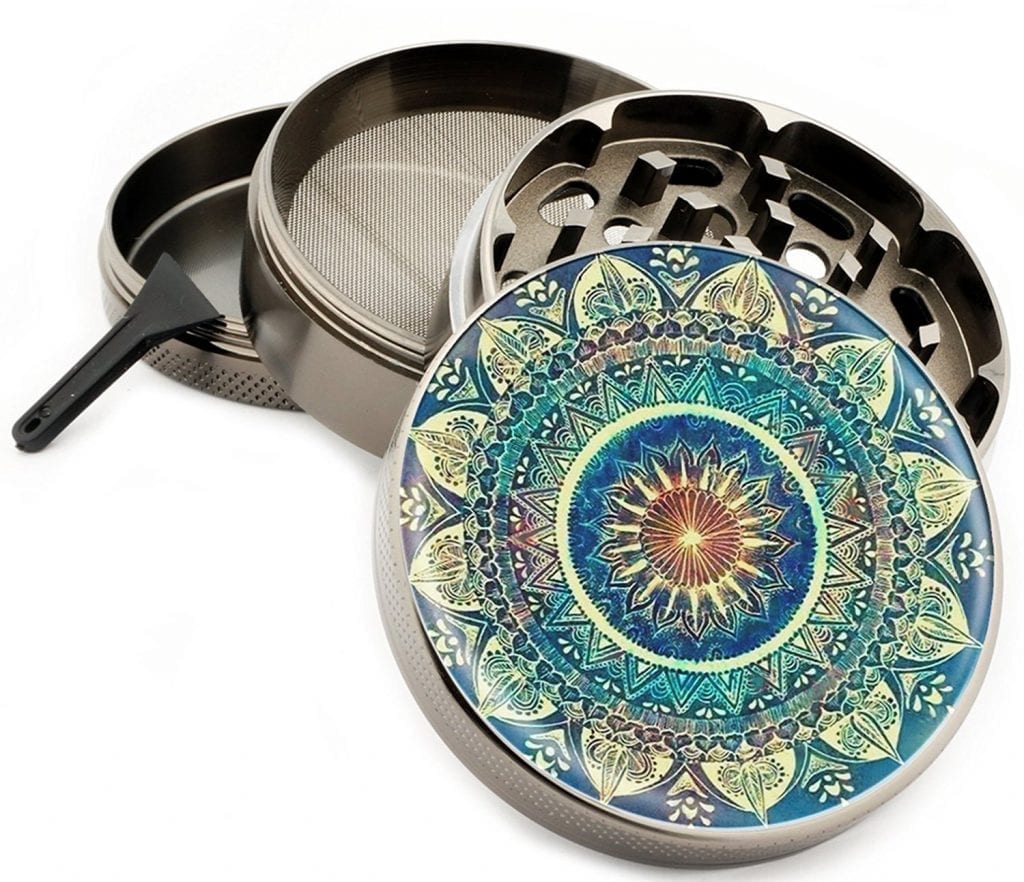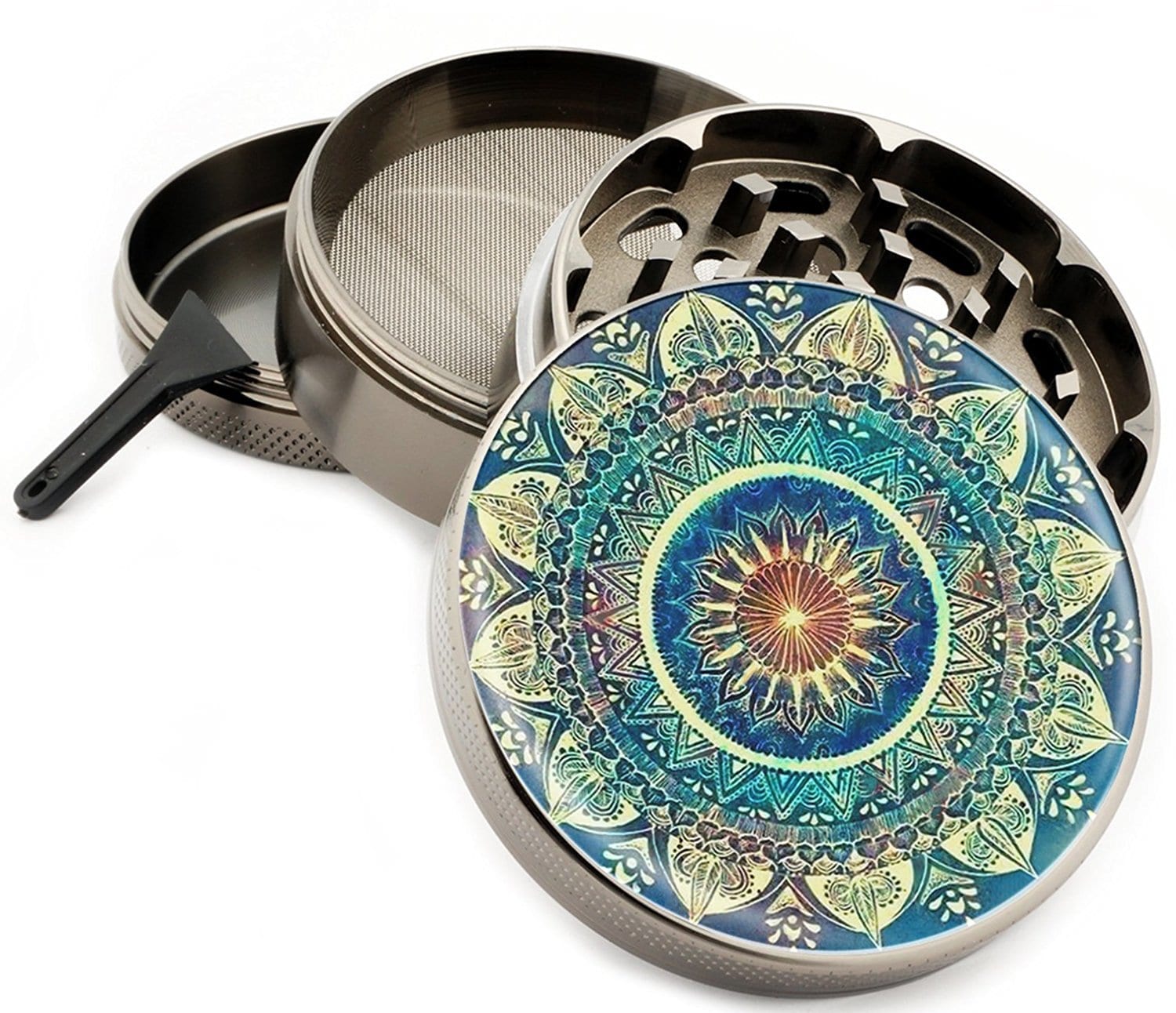 Blue Mandala Swagstr Grinder represents the next generation of weed grinders. It is a 4-piece premium quality weed grinder that is designed to never disappoint you.
Most Important Features
Other than being the most stylish and elegantly designed grinder, several other features make this grinder different from others. It is layered with fifty diamond-shaped grinding teeth to provide you with a highly smooth grind. There is a 100-micron stainless steel pollen screen to keep your grind clear of any undesired particle. With precise milled holes, the filter ensures that only the consistent sized grains enter the collection chamber.
Moreover, the lid is powered with a powerful neodymium magnet to provide full closure. The CNC is machined from a single rod of 100% pure stainless steel. With an ergonomic design, it gives you a slip-free finger grip. Also, it comes with a pollen scraper to ease you out.
This weed grinder is coated with a clear UV polyurethane to save it from minor scratches and cuts.
Pros
Compact
Elegant
Consistent grind
Lifetime warranty
UV polyurethane coated
Discreet shipping
Con
4 Piece 2.5″ Aluminum Lightning Pattern Clear Top Herb Grinder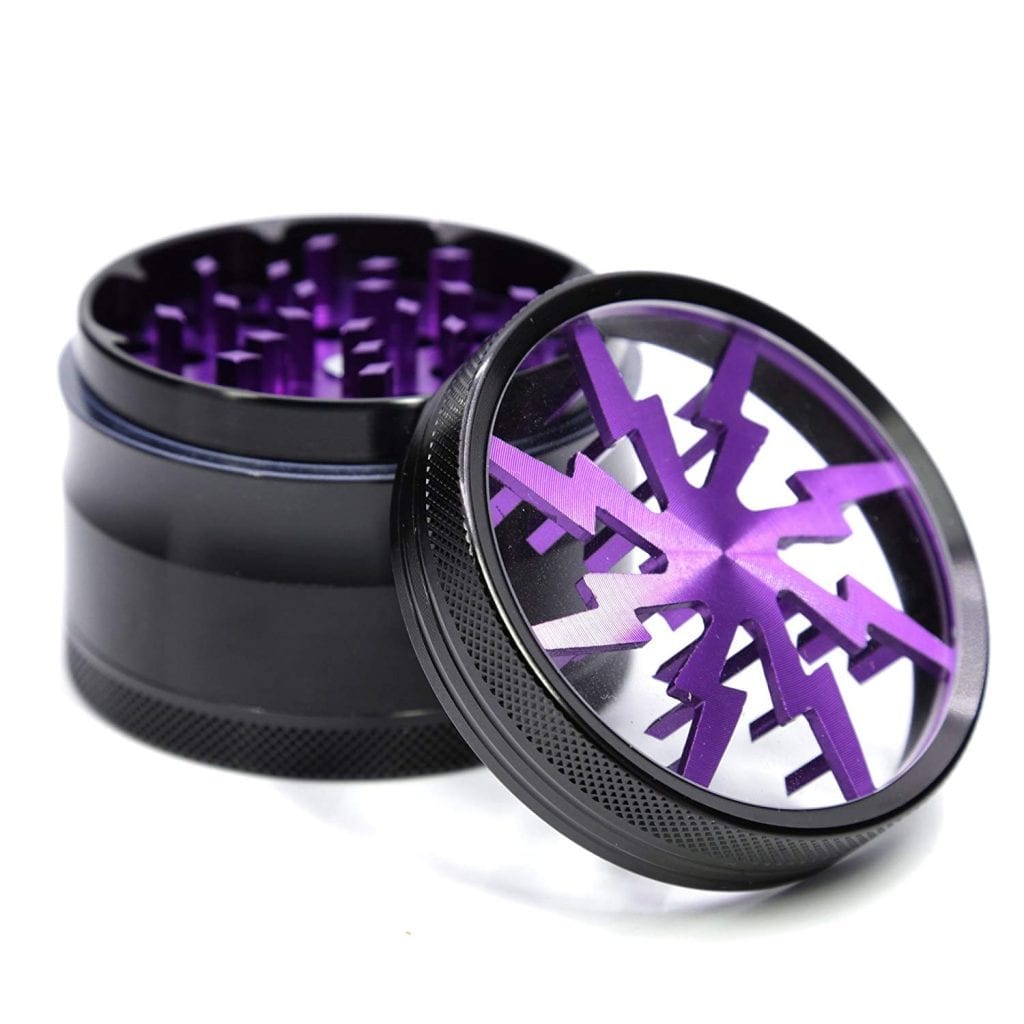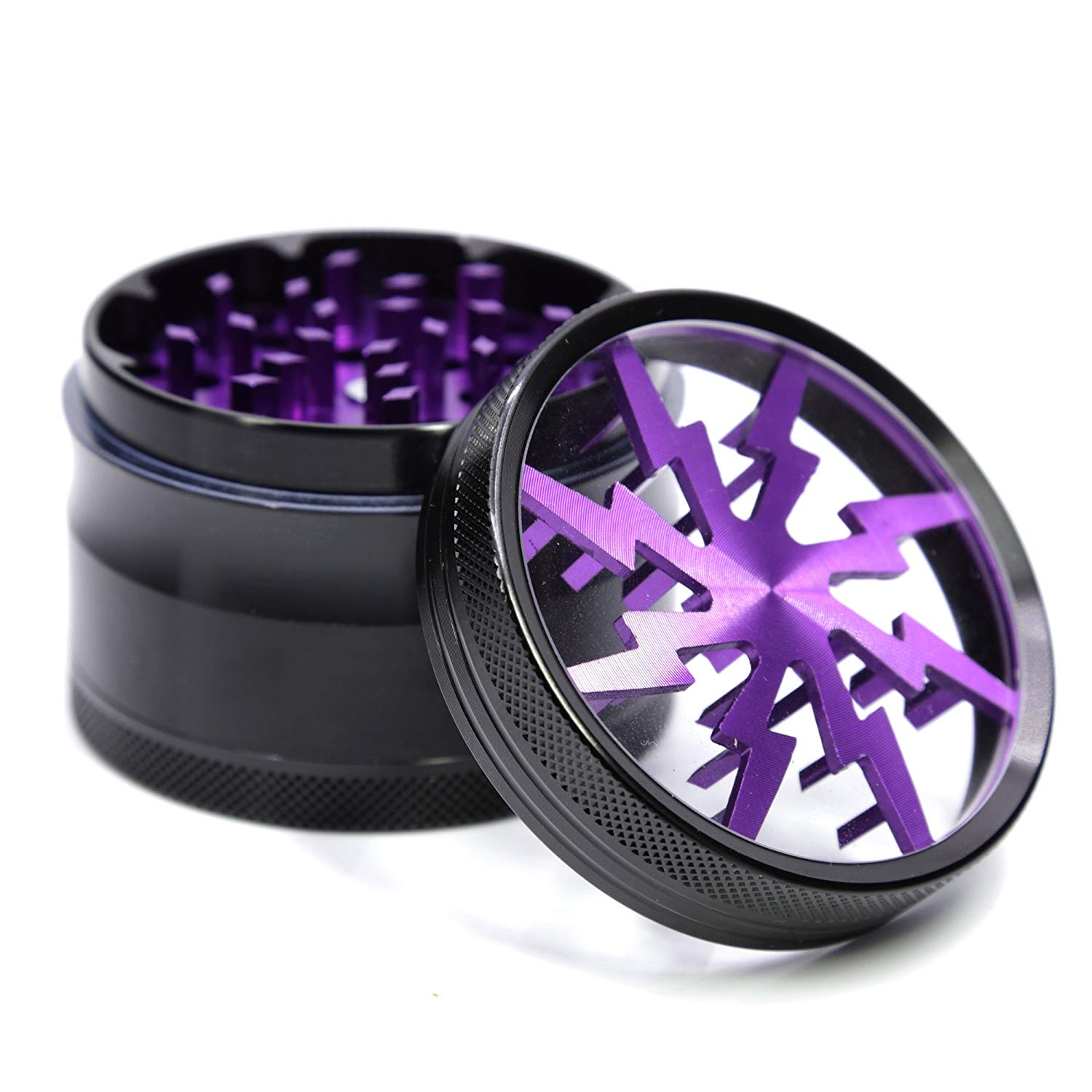 Looking for an extremely stylish tobacco grinder that gets the job done efficiently? This aluminum Lightning Top herb Grinder is made for you.
Most Important Features
This grinder is a 4-piece grinder and is 2.5 inches in size. With a clear top and highly sharp blades, it ensures the perfect grinding in a short time. The material of this weed grinder is aluminum, which provides high endurance and enhanced quality. Brushing out the thread after every use will ensure longevity.
Pros
Compact
Elegant and stylish
Consistent grind
Discreet shipping
Con
Conclusion & Recommendations
In conclusion, getting the right weed grinder can make your life easy. It provides a lot more benefits than the usual methods. If you buy the right one, it is worth every penny. Also, finding the best weed grinder is not hard if you know the crucial features.  We hope by now you must have already decided on which grinder you should buy. However, if you are still confused, we can help with that. Golden Bell Grinder is one of the most favorite choices among weed growers. It ensures high-quality production and durability at a highly affordable price.