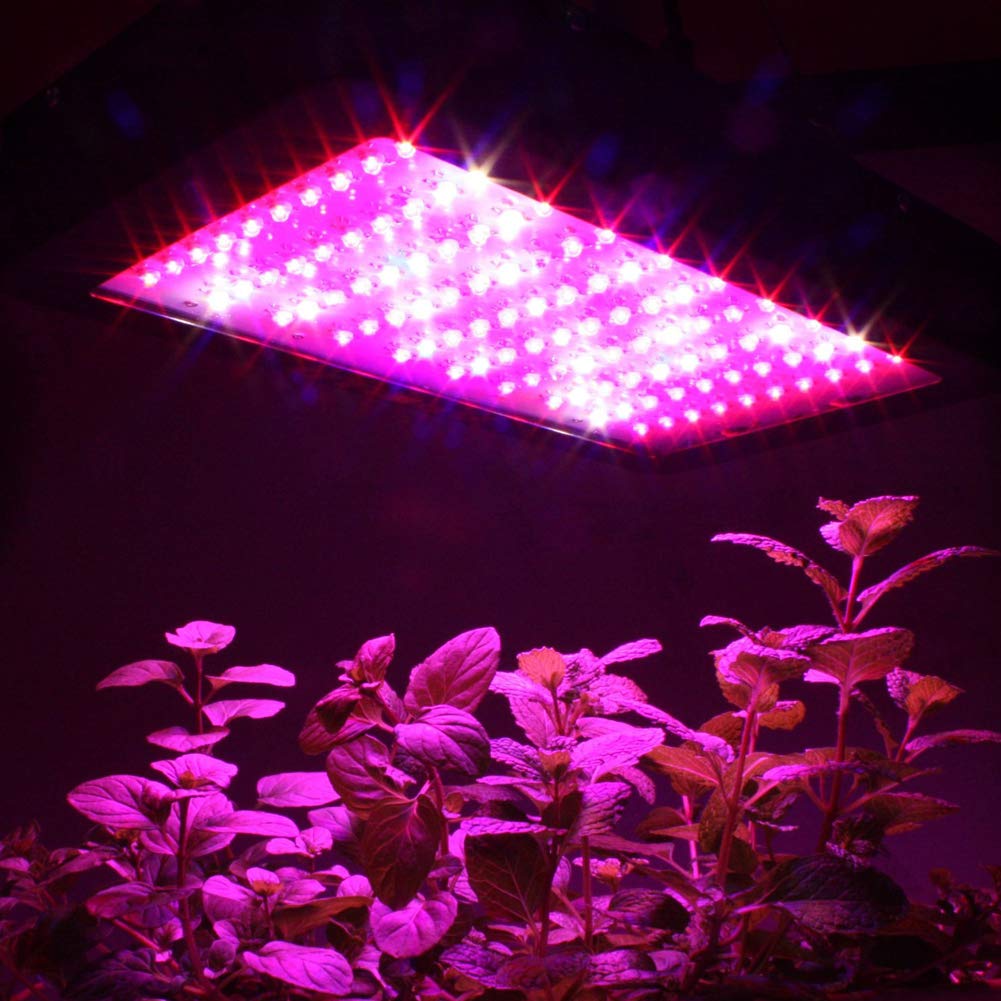 When we talk about LED grow lights, there are several brand names that will quickly come to mind. Amico is a brand that isn't that well known, but has been delivering great products for many years. The lights are designed by experts, which help you to greatly stimulate the plant's growth.
The Amico 1200W LED grow light is an invention of the brand that we can't neglect. That's why we tested it thoroughly to give you an in-depth review.
The grow light emulates sunlight for your artificial horticultural environment. It is best used for indoor plants where the sunlight is not adequately present.
This light gets a lot of positive feedback from its users. The main thing about this product is that it differentiates itself with its affordable price, while providing high quality.
We will be discussing the Amico 1200w review further below. Hopefully, this article will help you in getting to know more about the features of this product.
Amico 1200W LED Grow Light Indoor Plant Grow Lights Full Spectrum with UV&IR for Veg and Flower with Thermometer Humidity Monitor and Adjustable Rope
👍【Best Customer Service Ever】3 years warranty from the day of purchase. Contact us if you got any problem. We promise you a satisfied reply in 12 hours.
👍【Full Spectrum】switch between grow/bloom mode, provides full spectrum for vegetables, flowers and aquatic plants. Take care of all stages of plants' growing by using different types of natural sunlight.
👍【Energy Saving】The energy consumption of this 1200W indoor plant growth light is 240W actually, saving energy up to 80%. Unique design of reflector makes the light more concentrated, the ideal choice for small growers,greenhouse & vegetable lovers.
👍【Safe Use】plug in and turn on. With the design of separate integrated circuit board and heat sink, damage of one component will not cause fatal problem to the whole set. The high speed heat dissipating fans work efficiently to cool down the Lights and make no noise.
👍【Free Components】Free components included:Thermometer Humidity Monitor,Adjustable Rope and Hanger.
Features and Specifications of the Amico 1200w LED Grow Light
The Amico 1200w LED grow light is designed with an optimal full spectrum technology. It can help your plants and flowers to grow properly.
Eventually, they will get what they need of natural sunlight in all stages from this light. It works great in ways that are important for the growing process of especially cannabis plants.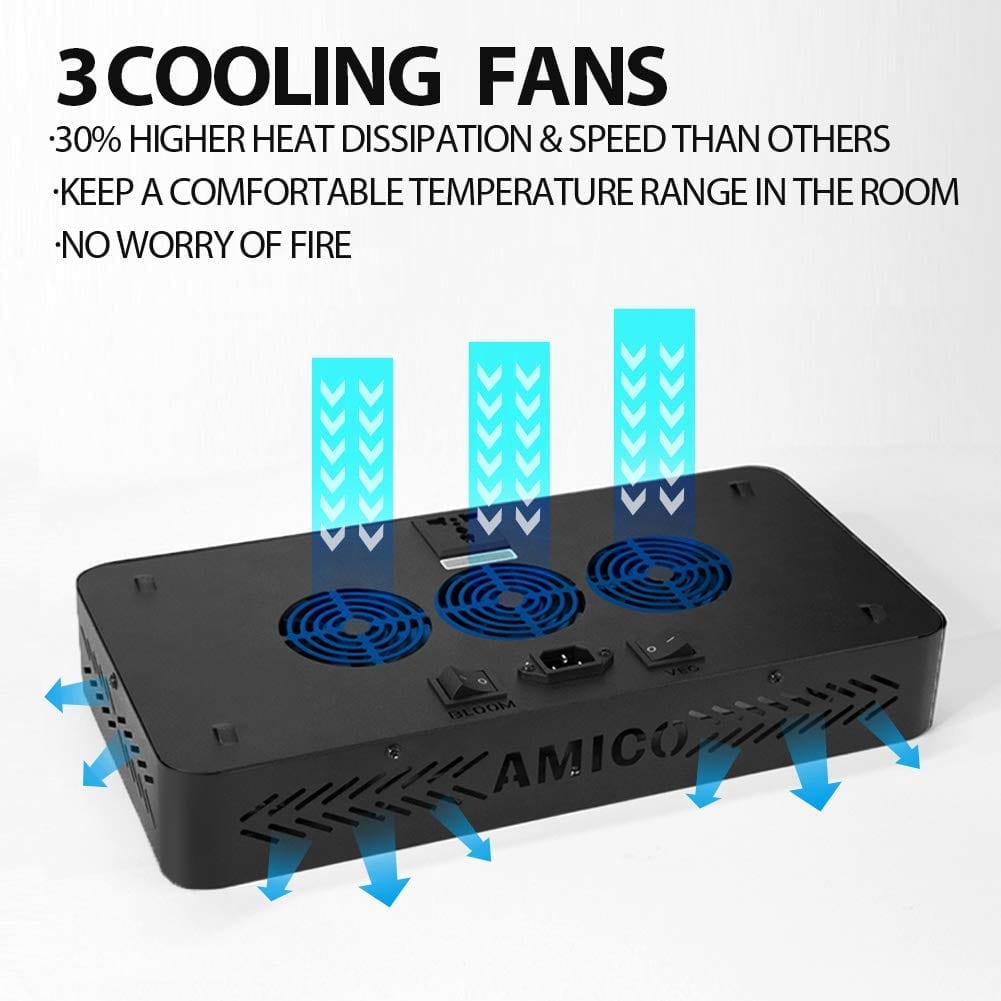 Great Heat Resistance
The Amico 1200w LED plant light contains a heat resistance body, which makes it a safe choice. You just need to plug it in and turn on the light; Amico has taken all safety measures for you.
The light has great heat dissipating fans, power circuits and wiring that keep the light cool without making noise.
Because of this heat resistance feature, damage in a component cannot affect the whole light or other components. Safety is very important in the affordable LED grow lights of Amico.
Energy Efficient
The Amico 1200w LED grow light uses 240 watts. This is not much for a light that equals a 1200w HPS light. The efficiency level is hard to beat, and it's safe because it draws little power.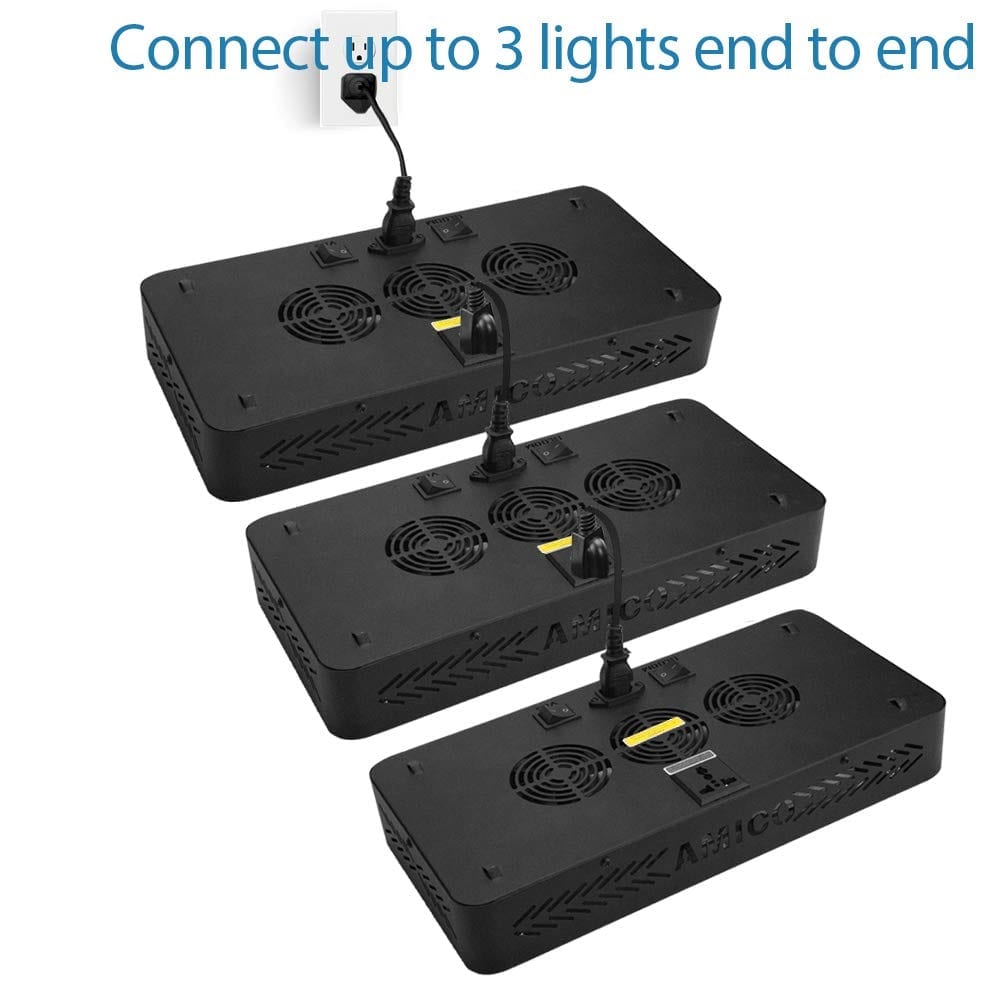 This light can save a great level of energy. Energy saving is up to 80% and it can still provide a good intensity.
This light is a perfect choice for hobbyists who want to grow cannabis, veggies and other plants in a small area.
Bloom and veg mode on the Amico 1200w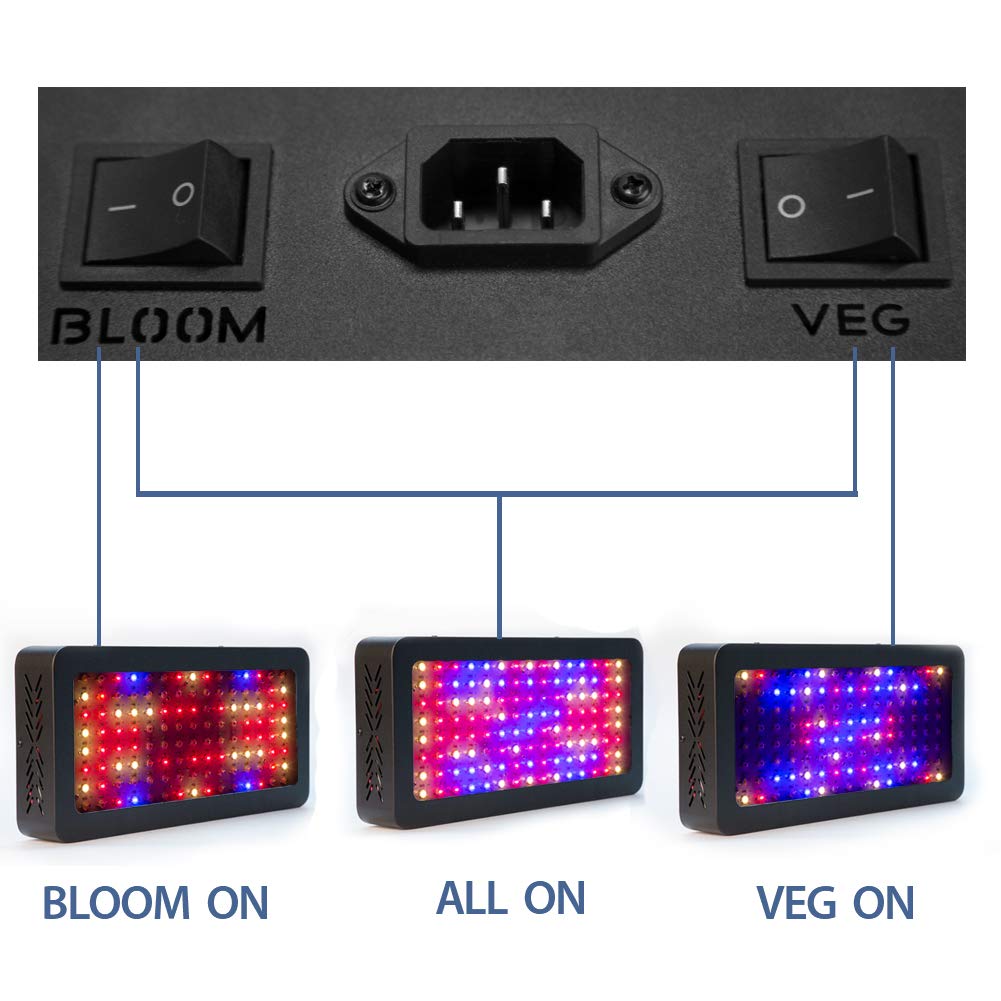 The light has full spectrum light output and contains a bloom and veg mode. These switches can help your plants and flowers to get just the right light they need in a specific grow phase.
Moreover, you have to do a bit reading on the light so you can use the modes to their fullest efficiency.
The Amico can provide you good yields when used properly. When you are moving towards flowering you just need to flip back the switch and you will get a high-intensity light perfect for this phase.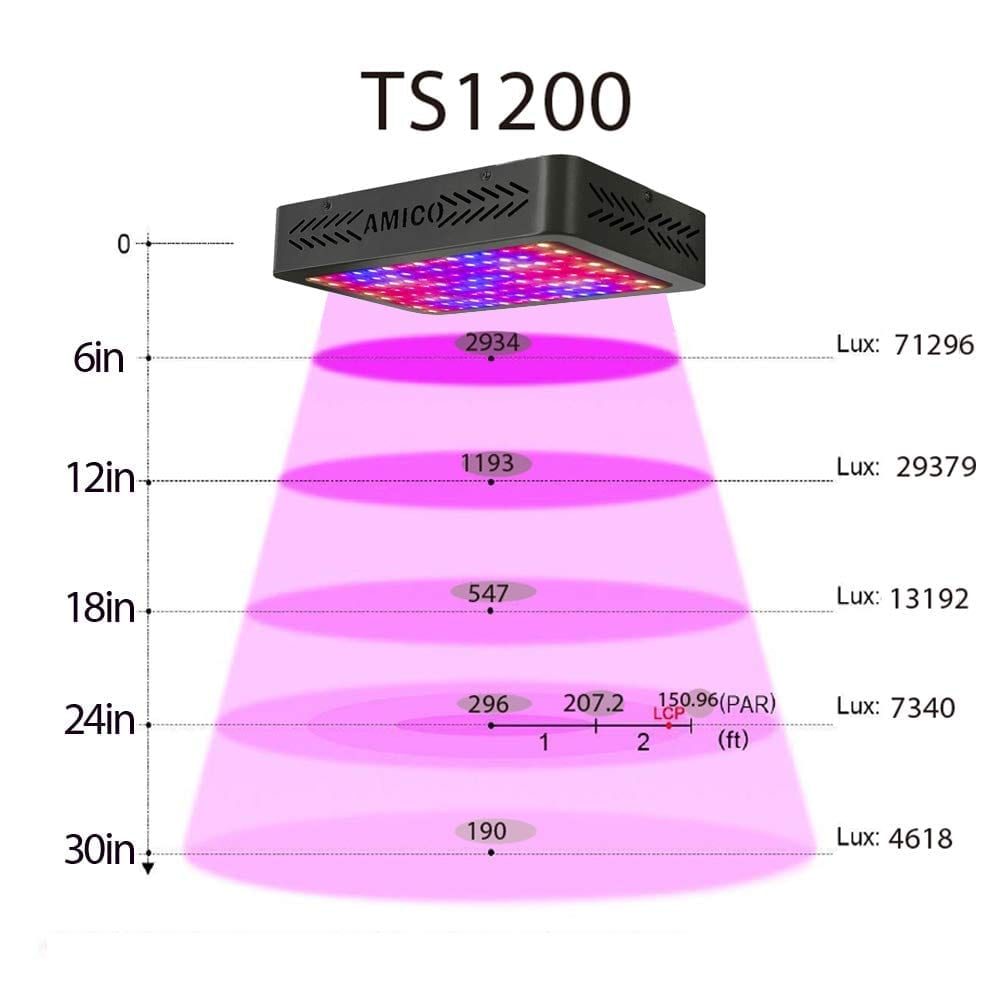 Pros and cons of the Amico 1200w LED grow light
Pros
Good cooling system that allows longevity of the light;
Looks solid and built with high quality;
3 years of warranty;
Free components come with the light;
Energy efficient;
Provides strong vegetable growth.
Cons
Needs attention to prevent plant burning;
Not water resistant.
Conclusion on the Amico 1200w
This light is perfect for beginning growers that are looking for a safe and affordable LED grow light. It is the perfect light for your 4×4 grow tent that you are using for your grow room.
With the crowded market of LED grow lights, this is one that stands out nowadays. Lots of cheap brands are unsafe, but Amico has got this covered. If you want to go for effectiveness and safety, this is your tool to produce the yields you want.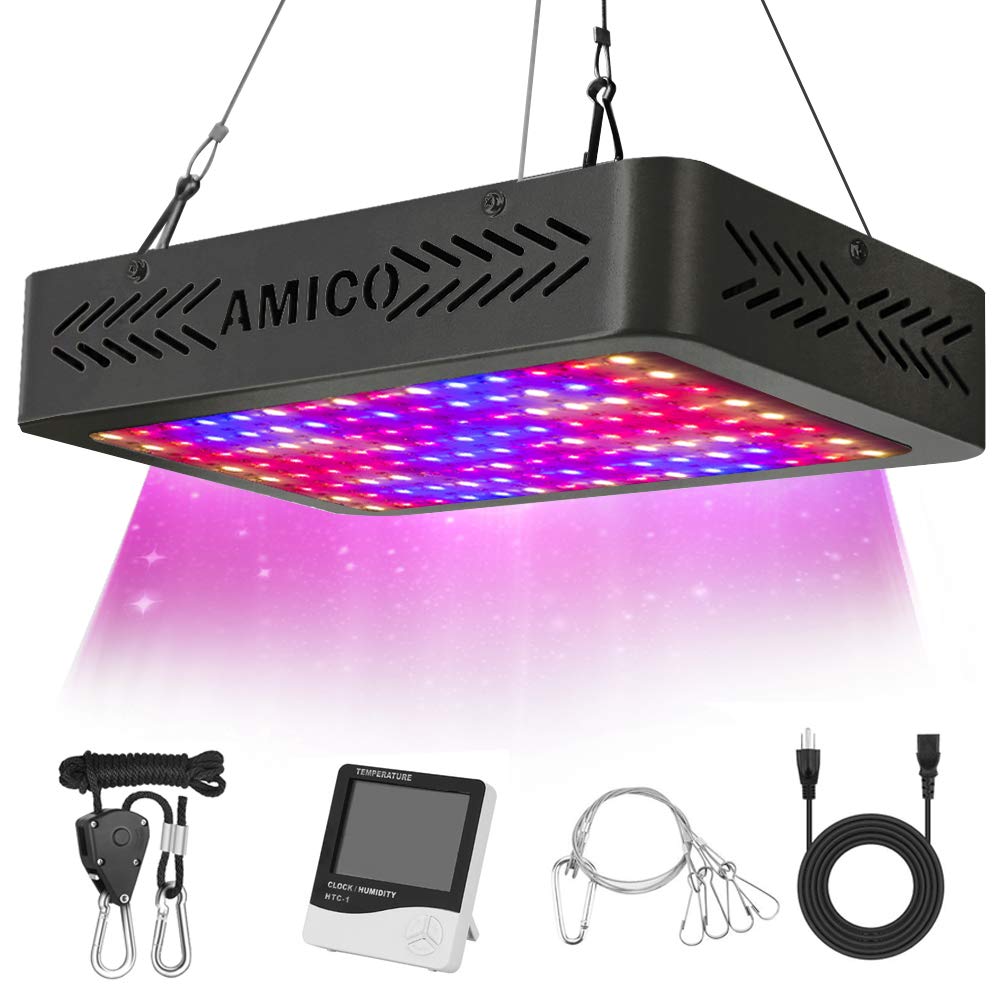 Check the price of the Amico 1200w on Amazon