Save 45% on select product(s) with promo code 45KGVVVR on Amazon.com
One of the factors that nursery caretakers should consider, when ensuring optimum vitality in robust plants and maximum crop yield, is to secure precise soil pH levels. Since accurate readings draw the line between a profound harvest or an absolute failure. Hence, a soil pH tester is an essential tool for any gardener.
Appropriate pH levels permit the healthy uptake of nutrients. Simultaneously, it helps you in determining regions that are suitable for certain types of plants.
What do you need to know about soil pH testers?
One can either utilize the Slurry pH testing method or the Direct Soil pH testing technique. Furthermore, there are three different types of soil pH testers to consider. The list includes indicator test strips, electronic meters, and chemical colored dyes.
All follow a similar processing method of soil submersion in either water or a buffer solution. The sample is then tested for results. While others may use probes or kits in the case of indoor plants.
What is soil pH level and why does it matter?
Soil pH levels also referred to as soil reaction. They usually assist in gauging soil chemical properties like alkalinity and acidity. The measurements of which are recorded in pH units.
More precisely, it is the negative logarithm of hydrogen-ion concentration in water-based solutions. The variation in pH levels directly impacts the plant's health, which is why it is essential to monitor.
There are times when the soil might need additional supplements like soil pH adjusters or fertilizers, to support plant nourishment. The effect of soil pH is monumental when it comes to the solubility levels of minerals and nutrients. Moreover, the nutrients must dissolve in a soil solution and in acid soils, for a plant to exploit it. The aforementioned are more easily soluble in contrast to alkaline or neutral soils.
Secondly, soil pH also has a correlation to its impact on plant growth seeing as it affects the activity of beneficial organisms. When the soil pH is off, there is a blockage of nutrients such as phosphorus and calcium, from absorption.
Bacteria that are rendered useless in strong acid soils break down organic soil matter. Inadvertently, organic matter accumulates and nutrients like nitrogen undergo restriction from nourishing the plants.
What to look for in a soil pH tester?
Soil pH testing choices all boil down to three core considerations. How often do you intend to test samples? How much you are willing to shell out financially? And what is the level of expertise you possess to use the gadget?
There are several elements to look for in a pH soil tester. One of them includes how accurate the measurement of your tool is (i.e. does it provide a complete scale).
For the novice or nonchalant users, contemplate the level of easy to usability. Think about whether the product has multi-usable features, e.g. determining moisture levels, contamination levels or light levels.
Also, look for a probe depth of at least 2 inches.
The pH soil tester must report pH levels between one and fourteen. Moreover, it should be able to portray temperature readings.
Also, it must have a feature to test soil conductivity by measuring pre-existing fertilizer quantity by looking at the total dissolved solids in soil and nutrient presence in soil via electrical conductivity.
How accurate are soil pH testers?
For those interested in a rough estimate of soil acidity solely for the gardening purpose; test strips and dyes are convenient and easy-to-use.
For on-point readings, one should check out electronic meters since they register readings to the nearest decimal point. However, these are expensive tools. They also help in evaluating how to increase soil pH via soil additives, because the sensitivity of the gadget prevents any possibility of over acidifying your garden.
These at-home instruments provide fast and accurate readings of soil pH. Moreover, they provide notifications if your soil is of low, normal, medium or high ranges of pH.
It is particularly important to note that multiple tests calculating the mean/average pH, calibration of meters using buffer solutions, and sterilization of equipment often will prove to be your best shot at obtaining the most authentic output.
This video shows how it easy it can be to test your soil's pH level using a soil pH tester.
When using electronic pH meters, insertion of the attached probe into a soil-water mixture generates pH onto the display. They normally even produce absorption, light intensity, as well as moisture levels and are very precise.
For those on a budget, chemical dye soil pH tester kits allow you to perform several tests. However, the presence of pesticides and some plant foods can corrupt the kit's precision. Strip tests in comparison to all the above are the cheapest and easiest to use.
5+ Best Soil pH Tester Reviews
KETOTEK Digital pH Meter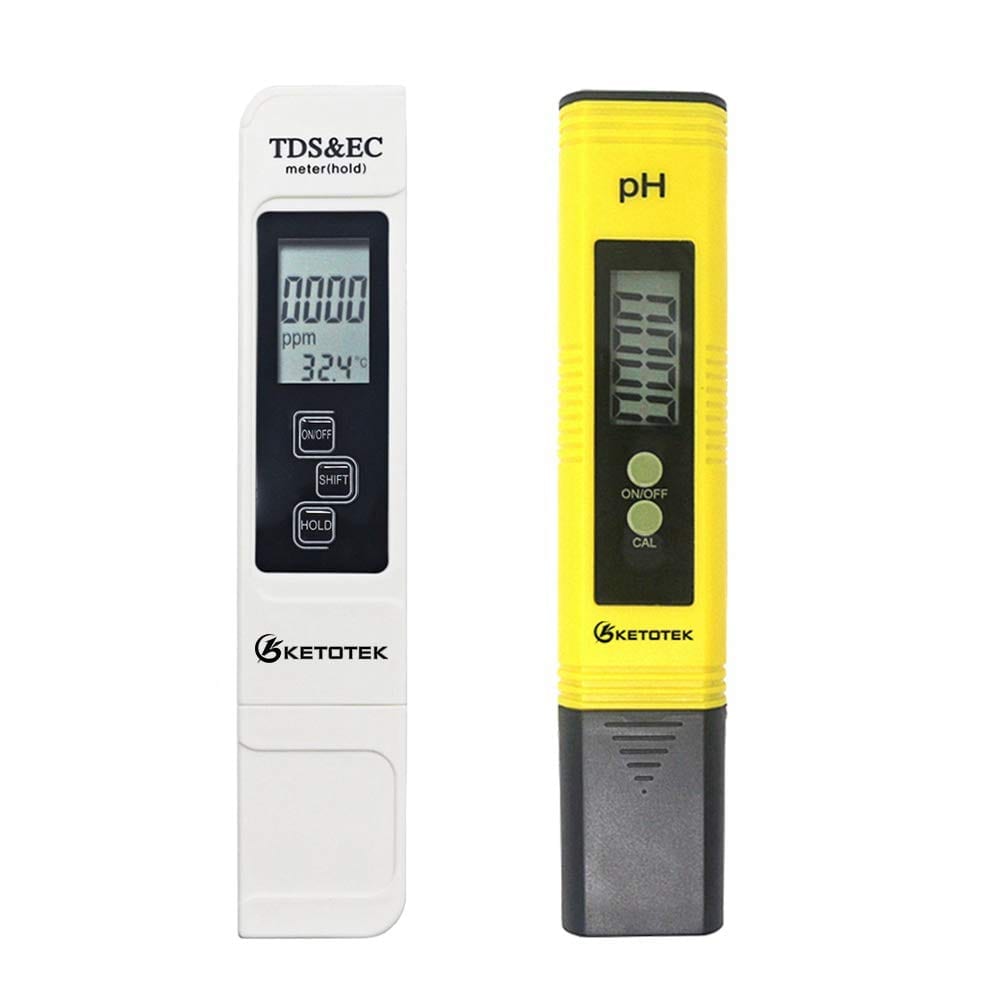 One of the best pH soil testers to ponder over is the KETOTEK digital pH meter. With an astounding 98% approval rate this is one is a must-have when it comes to measuring the pH level for grow rooms, aquariums, drinking water, swimming pools, wine etc.
It comes equipped with a carrying case, two calibration packets, a user manual, battery case, LCD Display, auto calibration button, protection cap, and a responsive glass probe.
The specs list includes a resolution of 0.01PH, +/- accuracy of 0.01PH. Additionally, it measures a range of 0.00-14.00PH. It operates at temperatures of 0-60C/ 32-140F and is secured by a 12-month warranty with a 12-hour customer service response facility.
Pros
Hassle free operating with a simple, single-handed On/Off button.
Ease of calibration by the simple press of CAL button after immersion of probe
Fewer interfering add on specs
Compact construction – lightweight, portable and convenient tool
High levels of reported accuracy and a diverse range of application
Automatic Temperature Compensation measures temperature and pH simultaneously, automatically calculating to correct for differences
Inexpensive
Cons
Product lifespan limited
Several fluctuations in measurements have been reported
You may need more than one meter to cross-check for accurate readings
MTB 3-in-1 Soil Tester Kit
This garden tool is a handy addition to your collection when you feel the need to check pH levels and make water and light adjustments.
This 3-way analyzer comes in packs of two green and yellow. It caters to both, indoor as well as outdoor plant maintenance.
It functions as analyzer detector, a moisture meter, and light and pH acidity tester meter. However, it is only designed for testing soil, not for liquids of any sort.
Pros
Budget friendly and cost saving as it performs 3 tasks
Does not require batteries
Only one button to switch between testers; user-friendly
Small, portable, convenient and durable
Free shipment
Cons
For strict plant lifestyles or regimes, it isn't the most accurate option
Diiker Soil pH Test Kit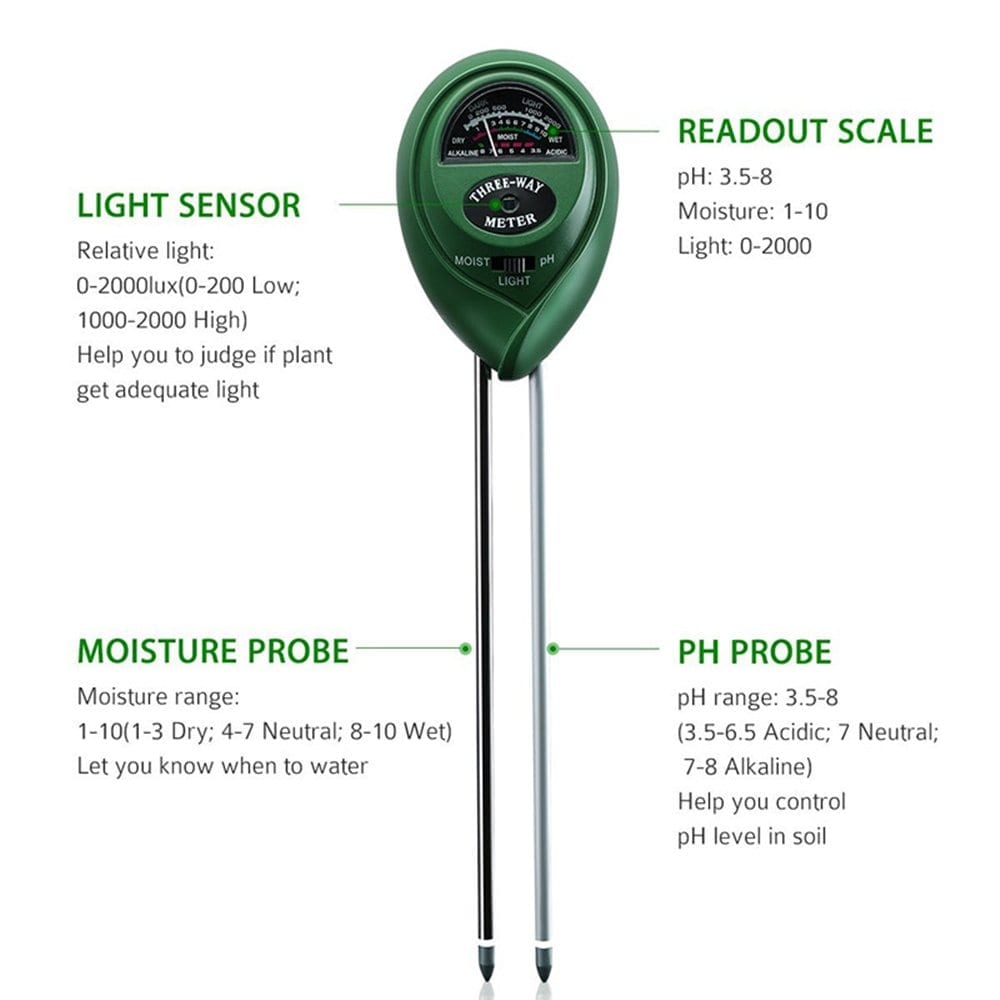 For a blossoming garden, a recommended instrument is the Diiker Soil pH Test Kit. It features a read-out scale that measures pH between 3.5-8, moisture levels of 1-10 and light intensities of 0-1000.
Furthermore, the moisture probe (humidity determinant) provides you with a range (1-10) of figures to guide your watering habits with 1-3 being dry, 4-7 being neutral and 8-10 being wet.
The pH probe highlights 3.5-6.5 as acidic levels, 7 as neutral and 7-8 as alkaline. For adequate light judgment, it reports through the light sensor, 0-200 as too low, 1000-200 as too high.
This is a simple tool that does three things at once. It is, however, not very accurate in doing these separate measurements. A dedicated device for each is something we always recommend.
Pros
Does not need a battery
Can be used indoors and outdoors
High scientific accuracy reports
Packaging includes garden genies gloves with claws for protection and random free gifts
Lightweight, transportable and worthwhile
Unconditional refund and resend policy
90-day warranty
Cons
10-minute wait to get reading – comparatively slower than other instruments on this list
Must fully immerse the probe to get any reading
Diiker Direct is the only seller (both pro and con)
HDE Hydroponic Grow Kit Soil Light Sensor + TDS ppm Test pen + pH Meter Digital Monitor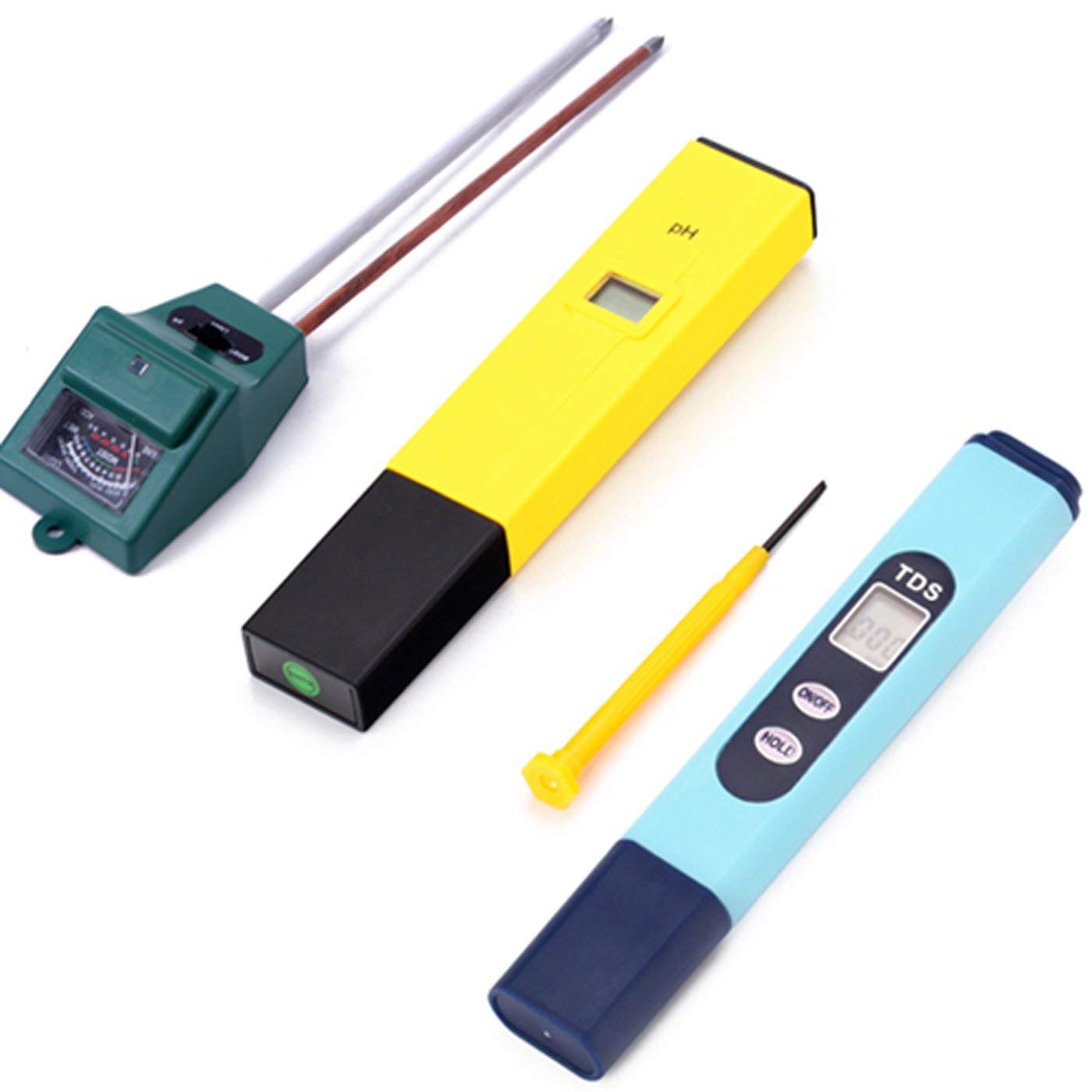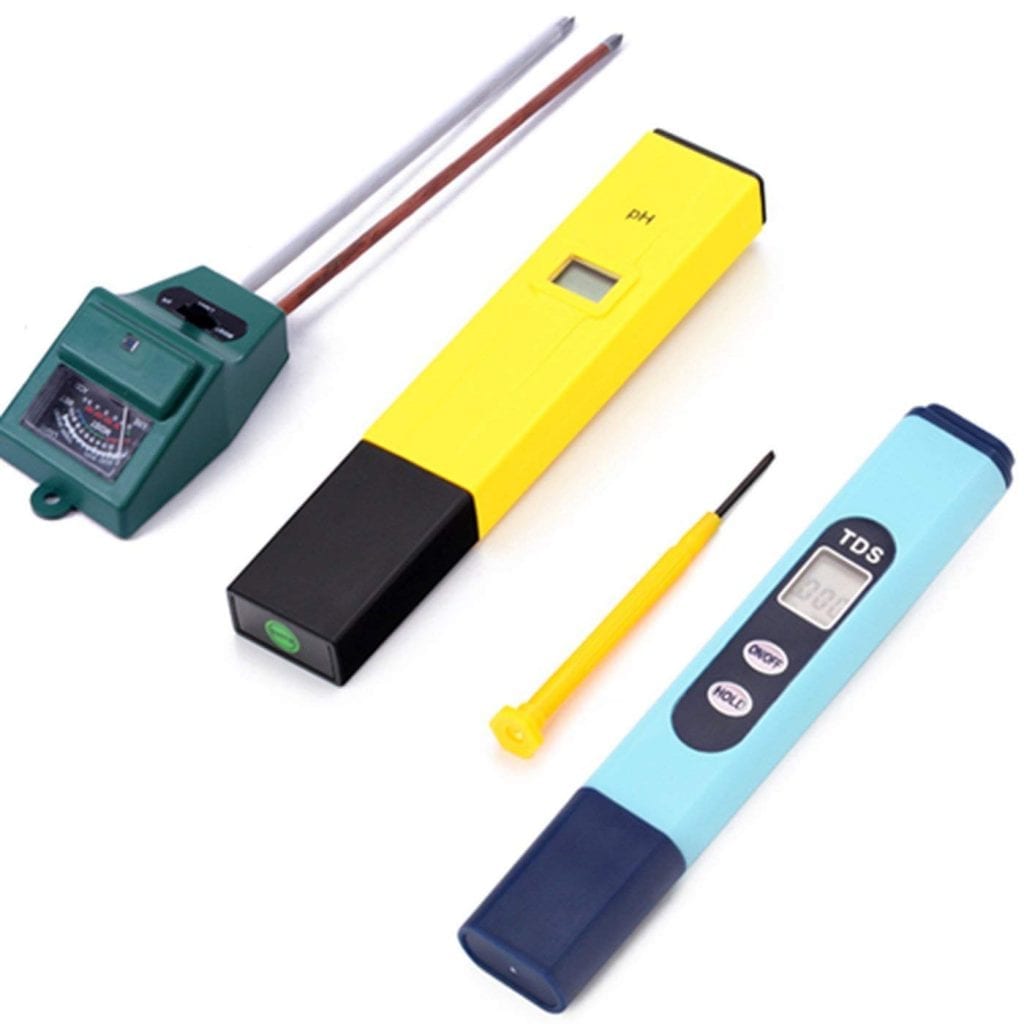 A definitive inclusion to the list of best soil pH tester would be HDE Hydroponics. To begin with, it's a three-in-one tool meter of water, soil and light. Also, it includes the HDE Digital Total Dissolved Solids which is the tester of water purity and quality.
Taking their cue from the root level up, the probes can assess pH soil levels as well as moisture levels. Thus, aiding in the decision of where to position your shrubberies.
All you need to do is put it in the soil, adjust settings and check the scale.
Furthermore, it constitutes a probe length of 18cm. The TDS tester measures 0-9990 parts per million and for measurements exceeding 999ppm, the LED indicator flares ten times. It also has a temperature range of 0-80 C/ 32-176F.
Pros
Straightforward operating rules
Detailed pH-chart provided with appropriate plants labeled
No batteries required
Cost-effective tool to measure water salinity
Hydroponics system well supported for beginners
Cons
pH meter only reports if the sample is slightly acidic or basic
Limited instructions are available
PPM meter tricky to adjust
Calibration liquids not included
Limited water protection in pH meter
Atree Soil pH Meter 3-in-1 soil tester kit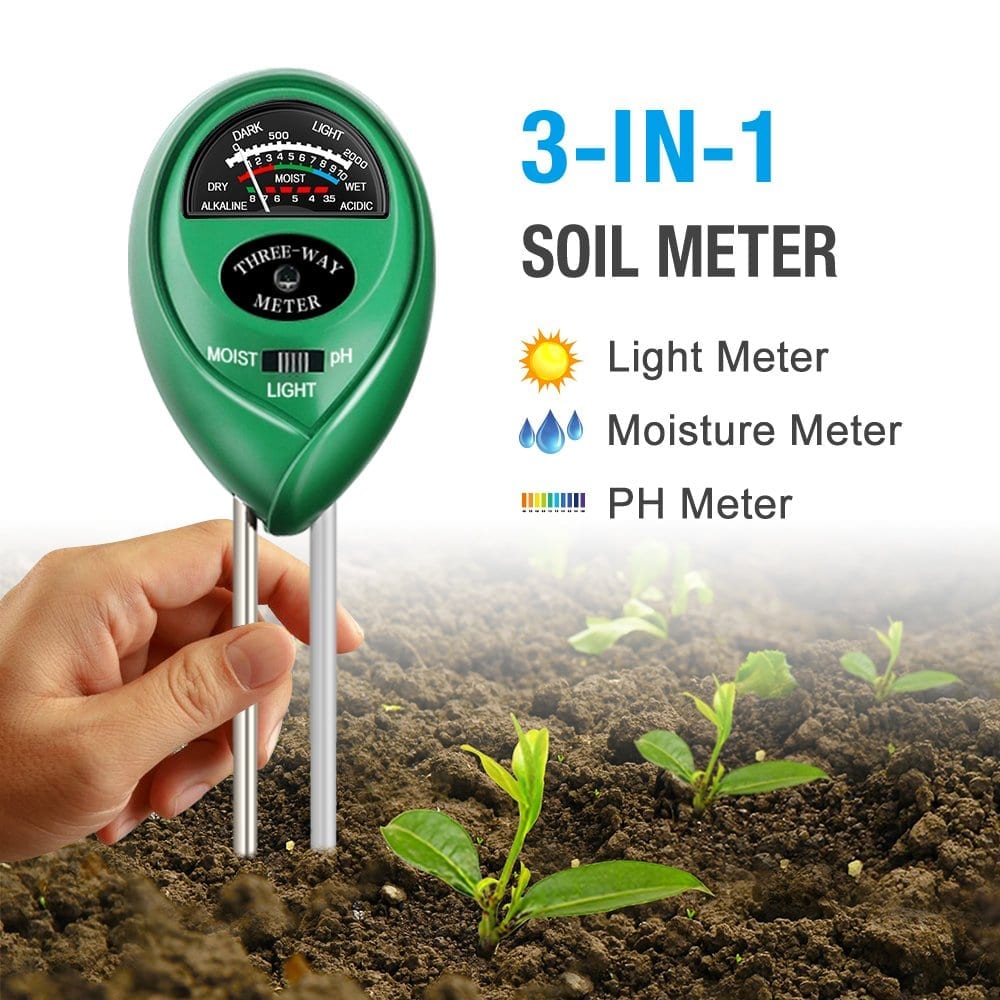 Multi-tasking gardening aficionados will especially appreciate this inexpensive yet effective buy.
In brief, it brings a moisture test, light test, and pH test to the table. Moreover, it's like others on the list; it reports via the readout scale.
The pH tester reports relative light intensities from 0-2000 LUX, has a moisture sensor that denotes red (1-3) as dry, green (4-7) as moist and blue (8-10) as wet, and a pH sensor that depicts red as acidic (3.5-7) and green as neutral/ alkaline (7-8pH).
Pros
Highly sensitive probe reports on the dot accuracy of soil values
No battery, electricity or charge of any sort needed
Versatile multipurpose of sunlight intensity, pH level, and soil moisture evaluation.
Can function even when inserted at 2 inches
Tiny, easily transported and uncomplicated
Constructed with sturdy material making it resilient
Cons
Requires a waiting period of at least 15-20 minutes
Analog dial is difficult to decipher
Vivosun Soil Tester 3-in-1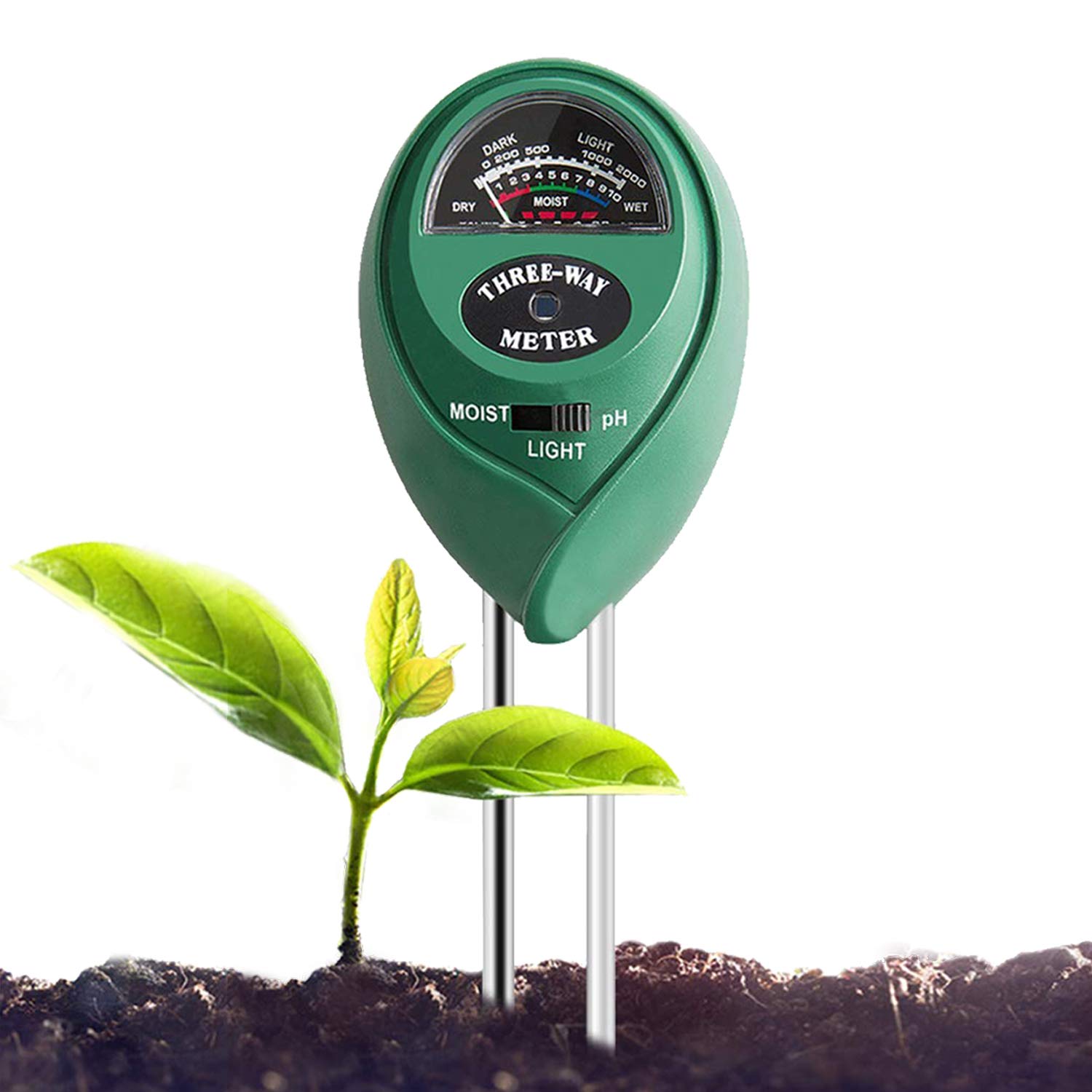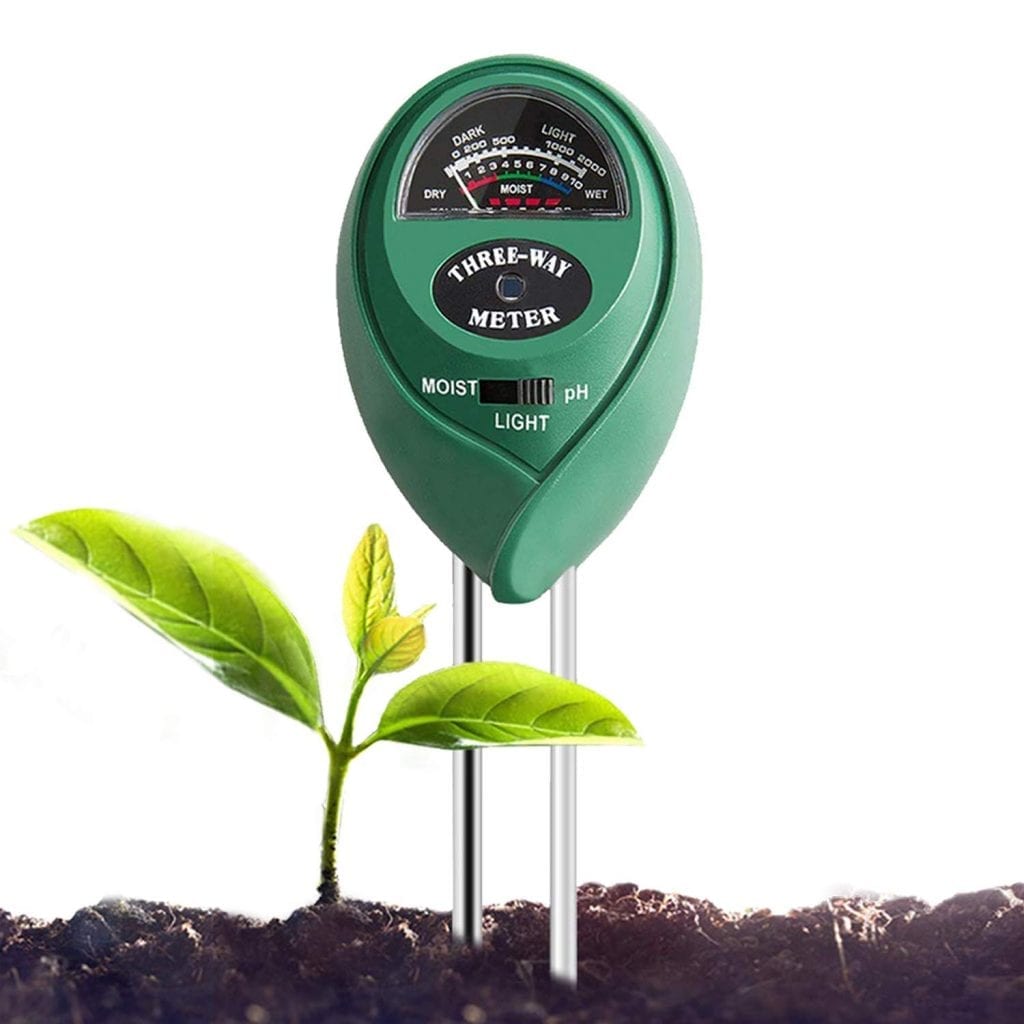 Generally, this combo package is a worthy selection for those who have an interest in dabbling in multiple variables when it comes to testing their soil.
This tester provides analyses for both, hardier outdoor plants as well as heavy-duty indoor plants. It is also armed with photometry, humidity analyzer, and pH value assessor.
Additionally, it's primarily manufactured for soil testing and not fluids. For plant admirers with or without experience, it shines a guiding halo over whether adequate light is being provided, when to water and the pH level control.
It has a complete measure range of 0-14 pH, a 0.01pH resolution, an accuracy of 0.05 pH, TDS measurement of 0-9990 ppm, 1.0-80C/ 32-176F temperature gauge and 2% accuracy.
Pros
High-quality standard controls applied
Easy functioning
Constructed to be carried around, strong and manageable
Cons
Need to double check moisture readings
Prongs reportedly sensitive to breaking
Conclusion on The Best Soil pH Tester Reviews
Soil pH levels can be disturbed by numerous external variables such as temperature, climate, weather, region etc. So, in this case, it is crucial to enlist the assistance of a soil pH testing device.
Therefore, remember to obtain a device with a minimal margin of error (+/-0.3) and good range, highly accurate and reliable, a non-constraining power source and high calibration and control.
Hence, by stabilizing pH levels you are guaranteeing plant well-being and possible pest removal. This is just one of the essential variables you need to control in your grow room for optimal plant growth.
Further Reading
Are you interested in other grow tools for your grow room? Check out our lists on the best PAR light meters, carbon filters, CO2 regulators, bud trimmers and grow tents.
Looking for LED grow lights? We reviewed almost every LED grow light on the market. Check out our well compiled lists containing the best LED grow lights in every category. We even made a list of the best COB LED grow lights.
Summary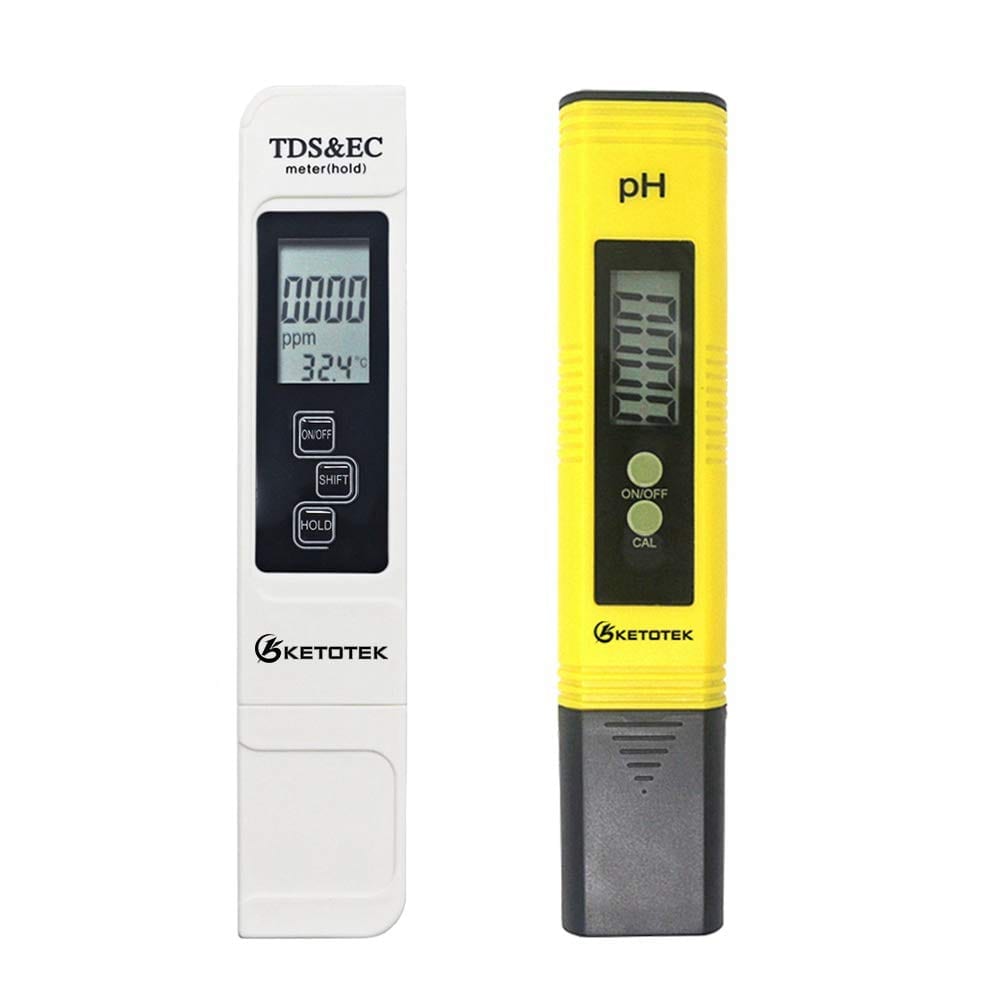 Article Name
Description
If you want to control your grow environment, a good pH level of your soil is essential for you plants to grow to its potential. A pH tester helps you in gaining maximum control in your grow room. This article provides the best pH tester reviews.
Author
Publisher Name
Publisher Logo