One of the factors that nursery caretakers should consider, when ensuring optimum vitality in robust plants and maximum crop yield, is to secure precise soil pH levels. Since accurate readings draw the line between a profound harvest or an absolute failure. Hence, a soil pH tester is an essential tool for any gardener.
Appropriate pH levels permit the healthy uptake of nutrients. Simultaneously, it helps you in determining regions that are suitable for certain types of plants. 
What do you need to know about soil pH testers?
One can either utilize the Slurry pH testing method or the Direct Soil pH testing technique. Furthermore, there are three different types of soil pH testers to consider. The list includes indicator test strips, electronic meters, and chemical colored dyes.
All follow a similar processing method of soil submersion in either water or a buffer solution. The sample is then tested for results. While others may use probes or kits in the case of indoor plants.
What is soil pH level and why does it matter?
Soil pH levels also referred to as soil reaction. They usually assist in gauging soil chemical properties like alkalinity and acidity. The measurements of which are recorded in pH units.
More precisely, it is the negative logarithm of hydrogen-ion concentration in water-based solutions. The variation in pH levels directly impacts the plant's health, which is why it is essential to monitor.
There are times when the soil might need additional supplements like soil pH adjusters or fertilizers, to support plant nourishment. The effect of soil pH is monumental when it comes to the solubility levels of minerals and nutrients. Moreover, the nutrients must dissolve in a soil solution and in acid soils, for a plant to exploit it. The aforementioned are more easily soluble in contrast to alkaline or neutral soils.
Secondly, soil pH also has a correlation to its impact on plant growth seeing as it affects the activity of beneficial organisms. When the soil pH is off, there is a blockage of nutrients such as phosphorus and calcium, from absorption.
Bacteria that are rendered useless in strong acid soils break down organic soil matter. Inadvertently, organic matter accumulates and nutrients like nitrogen undergo restriction from nourishing the plants.
What to look for in a soil pH tester?
Soil pH testing choices all boil down to three core considerations. How often do you intend to test samples? How much you are willing to shell out financially? And what is the level of expertise you possess to use the gadget?
There are several elements to look for in a pH soil tester. One of them includes how accurate the measurement of your tool is (i.e. does it provide a complete scale).
For the novice or nonchalant users, contemplate the level of easy to usability. Think about whether the product has multi-usable features, e.g. determining moisture levels, contamination levels or light levels.
Also, look for a probe depth of at least 2 inches.
The pH soil tester must report pH levels between one and fourteen. Moreover, it should be able to portray temperature readings.
Also, it must have a feature to test soil conductivity by measuring pre-existing fertilizer quantity by looking at the total dissolved solids in soil and nutrient presence in soil via electrical conductivity.
How accurate are soil pH testers?
For those interested in a rough estimate of soil acidity solely for the gardening purpose; test strips and dyes are convenient and easy-to-use.
For on-point readings, one should check out electronic meters since they register readings to the nearest decimal point. However, these are expensive tools. They also help in evaluating how to increase soil pH via soil additives, because the sensitivity of the gadget prevents any possibility of over acidifying your garden.
These at-home instruments provide fast and accurate readings of soil pH. Moreover, they provide notifications if your soil is of low, normal, medium or high ranges of pH.
It is particularly important to note that multiple tests calculating the mean/average pH, calibration of meters using buffer solutions, and sterilization of equipment often will prove to be your best shot at obtaining the most authentic output.
This video shows how it easy it can be to test your soil's pH level using a soil pH tester.
When using electronic pH meters, insertion of the attached probe into a soil-water mixture generates pH onto the display. They normally even produce absorption, light intensity, as well as moisture levels and are very precise.
For those on a budget, chemical dye soil pH tester kits allow you to perform several tests. However, the presence of pesticides and some plant foods can corrupt the kit's precision. Strip tests in comparison to all the above are the cheapest and easiest to use.
| Product | | |
| --- | --- | --- |
| KETOTEK Digital pH Meter | | |
| MTB 3-in-1 soil pH tester | | |
| Diiker Soil pH Test Kit | | |
| HDE Hydroponic Grow Kit | | |
| Atree Soil pH Meter 3-in-1 soil tester kit | | |
| Vivosun Soil Tester 3-in-1 | | |
| Hanna GroLine Direct Soil and Soilless Media pH Electrode | | |
| Bluelab pH & PPM Complete Starter Kit | | |
| Hanna pH Checker Complete Starter Kit | | |
| Bluelab Soil pH Pen Meter | | |
| Milwaukee pH Tester Model PH600 | | |
5+ Best Soil pH Tester Reviews
KETOTEK Digital pH Meter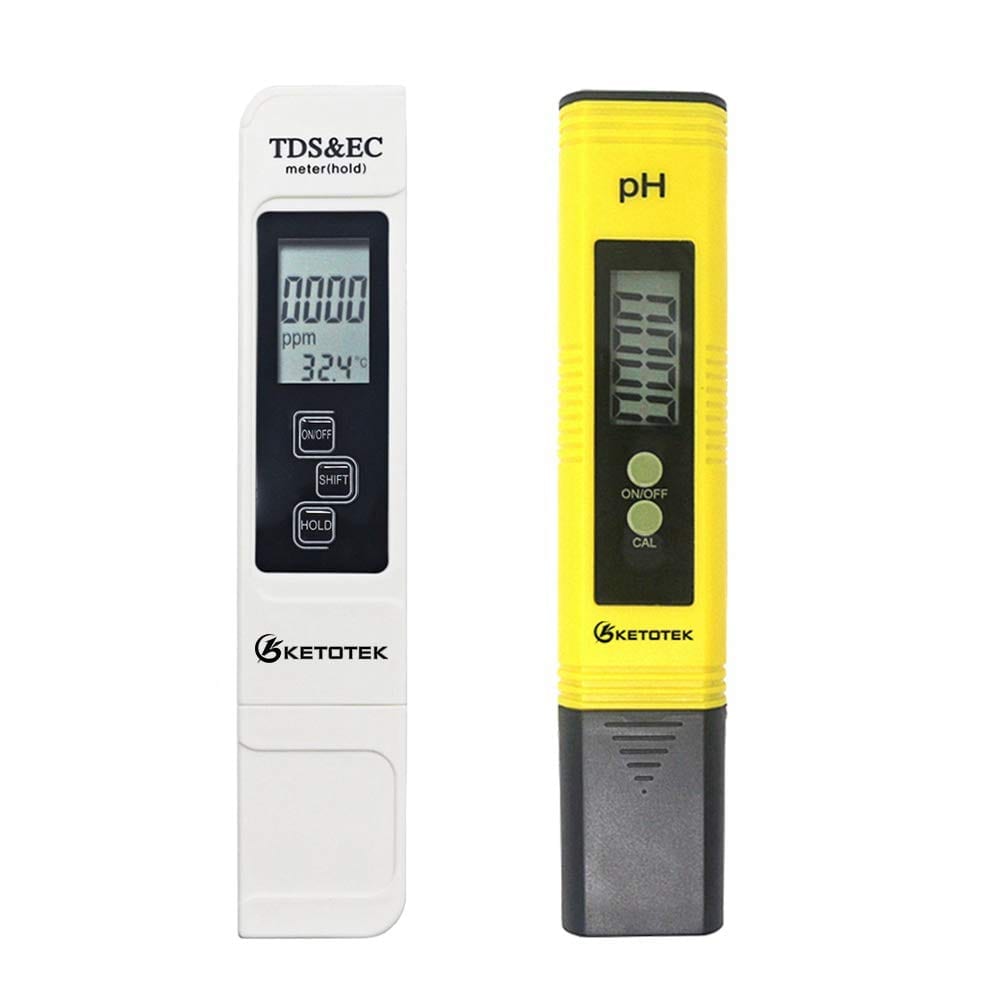 One of the best pH soil testers to ponder over is the KETOTEK digital pH meter. With an astounding 98% approval rate this is one is a must-have when it comes to measuring the pH level for grow rooms, aquariums, drinking water, swimming pools, wine etc.
It comes equipped with a carrying case, two calibration packets, a user manual, battery case, LCD Display, auto calibration button, protection cap, and a responsive glass probe.
The specs list includes a resolution of 0.01PH, +/- accuracy of 0.01PH. Additionally, it measures a range of 0.00-14.00PH. It operates at temperatures of 0-60C/ 32-140F and is secured by a 12-month warranty with a 12-hour customer service response facility.
Pros
Hassle free operating with a simple, single-handed On/Off button. 
Ease of calibration by the simple press of CAL button after immersion of probe
Fewer interfering add on specs
Compact construction – lightweight, portable and convenient tool
High levels of reported accuracy and a diverse range of application
Automatic Temperature Compensation measures temperature and pH simultaneously, automatically calculating to correct for differences
Inexpensive
Cons
Product lifespan limited
Several fluctuations in measurements have been reported
You may need more than one meter to cross-check for accurate readings
MTB 3-in-1 Soil Tester Kit
This garden tool is a handy addition to your collection when you feel the need to check pH levels and make water and light adjustments.
This 3-way analyzer comes in packs of two green and yellow. It caters to both, indoor as well as outdoor plant maintenance.
It functions as analyzer detector, a moisture meter, and light and pH acidity tester meter. However, it is only designed for testing soil, not for liquids of any sort.
Pros
Budget friendly and cost saving as it performs 3 tasks
Does not require batteries
Only one button to switch between testers; user-friendly
Small, portable, convenient and durable
Free shipment
Cons
For strict plant lifestyles or regimes, it isn't the most accurate optio
Diiker Soil pH Test Kit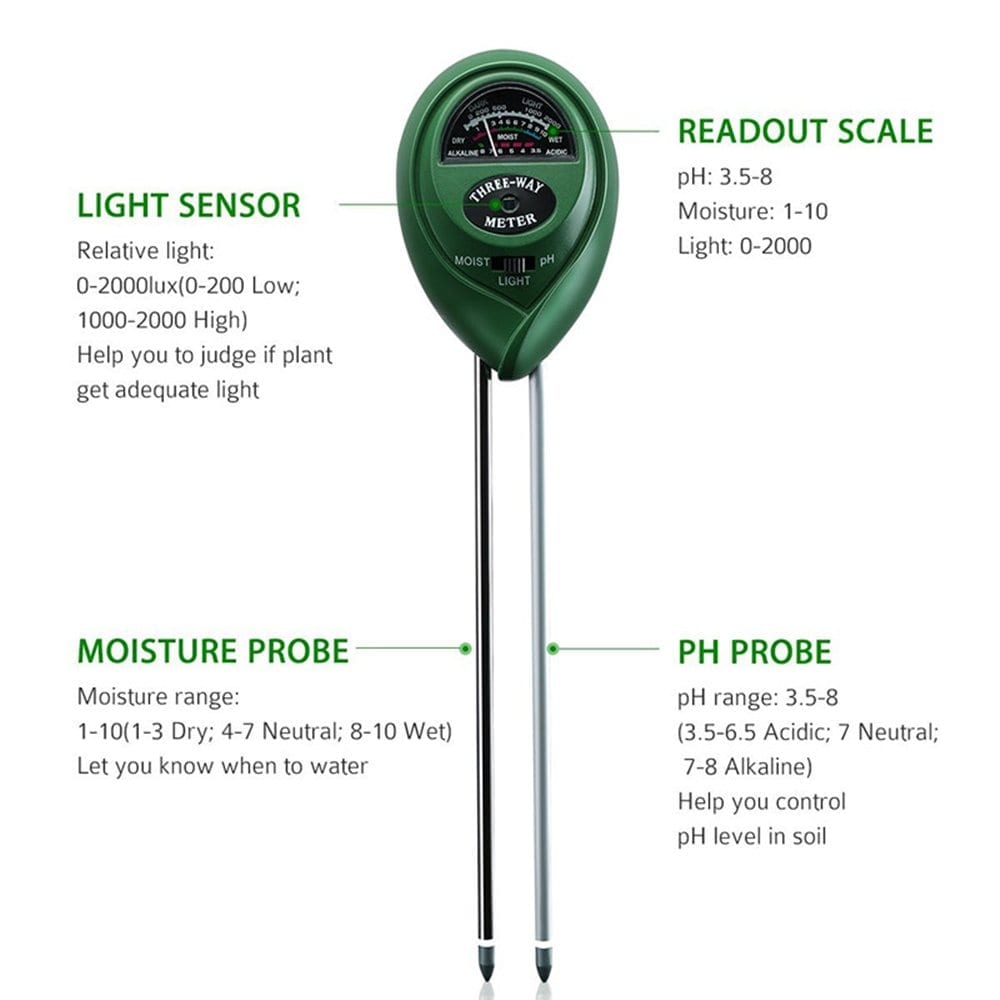 For a blossoming garden, a recommended instrument is the Diiker Soil pH Test Kit. It features a read-out scale that measures pH between 3.5-8, moisture levels of 1-10 and light intensities of 0-1000.
Furthermore, the moisture probe (humidity determinant) provides you with a range (1-10) of figures to guide your watering habits with 1-3 being dry, 4-7 being neutral and 8-10 being wet.
The pH probe highlights 3.5-6.5 as acidic levels, 7 as neutral and 7-8 as alkaline. For adequate light judgment, it reports through the light sensor, 0-200 as too low, 1000-200 as too high.
This is a simple tool that does three things at once. It is, however, not very accurate in doing these separate measurements. A dedicated device for each is something we always recommend.
Pros
Does not need a battery
Can be used indoors and outdoors
High scientific accuracy reports
Packaging includes garden genies gloves with claws for protection and random free gifts
Lightweight, transportable and worthwhile
Unconditional refund and resend policy
90-day warranty
Cons
10-minute wait to get reading – comparatively slower than other instruments on this list
Must fully immerse the probe to get any reading
Diiker Direct is the only seller (both pro and con)
HDE Hydroponic Grow Kit Soil Light Sensor + TDS ppm Test pen + pH Meter Digital Monitor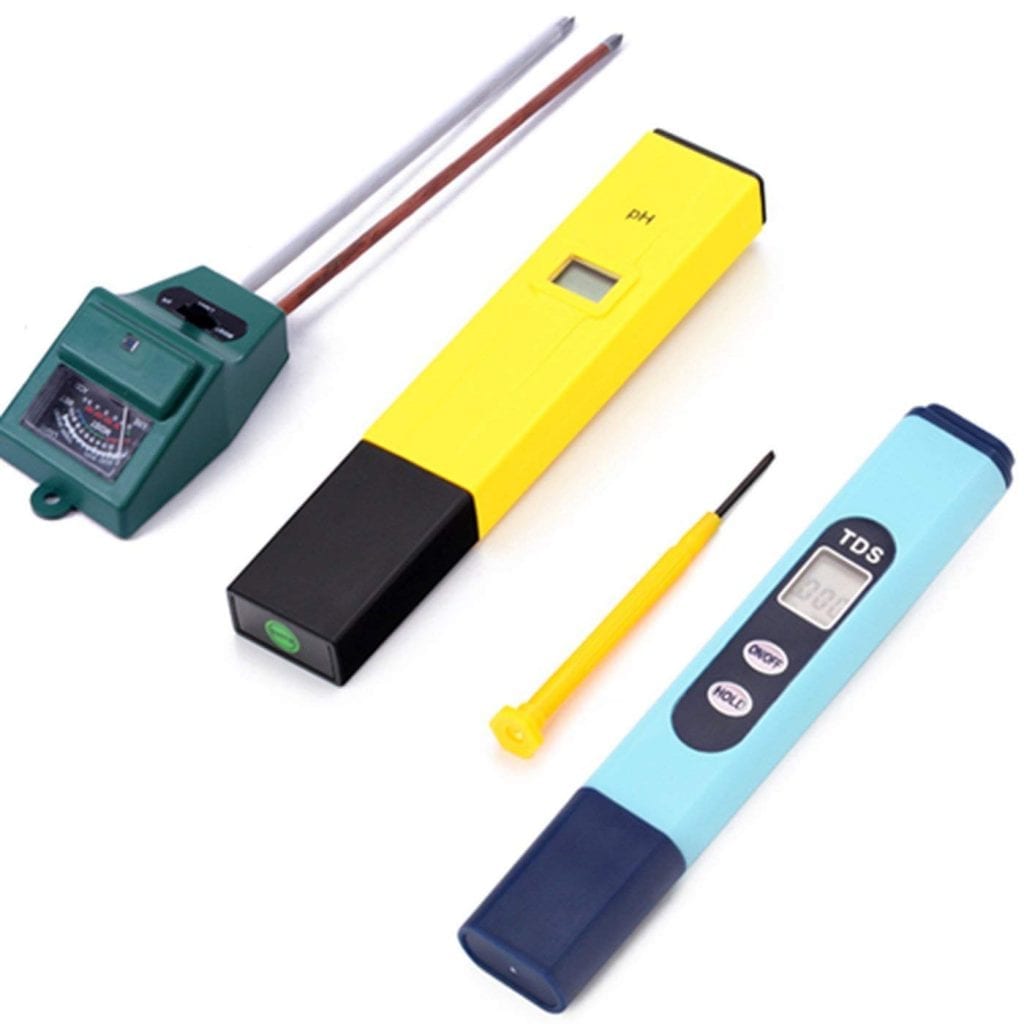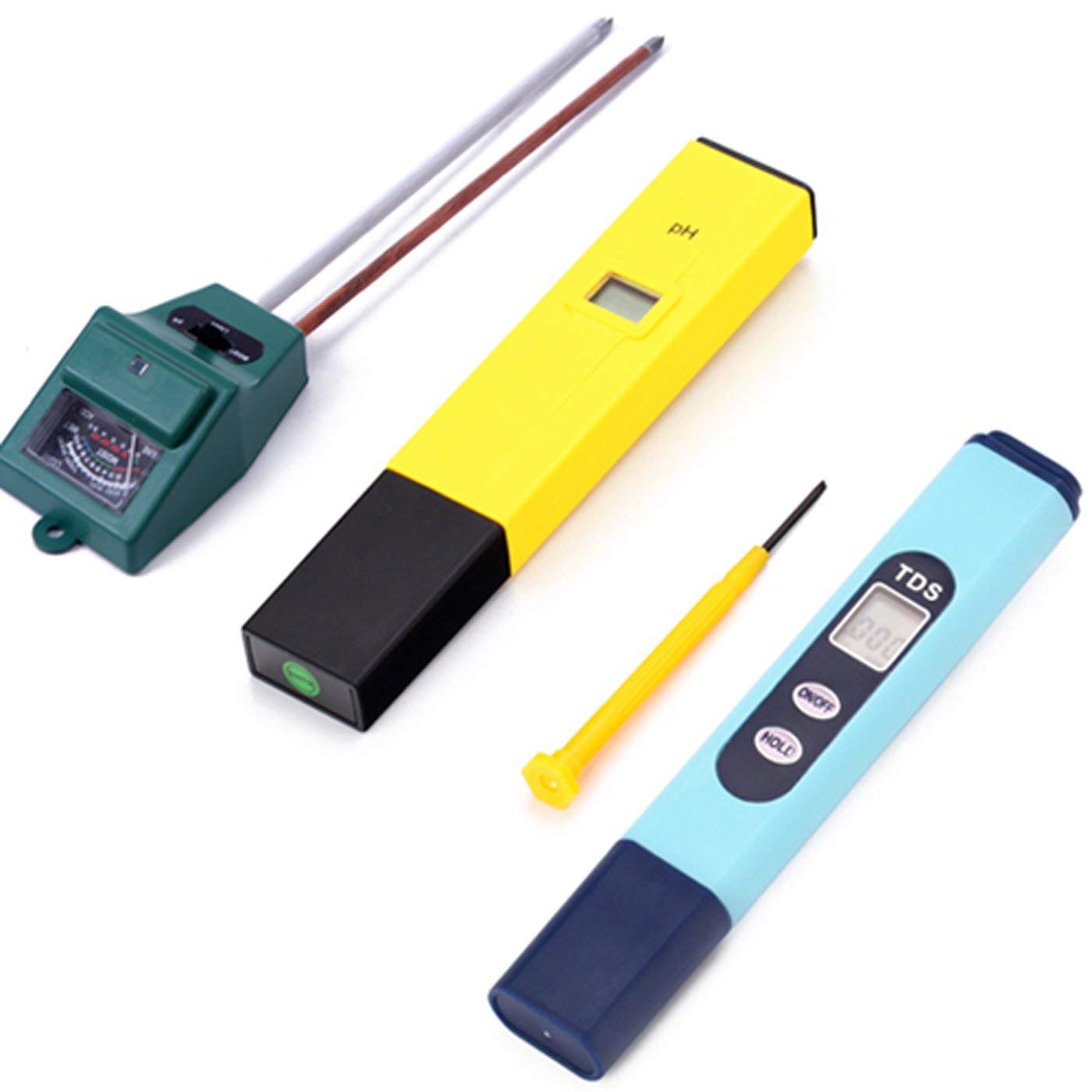 A definitive inclusion to the list of best soil pH tester would be HDE Hydroponics. To begin with, it's a three-in-one tool meter of water, soil and light. Also, it includes the HDE Digital Total Dissolved Solids which is the tester of water purity and quality.
Taking their cue from the root level up, the probes can assess pH soil levels as well as moisture levels. Thus, aiding in the decision of where to position your shrubberies.
All you need to do is put it in the soil, adjust settings and check the scale.
Furthermore, it constitutes a probe length of 18cm. The TDS tester measures 0-9990 parts per million and for measurements exceeding 999ppm, the LED indicator flares ten times. It also has a temperature range of 0-80 C/ 32-176F.
Pros
Straightforward operating rules
Detailed pH-chart provided with appropriate plants labeled
No batteries required
Cost-effective tool to measure water salinity
Hydroponics system well supported for beginners
Cons
pH meter only reports if the sample is slightly acidic or basic
Limited instructions are available
PPM meter tricky to adjust
Calibration liquids not included
Limited water protection in pH meter
Atree Soil pH Meter 3-in-1 soil tester kit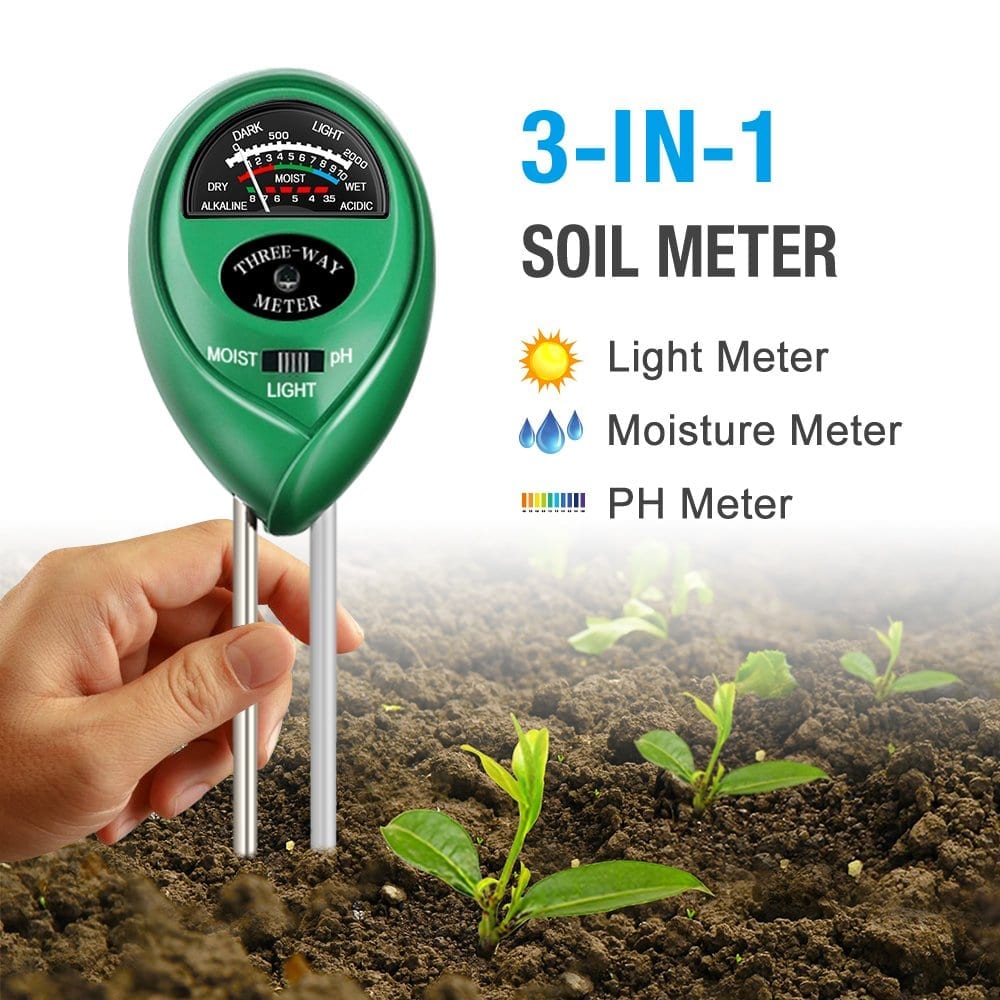 Multi-tasking gardening aficionados will especially appreciate this inexpensive yet effective buy.
In brief, it brings a moisture test, light test, and pH test to the table. Moreover, it's like others on the list; it reports via the readout scale.
The pH tester reports relative light intensities from 0-2000 LUX, has a moisture sensor that denotes red (1-3) as dry, green (4-7) as moist and blue (8-10) as wet, and a pH sensor that depicts red as acidic (3.5-7) and green as neutral/ alkaline (7-8pH).
Pros
Highly sensitive probe reports on the dot accuracy of soil values
No battery, electricity or charge of any sort needed
Versatile multipurpose of sunlight intensity, pH level, and soil moisture evaluation.
Can function even when inserted at 2 inches
Tiny, easily transported and uncomplicated
Constructed with sturdy material making it resilient
Cons
Requires a waiting period of at least 15-20 minutes
Analog dial is difficult to decipher
Vivosun Soil Tester 3-in-1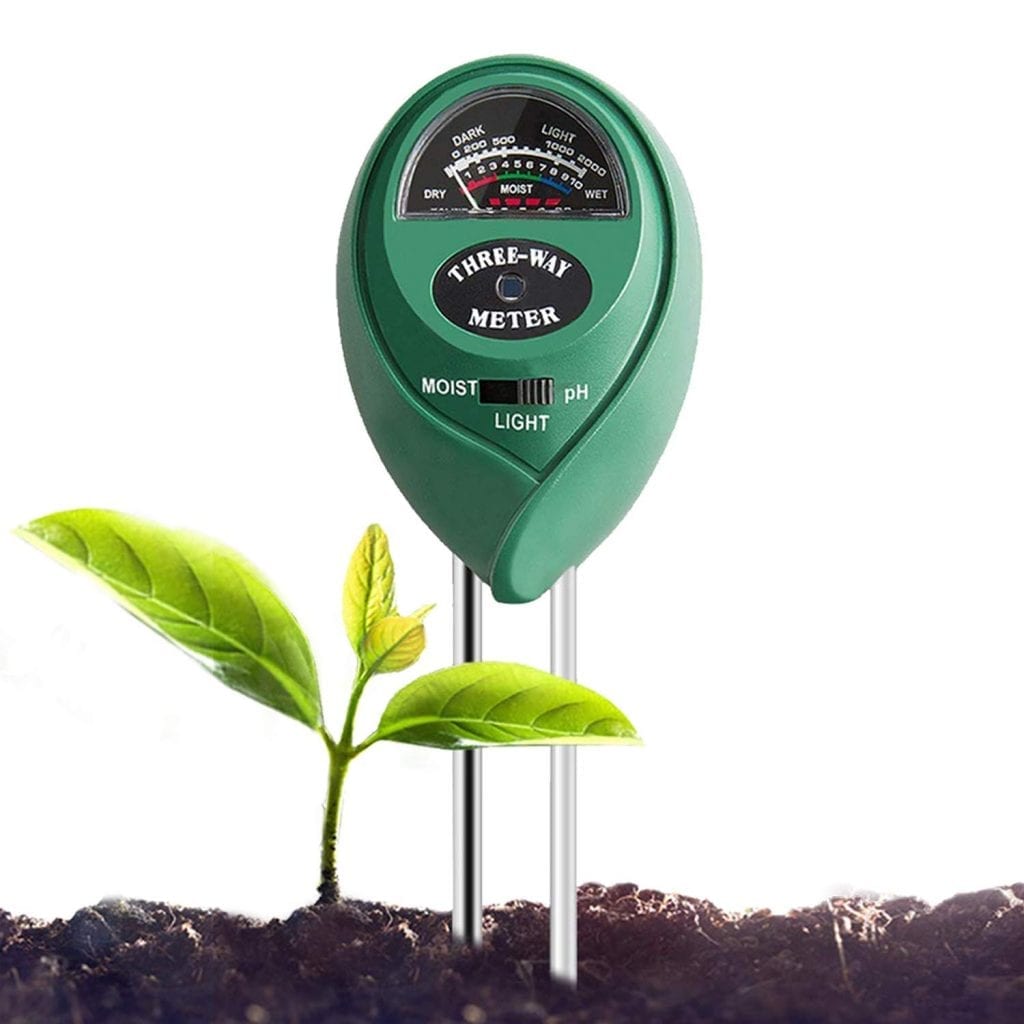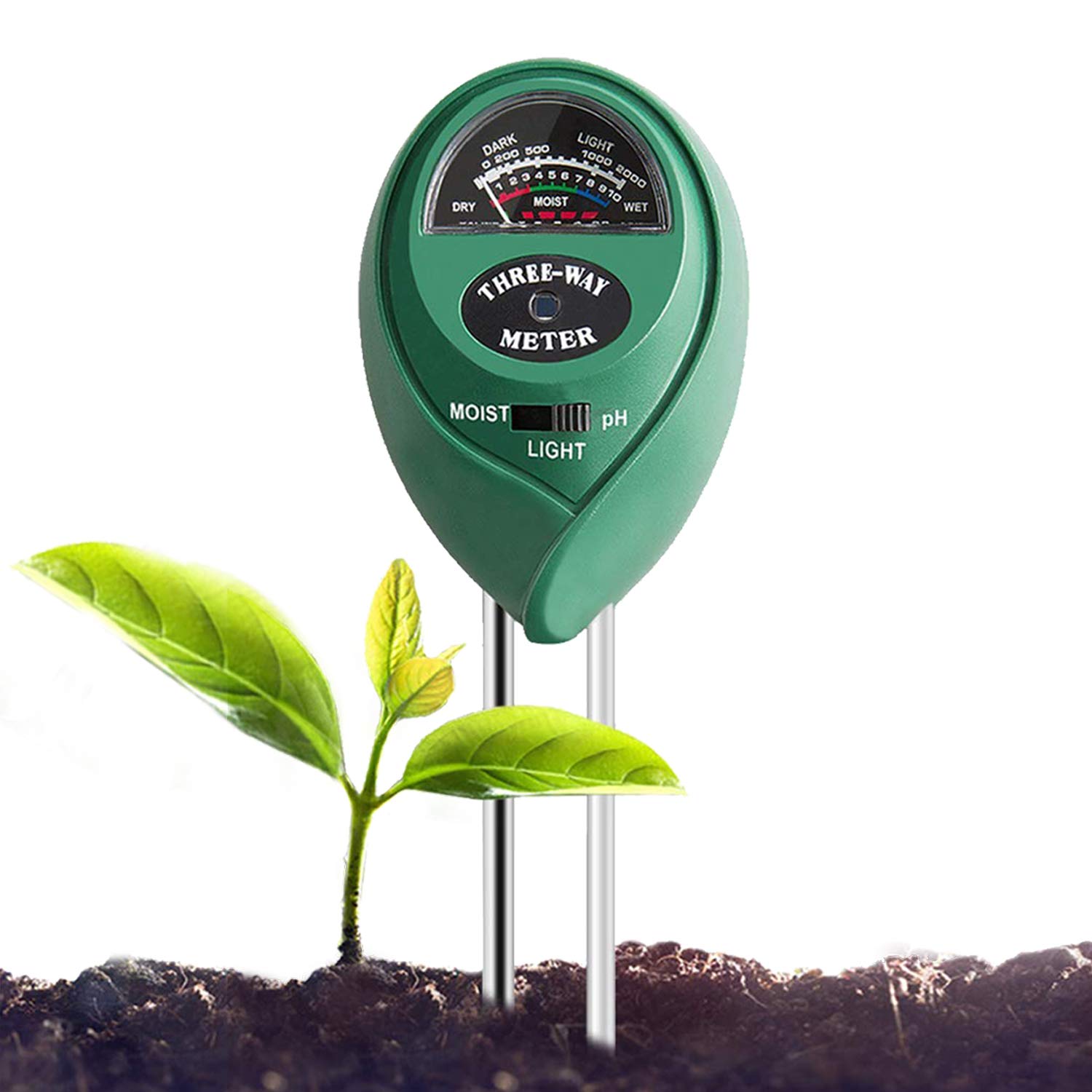 Generally, this combo package is a worthy selection for those who have an interest in dabbling in multiple variables when it comes to testing their soil.
This tester provides analyses for both, hardier outdoor plants as well as heavy-duty indoor plants. It is also armed with photometry, humidity analyzer, and pH value assessor.
Additionally, it's primarily manufactured for soil testing and not fluids. For plant admirers with or without experience, it shines a guiding halo over whether adequate light is being provided, when to water and the pH level control.
It has a complete measure range of 0-14 pH, a 0.01pH resolution, an accuracy of 0.05 pH, TDS measurement of 0-9990 ppm, 1.0-80C/ 32-176F temperature gauge and 2% accuracy.
Pros
High-quality standard controls applied
Easy functioning
Constructed to be carried around, strong and manageable
Cons
Need to double check moisture readings
Prongs reportedly sensitive to breaking
Hanna GroLine Direct Soil and Soilless Media pH Electrode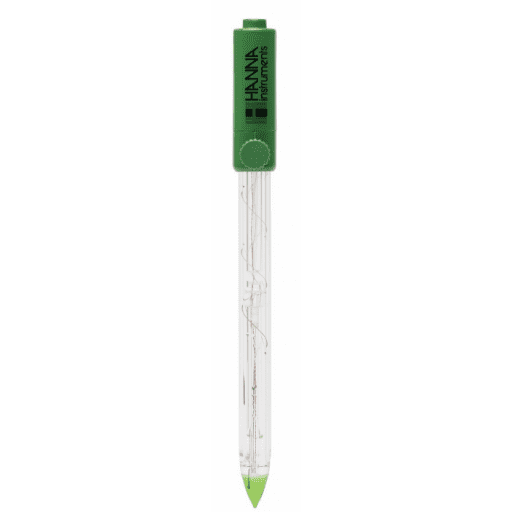 The Soilless Media pH Electrode is designed for use with HI9814 GroLine Tester. It is by far the best electrode by Hanna instruments for many reasons. To start with, you can measure the pH in soil and soilless media directly with this device.
Sounds intriguing? The HI1294D Direct Soil pH Electrode has a single junction pH electrode with a quick connect DIN connector. However, it works only with Hanna's HI9814 Groline portable pH tester.
As for the sharp tip, it penetrates easily into wall emulsions or concrete. In fact, it makes this pH electrode the ideal device for direct pH measurements in soil slurries.
However, the feature that makes this electrode so unique is the use of special LT glass formulation in the glass tip. Moreover, it has a corrosion-resistant glass body.
Furthermore, this device can withstand extreme temperatures and works with samples at -5 to 70C. The Hanna GroLine Direct Soil and Soilless Media pH Electrode has an elegant design for pH measurement. It's compatible with a variety of hydroponic growth media such as coco, rock wool, perlite, and other soilless substrates.
Important features
Glass Body
Low-Temperature Glass Formulation
Triple Ceramic Junction
Conic Bulb
Inbuilt Temperature Sensor
Fast Connect DIN Connector
Pros
The conical-shaped pH sensing tip
Easy cleaning of the glass body
Stable and faster reading
pH probe is refillable
Works perfectly in a pH range of 0-12
Six months of product warranty
Cons
This pH electrode doesn't have a matching pin
Its analog dial is difficult to understand
It is compatible only with HI9814 Groline pH tester
Bluelab pH & PPM Complete Starter Kit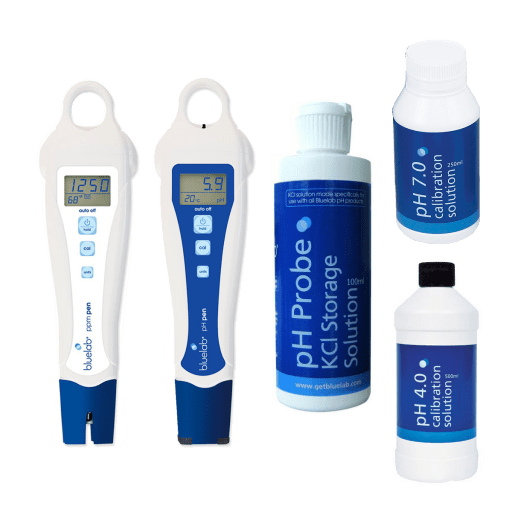 The Bluelab pH & PPM, Complete Starter Kit, includes everything you need to get started. It has impressive pH and PPM pens along with a 100ml pH probe KCl storage solution. However, the outstanding features are the 250 ml calibration solutions for pH four and pH seven.
Apart from that, the Bluelab handheld pH meter gives you the perfect solution to ensure the success of your crops. When used with the Bluelab PPM pen, you get a convenient and accurate system that guarantees the optimum growth of your plants.
Another key point is that the Bluelab PPM pen measures conductivity and allows you to control the quality of your crop. Moreover, the pH probe is meant for Bluelab products only, and it's the best in keeping your products hydrated. Make sure that you store each pen in the pH probe for at least 24 hours every thirty days.
However, the calibration solutions are the most crucial part of a grower's kit. Keeping this in view, Bluelab has manufactured these solutions specific to the calibration process. To obtain accurate readings, you must clean and calibrate the equipment regularly.
Important features
pH and PPM pen combo
Calibration solutions (pH 4.0 and 7.0) included
Backlit LCD
Automatic temperature compensation
Irreplaceable double junction probe
Low battery indicator
Pros
Includes informative manuals
Fully waterproof pH pens
Effective for small scale growers
Completely functional in pH range from zero to fourteen
One-year product warranty
Highly affordable and reliable
Impressive customer support and service
Cons
You may observe a difference in readings 
Calibration may fail over time
Terrible packaging
Hanna pH Checker Complete Starter Kit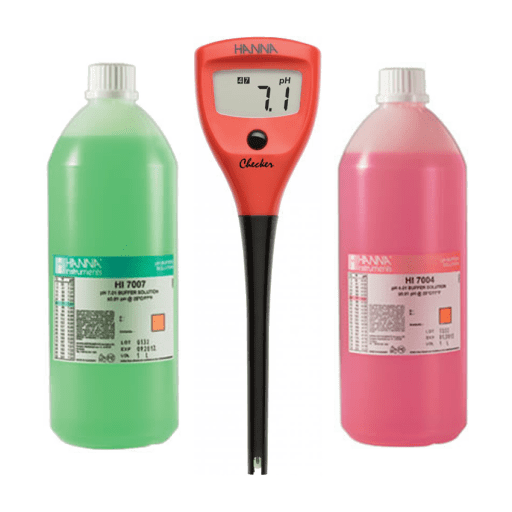 The HI98103 pH Checker is well-known for its extensive use—people from all fields like gardening and research use this pH meter for pH measurements. Over a million of these pH testers have been sold since the start of production in 1991.
Now, you must be thinking why this pH meter is so popular. The reason is that it features an enhanced LCD that displays digital readings, calibration tags, and low battery warning. Not just that, you can also replace the pH electrode easily by unscrewing it from the main body.
Furthermore, the pH Checker Starter Kit includes advanced features such as selectable auto turn-off and automatic calibration up to two points. Not only is it lightweight, fast, and economical, but also it has made testing easier than ever.
All in all, this pocket-size pH meter is the best in the industry, and why not? The resolution for readings by this pH meter is 0.01 pH. Also, it comes with an instrument quality certificate.
Apart from that, you'll get two 20-ml sachets of HI700601 electrode cleaning solution, and a plastic carrying case.
Important features
Includes Hanna 16 oz pH 4 and 7 calibration solutions
Contains HI70004 pH 4.01 and 7.01 buffer solution sachets (4 x 20 mL)
Also includes an instruction manual
Enhanced LCD
Low battery indicator
pH vs. temperature chart included
Pros
Supports automatic buffer recognition
Features automatic shut off
Has a long battery life
pH electrodes are replaceable
Cheap and cost-effective
Convenient, accurate and portable
Cons
pH electrode needs replacement
No product warranty
Bluelab Soil pH Pen Meter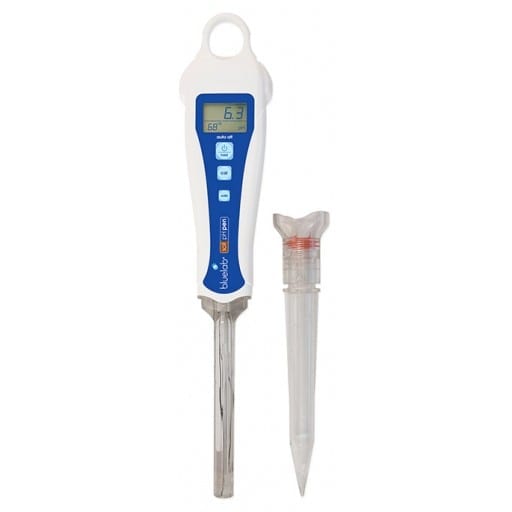 Want to get your hands on the latest handheld pH meter? For accurate pH and temperature readings, you can trust the Bluelab Soil handheld pH pen meter.
Not just that, this efficient pen meter offers valuable insights on your plants in real-time. It gives you an analysis of the nutrients available to your plants. Moreover, you can also measure the pH of solutions with this one.
Isn't this amazing? pH is the main factor that determines the presence of nutrients and microorganisms in your soil. With this pH pen meter, monitoring and adjusting the pH of your land has become quicker and easier, hasn't it? You can adjust the pH for optimum growth of your plants.
For temperature compensated readings, it further includes a built-in temperature sensor and an integrated amplifier. And guess what? This device comes at an unbeatable price in the market, plus there are no shipping charges either.
Simply put, we highly recommend this simple device for you as it is the smartest choice available in the market.
Important features
This pH meter has a strong and removable dibber
Includes a pH probe for temperature and pH measurement
Wonderful pH calibration indicator
Automatic temperature compensation
Includes a low battery indicator
Features backlit LCD
Supports auto shut off function
Pros
One-year product warranty
Resolution of 0.1 pH and 1 C
Supports a pH measurement range of 0-14
Easy-to-use and worthwhile
Completely waterproof
Includes selectable units for C and F
Free shipping
Cons
You have to soak the probe for 24 hours before calibrating it
Milwaukee pH Tester Model PH600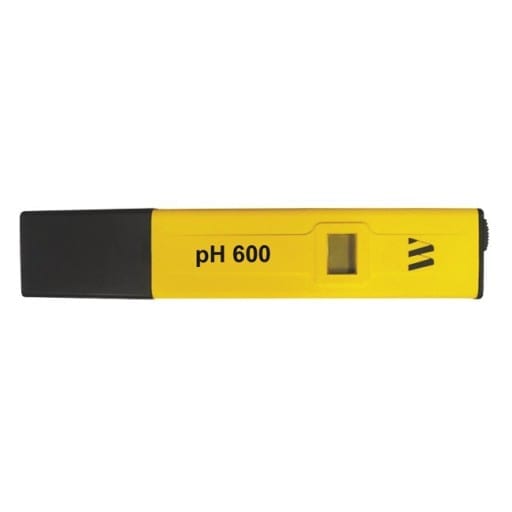 The Milwaukee pH Tester Model PH600 comes with one-point manual calibration. It has a measurement accuracy of +- 0.2 pH, which brings it to the bottom of the list. Nevertheless, it is still one of the top-rated pH testers in the market.
This pH Tester offers a wide range of pH measurement, from zero to 14, and features a one-point calibration process for maximum accuracy of the equipment. What's noteworthy is the 30-day product warranty that only a few pH testers offer.
Although it sits at the bottom, this pH tester is Milwaukee's most affordable tester. It assists in reading your soil's chemical properties. If you are an amateur looking for the cheapest equipment for your hydroponic plants, this pH tester can be the best pick for you.
Moreover, it includes all the features that a beginner needs at a low cost. When buying a soil pH meter, you should consider two things: your budget and the level of expertise you possess.
For novice users, there can be no better option other than this. It gives on-point readings that help you evaluate the quantity of nutrition available to your plants. And finally, this device has a long-lasting battery, which is a huge bonus.
Important features
Battery life extends up to 700 hours
It has a pH measurement range from zero to fourteen
Supports up to one-point calibration
Measurement accuracy of 0.2 pH
Pros
Available at a low price
Thirty days product warranty
Reliable and budget-friendly
Long battery life
Cons
You have to buy calibration solutions separately
 You have to calibrate the meter manually
Conclusion on The Best Soil pH Tester Reviews
Soil pH levels can be disturbed by numerous external variables such as temperature, climate, weather, region etc. So, in this case, it is crucial to enlist the assistance of a soil pH testing device.
Therefore, remember to obtain a device with a minimal margin of error (+/-0.3) and good range, highly accurate and reliable, a non-constraining power source and high calibration and control.
Hence, by stabilizing pH levels you are guaranteeing plant well-being and possible pest removal. This is just one of the essential variables you need to control in your grow room for optimal plant growth.